This was a bit of a different trip as I was travelling with my brother, sister in law and two wonderful nieces who are 8 and 13. So accommodation and meals were chosen based on likelihood to eat of my two cheese, tomato and chicken nugget loving nieces. Having said that they did branch out and have some dumplings and chicken satay. I did a mix of family stuff with them and then some solo travel things which were more focused on photography.
I went solo for this trip and followed a neighbourhood Walk in Lonely Planet Singapore (love their neighbourhood walks)! This kicked off at the Farrer Park MRT. There were some very photogenic temples along the way – the Taoist Leong San See Temple was one of my favourites followed by the Sri Veeramakaliamman Temple. I stumbled across a pop up art display in one of the small parks. Several trees were without leaves it being summer and all so colourful umbrellas had been installed for shade.
Tan House was my other photographic highlight. This is a very colourful house that now seems to house some type of tourist agency and a few small vendors. It would be preferable if the vendors were not there as they can make getting a nice shot tricky but I guess they are making a living whereas I am visiting for about five minutes!
I enjoyed my first Lonely Planet walk so much I decided to do a second one and went with their guide to Tiong Bahru. This is much more hip part of Singapore vs the more cultural Little India walk. It is filled with white buildings which were apparently Singapore's first public housing. Now they give a touch of Sidi Bou Said to this area. There are cute coffee shops and cafes galore around here. I visited the Tiong Bahru Bakery which was excellent (I also discovered later there is one of these on the ground floor of the Tang Centre on Orchard road – good place to get decent coffee on Orchard rd). It is a gorgeous café filled with many tempting treats. I went with their specialty savoury croissants. These are sort of mini croissants – well actually more like a mini sandwich with croissant style bread. They then provide a choice of four fillings – I went with a sausage version and a pork version. It was 2 for $10 so silly not to try two of them. Delicious! And their coffee was fab.
I also visited the Tiong Bahru market and food centre. Downstairs was a traditional style market with lots of flower stalls. Upstairs it's a busy hawker centre. The choice on hand is almost overwhelming. Interestingly there were about three stalls that had long queues vs the balance of stalls that were waiting for customers. I did find this one a bit intimidating in terms of food choices thus my croissant consumption at Tiong Bahru Bakery.
This is a lovely little neighborhood for wandering. There are many cute little shops – particularly gorgeous book shops. A highlight here was Nana & Bird – this store has a bit of everything with women's fashion as well as some baby clothes. It has interesting and fresh designs and whilst not cheap it is not overly expensive.
This area most definitely deserved more than the fairly quick tour that I took. I would highly recommend having a leisurely couple of hours to wander around and explore the back streets. This is my quick overview.
I started off at Chinatown MRT and did the lonely planet walk backwards as I was coming from Tiong Bahru. The Buddha Tooth Relic Temple is a major Singapore tourism sight. I didn't go in as a church or temple has to be pretty special these days to get me to take my shoes off and head inside. From a photography point of view, I enjoyed being able to capture its traditional architecture against the modern buildings of Singapore. Tourist buses galore here.
There is then a lovely road to follow called Ann Siang Rd which is to the side of the temple. The beginning of this road is full on tourist tat market. However, if you continue to follow it the road becomes far more atmospheric with beautiful buildings and delicious looking restaurants. This road then takes many turns and requires some stairs to take you on to Amoy Street. This was also a great street for wandering – very photogenic and interesting and different shops and restaurants.
Mount Faber Park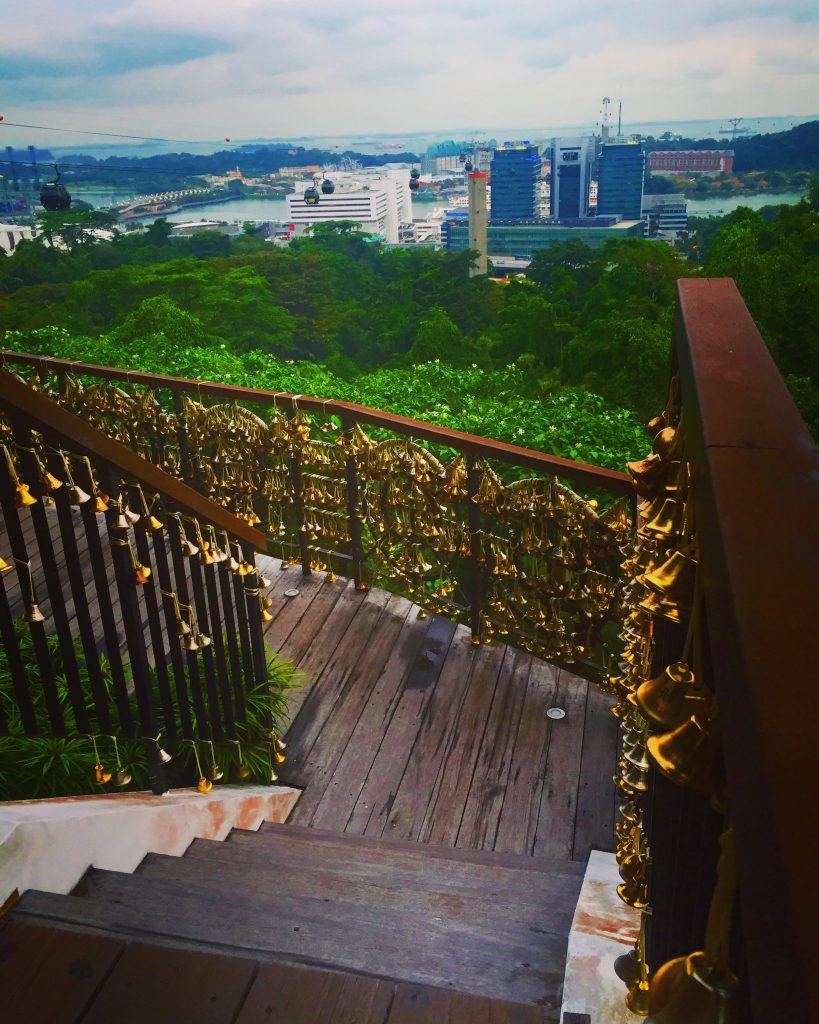 The highest point of Singapore sits at the top of Mount Faber park. You can take a cable car up here or you can drive. We headed up for dinner at Spuds and Aprons which is the restaurant at the top. The food was okay – I did keep noticing that portion sizes are not particularly large in Singapore. I had the mustard chicken and mashed potato which was very tasty but I could have used more food.
Anyway there is a fab view out over the southern end of Singapore. Around the restaurant there is a wooden verandah/stairs etc that you can walk to take pics of the view. The bannisters are covered in golden bells which adds a nice touch to photos. There is also a large happiness bell up near the children's play area which was rung rather frequently while we visited – mostly by my 8-year-old niece. The kids were thrilled with the fish pond which contained rather large koi fish. Fish food was available for purchase and distribution.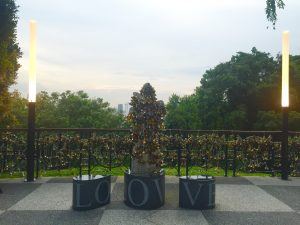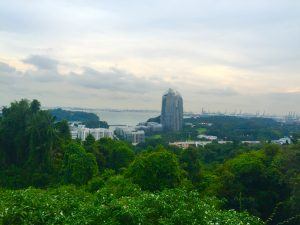 You can see Singapore Part Two The Key Tourist Sites here
And Singapore Part Three Sleeping, more Eating and Something Different here
---
Also published on Medium.