Just over a year ago I flew premium economy with Qantas Sydney to Hong Kong return. It was a fantastic experience.
In fact, it was so good it made me question if I could really justify the extra amount to fly business class if it wasn't an Australia – Europe/US flight.
So when was looking at flying from London to new york – and then Los Angeles to London return – I thought I would give British Airways World Traveller Plus a shot.
⇒ Click here for Prices and Deals on British Airways
British Airways World Traveller Plus Review: Online Check-In
Unfortunately, things with British Airways World Traveler plus did not get off to a good start. Two days before my flight I went on to the British Airways app and was able to reserve one of the aisle British Airways Premium Economy seats – great.
The next day when I went to actually check in online I was told that my passport number was wrong and that I wasn't able to check in.
I then had issues with my uber so only arrived at the airport 90 minutes before my British Airways flight. [separator type="thick"]
⇒ Read my Qatar Airways Business Class Review [separator type="thick"]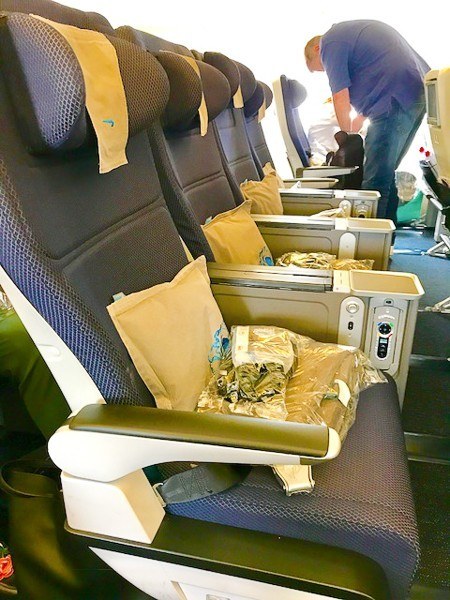 British Airways Premium Economy: Bag Drop and issues arise
I went and used the check-in machine for my premium economy British Airways flight and my seat had changed to a window – which was, of course, good news for me. Then I went to the desk for bag drop.
When the attendant is on the phone for some time when all you are doing is dropping your bag it is not a good sign. I was told by the attendant that I had been "sneaky" taking the window seat.
I was quite annoyed by this and said that how could I be sneaky when the app had done this for me. I was then told that they had overbooked business class and that seat had been meant for someone who was being downgraded to premium economy on British Airways – which meant they now wanted to move me to British Airways economy class.
I was so annoyed. It really makes me furious when airlines do this. Or should I say when British Airways do this as they are the only airline that has tried to bump me from flights several times due to overbooking.
In what other industry would an organization take your money ahead of time and then when you turned up to experience that service be told that you couldn't as they had overbooked – and that apparently this was fine? [separator type="thick"]
⇒ Check out my review of American Airlines Premium Economy 777.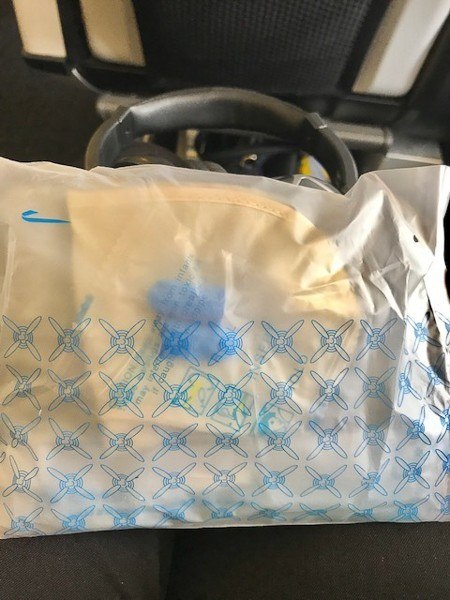 ⇒ British Airways have a very lengthy list of destinations. I have written about quite a few of those destinations. In Europe read about Czech Republic, Latvia, Austria, France, Greece, Switzerland, Germany and Italy.

Outside Europe British Airways fly to Melbourne and Sydney in Australia, Hong Kong, South Korea, Japan, Singapore, Thailand, Jordan and Colombia. In the USA, San Francisco, New York, Philadelphia and Baltimore.
It is a major problem as a solo traveller as we are at the top of the list when it comes to who gets bumped first when it comes to air travel.
I was once told by a British Airways staff member that the safest people were those also flying with British Airways from a connecting airport eg Manchester to London and then on to say NY, followed by groups, followed by families and then followed by couples.
Only the male solo traveller is worse off than the female solo traveller. My annoyance was greater as I had injured my ankle in nepal earlier that year and absolutely could not have sat in an economy seat for several hours without problems.
Luckily I had a letter from my doctor with me (I had it in case my ankle got worse and I needed medical treatment) so I was able to produce this and say I had to stay in British Air premium economy.
I ended up in British Airways economy plus but not without quite a bit of undue stress and frustration. This experience alone has been enough to really put me off flying with British Airways.
I do find it outrageous that you can be potentially bumped like this – and that the staff always seem to act like this is of no consequence and why are you getting upset? OK rant over! [separator type="thick"]
⇒ Check out my Thai Airways Business Class Review [separator type="thick"]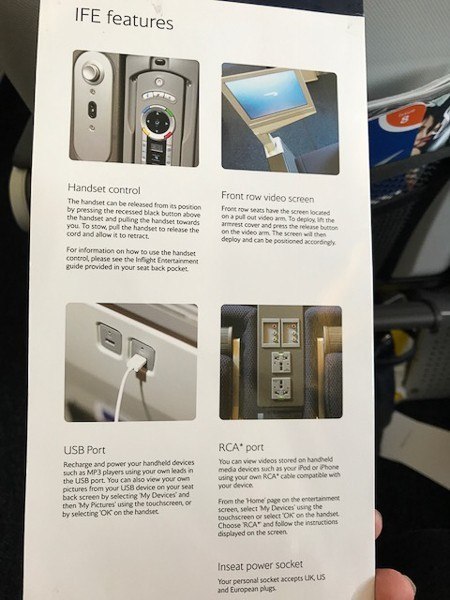 British Airways Premium Economy Review: Getting to the Gate
Anyway, the flight was then at Gate A10 at Terminal 5 which means a very long bus trip. I thought we were driving to New York.
BA World Traveller Plus also means no lounge access and no priority seating. [separator type="thick"]
⇒ Read my Malaysia Airlines Business Class Review [separator type="thick"]
Do you need a Visa?
It can be a real pain trying to figure out if you need a visa for a country and then all the hassle of figuring out how to apply, how long you can go without your passport, when the embassy is open etc.
iVisa has completely revolutionised this process and put it all online and make it super simple and paper and hassle free!
British Airways World Traveller Plus Review: The plane and the seats
The British Airways World Traveller Plus 777 plane was a little old and compared to Qantas it felt a lot less spacious. The seat layout was 4 in the middle and 2 on each side.
I was on the side thank goodness. I would have been very unhappy to have paid for premium economy and to have had one of the extreme middle seats.
I often wonder who ends up in these seats – are they the people that don't make sure they do early online check-in? Or maybe they are more tolerant than me.
⇒ Read my Emirates Business Class Review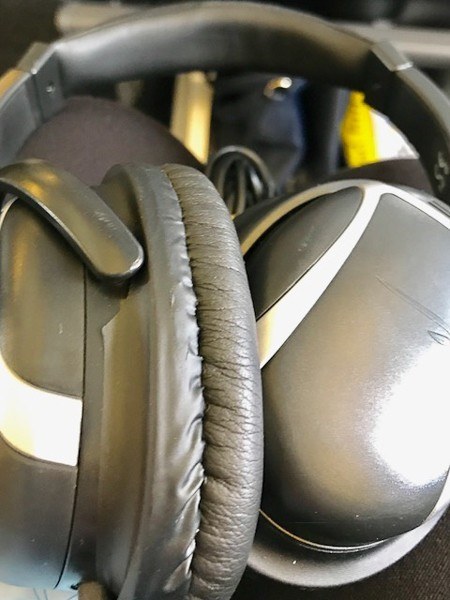 BA World Traveller Plus Review: In-flight amenities
British Airways Premium Economy 747 has good quality headphones which were nice. The British Airways premium economy product also does have a very good in-flight entertainment system.
The British Airways Premium Economy in-flight amenity kit was not bad – socks, eye mask, earplugs, toothbrush and a pen. Great idea to have a pen as everyone needs one on a flight.
There is a lot of legroom and the seats are comfortable on the British Airways 787 Premium Economy flight. I was also pleased to see that there were 2 USB ports in the seat ahead and then 2 power points between the seats.
The food was a big positive for this World Traveller plus review 777 writer. It did feel like an upgrade from economy. We were also offered a glass of sparkling wine before take-off which was lovely. [separator type="thick"]
⇒ Check out my Iberia Business Class Review here [separator type="thick"]
⇒ Check out my Air France a 380 Business Class Review here [separator type="thick"]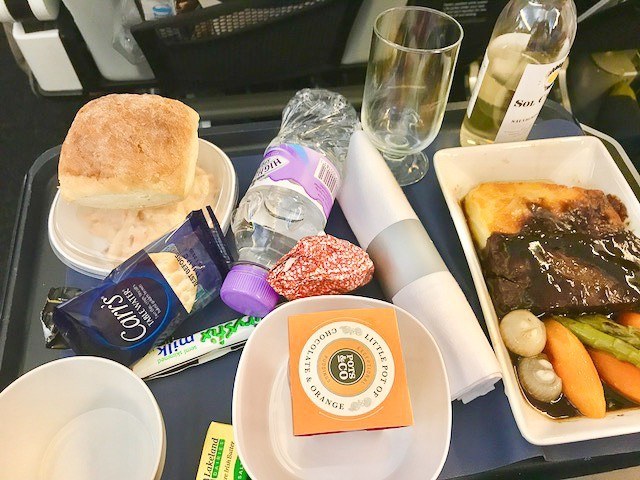 Premium Economy British Airways Review: Some Positives
One of my favourite features of British Airways premium economy 777 is that they have a very useful brochure which explains all the features and benefits of the world traveller plus seat – this is such a good idea.
Every premium economy and business class seat is different and you don't want to miss out when there are good features that can be used.
There was also a good-sized storage locker next to the window which was handy – another reason trying to get the window seat is one of my top tips.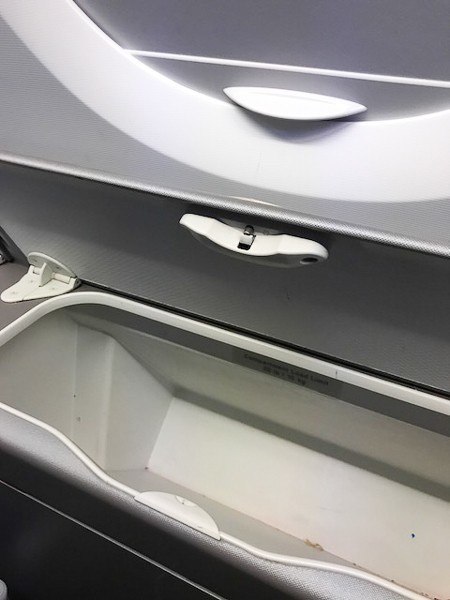 World Traveller vs World Traveller Plus
In March 2018 British Airways made major upgrades to its World Traveller and British Airways Premium Economy 777 cabins at Gatwick on their Boeing 777s.
Both cabins have had their entertainment screens increased by 50% in size. I'm looking forward to checking out the new six-way headrest.
Interestingly these new planes will feature a considerable increase in the number of World Traveller Plus seats – coming from a reduction in Club World. Premium Economy is on the increase.
So what about the rest of the fleet? World Traveller Plus is a major improvement on World Traveller, which doesn't offer the best seats. Also, there are few opportunities to upgrade within World Traveller – apart from the exit rows.
If you have a long flight or an overnight flight I think the upgrade cost is absolutely worth it.
Upgrading to British Airways Club World
Theoretically being in BA World Traveller Plus means it is easier/more likely that you can be upgraded to Club World. BA does offer paid opportunities for upgrades but not all the time – and not necessarily at the best prices.
The best way to check if this is an option for your flight is to visit the Manage My Booking page. The price varies generally between 400 and 700 GBPs.
For frequent flyers, Avios points are a good option for upgrading – or combining Avios points with payment. It is not normally the best use of Avios to upgrade (they tend to be their most effective for less-visited longer trips in economy class in my experience) but it is a good option.
Finally, if you are a frequent flyer and flying World Traveller Plus there is a greater opportunity of an upgrade. This is most likely to happen where World Traveller Plus has been booked out and business class has seats.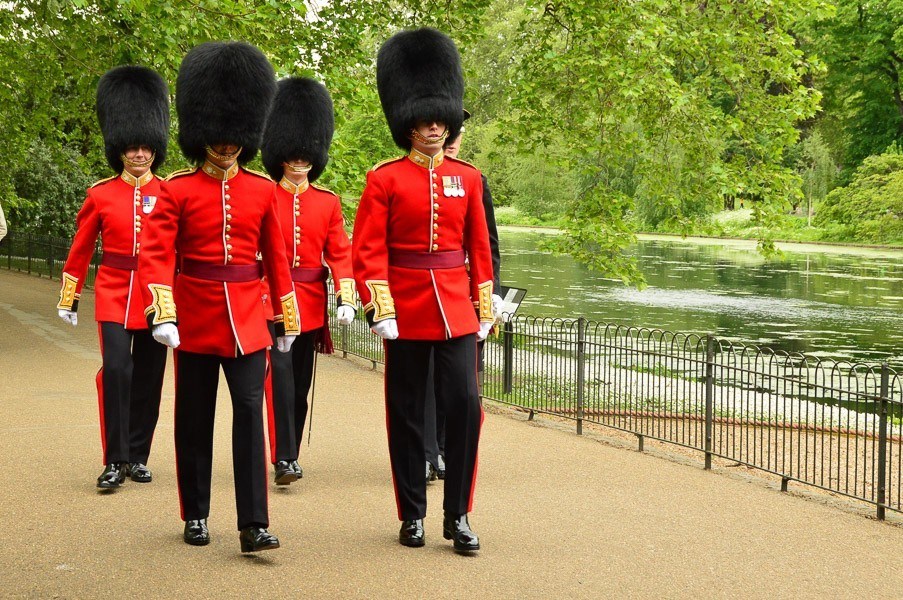 British Airways Premium Economy: The Verdict
Overall it feels like the key difference between world traveller and world traveller plus on British Airways is the seat itself.
On Qantas and other airlines, there does feel like there is more of a difference between the 2 cabins – particularly when it comes to service.
I was flying with British Airways when they were having extensive problems as an airline so it cannot have been fun to be working for them at that time.
However, I am paying the extra and in my views, I do expect a slightly better service. I would hesitate to take British Airways Premium Economy again – mostly driven by nearly being downgraded to economy.
I don't want to have to worry about this when I am headed to Heathrow. I, of course, would fly with them if there was a good enough deal I suppose but they have certainly moved down my list after this experience.
Here is BA's full rundown on their premium economy offer and The Telegraph's Comparisons of Premium Economy Offers including British Airways Premium Economy Reviews [separator type="thin"]
⇒ Prices and Deals on British Airways
Booking Flights:
I use Skyscanner for all my flights – from economy through to business – click here to Check out SkyScanner
Boutique Hotels in London
Artist Residence is located in Pimlico which is fabulously central. It is in a gorgeous 5 store regency building and has a cute bar.
⇒ Read reviews on TripAdvisor ⇒ Book Now
The Portobello Hotel is located in one of London's best known and cutest neighbourhoods Notting Hill. This is also the hotel where Kate Moss and Johnny Depp filled up the bath with champagne.
The hotel is located on a quiet street but is a great location.
⇒ Read reviews on TripAdvisor ⇒ Book Now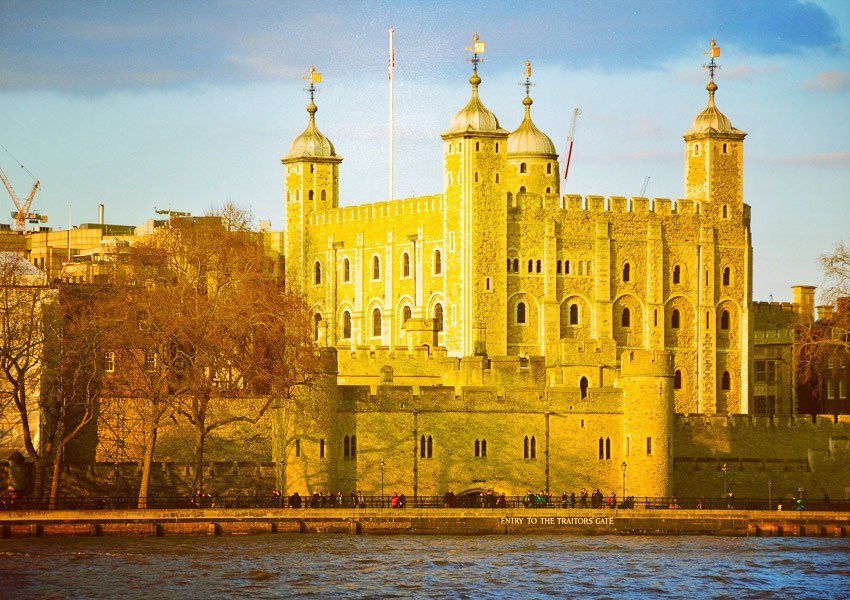 The Great Northern Hotel is ridiculously close to Kings Cross and St Pancras stations which is incredibly convenient. The hotel dates back to 1854 but has had a major refurb so it feels fresh and modern.
⇒ Read reviews on TripAdvisor ⇒ Book Now
The Hoxton hotel is in the heart of East London in Shoreditch and a perfect base for exploration. The rooms aren't huge but the location makes up for it – as does the great value for London with rooms starting at £99 a night.
⇒ Read reviews on TripAdvisor ⇒ Book Now
Heading to London? Key Things to Book Before You Go
Several purchases ahead of your trip can allow you to save money and time. Here are some of the essentials:
⇒ A London visitor oyster card
is the cheapest and easiest way to get around London. Preload the Oyster Card with money and you will be able to tap in and out of the tube, buses and trains.
And the Oyster Card figures out the cheapest rate for the journey you take each day and calculates and deducts this for you. A Must-have.
⇒ If you're landing at Heathrow – as so many international flights do – the fastest way to get to central London is the Heathrow Express.
Save time and money by booking your Heathrow express tickets before you leave home.
If you're flying into Gatwick then book your Gatwick express ticket here.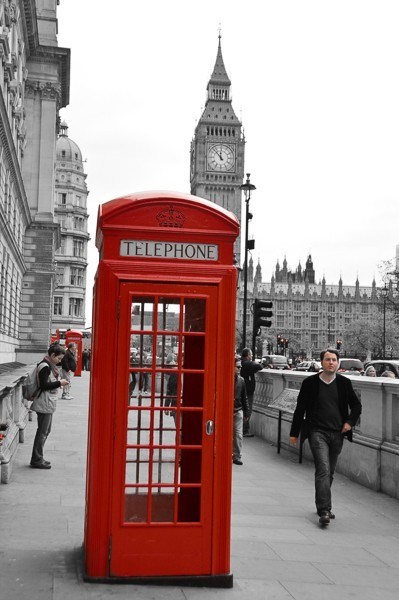 ⇒ If you're planning on taking some day trips around London to places like Oxford or Brighton you'll save a fortune if you order the BritRail London Plus Pass
.
You MUST order this pass before you arrive in the UK. This pass will also cover your tickets on the Heathrow Express and/or Gatwick Express. You can pay for it with your credit card.
⇒ Another great pass that you MUST buy before you arrive in the UK is the English Heritage Overseas Visitor Pass
. This pass provides access to over 100 of the most important places in British History – including Stonehenge, Hadrian's Wall and Dover Castle to name a few.
You only need to visit three locations and the pass has paid for itself. And use your BritRail London Plus Pass
to get to the sites for even more savings.
⇒ Check your emails as soon as you land with mobile wi-fi rental wireless internet anywhere you go in Britain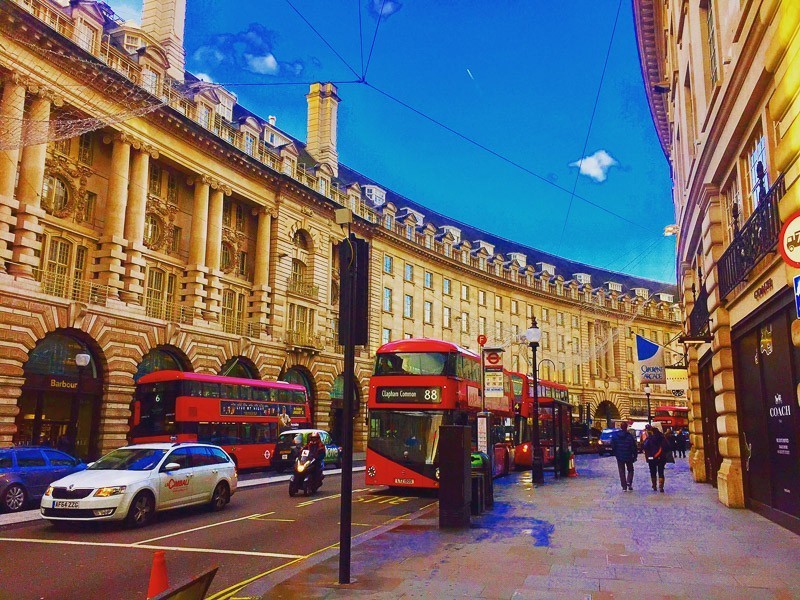 Who Paid for What in this British Airways World Traveller Plus Post
I covered the cost of my flights on British Airways Premium Economy. This post on British Airways world traveller plus contains affiliate links. That means if you click on them and end up making a purchase on that website I will receive a small commission. I wanted to make sure you were aware of this.
[separator type="thick"]
READ NEXT: American Airlines PREMIUM ECONOMY REVIEW
[separator type="thick"]
If you like this British Airways world traveller plus post Why Not Pin It?