Montepulciano is quite frankly heaven for wine lovers. This stunning hilltop Tuscan town is ridiculously beautiful and it is just filled with wine. Wineries, red wine, white wine, wine cellars, oak casks, wine shops, wine bars – it really is just wine-tastic. There are so many wineries in Montepulciano.
But I have to say I didn't find it particularly easy to plan my Montepulciano winery visit before I went. It wasn't easy to figure out which wineries were in town, out of town, how far etc.
So here is my guide to the Wineries of Montepulciano – with some bonus hedgehogs and great meals thrown in.
Wineries in Montepulciano – How it all works
Quite a few wineries are actually in the gorgeous little hilltop town of Montepulciano Italy. I was surprised by this – normally visiting wine regions involves getting out of town.
Of course, the Montepulciano vineyards aren't in the old town but quite a few of the wineries I visited within the town had all of their barrels tucked away in the hill of Montepulciano Tuscany.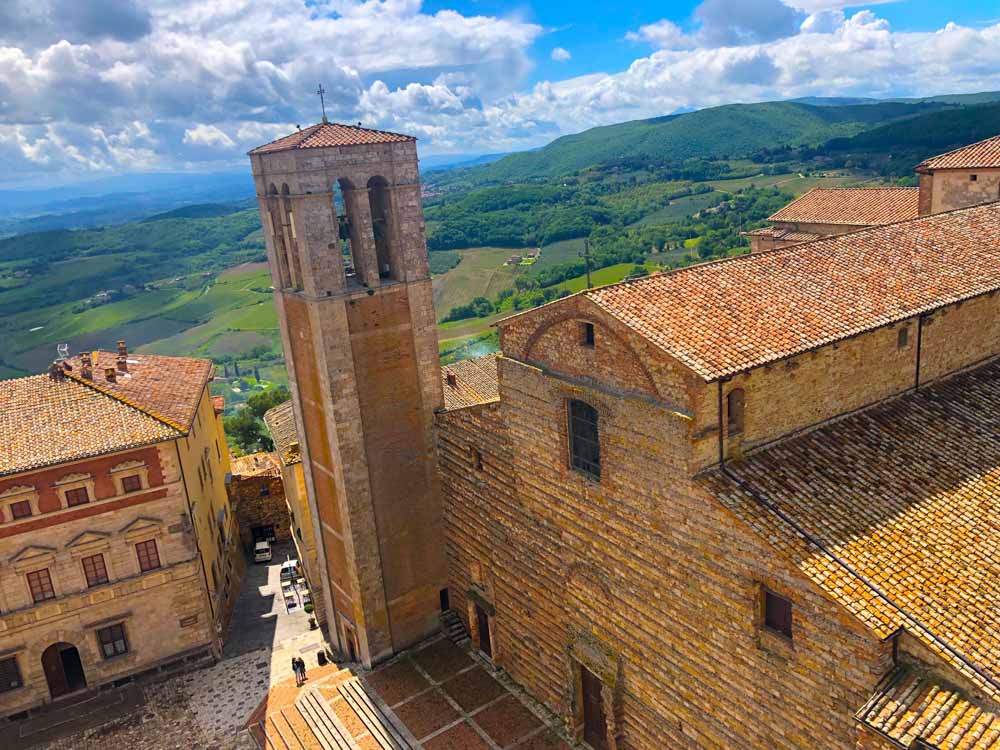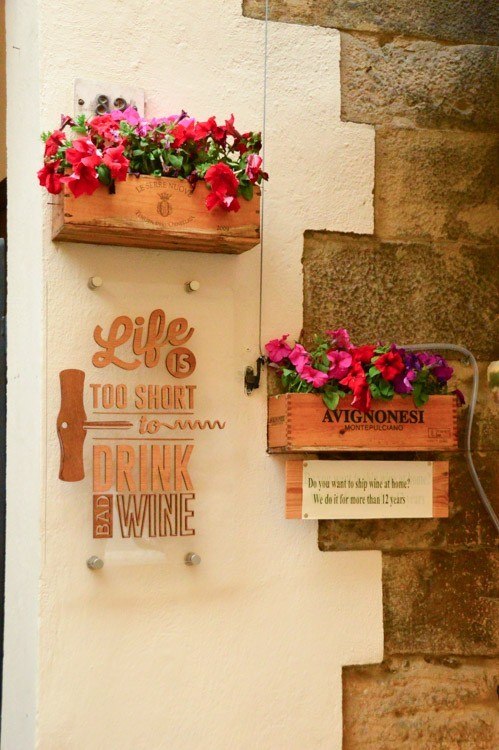 I assumed some of these wineries were a smaller cellar door operation and that it may well be possible to visit the wineries where the grapes are.
Having said that, I am not sure if they would offer much past what is available at their operations in the town – and it is so much more convenient to just wander the town and visit wineries rather than having to join Montepulciano wine tasting tours or organise a driver.
So, there are numerous wineries in Montepulciano the town as well as of course several that are outside of the town in the Montepulciano wine region.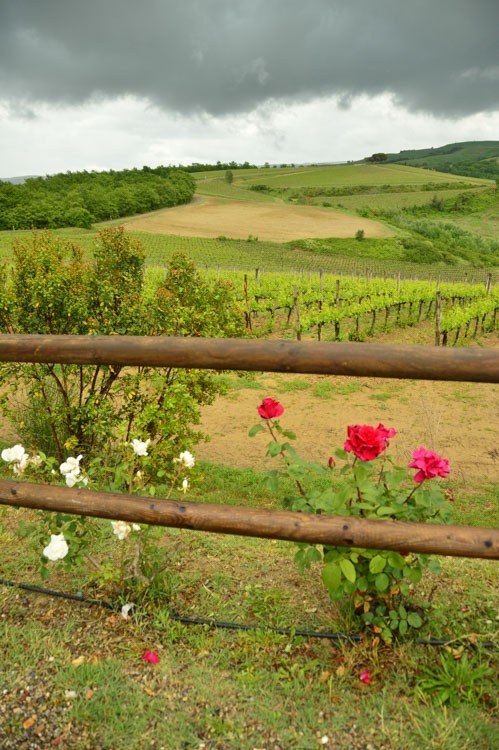 Another thing I loved about Montepulciano was the huge number of wine bars. Every second shop seemed to be a very atmospheric wine bar with a great wine list featuring local wines.
The best thing was that virtually all of them offer wine tastings. This then means it is possible to try many of the best wineries in Italy (like Poliziano and Avignonesi) without having to leave town and go to their wineries in Montepulciano.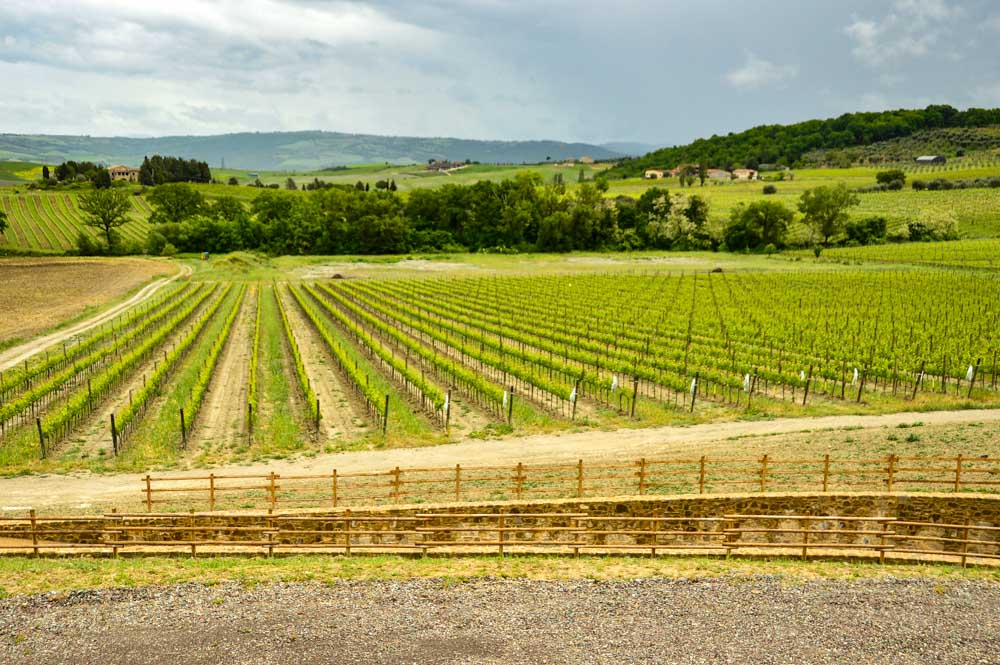 Quite a few of the Montepulciano wine bars also have those new style wine fridges that have little taps on the top and allow you to pick your own wines to try and the size. These were fantastic and provide a great wine tasting experience.
Plus, we found all the staff very keen to help when we were running our own Montepulciano Italy wine tasting so we learnt a lot more about the wine.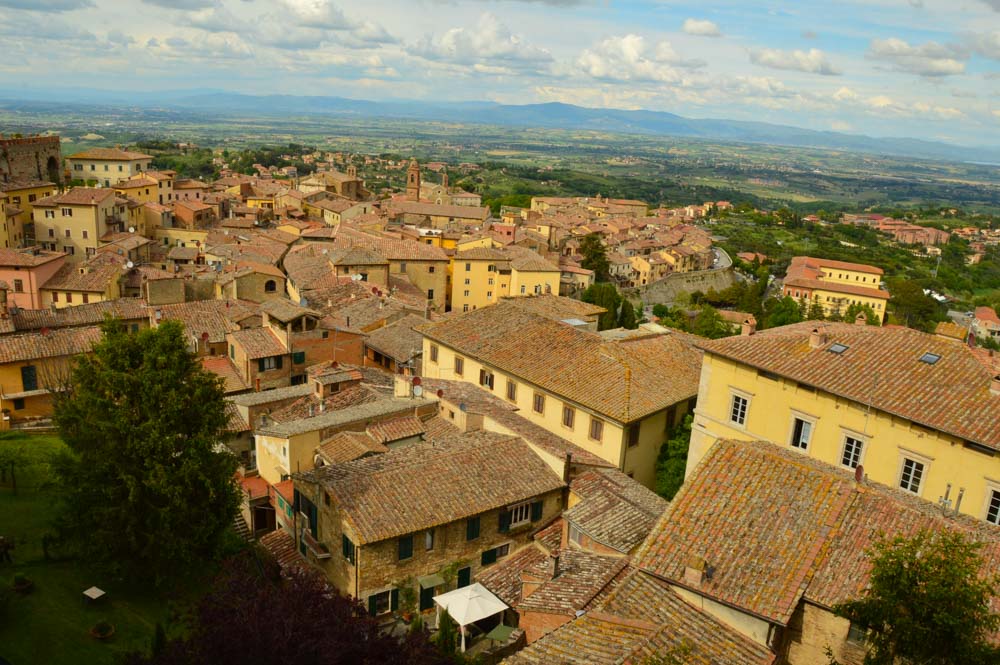 So I am going to structure this post around the wineries in Montepulciano, the best wine bars we found within Montepulciano and then wineries outside the town (including some of the best wineries in Montalcino) – plus how to get there.
And some food recommendations – plus photos and hedgehogs. The hedgehogs will make sense later on.
Wineries within Montepulciano
I'll start with the wineries that I visited in town.
1. Contucci Winery
In all honesty, I was a little disappointed in Contucci. They have the most amazing location virtually on the main square at the very top of Montepulciano (virtually opposite the tower).
There are two entrances – make sure you go in the one on the side street rather than the main square as this has access to all their amazing cellars and had much more atmosphere.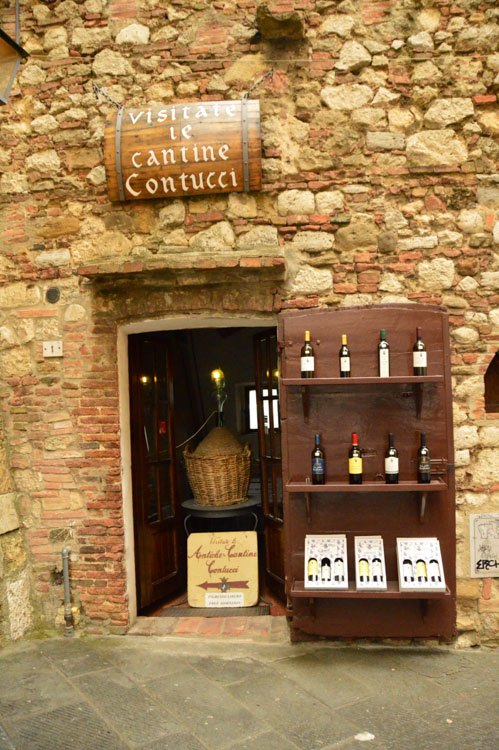 Contucci winery is 1000 years old! Some serious history – and an explanation for their amazing location I imagine. It is definitely worth going in for a look at their fantastic wine cellar and barrels.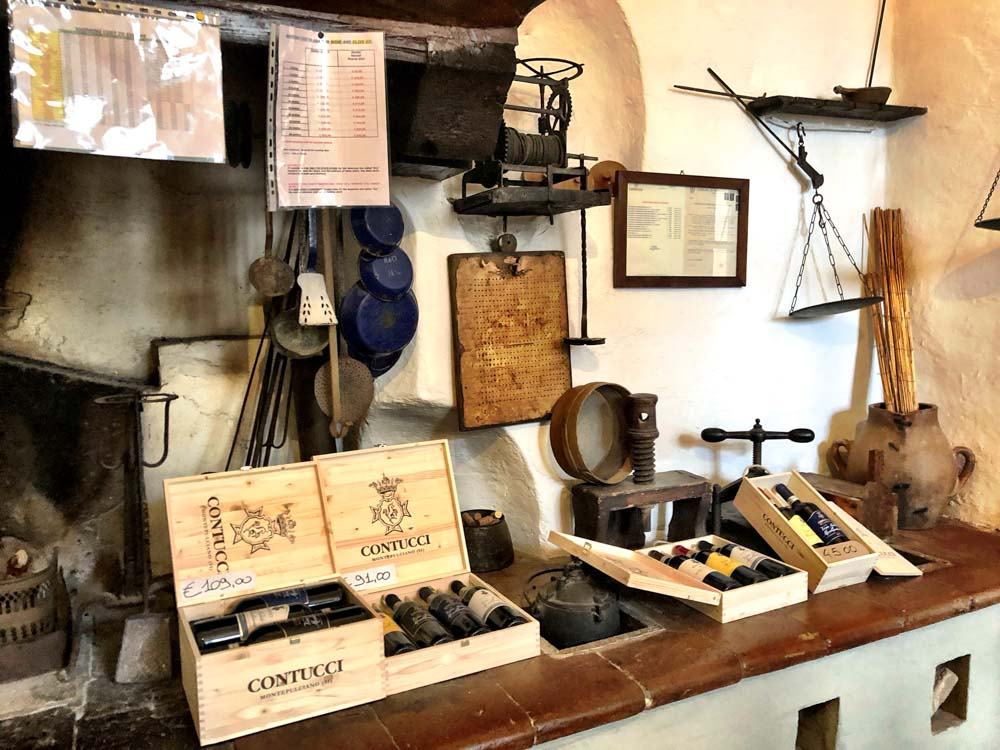 In terms of tasting when I visited they were only offering 4 wines for tasting. Two were free of charge – a Rosso and a Vino Nobile. There were 2 others available for a price. But it seemed a very limited offer from such a prestigious winery.
Their wines were perfectly pleasant but I really felt like they were missing a trick.
2. De Ricci Winery
Ricci means hedgehog in Italy. There are a lot of hedgehogs in and around Montepulciano. There is a Hedgehog street (Via Ricci), a hedgehog hotel (Il Meuble Ricci where I stayed – more on that later) and of course a Hedgehog winery.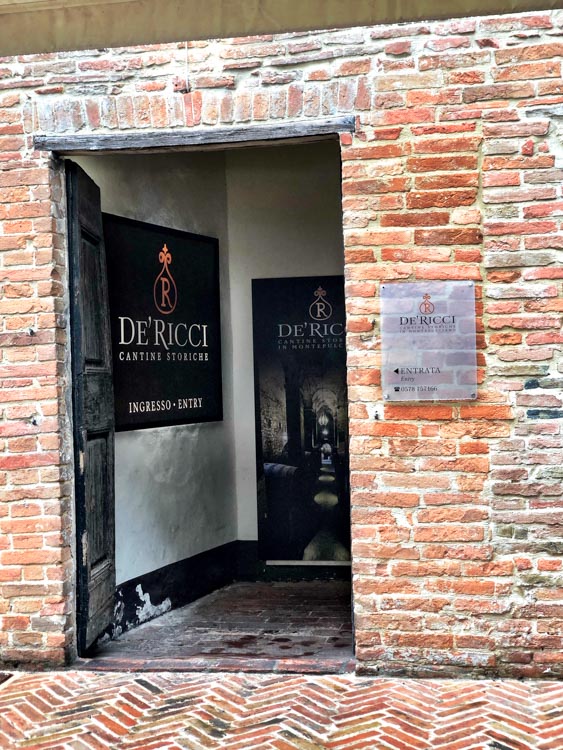 I very much enjoyed visiting De Ricci Winery. We started at the main entrance. It was then possible to head down many steps into what felt like the centre of Montepulciano and visit their many barrels and tucked away cellars.
At the base of the winery was the tasting room which was great fun and nice and busy.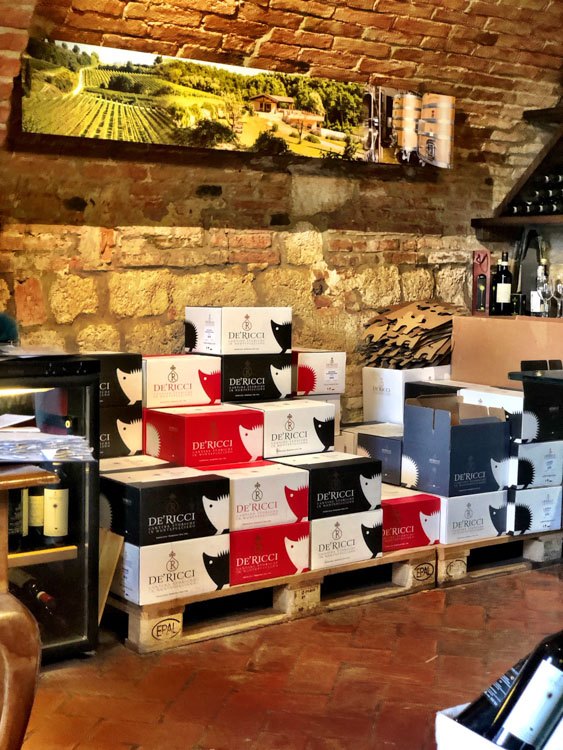 For just five euros we had a lovely wine tasting Montepulciano of six different wines.
3. Ercolani Winery
For me, this was the best Montepulciano wine that I tried. Ercolani is a bit further down the hill within Montepulciano. It has everything going on.
Upon entry it feels like walking into a gourmet food store meets winery. There are loads of local treats – from truffle pici to all variations of pecorino and loads more.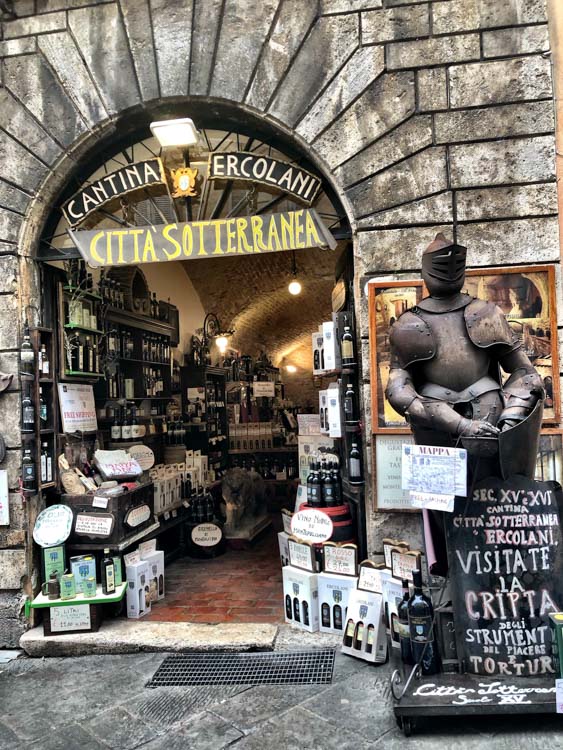 The wine tastings are held down the back and are free. Not only were we given 5 different wines to try we were also given some very tasty snacks.
And the staff were super friendly. I ended up making a couple of purchases here of their red wine Montepulciano.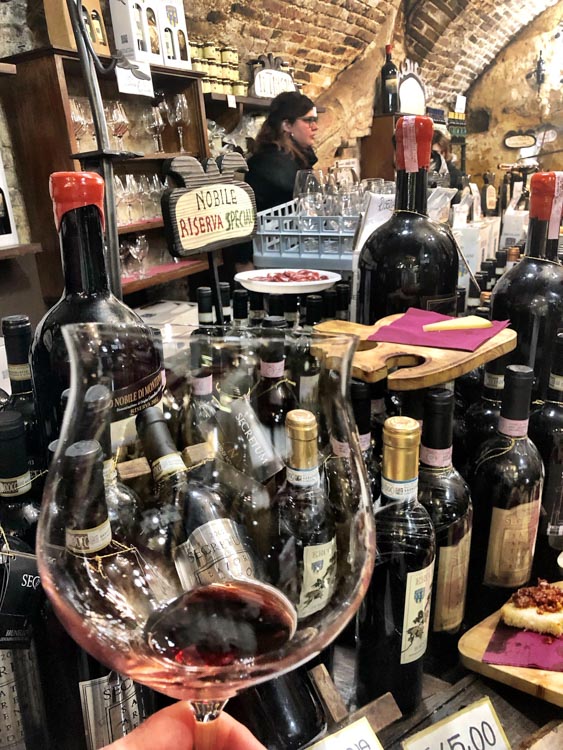 The winery is run by two brothers – Carlo and Marco. They have been agricultural entrepreneurs for 30 years. The winery itself is on 14 hectares of vineyard.
They follow the traditions of the area and use the four native grapes of the region. Their wine is then aged in barrels in the cellars of the underground city.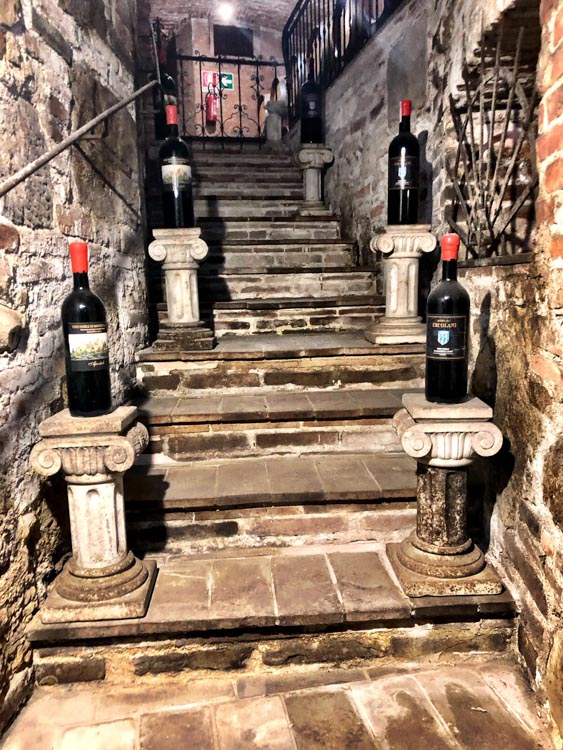 Yes, this winery is also the entrance to the underground city of Montepulciano. There are 4km of paths that connect seven historic buildings of Montepulciano.
We wanted more wine so only did a quick explore but it did look quite fun. And there are also some Etruscan Tombs which seem quite popular in this area.
⇒ If you're looking for another beautiful place to visit in Italy you'll enjoy my post on 14 instagrammable things to do in Rimini and around Rimini
4. Talosa Winery
Again, Talosa Winery wasn't as good as we had expected. We had read excellent reviews. Like Contucci Winery, there was nothing wrong with it but it just seemed a bit ho-hum.
There was a free tasting of four wines which were okay but nothing amazing.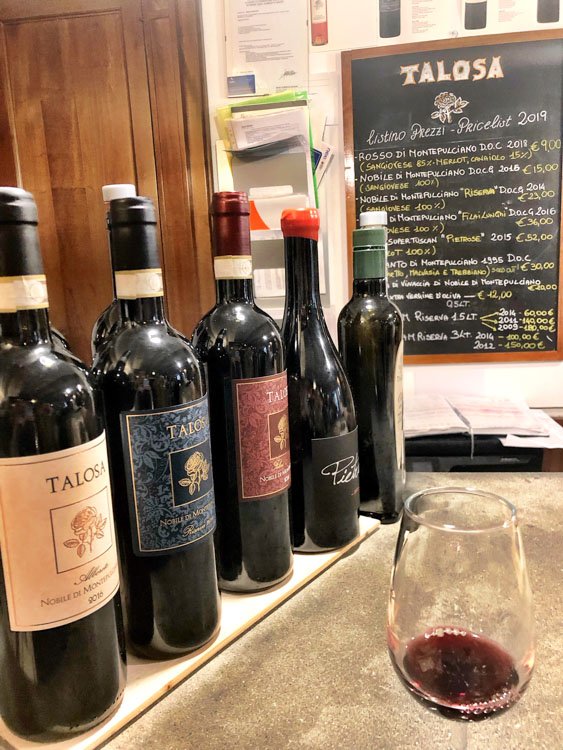 It was possible to go down to the cellars and visit the barrels but we felt a bit barrelled out by this point! However, if you are early in your Montepulciano wine tour it may be worth a visit as it has been there since 1500.
There are some other wineries in town that we didn't get to. These were Gattavecchi Winery and Crociani Winery. Drop me a line and tell me what they're like if you visit.
Top Tip – check all the opening hours before visiting. Most of the wineries in town are open every day. However, some have a big lunch break, some are open quite late – it is quite the mix.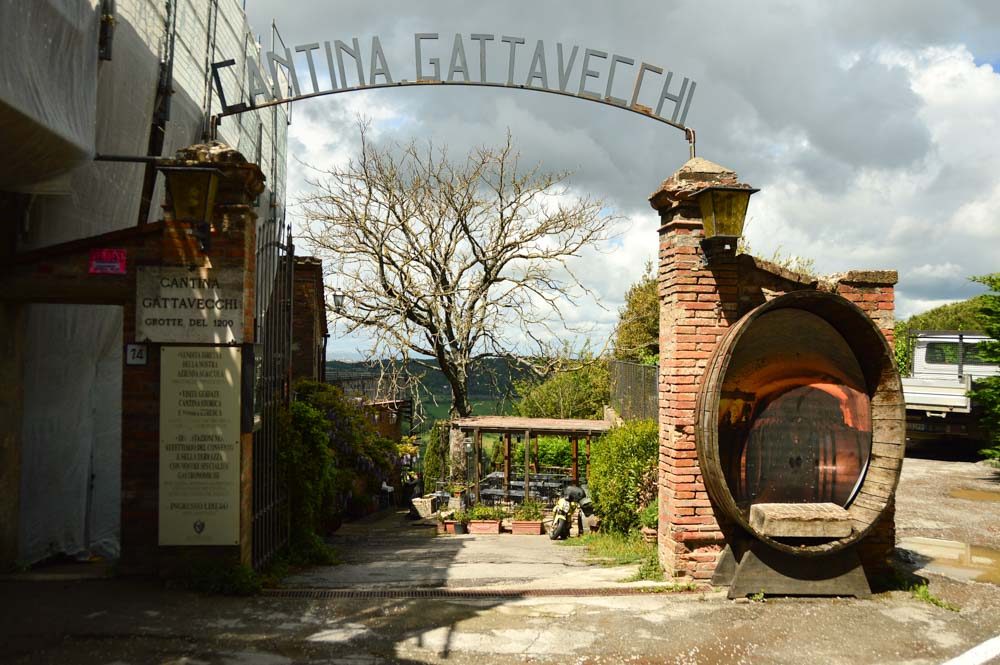 As you will be told via signs more than 10 times most of the wineries also ship worldwide. But shipping costs can vary widely – and make sure you are up to speed with your local wine taxes on imports.
Best Wine Bars in Montepulciano
La Dolce Vita
This was our absolute favourite. If you only go to one place in Montepulciano make it La Dolce Vita!
Located on the main street, the bar runs back a long way and is filled with so many wonderfully displayed wine bottles.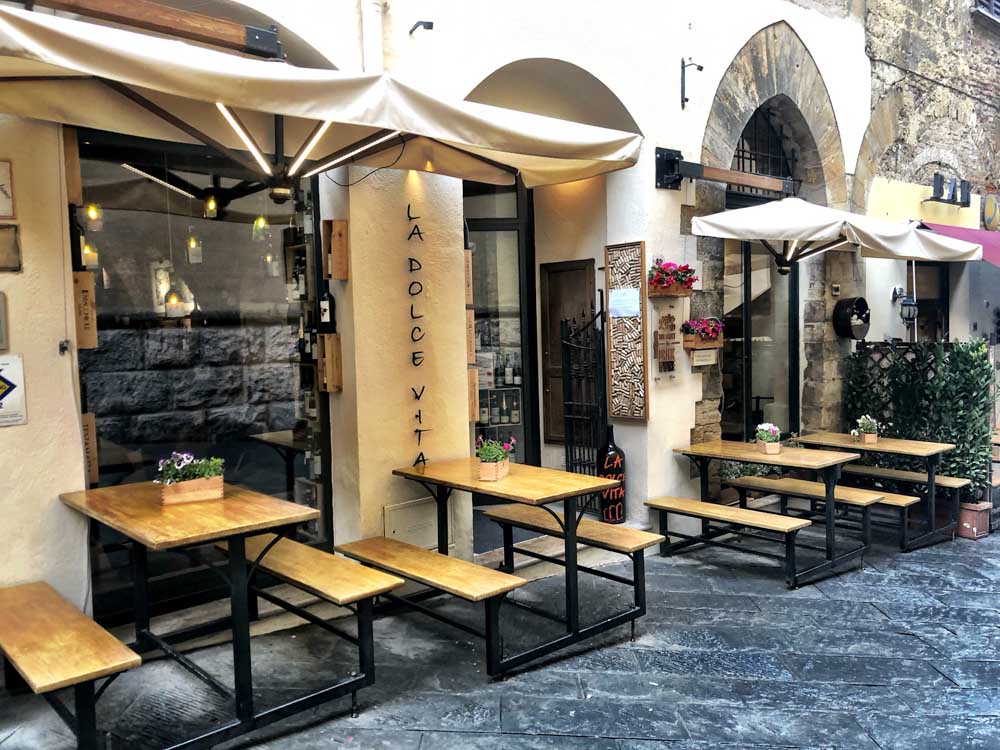 They have a huge range of wines by the glass (including nobile wines) and their comfortable tables are perfect for kicking back and digging in and having your own wine tasting Montepulciano.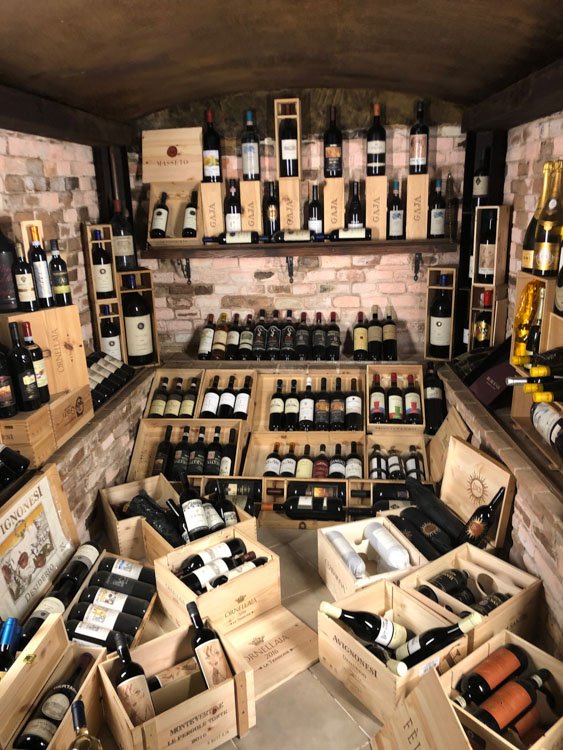 ⇒ Explore more of Europe in my posts on 14 Beautiful Cities in Europe 16 European Palaces not to Miss, 17 Beautiful Castles in Europe Not to Miss, 21 Most Beautiful Countries in Europe, 9 Most Beautiful Cities in Germany, 26 Landmarks of Germany, 25 Rome Monuments, 60 Most Famous Landmarks in the World, 12 Beautiful Famous Spain Landmarks, 9 Famous Ireland Landmarks and 16 Famous Landmarks in Europe.
The staff was so lovely and friendly. They provided fantastic advice and by our third visit in three days we were told we were their customers of the week – what an honour.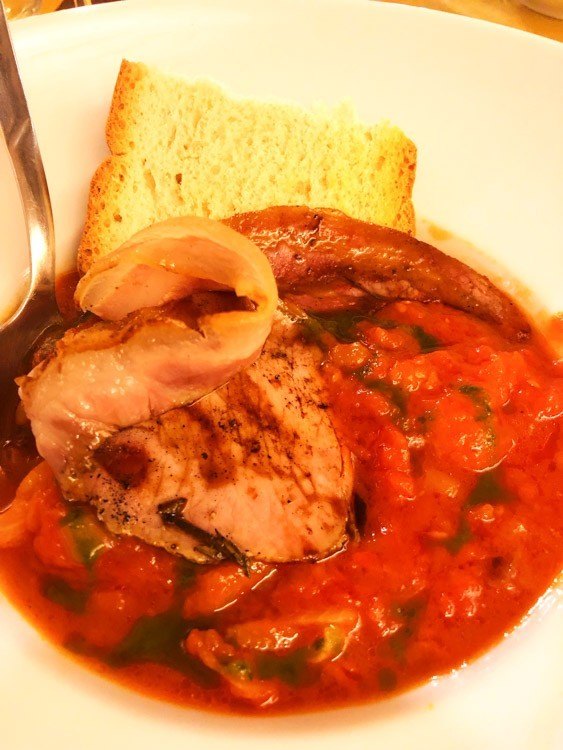 We also had lunch here and my gosh the food was amazing. I had possibly the best soup I have ever eaten – full of Tuscan tomatoes and bacon and it was just extraordinary.
We also had local beans in tomato on the side which were also just amazing. The highlight of a trip full of highlights.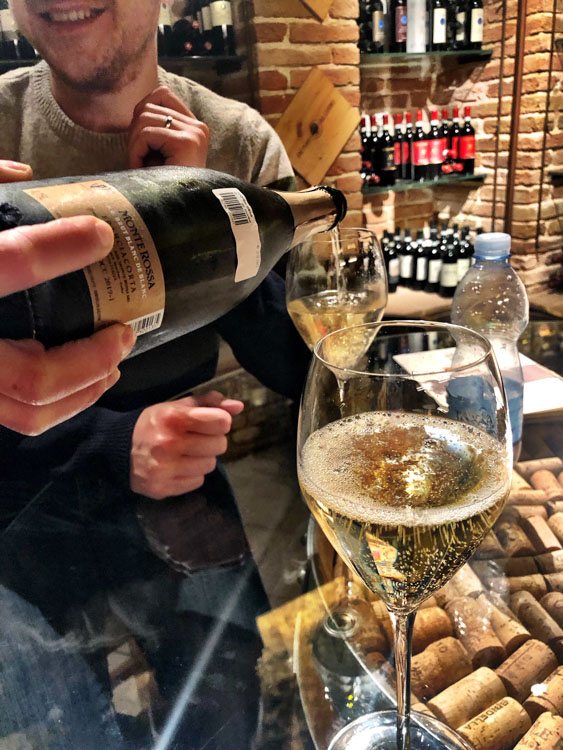 Per Bacco
This little wine bar is tucked away on a windy street heading up to the main square. Per Bacco is also a deli of sorts with snacky delicious options – including the most amazing truffle pecorino – and some slightly more substantial offers.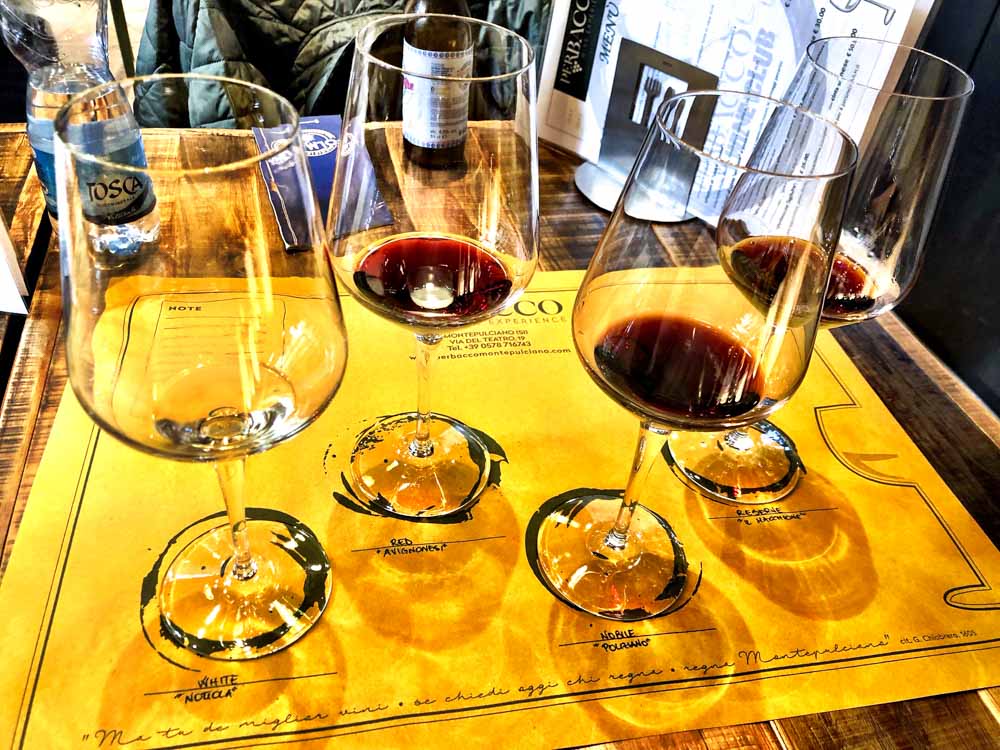 We did a 12 euro tasting which offers four wines from the region – one white wine, one red wine Montepulciano, one full Montepulciano Tuscany wine and one nobile wine.
The tasting is presented on a paper placemat and the wines are written down.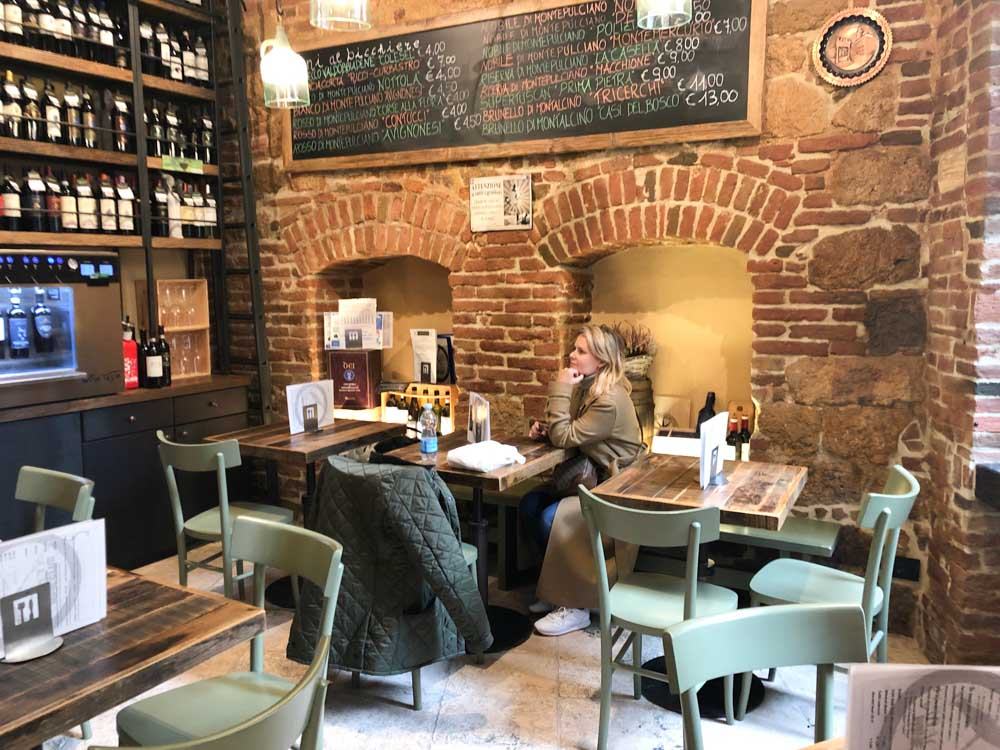 My friend did the same tasting but was given different wines. And it is possible to make requests in case you have tried the wines previously.
La Bottega Del Nobile
This wine bar on the main street offers over 60 wines for tasting through the machines. La Bottega del Nobile also serves up some great bar snacks.
We got a card worth 50 euros. This covered our tastings and snacks for 3 of us. I don't think we had to use the full amount but we ended up doing so.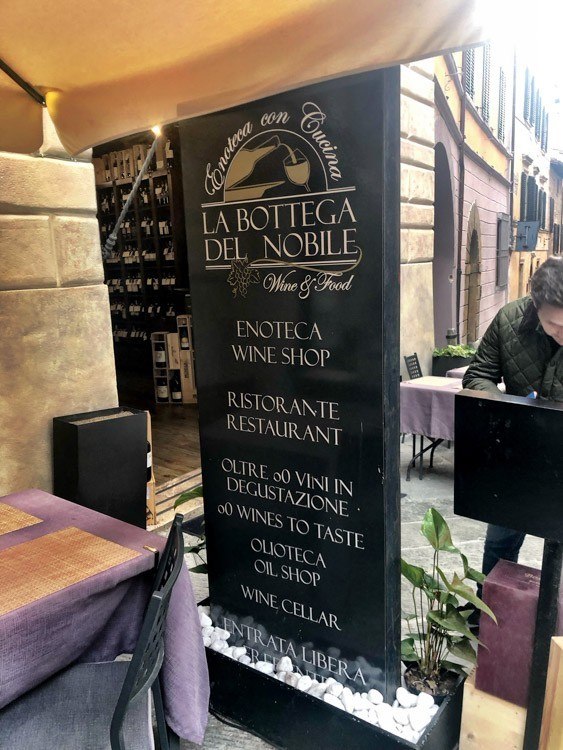 The staff at La Bottega del Nobile were very helpful and lovely here. Lots of ideas about what to try and places to visit.
Seating was offered inside and outside – a lovely place to hang out and drink more great Tuscan wine.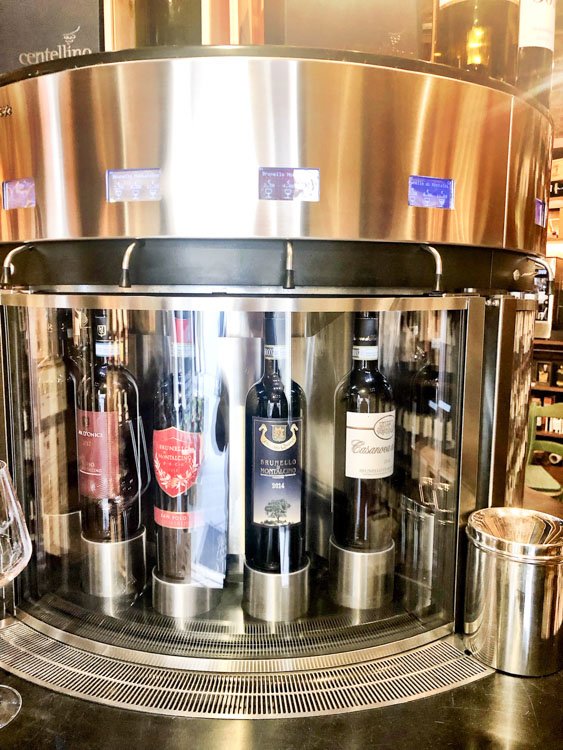 Consorzio del Vino
This wins for possibly the best wine bar location in Montepulciano. Consorzio del Vino is at the top of the town – literally. It is a classic building with a modern interior.
Consorzio del Vino has a restaurant plus many wine fridges that all have the little taps so many many wines can be tasted here.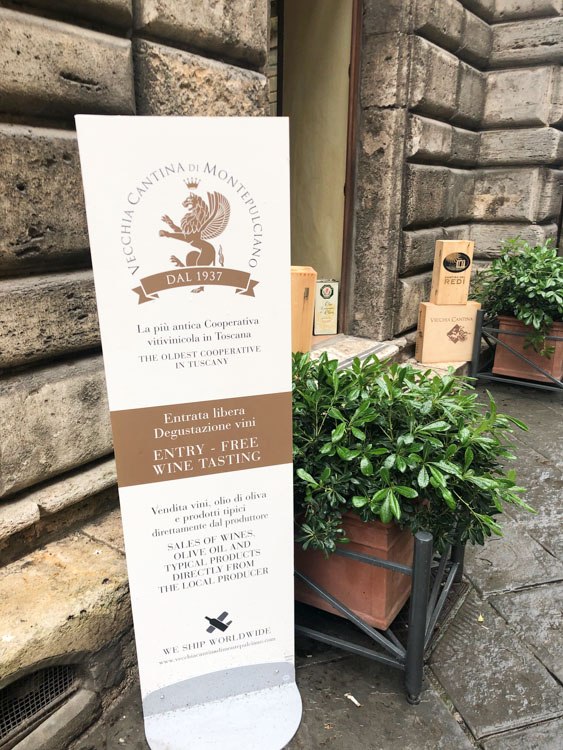 From what I could understand, this is a consortium or grouping of wineries from the region (76 in total) which looks to promote Nobile di Montepulciano – thus the range of wineries to sample.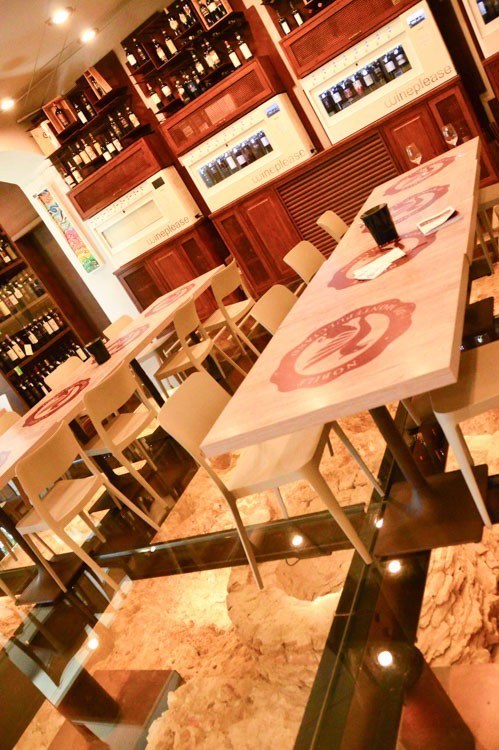 The restaurant/wine room at Consorzio del Vino is built on top of old cellars. The floor is glass so all of the old cellars are clearly visible underneath.
This looks fantastic but for some of the deeper ones, there is a rather strong sense of vertigo.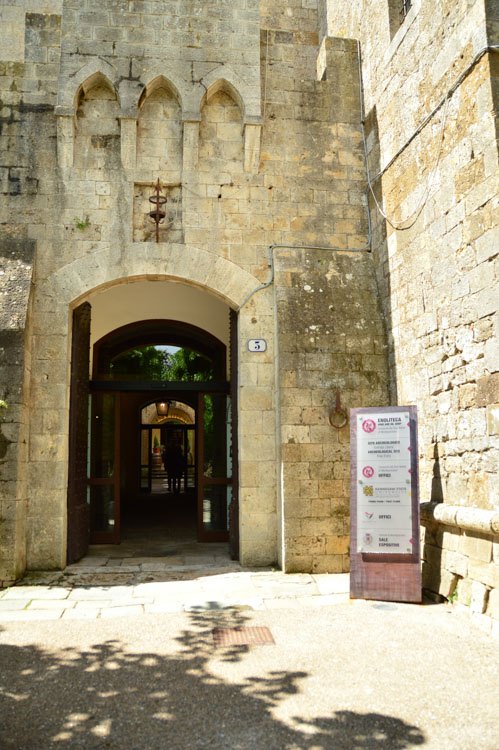 Even better there is a large outdoor area with seating and some rather wonderful views – perfect for wine tasting on a lovely day!
⇒ Do you like to visit wineries during your travels? I do. Check out my posts on the Best Places for Livermore Wine Tasting, 9 Best Wolfville Wineries, 12 Wineries in Montepulciano Not to Miss, 14 Sensational Wineries of McLaren Vale and 7 Wine Tours Stellenbosch South Africa.
Wineries Outside Montepulciano Old Town
These are wineries that I didn't manage to get to but looked good in my research. I also tried some of their wines in town which I will mention.
They are outside of the walled city but still not terribly far from town by car.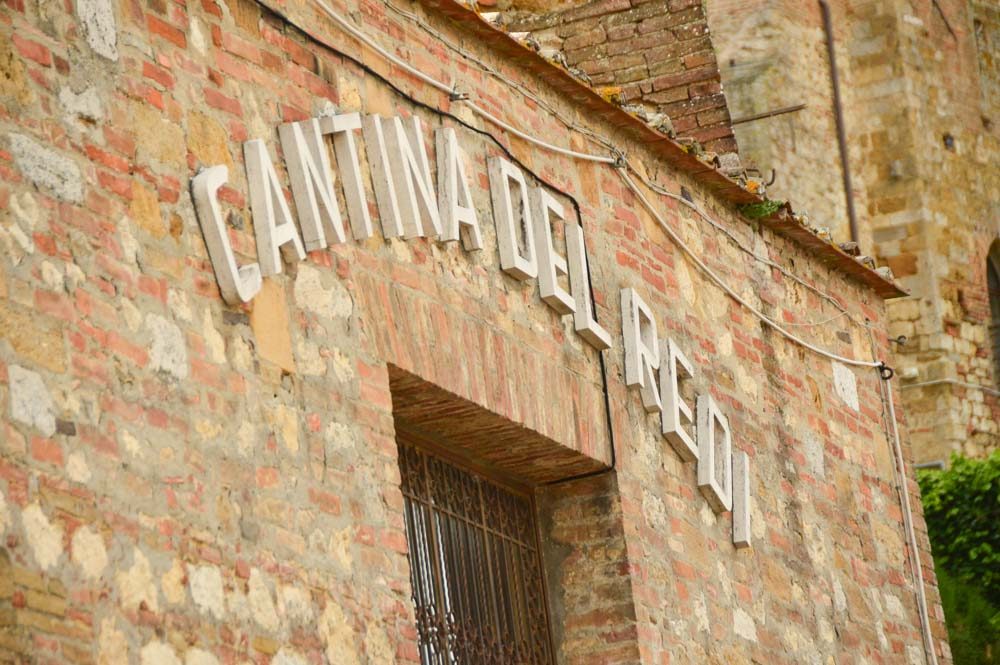 Poliziano Winery is one of the big names of the area. There is quite a bit of Poliziano wine on offer in the wine bars in town so perhaps try it and if you like it then organise a trip to their winery.
Like most other wines of the region, I enjoyed this when I tasted it.
Avignonesi Winery is another big name and the greatest distance from the old town. Again, Avignonesi wines are on many wine bar menus in town.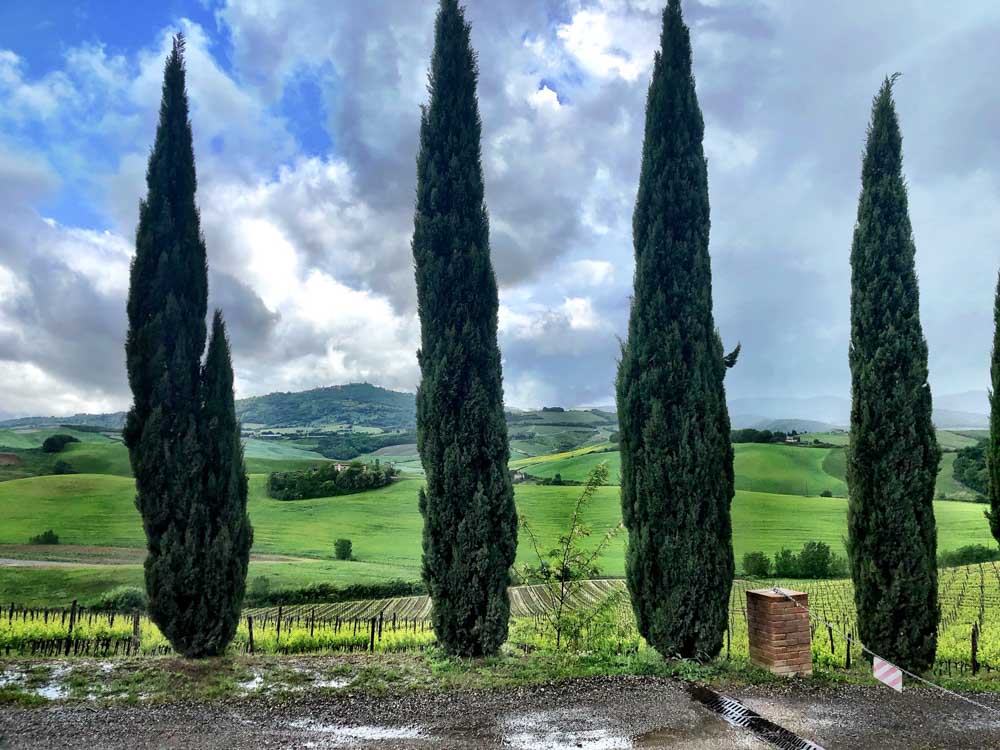 Finally, Palazzo Vecchio and Tenuta Valdipiatta showed up often in my research but I didn't have time to visit. Do email me and tell me your thoughts if you make it to either of these wineries.
⇒ Puglia is one of my favourite regions in Italy – find out why in this post on the best places to visit in Puglia
Wineries Outside Montepulciano – Montalcino
We found our own driver on google and gave him a brief – we wanted some further out wineries more around Montalcino that were more focussed on Brunello.
Fabrizio was brilliant. He took us around for 7 hours and helped plan and adjust our itinerary.
⇒ If you like beautiful European towns check out my posts on Saint Antonin Noble Val and Tarn et Garonne in France, 30 Famous Landmarks in France, 25 Famous Paris Monuments, 37 Fascinating Facts About Paris, 32 Most Beautiful Cities in France, What is France Famous For? 33 French Icons, 10 Beautiful Bridges in France, 10 Beautiful Lakes in France and the 6 Best Places to Watch the Sunrise in Paris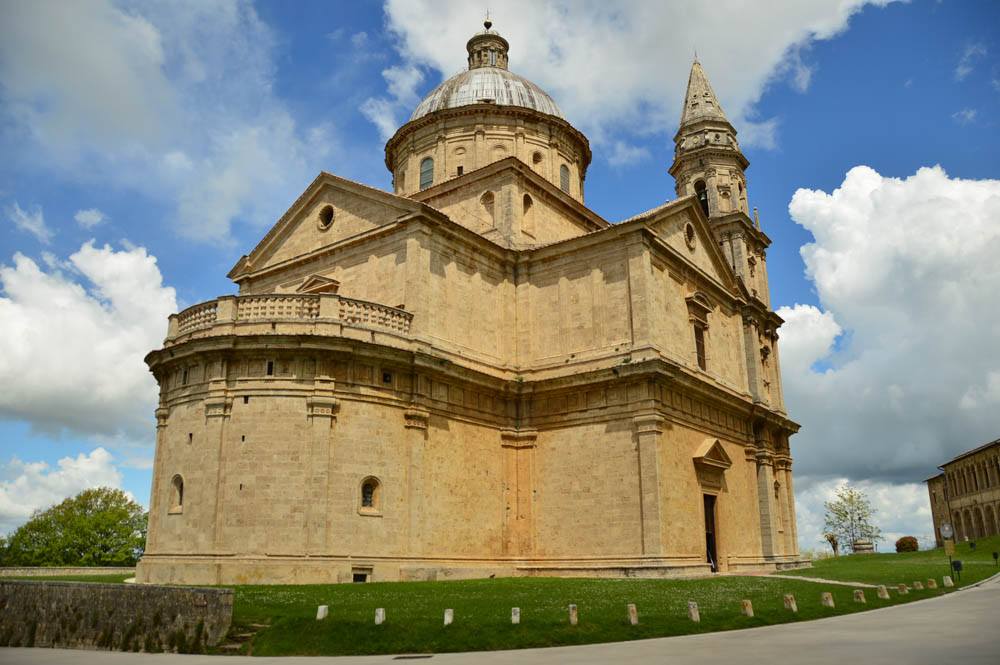 He was extremely knowledgeable about wine and different types of wineries – particularly those which were more boutique. I highly highly recommend him.
Here are his contact details: [email protected] +39 335 537 7820
Banfi Winery
Our first stop was Banfi. Banfi Winery is where this area all kind of began. It is run by an Italian and his delightful American wife Pamela, whom we were lucky enough to meet.
Banfi was the first of the big wineries and the one that put the area of Montalcino and Montepulciano on the wine map.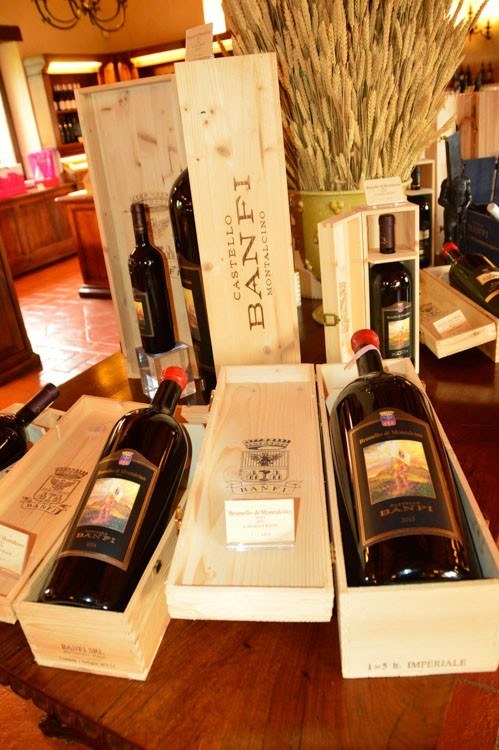 This is a big winery. Very big. But it still felt very personal. Pamela was on the entrance desk and we ended up chatting to her for quite some time.
We were then passed on to the fantastic Lisa for our actual tasting. I think we tasted at least seven wines – I did lose track a bit. I LOVED the chardonnay and the sparkling.
I know this region is supposed to be more about the reds and I very much enjoyed these as well but it was the whites that came home with me.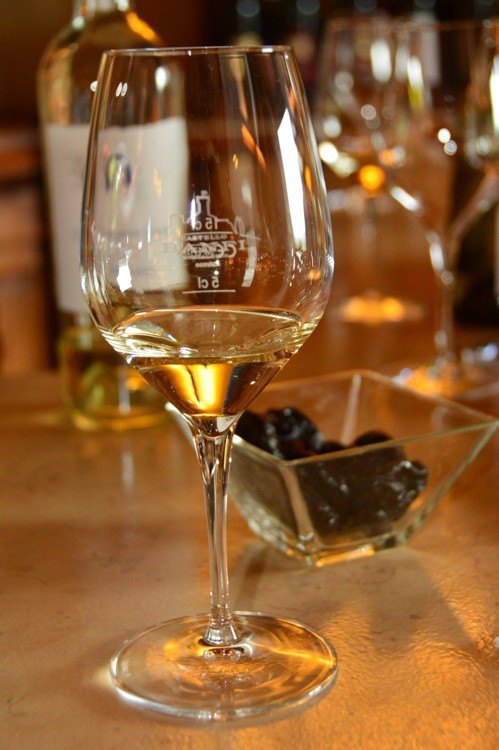 The main tasting room at Banfi is more like a hall and is just lovely. There are also all kinds of produce – olive oils, truffles, ceramics, bread – all the specialties of the region.
I particularly enjoyed the giant bottles – check out the 5 litre Brunellos.
Whilst wine tours etc can be conducted at Banfi it is possible to just turn up and taste as well.
⇒ Switzerland is one of the most beautiful countries in the world. Don't miss my posts on 14 Great Things to do in Verbier that aren't skiing and 20 Reasons to Visit Verbier in Summer.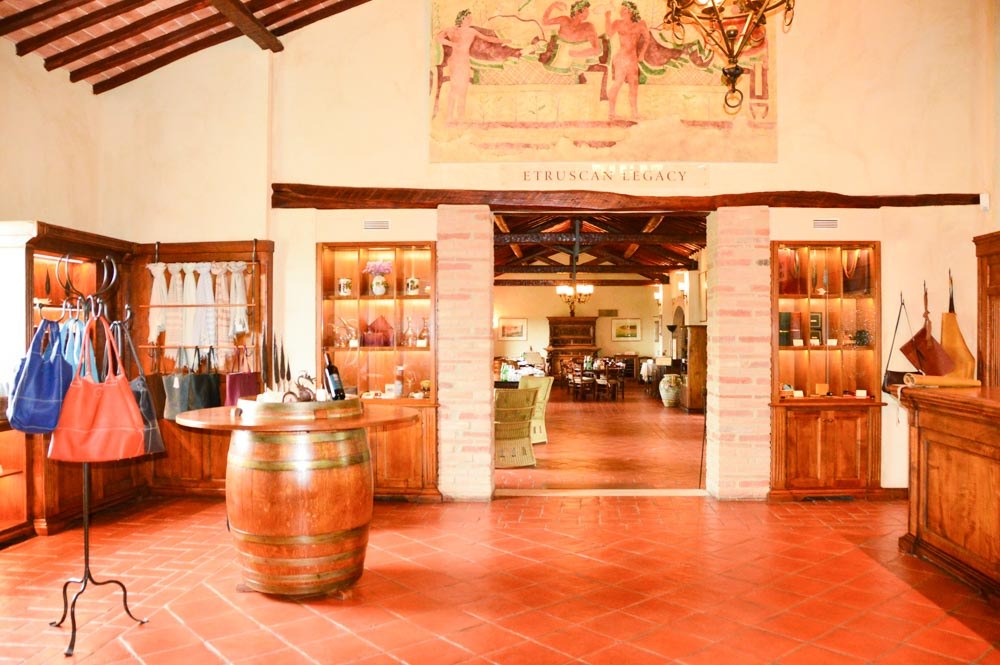 The winery has two restaurants. We visited the Banfi Taverna which was just stunning. It is the most gorgeous room and a wonderful mix of special and comfortable.
There was a tasting menu option but alas we were on a schedule. I enjoyed my first serving of the local Pici pasta with a wild boar ragu – sensational.
And despite our rather sad ordering of only one course, we were brought some very tasty amuse-bouche options. And of course, we had a bottle of wine.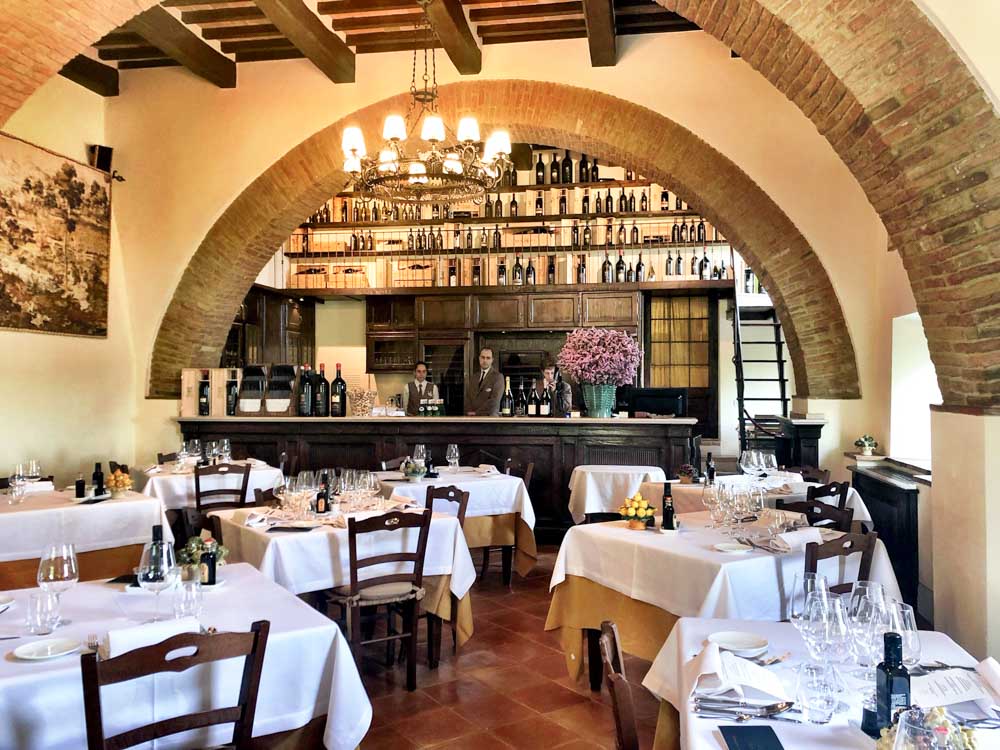 There is also a very high-end restaurant at Banfi. It took about 90 minutes to get from Montepulciano to Banfi by car.
Canalicchio Di Sopra Winery
Our second winery was Canalicchio Di Sopra. This was a truly boutique winery with small productions. Tasting here is by appointment only so do book ahead.
⇒ Interested in visiting some other off the beaten track places in Europe? Check out my posts on things to do in Latvia, things to do in Graz in Austria, Verbier in Switzerland in the summer, the Tarn et Garonne region in France, One Day in Hamburg in Germany, Cappadocia in Turkey and the best places to visit in Puglia in Italy.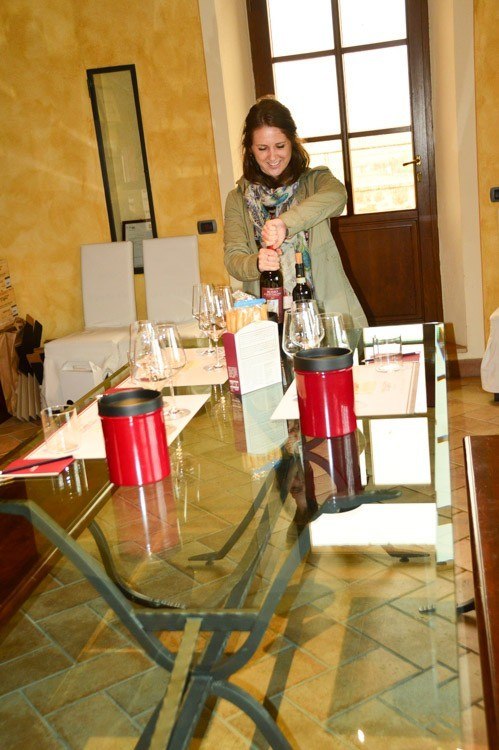 ⇒ I love ticking off seeing a landmark. See how many famous landmarks you've seen in my series of posts: 60 Most Famous Landmarks in the World, 27 Top Australian Landmarks, 25 Asia Landmarks, 61 Magnificent Landmarks of the UK, 13 China Landmarks, 35 Japan Famous Landmarks, 60 Most Famous Landmarks in Europe, 25 North America Landmarks, 25 Canada Landmarks and 15 Famous Landmarks in the US.
Altesino Winery
Our third winery for the day – and bear with me as it is getting a little blurry now – was Altesino Winery which I loved. This was my one case order of the trip – the Palazzo D'Altesi 2016 which was ridiculously drinkable.
This winery should also be pre-booked and can also organise lunch if needed.
Would you get naked at a spa? Check out my posts on Naked or Clothed – Baden Baden Spa Guide, the best Baden Baden Tour options, 26 Landmarks of Germany, 9 Most Beautiful Cities in Germany and One Day in Hamburg – all in Germany.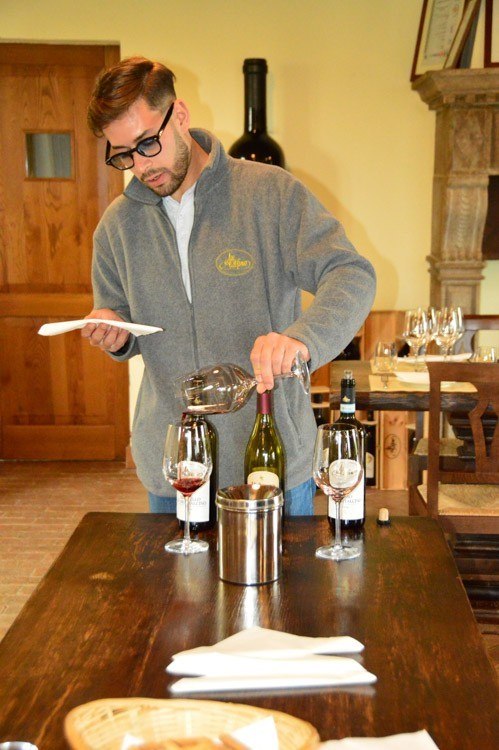 All three wineries were on stunning estates which were extremely photogenic.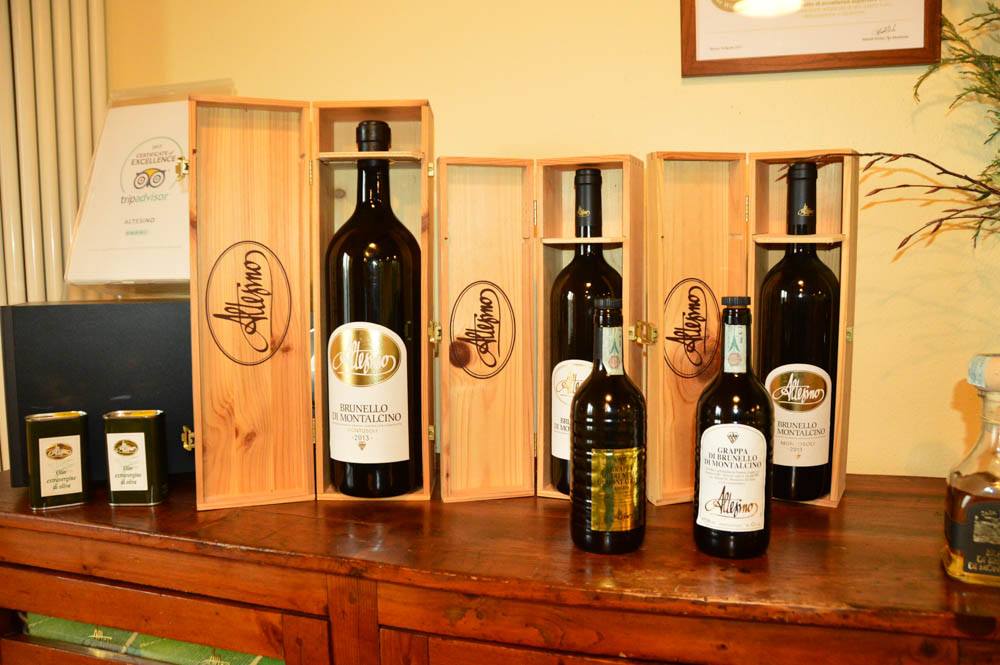 Montepulciano Wine Tours
There are quite a few Montepulciano vineyard tours and wine tasting tours on offer. Within the town, there are options to have a guided tour of one winery and its cellar or the same with lunch as well.
Or why not combine a guided walking tour of Montepulciano with a wine tour?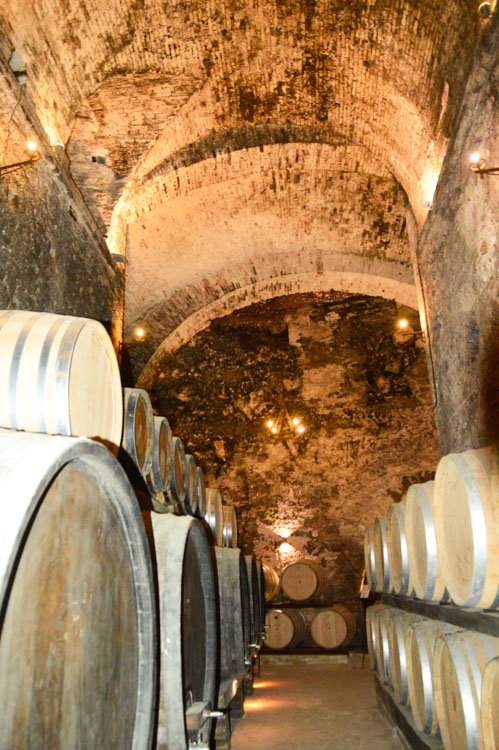 Or head outside of the old town with a wine tasting and light lunch at one of the vineyards.
⇒ Book your Montepulciano Wine Tour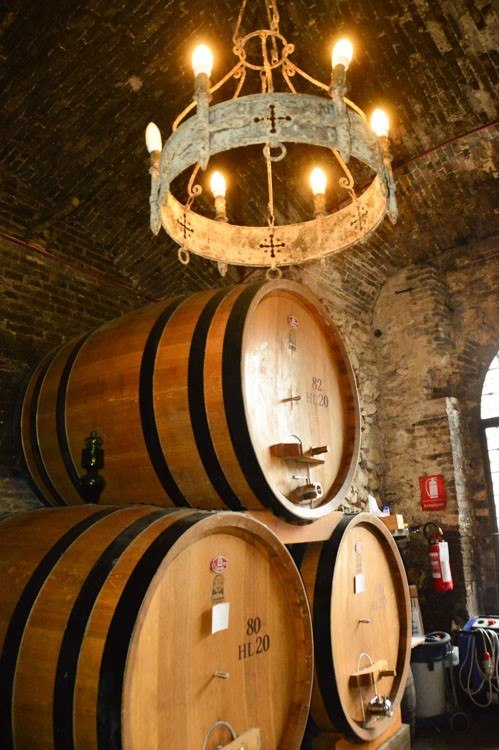 Montepulciano Restaurants
We did not have a bad meal in Montepulciano. Indeed, every meal was a pretty darn extraordinary meal.
I imagine it would be hard to survive in Montepulciano if you served up bad food so I think most restaurants in town would be a good bet.
Here is where I visited and what I ate:
La Pentolaccia
Next door to La Dolce Vita on the main street this tiny restaurant with outdoor seating definitely requires a booking. La Pentolaccia was full each night we were in town – we clocked making a booking the second day.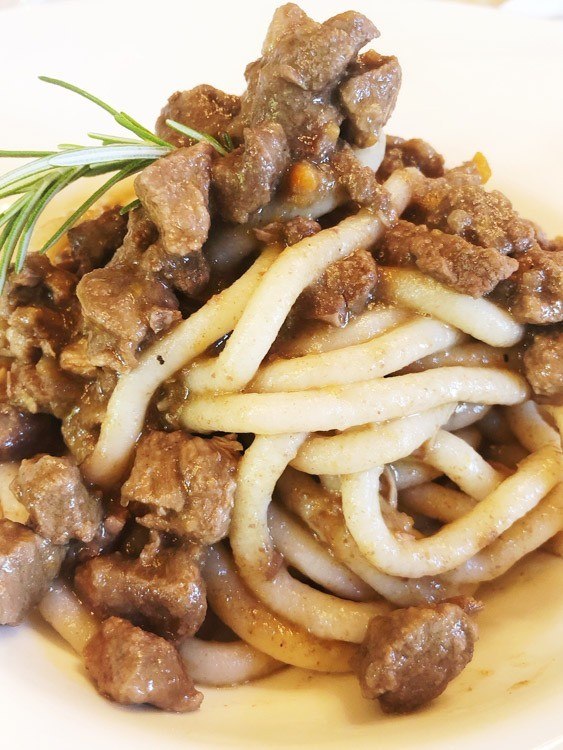 La Pentolaccia has two menus. One features seafood with different options for all courses. Really, there was enough seafood option for it to be an entire restaurant itself.
There is then a second menu with meat and chicken and other non-seafood options. There are a lot of choices.
I started with the cuttlefish salad which was absolutely delicious. So fresh and light and the cuttlefish was perfectly cooked. We also tried the swordfish which turned out to be smoked and wasn't as good.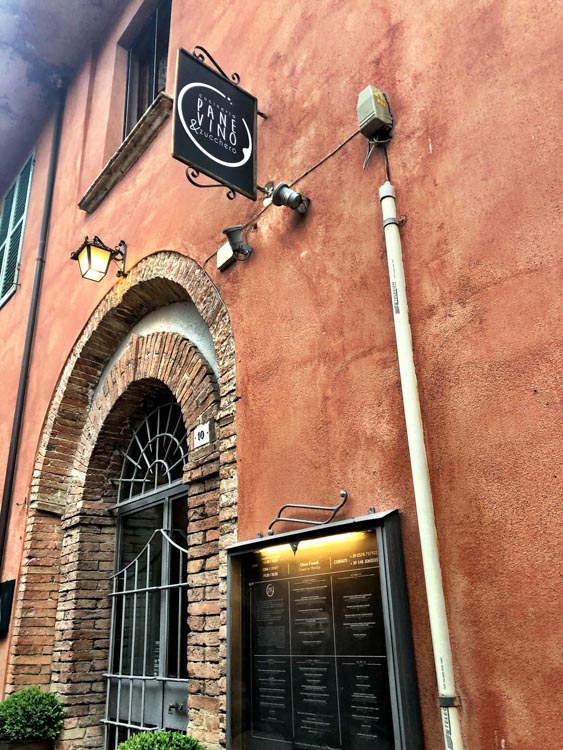 For the main, I went with the Tuscan beef. Although it was very nice beef it was literally just beef which was a bit of a surprise.
One of my companions had the seafood pasta which looked amazing – and apparently tasted as good. My advice here is to go with the seafood options.
L'Altro Cantucci Ristorante
L'Altro Cantucci Ristorante on the main street in Montepulciano was fantastic. This is a modern style restaurant featuring modern Italian meals.
I enjoyed artichoke prepared in five different ways (including as ice cream) for a starter and then their homemade Pici pasta with Tuscan style ragu – amazing.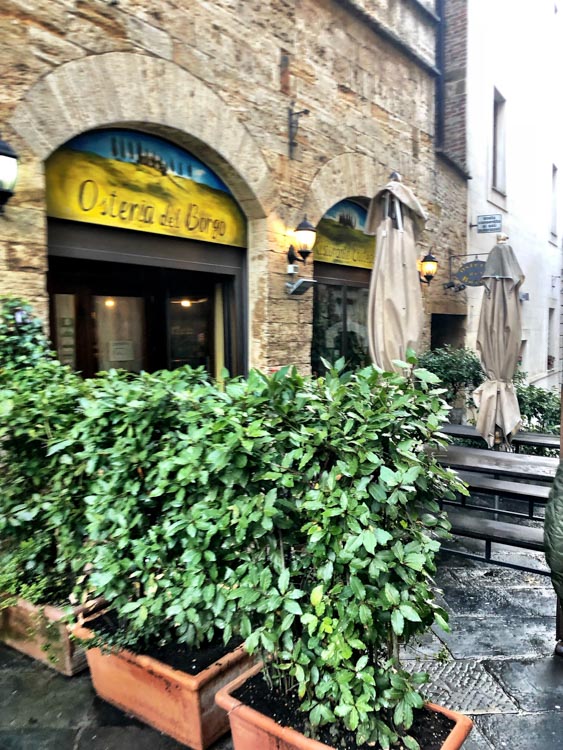 Pici is the signature pasta of Montepulciano. I had never heard of it prior to this visit. It is basically spaghetti plus. However, it is quite tender and more like a noodle. And may I say it is rather delicious.
The menu was classic Italian style of antipasti and first and second plates. The majority of the pasta options were quite innovative and featured ingredients like smoked butter, raspberries, pistachios and much more.
Most options featured some ingredients you knew with a twist.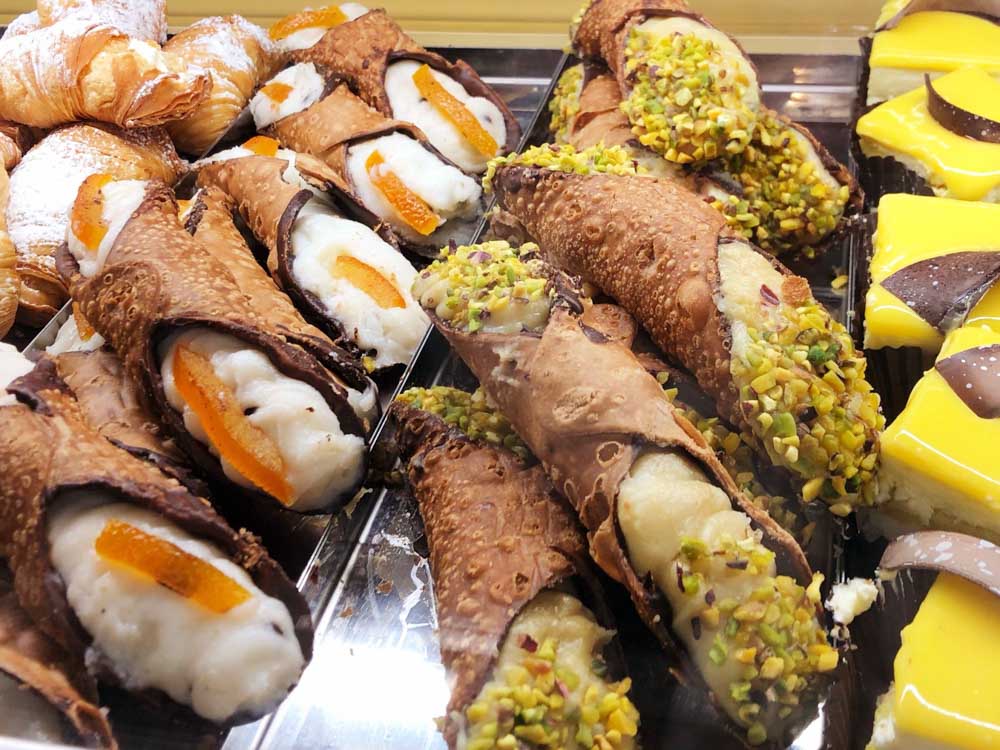 It was a lovely room as well – well worth a visit.
Caffé Poliziano
This is the most famous café in Montepulciano. Caffe Poliziano is a beautiful old European building and filled with atmosphere.
The range of cakes on display is rather amazing. There are two large rooms which both end with fantastic views over the Tuscan countryside.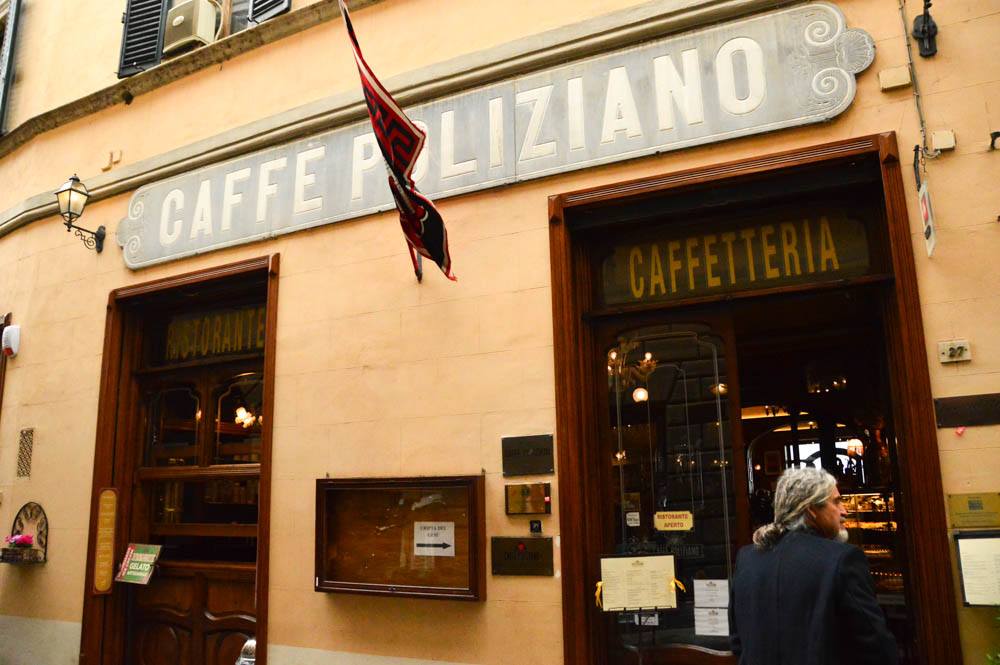 We just went for coffee but they offer full menus for lunch and dinner. Don't leave Montepulciano without stopping into Caffe Poliziano at least once.
I didn't get to Osteria Acquacheta but it was jam-packed every time we walked past and it was open. A meat-heavy menu but a lot of pecorino cheese options. This would have been next to try if we were staying more time.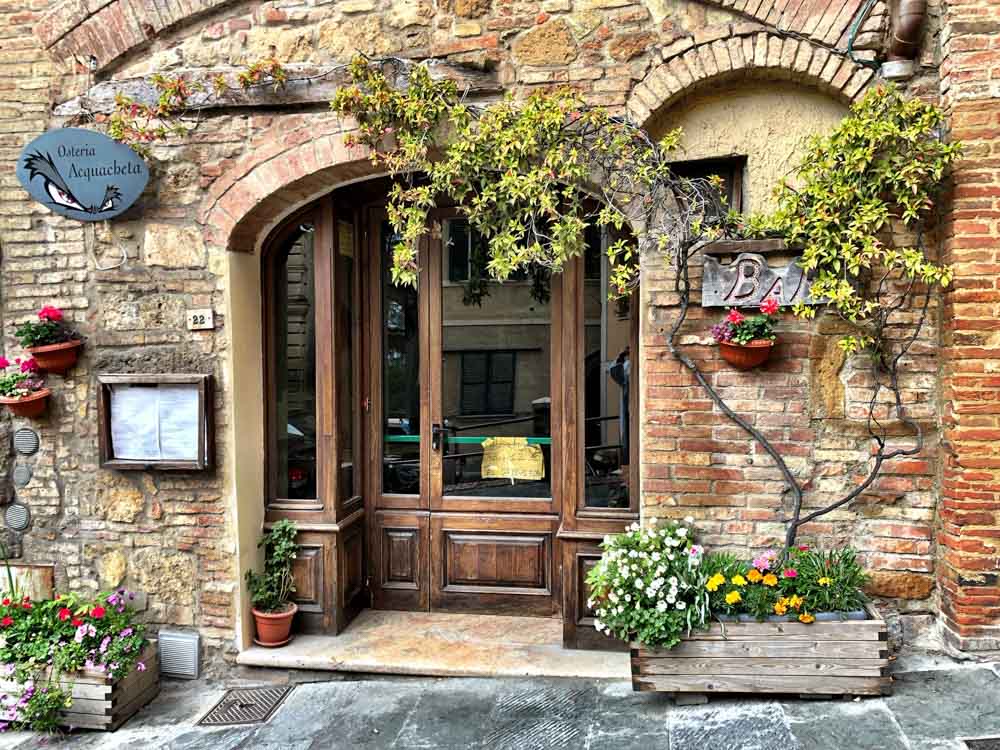 Cucineria Pane Vino et Zucchero is a gorgeous cellar style restaurant. We enjoyed some amazing burrata and tomatoes to start with basil ice-cream. This was, of course, followed by some more Pici in a beef ragout.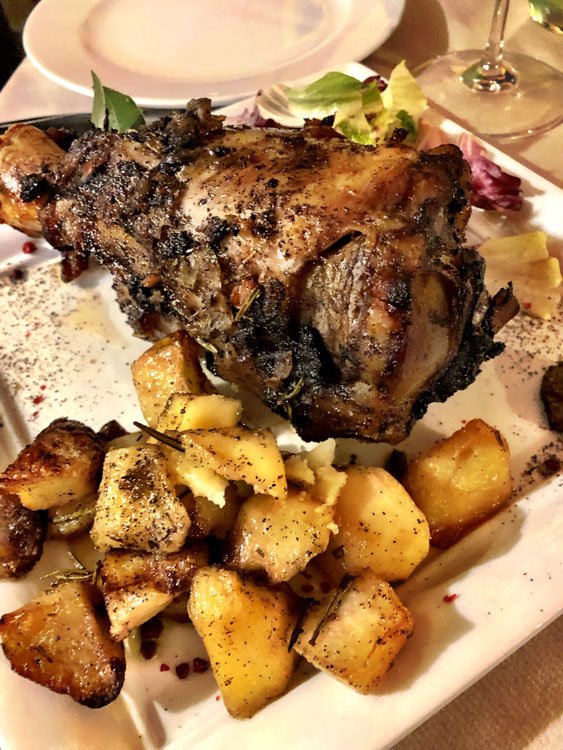 Osteria del Borgo offers amazingly soft and fluffy spinach gnocchi which was one of my eating highlights – plus a roasted pork knuckle to die for.
Where to Stay in Montepulciano
I just loved Meuble Il Riccio – our historic little boutique hotel just off the main square (perfect for exploring and walking to wine bars and restaurants).
The couple who run it are just delightful – they always seemed so genuinely pleased to see me.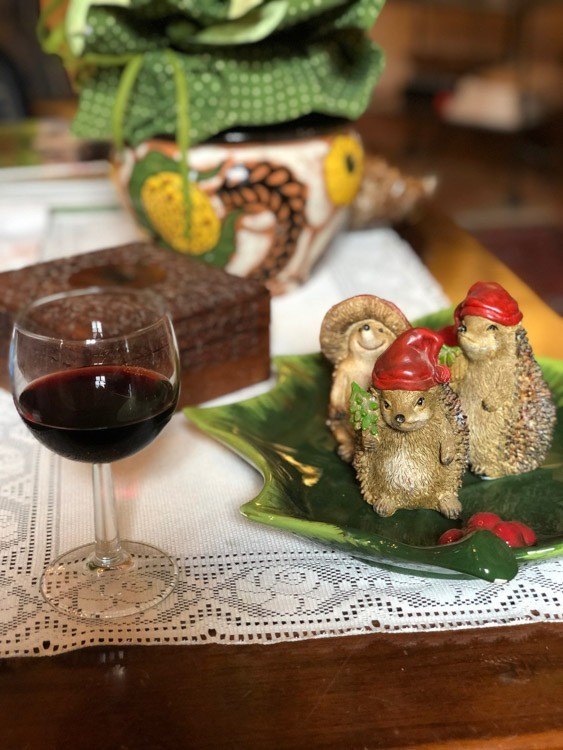 As were the many hedgehogs throughout the hotel. From small to large to paintings to door stops hedgehogs in all their forms are prevalent at the Hedgehog hotel.
But the highlight of Meuble Il Riccio is the amazing view. Even my bathroom had a jaw-droppingly stunning view over the Tuscan villas.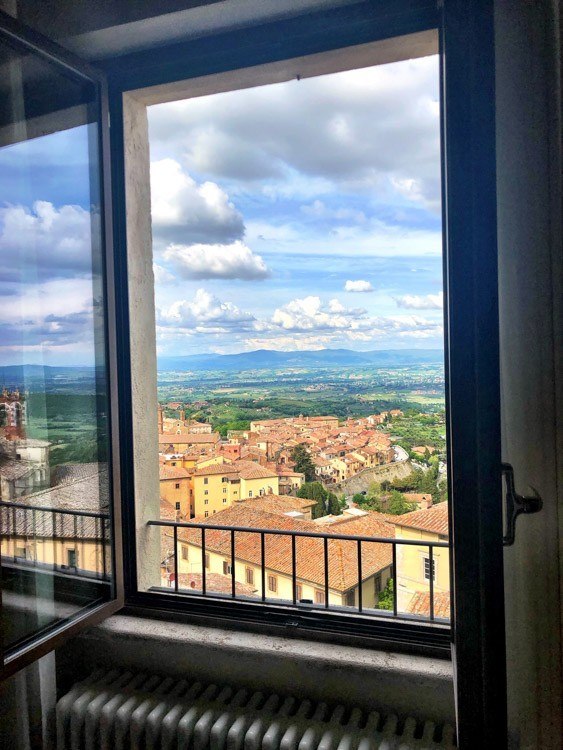 My room was huge with lovely high ceilings. A very large bathroom as well with shower and tub. It is very easy to buy the Italian wine Montepulciano and bring it back to the hotel to enjoy. There is a large room with tables and couches where breakfast is served plus several rooms have their own terraces.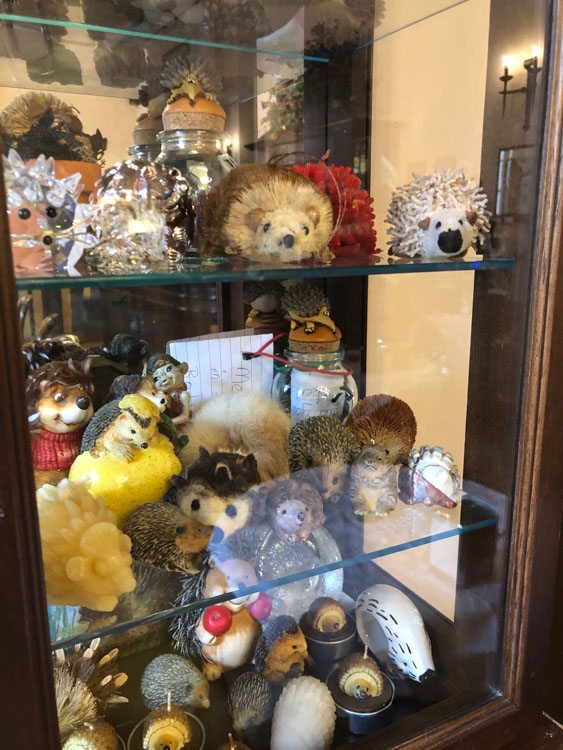 A buffet-style breakfast is on offer each morning which includes cappuccinos with smiley faces and Ivana's amazing homemade cakes.
⇒ Read more reviews on TripAdvisor ⇒ Book Now
Villa Poggiano and Villa Cicolina also came highly recommended.
And don't miss my post on 7 Charming Tuscany Boutique Hotels.
For somewhere really special to stay
Wonderful Banfi, the winery I mentioned earlier, has its own Borgo. This is essentially an old Italian village.
With planning laws very little can be changed about the borgo and they are now modernised inside to create stylish and unique accommodation.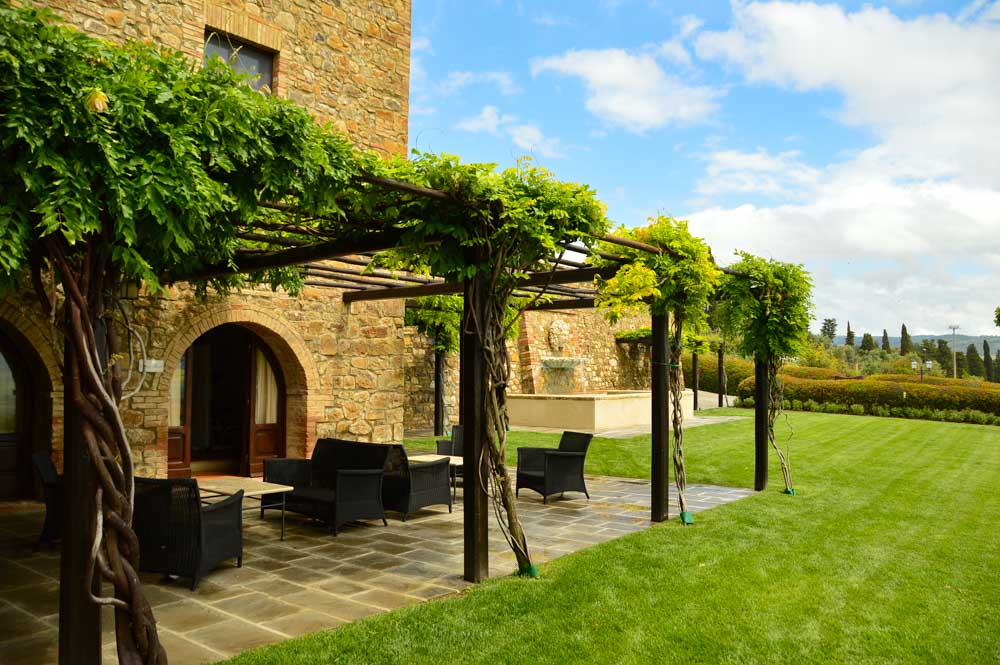 Banfi's Borgo has 9 rooms and 5 suites and is just stunning. I lost count of how many charming and photogenic places there were to drink wine.
And it has been ranked in the top 10 in Italy by Conde Nast Traveller. Somewhere truly special and memorable.
⇒ Read reviews on TripAdvisor ⇒ Book Now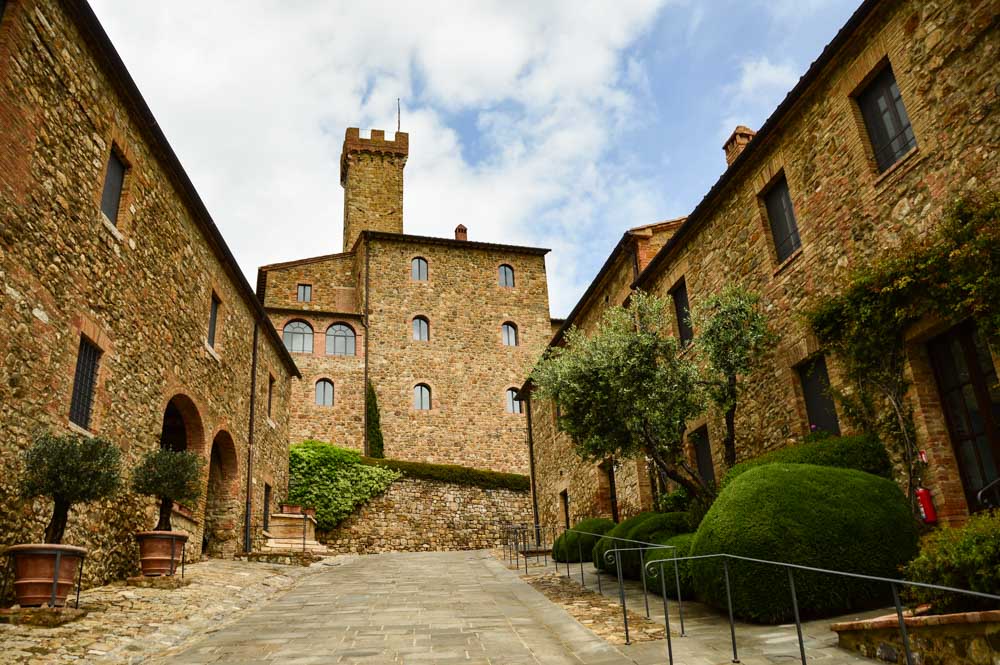 How to get to Montepulciano
The closest airports to Montepulciano are Rome and Tuscany. Rome airport has far more flights than Tuscany airport. However, Tuscany airport is much smaller. I flew into Tuscany airport from London and hired a car.
Montepulciano is on a minor train line and the station is a few miles outside of town. There are then buses to get into town.
A better option can be to take the train to Chiusi, which is on the main train line. Hourly buses from Chiusi station to Montepulciano.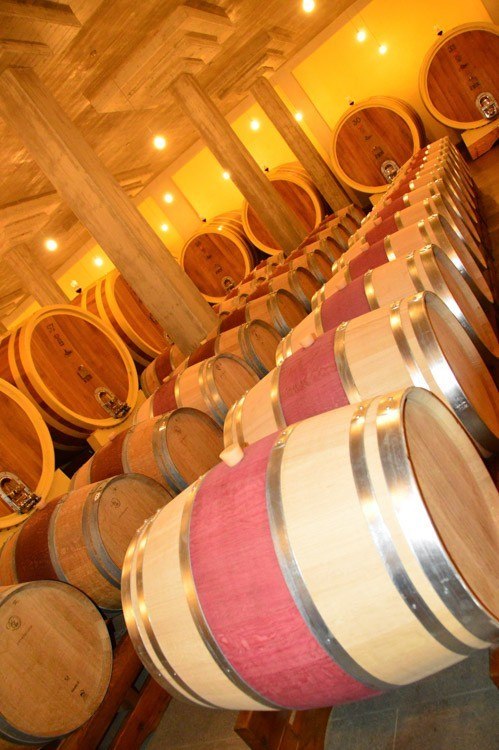 I would highly recommend hiring a car. Car hire is quite cheap in Italy. Meuble Il Riccio has parking.
I literally drove into Montepulciano and parked and then next used the car when I was driving back to Tuscany airport.
NB: If you do hire a car from Tuscany airport the car hire pick up and drop off is a decent shuttle bus ride from the terminal. Do make sure you allow a good extra 20-30 minutes to get to the car hire area and complete the paperwork at both ends.
Some of the articles I used to plan this trip:
⇒ Decanter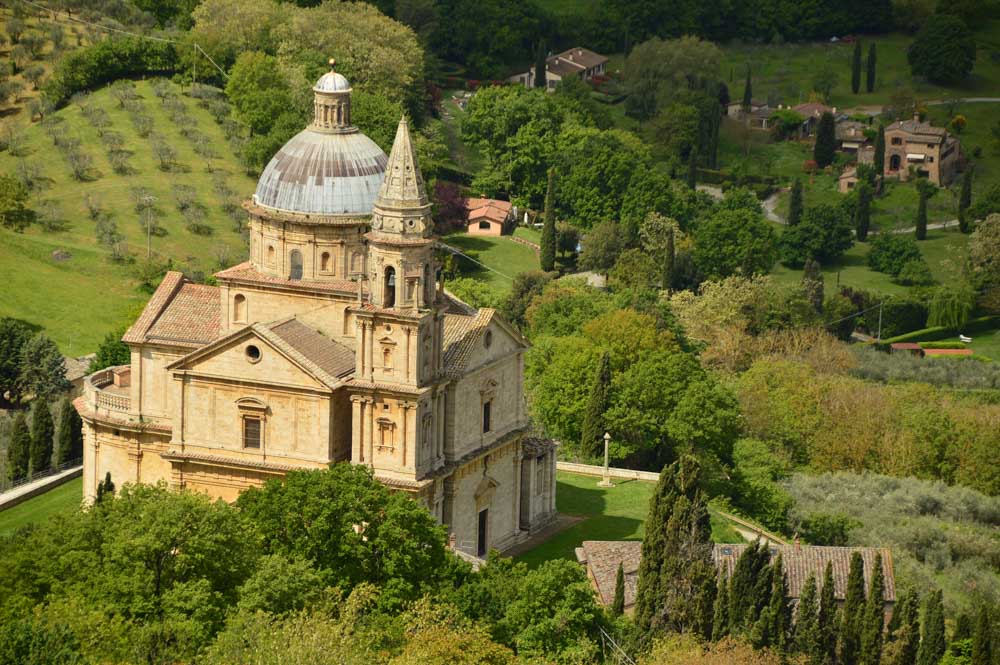 Who Paid for What in this Post?
I covered the cost of everything in this post. I was visiting with friends so it wasn't meant to be a travel blog trip – but then I loved the wineries so much I thought I would share it.
And special thanks to my wine tasting partners in crime Pru and Thibault. Not only were they brilliant company and great fun they came with extensive research.
However, this post on wineries in montepulciano does contain affiliate links. That means if you click through and end up making a purchase I will most likely receive a small commission. It won't effect the price that you pay.
READ NEXT: 9 UNIQUE THINGS TO DO IN SICILY ITALY
Like this post? Why not Pin It?