One of North America's magnificent mountain states, Arizona's desert terrain provides the perfect backdrop for a picturesque sunset. Venture into the Northern Verde Valley region and you'll find the desert town of Sedona and the stunning Sedona sunsets. Sedona boasts bold red rock faces, steep canyons, and a unique cultural milieu.
This article lists the most picturesque lookouts and trails from which to watch the sunset in Sedona. Here, you can hike up a trail, set up a family picnic, or look in awe at some of the desert's natural rock formations.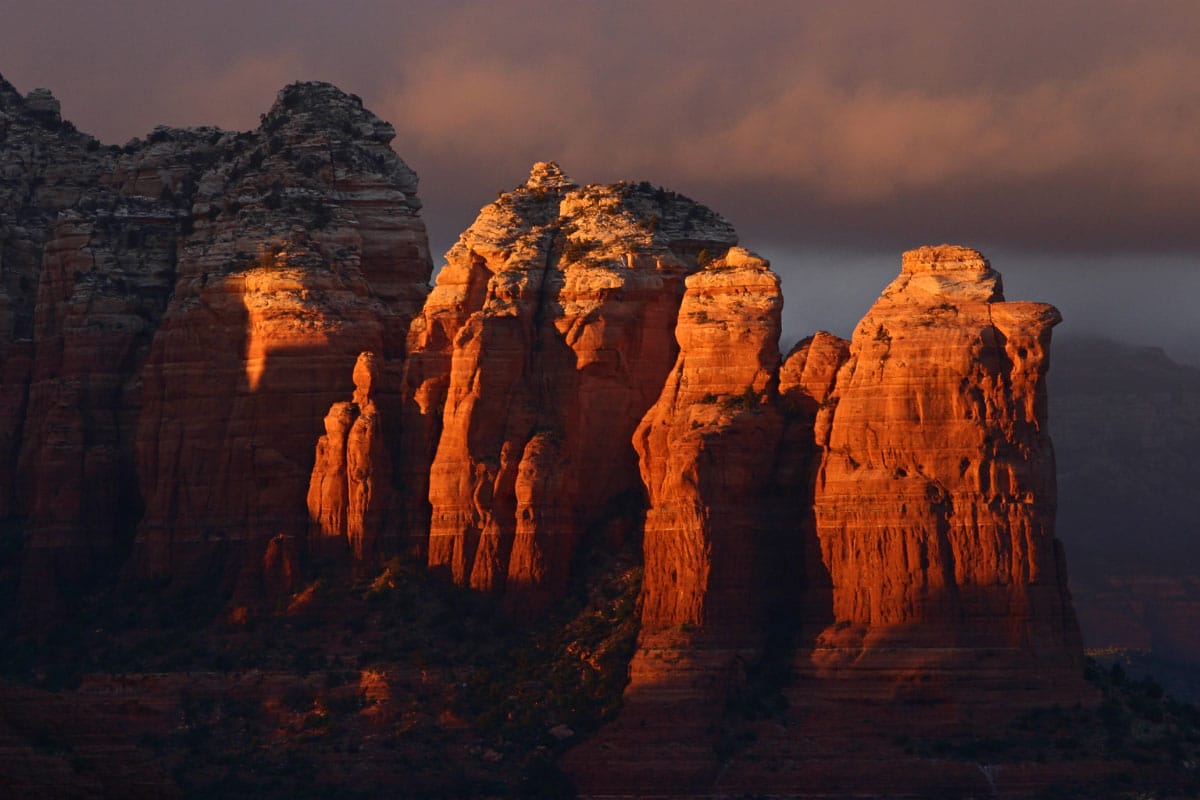 Sedona Sunsets: Time & Directions
Spring is high season in Sedona due to its warm weather – but not too warm. March through May sees the desert flowers in bloom and a bearable heat, unlike the scorching summers.
If you're looking to hike to a spectacular sunset view, you may want to avoid Sedona's winter. Temperatures drop below freezing after dark, so the spring and summer months are more ideal if you plan on venturing outdoors.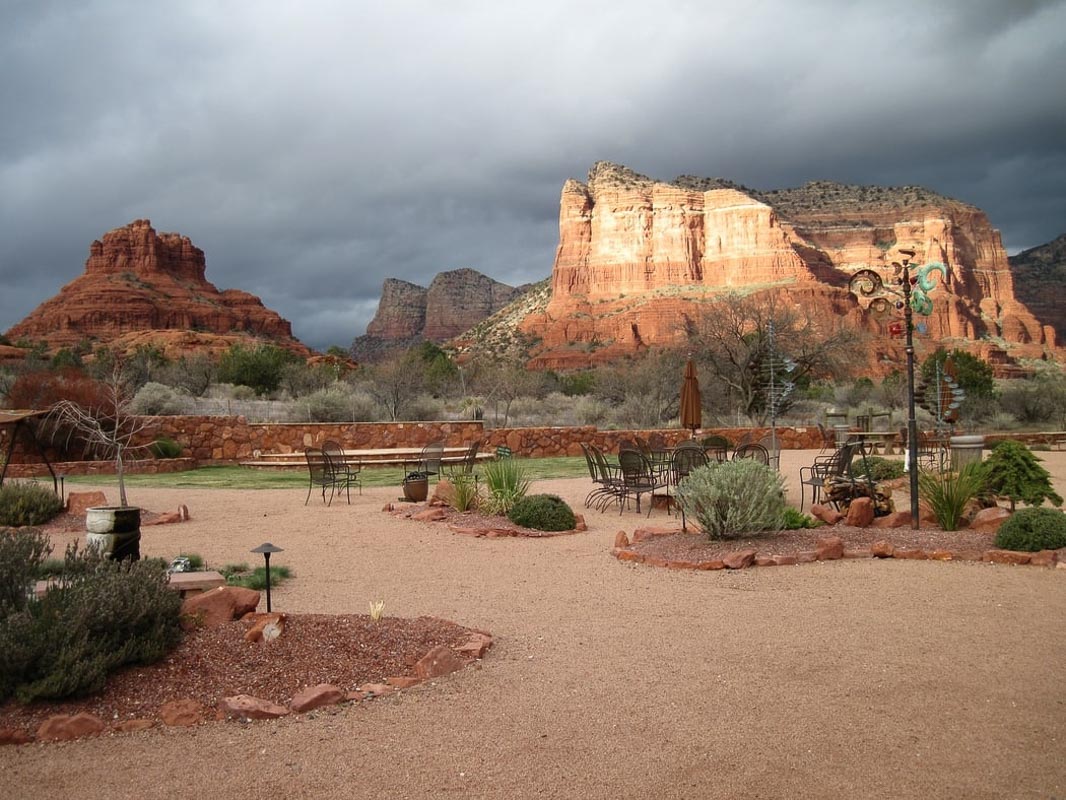 Sunsets in the summer and spring months happen as late as 7:30 pm in Sedona, so you'll have ample time to enjoy the red, purple, and orange desert skyline.
If you're brave enough to be out in the canyons in the winter, plan for early evening adventures. The sun goes down in the East as early as 5:30 pm during these months.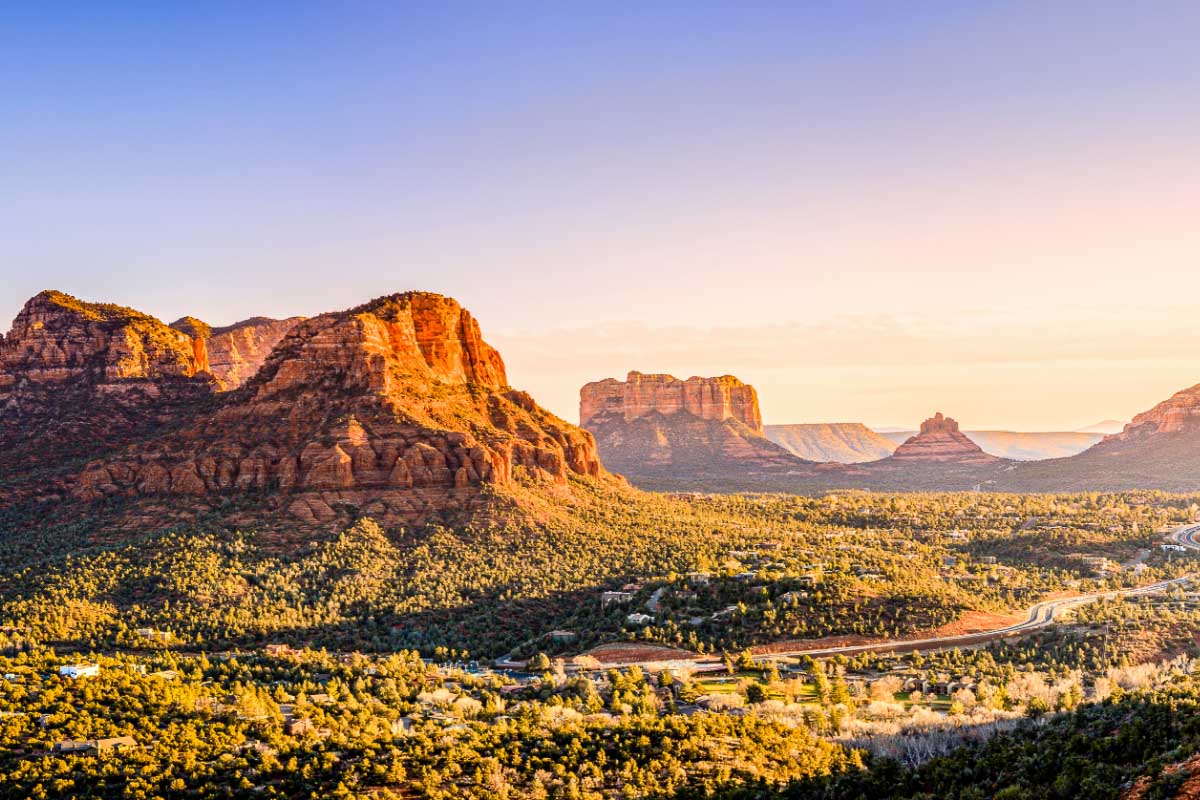 ⇒ Check out my posts on 35 Things to do in Vegas besides Gamble, 7 Best Places to Watch Sedona Sunsets, 11 Texas Sunflower Fields to Visit, 7 Sunflower Fields in Minnesota not to miss, 17 Stunning Sunsets in Florida, 21 Stunning Sunflower Fields in Ohio and 6 Spectacular Places to watch Sunsets in Seattle.
Best Places To Watch Sedona Sunsets
From natural bridges to red limestone canyons and cliffs, Sedona has so much to offer in the way of sunset destinations. Here are some of the best places to watch the Arizona sun dip over the popular city of Sedona:
1. Airport Mesa Road: Sedona Airport Vortex
Airport Mesa Road has one of the most popular hiking trails in Sedona just minutes away from the airport runway. The views are exceptional, but it's also the vortex in this area to which much of its appeal is attributed.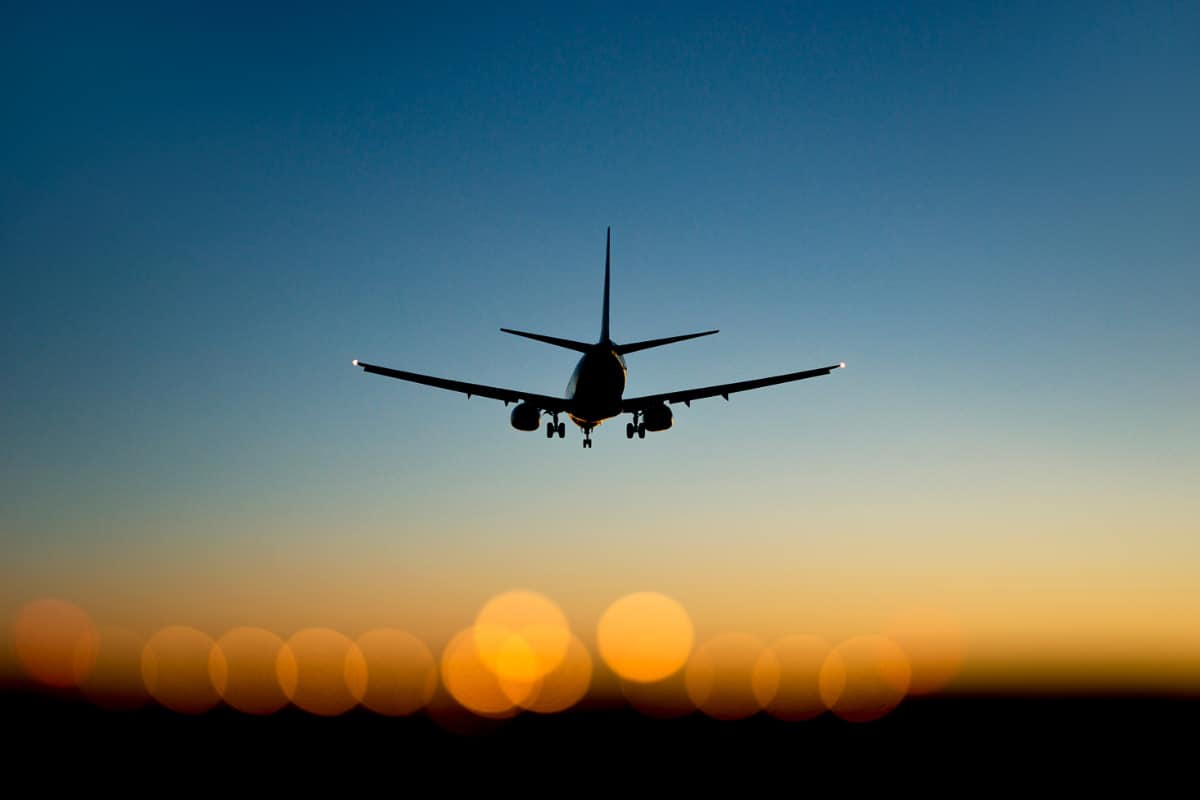 Sedona's vortexes – sites of heightened electrical and magnetic energy – are believed by spiritualists to emit positive frequencies that can aid in one's path to enlightenment. Many Sedona locals, as well as tourists from around the world, have an affinity to vortexes for this reason.
If "energy" isn't your thing – worry not. Approaching Airport Mesa Road as a traditional hike in the desert holds just as much appeal thanks to the magnificent view of the desert vistas.
This 3.5-mile trail loops around the Verde Valley, offering panoramic views of the brilliant red rock formations and desert lands stretching for miles.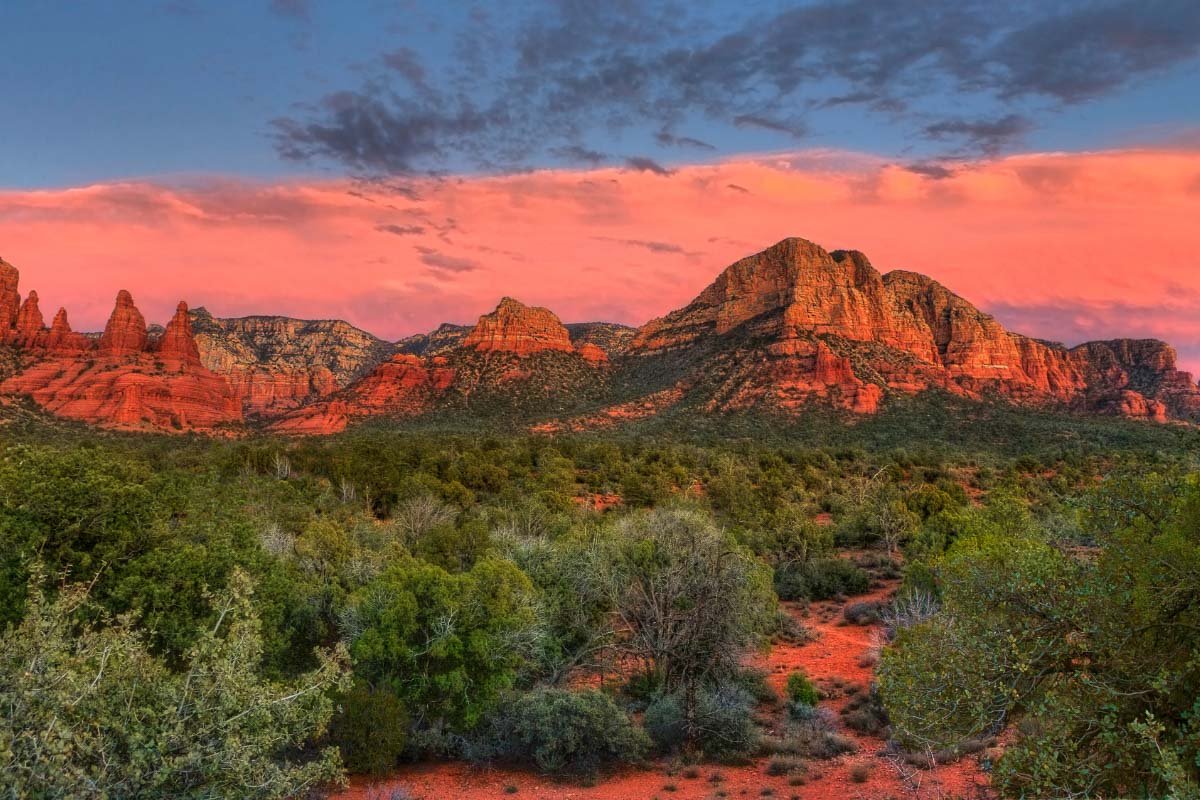 You can also spot Cathedral Rock, Bell Rock, Elephant Rock, and the Courthouse Butte – popular rock formations in Sedona – along this scenic trail.
Visitors can also choose to take an extensive jeep tour of the Sedona desert. This tour passes through not only Airport Mesa Road, but also the Vultee Arch and Mystic Vista.

⇒ Looking for some travel inspiration? Check out my posts on the 25 North America Landmarks, Top 15 Famous Landmarks in the US, 25 Beautiful Canada Landmarks, 16 Most Beautiful Cities in Canada, 15 Most Beautiful States in the US, American Bridges you Must Cross, Most Beautiful Lakes in Canada and the 20 Most Beautiful Cities in United States.
2. Cathedral Rock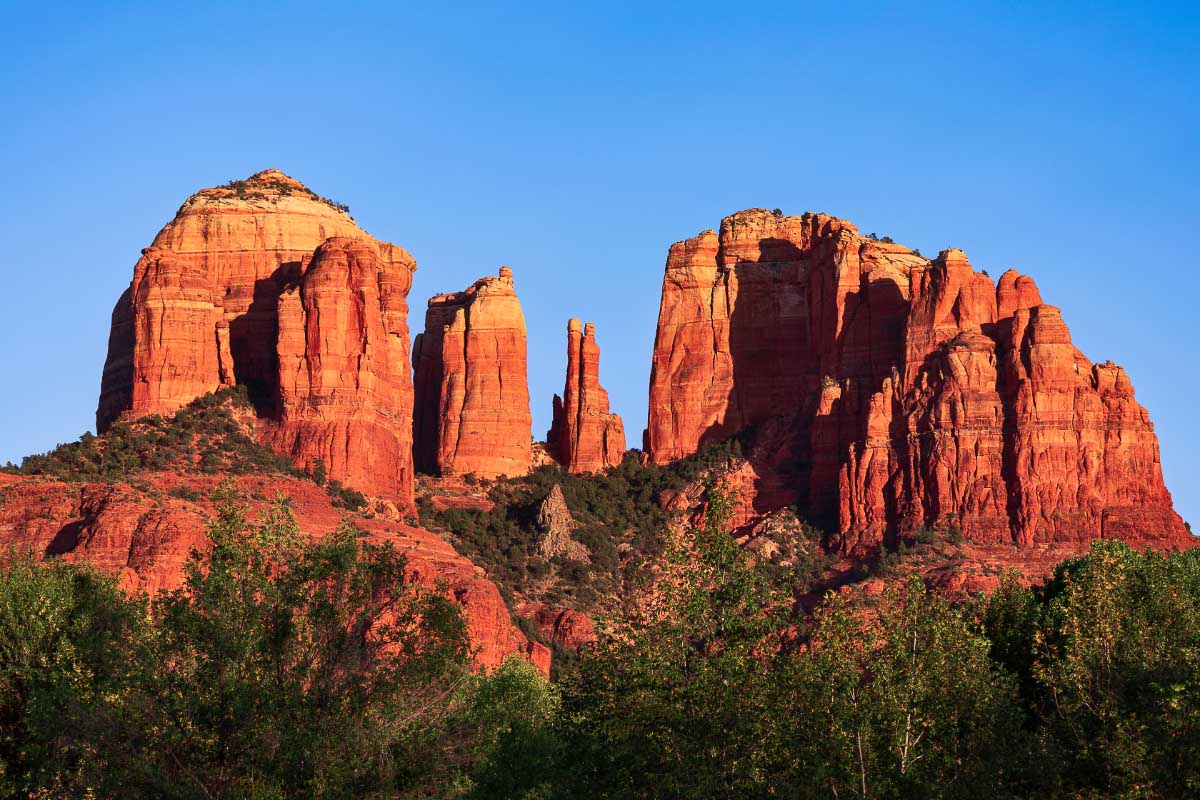 It's a moderately difficult hike up the Cathedral Rock trail, but the view from the top will exceed your expectations. This natural sandstone butte located near Yavapai County is a must-see in Sedona and is well worth scaling a cliff face.
You'll have to get a little dirty going up this trail, using your hands to grip the smooth and tricky cliff sides of Cathedral Rock. Getting to the top – over 600 feet (196 meters) high! – is such a thrill though, especially once you see the sun setting over the mountain range.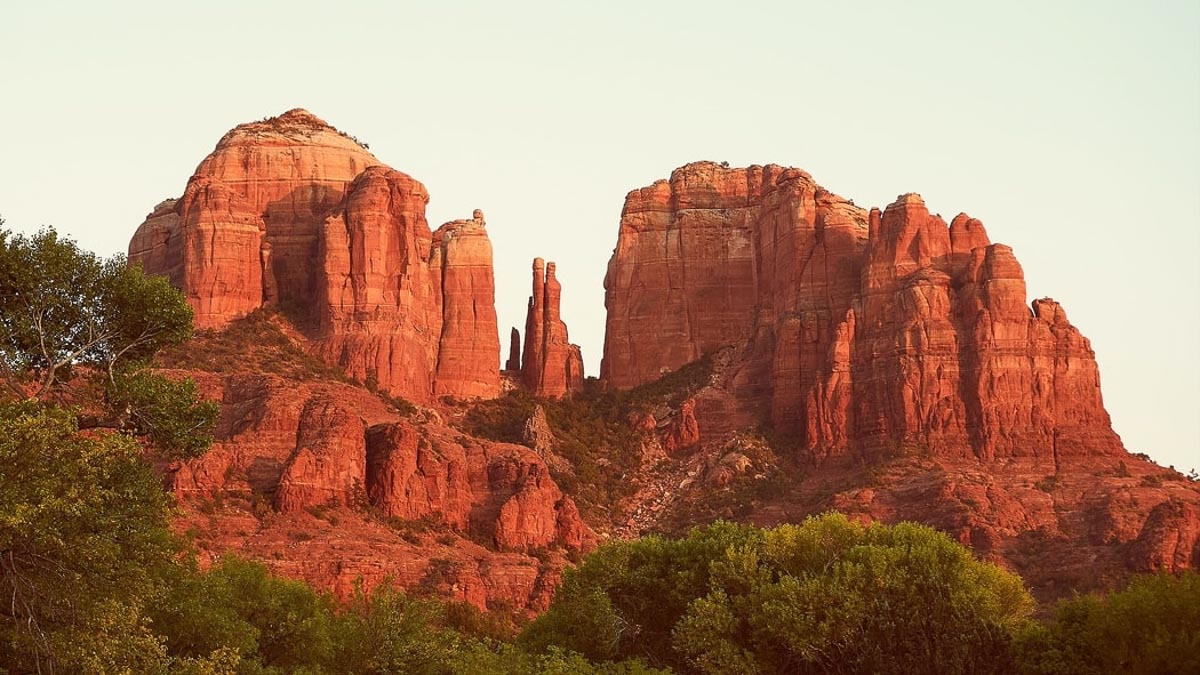 The trip up the trail and back down Verde Valley Road is just over a mile long, with an arduous and steep uphill battle. You can catch your breath at the top, however, and bathe in the beauty of the Sedona desert.
⇒ Interested in heading to California? Check out my posts on Unique Restaurants in San Francisco, Things to do in Calistoga review of the great Solage Spa, 19 awesome places to watch San Diego Sunsets, visiting Yosemite in One Day, 10 Stunning Sunsets in California and in Yosemite in October and my guide to a Livermore Wine Tasting.
3. Vultee Arch
Everyone's got that one friend who takes unique travel photos- the jealousy-inducing stuff of dreams that makes you want to abandon your desk and disappear for a week. At Vultee Arch, you can be that guy.
The Vultee Arch trail will take you through about five miles of desert wilderness, culminating in the traversal of a huge red rock bridge passing over a canyon. This natural bridge is 50-feet high, so you may be scrambling to reach the top. But once you reach it, you won't be disappointed.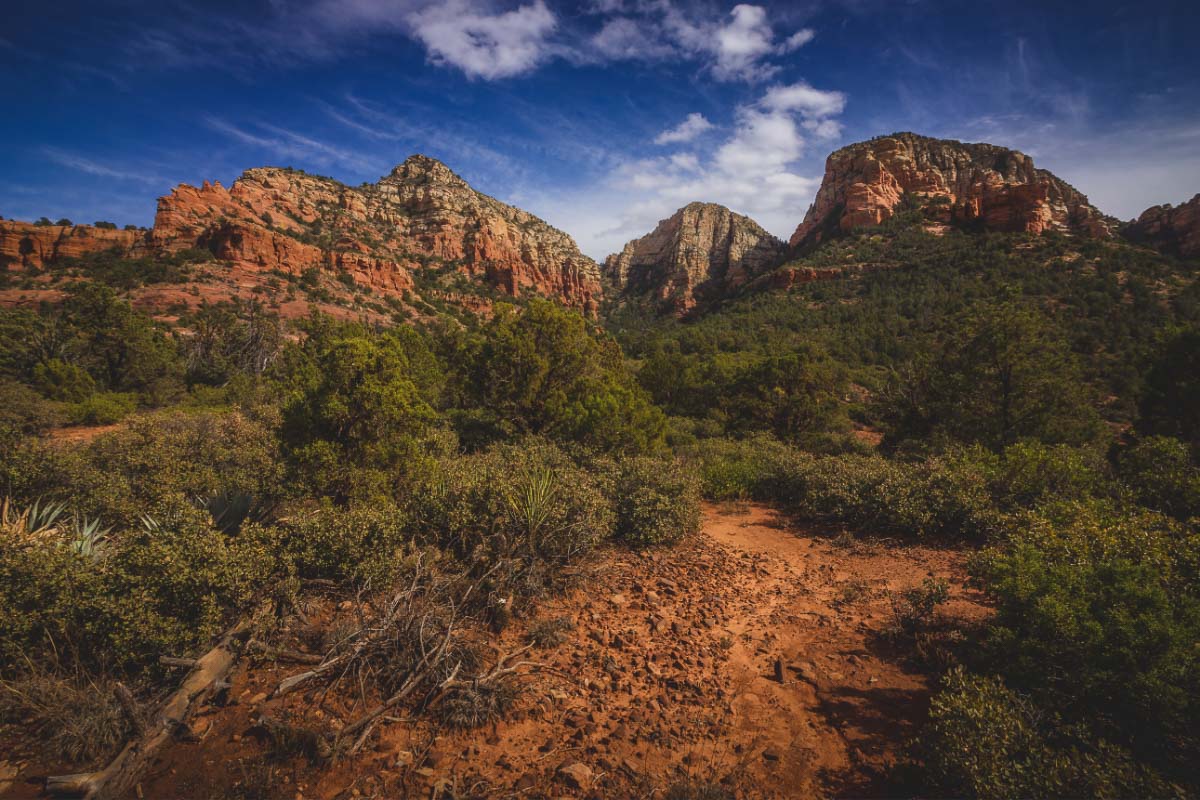 The vegetation is sparse in Sedona, but the hike to Vultee Arch will show you what little forestry the area does have. The desert willows and acacias set against the brilliant rust-stained limestone is truly something to behold.
If you've never been out to Arizona before, the sunset from this arch is something you'll never forget.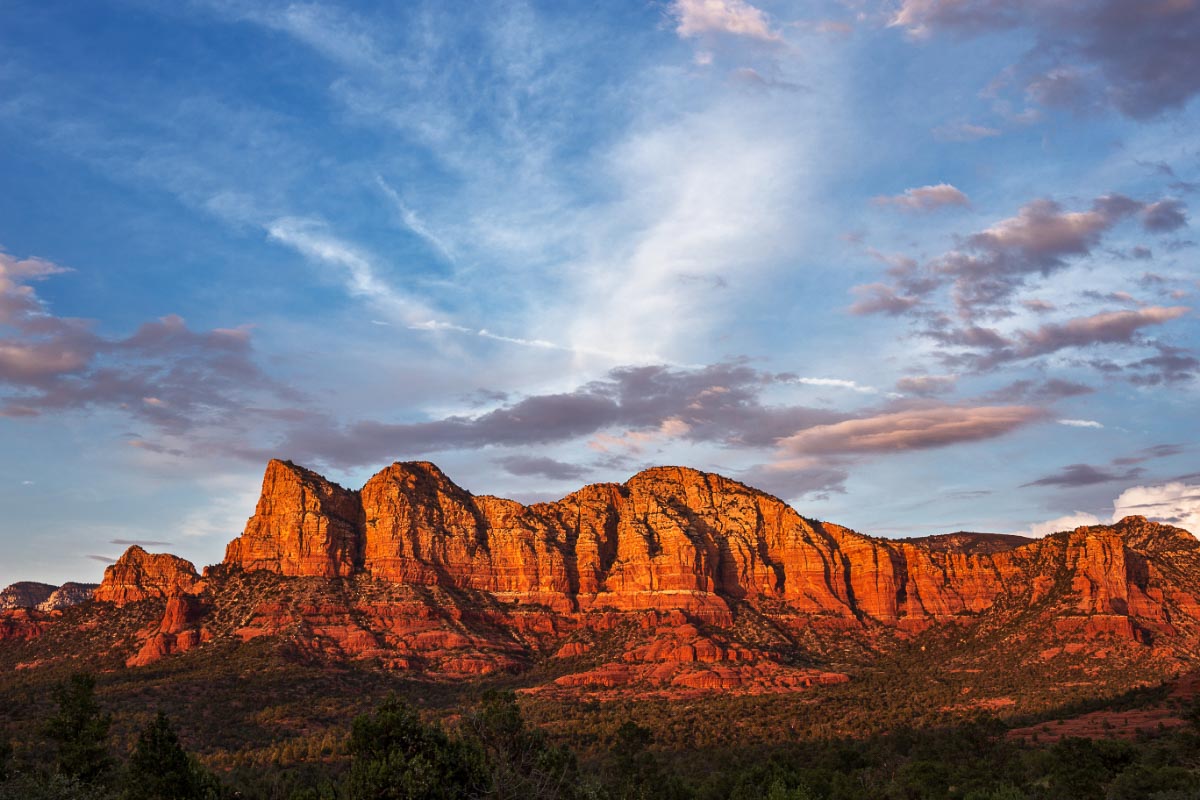 ⇒ Here are some of the best places in the world to watch the sunrise and fall: 10 Places to watch the Sunset in California, 7 Best Places To Watch Sedona Sunsets, 18 Spectacular Spots for the Best Sunsets in Seattle, 5 Stunning Santorini Sunsets, 8 Sunsets in Ibiza, 19 Spots to watch San Diego Sunsets, 11 Places to see the Venice Sunset, 6 Spots to Watch Sunrise in Paris, 11 Places to see Sunset Edinburgh style, 15 Places to see Sunsets in London and 9 Spots to watch the Sunrise in London.
4. Bell Rock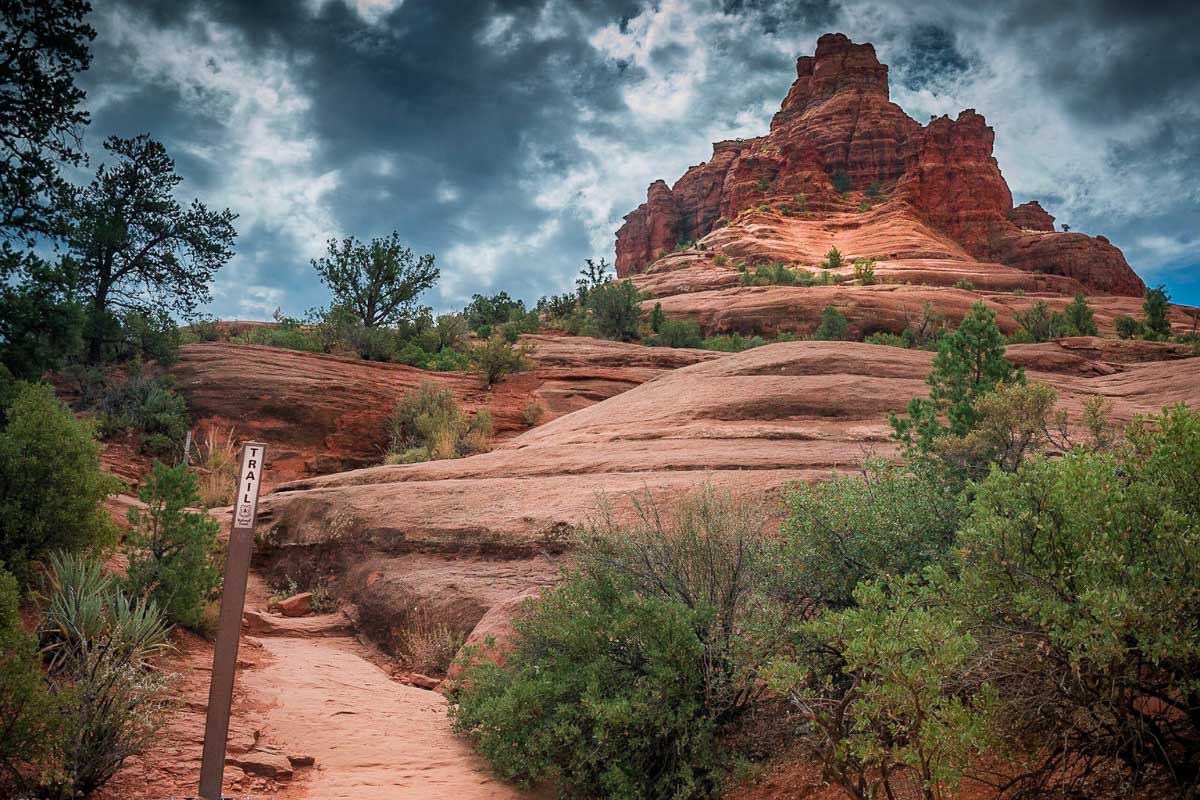 South of Yavapai County, in the Village of Oak Creek, you'll find magnificent orange canyons drenched in the unimpeded Arizona sunlight. The desert vistas are even more impeccable from Bell Rock, a popular tourist destination that embodies Sedona's geological history.
The canyons and rock formations in Oak Creek formed over millions of years from – believe it or not – ocean waters. Sedona may be an arid landscape today, but this desert was once a living, breathing ocean.
The sheer sight of it all, paired with an overwhelming sense of the world's magnitude, makes Bell Rock a surprisingly spiritual destination for a sunset in Sedona.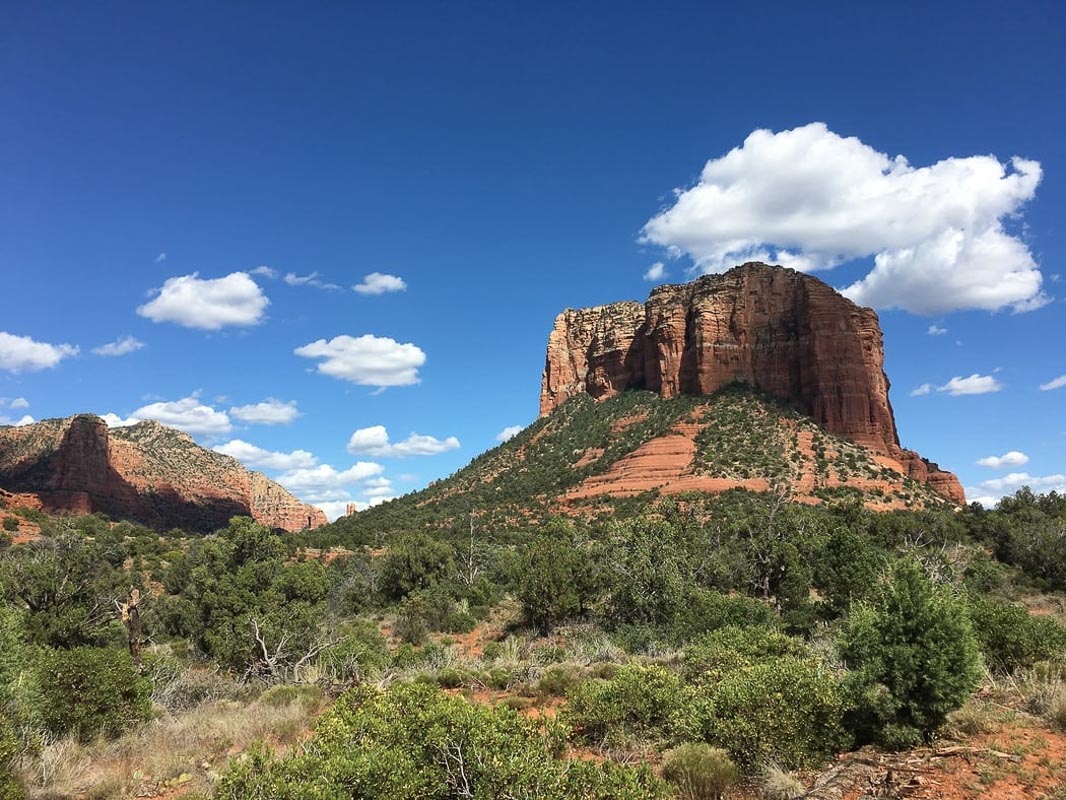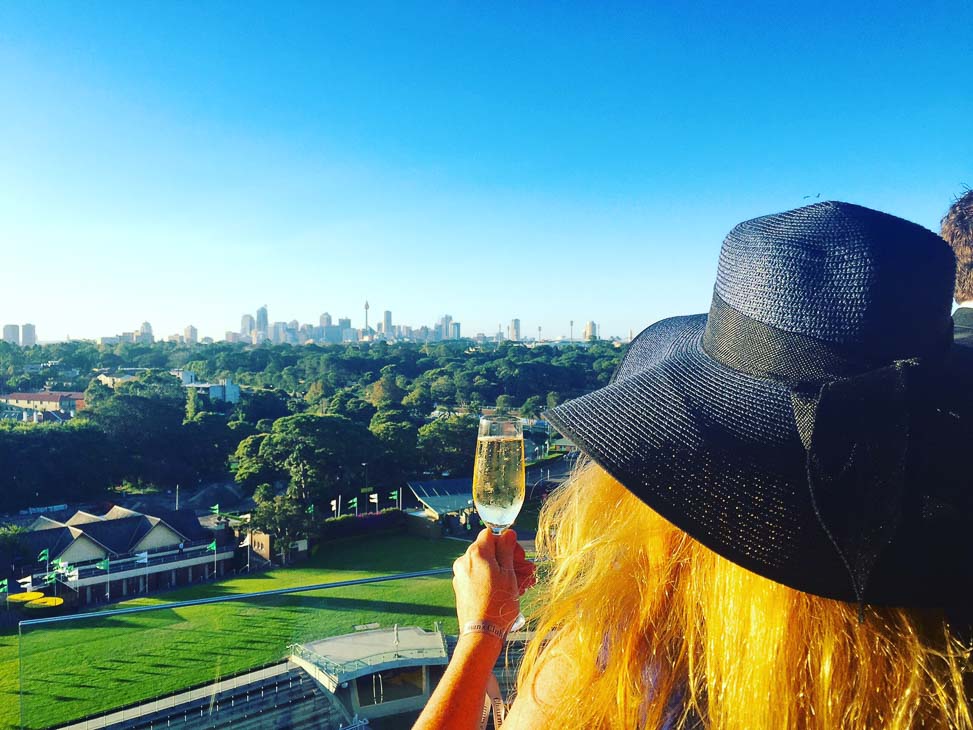 Boutique Adventurer Travel Essentials
There's a prominent community of spiritualists in Sedona – healing shops and meditation centres abound – many of whom believe this vortex area has healing properties
Expect to see as many mediation and yoga enthusiasts as you will hikers and photographers on Bell Rock. Either way, there's something for everyone.
Bell Rock provides a unique activity for every member of the family, not to mention incredible sunset views from over 4000 feet (1219 meters) above the ground.
5. Schnebly Hill Vista
Schnebly Hill Trail encompasses all the best components of the Sedona landscape. The sandstone mesas ripple across the desert vista, broken up by unexpected bursts of juniper and pine trees.
Hiking the trail is arduous at best: over 26 miles under the red hot Arizona sun. Many first-timers opt for guided jeep tours instead, which will weave you by 4X4 through this tricky canyon range.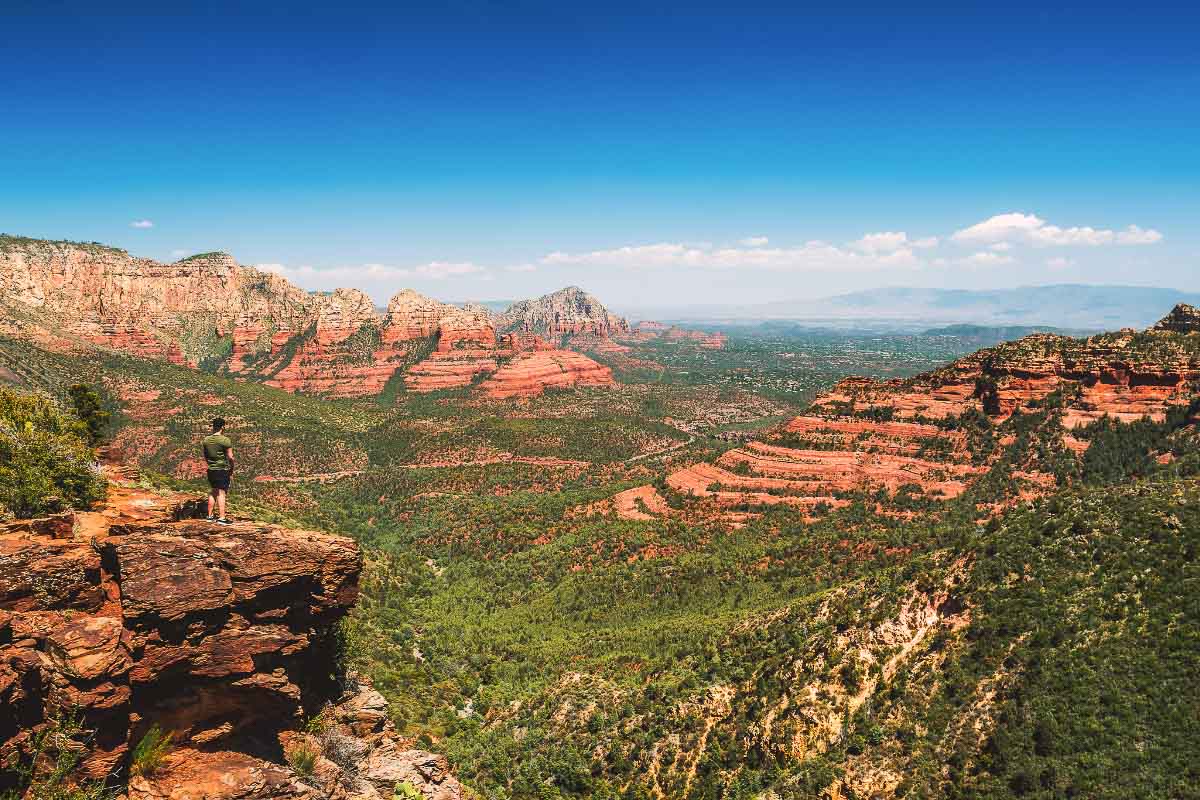 Don't be too intimidated, however, as many locals take to this trail for their morning jogs. The view from Schnebly Hill is a great way to stay your day, after all.
The journey culminates in pine forests 2000 feet from Sedona, and you're welcome to take your dog with you, as long as he or she is on a leash.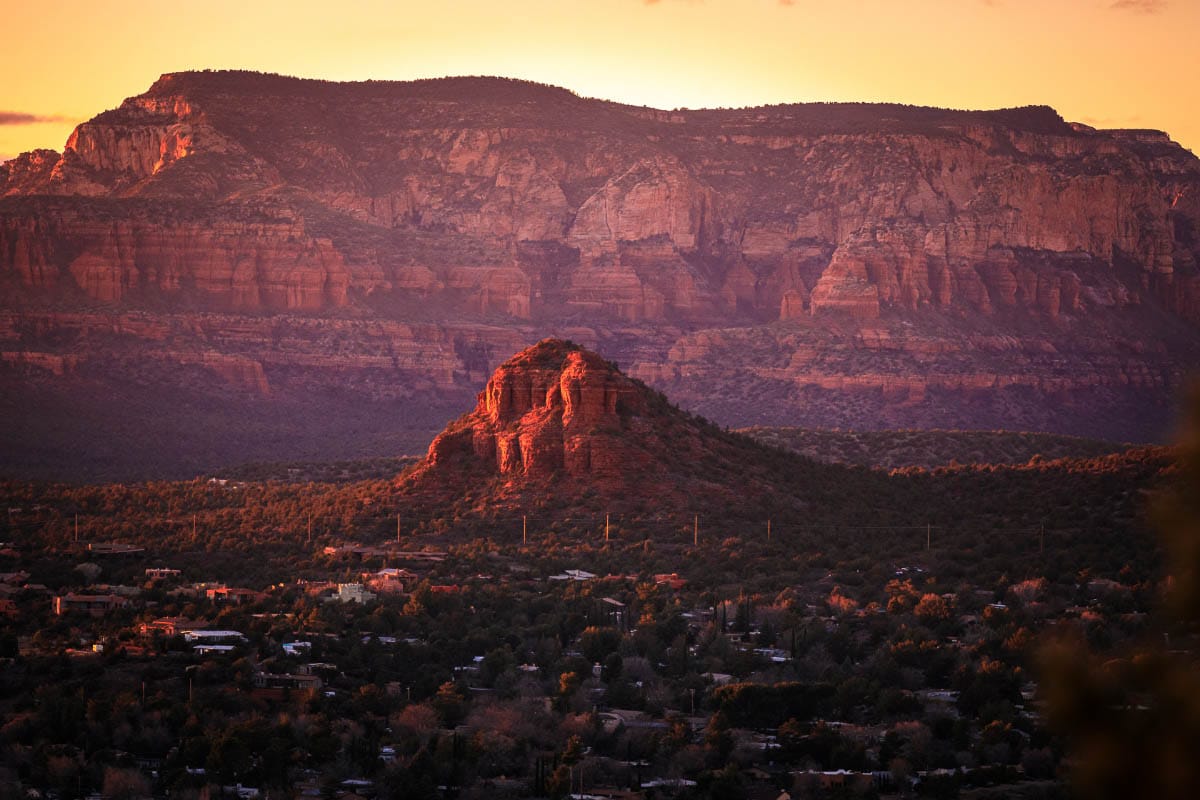 The sun setting behind the pine forests is absolutely breathtaking. You'll instantly forget the challenging hike to the top of Schnebly Hill once you're basking in the colours of the Arizona dusk.
⇒ Another amazing part of Canada (and home to some beautiful Canada Landmarks) is New Brunswick. Check out my posts on the top New Brunswick Tours, the best things to do in New Brunswick, 16 Most Beautiful Cities in Canada, Whale Watching St Andrews and some charming boutique hotels in New Brunswick Canada.
6. Devil's Bridge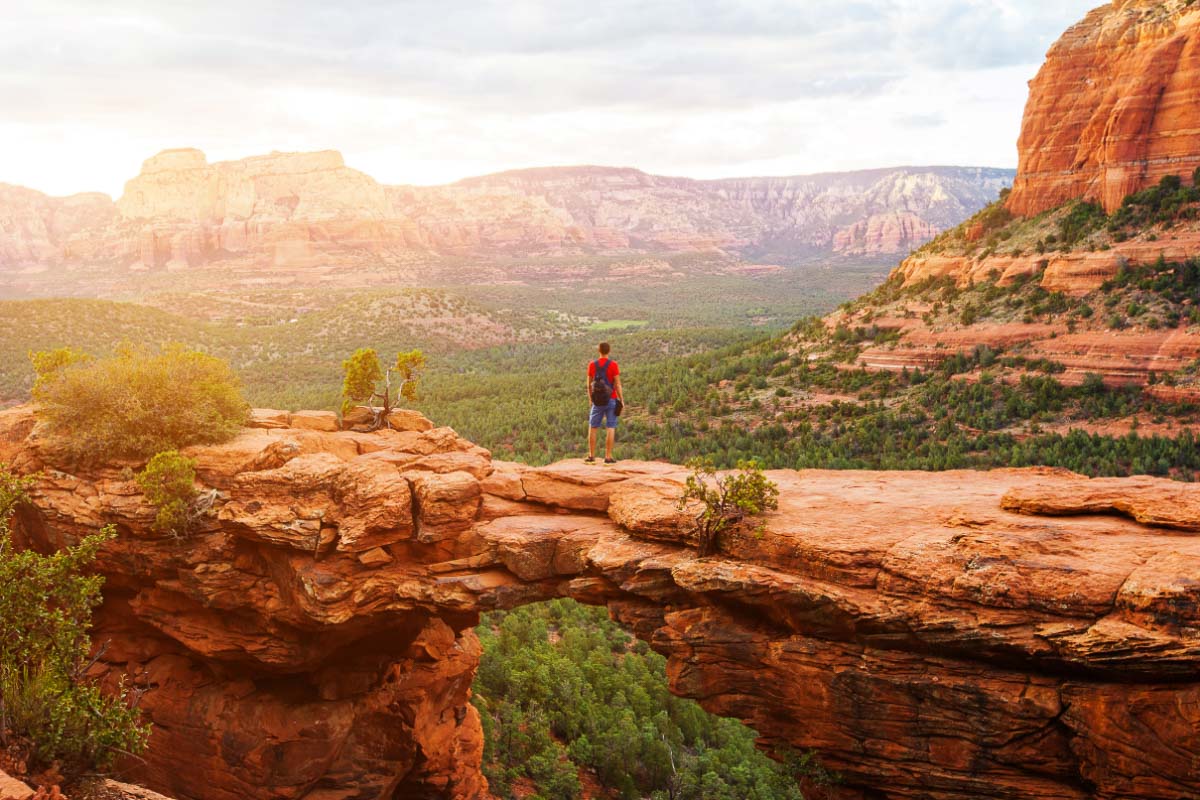 Another vantage point with great photo potential, Devil's Bridge is one of Sedona's most popular sites. This natural sandstone arch is located in the Coconino National Forest, one of the most biodiverse forests in North America.
Despite the ominous name, the view from this bridge is utterly heavenly from an elevation of over 4600 feet. Walking the trail will take you two hours, more or less, after which you can pass under the bridge or climb on top of it.
You'll need a 4X4 vehicle to get to Dry Creek Road, which is about a one-mile hike away from Devil's Bridge. It's an uphill climb to get to the base of Devil's Bridge, where you can watch a few brave adventurers actually shuffle across it.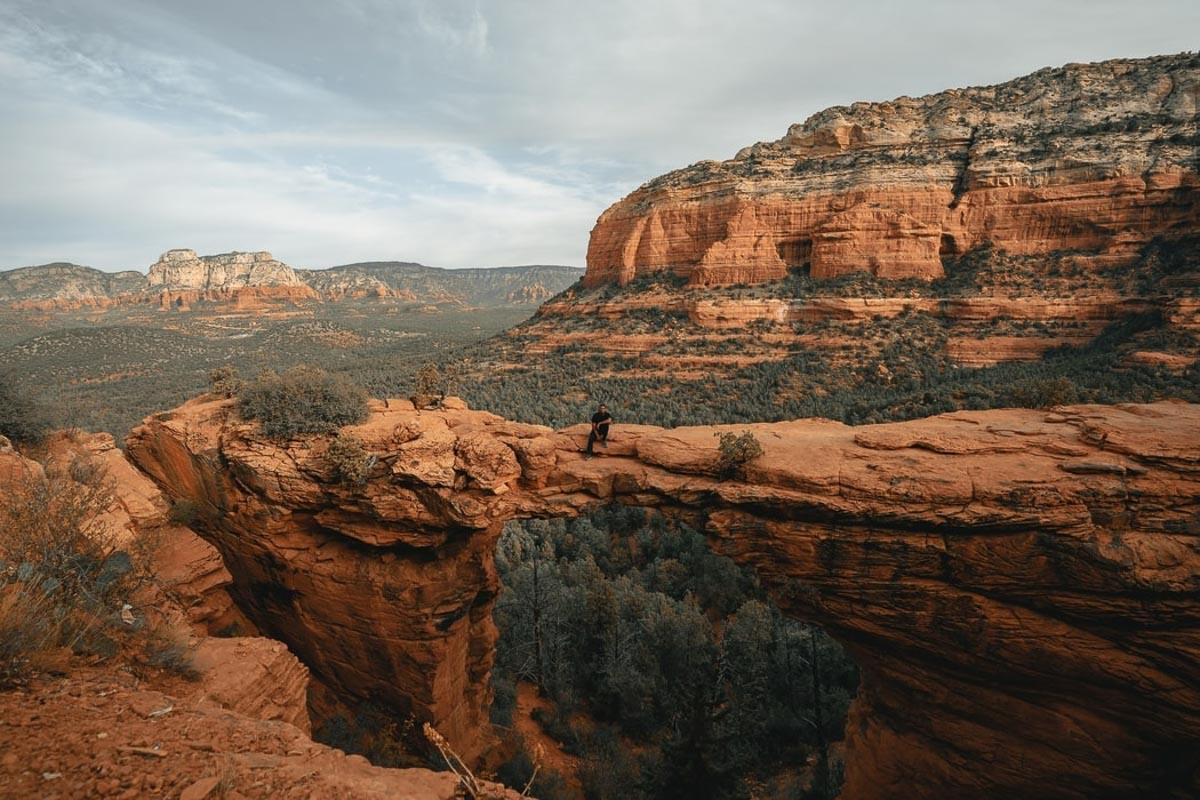 ⇒ I love ticking off seeing a landmark. See how many famous landmarks you've seen in my series of posts: 60 Most Famous Landmarks in the World, 27 Top Australian Landmarks, 25 Asia Landmarks, 61 Magnificent Landmarks of the UK, 13 China Landmarks, 35 Japan Famous Landmarks, 60 Most Famous Landmarks in Europe, 25 North America Landmarks, 25 Canada Landmarks and 15 Famous Landmarks in the US.
If you're up for the adrenaline boost, this is an amazing spot for golden hour and comes highly recommended for intrepid travellers. Be wary of slippery surfaces, however, as the bridge isn't fenced off on either side.
Devil's Bridge is an iconic Sedona landmark, so make sure you head out to Dry Creek Road early to beat the traffic. It's better to get to the sandstone bridge early and take your time awaiting the sunset.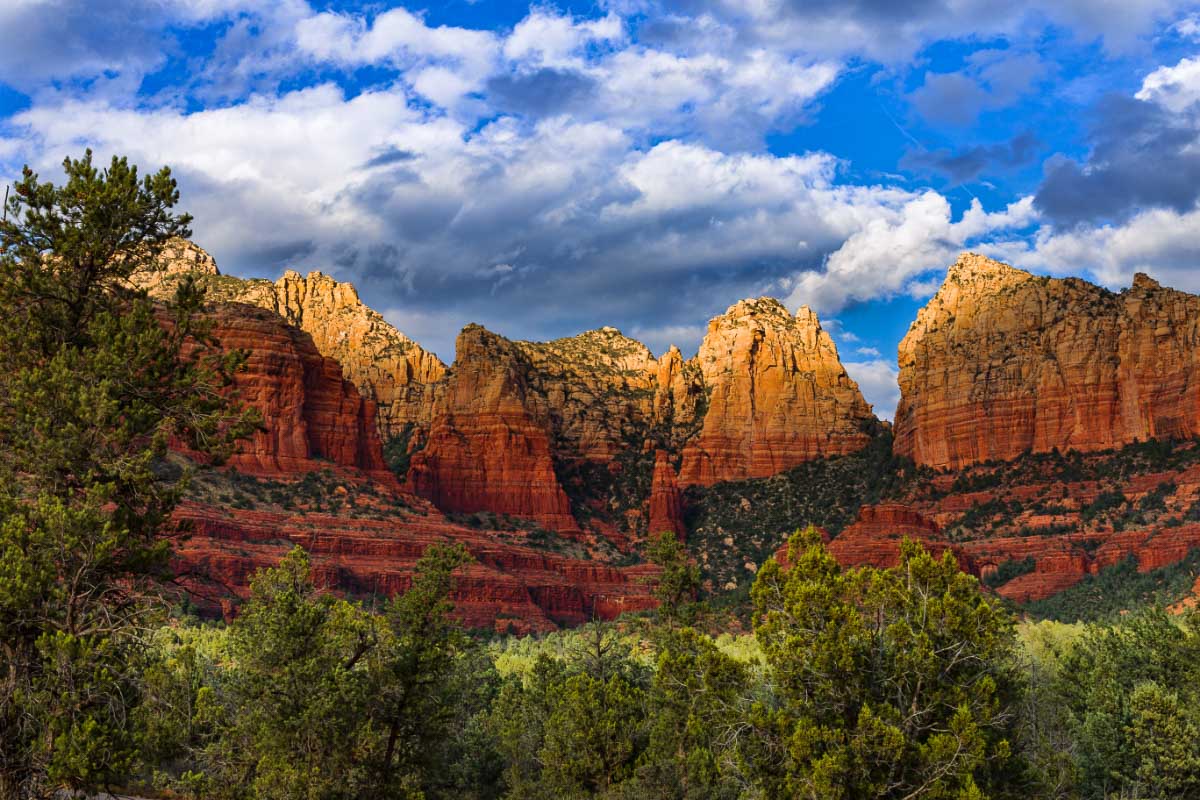 ⇒ Don't miss Canada's capital Ottawa. Read my posts on the 17 most fun things to do in Ottawa, the Ottawa restaurants Byward Market, best Ottawa Tours, 16 Most Beautiful Cities in Canada and 11 Beautiful Canada Landmarks.
7. Red Rock Crossing
Oak Creek is a tranquil swimming spot in Sedona, part of the rare 0.3% of Sedona's land containing natural water. Red Rock Crossing is the area where the creek runs next to Cathedral Rock and offers a lovely sunset view over the river gorge.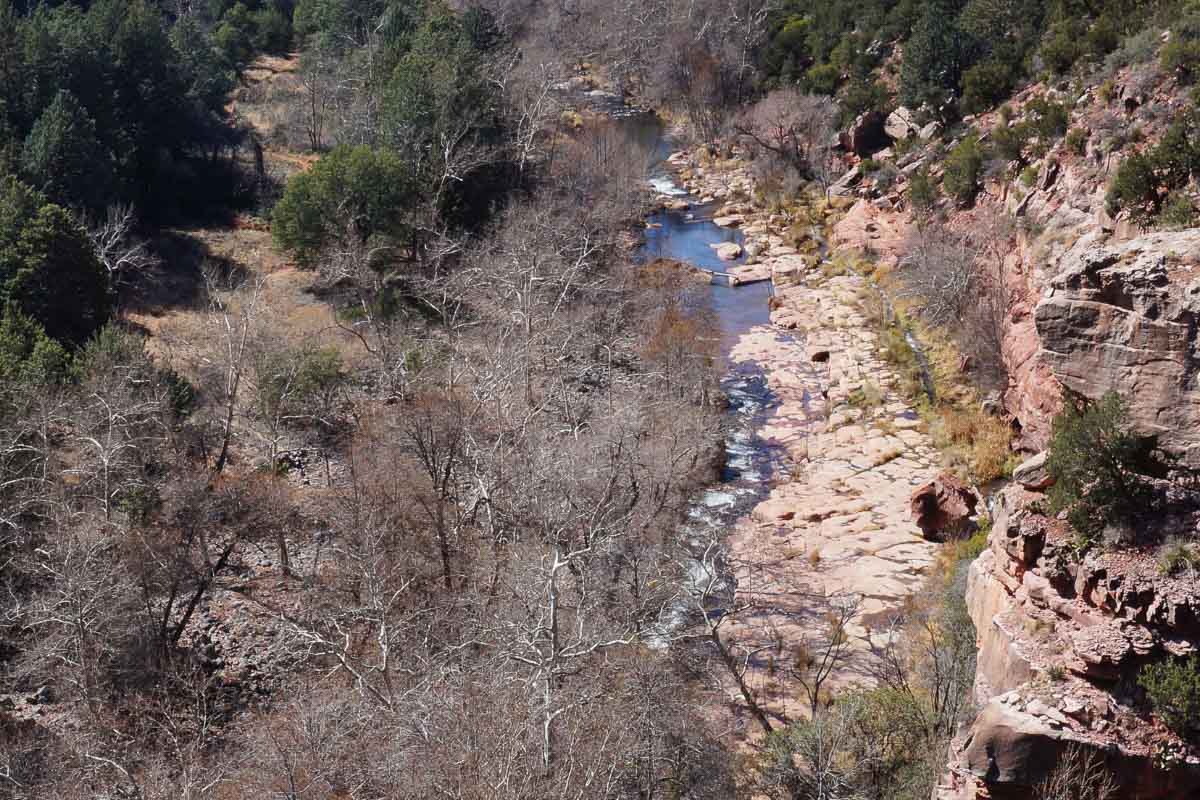 You can access the crossing via Red Rock State Park, where the trail begins. The park has numerous lush fields where you can lay in the grass or have a golden hour picnic with your family.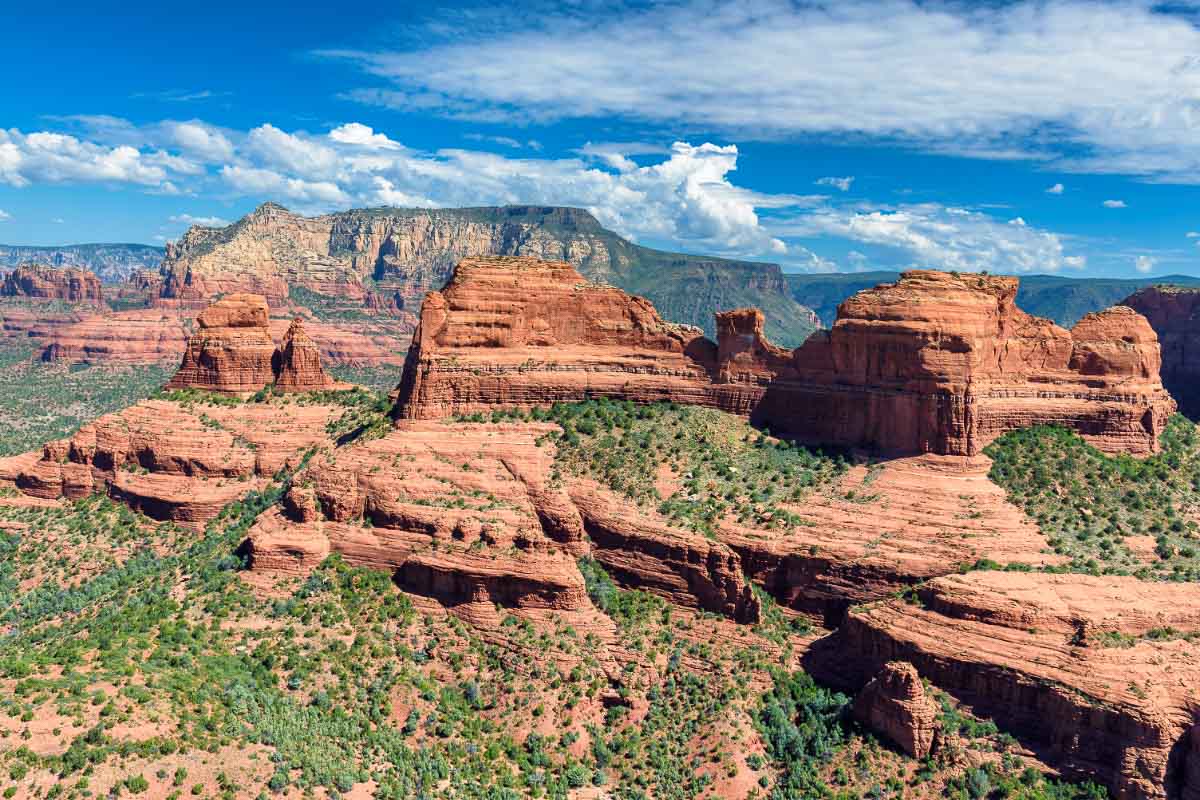 The trail that takes you to Red Rock Crossing is only about 2 miles and follows a paved pathway along the Oak Creek waters. Previous guests of the park have left rock piles stacked along the creek beds. All in all, this crossing has a unique charm to it that you won't want to miss out on.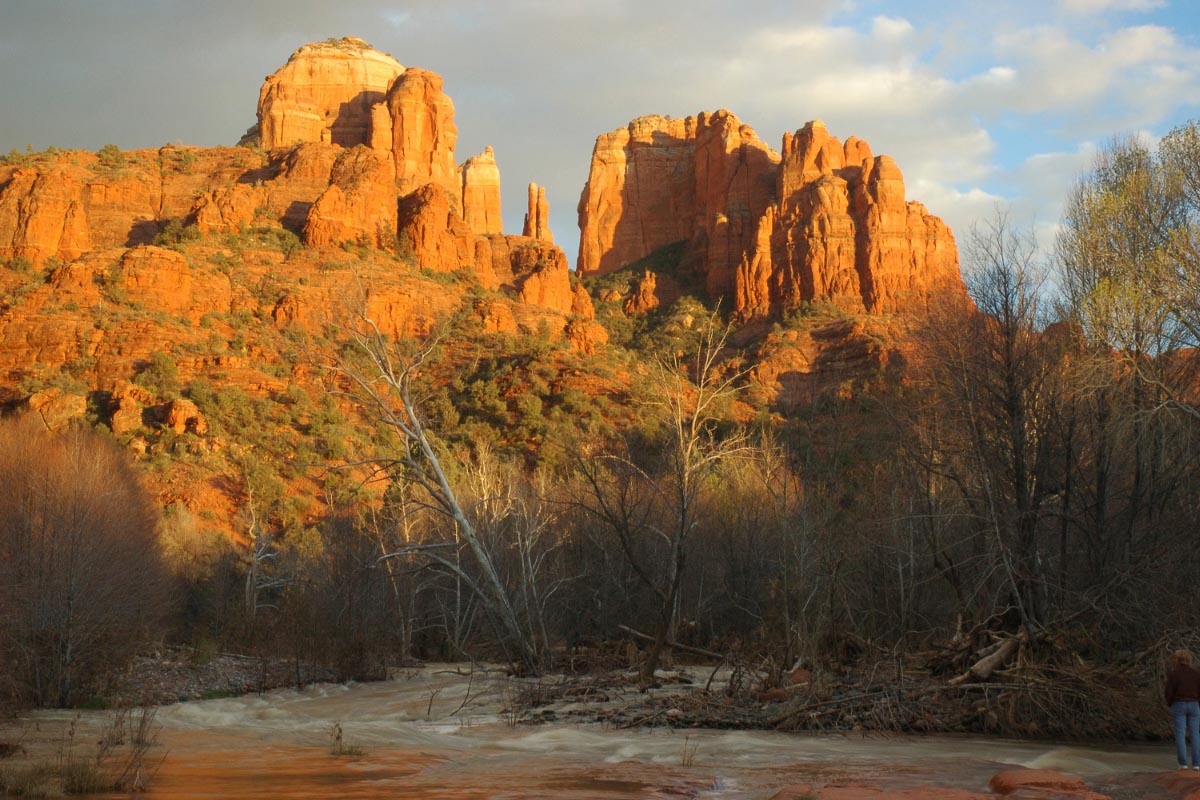 ⇒ If you're planning some solo travel don't miss my posts on the best Singles Holidays over 40, vacations for over 50 singles, the best singles ski holiday options, the 30 best singles travel groups, Bali Retreats for Singles and some fantastic solo spa breaks.
Final Thoughts On Sunsets In Sedona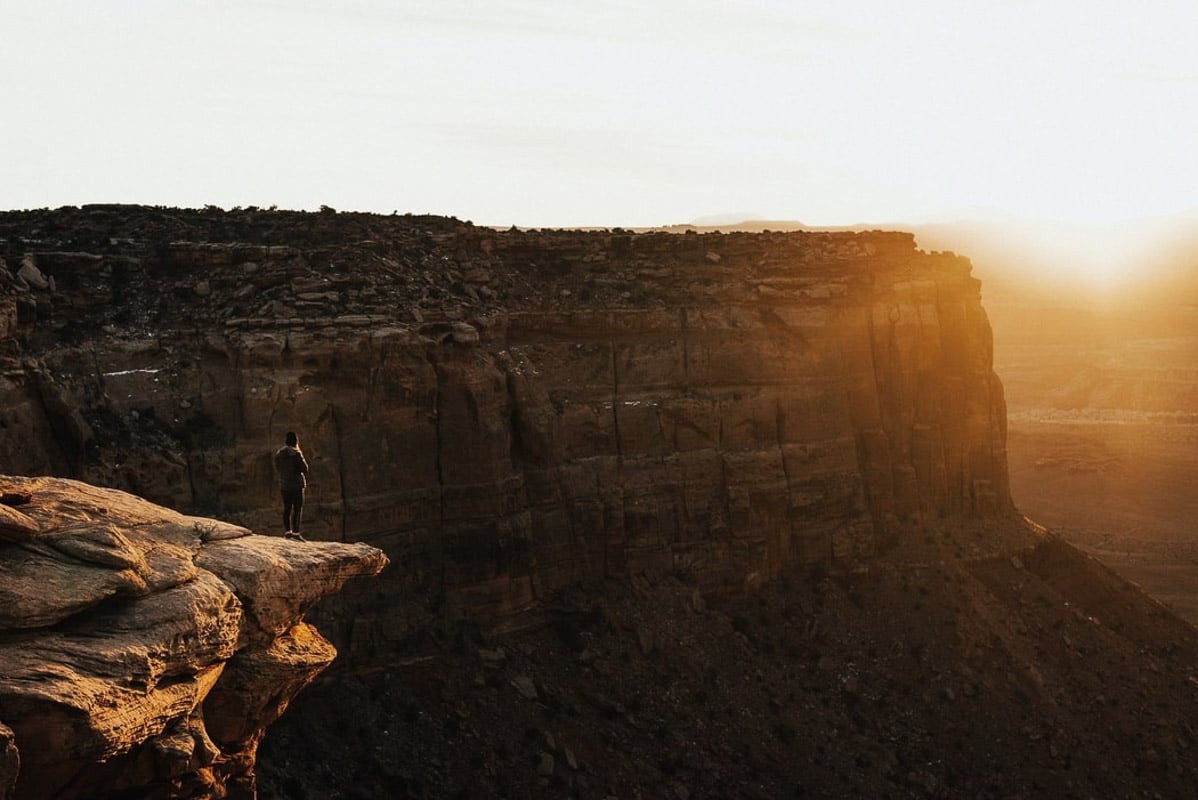 From park trails to canyon hikes, there are destinations abound where you can enjoy a sunset view of Sedona. As the skyline melts into a vibrant orange hue and nightfall sets in, you'll have an unforgettable snapshot of your trip to this unique desert town.
You may not be into the healing and energy abstractions, but the Sedona desert is undeniably special, with canyons and forests that will have you reminiscing for years to come.
The incomparable geography of the landscape, paired with the fascinating cultural atmosphere of Sedona, will certainly make your desert getaway one of your best trips yet.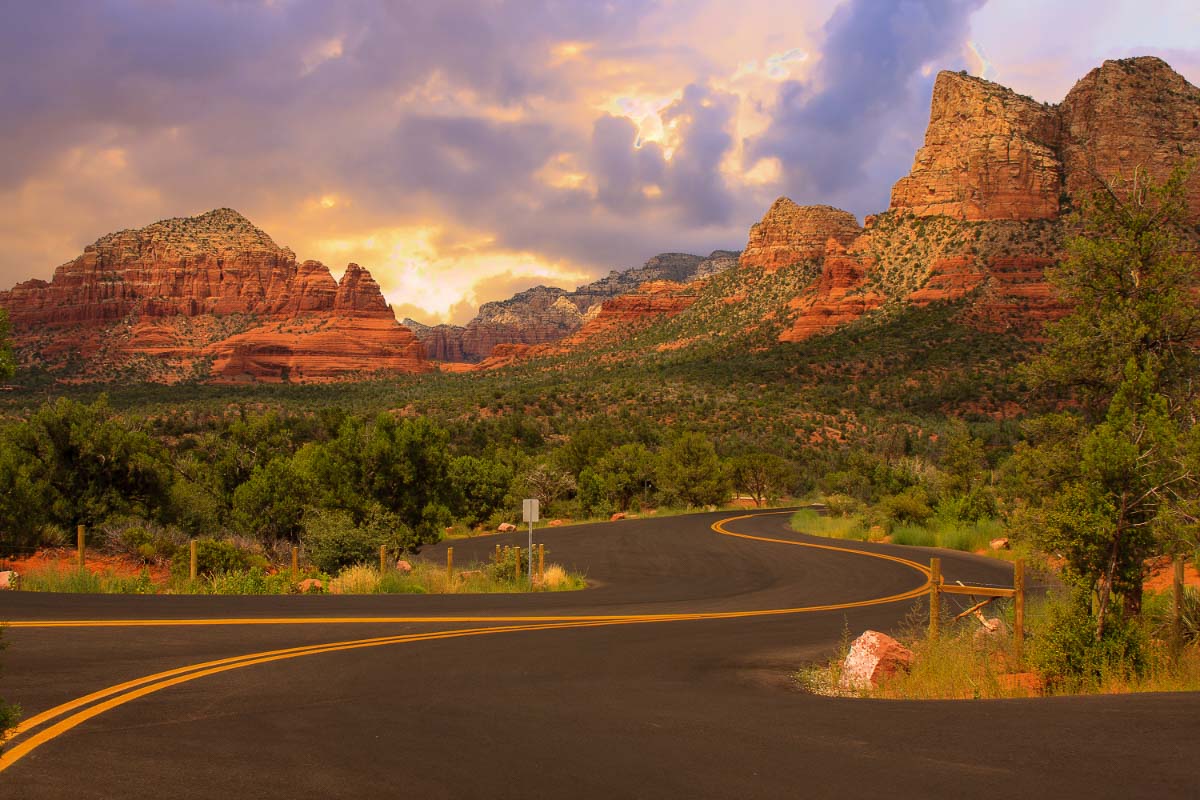 This Sedona Sunsets post includes affiliate links. That means if you click through and end up making a purchase I will receive a small commission. I wanted to make sure you were aware of this.