Spain is a beautiful country full of history, culture, and passion. It's famous for many things, including its incredible Spain famous landmarks. Each city tells a tale of its past through these different structures, buildings, and sites.
Some were built centuries ago, while others are more modern. All of them are unique in their own right and worth checking out when you visit Spain. From ancient sites to beautiful European palaces, these famous landmarks in Europe will take your breath away.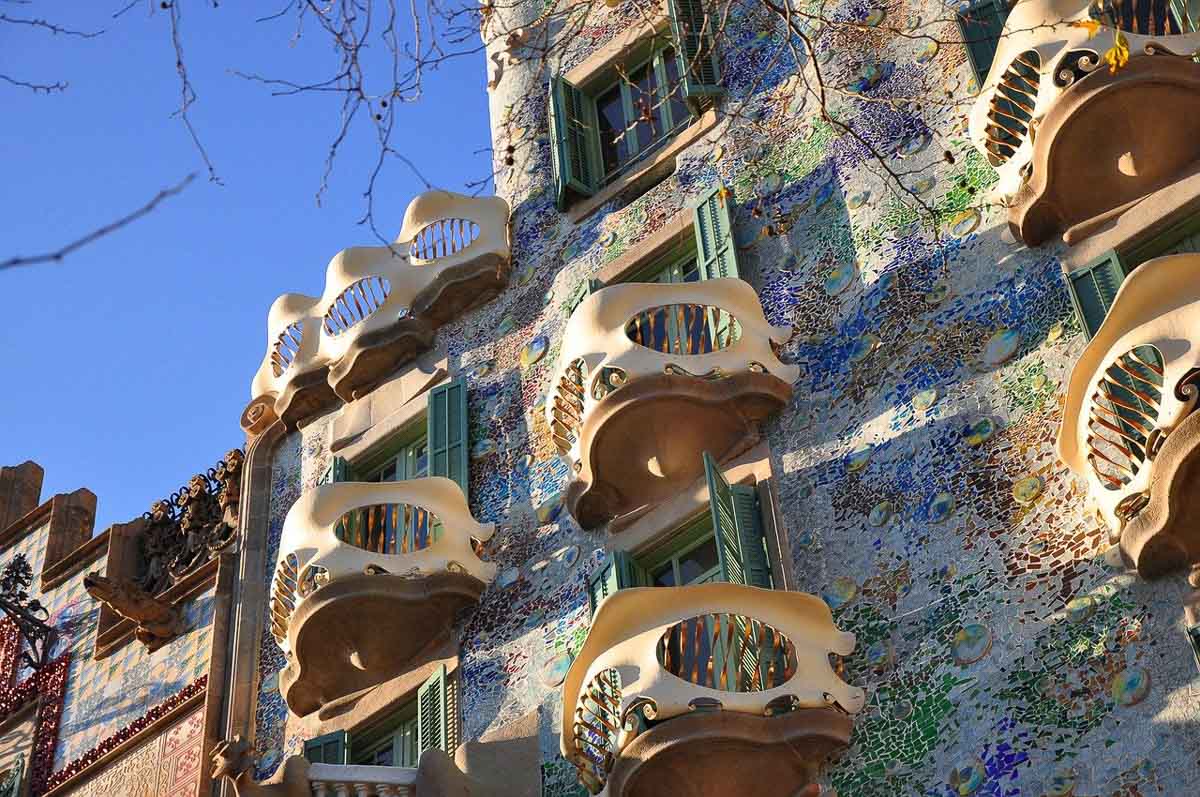 12 Spain Famous Landmarks
1. Alhambra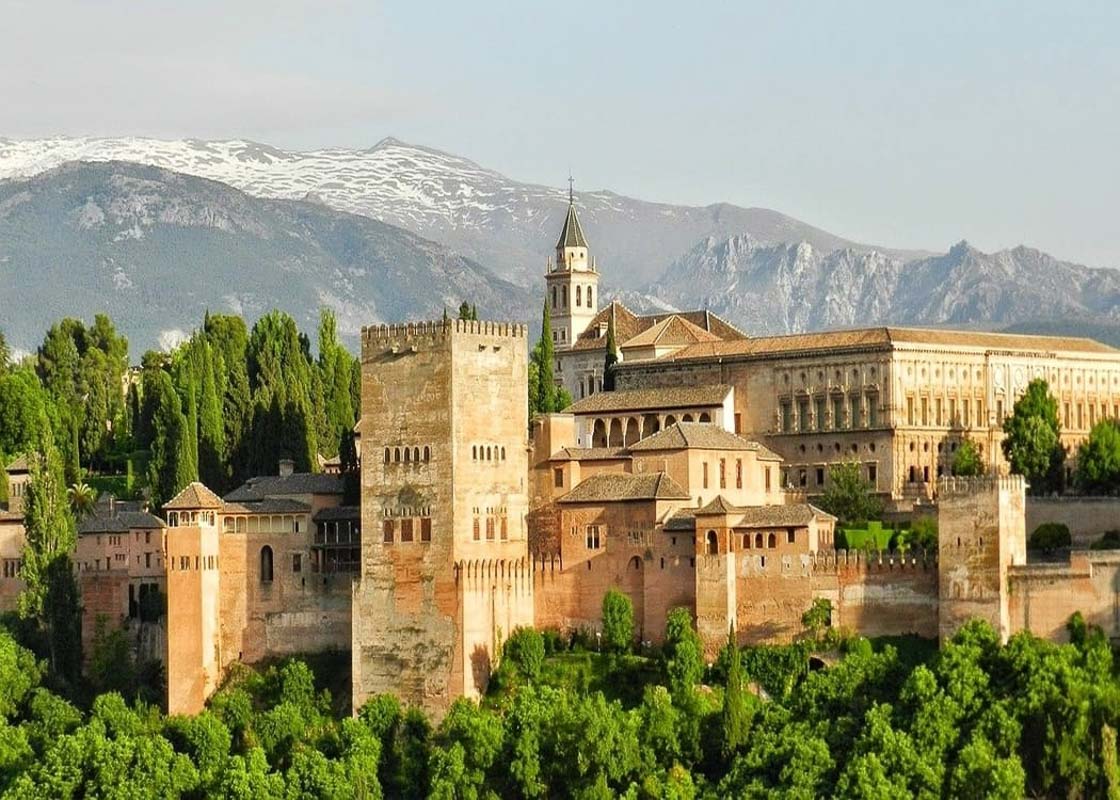 The Alhambra in Granada is one of the most famous landmarks in Europe. Its timeline traces back to 889 CE when it was constructed as a small fortress. Then in the 13th century, it was rebuilt to serve as the palace and fortress for the Nasrid dynasty.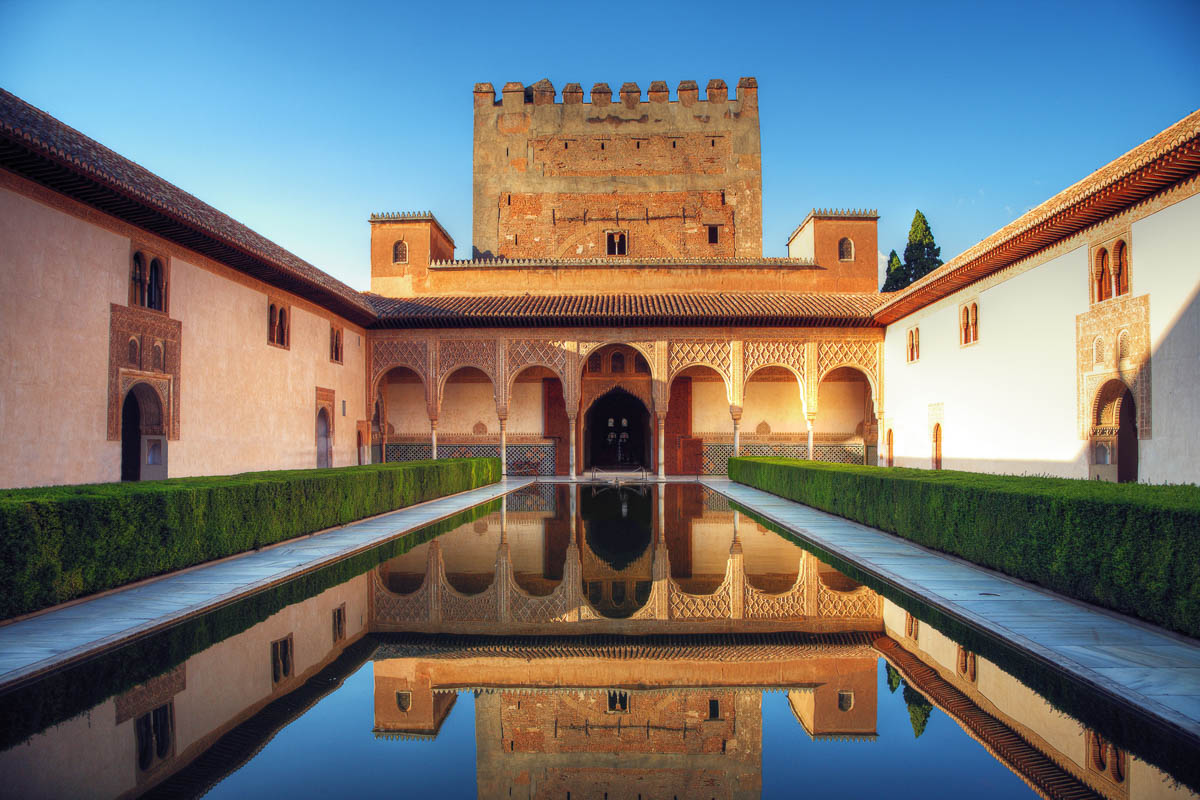 The lavish Moorish architectural style is on full display throughout the complex. The interior is decorated head to toe with ceramic tiles, ancient calligraphy, ornamented windows, and other intricate detailing. It's truly a marvel of Islamic architecture and culture.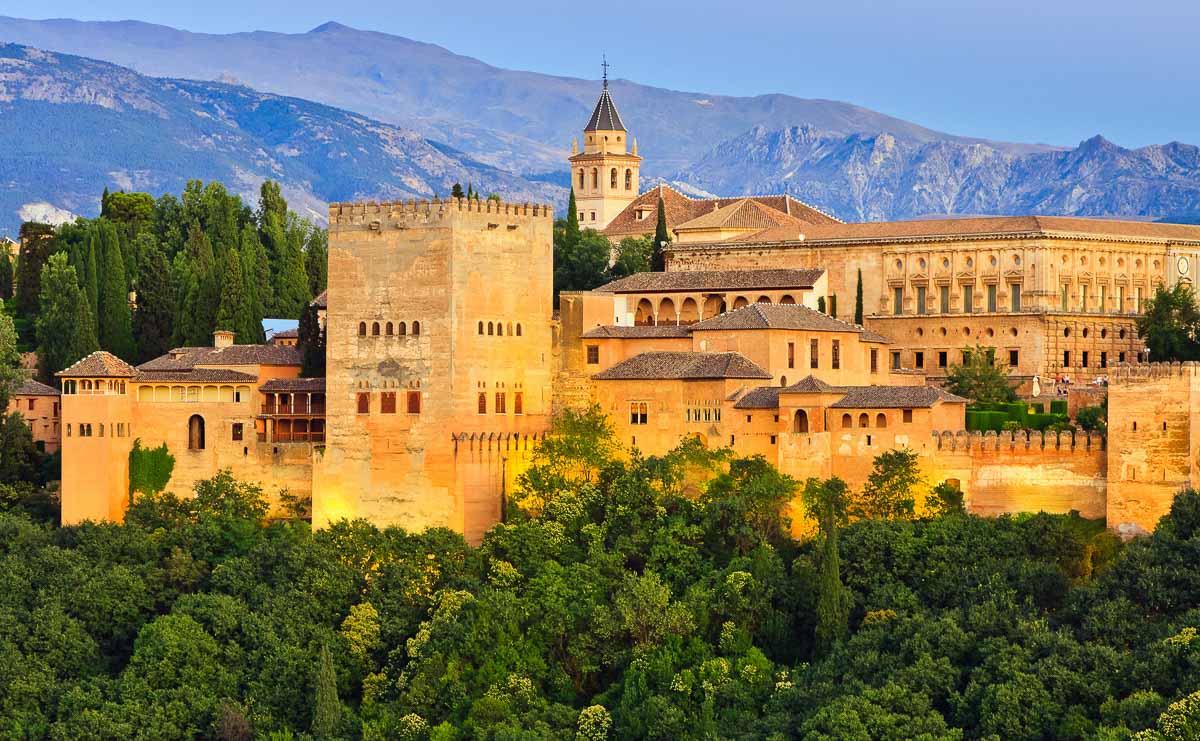 The expansive grounds comprise numerous sites, including the Nasrid Palace, Charle V's Palace, the Alcazaba, and the gorgeous Generalife Gardens.
The best way to explore the different areas is by booking a skip the line ticket for the Alhambra.
2. Royal Alcázar of Seville
The Royal Alcázar of Seville is one of the most famous Spanish landmarks and a beautiful piece of history. The origin of the complex dates back to 712, but the primary construction process started in the 14th century.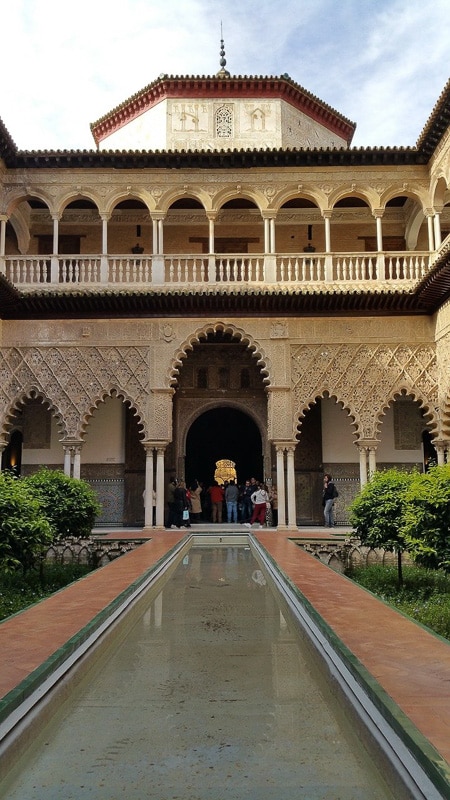 It continued for hundreds of years with many different architectural styles added, including Gothic, Renaissance, and Romanesque.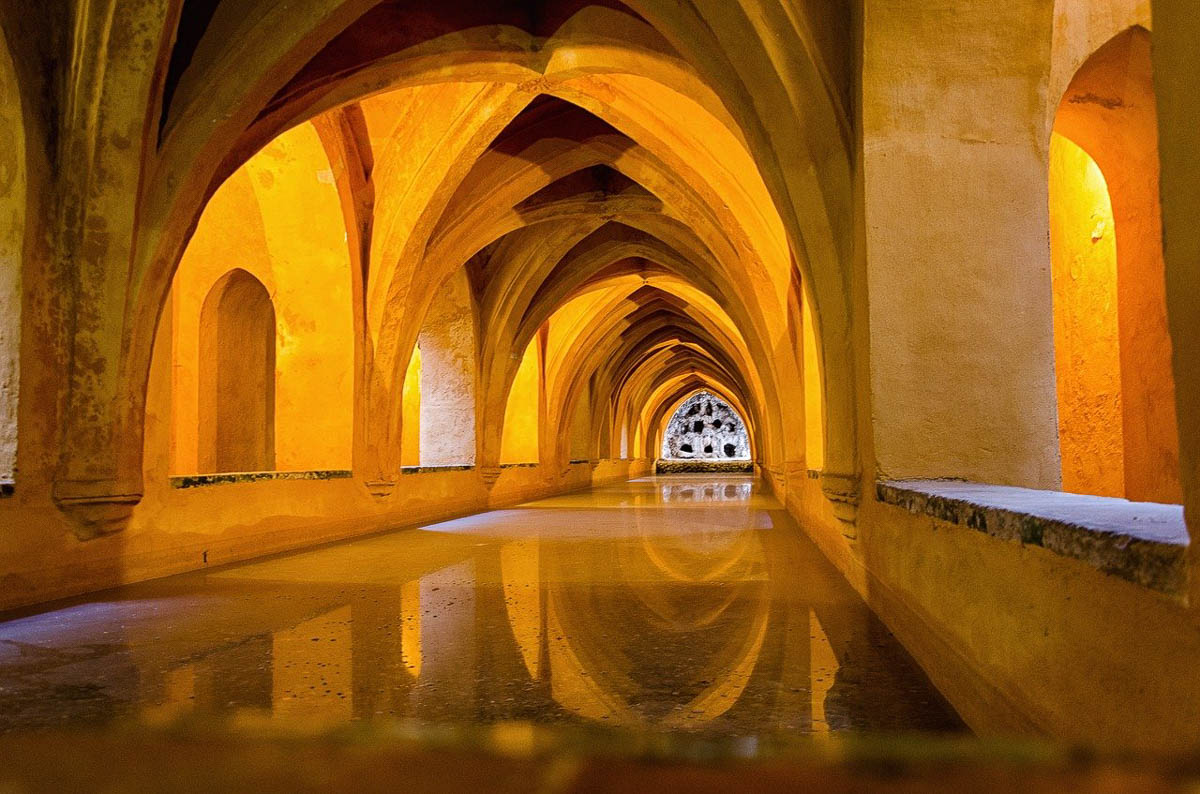 A fun fact about the palace is that the Spanish royal family still use it as their residence when they visit Seville. You can tour the Alcázar and discover all of its wonders. The lavish tile decorations, richly decorated rooms and scenic gardens will enchant you.
3. Catedral de Sevilla
Seville Cathedral is the largest Gothic cathedral in the world. Construction began in 1401, but it wasn't completed until 1528, more than one hundred years later. It was built to impress, or more specifically, demonstrate Seville's wealth and power.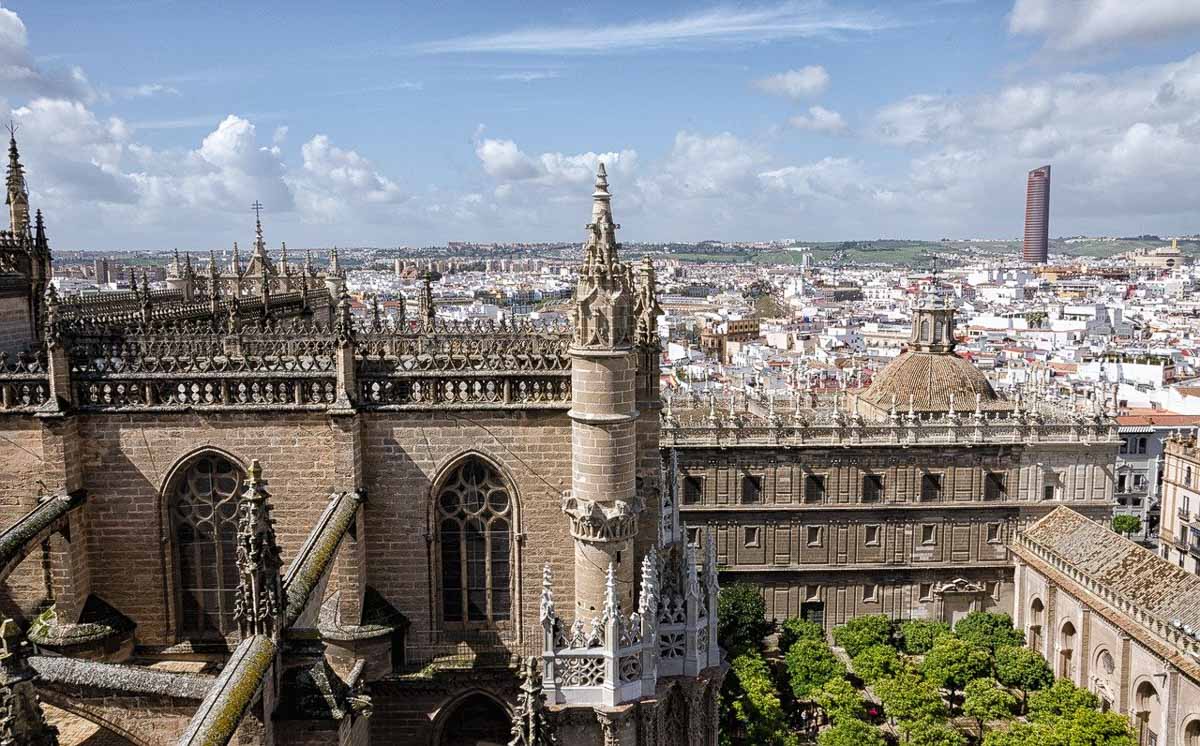 The structure contains 80 chapels, and 15 doors are spread out over the building's four facades. The interior holds the record as having the longest nave of any cathedral in Spain. It also houses the tomb of Italian explorer Christopher Columbus and his son, Diego Columbus.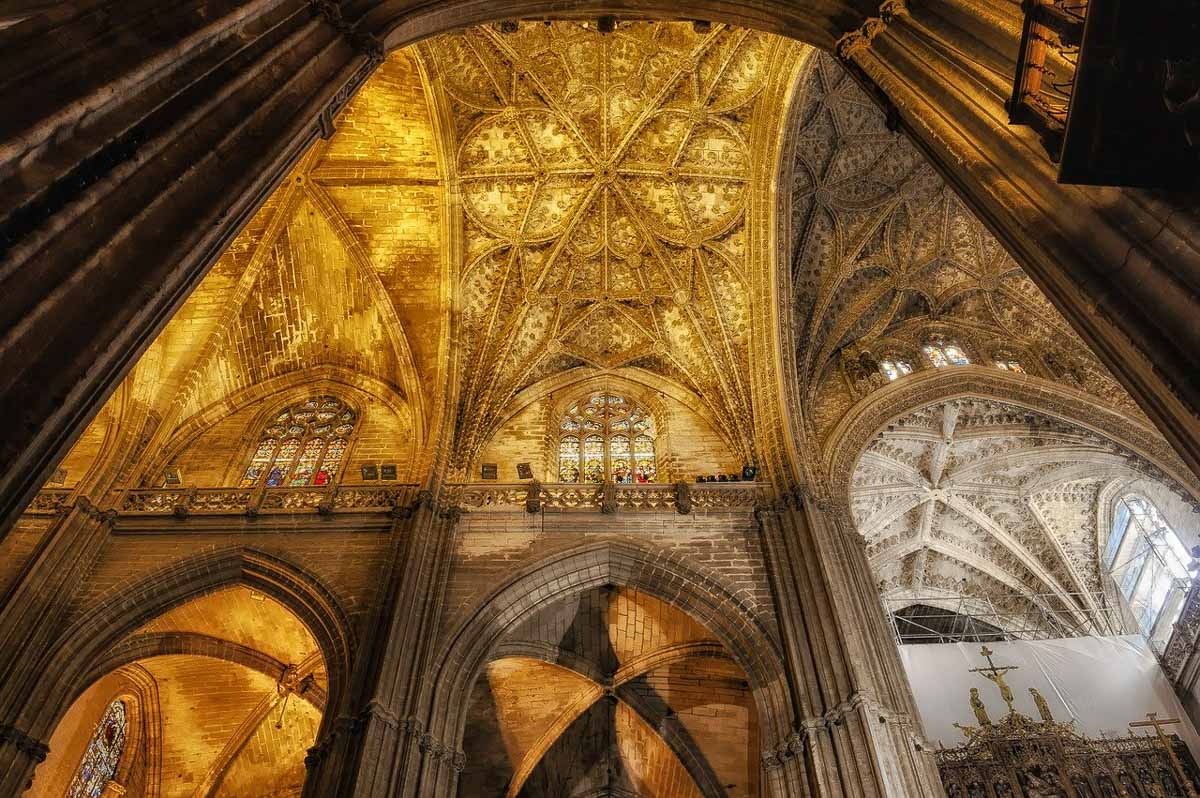 To receive a more detailed look at the cathedral, book a skip the line ticket and enjoy a tour with an official guide.
⇒ A wonderful island in Spain is Gran Canaria in the Canary Islands – read about some of the best things to do in Maspalomas, Gran Canaria Excursions and Gran Canaria markets.
4. Casa Batlló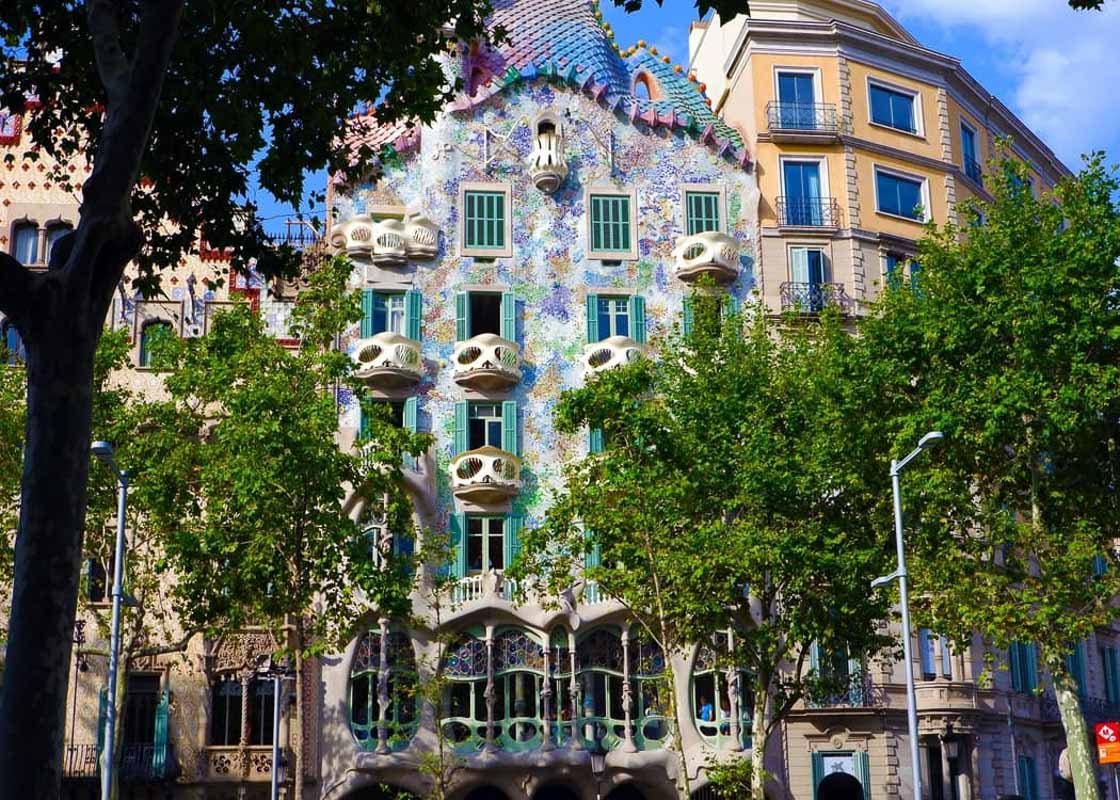 Casa Batlló is a big and beautiful building in the heart of Barcelona. Designed in 1904 by famed Catalan architect Antoni Gaudí, it's considered one of his most famous works of art.
The unique layout of the building is truly mesmerising. It showcases Modern architecture, Expressionist architecture, and Modernisme.
It features unusual tracery, mismatched oval and rectangle windows, protruding balconies, and colourful ceramic tiles. The arched roof has a scaly appearance and has been compared to that of a dragon or a dinosaur. It's one of the most bizarre and wonderful landmarks of Spain.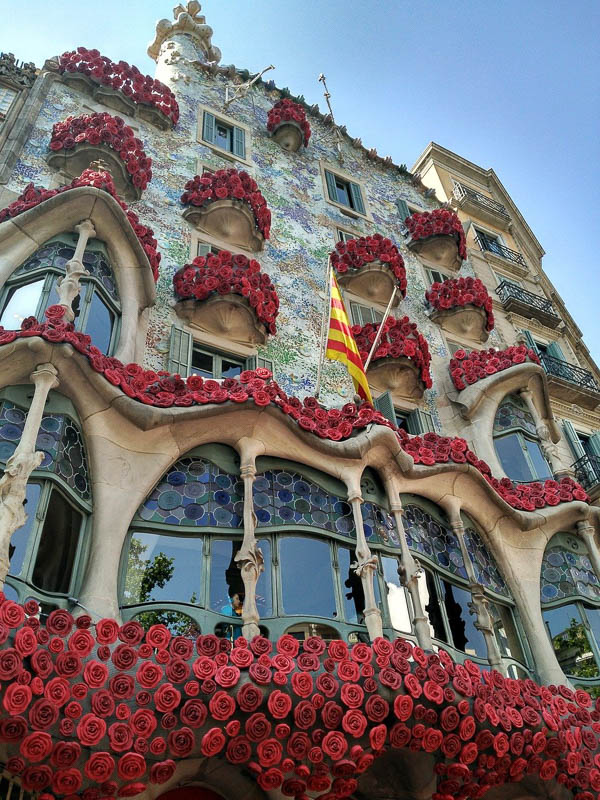 The interior is just as fascinating. It's worth booking a tour to explore the full package.
5. Basílica La Sagrada Familia
La Sagrada Familia is probably one of the first Spanish landmarks you think of when you picture the country. This iconic basilica is truly one of a kind. Designed by the imaginative architect Antonio Gaudi, his signature creative style is on full display.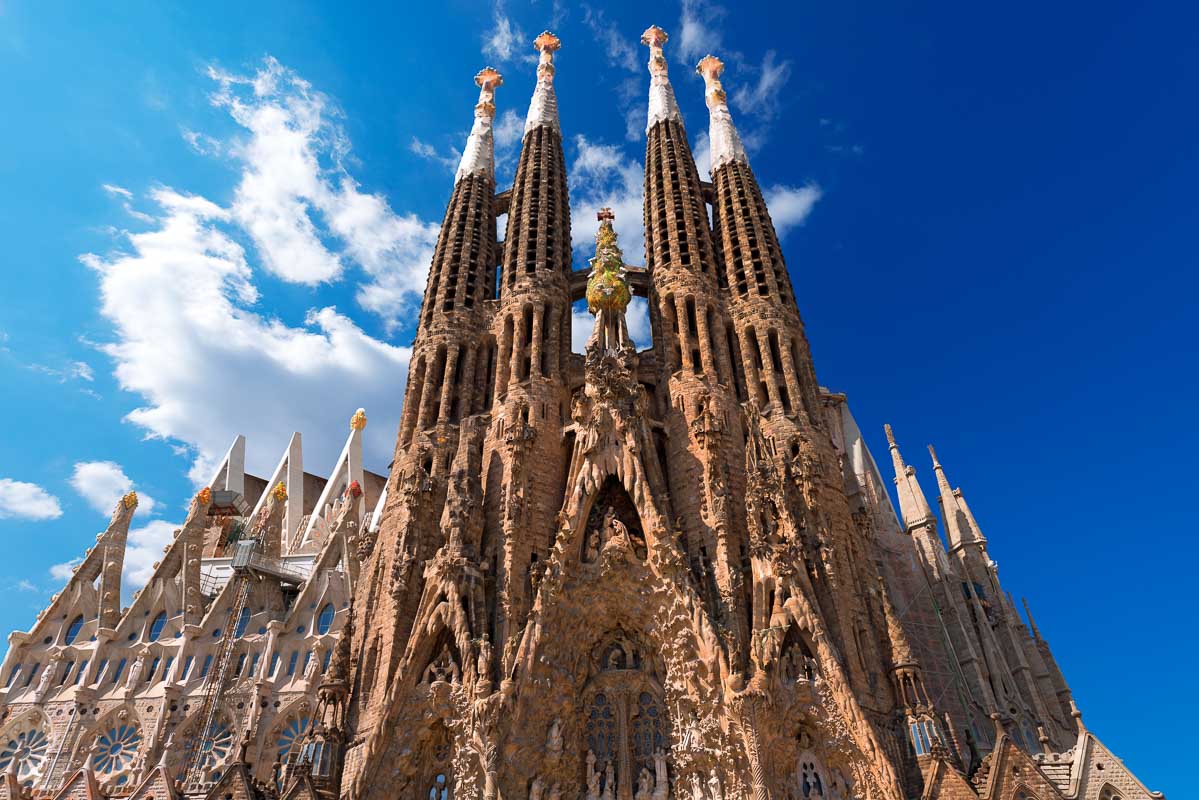 The construction for the church started in 1882 and still isn't finished. It's an ongoing process that isn't expected to be completed until 2026. The building blends religious elements with natural symbols in an artistic way that will leave you completely mesmerised.
Sagrada Familia receives approximately 4.5 million visitors every year. The number of tickets for sale as well as the entry times is limited. This is definitely a European landmark you want to book a skip the line ticket ahead of your visit.
Tickets can be purchased up to 2 months in advance and are available in 15 minute slots. Once you have entered Sagrada Familia you may stay for as long as you like. Entrance to the towers costs extra.
6. Park Güell
Park Güell is a fascinatingly fun park system in Barcelona. It's another beautiful landmark designed by renowned architect Antoni Gaudí. Like his other signature works, it comprises eclectic architectural elements that effortlessly inspire creativity.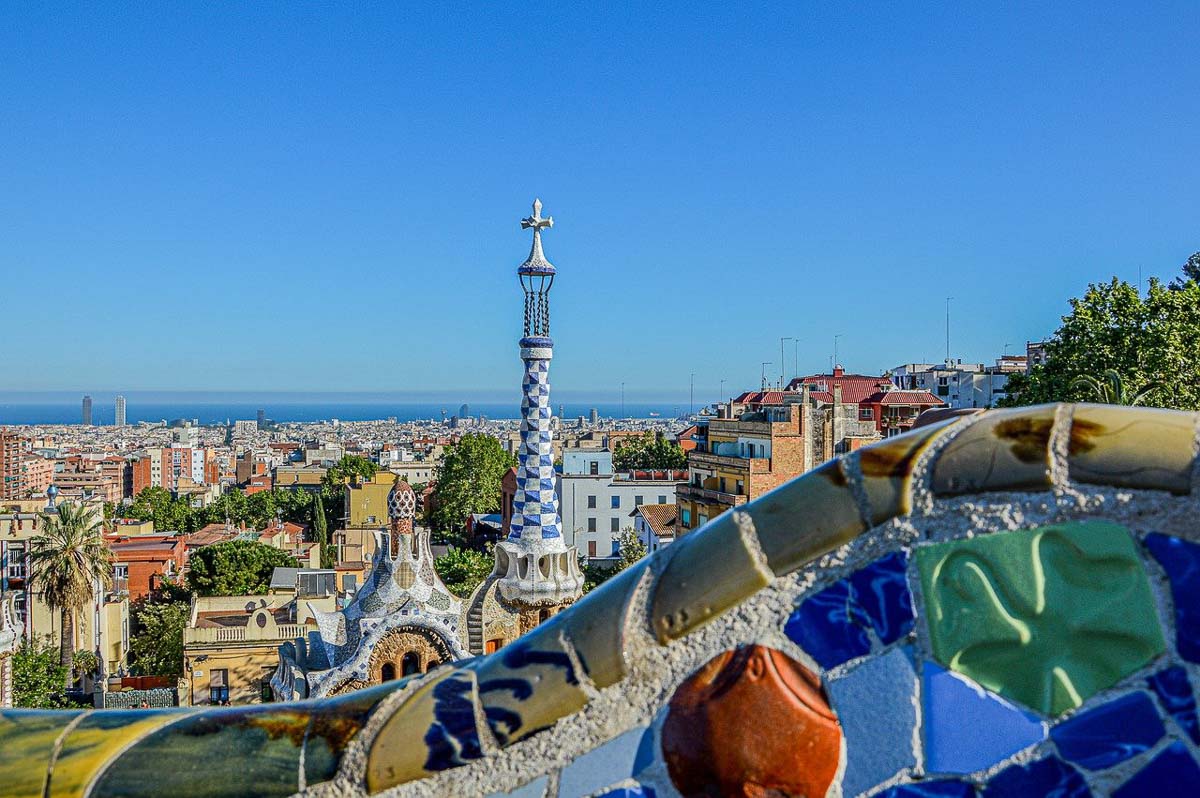 It was built from 1900 to 1914, however not until 1926 was it opened to the public. Some of the unique areas of interest include a serpentine bench, curved and covered footpaths, colourful tiled mosaics, and a dragon stairway.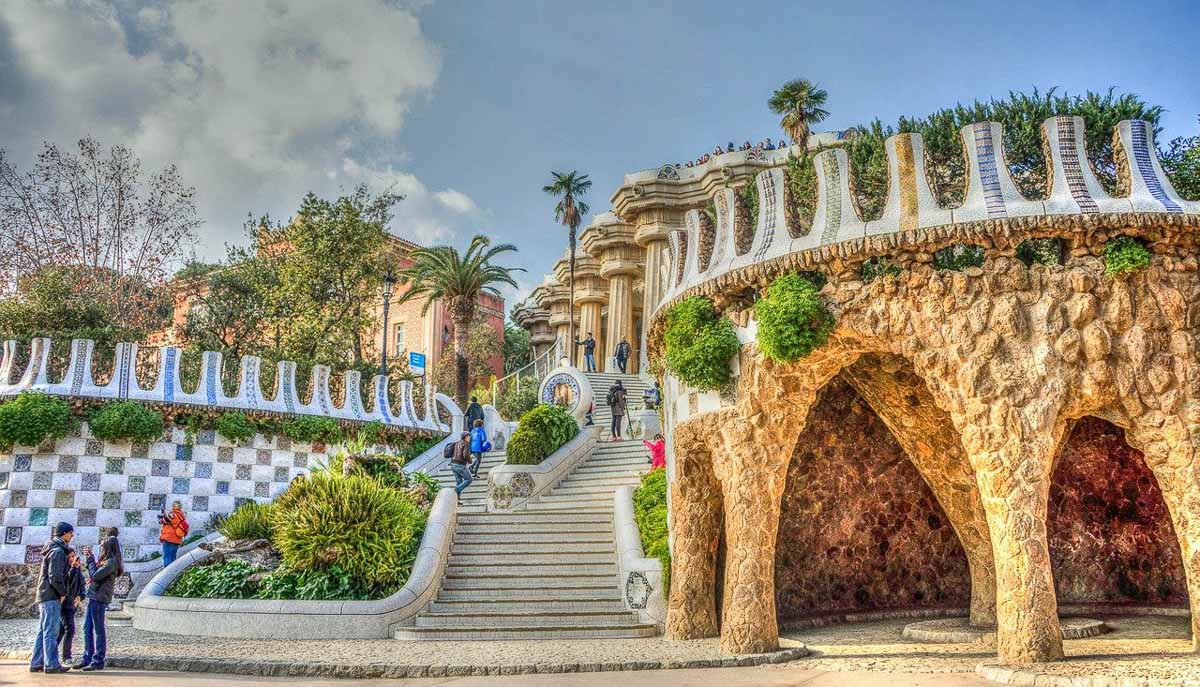 Book your admission ticket beforehand and save the hassle of buying it at the entrance.
7. Temple Expiatori del Sagrat Cor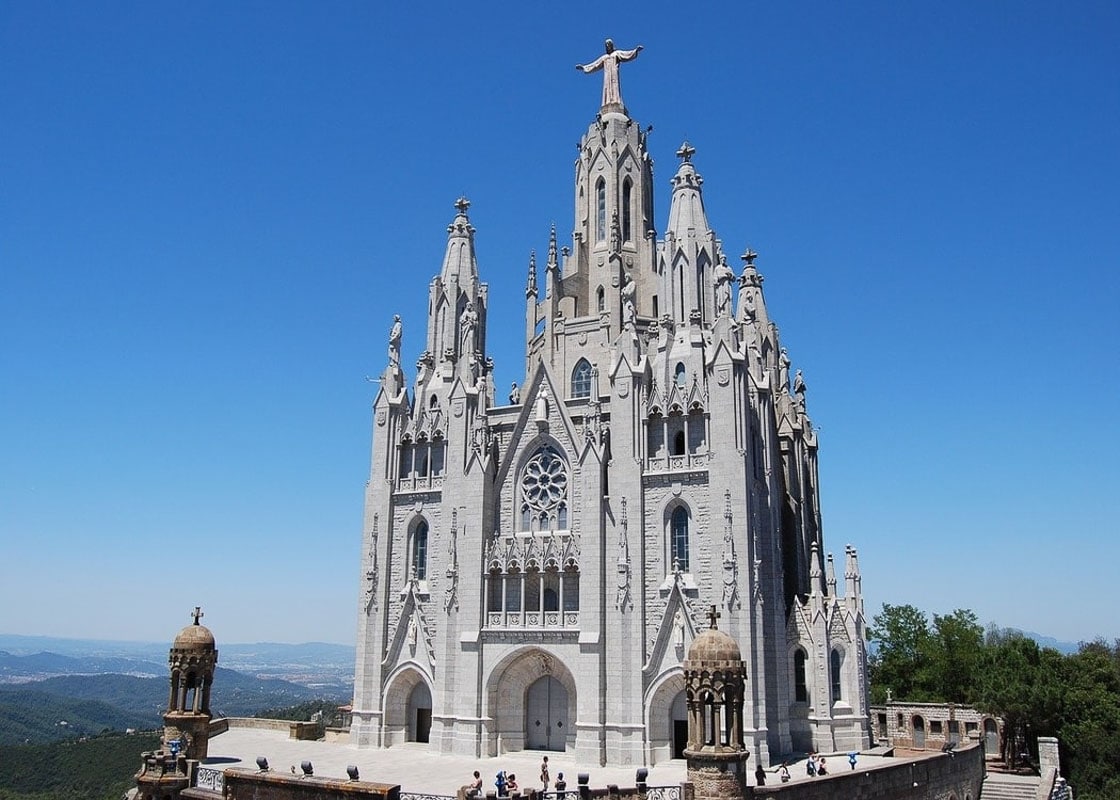 The Temple Expiatori del Sagrat Cor translates to the Temple of the Sacred Heart of Jesus. This striking Roman Catholic church and minor basilica sits on the summit of Mount Tibidabo in Barcelona.
It was built by a father-son duo. Spanish architect Enric Sagnier started the construction in 1902, and his son, Josep Maria Sagnier Vidal finished it in 1961.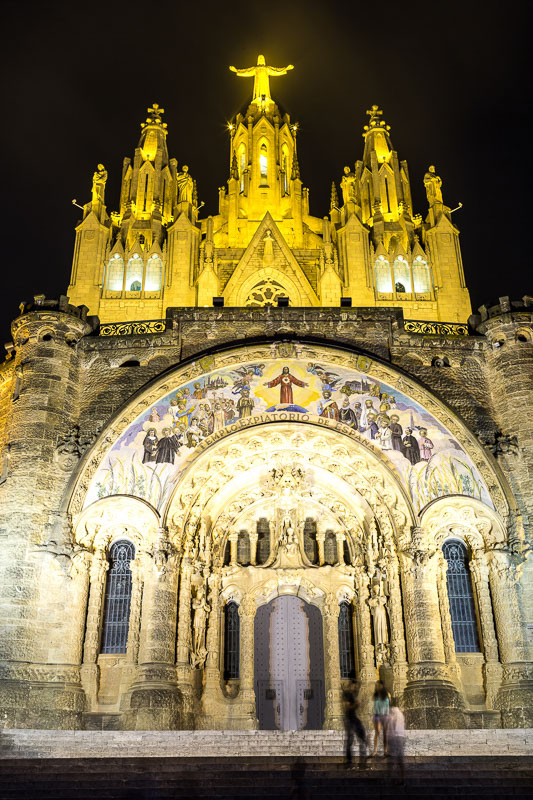 The Neo-Gothic cathedral features handsome stonework, vibrant stained-glass windows, and a large bronze statue of Jesus at the very top. There is also a viewing platform where you can admire panoramic views of Barcelona.
⇒ The beautiful Canary Islands belong to Spain. Read about the 14 Things to do on Lanzarote you must not miss and the Best Place to Stay in Lanzarote .
8. Plaza Mayor
Plaza Mayor is a historic Madrid landmark located in the city centre. It was first constructed from 1617 to 1619. However, following three major fires, the present structure mainly resembles the reconstruction that took place in 1790.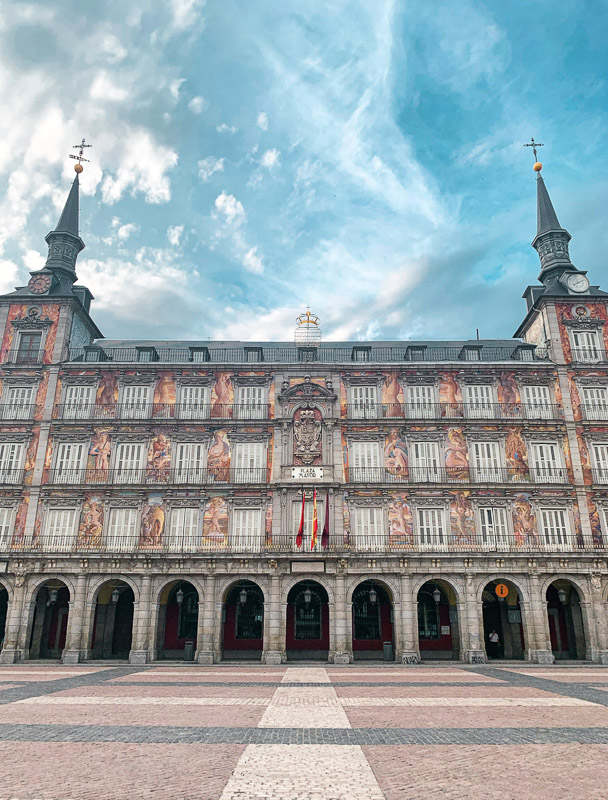 The plaza has a uniform design, with the surrounding burgundy hued buildings all being three story's high. It features 237 balconies and ten grand entrances. The centre is marked by the large statue of King Philip III sitting triumphantly atop his stallion.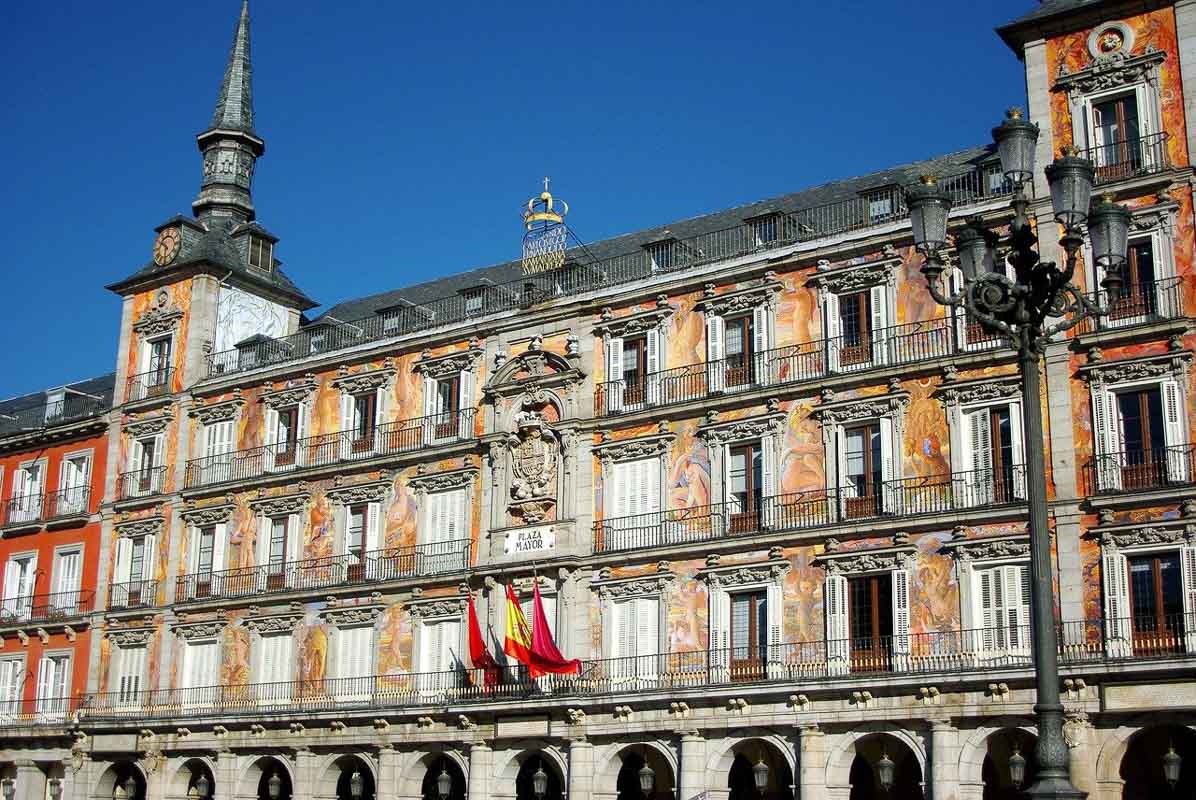 Today, the expansive and bustling public square is dotted with alfresco cafes and filled with tourists and locals alike.
⇒ Austria has everything from mountains to lakes to fantastic food to the Sound of Music and so much more – find out where to go in my Austria Itinerary, Innsbruck Highlights and the best things to do in Graz.
9. Alcázar de Toledo
Alcázar de Toledo is a large stone fortification that resides on the highest point in the city. The original construct of the palace began in 1531.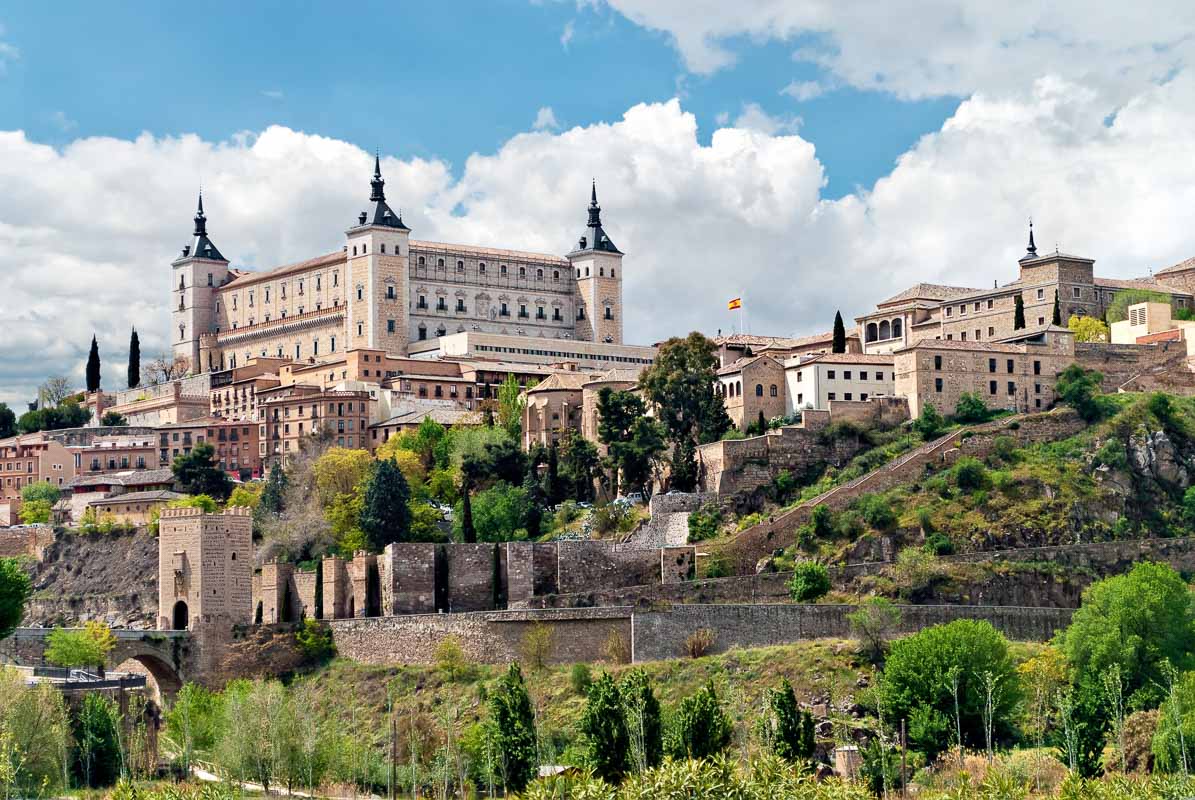 However, much of the building had to be rebuilt. This was following the destruction caused to it following the Spanish Civil War that took place from 1936 to 1939.
The fortress' ideal positioning allows you to effortlessly capture beautiful pictures of Toledo and the surrounding area. The interior has been wonderfully restored and houses a Spanish army museum.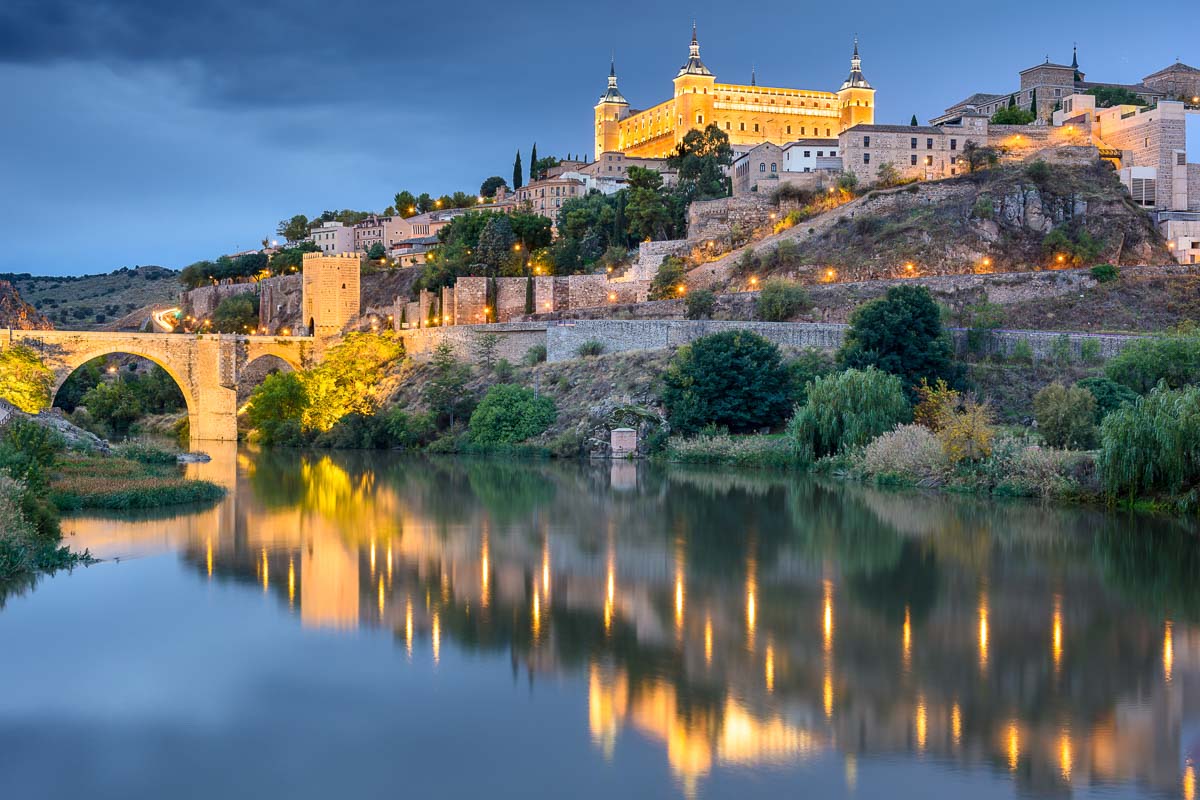 If you want an easy option for sightseeing Toledo and visiting the Alcázar de Toledo, book a Silver Ticket for the city's hop-on-hop-off bus tour.
10. Cathedral Santiago de Compostela
The Cathedral of Santiago de Compostela is a massive church of great historical and religious importance. Construction started in 1075 during the reign of Alfonso VI and slowly continued throughout the 12th and 13th centuries.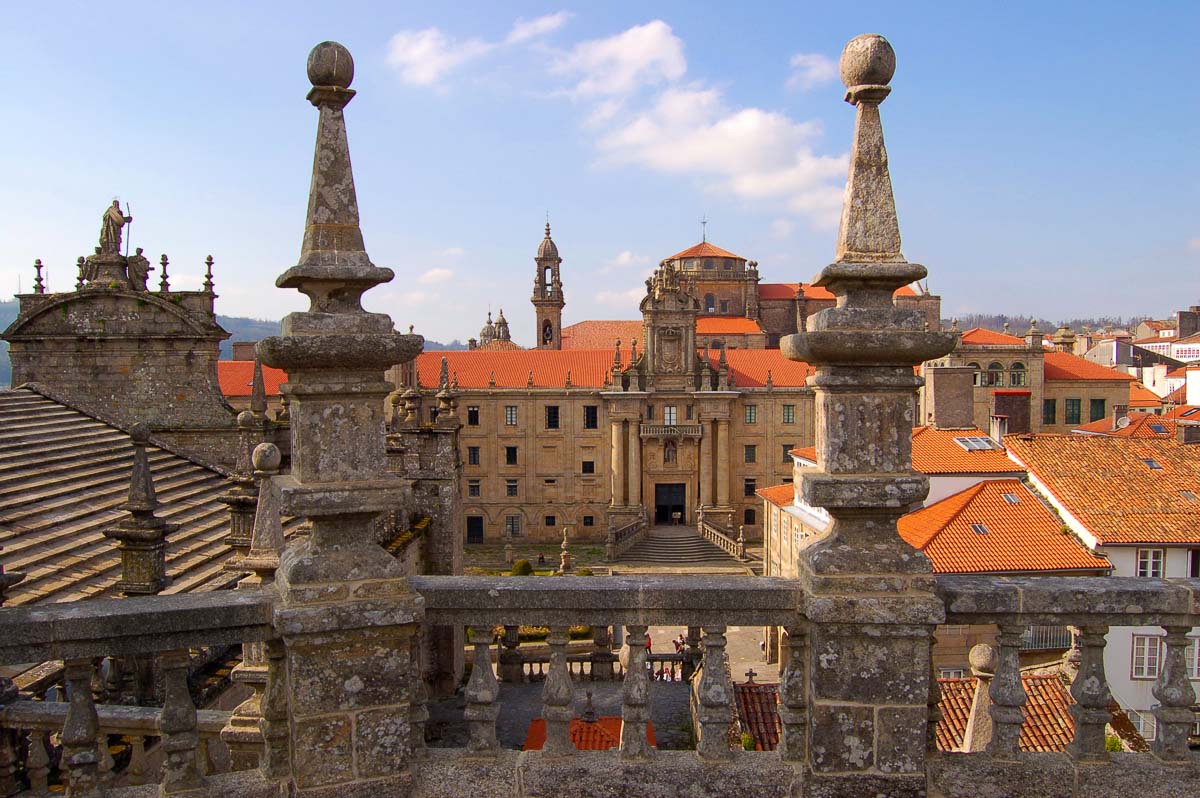 Over the years, many extensions were added on in various architectural styles, including Romanesque, Gothic, Spanish Gothic, and Baroque. It's a marvel of beauty, with an intricate facade depicting countless religious figures.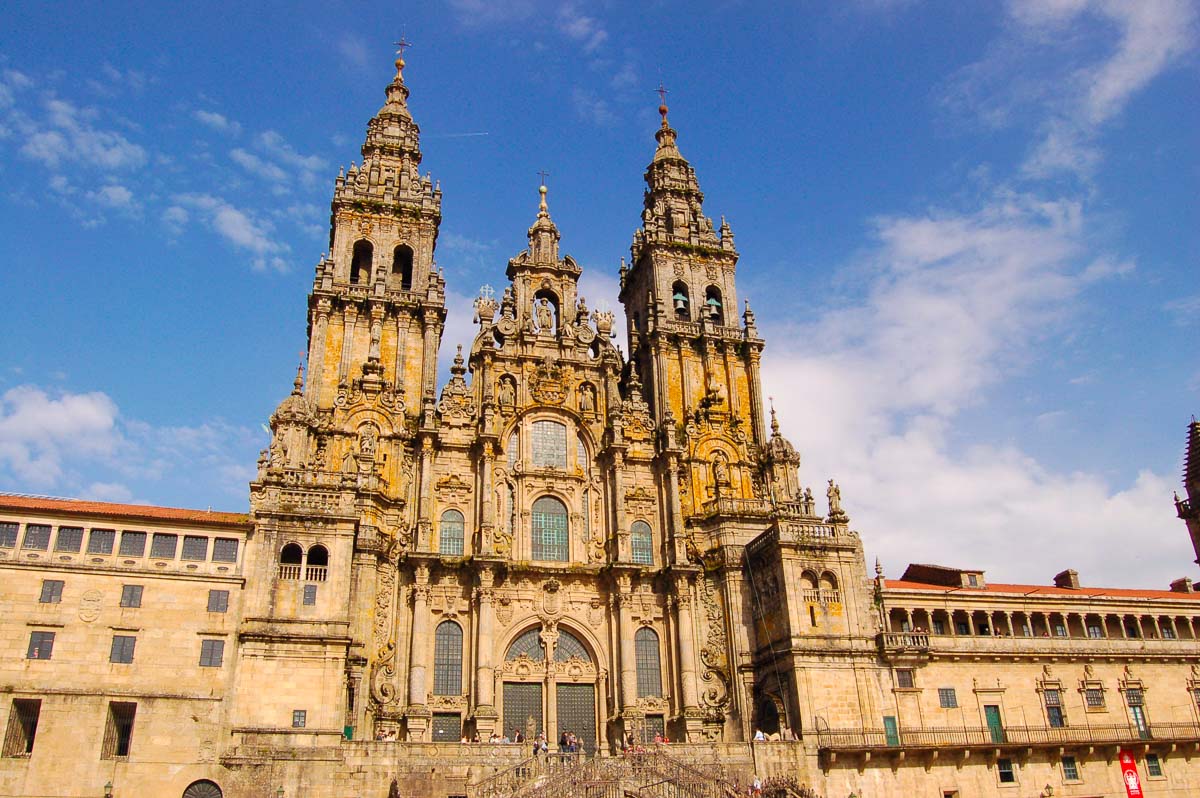 It's one of the three known churches built over the tomb of one of Jesus' apostles, Saint James. The other two churches are St. Peter's Basilica in the Vatican City and Thomas Cathedral Basilica in India.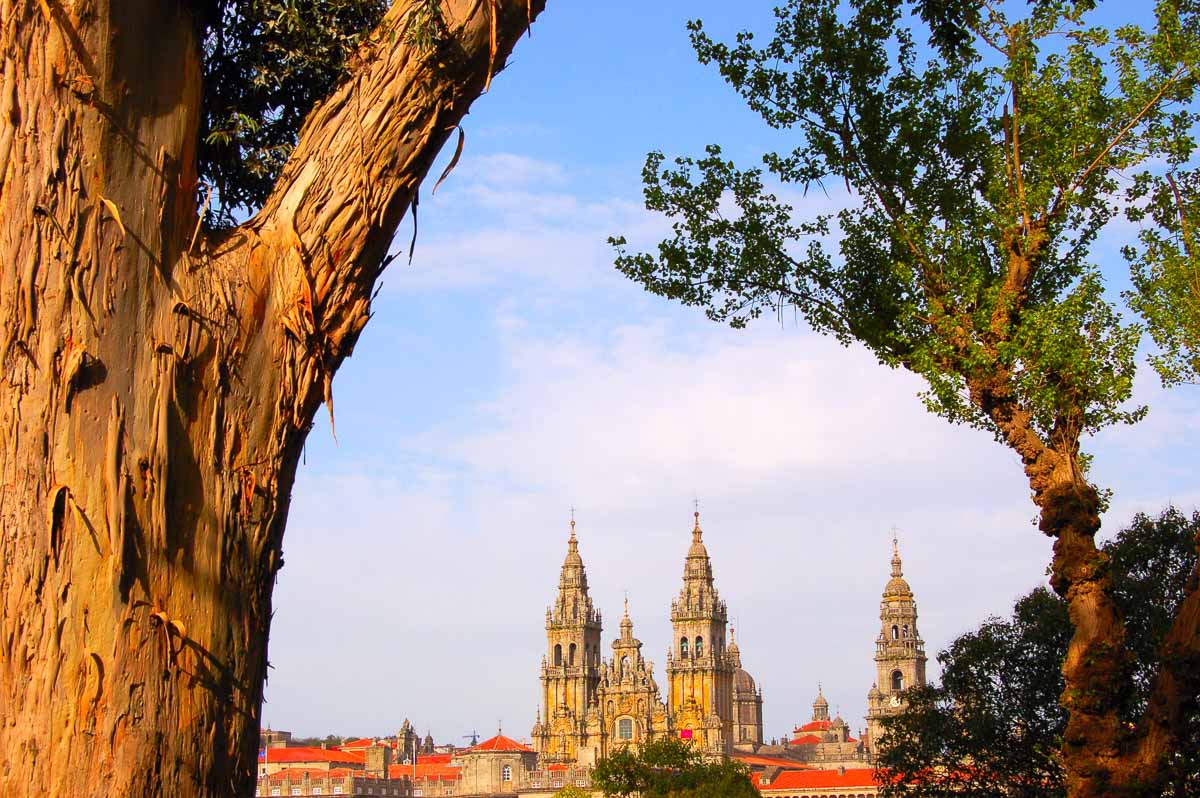 Santiago de Compostela is very much a living city, with other attractions for travellers, pilgrim or not: countless restaurants and bars where you can enjoy the delicious seafood of Galicia, a UNESCO World Heritage old town centre, daring contemporary art… There's plenty to do in this city which combines history with a younger modern side.
⇒ If you like beautiful European towns check out my posts on Saint Antonin Noble Val and Tarn et Garonne in France, 30 Famous Landmarks in France, 10 Beautiful Bridges in France, 10 Beautiful Lakes in France and the 6 Best Places to Watch the Sunrise in Paris
11. Alcázar de Segovia
Alcázar de Segovia is one of the most fascinating historical landmarks in Spain. Located in the city of Segovia, this stunning medieval castle is perched high on a rocky crag. The location provides breathtaking views of the surrounding landscape.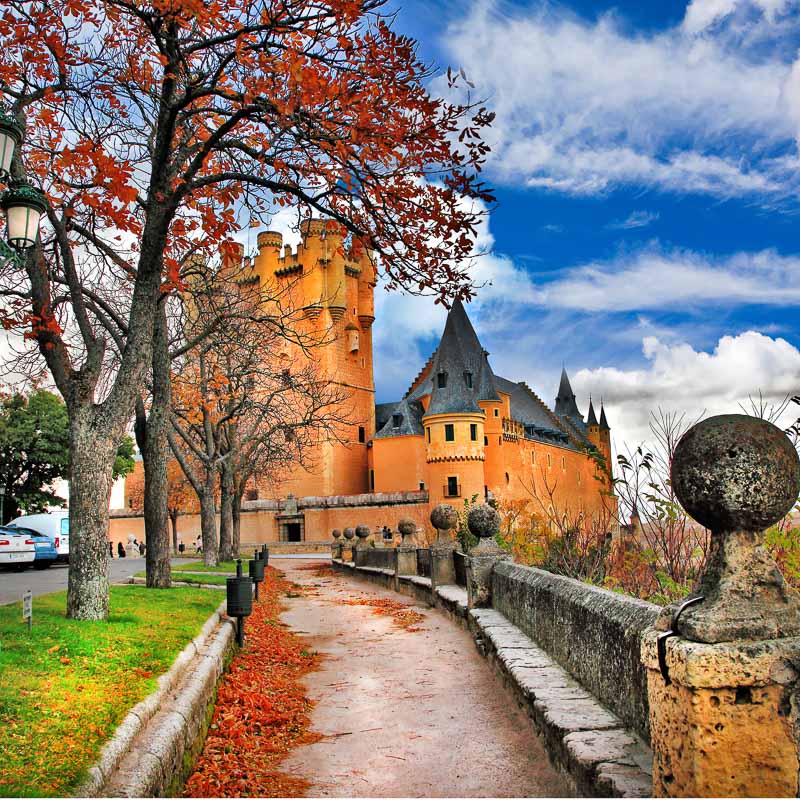 The layout is unique, as it adapts to the hill on which it's set. The design is so magical it's said to have inspired Walt Disney in his castle construction.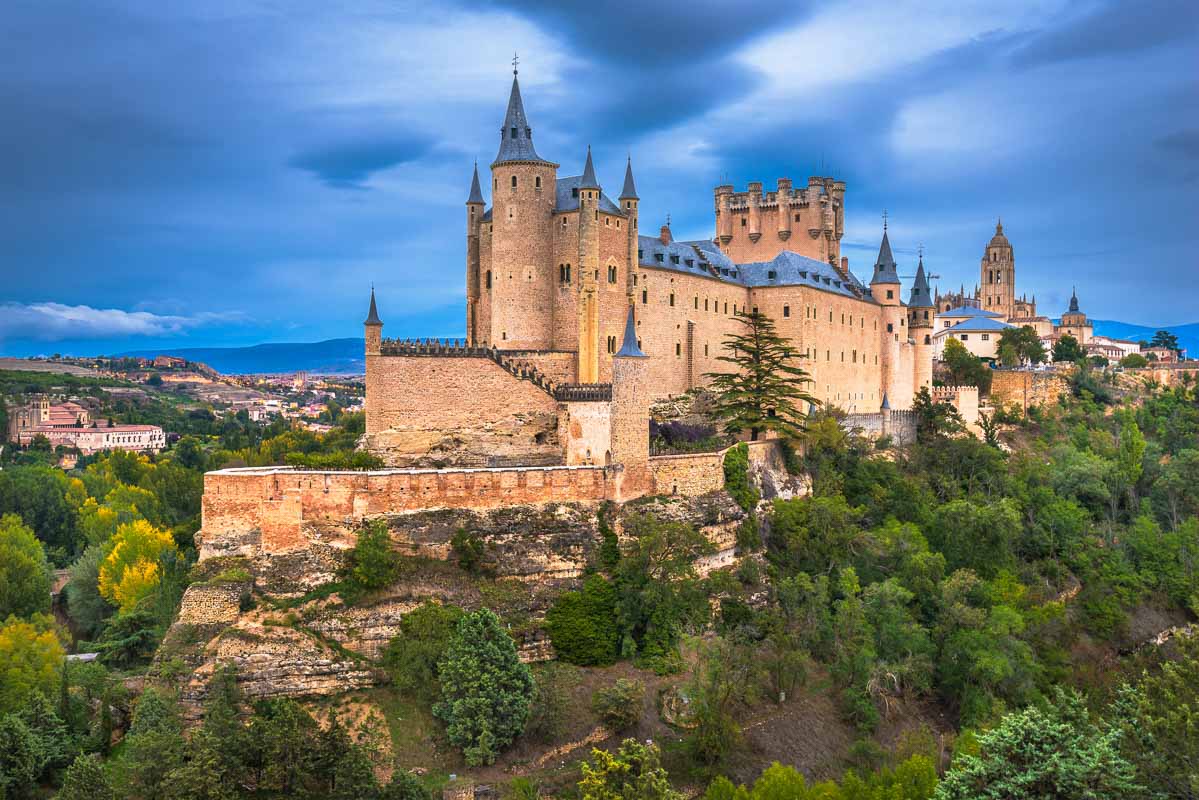 Tours of the Alcázar are open to the public. Visit the beautifully restored interior and admire the ornate ceilings, beautiful tapestries and impressive armoury.
⇒ Explore more of Europe in my posts on 14 Beautiful Cities in Europe 16 European Palaces not to Miss, 17 Beautiful Castles in Europe Not to Miss, 21 Most Beautiful Countries in Europe, 9 Most Beautiful Cities in Germany, 26 Landmarks of Germany, 25 Rome Monuments, 60 Most Famous Landmarks in the World, 12 Beautiful Famous Spain Landmarks and 16 Famous Landmarks in Europe.
12. Ciudad de las Artes y las Ciencias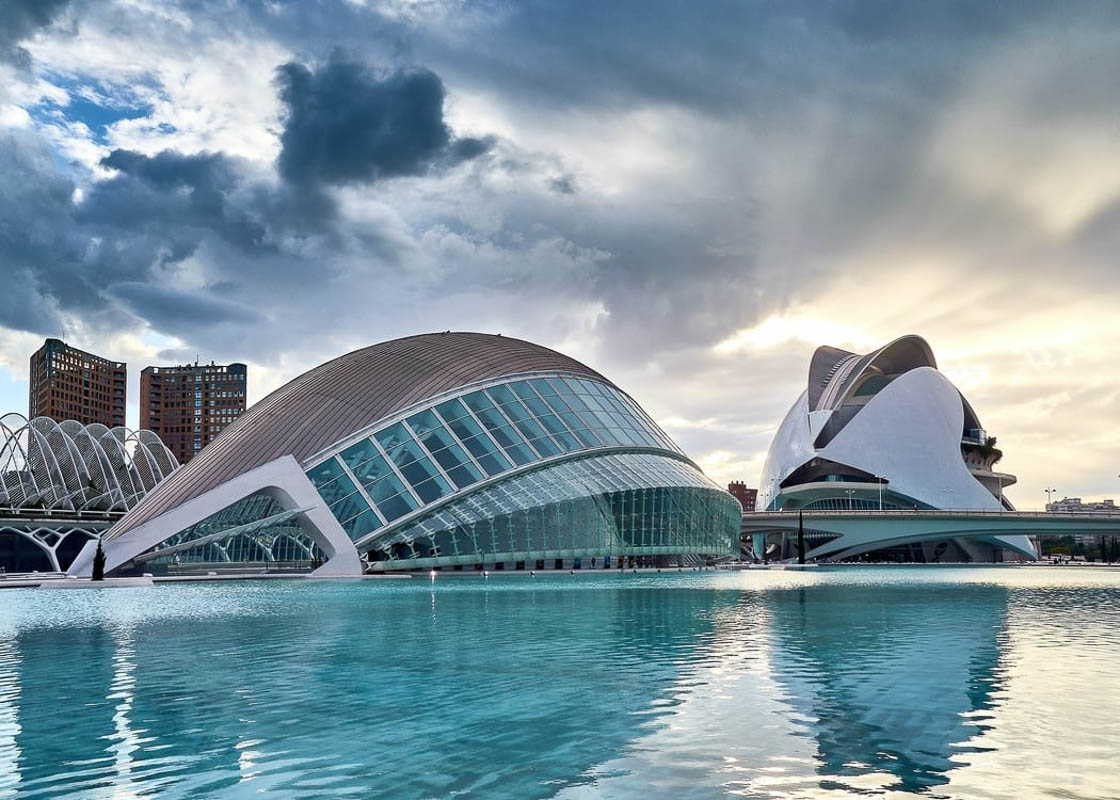 The Ciudad de las Artes y las Ciencias is located in the beautiful city of Valencia. This popular Spain landmark translates in English to the City of Arts and Sciences.
The futuristic-looking structure features many different structures and houses an impressive assortment of entertainment buildings.
Some of the more popular areas include an IMAX Cinema, a planetarium, an interactive museum of science, and an opera house. It also contains L'Oceanogràfic, which is the largest aquarium in Europe and worth booking a ticket to see.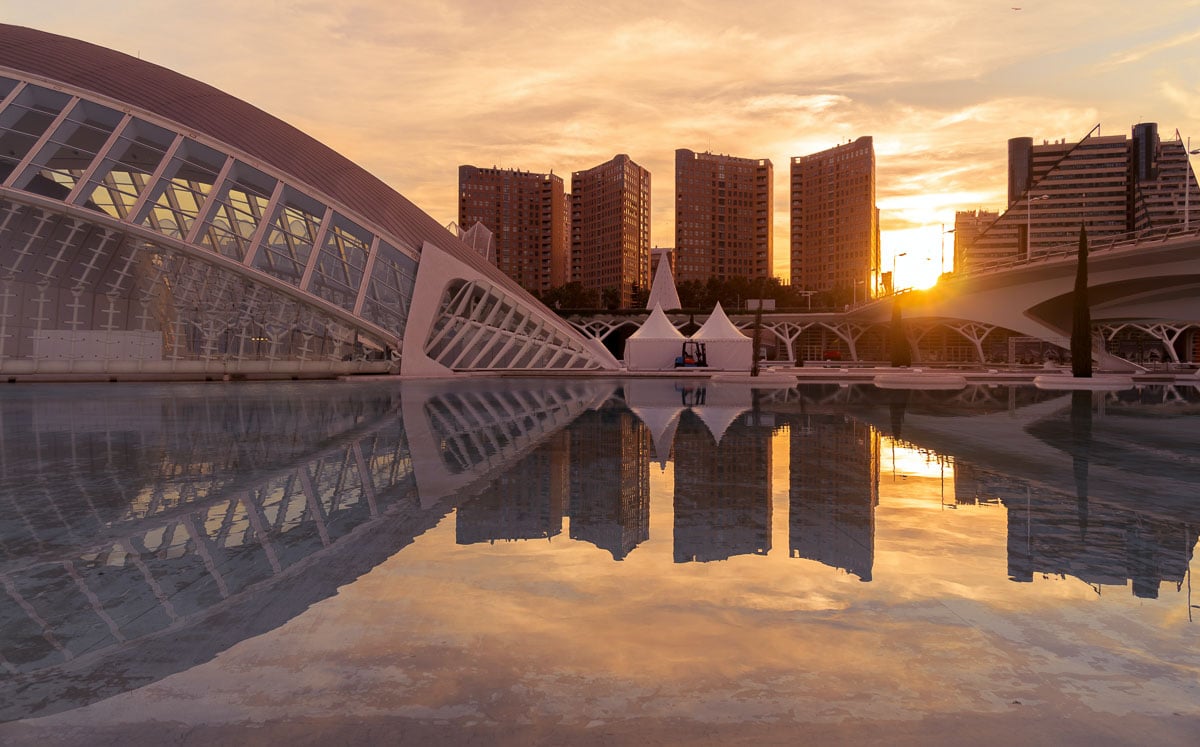 The surrounding grounds are equally as eye-catching. From the large calming lake to the well-landscaped gardens and park, the sightseeing opportunities will abound.
⇒ Head East for more interesting European experiences from Czech Spa Towns to things to do in Riga and things to do in Latvia.
Spain Famous Landmarks: Final Thoughts
These famous Spanish landmarks will captivate you and show you another interesting facet of the country's culture. From grand palaces to famous cathedrals and modern architectural structures, there's something everyone will appreciate.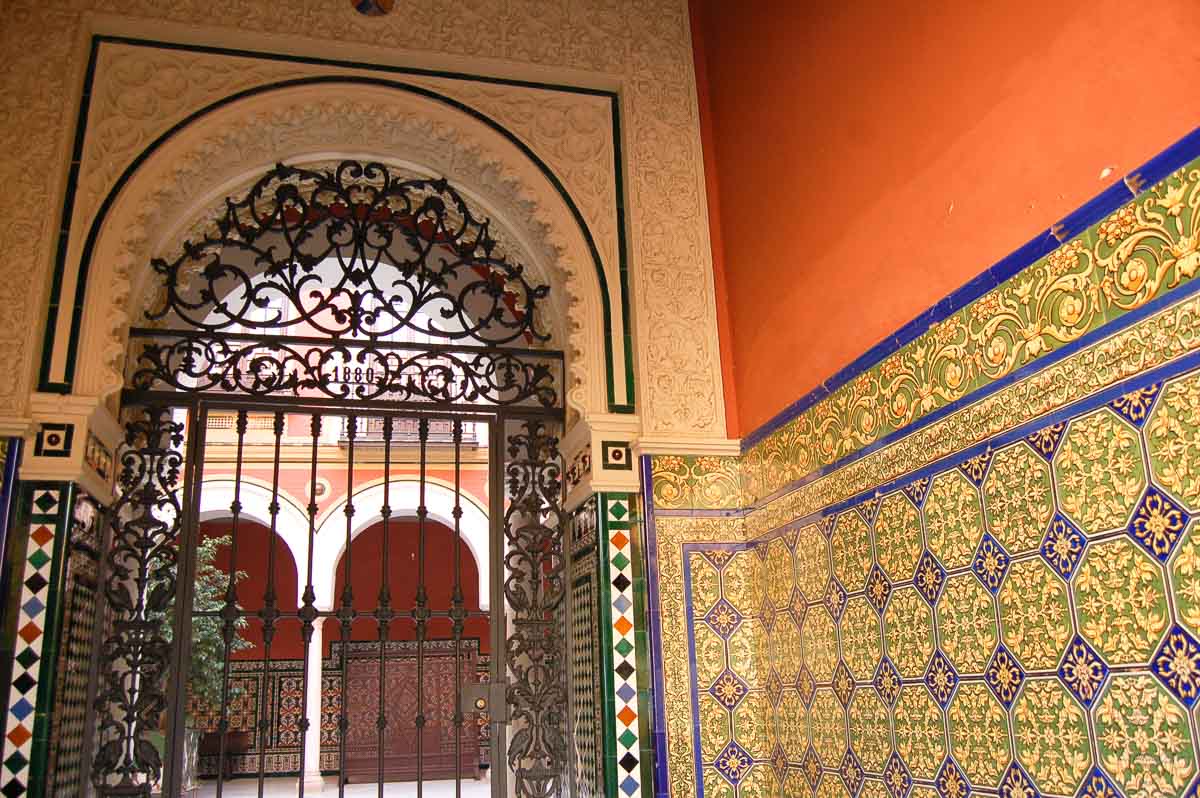 If you're planning a trip to Spain, these exquisite landmarks are definitely worth adding to your itinerary. And the best part is, each one is open to the public so that you can enjoy them from the inside out.
Would you get naked at a spa? Check out my posts on Naked or Clothed – Baden Baden Spa Guide, the best Baden Baden Tour options, 26 Landmarks of Germany, 9 Most Beautiful Cities in Germany and One Day in Hamburg – all in Germany.
This Spain Famous Landmarks post includes affiliate links. That means if you click through and end up making a purchase I will receive a small commission. I wanted to make sure you were aware of this.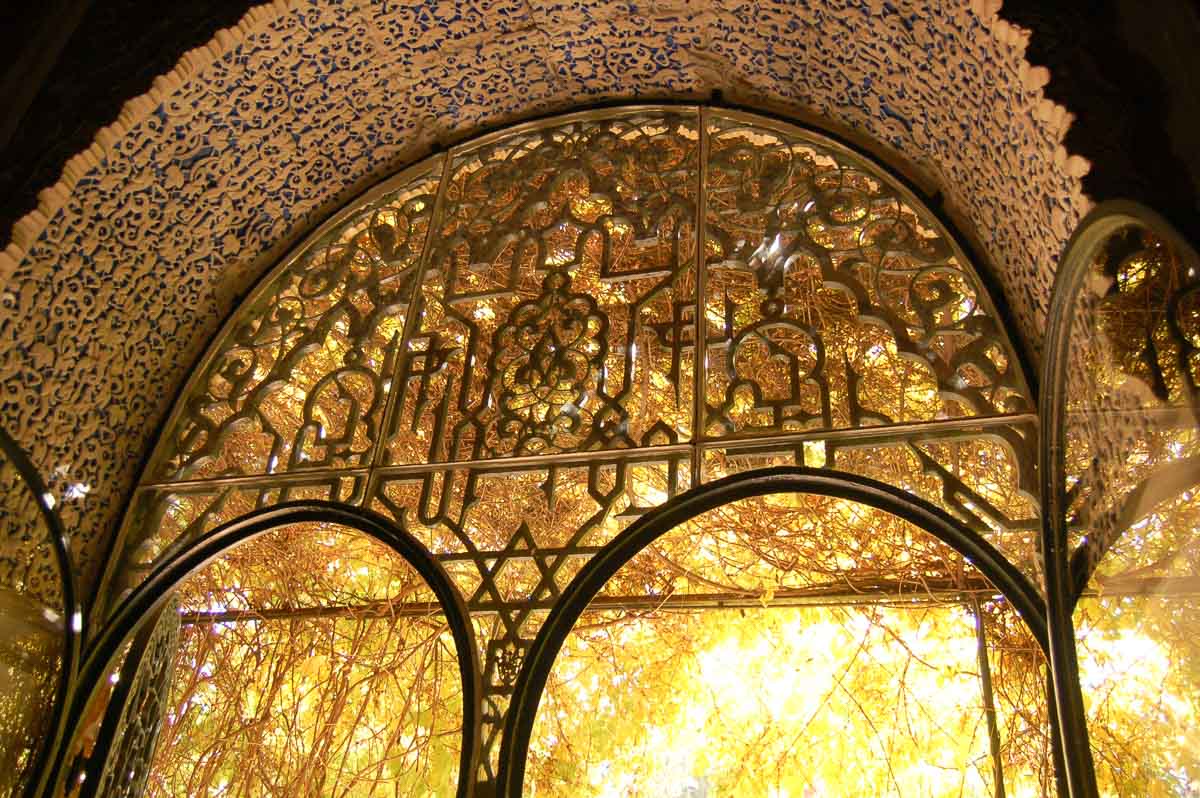 ⇒ Another fantastic place to visit in Europe is Greece. Read all about Paxos Greece as well as the best Paxos restaurants and Paxos beaches. Or find out how to get from Santorini to Ios, the best things to do in Ios and a complete guide to Mylopotas Beach. And don't miss 11 Famous Greek Landmarks and my 10 Days in Greece Itinerary.