Spain is a beautiful country full of history, culture, and passion. It's famous for many things, including its incredible Spain famous landmarks. Each city tells a tale of its past through these different structures, buildings, and sites.
Some were built centuries ago, while others are more modern. All of them are unique in their own right and worth checking out when you visit Spain. From ancient sites to beautiful European palaces, these famous landmarks in Europe will take your breath away.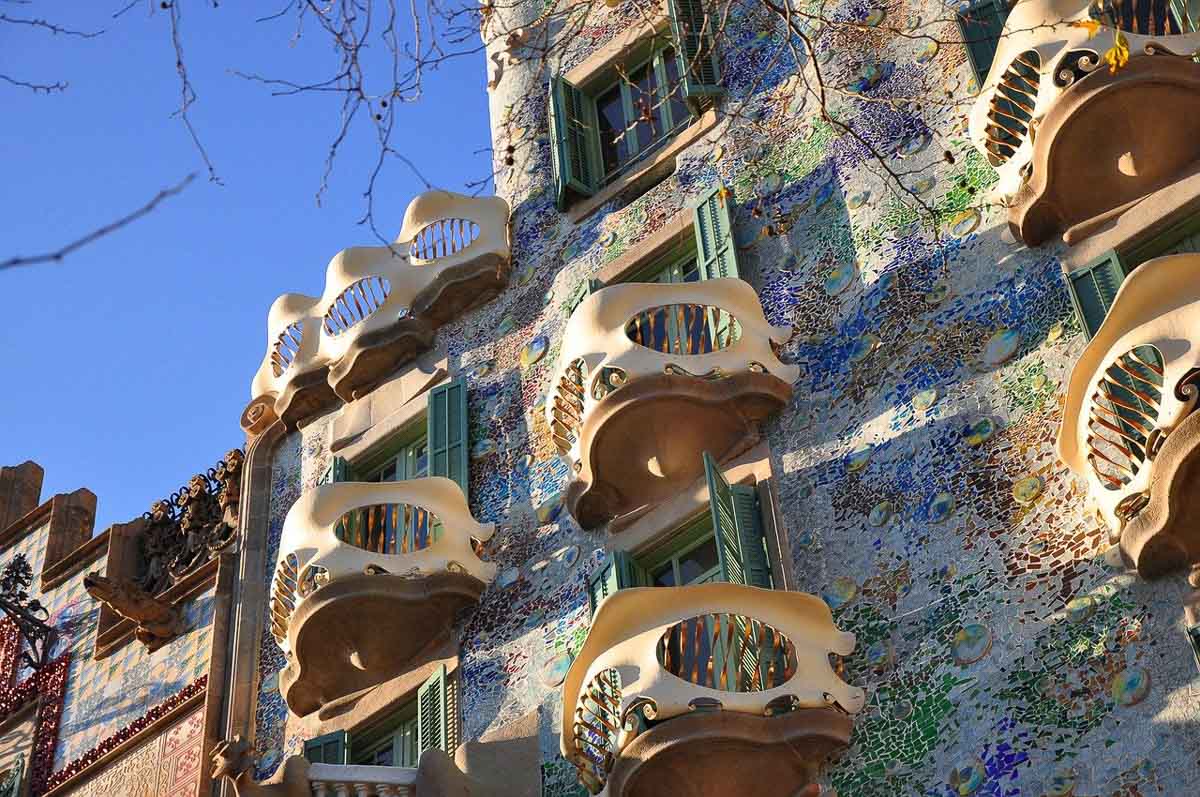 41 Spain Famous Landmarks
1. Alhambra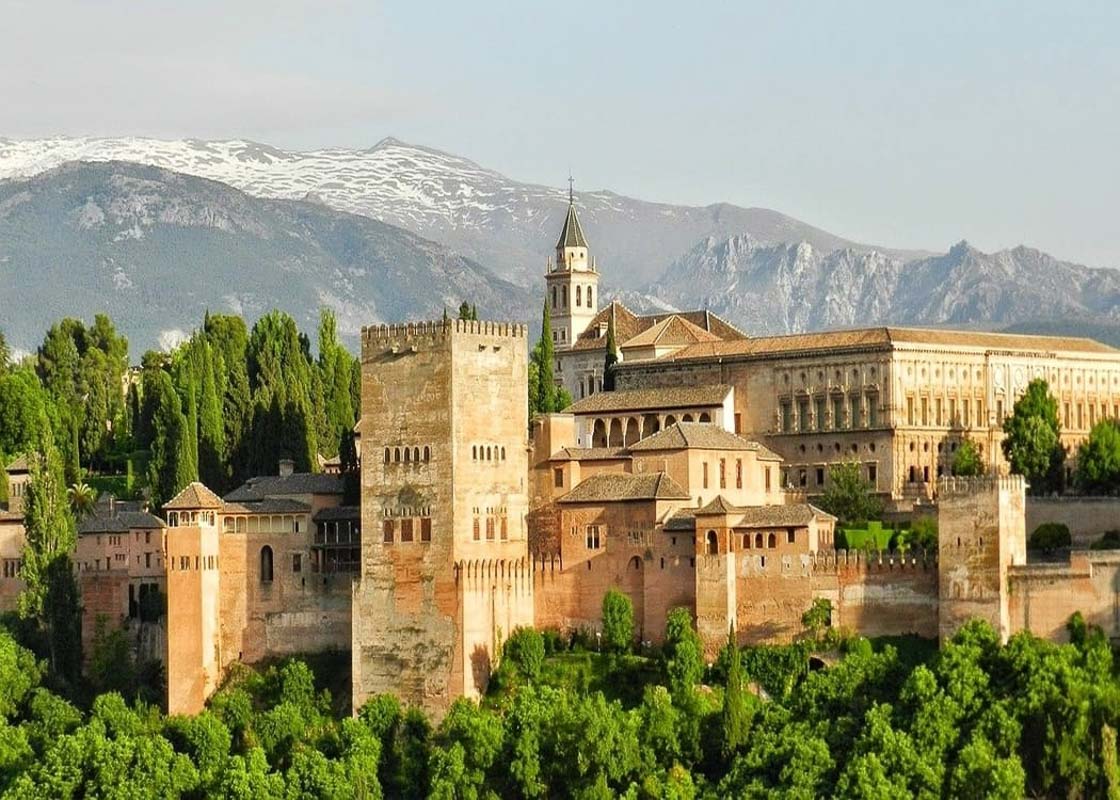 The Alhambra in Granada is one of the most famous landmarks in Europe. Its timeline traces back to 889 CE when it was constructed as a small fortress. Then in the 13th century, it was rebuilt to serve as the palace and fortress for the Nasrid dynasty.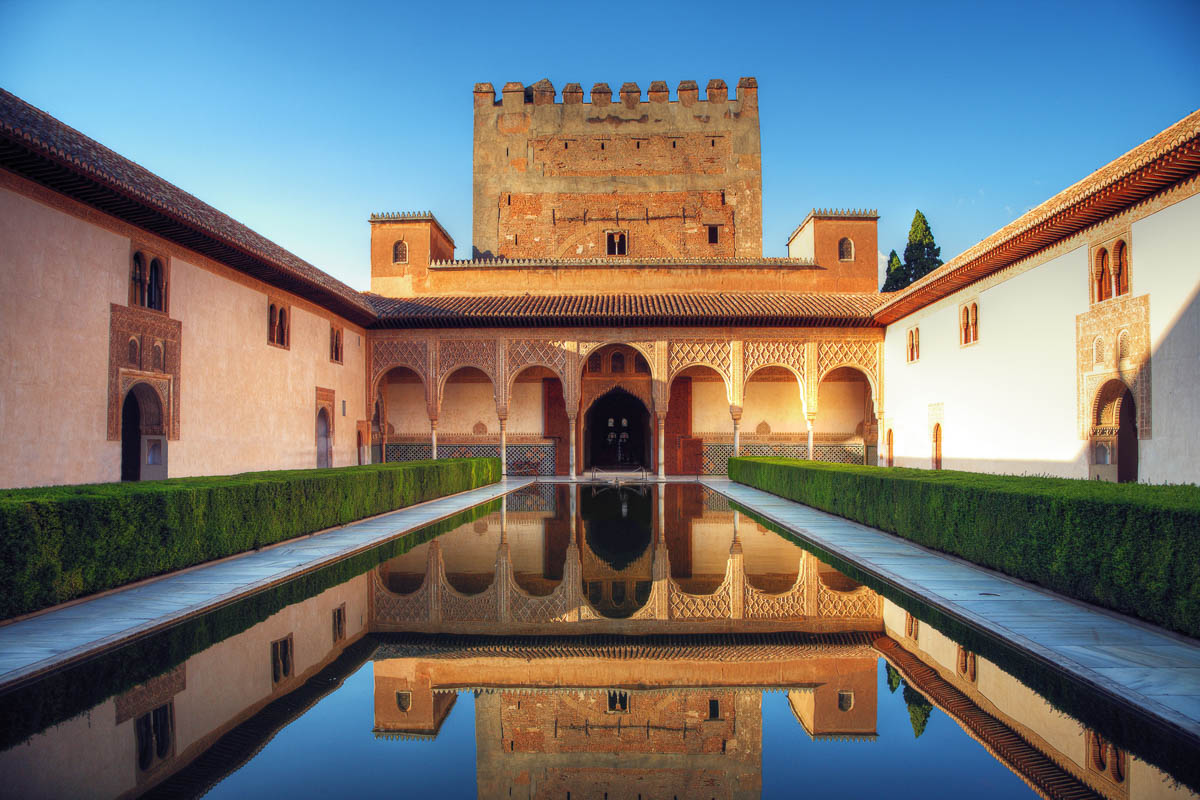 The lavish Moorish architectural style is on full display throughout the complex. The interior is decorated head to toe with ceramic tiles, ancient calligraphy, ornamented windows, and other intricate detailing. It's truly a marvel of Islamic architecture and culture.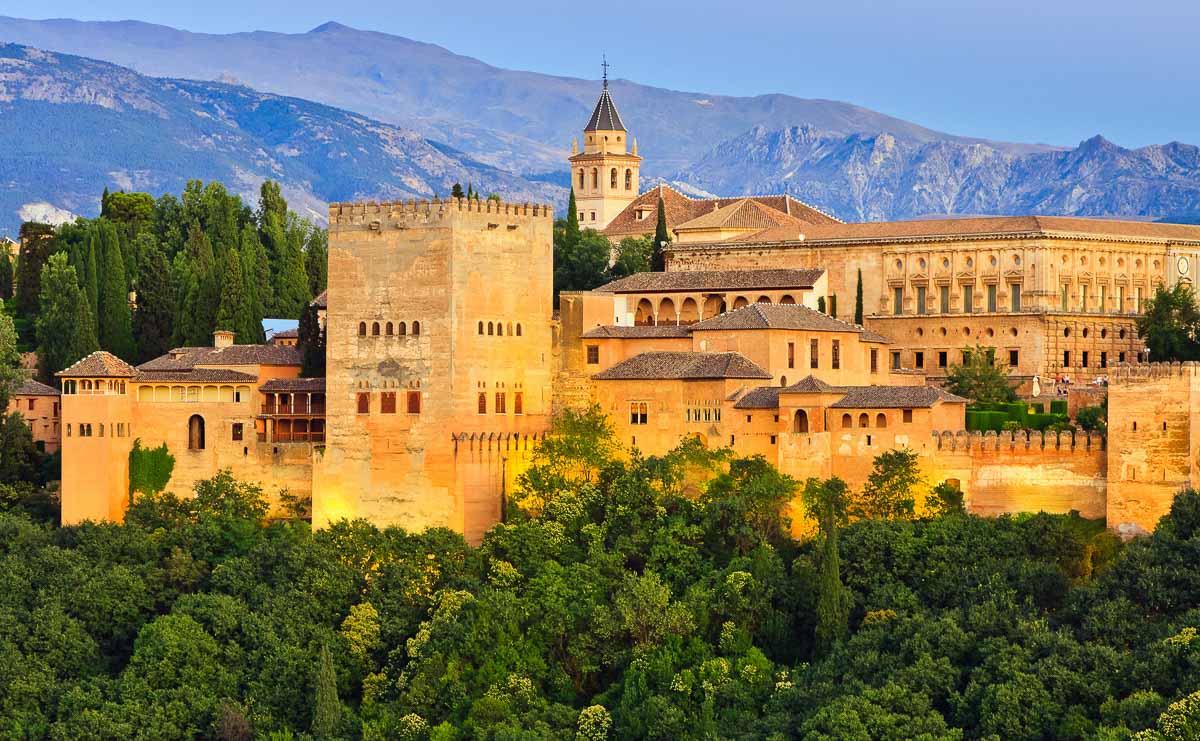 The expansive grounds comprise numerous sites, including the Nasrid Palace, Charle V's Palace, the Alcazaba, and the gorgeous Generalife Gardens.
The best way to explore the different areas is by booking a skip the line ticket for the Alhambra.
2. Royal Alcázar of Seville
The Royal Alcázar of Seville is one of the most famous Spanish landmarks and a beautiful piece of history. The origin of the complex dates back to 712, but the primary construction process started in the 14th century.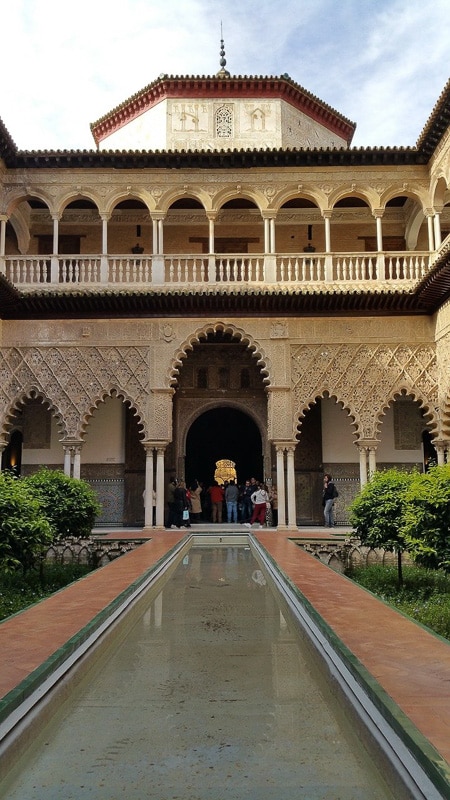 It continued for hundreds of years with many different architectural styles added, including Gothic, Renaissance, and Romanesque.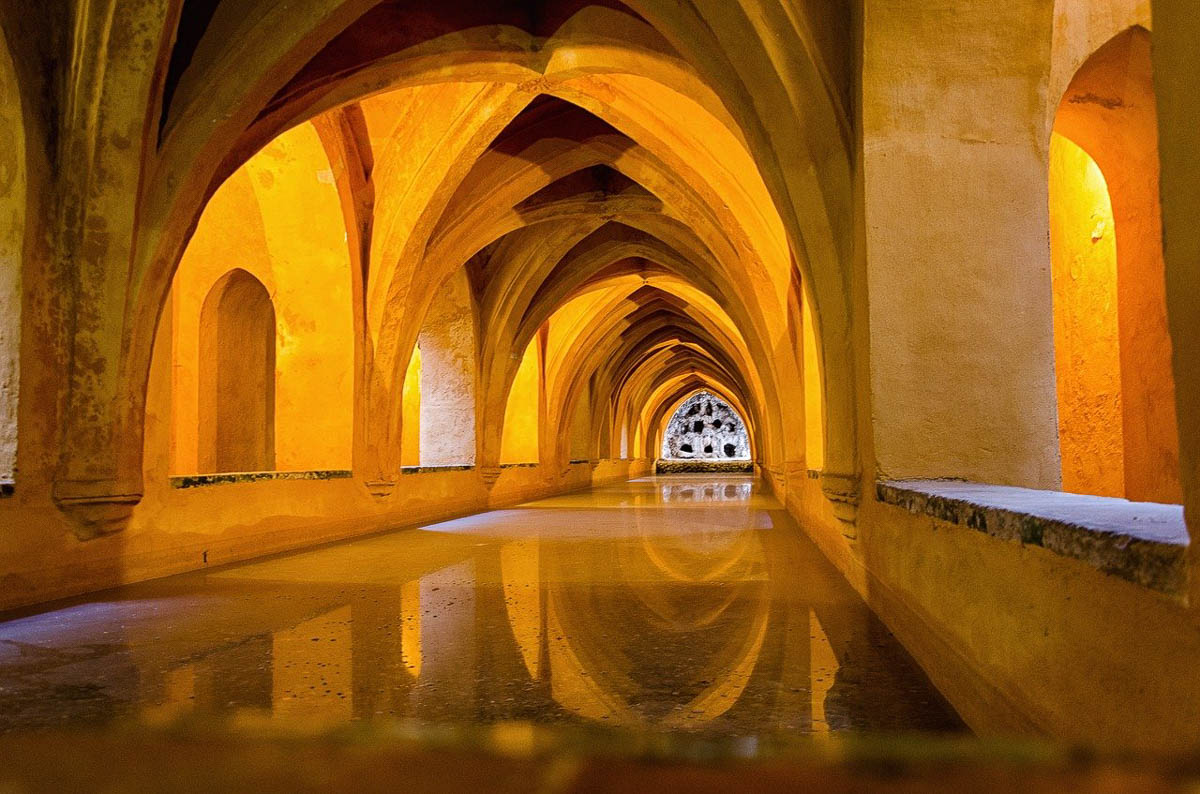 A fun fact about the palace is that the Spanish royal family still use it as their residence when they visit Seville. You can tour the Alcázar and discover all of its wonders. The lavish tile decorations, richly decorated rooms and scenic gardens will enchant you.
3. Catedral de Sevilla
Seville Cathedral is the largest Gothic cathedral in the world. Construction began in 1401, but it wasn't completed until 1528, more than one hundred years later. It was built to impress, or more specifically, demonstrate Seville's wealth and power.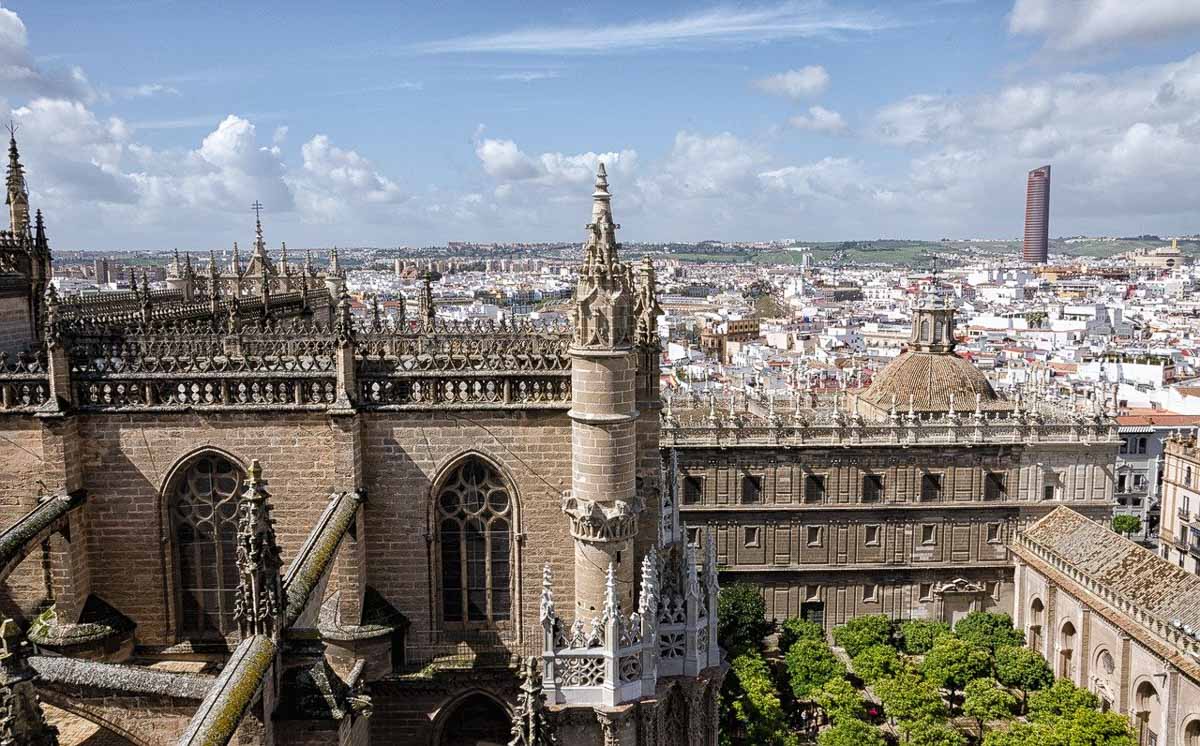 The structure contains 80 chapels, and 15 doors are spread out over the building's four facades. The interior holds the record as having the longest nave of any cathedral in Spain. It also houses the tomb of Italian explorer Christopher Columbus and his son, Diego Columbus.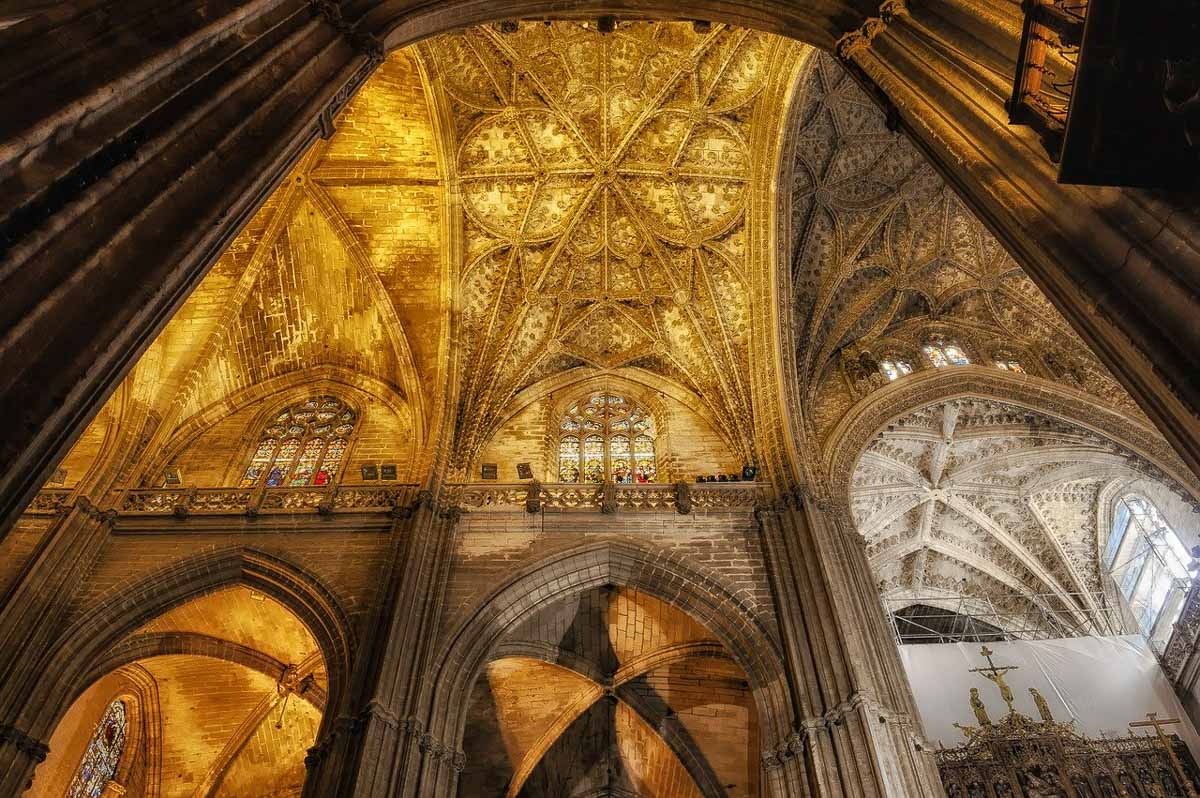 To receive a more detailed look at the cathedral, book a skip the line ticket and enjoy a tour with an official guide.
⇒ A wonderful island in Spain is Gran Canaria in the Canary Islands – read about some of the best things to do in Maspalomas, Gran Canaria Excursions and Gran Canaria markets.
4. Casa Batlló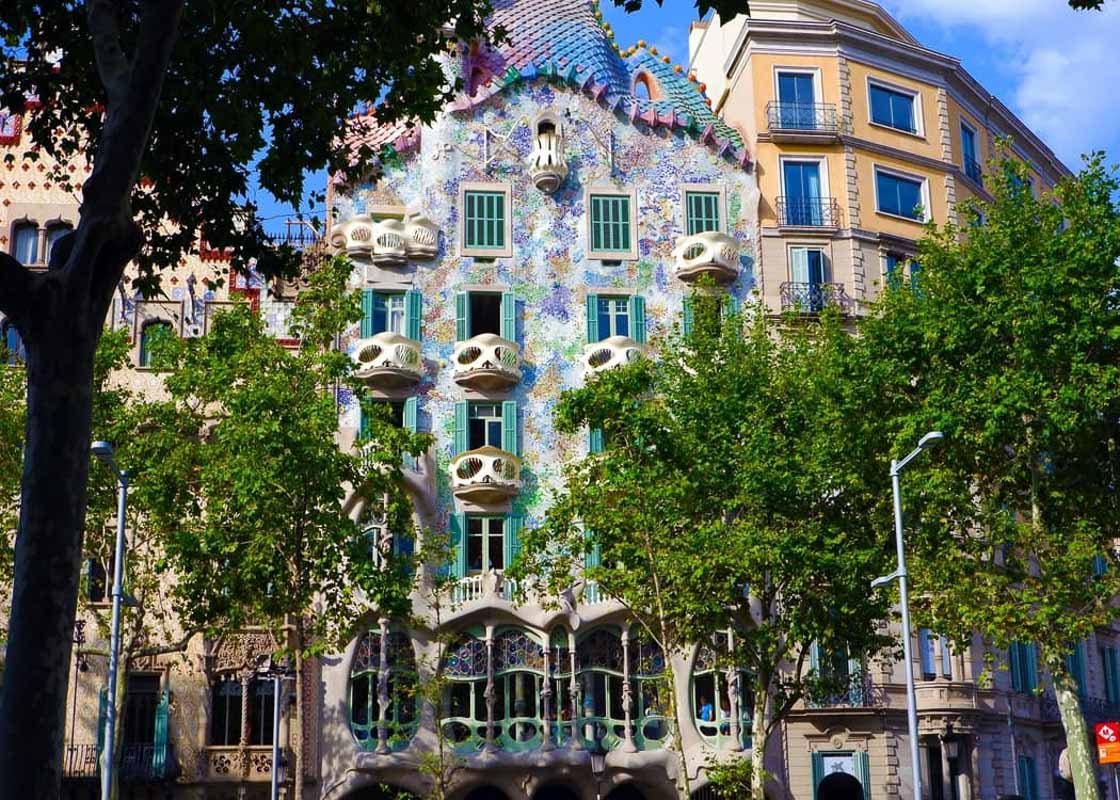 Casa Batlló is a big and beautiful building in the heart of Barcelona. Designed in 1904 by famed Catalan architect Antoni Gaudí, it's considered one of his most famous works of art.
The unique layout of the building is truly mesmerising. It showcases Modern architecture, Expressionist architecture, and Modernisme.
It features unusual tracery, mismatched oval and rectangle windows, protruding balconies, and colourful ceramic tiles. The arched roof has a scaly appearance and has been compared to that of a dragon or a dinosaur. It's one of the most bizarre and wonderful landmarks of Spain.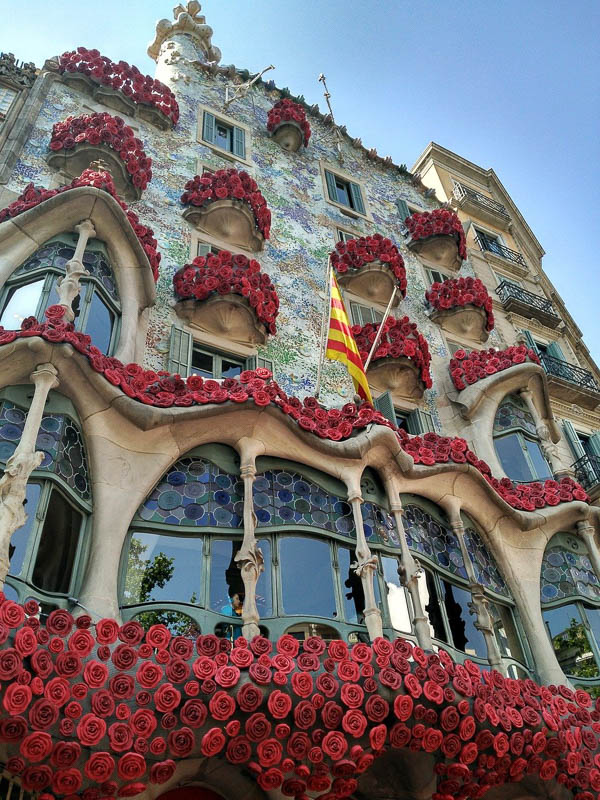 ⇒ Here are some of the best places in the world to watch the sunrise and fall: 10 Places to watch the Sunset in California, 7 Best Places To Watch Sedona Sunsets, 18 Spectacular Spots for the Best Sunsets in Seattle, 5 Stunning Santorini Sunsets, 8 Sunsets in Ibiza, 19 Spots to watch San Diego Sunsets, 11 Places to see the Venice Sunset, 17 Key West Sunsets Spots for Great Views, 15 Best Places to see San Francisco Sunsets, 6 Spots to Watch Sunrise in Paris, 21 Spots to see the Sunset Ottawa Style, 9 Best Places to see Maui Sunsets, 11 Places to see Sunset Edinburgh style, 16 Places to see the Best Sunsets in the World, 18 Best Places to watch the Sunset in Melbourne, 11 Best Places to watch the Sunset in Tucson, 11 Best Spots to watch the Sunset in Glasgow, 15 Places to see Sunsets in London and 9 Spots to watch the Sunrise in London.
The interior is just as fascinating. It's worth booking a tour to explore the full package.
5. Basílica La Sagrada Familia
La Sagrada Familia is probably one of the first Spanish landmarks you think of when you picture the country. This iconic basilica is truly one of a kind. Designed by the imaginative architect Antonio Gaudi, his signature creative style is on full display.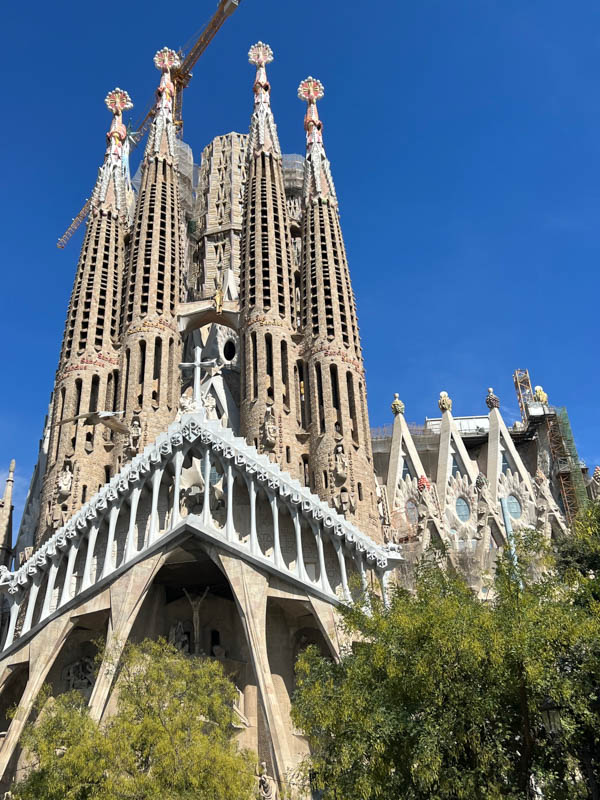 The construction for the church started in 1882 and still isn't finished. It's an ongoing process that isn't expected to be completed until 2026. The building blends religious elements with natural symbols in an artistic way that will leave you completely mesmerised.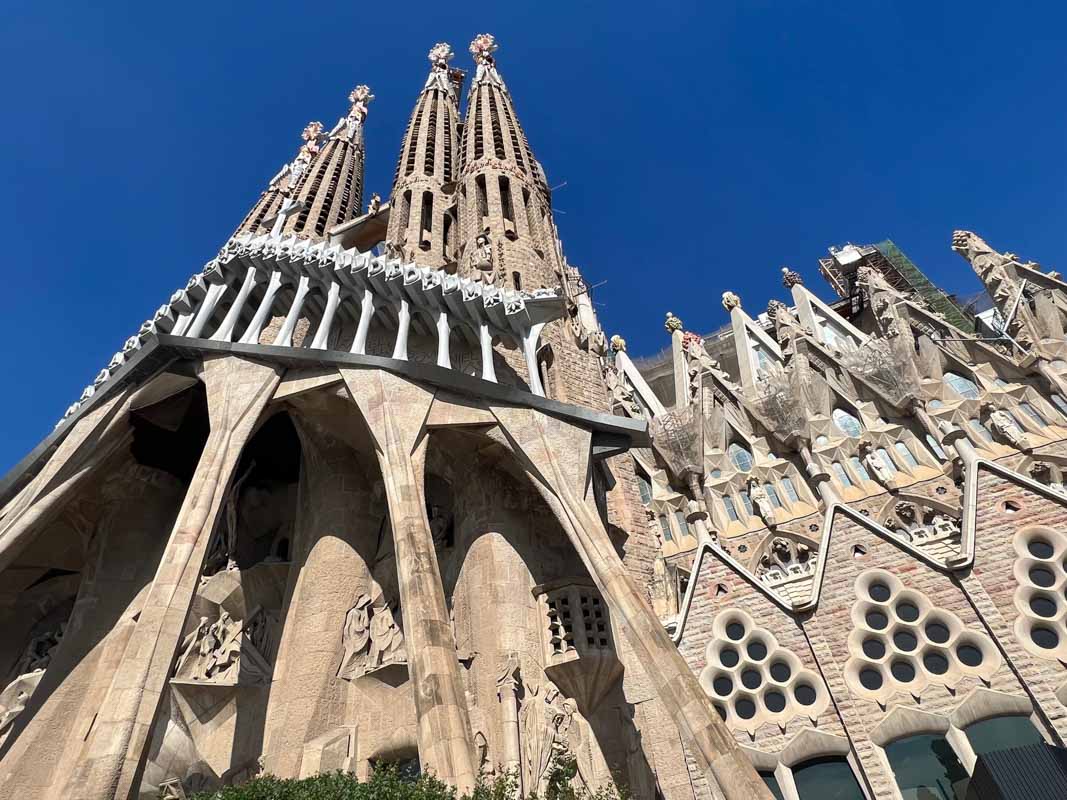 Sagrada Familia receives approximately 4.5 million visitors every year. The number of tickets for sale as well as the entry times is limited. This is definitely a European landmark you want to book a skip the line ticket ahead of your visit.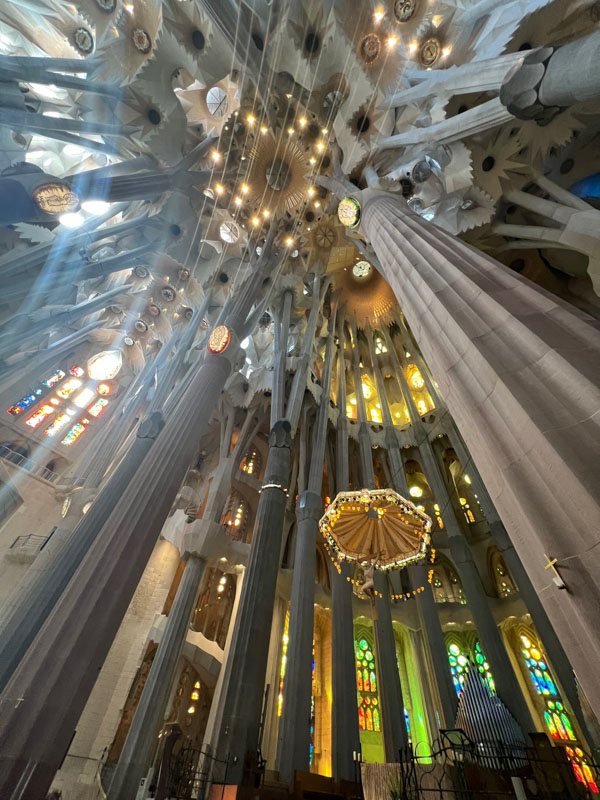 Tickets can be purchased up to 2 months in advance and are available in 15 minute slots. Once you have entered Sagrada Familia you may stay for as long as you like. Entrance to the towers costs extra.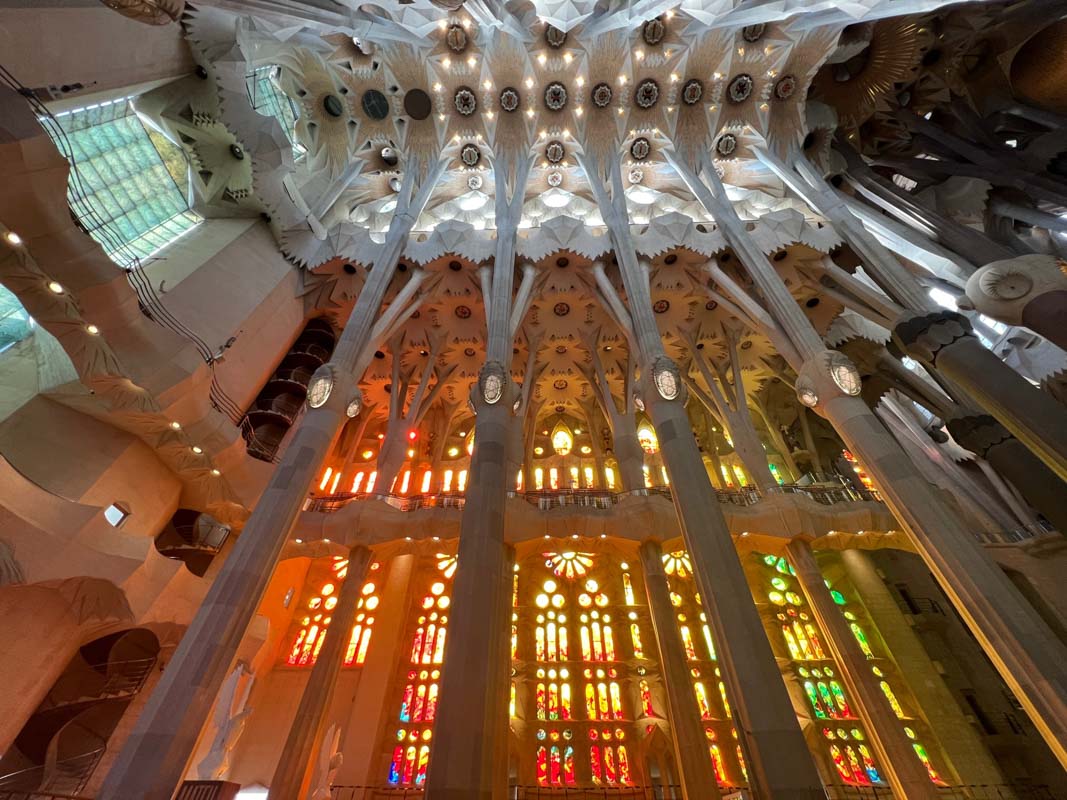 6. Park Güell
Park Güell is a fascinatingly fun park system in Barcelona. It's another beautiful landmark designed by renowned architect Antoni Gaudí. Like his other signature works, it comprises eclectic architectural elements that effortlessly inspire creativity.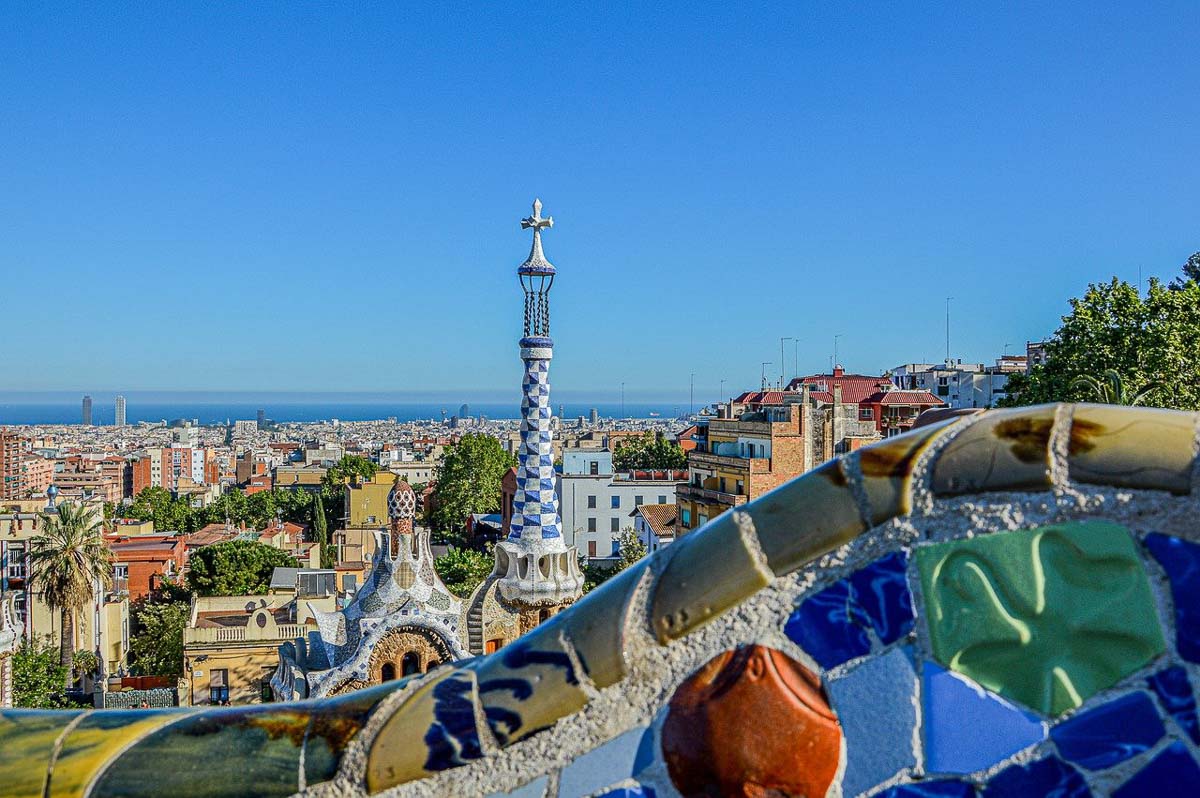 It was built from 1900 to 1914, however not until 1926 was it opened to the public. Some of the unique areas of interest include a serpentine bench, curved and covered footpaths, colourful tiled mosaics, and a dragon stairway.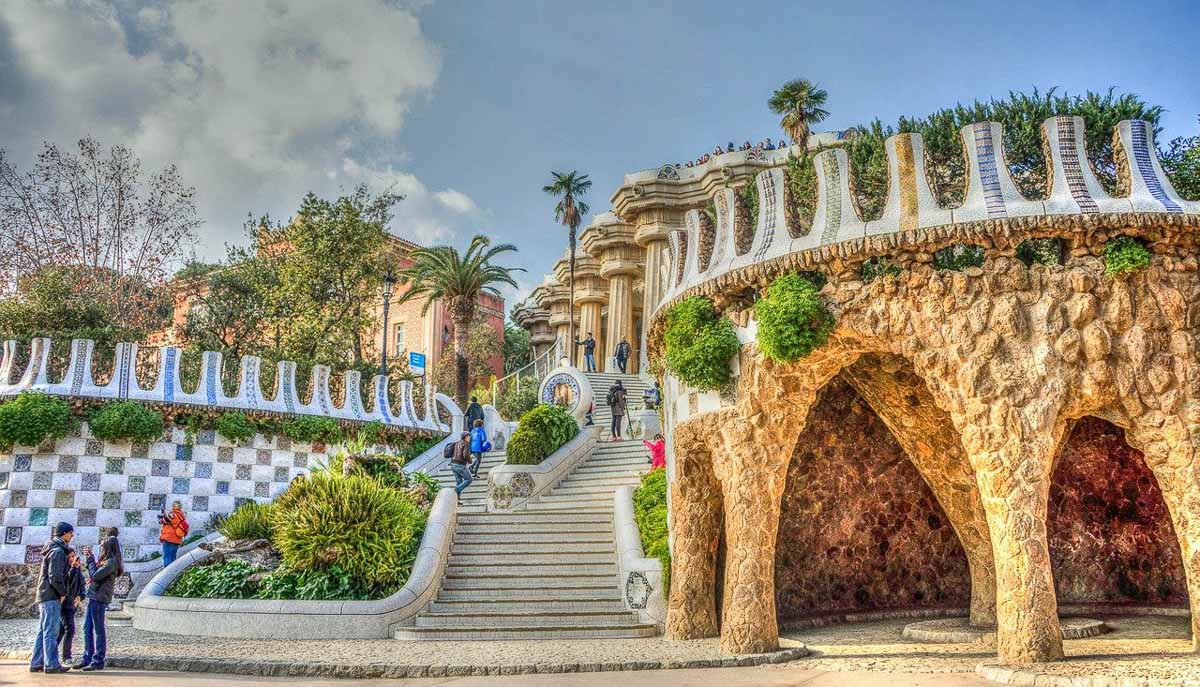 Book your admission ticket beforehand and save the hassle of buying it at the entrance.
⇒ Love Italy? Me too! You might enjoy reading about the Most Beautiful Cities in Italy, Most Famous Landmarks in Italy, Top Rome Monuments, Top Venice Landmarks, Bridges in Rome, Fountains in Rome, Venetian Palaces, How to Skip the Line at the Colosseum, Best Ski Resorts in Italy, Best Wineries in Montepulciano, Things to do in Rimini, Places to Visit in Puglia and Things to do in Sicily.
7. Temple Expiatori del Sagrat Cor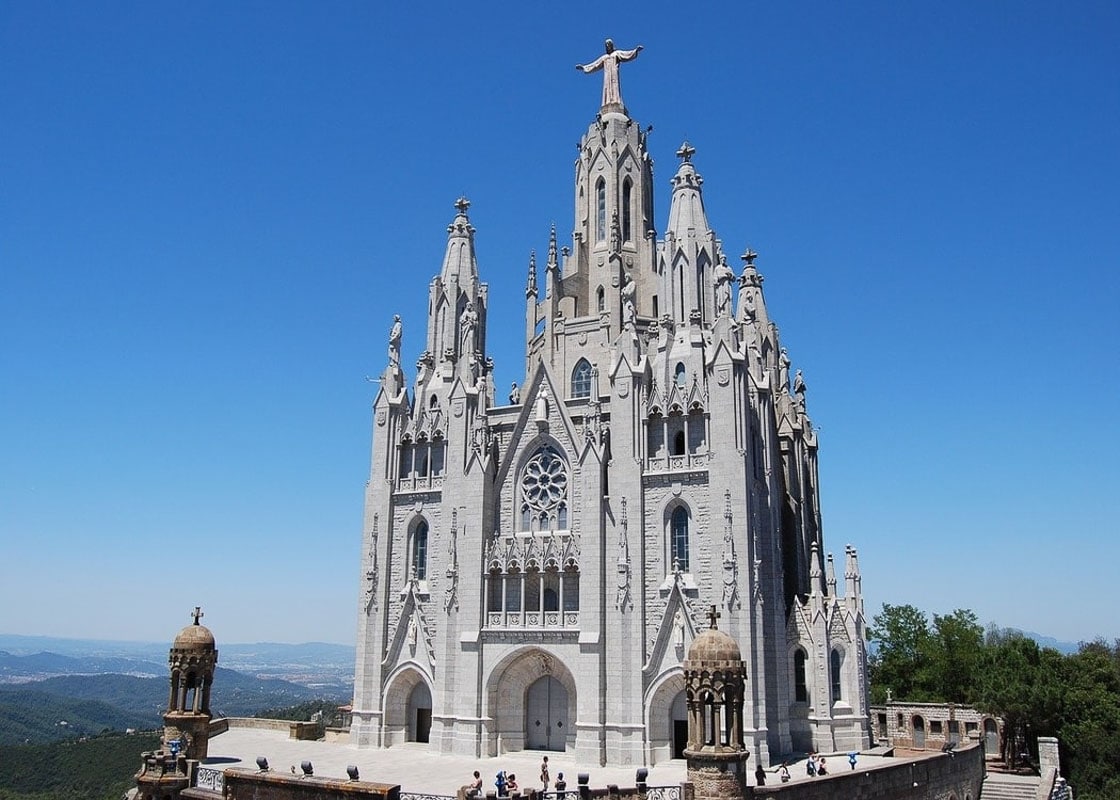 The Temple Expiatori del Sagrat Cor translates to the Temple of the Sacred Heart of Jesus. This striking Roman Catholic church and minor basilica sits on the summit of Mount Tibidabo in Barcelona.
It was built by a father-son duo. Spanish architect Enric Sagnier started the construction in 1902, and his son, Josep Maria Sagnier Vidal finished it in 1961.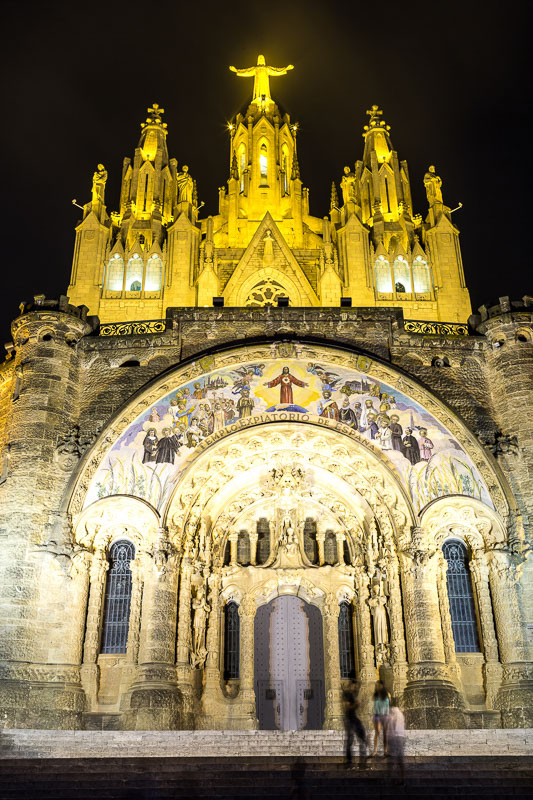 The Neo-Gothic cathedral features handsome stonework, vibrant stained-glass windows, and a large bronze statue of Jesus at the very top. There is also a viewing platform where you can admire panoramic views of Barcelona.
⇒ The beautiful Canary Islands belong to Spain. Read about the 14 Things to do on Lanzarote you must not miss and the Best Place to Stay in Lanzarote .
8. Plaza Mayor
Plaza Mayor is a historic Madrid landmark located in the city centre. It was first constructed from 1617 to 1619. However, following three major fires, the present structure mainly resembles the reconstruction that took place in 1790.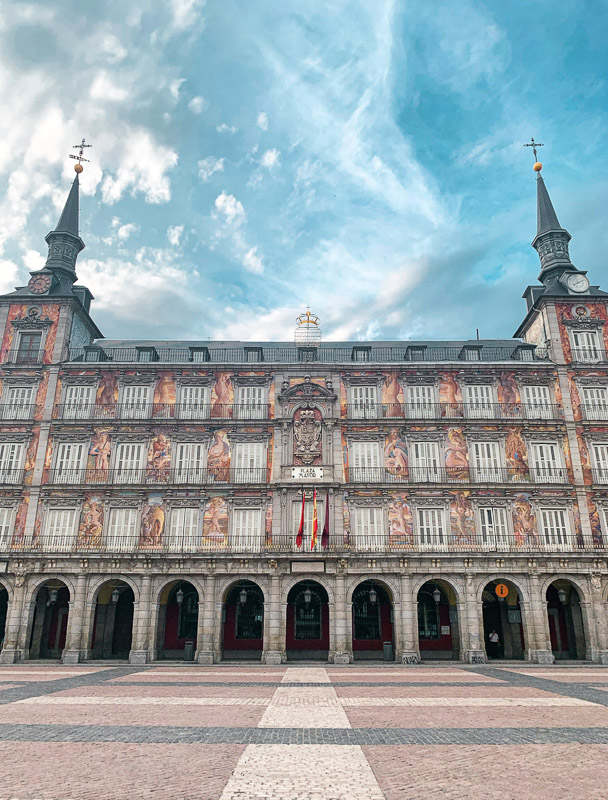 The plaza has a uniform design, with the surrounding burgundy hued buildings all being three story's high. It features 237 balconies and ten grand entrances. The centre is marked by the large statue of King Philip III sitting triumphantly atop his stallion.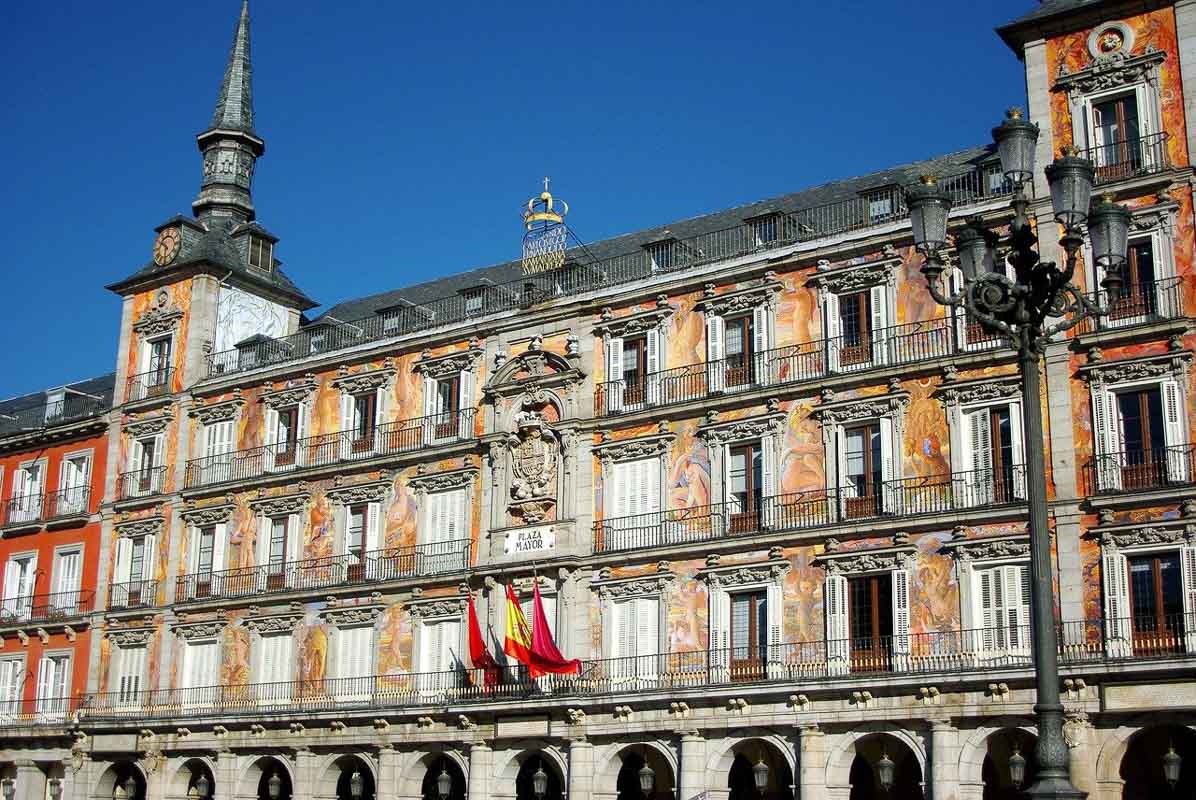 Today, the expansive and bustling public square is dotted with alfresco cafes and filled with tourists and locals alike.
9. Alcázar de Toledo
Alcázar de Toledo is a large stone fortification that resides on the highest point in the city. The original construct of the palace began in 1531.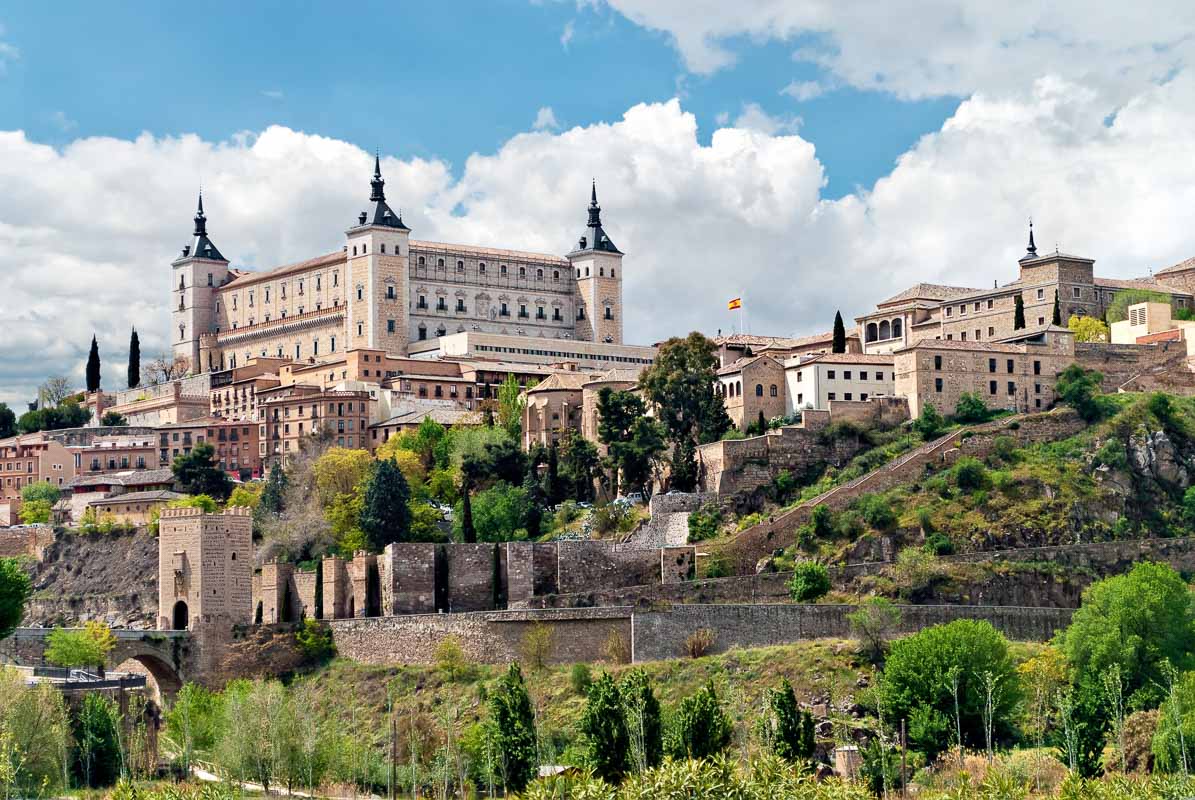 However, much of the building had to be rebuilt. This was following the destruction caused to it following the Spanish Civil War that took place from 1936 to 1939.
The fortress' ideal positioning allows you to effortlessly capture beautiful pictures of Toledo and the surrounding area. The interior has been wonderfully restored and houses a Spanish army museum.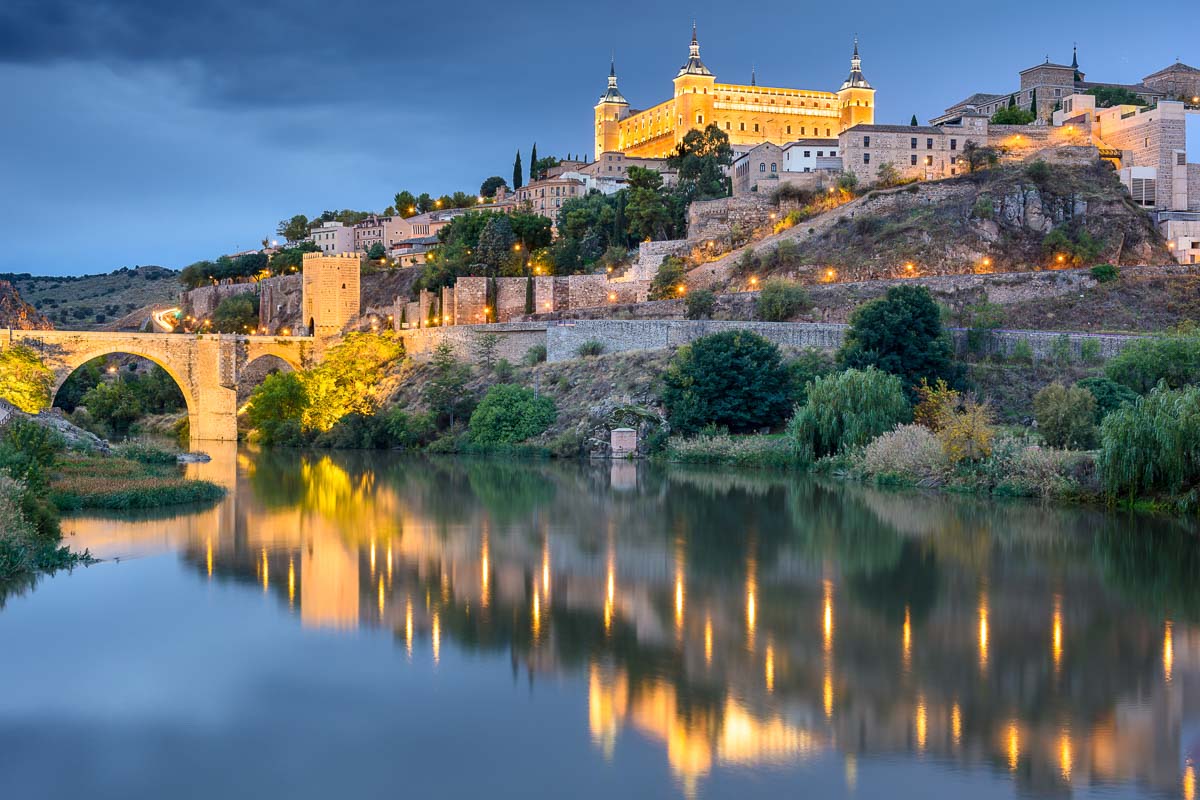 If you want an easy option for sightseeing Toledo and visiting the Alcázar de Toledo, book a Silver Ticket for the city's hop-on-hop-off bus tour.
10. Cathedral Santiago de Compostela
The Cathedral of Santiago de Compostela is a massive church of great historical and religious importance. Construction started in 1075 during the reign of Alfonso VI and slowly continued throughout the 12th and 13th centuries.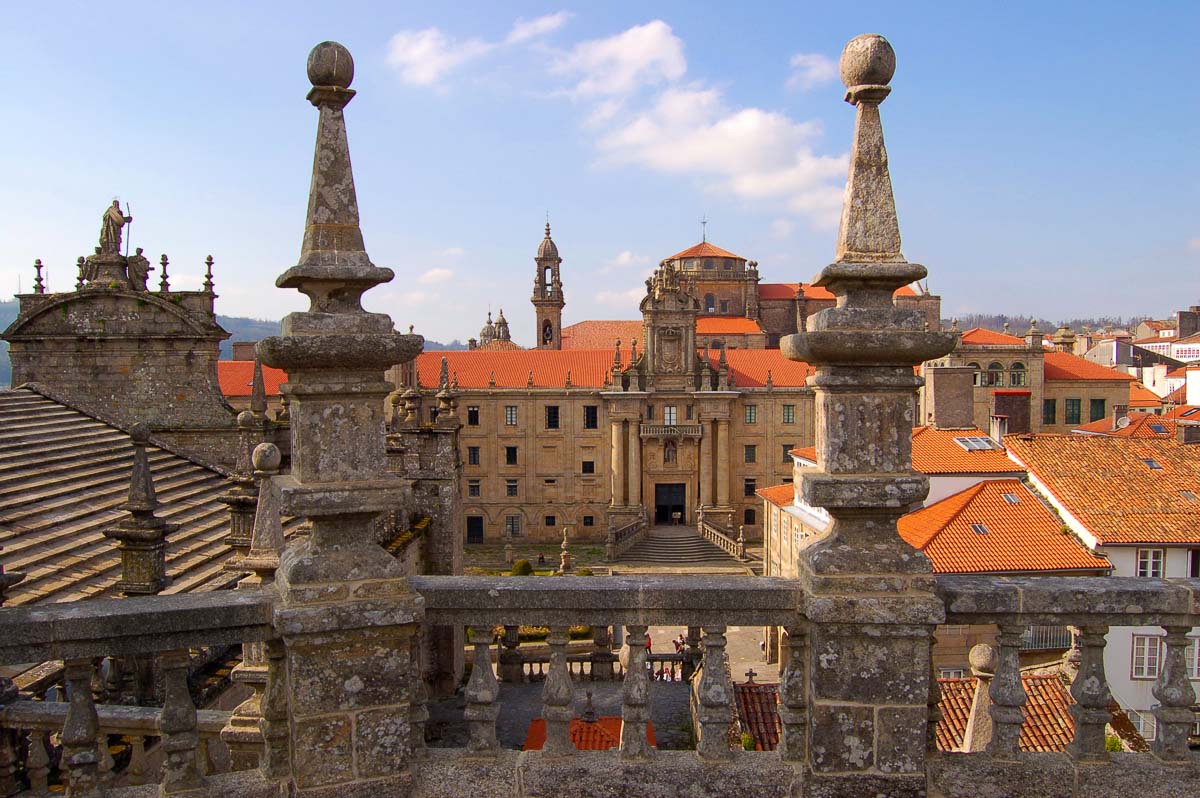 Over the years, many extensions were added on in various architectural styles, including Romanesque, Gothic, Spanish Gothic, and Baroque. It's a marvel of beauty, with an intricate facade depicting countless religious figures.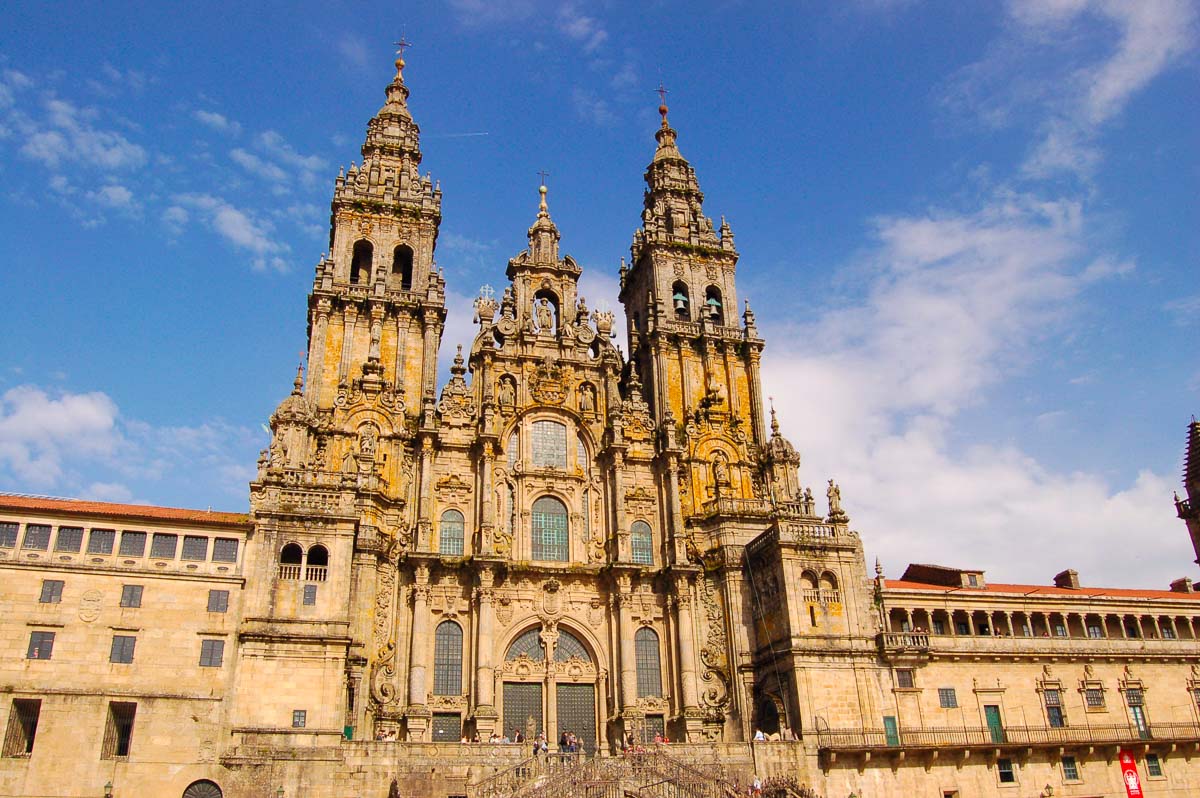 It's one of the three known churches built over the tomb of one of Jesus' apostles, Saint James. The other two churches are St. Peter's Basilica in the Vatican City and Thomas Cathedral Basilica in India.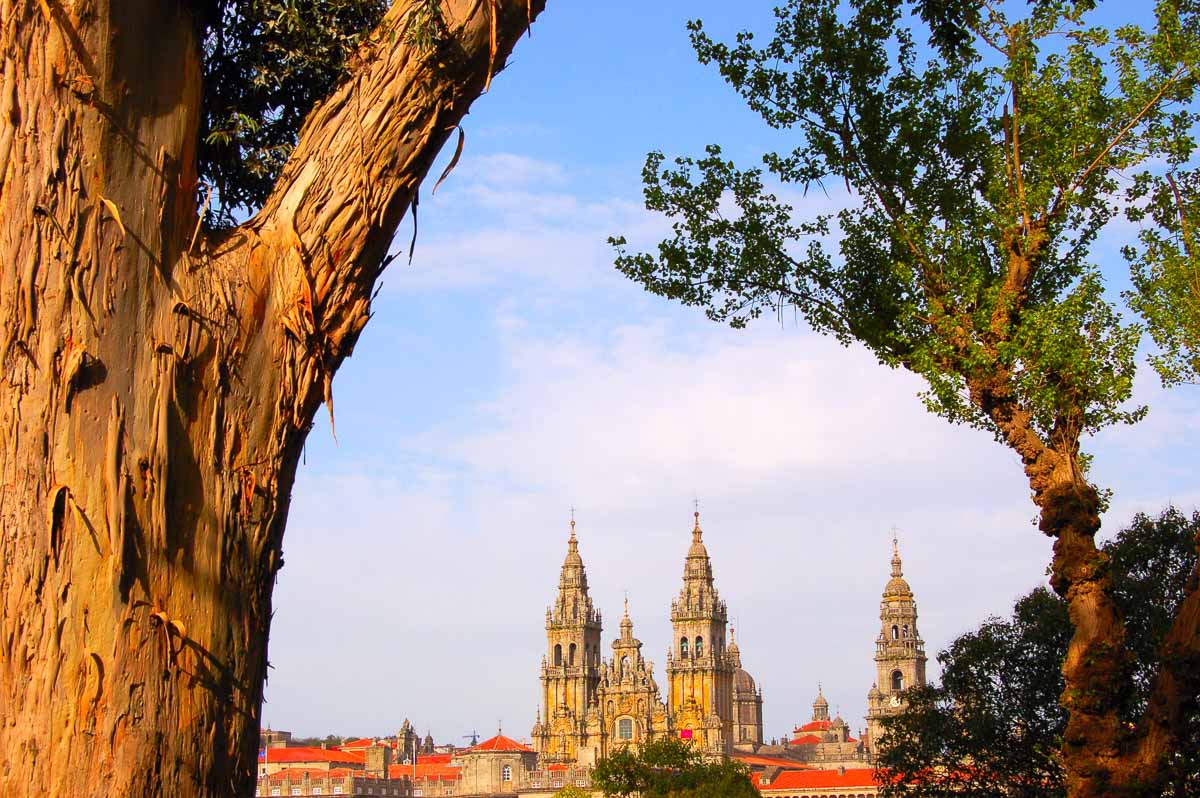 Santiago de Compostela is very much a living city, with other attractions for travellers, pilgrim or not: countless restaurants and bars where you can enjoy the delicious seafood of Galicia, a UNESCO World Heritage old town centre, daring contemporary art… There's plenty to do in this city which combines history with a younger modern side.
⇒ If you like beautiful European towns check out my posts on Saint Antonin Noble Val and Tarn et Garonne in France, 30 Famous Landmarks in France, 25 Famous Paris Monuments, 37 Fascinating Facts About Paris, 32 Most Beautiful Cities in France, What is France Famous For? 33 French Icons, Best Hotels in Paris with a View, 10 Beautiful Bridges in France, 35 Things to do in Bordeaux, 15 Highlights of the South West of France, 10 Beautiful Lakes in France and the 6 Best Places to Watch the Sunrise in Paris
11. Alcázar de Segovia
Alcázar de Segovia is one of the most fascinating historical landmarks in Spain. Located in the city of Segovia, this stunning medieval castle is perched high on a rocky crag. The location provides breathtaking views of the surrounding landscape.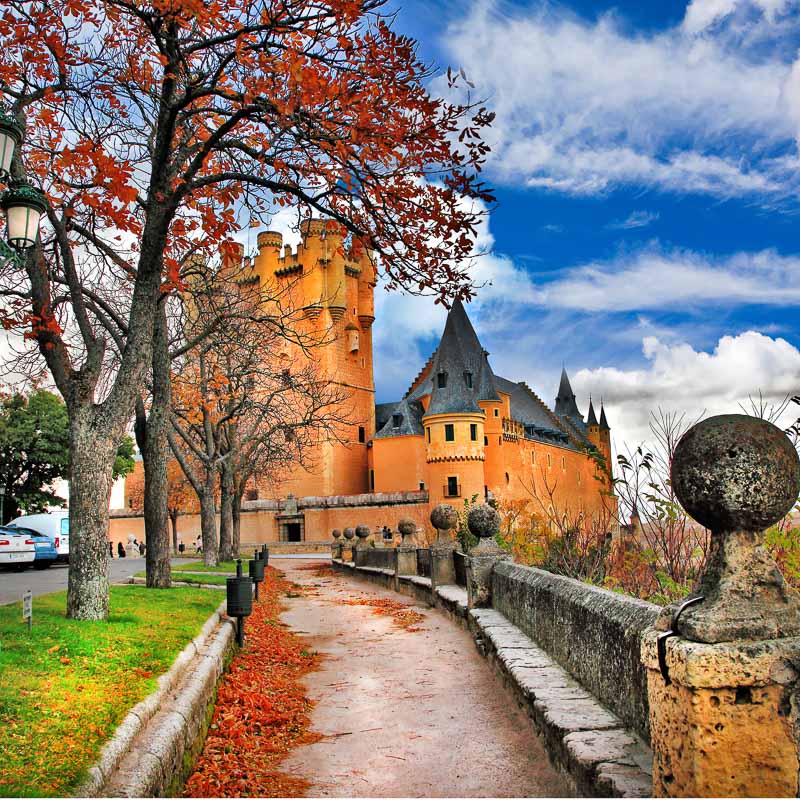 The layout is unique, as it adapts to the hill on which it's set. The design is so magical it's said to have inspired Walt Disney in his castle construction.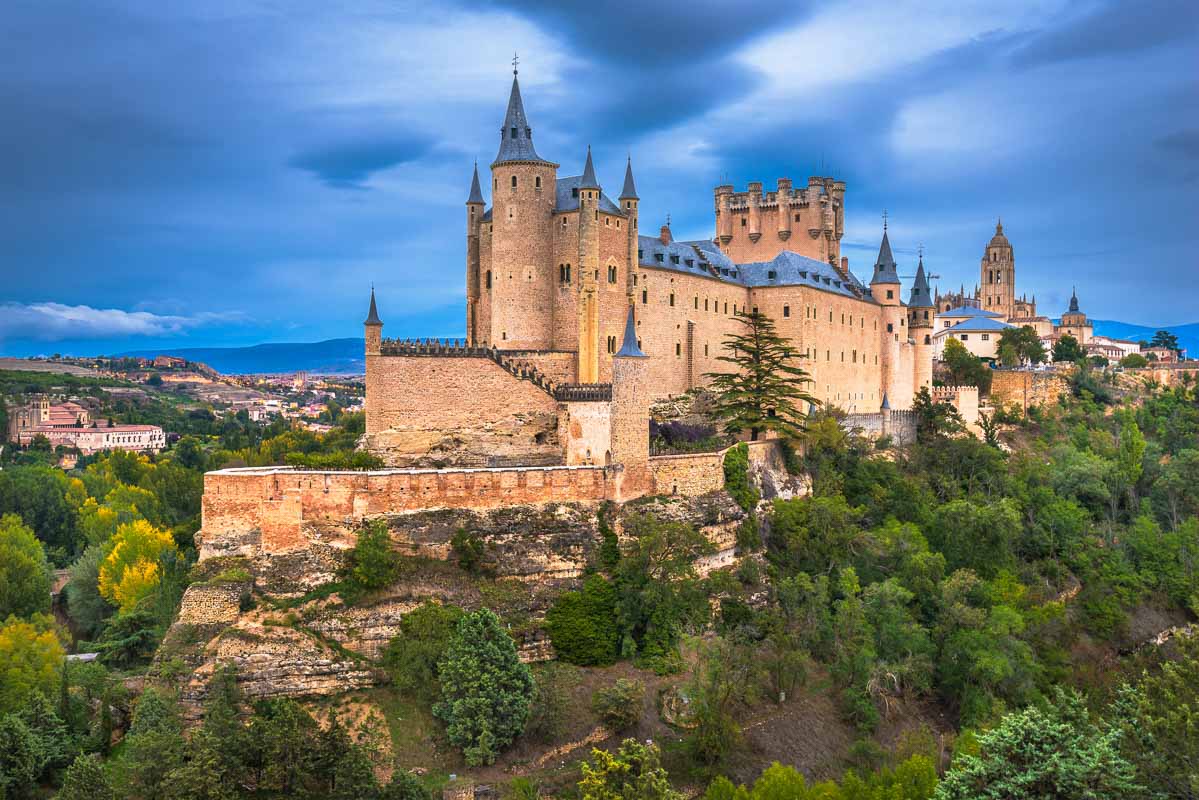 Tours of the Alcázar are open to the public. Visit the beautifully restored interior and admire the ornate ceilings, beautiful tapestries and impressive armoury.
12. Ciudad de las Artes y las Ciencias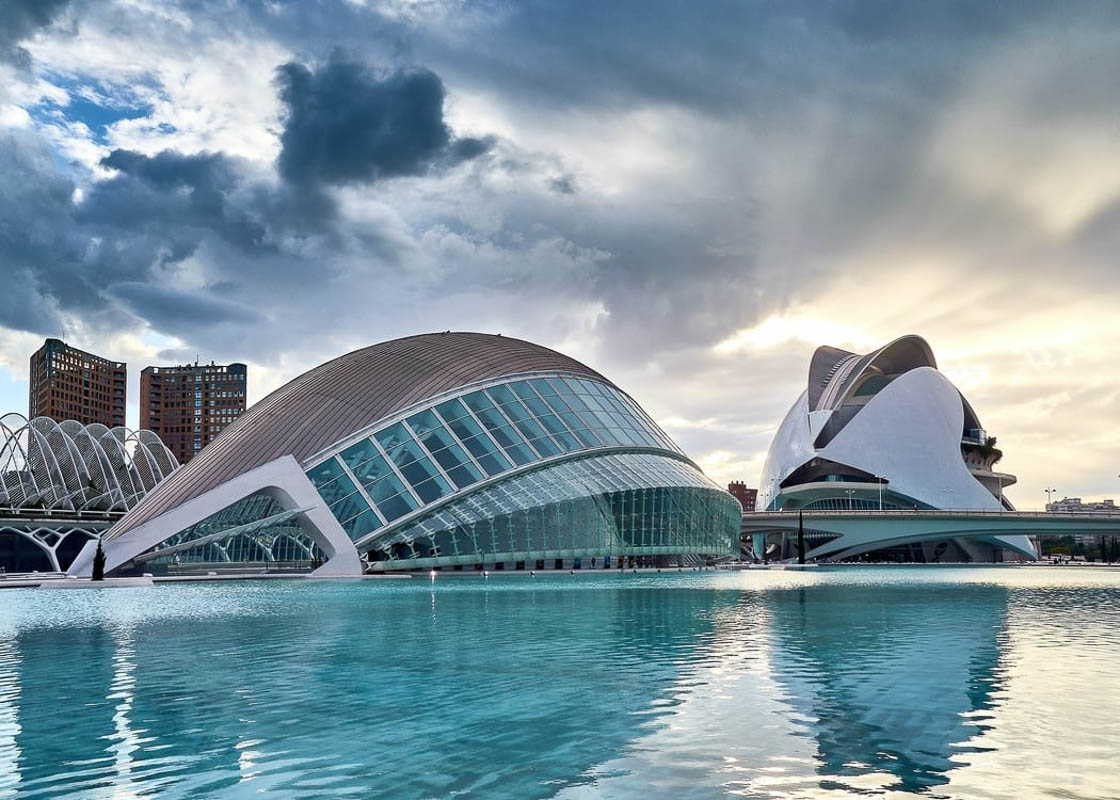 The Ciudad de las Artes y las Ciencias is located in the beautiful city of Valencia. This popular Spain landmark translates in English to the City of Arts and Sciences.
The futuristic-looking structure features many different structures and houses an impressive assortment of entertainment buildings.
Some of the more popular areas include an IMAX Cinema, a planetarium, an interactive museum of science, and an opera house. It also contains L'Oceanogràfic, which is the largest aquarium in Europe and worth booking a ticket to see.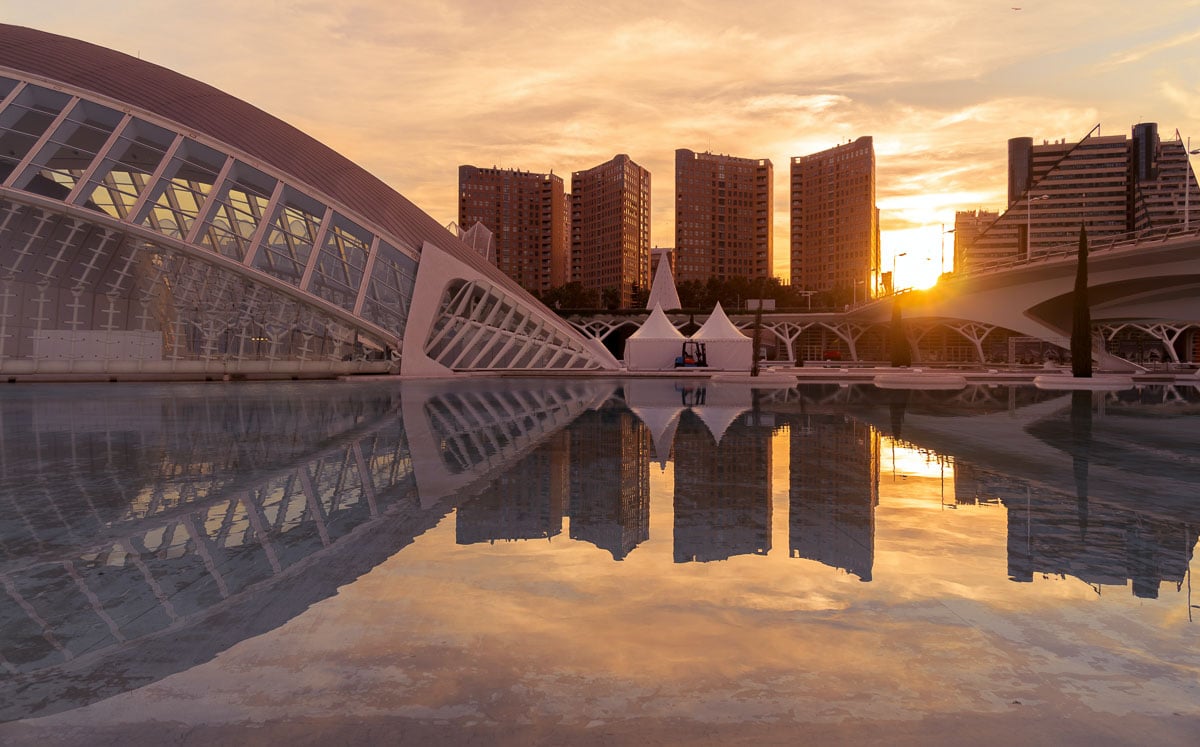 The surrounding grounds are equally as eye-catching. From the large calming lake to the well-landscaped gardens and park, the sightseeing opportunities will abound.
13. Royal Palace of Madrid – Spain
The Royal Palace of Madrid takes the title of the largest European palace by floor area and it is the largest functioning palace in Europe. It is the official residence of the Spanish Royal Family in Madrid.
Having said that, the current King and his family prefer a less grand dwelling for their home so today the palace is only used for state ceremonies.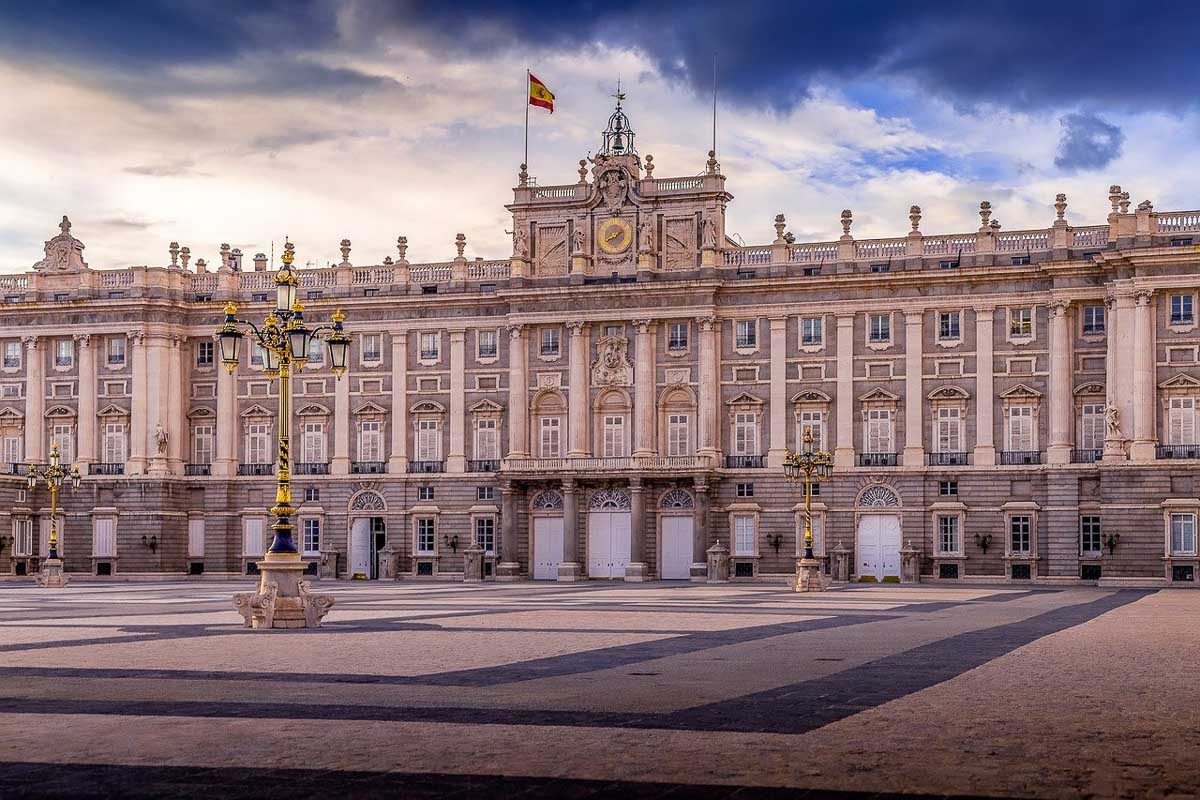 The site of the palace was originally a 9th century Moorish castle. A new palace was built on the site between 1738 and 1755.
As the Royal Palace of Madrid is so large only a selection of rooms are open to visitors at any given time – and the selection of rooms changes every few months. The Palace is open to the public unless there are state functions and it is possible to book a skip the line ticket.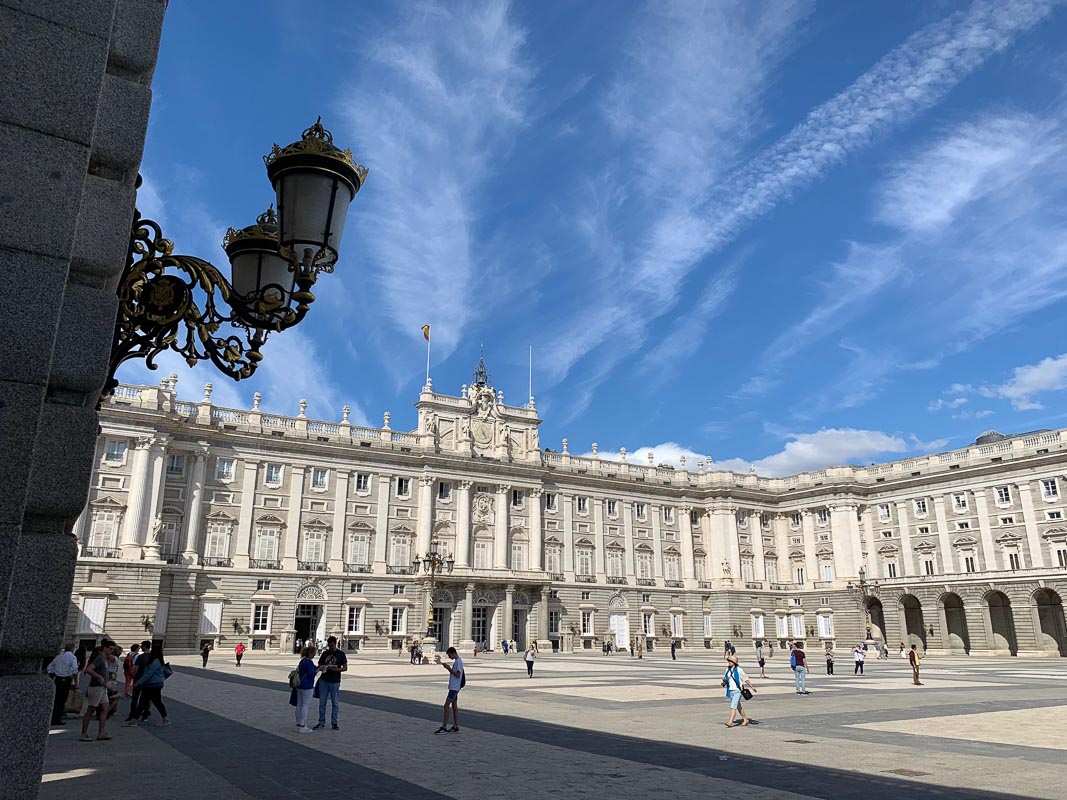 14. Guggenheim Bilbao
It is said that no photograph has ever done justice to this Frank Gehry building. The building is a series/mix of shapes made from limestone and titanium. The museum is home to displays and exhibitions of modern art. Still, the extraordinary building draws so many visitors and has created a tourism industry in what was little visited Bilbao.
Bilbao is also the gateway town to Spain's wonderful Rioja wine region.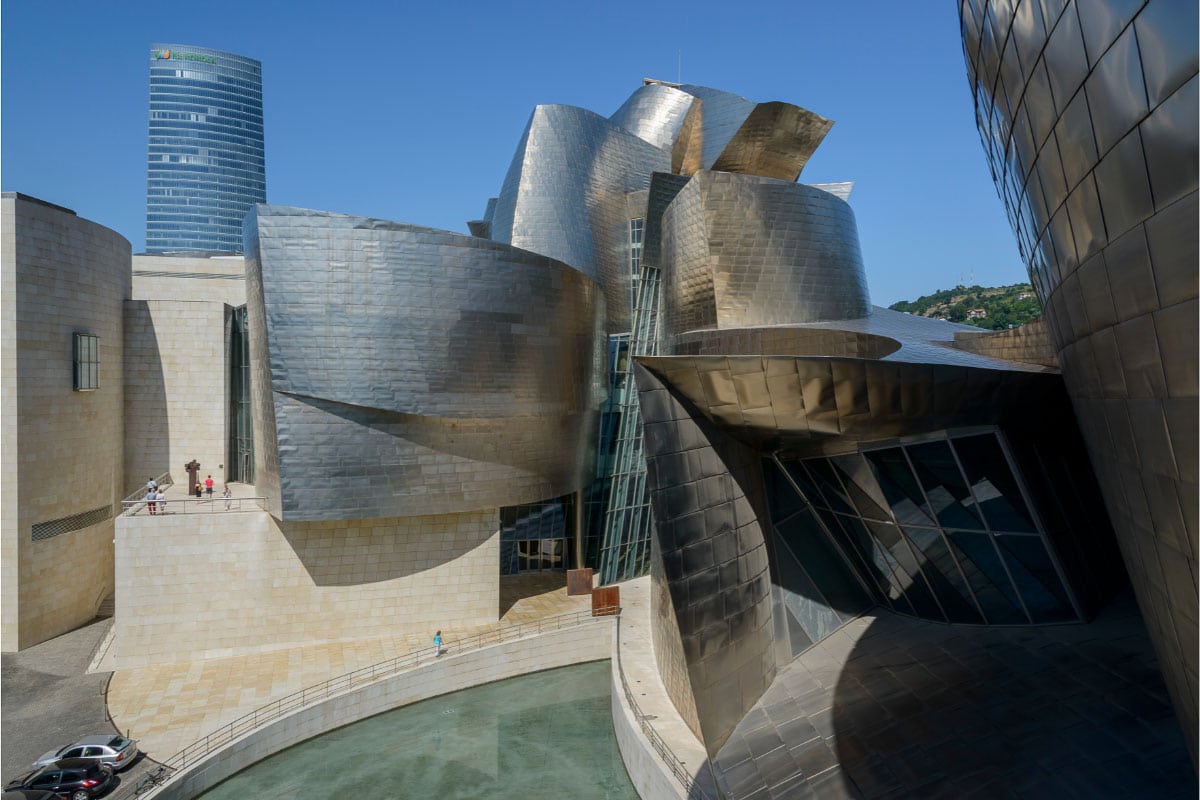 15. Picasso Museum
This beautiful museum opened in 1963 and celebrates the relationships between Pablo Picasso and Barcelona. The museum features work by the artist from 1917 until his death. It includes all of his artistic periods including still life, surrealism, and sculptures, and has 4251 works in the permanent collection.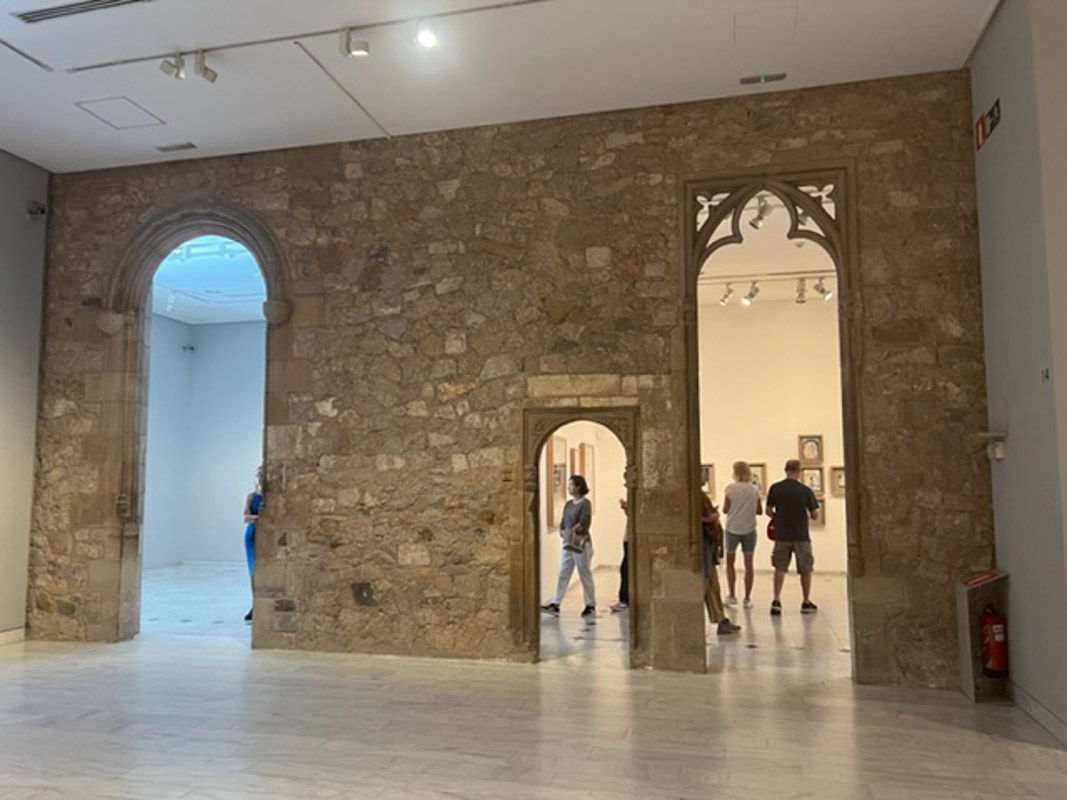 The museum focuses on some of the artist's most formative years and is exhaustive when it comes to his Blue Period. It also the series Las Meninas (1957) as well as a comprehensive print collection.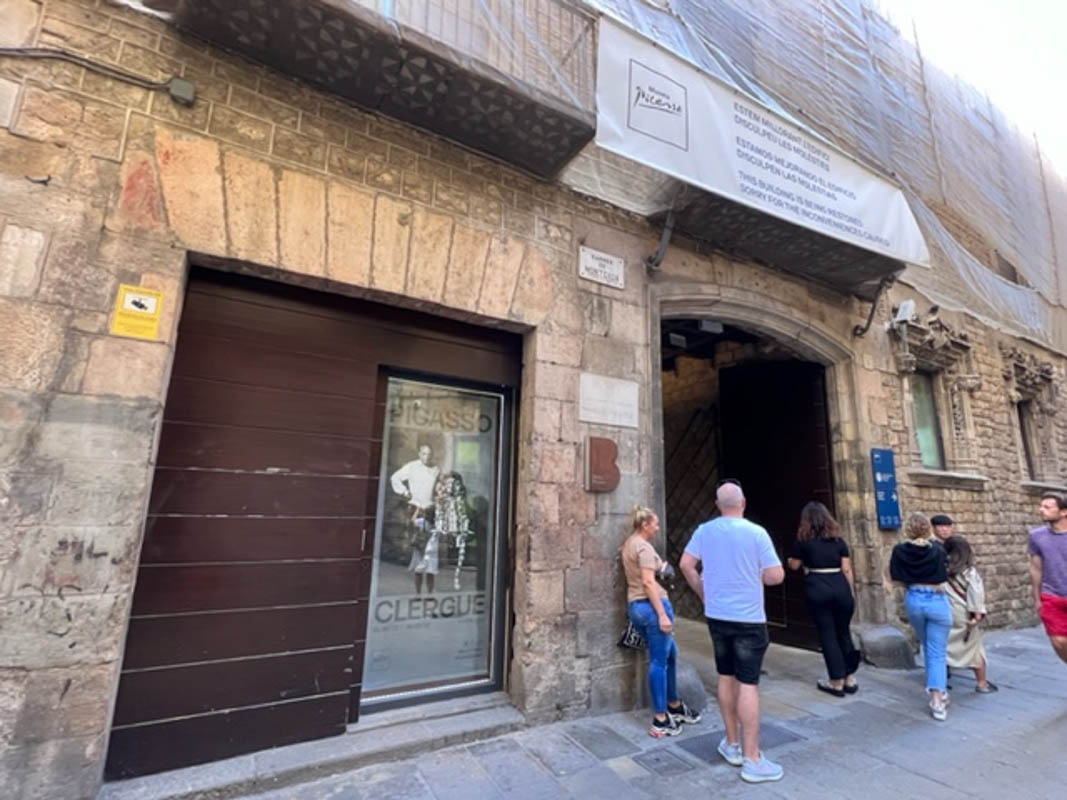 Interestingly, this museum was actually created by Picasso's express desire. This desire was realised by Picasso's close friend Jaume Sabartes, Picasso's wife Jacqueline and the Barcelona City Council.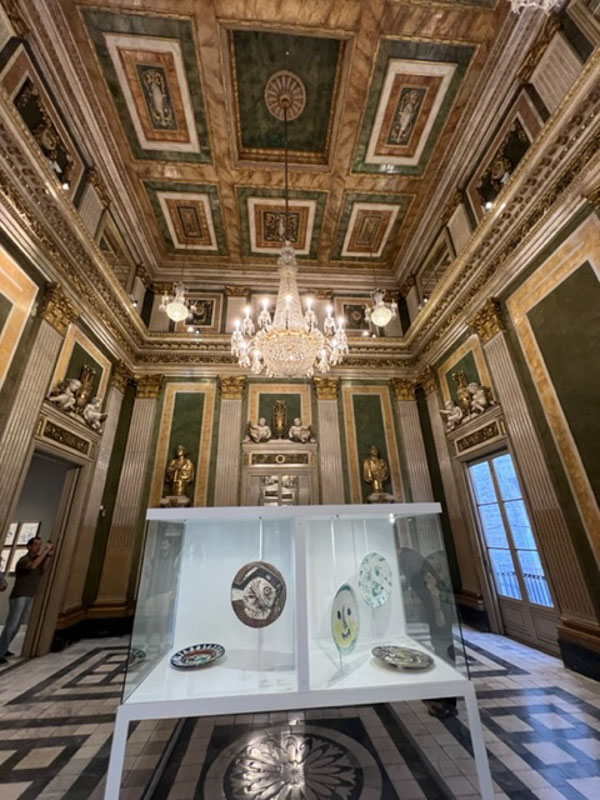 16. Atocha Railway Station
The largest train station in Madrid, this is the primary station for commuter and regional trains in the city. It is located in the district of Arganzuela. Madrid's first railway station was also built on this site but it was destroyed by a fire and reopened in 1892.
The new architect for the station Alberto de Palacio Elissagne collaborated with Gustave Eiffel and redesigned the building in a wrought iron renewal style. The name Atocha comes from the nearby church dedicated to Our Lady of Atocha.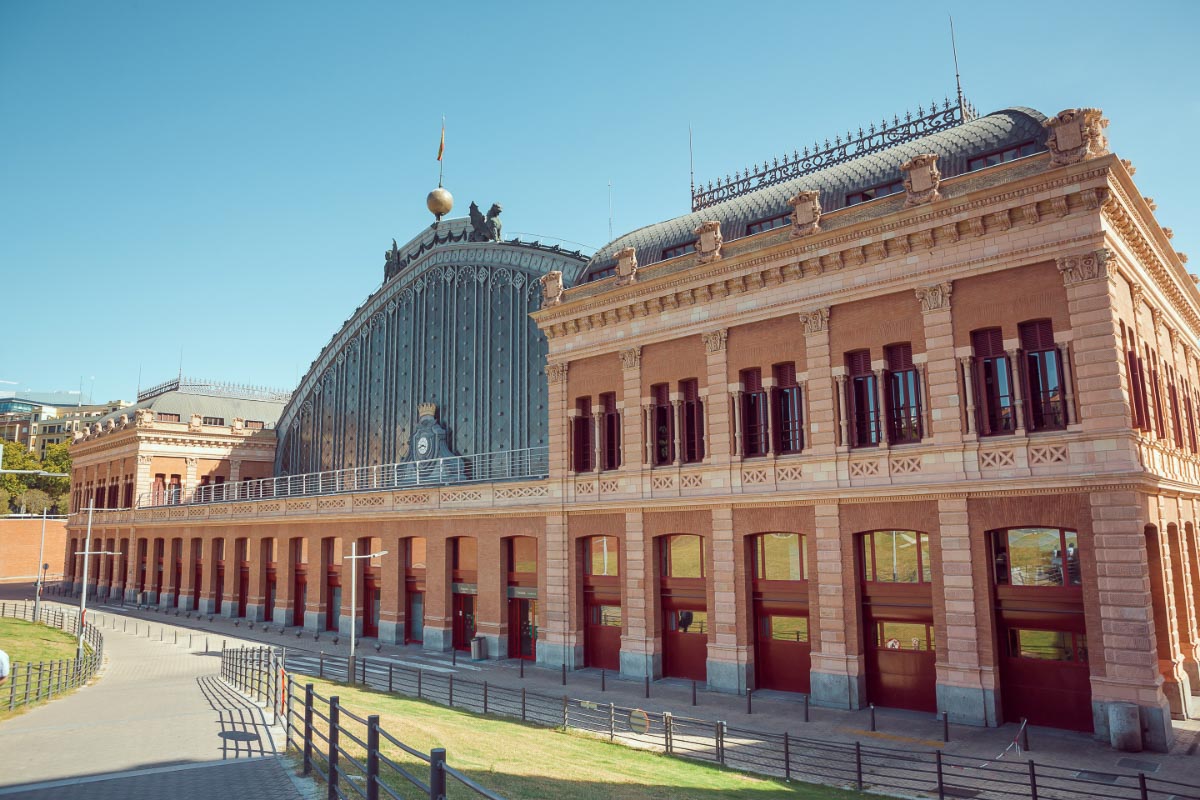 In 1992 the original building was taken out of service as a terminal and converted into a shops, cafes and even a nightclub. The station concourse was turned into a 4000 square metre tropical garden.
A modern terminal was then opened for high speed, regional and local train lines and two metro stations, Estacion del Arte and Atocha Renfe, are nearby.
17. Santiago Bernabeu Stadium
This football stadium has been the home of Real Madrid since it opened in 1947. It is the second-largest stadium in Spain with a capacity of just over 81,000 people. The stadium is named after footballer and former Real Madrid president Santiago Bernabeu. It has hosted the European Cup/UEFA Champions League, Copa Libertadores Finals and the FIFA World Cup.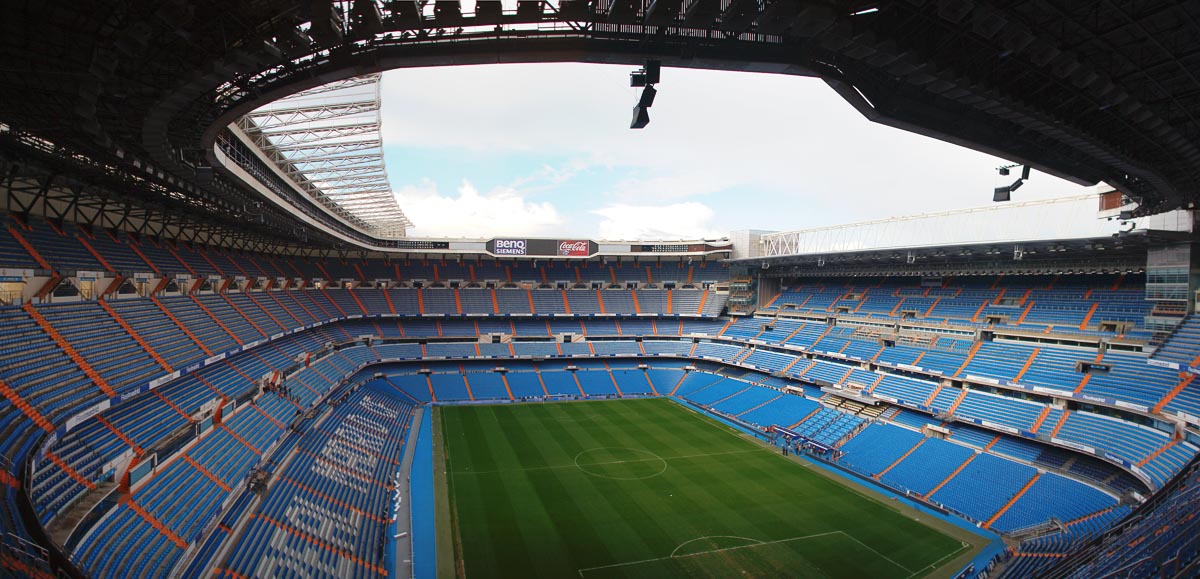 18. San Lorenzo de El Escorial
San Lorenzo de El Escorial is built around 16 courtyards and the rooms within the structure are connected by 16 kilometres of corridors. The complex began construction in 1563 and was the summer home of the Spanish King. It is located about 45 kilometres from Madrid.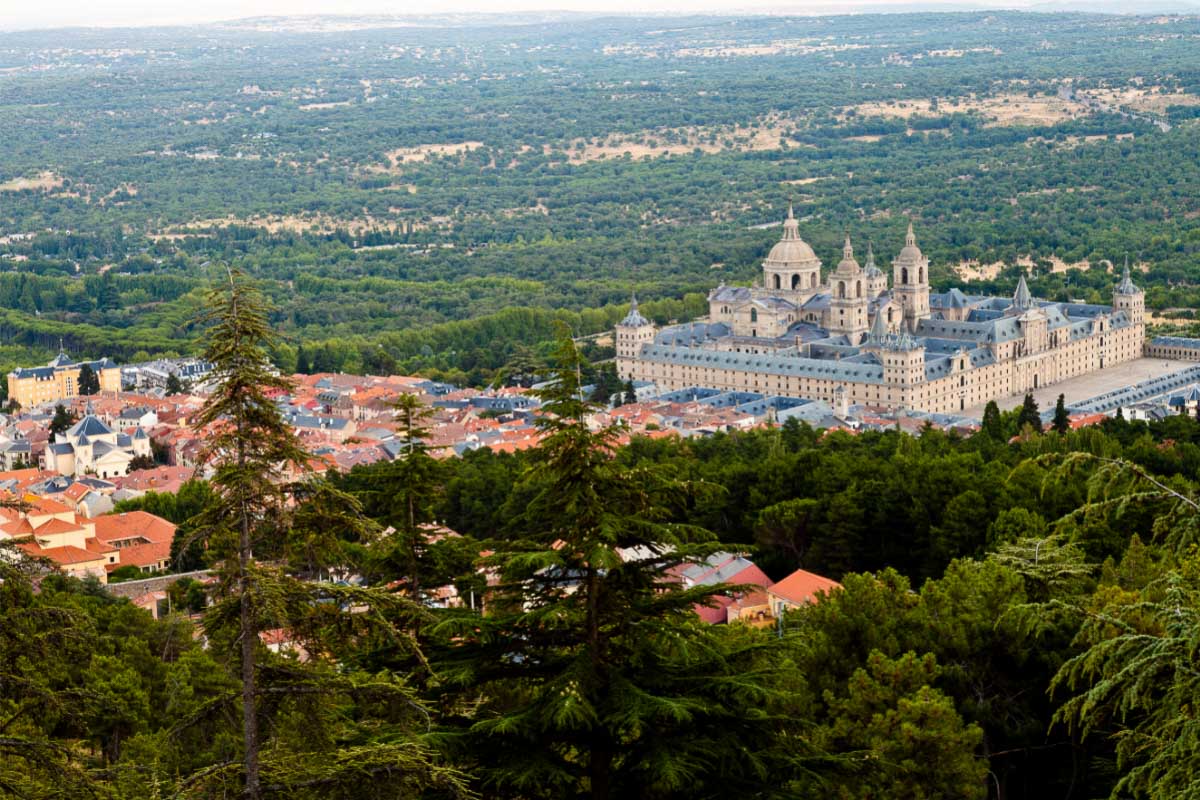 The site includes a monastery, church, royal palace, museum, mausoleum and library. The state apartments of Charles IV and Philip II contain some of the most impressive tapestries and art and the Picture Gallery contains works by many of Spain's greatest artists.
19. Palau Guell
Another one of Barcelona's 8 UNESCO World Heritage Sites, this mansion was designed by Antoni Gaudi for the tycoon Eusebi Guell and was built between 1886 and 1888. The iron gates were intended to let in guests on horse-drawn carriages. There are small windows high on the walls that allowed the owners to check out their guests before they entered.
Gaudie was commissioned to create this building in 1885. This is one of Gaudi's earliest works in Barcelona and one of the best examples of Modernism architecture. The building was designed to have multiple purposes – apartments and event and exhibition spaces. It is just off La Rambla in the Raval district.
One of the highlights of Palau Guell is the roof and its 20 ceramics-covered chimneys which were installed in 1895. Palau Guell is open year-round to visitors but is closed on Mondays.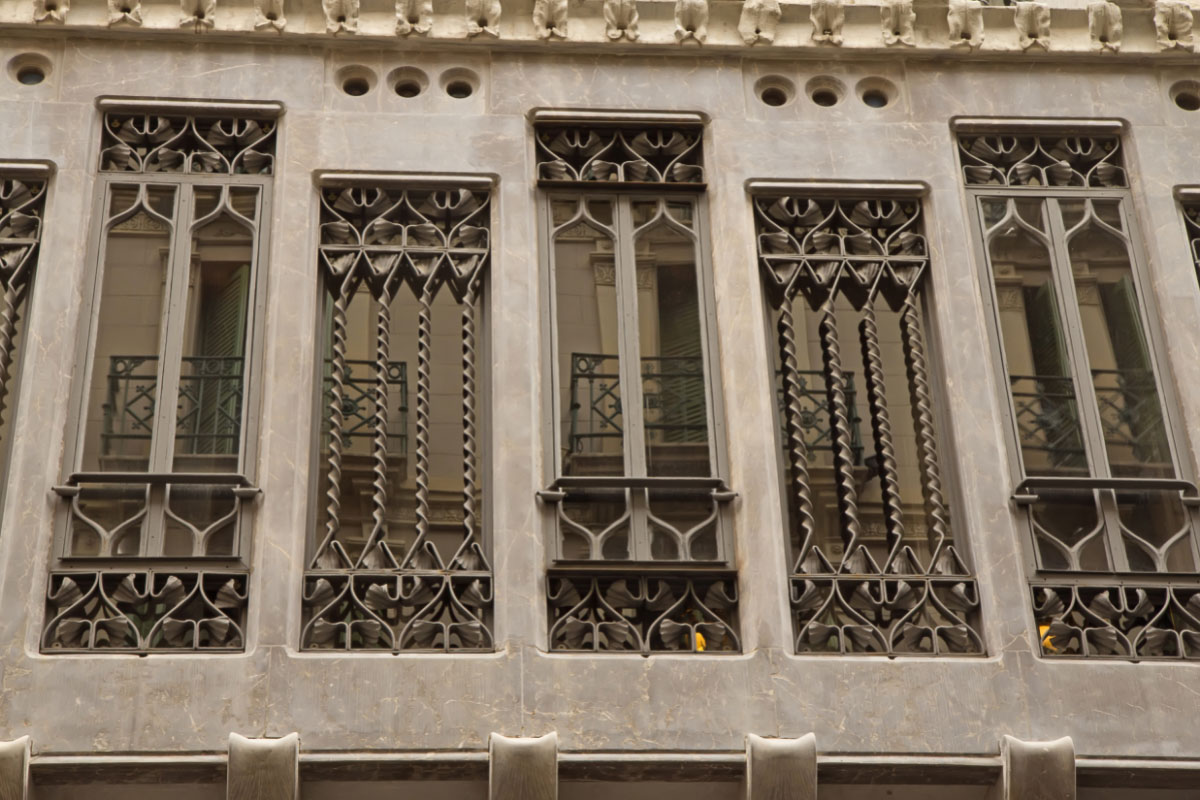 20. Casa Mila
This was the last building designed by Gaudi before he embarked on his final masterpiece, La Sagrada Familia. The building is made of stone but stonemasons were able to carve the stone into extraordinary curved and waved shapes. This residential building does not have the colour of Gaudi's other buildings but the shape is quite spectacular.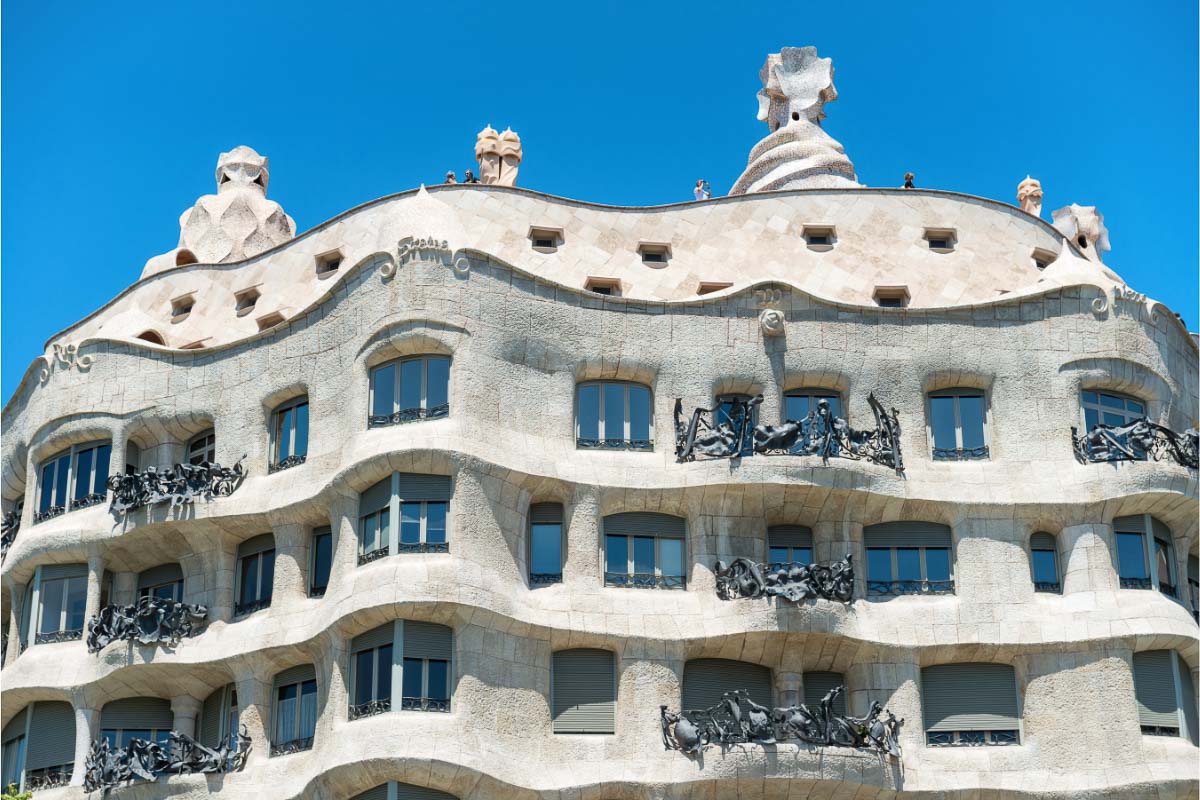 The nickname of Casa Mila is La Perdrera which means the quarry house. The nickname was given because of the building's unusual construction. In particular, the irregular shapes of its facade remind some of a quarry. The house consists of two components which are connected only by the facade, the ground floor and the roof. Each has its own yard and entrance.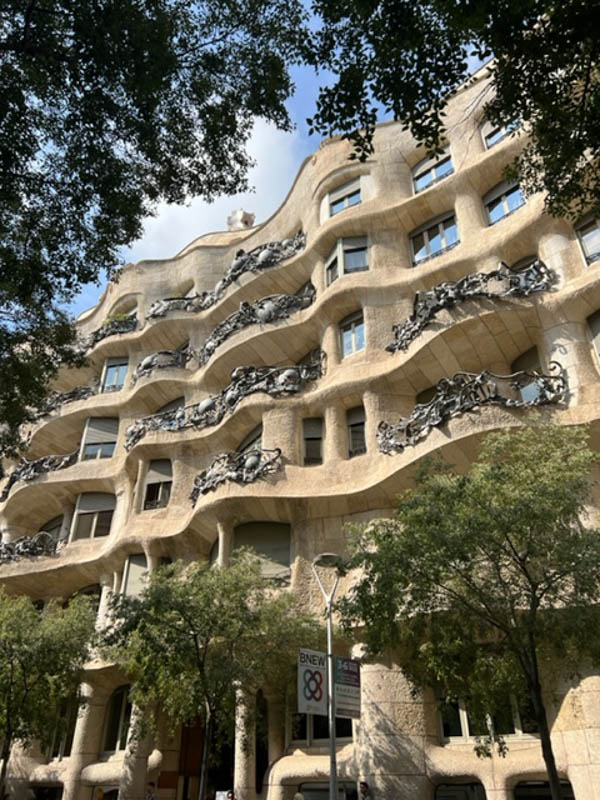 The interior of Casa Mila was also very innovative. The house has a natural ventilation system making air conditioning unnecessary. And as Casa Mila was designed with natural shapes there are virtually no right angles in the building.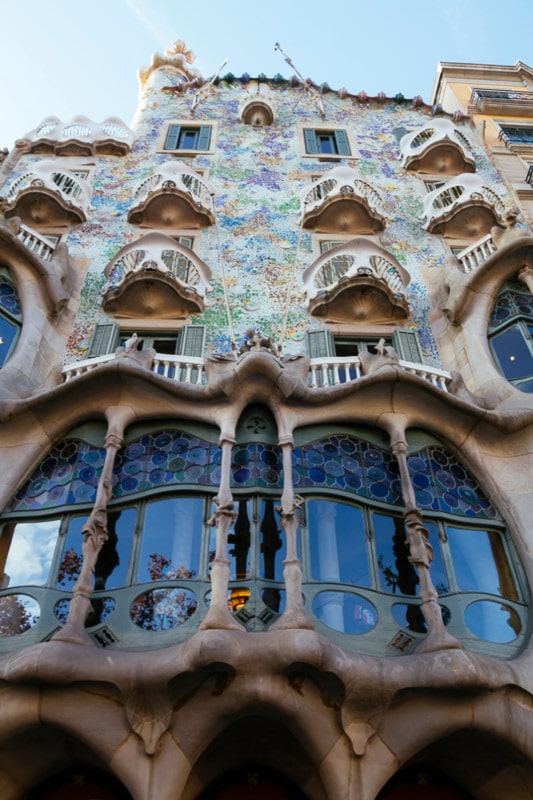 Casa Mila is known for the fantastic views of Barcelona that can be seen from its roof. The roof also contains some ornate chimneys and staircases and the attic holds a room dedicated to Gaudi.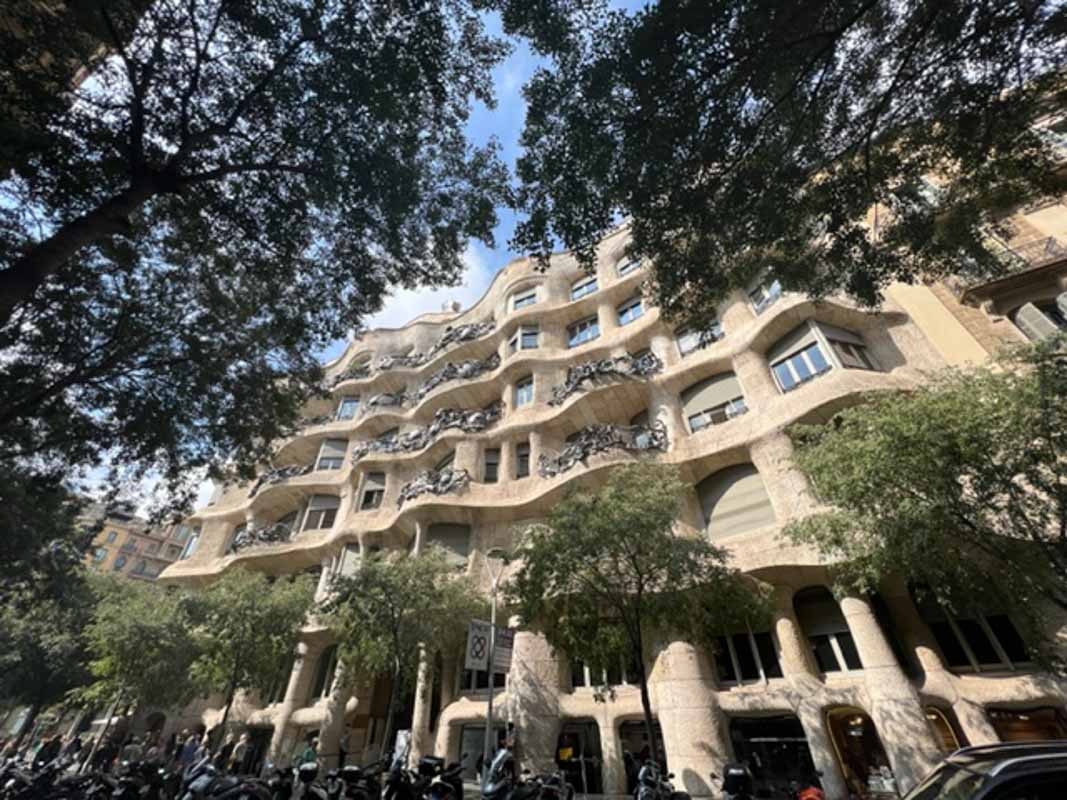 Casa Mila is one of the most popular tourist attractions in Barcelona. It is best to book tickets to visit in advance. There are also two unique ways to experience Casa Mila. The first is the Early Bird Tour of the Awakening of La Pedrera which is at 8 am and before regular opening hours. The second is to visit Casa Mila in the dark and experience an audio-visual art installation.
21. Burgos Cathedral
This gothic cathedral in Northern Spain was added to the UNESCO World Heritage List in 1984 and is known for its huge size. Construction of Burgos Cathedral began in 1221 but the cathedral was not completed until 1567. Its west facing 15th century facade has triple entrances framed by three dimensional arches. There are 15 chapels within the cathedral.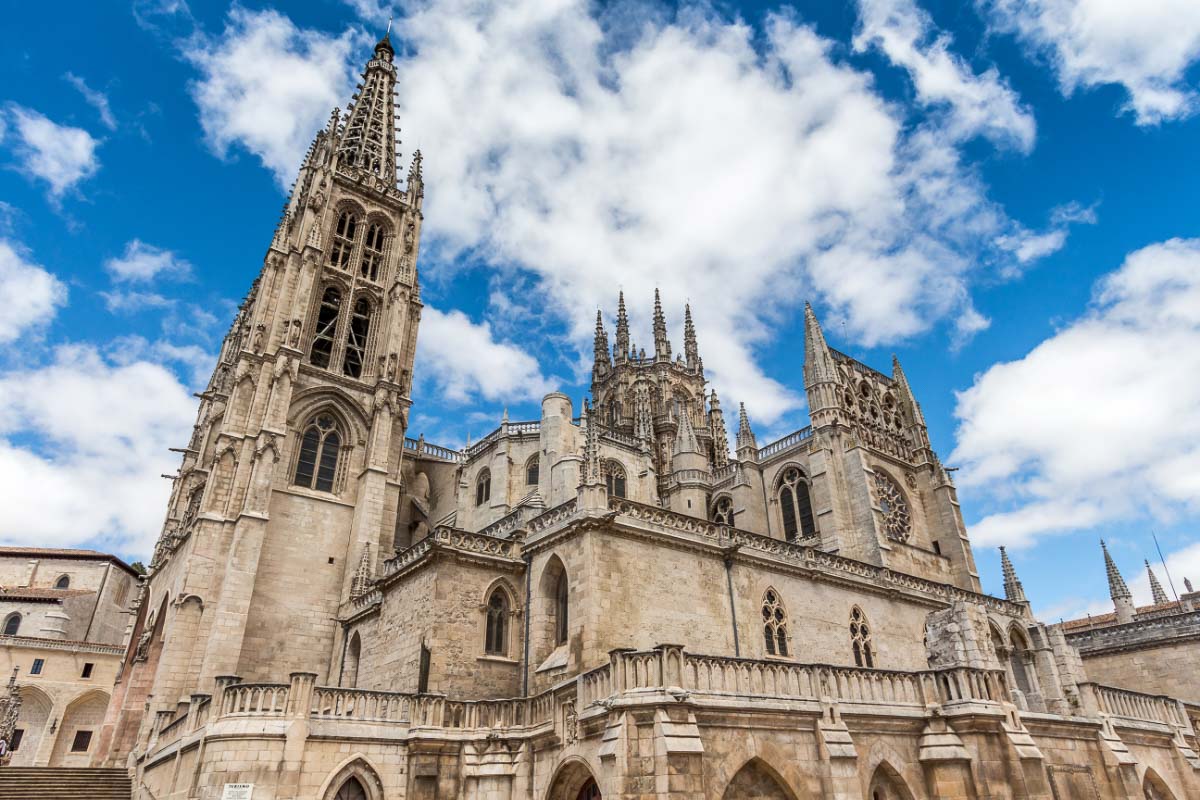 22. Museo Nactional del Prado, Madrid
The Boulevard of the Arts in Madrid is home to four world-class museums. But it is Prado that is ranked as one of the top art museums in the world. 2007 renovations doubled the size of the museum and in 2009 it added another 12 galleries. Unsurprisingly this museum has the largest collection of Spanish art in the world. It is also home to stunning pieces from Italian, Flemish and Dutch artists.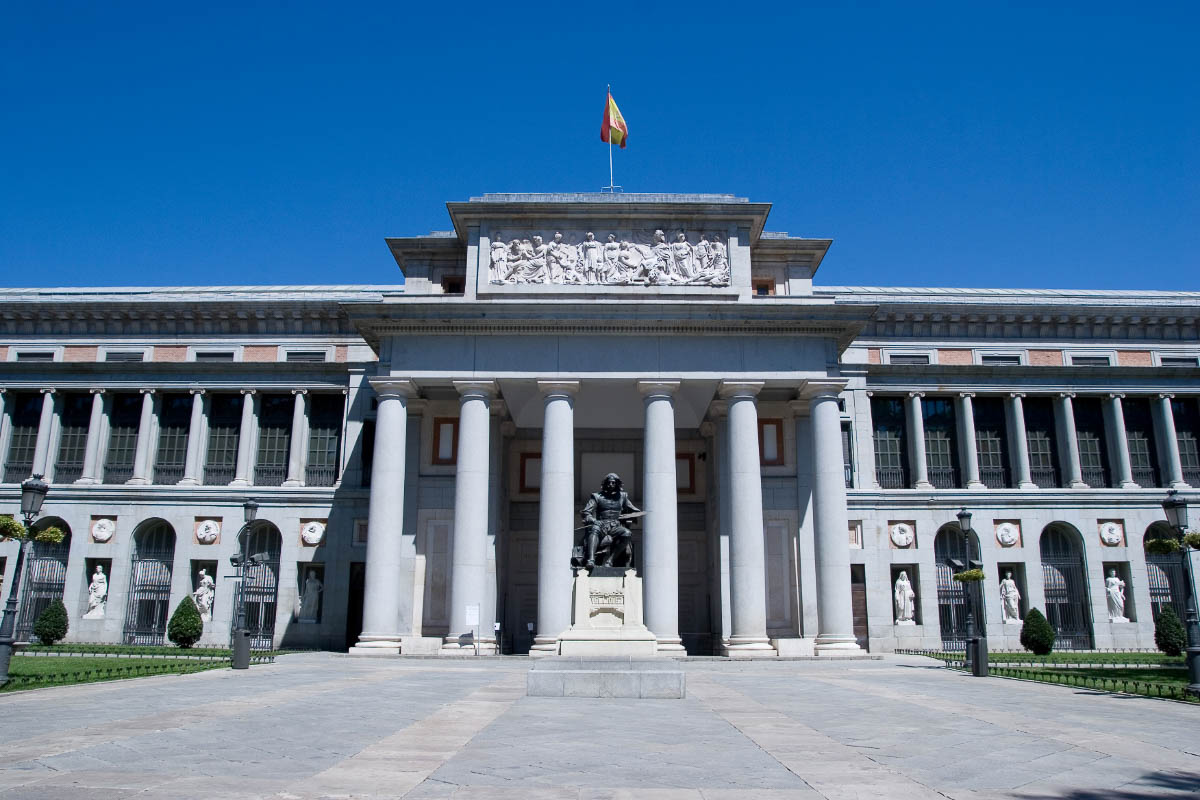 23. The Great Mosque of Cordoba (Mezquita)
Mezquita was once the principal mosque of Western Islam and is still one of the largest mosques in the world. Construction of this mosque began in 785. By 1000 it had reached its current size and had no fewer than 19 aisles. Later renovations resulted in a catholic cathedral being added to the building but it remains a stunning example of Moorish architecture in Spain.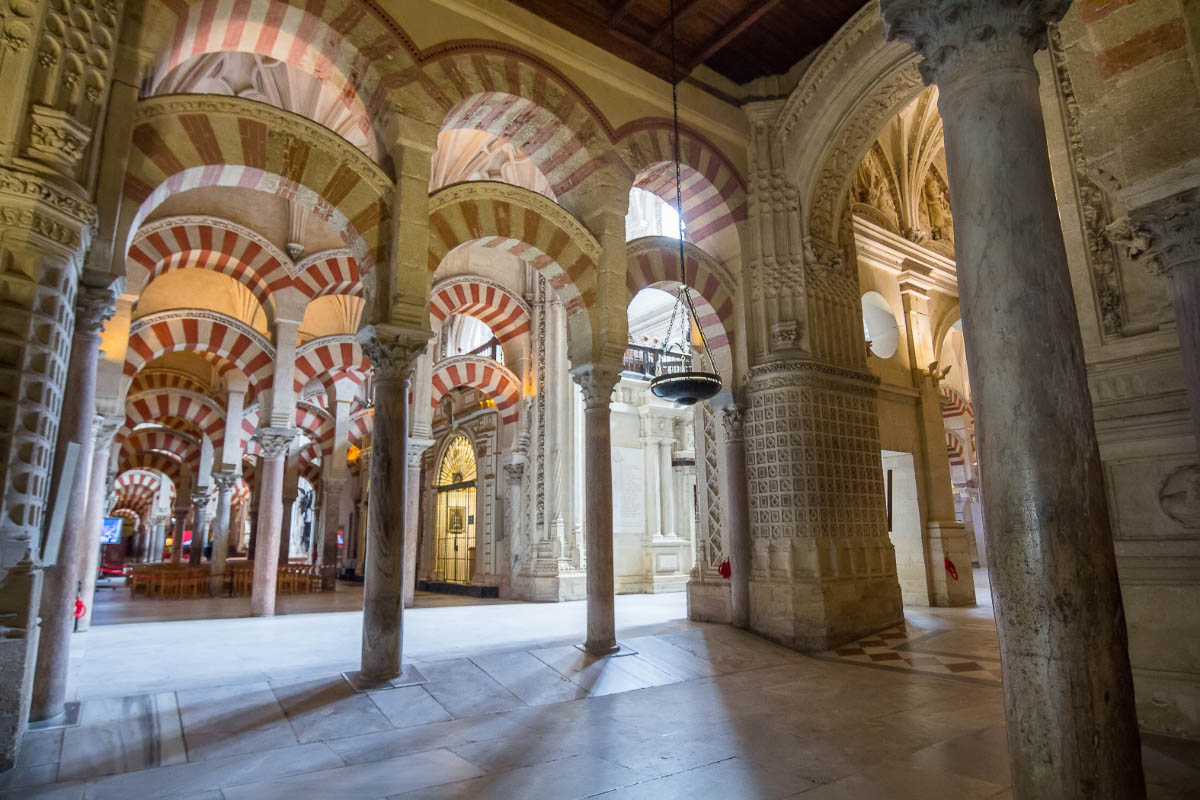 24. Las Rambla
Barcelona's very own Champs-Elysee, this 1.2 kilometre tree lined boulevard runs through the centre of Barcelona. La Rambla is lined with shops, cafes and restaurants and filled with markets and street artists. The street runs from Port Vell up to Place Catalunya. Don't miss exploring its many side streets.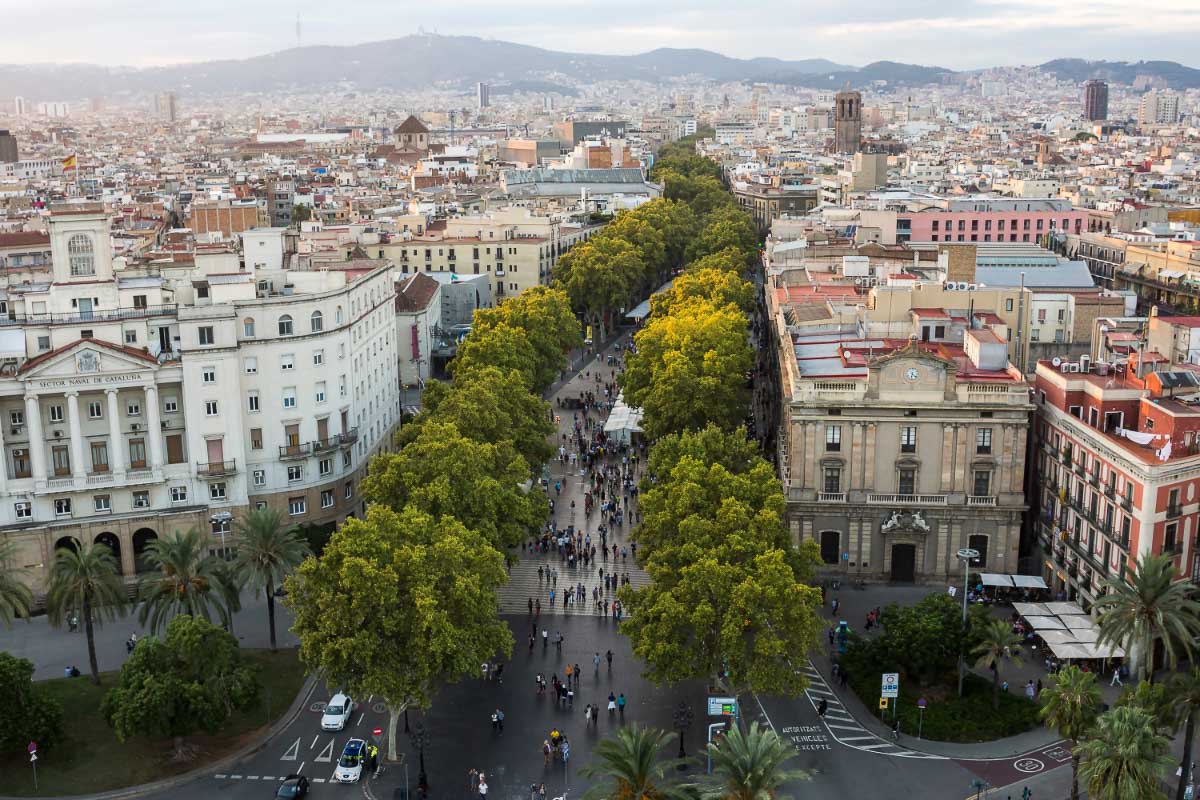 La Rambla is divided into several sections, each of which has its own character. The top part of La Rambla begins at the Placa Catalunya, named after the Font de Canalates. The saying goes that those who drink from the fountain here always return to Barcelona.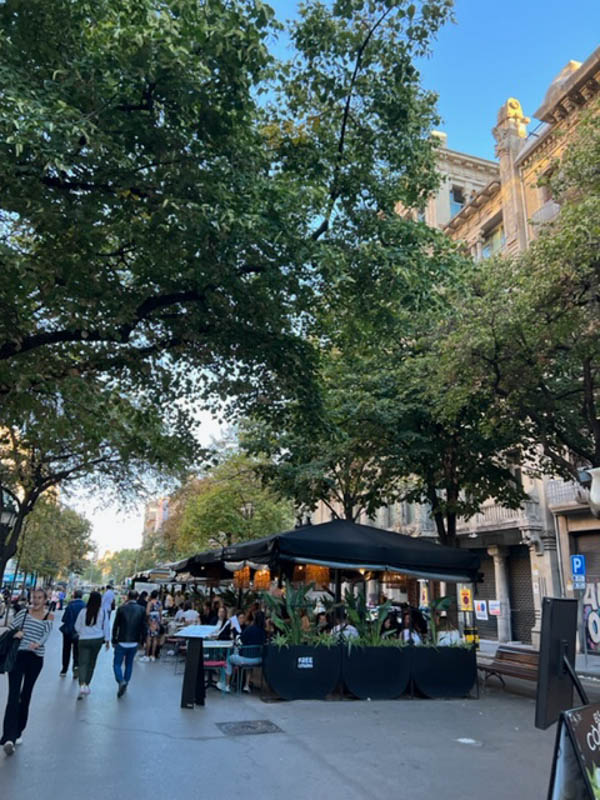 Rambla dels Estudis is the next section and is named after the University which was demolished in 1843. This part of the street is known as Rambla del Ocells or bird Rambla as there are many bird sellers. There are also stores selling guinea pigs, dogs and turtles. This section aslo includes the Esglesia di Betlem and the Palau Moja.
Heading towards the sea, the bird stores are replaced by florists in the section known as Rambla de les Flors. In the 19th century, this was the only area in Barcelona that sold flowers. If you head off La Rambla you will see the biggest market in Barcelona Mercat de la Boqueria. The end of this section of La Rambla is marked by a Juan Miro-designed square Pla de la Boqueria.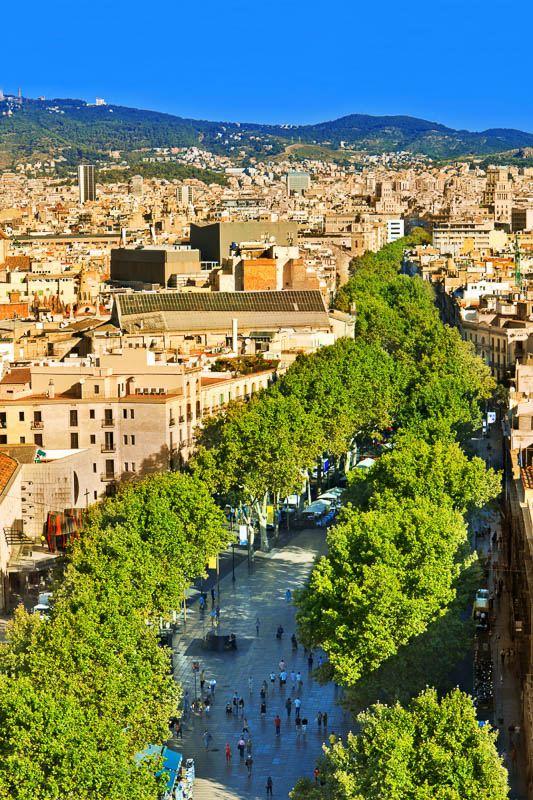 The next section of the street is Rambla dels Catutxins, home to street actors, living statues and cafes. This section also inclues the Opera de Gran Teatro Liceu.
The final section is known as Rambla de Santa Monica. This area is home to souvenir stands and art dealers as well as street artists and the contemporary Museum Centre d'Art de Monica.
If you're looking to get a good view of La Rambla head to the iron statute of Colombus at the Maremagnum Complex.
25. El Teide, Tenerife
This volcano is the highest peak in Spain and it is still simmering. UNESCO listed the Parque Nactional del Teide in 2007. It is possible to drive or hike across the inside of the crater floor (caldera) which is 12 miles in diameter. It is a moon-like landscape with colourful rocks. It is possible to climb El Teide's cone but why not take the 8-minute cable car ride instead and savour the extraordinary views.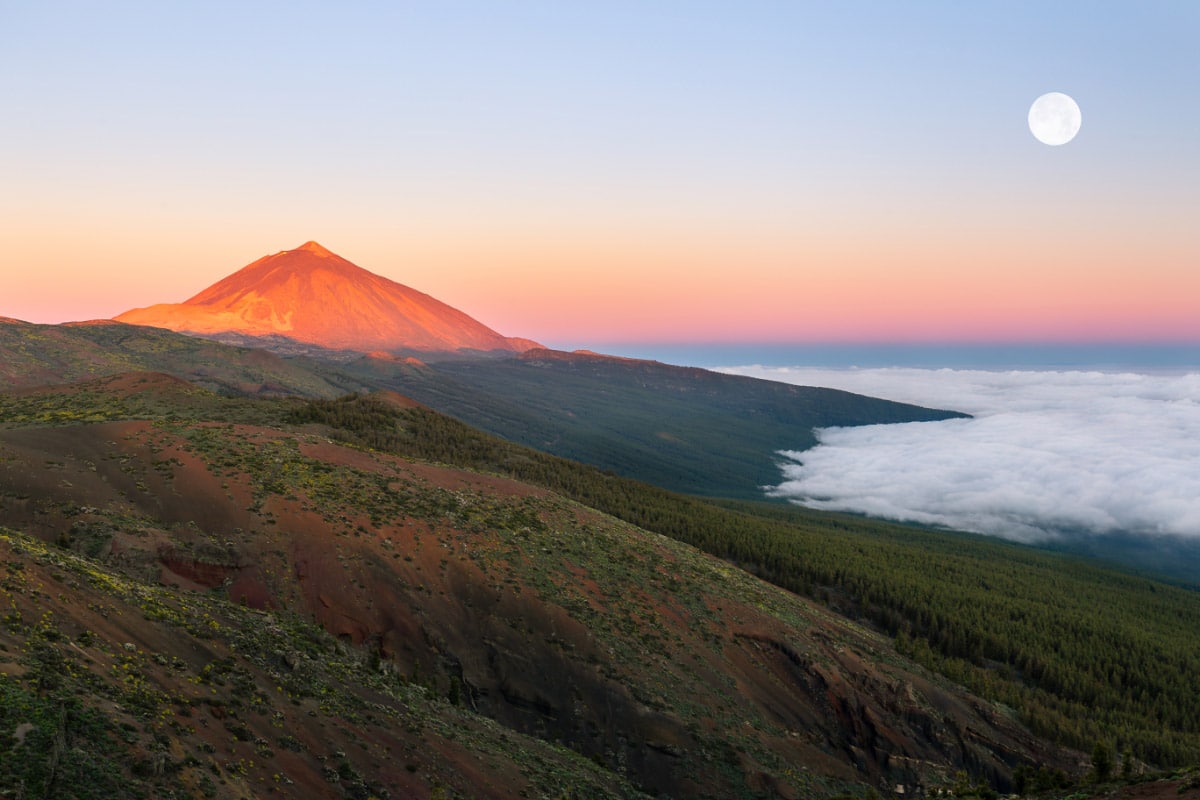 26. Camp Nou
One of the world's most famous football grounds, Camp Nou opened in 1957 and the pitch has been played by many of the most famous footballers of modern times. This is Europe's largest football stadium and home to FC Barcelona.
It is possible to take a tour of the stadium and to visit the museum which holds club treasures like Lionel Messi's six Ballon D'Or trophies. Don't miss heading to the press box for panoramic views of the entire stadium. It is also possible to see the dressing rooms and to visit the chapel which some players spend time in before games. Perhaps best of all is to take a walk through the player tunnel to the lawn itself.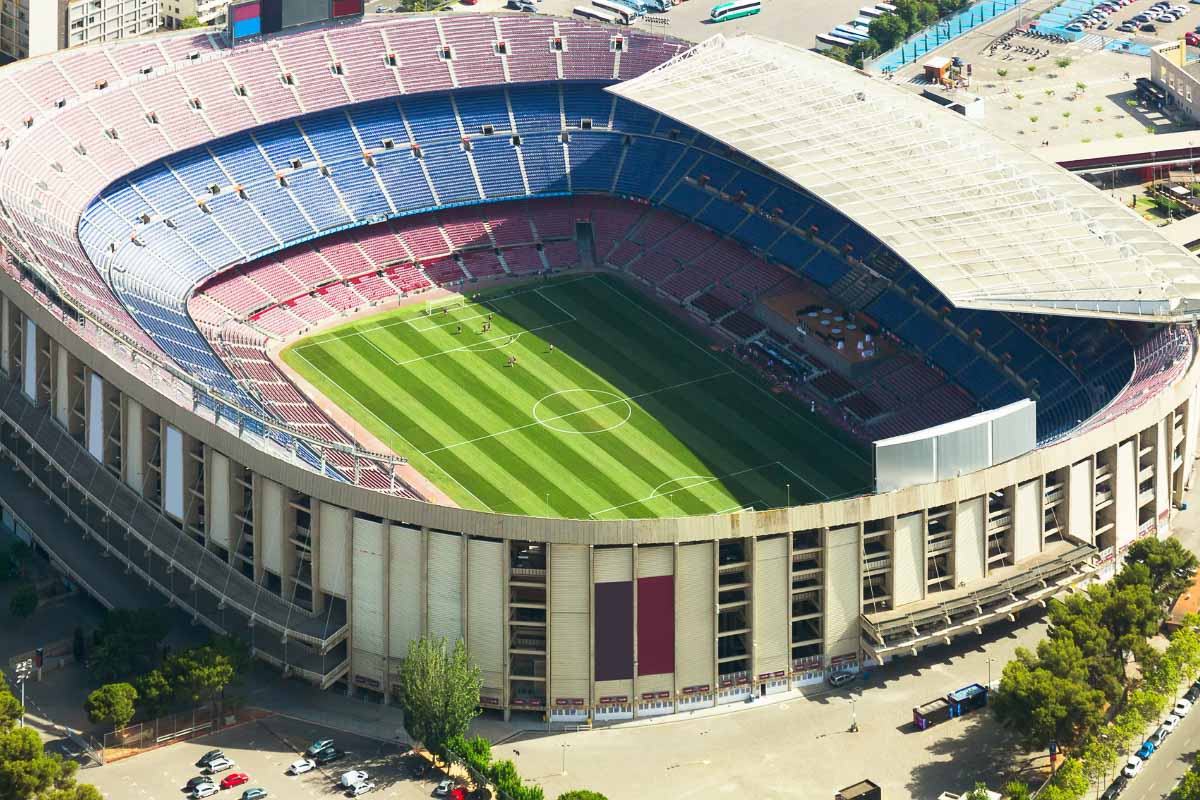 27. Roman Aqueduct Segovia
The Aqueduct of Segovia is one of the few remaining relics from Roman times. It is believed that work began to create the aqueduct in the first century. This UNESCO World Heritage site is 93 feet tall at its highest point and features 75 single and 44 double arches. The pillars in the aqueduct are made from granite blocks.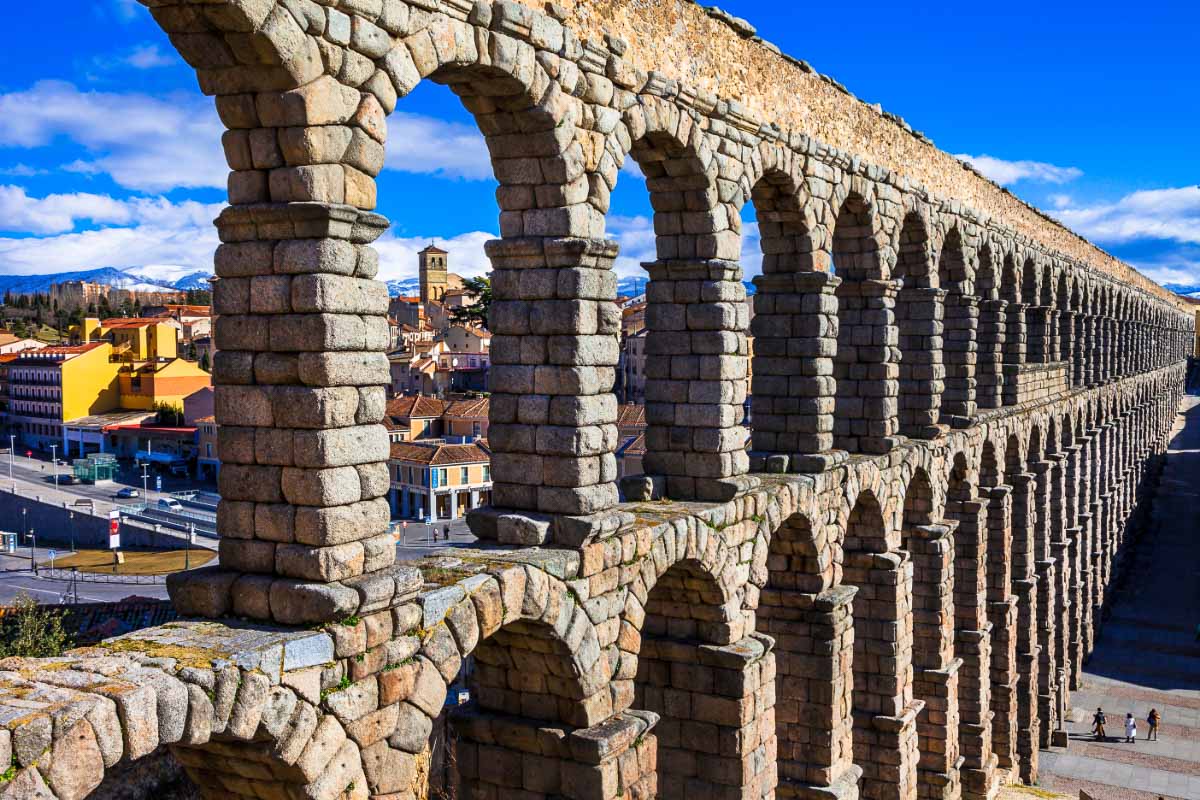 28. Plaza de Espana Seville
Plaza de Espana was built in 1928 to honor the Ibero-American Exposition of 1929. The plaza is a huge half-circle with a tiled alcove for each province in Spain. The design of the tiles is totally unique for each province and very beautiful. It also has a fountain and a moat. It is possible to rent a boat and row under all four bridges in Plaza de Espana. It is a very beautiful place and certainly one of my personal favourite landmarks in Spain.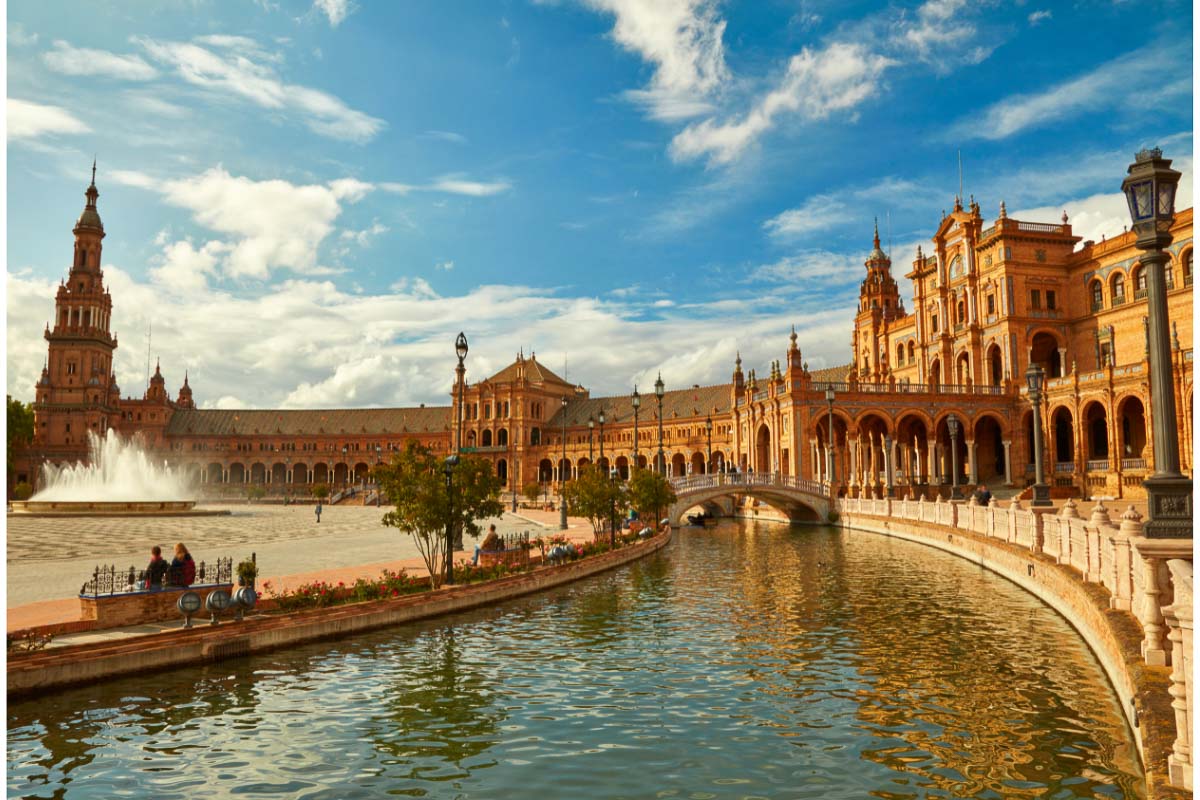 29. The Wall of Avila
Muralla di Avila or the Wall of Avila was built between the 11th and 14th centuries. The wall was the main defence of the city of Avila and has done an excellent job as most of it is still intact. The wall covers 2,500 metres and has 88 different towers. The ancient city of Avila is a UNESCO World Heritage Site.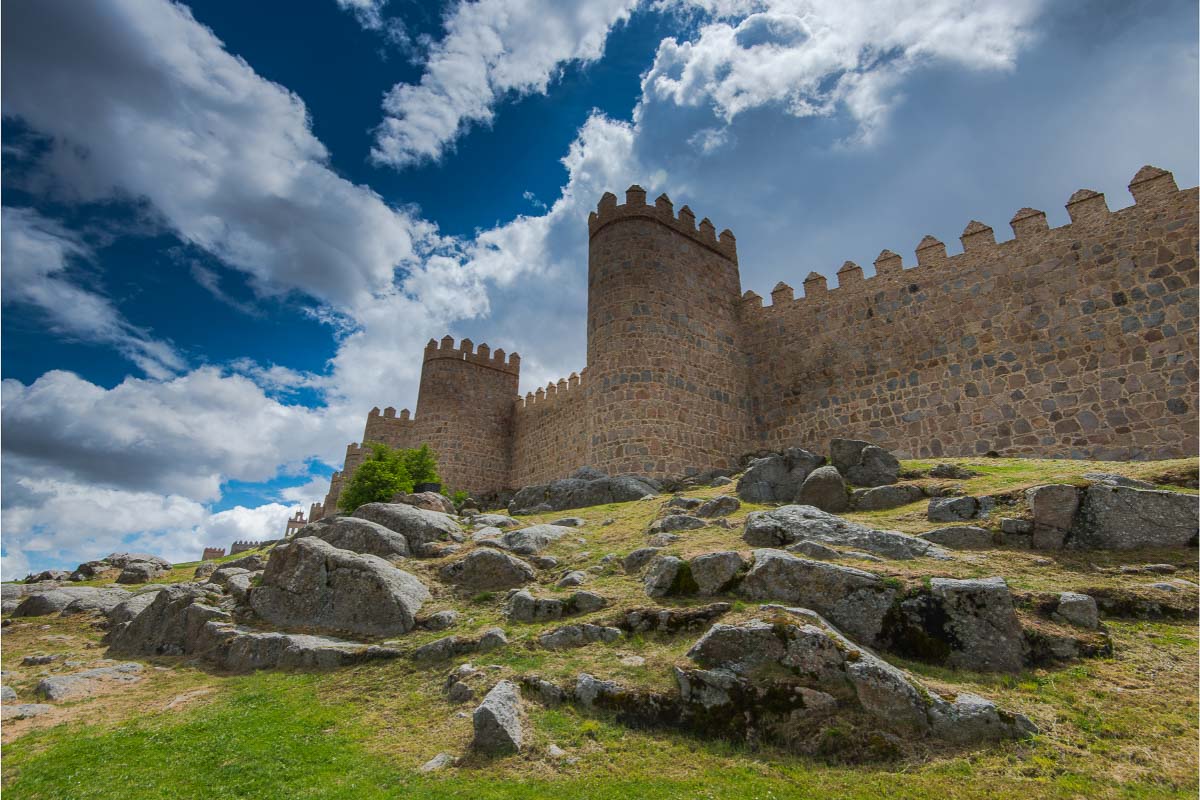 30. Cave of Altamira
This cave in Cantabria features drawings that are estimated to date back to 34,000 BC. The cave was discovered in 1868 by Modesto Cubillas. There are many drawings along its 1 kilometre corridor as well as the famous Polychrome ceiling that displays a herd of bison. Alas, the caves are not open to visitors apart from small private tours but there are many replicas in the area.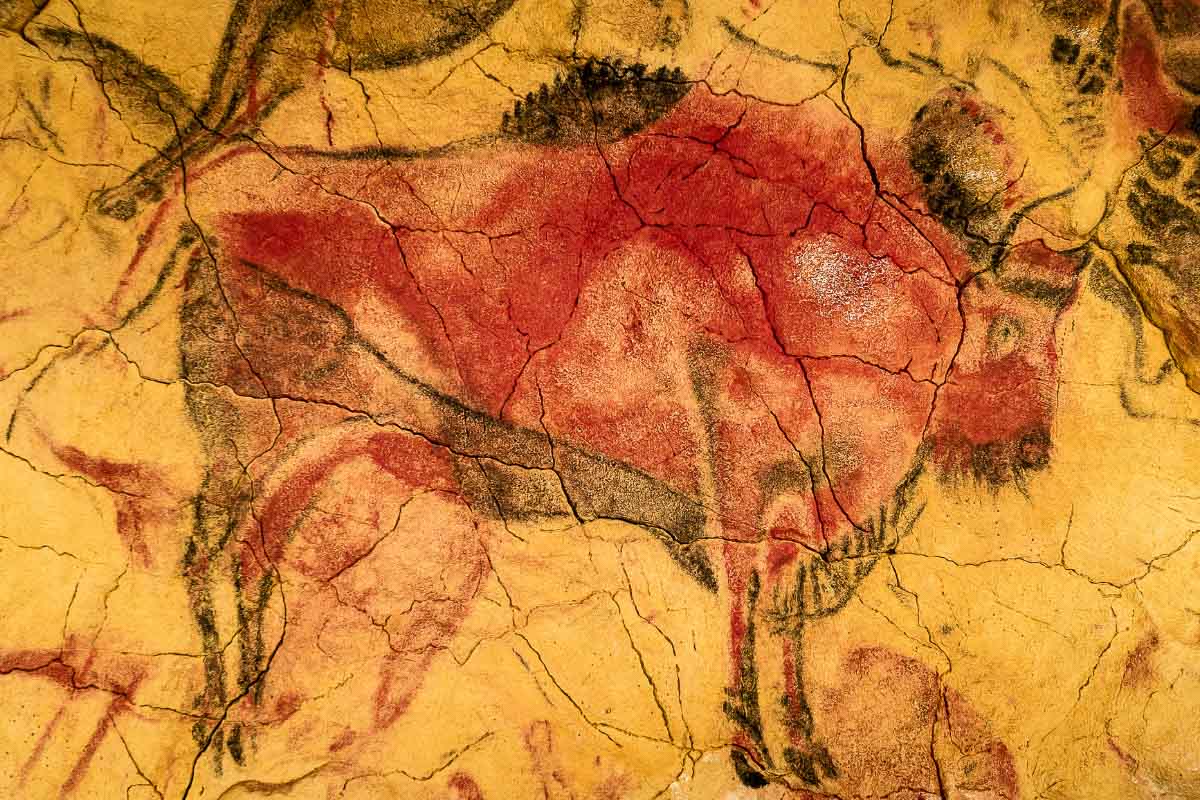 31. Salamanca Cathedrals
The town of Salamanca has an old cathedral and a new cathedral. The old cathedral was founded in the 12th century and completed in the 14th century. It is dedicated to Saint Mary of the See. Building began on the new cathedral in 1513 and it was consecrated in 1733. The new cathedral is built in Gothic style whilst the old cathedral in Romanesque style.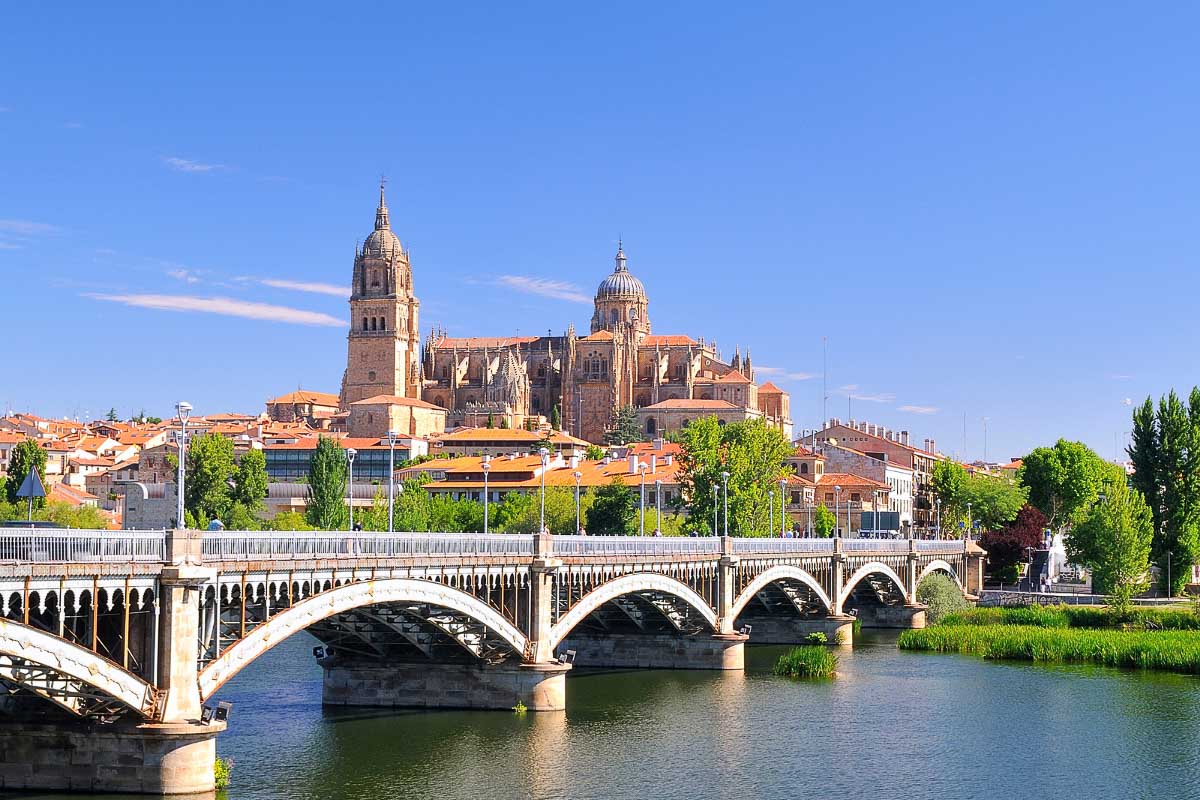 32. Windmills of Consuegra
The windmills of Consuegra were made famous by Miguel de Cervantes in his novel Don Quixote. The windmills are located on a ridge above the plain of La Mancha. In the book the battle of the giants is held in this location. 12 or 13 windmills were originally located on the ridge. Today four are in working order.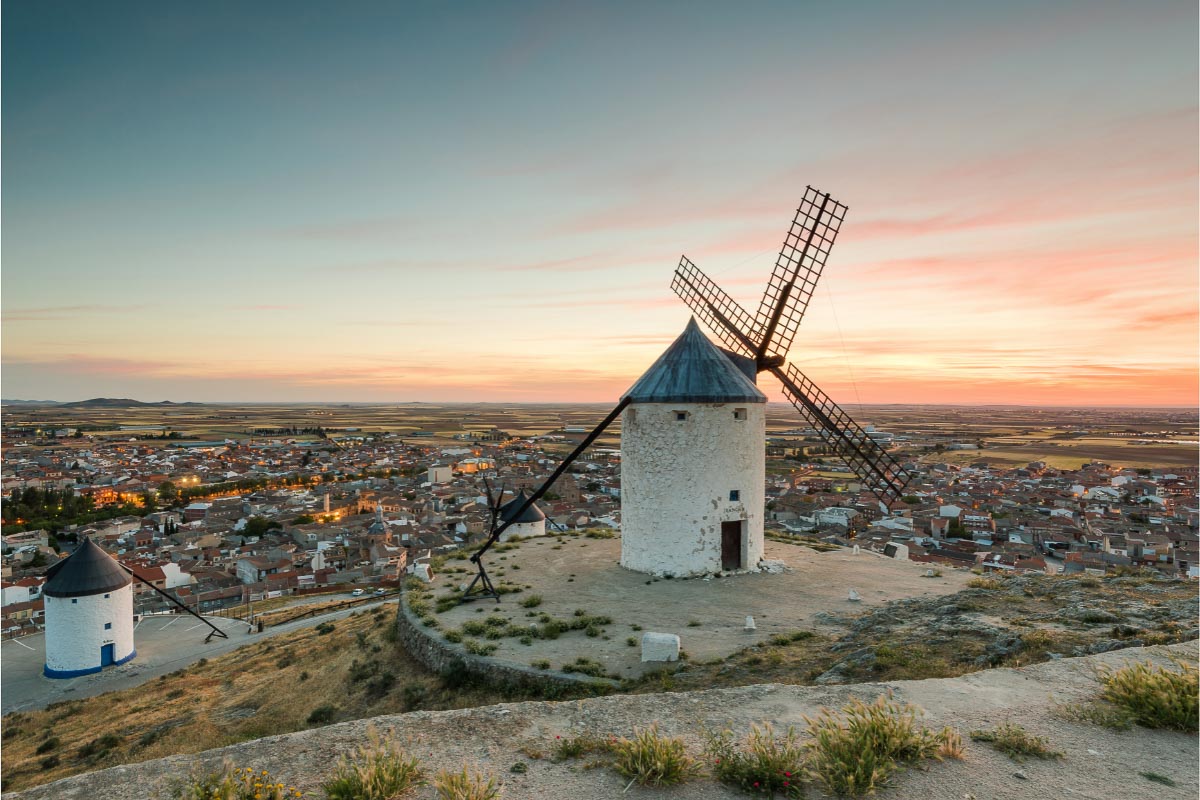 33. Tower of Hercules
Torre de Hercules is in the town of La Coruna in the Galicia region. The tower was actually built to be a lighthouse by the Romans between the 1st and 2nd centuries AD. The tower is 55 metres tall and is the world's oldest functioning lighthouse. It is possible to visit the Tower of Hercules and to climb to its top for fantastic views of La Coruna and the Atlantic Ocean.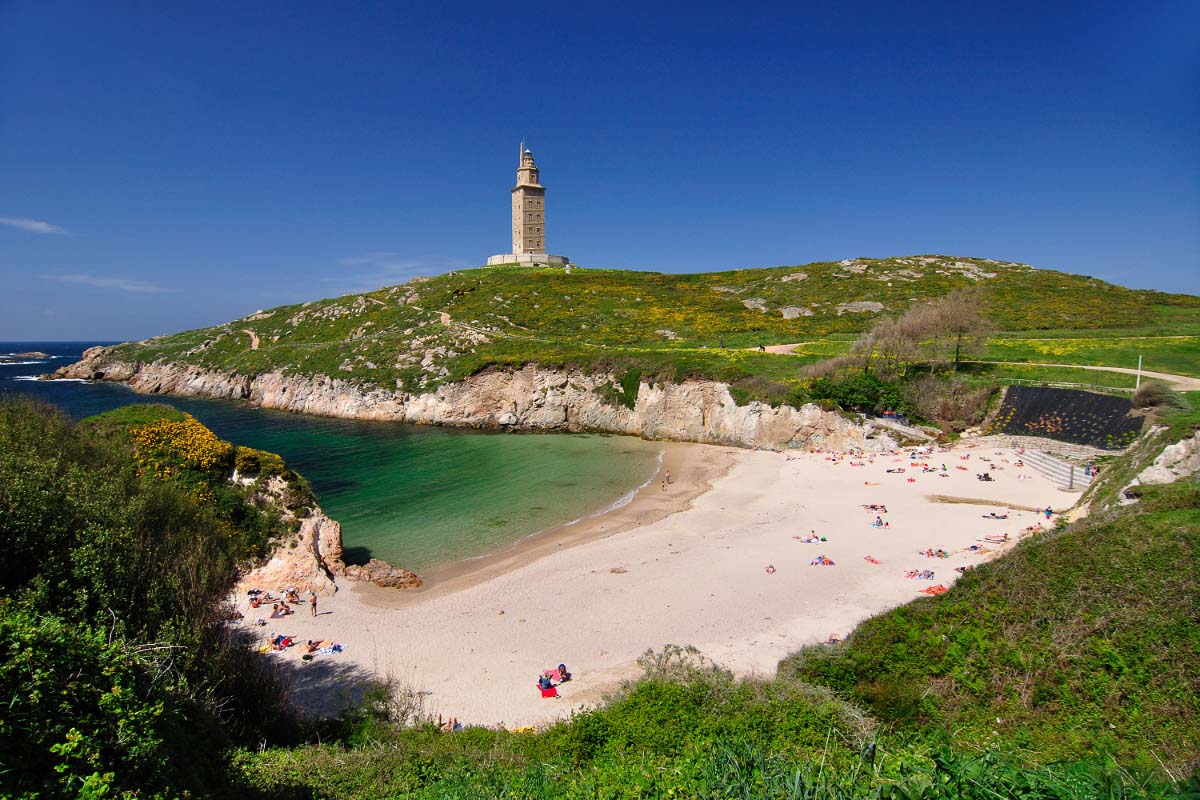 34. Casas Colgadas
Casas Colgades means hanging house in Spanish and they are located in Cuenca. It is believed that the hanging houses were built between the 15th and 16th centuries. Eight of the houses lasted until the 1920s and three of the original houses are still intact today.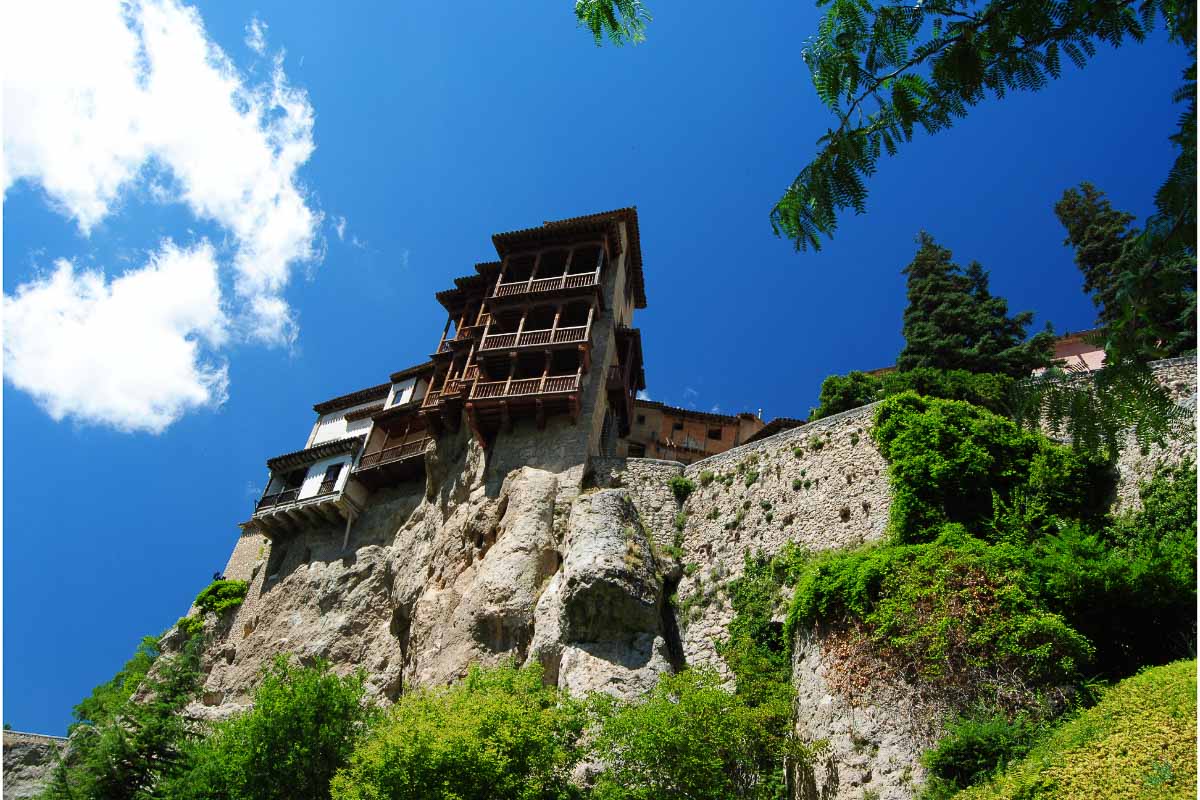 35. Montserrat Monastery
This beautiful monastery is set against Montserrat mountain in Catalonia and is only 45 kilometres from Barcelona. Santa Maria de Montserrate is a Benedictine Abbey and it hosts the Virgin of Montserrat sanctuary.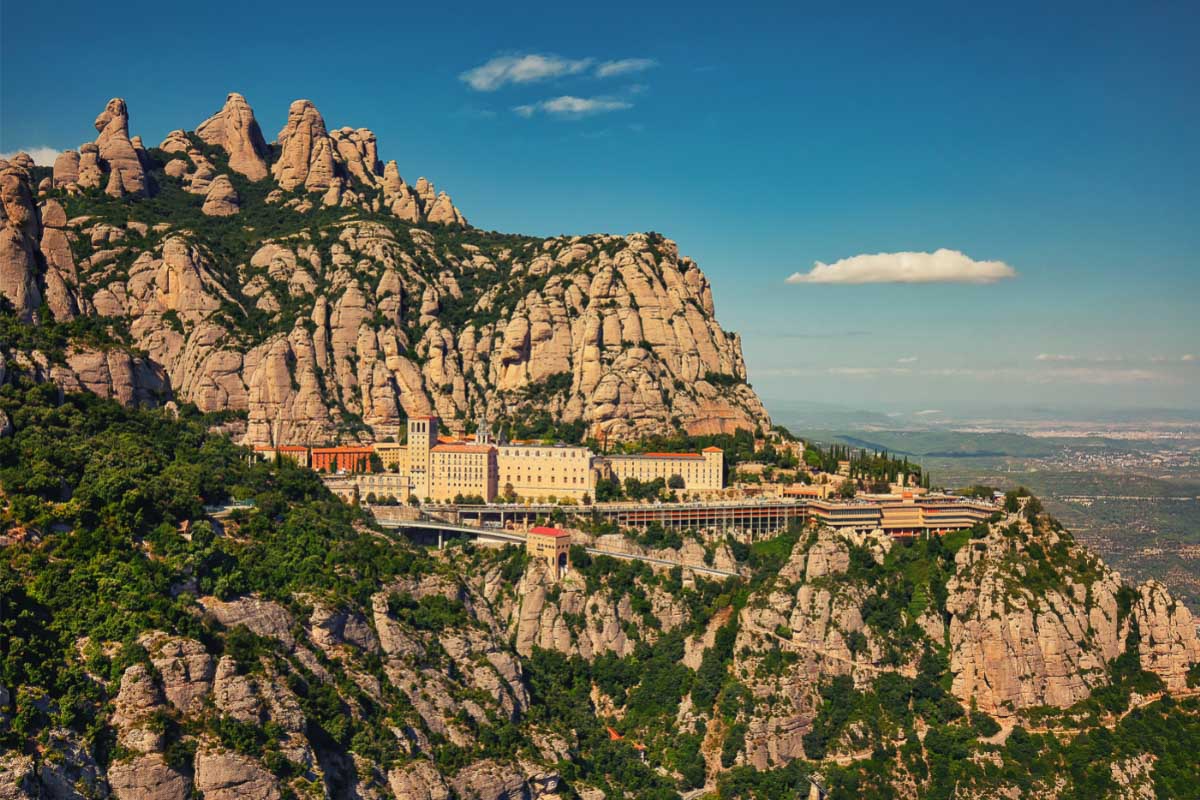 36. Niemeyer Centre
This modern Spanish landmark was built in Aviles in 2011. The centre was designed by Oscar Niemeyer and holds concerts, exhibitions, plays and more. As well as having an auditorium there is a restaurant as well as a 20 metre tower.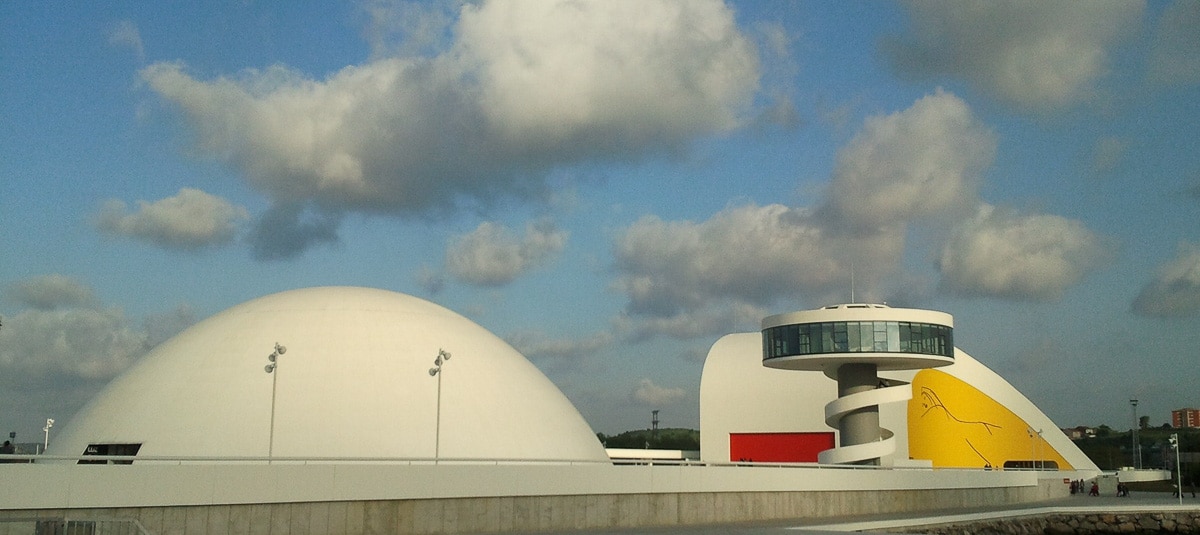 37. Roman Remains of Tarragona
The city of Tarragona is about an hour oustide Barcelona and located on the Costa Daurada. It is perhaps best known for is roman ruins. These include a Roman Ampitheatre that was built in the 2nd century AD and the Roman Circus and Praetorioum. The Praetorium offers some fantastic views over Tarragona.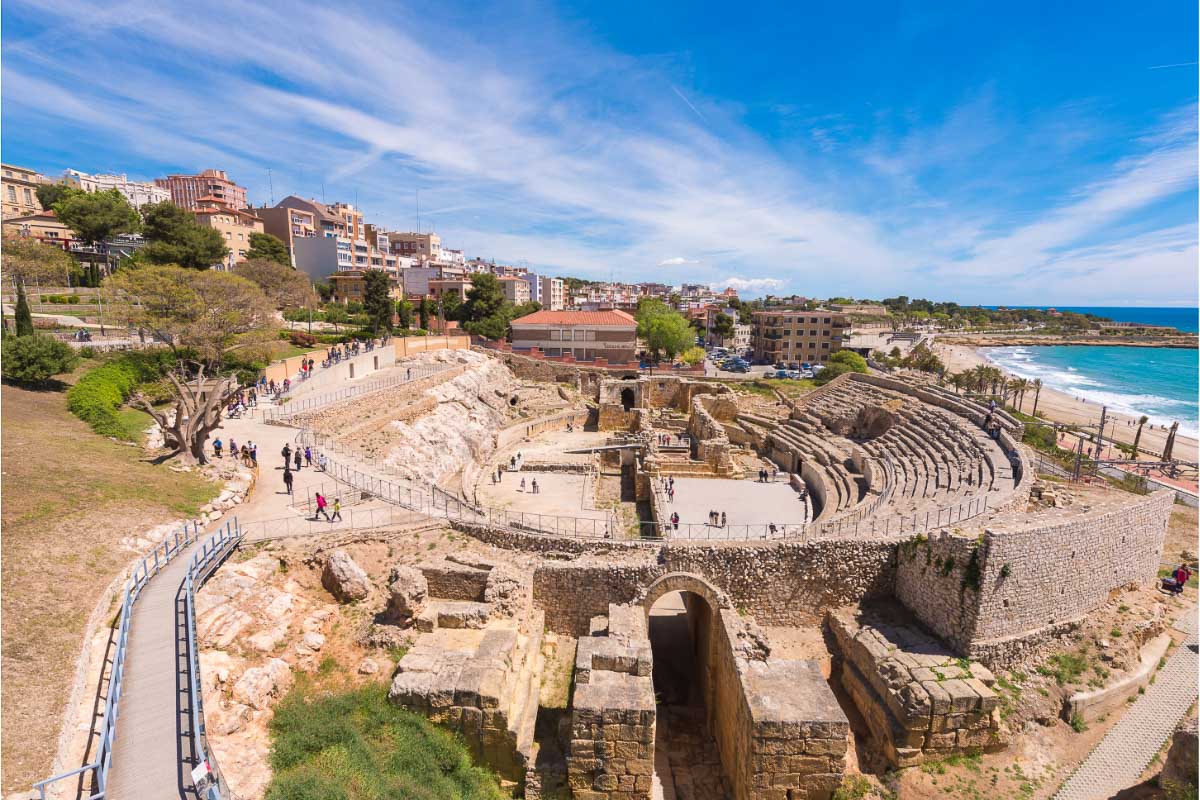 38. Monuments of Oviedo
The Monuments of Oviedo date back to the 9th century and many are within Santa Maria del Naranco, San Miguel de Lillo and Santa Cristina de Lena churches.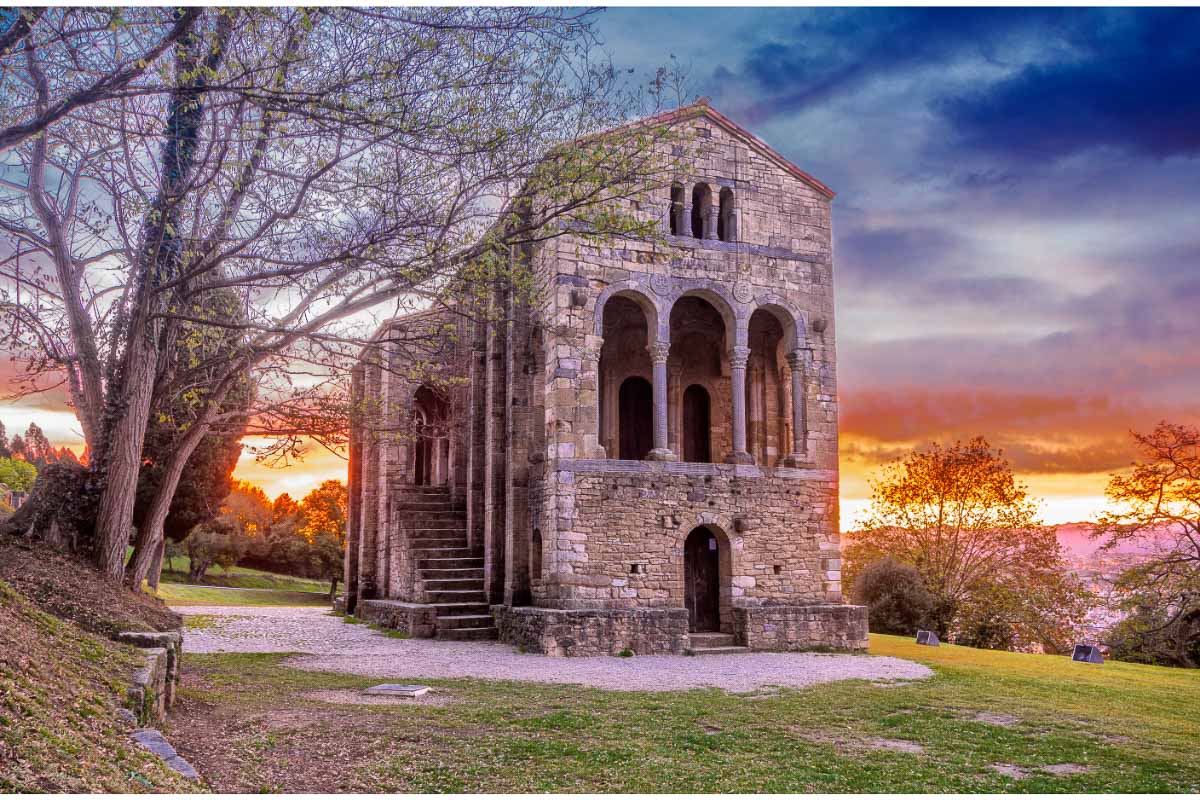 39. Plaza Mayor
This beautiful square in Madrid was built in 1619 and is filled with baroque architecture and lots of cute cafes. Plaza Mayor was once the centre of entertainment in Madrid and featured bullfights, royal pomenading, festivals and alas some of the events of the Spanish Inquisition.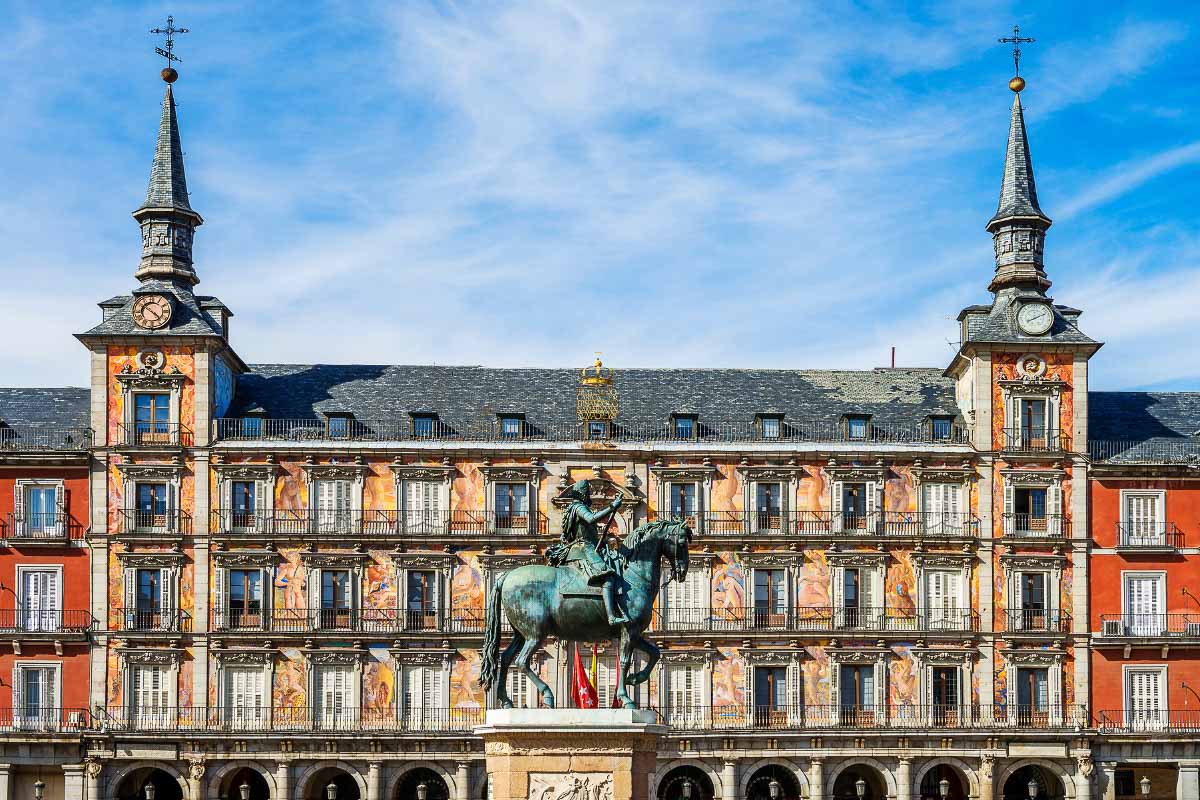 A statue of King Phillip III on his horse is in the middle of the square. It is surrounded by burgundy coloured buildings, most of which are now apartments. On Sunday mornings Plaza Mayor holds a stamp and coin market.
40. Castillo de Colomares
This stunning castle in Benalmadena on the Costa del Sol was built to honour Spanish born explorer Christopher Columbus. It is one of the world's largest monuments to Christopher Columbus, covering an area of 1500 metres. Despite its appearance it is one of the youngest Spanish landmarks on in this article having been built between 1987 and 1994.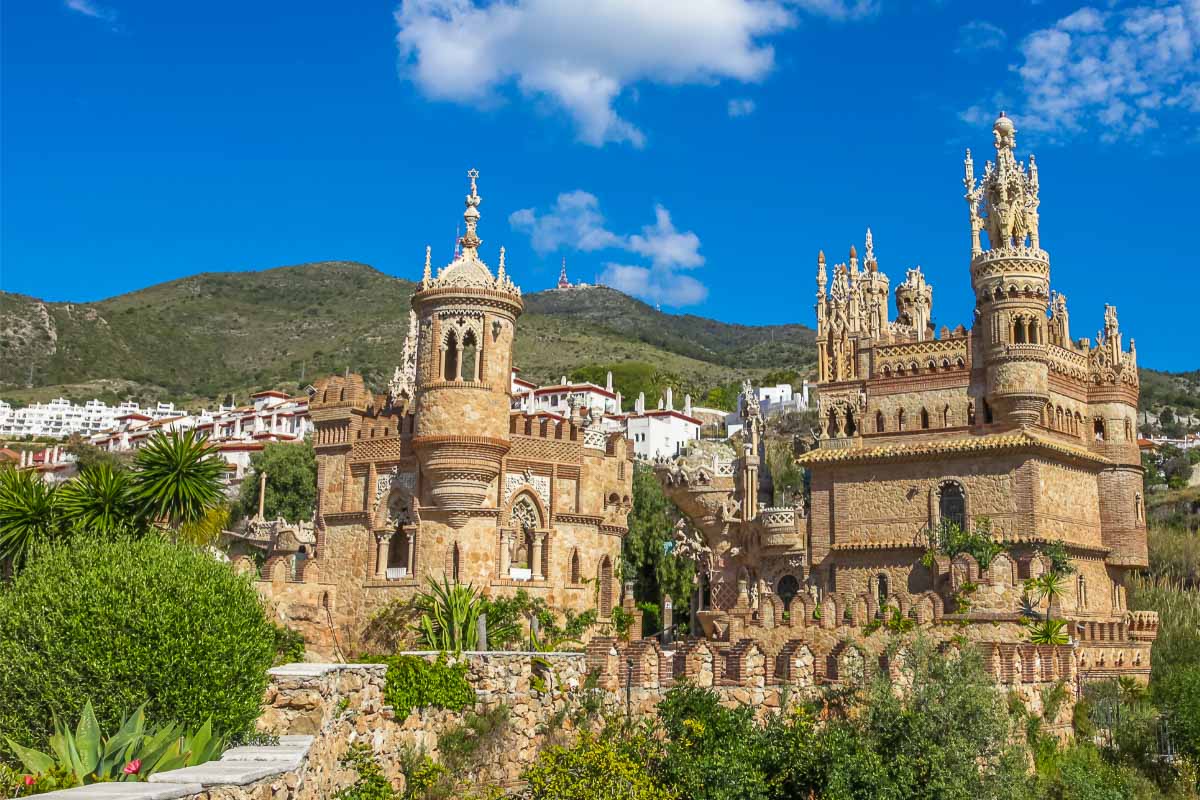 41. Drach Caves
Cuevas del Drach are located on the island of Majorca. They are home to the largest underground lake in the world, Lake Martel. Classical music concerts are sometimes held in the cavse. The caves are about 4 kilometres long and 25 metres deep.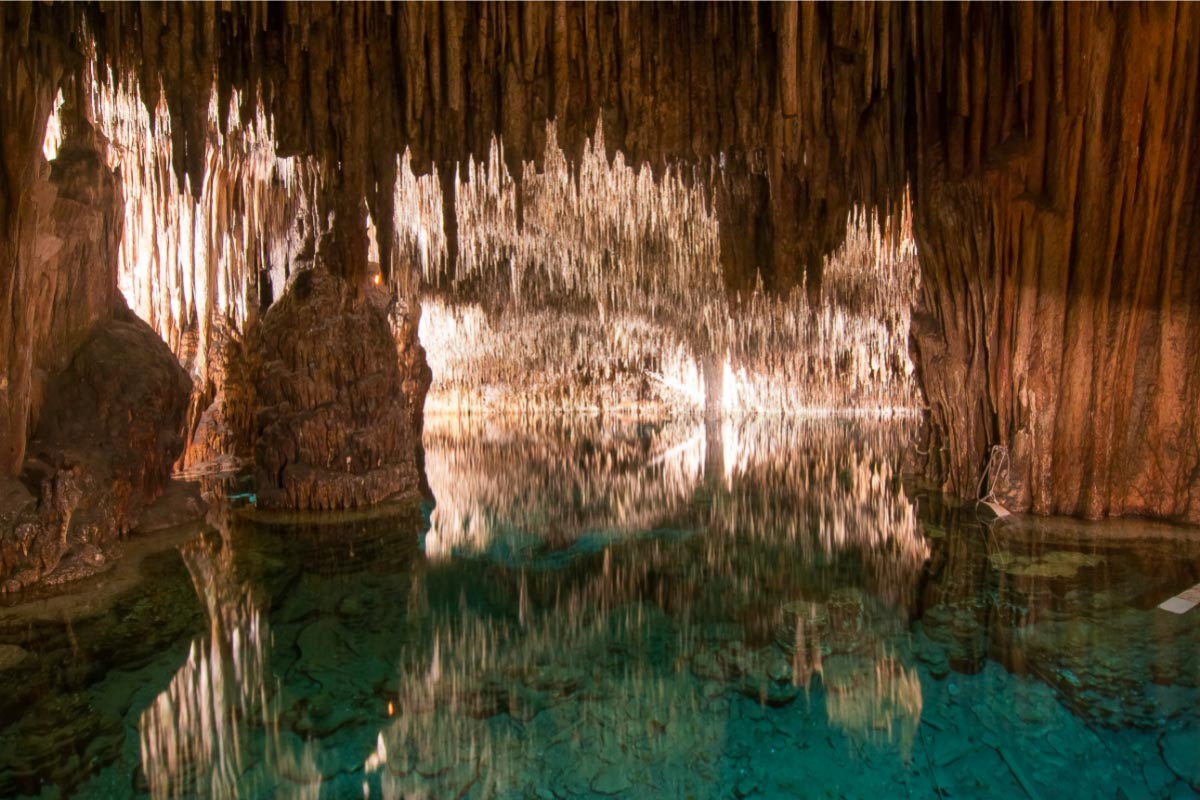 Spain Famous Landmarks: Final Thoughts
These famous Spanish landmarks will captivate you and show you another interesting facet of the country's culture. From grand palaces to famous cathedrals and modern architectural structures, there's something everyone will appreciate.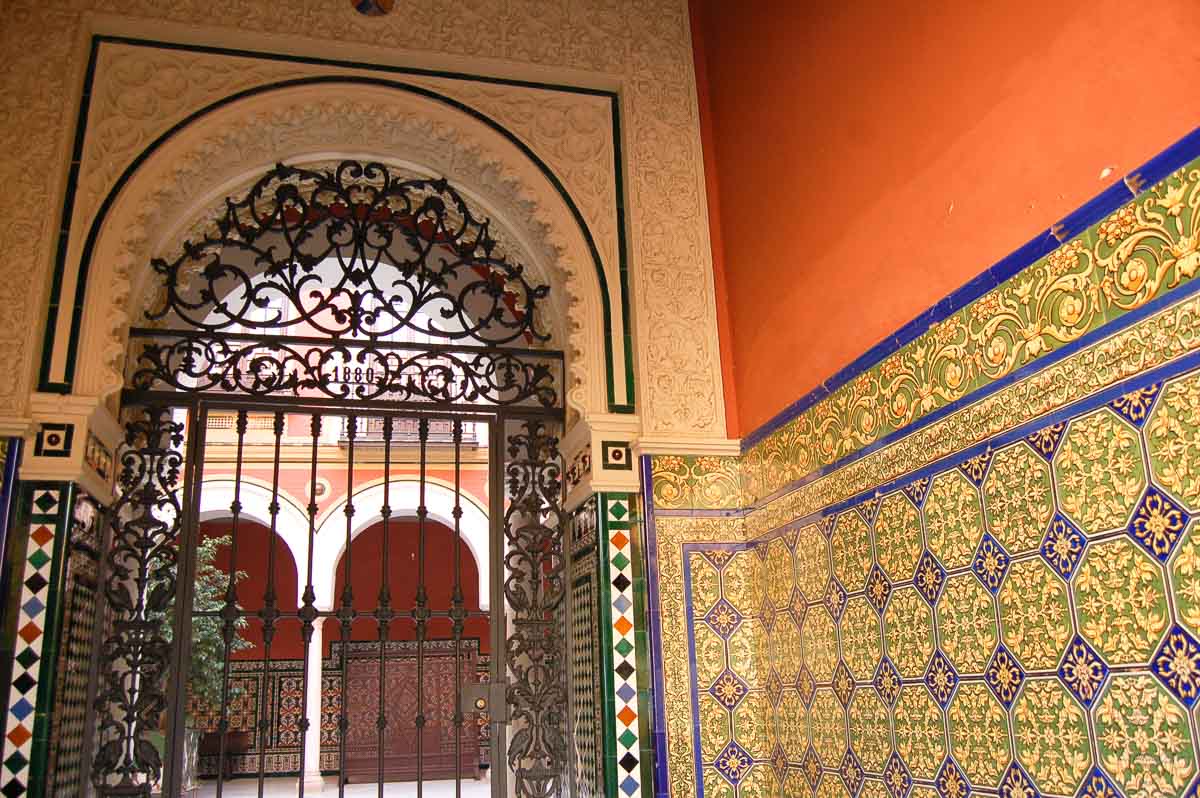 If you're planning a trip to Spain, these exquisite landmarks are definitely worth adding to your itinerary. And the best part is, each one is open to the public so that you can enjoy them from the inside out.
Would you get naked at a spa? Check out my posts on Naked or Clothed – Baden Baden Spa Guide, the best Baden Baden Tour options, What is Germany Famous For? 31 German Claims to Fame, 26 Landmarks of Germany, 9 Most Beautiful Cities in Germany and One Day in Hamburg – all in Germany.
This Spain Famous Landmarks post includes affiliate links. That means if you click through and end up making a purchase I will receive a small commission. I wanted to make sure you were aware of this.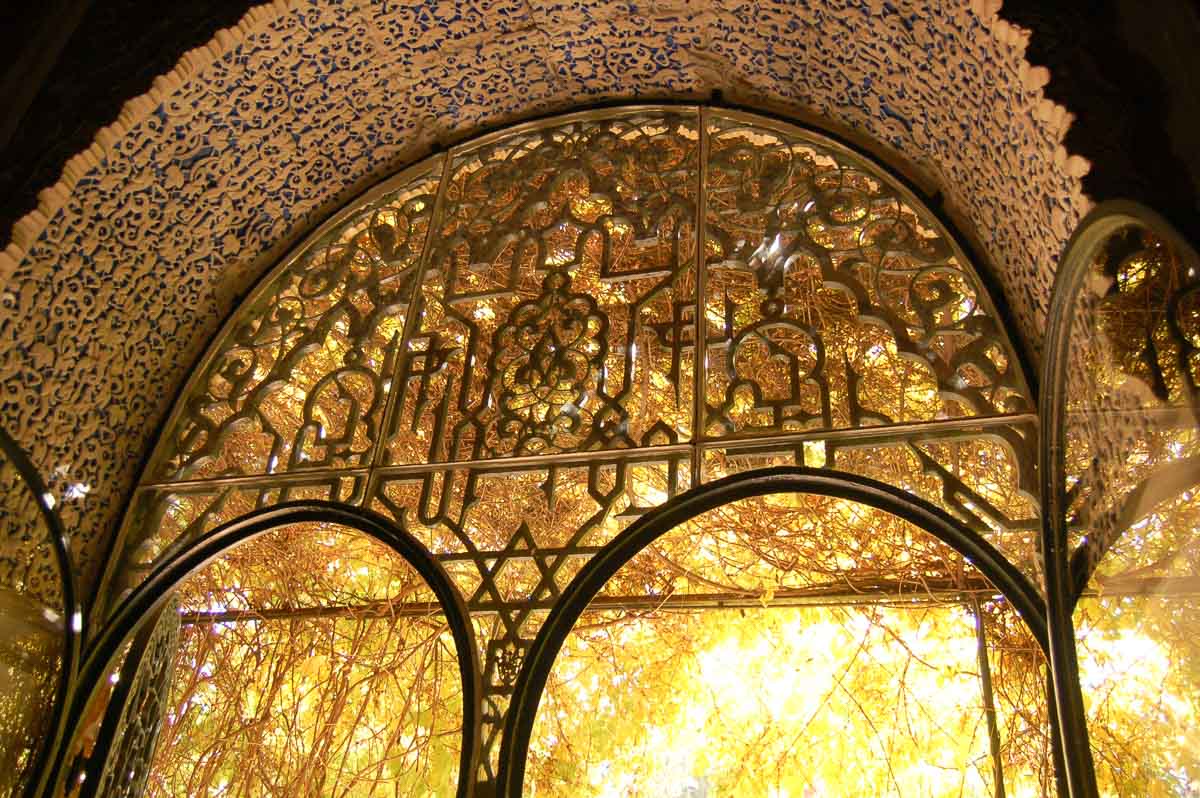 ⇒ Read all about Paxos Greece as well as the best Paxos restaurants and Paxos beaches. Or find out how to get from Santorini to Ios, the best things to do in Ios and a complete guide to Mylopotas Beach. And don't miss 11 Famous Greek Landmarks, 13 Best Halkidiki Beaches, 27 Fantastic Things to do in Thessaloniki, 37 Fascinating Facts About Greece, 13 Most Beautiful Islands in Greece and my 10 Days in Greece Itinerary.