Ah Italy. I always say that it is impossible to have a bad time in Italy. Not only are there so many beautiful cities in Italy, but you can also almost guarantee that they will all offer fantastic food, wine, and coffee.
As a travel blogger I am lucky enough to travel more frequently than the average person. I have actually now lost track of how many times I have visited Italy – it must be at least 15. And I don't plan on stopping there – Italy will be one of my favourite travel destinations for the rest of my life.
So here are my 15 Most Beautiful Cities in Italy, some classics and some hidden gems.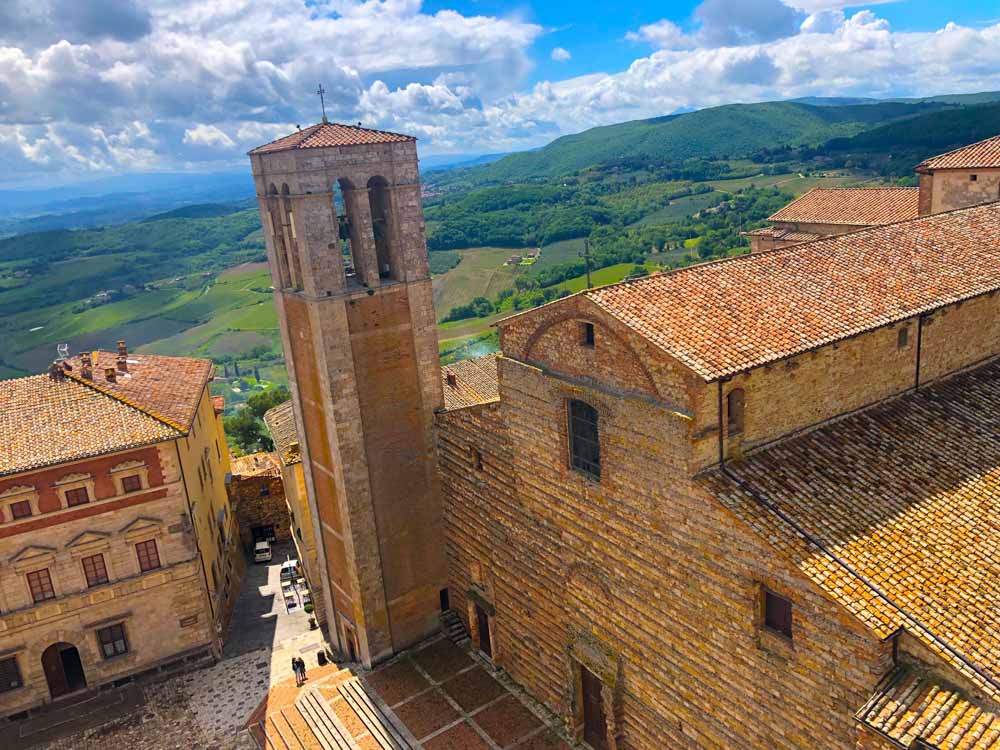 15 Beautiful Cities in Italy
1. Syracuse
I loved Syracuse – it was a highlight of Sicily where to stay. It is such a cute and atmospheric city. The old town of Ortygia is the place to stay, eat and wander. It is at its most magic as the sunsets.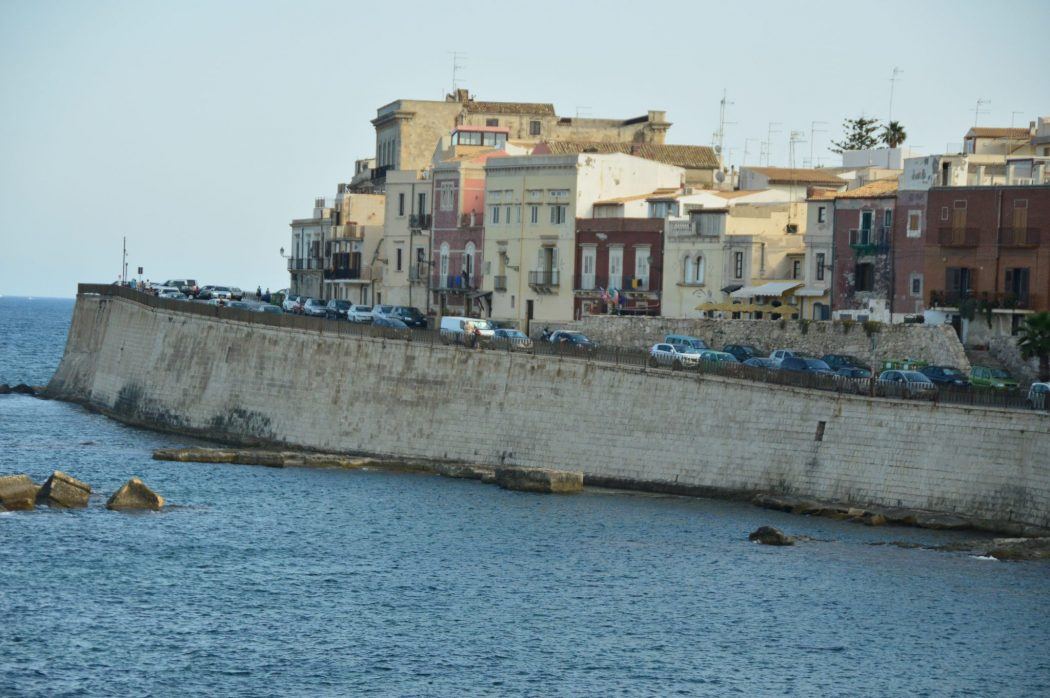 Ortygia is the perfect Italian old town. It is full of little streets that are perfect for wandering. The best time to go is early evening – kick-off about 30 minutes before the sunset.
This Sicilian town is at its busiest at this point but this provides atmosphere rather than headaches. Don't miss Ortygia's famous fountain and the main square.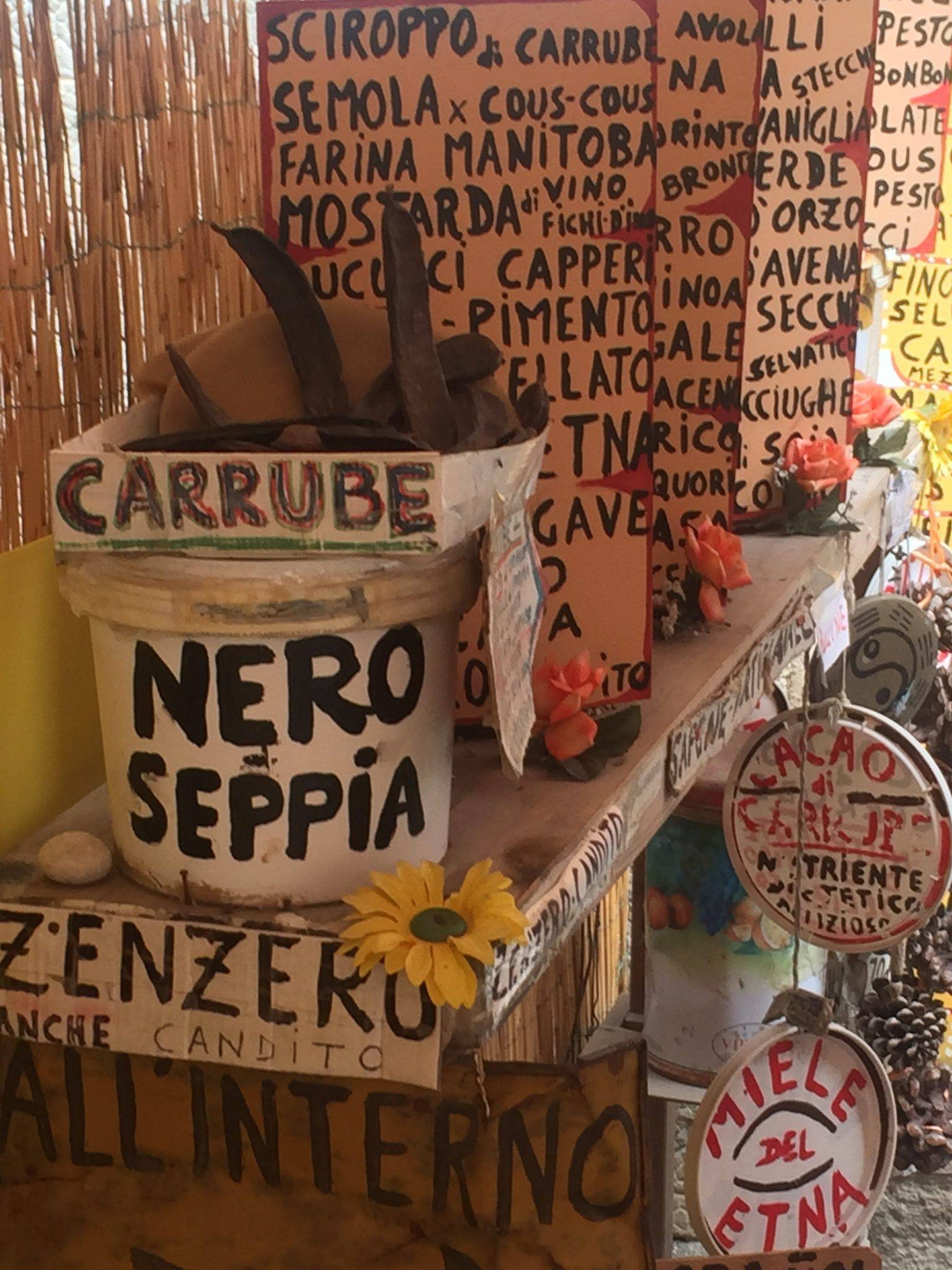 Ortygia also has fantastic shopping. There are lots of Italian classics but a large number of unique and interesting boutiques. There are also some of the nicest souvenir shops I have ever seen. My hot tip is Ortigia.
And don't miss the nearby town Noto. This beautiful little town 40km away from Syracuse is full of beautiful pale coloured buildings.
I loved Sicily and have written several posts about it. Read about Where to Stay in Sicily, things to do in Sicily, my 7 Day Sicily Itinerary and the best Sicily Boutique Hotels.
2. Montepulciano
Montepulciano is quite frankly heaven for wine lovers. This stunning hilltop Tuscan town is ridiculously beautiful and it is just filled with wine. Wineries, red wine, white wine, wine cellars, oak casks, wine shops, wine bars – it really is just wine-tastic! There are so many wineries in Montepulciano.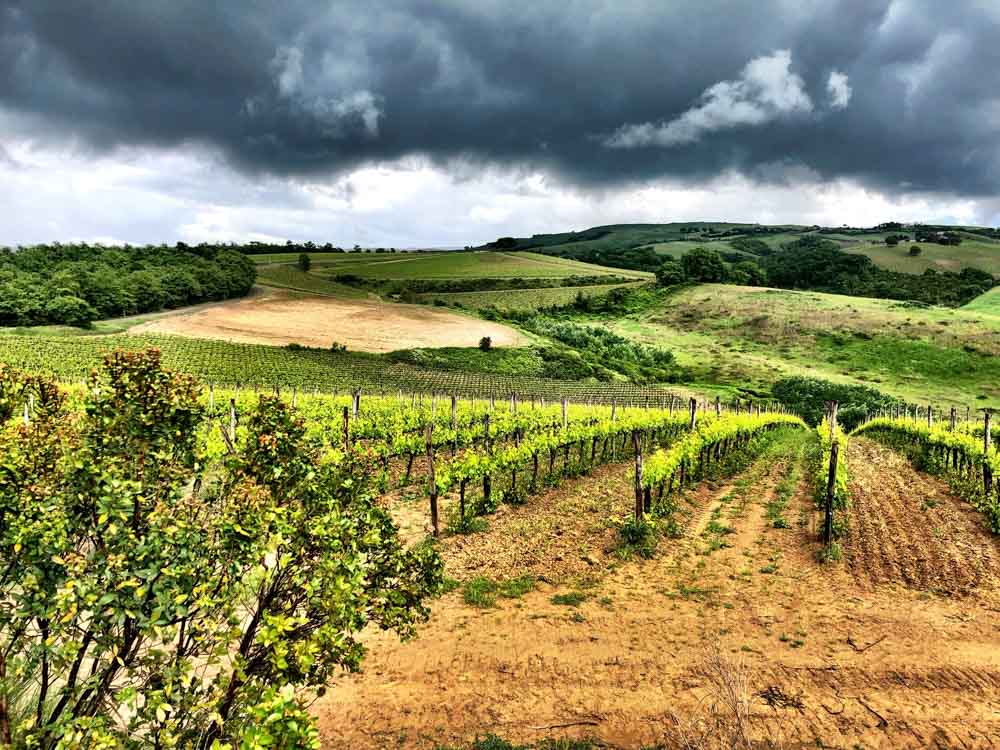 In addition to all that wine, Montepulciano is also a beautiful hilltop town. It is pedestrianised and full of small steep streets oozing with atmosphere – and some amazing restaurants and wine bars.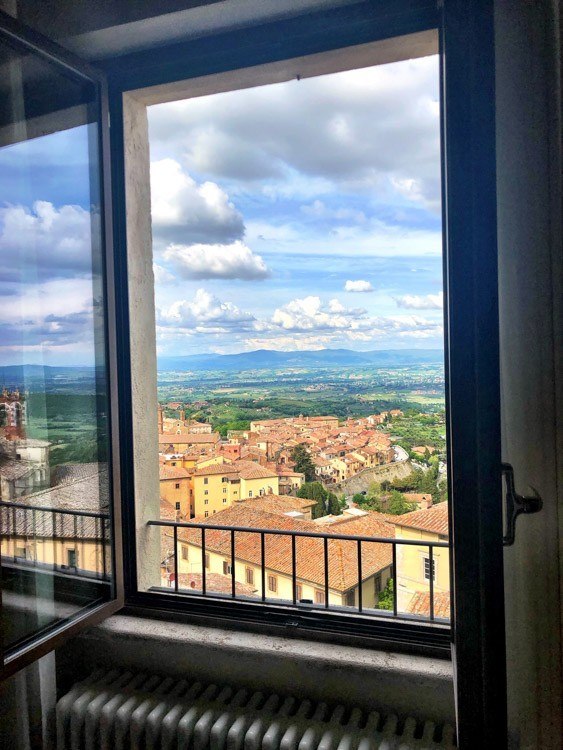 The main square of Montepulciano sits right at the top of the town and has a beautiful church and tower.
Read more in my post on the best 12 Best Wineries in Montepulciano and 7 Romantic Tuscany Boutique Hotels.
3. Ostuni
This gorgeous white city is set on a hilltop only 8km from the sea and one of the key Puglia destinations. It was raining when I visited but still very cute.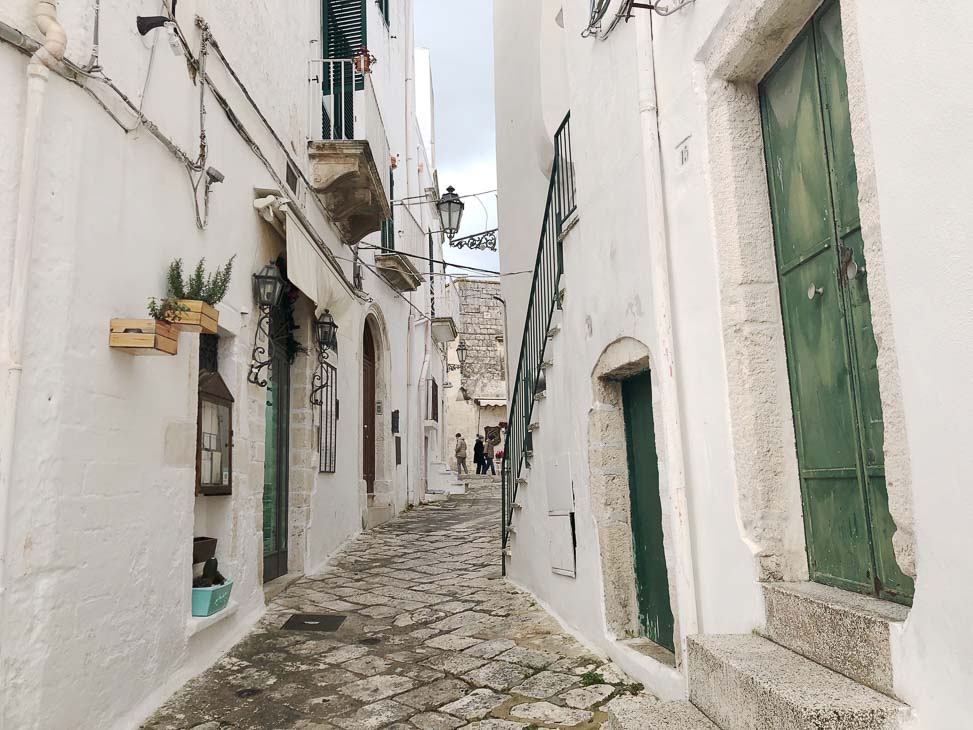 It is not easy to find your way around the narrow streets – apparently, the town was built without a plan which makes perfect sense after you have visited.
However, like many of these towns, the best thing to do when visiting Ostuni is to just explore and get a bit lost in the back streets.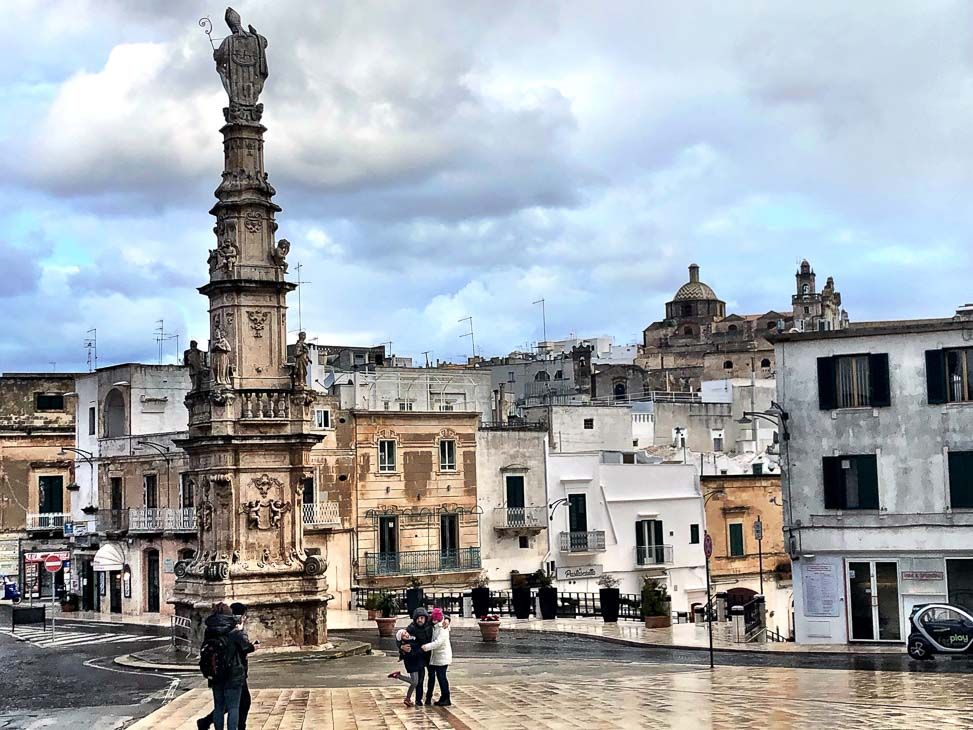 It is a bit of a walk to get to the main part of the old city of Ostuni (right on the top of the hill) but it is worth it. There is a stunning cathedral and then views down to the sea from one side of the old town.
It is also extremely instagrammable with lovely arches, cute coloured doors, and shutters, white stone streets etc etc.
Read more about Ostuni in my post on the 7 Best Places to Visit in Puglia.
4. Rome
Yes it is a little dull to have Rome in a list of the most beautiful cities in Italy but the reality is that Rome is an incredibly beautiful city. Italy's capital sits on the Tiber river and often has more tourist attractions in two streets than entire cities.
It is, of course, mandatory to visit the Colosseum, the Vatican, Trevi Fountain, the Pantheon, etc but for me, the best of Rome is just walking through its beautiful streets and being in Rome.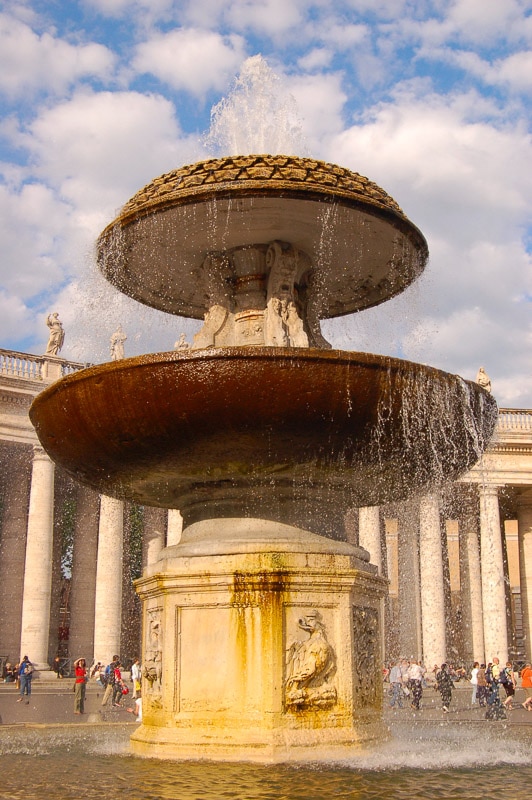 I am lucky enough to have visited Rome 4 times and I plan to return. So when I do visit I like to just walk and wander and eat as much as I possibly can. It also provides an opportunity to explore more of the neighborhoods of Rome like Trastavere.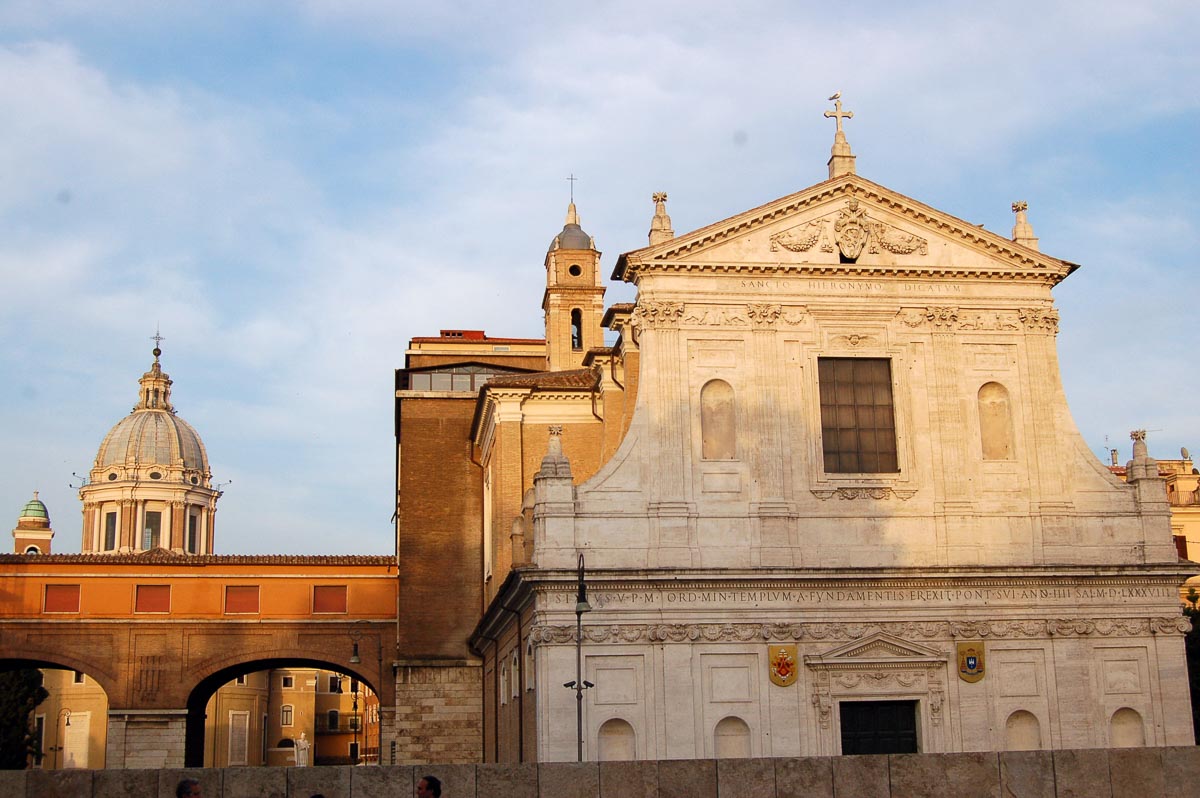 ⇒ There is something about landmarks – I am always a bit awed when I get to see one! 16 Famous Landmarks in Europe You Must See, 12 Beautiful Spain Famous Landmarks, 11 Stunning Canada Landmarks, 15 North America Landmarks, 16 Australian Landmarks, Top 10 Famous Landmarks in the US, 21 Stunning Asia Landmarks, 10 Bridges in London Not to Miss, 20 Most Beautiful Cities in the World, 9 Picturesque Japan Landmarks and 11 Historic Greek Landmarks.
Plus Rome has some fantastic day trips like Hadrian's Villa which I highly recommend.
5. Ravenna
Lovely Ravenna was the capital of the Western Roman Empire from 402 until 476. As such it has some stunning architecture which has been very well preserved and is home to several UNESCO sites.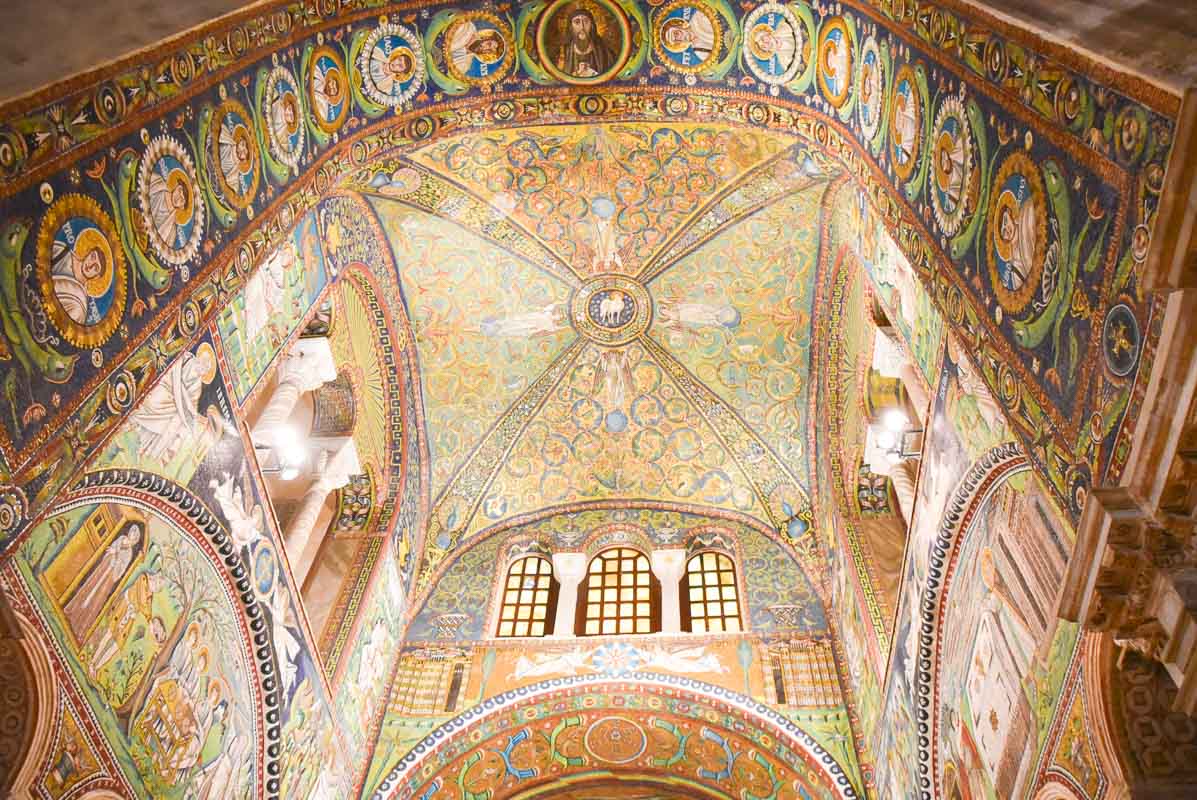 But best of all Ravenna has mosaics. I had heard about the mosaics of Ravenna and in all honesty I had never been particularly excited about them. Until I visited Ravenna.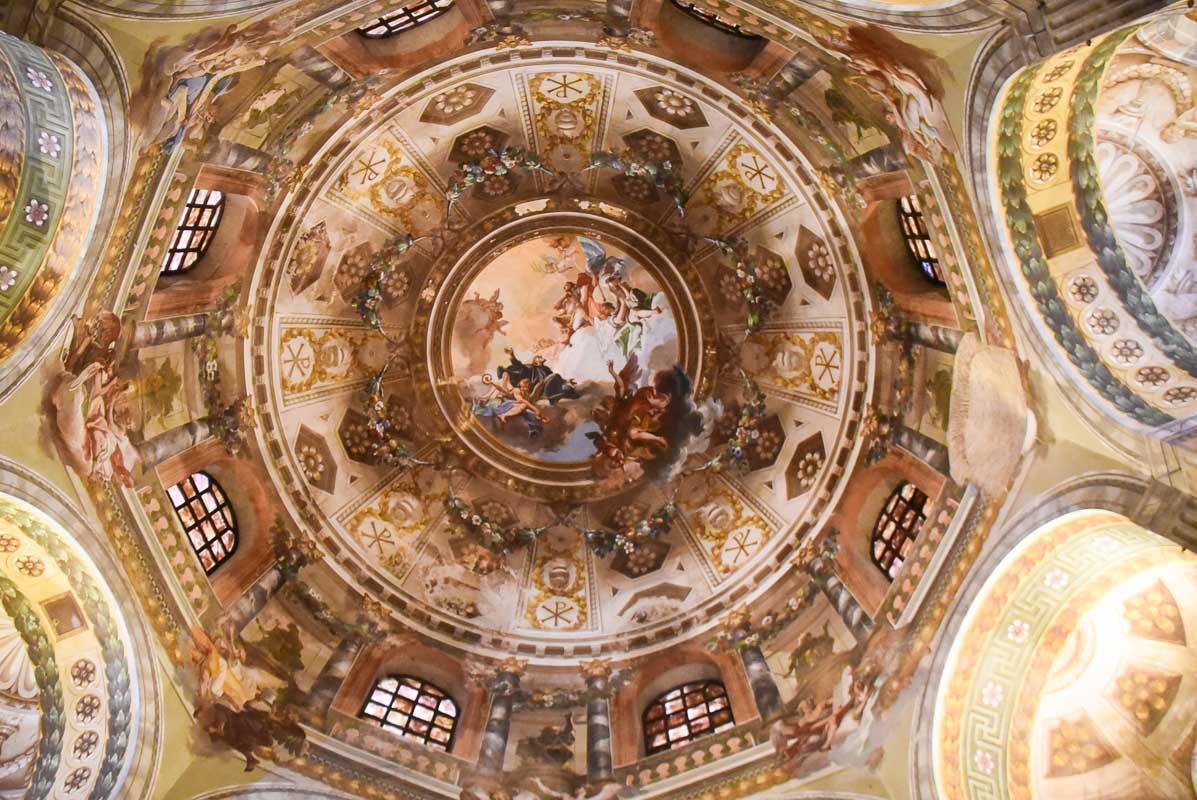 The Basilica di San Vitale, the Basilica di Sant'Apollinare Nuovo and the Galla Placidia Mausoleum all feature what can only be described as jaw droppingly beautiful mosaics over very large areas.
Plus Ravenna is a charming city with lots to explore and some wonderful restaurants.
6. Rimini
Rimini has long been famous for its long stretches of golden sands and location on the Adriatic sea. However, the big surprise for me of Rimini was its absolutely charming old town.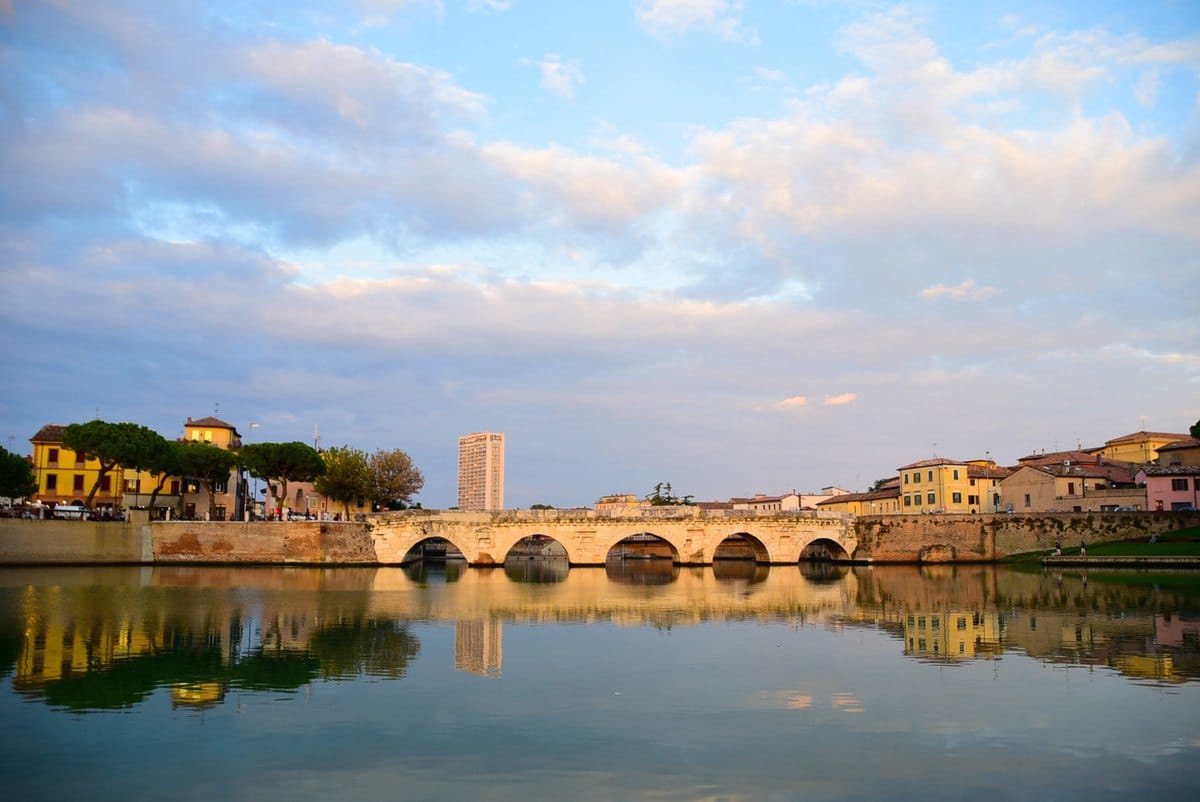 Rimini was established in 268 BC by the Romans so there is a lot of Rimini history.
However, it has gone through considerable change – which has resulted in the absolutely lovely old town which is located in the heart of the Rimini Emilia Romagna Italy.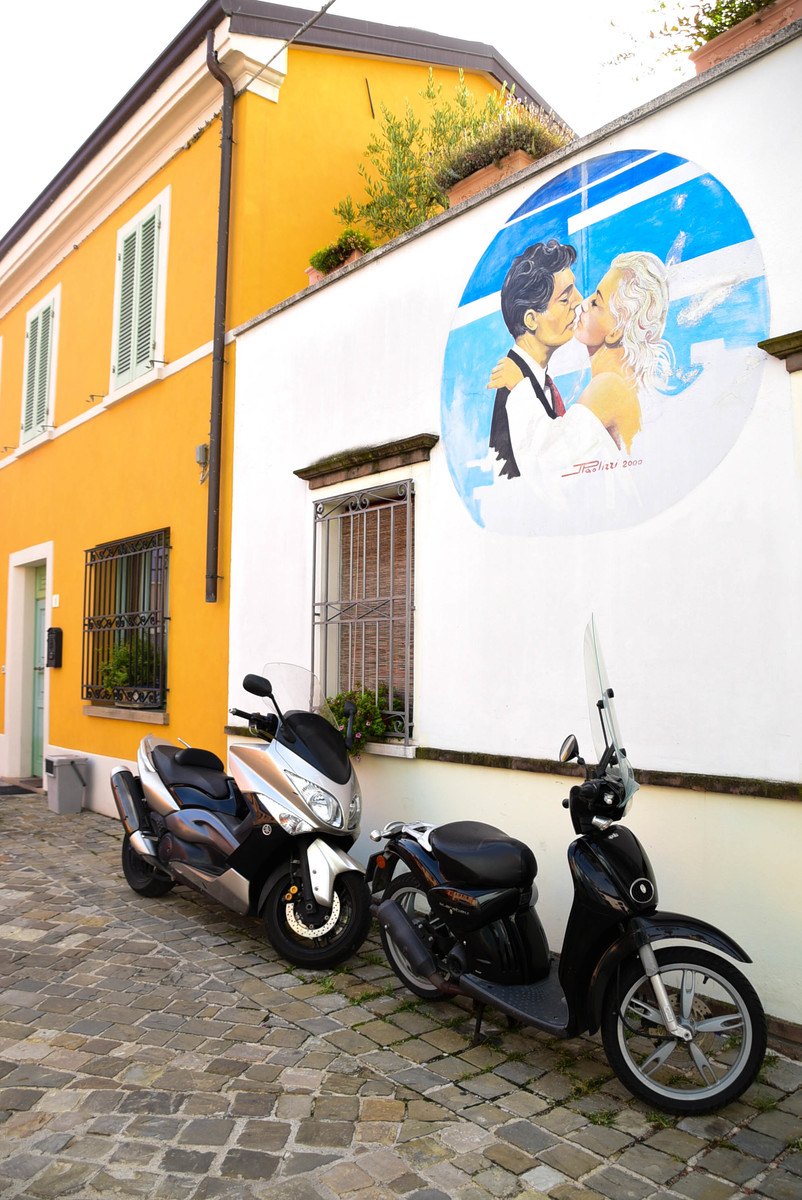 The beaches are still lovely but should be combined with the Rimini old town and plus some of the neighboring towns when it comes to the best things to do in Rimini.
Find out the 14 best things to do in Rimini in my post.
7. Venice
A bit like Rome, it isn't possible to speak about beautiful cities in Italy without mentioning Venice. Sure it is usually full of tourists but it doesn't stop it being a special moment when you first visit this famous city.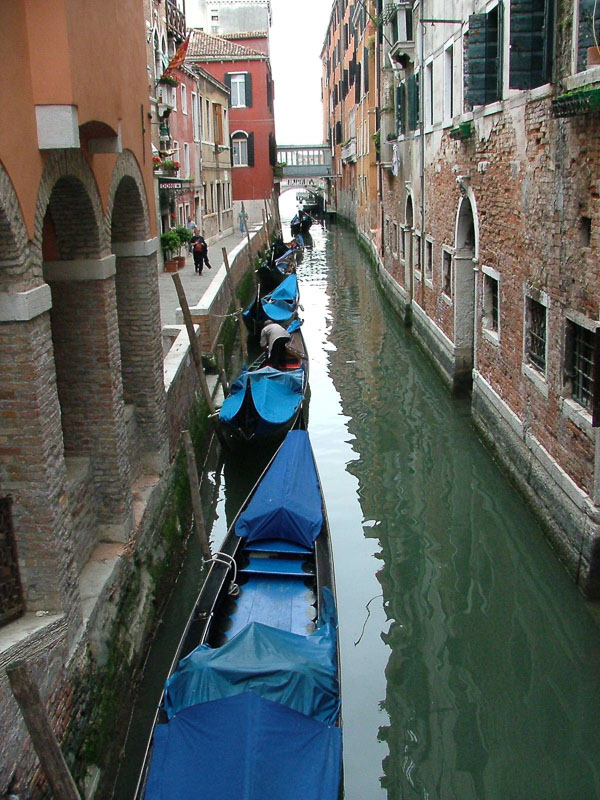 Whilst the gondola ride is a cliche it is also a lot of fun and very worthy of photos. Head to St Mark's Square in the late afternoon to watch the sun turn Saint Mark's Basilica into gold.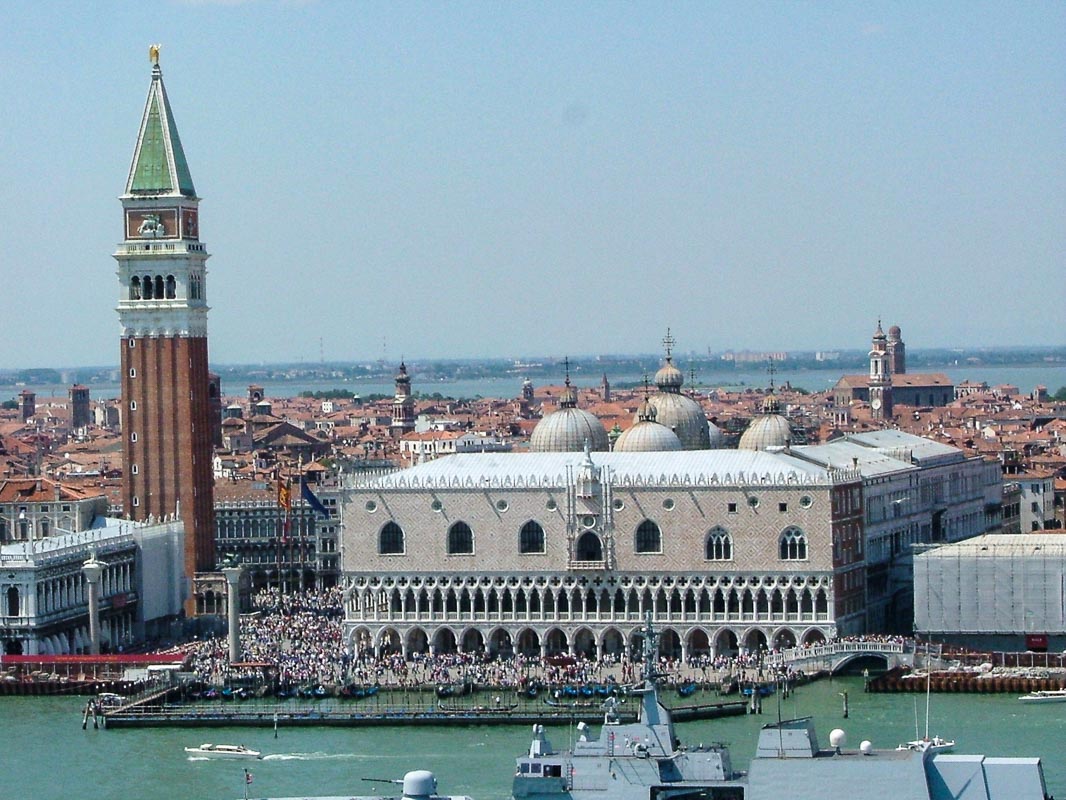 Again the best of Venice is walking its little back streets and taking a water bus or Vaporetto across the Grand Canal. Don't miss Venice's famous bridges like Ponte di Rialto and the beautiful glass blowing island Murano.
8. Parma
One of the largest cities in Italy's bread basket region of Emilia Romagna, Parma is best known for its famous cheese and prosciutto. Personally I feel that a Parmesan tasting is mandatory for any visit to Parma.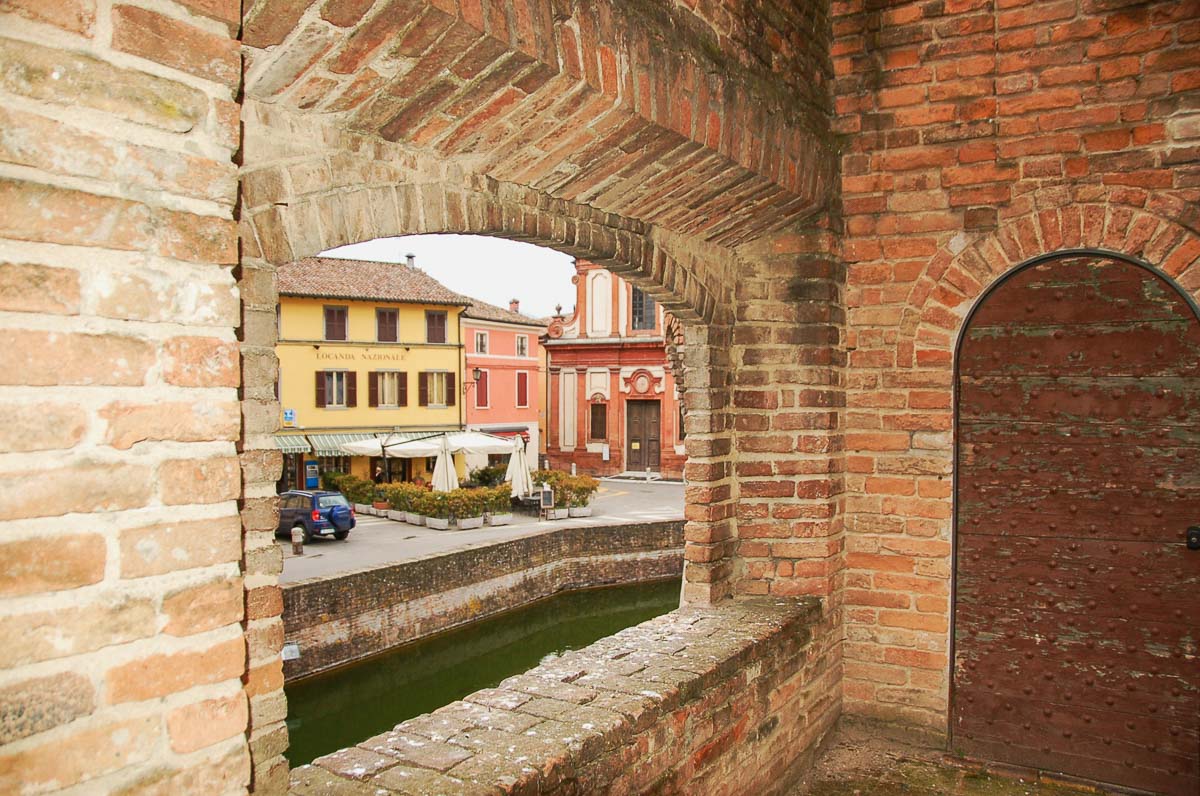 However, Parma also has a beautiful cathedral, stunning piazzas, a gorgeous park, churches and of course terrific restaurants and cute backstreets.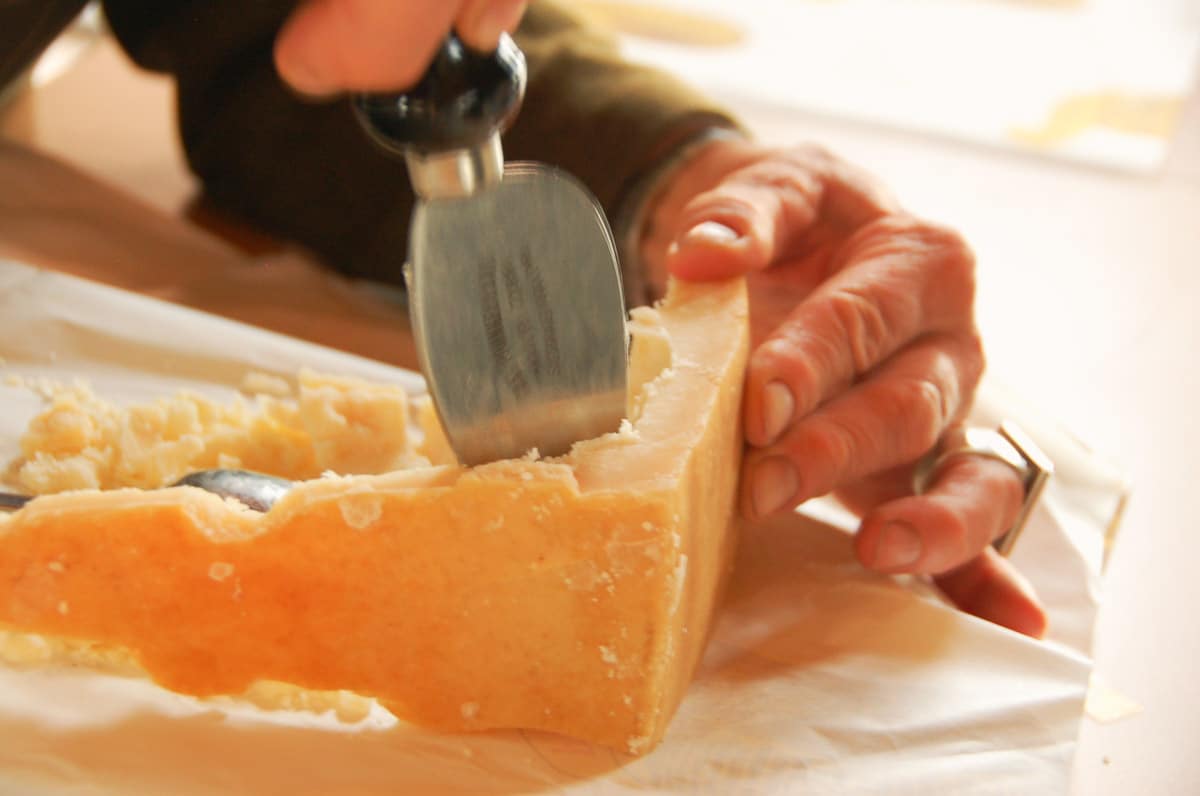 Parma can also be a great base for exploring some of the other foodie towns of Emilia Romagna like Bologna and Modena (home of balsamic vinegar).
9. San Marino
San Marino is the oldest republic in the world and it has never been taken over by anyone. This small country of just 61 square kilometres sits on top of a hill and overlooks the Italian countryside.
San Marino is home to just 30,000 people but has its own police, its own schools and it doesn't belong to the European Union. So it isn't actually Italy strictly speaking but I decided it was okay to put it in this post as it is kind of in Italy.
A hilltop town in Italy is always going to be at least a base level of photogenic. San Marino then has multiple sculptures, is mostly pedestrianized with lovely paved streets, excellent use of flowers throughout the country and amazing views everywhere.
The highlight of San Marino is walking to the very top of the country and its famous three towers which date back to the 11th century.
Another way to get some fantastic views of the Italian countryside is to take the compact San Marino funicular. The funicular will bring you up into the main square of San Marino.
Find out more about San Marino in my post on things to do in Rimini and nearby.
10. Alberobello
There are so many things to do in Puglia – and lovely UNESCO World Heritage Site Alberobello – which is also very fun to say – is one of Puglia's Trulli towns.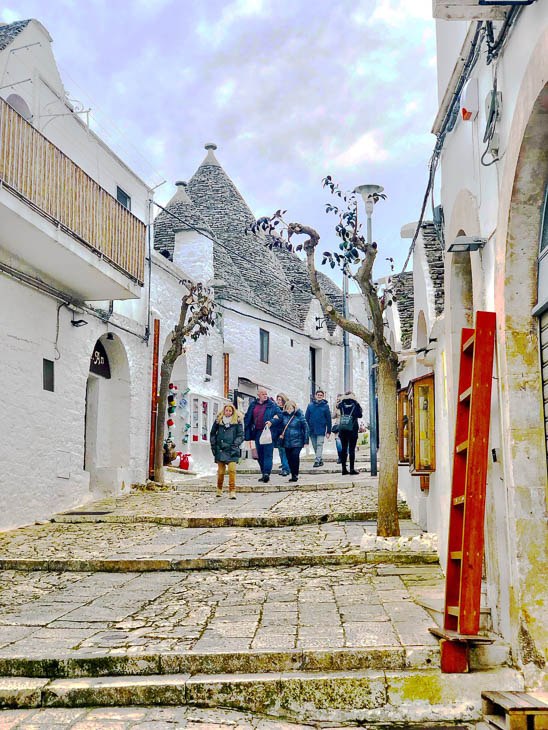 A Trulli is basically a white stone cottage with a cone-shaped roof. They are a cross between something from early Star Wars and the kind of place you would expect to find in a desert in the middle east.
Which is of course why this lovely city is a UNESCO World Heritage site.
There are 1400 Trulli in the old town area of Alberobello. They are mostly located on small cobblestone streets of the historic centre that have been pedestrianized.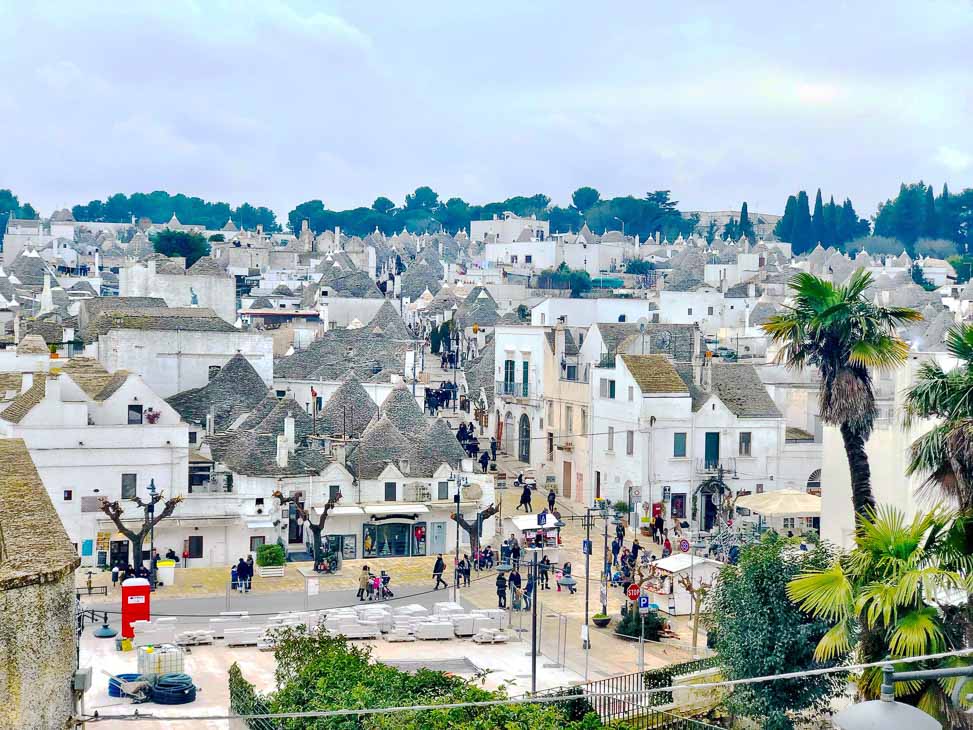 The best thing to do in UNESCO world heritage site Alberobello is wandering its cute streets. We followed the signs for the Centro and once we hit the pedestrianised area found the closest place to park.
From this point, there was a terrific view of the main square and the trulli section of town – great for photos.
We enjoyed an excellent pasta lunch with local wine at La Locanda Del Gallo. This cute little restaurant was inside a trullo and in the old part of town.
Read more about Alberobello in my post on the 7 Best Places to Visit in Puglia.
11. Lucca
Lovely Lucca is the quintessentially beautiful Tuscan town. This walled city is filled with atmospheric back streets and cobblestones. It is known as the city of 100 churches so there are loads to visit if that's your thing.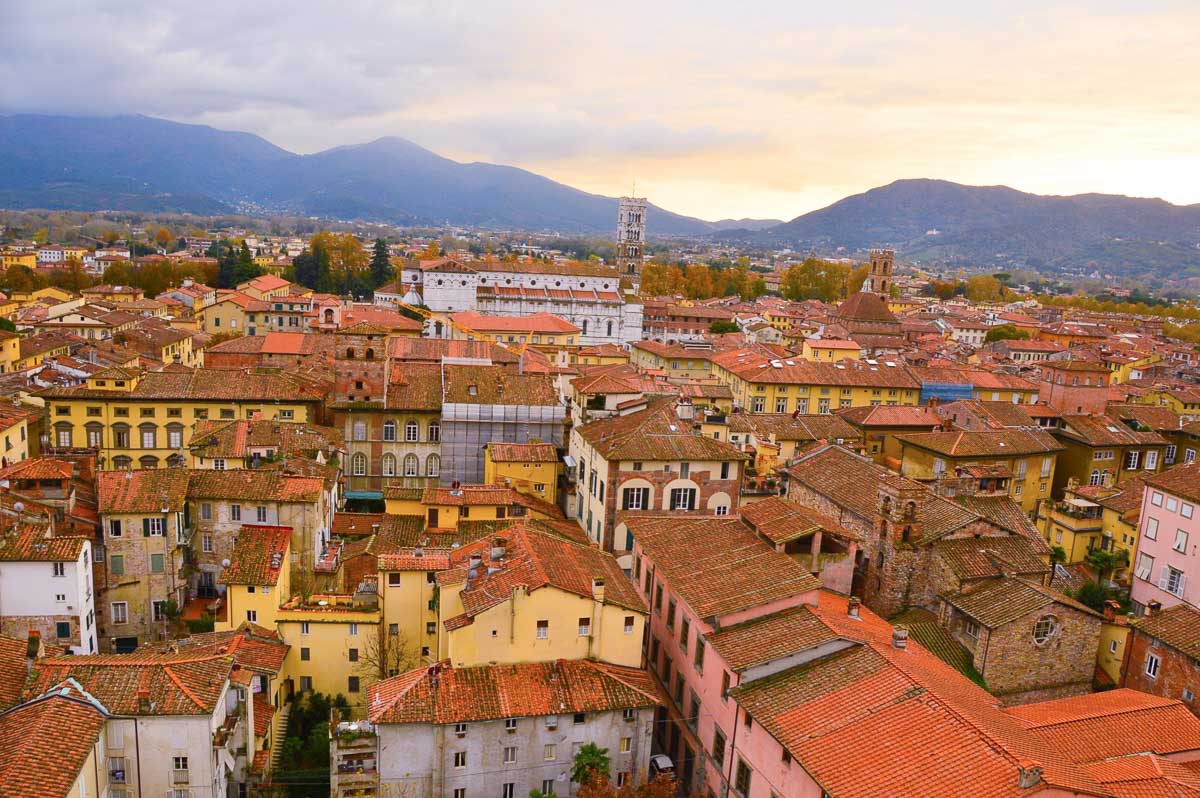 Piazza San Martino is home to Lucca's very impressive Duomo. Piazza dell Anfiteatro was once a Roman ampitheatre. The Basilica San San Michele in Foro is another stunning church in Lucca.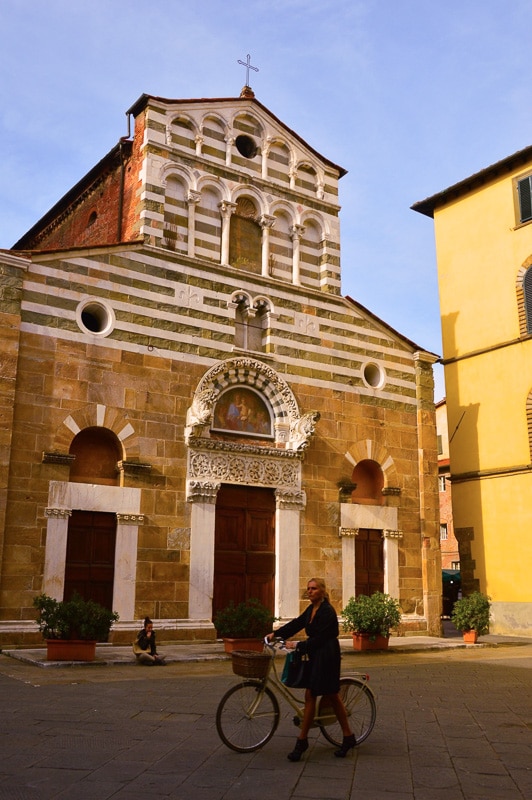 ⇒ Love watching the sunsets and sunrises? Check out my posts on the 6 Places to watch Sunsets in Seattle, 7 Spots for Sedona Sunsets, 6 Sunrise in Paris Spots, 9 Spots to watch the Sunrise in London, 8 Places to watch Sunsets in Ibiza, 15 Places to watch Sunsets in London, Where to watch Santorini Sunsets and Where to find the best Sunsets in California.
For me the highlight of Lucca was walking its medieval walls. The walls have been very well preserved and it is possible to walk the entire circumference of the city.
Torre delle Ore provides a fantastic view and photo opportunity of the rooftops of Lucca.
12. Taormina
Taormina is a ridiculously gorgeous town in Sicily. The town itself is pedestrianized and filled with cute backstreets and lovely architecture. Taormina is full of great restaurants, cafes and fantastic shops.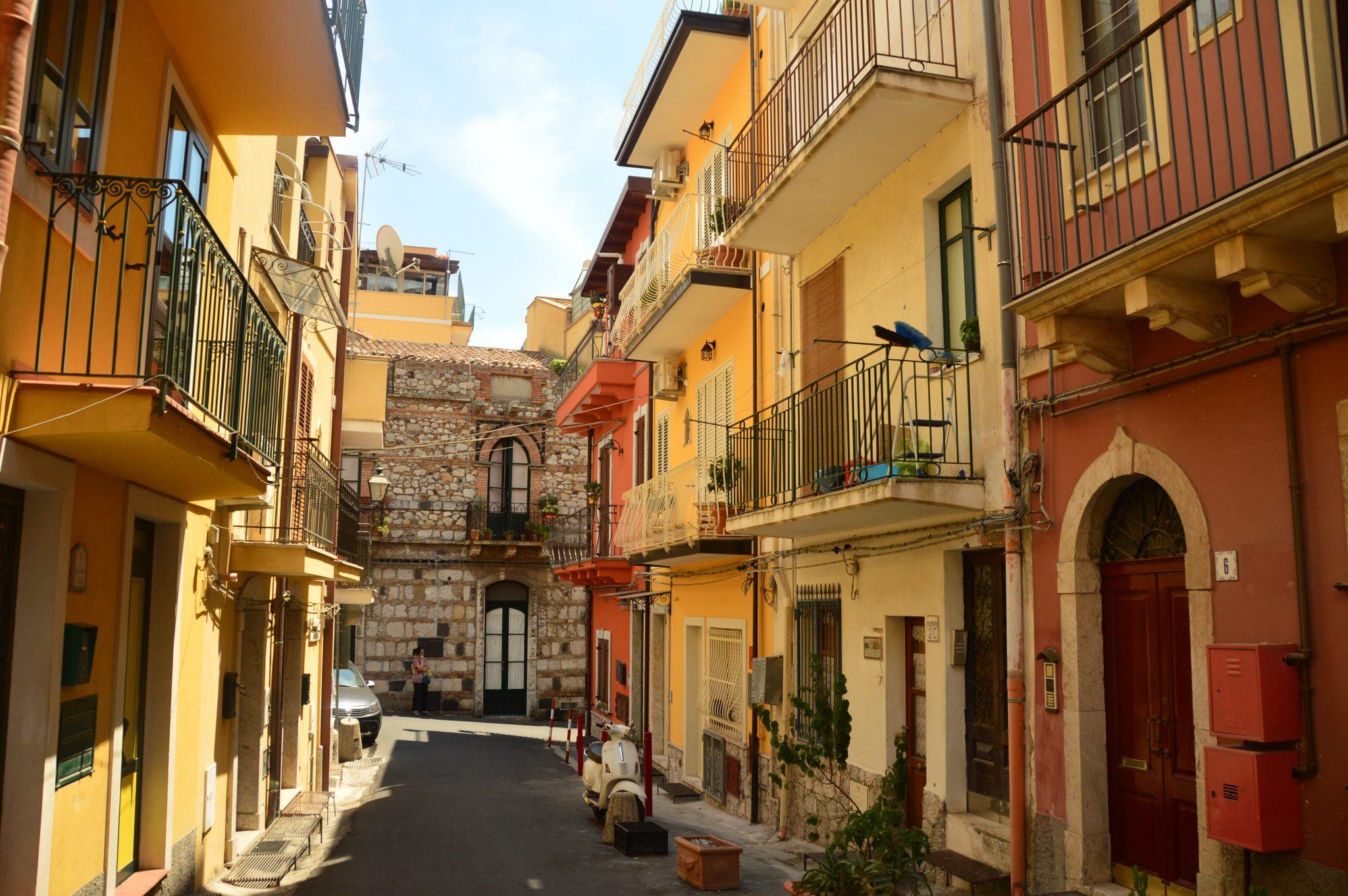 Taormina is definitely the place to go shopping in Sicily. It has a fantastic mix of classic Italian names you know like Furla and Coccinelle and super cute local stores filled with handmade shoes and handbags.
The Taormina main street is really the best place to go – I didn't find as many good stores in the back streets. Handbags and purses are the things to buy here.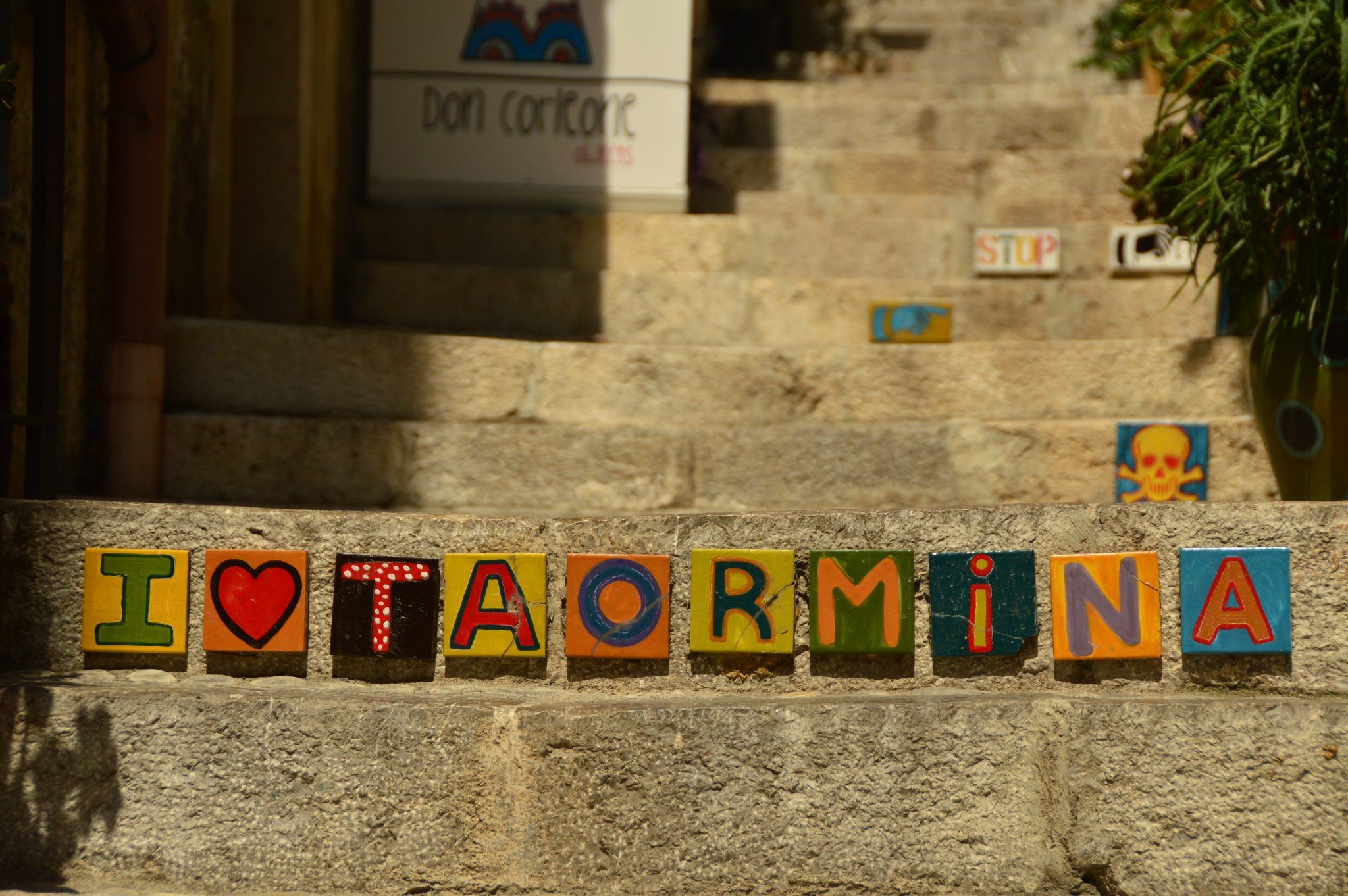 There are also many places to stock up on tasty Sicilian food products such as olive oil and balsamic vinegar plus lovely streets for strolling and some fantastic restaurants.
I loved Sicily and have written several posts about it. Read about Where to Stay in Sicily, things to do in Sicily, my 7 Day Sicily Itinerary and the best Sicily Boutique Hotels.
13. Bologna
Bologna, Italy is popular as a holiday destination for a variety of reasons. The city has historical appeal, housing the oldest university in the western world.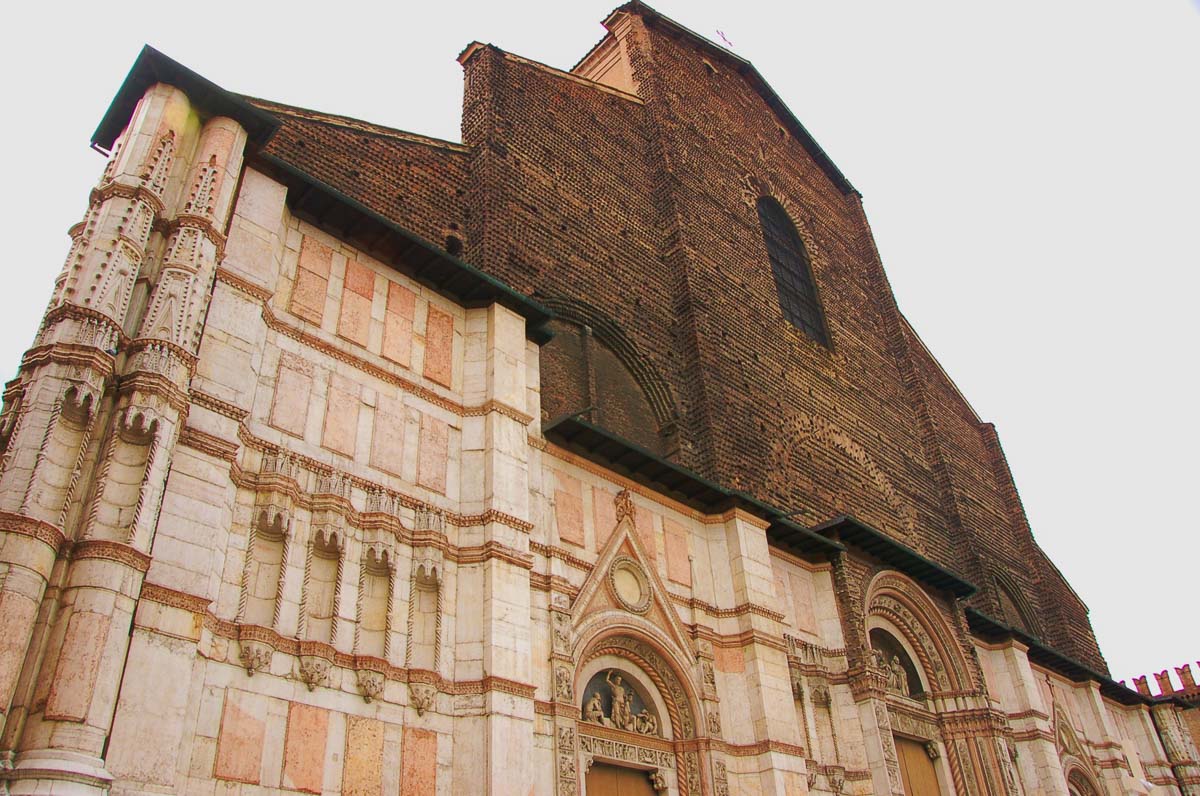 It also features charming architecture, with over 20 towers dotted throughout the area. As well as numerous grand churches and cathedrals. And some of these historic buildings are home to the loveliest boutique hotels in Bologna.
Although Bologna has a well-preserved historical centre, it still exudes a trendy cosmopolitan character owing to its large student population. Its trendy atmosphere is perfectly complemented by its culinary reputation.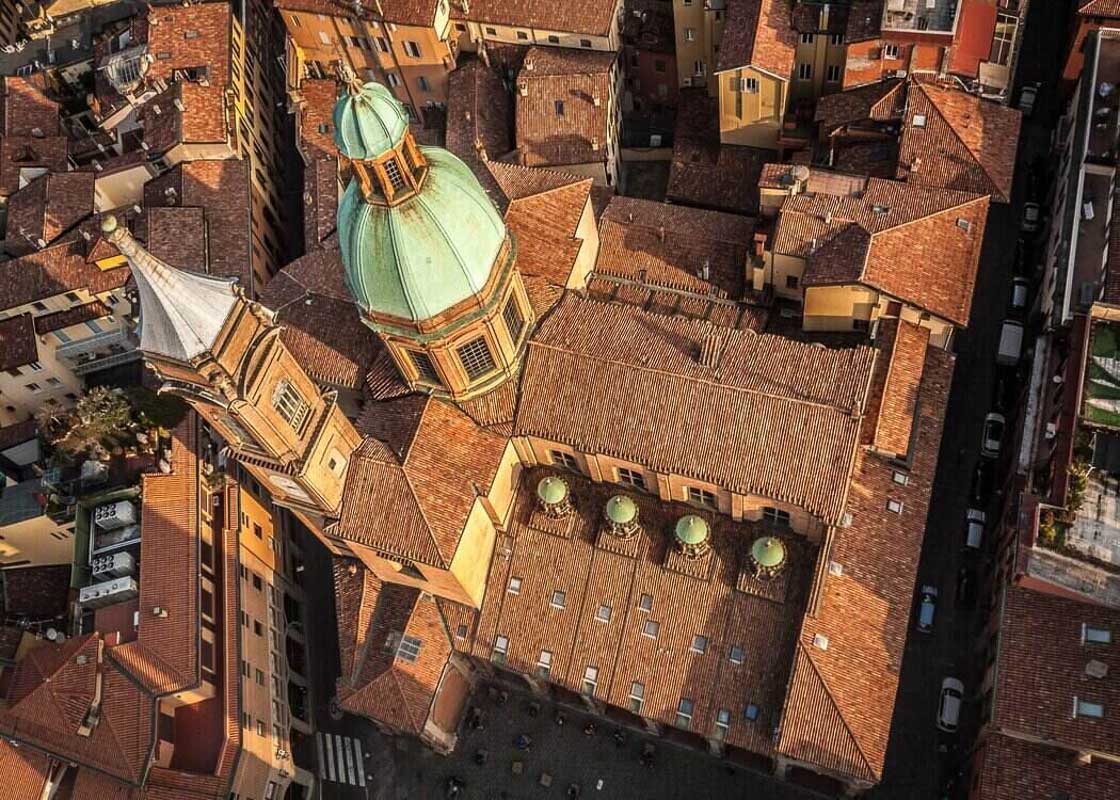 As the capital city of Emilia-Romagna, it forms part of a region with a food history just as old as its celebrated university.
Find out where to stay in my post on Bologna Boutique Hotels.
14. Urbino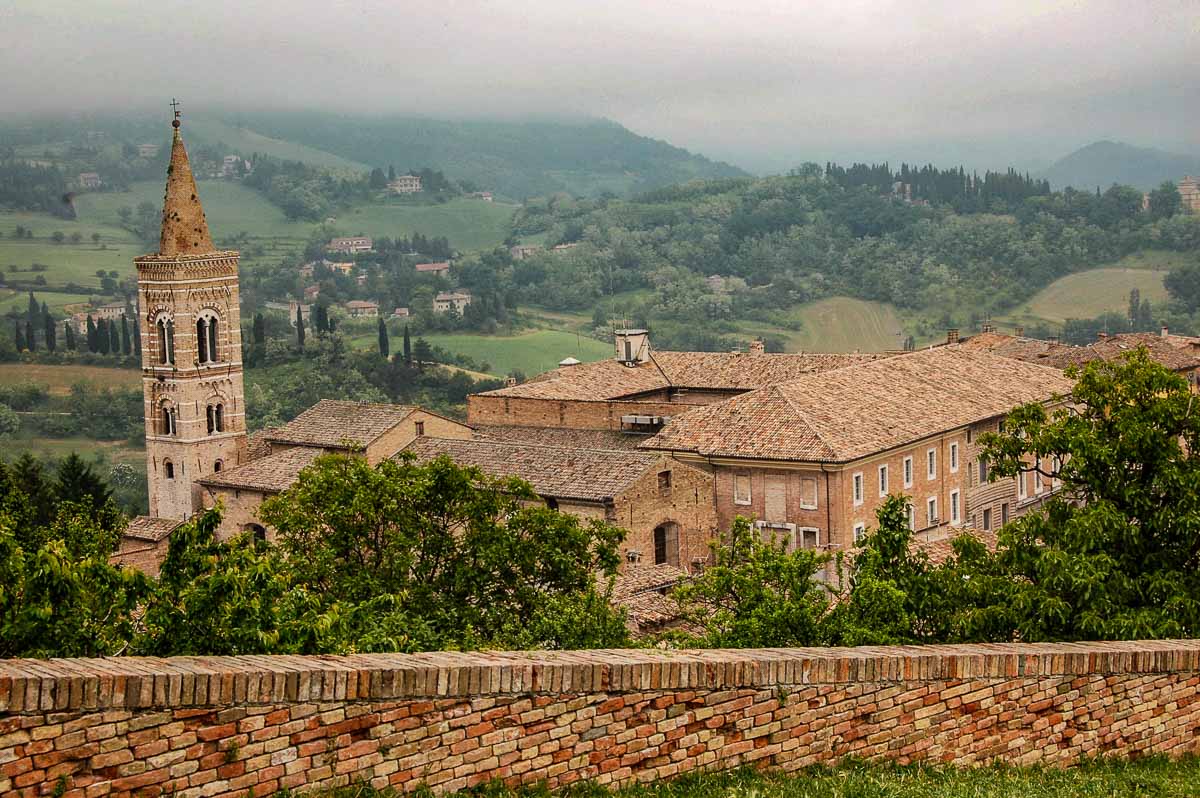 Urbino is a lesser-known walled city on a hilltop in central Italy. The Palazzo Ducale is the city's main tourist attraction. The slope opposite the Palazzo offers some of the best views over Urbino.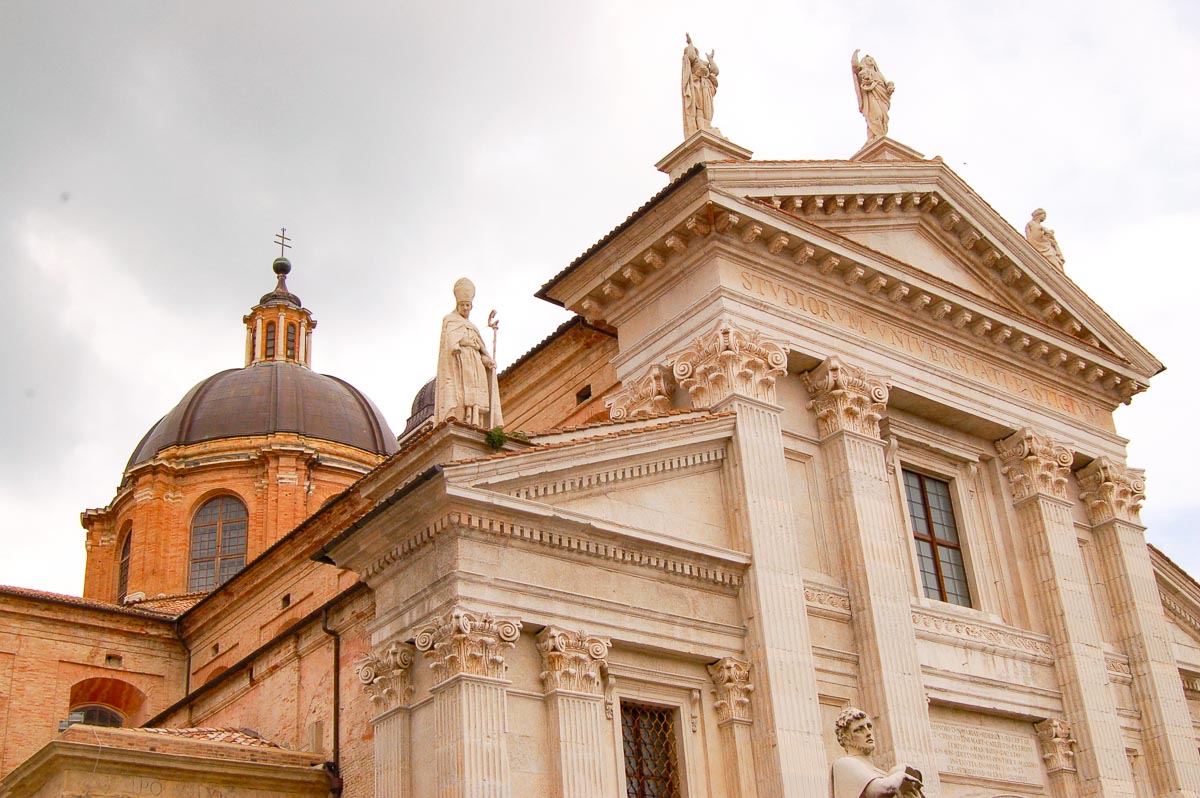 ⇒ Explore more of Europe in my posts on 14 Beautiful Cities in Europe 16 European Palaces not to Miss, 17 Beautiful Castles in Europe Not to Miss, 12 Beautiful Famous Spain Landmarks and 16 Famous Landmarks in Europe.
Urbino is the tiniest Italian town in this post and that is part of its charm. This walled city has many small backstreets that are filled with Italian charm and character.
15. Verona
Home of Opera and Romeo and Juliet lovely Verona also has bags of Italian charm. It is a very walkable city and easy to get around.
The Arena di Verona is a highlight of any trip to this beautiful city in Italy. Visit during the day to get some great photos. I highly encourage you to book opera tickets before you head to Verona.
I am not the biggest opera fan but attending the opera in Verona in this beautiful amphitheater was a very memorable experience.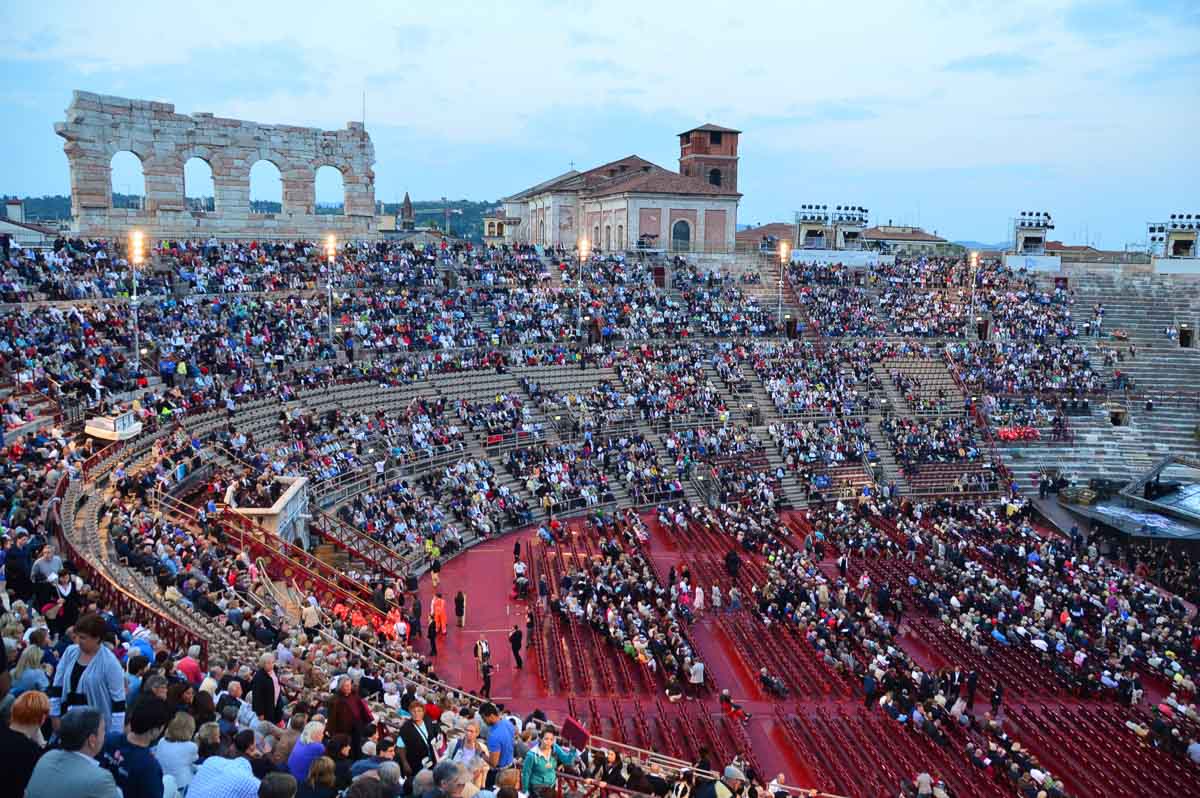 Climb to the top of Torre dei Lamberti for some fantastic views over Verona and enjoy the square where it is located, Piazza Delle Erbe.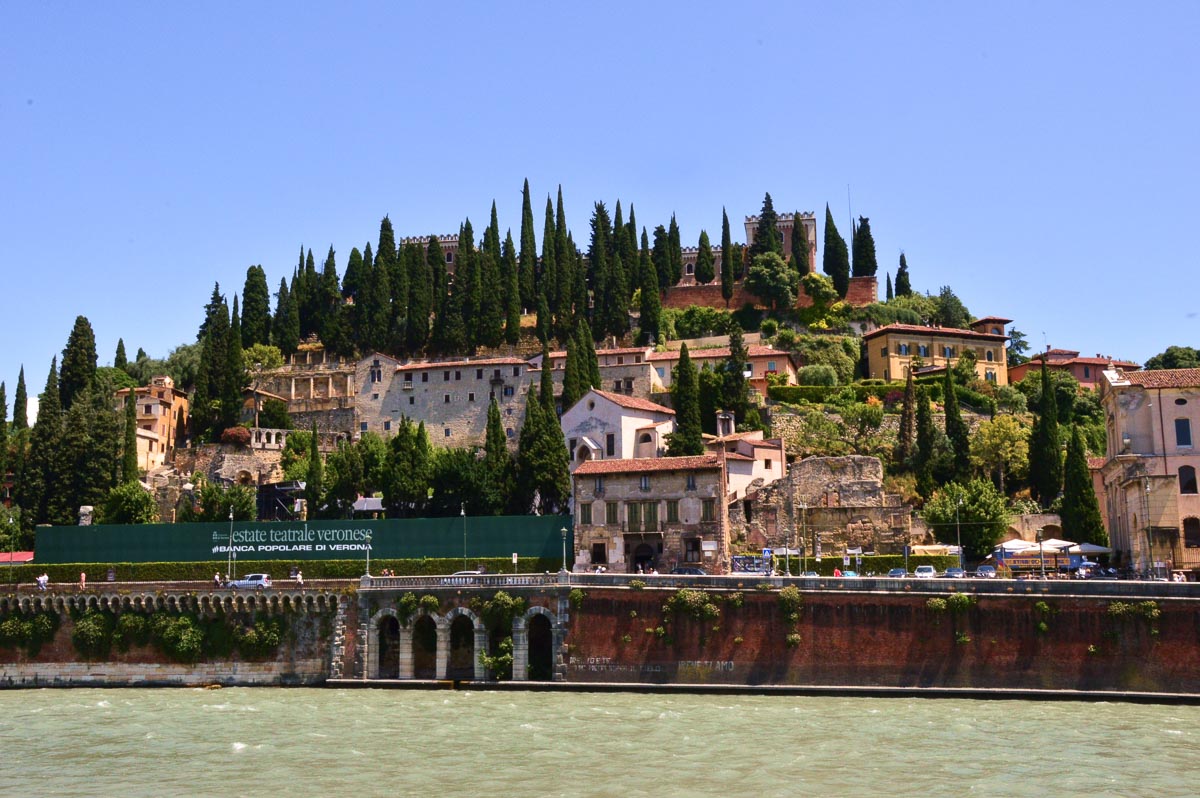 Casa di Giulietta is Juliet's house. The courtyard area is free to visit but you'll need to pay if you want to step onto the balcony. Sure it's a bit cheesy but seeing Juliet's balcony is a must do in Verona.
Who Paid for What in this Post?
This beautiful cities in Italy post includes affiliate links. That means if you click through and end up making a purchase I will receive a small commission. I wanted to make sure you were aware of this.
Watch my Beautiful Cities in Italy Web Story
Like this Beautiful Cities in Italy Post? Why Not Pin It?