Bologna, Italy is popular as a holiday destination for a variety of reasons. The city has historical appeal, housing the oldest university in the western world.
It also features charming architecture, with over 20 towers dotted throughout the area. As well as numerous grand churches and cathedrals. And some of these historic buildings are home to the loveliest boutique hotels in Bologna.
Although Bologna has a well-preserved historical centre, it still exudes a trendy cosmopolitan character owing to its large student population. Its trendy atmosphere is perfectly complemented by its culinary reputation like other Italian regions such as Puglia, Montepulciano and Sicily.
As the capital city of Emilia-Romagna, it forms part of a region with a food history just as old as its celebrated university like lovely Rimini.
If you plan to travel solo on your trip, I'd suggest staying at a boutique hotel in Bologna's historic centre. Nearly all the city's major cultural attractions are within a 10-minute walk of here.
If Bologna is only one of your planned stops for your Italy trip, you might want to stay closer to the Stazione Centrale for transport reasons.
Whatever your flavour, there are a variety of boutique hotels for you to choose for your Meditteranean vacation. Keep reading to find the perfect one for your trip.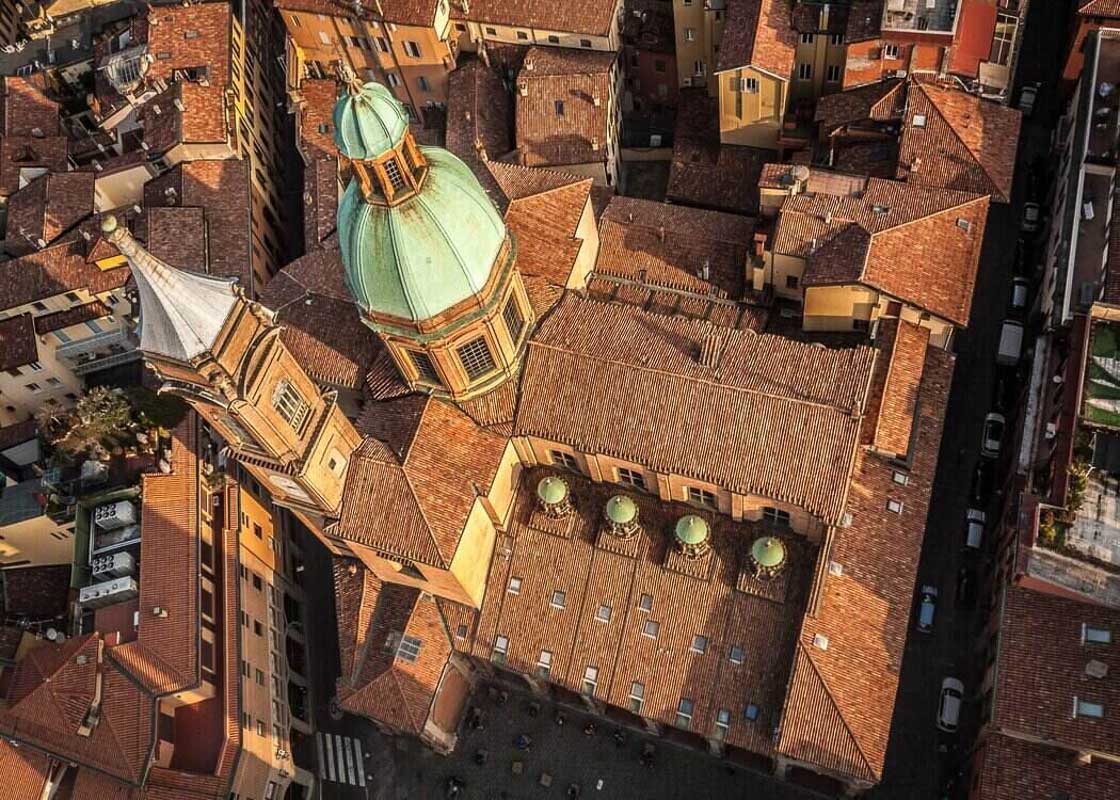 Best Boutique Hotels in Bologna
A huge feather in the cap of boutique hotels in Bologna is how they capture the historical and cultural atmosphere of the city.
Many of these hotels are based in the historic centre and are a part of the old buildings that give the city its architectural style. Staying in one of these cosy and luxurious accommodations will help you to soak up the whole Bologna experience.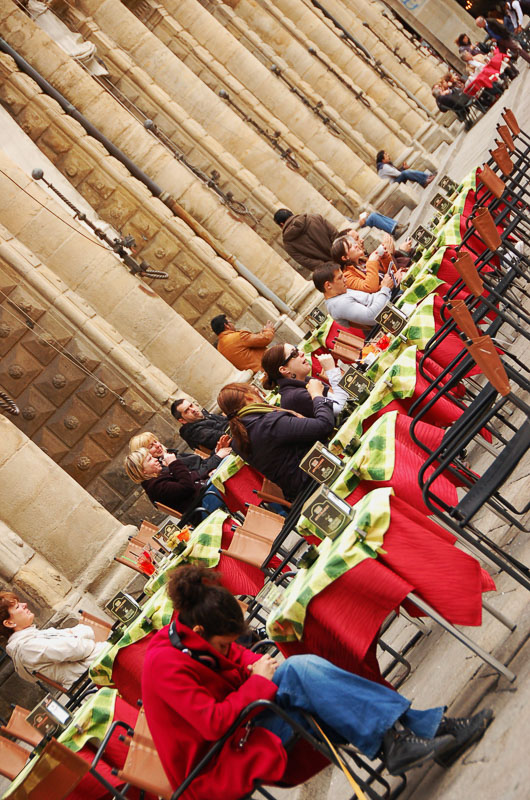 If you want to be close to Bologna's main landmarks, attractions and restaurants, book a stay at a boutique hotel in the historic centre. If you'd like to visit some of the city's trade fairs, you may want to look at a hotel in Feira, on the northern outskirts of the town centre.
This area is also perfect for anyone looking to extend their Italy trip to include other cities, as it's close to the train station and airport.
Whether it's luxury or character you're looking for, the below hotels offer both options in abundance. You'll enjoy your stay in style while appreciating the very best that Bologna has to offer.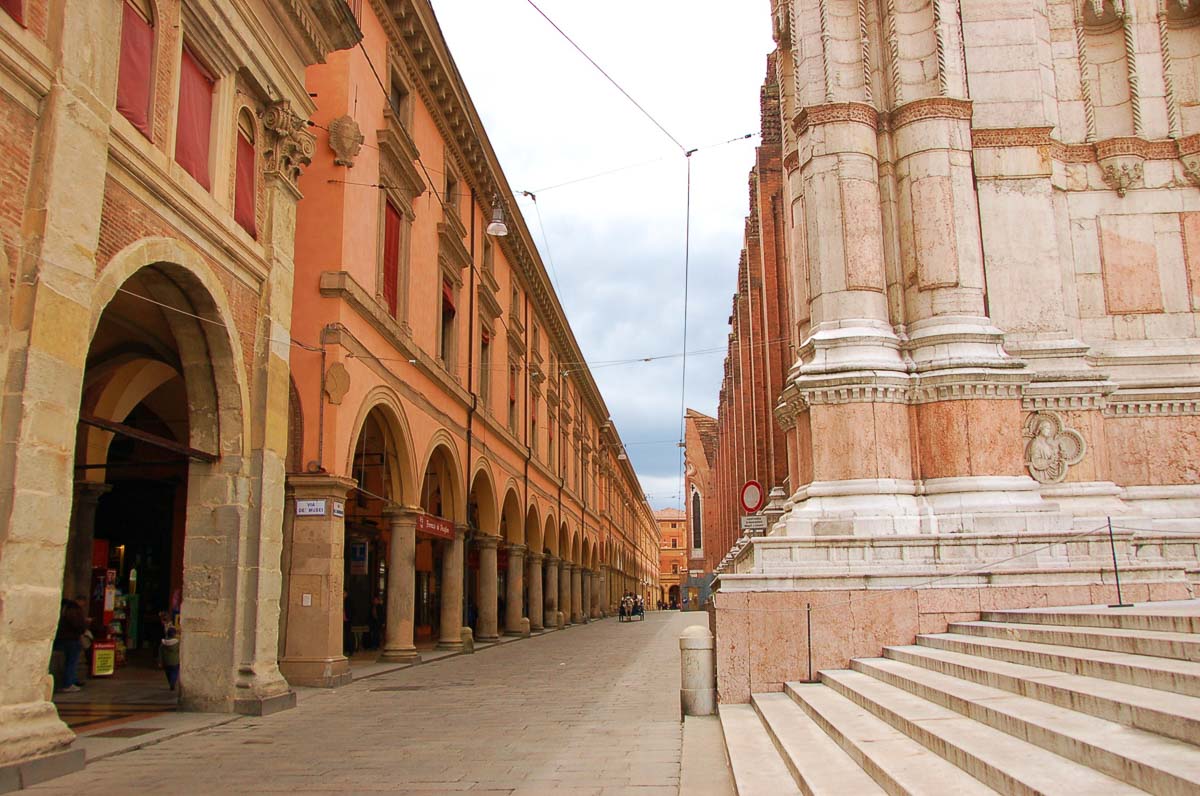 Hotel Al Cappello Rosso
The small and stylish boutique Hotel Al Cappello Rosso dates back to 1375. One of the oldest hotels in the region, it represents a wonderful fusion of 600 years of hospitality with contemporary features.
Many of the rooms have been designed by stage designers and artists, really tapping into that boutique feel.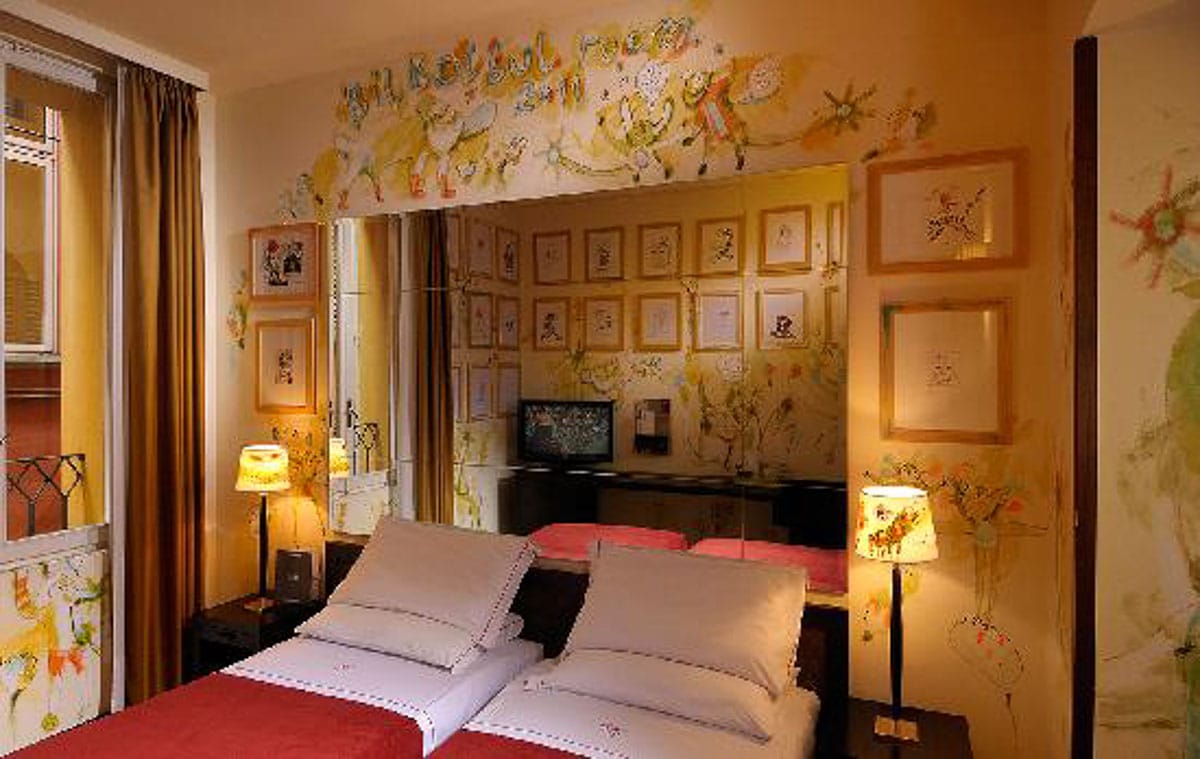 Guests do not have to venture far to sample some of the region's famous delicacies. The Osteria del Cappello restaurant caters to lunch and dinner crowds, serving local, classic Italian dishes.
For a real treat, you can book a guided food and wine tour to discover the tantalising secrets of the city.
Hotel Al Cappello Rosso also offers a favourable location. It's right next to the Piazza Maggiore, the city's main square, which is enriched with magnificent old buildings like the Basilica of San Petronio. The architectural beauty that exists here is almost unmatched.
⇒ Read more reviews on TripAdvisor ⇒ Book Now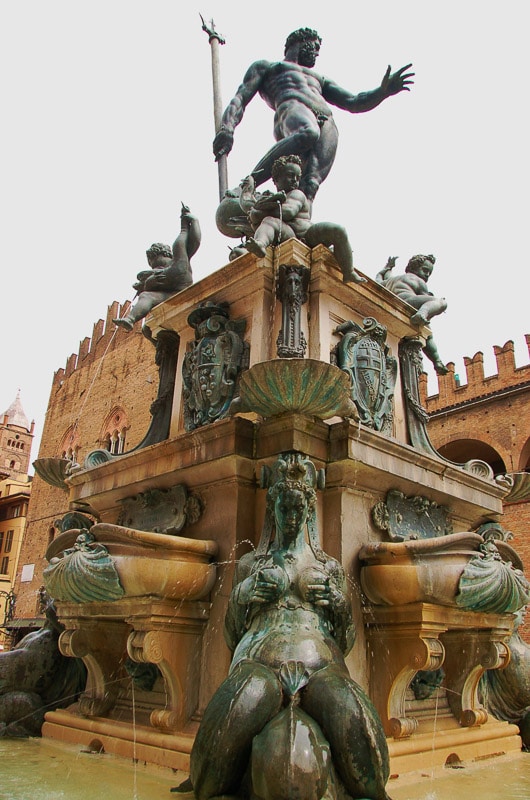 L'8 Boutique Design Apartments
The L'8 Boutique Design Apartments were born from the dream of enhancing an 18th-century Bolognese palace and is one of the loveliest boutique hotels in Bologna. These family-owned accommodations once housed a convent, before being converted into design apartments.
The rooms reflect the tradition and history of Bologna, but with a unique interior flair. Each unit is different and combines elements such as exposed beams, original bricks and period furniture with eclectic artwork and modern features.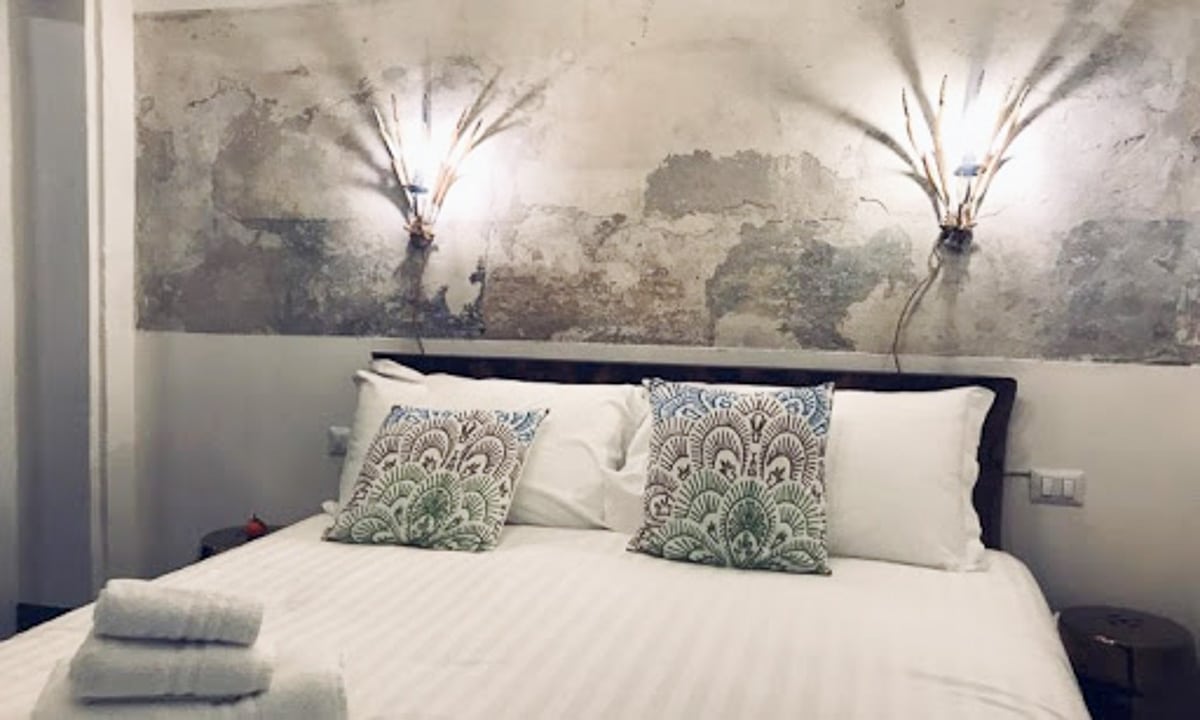 You'll have access to a fully-equipped kitchen for those nights where dining out just isn't an option. You also won't have to worry about packing a travel hair dryer as one is provided for you in the private bathroom.
A nearby point of interest is Via Zamboni. This road leads from the Two Towers to Porta San Donato, covering the university area. Take a stroll along this route to mingle with the student population and dive into Bologna's past. If you enjoy being active, cycling is also possible in the accommodations' surroundings.
⇒ Read reviews on Tripadvisor ⇒ Book Now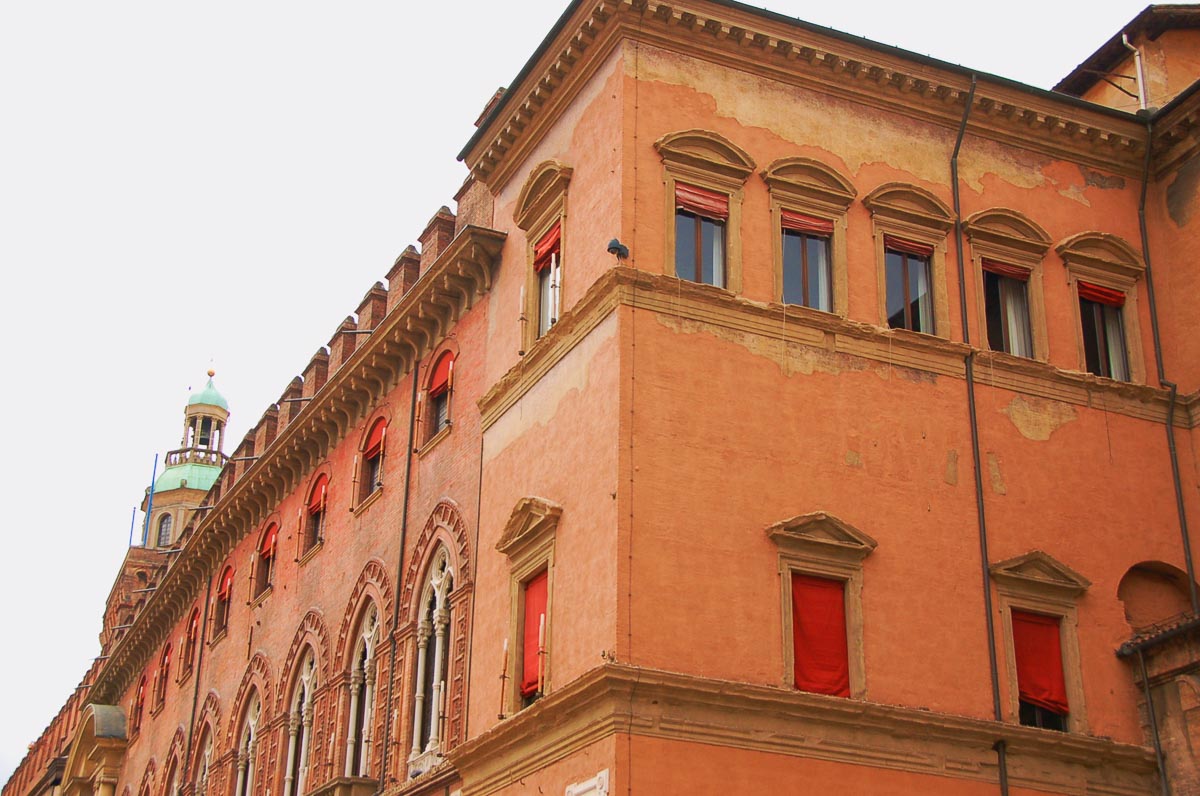 Villa Gotti Charming Rooms
With a name like Villa Gotti Charming, you know these rooms will make for a pleasant stay. The rooms offer air conditioning, a flat-screen TV, free Wi-Fi and a private bathroom, providing all your creature comforts in one quaint space.
The accommodation has a delightful shared lounge and terrace where you can chat with other guests and discuss your next adventure. And, each morning, you'll be treated to a delicious assortment of food with the buffet breakfast.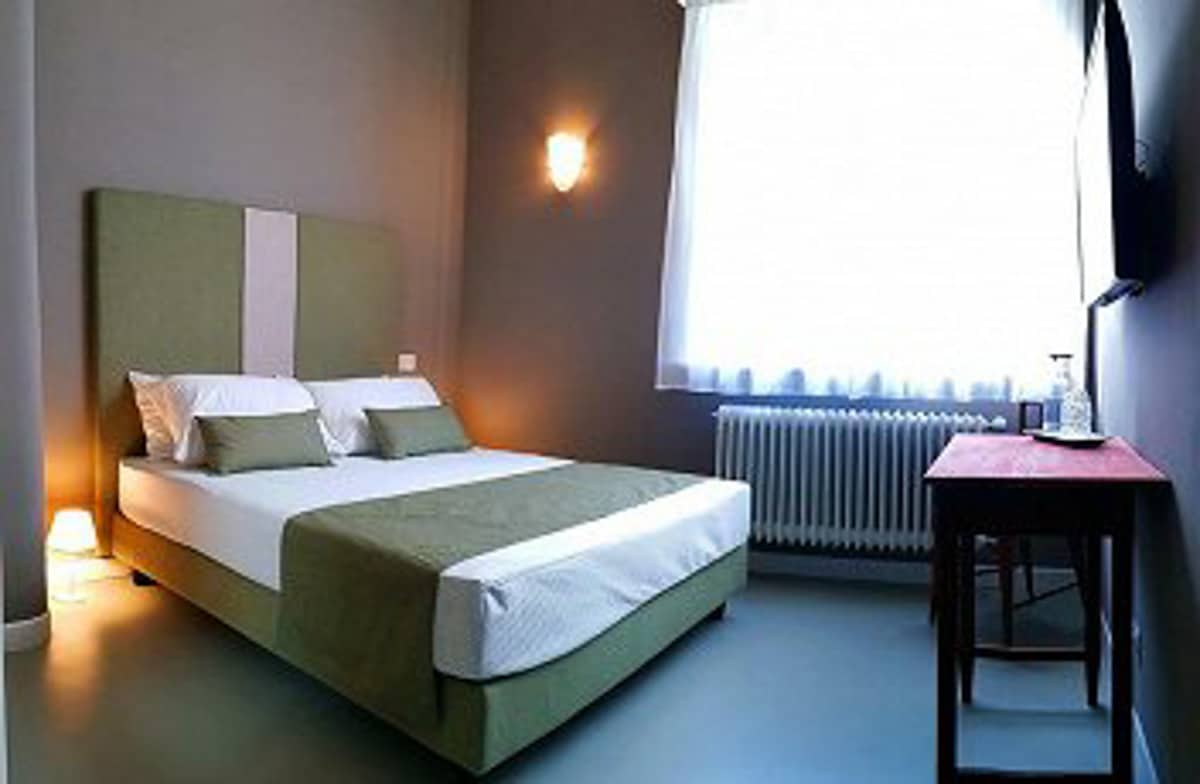 Villa Gotti is just 3.5km away from the Quadrilatero Bologna. The bustling area is in the city centre and has a mercantile, craft and trading tradition that dates back to medieval times.
Here, you can walk down the narrow alleyways of the Quadrilatero ancient market and pick up some specialised handicrafts and mementoes.
⇒ Read reviews on Tripadvisor ⇒ Book Now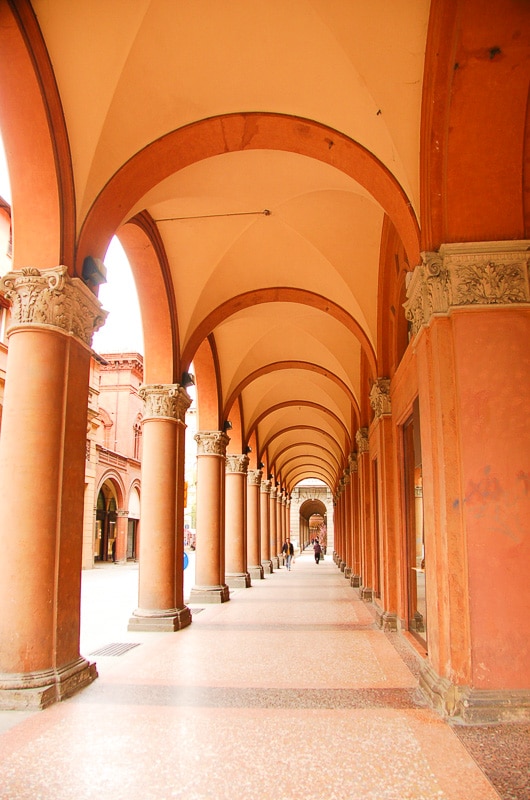 ⇒ Lookin to explore more of Italy? Check out my posts on things to do in Rimini, best places to visit in Puglia, wineries in Montepulciano, things to do in Sicily, where to stay in Sicily 8 charming Sicily Boutique hotels, 7 stunning Tuscany Boutique hotels and my Sicily Itinerary 7 days.
Bologna Boutique Home
Housed in a 14th-century building, Bologna Boutique Home is a mix of gorgeous design and utter convenience. The interior of the accommodation embodies modern elegance with a medieval twist.
You can expect cream colours and contemporary furniture along with Middle-Age-inspired exposed stone and wood.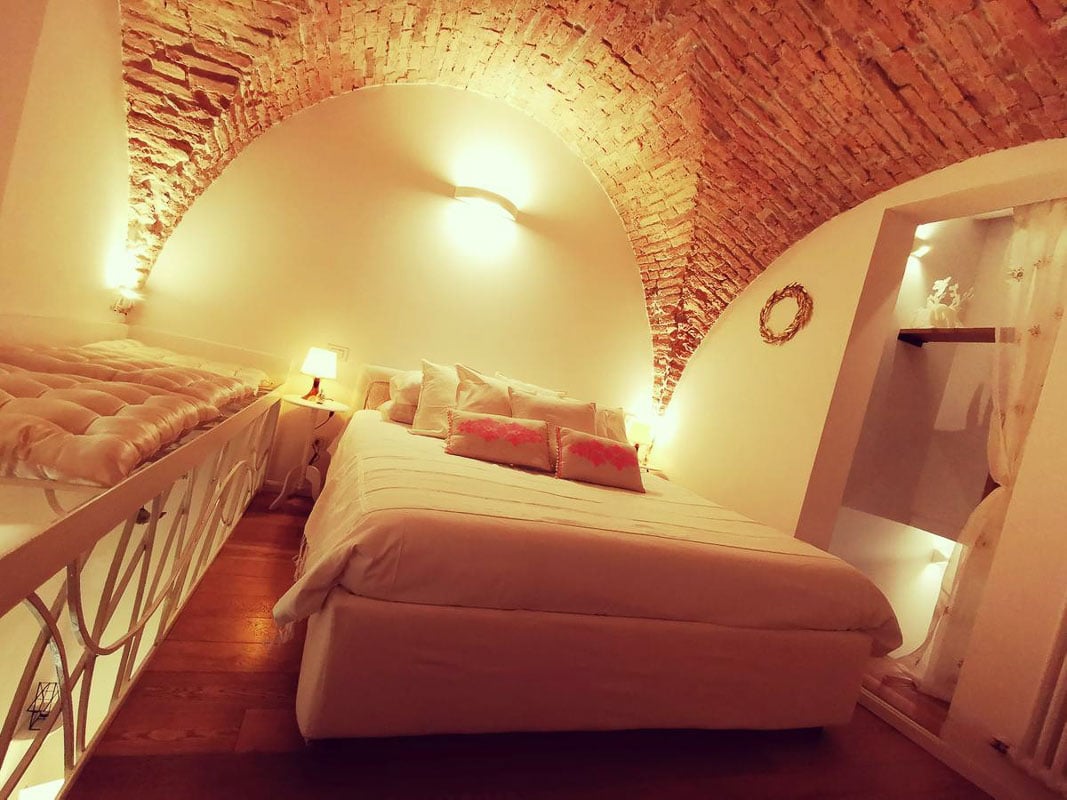 In terms of convenience, you're a mere 1 km from Santo Stefano Church and 100m from Via Zamboni. Even better is the availability of a bicycle and car rental service from the apartment itself. This is perfect for those days you may want to travel further than where your feet can manage.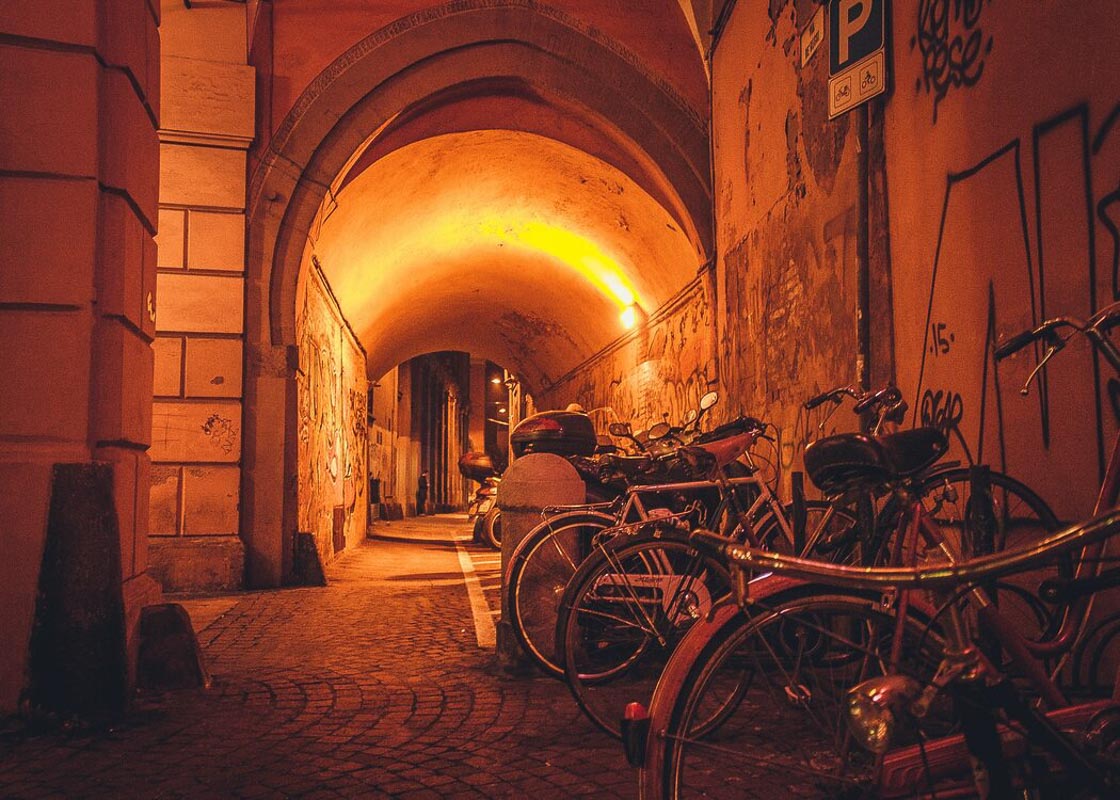 Hotel Touring
For breath-taking views of the historic old town, Hotel Touring is the place to stay. Guests can expect warm hospitality, 4-star comfort and a magnificent rooftop terrace, affording cityscape vistas.
This boutique hotel offers a unique surprise in the form of a hot tub on the fifth floor. Imagine a relaxing soak on a deck overlooking Bologna – an incredible stress reliever. Other luxuries include air conditioning and LCD TVs in all the rooms as well as attractive parquet flooring.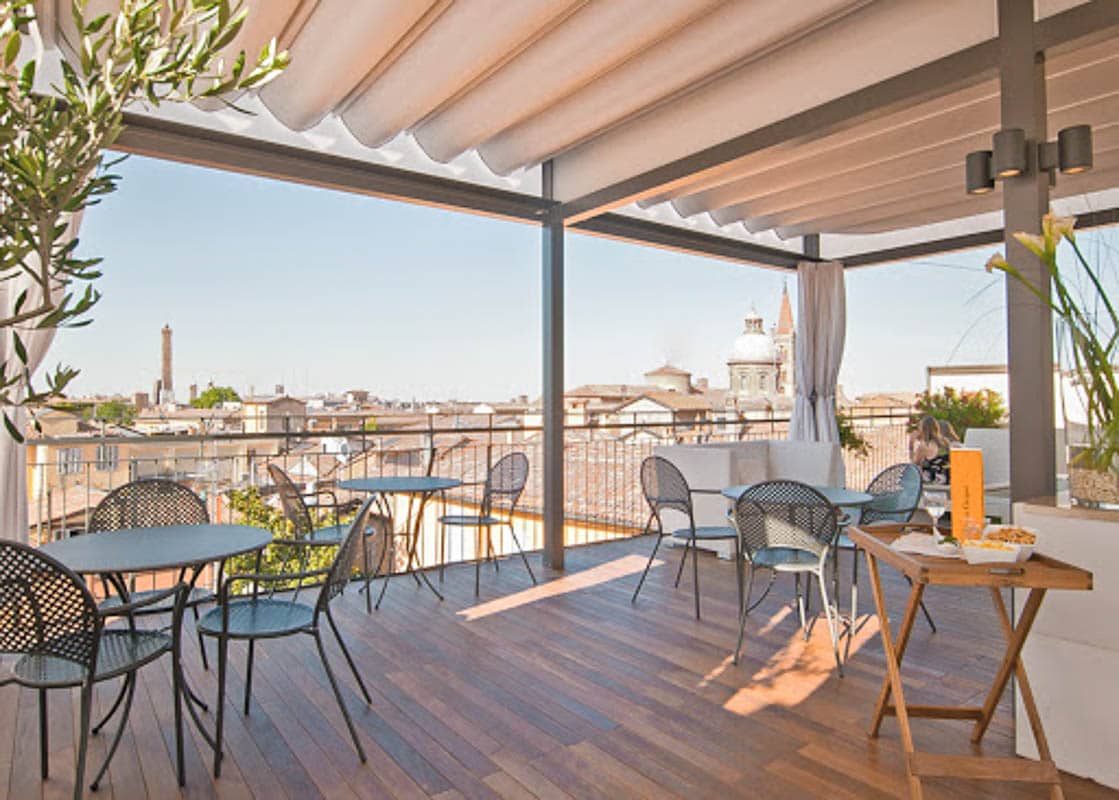 For guests who love retail therapy as their form of release, the Galleria Cavour is nearby. This flashy, glass-roofed shopping centre is packed to the brim with high-end fashion stores. You'll leave with so much designer clothing, you'll have to forgive your friends for thinking you went to Milan!
⇒ Read reviews on Tripadvisor ⇒ Book Now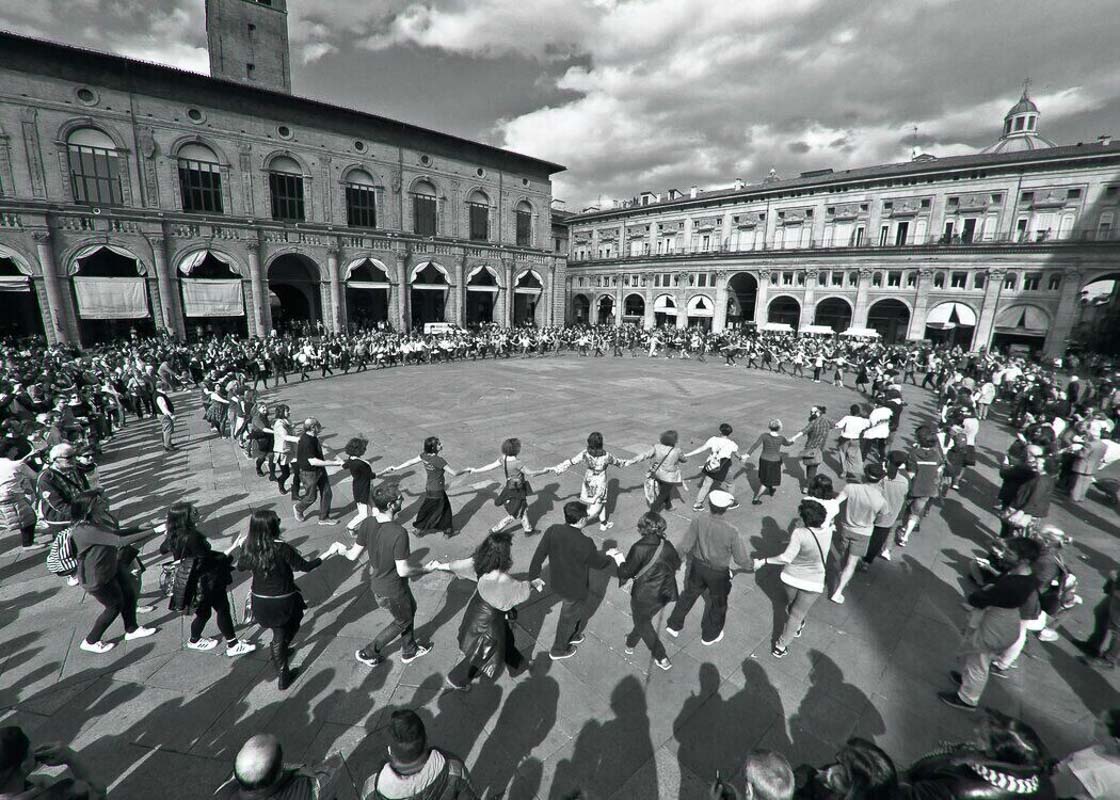 Almarossa
Almarossa is the ideal place to stay for visitors who want to embark on a historic expedition. Just 500 m away from the Bologna University and 1 km from Piazza Maggiore square, you won't need to walk far to experience the city's story.
Almarossa rooms are equipped with air conditioning and satellite TV. Depending on your needs, you can also book an apartment suite with a kitchenette or a balcony. For a little bit of nature, you'll appreciate the shared garden and terrace.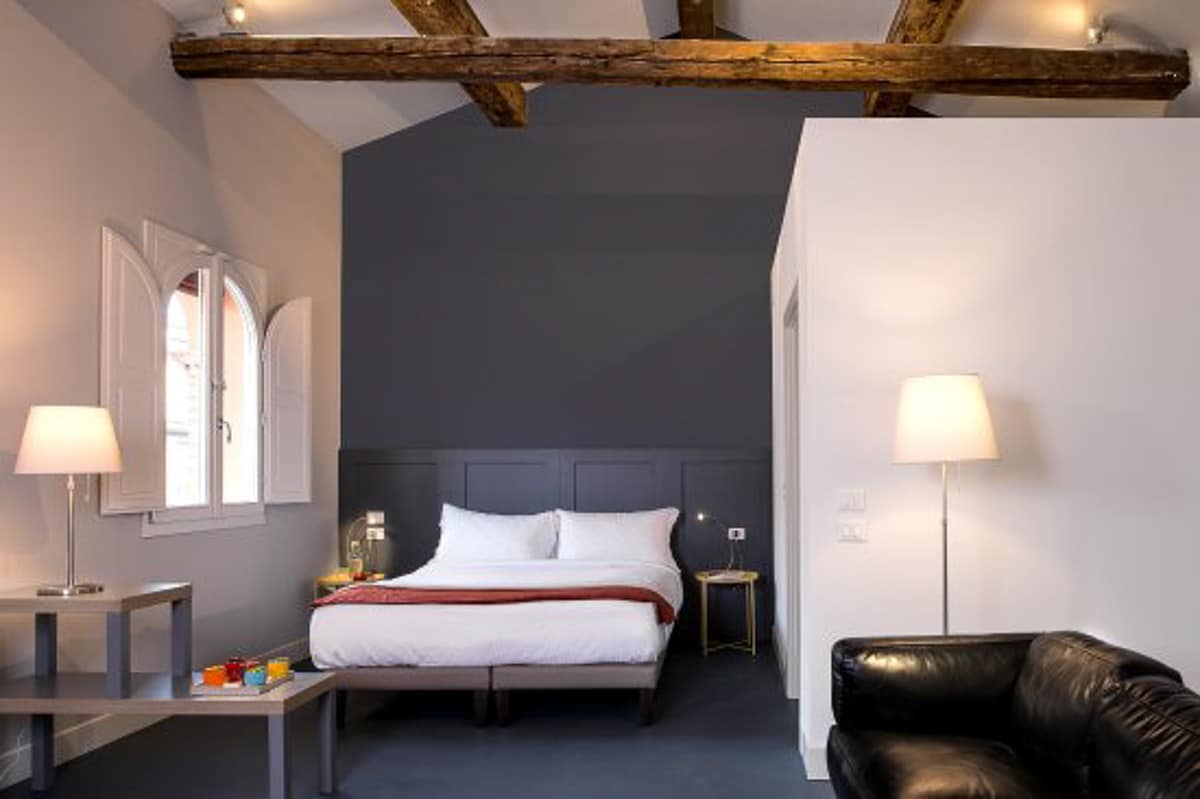 Something that sets this hotel apart is the colour scheme of the rooms. The palettes consist of striking contrasts of dark blues and greys alongside bright bursts of red, green, and yellows. They have a zesty and vibrant feel to them.
⇒ Read reviews on Tripadvisor ⇒ Book Now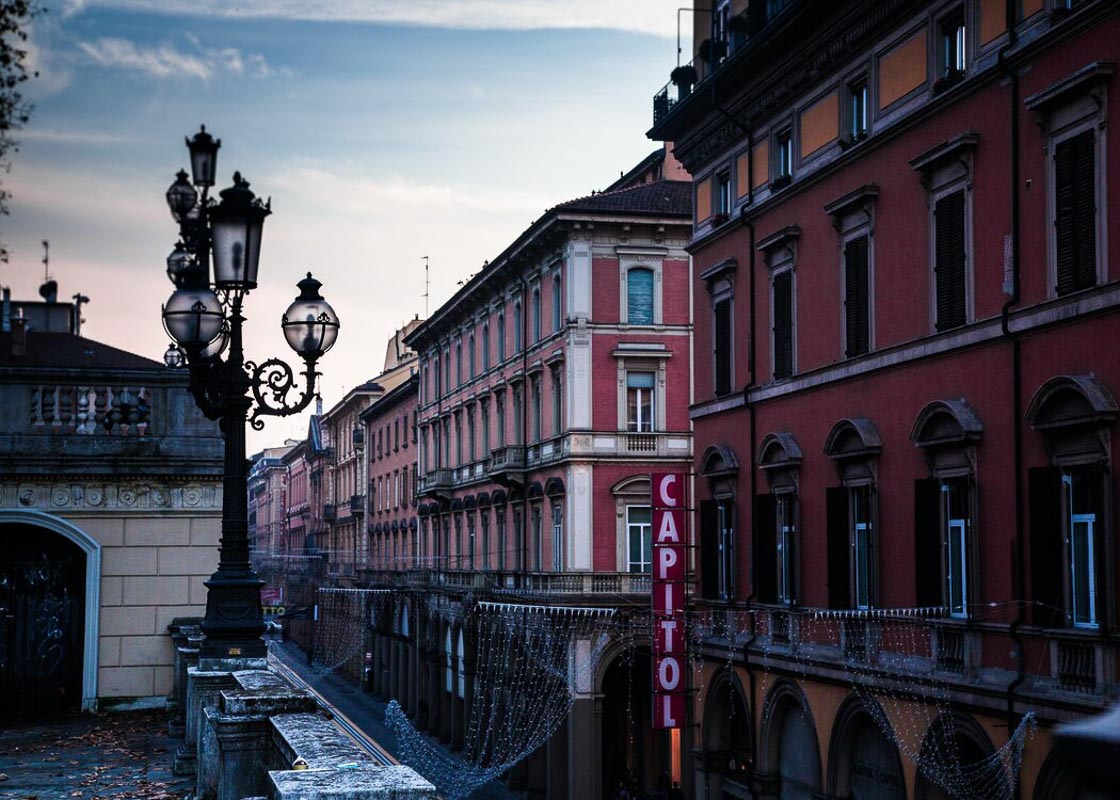 Savhotel
The Savhotel is the perfect choice for those travellers who want to visit a few different cities on their Italy trip. The hotel is located just 9 km from Bologna airport and is 10 minutes away from the city's Centrale Train Station.
If you're looking to roll a historical vacation into a beach trip, you can always take a train from Bologna to the coast. There are plenty of exciting things to do in Rimini and it's a great spot to work on your tan.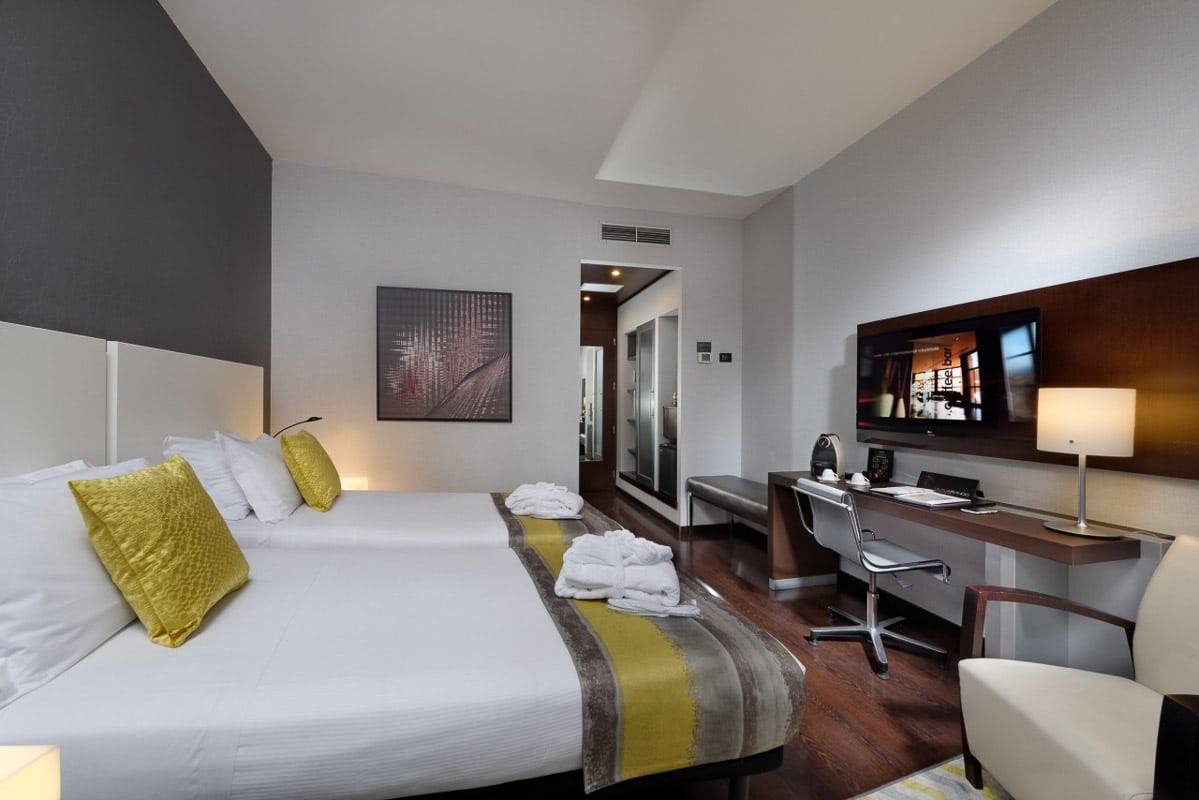 Savhotel is also 500 m from Fiera di Bologna exhibition centre, where you can get your fill of collectors and comic book fairs, book exhibitions, ceramic displays, and so much more. And, once you've tired yourself out, you can return to your room and your super comfortable bed to have a great night's sleep.
For those who want to taste the mouth-watering Italian cuisine, book a table at Restaurant NeroArancio for delicious pasta dishes and a nightcap.
⇒ Read reviews on Tripadvisor ⇒ Book Now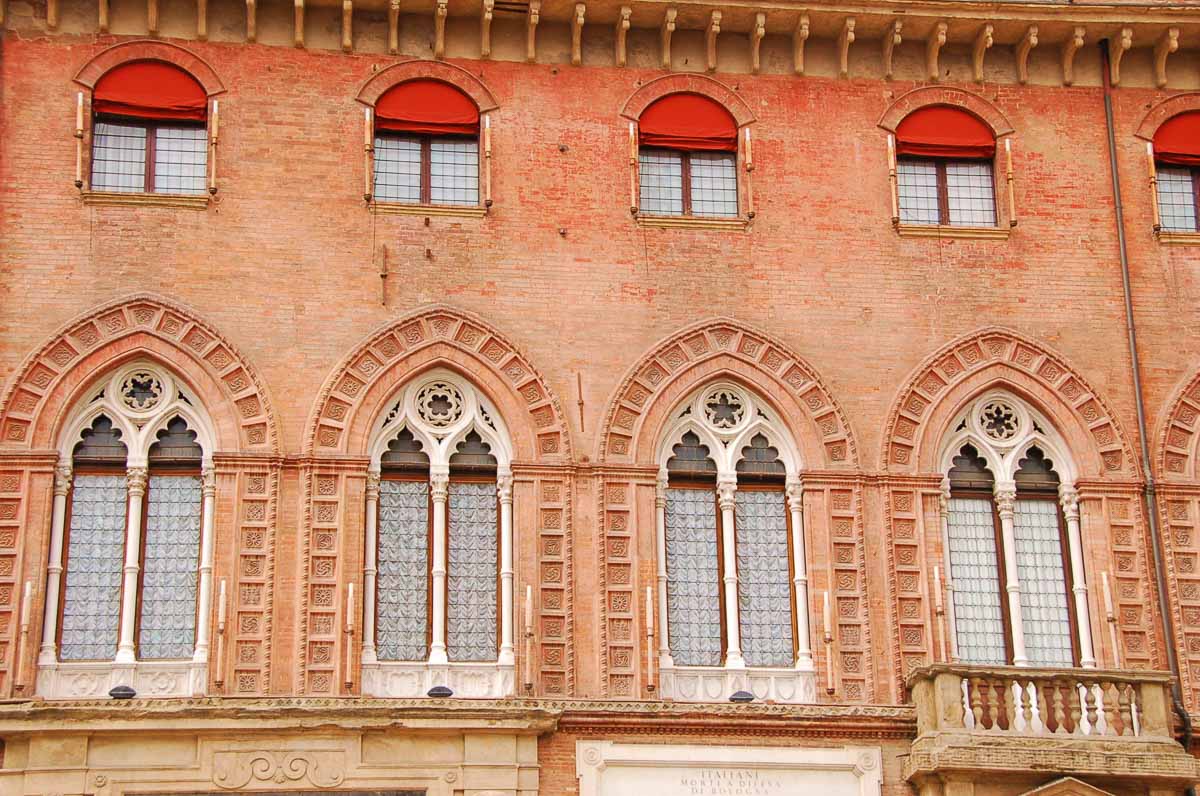 ⇒ Switzerland is one of the most beautiful countries in the world. Don't miss my posts on 14 Great Things to do in Verbier that aren't skiing and 20 Reasons to Visit Verbier in Summer.
Another great option for accommodation in Bologna is to check out Airbnb. There are quite a few Airbnb properties in Bologna.
How to get to Bologna
Bologna has its own airport which is only 8 kms from Bologna city centre.
Bologna is a very walkable city. If you're looking to explore the farther out areas of Bologna or aren't much of a walker there is also an excellent bus system.
Book a Boutique Hotel in Bologna
With this guide, finding the right accommodation in Bologna is as easy as (pizza) pie. You'll enjoy the perks of the Mediterranean temperature, Italian food, and awe-inspiring architecture.
You'll learn the story of this beautiful region and rub shoulders with the colourful and friendly locals. You're guaranteed an exciting, interesting, and comfortable trip.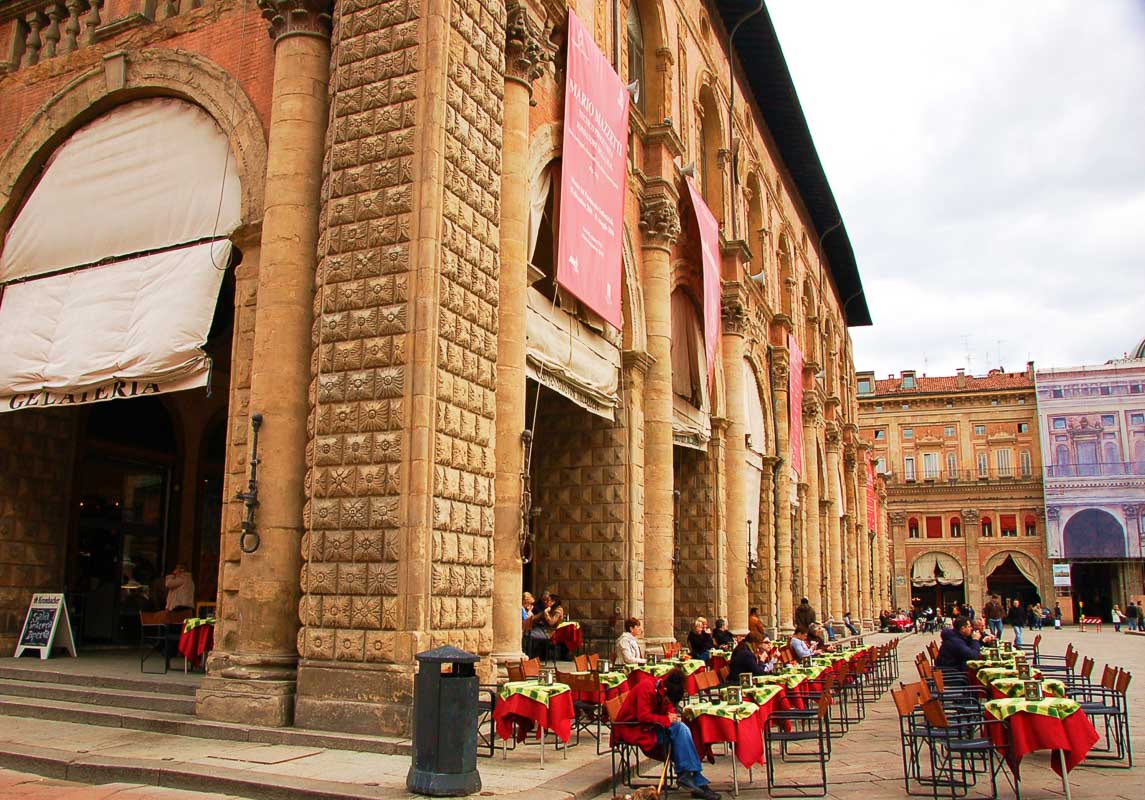 While it's simple to find a hostel that will keep costs down, a boutique hotel makes all the difference in the world. When visiting a city with a heritage like Bologna, you need to immerse yourself in everything it has to offer.
It's your chance to languish in luxury and enjoy the finer things. As the saying goes, when in Rome…
Who Paid for What in this Boutique Hotels in Bologna Post?
This boutique hotels in Bologna post includes affiliate links. That means if you click through and end up making a purchase I will receive a small commission. I wanted to make sure you were aware of this.