Nowhere else in the world does a palace quite like the Europeans. European Palaces were designed to show off the power and wealth of their inhabitants.
In most cases, those inhabitants were members of the local royal family but bishops, ministers, and other wealthy and/or powerful individuals could also call palaces home.
The key difference between a palace and a castle is their intended use. Castles were built to defend their inhabitants. Palaces were built to showcase their inhabitants.
Architecturally speaking European palaces and castles have much in common such as turrets, slits in the walls, and high towers. However, castles are much more likely to have thicker walls and features like moats to assist in its defense.
Generally, but not always, palaces tend to be more ornate than castles. As they are displays of wealth the materials with which they are built tend to be more about decadence and beauty versus the more functional purpose of a castle which will be fortified.
Confusingly, in France, many palaces and castles are called Chateaux. These tend to be large country houses that in other countries could be called palaces or castles. So, for the purposes of this post if the primary purpose of a French Chateau appears to have been to display wealth and power I have considered it to be a palace.
Now that we have cleared all of that up here are 17 beautiful European Palaces you don't want to miss!
17 European Palaces You Must See
1. Buckingham Palace – England
Home to the Queen of England, Buckingham Palace is perhaps the most well-known palace in the world. The palace was originally known as Buckingham House and was purchased for the queen by King George III in 1761.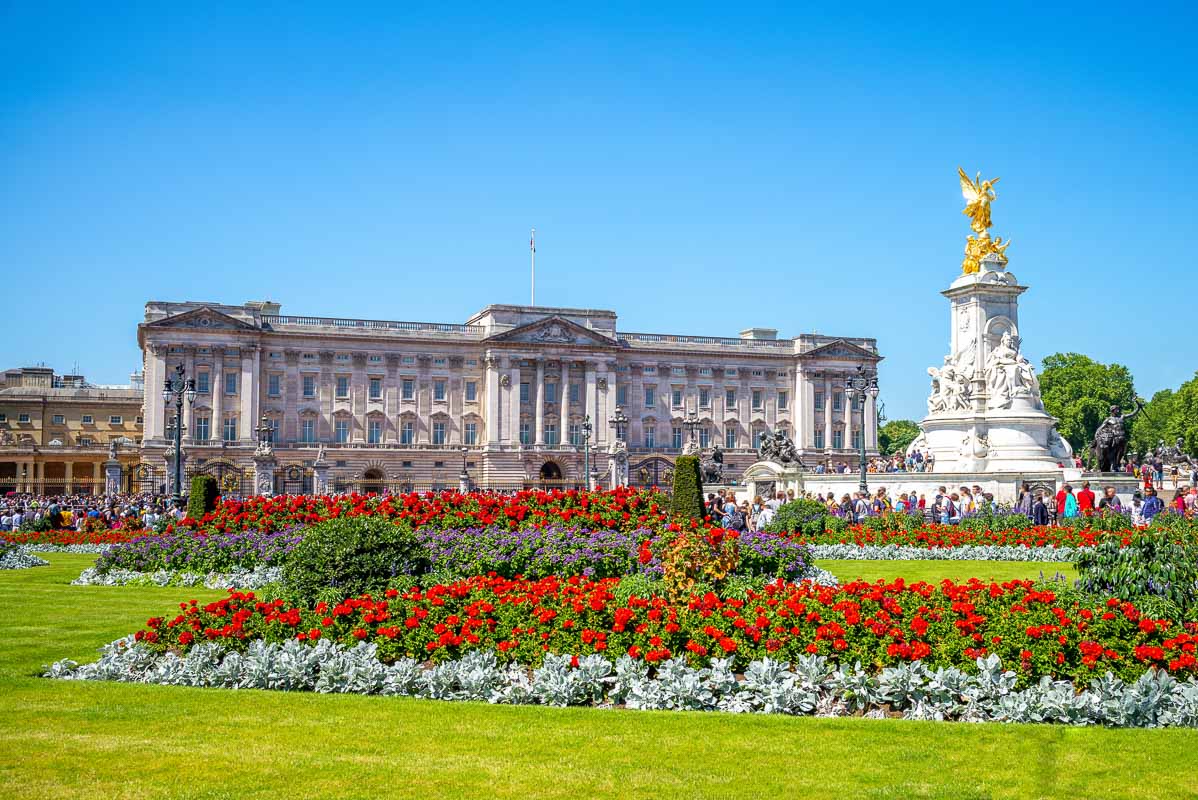 It became the London residence of the British monarchy when Queen Victoria took the throne in 1837. Today Buckingham Palace is home to Queen Elizabeth.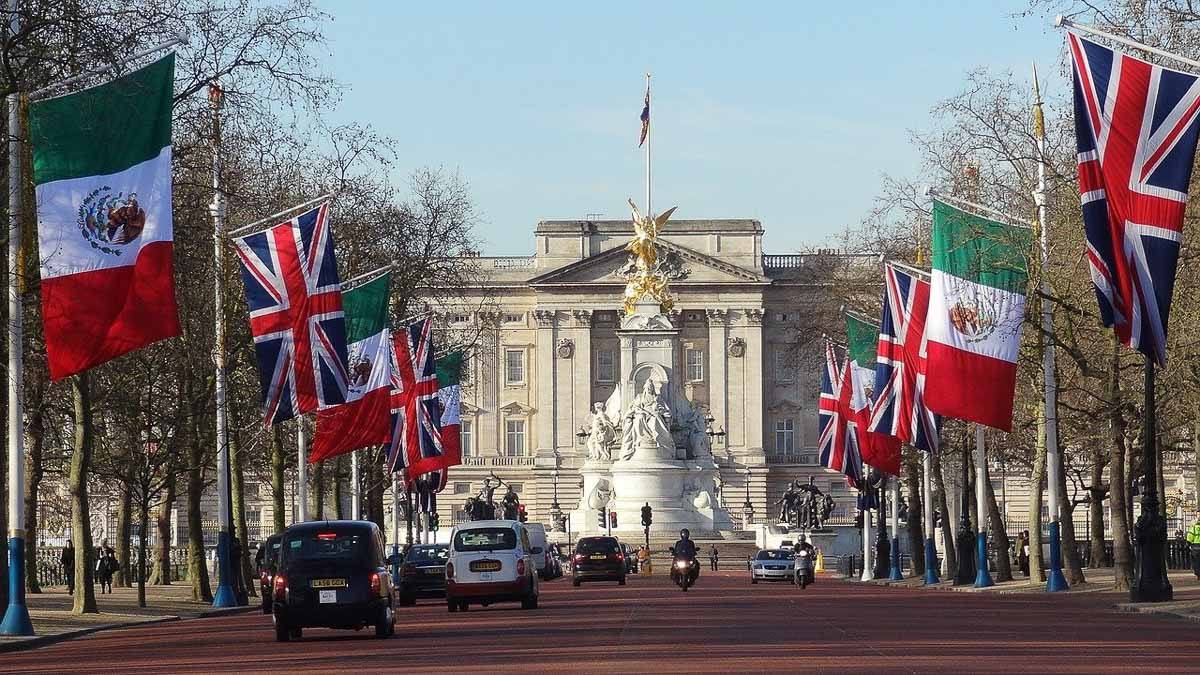 The highlight of many special occasions in the United Kingdom is seeing the Queen and the rest of the Royal Family gather on the balcony at Buckingham Palace to greet the crowds.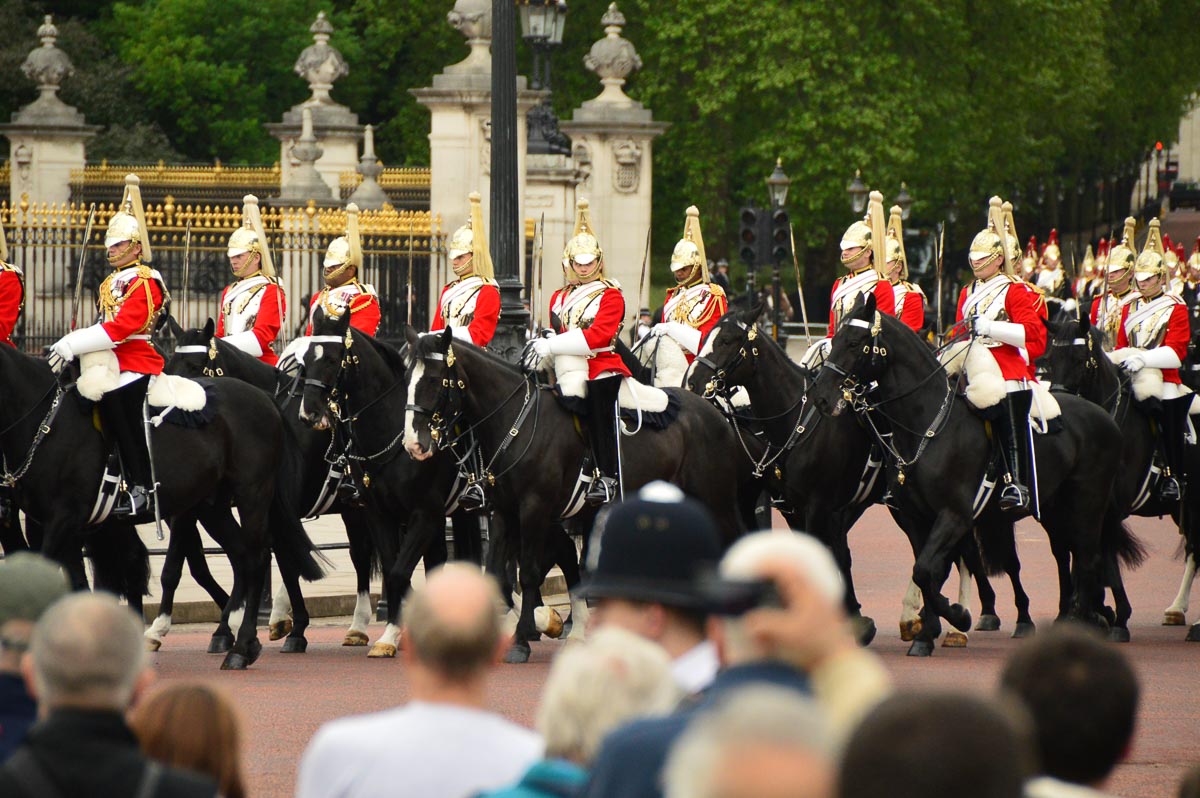 ⇒ Buckingham Palace is only open to the public between July and October. Visitors can see the State Rooms and the gardens. If you are visiting at other times of the year the closest you can get is outside the gates (which still allows for some good photos), seeing the free changing of the guard, or visiting the Royal Mews.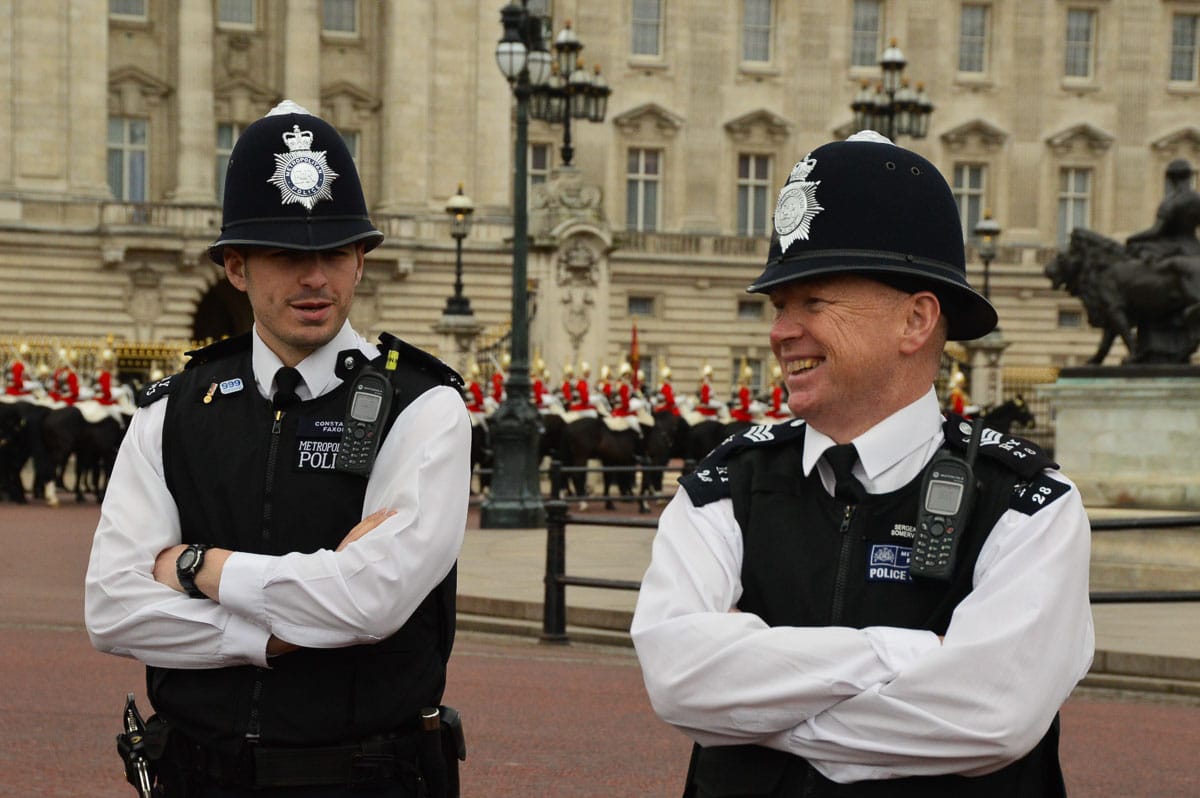 ⇒ Heading to London? Check out my posts on 13 Unusual Experiences in London, the best London Food Tours, my virtual London Travel Blog, some great Earlsfield restaurants, 14 Things to do in Notting Hill, restaurants near Clapham Junction and Victoria Station restaurants, 16 Famous Landmarks in Europe, a mad hatter afternoon tea party and a day trip to Brighton, 18 Landmarks of London from a local, 15 Places to see Sunsets in London, 9 Places to watch the Sunrise in London, 10 Bridges in London Not to Miss and Cotswolds tour from London options. [separator type="thick"]
2. Doge's Palace – Venice Italy
The Doge's Palace or Palazzo Ducale was the residence of the Doge of Venice, the supreme leader of what was then a republic. It was also home to the Great Council and the Council of Ten. There were law courts, stairways, courtyards, and even prison cells – this is a big palace!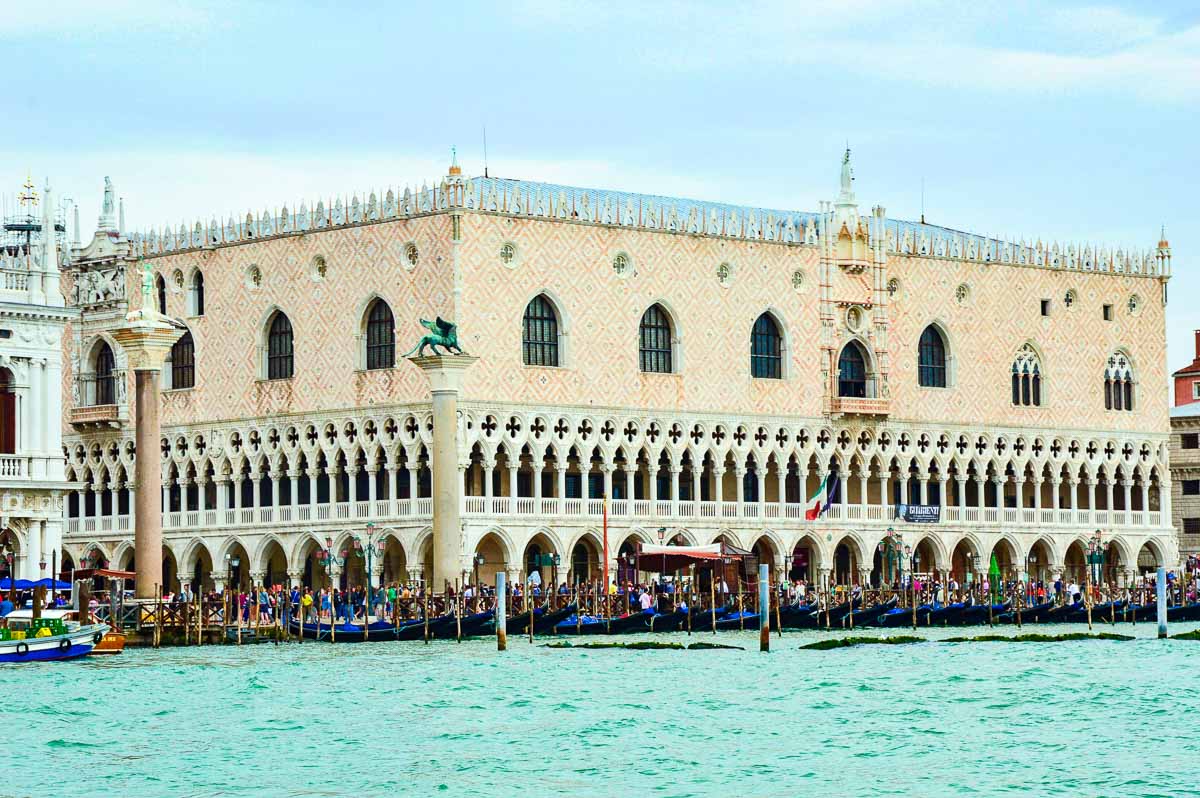 Built in 1340 Palazzo Ducale became a museum in 1923 and the palace is located on St Mark's Square. When it comes to purchasing tickets, Doge's Palace is included in Saint Mark's Square museum pass which represents good value if you intend to visit all of those museums.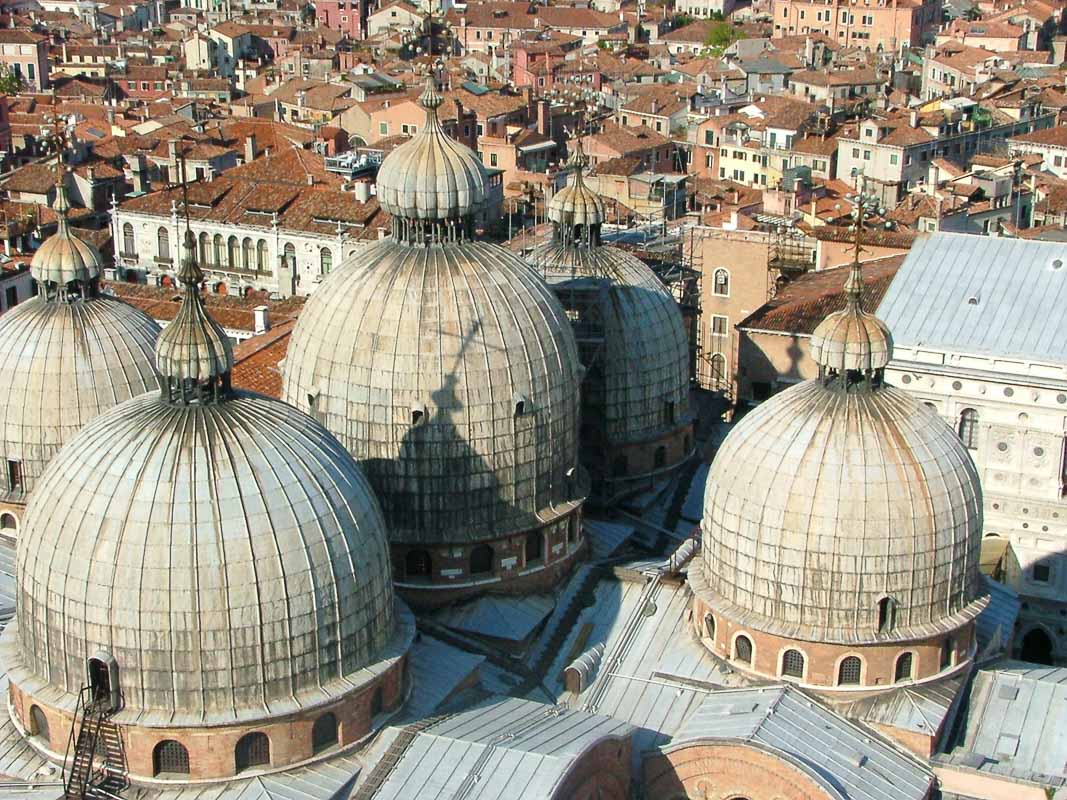 Another fantastic option is to book the Secret Itineraries Tour. This tour includes the less well-known elements of the Palazzo Ducale such as secret passageways, prisons, and the gorgeous yet infamous Bridge of Sighs (as the view was the last thing that prisoners saw before being escorted down to their cells).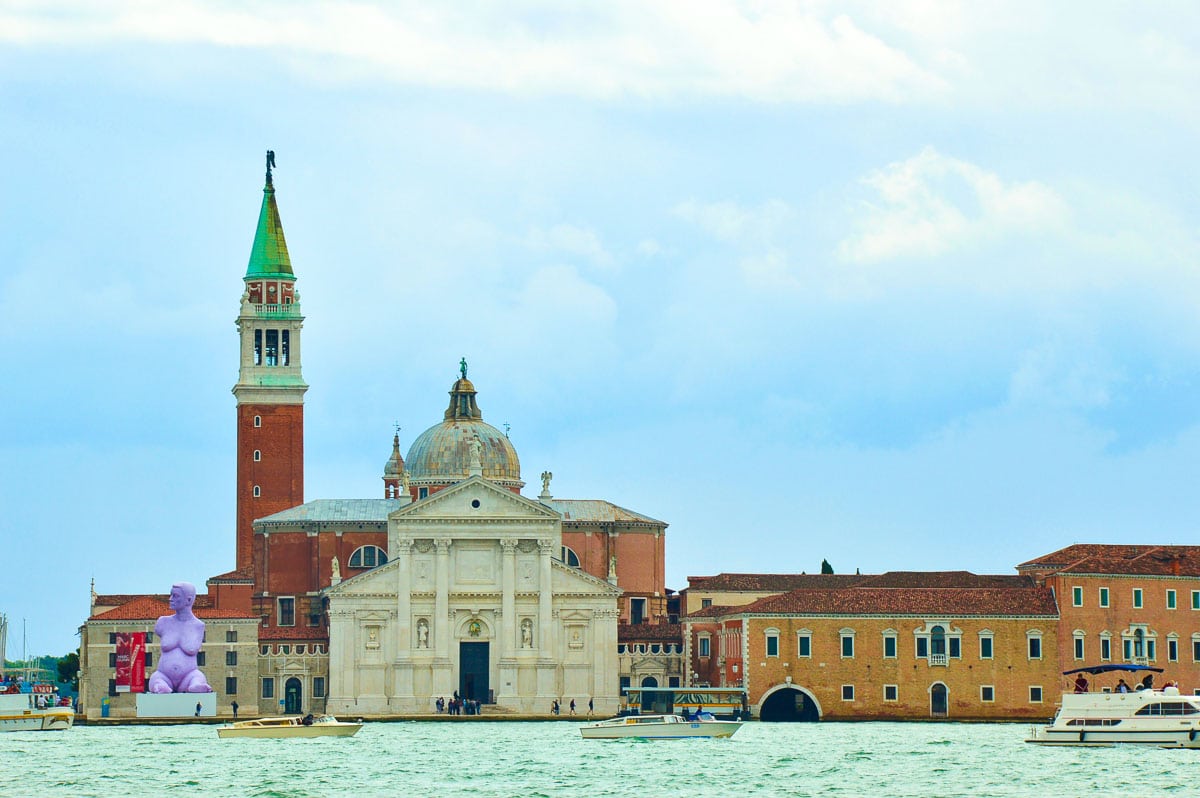 ⇒ Love Italy? Me too! You might enjoy reading about the Most Beautiful Cities in Italy, Most Famous Landmarks in Italy, Top Rome Monuments, Top Venice Landmarks, Bridges in Rome, Fountains in Rome, Venetian Palaces, How to Skip the Line at the Colosseum, Best Ski Resorts in Italy, Best Wineries in Montepulciano, Things to do in Rimini, Places to Visit in Puglia and Things to do in Sicily.
3. Palace of Versailles – France
From 1682 until the start of the French Revolution in 1789, the Palace of Versailles was the principal royal residence in France. The Palace of Versailes is located in the Ile de France region approximately 20km south west of Paris.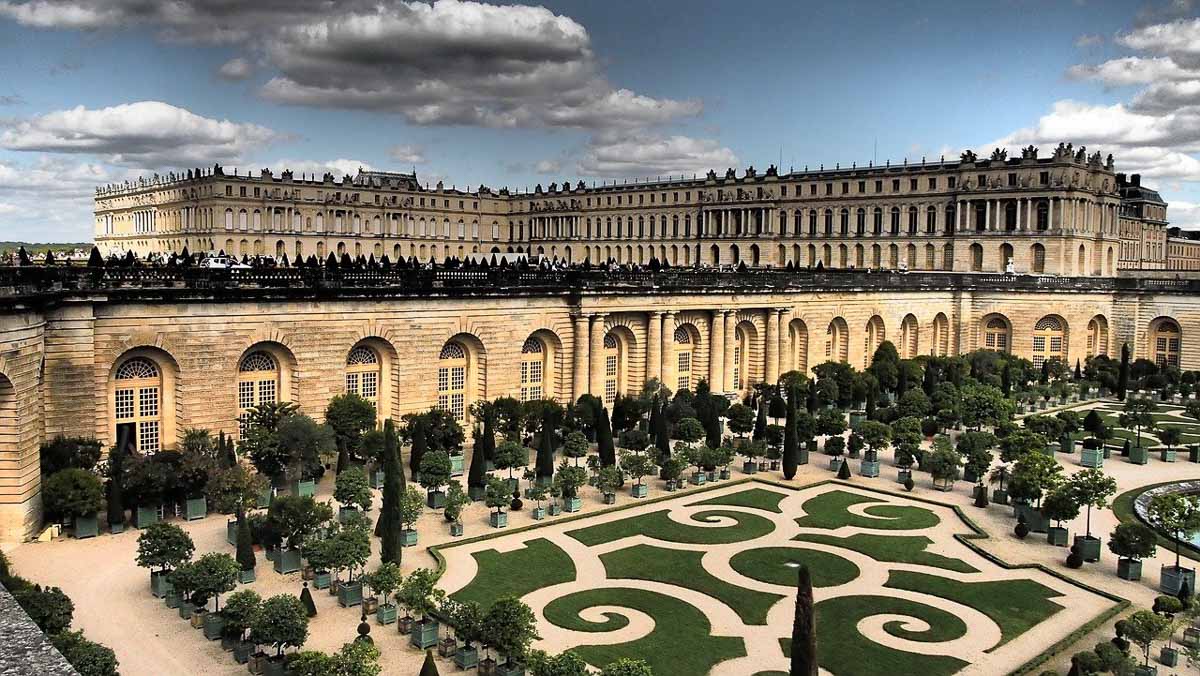 This UNESCO world heritage site has also been home to some key moments in history such as the proclamation of the German Empire in the Hall of Mirrors to the Peace of Paris in 1783 to the end of World War I with the Treaty of Versailles in 1919.
Today, the Palace of Versailles is one of the top tourist attractions in France, receiving over 7.7 million visitors in 2017. It is open Tuesday – Sunday from 9am to 5pm or 6pm in summer.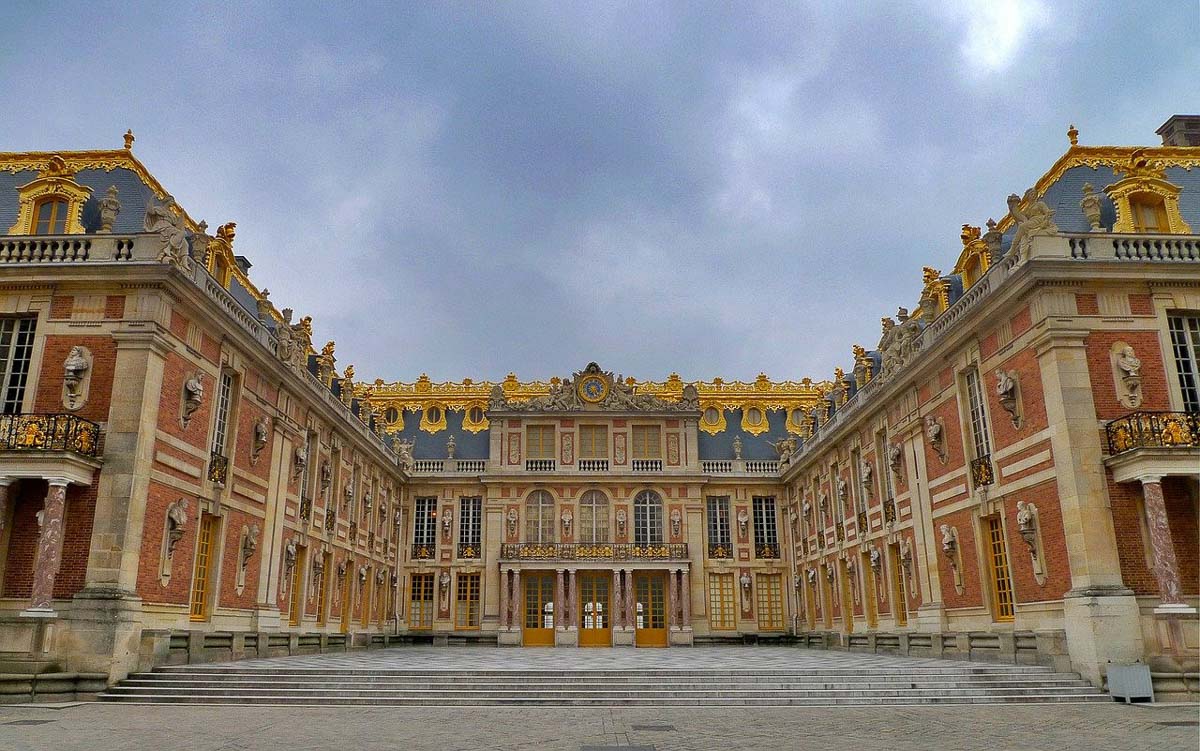 The gardens and park of Versailles are open every day with slightly longer hours depending on the time of year. The Estate of Marie Antoinette and the Coach Gallery are open after midday Tuesday-Sunday.
As it is such a popular attraction the Palace of Versailles gets very busy so I do recommend booking a skip the line ticket ahead of your visit.
⇒ If you like beautiful European towns check out my posts on Saint Antonin Noble Val and Tarn et Garonne in France, 30 Famous Landmarks in France, 25 Famous Paris Monuments, 37 Fascinating Facts About Paris, 32 Most Beautiful Cities in France, What is France Famous For? 33 French Icons, 10 Beautiful Bridges in France, 10 Beautiful Lakes in France and the 6 Best Places to Watch the Sunrise in Paris
4. Schonbrunn Palace – Austria
Over 300 years old, this beautiful palace was the main summer residence of the Habsburg rulers.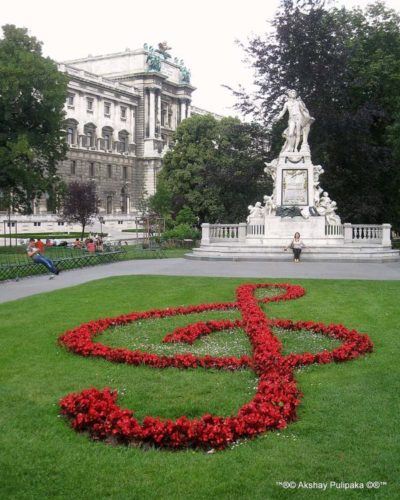 Since the 1950s its 1,441 rooms have been a major tourist attraction in Austria. Schonbrunn Palace has much to explore including its beautiful gardens.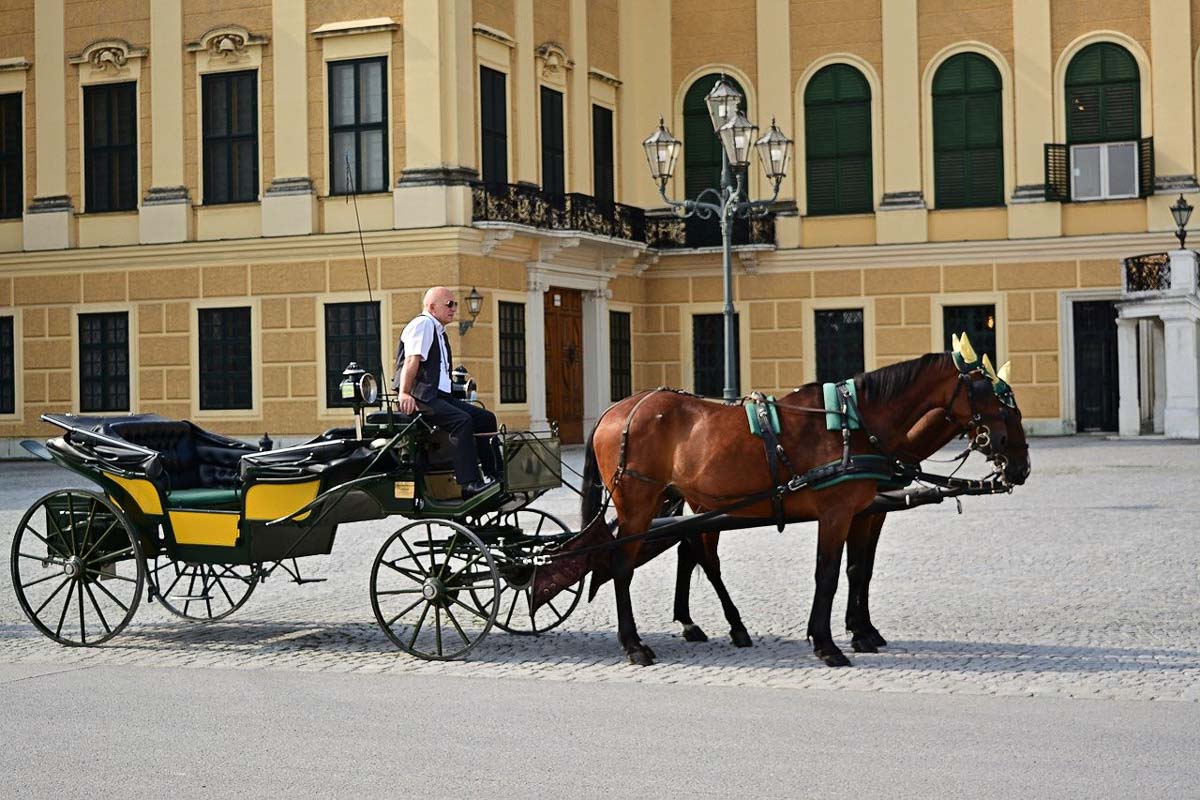 It is also home to stunning Christmas markets if you are visiting Vienna in the winter.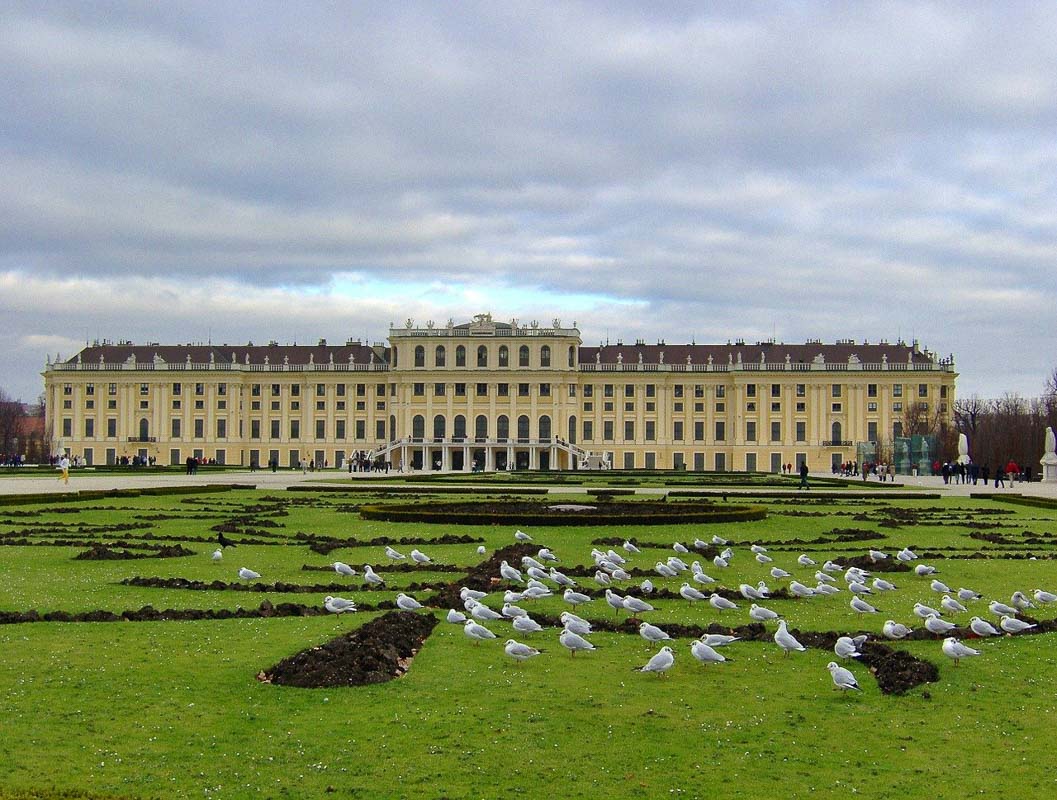 Grab a beat the queue ticket and you'll also be able to see the Austrian Parliament, City Hall, Burgtheater, the Museum of Art History, and Hofburg Palace (where Marie Antoinette was born) along the way.
⇒ Skip the Queue with this Schonbrunn Palace Ticket
5. Royal Palace of Madrid – Spain
The Royal Palace of Madrid takes the title of the largest European palace by floor area and it is the largest functioning palace in Europe. It is the official residence of the Spanish Royal Family in Madrid.
Having said that, the current King and his family prefer a less grand dwelling for their home so today the palace is only used for state ceremonies.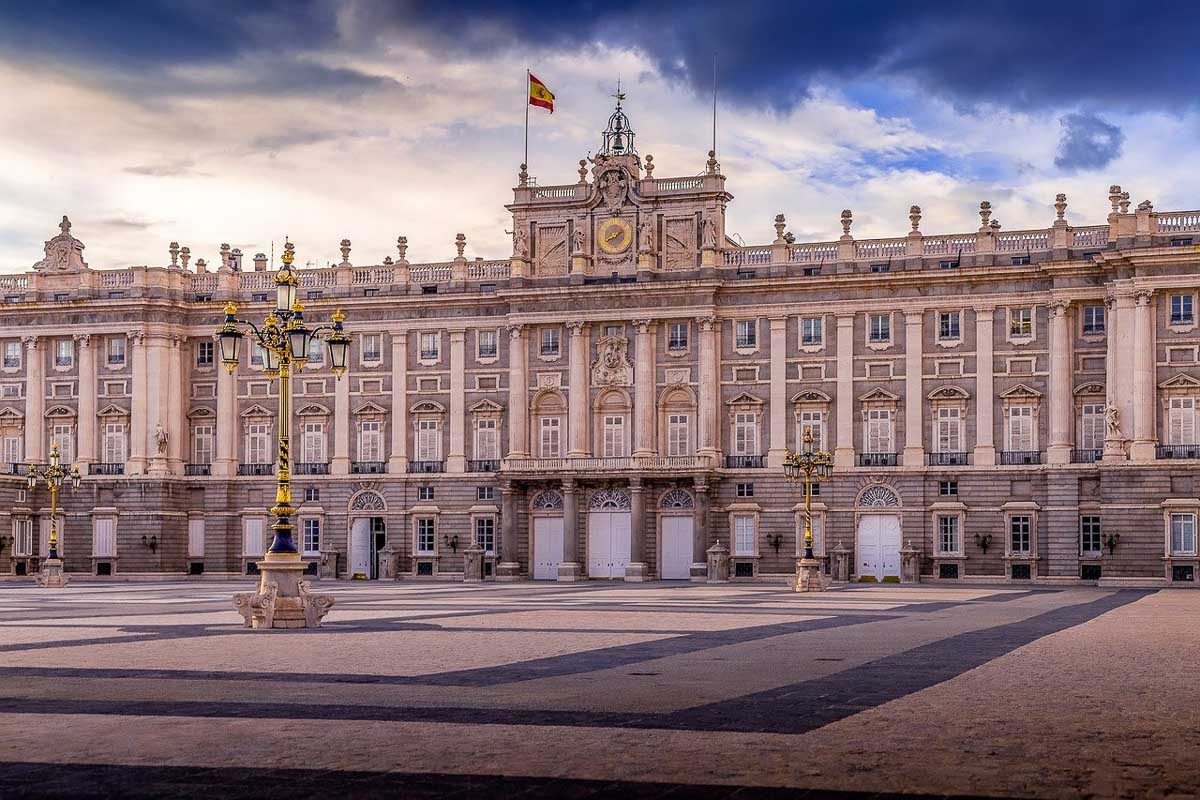 The site of the palace was originally a 9th century Moorish castle. A new palace was built on the site between 1738 and 1755.
As the Royal Palace of Madrid is so large only a selection of rooms are open to visitors at any given time – and the selection of rooms changes every few months. The Palace is open to the public unless there are state functions and it is possible to book a skip the line ticket.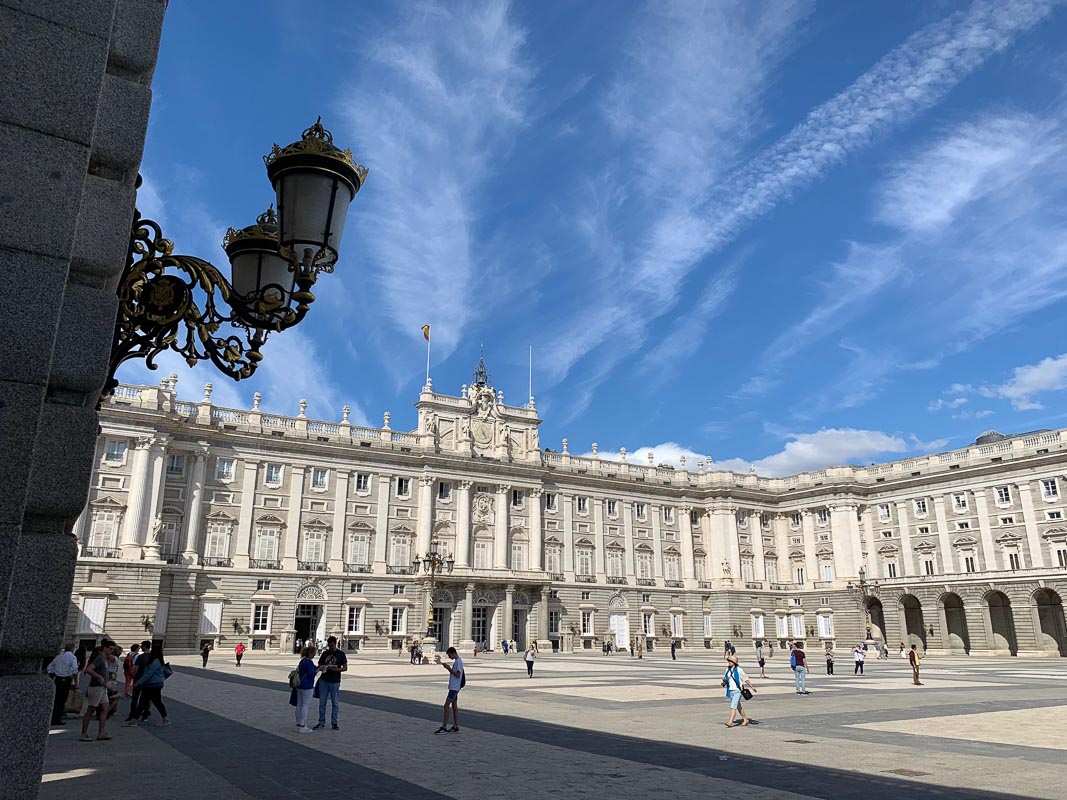 ⇒ I love ticking off seeing a landmark. See how many famous landmarks you've seen in my series of posts: 60 Most Famous Landmarks in the World, 27 Top Australian Landmarks, 25 Asia Landmarks, 61 Magnificent Landmarks of the UK, 13 China Landmarks, 35 Japan Famous Landmarks, 60 Most Famous Landmarks in Europe, 25 North America Landmarks, 25 Canada Landmarks and 15 Famous Landmarks in the US.
6. Royal Palace Amsterdam – The Netherlands
The Netherlands has three palaces available to its monarch. The Royal Palace of Amsterdam was built as a city hall in the 17th century. It became the property of the Kingdom of the Netherlands in 1936.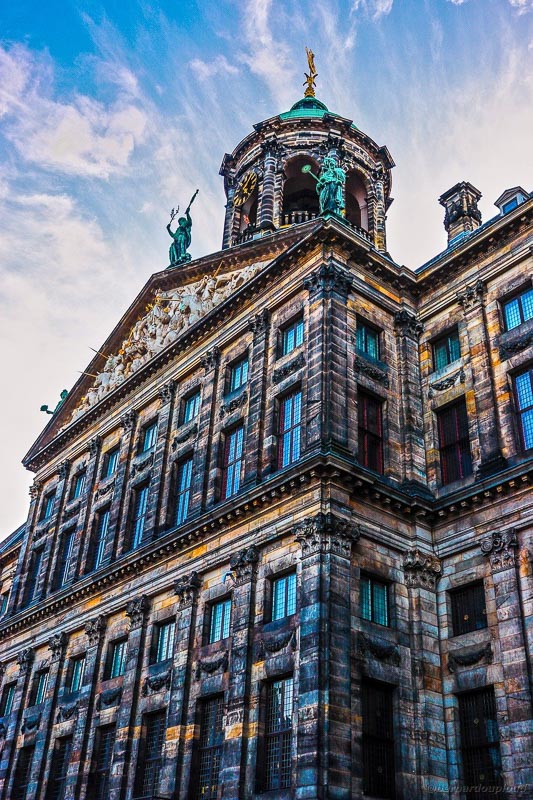 The palace is open to the public but the days on which it is open can vary. When I wrote this post it was open Fridays, Saturdays and Sundays. Tickets can be booked online. The first floor is the only area open but it is quite large and worth a look.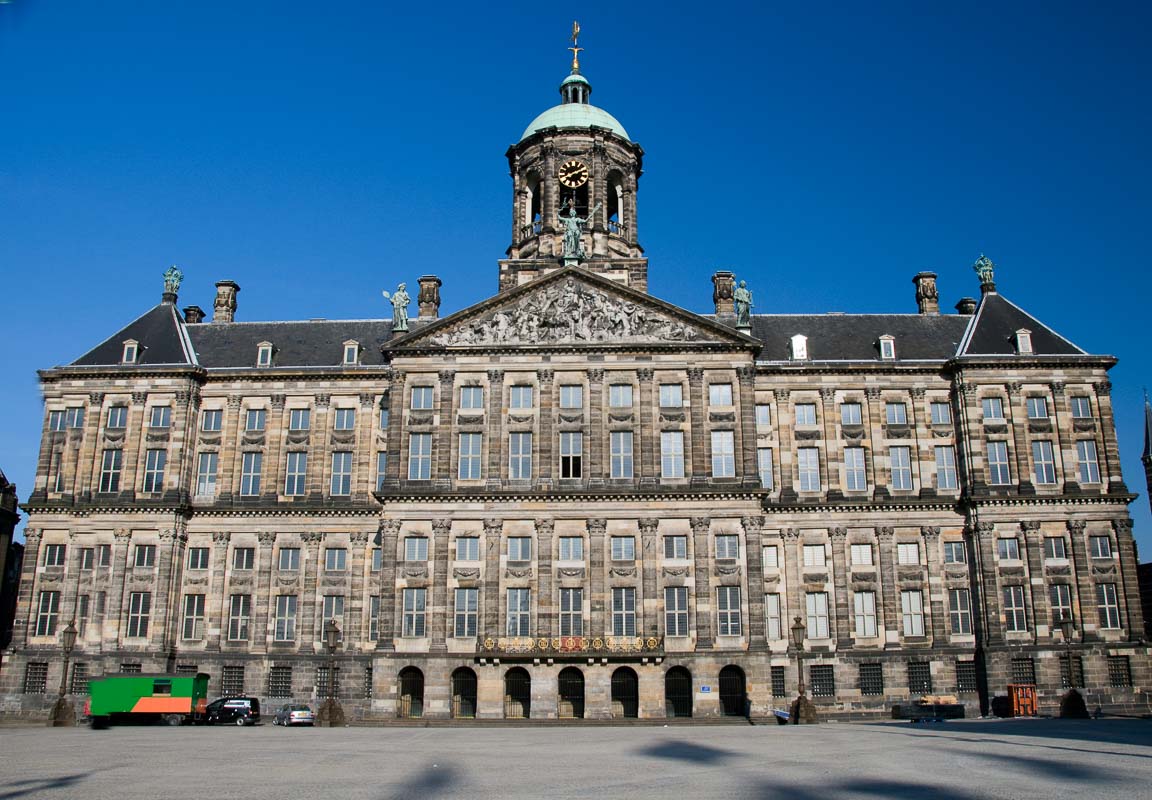 ⇒ Here are some of the best places in the world to watch the sunrise and fall: 10 Places to watch the Sunset in California, 7 Best Places To Watch Sedona Sunsets, 18 Spectacular Spots for the Best Sunsets in Seattle, 5 Stunning Santorini Sunsets, 8 Sunsets in Ibiza, 19 Spots to watch San Diego Sunsets, 11 Places to see the Venice Sunset, 6 Spots to Watch Sunrise in Paris, 11 Places to see Sunset Edinburgh style, 15 Places to see Sunsets in London and 9 Spots to watch the Sunrise in London.
7. Blenheim Palace – England
Blenheim Palace is the only non-Royal, non-Episcopal house in England to be called a palace. It is the principal residence of the Duke of Marlborough. However, I think the most notable thing about Blenheim Palaces is that it was the birthplace and the ancestral home of Winston Churchill.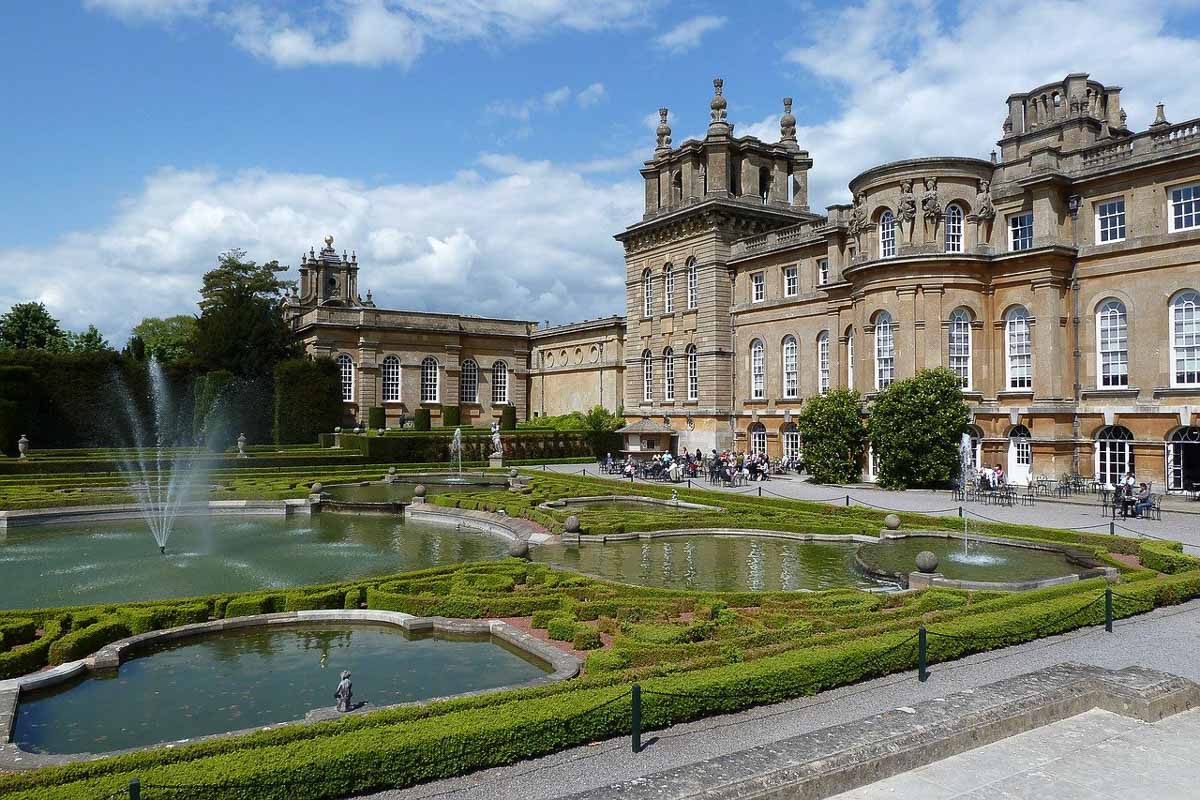 There is an excellent exhibition of Winston Churchill in the suite of rooms in which he was born.
Today, Blenheim Palace is a UNESCO site, has been used as a location for many films and it serves a Champagne afternoon tea! Plus there are beautiful gardens as well as a park to visit. Book your Blenheim Palace tickets online before you go.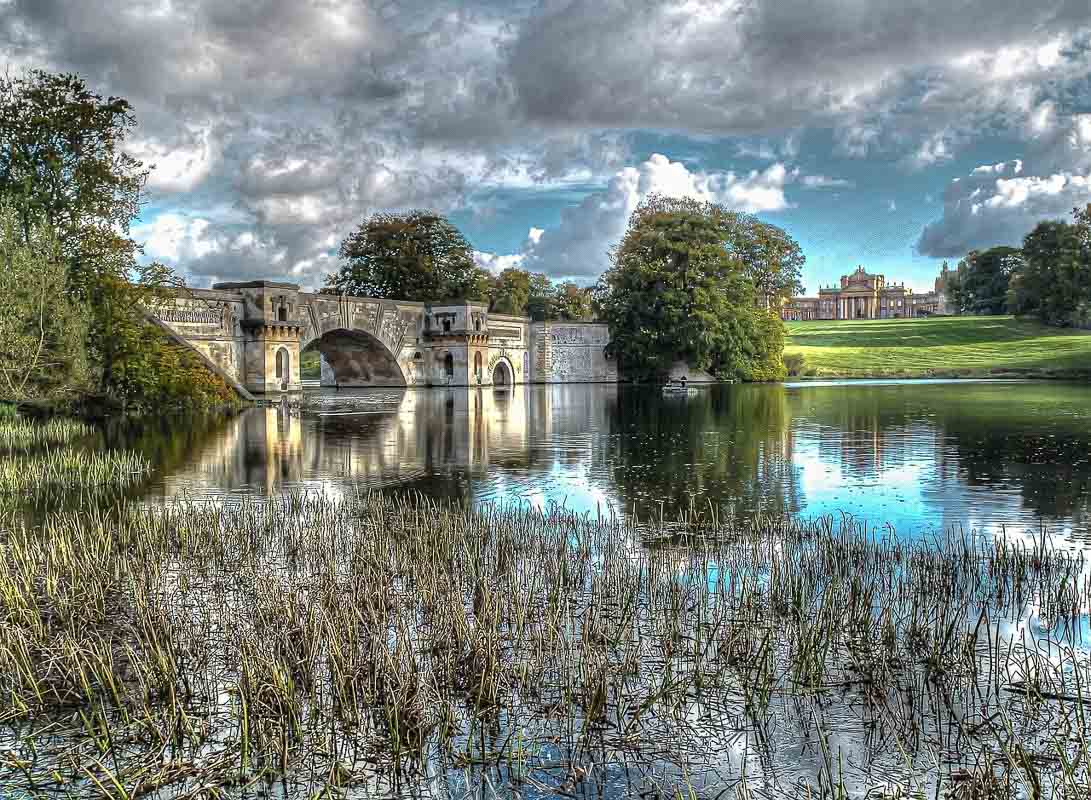 ⇒ Planning a trip to England or Wales? Don't miss my posts on the 40 Top English Landmarks, The Crown Filming Locations, Most Beautiful Castles in Cornwall and Boutique Hotels in Cornwall, Boutique Hotels in Kent, Where to Stay in the Cotswolds, 61 Magnificent Landmarks of the UK, Places to Visit in South Wales, Fun Things to do in Cardiff, Luxury Hotels in Yorkshire, Spa Hotels in the South West, Day trip to Brighton, Things to do in Exmouth, Cafes in Exeter, Pubs with Rooms in the New Forest, Ockenden Manor Spa and the Best Things to do in Winchester.
8. Kensington Palace – England
Kensington Palace was the royal residence for Prince Charles and Princess Diana and was very much known as Diana's home in London. It was also the birthplace of Queen Victoria.
Today it is the London home of the Duke and Duchess of Cambridge as well as the Duke and Duchess of Gloucester. As a tourism attraction, Kensington Palace re-opened in 2012 and visitors are now able to access several exhbitions.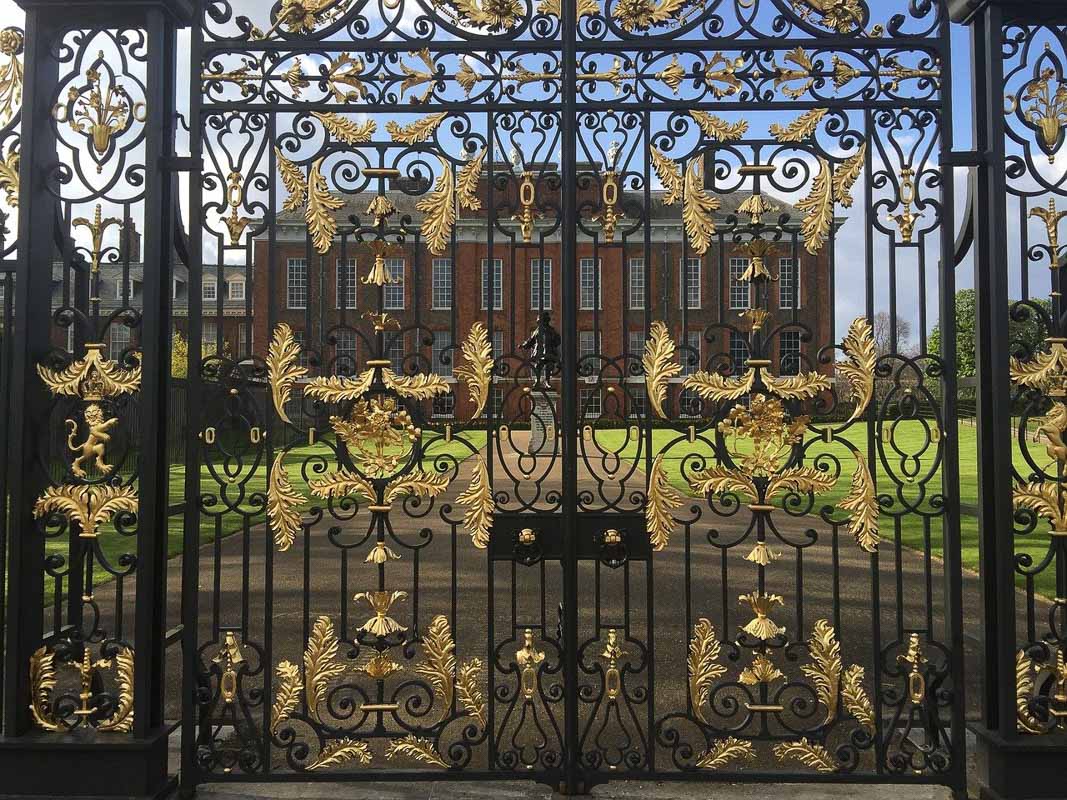 Kensington Palace also borders onto Hyde Park, one of London's loveliest parks to visit.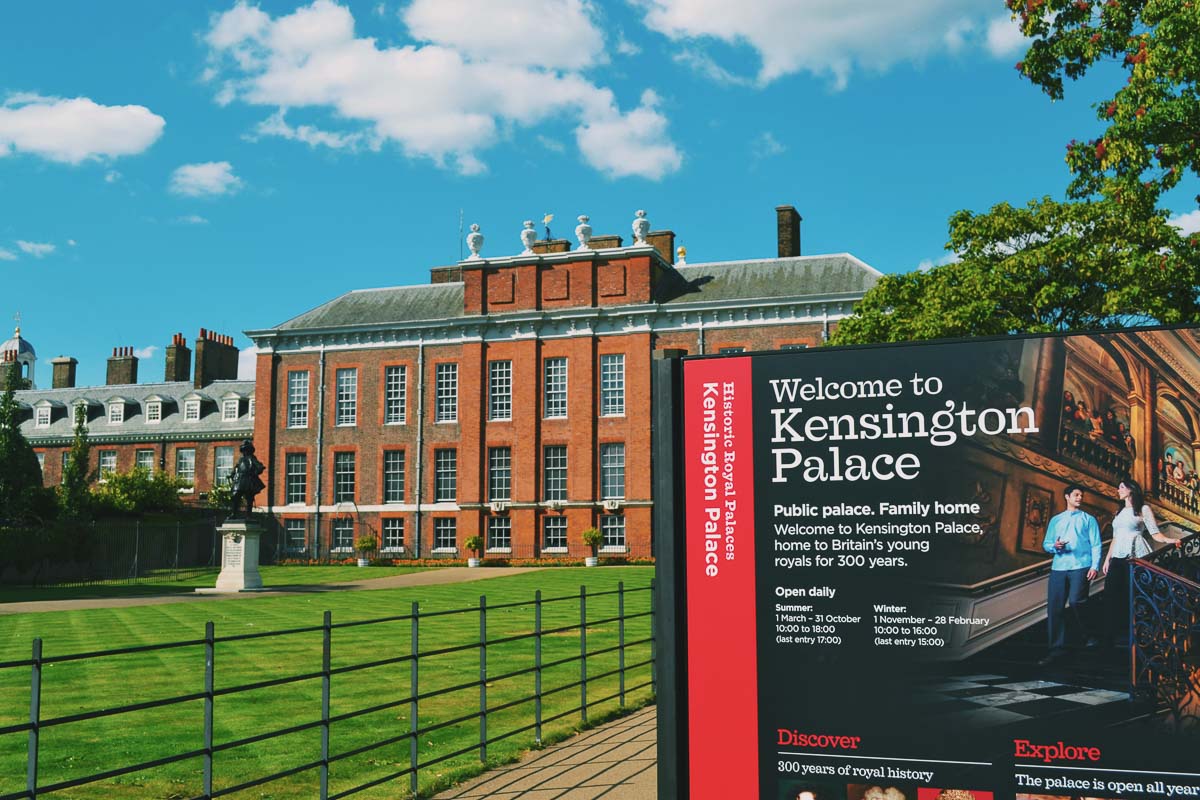 ⇒ Several areas of Kensington Palace are open to the public. Visitors can walk through the King's State Apartments, the Queen's State Apartments, and the Gardens.
There are also fashion exhibitions that feature items from the wardrobes of Queen Elizabeth, Princess Margaret, and Princess Diana. The Palace often holds exhibitions and the Orangery does a lovely afternoon tea.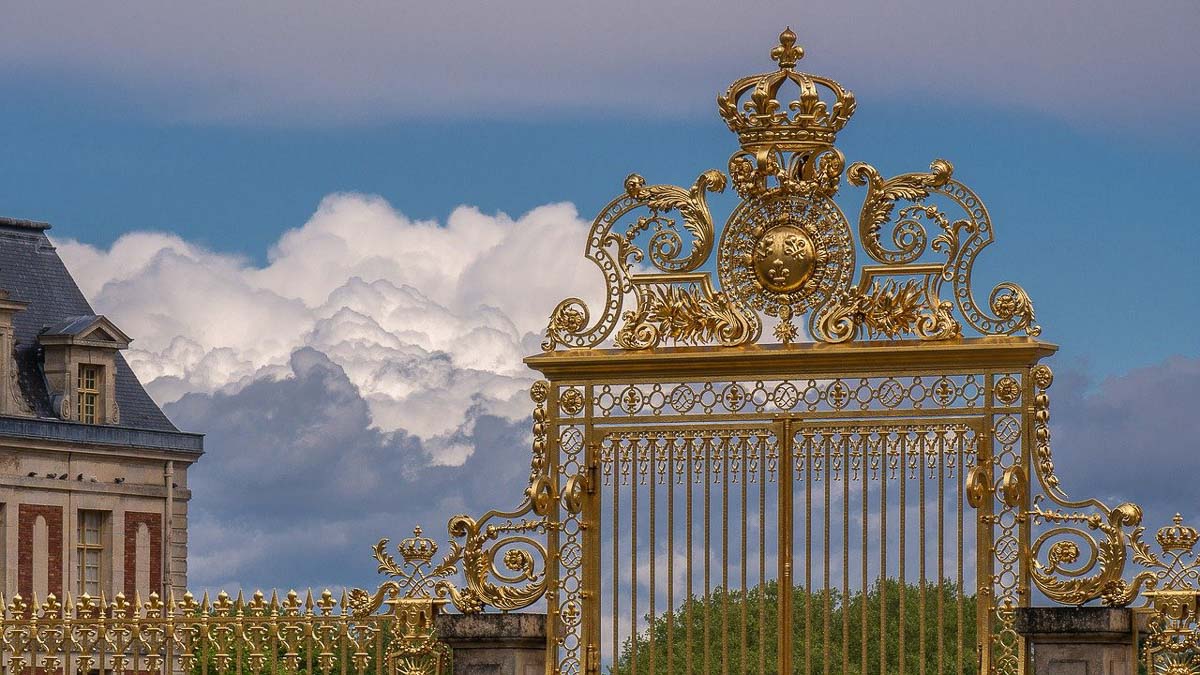 9. Topkapi Palace – Istanbul, Turkey
Topkapi Palace is one of my favourite Istanbul tourist attractions. This palace was used between the 15th and 19th centuries and apparently was a hot place to go during the Ottoman Empire.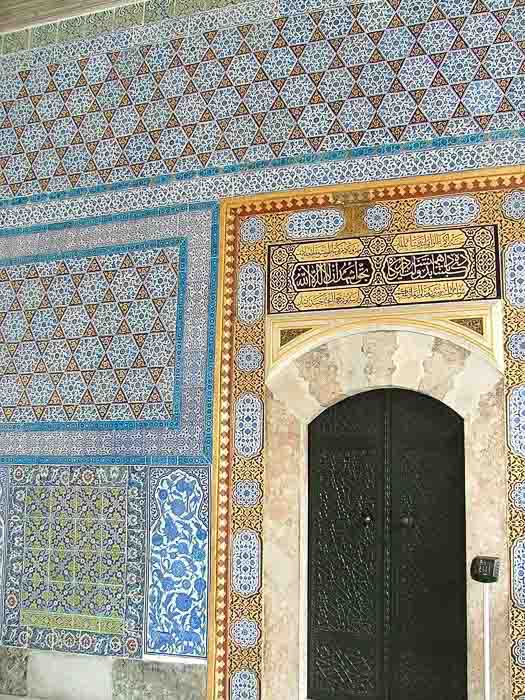 Topkapi Palace Istanbul is stunning and filled with lots of fantastic Instagram opportunities – particularly the colorful tiles.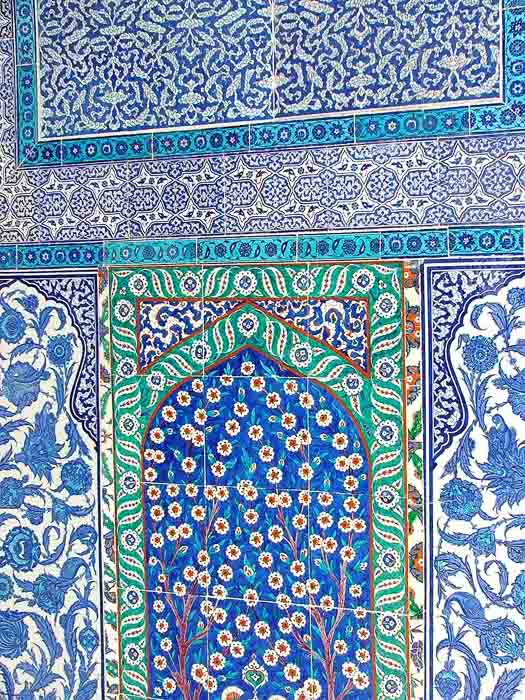 It's a big palace – there are gates, courtyards, dormitories, and even a 6 story Haram complex and it is a must-see in Istanbul.
⇒ Book your skip the line tickets for Topkapi Palace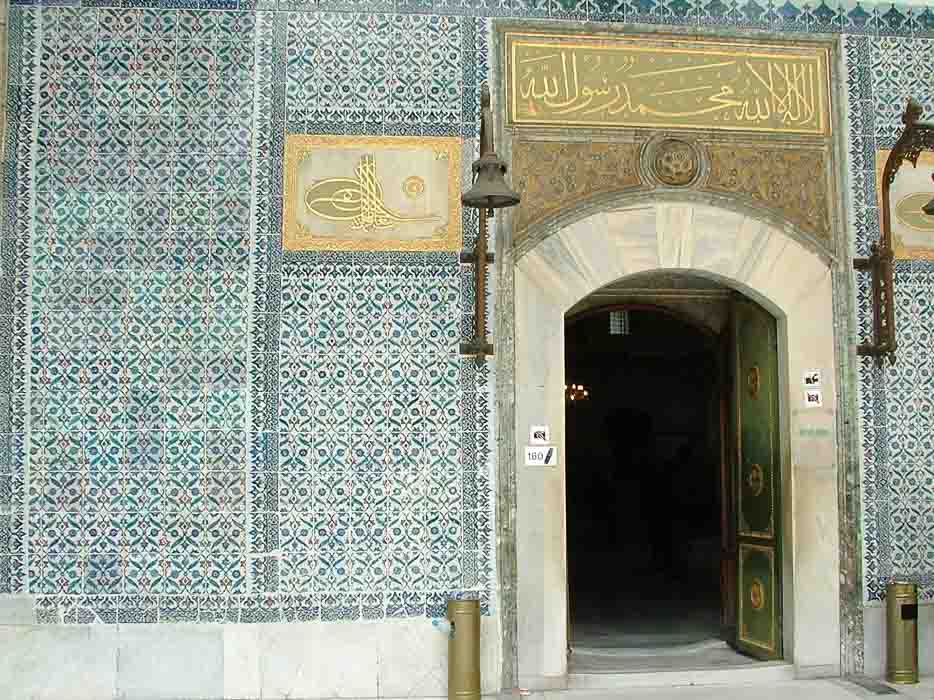 ⇒ Planning a trip to Turkey? Read my Istanbul 3 Day Itinerary, Gallipoli tours from Istanbul, 7 Day Turkey Itinerary and 3 Day Cappadocia Itinerary.
10. Pitti Palace – Florence, Italy
Originally the home of an ambitious banker, this palace was purchased by Florence's famous Medici family in 1549. The Grand Duchy of Tuscany then used Palazzo Pitti as its main residence and as a place to store its many growing treasures.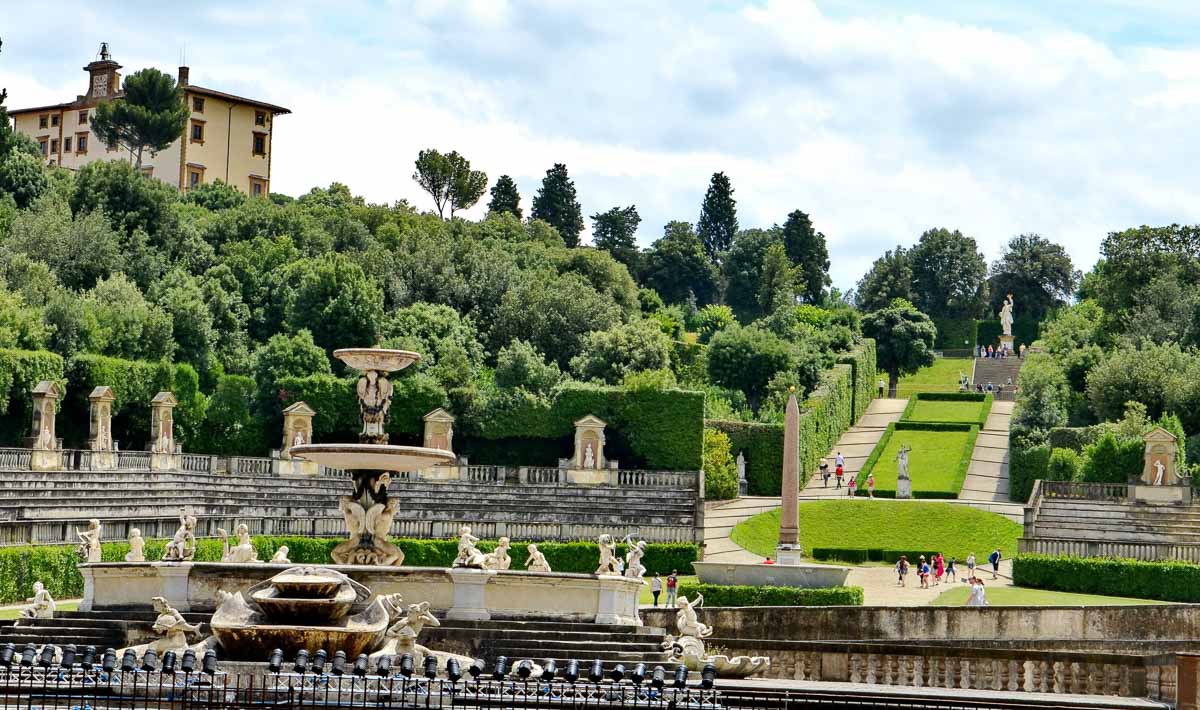 In the late 18th century Napoleon used Palazzo Pitti for a while and the palace was then donated to the people of Italy in 1919.
Today Palazzo Pitti consists of several different galleries and it is now the largest museum complex in Florence. The best known of the galleries is the Palatine Gallery which contains over 500 Renaissance paintings.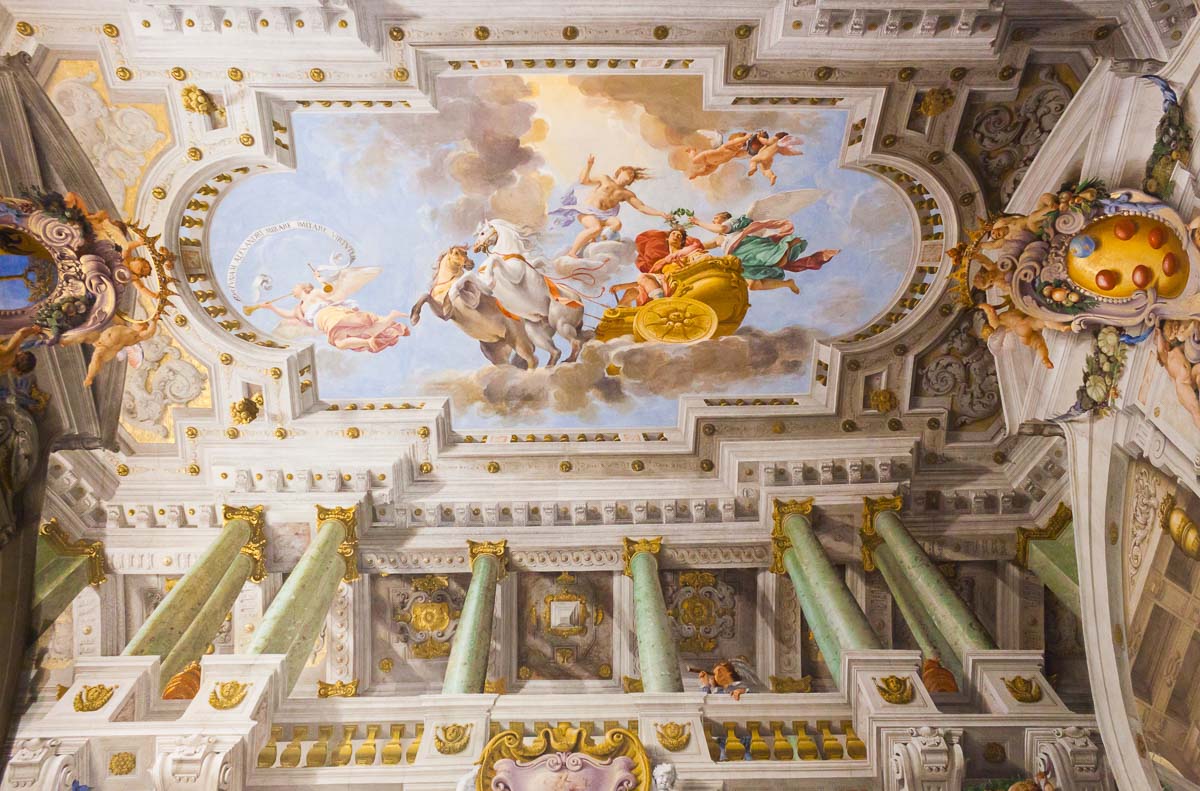 The palace also has a modern art museum, a costume gallery and even a carriages museum. One ticket covers entry to all of the galleries and museums within Pitti Palace.
⇒ Explore more of Europe in my posts on 14 Beautiful Cities in Europe 16 European Palaces not to Miss, 17 Beautiful Castles in Europe Not to Miss, 21 Most Beautiful Countries in Europe, 9 Most Beautiful Cities in Germany, 26 Landmarks of Germany, 25 Rome Monuments, 60 Most Famous Landmarks in the World, 12 Beautiful Famous Spain Landmarks, 9 Famous Ireland Landmarks and 16 Famous Landmarks in Europe.
11. Royal Palace of Brussels
Officially, the Royal Palace of Brussels is the main residence of the King and Queen of Belgium. However, like many of today's royal families, they choose to live somewhere a little more relaxed and the palace acts more like an office for the Royal Family.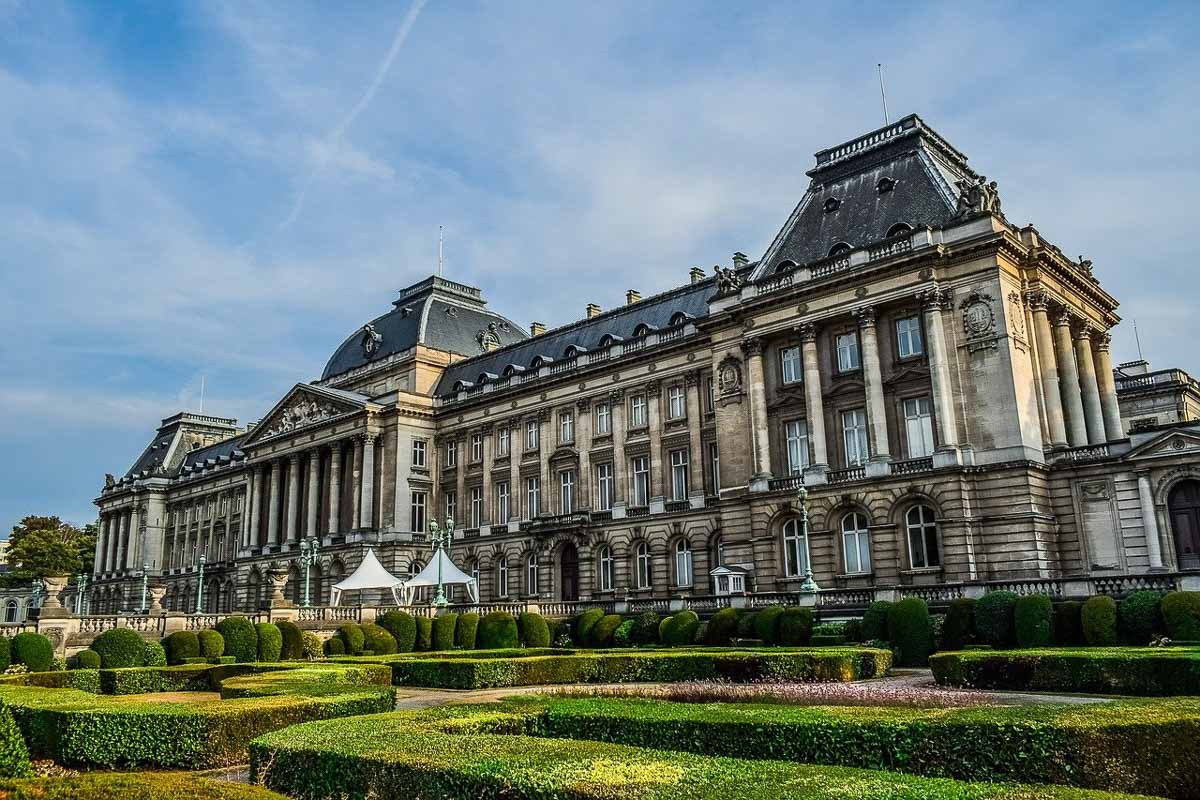 Origins of the palace date back to the 11th and 12th century but today's facade was only built in 1900. The Palace sits in front of Brussels Park.
The exterior of the Royal Palace of Brussels can of course be seen all year round. However, it is only possible to visit its interiors from July 21 through September when it is open all days except Mondays.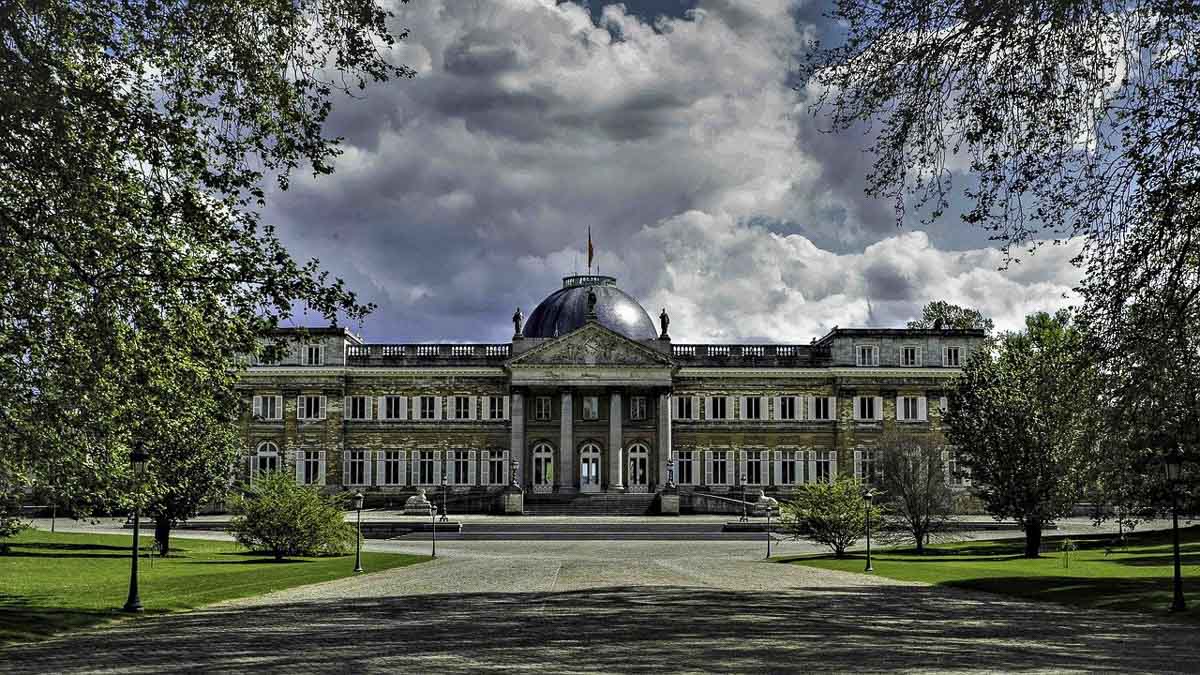 12. The Royal Palace of Stockholm – Sweden
Again, The Royal Palace of Stockholm is the official residence of the King and Queen of Sweden but not where they actually live (that is Drottningholm Palace).
The Palace is located in the lovely Gamla Stan or Old Town region of Stockholm. The Royal Palace of Stockholm contains all of the offices for the members of Sweden's Royal Family.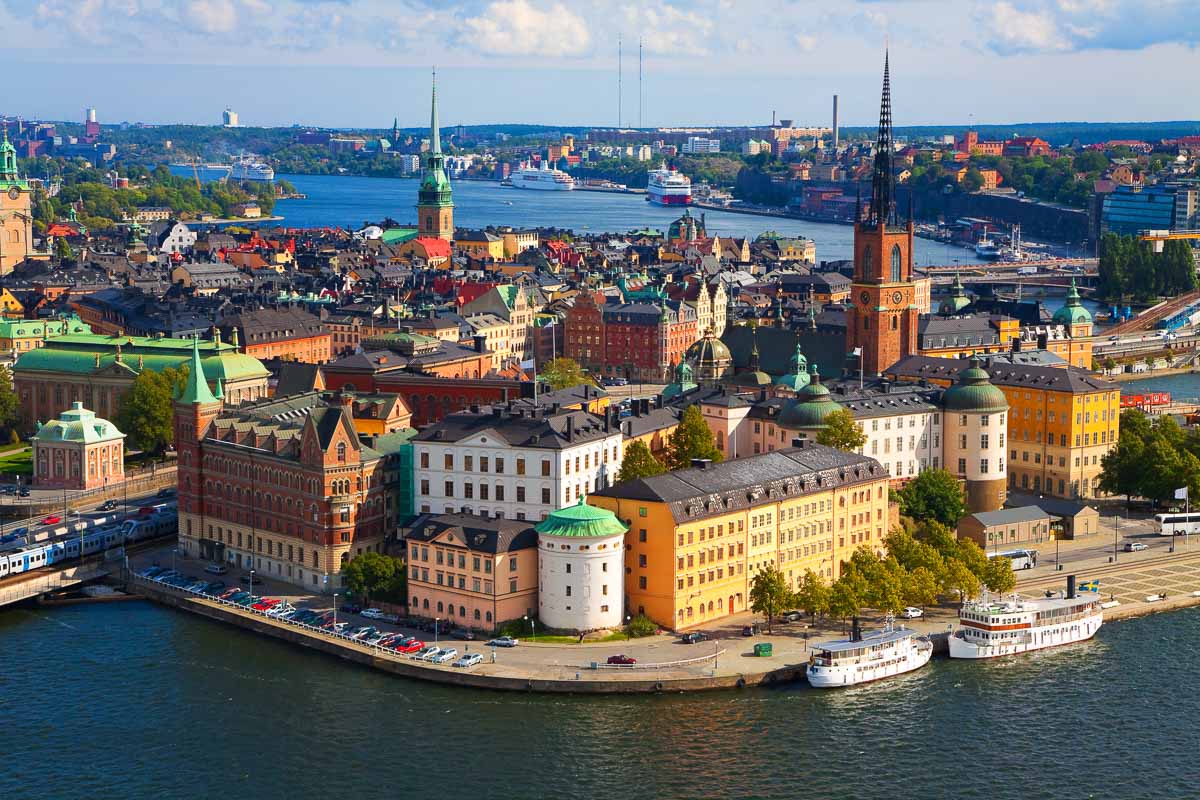 Gamla Stan has been the home of Sweden's Royal Family since the 13th century. The official residence building then was known as Tre Kronor Castle, which burnt down in 1697.
A palace was then created in the same space although it took nearly 70 years until it was completed and ready for the Royal Family to move in. Today the palace is owned by the Swedish State.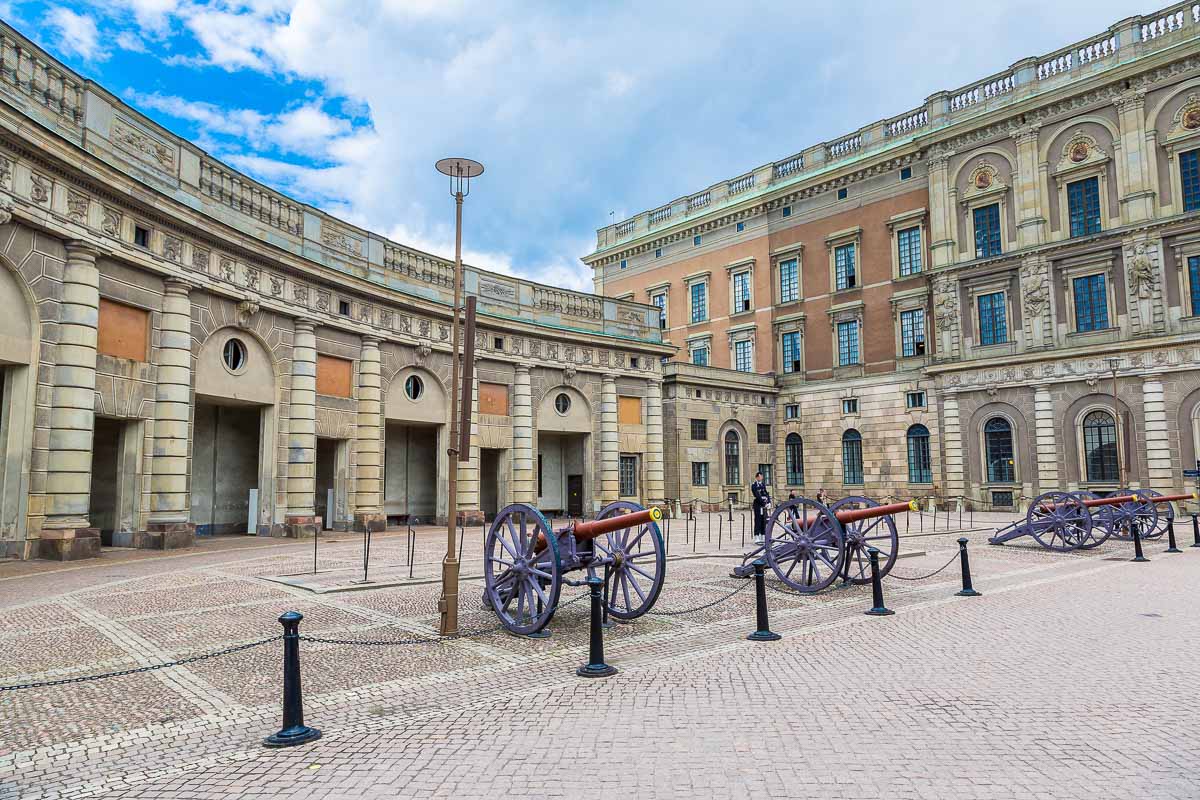 The Royal Palace of Stockholm is open from mid-May to late September every day from 10 am to 5 pm (and they have a changing of the guard). The rest of the year it is open Tuesday – Sunday from 12 pm to 4 pm.
13. Palace of the Popes – Avignon, France
The Palace of the Popes is the world's largest medieval gothic palace. In 1305, Pope Clement V decided to move the Papacy from Rome to Avignon to avoid political issues.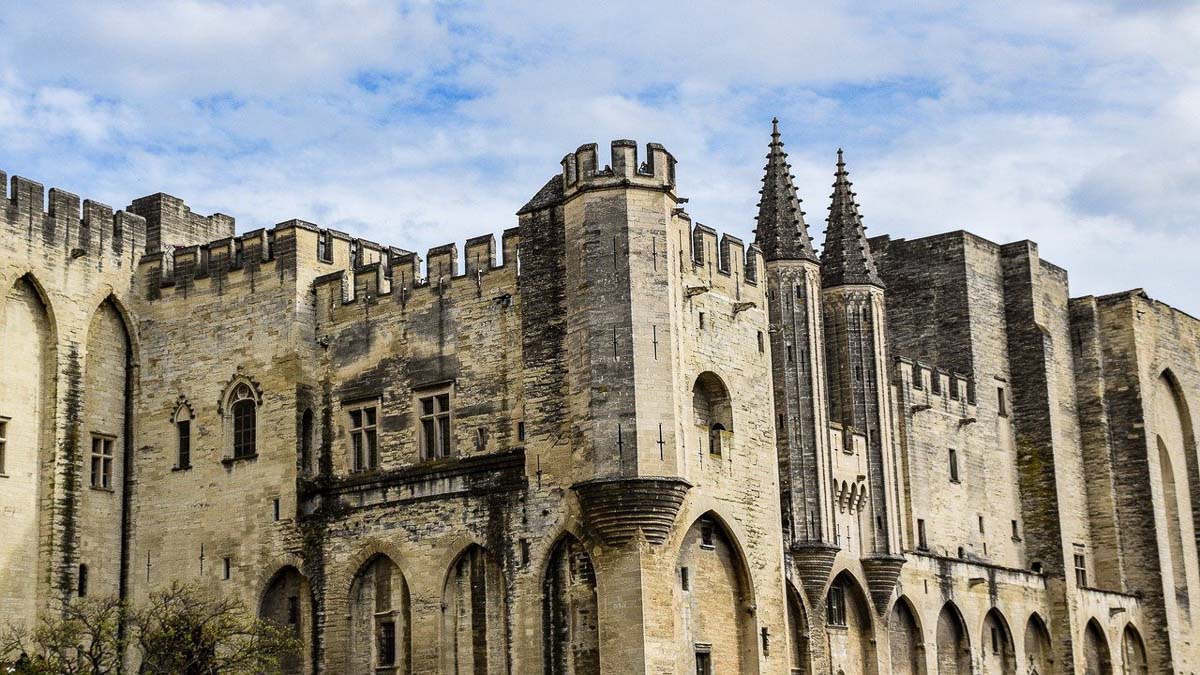 This 15,000 square metre palace ended up housing a library and was a meeting point for philosophers, musicians and all sorts of artists. Alas, these days were not to last that long as the papacy returned to Rome in 1403.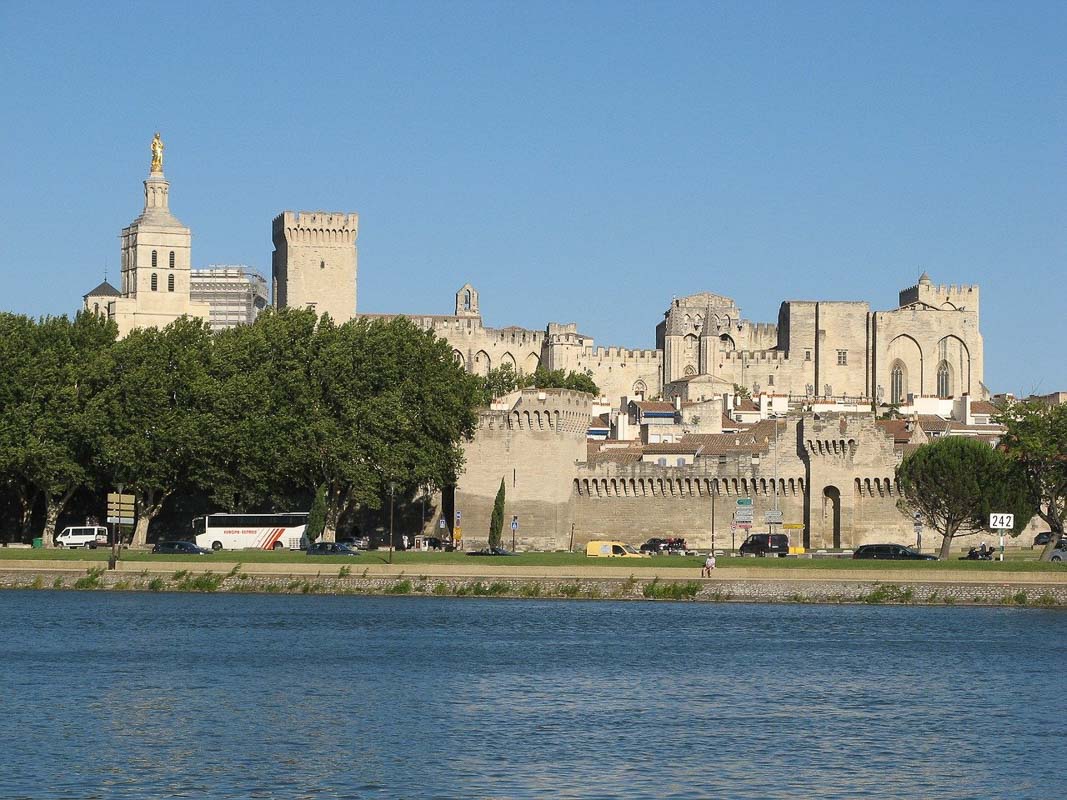 Today this rather large palace is a UNESCO site and it is open to the public daily. A ticket covers the frescoes, bedrooms, chapels and more.
14. Alhambra Palace – Spain
Located in Granada, Spain, the Alhambra is a palace and a fortress. It began as a small fortress which was built in 889 and was turned into a palace in the 13th century.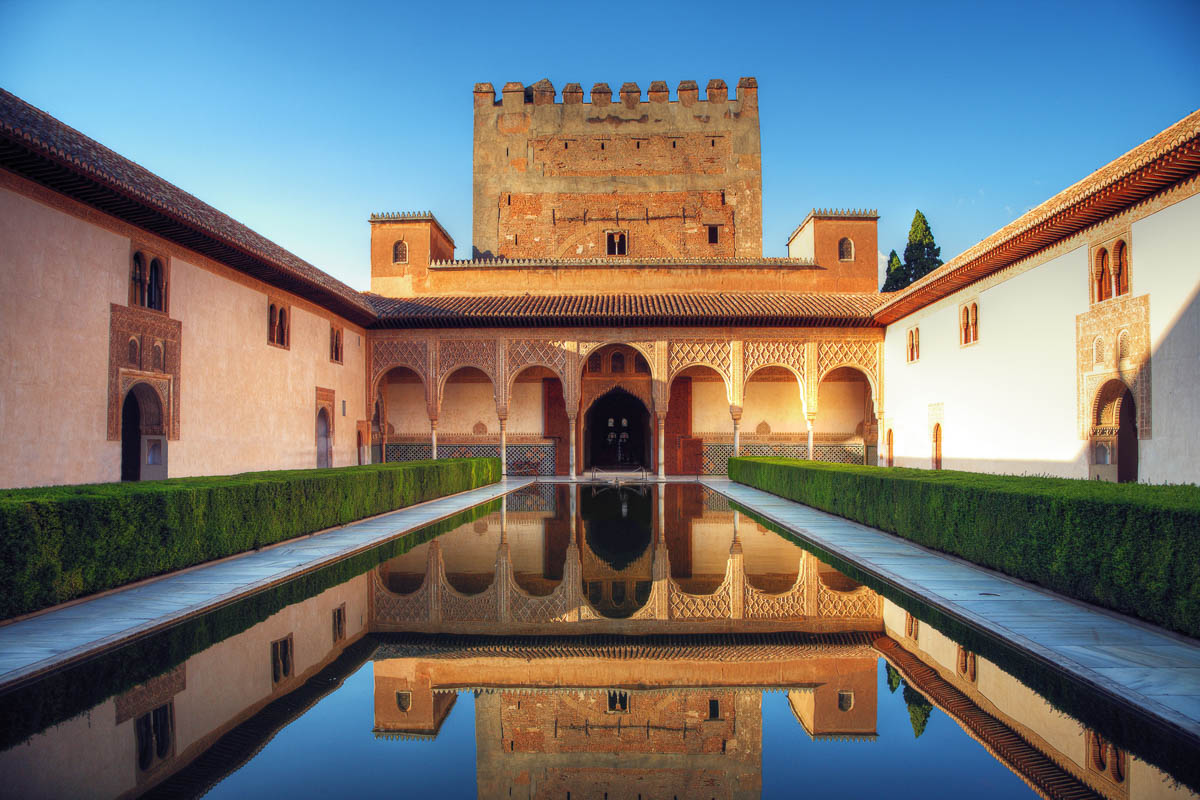 The name Alhambra comes from the arabic for "red or crimson castle". But it is not just a castle. It is also a royal palace, a fortrees, gardens, a town and a summer retreat. It became a UNESCO site in 1984 and receives about 2.7 million visitors every year.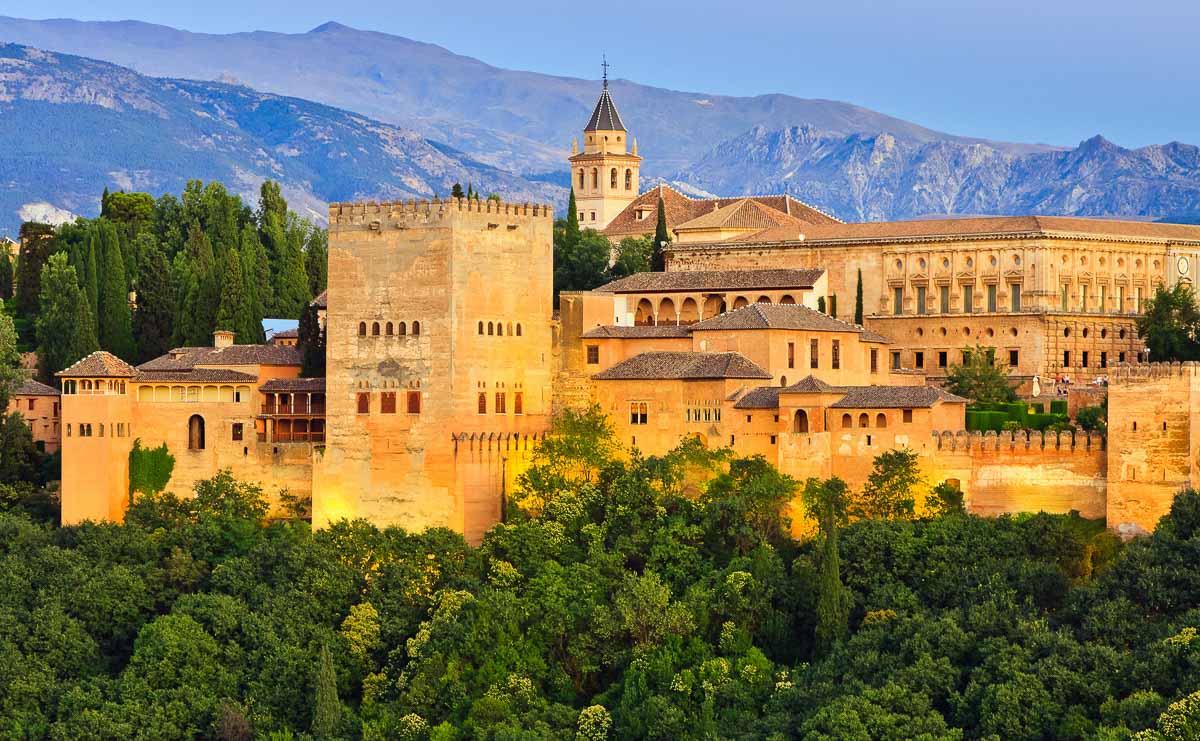 Tickets to the Alhambra can be purchased up to one year in advance and there are 6 different ticket options depending on what you want to see and experience in your tour. None of these options come with a guide and you can book skip the line ticket for the Alhambra.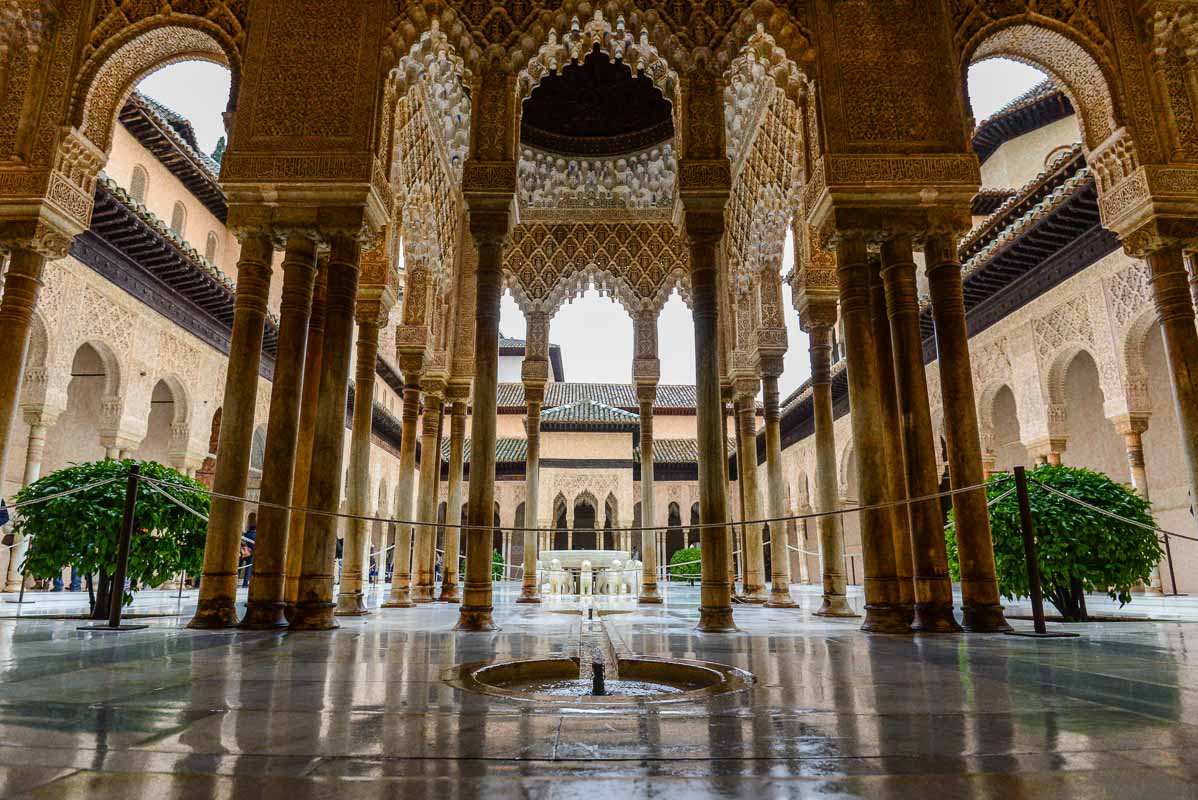 15. Chateaux de Fontainebleau – France
Fontainebleau was a home to the French Royal Family from 1137 to 1870. Originally a medieval fortress, it was re-designed as a Renaissance palace. Louis XV and Louis XVI would spend autumns at Fontainebleau. After the French Revolution, Napoleon found the palace empty and restored it. He spent his final days before his departure to Elba at Fontainebleau.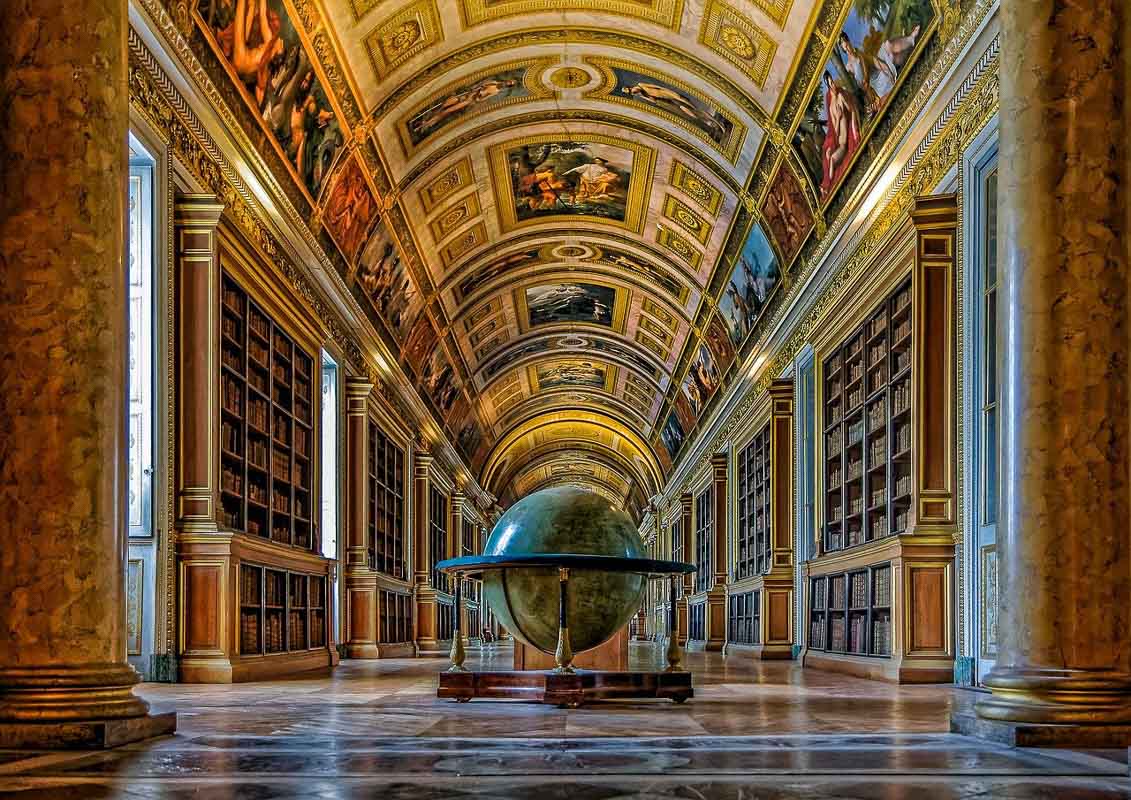 Today your Fontainebleau ticket will cover chapels, galleries, guest apartments, Marie Antoinette's bed, Napoleon's throne and much more. And don't miss the stunning gardens.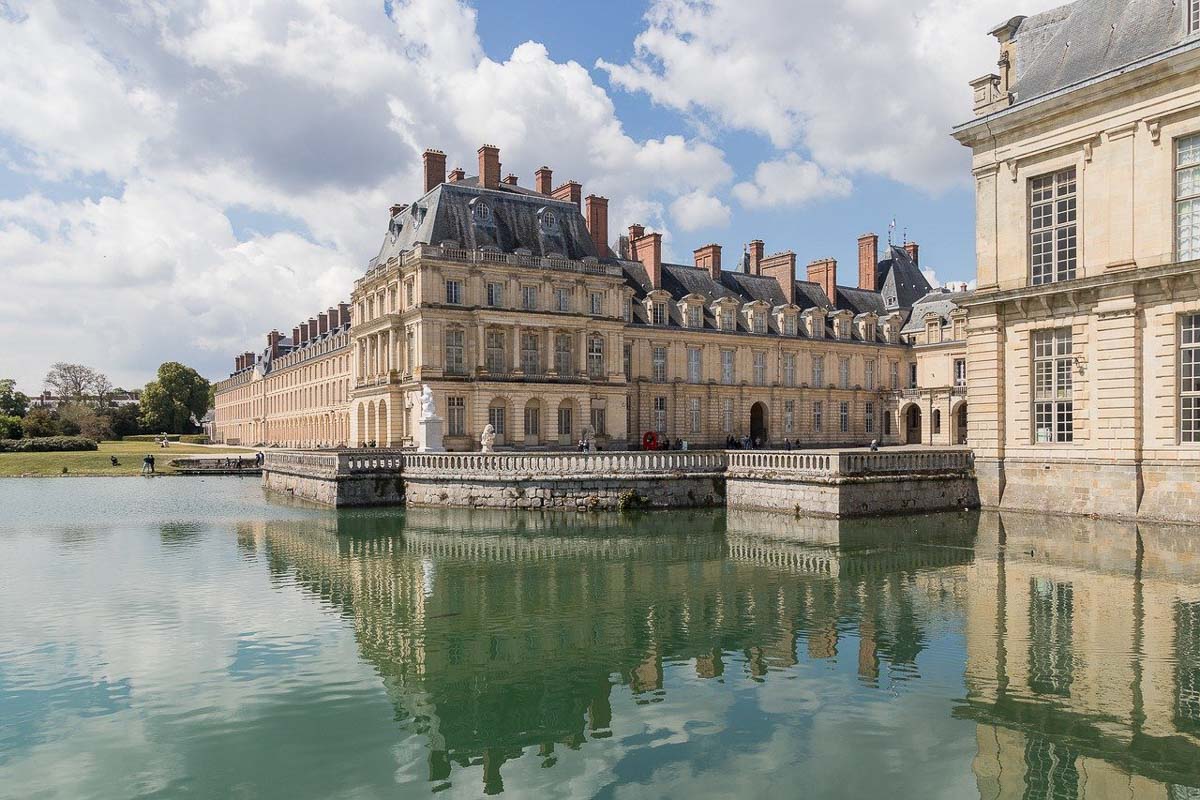 Fontainebleau is about 55kms from Paris. Trains leave from Gare de Lyon and only take about 40 minutes.
16. Chateau de Chambord – Loire Valley, France
This stunning palace is the largest of the palaces and castles in France's Loire Valley. It was commissioned by King Francis I and created by Leonardo da Vinci.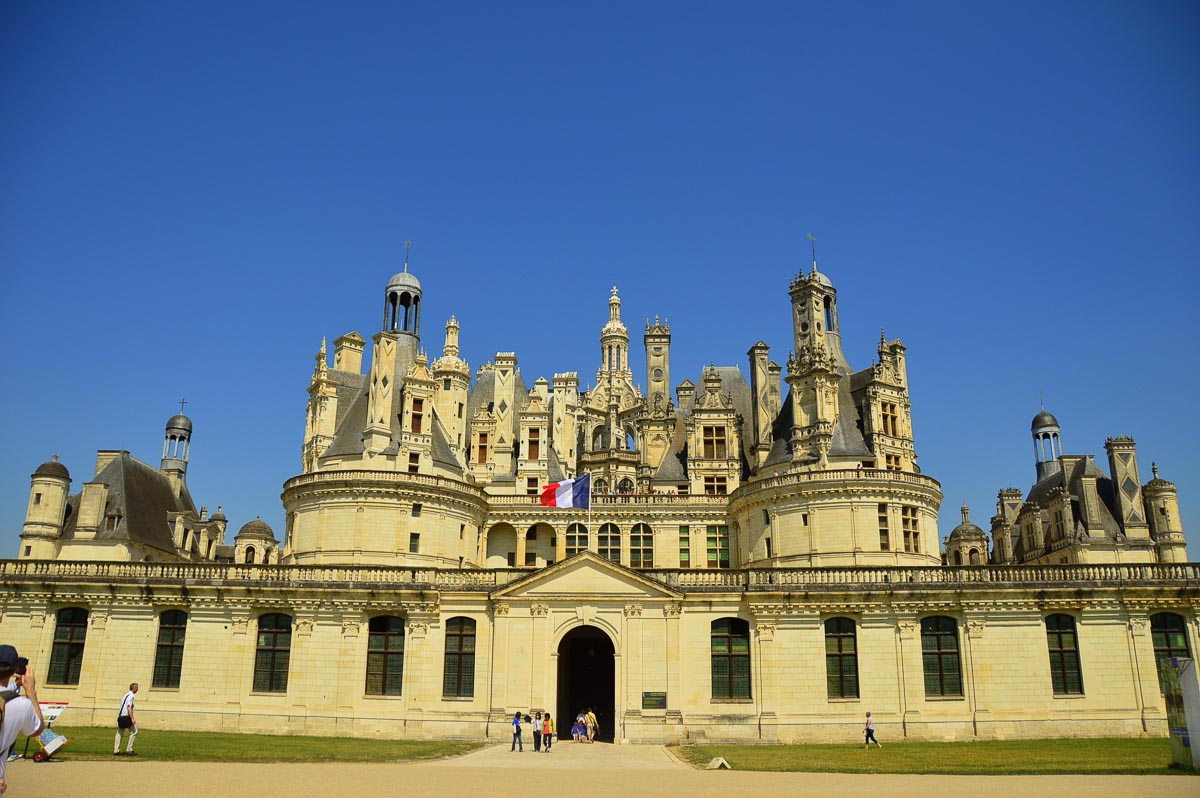 As mentioned at the beginning of this post, Chambord is definitely a palace as the key reason that King Francis I commissioned the building was to demonstrate his power. Indeed, he only spent 50 days at Chateau de Chambord.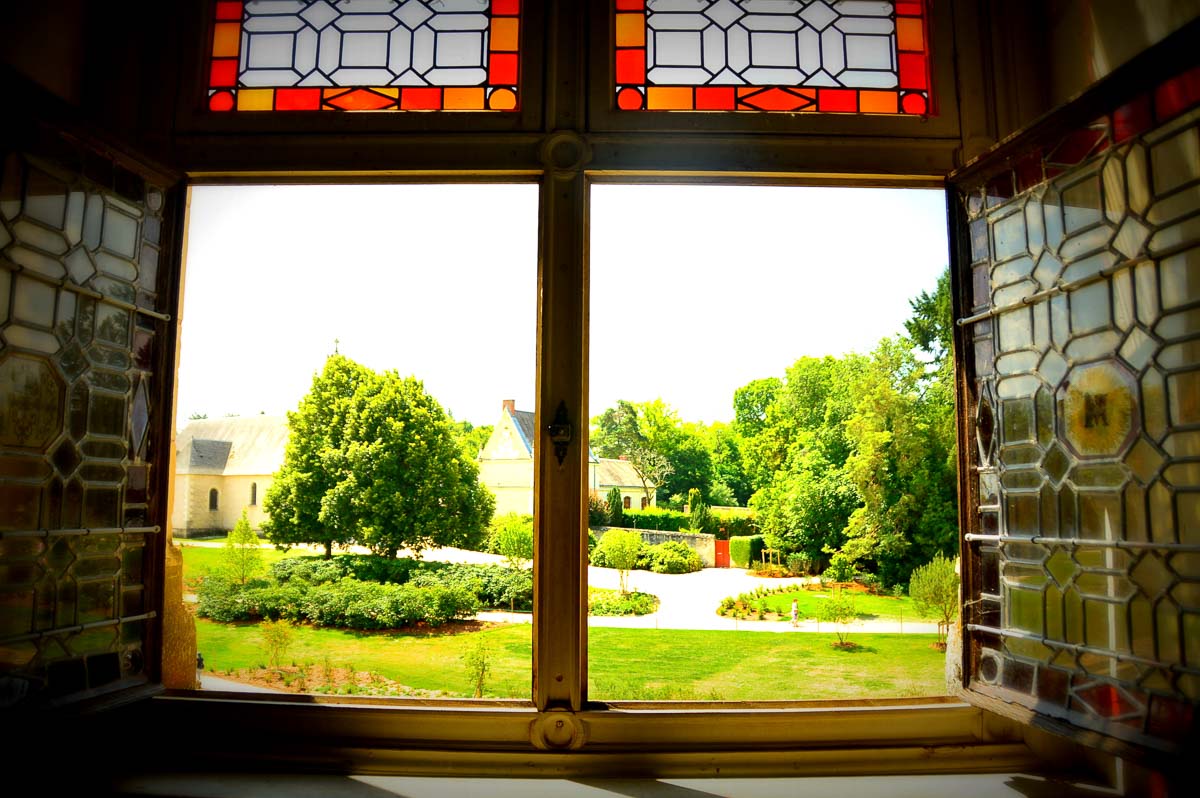 One of the most famous elements of Chambord is the double helix staircase which was designed by Leonardo da Vinci. It allowed guests to descend on one side without making eye contact with those guests ascending.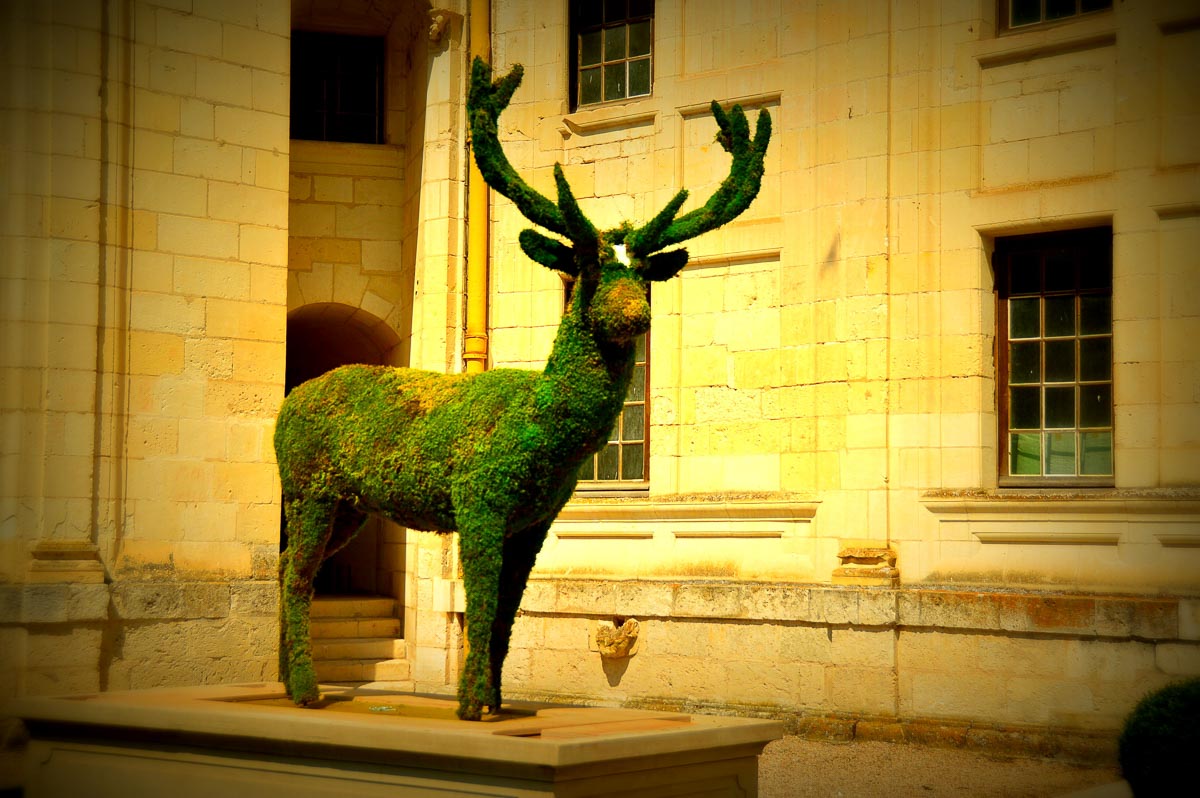 On top of that there are 60 rooms to visit, Salamanders on the ceilings, French gardens and a park as big as Paris! Yes, the park at Chambord is the same size as inner Paris and is the largest enclosed park in Europe.
Chateau de Chambord is open every day all year round apart from December 25 and January 1. Opening hours are slightly longer in the summer.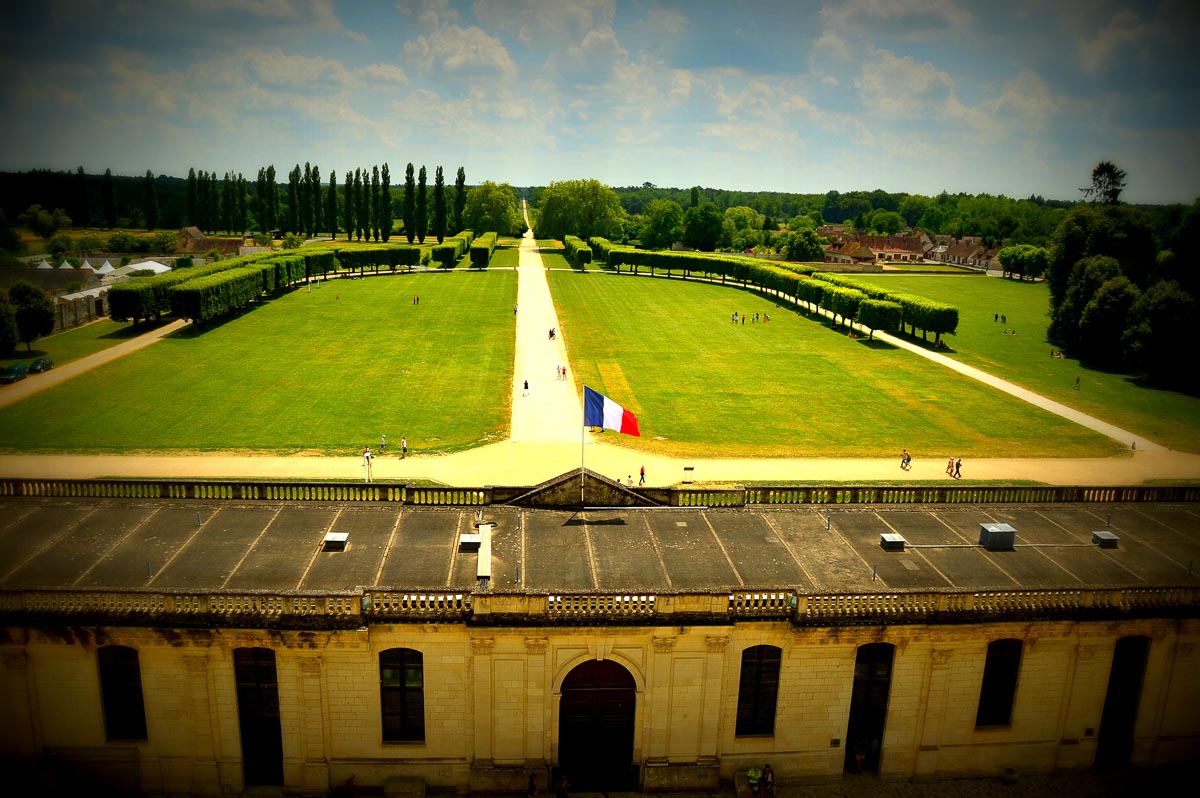 17. Sanssouci Palace and Park – Germany
Located in Potsdam, the Sanssouci Palace is a historical structure that was built by the Prussian king, Fedrick the Great. The single-story palace was built in 1745, with an elliptical dome in the centre.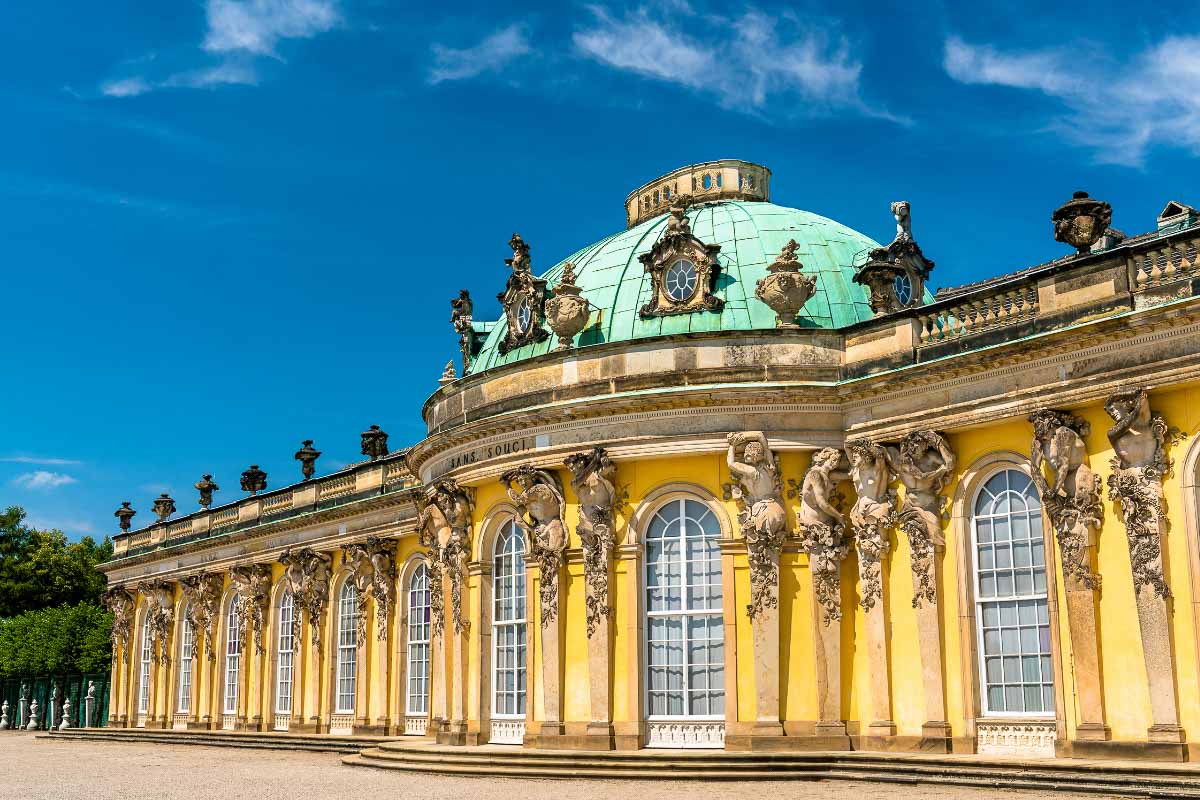 The palace is notable for its spectacular interior decor, especially in the enormous Marble Hall. Its rooms are adorned with over-the-top embellishments and dotted with beautiful paintings, furnishings, and sculptures.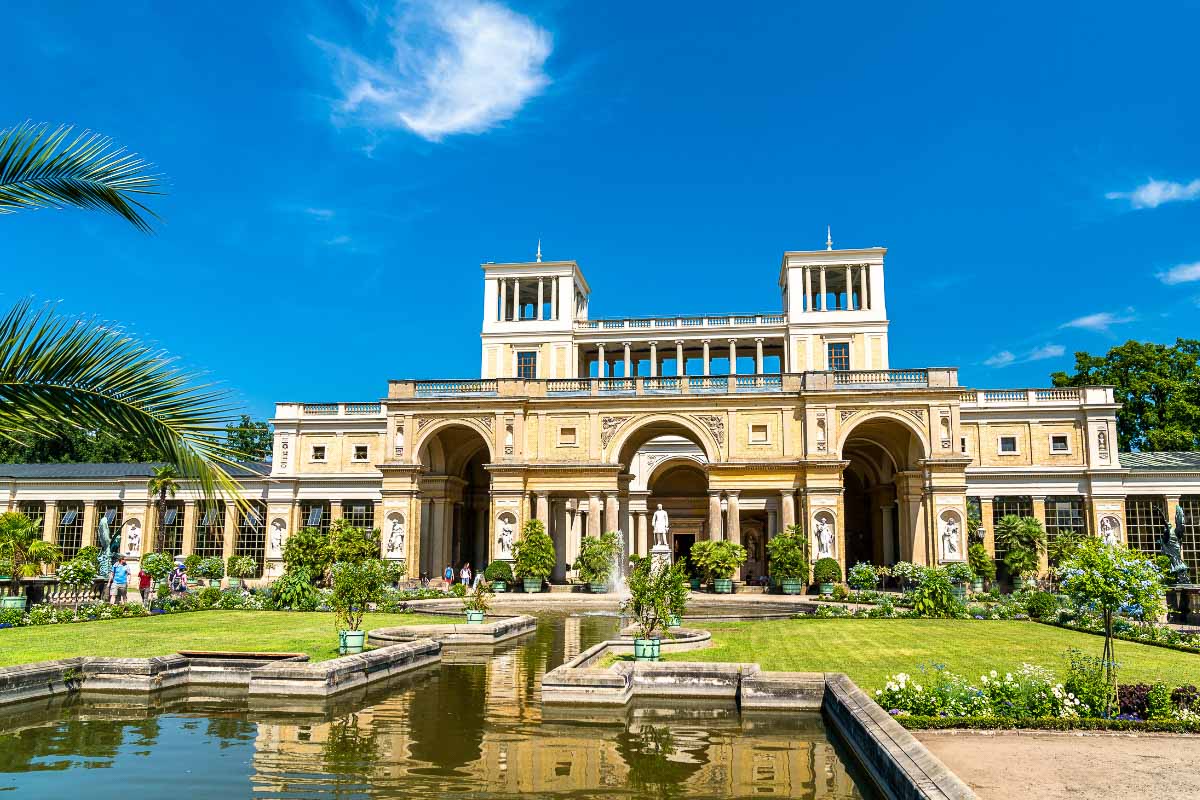 When you visit the palace, make sure you take a stroll around the stunning Sanssouci Park. It's considered one of the most celebrated examples of Potsdam Rococo and reflects Frederick the Great's personal tastes. Here you'll find beautiful Baroque flower gardens, over 3,000 fruit trees and an array of greenhouses.
For an incredible time, take a city tour and discover castles and palaces in Potsdam.
This European Palaces post includes affiliate links. That means if you click through and end up making a purchase I will receive a small commission. I wanted to make sure you were aware of this.
Watch my European Palaces Web Story