Arizona, famous for the Grand Canyon, one of the United States' most famous landmarks, has many fun things to do. During the fall and Halloween season, pumpkin patches shoot up to around the top of this list.
The pumpkin patches are a great family getaway that presents an opportunity to have fun, create memories and snap some pictures. There are also many side activities to join along in during the experience. This includes navigating corn mazes, petting animals, hayrides, and so on.
Without further ado, here are 13 of the best pumpkin patches in Arizona.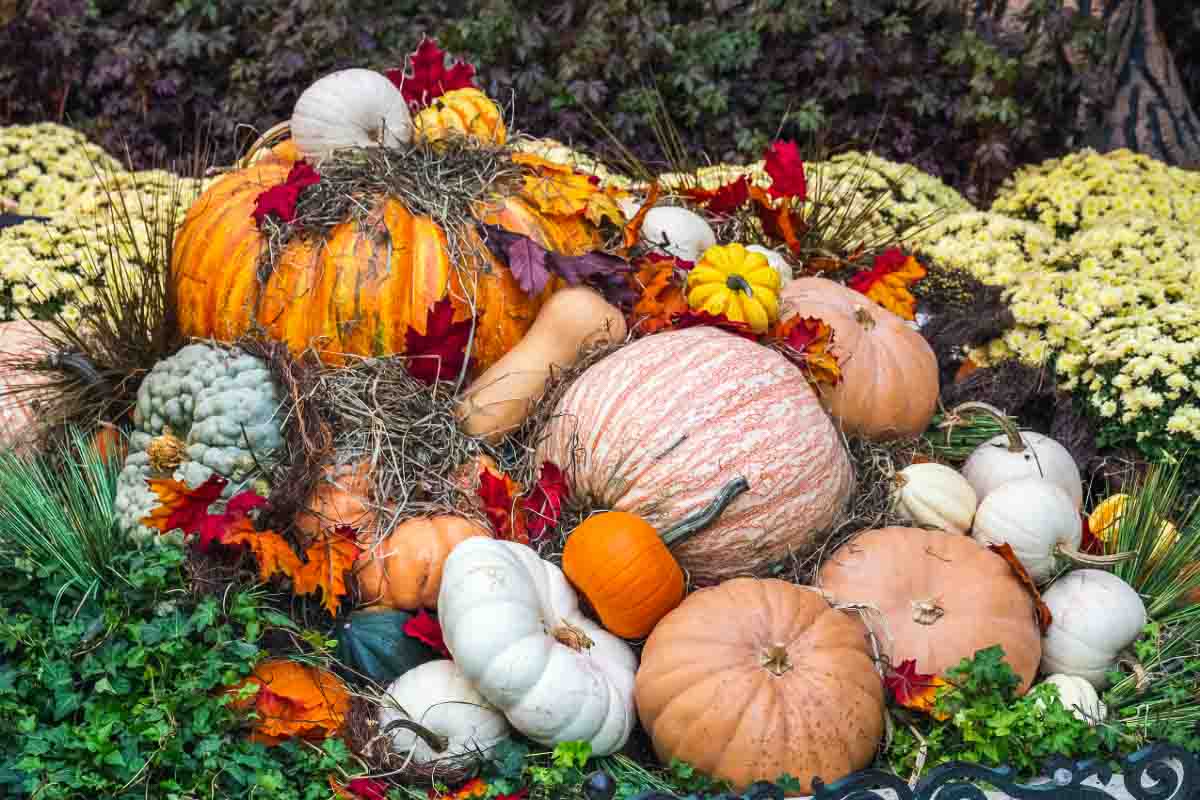 13 Best Pumpkin Patches in Arizona
1. Mother Nature's Farm
Mother Nature's Farm in Gilbert is a great place to get a pumpkin for that perfect jack-o-lantern. Fresh pumpkins can be found in stock nearly every day. It opens on the 26th of September and remains open until Halloween.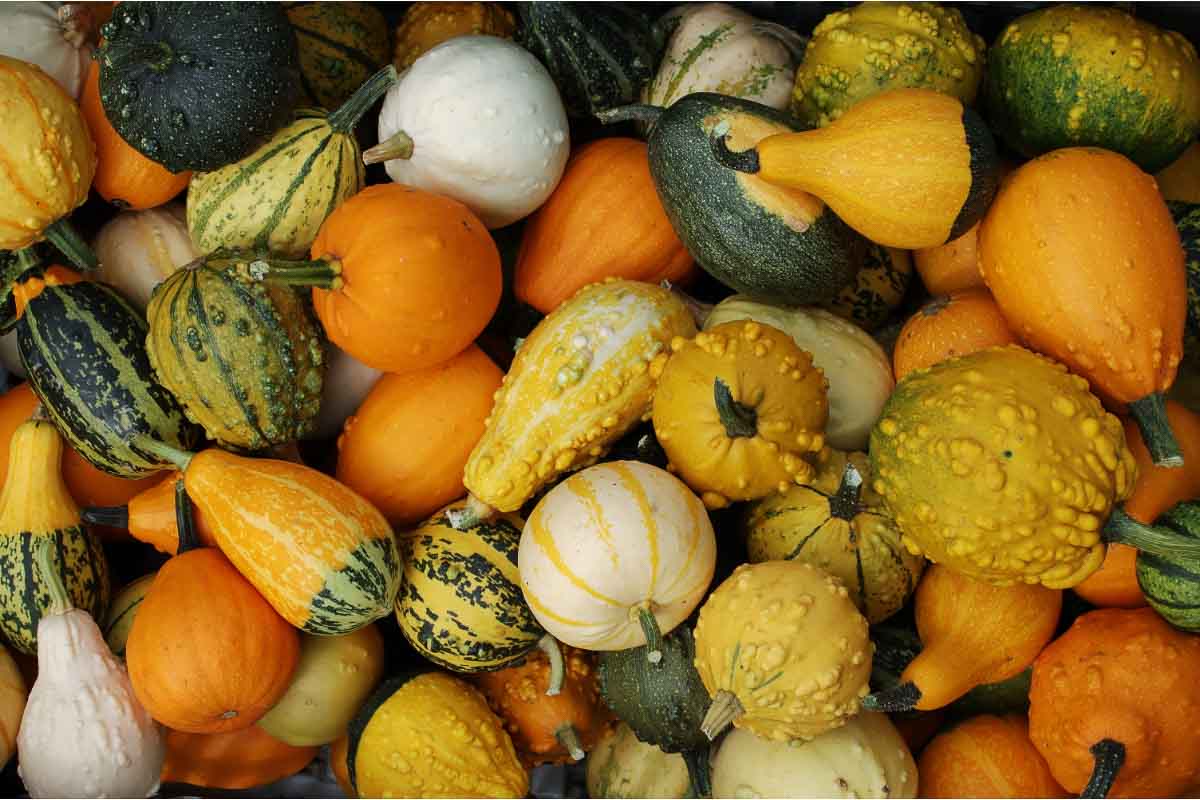 Admission into the pumpkin patch includes a spider web crawl, feeding animals, hayride, and an adventure maze. Bring a picnic lunch which you can enjoy on one of the picnic tables, on the field, or under the shade provided by trees. Although, you can purchase food here on a cash-only basis.
Entry costs just $10 per person.
2. Tolmachoff Farms
For a more eerie pumpkin patch, visit Glendale's Tolmachoff Farms which features a haunted maze located over a cemetery. It's open from October 1st to November 1st and has several activities to choose from.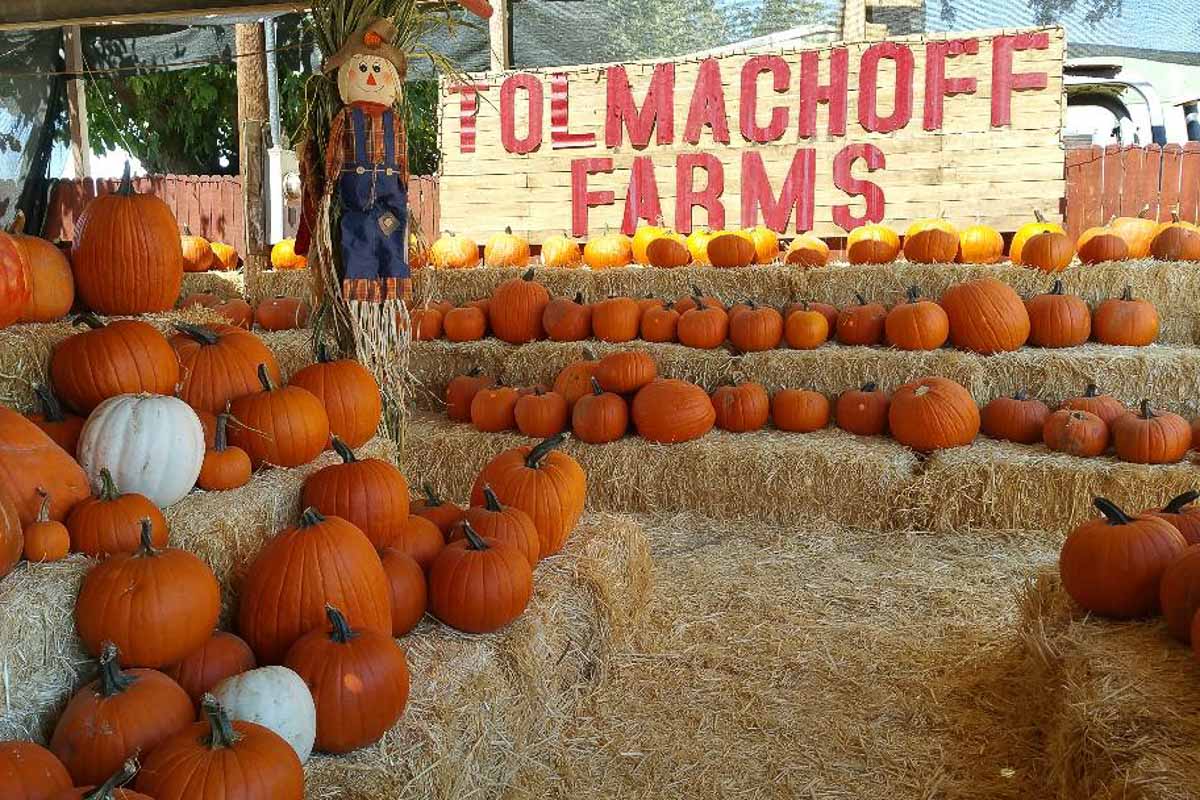 Navigate a corn maze, send your babies on a mini corn maze journey, take them to the petting zoo, hay pyramid, jumping pillow, and more. Plus, there are many fresh pumpkins to pick and choose from.
The entry is just $15 and kids two years or younger enter for free.
3. Mortimer Farms Pumpkin Fest & Corn Maze
A ton of fun at Dewey's annual Mortimer Farms Pumpkin Fest & Corn Maze awaits for all ages. This pumpkin patch is open throughout October and offers hayrides, barrel train rides, pig races, and dog races. There's also a circus show, zip lines, ropes course races, karaoke, and more.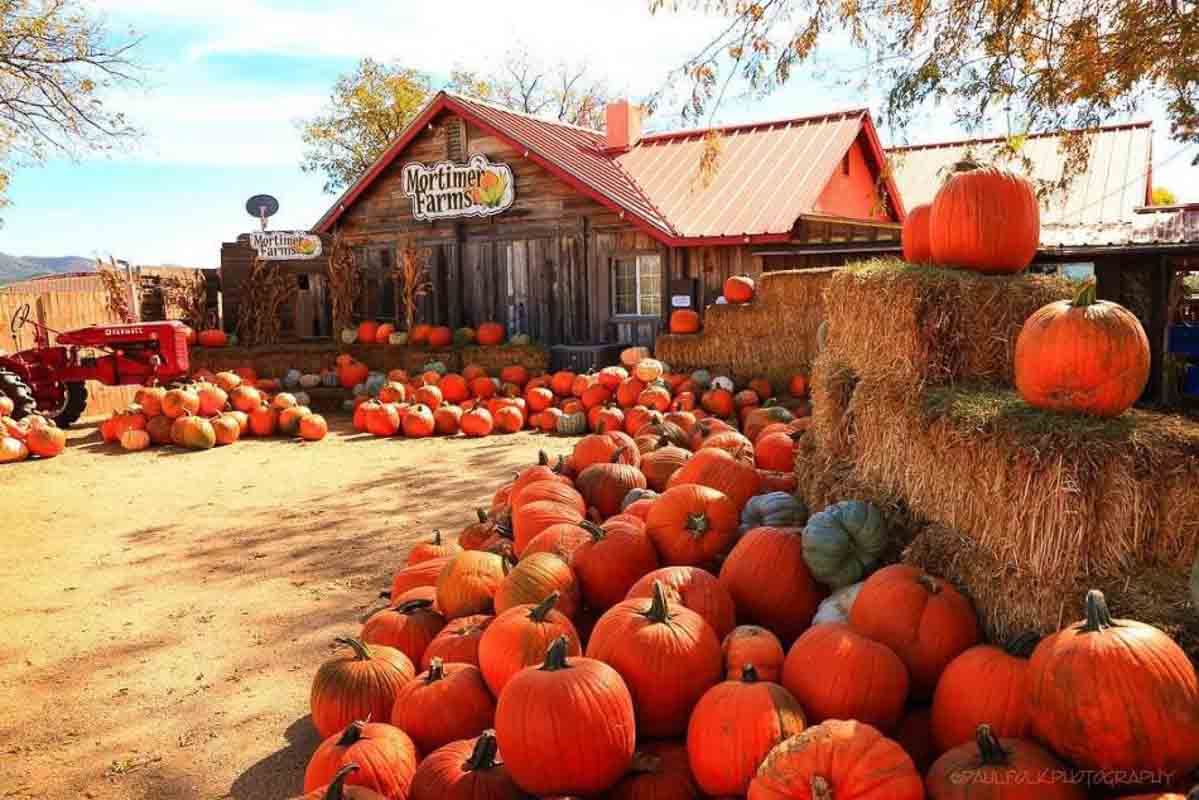 Plus, there's a corn maze and the pumpkin patch to extend the fun. Take a break in between these activities and refuel with their farm-to-table foods.
Entry costs $14 and kids two years and younger enter for free.
4. Marana Pumpkin Patch
The Marana Pumpkin Patch is another of Arizona's best pumpkin patches that is full of fun activities in addition to pumpkin picking. Ride on a wagon on your way to the pumpkin patch, then once there, join in on the straw mountain, Coronado or Cyclone swing, and pig races.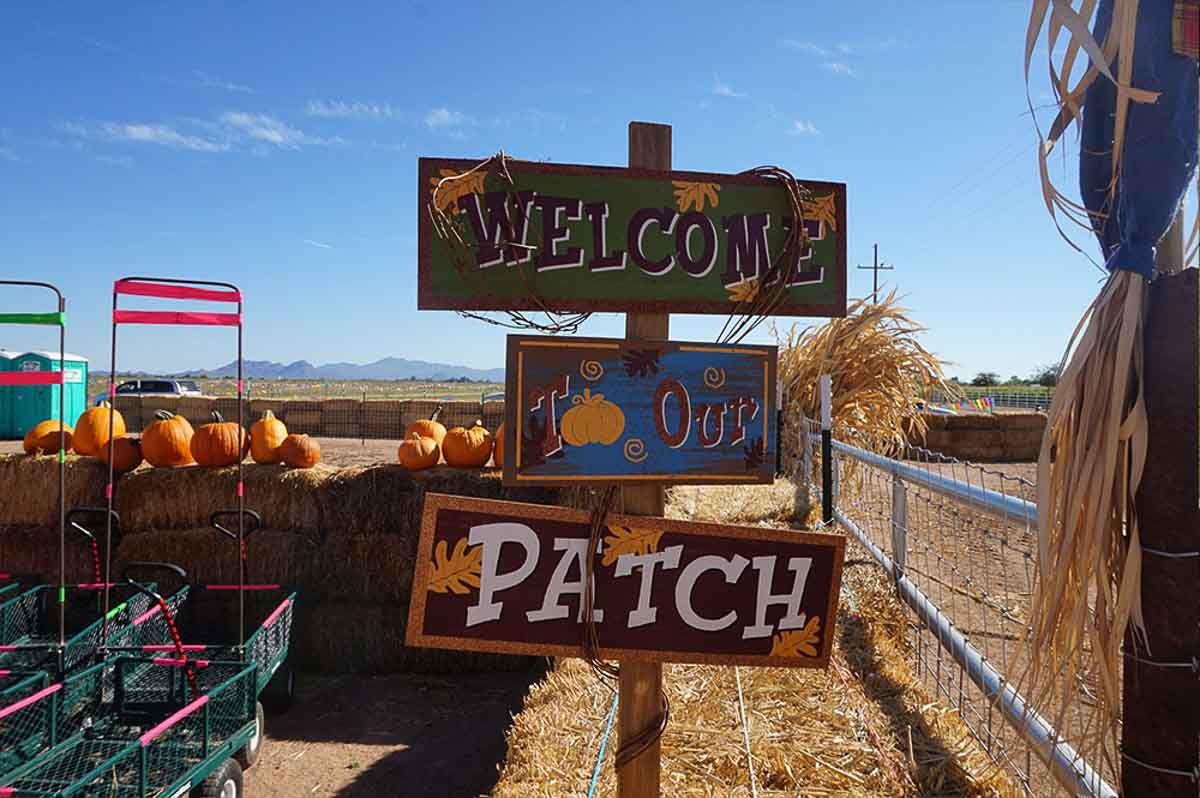 Looking to experience some of the best nature experiences in the United States? Check out my posts on the 15 Best Northern California Hot Springs, 13 Best Pumpkin Patches in Arizona, 9 Best Hot Springs in Washington State, 11 Best Pumpkin Patches in Las Vegas, 33 Historical Places in Florida, 3 Hot Springs in Steamboat Springs, 13 Spectacular Sunflower Fields in Long Island, 11 Pumpkin Patches in Houston, 13 Sunflower Fields in Illinois, 13 Hot Springs Oregon, 15 Stunning Sunflower fields in New Jersey, 13 Best Pumpkin Patches in San Diego, 10 Best Places for Hot Springs in the USA, 6 Best States to see Sunflower Fields in the United States, 15 Gorgeous Sunflower Fields in California, 15 Best Places for Cherry Picking in Michigan, 23 Hot Springs In Nevada, Radium Hot Springs Colorado, 29 Hot Springs in Montana, 21 Sunflower Fields in Ohio, 33 Unique Things to do in Florida, 33 Great Things to do in Destin Florida, 21 Awesome Things to do in East Texas, 13 Lakes in Southern California, 32 Best Places to visit in Bay Area, 13 Best Hot Springs in Pagosa Springs, 23 Things to do in Orlando for adults, 17 best stops on a Road Trip from Los Angeles to San Francisco, 21 Texas Coastal Towns, 7 Stunning Sunflower fields in Minnesota, 29 Hot Springs of New Mexico, 29 Idaho Hot Springs and 11 Terrific Texas Sunflower Fields.
Take the kids to the petting zoo, super slide, peddle cart ride, and a little tractor ride. Plus, if the weather is perfect, try to navigate their corn maze from start to finish. This pumpkin patch opens on the 2nd of October and lasts until Halloween, although Mondays – Wednesdays are closed.
Their pricing varies between $11 and $14, while children 34" and under get in free,
5. Halloween Town Pumpkin Patch
Located at Paradise Valley Mall in Phoenix is this fun pop-up with incredible photo ops. In true Halloween spirit, costumes are encouraged, so be sure to pull out all the stops.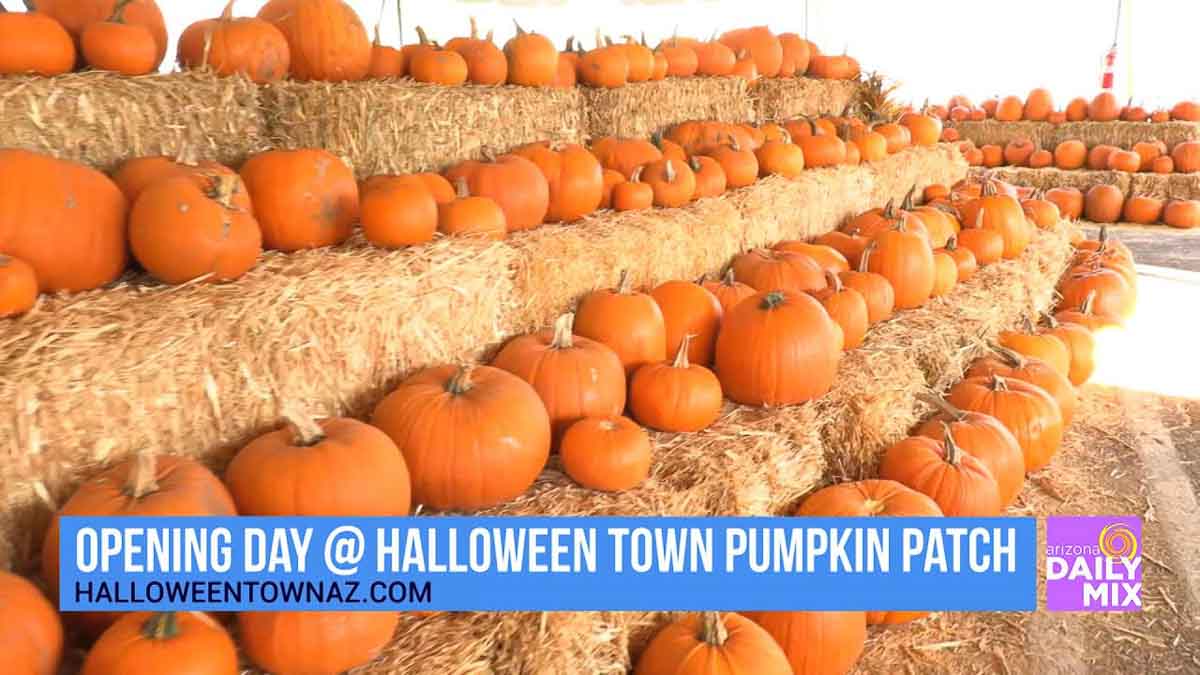 There are arts and crafts, face painting, carnival games, rides, and other attractions. The Halloween Town Pumpkin Patch pop-up is available for a week between 22 and 31 October, operating from 4 to 9 p.m. on weekdays and from 11 to 9 p.m. on weekends.
Admission costs just $5 for the fun-filled experience.
6. Vertuccio Farms Corn Maze & Fall Festival
In Mesa, the Vertuccio Farms Corn Maze & Fall Festival occurs between the 1st of October until the 1st of November with varying times.
This pumpkin patch features mini golf, inflatables, a mini zipline, spider web climb, and a barrel train ride. Further, there's a petting zoo, giant tube roll, mini hay maze for kids, pumpkin bowling, and more. Of course, there's a corn maze too for adults to find their way through.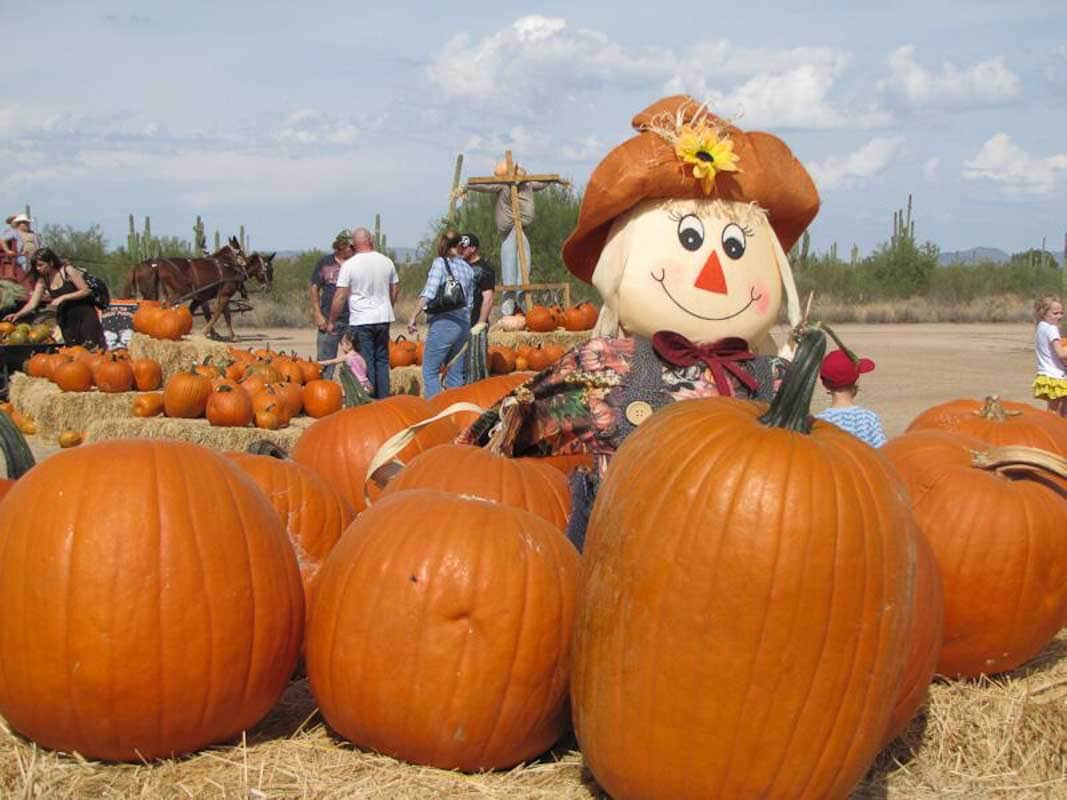 Admission costs $12 per person and kids two years and younger enter at no charge.
7. Fall Pumpkin Celebration at Apple Annie's Orchard
Apple Annie's Orchard, located in Wilcox, is a farm with a ton of fun and pumpkin patches aplenty. You get the opportunity to pick a pumpkin from the over 20 different varieties they produce yearly. There are also many pre-picked pumpkins waiting for you if you'd rather not do the hard work of going around the farm looking for the perfect pumpkin.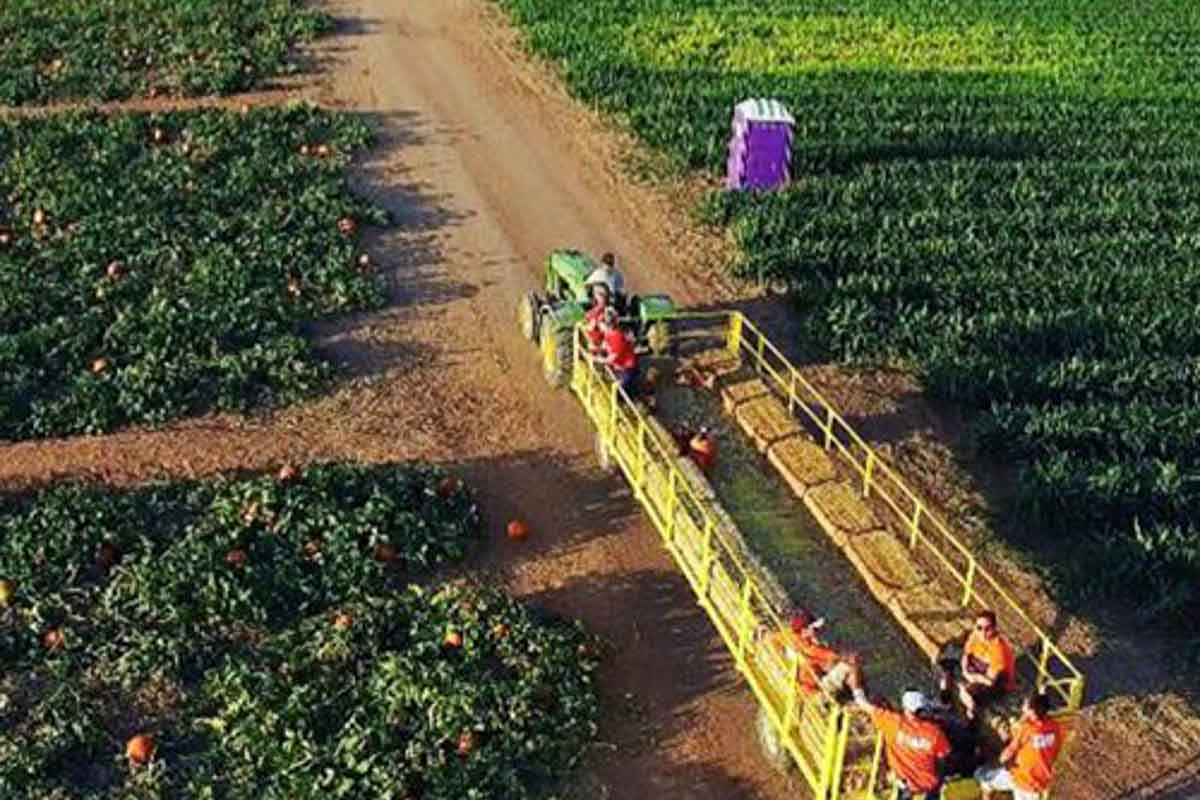 The pumpkin patch opens mid-September until Halloween and has activities such as hayrides, and two corn mazes with varying difficulties.
Any person twelve years and older will pay $11 for all the fun, while kids between three and eleven pay $9. Anyone younger than that enters free of charge.
8. Pumpkin Nights at the Princess
Situated in Scottsdale, the Princess resort hosts pumpkin nights between mid-September and Halloween. It undergoes a transformation to offer visitors a pumpkin patch, a haunted place, and a lawn dotted with jack-o-lanterns.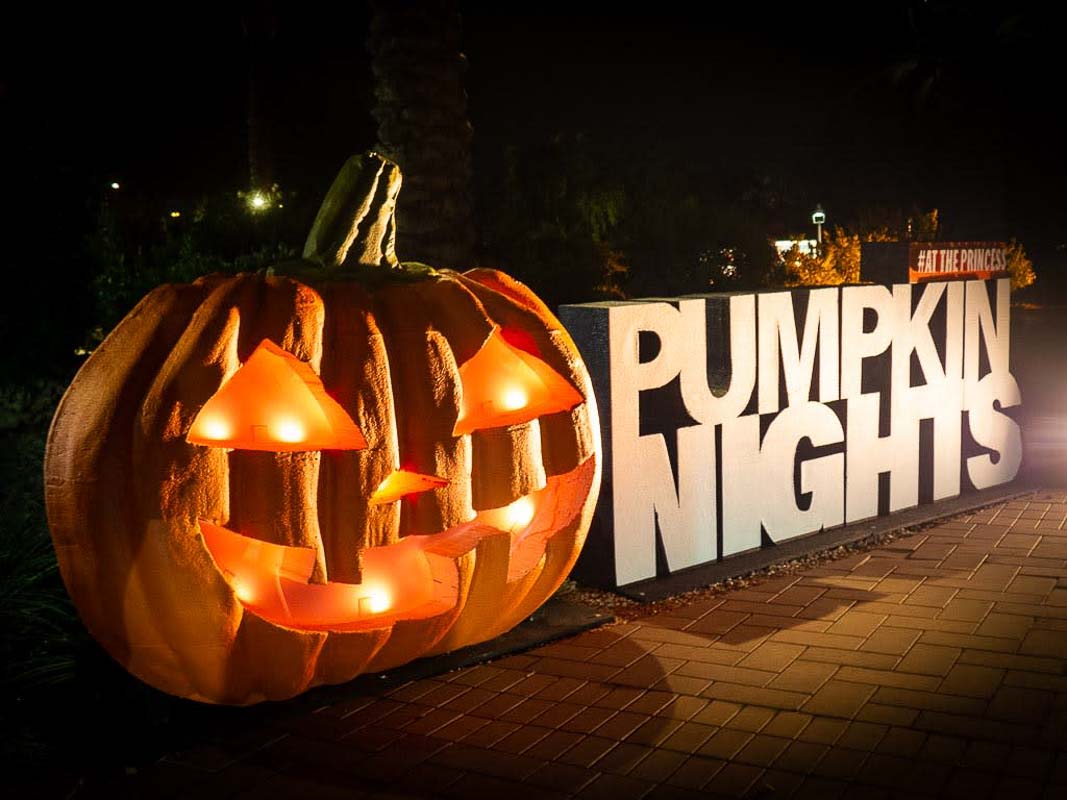 The transformation also brings you activities such as a hay maze, lantern launch, and more. The pumpkin patch event takes place between 6 and 10 p.m. from Thursdays to Sundays. Enjoy delicious food at the resort's restaurants or be amazed by the fireworks show.
Admission costs $10 per person and kids under the age of 3 enter for free.
9. Pumpkin and Chili Party at Schnepf Farms
In Queen Creek, this pumpkin patch experience on Schnepf Farms starts on the 1st of October and ends on the 1st of November. Pick out the perfect pumpkin, then go about your day enjoying the fun-for-all-ages attractions.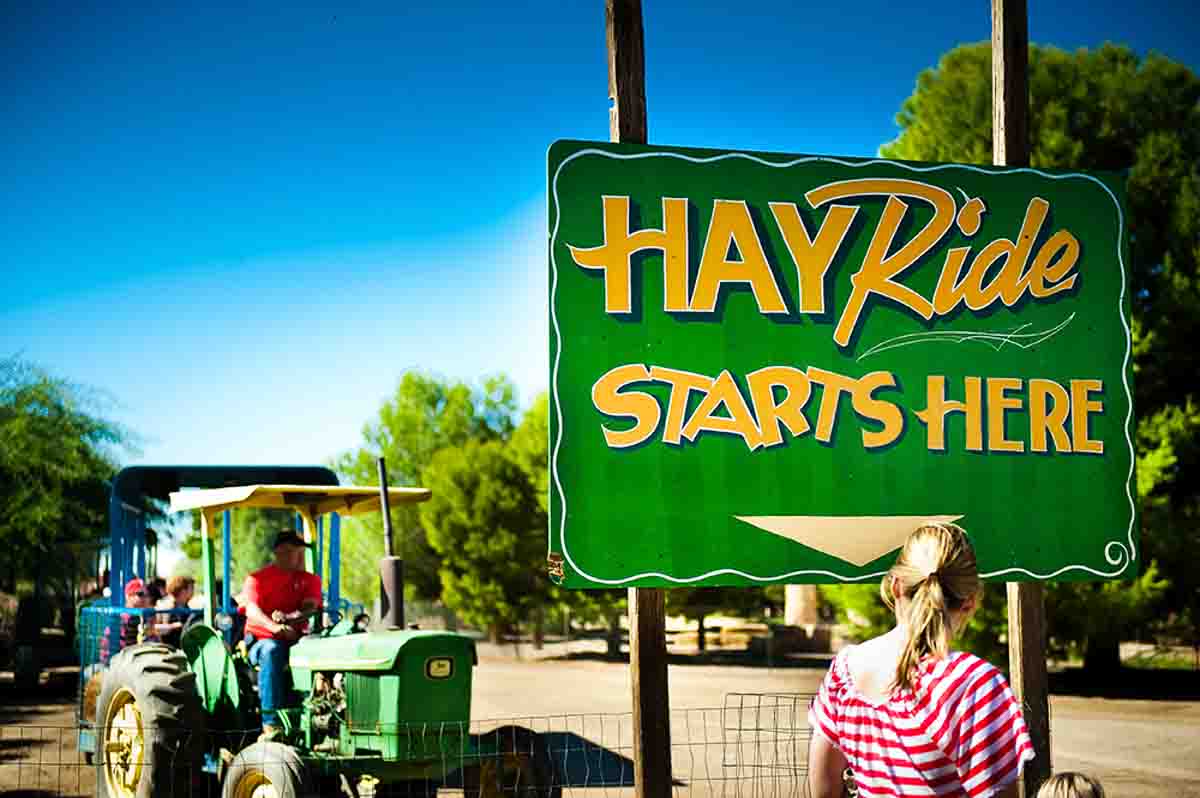 This includes riding on a roller coaster, zooming on zip lines, a petting zoo, pig races, and hayrides. Also, take on their 4-acre and 10-acre corn mazes, then zoom down their giant super slide. Afterwards, enjoy a chilli dinner at the farm's restaurant.
Admission will cost $20 per person, and you'll have to book your ticket online on the official website. You'll also find the varying operational hours here too.
10. Viola's Flower Garden's Flagstaff Pumpkin Patch
In Flagstaff sits Viola's Flower Garden which hosts a pumpkin patch event during October. It lends itself as a great photo op and their scarecrows are guaranteed to make you smile (while getting you a few Instagram likes too).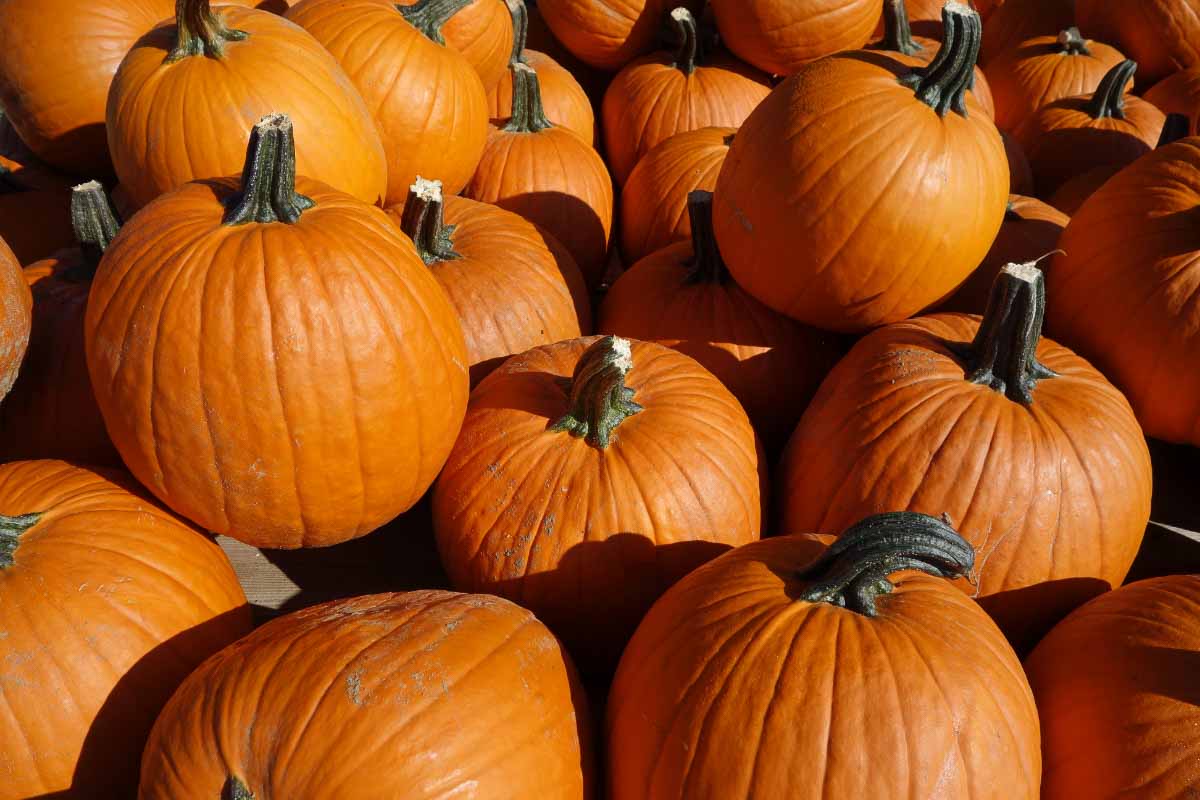 ⇒ Interested in heading to California? Check out my posts on Unique Restaurants in San Francisco, 15 Gorgeous Sunflower fields in California, Things to do in Calistoga review of the great Solage Spa, 19 awesome places to watch San Diego Sunsets, visiting Yosemite in One Day, 15 Best Northern California Hot Springs, 15 Best Places to Watch San Francisco Sunsets, 10 Stunning Sunsets in California and in Yosemite in October, 32 Best Places in Bay Area, 17 Great Stops on a Road trip from Los Angeles to San Francisco, 31 California Landmarks and my guide to a Livermore Wine Tasting.
They grow over 25 different varieties of pumpkins, meaning you'll have plenty to choose from. They also have a straw bale maze you can try to find your way out of.
Admission costs just $3 and kids three years and under enter for free.
11. MacDonald's Ranch
MacDonald's Ranch in Scottsdale stays open from September to October except on Tuesdays and has a vast range of pumpkins on offer. Apart from picking up pumpkins (with varying prices), there are several activities to take part in.
This includes a hay bale maze, petting animals, panning for gold, and a pedal car and track for kids. There will also be lawn games like Jenga, connect four, Conk the Crow, and more.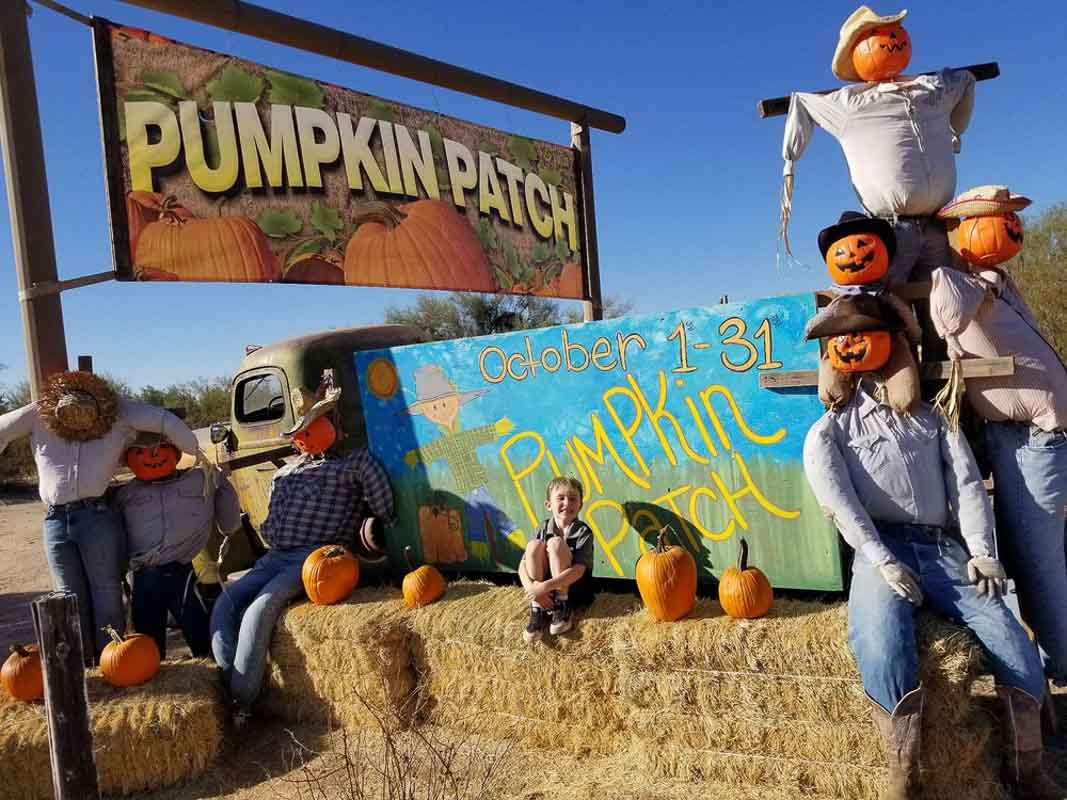 ⇒ If you're enjoying this article you'll love my articles on 15 North America Landmarks, the 10 Most Famous Landmarks in the US, 7 Most Beautiful Bridges American Bridges, 60 Most Famous Landmarks in the World, 9 Gorgeous Lakes Canada has on offer, 23 Must See Landmarks in Mexico, 15 Most Beautiful States in the US, 31 California Landmarks, 16 Most Beautiful Cities in Canada, 17 Washington DC Landmarks Not to Miss, 29 Arizona Landmarks, 11 Beautiful Canada Landmarks and the 20 Most Beautiful Cities in the United States.
At an additional cost, you can organize a pony or mechanical bull ride, feed the petting zoo animals and enjoy food & drinks from the snack shack.
The ranch is open from 9 to 5 p.m. and costs $10 on weekdays and $12 on weekends to enter (one-year-olds are admitted free of charge).
12. Willis Farm Fall Festival and Corn Maze
Willis Farm in Snowflake plays host to a pumpkin patch fall festival that has a ton on offer. It's open for the entirety of October and pumpkins go for 45 cents per pound.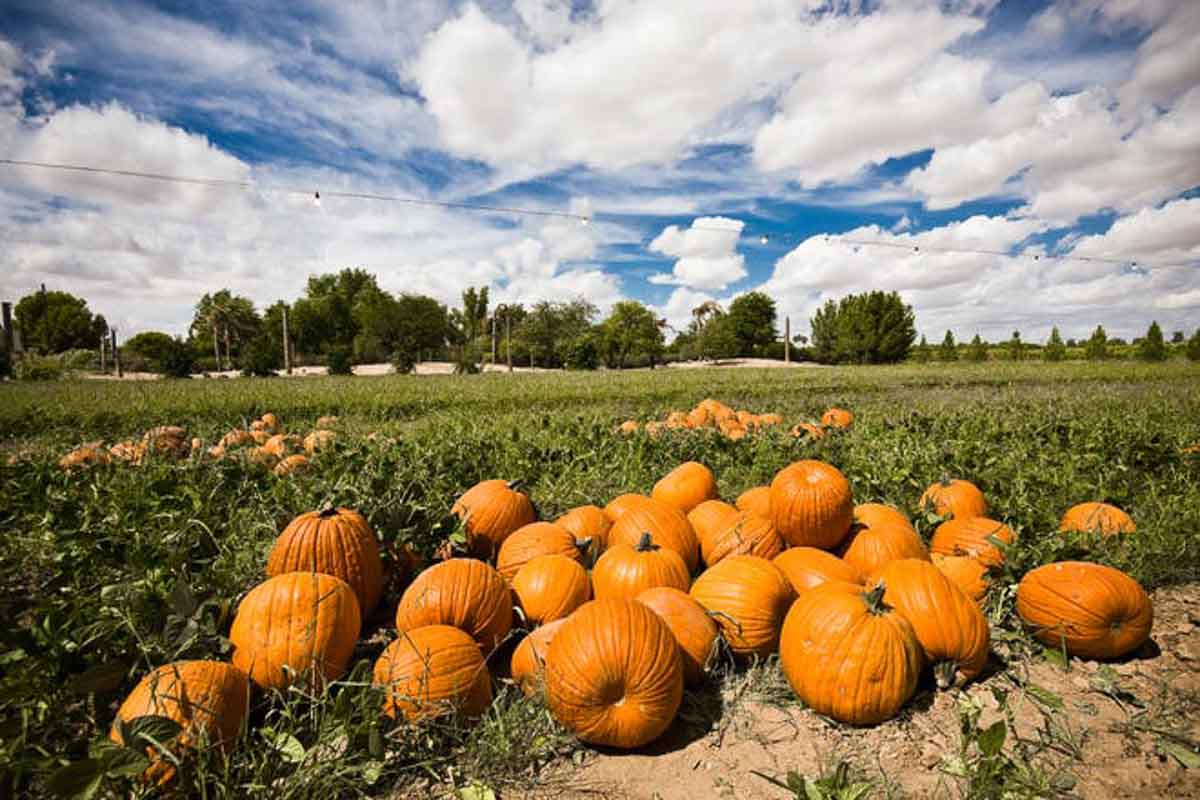 Among the activities on offer are two different mazes, a train ride, a game zone, and laser tag. Plus, there are haunt nights that occur on Saturdays in October if you're looking for an eerie experience.
All the activities are individually priced and you can view the pricing on their official website.
13. Rocker 7 Farm Patch
Having been closed in 2020, Rocker 7 Farm Patch in Buckeye will be open this fall. Grab a wagon as you go in search of your perfect pumpkin for Halloween in their pumpkin patch. They also have many fun family activities to take part in and create a lifetime of memories.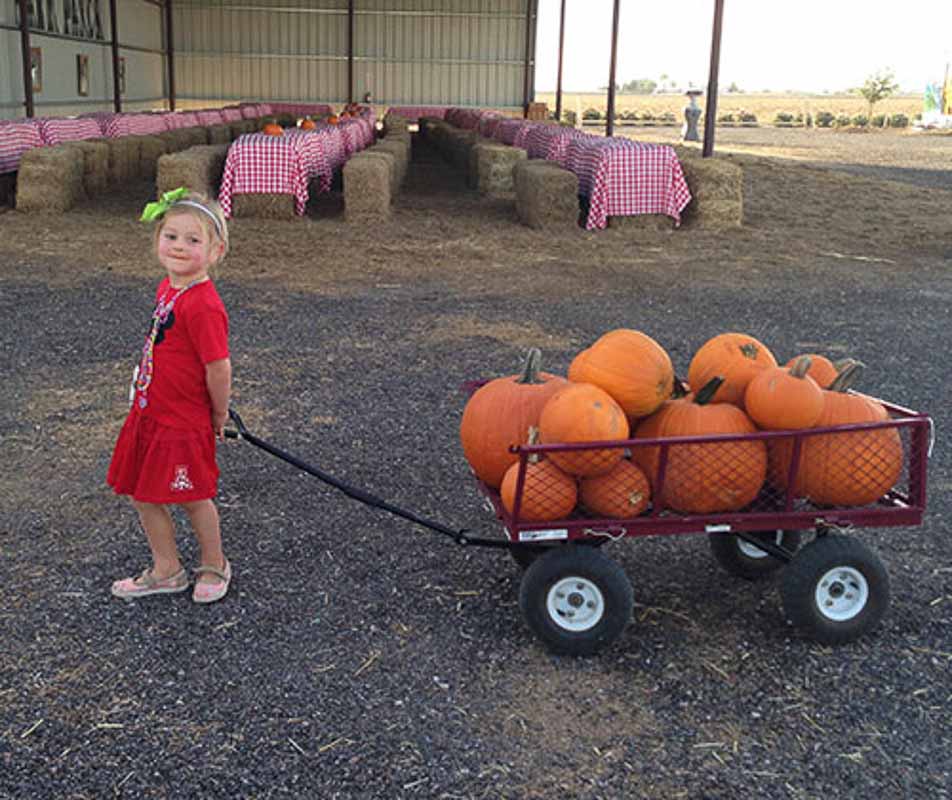 This includes a hayride, crop maze, sunflowers, petting zoo, hay pyramid, tractor tire playground, and a jumping pillow.
Festival admission costs $9 and $10 (plus tax for both) on Fridays and weekends, respectively. Children in diapers get in for free, while military members and seniors (65+ years old) pay $8 (plus tax).
Planning to Visit Any of The Pumpkin Patches in Arizona?
Having read the above, it should be clear that a pumpkin patch visit should be on your bucket list if you're in Arizona. There are a ton of farms and ranches offering the experience, which is fun for everyone.
Kids are catered for with hayrides, face paintings, slides, and more. For adults, there are several opportunities to snap a photo, work your way through a maze. You also many variations of pumpkins to choose from for the perfect jack-o-lantern or a delicious pie.
Now it's time to get out there and get pumpkin picking!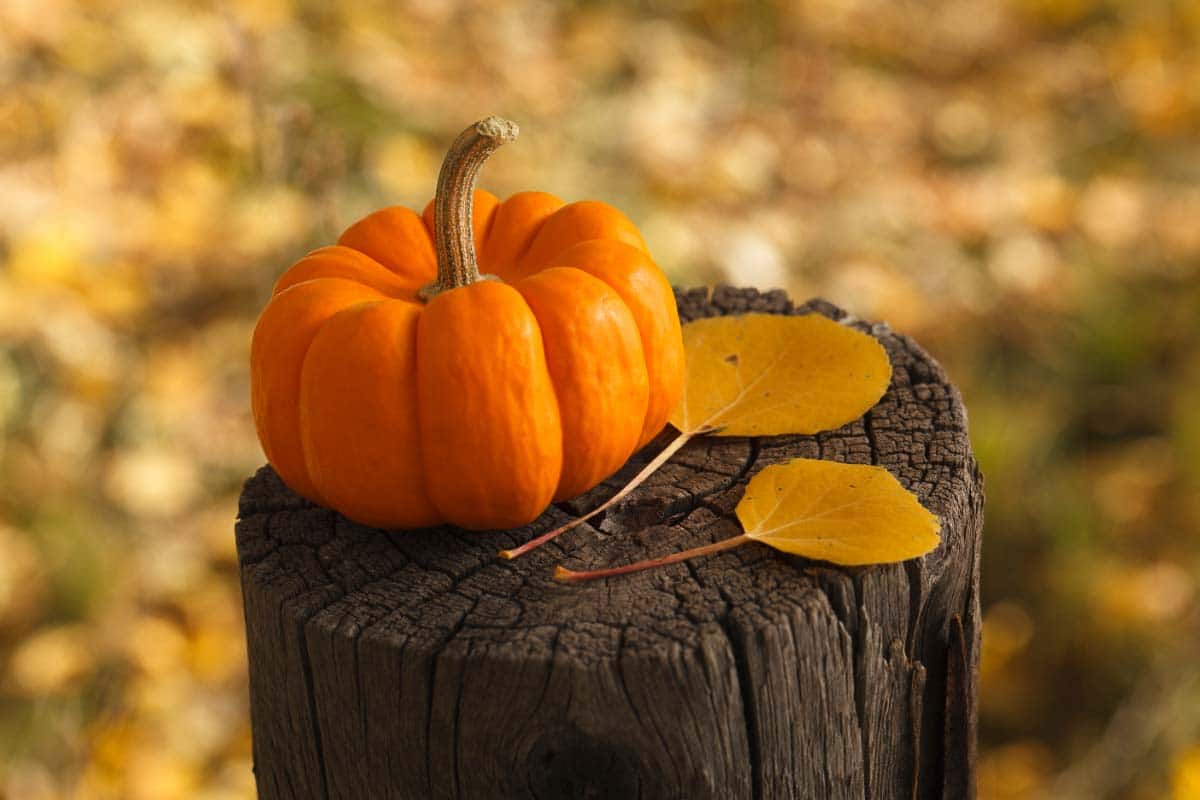 I covered all of the costs associated with writing this article. However, this pumpkin patches in Arizona post includes affiliate links. That means if you click through and end up making a purchase I will receive a small commission. I wanted to make sure you were aware of this.