Who doesn't love a good sunset? The hues of red, yellow and purple. That feeling – like you couldn't be any more at peace with the world. It's one of nature's finest moments.
If Florida is known as the Sunshine State, then Key West should be the sunset city. The island city is famous for pastel-hued houses that mimic the colours of the skies above.
Key West is also known for its magnificent coral reefs (rather than its beaches). It's an excellent snorkelling and diving destination.
It's a great vacation city. You can find watersports, historical and cultural sites and a vibrant nightlife. With its neighbours, Cuba, just 90 miles away, Key West is a cultural melting pot. And of course the beautiful drive from Miami to Key West takes about 4 hours.
Locals would argue that there isn't a single terrible place to view the sunset in Key West. But, as a visitor, how do you know where the best Key West sunsets can be seen? Read on to find the answer.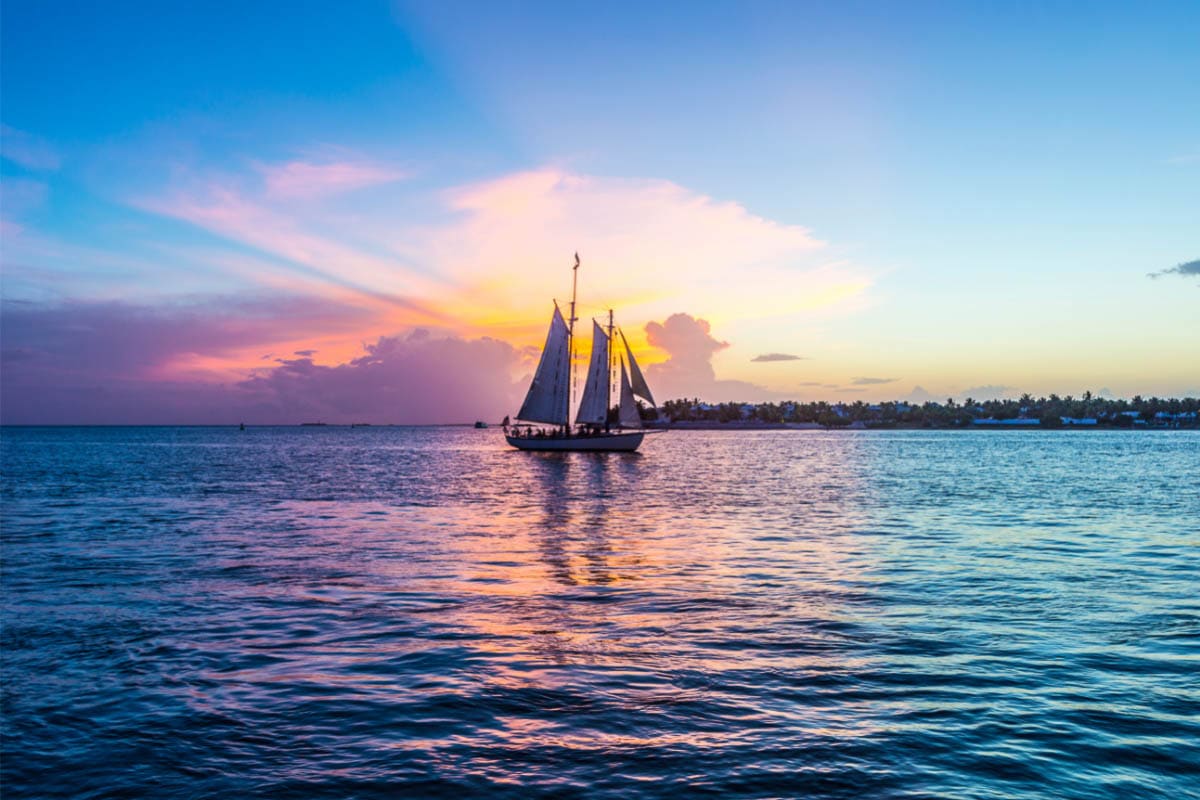 17 Best Key West Sunset Spots
There are numerous places you can go to see the sunset in Key West. The best place is often subjective. Each spot has its nuances which resonate with different people.
1. Mallory Square
At Mallory Square, sunset is more of a festive occasion than a time of day. The sunset celebration is a tradition that has been going on in Key West since the 1960s.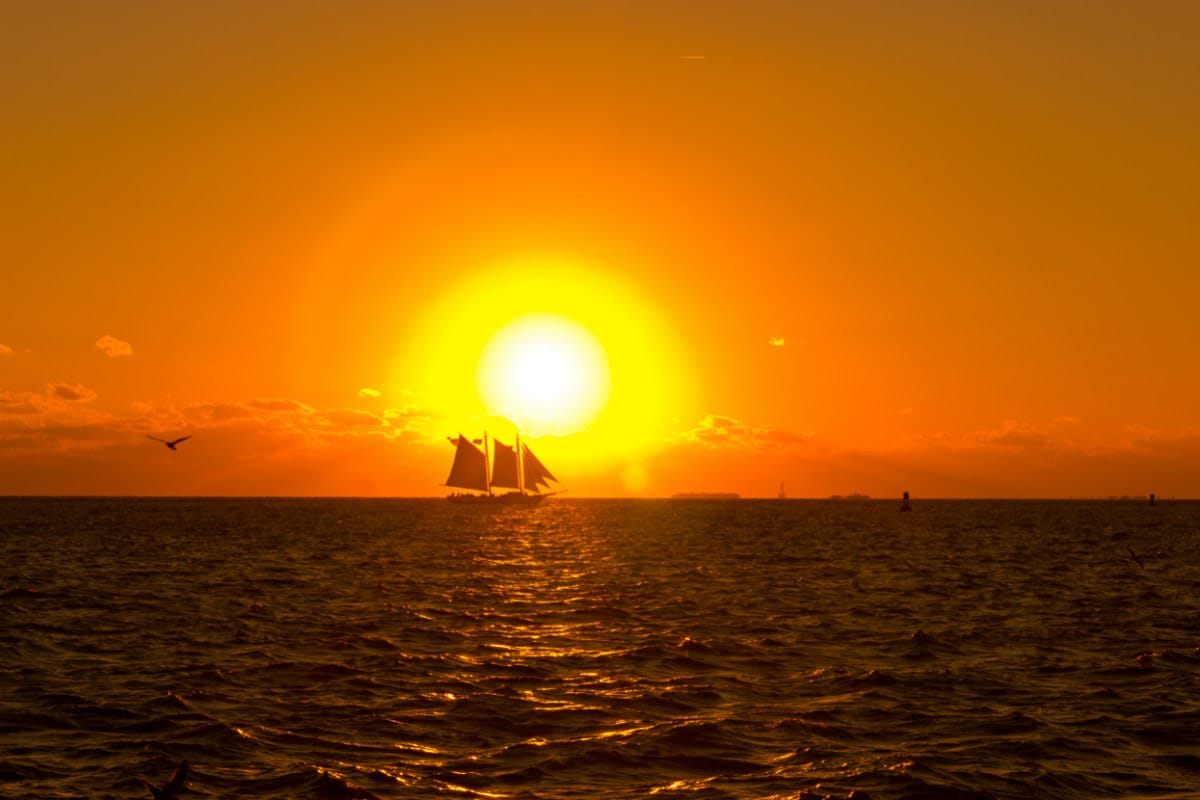 The festivities begin two hours before sunset. Visitors from around the globe, as well as locals, flock to Mallory Square nightly to join the celebration. Some of the highlights of this social gathering include jugglers, magicians, clowns, psychics, street vendors and more.
Become part of the history books like Mark Twain and Tennessee Williams, who both attended this event back in the day.
2. Southernmost Point
This is one of the most photographic spots in Key West. On the corner of Whitehead and South Streets, is an ornate hunk of stone that marks the southernmost point of the continental United States.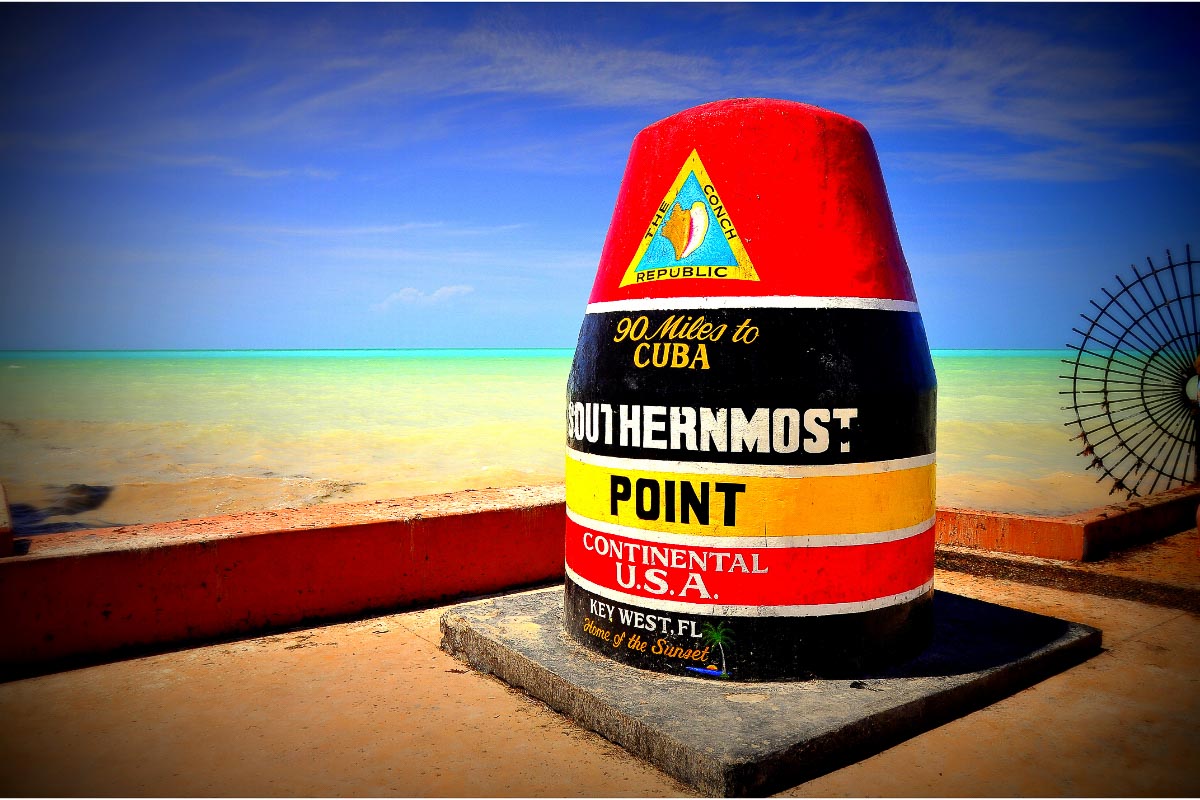 Scores of Instagrammers line up to take a picture with this marker. This Florida landmark is decorated to look like a buoy and is positioned with the emerald-green sea behind it. The Gulf of Mexico stretches all the way to Cuba, making it a great spot to watch the sunset over Florida's neighbours.
3. Louie's Backyard
In 1971, a man named Louie Signorelli turned his oceanfront Victorian home into what is known today as Louie's Backyard. Fast forward 50 years, and this restaurant has become one of the best sunset spots in Key West.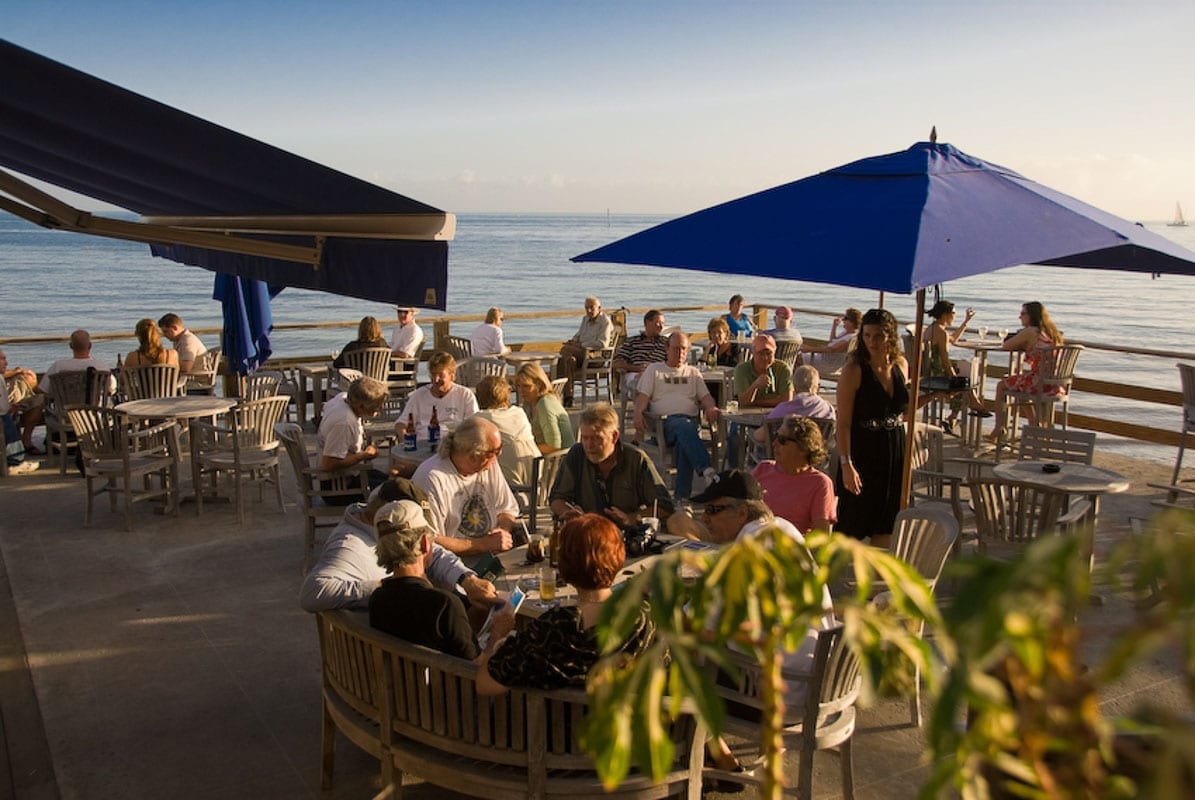 The current owners made sure to keep the historical value of the place when they renovated it. In fact, it is part of the National Registry for Historic Places.
Sitting right on top of the Bahama Channel, the backyard deck gives you unobstructed ocean views and a magnificent sunset. It's easy to see why it's so popular.
4. Sunset Tiki Bar at the Galleon Resort
Are you looking for an all inclusive sunset viewing experience? Sunset Tiki Bar is the place for you.
Picture yourself with a drink in your hand on a deck that is right on top of the water. There is usually a happy hour special running at sunset. Furthermore, live music every evening gives this place an added festive vibe.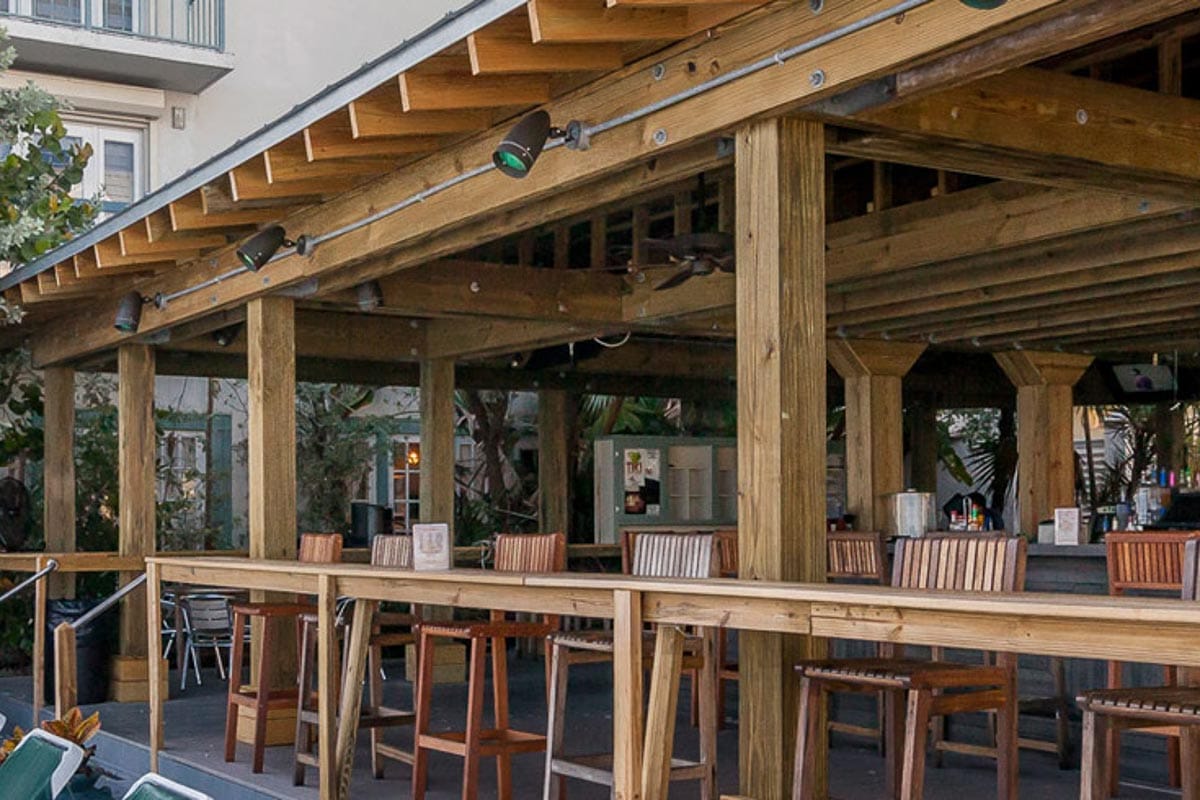 The Sunset Tiki Bar is no secret, and the locals love it. Make sure you get there early to avoid missing out on seating.
5. Sunset Pier at the Ocean Key Resort
Want to eat, drink and be merry? Do this, and more, all while enjoying the sunset. Found only a stone's throw away from Mallory Square, this area has so much to offer in terms of entertainment.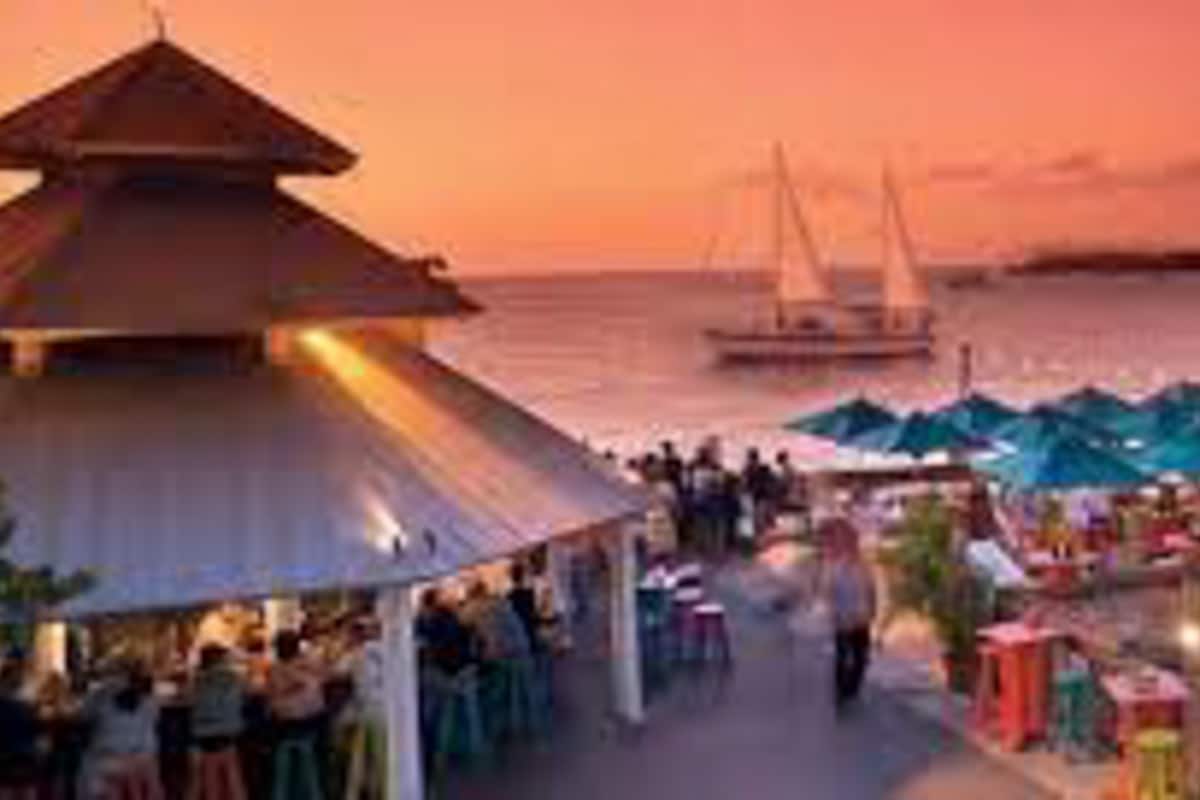 Sunset Pier is a casual dining spot that is floating on a pier above the water. Umbrellas are set up at every table, so you will be protected from the sun until sunset. This makes it a great choice for families.
6. Latitudes at Sunset Key
This sunset spot is for those who want to feel like a VIP. It is the first place on this list to offer fine dining, and you need to hop on a ferry just to access the island on which the restaurant is located.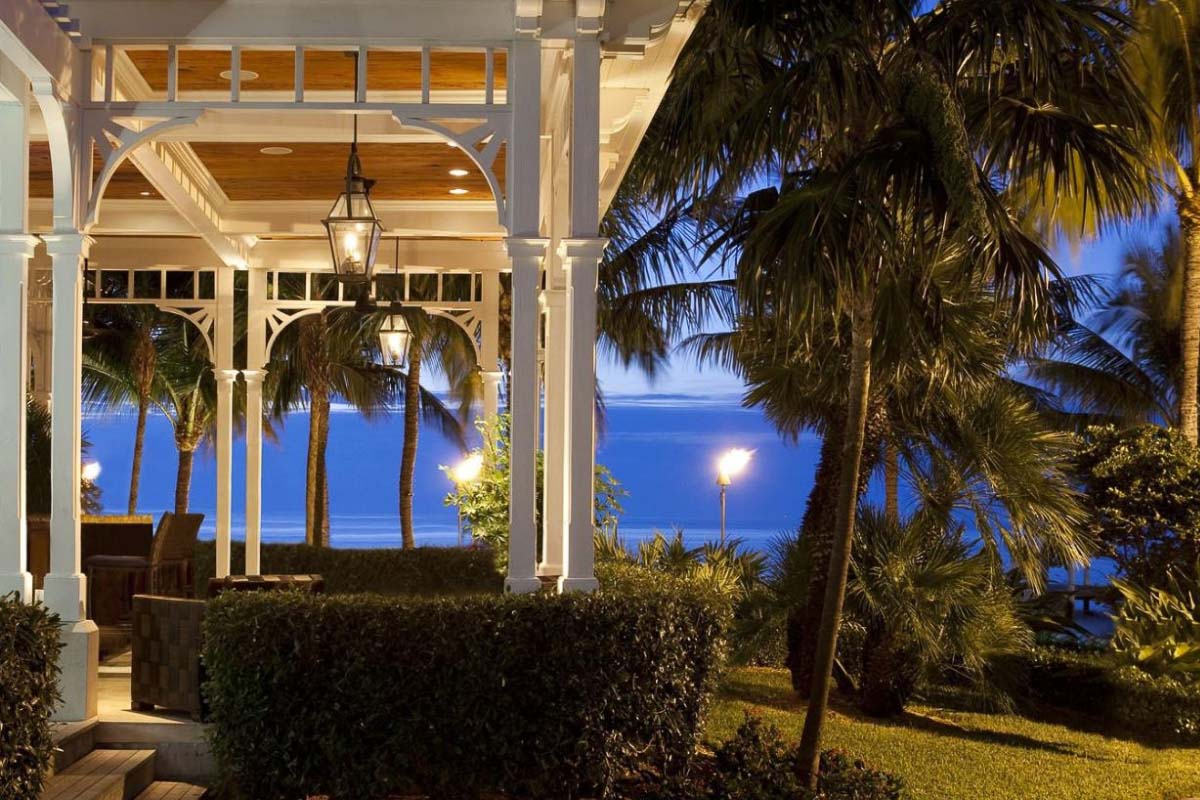 Be prepared for award-winning views and food. The alfresco dining option gives customers the opportunity to sit at a table on the white-sand beach. Take in all the warm rays of the sunset – right on the edge of the crashing waves.
Because of the VIP nature of this spot, a 'country-club casual' dress attire is required for dinner.
7. Key West Harbour Docks
On the ocean-side of the Truman Waterfront Park, sits Pier B. It is a commercial pier used for docking boats coming in and out of the harbour.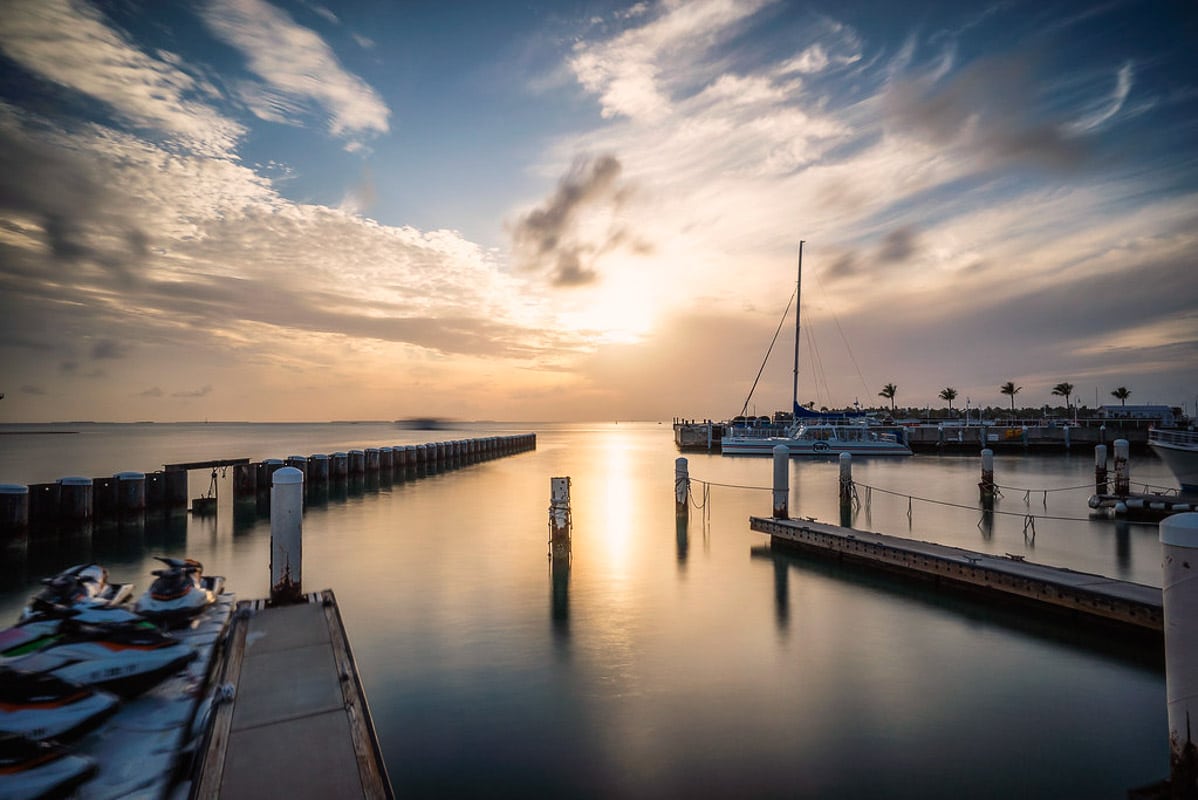 If you want to skip the hustle and bustle of Mallory Square, this is a great spot. If you walk out of the crowd and head past the entertainers, you will spot the back of the red-brick customs house. Keep walking until you find a quiet spot surrounded by moored boats.
Find a bench, take in the quiet beauty of the sunset, and enjoy!
8. Fort Zachary Taylor Historic State Park
The reason why this is such a great place to view the sunset, is the privacy. It is referred to by locals as a hidden gem, which is mainly due to poor signage. With only a little green street sign to mark the way, Fort Zachary Taylor is usually overlooked by tourists.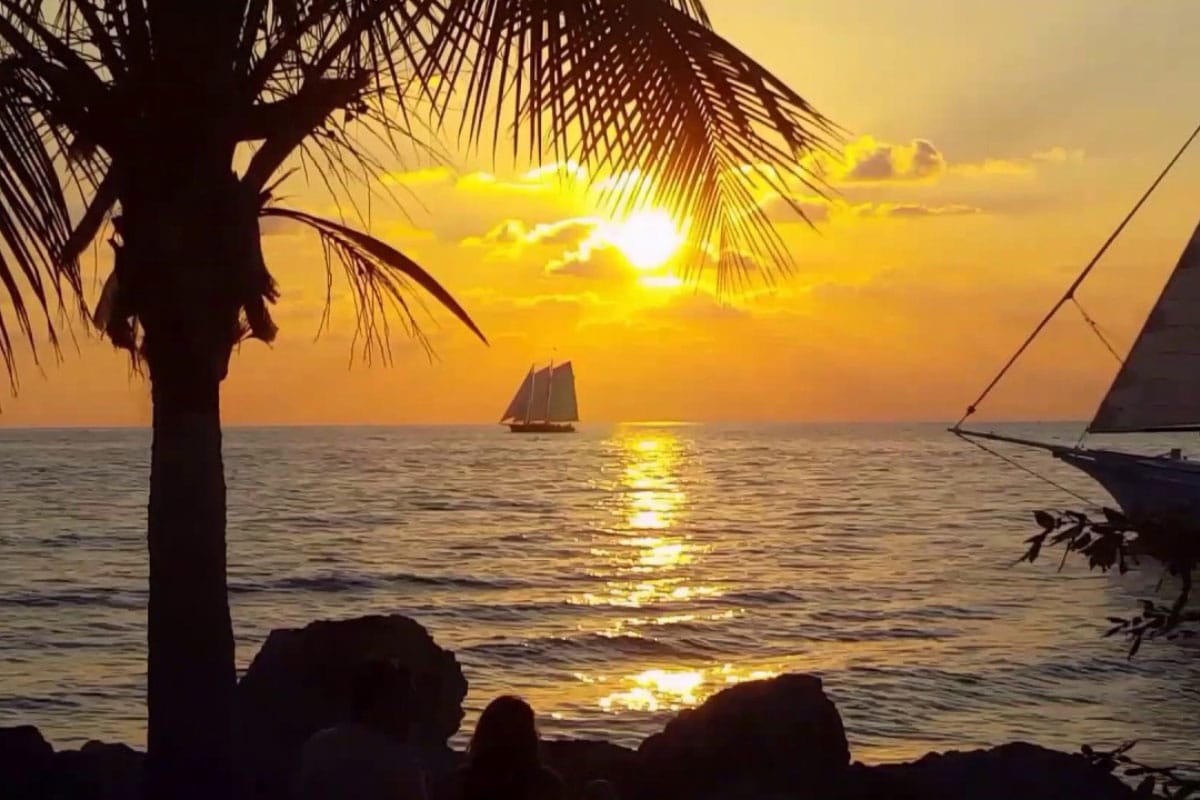 The beach at Fort Zachary is where the Atlantic Ocean meets the Gulf of Mexico. It's one of the best beaches in Key West. Due to the clarity of the water, it is a great spot for snorkelling at sunset.
9. Lagerhead Beach Bar & Watersports
This spot has a great reputation among locals. It is owned by two local families who aim to give their customers the ultimate Key West experience.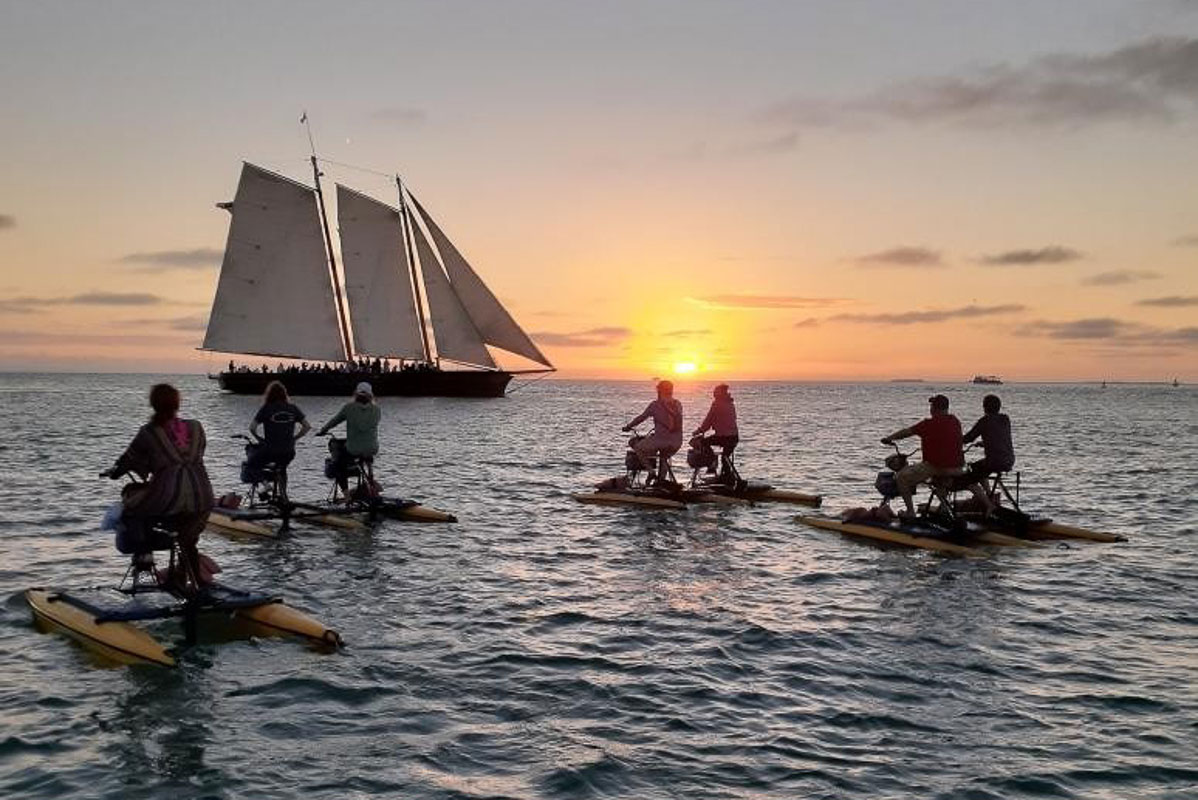 ⇒ Here are some of the best places in the world to watch the sunrise and fall: 10 Places to watch the Sunset in California, 7 Best Places To Watch Sedona Sunsets, 18 Spectacular Spots for the Best Sunsets in Seattle, 5 Stunning Santorini Sunsets, 8 Sunsets in Ibiza, 19 Spots to watch San Diego Sunsets, 11 Places to see the Venice Sunset, 17 Key West Sunsets Spots for Great Views, 15 Best Places to see San Francisco Sunsets, 6 Spots to Watch Sunrise in Paris, 21 Spots to see the Sunset Ottawa Style, 9 Best Places to see Maui Sunsets, 11 Places to see Sunset Edinburgh style, 16 Places to see the Best Sunsets in the World, 18 Best Places to watch the Sunset in Melbourne, 11 Best Places to watch the Sunset in Tucson, 11 Best Spots to watch the Sunset in Glasgow, 15 Places to see Sunsets in London and 9 Spots to watch the Sunrise in London.
Lagerhead is located on the beach, which offers unparalleled sunset views. They offer food and beverages that cater towards being on-the-move. They also offer a wide range of water activities that are fun for the whole family.
If you're looking for a relaxing place to beat the crowds at sunset, then Lagerhead Beach Bar is the place for you.
10. Cruisin' Tikis
Cruisin' Tikis are the newcomers on the block with their spin on the Key West sunset experience.
With Cruisin' Tikis, you'll get your own private tiki boat to sail around Key West's historic seaport. The boats fit a maximum of 6 people and you have to provide your own drinks for the cruise.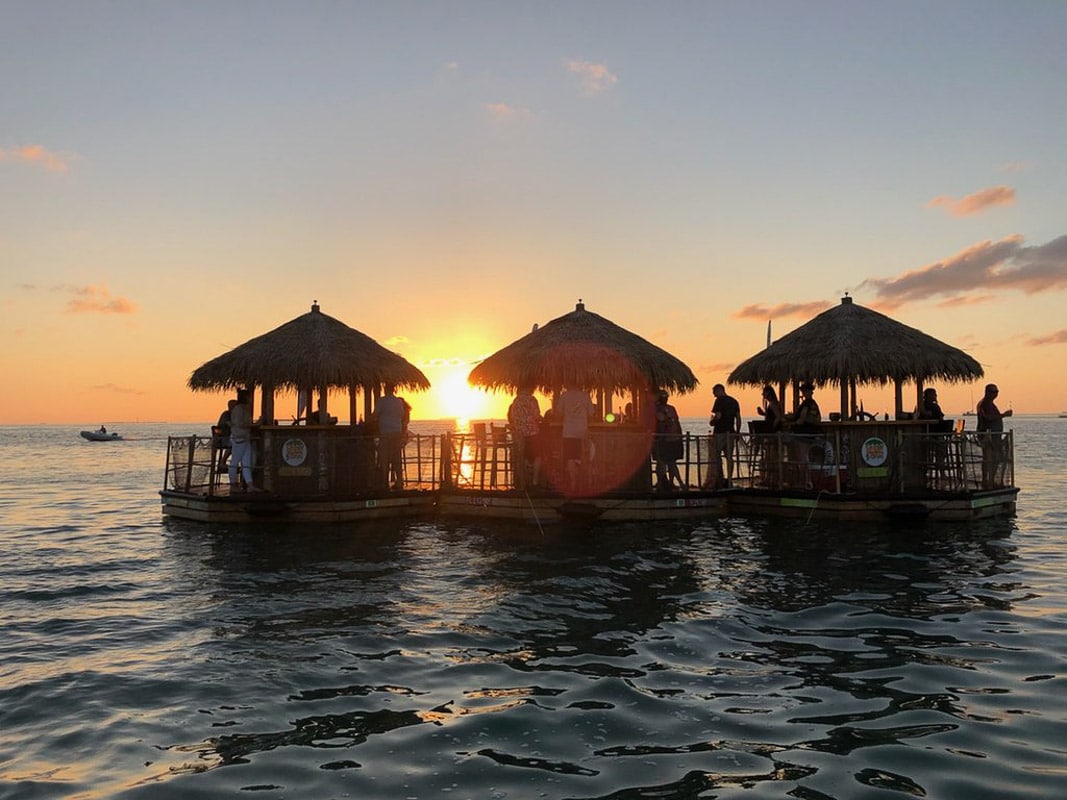 Don't worry, it's not all self-service. You'll be provided with a cooler full of ice, bottled water and soft drinks. You'll also be allowed to use the blender to prepare drinks and a bluetooth speaker for your music.
11. El Meson de Pepe
This is a great place to sit, kick back and enjoy the sunset. At the same time, try some authentic cuban food, tapas and drinks at El Meson de Pepe.
This restaurant boasts the best margaritas in Key West. Throw in some live music and the fact that it is walking distance from Mallory Square, it is the perfect place to chill when the sun starts to go down.
12. Historic Seaport
This is another location liked by locals. Go for a stroll on the boardwalk and view purple and gold skies reflected in the turquoise waters underneath.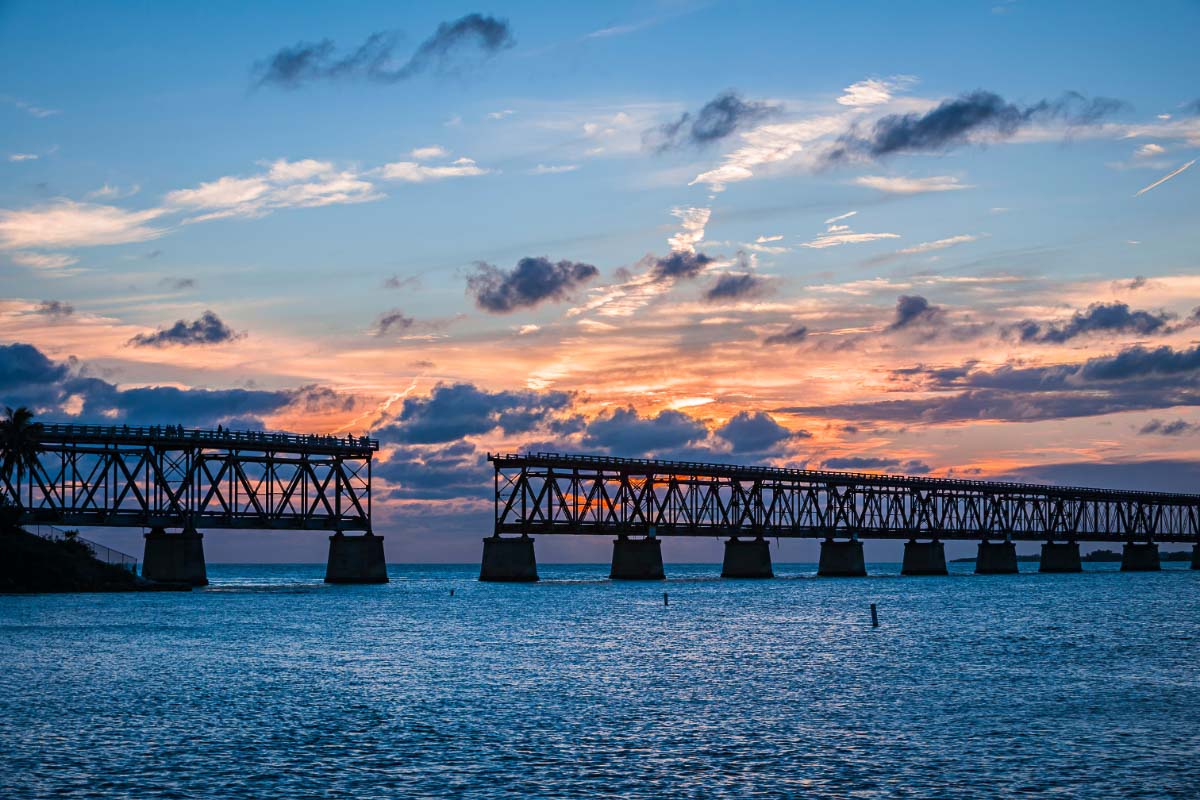 Picturesque boats float along the docks of the boardwalk. If that doesn't satisfy you, grab a seat at one of the open air bars and seafood restaurants that call this part of town home. Locals say that this is where the best seafood can be found.
Grab a drink, enjoy some delicious seafood or clear your mind with a walk at the Historic Seaport.
13. Casa Marina Resort
A lot of people don't know this but you do not have to stay at the resort to enjoy the sunset here. The restaurant and beach bar are separate from the resort and people do not have to stay overnight to access it.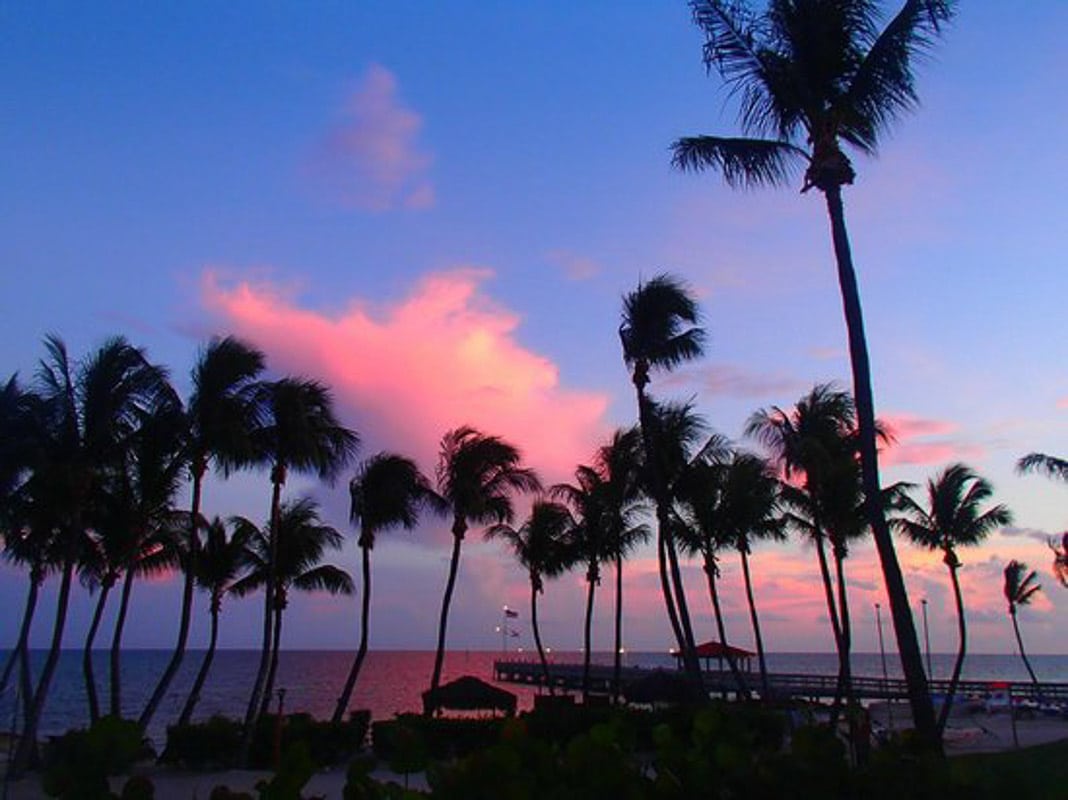 ⇒ Looking for some travel inspiration? Check out my posts on the 25 North America Landmarks, Top 15 Famous Landmarks in the US, 25 Beautiful Canada Landmarks, 10 Best Places for Hot Springs in the USA, 16 Most Beautiful Cities in Canada, 23 Brazil Landmarks, 23 Must See Landmarks in Mexico,15 Most Beautiful States in the US, American Bridges you Must Cross, 33 Things to do in Tulum, 19 Historical Places in New York, 37 Best Places to Visit in Mexico, Best Things to do in Fredericksburg, VA, Most Beautiful Lakes in Canada and the 20 Most Beautiful Cities in United States.
The beach and the piers are also accessible to the public. You can grab a drink and walk along the pier, dip your toes in the ocean at the beach or chill out in one of the hammocks.
14. Bistro 245
Located at Opalkey Marina and Resort, this is Key West's premier sunset destination. Bistro 245 includes Sunset Deck bar and the Sunset Celebration tables out on the pier. These are all prime spots for seeing the sun go down.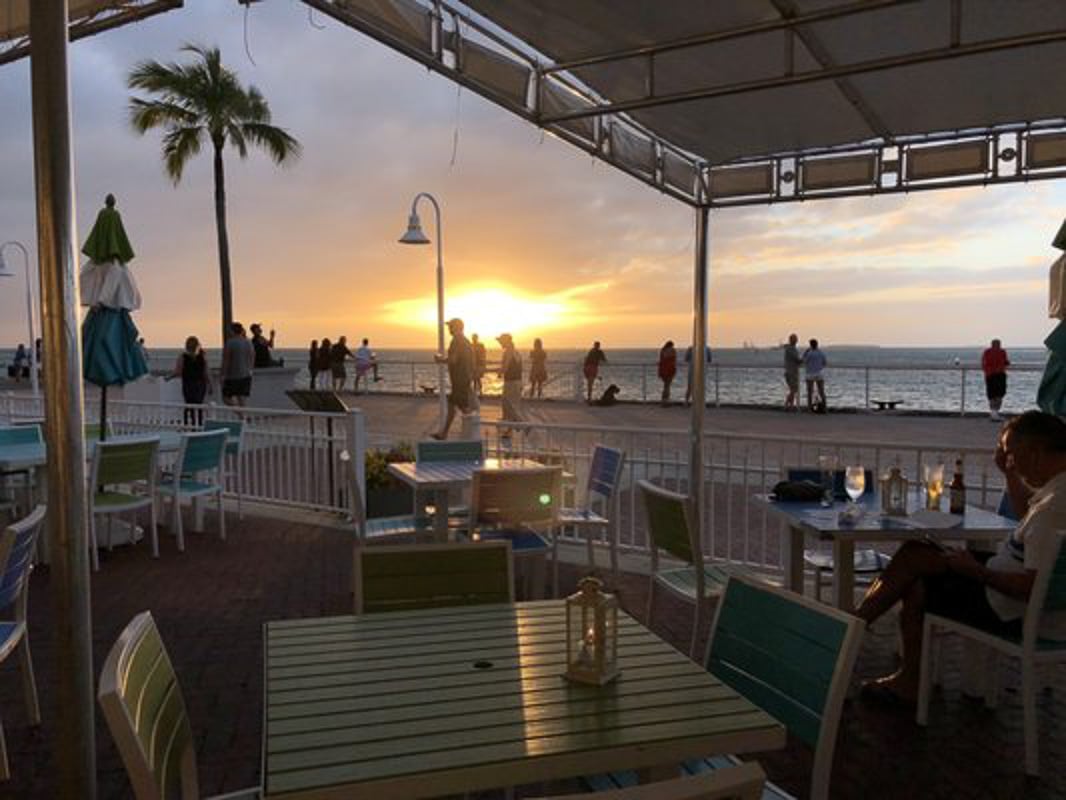 The outdoor seating is right on the waterfront. This gives you the best seat in the house for the spectacular colours of the sunset. The Sunset Deck bar offers budget friendly drink options – which includes great mojitos.
15. Shipwreck Treasure Museum
The top of the Shipwreck Treasure Museum in Key West has a terrific view of the sunset. Explore two floors of shipwreck artifacts dating back to the 17th century. However, the real treasure awaits at the top of the museum.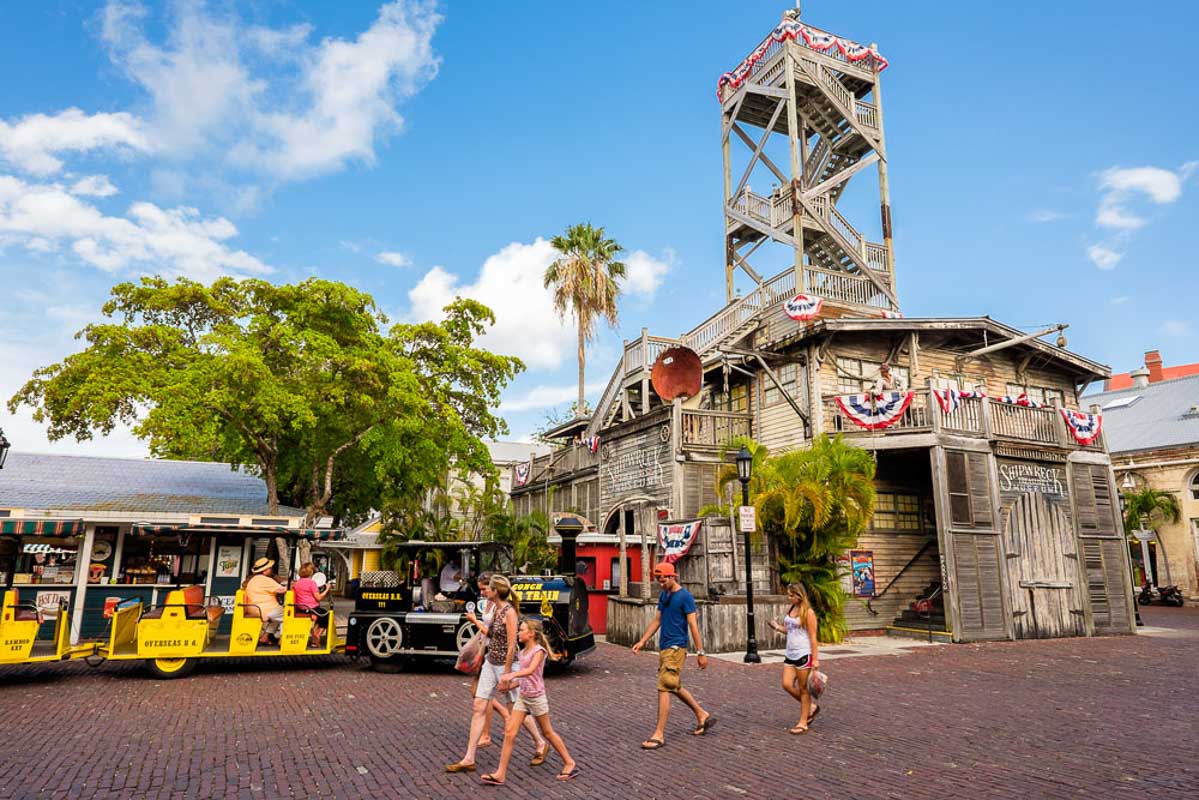 There is a 62-foot watchtower at the top of the museum that offers a panoramic view of Key West. Stand on the shoulders of history while you watch the same sunset that has been viewed for centuries before you.
16. Duval Street
This street, named after Florida's first territorial governor William Pope Duval, is a great place to experience a different kind of sunset.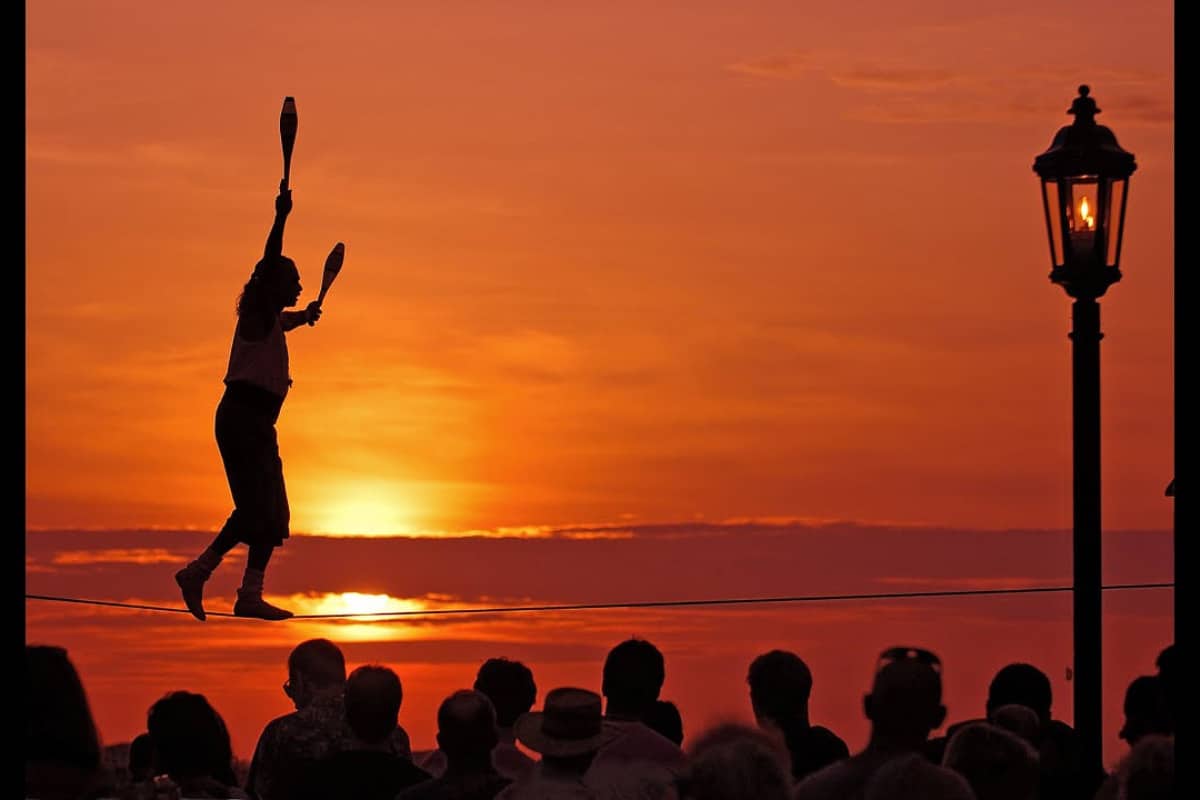 ⇒ Interested in heading to California? Check out my posts on Unique Restaurants in San Francisco, 15 Gorgeous Sunflower fields in California, Things to do in Calistoga review of the great Solage Spa, 19 awesome places to watch San Diego Sunsets, visiting Yosemite in One Day, 15 Best Northern California Hot Springs, 15 Best Places to Watch San Francisco Sunsets, 10 Stunning Sunsets in California and in Yosemite in October, 32 Best Places in Bay Area, 17 Great Stops on a Road trip from Los Angeles to San Francisco, 31 California Landmarks and my guide to a Livermore Wine Tasting.
Bask in the glow of the sunset while discovering the main street of Key West. Walk amongst instagrammable conch-style Victorian houses, shops and bars. This street truly comes alive when the sun starts to set.
Visit Duval Street at sundown for a truly memorable Key West sunset.
17. Sunset Sail
What better way to see the sunset than from the surface of the ocean. Head out to sea in a commercial sailboat and get a panoramic view of the setting sun.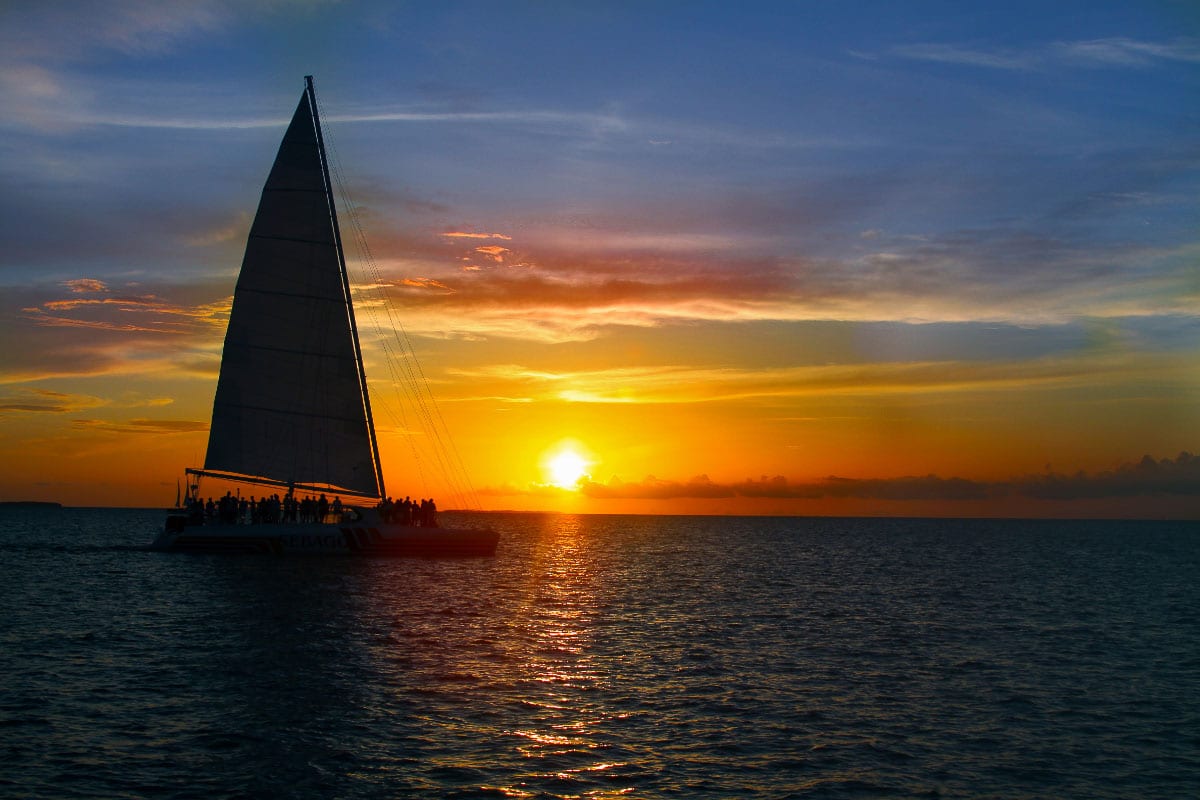 Catching the sunset from a sailboat is an authentic Key West tradition. There are no shortages of sailboat companies in Key West and you can easily organise a sunset sail on the day of your visit. The Appledore, America and Fury's Commotion on the Ocean are some popular sailboats to use.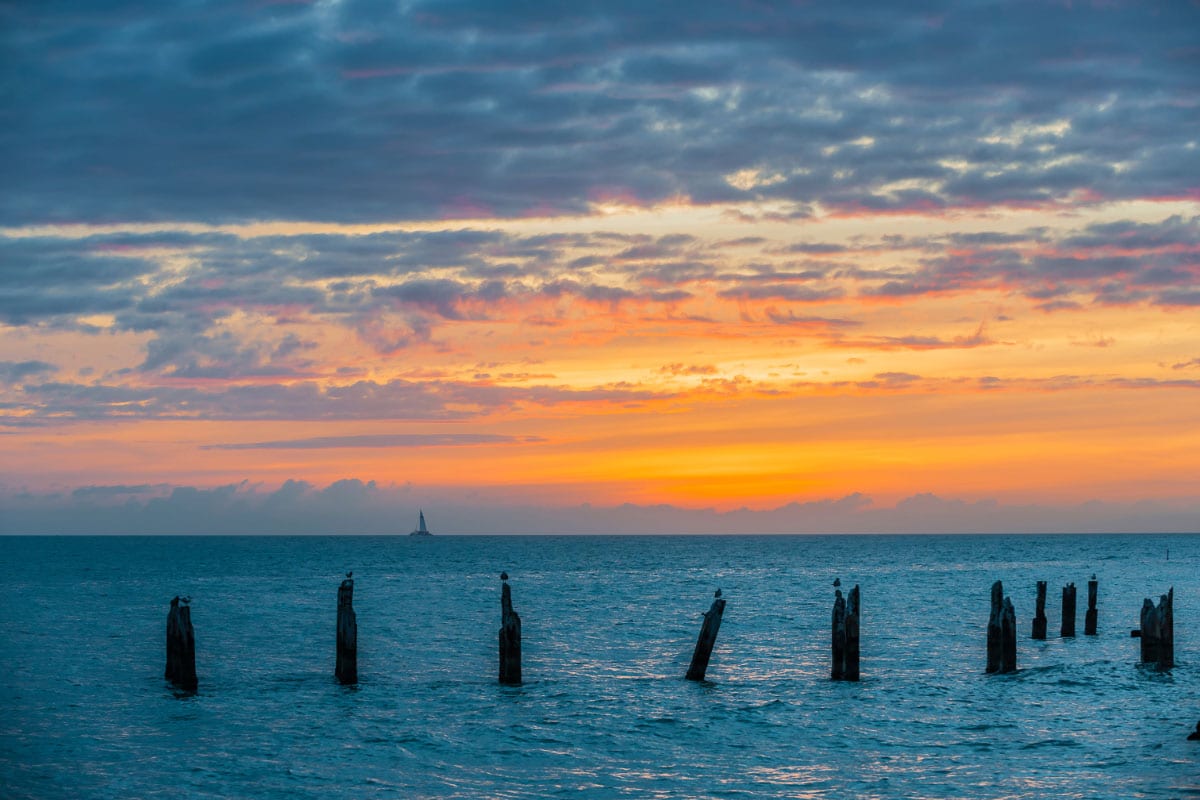 ⇒ If you're enjoying this article you'll love my articles on 15 North America Landmarks, the 10 Most Famous Landmarks in the US, 7 Most Beautiful Bridges American Bridges, 60 Most Famous Landmarks in the World, 9 Gorgeous Lakes Canada has on offer, 23 Must See Landmarks in Mexico, 15 Most Beautiful States in the US, 31 California Landmarks, 16 Most Beautiful Cities in Canada, 17 Washington DC Landmarks Not to Miss, 29 Arizona Landmarks, 11 Beautiful Canada Landmarks and the 20 Most Beautiful Cities in the United States.
Who Wins the Top Spot?
It's obvious that Key West is great for viewing sunsets. There are so many spots to choose from where you can experience a stunning sundown.
If you are in the mood for spending big, we recommend Latitudes at Sunset Key. If you want to have an authentic Key West experience on a budget, Beachheads Beach Bar is perfect for you.
So, head down to one of these great spots. And remember – sunsets are a reminder that even the worst days come to an end.
Tip: If you're travelling in the Sunshine State and love sunsets, you will enjoy reading about the best places to see the sunset in Florida.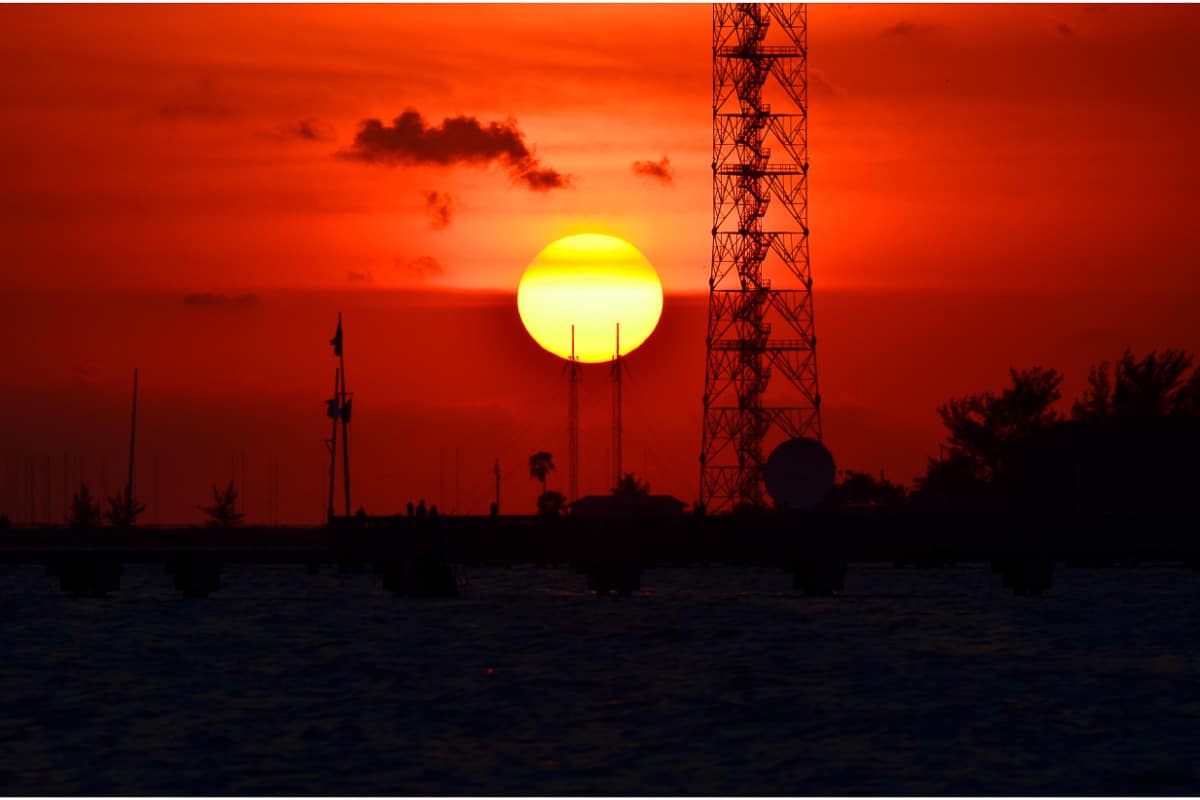 If you enjoyed reading this post you'll love my post on The Best Sunsets in the World.
I covered all of the costs associated with writing this article. However, this Key West sunsets post includes affiliate links. That means if you click through and end up making a purchase I will receive a small commission. I wanted to make sure you were aware of this.