Canada is known for its scenic splendor and ten uniquely different provinces. Sprinkled among these diverse regions you'll find some incredible landmarks. From modern structures to natural formations and historic buildings, the range is truly remarkable.
If you're planning a trip to Canada, they're definitely worth checking out. Whether you're looking for picturesque landmarks in Nova Scotia, natural phenomenons in New Brunswick or popular points of interest in Ottawa, you're sure to find something you'll love.
This list highlights the 11 most famous Canadian landmarks. Not only are they all aesthetically pleasing to look at, but they also provide insight into the culture and history of the area.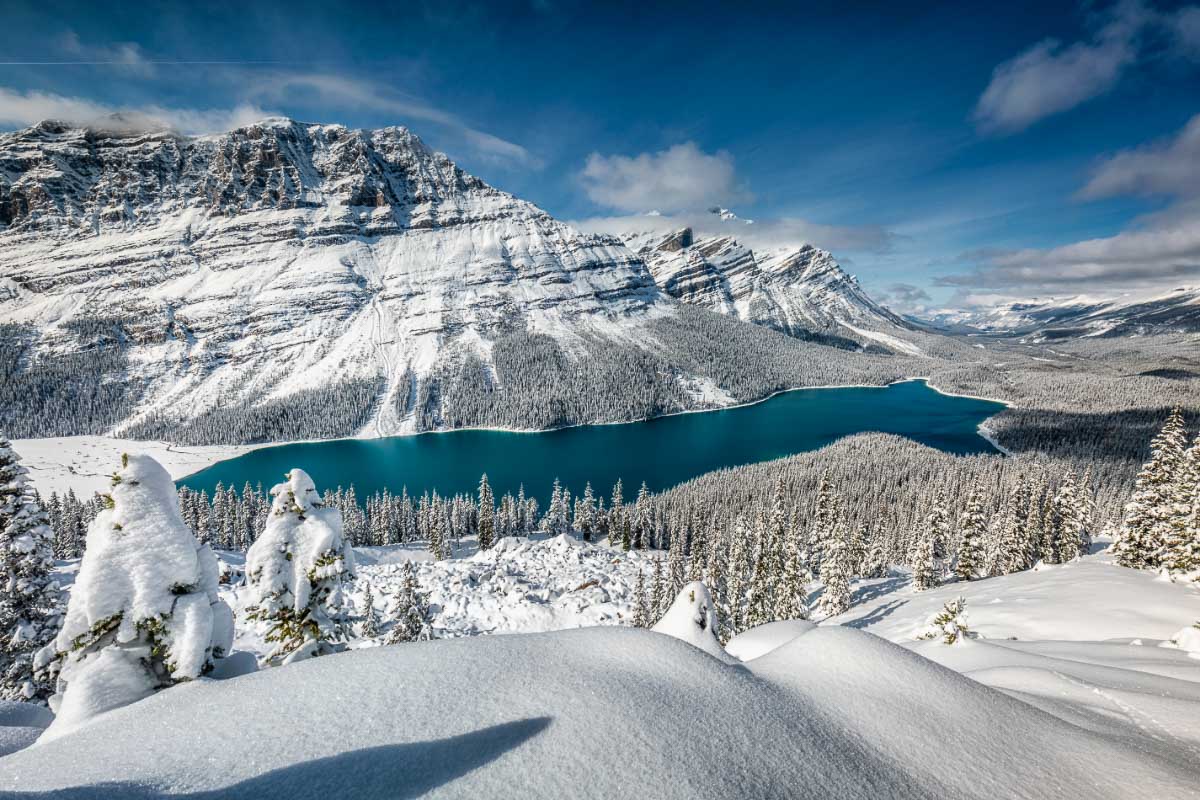 11 Canada Landmarks
1. The CN Tower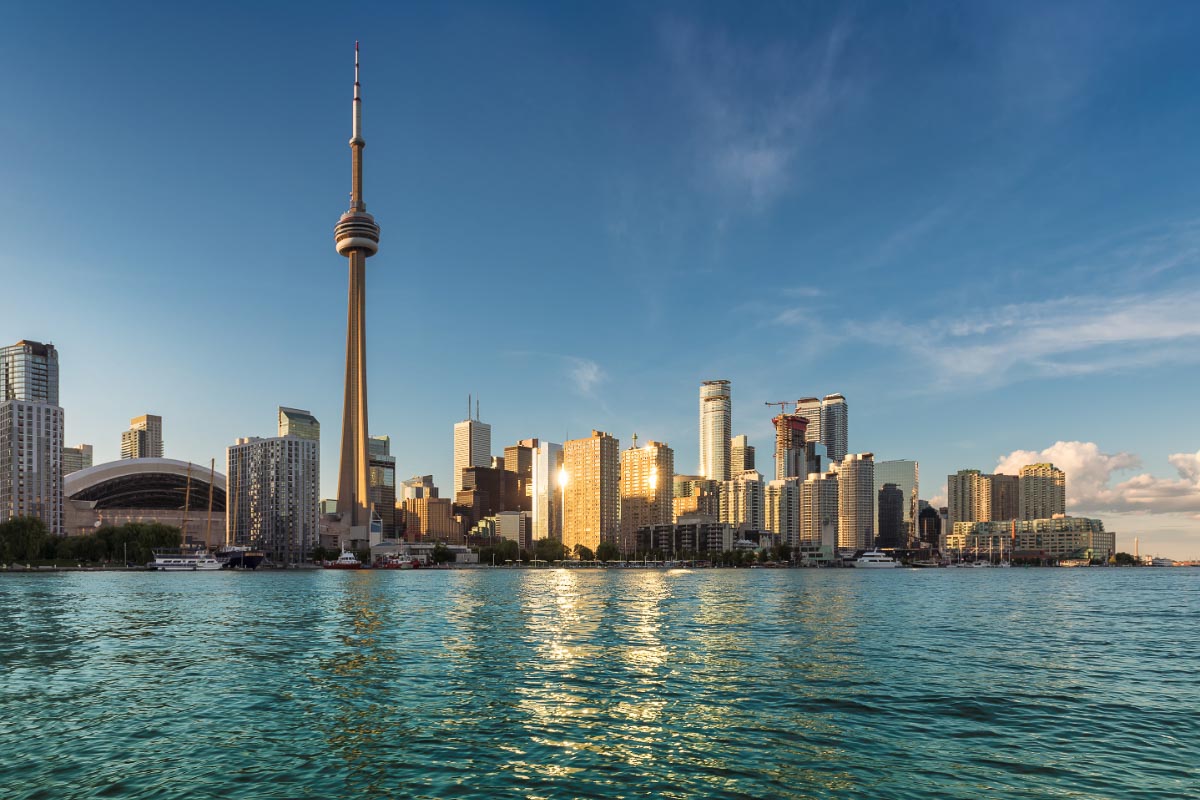 Located in downtown Toronto, the CN Tower has been an iconic feature of the city's skyline since 1976. It rises 553 metres up; an impressive height that gave it the title of the world's tallest free-standing structure for 32 years.
In 2007, the Burj Khalifa took over this title, then in 2009, it was bumped into third place when the Canton Tower also surpassed its height. Today, it's the world's ninth tallest free-standing structure, but the tallest on land in the Western Hemisphere.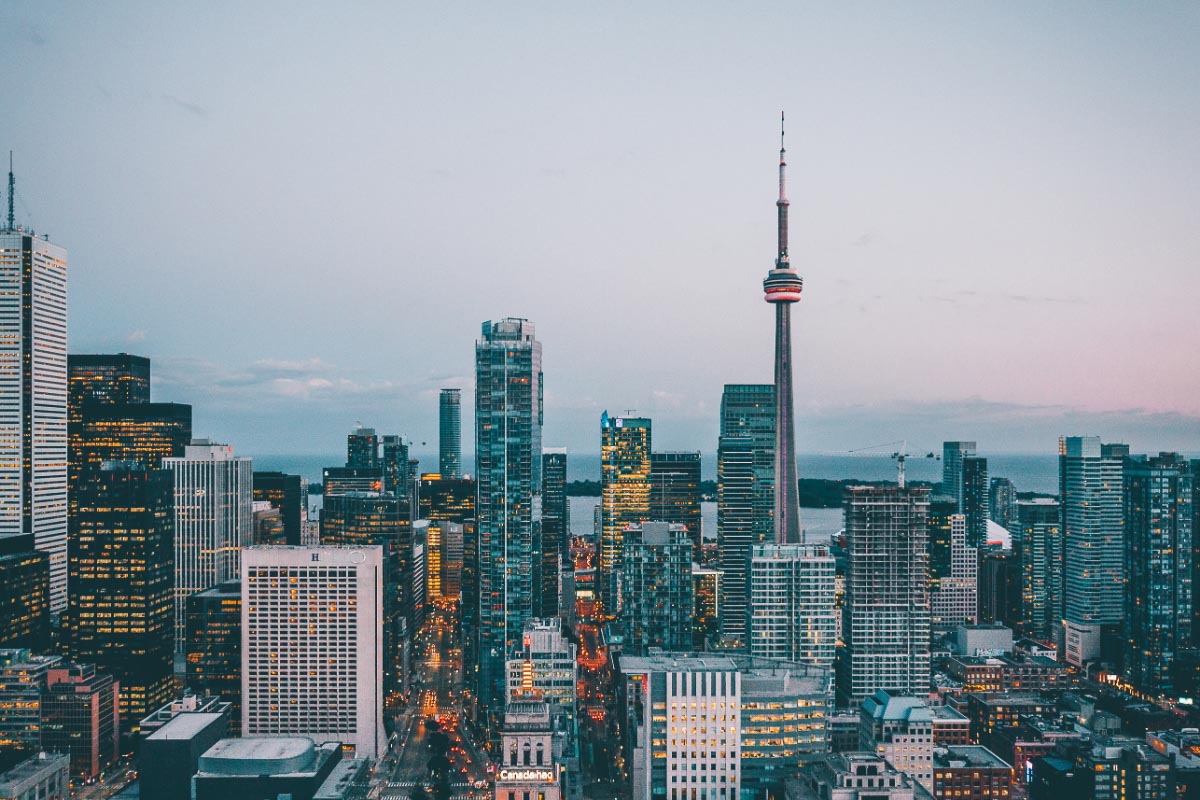 The observation deck of the CN Tower offers the best view in town. It features a glass floor you walk on if you really want to get your heartbeat racing.
⇒ Book a small-group sightseeing day tour of Toronto that includes access to the CN Tower.
2. Notre-Dame Basilica of Montreal
The Notre-Dame Basilica of Montreal is an awe-inspiring religious landmark in the city's historic district. Built with the Gothic Revival architectural style from 1824 to 1829, it possesses timeless beauty that will leave you spellbound.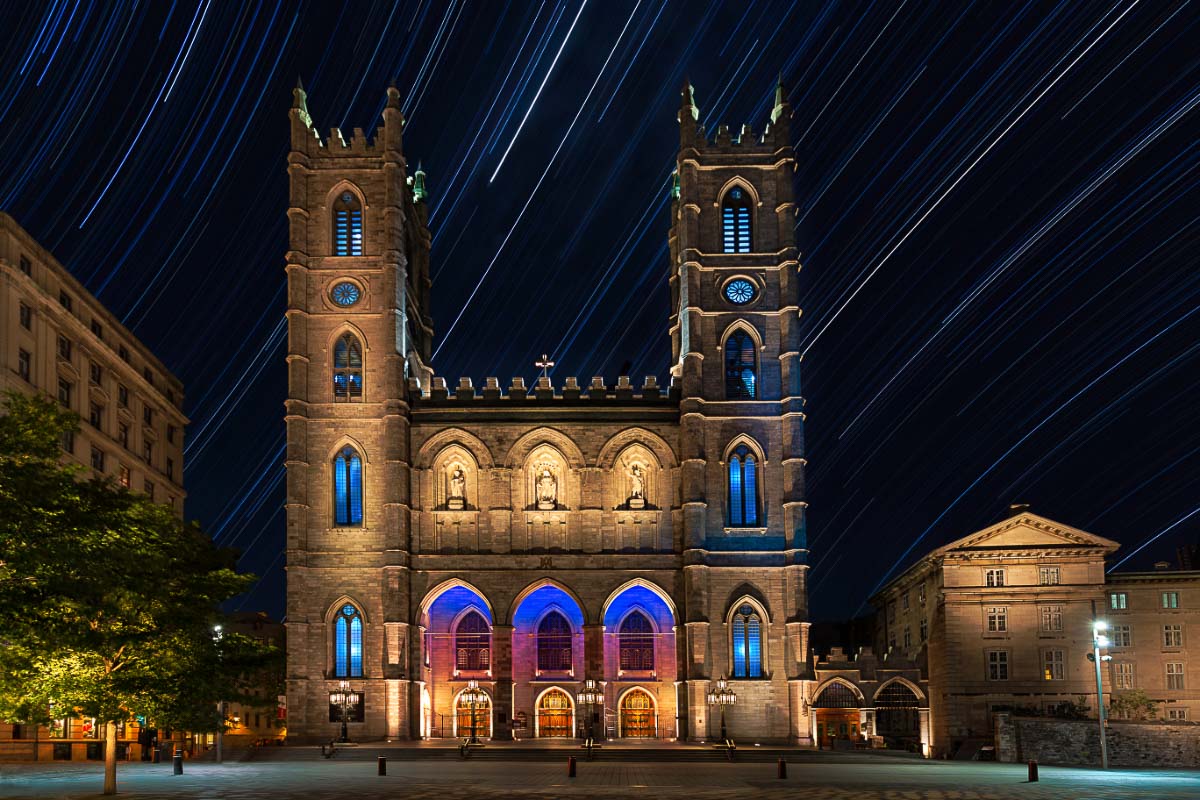 The interior provides a feast for the eyes. The colour tones of deep blue, red, purple, silver and gold give it a highly dramatic and wonderfully aesthetic appeal. Detailed wooden carvings, paintings, and religious statues further catch your eye and add to the building's elegant charm.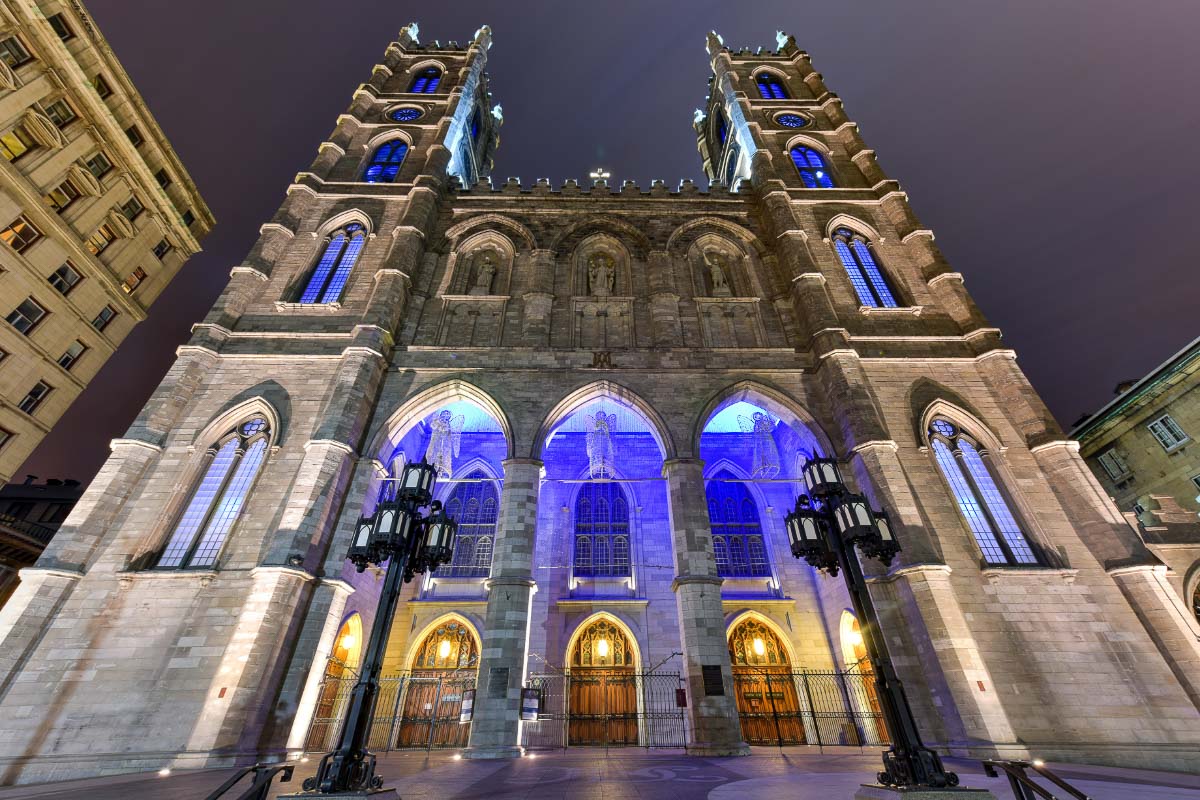 The stained glass windows are a bit unusual for a church. Instead of depicting biblical scenes, as is common, they showcase the religious history of Montreal. The basilica is a religious masterpiece from the inside out and a must-see when visiting the city.
⇒ Book a walking tour of Montreal that includes access to the Notre-Dame Basilica.
⇒ Don't miss Canada's capital Ottawa. Read my posts on the 17 most fun things to do in Ottawa, the Ottawa restaurants Byward Market, best Ottawa Tours and 11 Beautiful Canada Landmarks.
3. Niagara Falls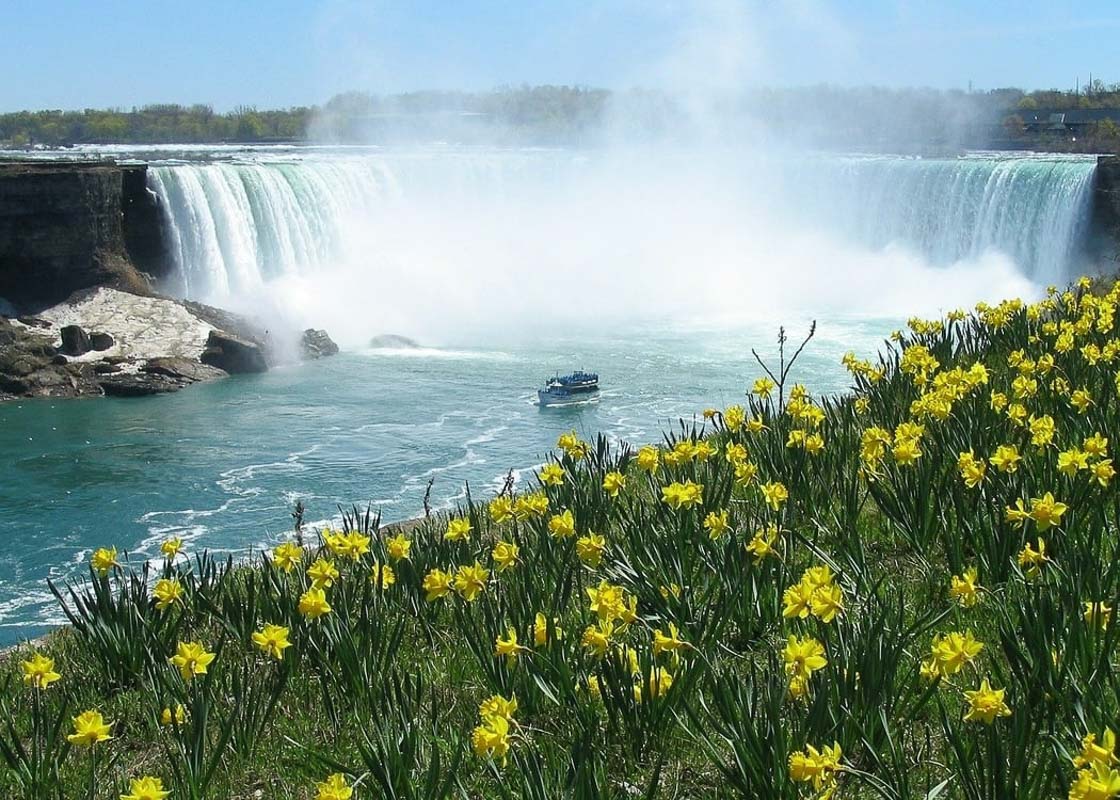 Famed for its grand allure, Niagara Falls is one of Canada's most visited landmarks. The land that encompasses the falls is split between Canada and the state of New York, in the United States. It features three waterfalls: Horseshoe Falls, American Falls, and Bridal Veil Falls.
Horseshoe Falls is the only one of the three that resides in Canada. It's also the largest. It drops roughly 57 metres down and is an impressive 790 metres wide.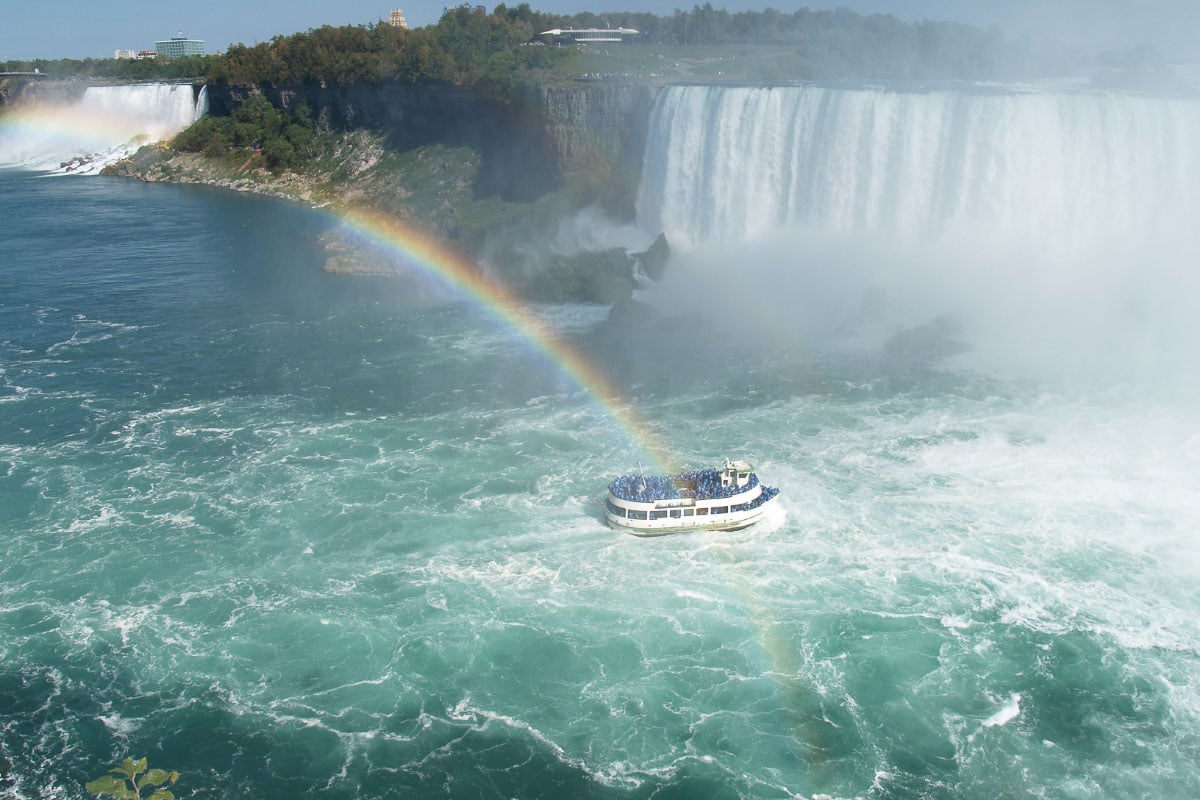 As you can imagine, this famous Canadian landmark is an incredible place to witness the true beauty and power of nature first hand.
⇒ Book a ticket for the observation deck of Niagara Falls.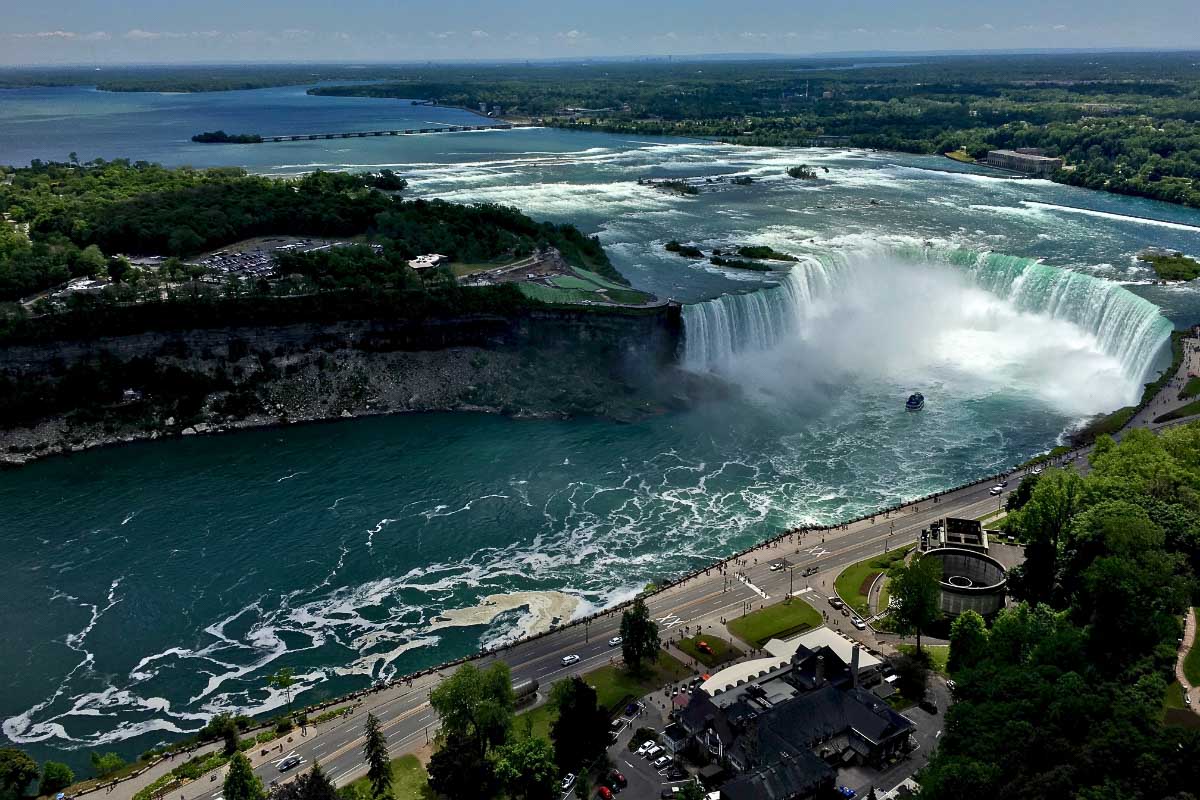 ⇒ Heading to the East Coast of the US? Check out my posts on the best things to do in Lower Manhattan, the most instagrammable places to visit in Philadelphia, and great Philadelphia food tours, and the best coffee shops Baltimore has on offer, more fab Baltimore food tour options, Hotel Indigo Baltimore and some very Instagram worthy Baltimore attractions!
4. Head-Smashed-In Buffalo Jump World Heritage Site
Head Smashed in Buffalo Jump is a UNESCO World Heritage Site in south-west Alberta. It's one of the country's coolest landmarks and holds great historical and archaeological significance.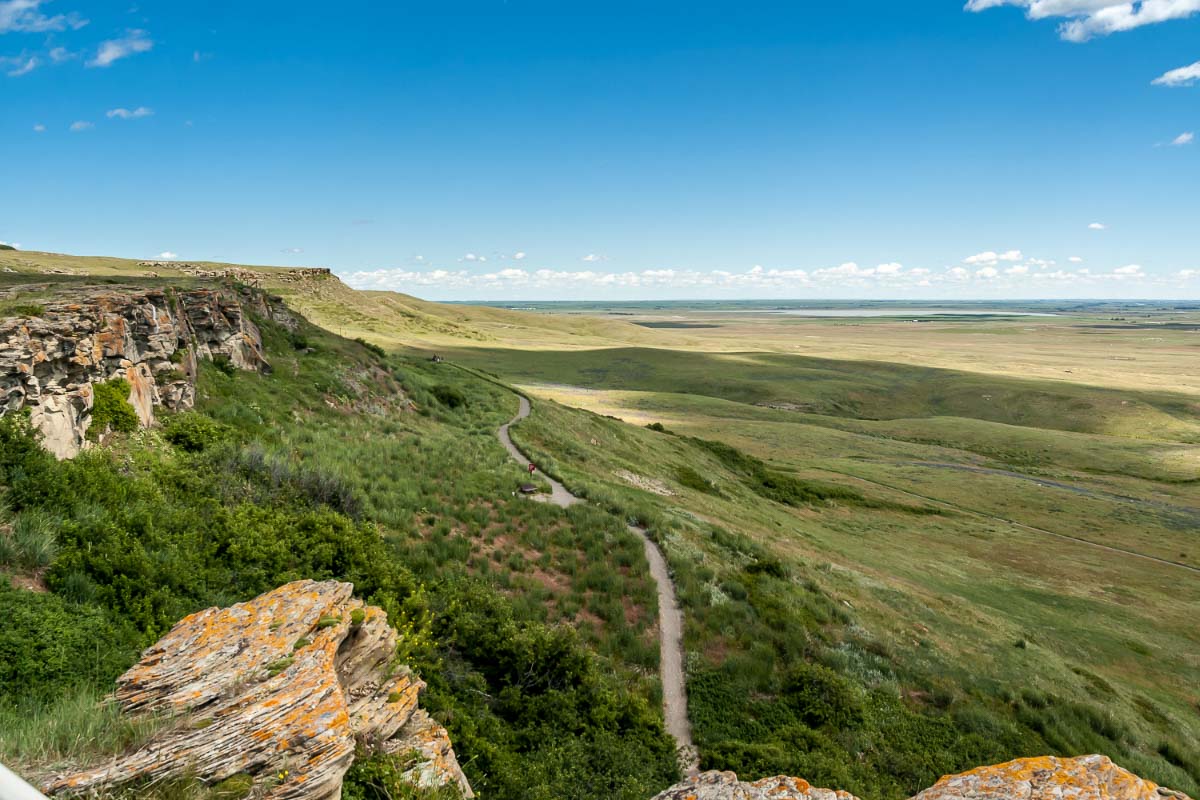 For nearly 6,000 years, the native peoples of the North American plains hunted buffalo by chasing them over a precipice. Their carcasses were then retrieved and used for food and other purposes. Today, the site houses vast quantities of buffalo skeletons as well as evidence of an aboriginal camp.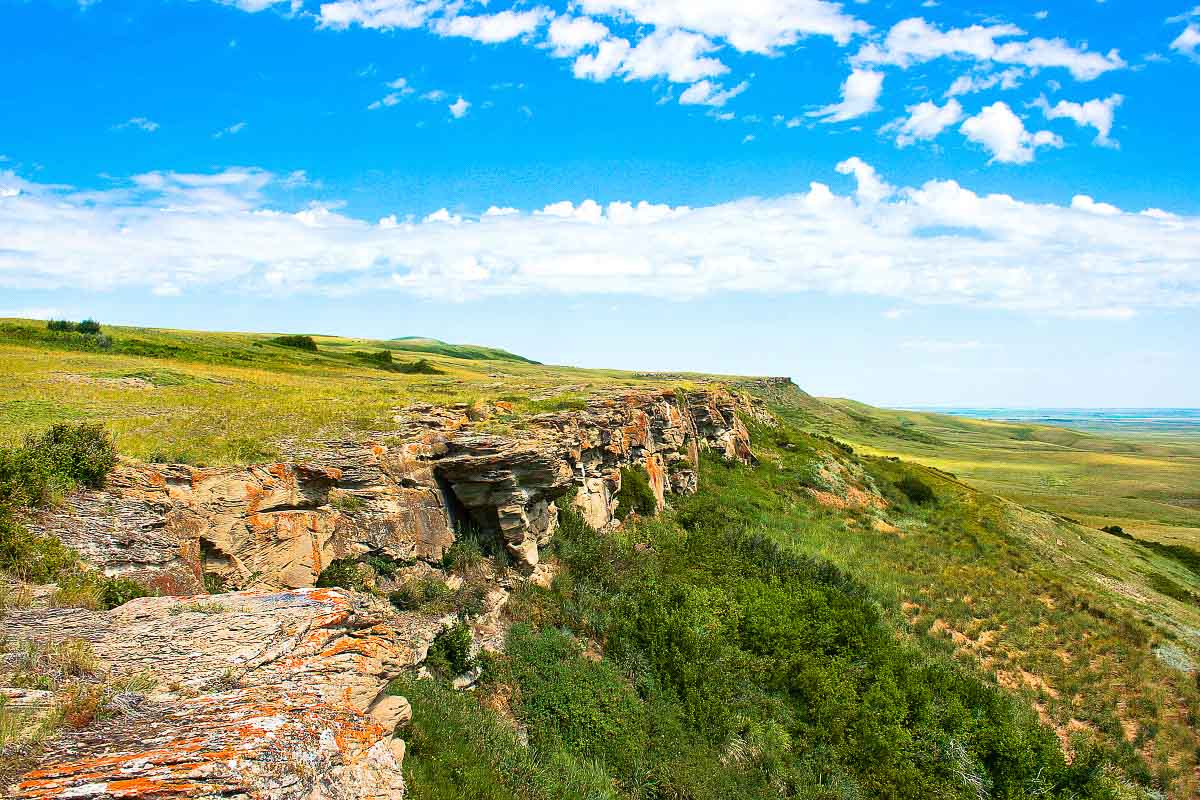 There are beautiful scenic trails you can take from the visitors centre to a viewpoint that shows the cliff where the buffalo would jump from. The site also houses a museum that provides more insight into the Plains Indians lifestyle.
5. Banff National Park
Banff National Park is a place where you'll feel an instant connection to nature. Located in Alberta's Rocky Mountains, the region is characterized by mountainous terrain full of dense trees, turquoise lakes, glaciers and icefields. It's a scene that will truly take your breath away.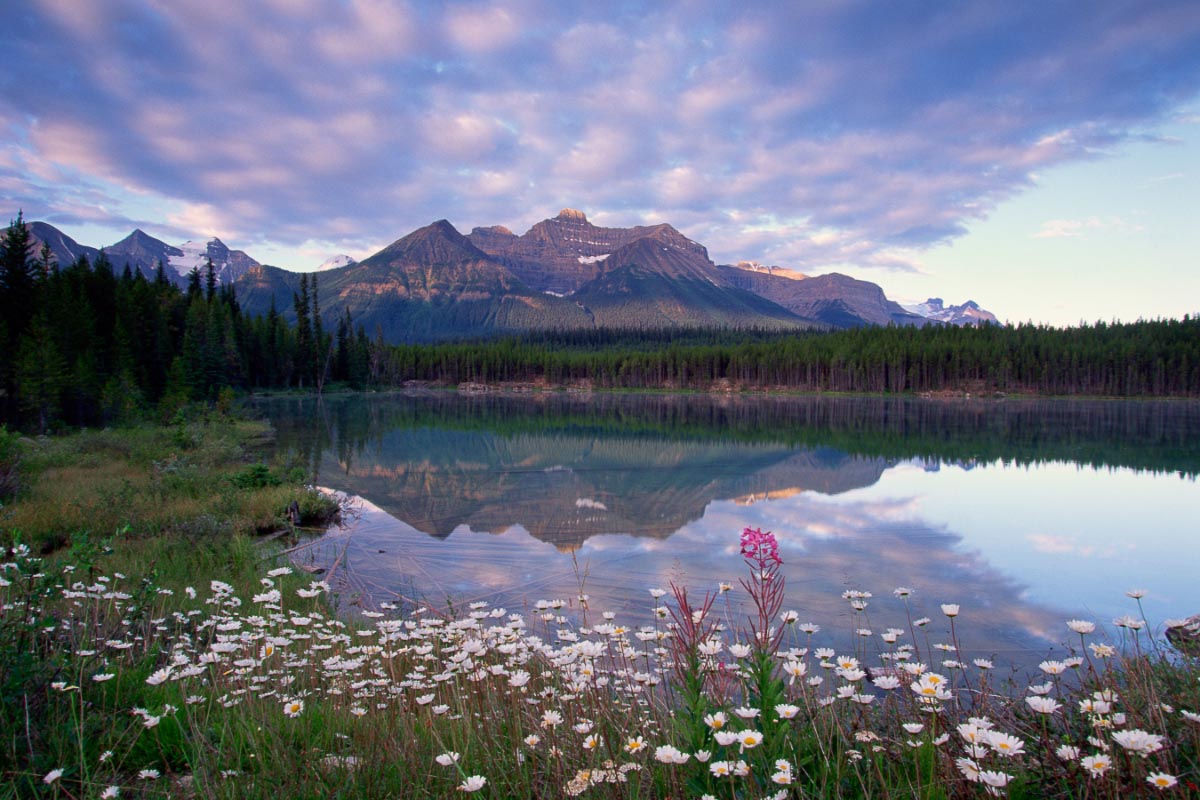 ⇒ Love watching the sunsets and sunrises? Check out my posts on the 6 Places to watch Sunsets in Seattle, 7 Spots for Sedona Sunsets, 6 Sunrise in Paris Spots, 8 Places to watch Sunsets in Ibiza, Where to watch Santorini Sunsets and Where to find the best Sunsets in California.
Lake Louise is one of the most popular points of interest in the park. It features plenty of outdoor activities, like swimming, fishing, and nature strolls and hikes. In winter, the lake freezes over and the landscape transforms into a winter wonderland. It becomes one of the country's most visited ski destinations.
⇒ Book a Hop-On-Hop-Off Bus tour of Banff National Park and explore the highlights.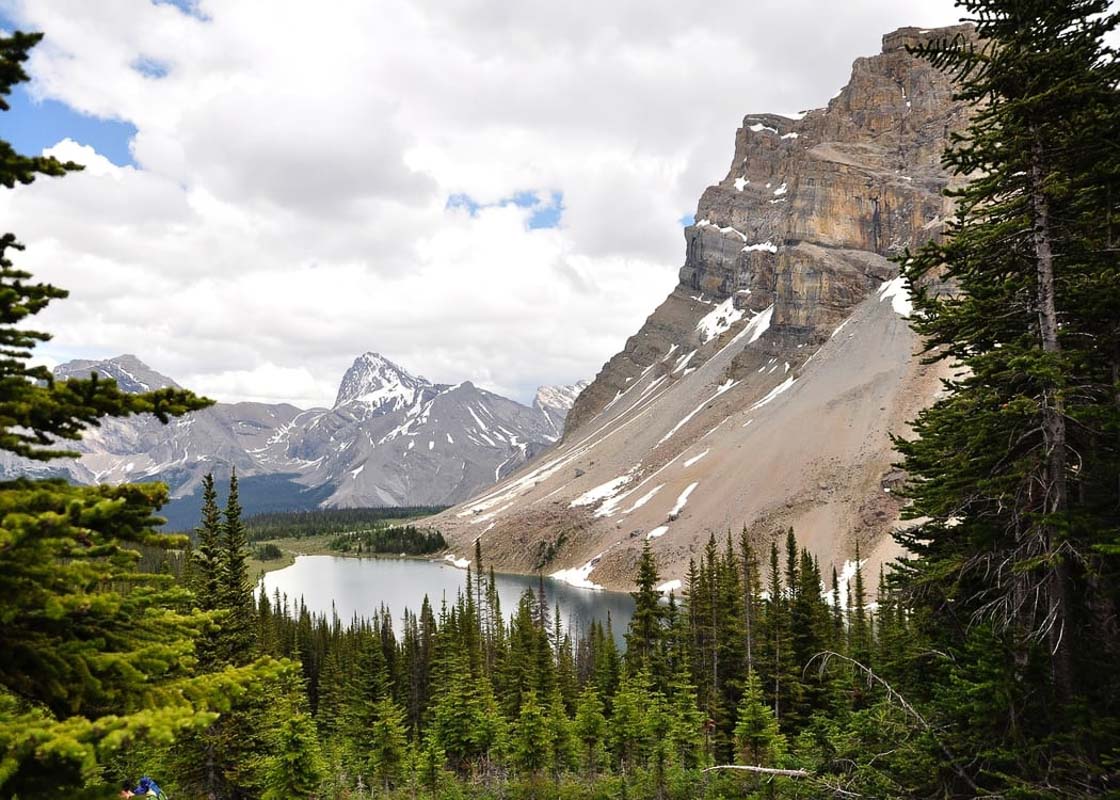 ⇒ Nova Scotia is another stunning region in Canada. Check out my Nova Scotia Itinerary for 6 days to give you a sense of the region. Don't miss the Wolfville Wineries and nearby Wolfville Farmers Market, 11 Beautiful Canada Landmarks and there are loads of things to do in Lunenburg with its UNESCO listed old town.
6. Confederation Bridge
Opened in 1997, The Confederation Bridge connects the province of Prince Edward Island to the province of New Brunswick. It's classified as a box girder bridge, which is basically a structure consisting of a top and a bottom slab connected by vertical beams.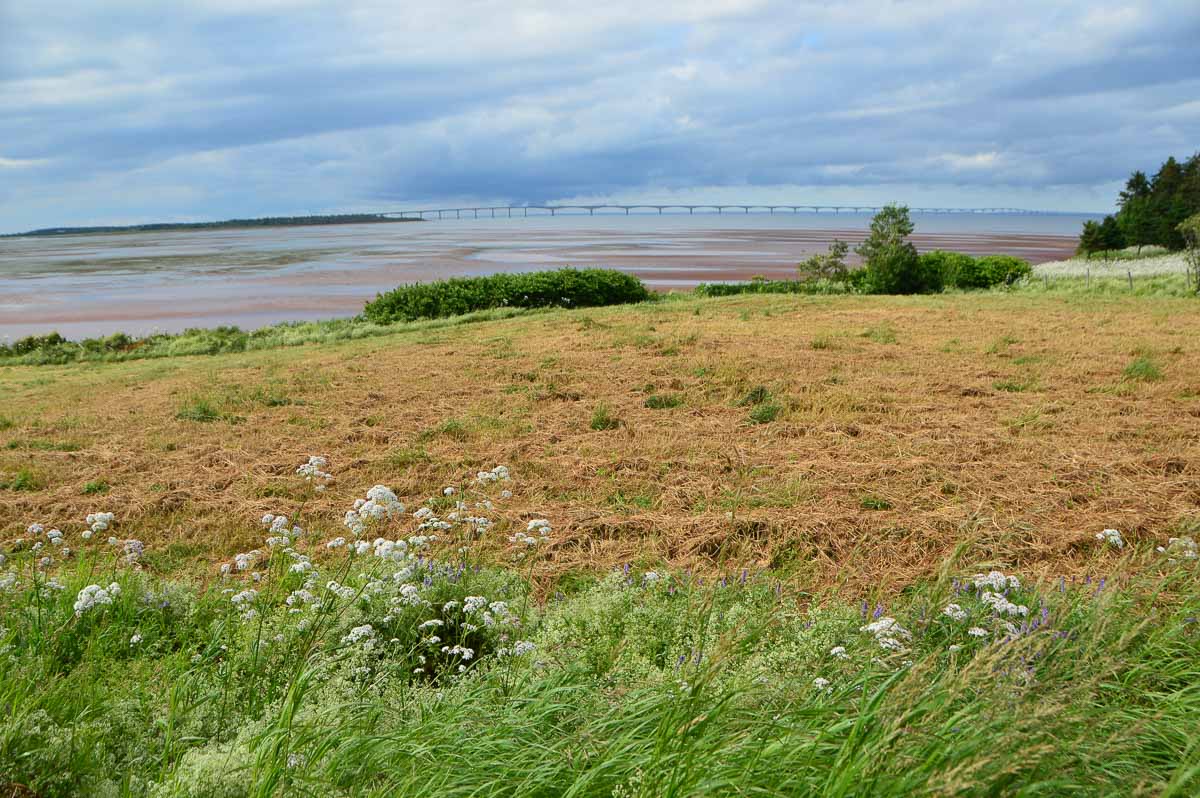 Spanning 12.9-kilometres, it's Canada's longest bridge and the world's longest bridge over ice-covered water. Standing still over the ocean, it's a marvel of engineering that makes for a lovely scenic drive.
To cross the bridge, you must be in a vehicle as pedestrians and cyclists are not permitted. For some gorgeous photos check out the land around the entrance to the bridge on the New Brunswick side.
⇒ Book a small-group Prince Edward Island tour that includes a visit to the Confederation Bridge.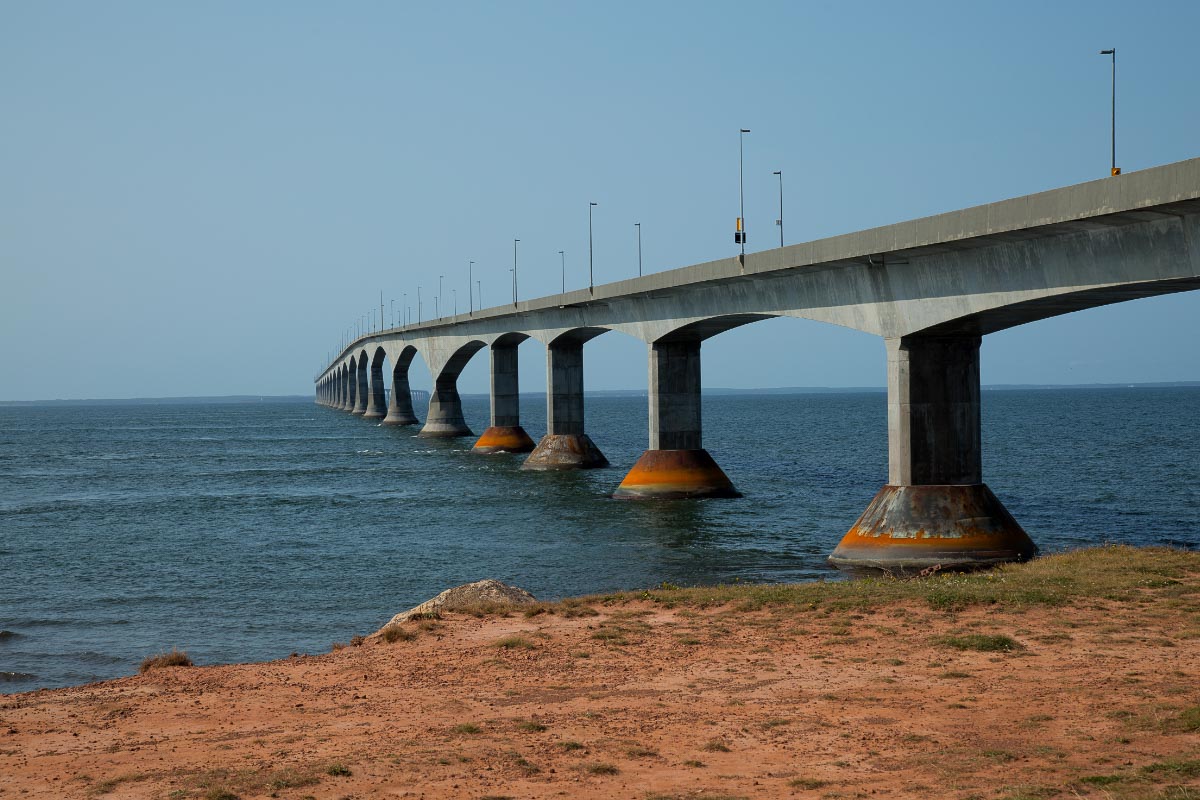 ⇒ Another fantastic city in Canada that isn't too far away is Halifax, Nova Scotia. There are loads of fun things to do in Halifax like visiting the fantastic Halifax Farmers Market and taking Atlantic Canada's number one tourist attraction the Harbour Hopper Halifax and don't miss 11 Beautiful Canada Landmarks.
7. Fairmont Le Château Frontenac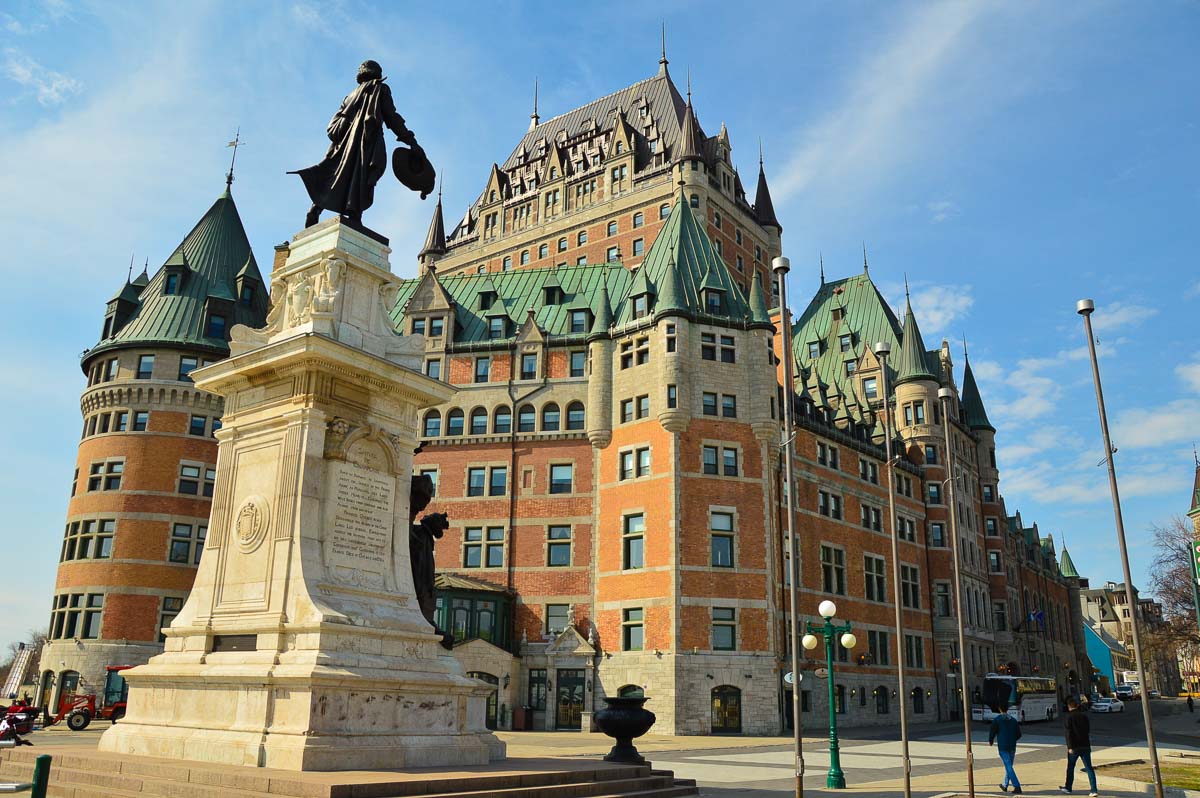 The Fairmont Le Château Frontenac in Quebec City is a 5-star château-style hotel. The large, castle-like building dominates the skyline and towers over the Saint Lawrence River down below.
It was built in the late nineteenth century by the directors of the railway society. They wanted to encourage luxury tourism, or more specifically, influence wealthy travellers to frequent their trains.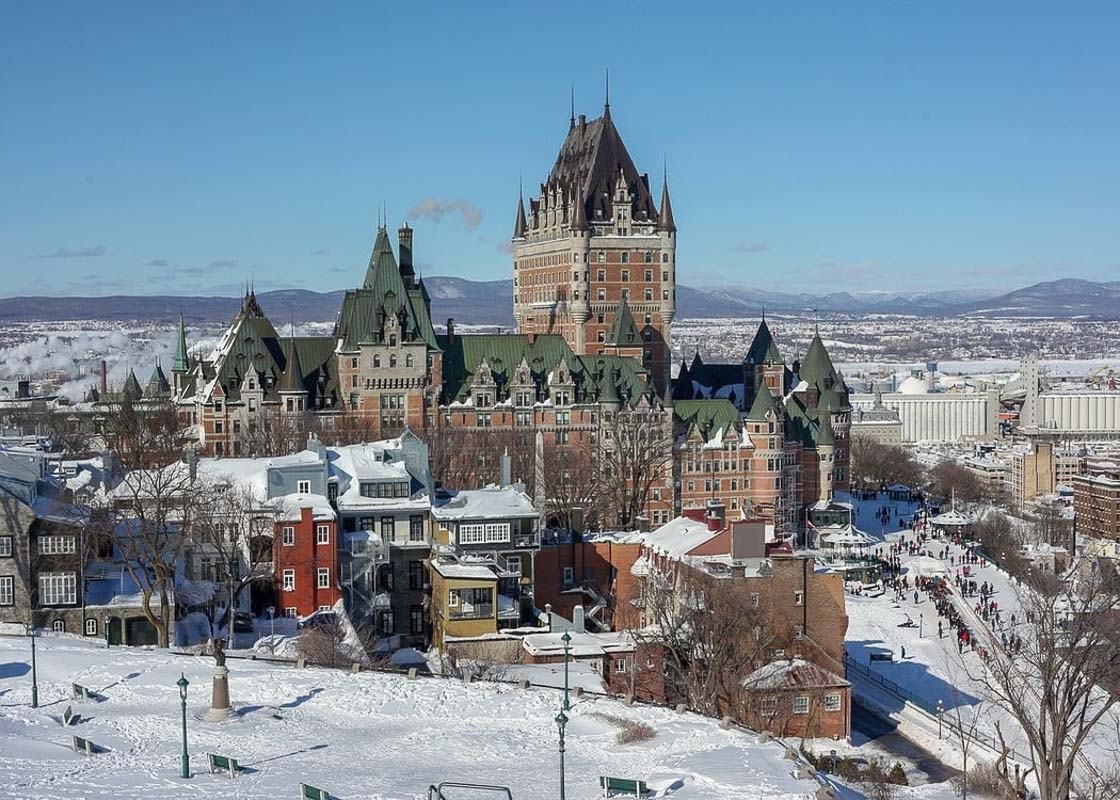 This historic hotel still operates for its original purpose. If you're feeling frivolous, book a room and enjoy the full scale of this lavish landmark. Guests have access to the fine dining restaurant, wine bar, bistro, spa, indoor pool, and more.
Having personally stayed at this hotel I highly recommend visiting. It literally does feel like you are sleeping in a Canada landmark. The hotel inside is beautiful and bustling and the rooms are excellent.
⇒ Book a guided visit of the Fairmont Le Château Frontenac.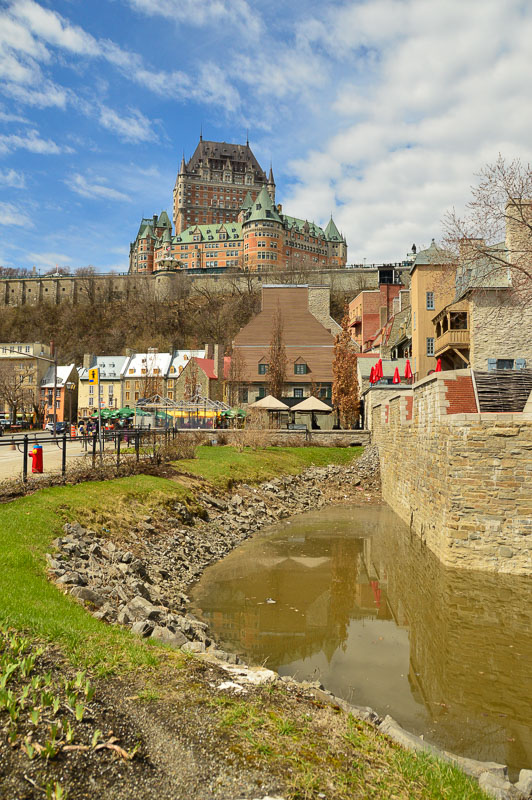 ⇒ Another amazing part of Canada (and home to some beautiful Canada Landmarks) is New Brunswick. Check out my posts on the top New Brunswick Tours, the best things to do in New Brunswick, Whale Watching St Andrews and some charming boutique hotels in New Brunswick Canada.
8. Parliament Hill
Located in the nation's capital of Ottawa, Parliament Hill is the home of Canada's first government. The Gothic Revival-style buildings are the headquarters for the Monarch, the Senate, and the House of Commons.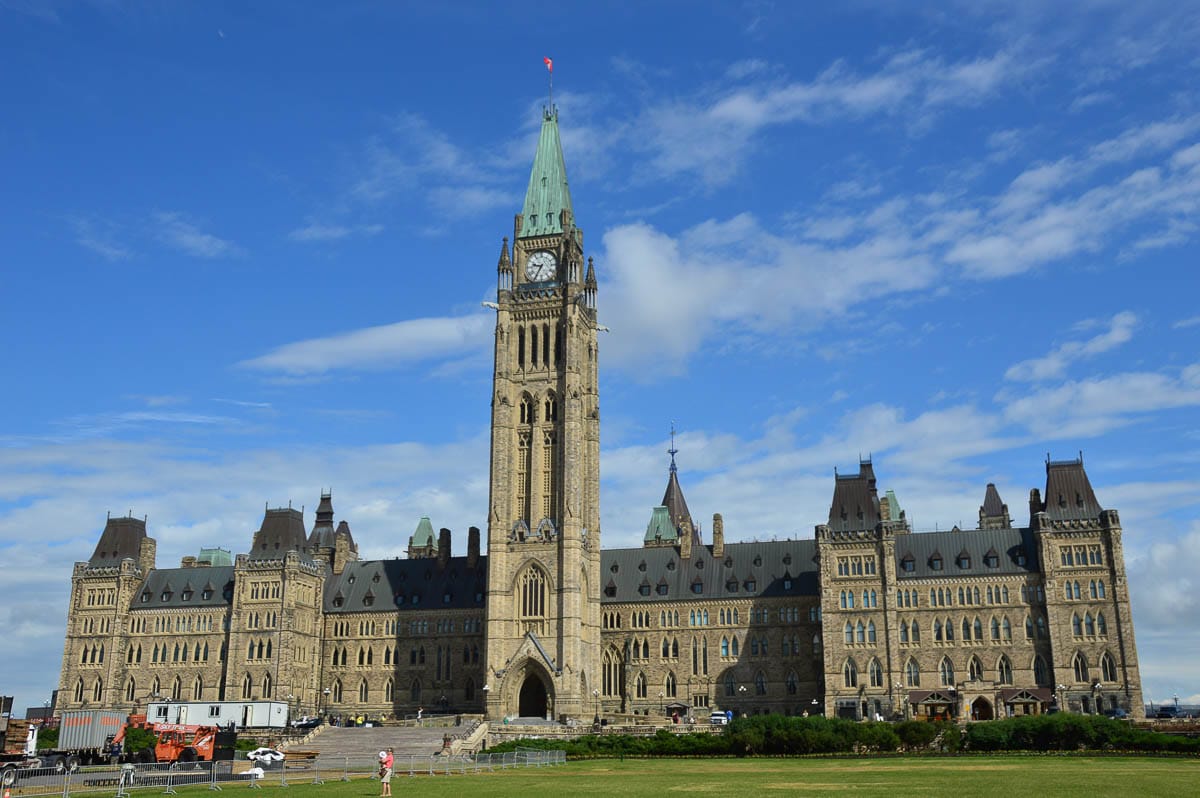 Perched on a 50-meter hilltop overlooking the scenic Ottawa River, it enjoys a highly scenic location. Many statues and monuments are also showcased on Parliament Hill, including those of Queen Victoria, Queen Elizabeth II, and the second Prime Minister of Canada, Alexander Mackenzie.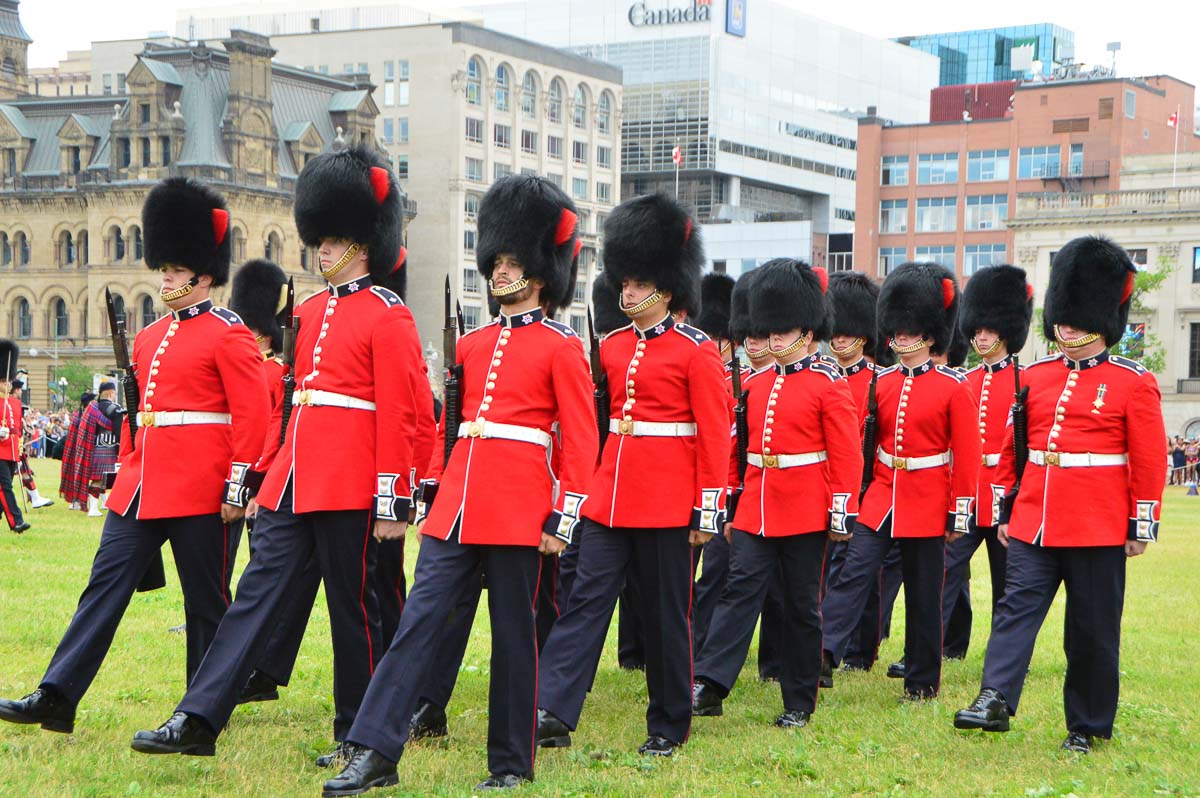 The Changing of the Guard ceremony happens every morning in the summer. Dozens of soldiers participate and the troops march up Elgin Street and onto the lawn.
⇒ Click here for the official Changing of the Guard at Parliament Hill website and more details.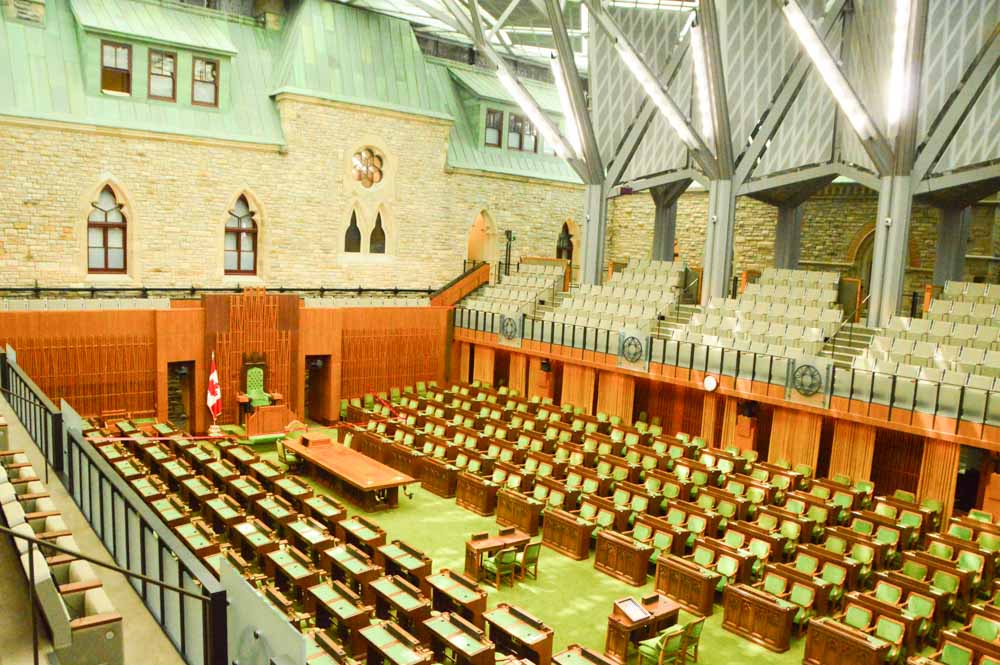 Did you know that the Canadian parliament has a temporary location for the next 10 years? Who knew? As it is going to take another 10 years to get the permanent home to the Canadian parliament completed I imagine that will be an impressive place to visit.
In the meantime, it is possible to visit the temporary home of the Canadian Parliament on an Ottawa parliament tour.
The House of Commons tour runs for about 40 minutes and takes guests through the newly renovated West Block. See where all the action happens when bills are debated and check out the speaker of the house.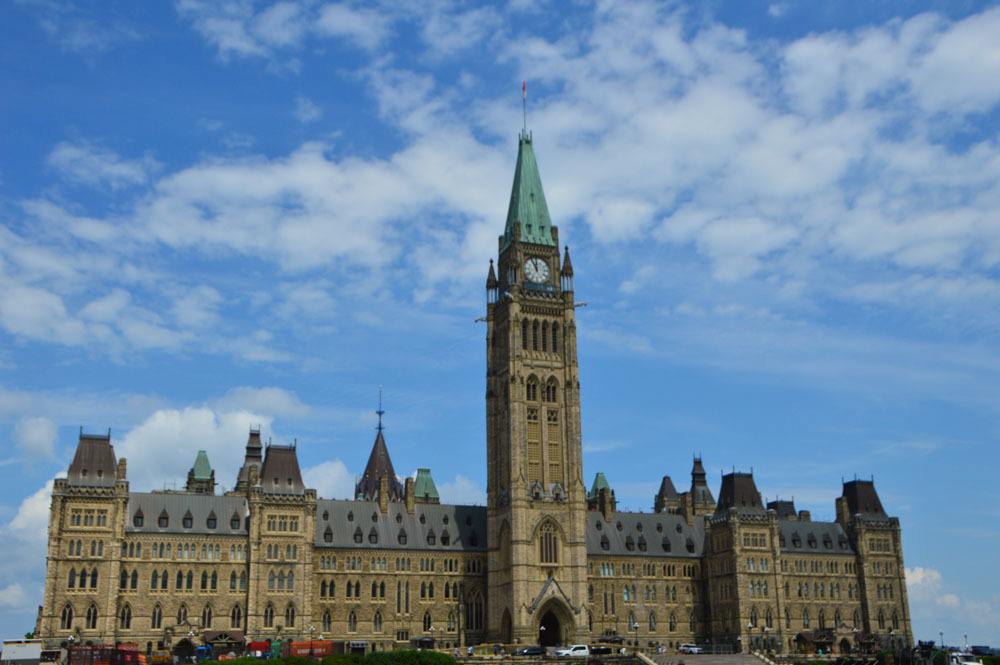 ⇒ There is something about landmarks – I am always a bit awed when I get to see one! 16 Famous Landmarks in Europe You Must See, 12 Beautiful Spain Famous Landmarks, 11 Stunning Canada Landmarks, 15 North America Landmarks, 9 Picturesque Japan Landmarks and 11 Historic Greek Landmarks.
When parliament is not in session the tours run every 5 minutes – and this is a free tour. However, it is essential to book this parliament tour in advance as there are only a small number of tickets available each day for first come and first served.
Find out more about the tour of the Houses of Commons tour and some other great options in my 3 Best Ottawa Tours post.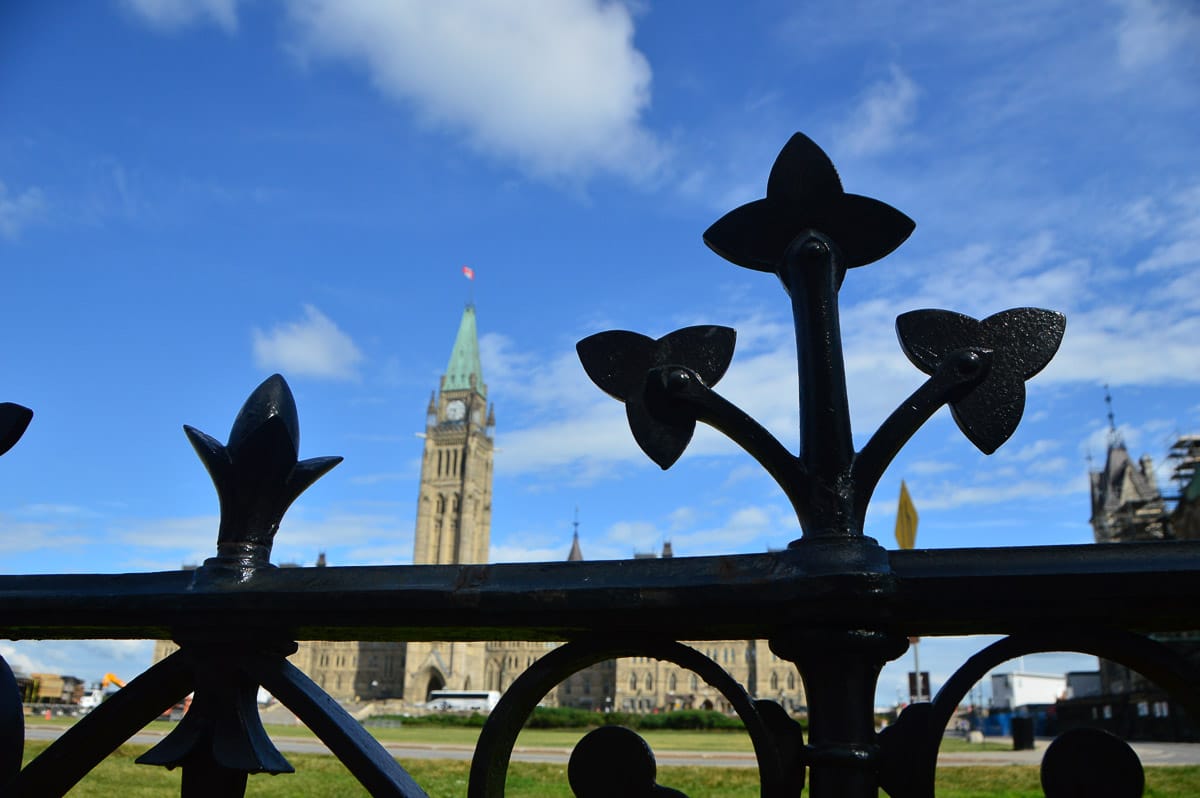 ⇒ Book a Hop-On Hop-Off Bus tour to explore Ottawa top landmarks, including Parliament Hill and don't forget to explore the fantastic Byward Market restaurants in Ottawa.
9. Hopewell Rocks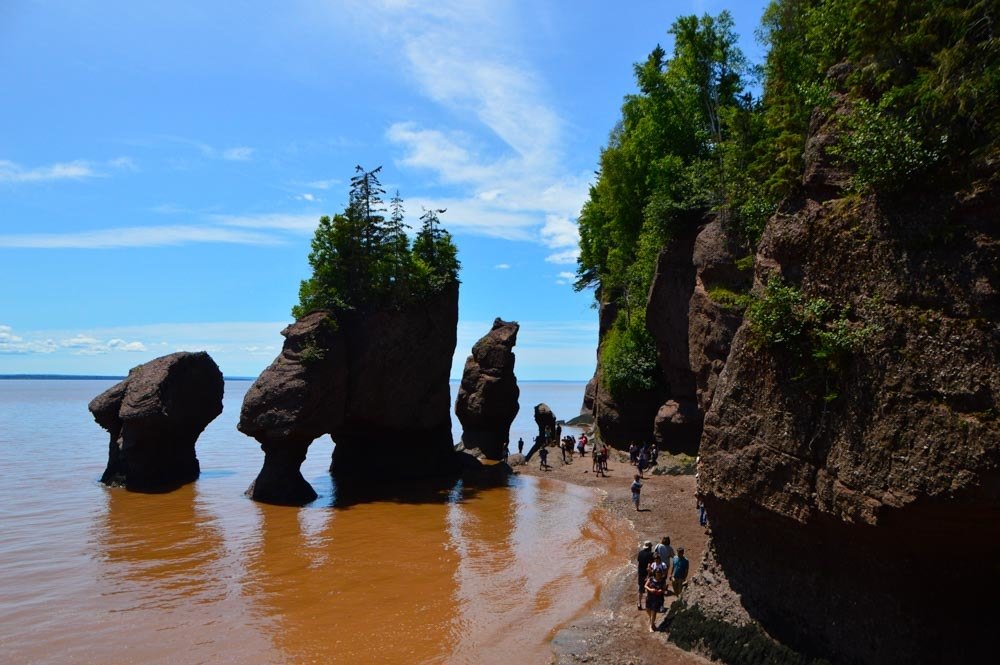 The Hopewell Rocks are a series of rock formations that have been uniquely shaped by tidal erosion. Located in New Brunswicks' stunning Bay of Fundy, they stand between 12 to 21 metres tall and visiting these iconic rocks is one of the best things to do in New Brunswick.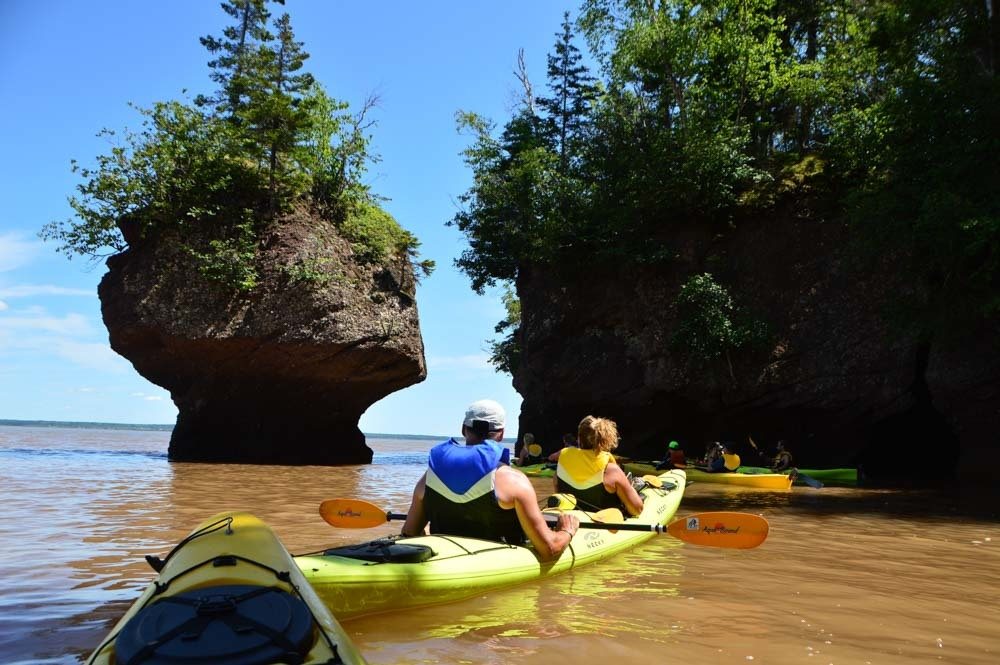 The bases of the rocks are submerged in water twice a day during high tide. The time span between low and high tide is just over 6 hours. For the full perspective, it's recommended to visit during both high tide and low tide.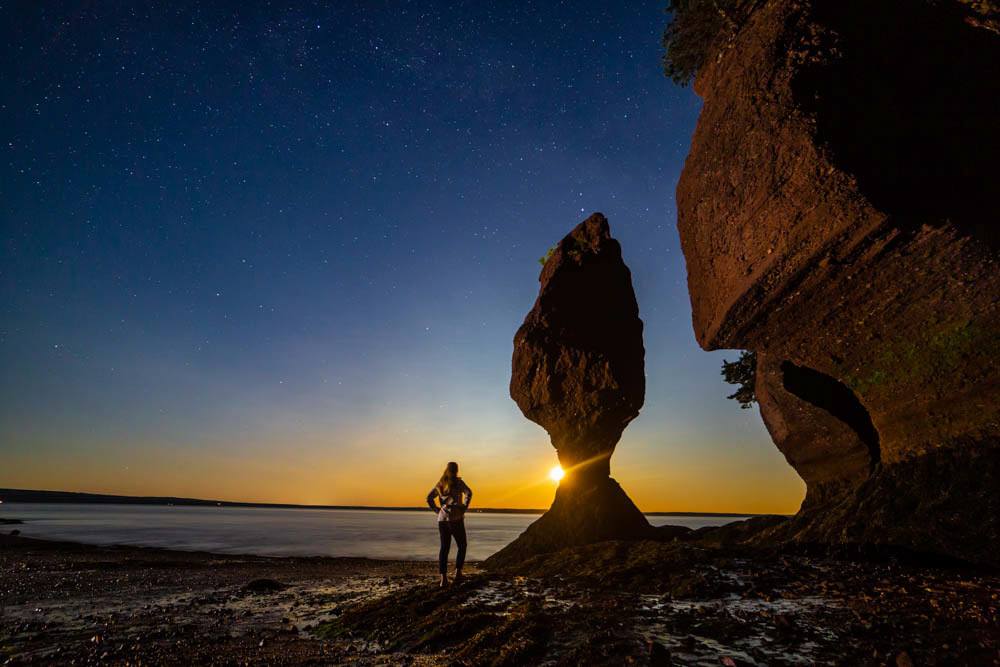 Hopewell Rocks are visited by millions each year and are one of the best places to visit in New Brunswick. The park is open from Mid May to the middle of October. There is a lot to do – and multiple visits required to really experience Hopewell Rocks.
I highly recommend visiting Hopewell Rocks New Brunswick at both high tides and at low tide for photos. Both will result in very different shots.
The easiest way to experience Hopewell Rocks at low tide is to head to the park and walk down the staircase. Once the low tide has been reached it is possible to walk between the rocks and get some nice shots. The appearance of Hopewell Rocks is most dramatic when low tide is at its peak.
⇒ Beat the queue and Book your Hopewell Rocks ticket here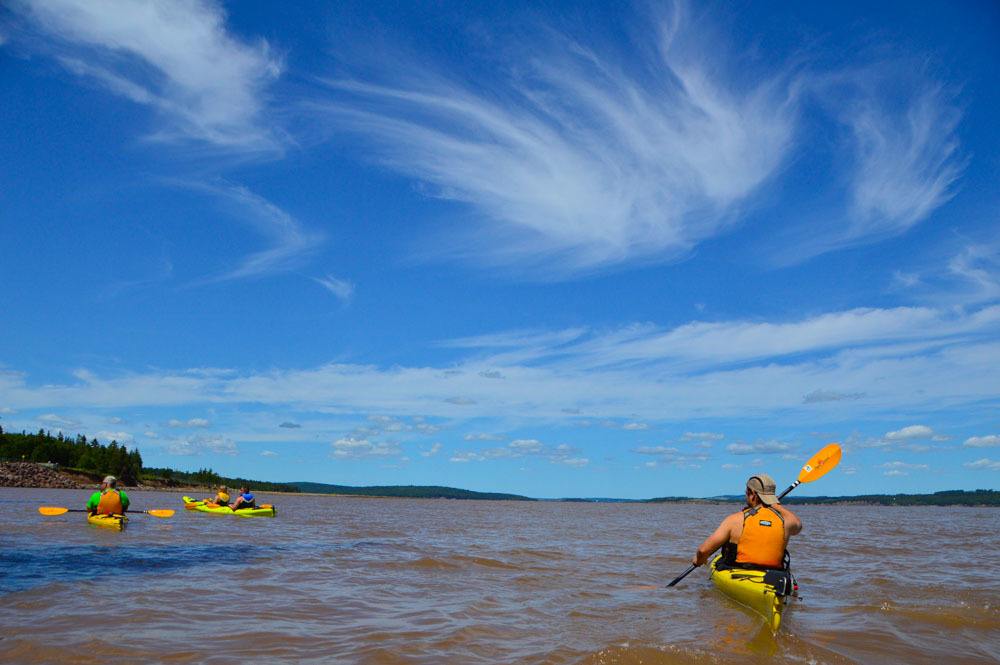 Kayaking Tours in Hopewell Rocks
A great way to experience Hopewell Rocks at high tide and get some great photos is to go on a kayaking tour. This allows you to get in and out of the rocks and provides some great angles. Plus the kayaks themselves look great against the water and the rocks.
All of the Hopewell Rocks kayaking tours are run by Baymount Outdoor Adventures. I was very impressed with how professional and organized they were as on operation.
⇒ Read more reviews of Baymount Outdoor Adventures on Trip Advisor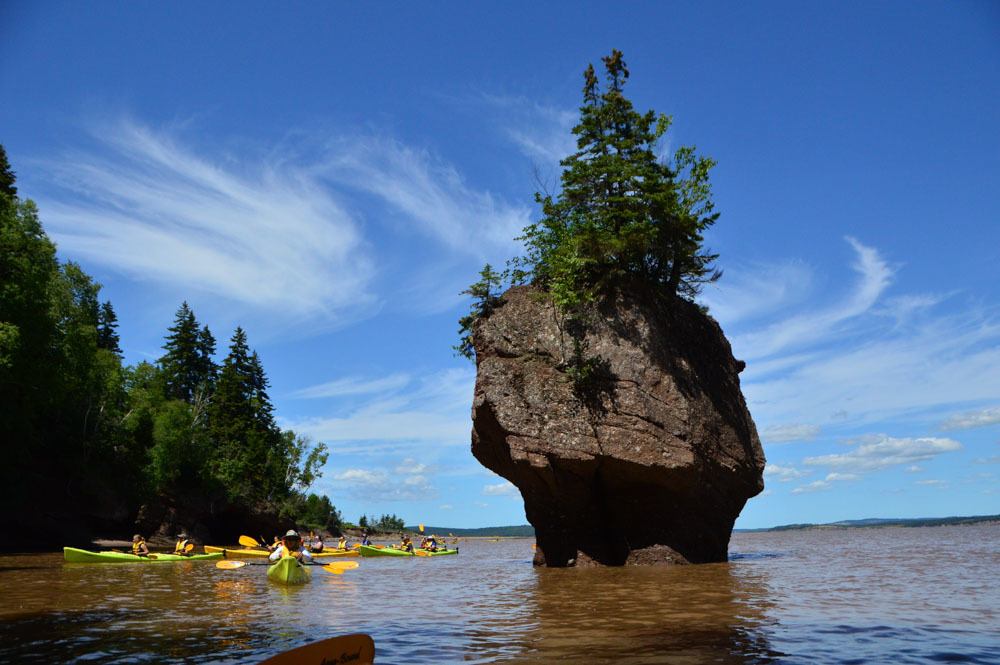 Hopewell Rocks Night Photography Tour
The third way to experience Hopewell Rocks is through a night photography tour. This was such a special experience! The Hopewell Rocks night photography tour is guided by the amazing Kevin Snair.
The ability for the Hopewell Rocks night photography tour New Brunswick to run is very much weather dependent. To begin with, there are only a few days each fortnight where the tides allow for the tour to happen.
And then if the weather is too cloudy the tour won't go ahead as without seeing the moon there isn't much to photograph. Find out more in my 9 New Brunswick Tours Not to Miss post.
⇒ Book a small-group tour of the Bay of Fundy and Hopewell Rocks.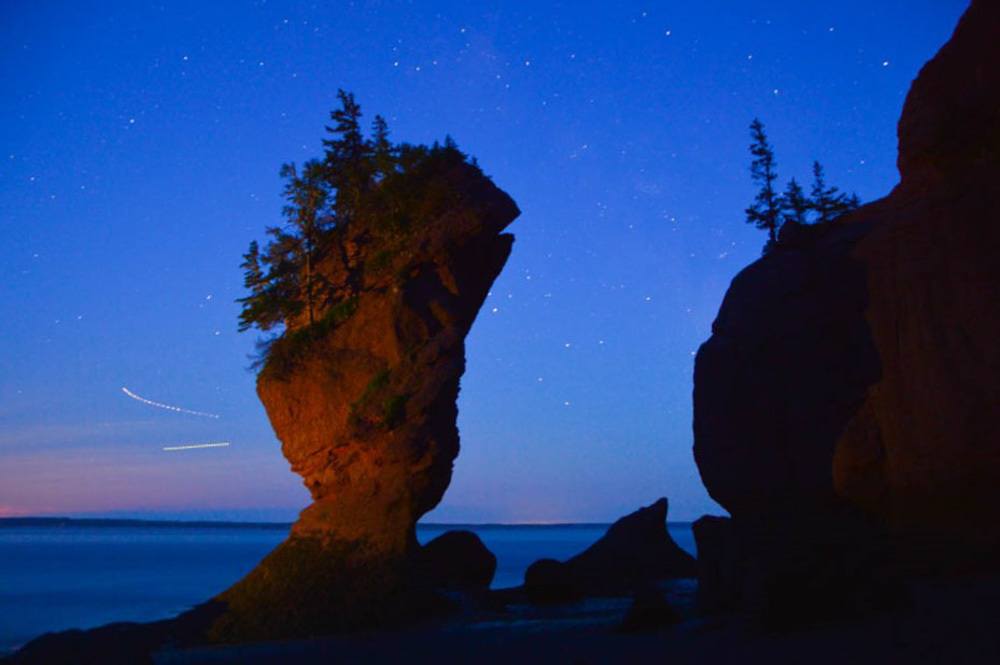 10. Signal Hill National Historic Site
Signal Hill is a historic landmark that overlooks the city of St. John's in Newfoundland and Labrador. It was the site of the final battle of the Seven Years' War: the Battle of Signal Hill. It took place in 1762 and ended in the French forces retreating and surrendering.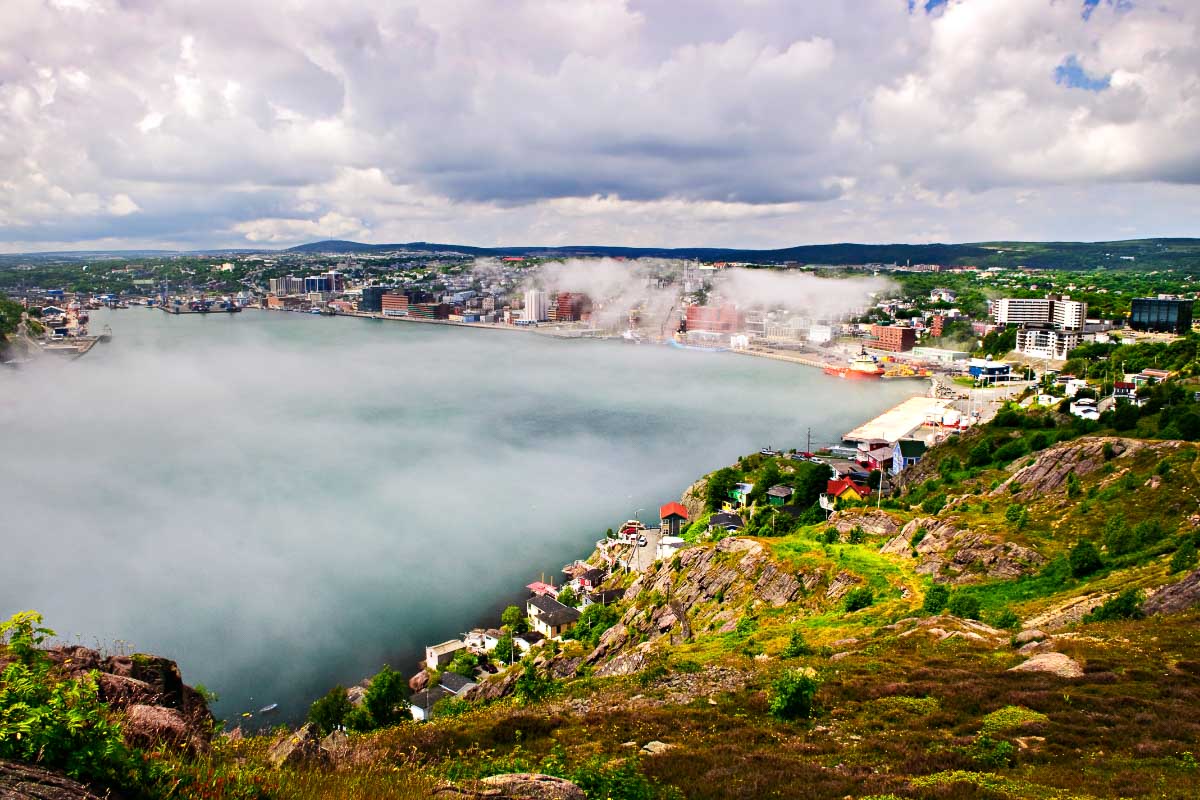 There are several areas of interest around the hill. The Cabot Tower was constructed in 1898 to celebrate the 400th anniversary of the discovery of Newfoundland, as well as Queen Victoria's Diamond Jubilee. There's also a visitor centre where you can watch a film and learn about the history of St. John's.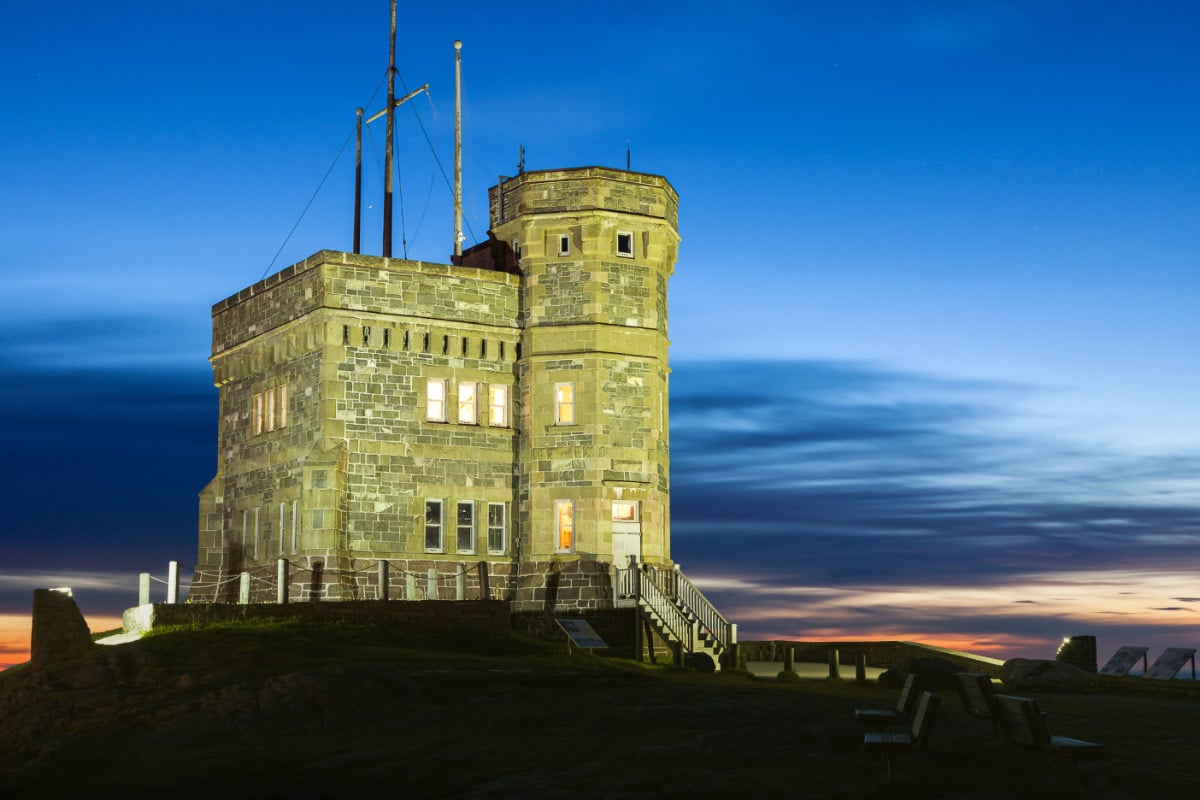 If you're an active traveller, you'll find plenty of walking trails and scenic lookouts that offer amazing views of the city below.
⇒ Book a tour of St. John's that includes a visit to Signal Hill National Historic Site.
11. Peggy's Point Lighthouse
Peggy's Cove is a small fishing village in Nova Scotia. It's about one hour (43 kilometres) from downtown Halifax. Famed for its picturesque seaside beauty, it contains one of Canada's most well-known lighthouses, known as Peggy's Point Lighthouse.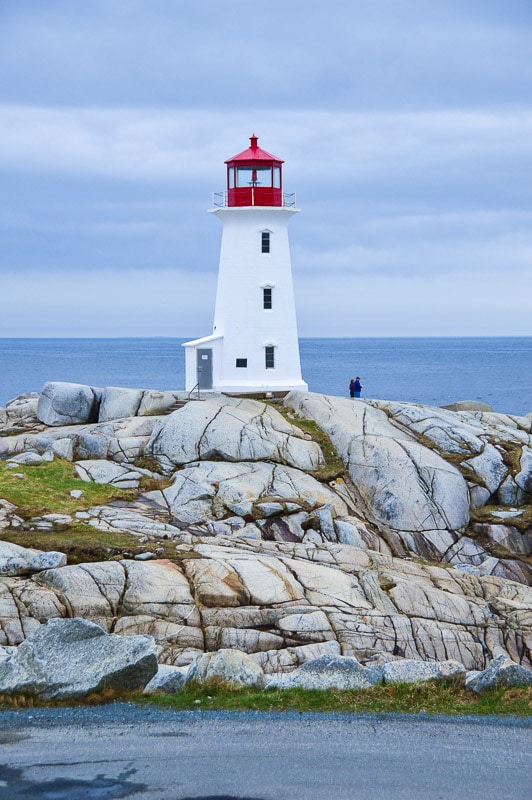 The first lighthouse on this site was built in 1868 but replaced by its current structure in 1914. The classic red-and-white structure stands nearly 15 meters high. It's still active to this day and is operated by the Canadian Coast Guard.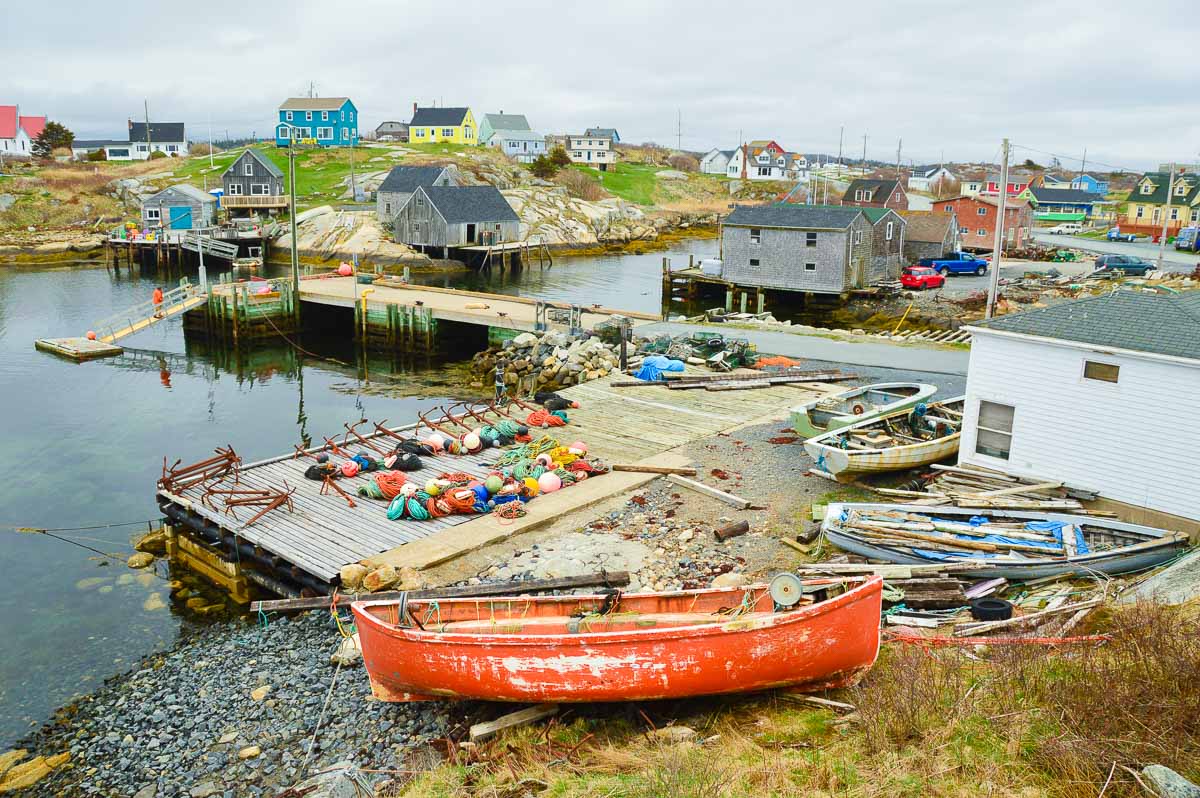 It's one of the main tourist attractions in the area (don't miss lovely Lunenburg) and makes a great addition to any Nova Scotia itinerary.
⇒ Book a tour of Halifax which includes a scenic drive to Peggy's Cove.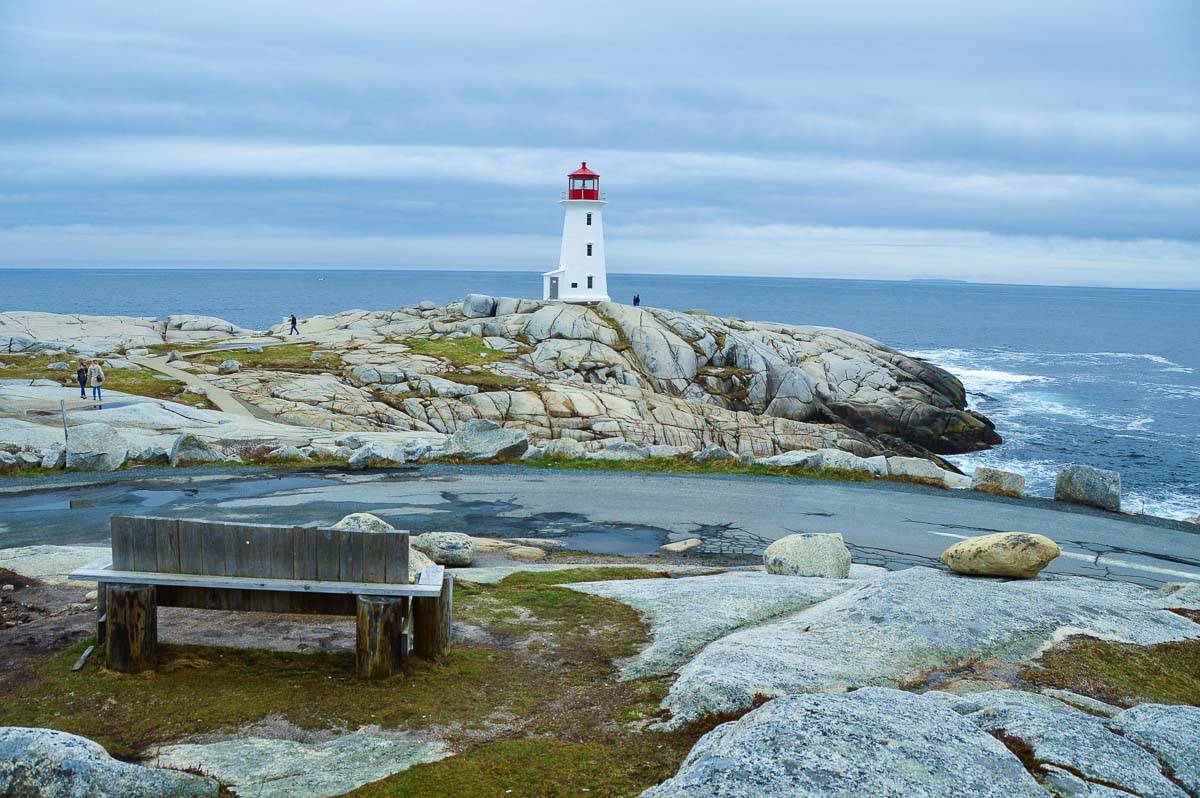 Beautiful Canada Landmarks: Final Thoughts
There you have it, the most beautiful and famous Canadian landmarks. As you can tell, there are some pretty diverse options. Whether you're into history, architecture, nature, or religion, you'll easily find something that aligns with your interests.
Each landmark does a great job of showing the unique character and culture of the area – visiting them is sure to be a highlight of your trip!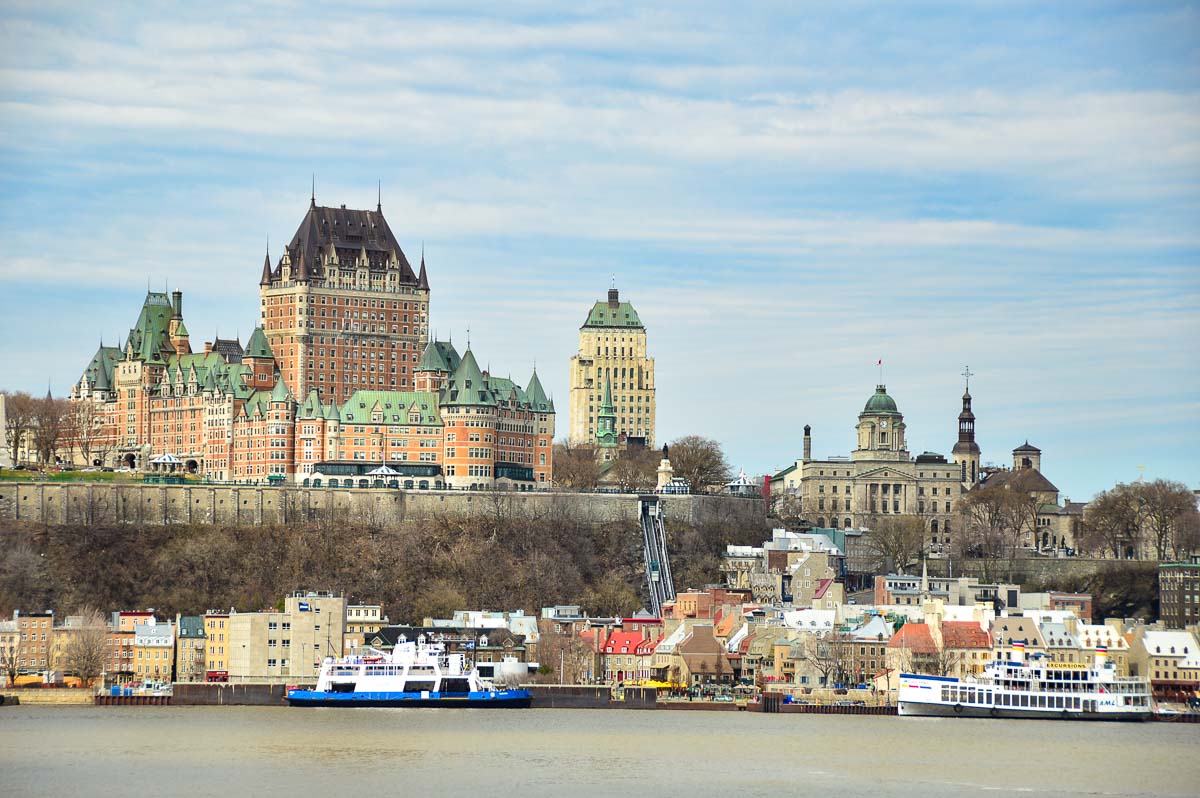 ⇒ If you're planning some solo travel don't miss my posts on the best Singles Holidays over 40, vacations for over 50 singles, the best singles ski holiday options, the 30 best singles travel groups, Bali Retreats for Singles and some fantastic solo spa breaks.
Who Paid for What in this Post?
This Canada landmarks post includes affiliate links. That means if you click through and end up making a purchase I will receive a small commission. I wanted to make sure you were aware of this.
Watch my Canada Landmarks Web Story