If you love marine life whale watching St Andrews will be a wonderful experience for you. St Andrews New Brunswick was founded in 1783 and is one of the best-preserved examples of colonial heritage in North America today.
The town is designated one of Canada's National Historic Districts and it is utterly charming. Plus it has a fantastic location on the Bay of Fundy which means whale watching st Andrews is one of the most popular things to do in New Brunswick.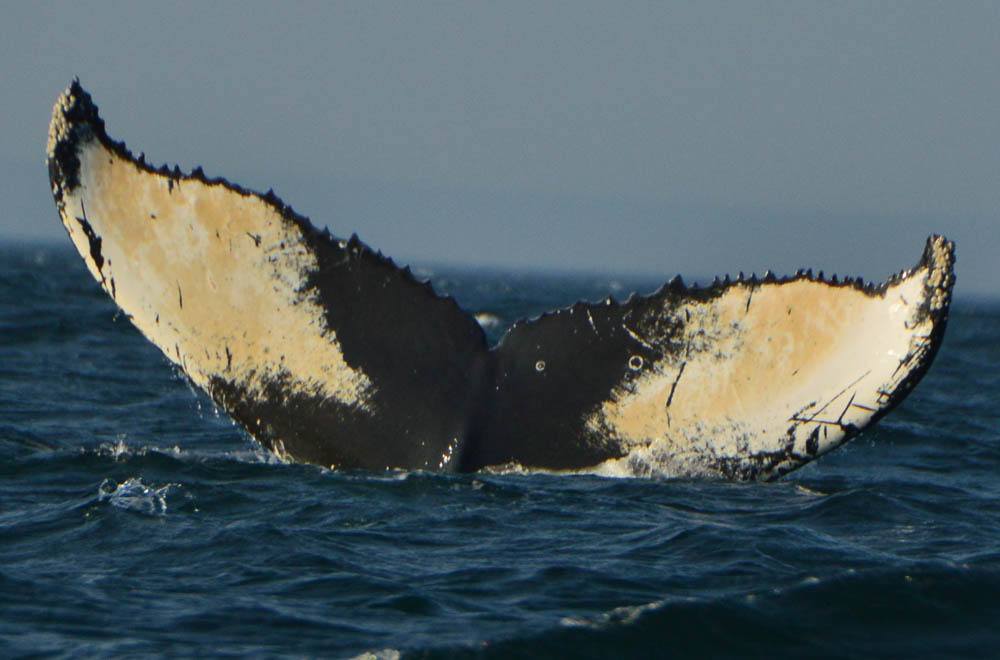 Whale Watching St Andrews – Why is this a Great Place to see Whales?
The short answer is the fundy tides Saint Andrews. As you probably know, the Bay of Fundy has the highest tides in the world. This means that twice a day all the water comes in and all the water comes out.
That means that fresh supplies of plankton are coming in twice a day and providing a lot of food for whales. When it comes to New Brunswick Whale Watching, St Andrews is the place.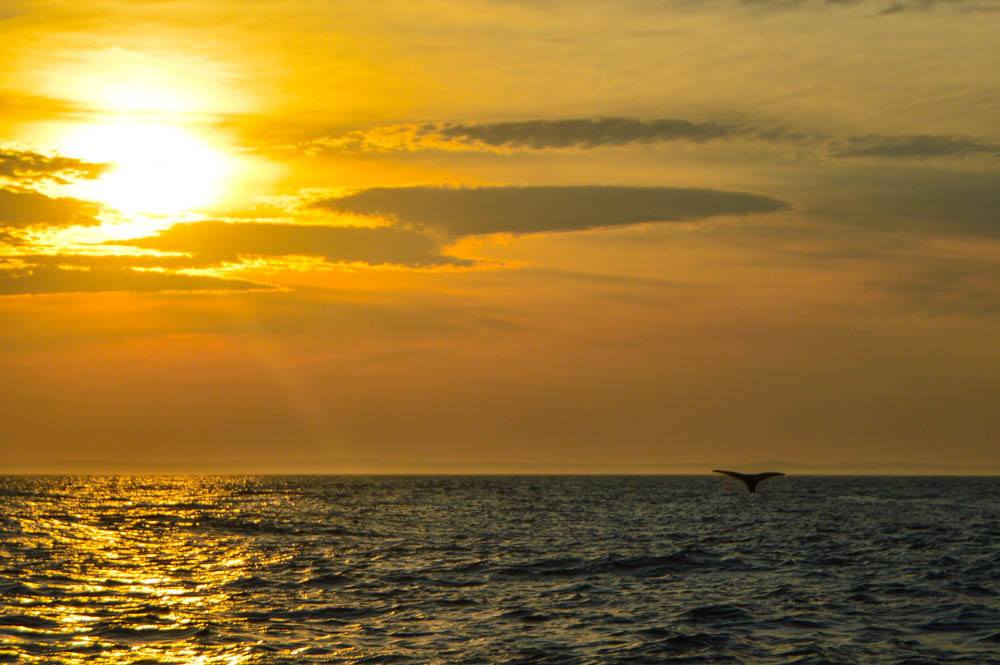 Now that we've covered that key point let's move on to some of the most frequently asked questions about Whale Watching New Brunswick:
What types of Whales will I see in the Bay of Fundy New Brunswick?
Minke whales are the most commonly sighted whales on Bay of Fundy whale watching tours. There are also many finback whales. However, minke and finback whales are much more difficult to photograph.
They pop in and out of the water which looks lovely but is very tough to capture. And when they surface it is only possible to see their fins. So selfish on their part.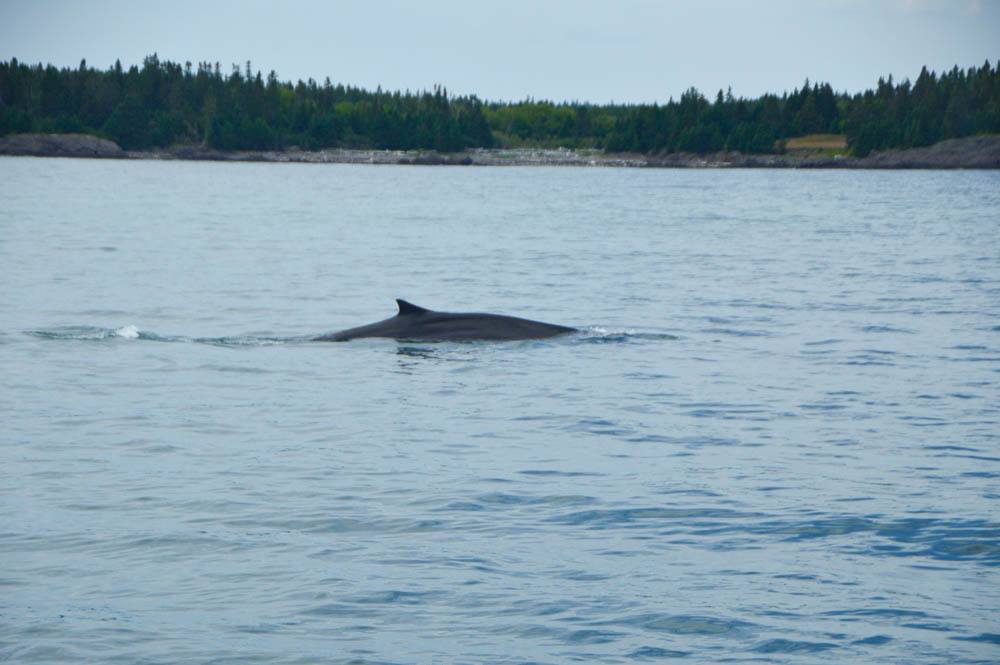 The Humpback whale is my favourite. First of all, humpback whales are by far the most photogenic of the whales with their distinctive tales which are white on one side.
Secondly, they will often come quite far out of the water allowing for great tail shots and even better, leap out of the water and twist around – which is known as breaching.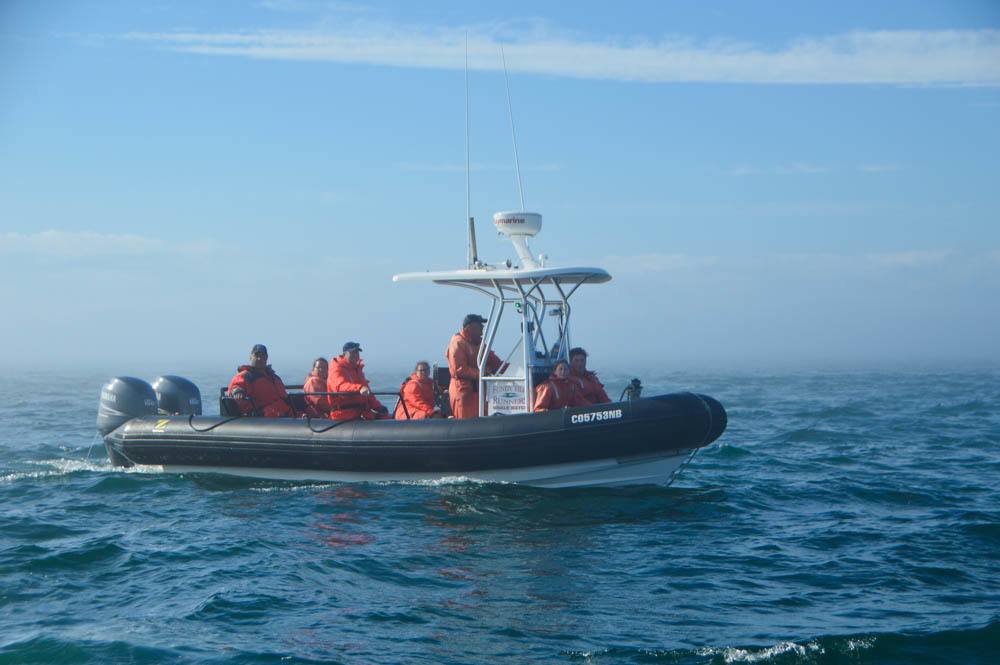 Finally, Humpback whales are known as the clowns of the sea. They will mess about and tail slap the sea and each other which is very entertaining to see.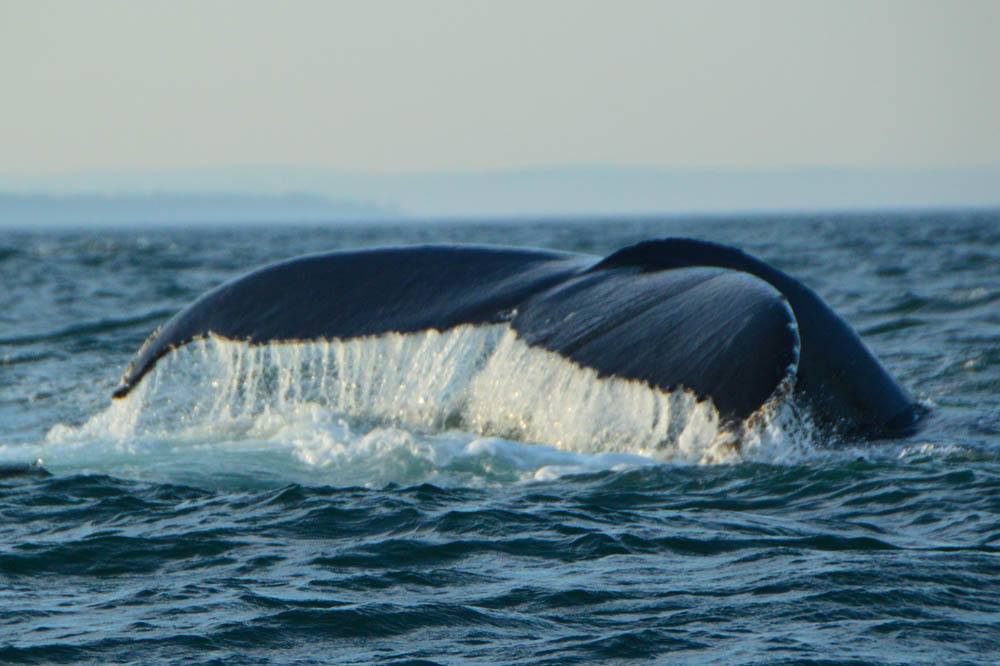 The Bay of Fundy used to be home to many Right Whales. Sadly there are only 400 right whales left on earth. This is because right whales are very buoyant. This means that they float to the surface fast and are thus easily seen and sought after by whale hunters.
And Right Whales are also quite slow moving so they are easily captured. As the water has become warmer in recent years the Right Whales have moved away from the Bay of Fundy.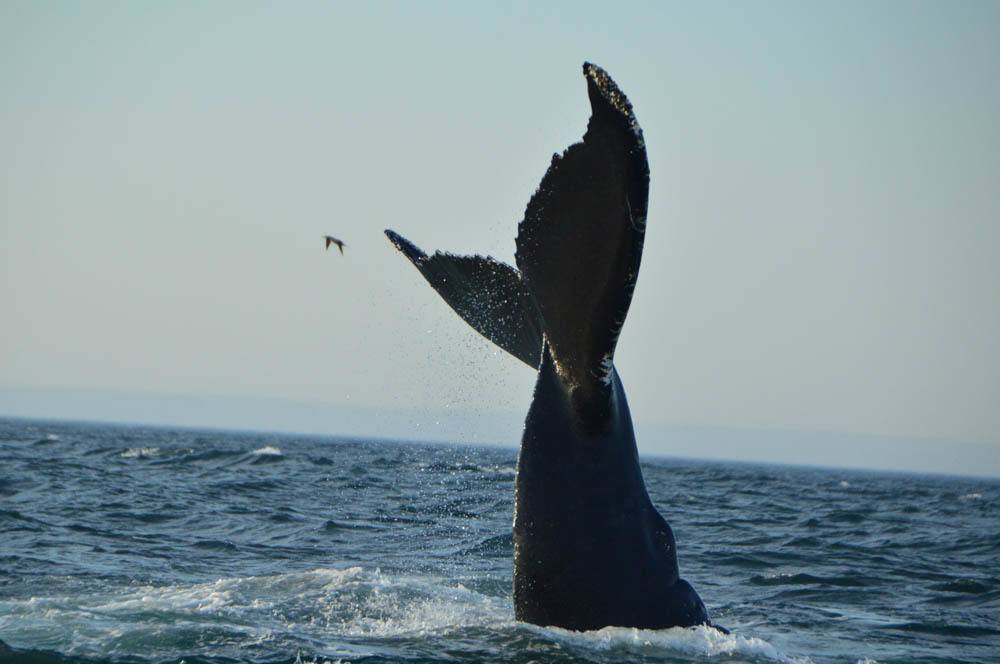 How are Bay of Fundy Whales kept safe?
In 2019 a new rule was put in place regarding Bay of Fundy whale watching. Boats can no longer go within 100m of any whales in the Bay of Fundy. It is okay if the whales come towards the boat eg the boat doesn't have to keep moving away.
However, this does, of course, make it more difficult to get good whale sightings and photos. Shipping lanes have been changed around the Bay of Fundy for the safety of the Right whales.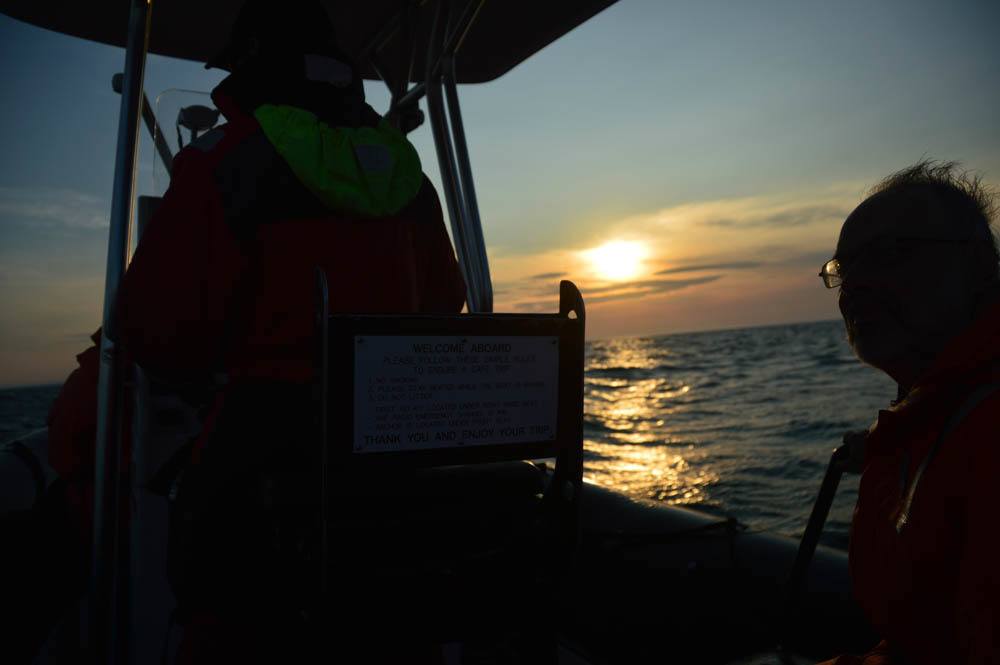 When is the best time for Whale Watching in St Andrews?
The best time for whale watching in New Brunswick is generally August/early September. I visited mid-July and there were loads of whales.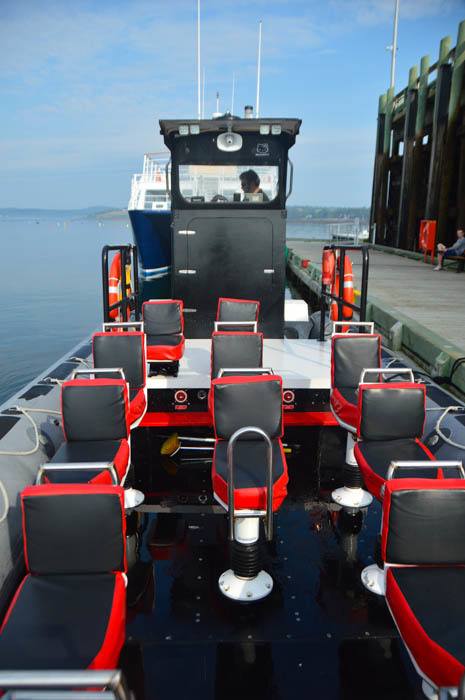 Will I definitely see Whales?
There are of course no guarantees. I took three whale watching tours over two days from St Andrews and saw several whales multiple times. Once found, the whales have a cycle where they come up to breath, blow etc.
The whales will do this several times and then turn tail up if they're humpback whales and deep dive and potentially not emerge for another 20 or so minutes – and may well have moved quite a bit by then.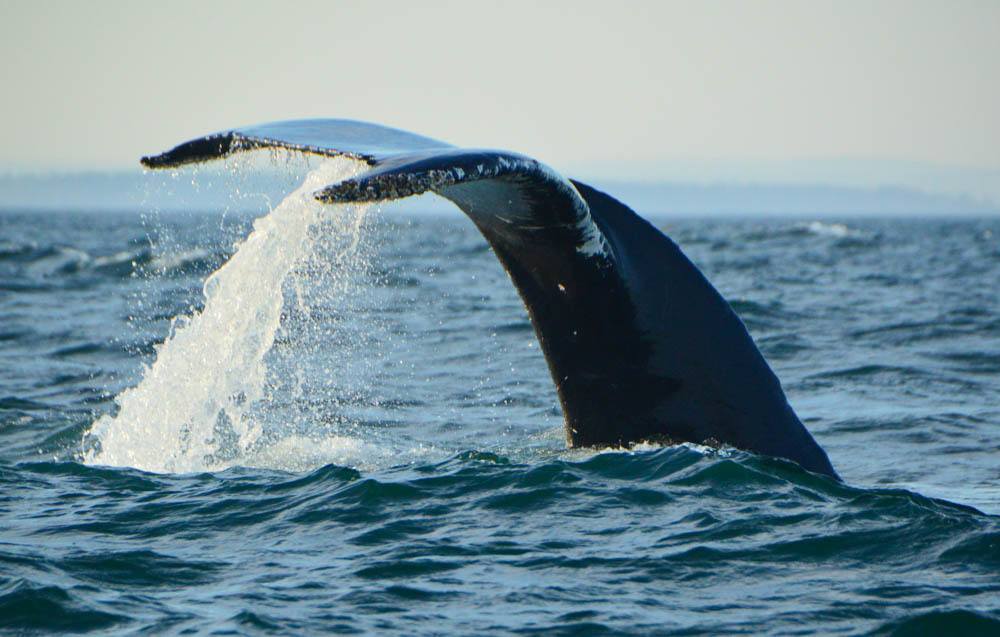 The key thing when it comes to the best time to see whales in the Bay of Fundy is how close you can get to the whales – and which activities do you see. If you are visiting Saint Andrews by the sea during peak time it is unlikely that you won't see whales on your New Brunswick tour.
If you're looking for whale watching East Coast Canada St Andrews is the place you probably have the greatest chance of sightings.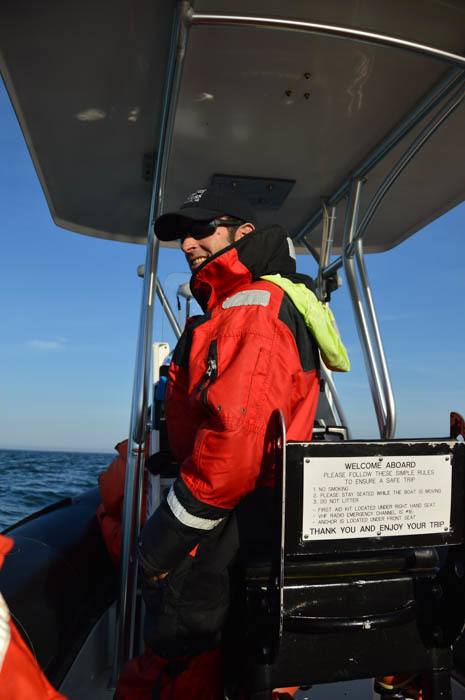 ⇒ I love ticking off seeing a landmark. See how many famous landmarks you've seen in my series of posts: 60 Most Famous Landmarks in the World, 27 Top Australian Landmarks, 25 Asia Landmarks, 61 Magnificent Landmarks of the UK, 13 China Landmarks, 35 Japan Famous Landmarks, 60 Most Famous Landmarks in Europe, 25 North America Landmarks, 25 Canada Landmarks and 15 Famous Landmarks in the US.
What if my Whale Watching Tour gets cancelled?
Most whale watching tour cancellations will be due to bad weather. It is very unlikely that any of the St Andrews Whale Watching tour companies will charge you if bad weather prevents the tour from going ahead. Instead, they will look to put you on the next possible trip.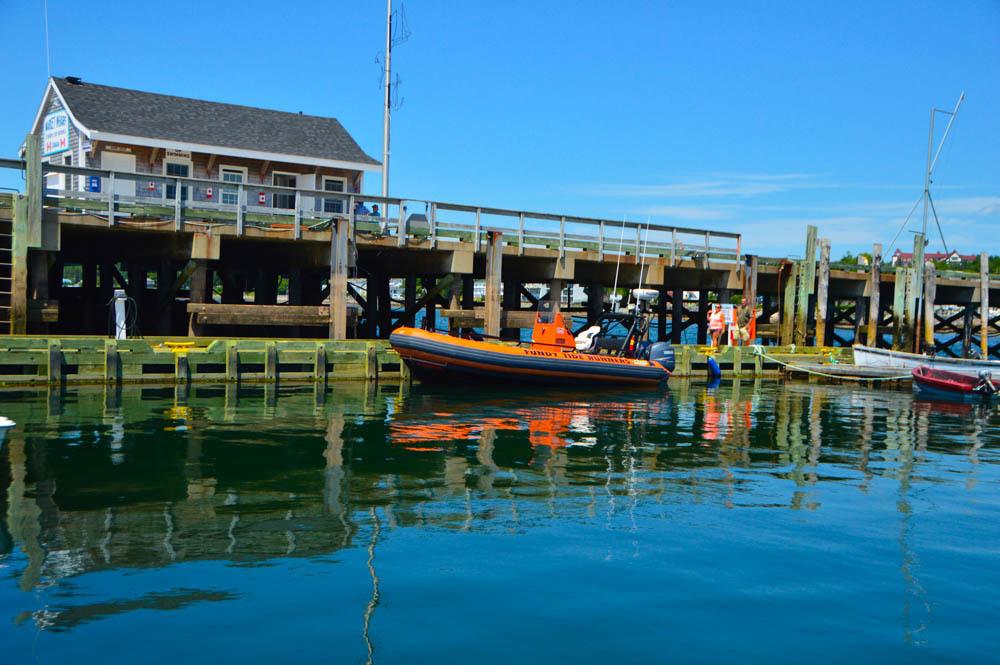 During peak seasons whale watching St Andrews by the sea trips are running regularly all day so if you have the time it is very likely that you will be able to go on another whale watching boat trip.
As the weather on the Bay of Fundy is very changeable, I would suggest that you make taking a whale watching boat trip the first thing you do in St Andrews. That way, if the whale watching tour is cancelled you will have plenty of time to go out again.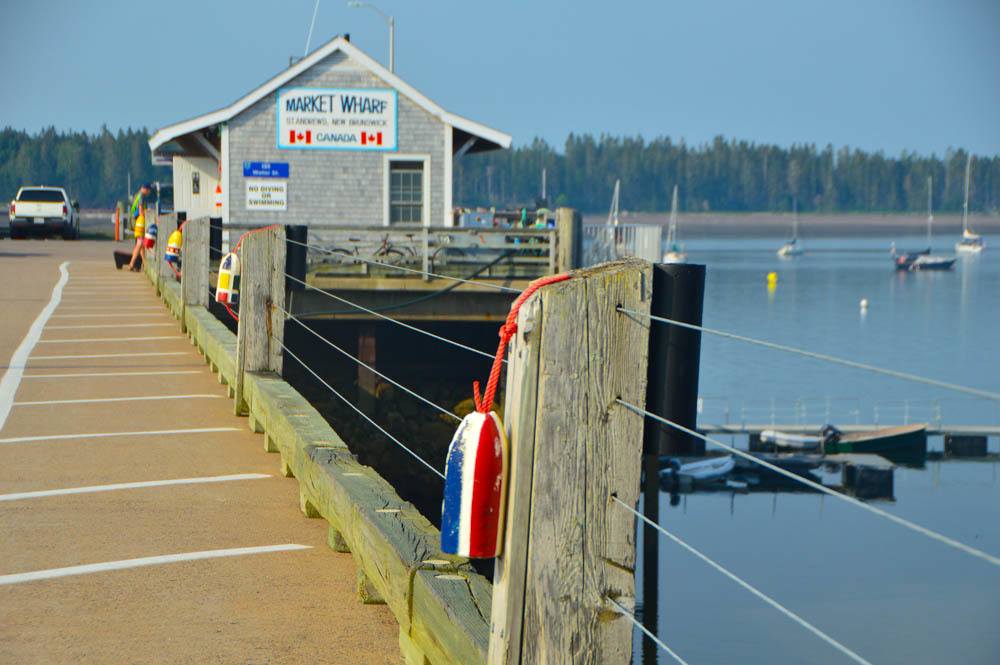 Are there restrictions on where the boat can go to find whales?
No. The boats can go where they like within their capabilities on the Bay of Fundy. But remember they can't aim to get within 100 metres of the whales.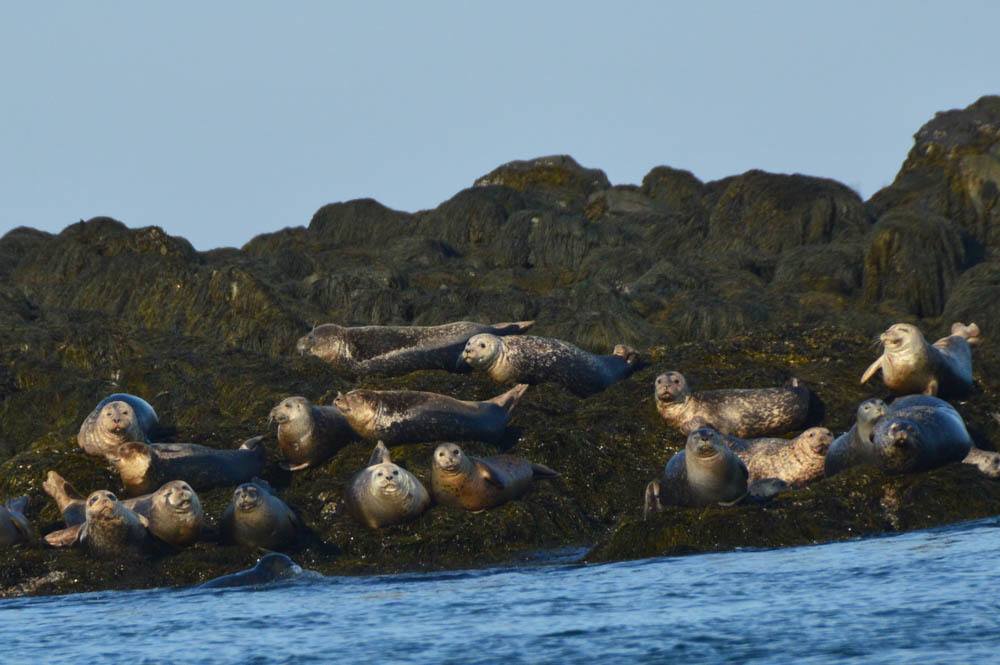 Are there other animals besides Whales?
I saw also loads of Harbour porpoises on my whale watching cruises in New Brunswick. They are very hard to photograph as they come out of the water and back in so quickly. Plus lots of birds and then the super cute harbour seals.
It can be quite hard to get close to the seals. And their little heads bobbing about tend to show up as just specks in most photographs. But they are very sweet to see.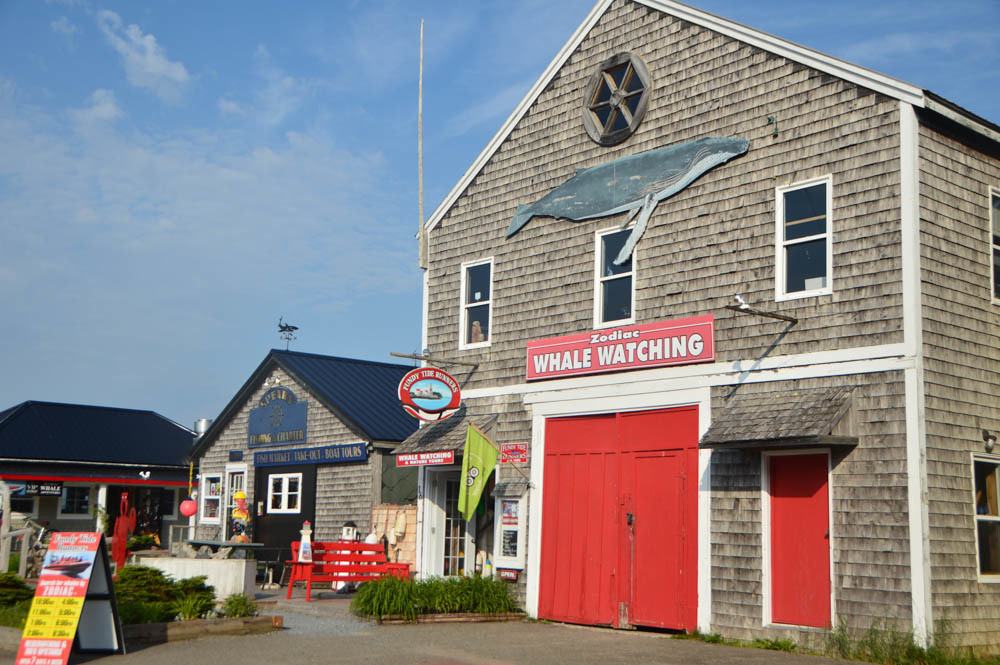 How long are the Whale Watching Tours?
Most of the Saint Andrews whale watching tour brochures state that the duration of the tours is 2 hours. However, my shortest whale watching tour was 3 hours.
The tour companies are excellent at trying to give you the best possible experience and of staying out if the viewing is going well.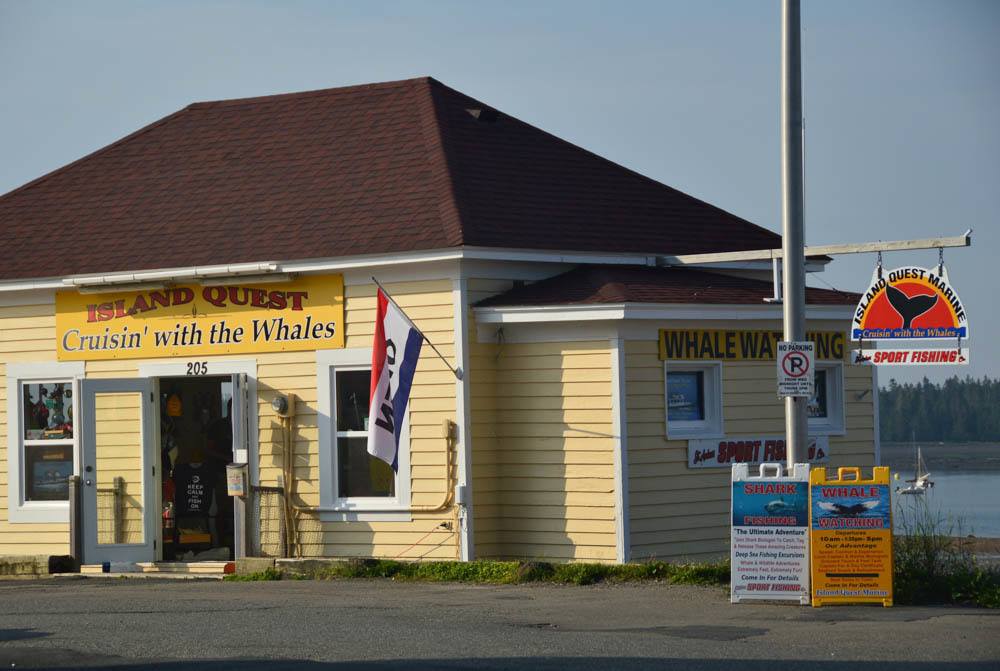 What should I bring on my Saint Andrews Whale Watching Tour?
What you should bring on your whale watching Saint Andrews tour will be different depending on whether you are on a big boat or a smaller boat. For both options, don't forget to bring a hat, sunscreen, water and a camera. If you are on a zodiac, about the only thing you can really have out is a camera.
The whale watching tour companies offer dry bags for your things which is great. This isn't an option for the Fundy Tide Runners boat as it is the smallest.
Leave your main items locked up in the office (although this is New Brunswick so it is highly unlikely anything will get taken!) and just bring some water and your camera.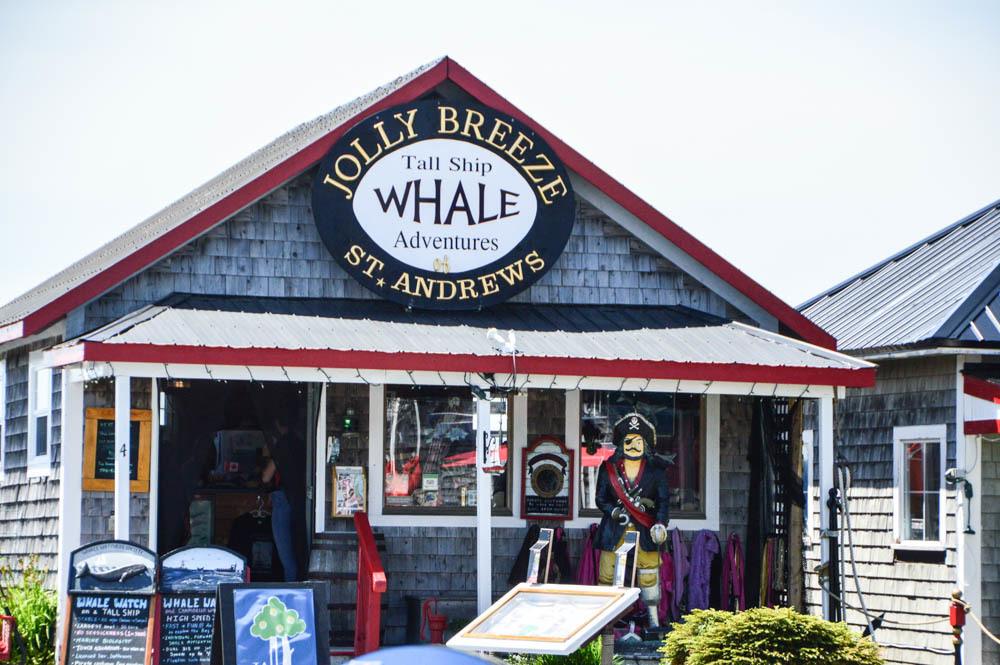 ⇒ Here are some of the best places in the world to watch the sunrise and fall: 10 Places to watch the Sunset in California, 7 Best Places To Watch Sedona Sunsets, 18 Spectacular Spots for the Best Sunsets in Seattle, 5 Stunning Santorini Sunsets, 8 Sunsets in Ibiza, 11 Places to see the Venice Sunset, 6 Spots to Watch Sunrise in Paris, 11 Places to see Sunset Edinburgh style, 15 Places to see Sunsets in London and 9 Spots to watch the Sunrise in London.
What should I wear on my New Brunswick Whale Watching tour?
If you are on a big boat it really doesn't matter what you wear – whatever makes you comfortable. No whale watching boat is great for high heels so sensible shoes flat shoes are always best – especially if you want to dash around and take photos.
The weather on the Bay of Fundy can and does drop drastically on the water so no matter how lovely it is, do bring some layers.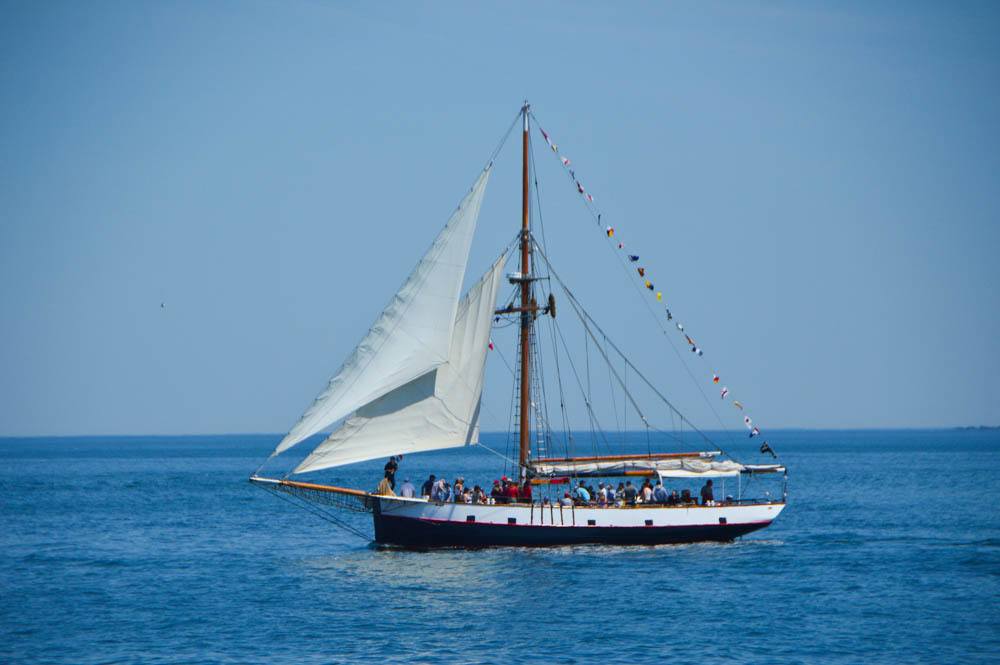 On the Zodiacs, you will be bundled up in the suit so you want to wear something simple underneath. Trousers are best for women as the suit has legs! And a t-shirt/light cover-up on top would be ideal.
Also, at times you will not have the suit fully zipped up but the weather and the water can change fast so do wear something you don't mind getting wet!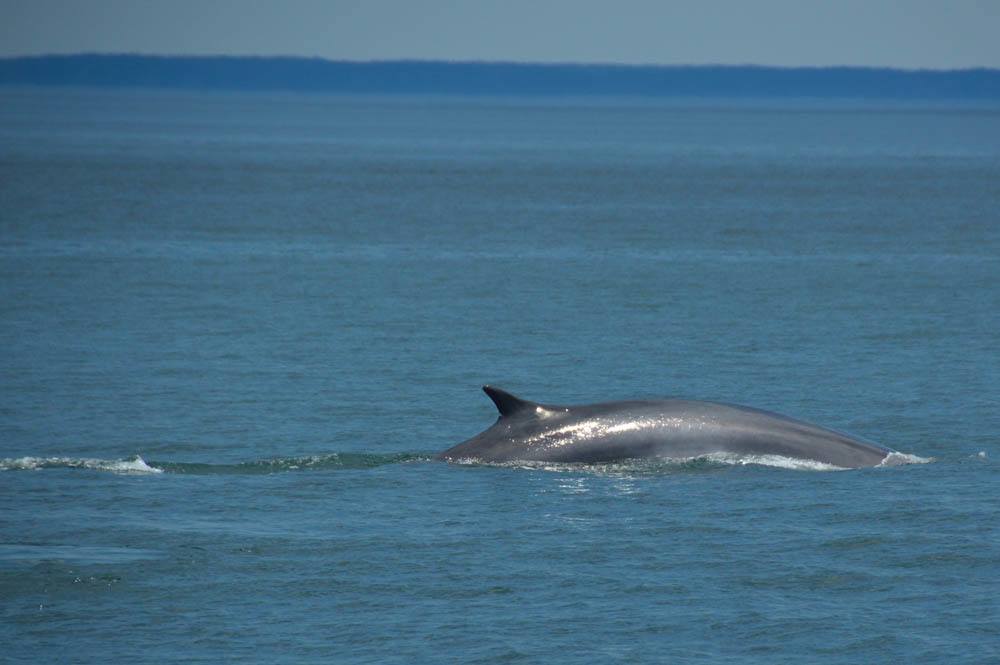 If you have longer hair you will want a hair tie for the zodiacs as they go fast. Also, it is hard to keep a hold of your hat on a zodiac powering along.
The suits have hoods so you will be covered. Just keep your hat for sun cover when the boat is stationary.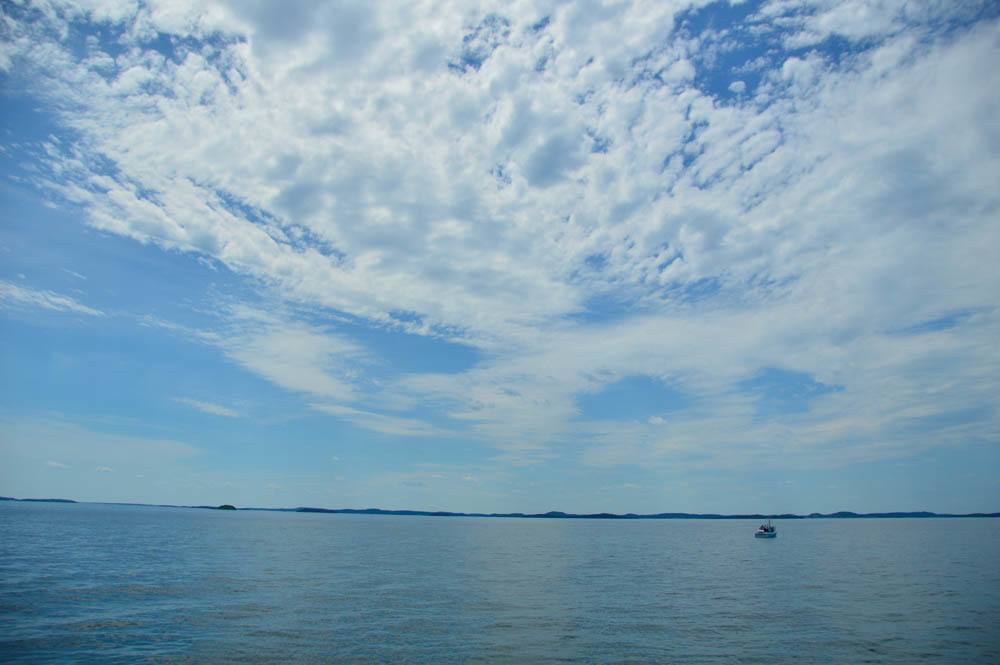 Saint Andrews Whale Watching Tour Options
Very conveniently, all of the St Andrews Whale Watching Tour companies have offices near each other on the St Andrews Wharf. Even better, all of the whale tour companies work together in terms of sharing information about where the whales are located.
Also, if the whale watching tour you want is booked out that company will check with other tour operators in St Andrews for you and do everything they can to get you on a boat. So Canadian and lovely.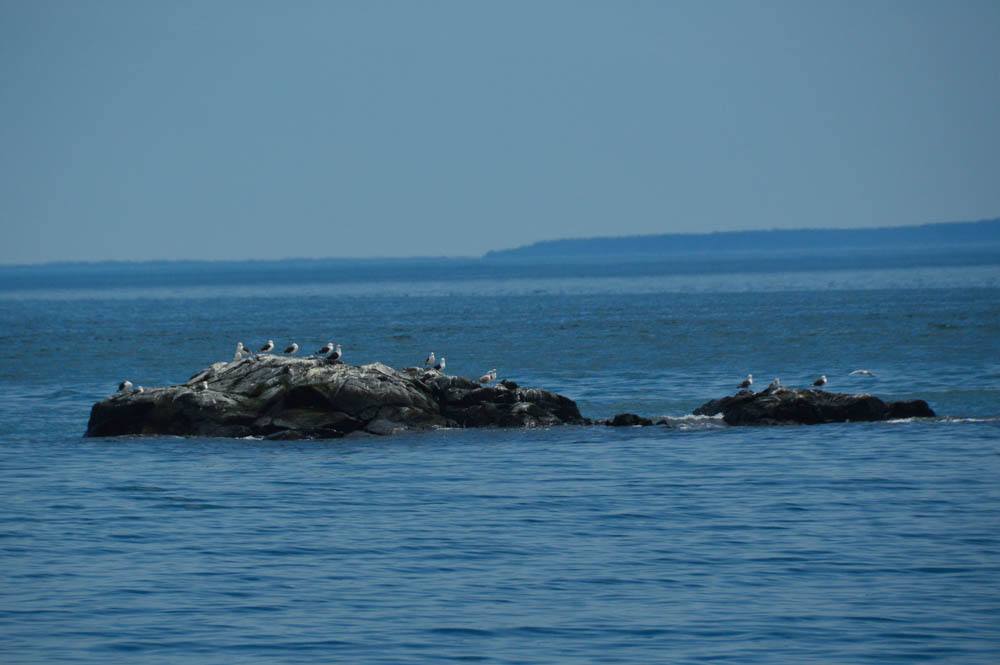 In general, it seemed to me that there were two ways to think about what type of Whale Watching tour to do in St Andrews. Big boats and smaller boats.
Big boats are a good option if you're unsure about Whale watching, are travelling with young kids/older people, if you are prone to seasickness, uncomfortable in the water or just after a relaxing cruise and if you see whales that is just a nice to have.
However, if like me you love taking photos of whales, are keen to experience as much as possible, don't mind bouncing around in a boat and don't mind getting wet then a smaller boat is the best option.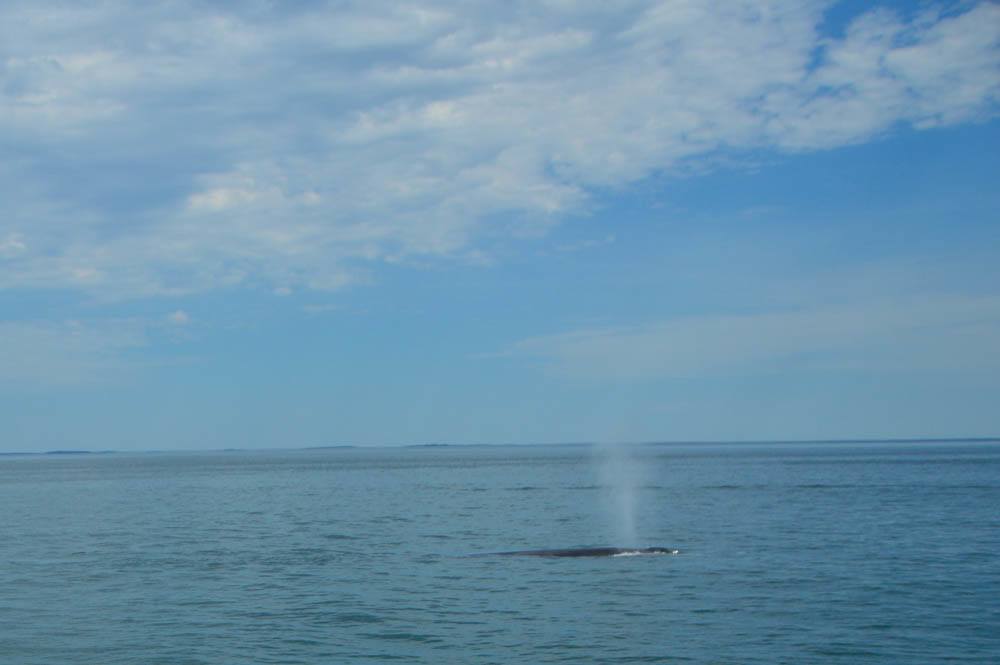 Most of the St Andrews Whale watching tour companies offer both companies.
1. Big Boat Whale Watching Tours
Jolly Breeze Saint Andrews has a tall ship whale watching boat. This is possibly the most comfortable of all the whale watching options and they even serve lunch. Jolly Breeze's has a bit of a pirate theme going on so this is also the perfect option if you are travelling with kids.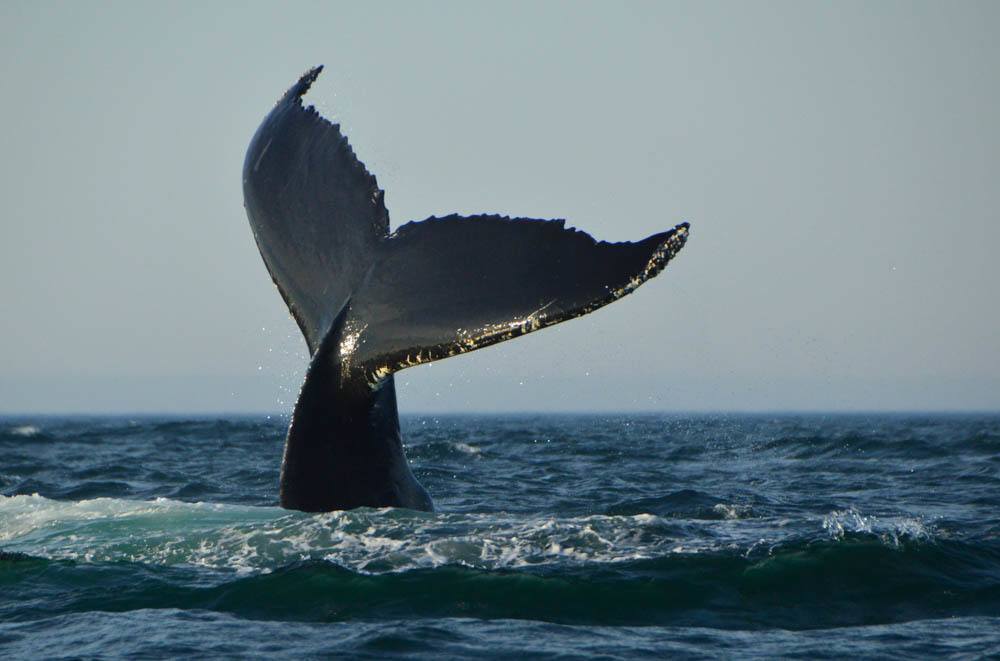 Island Quest Marine also operates one of the best known larger boat whale watching cruises in St Andrews. This family-owned and operated company offers a very comfortable experience and have an onboard touch and feel tank so also great for kids.
I took an Island Quest Marine whale watching St Andrews nb tour (I didn't go on the Jolly Breezes tall ship but saw it from the water).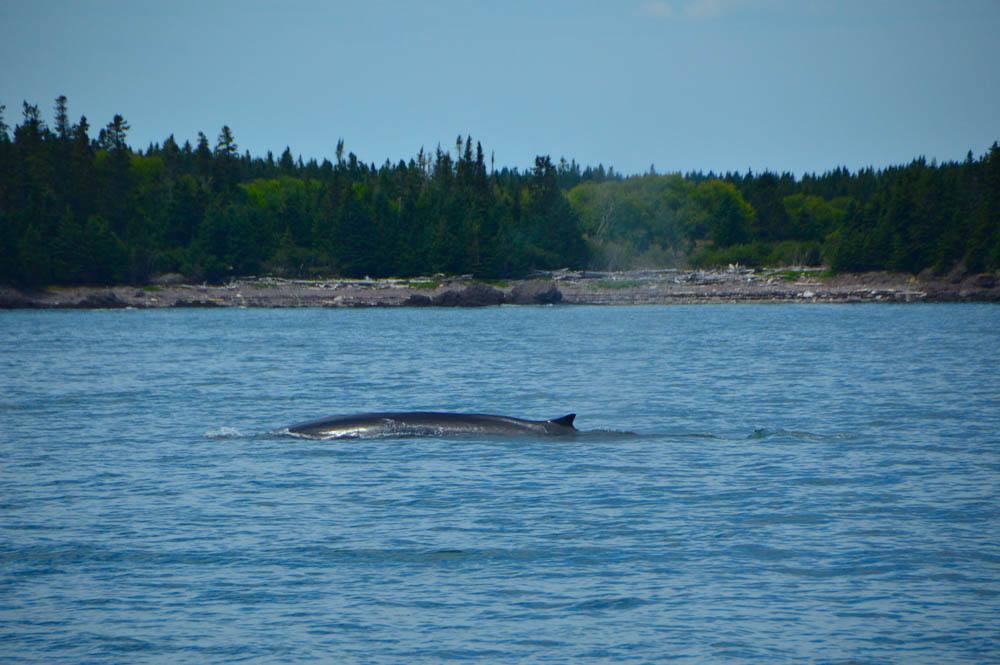 The larger whale watching boats can't go as fast as the smaller boats so it is harder to keep pace with the whales. The larger boats are also more limited in where they can go due to their size.
Also, as these boats are large you may be in one corner of the boat and a whale pops up in the other corner. By the time you've moved the whale will most likely be gone. So large boats are definitely not the best whale watching option for keen photographers.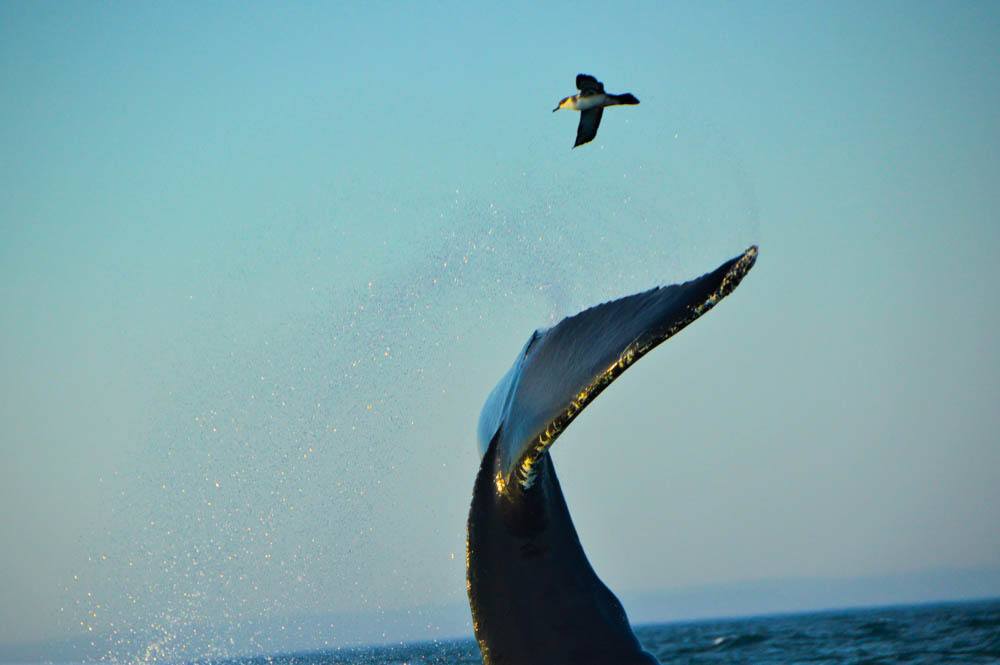 The Island Quest Marine St Andrews boat has two levels. I thought the upstairs deck was best for visibility but this is limited to a maximum of 14 guests at any one time. The people on Island Quest Marine upstairs deck are rotated downstairs halfway through the trip.
I saw several finbacks and minke whales on my Island Quest Marine Whale Watching tour but at a distance. They did move around which was nice to see.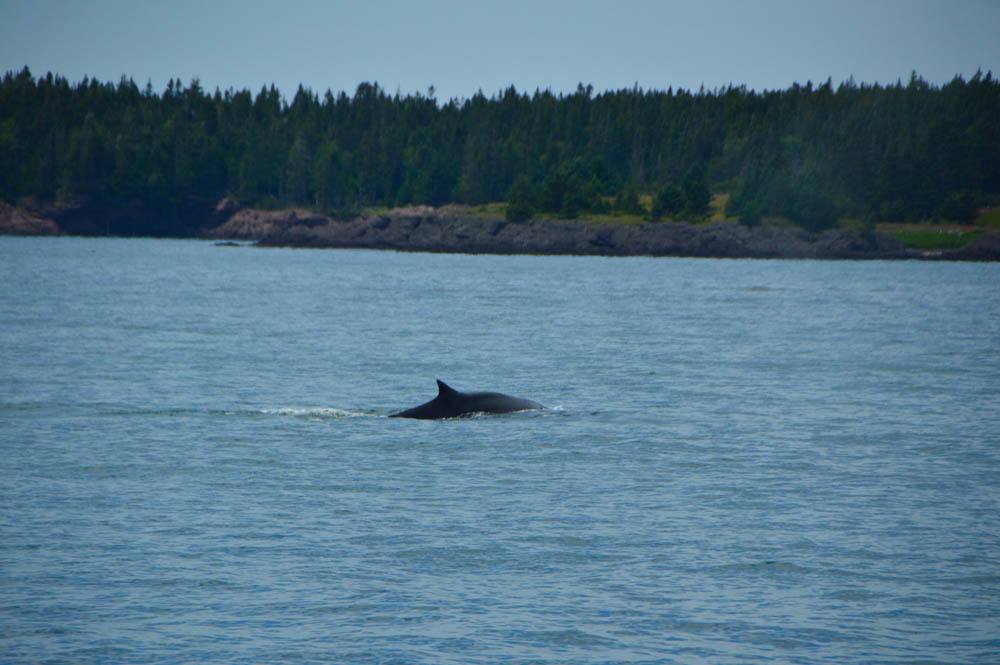 The commentary on the Island Quest Marine boat was excellent and I certainly learnt a lot more about whales and the area. Island Quest has a bathroom on board but no water. We did get a seafood snack on the way back.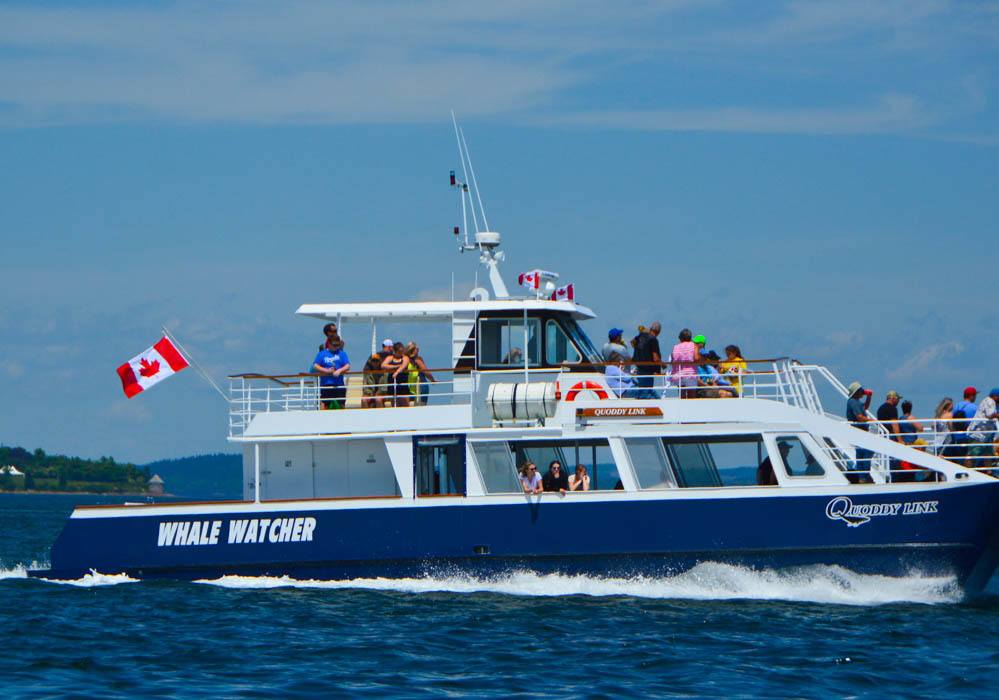 2. Smaller Boats
Most of the smaller boat options for Bay of Fundy Whale Watching are Zodiacs. I took two zodiac whale watching tours when I was in St Andrews.
The first was with Fundy Tide Runners. This was full-on. I put on a rather unflattering giant orange zodiac suit which looked like a spacesuit.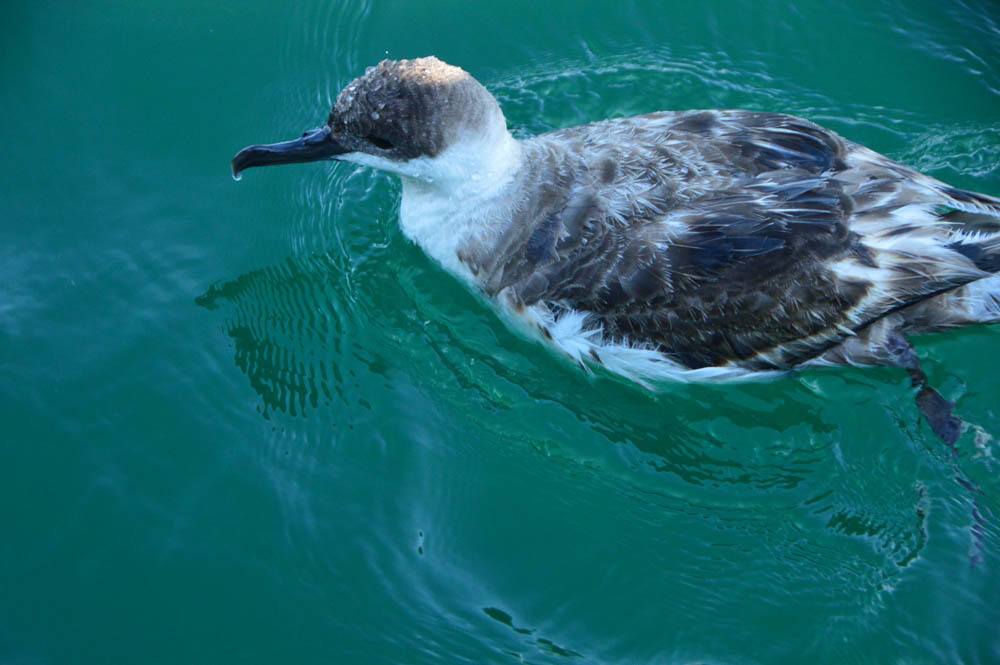 The suit will protect you from getting wet but most importantly it will act as your life jacket if you fall in. Zodiac's don't carry life jackets as there is no room, therefore, the suit is necessary. The suit can essentially turn into a flotation device.
Also, it is VERY cold when the zodiacs are running at full speed. I was on my Fundy Tide Runners whale watching tour in mid-July and it was nearly 30 degrees and I was only just comfortable with the suit completely done up out on the Zodiac.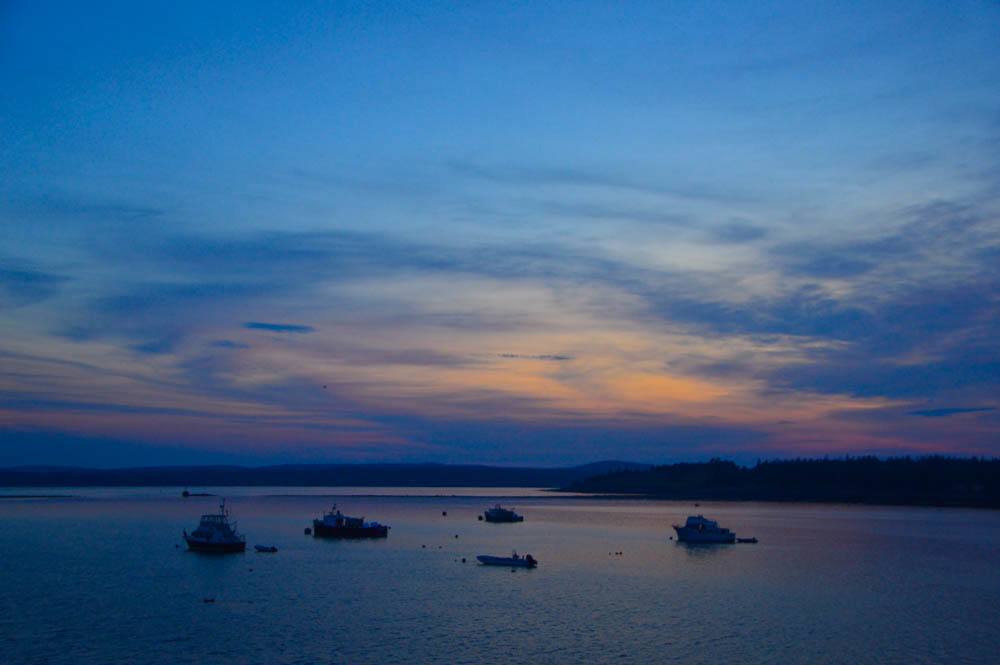 Fundy Tide Runners St Andrews was by far my best whale watching experience in New Brunswick! We went in search of humpback whales and boy did we find them! I saw multiple humpback whales breaching and even managed to get a photo of one in focus (a dream come true for me).
I also got lots of photos of tails and slapping on my Fundy Tide Runners whale watching tour. And I was also able to just sit back for a while and enjoy watching these funny animals do their thing.
I had already grabbed quite a few nice shots so it was easy to relax and be part of the experience rather than behind the camera.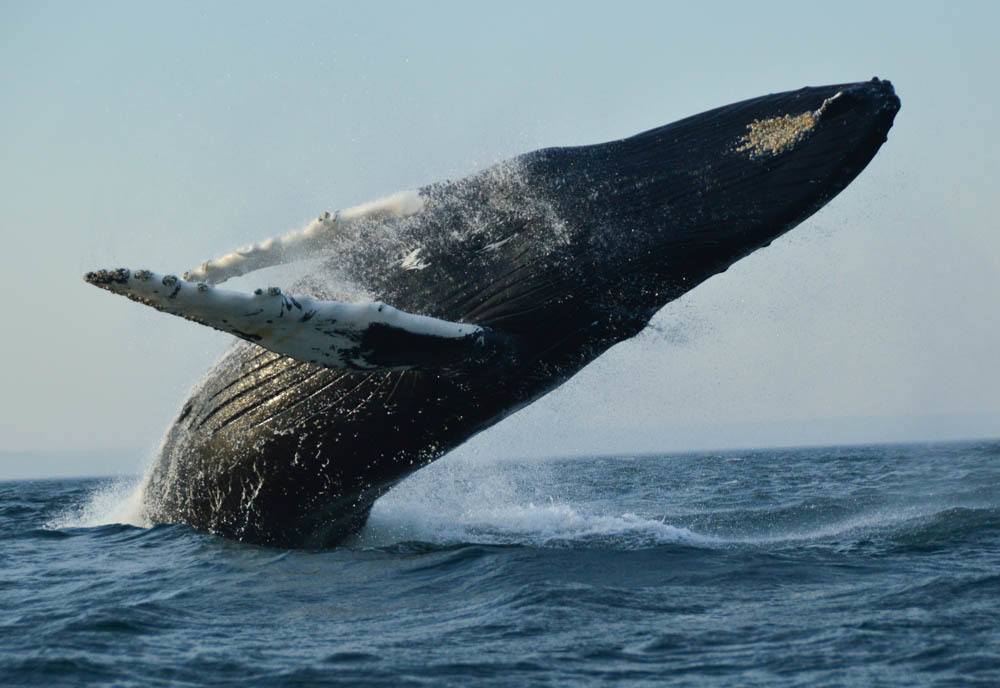 It was great that I had this experience with Fundy Tide Runners but I think all of the St Andrews whale watching companies are excellent. The other whale watching tour operators I mention in this post were also out with the humpback whales so would have had similar viewings. It is more about finding the type of boat trip that works for your needs.
Just so you know – Fundy Tide Runner zodiacs do not have a toilet so make sure you go before heading aboard.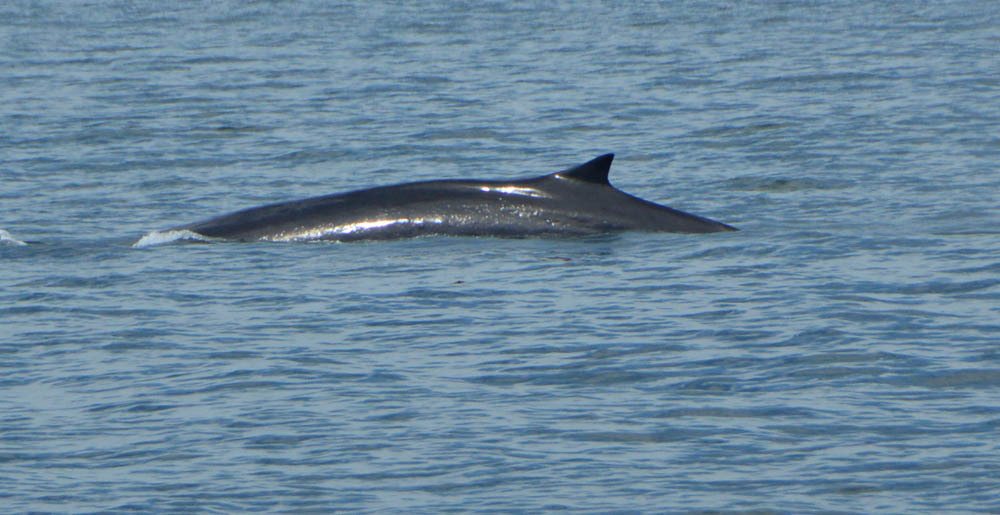 I took a second Zodiac cruise with Jolly Breezes. Jolly Breeze zodiac boats are bigger and more comfortable as they have actual seats with springs (with Fundy Tide Runner whale watching boats you will be sitting on the side of the boat so to speak). And they also have a toilet – even though it is like a yoga move getting in and out of it.
I only saw finbacks and minke whales on my Jolly Breeze whale watching tour but the weather was really quite rubbish so I doubt any cruise saw anything that afternoon.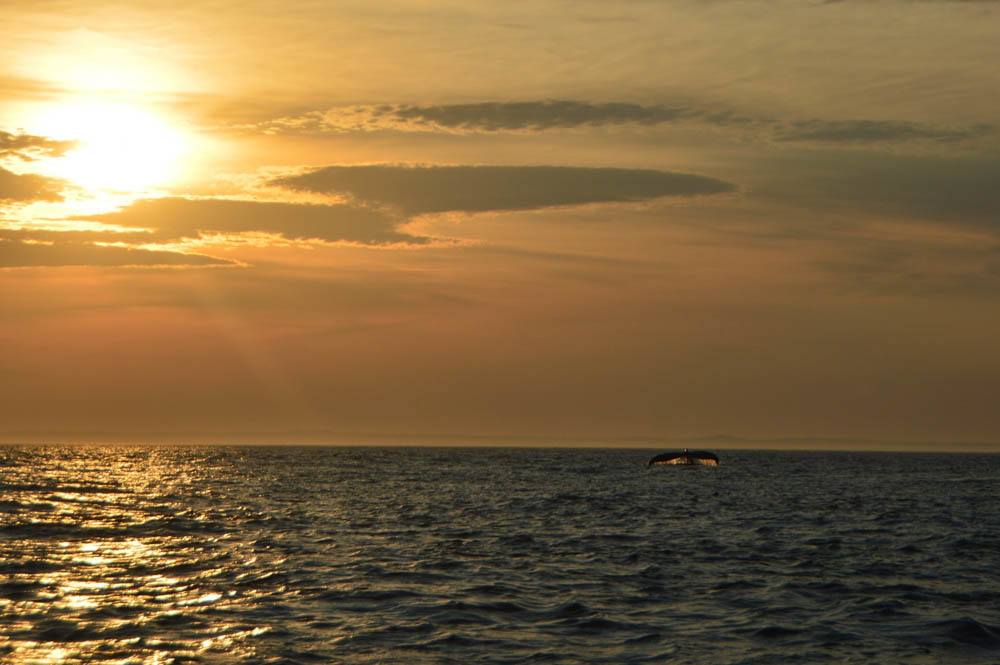 I was also going to try Island cruises which go from Campobello island. As I mentioned earlier, the tour companies all share information so they do tend to head to similar spots.
The advantage of taking a Campobello Island whale watching tour rather than St Andrews is it is much closer to where the whales tend to hang out so you have more time to wait and see whale action.
However, my whale watching Campobello island tour wasn't to be as the weather took quite the turn. It was really quite shocking to see how much the weather can change across a day in this area of the world. The morning on Campobello Island touring around was lovely.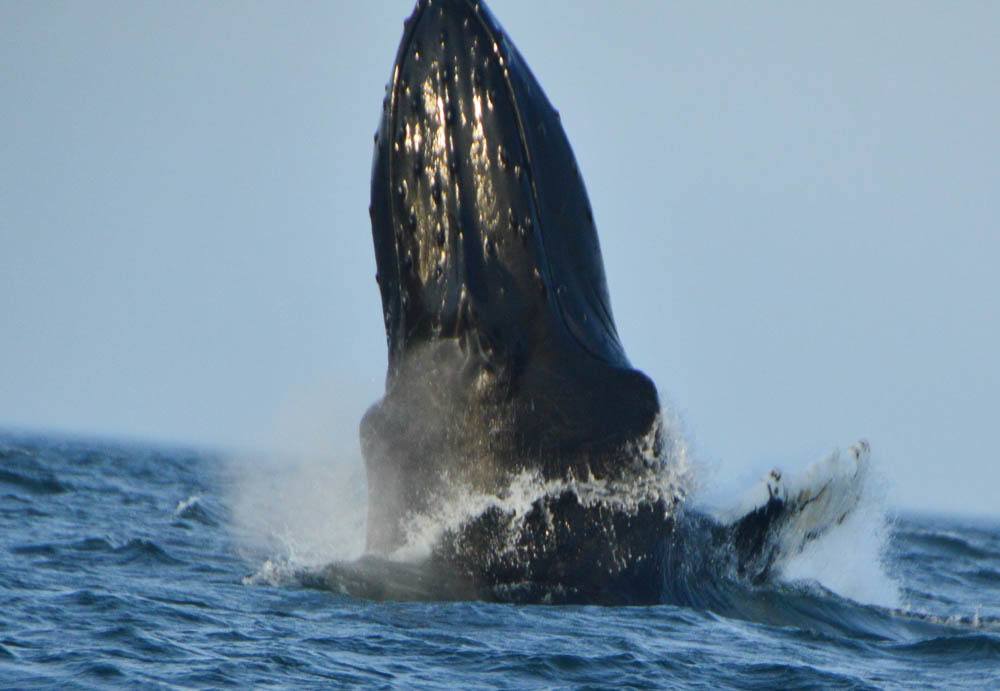 I was booked for a 1330 boat trip with Island cruises. Around 1230 thunder and mega rain began so the tour was cancelled. At one point I was concerned I wouldn't get off Campobello for the night.
I then went on a 1630 tour which left from Campobello Island but took me back to St Andrew's. By 1730 it was blue skies and sunshine. [separator type="thick"]
⇒ For more ideas check out my post on 9 Brilliant New Brunswick Tours Not to Miss! [separator type="thick"]
A few words on Photographing Whales
This is not a time for phone photography unless you have one of those zooms on your phone. To get a good, in-focus shot of whales you will need a serious camera. I took my Nikon Digital SLR and managed to get some good shots of the whales. The same applies when it comes to video.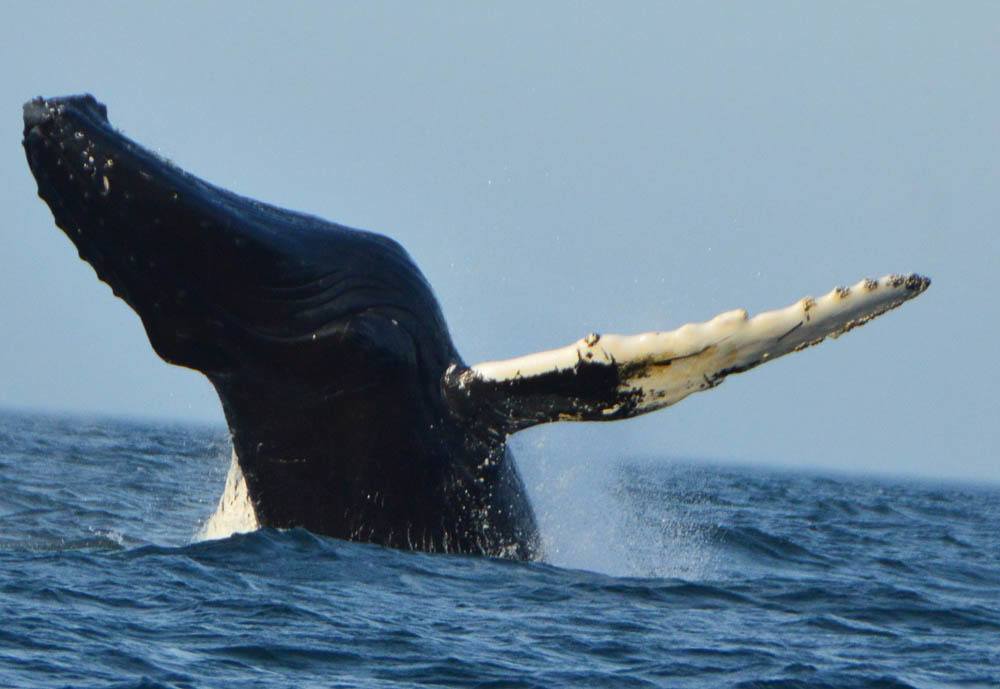 Unlike when I was in South Africa watching whales, the Bay of Fundy whales were nowhere near as close to the boat. We did get some very close humpbacks on one of the trips but I think that was pretty lucky – particularly with the 100m rule.
Tricks and equipment for photographing animals on land and in the sea tend to be quite similar – check out my post on the Best Camera for Safari – all of it will be applicable to photographing whales.
[separator type="thick"]
⇒ Don't miss Canada's capital Ottawa. Read my posts on the 17 most fun things to do in Ottawa, the Ottawa restaurants Byward Market, best Ottawa Tours, 16 Most Beautiful Cities in Canada and 11 Beautiful Canada Landmarks.
[separator type="thick"]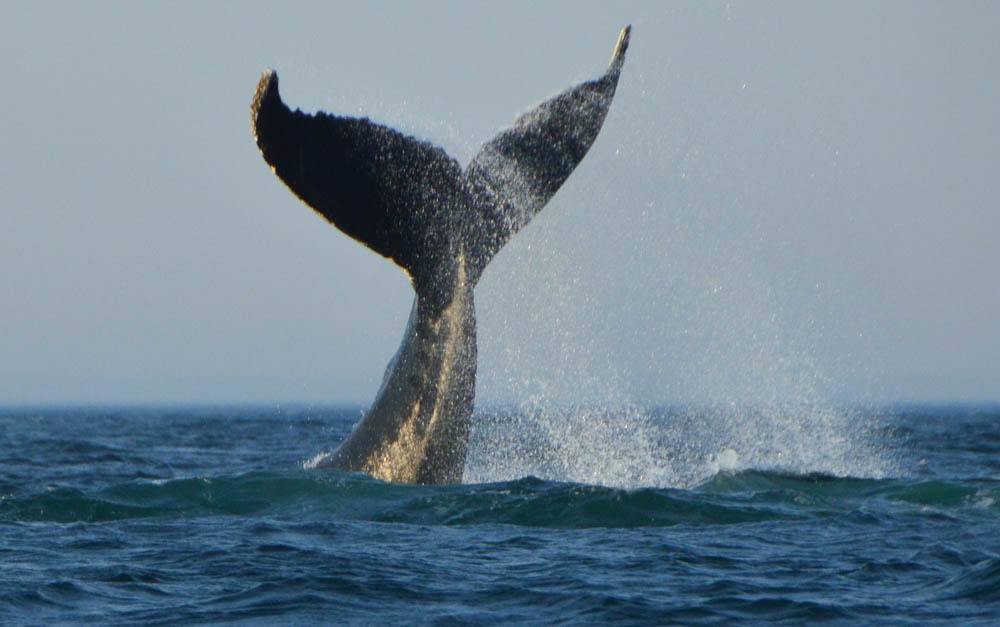 Other Great Things to do in St Andrews
1. Visit Kingsbrae Garden
This 27-acre garden has over 50,000 perennials, shrubs, and trees. Kingsbrae Garden also has an award-winning restaurant where Llamas often visit at lunchtimes. I only had time to visit the sculpture garden which was very instagrammable.
I would have liked more time in the lovely Kingsbrae Garden, St Andrews. The garden has been named one of Canada's top 10 public gardens.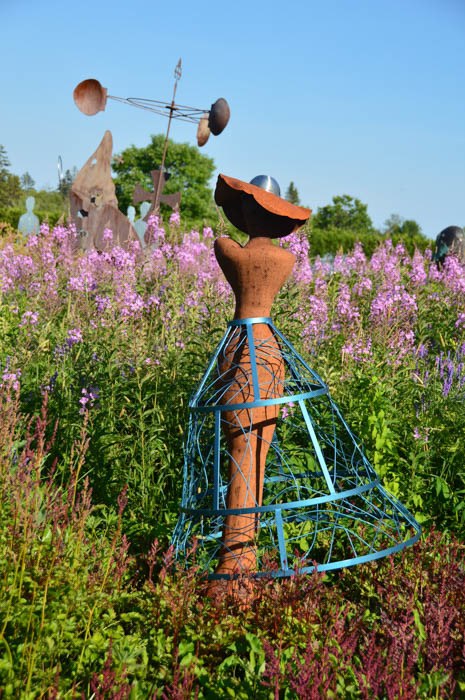 2. Get a snap of The Blockhouse
St Andrew's Blockhouse was built as a coastal border defence during the war of 1812 and is now a national historic site. It was one of 12 remaining blockhouses built by the townspeople who were fearful of an American invasion.
They were quickly constructed with a focus on security which is what created their distinctive blockhouse shape.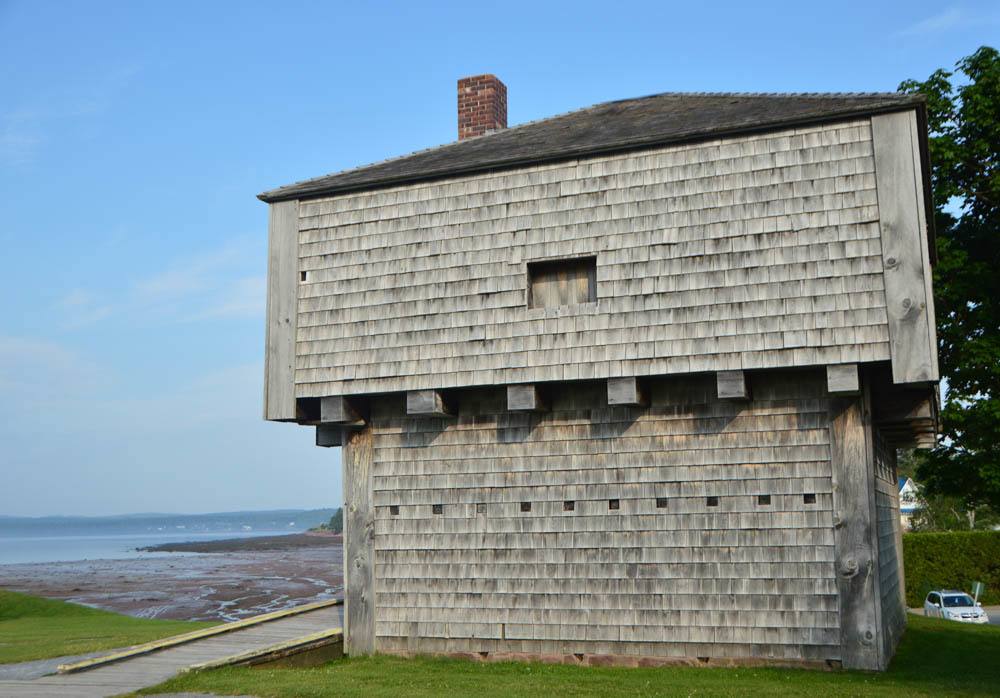 I also got some lovely shots around the Saint Andrew's block house on the beach at low tide. I was down there at about 830am on a summer morning so it wasn't particularly early. But the light against the ocean floor was just gorgeous.
3. Have a Turtle Shore Adventure
Another brilliant thing to do in St Andrews is to take a Turtle Shore Adventure! Turtle Shore is run by the fantastic and super interesting Genny, a St Andrew's local.
Genny is a trained biologist who is also the island's science teacher during the winter. She absolutely loves what she does and is so lovely and fun and full of joy and stories.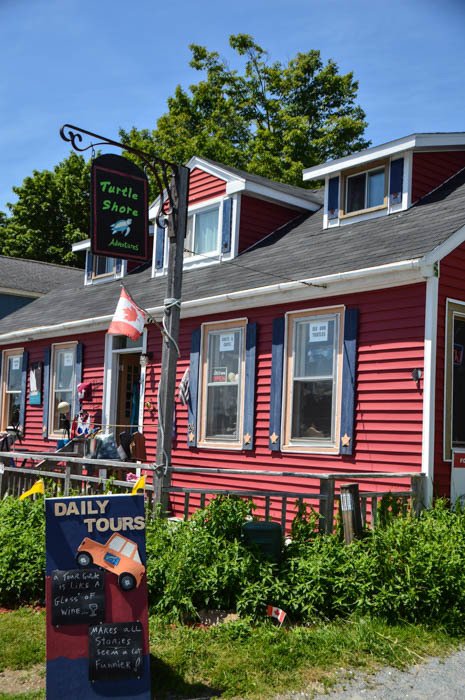 Her turtle shore tours can easily be personalized for whatever you want. A common stop is the wonderful Minister's island (next on my list). Genny also takes tours at the St Andrew's low tide with portable microscopes that allow guests to examine the ocean floor.
Due to the high tides, new treasures float in every day. There are starfish etc but also sea glass, even old crockery – so many different finds.
Genny is an expert in the area so she also does guide st Andrews nb tours (watch out for the wonderful random deer who roam the streets of St Andrews). Take a tour with Genny to really get under the skin of this amazing town.
4. Drive the Ocean Floor to Ministers Island
Ministers Island is just a stone's throw outside St Andrews. This small island can only be reached at low tide when it is possible to drive across the ocean floor – which is beautiful. The turn off for Ministers Island is either just before you arrive into St Andrews or just after you leave St Andrews.
Do be careful driving over to Ministers Island New Brunswick. I was in a 4 wheel drive and still found it a bit tricky. I saw standard 2 wheel drive cars heading over to Ministers Island so it is possible – just avoid the sandy areas. And of course, it is possible to walk over to Ministers Island.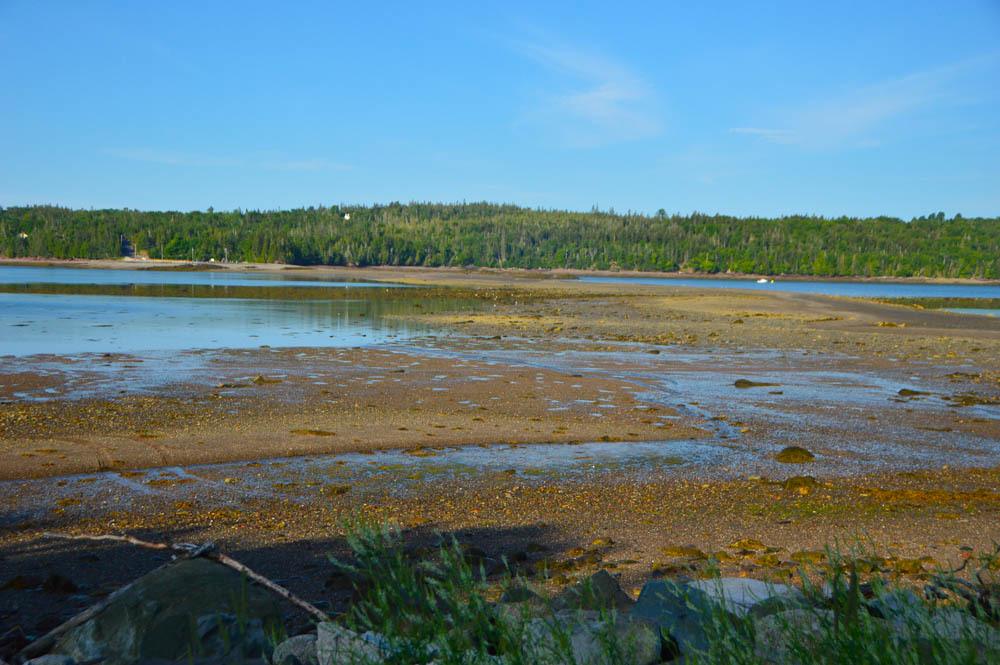 Upon arrival, it is necessary to pay to get access to Ministers island. You will also be advised what time you need to leave Ministers island in order to escape getting stuck once the tide comes up.
Ministers Island was the home of the rather eccentric and quite amusing Sir William Van Horne. Van Horne is best known for being the man who built the Canadian Pacific Railway. He bought land on Ministers Island in 1891 and then made sure he had an easy commute.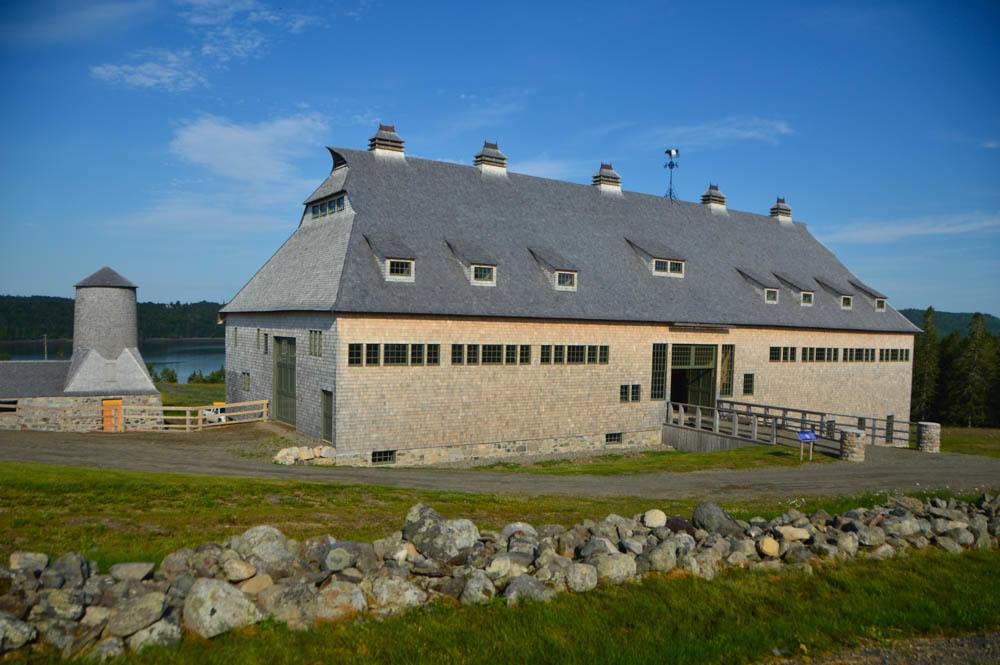 The Van Horne family home, Covenhoven, is in the south of the island (when I say south it is about a 4-minute drive). The home is beautiful – so many rooms.
Van Horne only slept 4 hours a night so he had a little bedroom at the front of the house. There are regular free tours of Covenhoven Ministers Island.
At the other end of Ministers island is the old barn which is also a beautiful building and it has tours as well. Van Horne was quite the character – when he noticed that his workers in the barn were looking out the windows when they should have been working he had the windows raised so they couldn't see anything!.
⇒ Ministers Island Tide Schedule
5. Take a day trip to Campobello Island
Campobello Island is most well known as the childhood summer home of US president Franklin Delano Roosevelt. He and his wife Eleanor and their children continued to summer on the island and visited a couple of times after he became the US president.
Thanks to the Bay of Fundy, Campobello island is much cooler than many other islands in the area so it is a great place to escape the heat.
Campobello Island is part of Canada but can only be reached from Canada by sea. However, the island has a highway bridge that connects it to Lubec Maine – the United States.
There are many stories as to why Campobello Island is part of Canada rather than the US – mostly involving a few too many drinks. But hey it is. After FDR died Eleanor asked JFK to turn their old summer home into a memorial to FDR and have it free.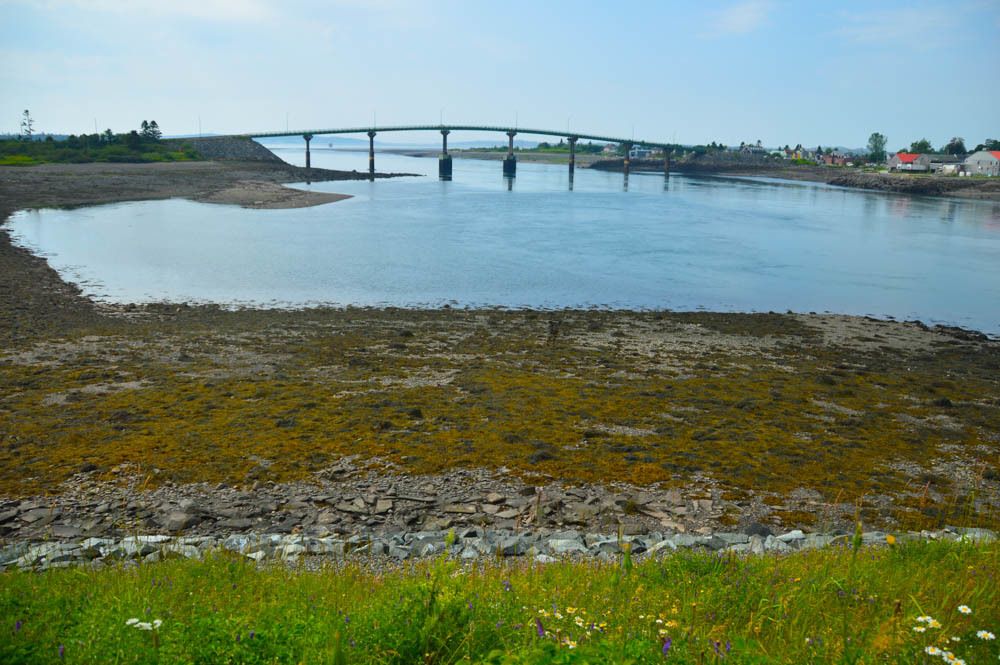 Campobello International park is jointly administered by the United States and Canadian government and was established in 1964. Part of Campobello island was converted into a National Park where it is possible to cycle and/or hike and the Roosevelt Cottage was restored and turned into a living museum.
There is a visitor's centre next to Roosevelt Cottage New Brunswick which has loads of information and a couple of films. They have a restaurant in the Prince's house and I had a lovely lunch of lobster roll and seafood chowder sitting on the veranda.
It is only possible to visit Roosevelt Cottage Campobello Island on a guided tour but these run every 15 minutes and are free.
The other option to experience all things Roosevelt is to have Tea with Eleanor! Apparently, Eleanor Roosevelt had tea at 3 pm every day no matter where she was – her favourite was Orange Pekoe.
At a site nearby you too can have Tea with Eleanor on Campobello Island and learn much more about this fascinating woman.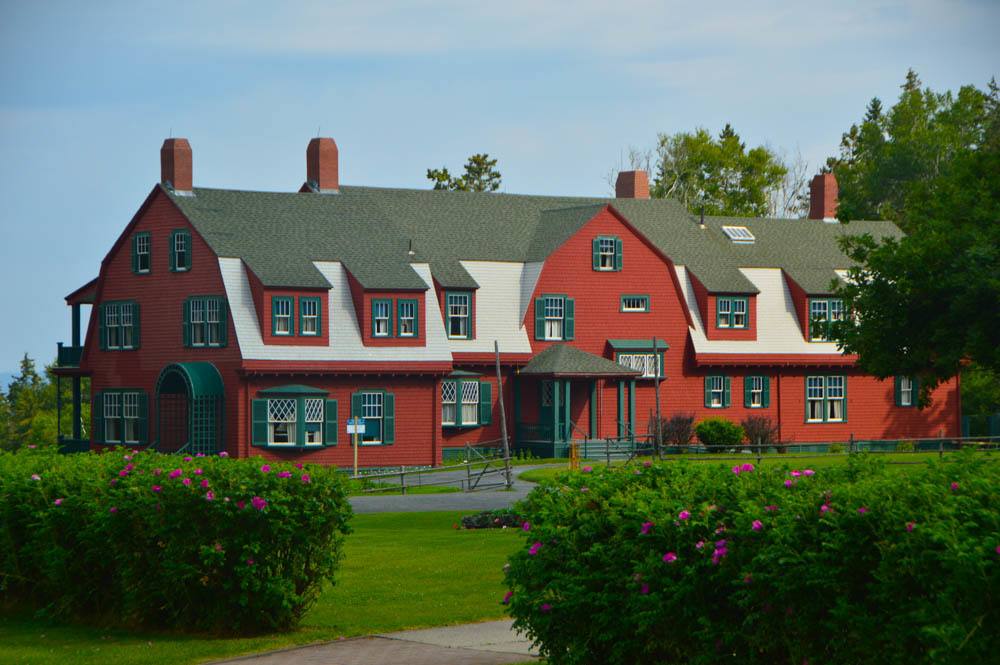 Campobello Island is beautiful. I took a water taxi from St Andrews to Campobello Island which took about 35 minutes. There are many beautiful spots on the island and some lovely beaches. There are also great views of the picture-postcard town of Lubeck Maine from Campobello Island.
I took a tour of Campobello Island with lovely local Peter Harwerth. He drove me around and filled me in on his island home. Check out Peter's blog and contact him to take you around the island here.
It is possible to stay the night on Campobello Island but there are not many choices for hotels. Renting a cabin is the best option – check out the Sea Urchin Cottage. Try The Pier near Wilson's Beach for a meal and The Porch is known for great blueberry pie.
Travel Expert Tip – take your passport. The weather can change on Campobello Island before you know it. If you're stuck and boats can't operate from the harbour the only way off the island is through the US.
The US won't let you in without a passport. So you're then spending the night on Campobello Island.
That isn't so bad but accommodation options on the island are limited and of course, you won't have your things.
[separator type="thick"]
⇒ Nova Scotia is another stunning region in Canada. Check out my Nova Scotia Itinerary for 6 days to give you a sense of the region. Don't miss the Wolfville Wineries and nearby Wolfville Farmers Market, 16 Most Beautiful Cities in Canada,11 Beautiful Canada Landmarks and there are loads of things to do in Lunenburg with its UNESCO listed old town.
[separator type="thick"]
6. Visit the St Andrews Farmers' Market
The Saint Andrew's farmers market runs on Thursday mornings from the end of May through September at the downtown Market Square.
[separator type="thin"]
Canada has many fantastic farmers markets! Check out my posts on:
Where to Stay in St Andrews
Have you seen Dirty Dancing? Imagine that happy hotel/resort they stayed in re-fashioned as a large boutique hotel and you have the wonderful Algonquin Hotel. I'm going to be upfront – I loved this hotel.
The Algonquin Hotel St Andrews was larger than my normal boutique hotel preference but it had all of my favourite boutique hotel elements – it was unique, it had a sense of place, it was buzzing and charming and there were loads of little lovely touches.
Ok, there is a lot to cover with the Algonquin hotel New Brunswick so let's get going.
[separator type="thin"]
⇒ Compare Prices & Read more Reviews on TripAdvisor ⇒ Book Now [separator type="thin"]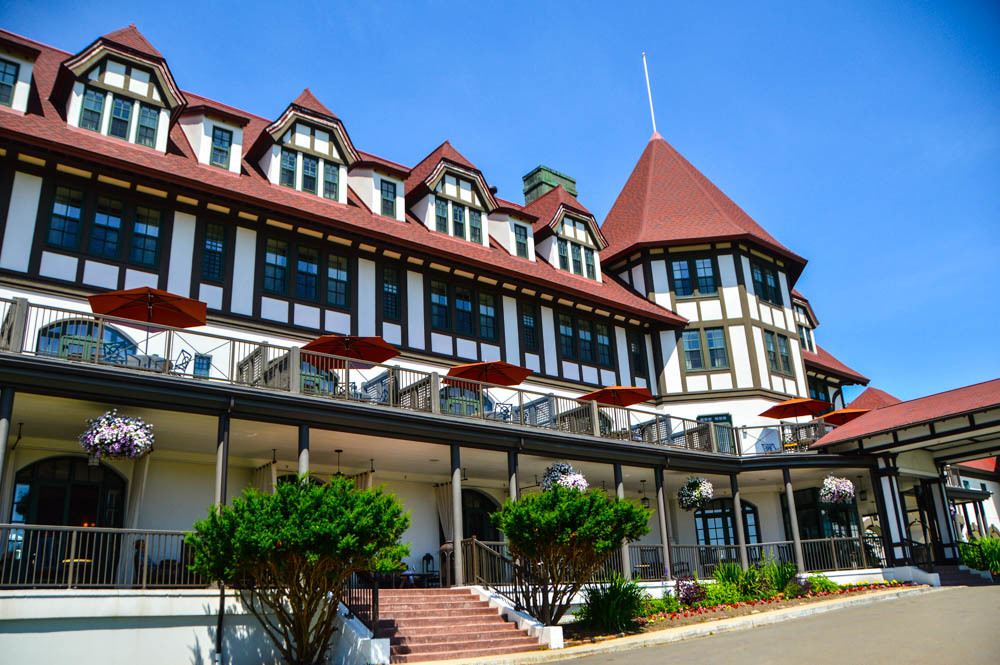 The Algonquin Hotel History
The Algonquin Resort Saint Andrews opened in 1889 and was one of the premium hotels built by the Canadian Pacific Railway. The hotel had a major renovation in 2014 and now has 233 rooms with a wonderful location overlooking St Andrews by the Sea.
Rooms at the Algonquin
My room at the Algonquin hotel was just lovely. It had a super comfortable big bed, big screen tv, coffee machine and a fantastic shower. And my room had many power sockets and USB outlets everywhere which makes me very happy.
But the best thing about the room at the Algonquin Saint Andrews was the bathrobe. Once you put one on you won't be able to leave without buying one. I certainly did and am enjoying it at home! They are like a big hug in a bathrobe.
The inside layer of the Algonquin bathrobe is almost like a light towel but super soft. The outside layer is more of brushed cotton. It is just so so comfortable.
And it's in black with an embroidered A for the Algonquin. This robe is just as cosy as a full-on terry-towelling robe but nowhere near as heavy or hot. I just love mine.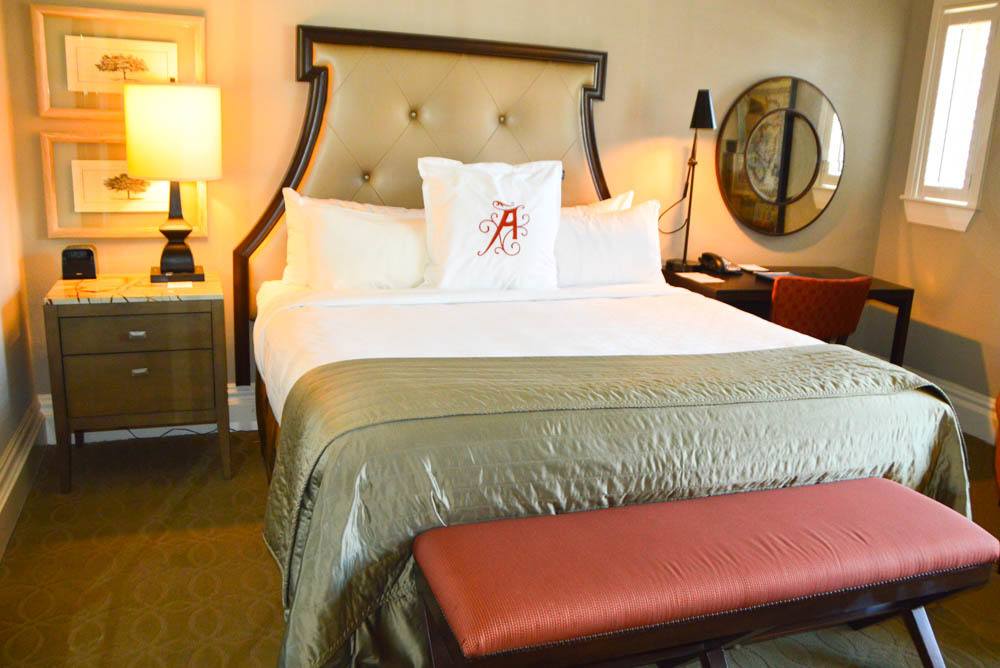 Eating and Drinking at the Algonquin
There are many options for eating and drinking at the Algonquin! The Algonquin hotel New Brunswick has two main restaurants: Braxton's and The Clubhouse with is at the golf course.
The Clubhouse also offers more informal dining as does Braxton's, there is in-room dining and then the Algonquin offers Anyplace dining.
As the Algonquin has many lovely lounging areas inside and out anyplace dining is perfect. I had a lovely dinner at Braxton's – oysters and a lobster roll of course.
The breakfast is fantastic. The buffet is huge – or there are a la carte options if you prefer. Personally, I can't say no to a buffet. There was an excellent egg chef who made me a fantastic omelette. And I very much enjoyed the blueberry bagels.
⇒ Another fantastic city in Canada that isn't too far away is Halifax, Nova Scotia. There are loads of fun things to do in Halifax like visiting the fantastic Halifax Farmers Market and taking Atlantic Canada's number one tourist attraction the Harbour Hopper Halifax and don't miss 11 Beautiful Canada Landmarks.
Facilities at the Algonquin
I loved the relaxed bustle of the Algonquin Hotel. There are always people just hanging out on the Adirondack chairs on the Passamaquoddy Veranda or in the large indoor seating area. It never felt too full or busy – just like a happening place to be.
There is a lot to do at the Algonquin Hotel! There is both an indoor pool and a seasonal outdoor pool. The indoor pool has a water slide. There are a fitness centre and a spa. A firepit, beehives and a helicopter landing area! And a world-class golf course. Plus everything that St Andrews has to offer.
The location is also terrific. It is about a 5-minute walk into the centre of St Andrews and a couple of minutes more to walk down to the docks. The Algonquin was the only hotel I stayed in at St Andrew's. But I find it hard to believe there could be a better option available.
⇒ If you're looking for more accommodation in New Brunswick check out my post on 5 Charming Boutique Hotels in New Brunswick Canada
Where to Eat in St Andrews
The Rossmount Inn is the best restaurant in St Andrews. It is number one on Tripadvisor and this is where the locals go when they have something major to celebrate. The Rossmount Inn New Brunswick is a couple of kilometres out of town but easy to reach.
The Algonquin hotel has a free shuttle service that took me to the Rossmount Inn and came back and picked me up – with only 10 minutes notice each time.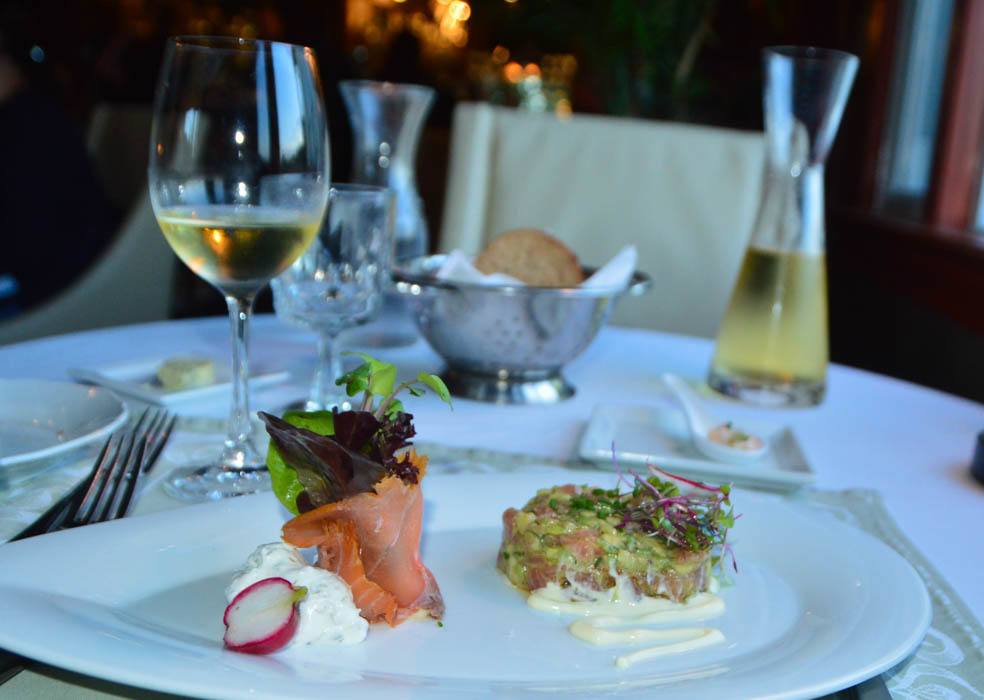 This lovely restaurant is part of a very lovely boutique hotel with the same name. They have a very nice pool which I saw when I walked in! The Rossmount Inn is famed for its seafood.
The menu has some core offerings and then seasonal variations. The menu at The Rossmount Inn is divided into half shell, leaves & soups, small starts, land and sea. I ordered the salmon duo as the waiter told me this was a core offering.
This was composed of a mix of salmon tartar, avocado, cilantro/coriander and then smoked salmon roulade with potato horseradish cream. It was superb – particularly the salmon tartare with avocado.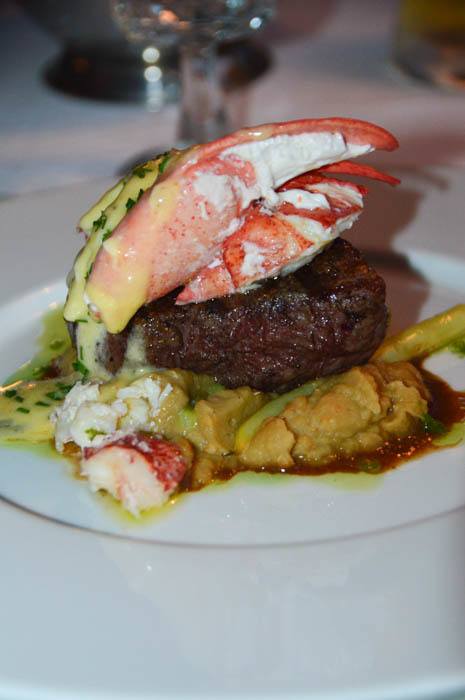 However, the highlight of my dinner at the Rossmount Inn was the surf and turf – wow wow wow. Every mouthful was to be savoured. Beef tenderloin with butter-poached lobster, caviar d'aubergine, green beans and one of the best bearnaise sauces that I have ever tasted.
I splurged calories wise on the chocolate truffle dessert at the Rossmount Inn which was amazing. I had a chat with the lovely owner Graziella. She and her husband Chris have travelled the world and used to own a restaurant in my hometown, Melbourne, Australia.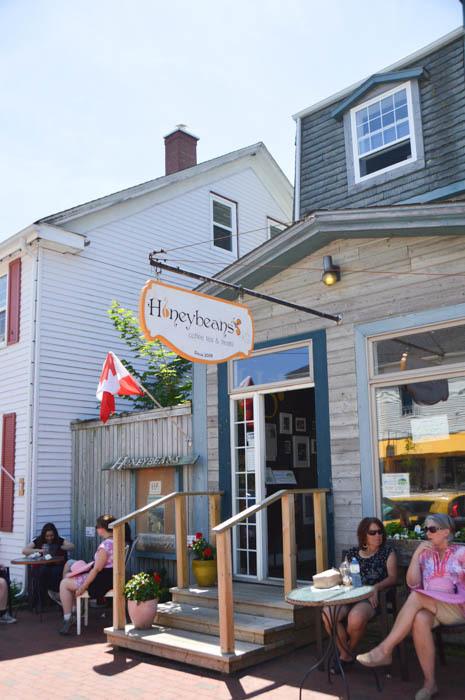 I highly recommend a visit to the Rossmount Inn when you visit St Andrews. But do make sure you book far in advance. I visited on a Sunday night and it was absolutely packed with multiple seatings.
⇒ Book dinner at the Rossmount Inn.
The Gables is on Water Street in the heart of St Andrews and is another must-visit. This cute and quirky restaurant has a wonderful outdoor deck that is literally on the beach. And The Gables Saint Andrews has one of my favourite lobster sculptures of the trip.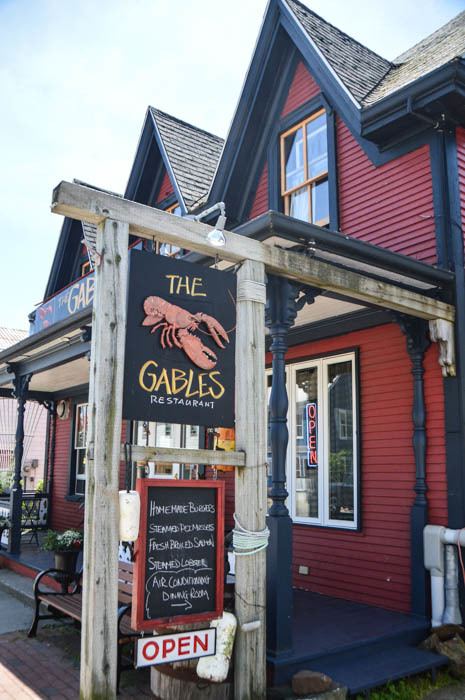 I, of course, ordered a lobster roll (this one came with a cup of chowder) and they were both outstanding. Plus a nice one. I visited The Gables St Andrews for a late lunch and it was just lovely sitting on the terrace by the beach.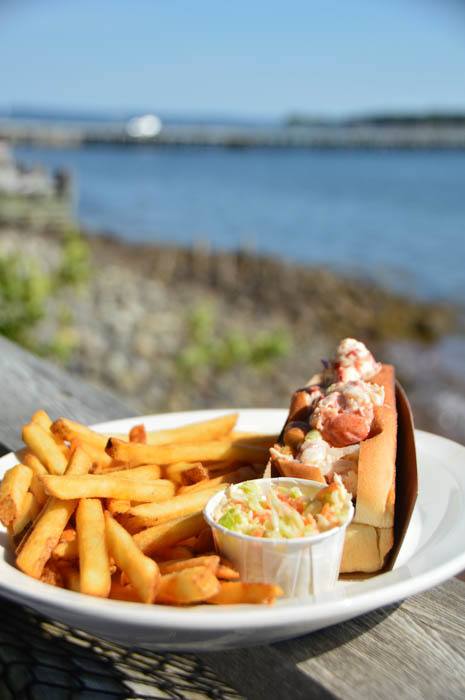 I received a few other recommendations for St Andrews which I didn't get a chance to visit but you may be able to. Honeybeans has a reputation as the best place in town for coffee, the Niger Tea room is apparently a great place for lunch and the Red Herring is apparently the place to go if you're in the mood for a few drinks.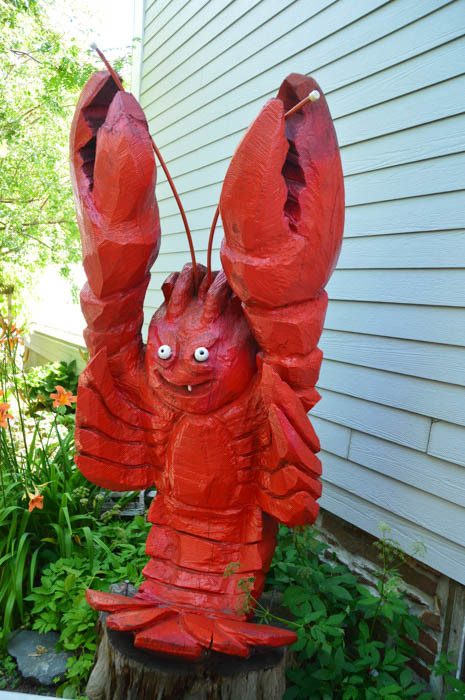 How to Get to St Andrews New Brunswick
St. Andrews is just a 30-minute drive from the border crossing between Calais, Maine and St. Stephen, New Brunswick. From Route 1, between St. Stephen and Saint John, take either of the clearly marked exits onto Route 127.
If you're coming from the USA, it is about a 30-minute drive from the International Border. If you're coming from within Canada, St Andrews is about a 90-minute drive from St John's, the capital of New Brunswick.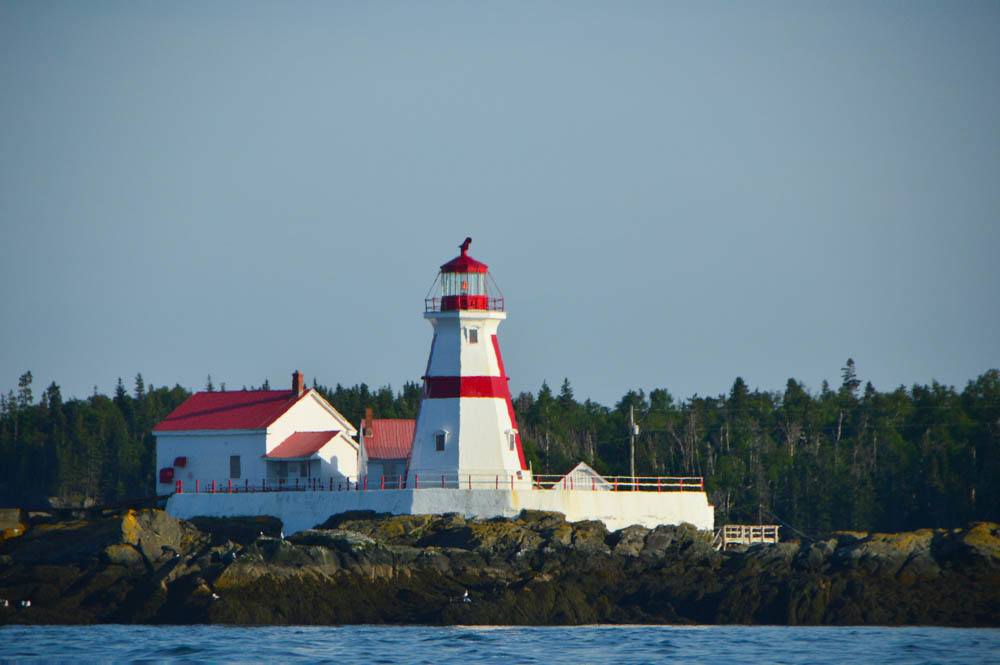 There are 3 international airports in New Brunswick: St John (1.5 hour drive from St Andrews), Fredricton (1 hour 45 mins drive) or Moncton (2.5 hours). The other option is to come in from the US through the airport in Bangor, Maine (2 1/2 hour drive).
I landed in halifax, Nova Scotia, which possibly has the best overseas flight options. However, this was a part of spending 8 days in nova scotia. A direct drive from Halifax airport to St Andrew's would take about 5 hours.
You will most likely need to hire a car to get to St Andrew's. Once you have arrived, most of the activities in this post can be done on foot or with a shuttle bus like at the Algonquin Resort.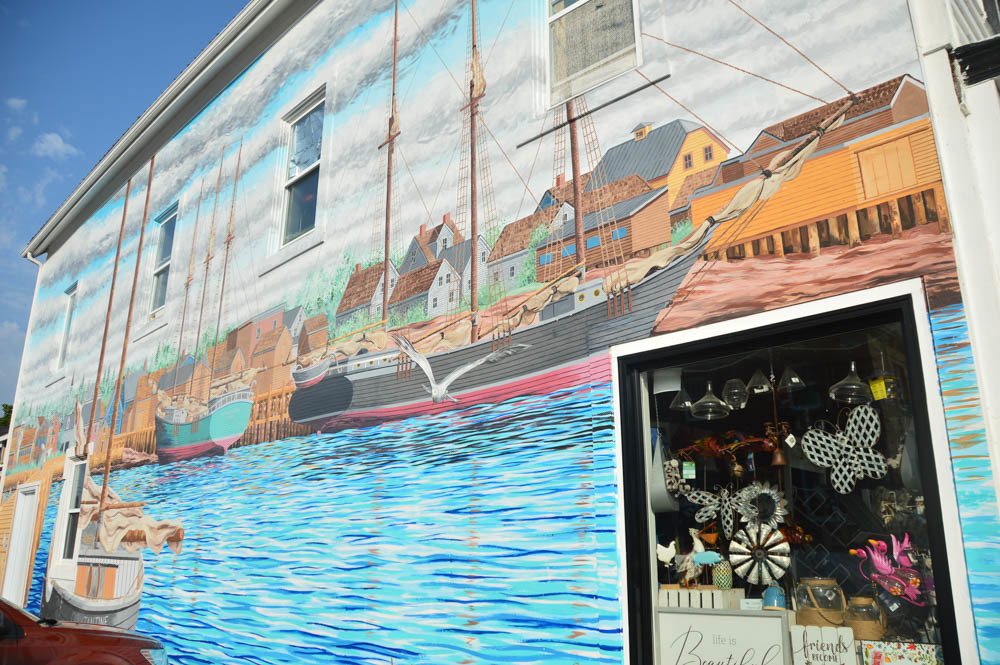 Who Paid for What in this Post
My trip to lovely New Brunswick was hosted by the New Brunswick Tourism Board. They covered all my accommodation and car hire costs as well as the majority of my meals and activities. I paid for a few extra whale watching tours as well as more lobster rolls of course!
New Brunswick tourism paid for my flight to New Brunswick and part of my flight back to London (I upgraded!). But as always my opinions are my own. This post also contains affiliate links. This means that if you click on them and end up making a purchase I will receive a small commission. Just wanted to make sure you knew.
[separator type="thick"]
READ NEXT: 26 INSTAGRAMMABLE THINGS TO DO IN NEW BRUNSWICK
[separator type="thick"]
Like this post? Why Not Pin It?