There are loads of fun things to do in Calistoga California. Calistoga Napa Valley is a super cute small town in California. Within the Napa Valley, there are several lovely towns with restaurants and accommodation.
However, I did find Calistoga to be the quirkiest and most interesting.
Here are 14 fantastic things to do in Calistoga California
14 Best Things to do in Calisgota, California for Grown-Ups
1. Eat at Solbar Solage
One of the top things to do in Calistoga is eating! I stayed at Solage Calistoga and I ate at Solbar a lot. That would be five breakfasts, 2 lunches, and 2 dinners. And everything was fantastic.
Solbar offers outside and inside seating. We only ate inside once when outside was full and it was still a nice experience – but outside is definitely the better option.
⇒ Read my full review of Solage Spa here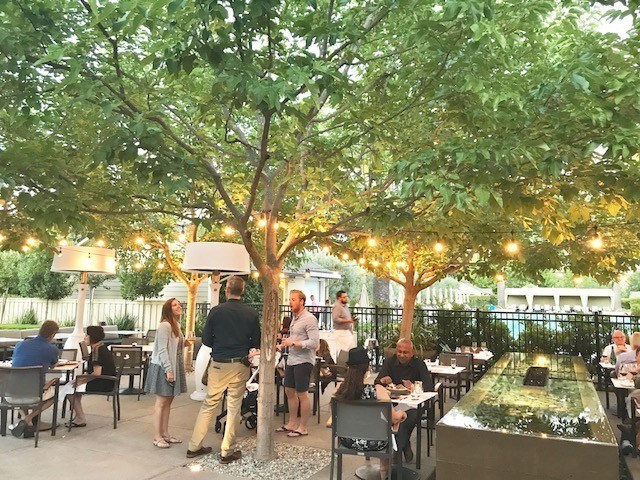 Let's start with breakfast at Solbar – what a fabulous breakfast menu! Lots of healthy options like egg-white omelets, grapefruit and avocado and crab etc as well as delicious pastries and some brilliant pancakes.
Lunch we went with snacky options – fish tacos were a highlight. Dinner at Solbar Calistoga is structured as first, next, main and dessert. You can take only one, two or three items or you can go for the great value USD$80 4 course menu. This is great value for a Michelin star restaurant like Solbar.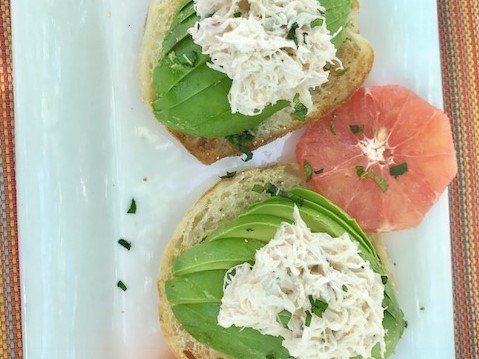 The menu at Solbar Calistoga changes regularly and keeps up with the season. When I was there I was particularly blown away by the lamb and the quality of the basics like the amazing tomatoes.
There is, of course, a fantastic wine list as well as you would expect when staying in the heart of the wine country. The wine list at Solbar offers my new favourite thing after visiting the Napa Valley – wine flights. Large tasters of several wines grouped together by style or type.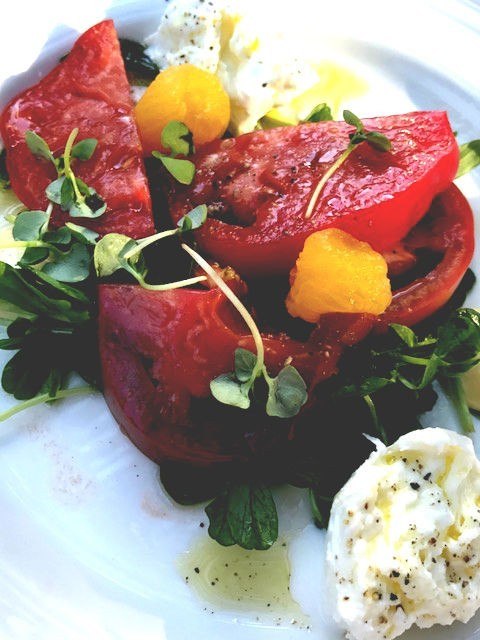 2. Stay at Solage Calistoga
When it comes to Calistoga hotels Solage may well be the top of the list. When you think relaxed, stylish California this is exactly what I had in mind. Solage is a lovely property that is quite spread out so there is a feeling of intimacy despite the size.
Our room at Solage was huge with a living area and a large patio. I love that it came with pushbikes as well. This was perfect for exploring the Calistoga attractions.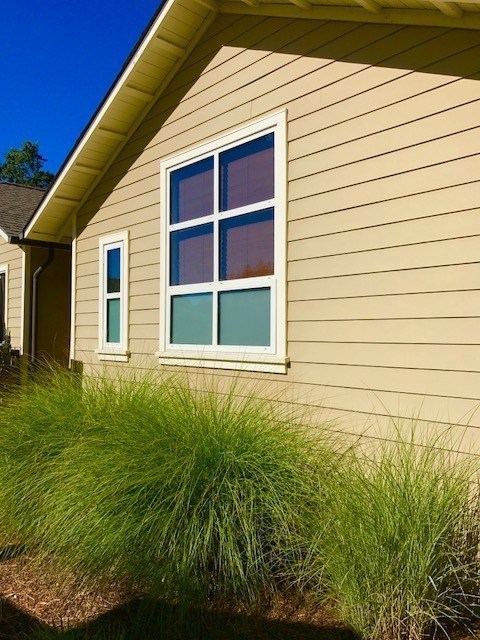 The service at Solage was fantastic, the food is amazing and wow the Solage spa is lovely. There is a large spa area with extra pools, natural waters, steam rooms etc etc.
We tried one of their core treatments which was a mix of scrub, soak and massage and was lovely. This is a Calistoga spa highlight. There are no Calistoga hot springs at Solage but they really don't need them.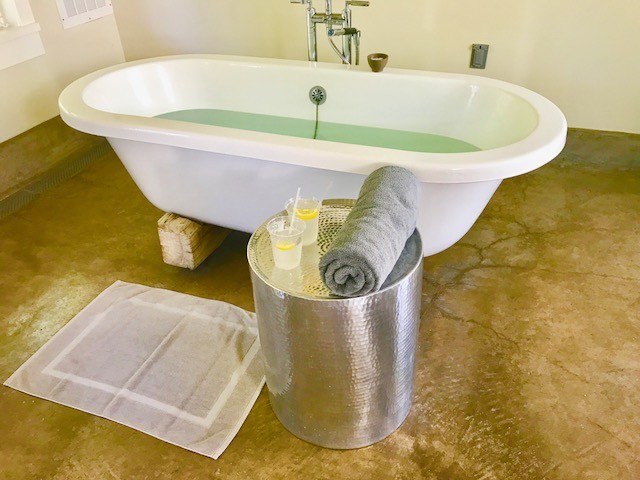 The main pool at Solage is huge and perfect for lounging by and reading your book – with a nearby pool bar of course.
If you are looking for something more active in Calistoga Napa you will receive a full activity schedule when you check in with all of the classes – from yoga to the circuit – that is on offer during your stay at Solage. [separator type="thin"]
⇒ Click here for the latest prices and availability for Solage Calistoga [separator type="thin"]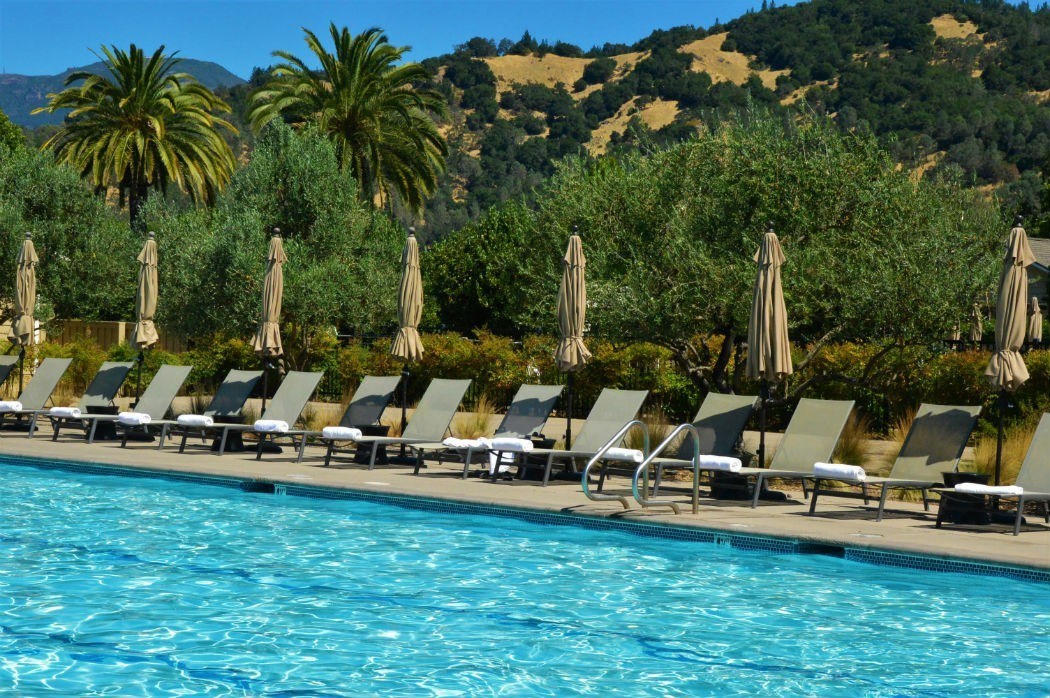 3. Hit the Calistoga Wineries
Of course, when it comes to things to do in Calistoga wine and wine tastings will be at the top of your list. I spent a lovely afternoon at the Von Strasser & Lava Vine Winery.
We were able to do our tasting whilst sitting outside – such a treat being brought glasses of delicious wines for a Calistoga wine tasting whilst relaxing outside.
Brian Arden wines, which is very close to Solage, also comes highly recommended. And here is a great post on the Best Wineries in Calistoga.
⇒ If you love finding hidden gem wine areas and California check out my Livermore Wine Tasting Guide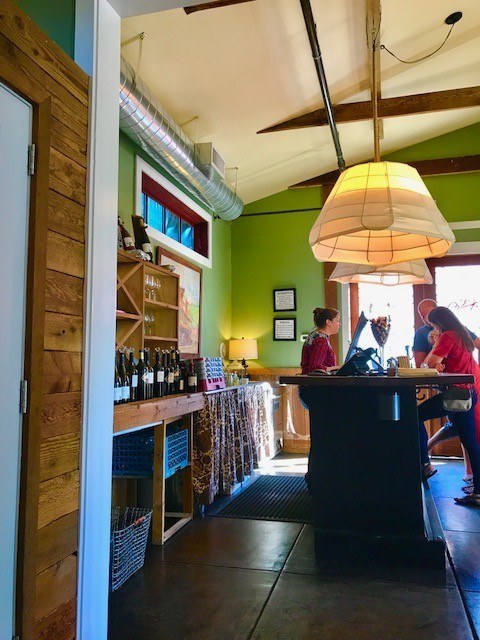 ⇒ Looking for some travel inspiration? Check out my posts on the 25 North America Landmarks, Top 15 Famous Landmarks in the US, 25 Beautiful Canada Landmarks, 16 Most Beautiful Cities in Canada, 15 Most Beautiful States in the US, American Bridges you Must Cross, Most Beautiful Lakes in Canada and the 20 Most Beautiful Cities in United States.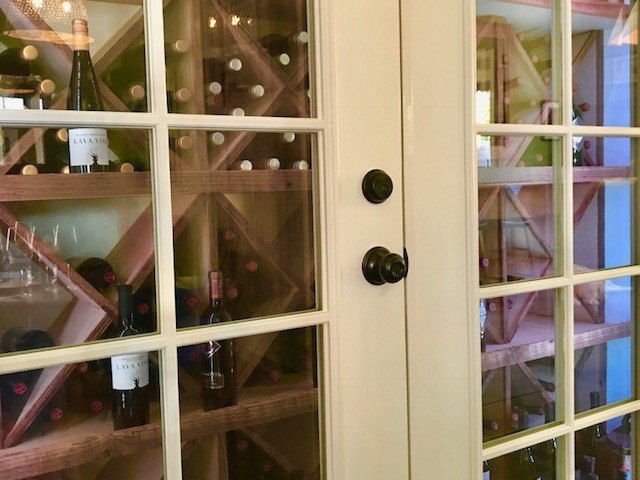 4. Watch Sideways
There is something about watching a movie or tv show in the place where it is set – it seems to add so much. I had the same experience watching Narcos in medellin. Anyway, I digress.
The film to watch when tasting wine in California is Sideways. It was released in 2004 and stars Paul Giamatti and Thomas Haden Church as two friends that decide to go on a week-long wine road trip.
Download it before you leave home or if you are staying at Solage you can borrow it and watch in on dvd in your room.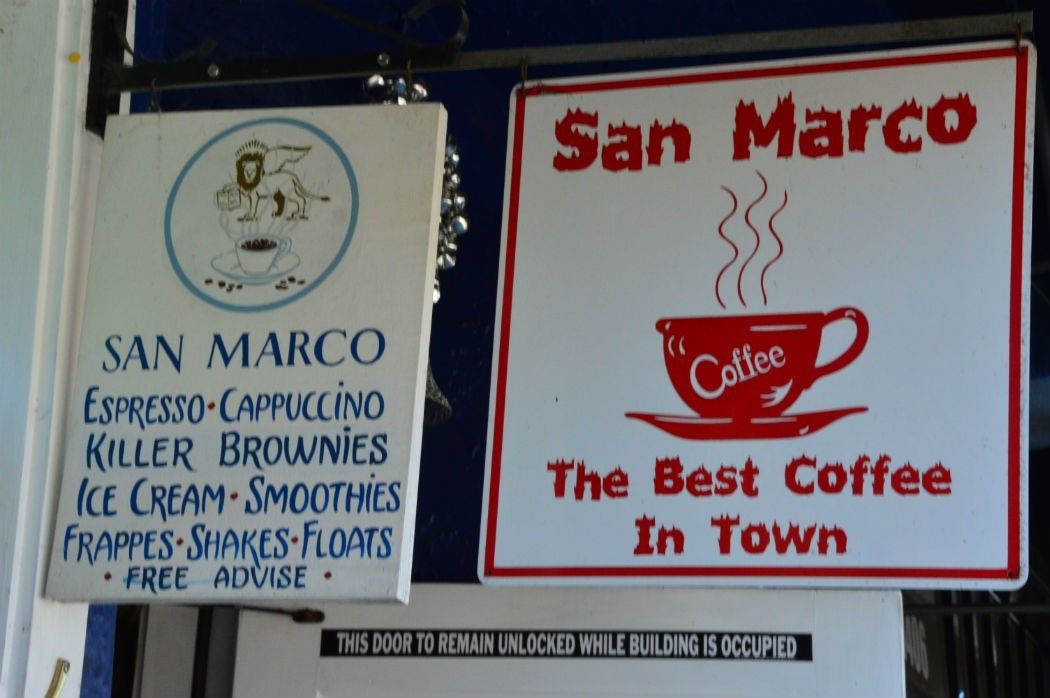 5. Take the Wine Train
I find it hard to imagine that there would be anyone who wouldn't want to take a ride on a Napa Valley Wine Train. Yes it is very touristy and it isn't cheap but this is one of the most fun things to do in Napa Valley.
There are many journey choices on offer from the Napa Valley Wine Train. We went with a lunch offer that included a winery tour – the fantastic Grgich Hills.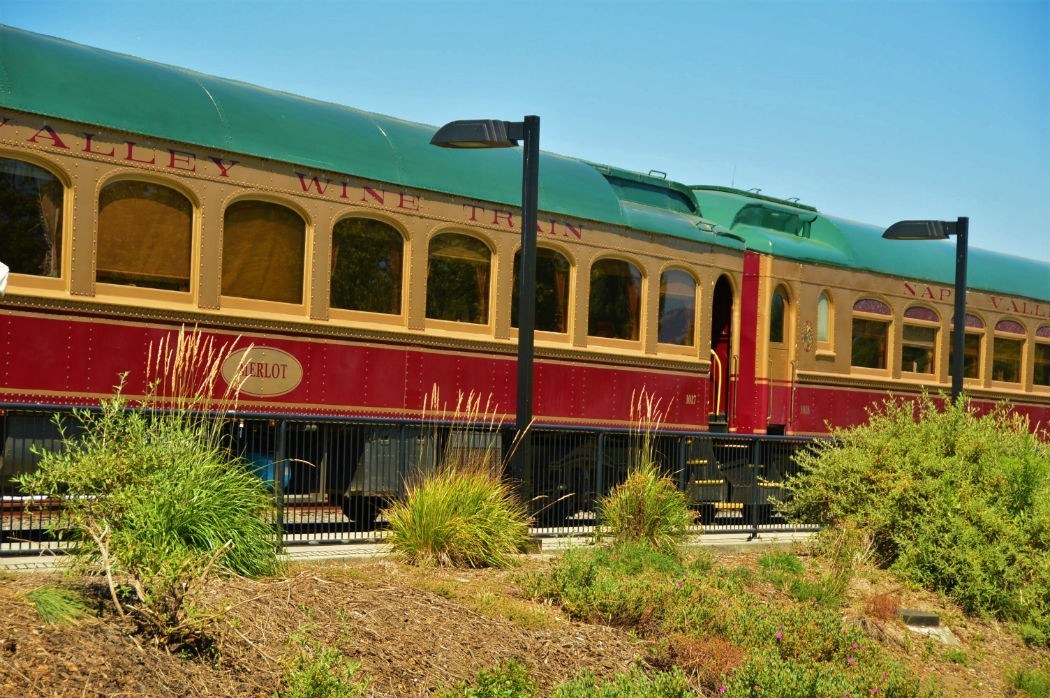 We enjoyed a decent three-course meal on the Napa Valley wine train with some great wine flights. The highlight though was the actual experience.
It was lovely having lunch rolling through vineyards and then stopping off to taste more wine. When it comes to what to do in Calistoga Ca this should be high on your list.
⇒ Book the Napa Valley Wine Train
Travelling with your dog? Here is a great post on dog-friendly wineries in Sonoma which is only one hour from Calistoga Napa Valley.
6. Enjoy Coffee from beans Roasted in Downtown Calistoga
American coffee can be rather dreadful – that awful drip stuff or far too milky cappuccinos. Luckily downtown Calistoga has a cafe that roasts its own beans and provides a great brew. When it comes to what there is to do in Calistoga tasting coffee can be added to wine tasting.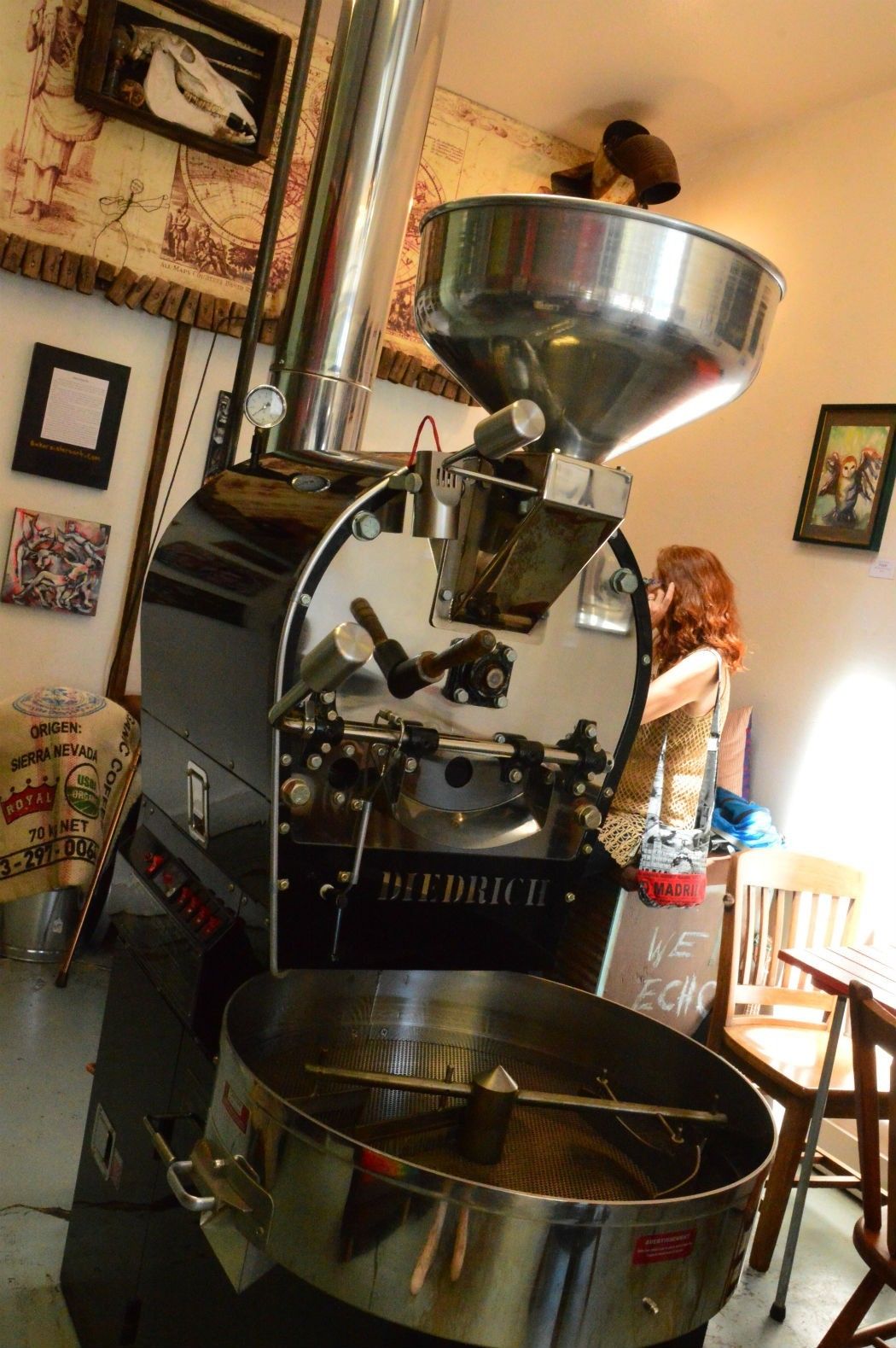 Yo el Rey is a super cute coffee micro-roaster. And of course, they are also organic and fair trade certified. Yo El Rey roast their own beans and have a lovely little café right in the heart of Calistoga. Art 1217 Washington also gets some positive reviews.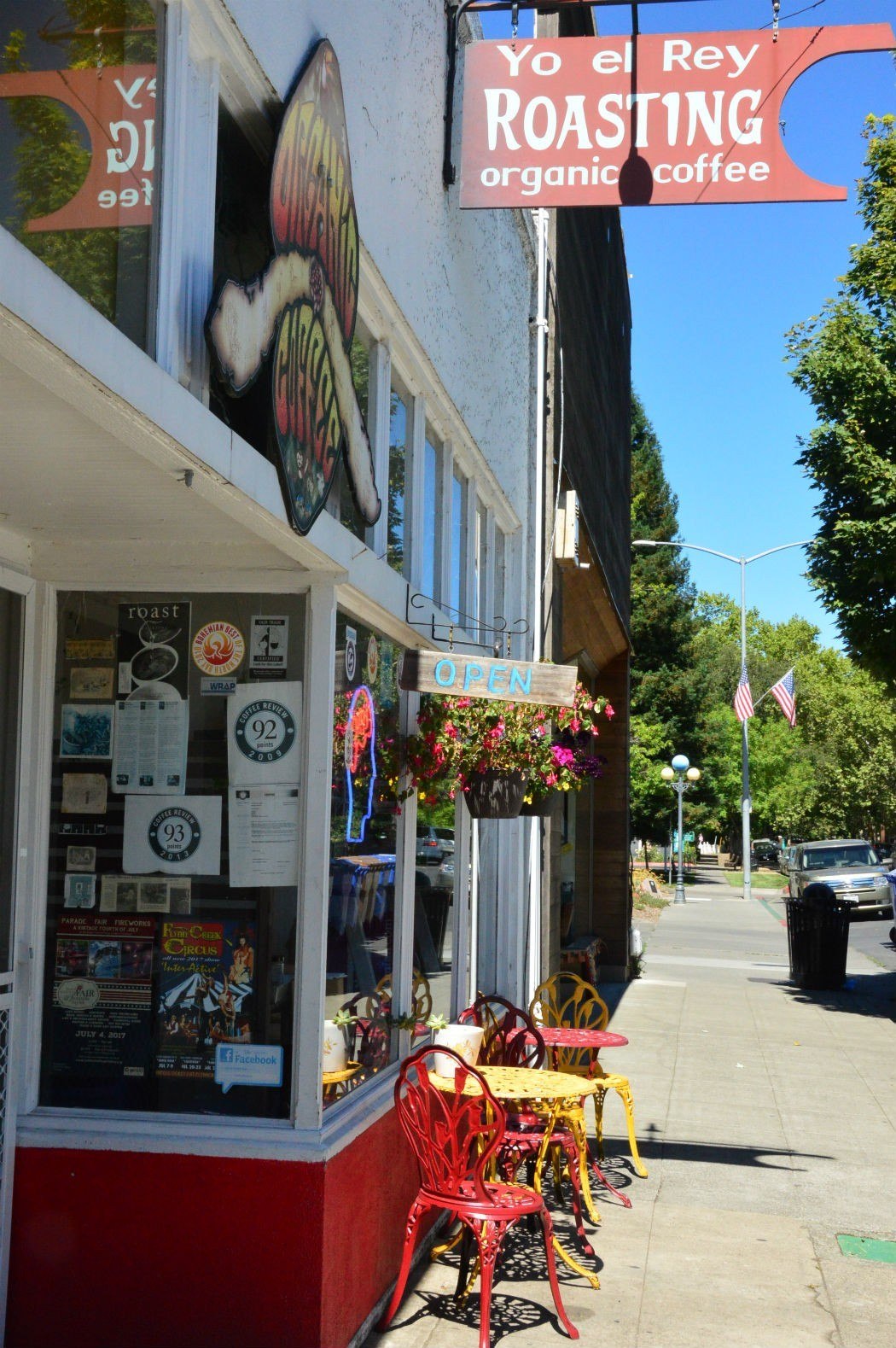 7. Hit the Calmart
I realise that visiting a grocery store was probably not what you expected when it came to what to do in Calistoga – but the Calmart is a large fabulous grocery shop on the main road in Calistoga.
Calmart gives Wholefoods a run for their money with deli and takeaway food offerings. They can then meet all of your usual grocery needs.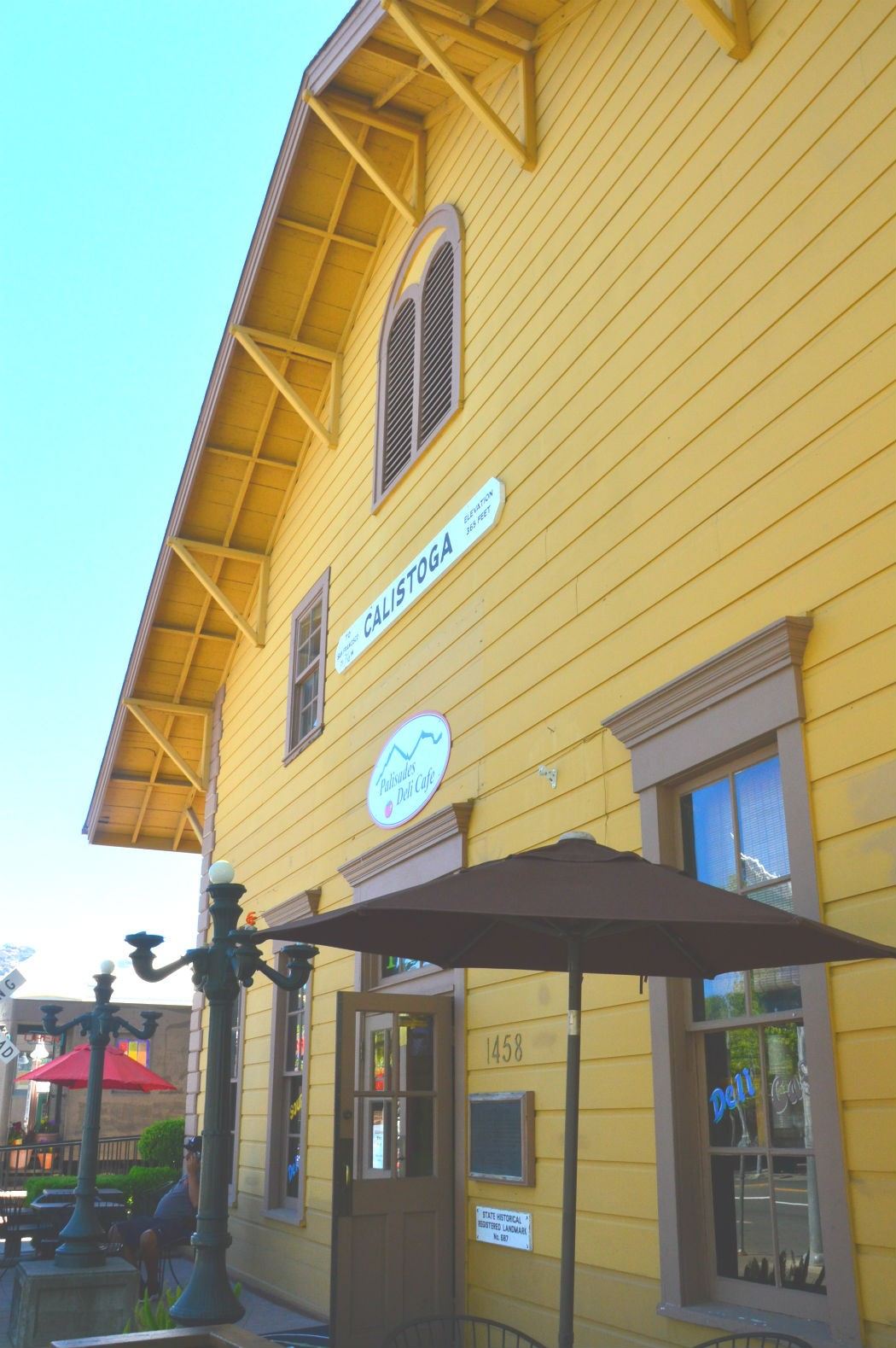 However, for me, the highlight of the Calmart was the wine section. This is possibly the cheapest place to grab some great Napa Valley wines. They even had a decent range of dessert wines and ports.
Calistoga Calmart is the perfect place to grab Napa Valley wine for your room and wine to take home with you.
⇒ Yosemite Valley is one of the most stunning places in California – check out my guides to October in Yosemite and Yosemite in One Day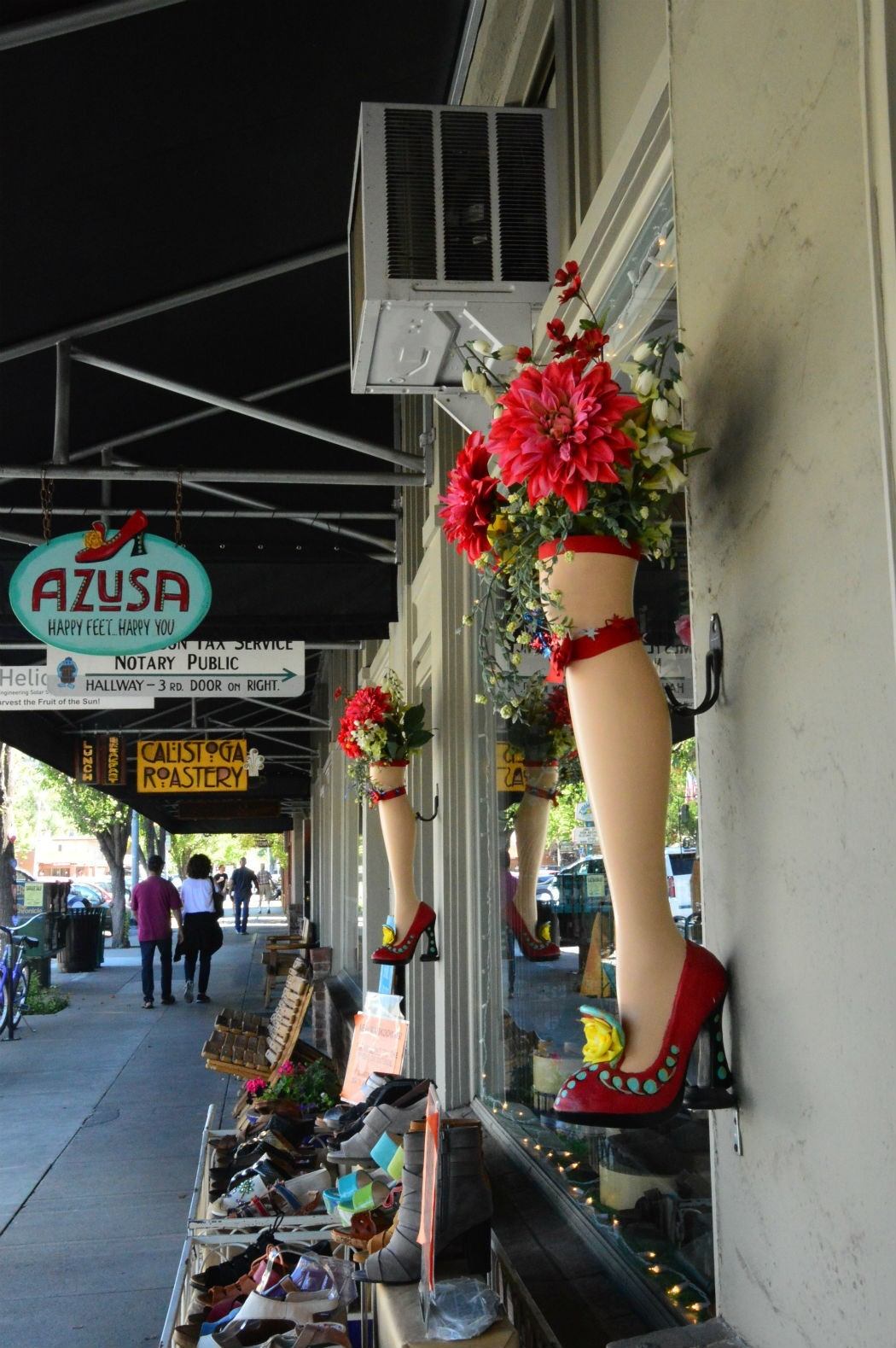 8. Send some Wine home
The Calistoga Wine Stop 1458 Lincoln, can ship your favourite California Chardonnay worldwide. It is located in the train depot. The Calistoga wine shop stocks everything from vintage to bargains and cover all varieties. They will even specially pack up your wine if you are taking it home yourself.
9. Go shopping in a Train
The second train of the post. Downtown Calistoga has a couple of old trains that are California Heritage-listed and have been kitted and fitted out to provide a retail experience.
The Calistoga Wine Stop has a little tasting room here. There are also a few sweet shops and lovely quality souvenirs. The train car is part of the Calistoga Depot – all linked to the Wine Stop.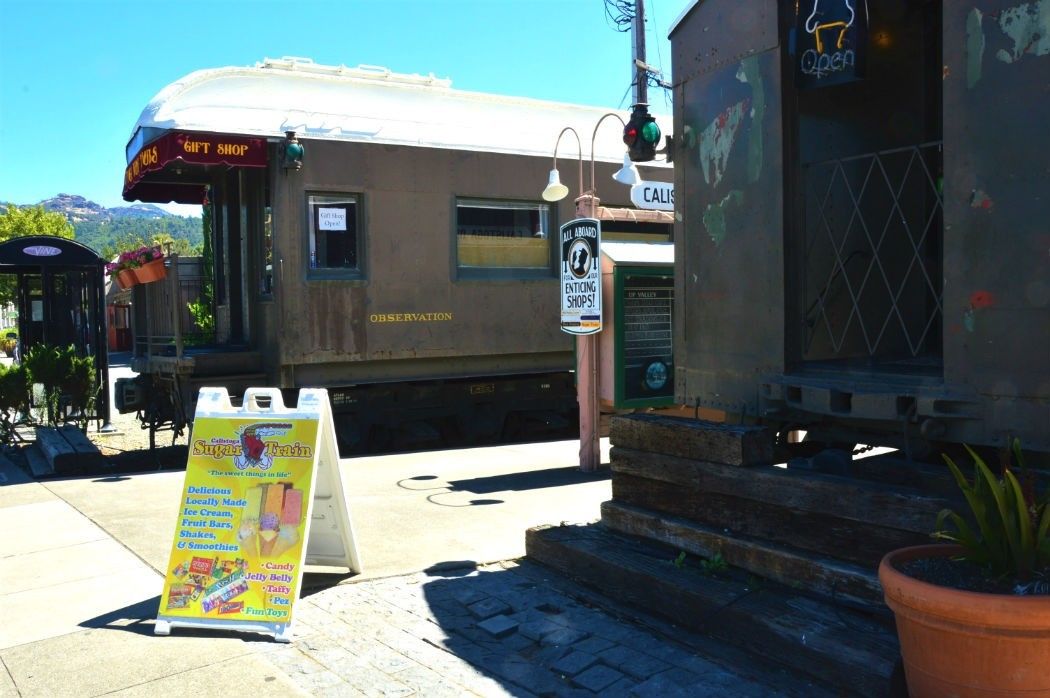 10. More Calistoga Wineries – but this one has a big twist
Perhaps the most eccentric of the Calistoga wineries is the Tank Garage. The Tank Garage Winery is actually in an old retro 1930s gas station. You can book a wine tasting or just drop in.
Trying 4 wines at the Tank Garage Winery will cost you USD$25 and take about 45 minutes. You may even get access to the back tasting room at the Tank Garage. This is normally only for members of their wine club.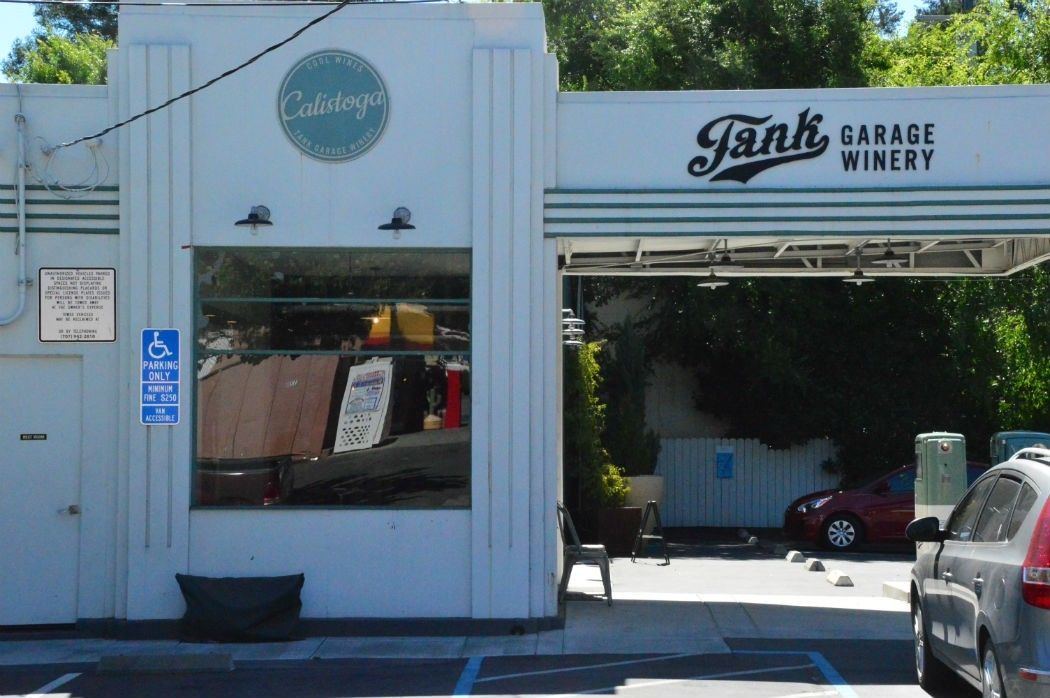 Tank Garage has its own wines with super cool labels and fabulous names like Post Disco, Stars like Ours and my favourite a red called Lick. As you would expect they also hold garage sales of their wines. This was one of my best places in Calistoga.
11. Natural Hot Springs
The original Calistoga things to do was visiting its Natural Hot Springs. They have been a Calistoga tourist attraction since the 1880s. It is possible to stay at Indian Springs Resort, home to giant hot spring pools, or book a spa treatment and get access.
When it comes to things to do in Calistoga hot springs there are also many hotels offering hot springs treatments.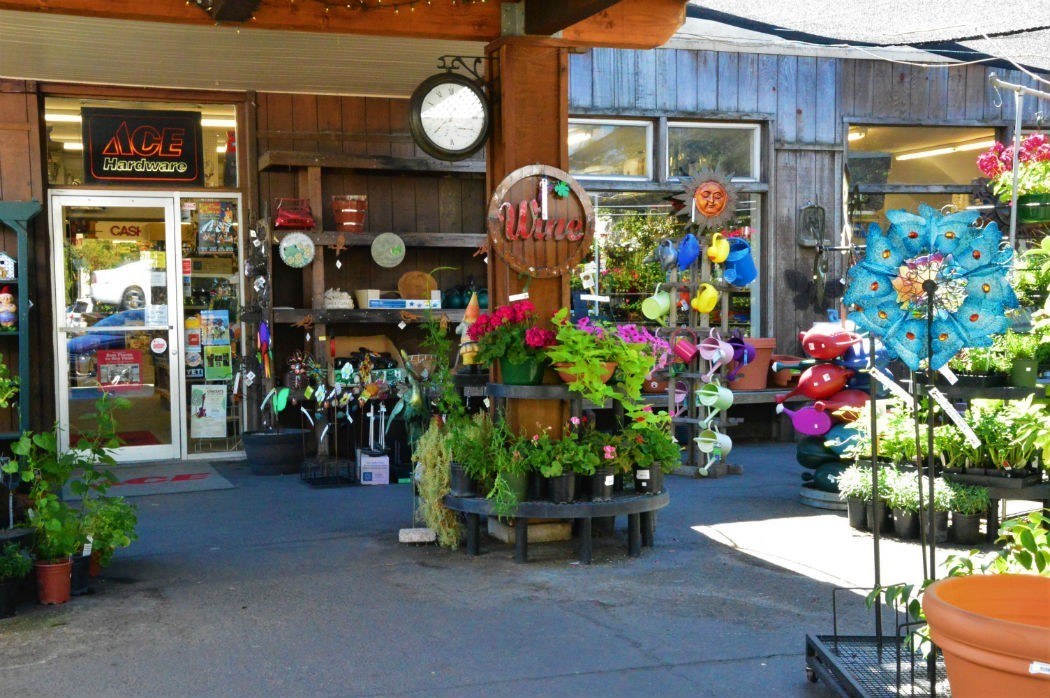 12. Hot Air Balloon Ride
One of the top things to do in Calistoga Ca is head into the skies! Calistoga has its own hot air balloon specialists with flights planned daily. This one of Calistoga Ca attractions will set you back US$239 and you will have to get up very early (the flights leave between 5 am and 7 am so you have to be up before then).
However, you will get some stunning views of the Napa Valley on your hot air balloon ride and may even see the geyser erupt a couple of times (see number 14 below). The balloon floats around the northern area of the Napa Valley.
Once you land you can enjoy your post-flight breakfast with either a mimosa or a glass of sparkling wine. This is high on the Calistoga to-do list.
13. See some Million Year Old Trees
Like something out of an Enid Blyton novel, there is a Petrified Forest Calistoga. The trees were caught up in lava flow millions of years ago and are now essentially fossils. The trees at the Petrified Forest are a half-mile walk or you can take a 1 mile guided walk.
The walks take place at 11, 1 pm or 3 pm. The Petrified Forest is one of the prettiest things to see in Calistoga.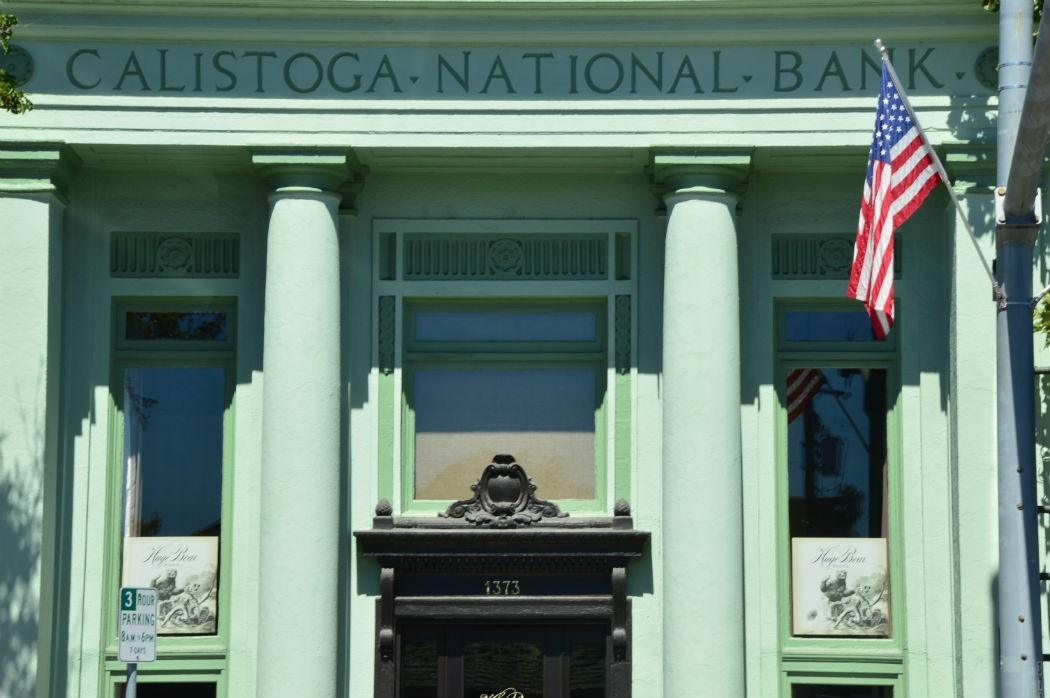 14. Old Faithful Geyser California Style
I do love a geyser. Something about nature taking charge of showing times! Depending on the time of year this faithful geyser erupts every 10 to 45 minutes.
Just like the Petrified Forest, the existence of the geyser is all linked back to a long-ago volcanic time. I did not expect to learn about ancient Volcanoes when I went to the Napa Valley.
The Geyser is open 365 days a year (it has recovered from the fires) and admission is USD$15 for adults. There is also a goat farm and an area for Bocce. Bocce appears to be a thing in Napa as there is also a Bocce ground at Solage Calistoga.
Rumour has it that they also get some pretty amazing rainbows at sunset post-eruption. When it comes to What is there to do in Calistoga CA the list is quite long. Calistoga California points of interest are extensive.
⇒ Heading to the East Coast of the US? Check out my posts on the best things to do in Lower Manhattan, the most instagrammable places to visit in Philadelphia, and great Philadelphia food tours, and the best coffee shops Baltimore has on offer, more fab Baltimore food tour options, Hotel Indigo Baltimore and some very Instagram worthy Baltimore attractions!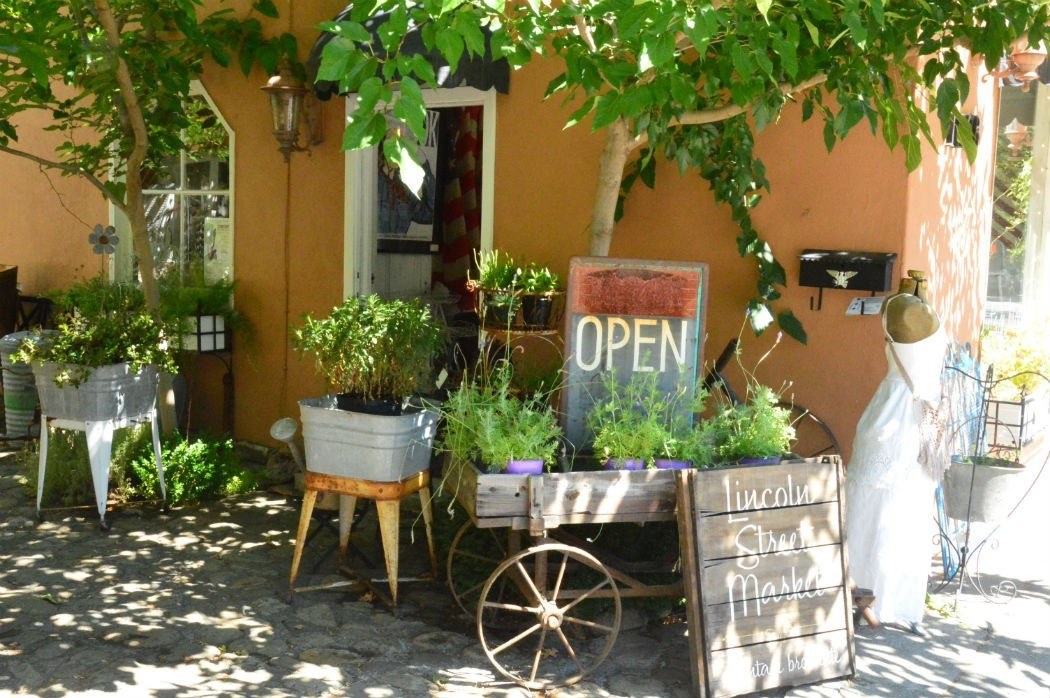 Napa Valley Tours
Of course, it is ideal to taste wine without a car so you can really enjoy it. This means that tours are the best way to safely get around the Napa Valley and enjoy wine. [separator type="thin"]
⇒ Top 10 Wine Tours in the Napa Valley [separator type="thin"]
Other Calistoga Boutique Hotels
There are loads of cute boutique hotels in and around Calistoga.
Go art deco at the Calistoga Wine Way Inn
⇒ TripAdvisor ⇒ Book Now
Stay on the actual natural Hot Springs at Indian Springs
⇒ TripAdvisor ⇒ Book Now
If you're after some romance try the multi-award-winning Brannan Cottage Inn
⇒ TripAdvisor ⇒ Book Now
Stay at a listed heritage property plus get an amazing spa at the Mount View Hotel & Spa
⇒ TripAdvisor ⇒ Book Now
The latest opening in the area is the Calistoga Motor Lodge and Spa. This unique retro boutique hotel is like stepping back in time – in a modern and cool way
⇒ TripAdvisor ⇒ Book Now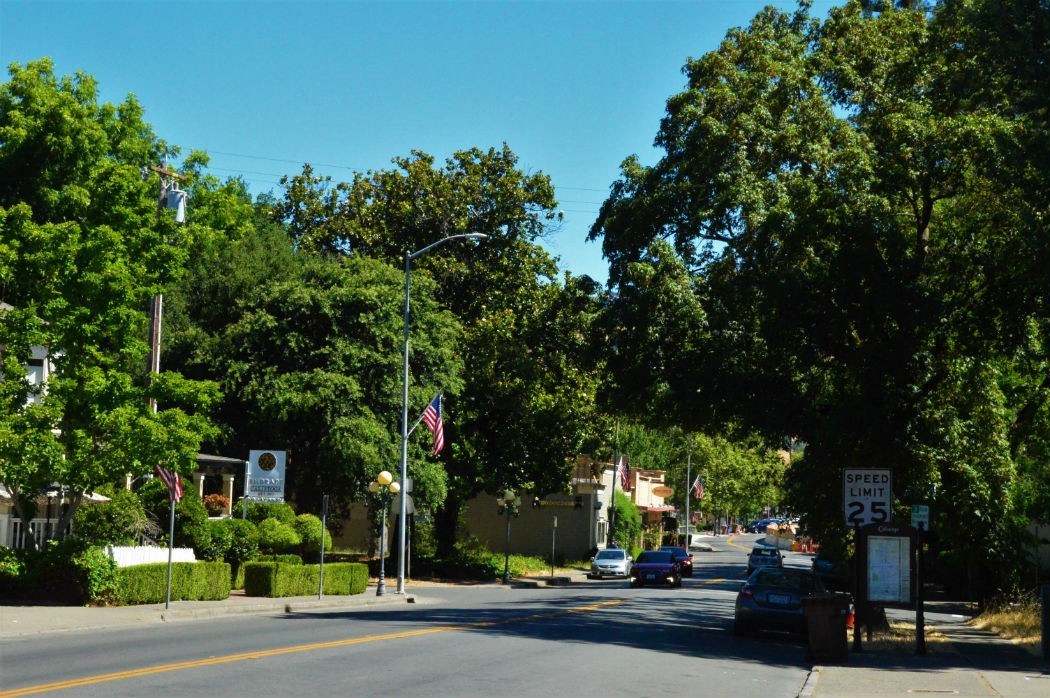 Getting to San Francisco
The nearest international airport for the Napa Valley is San Francisco. There is also a local airport in Sonoma albeit flights are more limited and domestic.
⇒ If you're planning a trip to the US and thinking about flying premium economy – which is a great idea – check out my reviews and comparisons of American Airlines Premium Economy 777 , Virgin Atlantic Premium Economy Review and British Airways World Traveller Plus Review.
There are some fantastic drives around San Francisco – from heading south down to LA to drive around the Napa Valley.
Where is Calistoga California?
Where is Calistoga is a great question! Calistoga is about a 90-minute drive from San Francisco. It is centrally located between Napa and Sonoma.
Click here for different options and directions on how to get to Calistoga.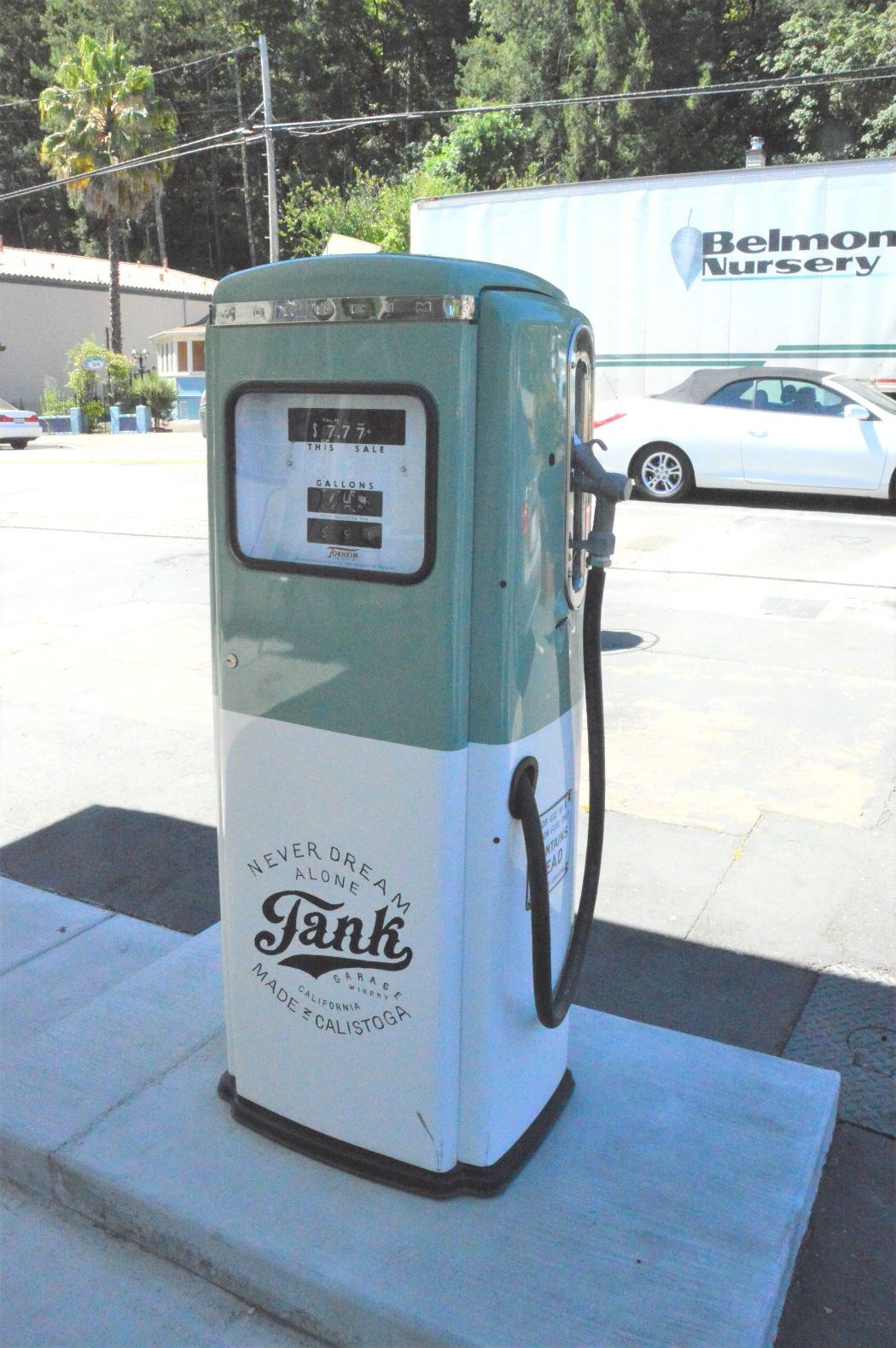 Other things you might like to read
⇒ If you're staying in San Francisco here is my guide to the Top 17 Unique Restaurants
⇒ And read my review of cute boutique Hotel G in San Francisco
⇒ My post on A Luxury Travel Blog about the Napa Valley Wine Train
⇒ and also on A Luxury Travel Blog the Best Eating Experiences in the Napa Valley
Who Paid for What with this Post
I paid for everything. This was completely me traveling and not working with any tourism boards or hotels etc. However, this post does contain affiliate links. That means that if you click through on them and make a purchase I may well receive a small commission. I just wanted to make sure that you knew.
READ NEXT: 25 FUN THINGS TO DO IN LAS VEGAS THAT AREN'T GAMBLING
Like this post? Why Not Pin It?