Sunsets are one of the most magical moments on this planet. They give you romantic moments with your partner, minutes of mutual astonishment with friends and times of peace on your own.
Sunsets have this way of taking you to another world while never having to leave ours. San Francisco's landscape offers multiple ways to witness the sunset with a range of iconic backdrops to accompany it. That is why we can retreat to one of these 15 stops to watch San Francisco sunsets. You'd be surprised at just how many different ways you can watch the sky change to pastels in the evening.
Once you're done checking out the evening hues of the sky, head to one of these unique restaurants in San Francisco to recharge after your adventure.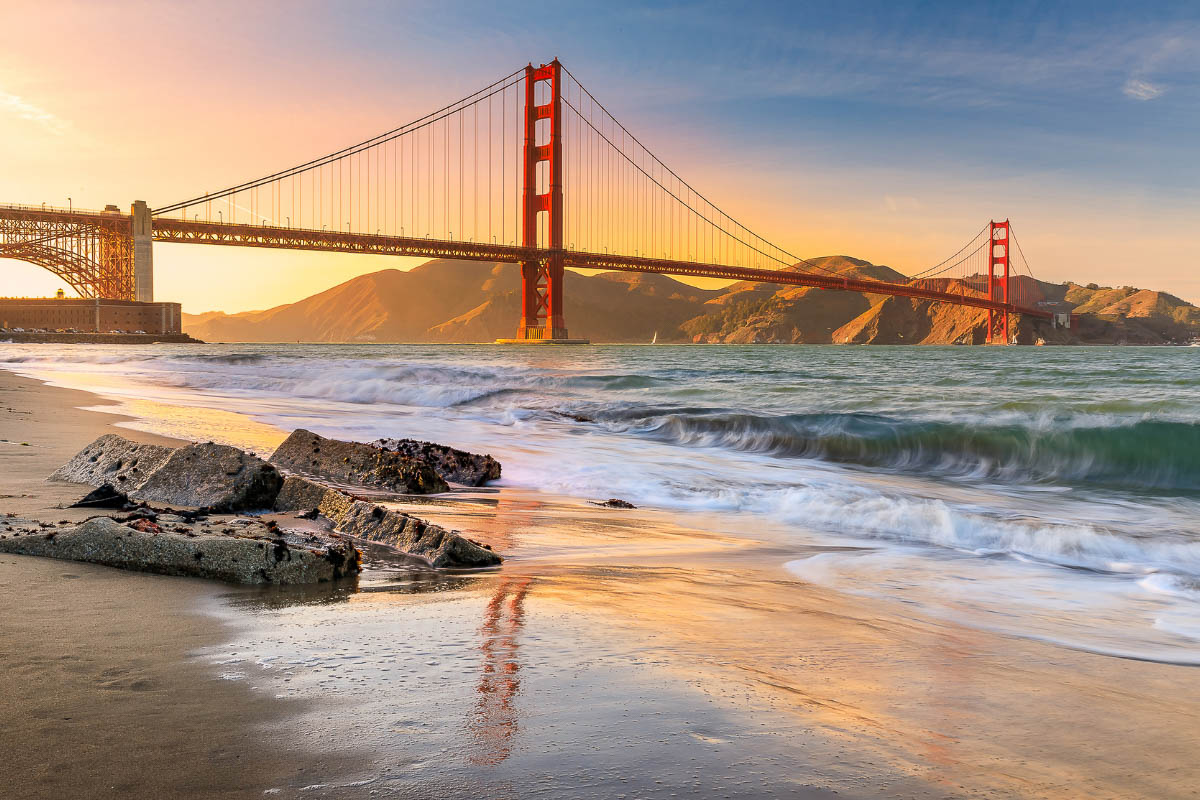 Best Places to Watch San Francisco Sunsets
With the gorgeous hills of San Francisco and surrounding areas, there are a number of spots for you to get comfortable and prepare for one of the greatest shows on Earth.
1. Baker Beach
If you're looking for iconic San Francisco views, then Baker Beach should be the first stop. This mile-long public beach sits along the base of the rocky serpentine cliffs. The crashing waves in front of you with the magnificent Golden Gate Bridge as the backdrop will give you goosebumps.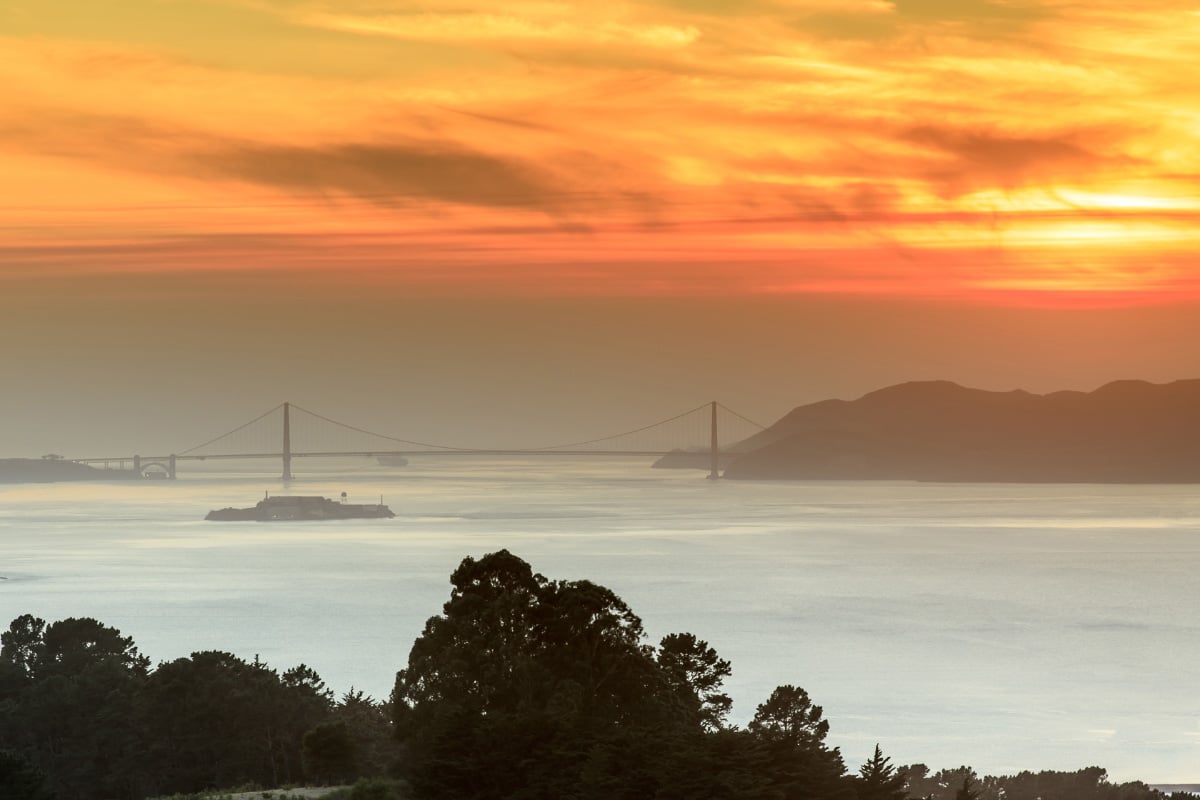 You can also enjoy panoramic views of the Marin Headlands while relaxing on the shoreline. This is one of the best spots in San Francisco to get photos for your Instagram. Or take a polaroid camera for scrapbook memories of this world-renowned view. Enjoy the convenience of restrooms and picnic tables nearby as well.
2. Twin Peaks
For stunning views of the San Francisco cityscape, the Twin Peaks sits in the heart of the city, over 900 feet above the ocean. On a clear evening, this spot offers an amazing sight of downtown San Francisco, the Bay and the ocean.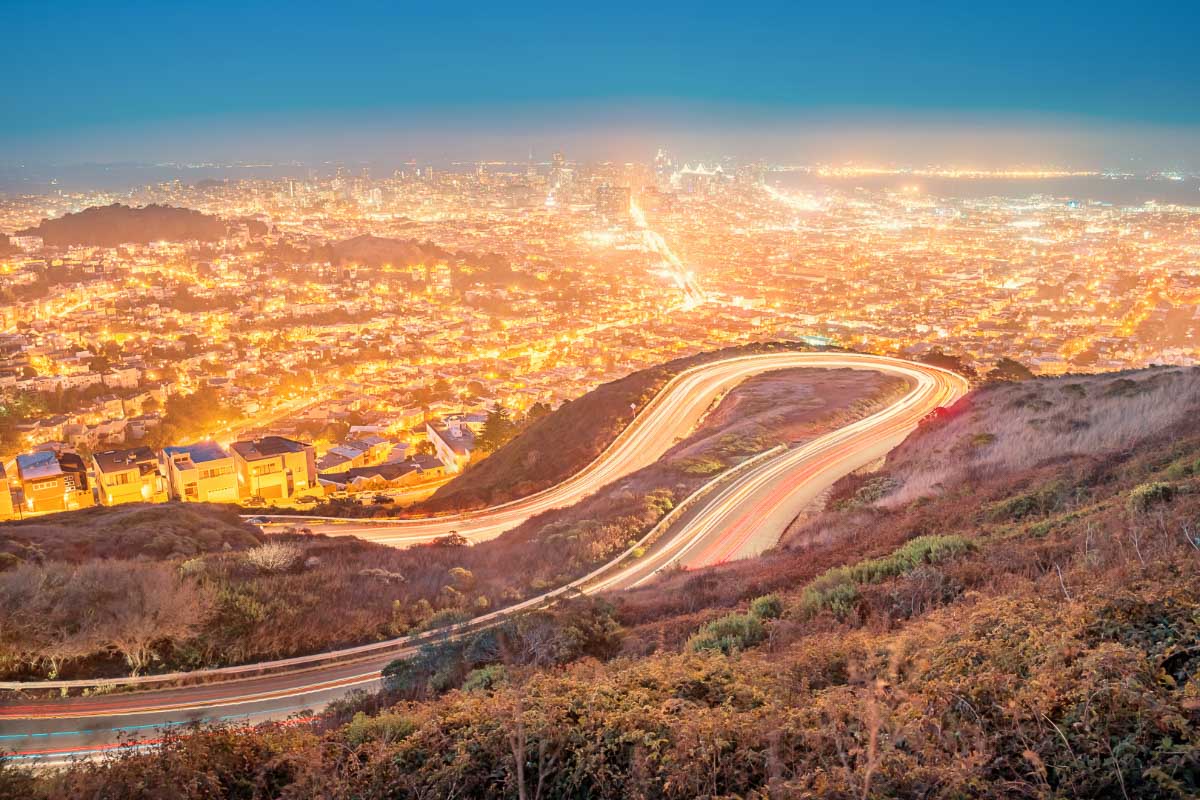 For the adventurous who want a different perspective, there are hiking trails that will lead you to various lookouts around the peaks. The views span from Ocean Beach and the Golden Gate Bridge to the Mission district. Bring a warm jacket though, because it gets cold as soon as the sun goes down.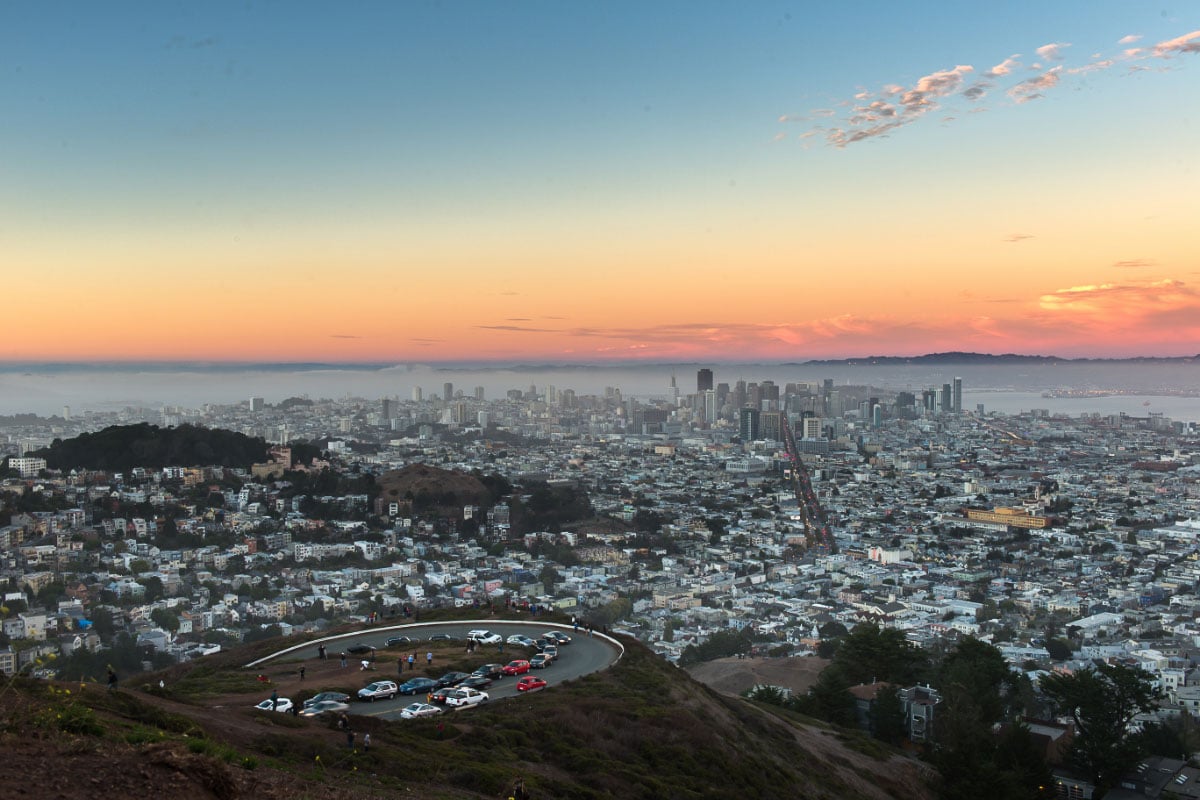 3. Marin Headlands
Sitting on the Northern side of the Golden Gate National Recreation area is the Marin Headlands. This is a popular hiking and trail running area where you can even find an old military battery to take a few snaps on your way to a sunset lookout.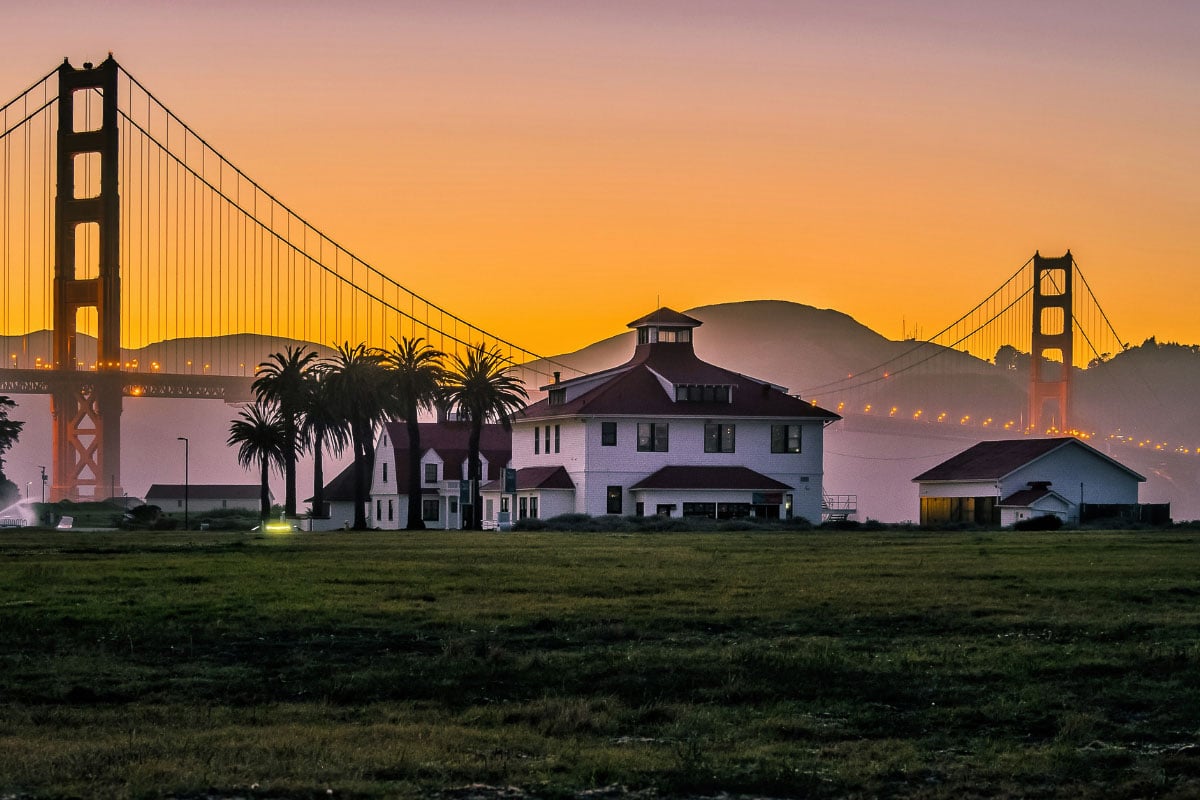 This trail will give you views overlooking the Pacific Ocean with glimpses of the city and Golden Gate Bridge. It also overlooks the bay with views of Alcatraz and Angel Island. You'd be hard-pressed to find a bad view in this area but this is for those who want to get a beautiful sunset further away from the city life.
4. Crissy Field
A former Army airfield, Crissy Field is a national park offering a side-on view of the Golden Gate Bridge with the Marin Headlands as its backdrop. The open spaces of the west bluff provide a beautiful picnic area and walking paths to find yourself a quiet spot to watch the sunset.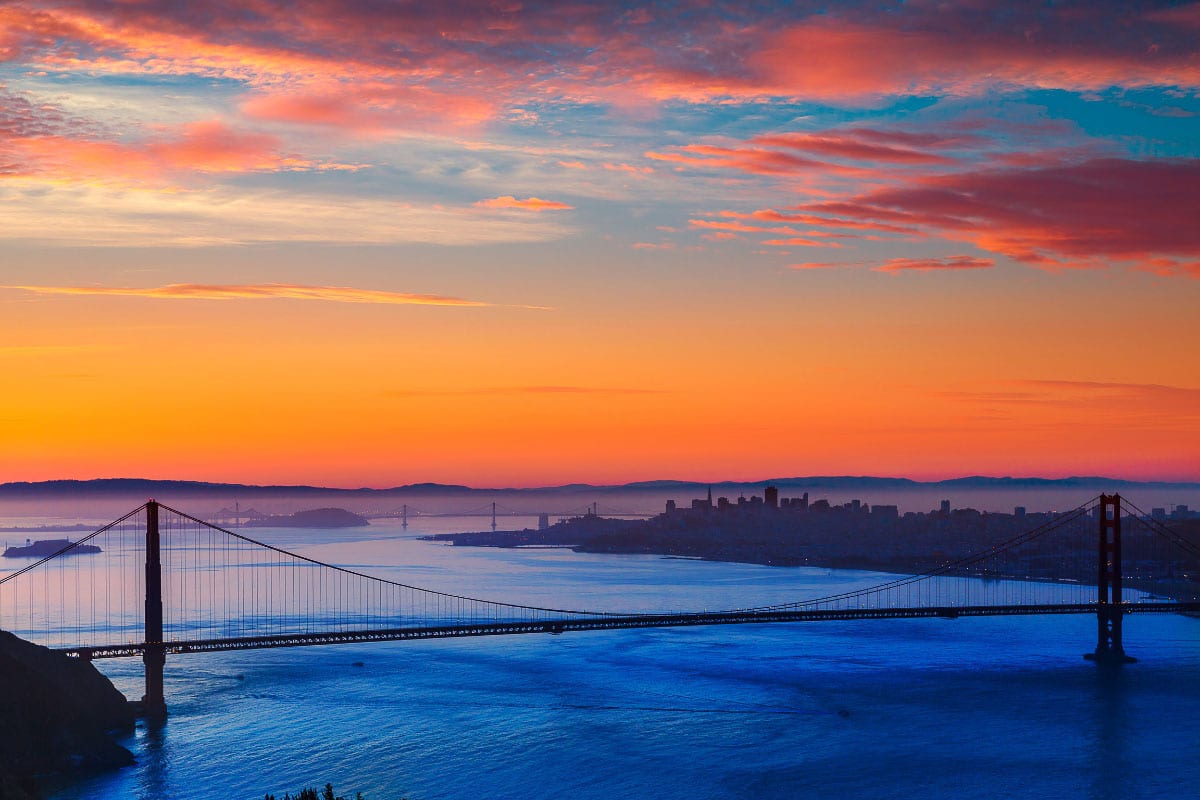 The skies above will turn a bright shade of pink and magenta as the sun goes down. For all the photographers who want to capture their Golden Gate Bridge photos, with a sky on fire, this is the perfect location. Grab a picnic blanket and relax on the grassy fields with that special someone.
5. Grizzly Peak
Overlooking the East Bay towards San Francisco, Grizzly Park has views of the city and the Golden Gate on a clear day. This is a well-known sunset-viewing location. You'll see quite the spectacle as the sun dips below the horizon and the city lights start to flicker on and take over the nighttime landscape.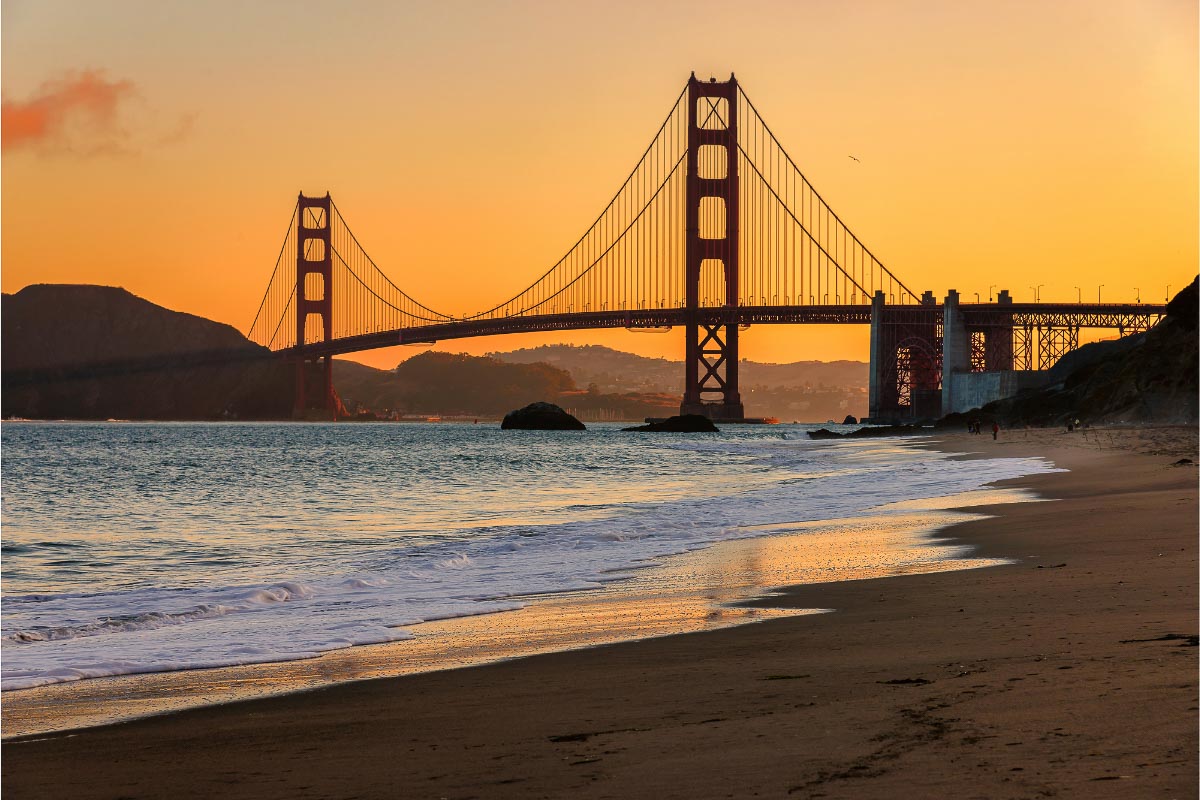 This spot is a little out of the way but is still a favourite spot for the stargazers and couples. There is a winding road that will take you to the top with a few different stopping points for you to park and watch the sun go down. If you're wanting a quiet place to watch the sunset and find some tranquillity, this is the perfect place for you.
6. Cityscape Lounge
If you are looking for something a little different, why not have dinner and a show with a view of the cityscape as the sun goes down? Sitting on the 46th floor of the Hilton San Francisco is the Cityscape Lounge that will give you a delicious dinner with stunning 360º views of the city through its massive windows.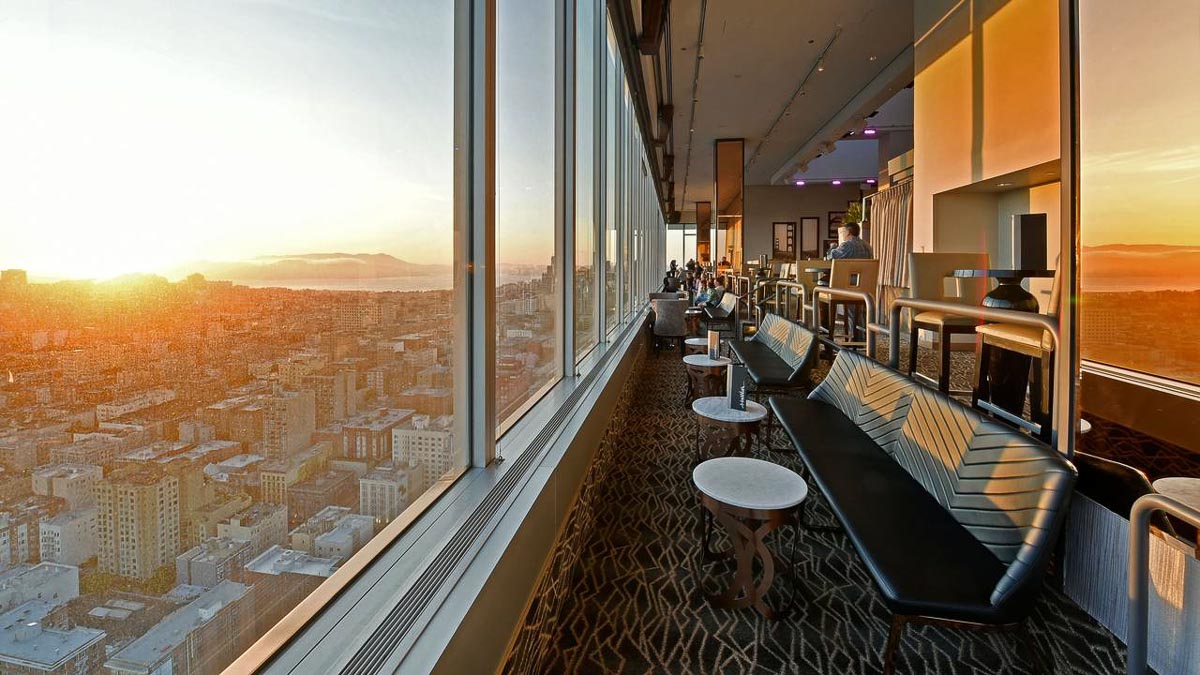 Take in the views of the Golden Gate Bridge, Alcatraz and more, depending on where you sit. Sit and bask in the beauty that awaits you as the sky turns to fire then darkens and the city lights turn on around you.
7. Lands End & Sutro Baths
One of San Francisco's most photo-worthy beaches is Lands End. It sits behind the cliffs to the west of Lincoln Park. It is only accessible via a hiking trail so a small backpack is a good thing to take with some essentials.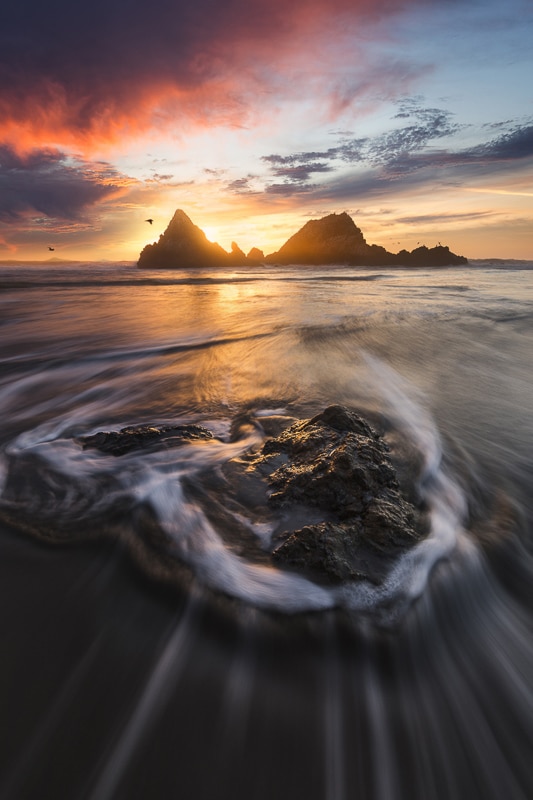 Take in the Cypress Hillsides with the Golden Gate Bridge in the background while the waves of the Pacific Ocean crash against the shore beneath you.
The beautiful Sutro Bath ruins are within walking distance of Lands End. This structure is made up of six saltwater pools and one freshwater pool. This is yet another location for you to sit back and relax as the sun goes down and the clouds start to resemble cotton candy.
8. Treasure Island
No, not the book, but in a similar vein. This artificial island built in 1939 offers a treasure in the form of spectacular sunsets. The little island in the middle of the bay was built for the Golden Gate International Exposition. It gives you a view of the Bay Bridge and the city skyline.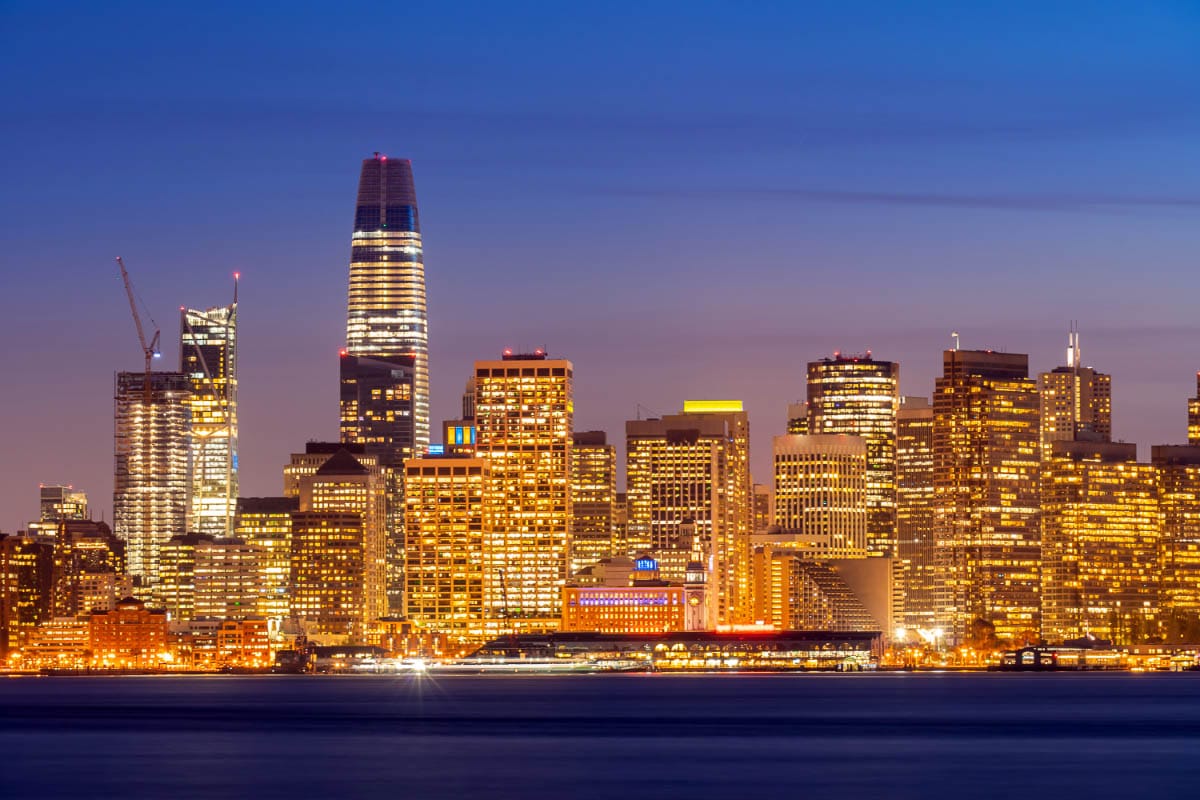 This is a famous spot for all photographers, so don't be surprised if you arrive to find the island full of faces behind cameras, waiting to capture that perfect moment. Sit along the avenue of the palms for a bridge-to-bridge view of the entire northern waterfront.
9. Tank Hill
For those who want to try and avoid the crowds at Twin Peaks, a little hidden spot called Tank Hill is your best choice.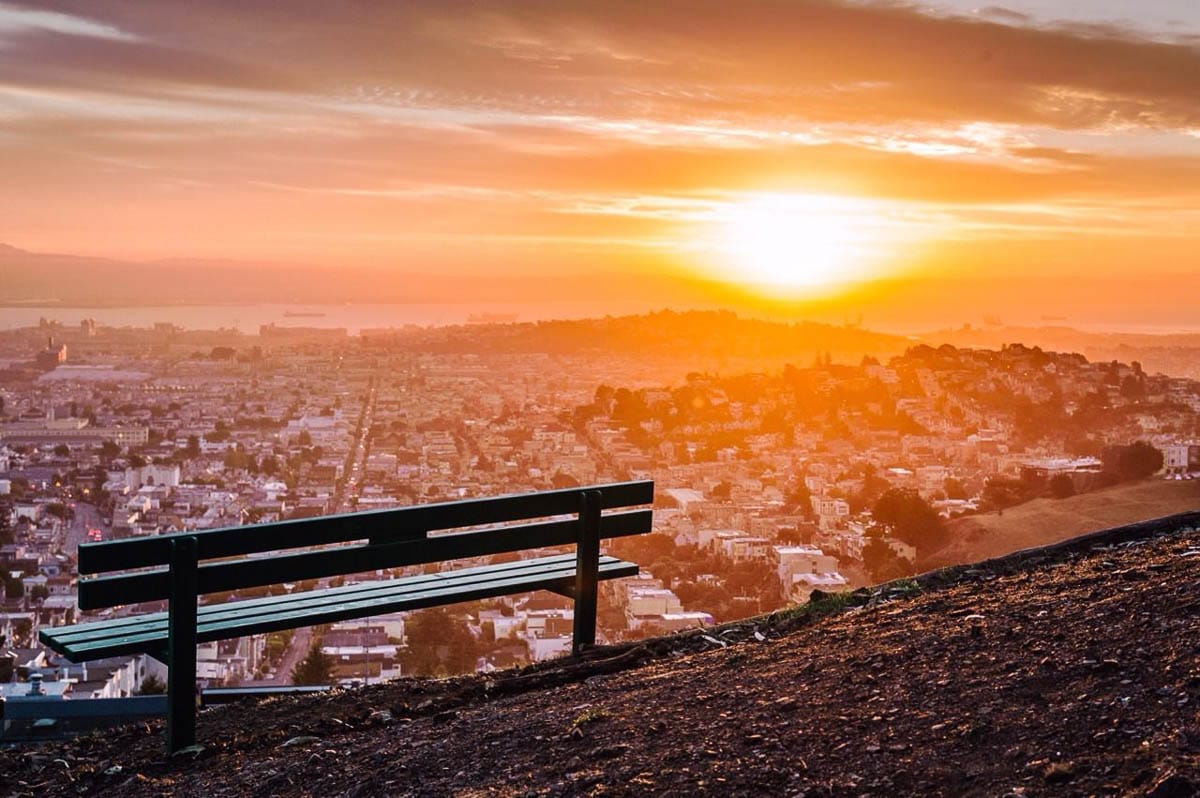 A small wooden staircase is your guide to the top that starts on Twin Peaks Boulevard. Once you reach there, the higher vantage point will give you fantastic views of the city. You will have views of the Golden Gate Bridge right in front of you with the Golden Gate Park next to it.
10. Grand View Park
Did you know that there is a neighbourhood in San Francisco called the Sunset District? I couldn't leave a place like that off of a list about sunsets. If you head over to Grand View Park, you'll be rewarded with a view of the neighbourhood's colourful houses that start to show themselves as you climb a metal staircase to the top.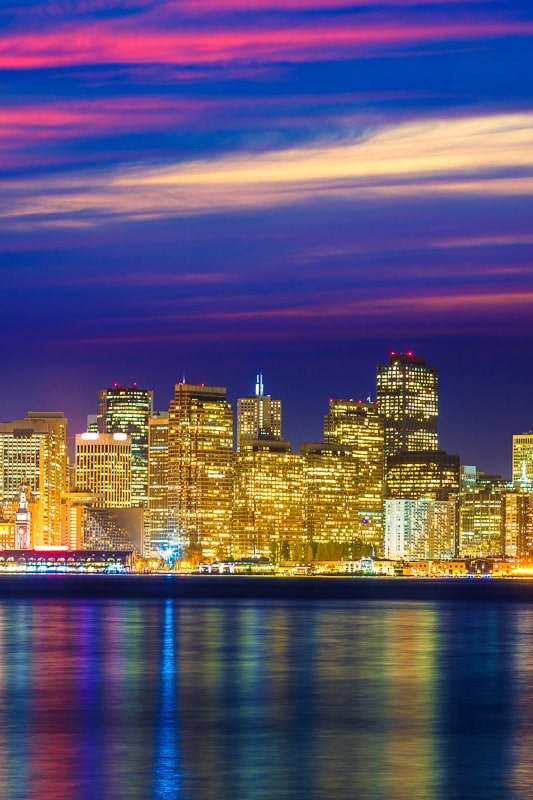 ⇒ Interested in heading to California? Check out my posts on Unique Restaurants in San Francisco, 15 Gorgeous Sunflower fields in California, Things to do in Calistoga review of the great Solage Spa, 19 awesome places to watch San Diego Sunsets, visiting Yosemite in One Day, 15 Best Northern California Hot Springs, 15 Best Places to Watch San Francisco Sunsets, 10 Stunning Sunsets in California and in Yosemite in October, 32 Best Places in Bay Area, 17 Great Stops on a Road trip from Los Angeles to San Francisco, 31 California Landmarks and my guide to a Livermore Wine Tasting.
Although it's a bit of a trip to get to this spot, you will be rewarded with the spectacular views of the Golden Gate Bridge as well as the new Ferris wheel that the city has installed. If you don't mind leaving a little early for the sunset, stop at the 16th Avenue Mosaic steps and use those to climb up to the park but is worth the added time needed.
11. Mt Davidson
The highest point in San Francisco, Mt Davidson, offers the best views of the city as the sun sinks behind the hills. Plus, when the fog rolls over the city, it provides a stark contrast to the pink skies.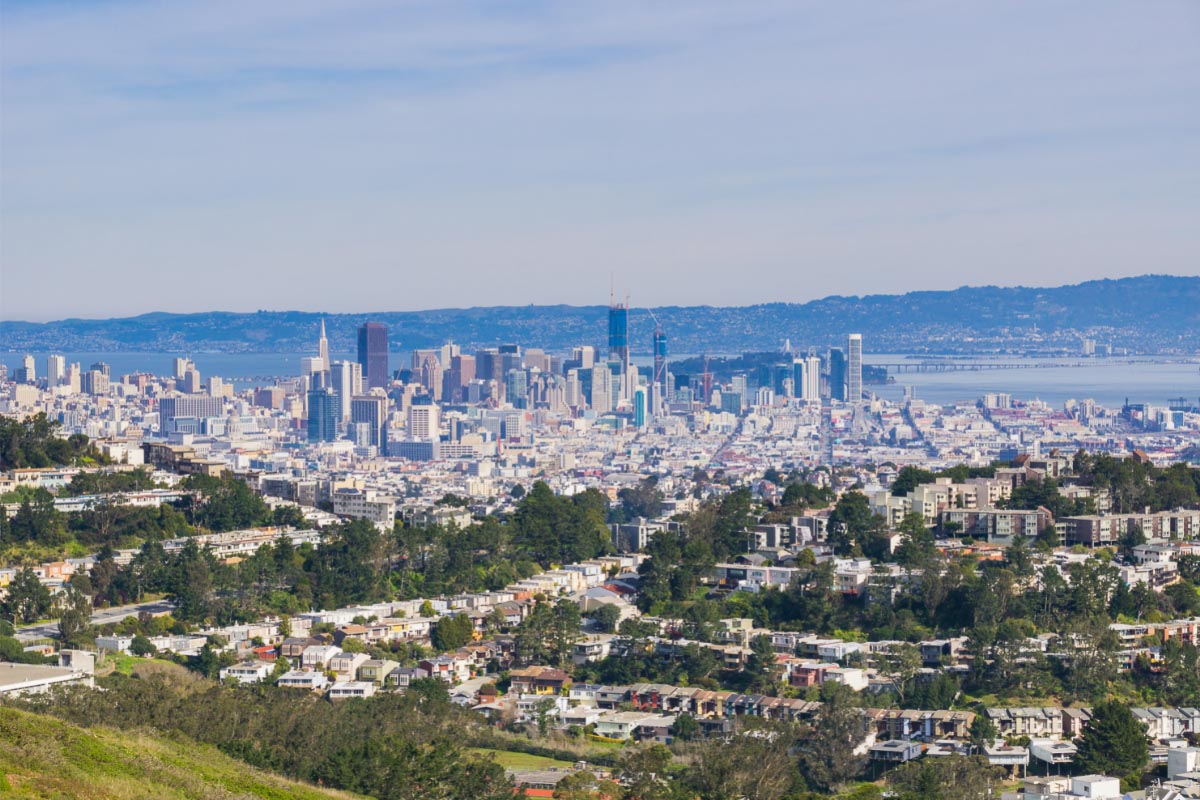 One of the perks of this mountain is that there are multiple levels to it, so you will be rewarded with different vantage points every time you visit. A new perspective of the city for each sunset you see – and you're bound to want to come back often.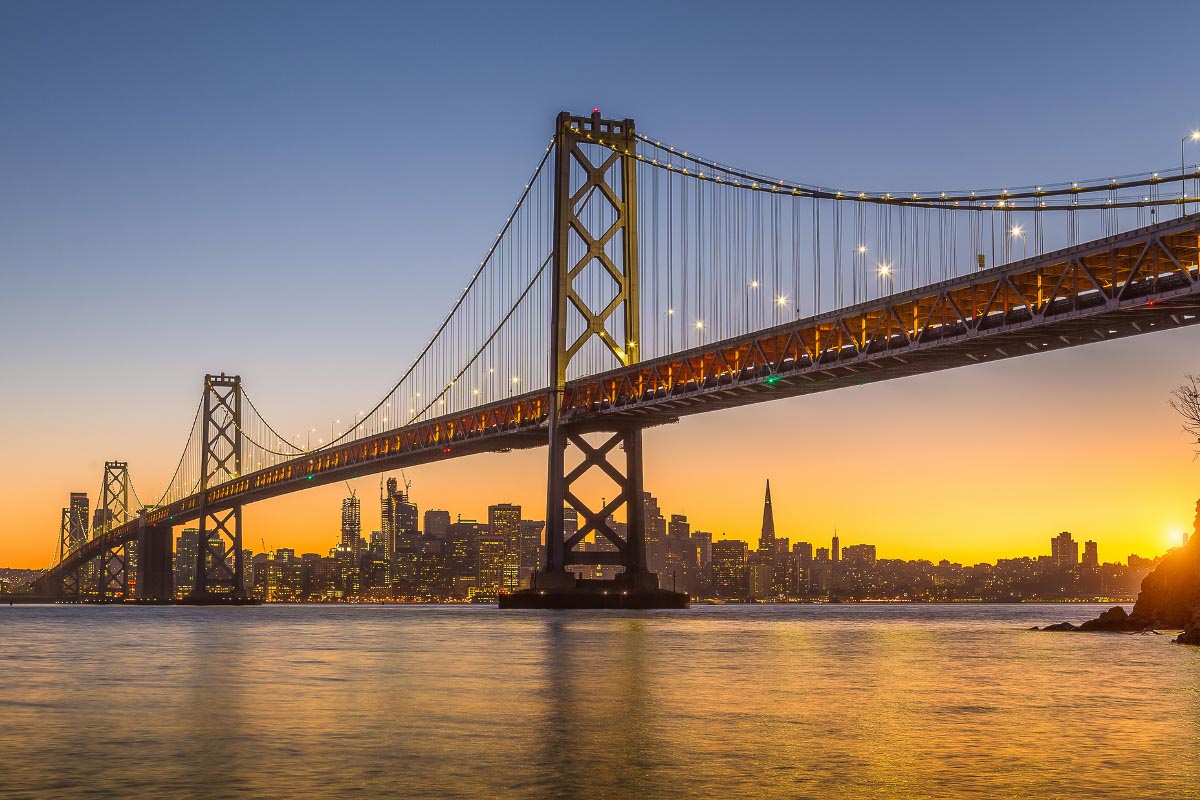 As a little side adventure, there is a Eucalyptus forest that grows on the west side of the hill which you could explore. There have also been coyotes spotted in the area so I wouldn't suggest going alone unless you really know your way around.
12. Billy Goat Hill Park
Who would have thought that there would be another hill on this list? After all, these do give the best spots to watch over the city as the sun goes down.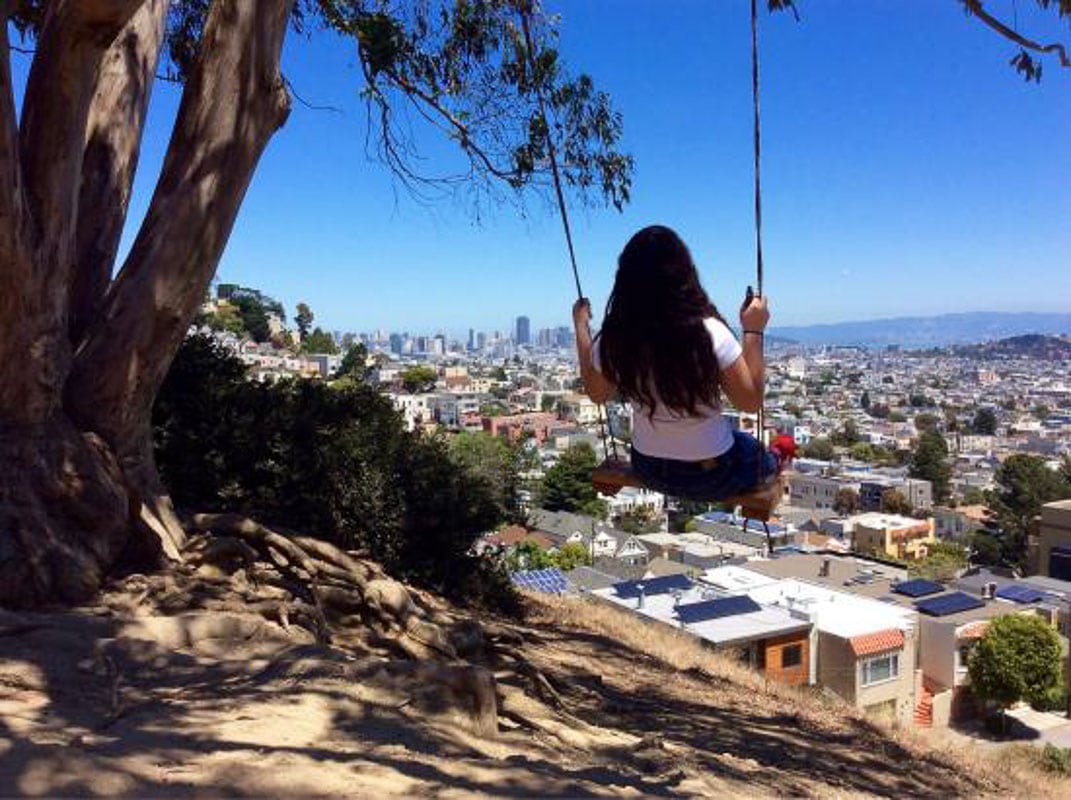 Offering you stunning cityscape views, this diamond in the rough of sunset spots is a wonderful place to watch the sun go down. From the top, you can see the neighbourhoods of Bernal Heights and Noe Valley.
There's even a wooden rope swing that is sometimes up there that you can have fun on. Although the city isn't too fond of it and takes it down when they spot it – but there is always someone putting it back up.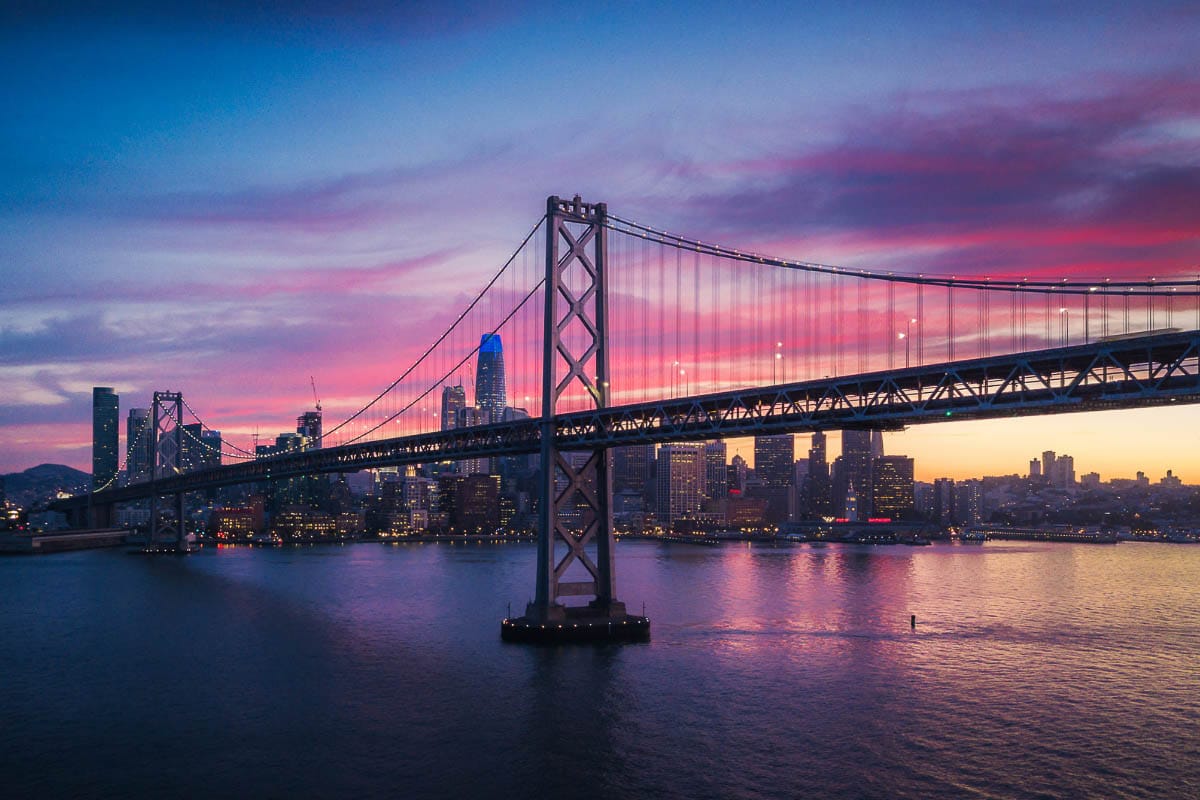 13. Ocean Beach
Probably the longest beach in San Francisco, Ocean Beach spans a few neighbourhoods, including the appropriately named Sunset District. This is one of the best places to go with a group of friends as bonfires are allowed at specific points along the beach, creating the perfect atmosphere as the sun goes down.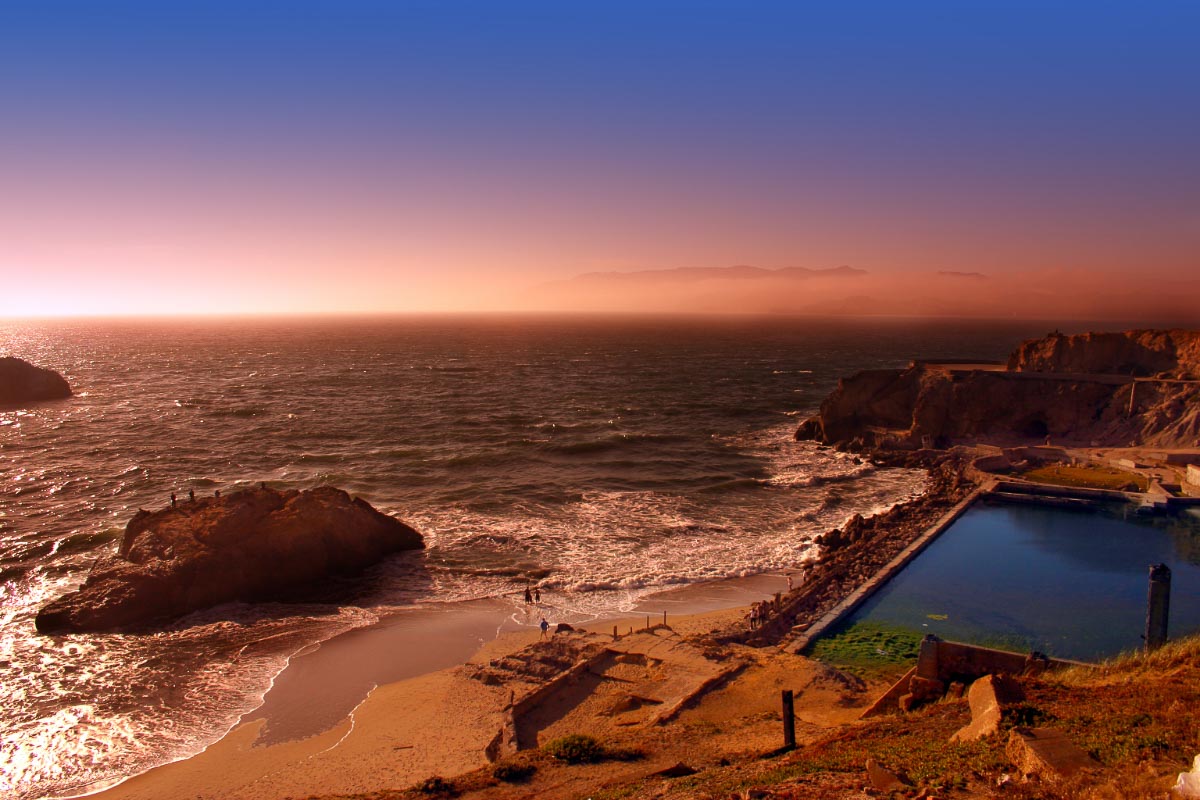 For those who just want the ocean as the backdrop to a stunning show as the sun sinks below the waves, this is the place. Keep an eye out for the mythical green flash on the horizon as the sun disappears and you relax around your bonfire with your group.
14. Battery Spencer
For the quintessential San Francisco view that would be at home on every postcard, Battery Spencer is the sunset spot to be. Sitting just across the Golden Gate Bridge in the Marin Headlands, this is one of those must-see locations, with its view overlooking the bridge.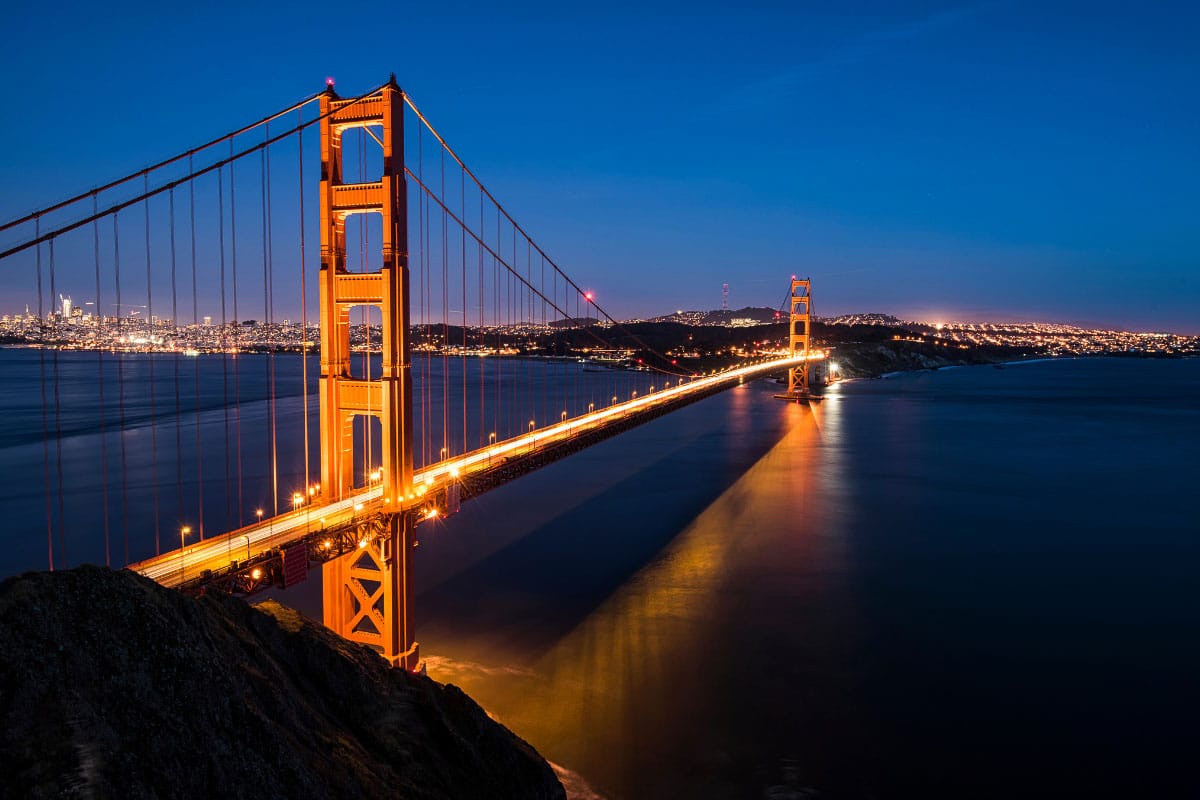 ⇒ Here are some of the best places in the world to watch the sunrise and fall: 10 Places to watch the Sunset in California, 7 Best Places To Watch Sedona Sunsets, 18 Spectacular Spots for the Best Sunsets in Seattle, 5 Stunning Santorini Sunsets, 8 Sunsets in Ibiza, 19 Spots to watch San Diego Sunsets, 11 Places to see the Venice Sunset, 17 Key West Sunsets Spots for Great Views, 15 Best Places to see San Francisco Sunsets, 6 Spots to Watch Sunrise in Paris, 21 Spots to see the Sunset Ottawa Style, 9 Best Places to see Maui Sunsets, 11 Places to see Sunset Edinburgh style, 16 Places to see the Best Sunsets in the World, 18 Best Places to watch the Sunset in Melbourne, 11 Best Places to watch the Sunset in Tucson, 11 Best Spots to watch the Sunset in Glasgow, 15 Places to see Sunsets in London and 9 Spots to watch the Sunrise in London.
Apart from the bridge, you will be rewarded with views of the downtown city skyline, Alcatraz and a place to watch the boats cruise below the road. For photographers, this is one of those spots where you must break out your tripod and start the long exposures as the lights from the cars move across the Golden Gate.
15. Bernal Heights Park
If you're wanting a stunning view similar to the Twin Peaks but without the crowds, then Bernal Heights is the spot to be. This landscape view takes you to a lower perspective after a short 1-mile track with an almost flat gradient. This is an easy walk to take for the sunset.
With the perfect blend of being in nature with city views, what's not to love? Enjoy this peaceful walk while being treated to spectacular views of the concrete jungle in the form of downtown skyscrapers.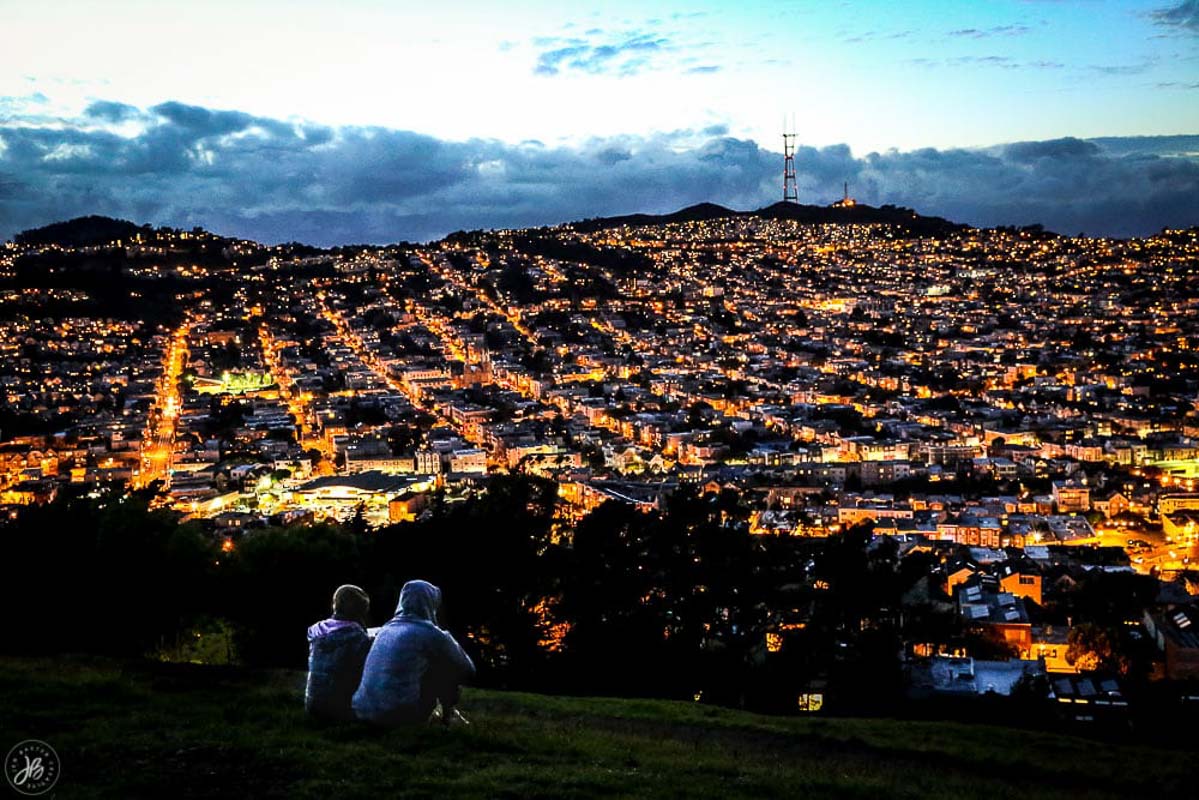 ⇒ If you're enjoying this article you'll love my articles on 15 North America Landmarks, the 10 Most Famous Landmarks in the US, 7 Most Beautiful Bridges American Bridges, 60 Most Famous Landmarks in the World, 9 Gorgeous Lakes Canada has on offer, 23 Must See Landmarks in Mexico, 15 Most Beautiful States in the US, 31 California Landmarks, 16 Most Beautiful Cities in Canada, 17 Washington DC Landmarks Not to Miss, 29 Arizona Landmarks, 11 Beautiful Canada Landmarks and the 20 Most Beautiful Cities in the United States.
Throw in some views of the Golden Gate Bridge, southeastern waterfront and the San Bruno Mountains while being surrounded by grassy fields and trees. This is a walk to remember for sure, just bring a water bottle in case you get thirsty.
2 Fantastic San Francisco Boutique Hotels
Hotel G is a stylish boutique hotel with an amazing location only one block from Union Square. The rooms have a chic Scandinavian feel with lots of plump white duvets and sheets and darker oak. Great value and style.
⇒ Compare Prices and Read More Reviews on Trip Advisor ⇒ Book Your Stay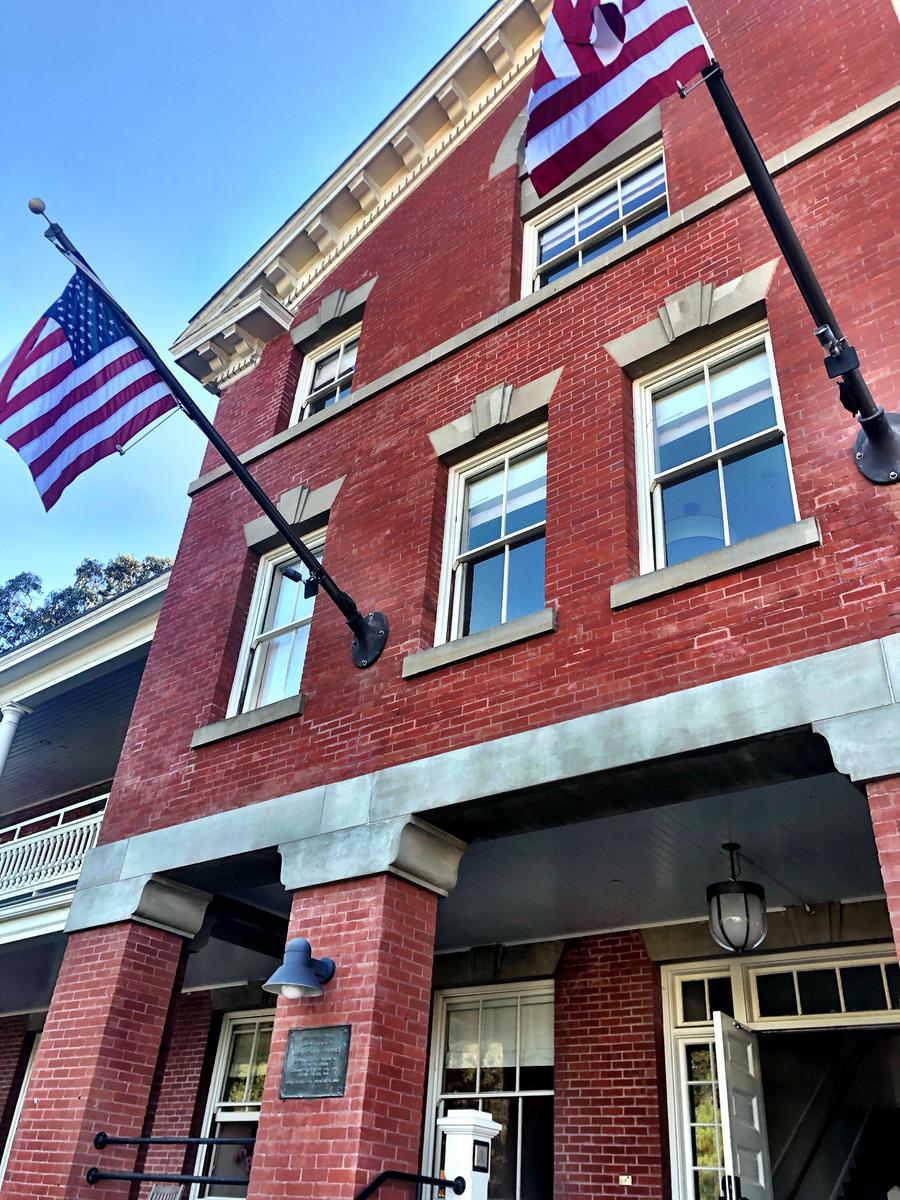 For amazing views and a bit military history check out The Inn at the Presidio. This is particularly good for runners and outdoor enthusiasts as it is located in the large park area that is the Presidio.
The stylish design mixes with military memorabilia. My room was lovely with a very comfortable bed and a fantastic shower. And don't miss the big European breakfast.
⇒ Compare Prices and Read More Reviews on Trip Advisor ⇒ Book Your Stay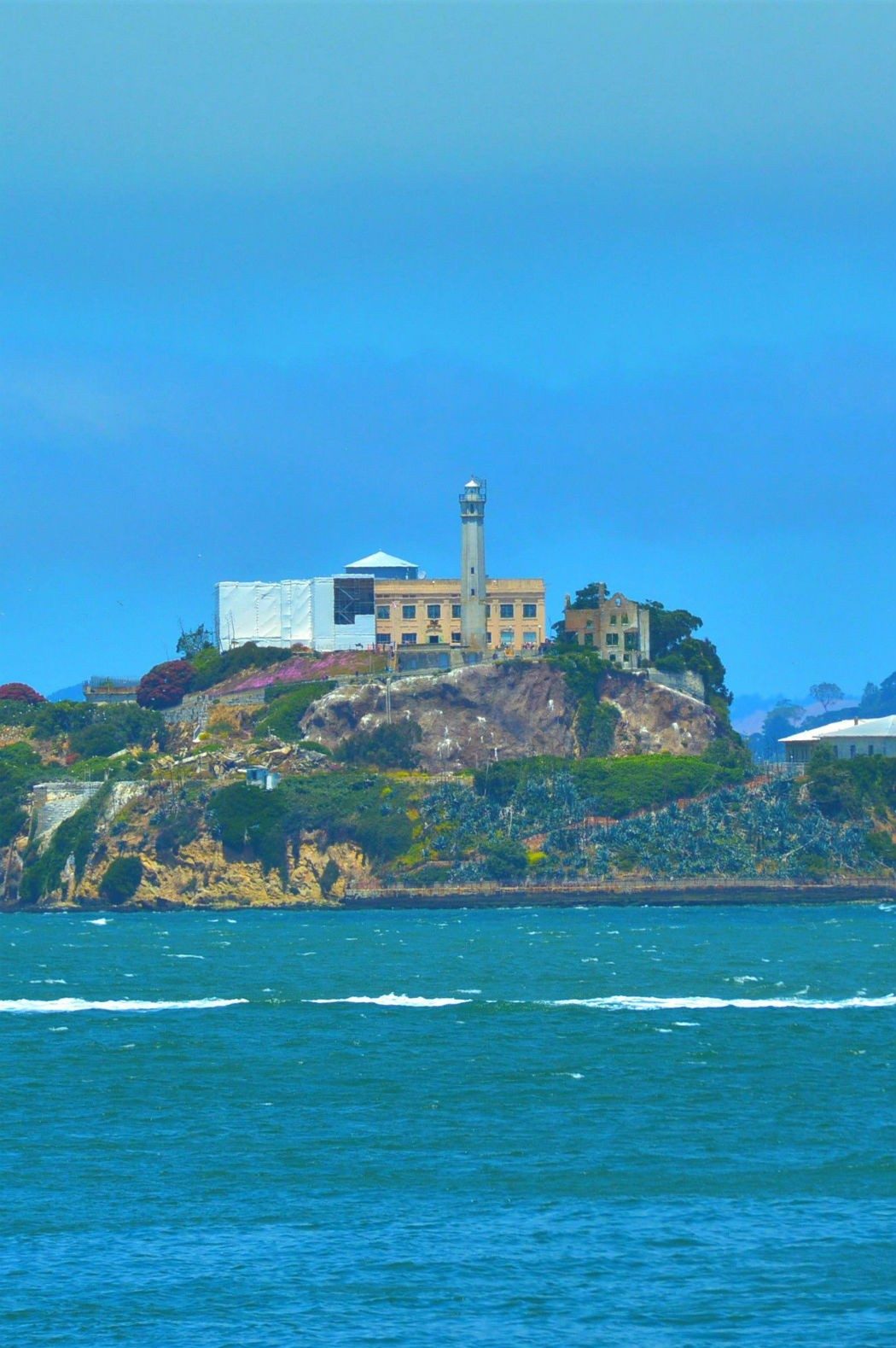 If you would like to be as close as possible to the famous Golden Gate Bridge then Cavallo Point may be for you. This also has a military background – it was former military quarters. It is located in the charming area of Sausalito which is literally just over the bridge from San Francisco in California.
⇒ Compare Prices and Read More Reviews on Trip Advisor ⇒ Book Your Stay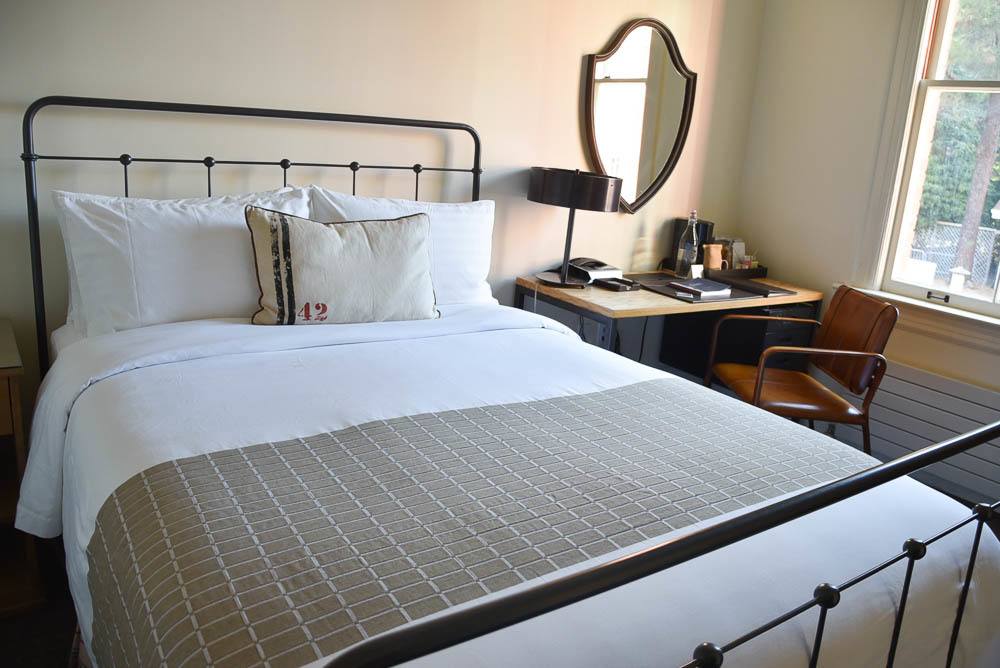 For those of you who are into high tech and hip, Hotel Zetta could be a great choice. The hotel is super close to shopping district Union Square and has one of the hottest restaurants in town inside. You can also bring your dog.
⇒ Compare Prices and Read More Reviews on Trip Advisor ⇒ Book Your Stay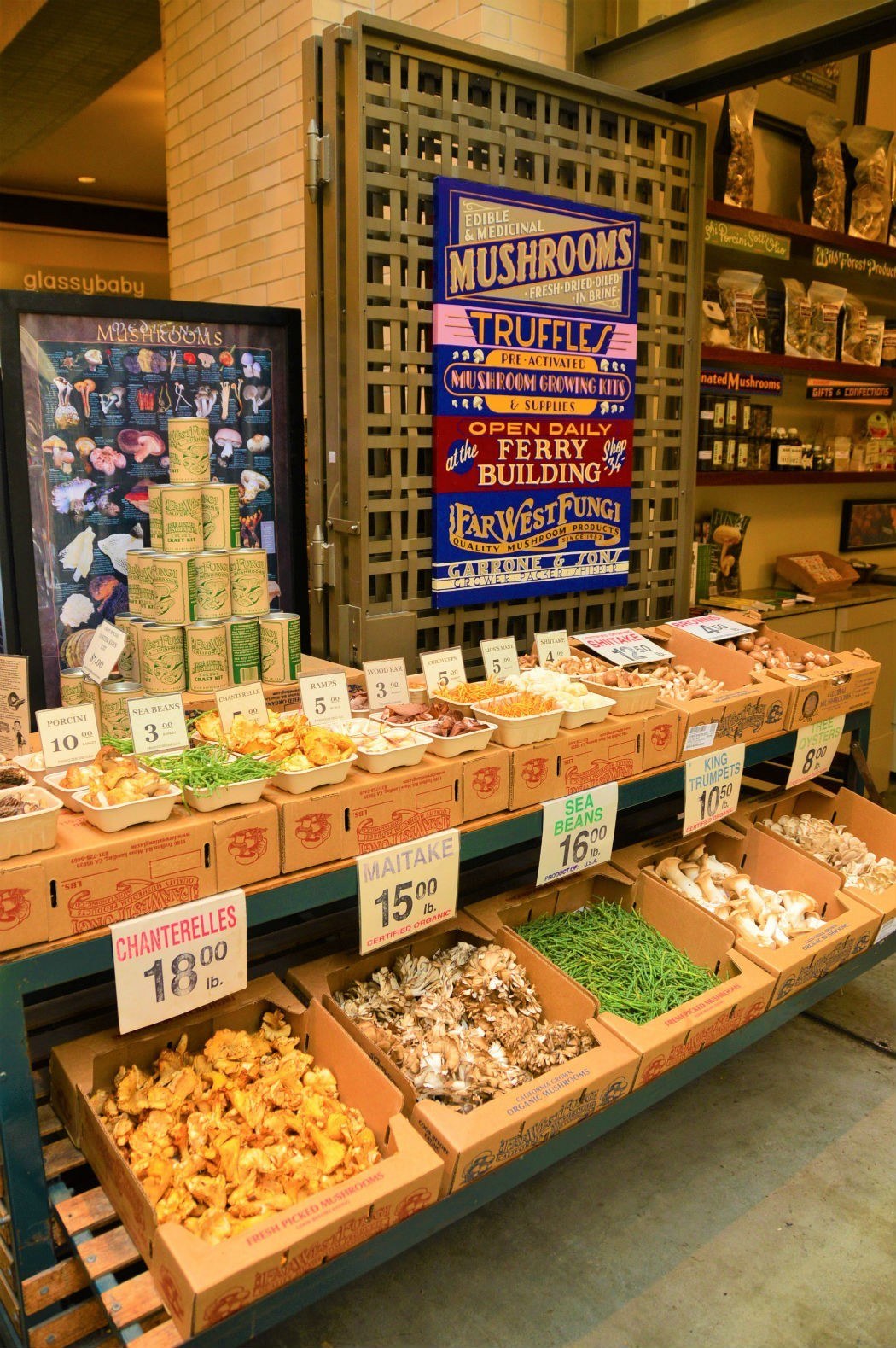 Getting to San Francisco
There are some fantastic weekend trips from San Francisco – from head south down to LA to drive around the Napa Valley.
⇒ If you're planning a trip to the US and thinking about flying premium economy – which is a great idea – check out my reviews and comparisons of American Airlines Premium Economy 777 , Virgin Atlantic Premium Economy Review and British Airways World Traveller Plus Review.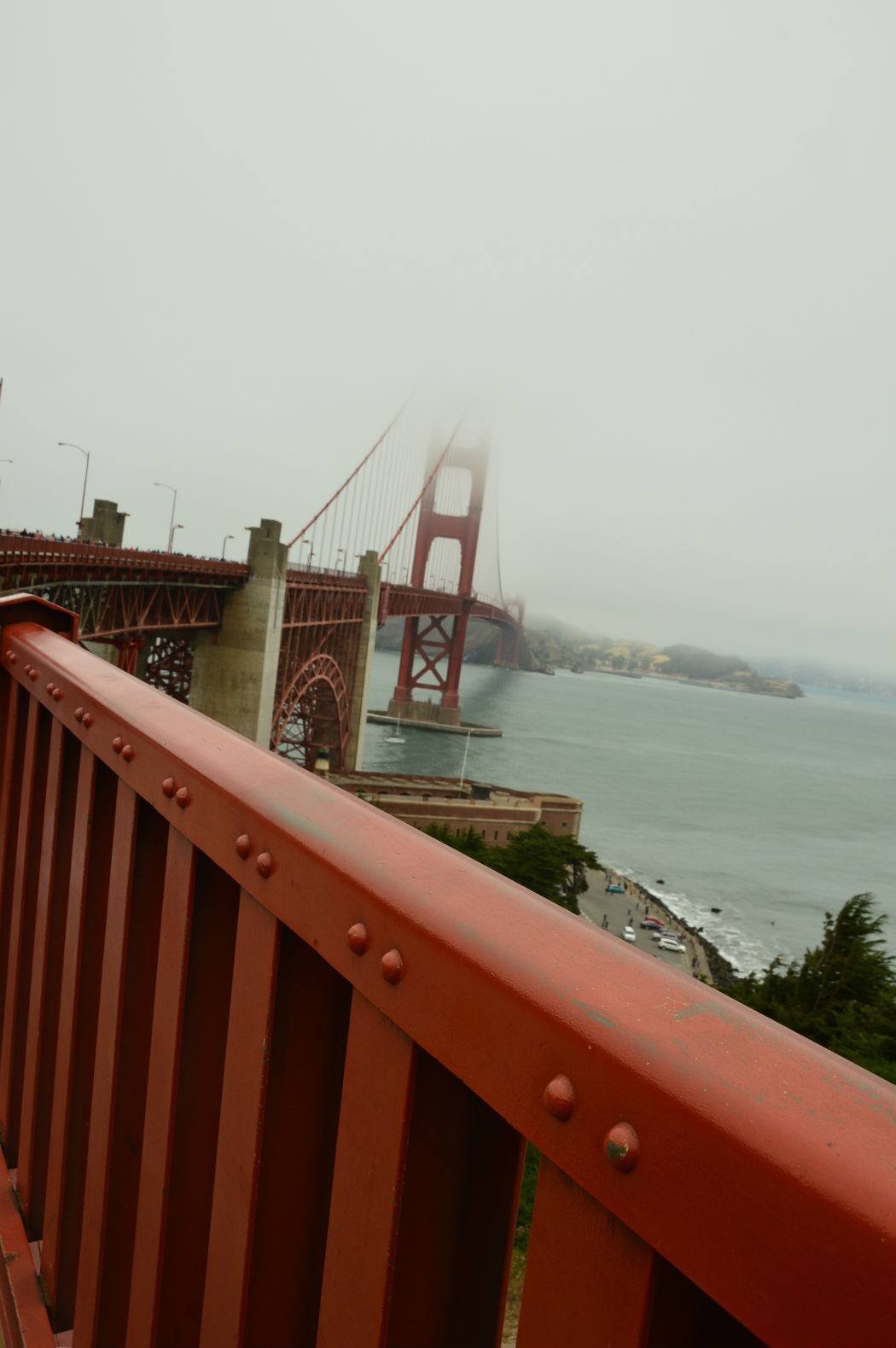 Tours Around San Francisco
Whatever you do make sure you book Alcatraz before you leave home. If possible book it quite sometime before you leave home – particularly if you are heading over in the North American summer.
If it is booked out there are some extra tickets on the day but they go fast. [su_box title="Travel Expert Tip – Book Alcatraz Early" box_color="#334ede" title_color="#fdfdfd" radius="20″]Alcatraz tickets sell out fast. As soon as you have booked your flights book your Alcatraz Tickets. If you Alcatraz tickets are sold out check out tours that have something else combined with Alcatraz. Often tour companies buy up the tickets and then put them with something else eg a food tour and then sell them together at a higher price. This is what I did – and I got a fantastic food tour as well as a visit to Alcatraz! [/su_box] There are so many options for tours in San Francisco! From boat cruises to food tours to helicopter trips as well as day trips to the Napa Valley, yosemite and so much more.
⇒ Check out San Francisco Tours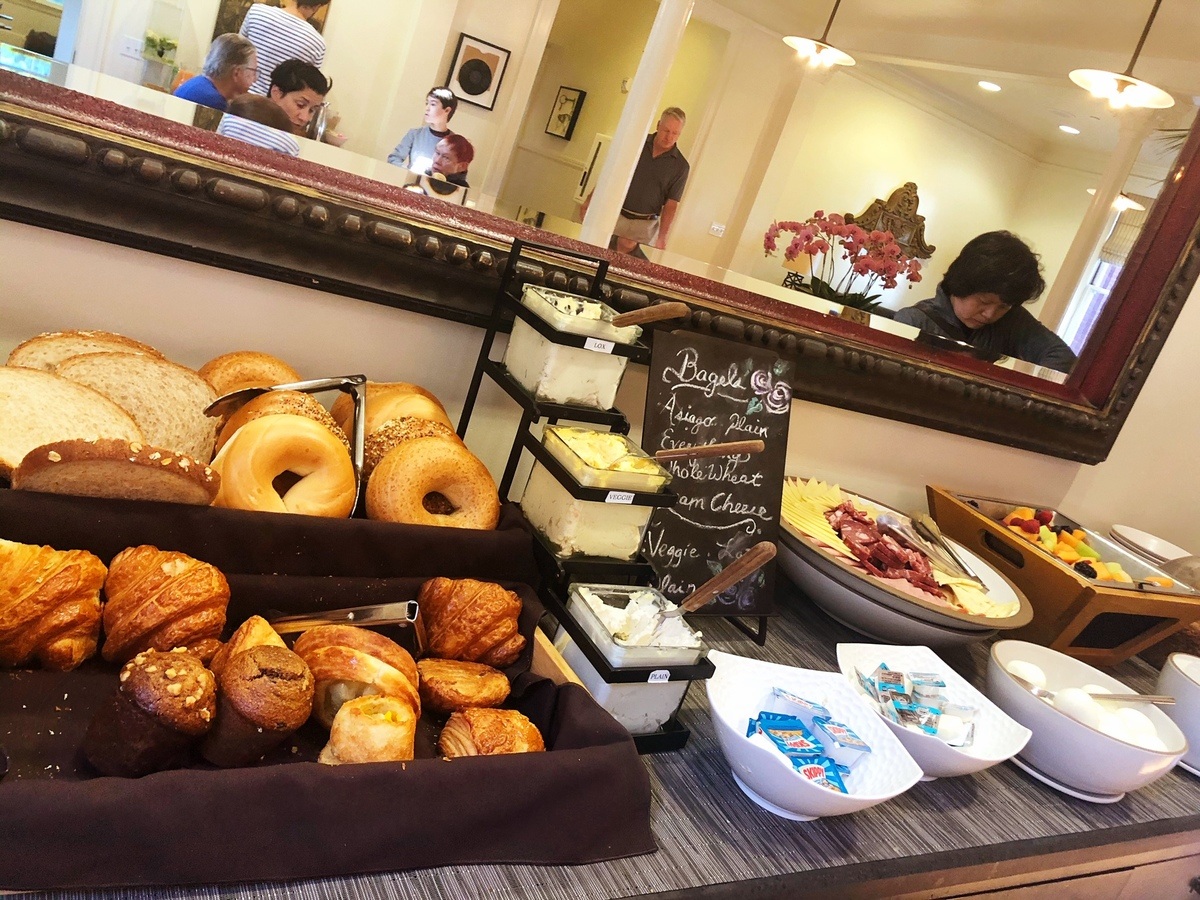 Which San Francisco Sunset Spot Sounds the Best to You?
A sunset is a brilliant experience that could probably be witnessed with astonishment anywhere. But the background that goes with it often adds another dimension to it.
Whether you're chasing sunsets with a partner, a group of friends or even on your own, there are a number of locations that will take your breath away. Select your favourite one and make it a new tradition, or try out each of them for new views and scenes.
Do you want to be adventurous and find a different view altogether? Why not head on a day trip to Yosemite from San Francisco and take in the breathtaking scenery that awaits.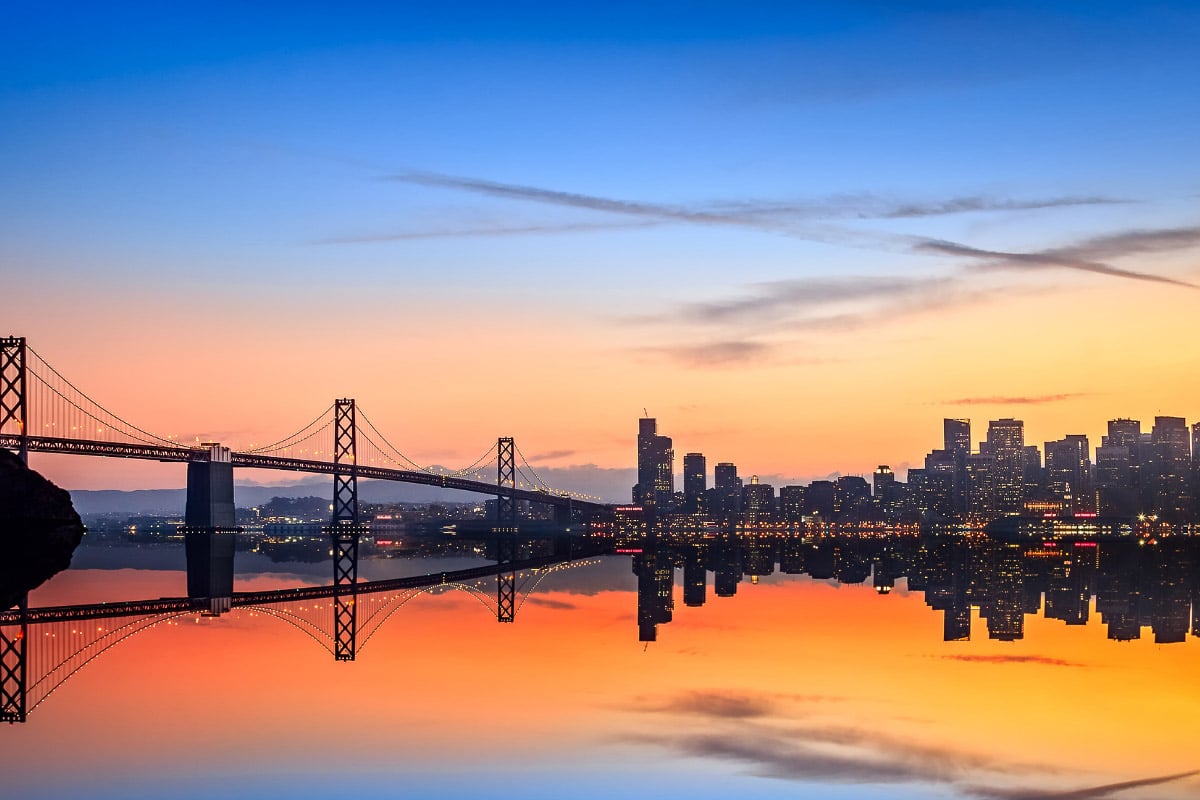 If you don't want to venture too far from home, there are views aplenty around the San Francisco area that will keep you glued to the skies every evening. Where are you going to head next?
If you enjoyed reading this post you'll love my post on The Best Sunsets in the World.
I covered all of the costs involved in the writing of this post on skip the line colosseum. However, this post includes affiliate links. That means if you click through and end up making a purchase I will receive a small commission. I wanted to make sure you were aware of this.