With volcanoes, mountains, and forests, Canada's not short on natural landmarks, but there's something particularly special about its serene lakes. They stretch on for miles and miles and offer a fantastic spot for adventure.
Canada boasts an incredible two million lakes and the highest number of freshwater lakes in the world. So, I understand if you're having a hard time deciding which ones to visit.
That's why my super informative guide is here. With my insights, you'll soon be on your way to one of these stunning lakes Canada has on offer in no time.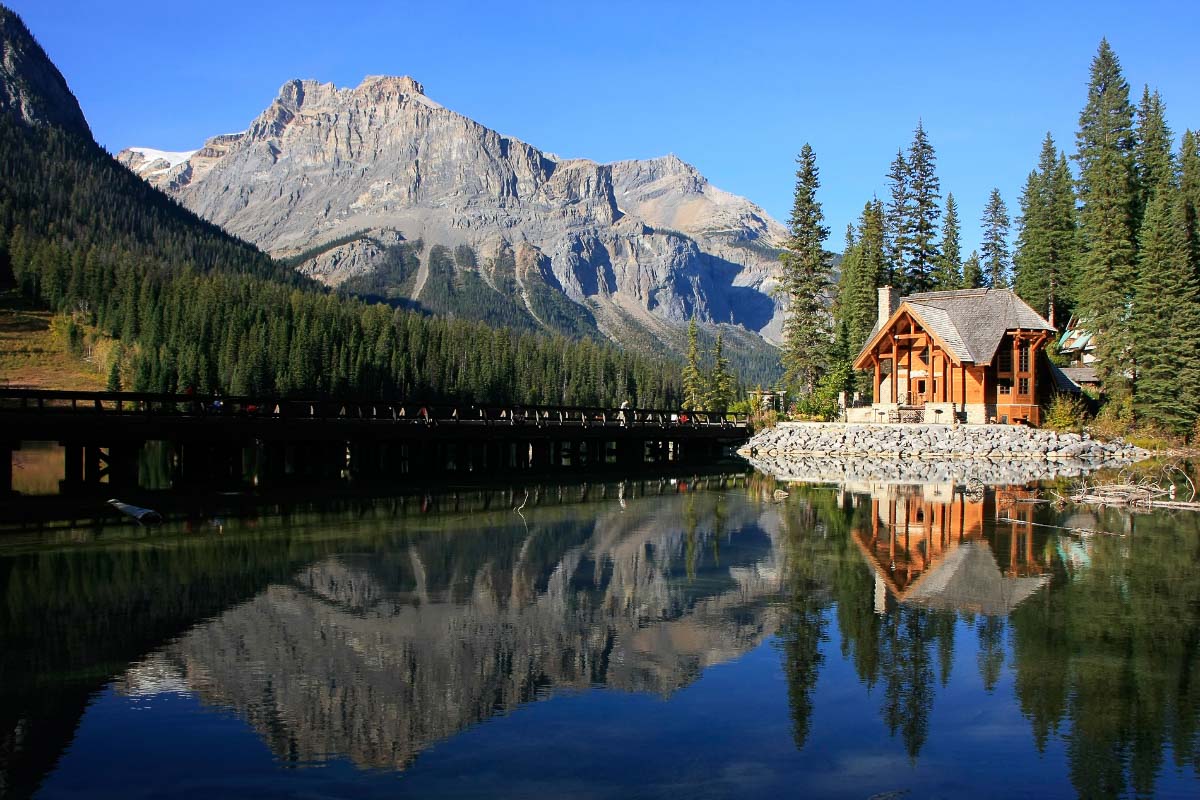 9 Stunning Lakes Canada
1. Lake Louise, Alberta
Lake Louise is a highlight of many tourists' Canadian holidays and one of the Canadian landmarks. It's an unforgettable sight: tall alpine trees line the slopes of snow-capped Mount Victoria, framing the sparkling topaz water.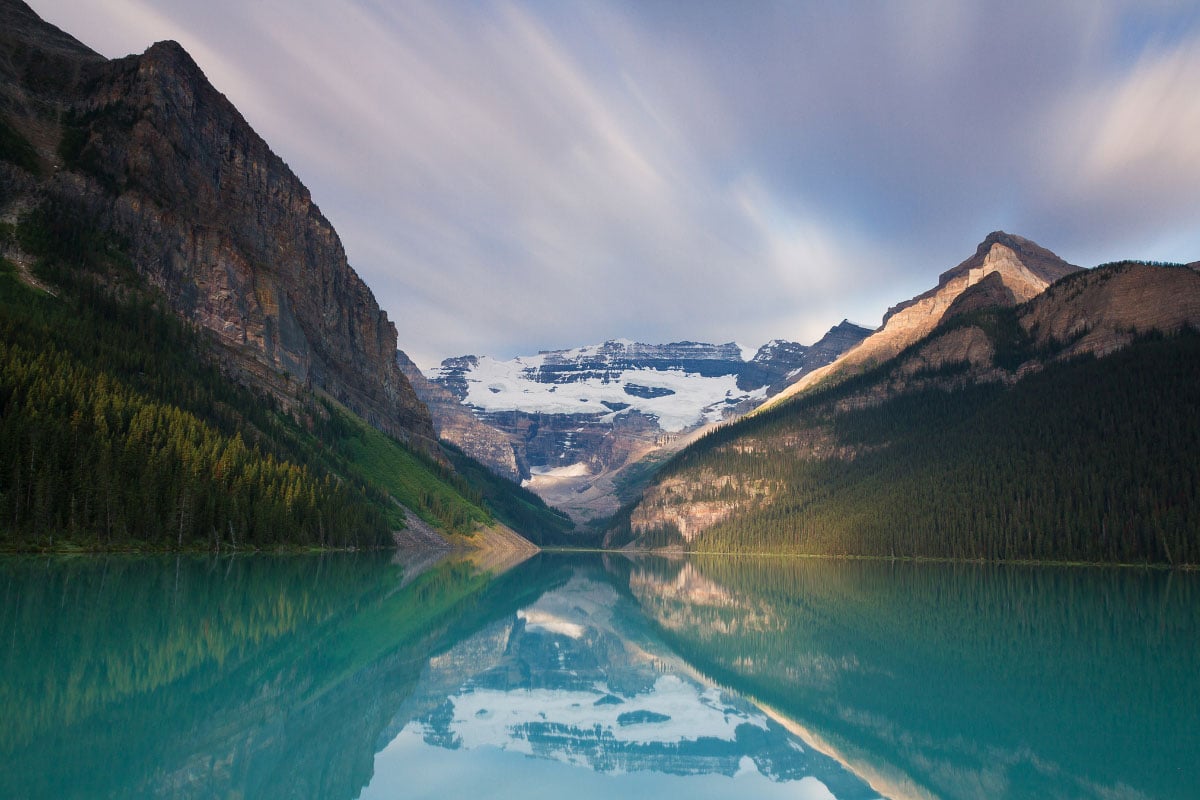 The glacial lake is part of Banff National Park, one of Canada's top landmarks. The park offers a host of activities, including skiing, hiking, ice climbing, and boating.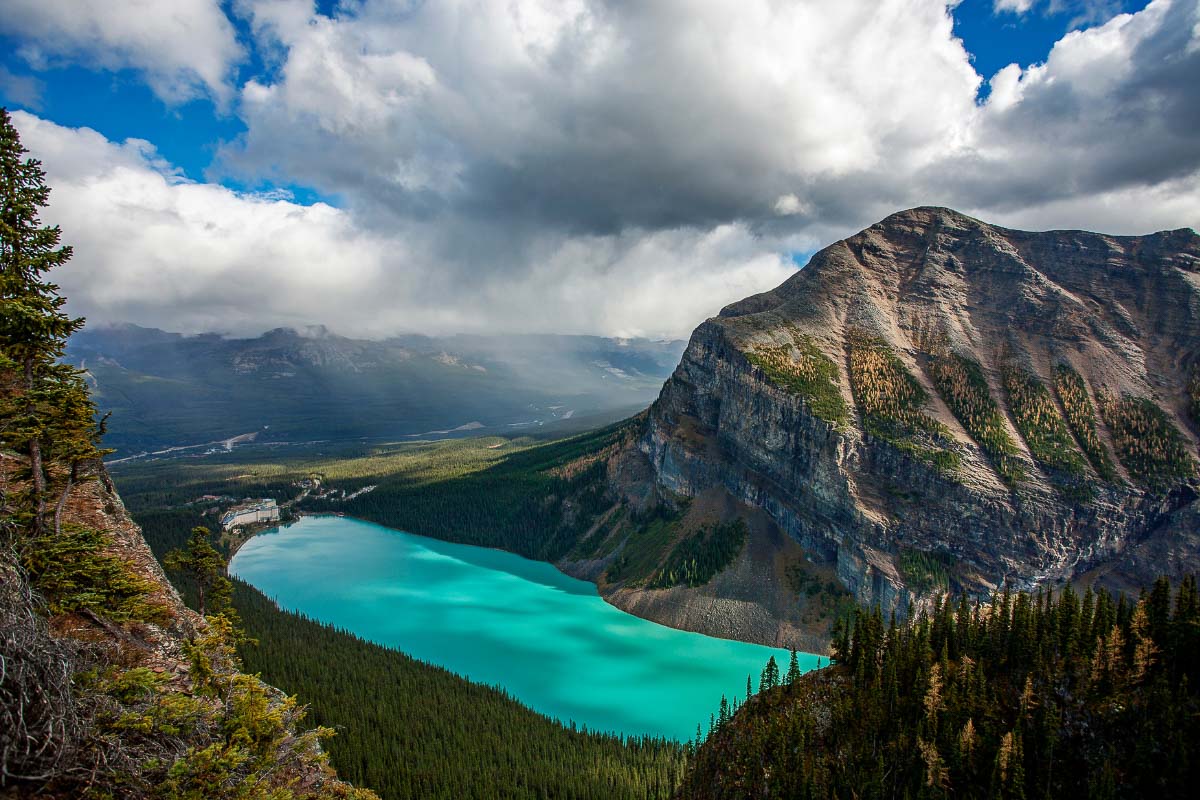 Banff National Park is so vast that you can even take a hop-on-hop-off bus tour from the town of Banff in the reserve. This is a convenient way to take in all the natural attractions in the reserve.
2. Garibaldi Lake, British Columbia
Lake Garibaldi oozes mystery and adventure, with many fallen tree trunks just beneath the surface of the teal water. The lake extends for 990 hectares, so there's plenty to admire. It's a fantastic destination for photographers and winter sports enthusiasts.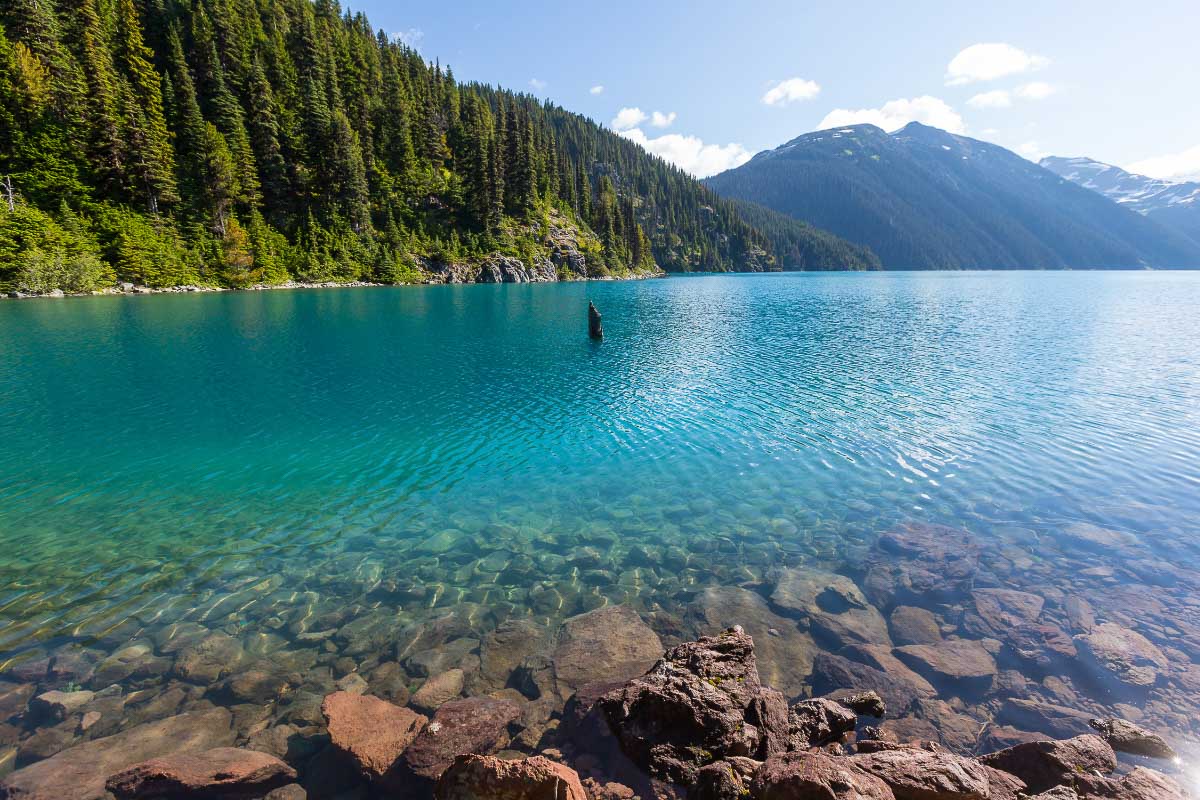 You'll find Lake Garibaldi within the Garibaldi Provincial Park in British Columbia. The lake is only accessible by taking the five and a half-mile long Garibaldi Lake Trail, so make sure to pack your hiking boots.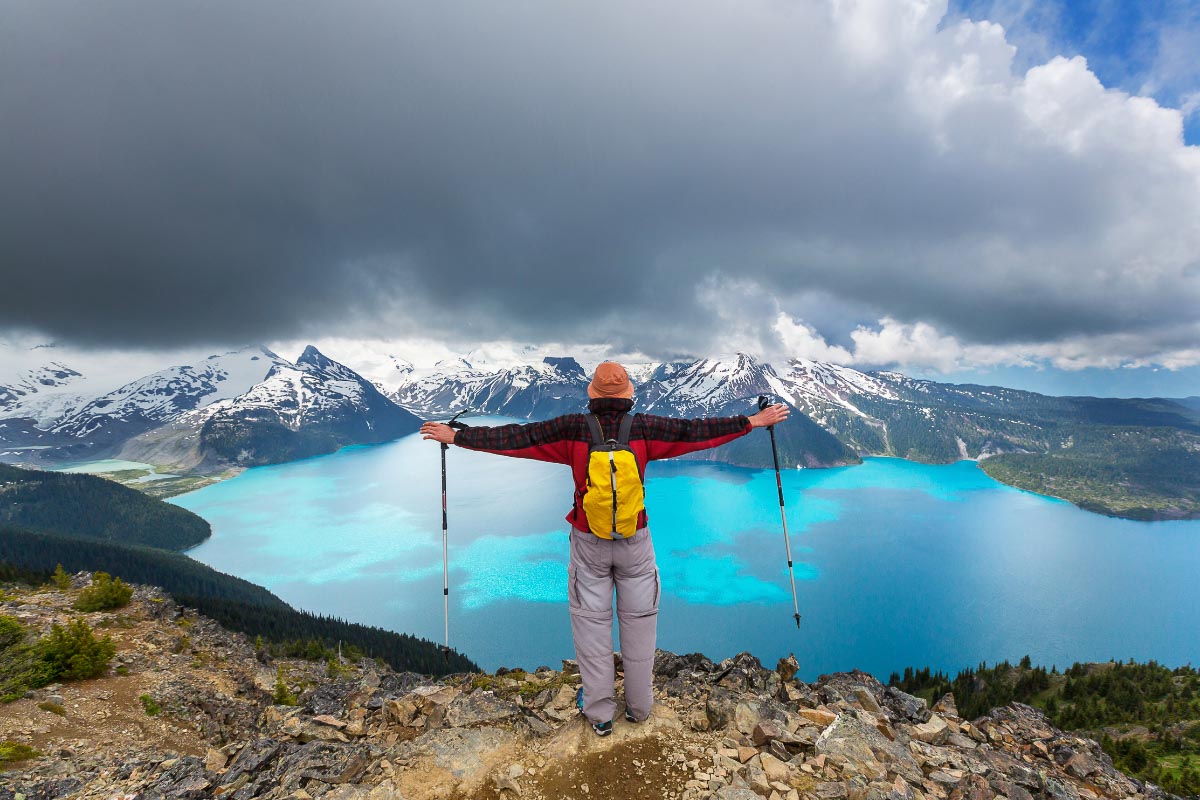 3. Emerald Lake, British Columbia
The picturesque Emerald Lake is the standout attraction in Yoho National Park. Appropriately, 'Yoho' means 'awe' in Cree, a local language. The President mountain range surrounds the lake, which has an elevation of 3937 feet.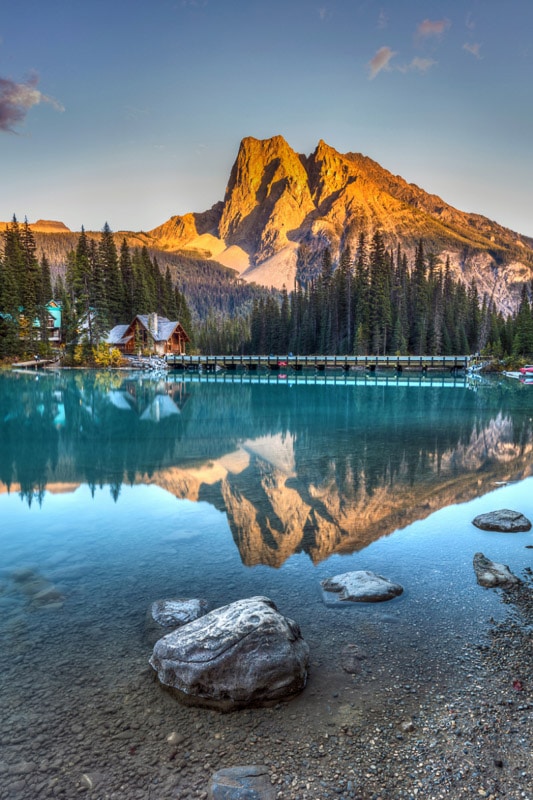 You can experience this superb landscape by following the almost three kilometre-long hiking trail on the lake's edge. Alternatively, go canoeing on the lake's surface. Just be aware that the lake is frozen from November until June.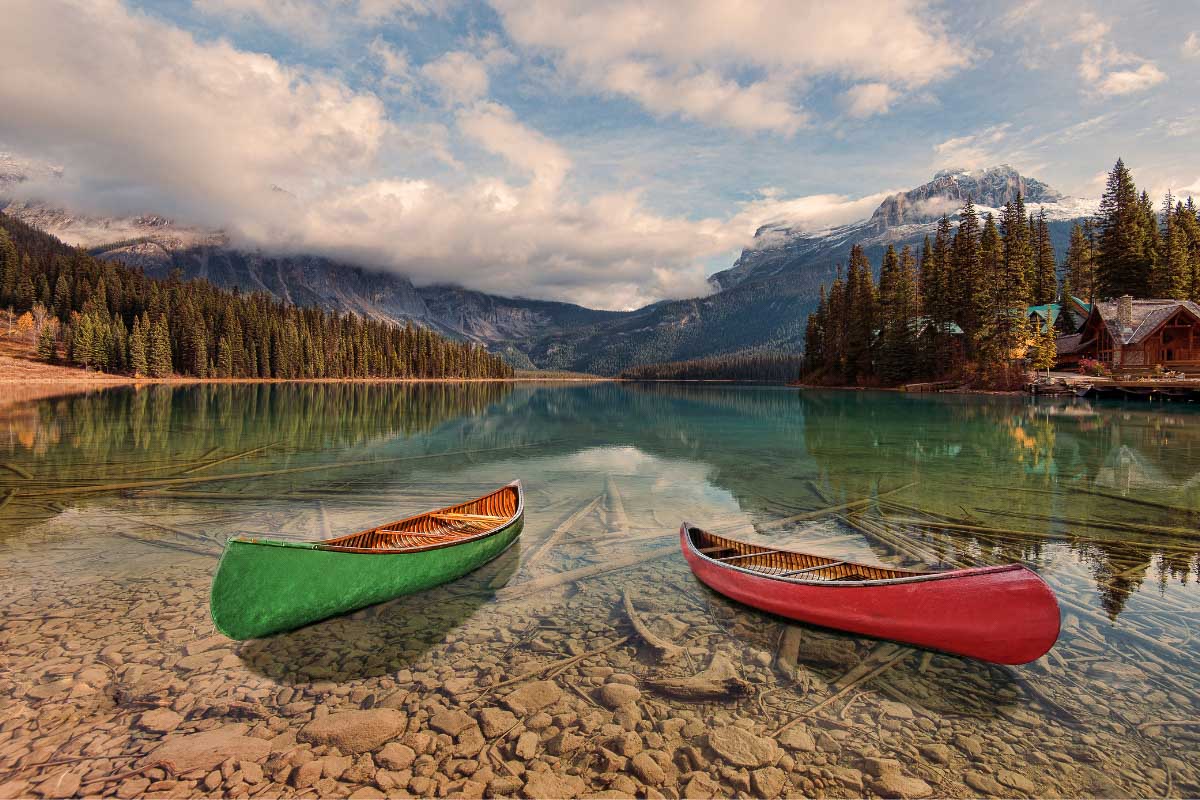 ⇒ Don't miss Canada's capital Ottawa. Read my posts on the 17 most fun things to do in Ottawa, the Ottawa restaurants Byward Market, best Ottawa Tours and 11 Beautiful Canada Landmarks.
4. Moraine Lake, Alberta
There are plenty of lakes in Banff National Park, but Moraine is likely the most enchanting. It's one of the most photographed lakes around, appearing in video games, adverts, and log-in screens. Visit the real thing for an unbelievable experience.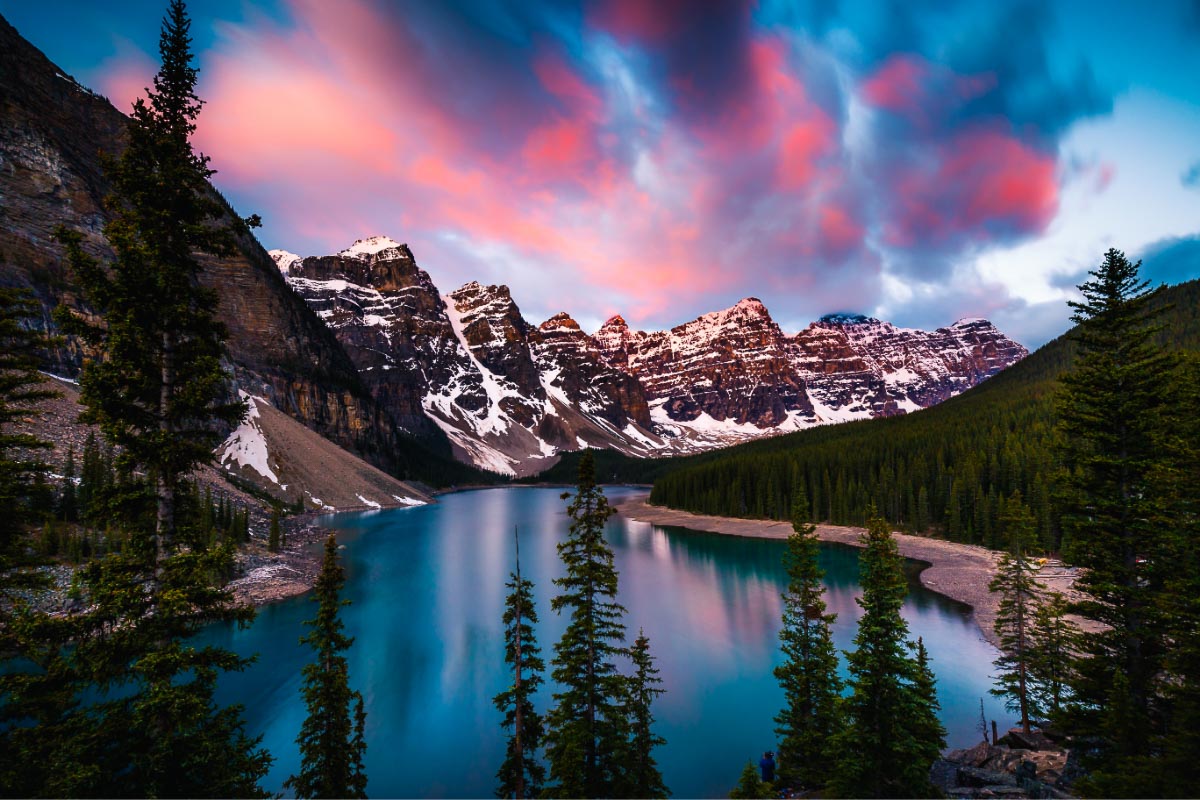 Moraine Lake covers about 120 acres and reaches a depth of 15 metres. Hiking in the encircling forest is a great way of getting back to nature. One trail, the Perren Route's starting point, involves an eight to ten-hour climb up the mountainside.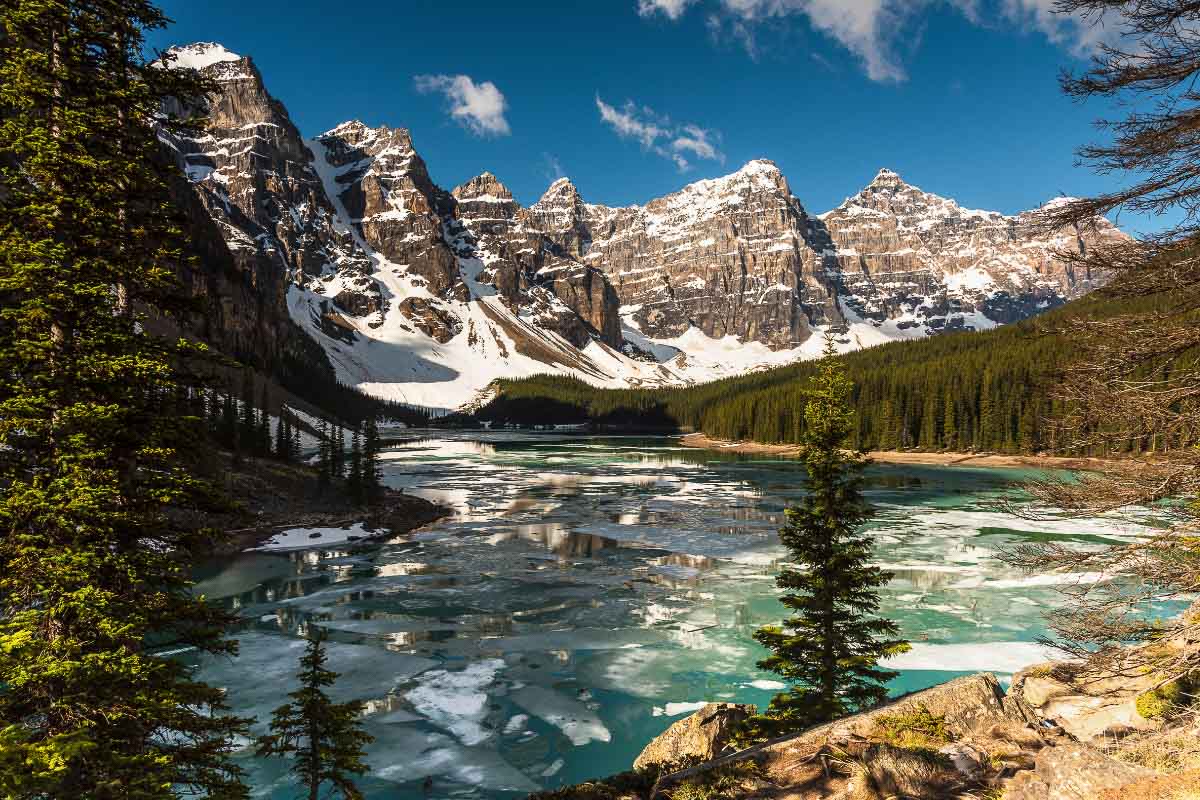 ⇒ Explore Lake Moraine on an informative day trip.
5. Peyto Lake, Alberta
Peyto Lake makes this list because it's incredibly photogenic from a high angle, which is easy to get to (read: no hiking needed). The lake is small, only five kilometres square, but beautiful.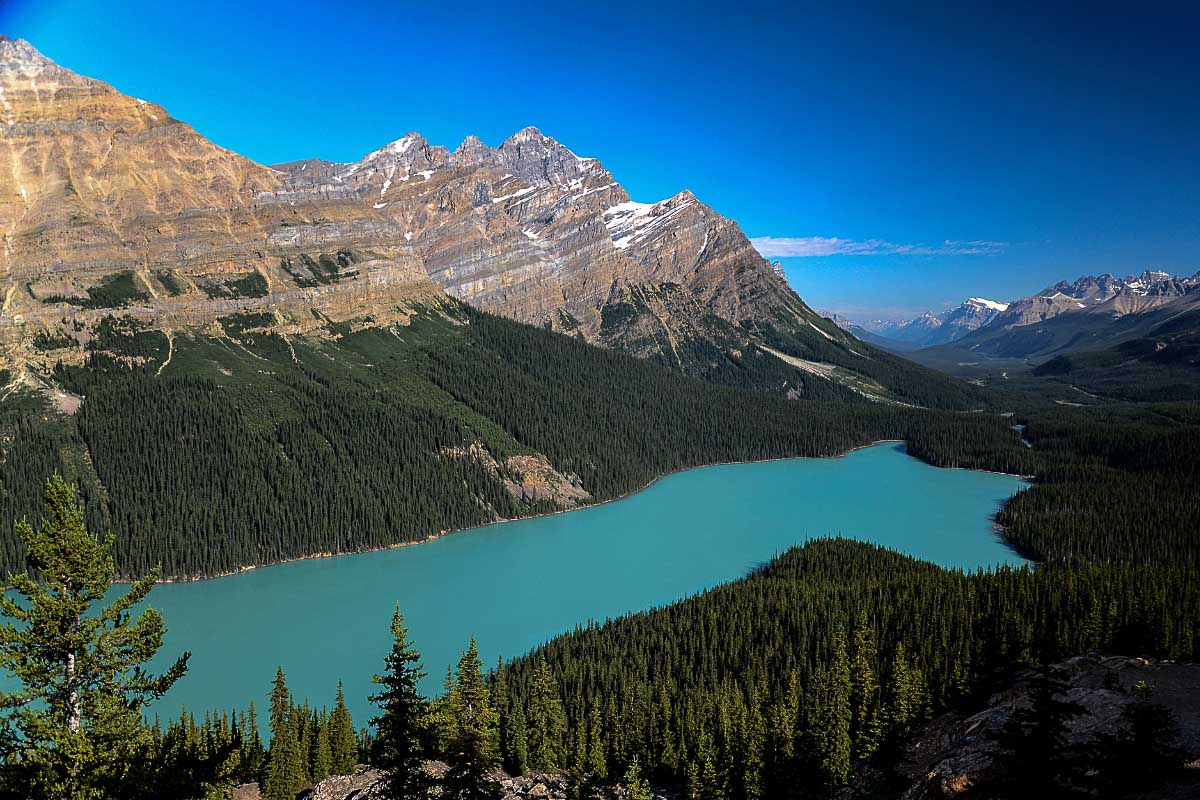 You can drive up to Icefields Parkway (Highway 93), Bow Summit, where there is a viewing platform over the body of water. It can get busy in the summer months, but the vista offered is worth braving the crowds for.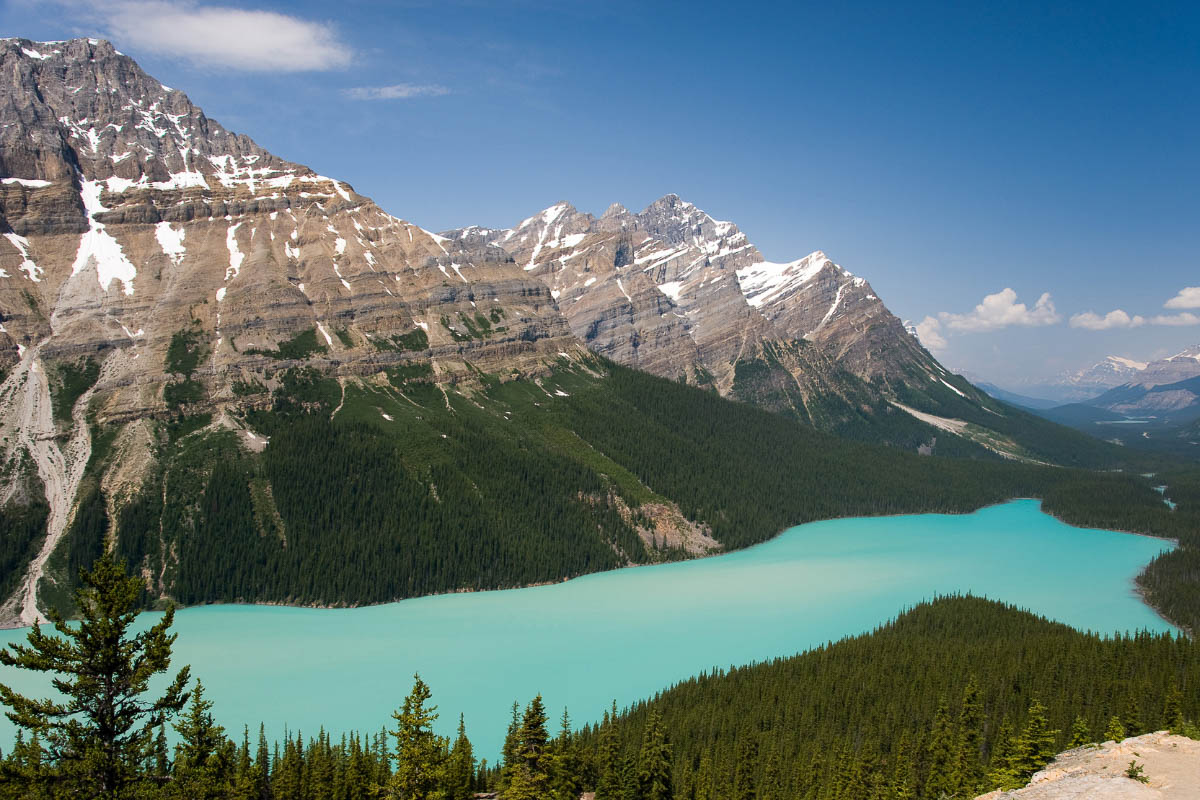 ⇒ Nova Scotia is another stunning region in Canada. Check out my Nova Scotia Itinerary for 6 days to give you a sense of the region. Don't miss the Wolfville Wineries and nearby Wolfville Farmers Market, 11 Beautiful Canada Landmarks and there are loads of things to do in Lunenburg with its UNESCO listed old town.
6. Spotted Lake, British Columbia
Spotted Lake is relatively tiny: just under one kilometre long and 400 metres wide. So, why should you go to Spotted Lake? It's all in the name: when the water evaporates, crystalised ponds appear, making the water surface resemble a gigantic polka-dot pattern.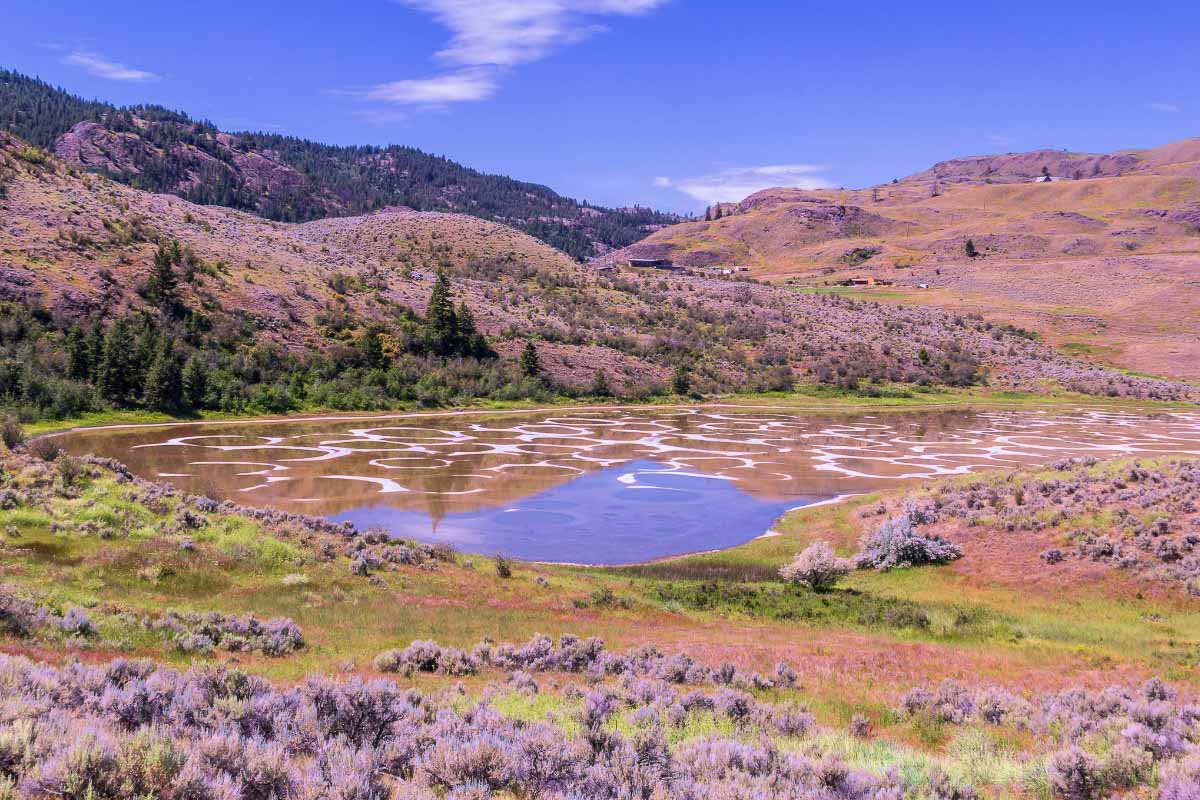 This is also a sacred place for local indigenous groups who have used the waters as a healing centre for centuries. The lake certainly looks other-worldly, thanks to the spots and the colours that change through the seasons.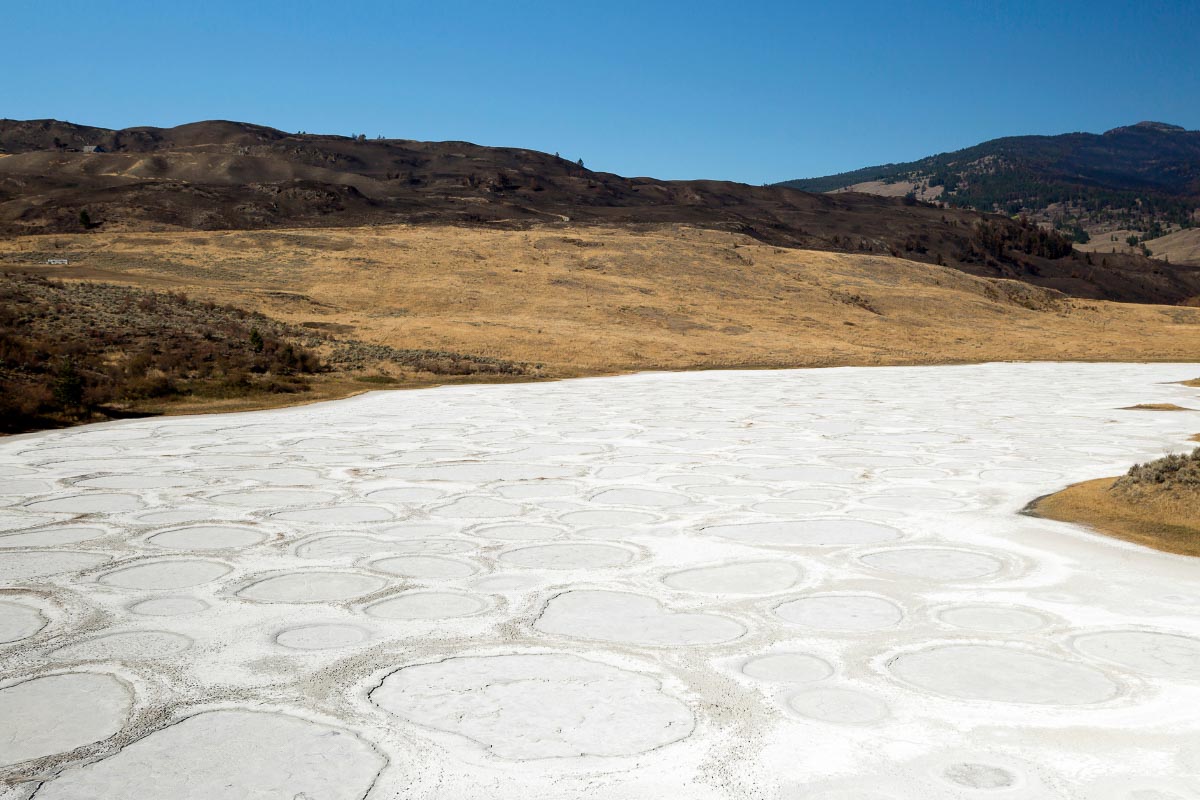 Make sure to visit in the summer months to see the spotted pattern on the lake surface. The rest of the year, it's a regular lake. You'll get good views of this natural attraction by driving along Highway 3.
⇒ Another fantastic city in Canada that isn't too far away is Halifax, Nova Scotia. There are loads of fun things to do in Halifax like visiting the fantastic Halifax Farmers Market and taking Atlantic Canada's number one tourist attraction the Harbour Hopper Halifax and don't miss 11 Beautiful Canada Landmarks.
7. Lake Superior, Ontario
At 128 000 square kilometres, this is the largest of the Great Lakes and the largest freshwater lake globally. Lake Superior also boasts sublime beauty: the azure waters spill onto sandy shores, surrounded by lush forestry and low-lying mountains.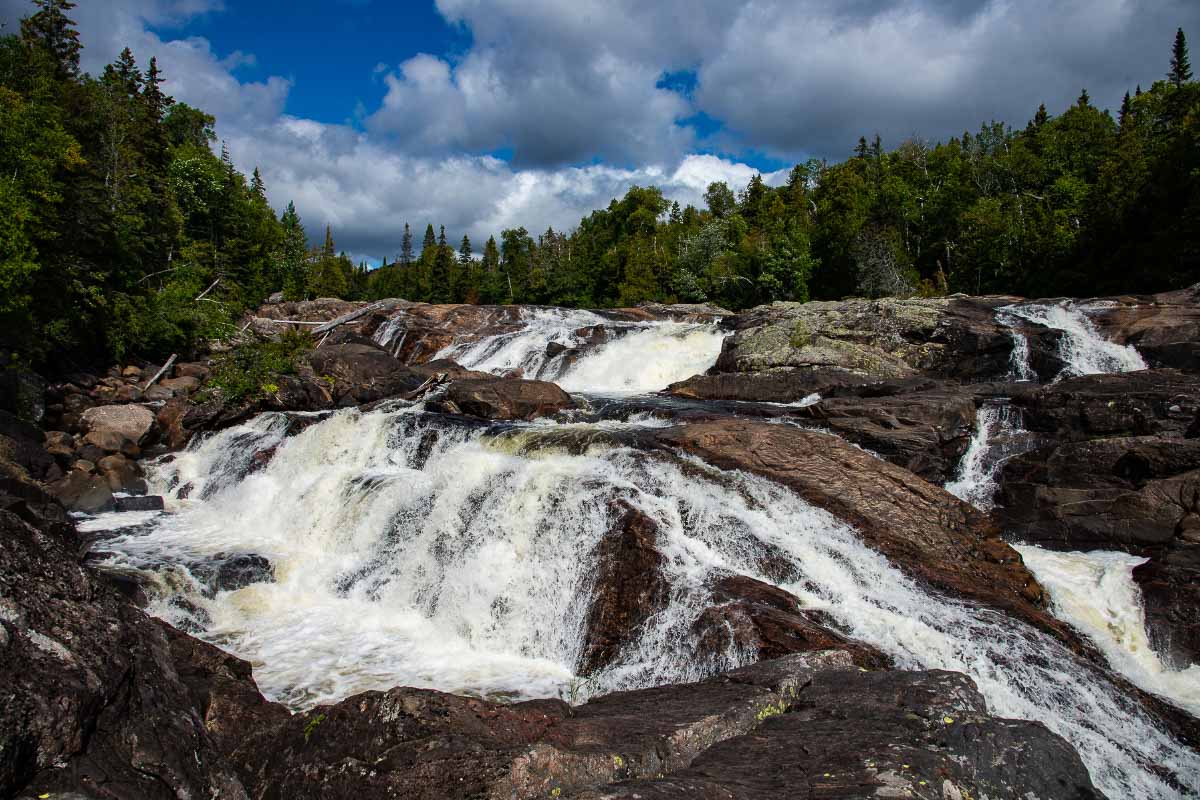 You're spoiled for choice when it comes to activities at the lake. It's one of the few lakes where you can swim, as well as chill out on the shore, fish, kayak, and hike. If you're interested in history, learn about the 550 shipwrecks concealed beneath the water — there's even a museum on the American side.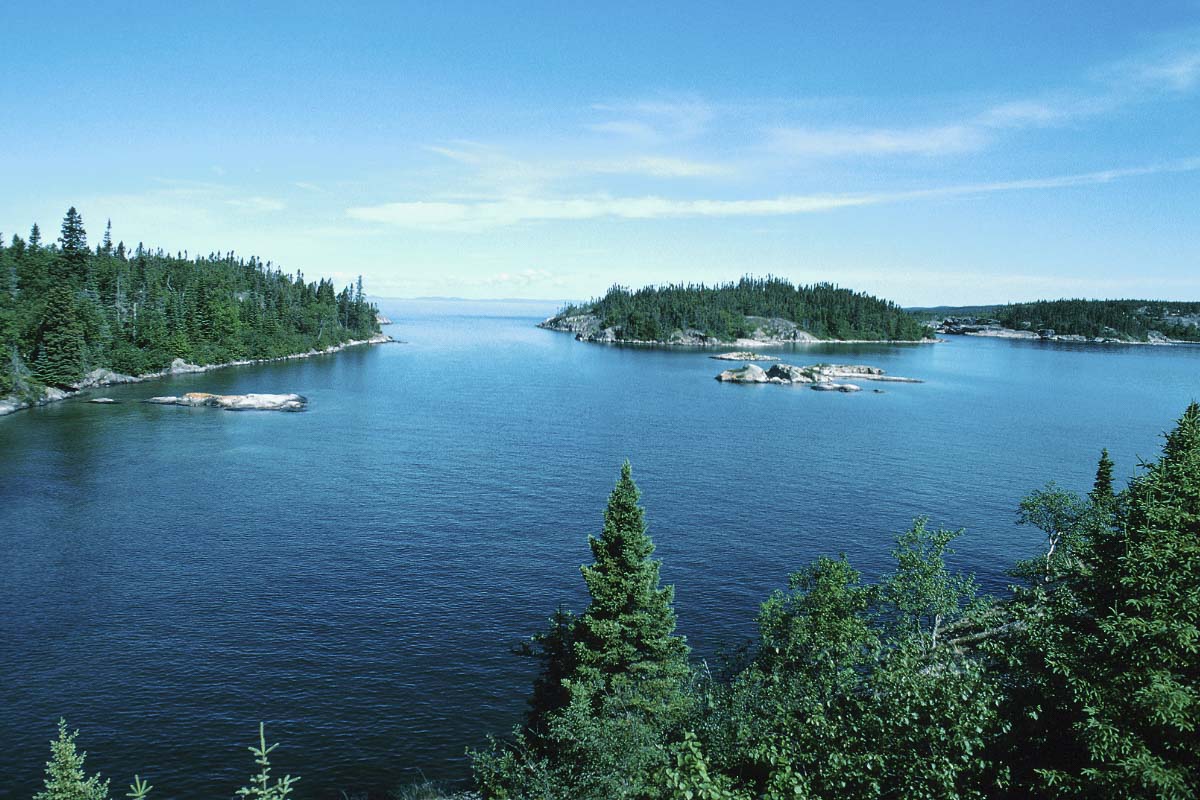 ⇒ Another amazing part of Canada (and home to some beautiful Canada Landmarks) is New Brunswick. Check out my posts on the top New Brunswick Tours, the best things to do in New Brunswick, Whale Watching St Andrews and some charming boutique hotels in New Brunswick Canada.
8. Waterton Lake, Alberta
Waterton Lake borders Canada and the US. The deep lake, which twists itself around the green mountains, is a spectacular sight.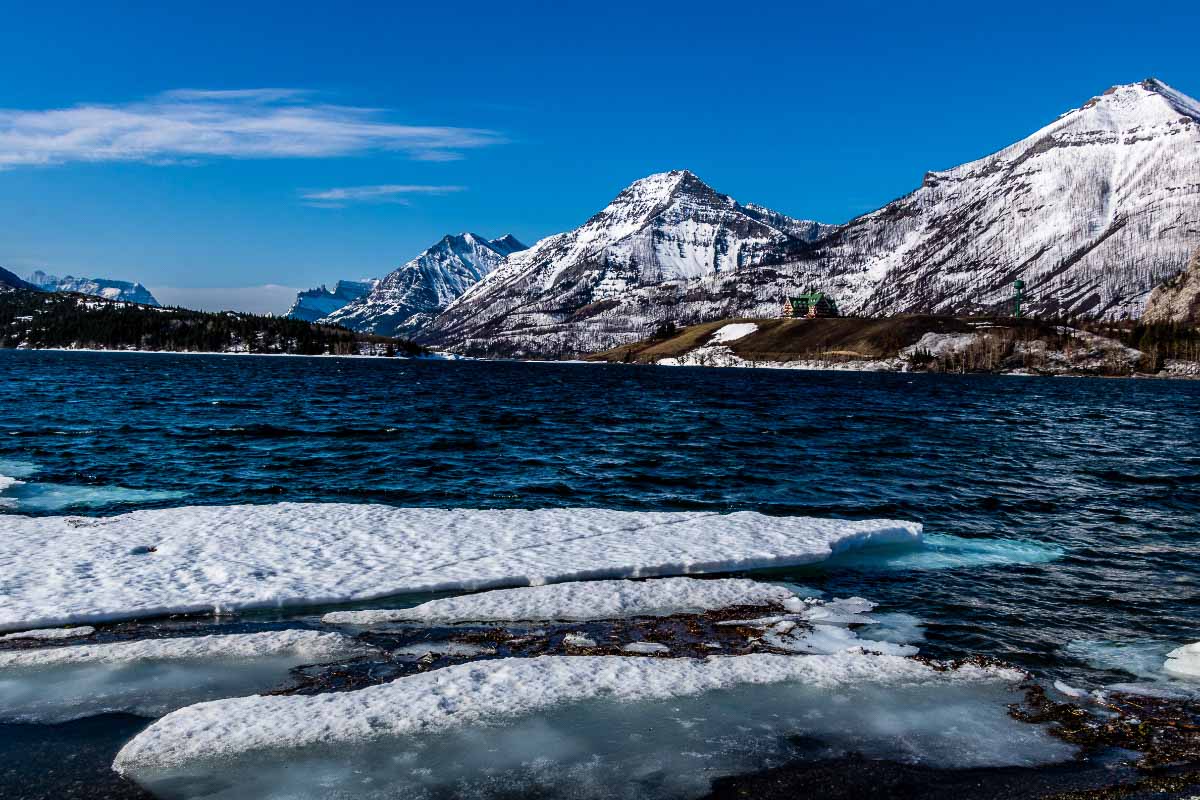 The rich flora and fauna of the landscape make Waterton Lake a top destination in Canada. In fact, it's a part of the Waterton Lakes National Park, which is a UNESCO World Heritage Site.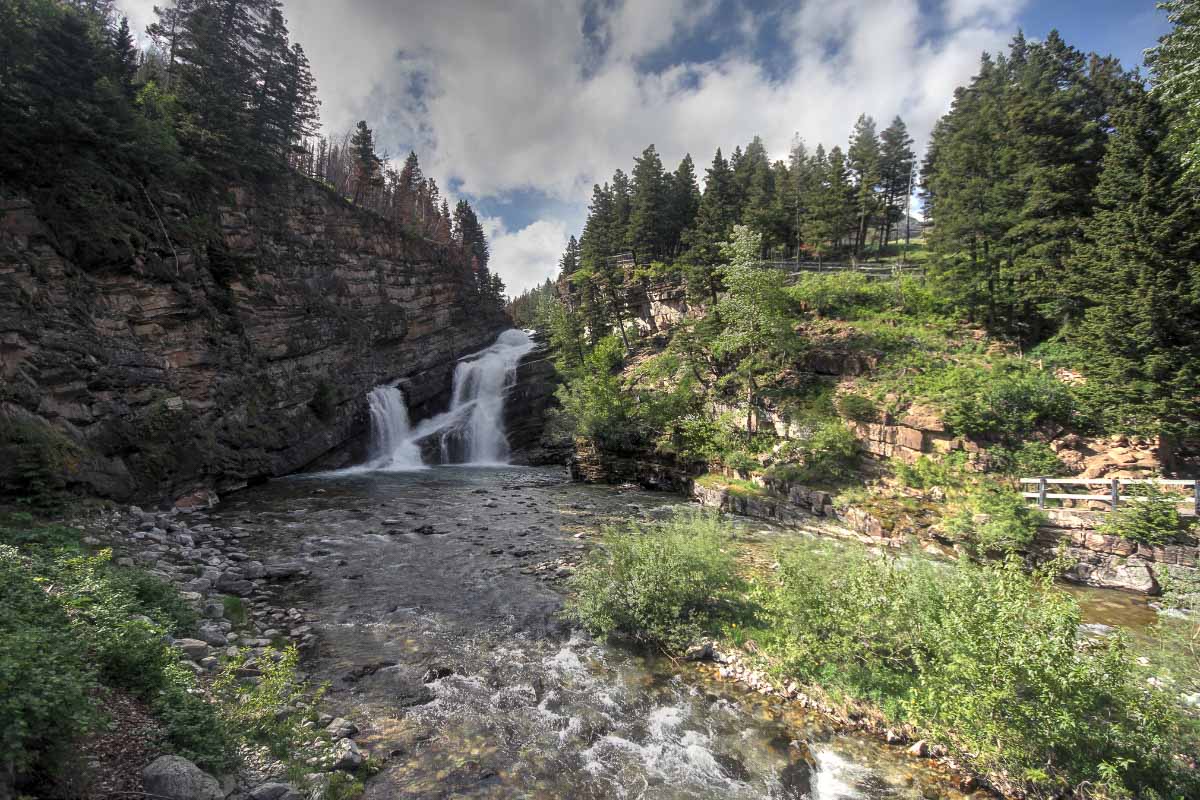 Look out for deer, elk, moose, and black bears when you're traversing the park. Apart from spotting wildlife, watersports like kitesurfing, windsurfing, and sailboating are all available in the park.
9. Lake Ontario, Ontario
Lake Ontario stands out as it is right in the capital of Toronto. It's one of the Great Lakes, stretching out for miles in both Canada and the US. This is a fantastic landscape to explore if you don't want to leave the city.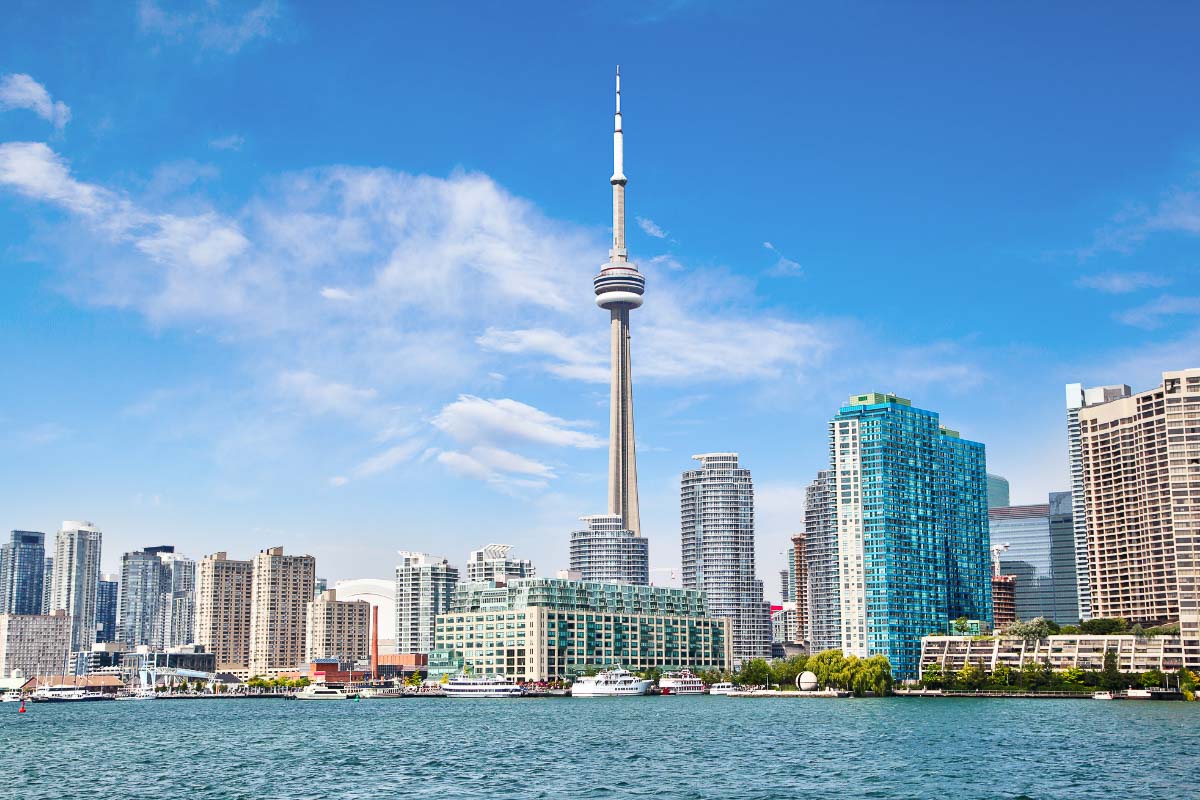 Since it's not as remote as other lakes, Lake Ontario feels safe enough to visit as a solo traveller. It's picturesque and offers plenty of activities, such as paddle boarding and canoeing. Of course, no holiday in Toronto would be complete without a boat trip on Lake Ontario.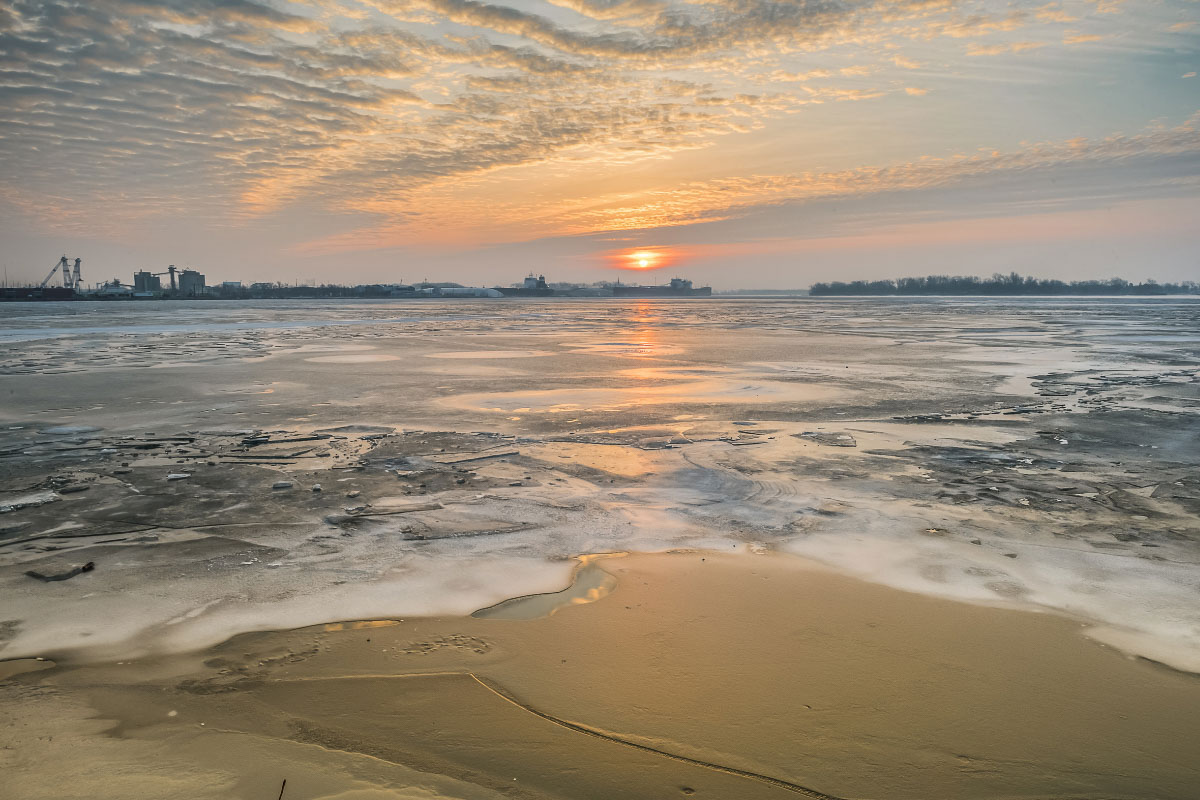 Final Thoughts on the Most Stunning Lakes in Canada
Whether you enjoy photographing rugged landscapes or taking a dip in the water, the magnificent lakes in Canada have lots to offer. These natural features are scattered around the country and, with one right in Toronto, there's no excuse not to visit at least one gorgeous Canada lake. And once you've admired one lake, it'll be hard not to explore the others!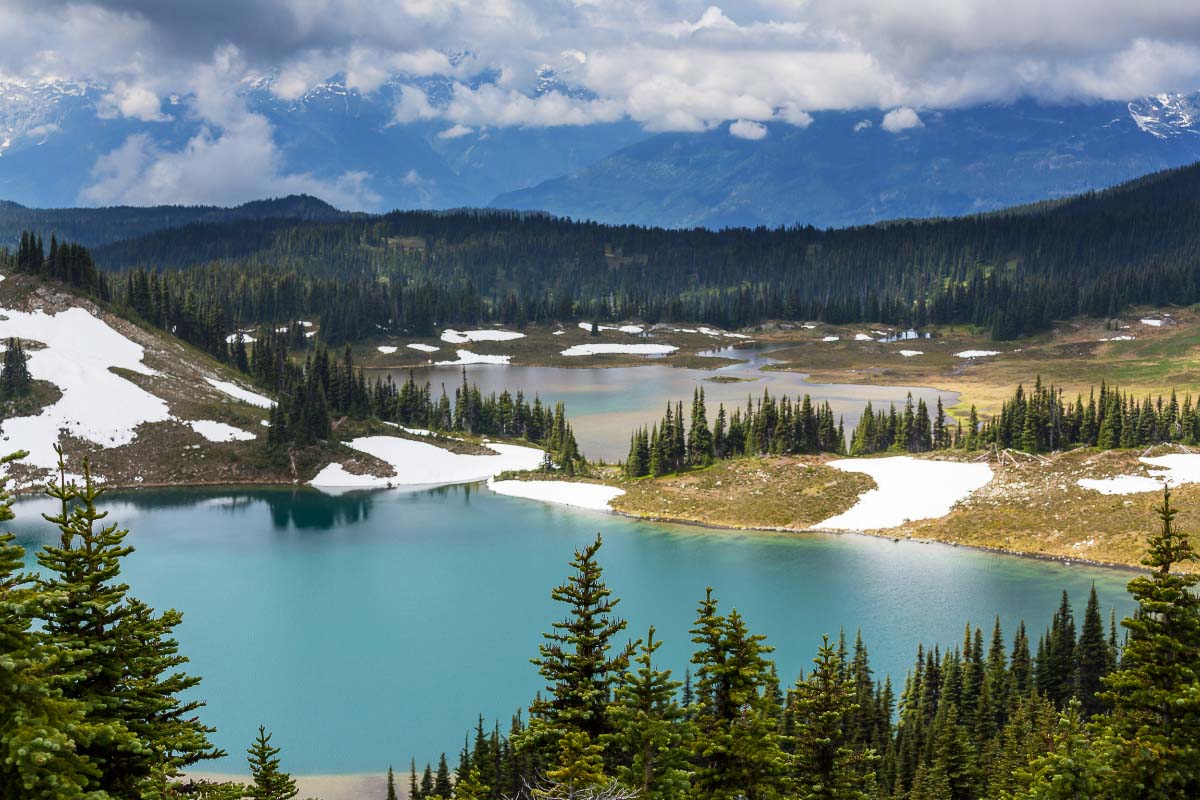 This lakes Canada post includes affiliate links. That means if you click through and end up making a purchase I will receive a small commission. I wanted to make sure you were aware of this.