This was not an easy post to write. It is tough to pick the 20 most beautiful cities in United States – there were so many candidates.
However, I have done my best but am keen for feedback if I missed your favourite – the beauty of the internet is that posts can always be updated.
All of these cities have much to offer. However, in the interest of brevity and the theme of this post I have chosen to focus on some of their most beautiful attractions.
Here is my view on the 20 most beautiful cities in the USA.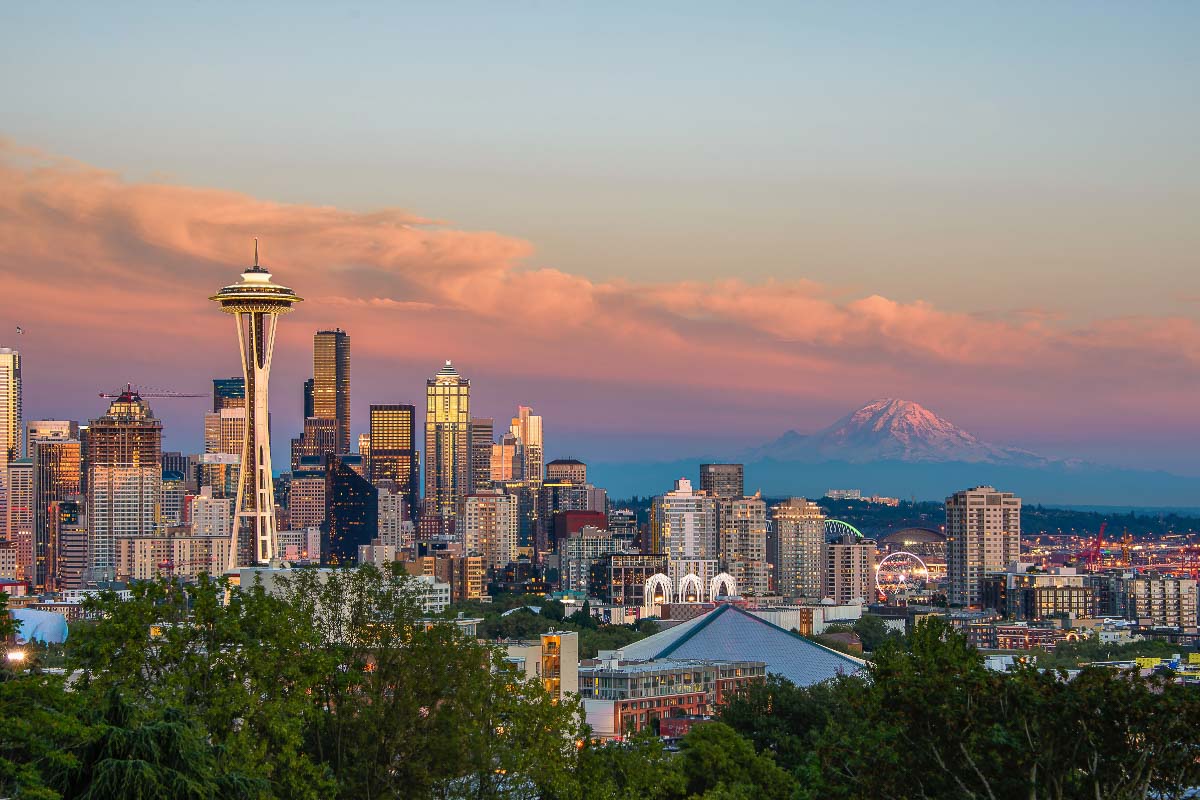 20 Most Beautiful Cities in United States
1. Philadelphia, Pennsylvania
Until I visited Philadelphia I had never registered that this is really where the United States of America happened.
The founding fathers met here, the declaration of independence was signed here, the first US Presidential Residence was here, the first American Flag was created here (more of that to come) – there are firsts everywhere in Philadelphia.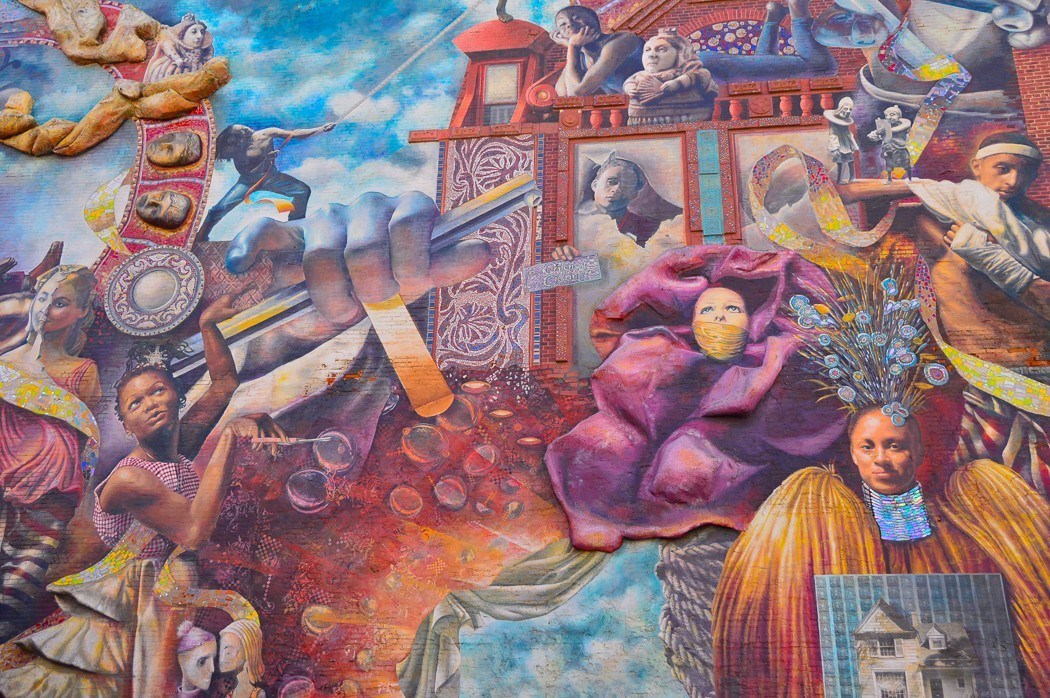 And with those firsts come photo opportunities! Not only does Philadelphia supply a large number of did you know-interesting-quirky stories for a good Instagram caption, but it also serves up art, food, views and more to create a highly photogenic city.
The Mural Arts program has been running for over 30 years and over 15,000 residents and visitors see this outdoor art gallery via their fantastic tours each year. The works in the Mural Arts Program are stunning.

South Philadelphia is home to a different type of street art. Isaiah Zagar is a local award-winning mosaic artist who has works on over 200 public walls in Philadelphia. Born and raised in Philadelphia, Zagar started working on applying his art to public spaces in 1991.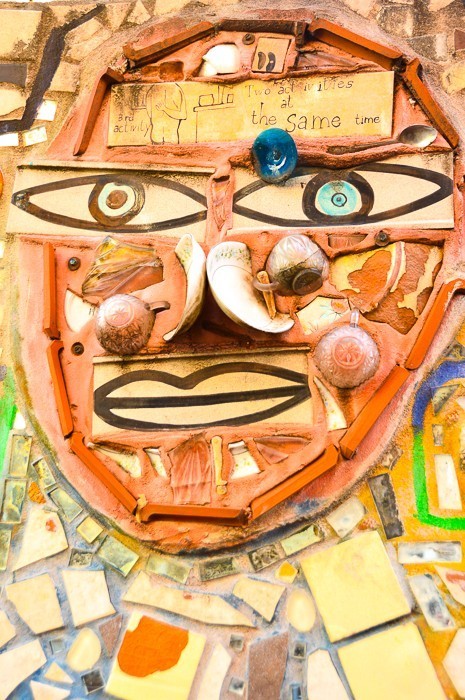 Zagar thas a non-profit gallery/museum that is in his largest public artwork – Philadelphia's Magic Gardens – plus his artworks are thoughout the area.
The 57th floor of One Liberty or Philly from the Top has an observation deck that is open 365 days a year. This view is 360 degrees of the city and includes everything except, of course, the building itself.
Philadelphia spends a lot on art – or it has a lot spent on art through required expenditure levels by developers. This means that quirky sculptures like a giant clothespin to figures of national historical significance. They do appear to be on most corners.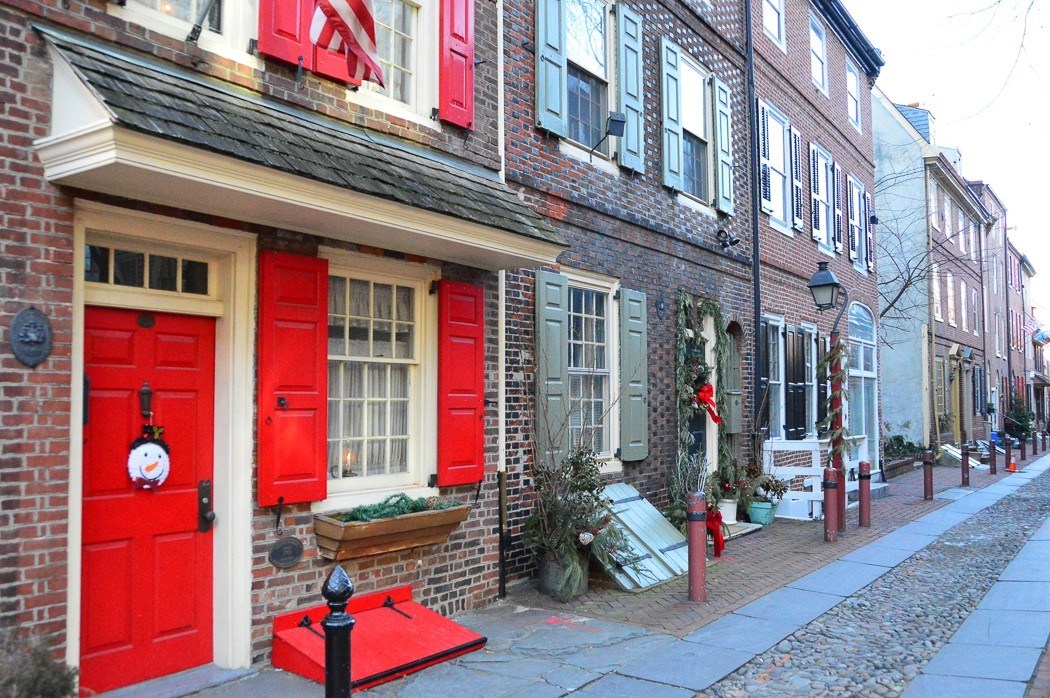 Elfreth's Alley claims to be the oldest continuously inhabited residential street in America. Elfreth's Alley is extremely cute and photogenic with its red brick buildings and colorful doors.
Antique Row is on Pine Street between 13th and 10th is a range of extremely photogenic red brick buildings with walk up stairs and colourful doors – as well as some cute cafes for coffee stops in between shots.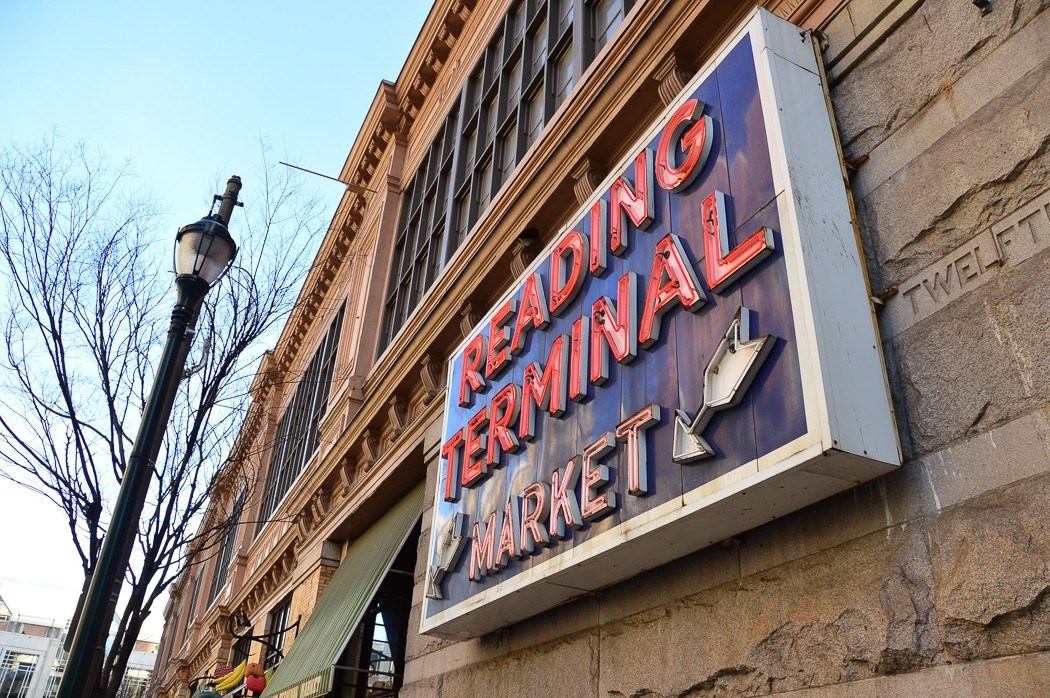 The fantastic Reading Terminal Market is one of the top tourist attractions in Philadelphia for good reason. It is an essential stop on any visit to Philadelphia – head there when you are hungry. A great way to get a feel for the market is to take a food tour.
If you're planning a trip to Philadelphia check out my posts on 20 Places to Visit in Philadelphia and Philadelphia Food Tours.
2. Charleston, South Carolina
Lovely Charleston is the largest city in the state of South Carolina. The city is home to some beautiful architecture, a lovely waterfront park for strolling and it is close to beaches.
Waterfront Park runs along the Cooper River and is filled with beautiful gardens, stunning scenery and lovely fountains.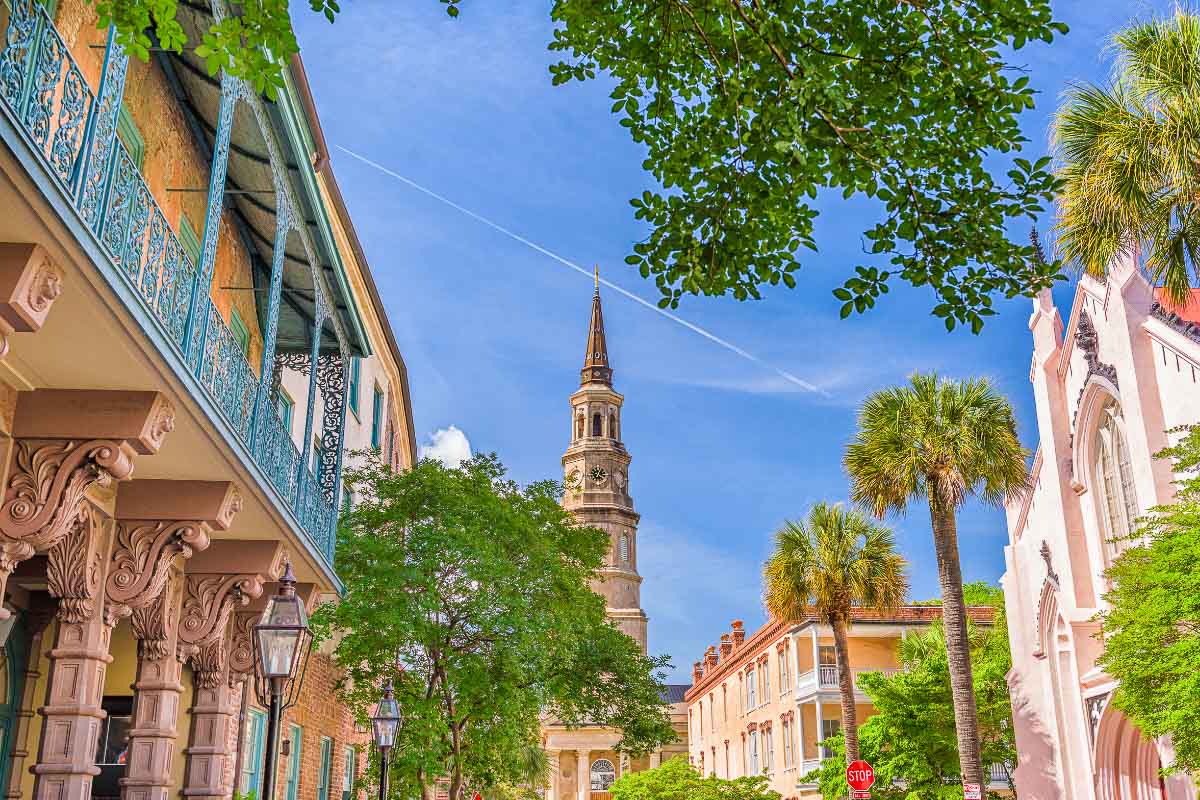 The city's architecture dates back to the early 1800s, pre Civil War. Mansions in the Battery are historic and beautiful buildings are scattered through the scenic downtown area.
But Charleston isn't just about its good looks. It has an outstanding restaurant scene and is famed for its seafood. Plus there are some fantastic outdoor bars for pre and post dinner drinks.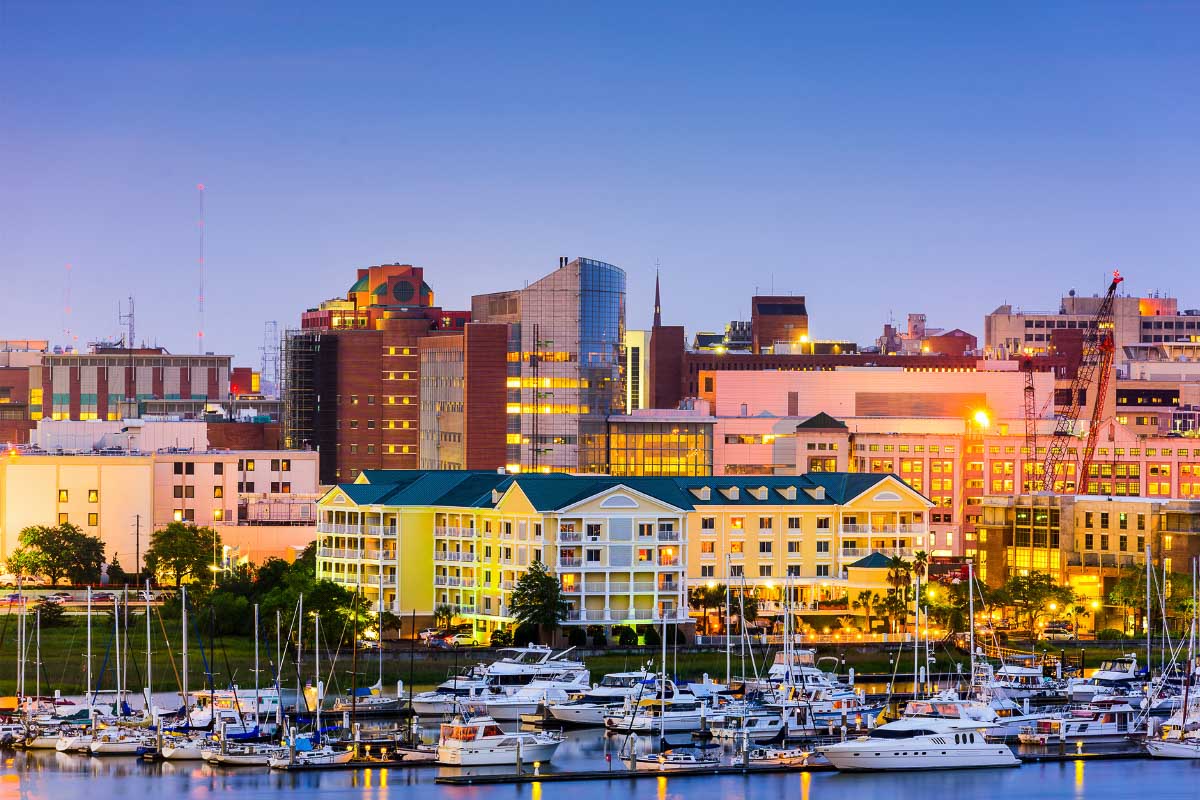 In 2016 Travel and Leisure ranked Charleston as the best place to live in the world. In 2019 the magazine also ranked Charleston as the best place to live in the USA for the 4th year in a row.
3. Savannah, Georgia
Like Charleston, Savannah is an historic city. Lovely Forsyth Park is in the historic district and dates back to the 1840s. Don't miss its famous fountain and a walk through the fragrant garden.
Cobblestones meet water on River Street, which runs alongside the Savannah River. And for more water head to Tybee Island, Savannah's beach. There are three miles of sandy beaches plus some great places to enjoy local seafood.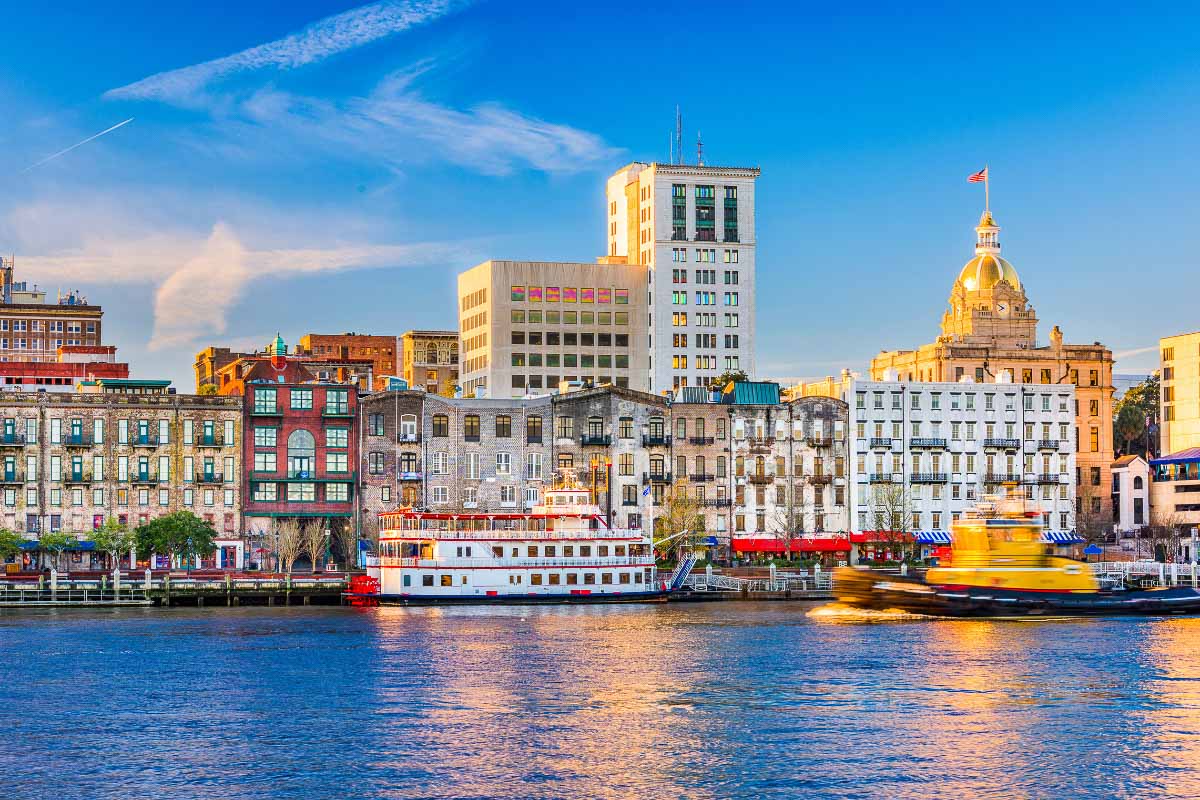 A great way to explore Savannah's historic past is a trolley tour. And don't miss the iconic Cathedral Basilica of St John the Baptist, one of Savannah's most photographed landmarks.
If you're visiting Savannah in spring head to Bonaventure Cemetery to see the azaleas and explore the 100 acres of this Victoria cemetery.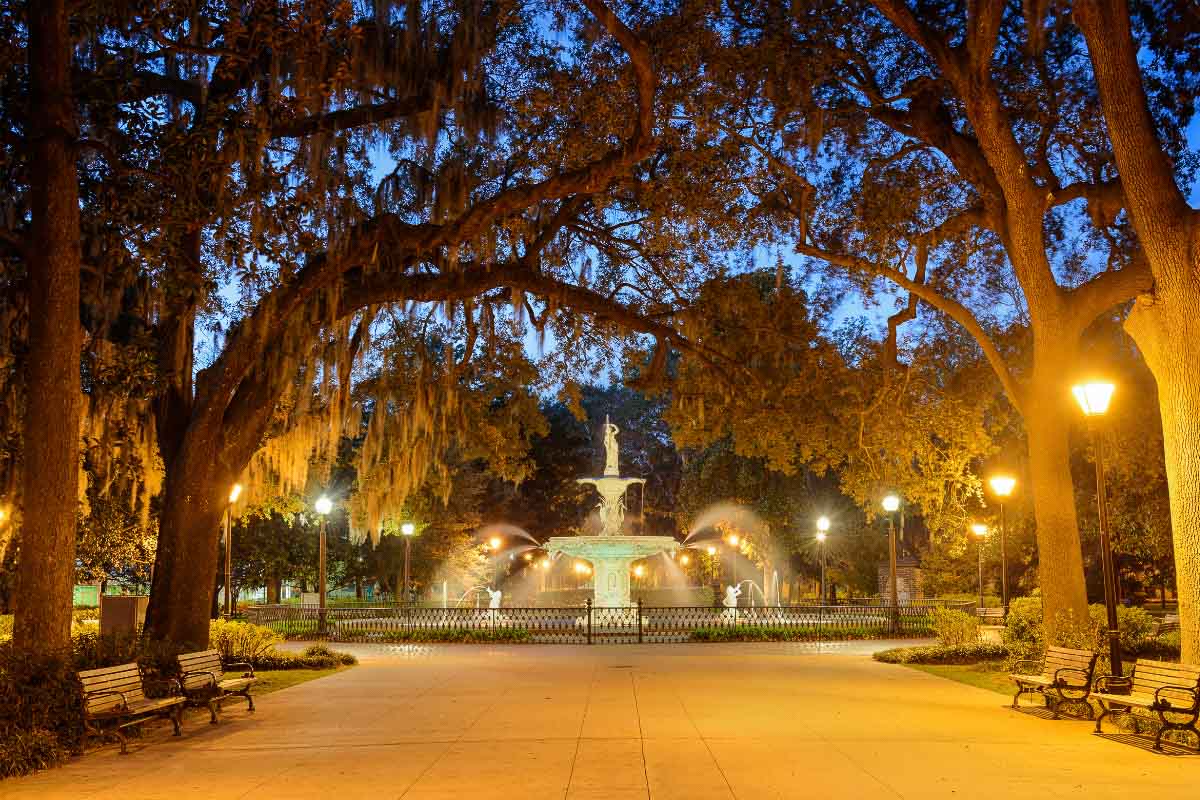 4. San Diego, California
San Diego boasts near perfect weather all year round plus an amazing 70 miles of beautiful coastline. The city offers urban, coastal and inland neighborhoods.
The perfect place to begin admiring this beautiful US city is a drive along Highway 101 also known as the Pacific Coast Highway. This road takes drivers from San Diego all the way to Oceanside.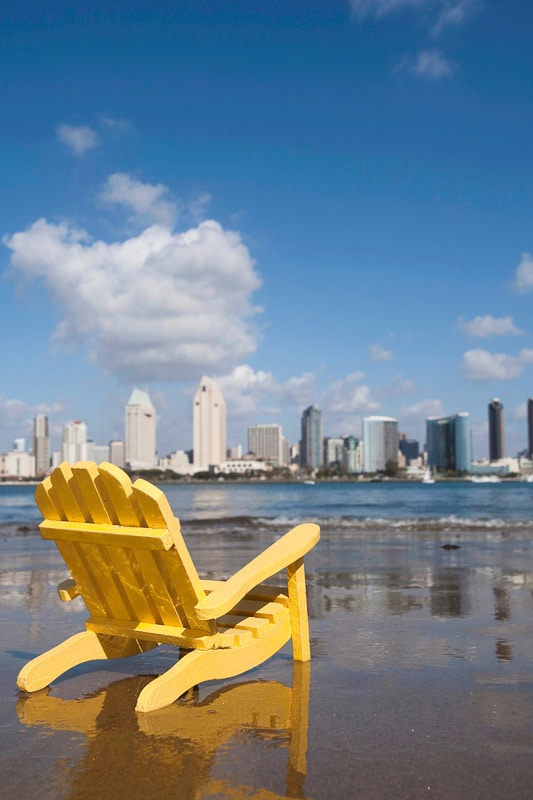 Highlights along the way include stopping for a hike in Torrey Pines State Reserve, Cardiff by the Sea and its market, the Meditation Gardens in Encinitas and the pier at North Oceanside.
When you're back in San Diego head over to the lovely Balboa Park and explore its 1200 acres. Explore the historic old town and do some market shopping.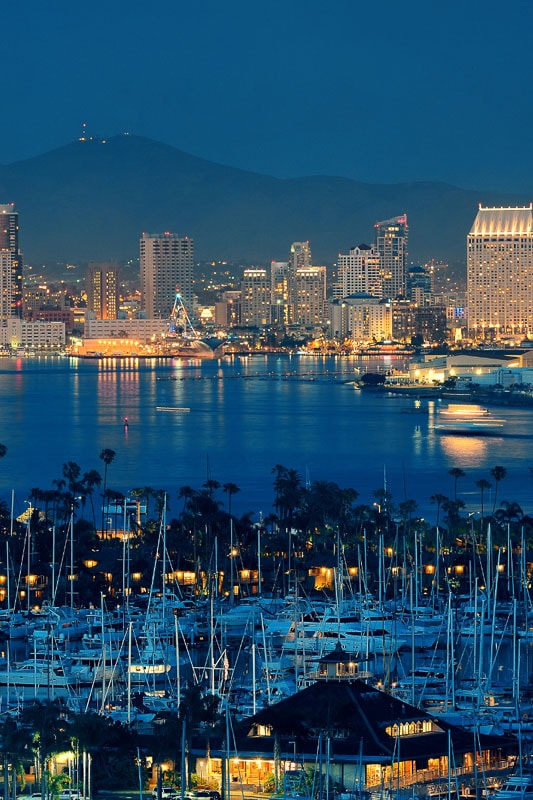 Just 30 minutes from San Diego is the Flower Fields, a great stop all year round but a must see in the Spring. As is the old wooden Scripps Pier at La Jolla beach.
Of course, no trip to San Diego would be complete without a visit to its world famous Zoo.
⇒ Interested in heading to California? Check out my posts on Unique Restaurants in San Francisco, Things to do in Calistoga review of the great Solage Spa, visiting Yosemite in One Day, 10 Stunning Sunsets in California and in Yosemite in October and my guide to a Livermore Wine Tasting.
5. Annapolis Maryland
Annapolis is Maryland's capital city and sits on Chesapeake Bay. The city is known as the Sailing Capital of the USA and is the home of the US Naval Academy. Indeed, the Naval Academy Museum has a beautiful domed chapel.
If you're looing for some stunning boats head down to Ego Alley, a narrow strip of waterway in the middle of the historic district and some of the most expensive real estate for boat storage.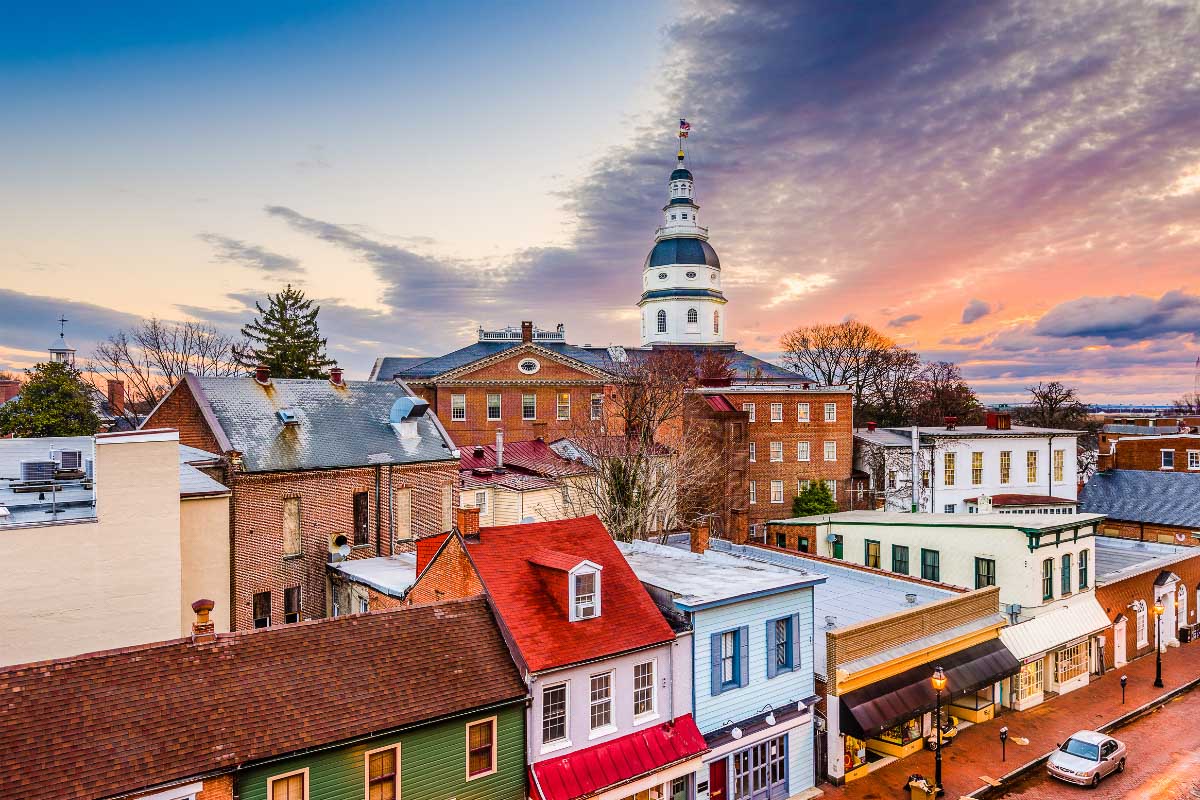 The lovely Maryland State House was built in 1772 and is the oldest state house still in use in the USA. The Treaty of Paris was signed here to end the Revolutionary War and this is where George Washington resigned from his post as commander of the Continental Army.
William Paca House and Gardens have lovely manicured grounds as well as the historic house. Then visit the colourful houses of Annapolis' Historic District.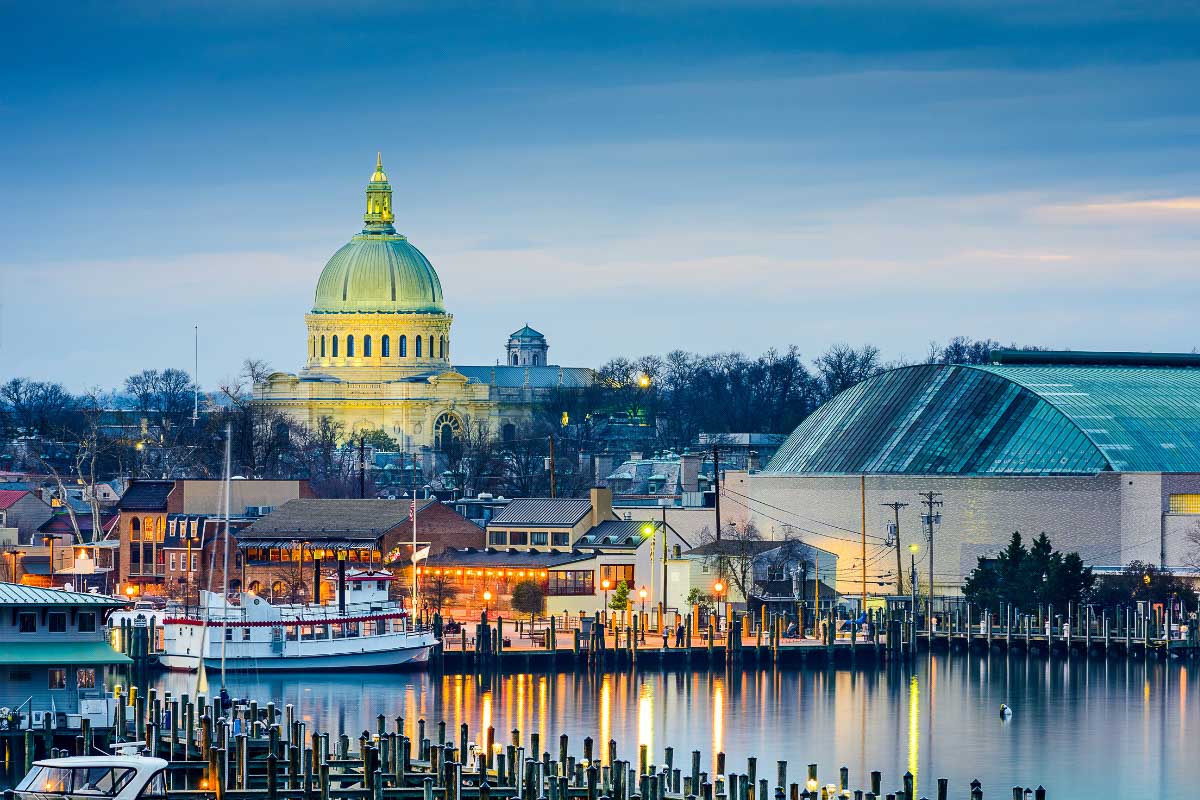 The perfect way to finish off a visit to this beautiful US city is with a boat tour of Chesapeake Bay.
If you're heading to Maryland check out my posts on the top Baltimore Attractions, Baltimore Food Tours, Best Coffee Shops in Baltimore and my review of Hotel Indigo Baltimore.
6. Honolulu Hawaii
Hawaii's capital consists of Waikiki, Downtown and Pearl Harbour. Waikiki and its famous beach take up nearly half a square mile. That beautiful beach is surrounded by a pretty dense build up of shops and restaurants.
For amazing views brave the hike up to the top of Diamond Head in the east of Waikiki. The trail is less than a mile long but steep. At the top is a lighthouse and some amazing vistas.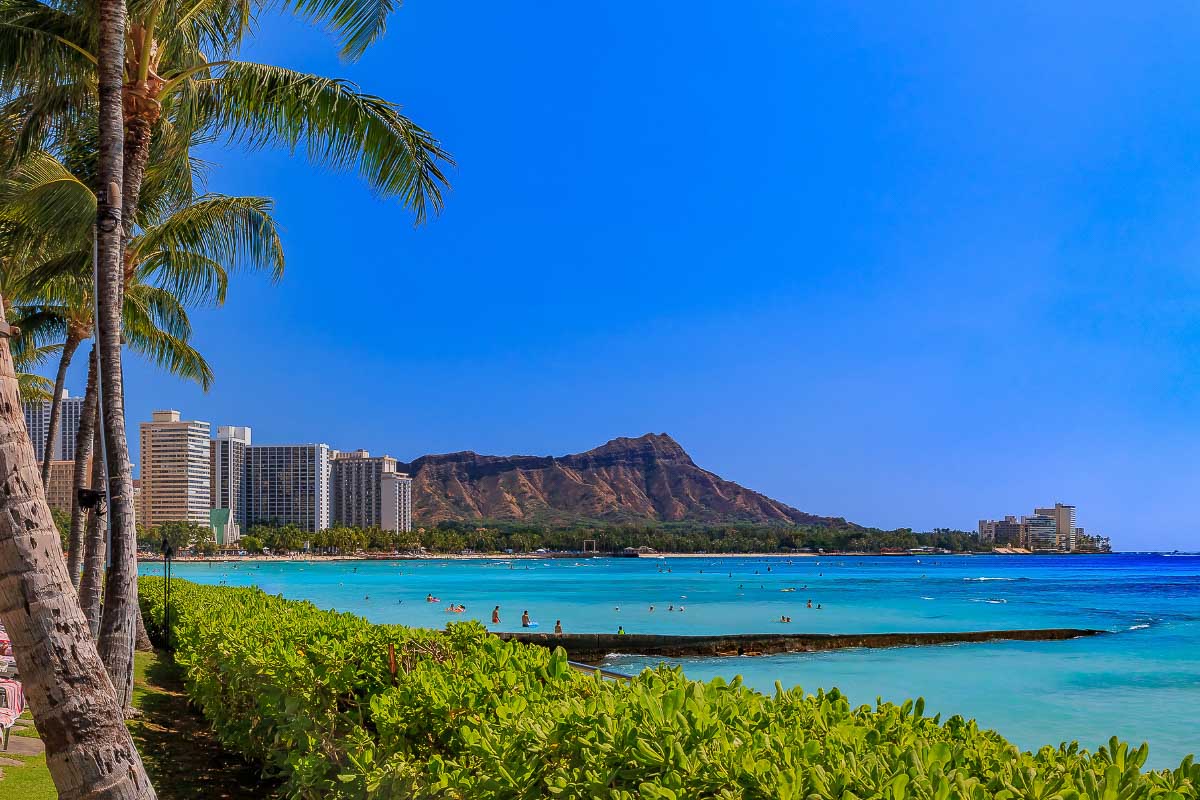 Head away from the crowds to Hanauma Bay. This natural bay is in the crater of an old volcano. Visitor numbers are limited each day so make sure you book ahead.
If that sounds like an easy morning then you might want to consider taking on the 1050 steps of the Koko Crater Railway Trail. The path was once an actual railroad that carried military supplies and personnel.
If that sounds like more than you're up for then check out the Koko Crater Botanical Garden – this requires no climbing!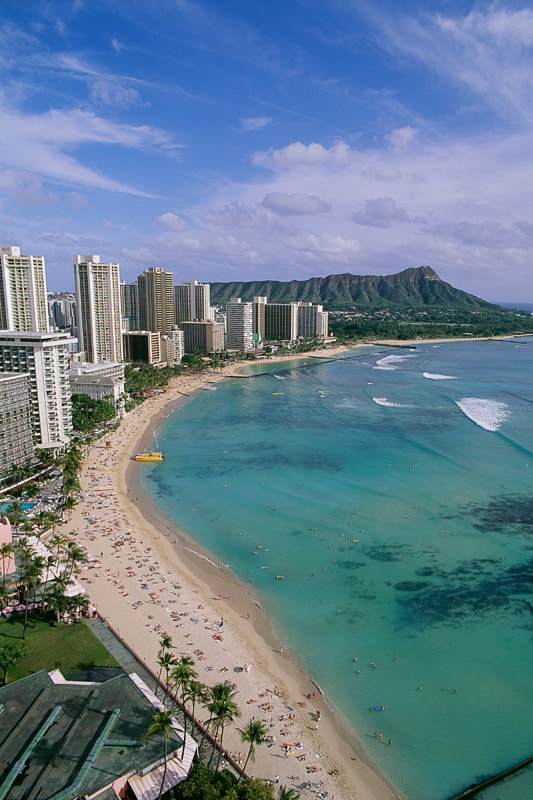 Finally, take a dip in a waterfall at the Lyon Arboretum. This 194-acre garden is in a rain forest and has a large range of plants. Once you've explored the arboretum, follow the path from the entrance to 150 foot Manoa Falls and jump in.
7. San Francisco California
An ocean, rolling hills and the stunning landmark that is the Golden Gate Bridge, San Francisco is definitely one of the most beautiful cites in the United States and a personal favourite – I think I have visited at least 5 times.
Last time I visited I stayed at the gorgeous Inn at the Presidio. This is a fantastic boutique hotel but it is also a great place for exploring the greenery that is the Presidio.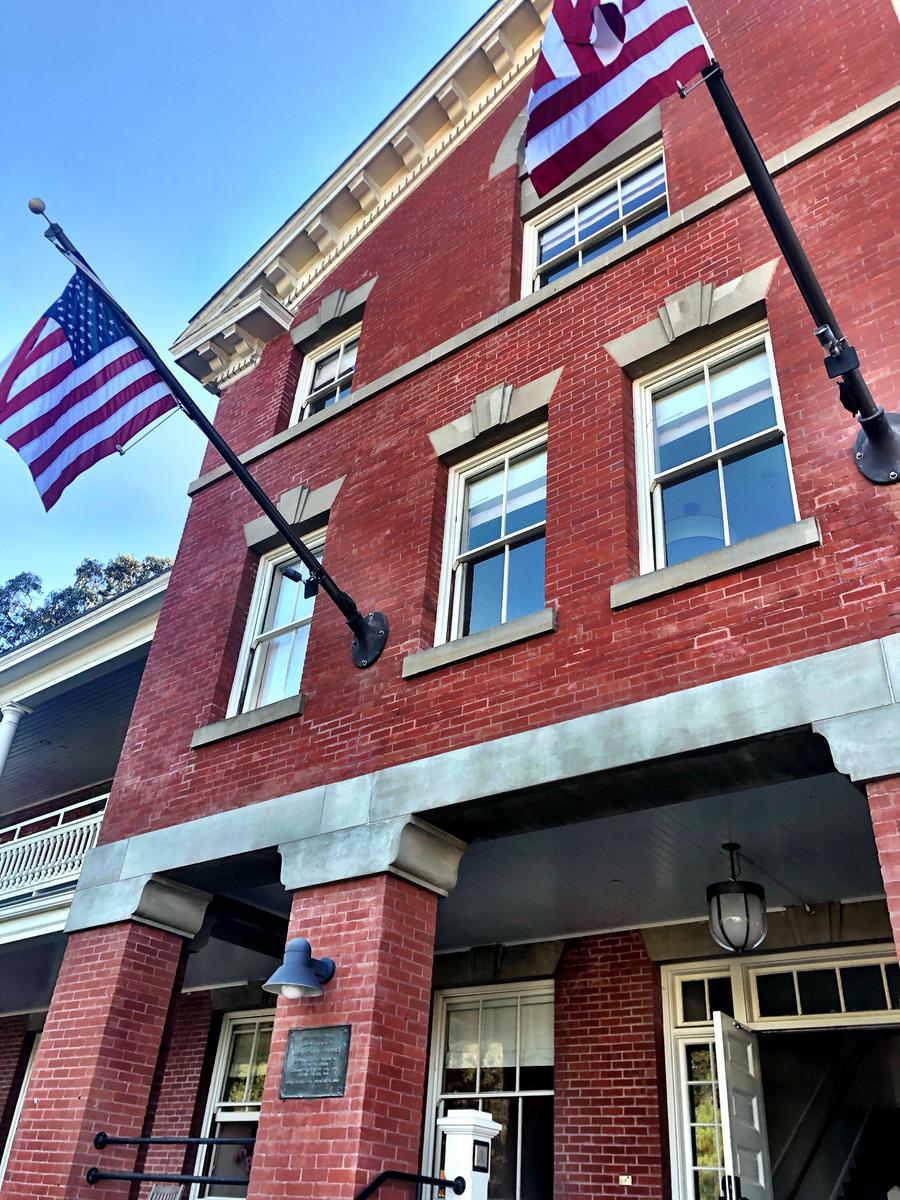 There are multiple ways to experience the Golden Gate Bridge. My personal favourite is to hire a bike and cycle over it to Sausalito for lunch but you can also walk or of course drive over it.
For a prison, Alcatraz Island is actually very scenic as is the ferry trip to reach the island. Fisherman's Wharf is a major tourist attraction but it can be quite scenic particularly when the seals are acting up.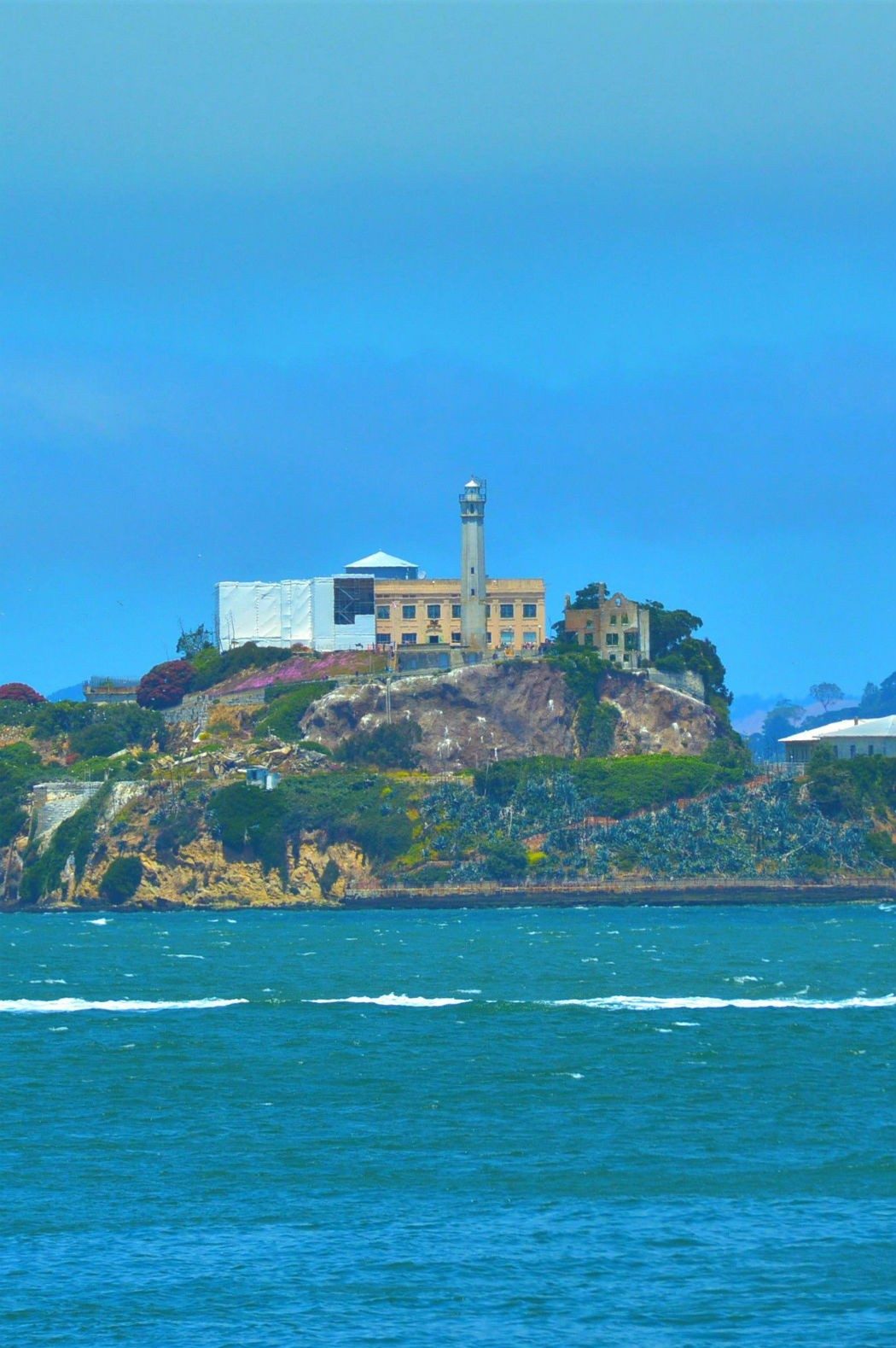 San Francisco's cable cars are extremely cute and well worth a journey. Take one to the Ferry Building for one of the most unique dining experiences in San Francisco.
The Twin Peaks are one of the best places to watch the sunset over San Francisco and the Golden Gate Bridge. These two hill are over 900 feet high but that doesn't make them the highest of San Francisco's 43 hills.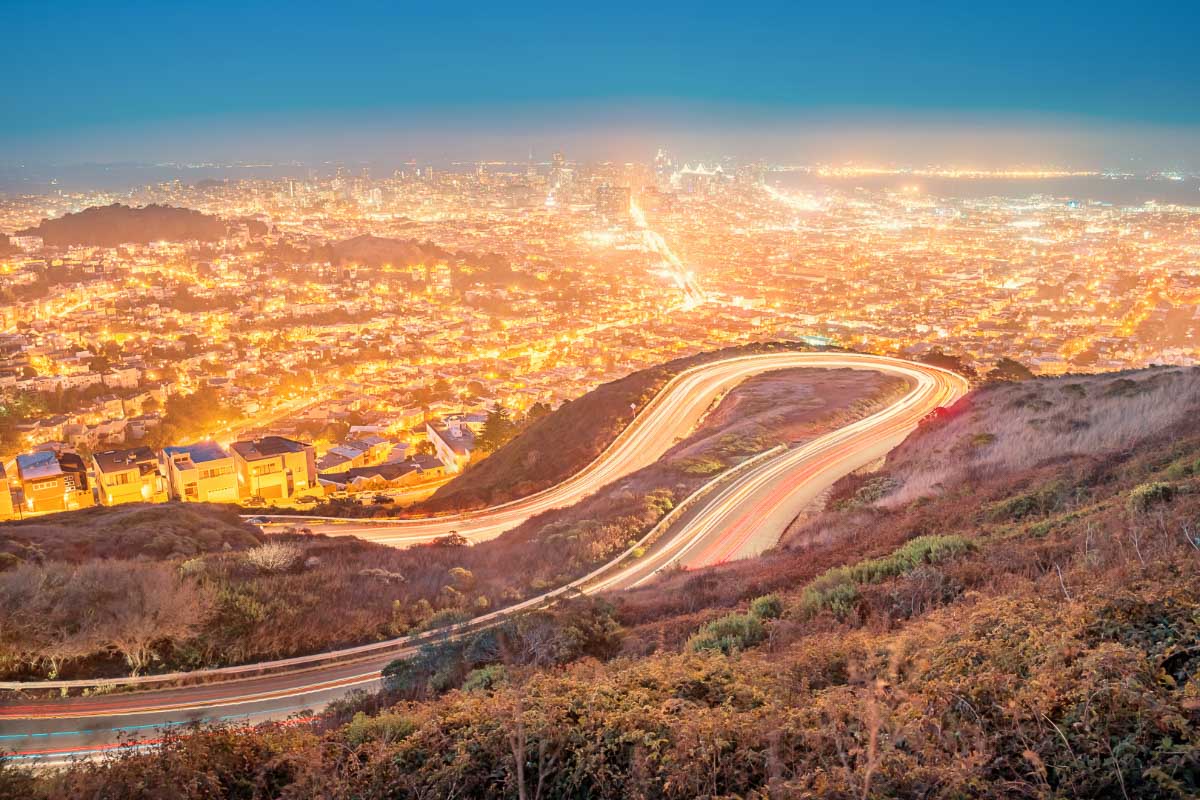 San Francisco is also the gateway to the fantastic Napa Valley with gorgeous towns like Calistoga as well as the less well known but brilliant Livermore Wine Region.
Whatever you do make sure you book Alcatraz before you leave home. If possible book it quite sometime before you leave home – particularly if you are heading over in the North American summer.
If it is booked out there are some extra tickets on the day but they go fast.
Travel Expert Tip - Book Alcatraz Early
There are so many options for tours in San Francisco! From boat cruises to food tours to helicopter trips as well as day trips to the Napa Valley,
yosemite
and so much more.
⇒ Check out San Francisco Tours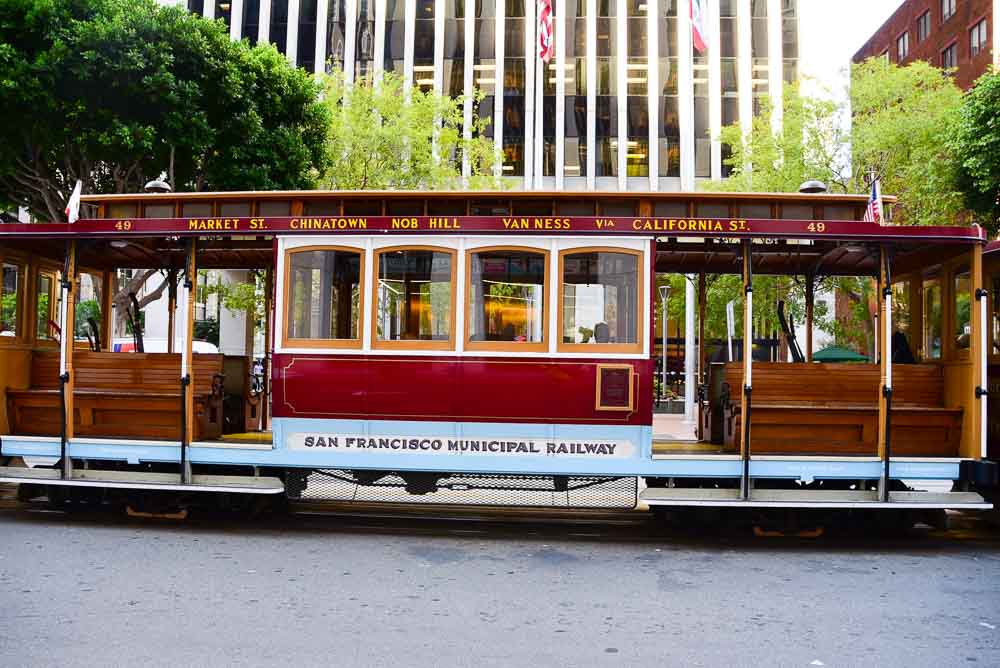 8. St Petersburg Florida
If you're seeking sun then St Petersburg Florida is the beautiful US city for you – it is very well known for its constant sunshine. St Petersburg is between Tampa Bay and Boca Ciega Bay and is connected by a two mile long causeway to Clearwater.
The Dali Museum in St Petersburg is a fantastic building on the outside plus contains more than 2,000 of Dali's work inside.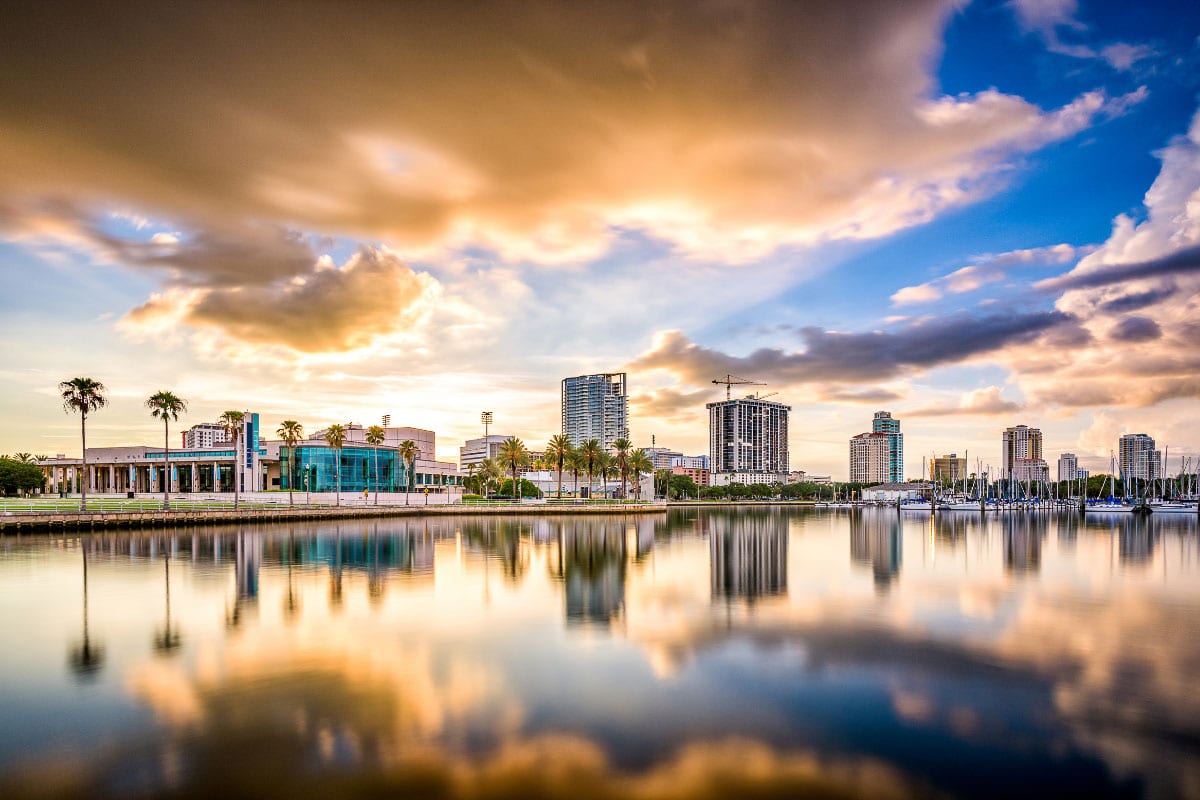 Fort de Soto Park takes in five different keys and has many trails, a beach for swimming, hiking, biking and camping (if you're into that kind of thing). Sand Key Park also has a great beach and is particularly brilliant for bird watching.
Clearwater Beach is famous for being one of the most beautiful beaches in the United States. There are literally miles of beautiful white sands plus a promenade and pier.
And for colourful and tropical fauna head to the Sunken Gardens.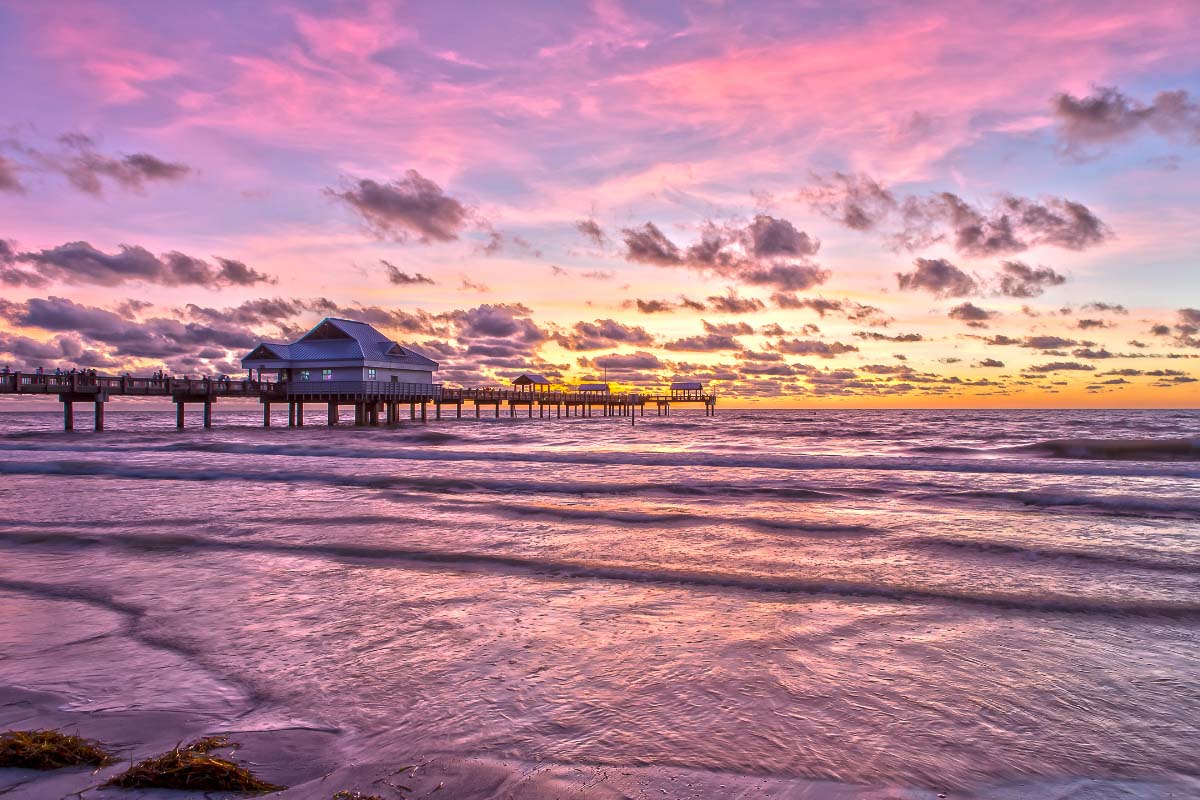 9. San Antonio, Texas
Cute little San Antonio has far more charm than Dallas and Houston in my opinion. I actually lived there for a year when I was a teenager – which was quite some time ago.
The heart of San Antonio is the beautiful riverwalk. It is literally as promised – a lovely stone walkway along the San Antonio River that has some great restaurants. Go for a stroll or hop on a riverboat or better do both.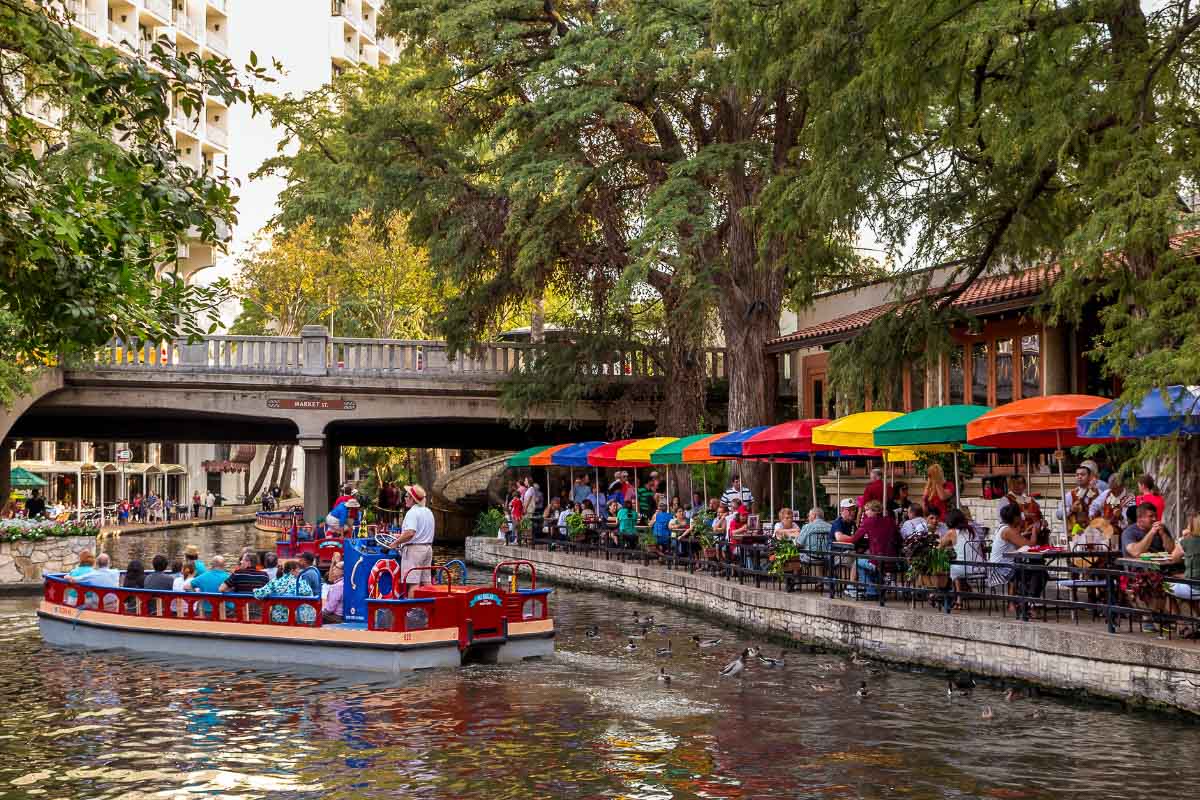 San Antonio's most historic site is The Alamo. I happened to live in San Antonio when I was in Year 7 and it was mandatory to take Texas History so I learnt alot about the Alamo.
The 1836 Battle of the Alamo is one of the most famous battles in US History. All of the small group of defenders were killed by the Mexican Army who came with 3,000 troops. The "Remember the Alamo" war cry is still famous in Texas today.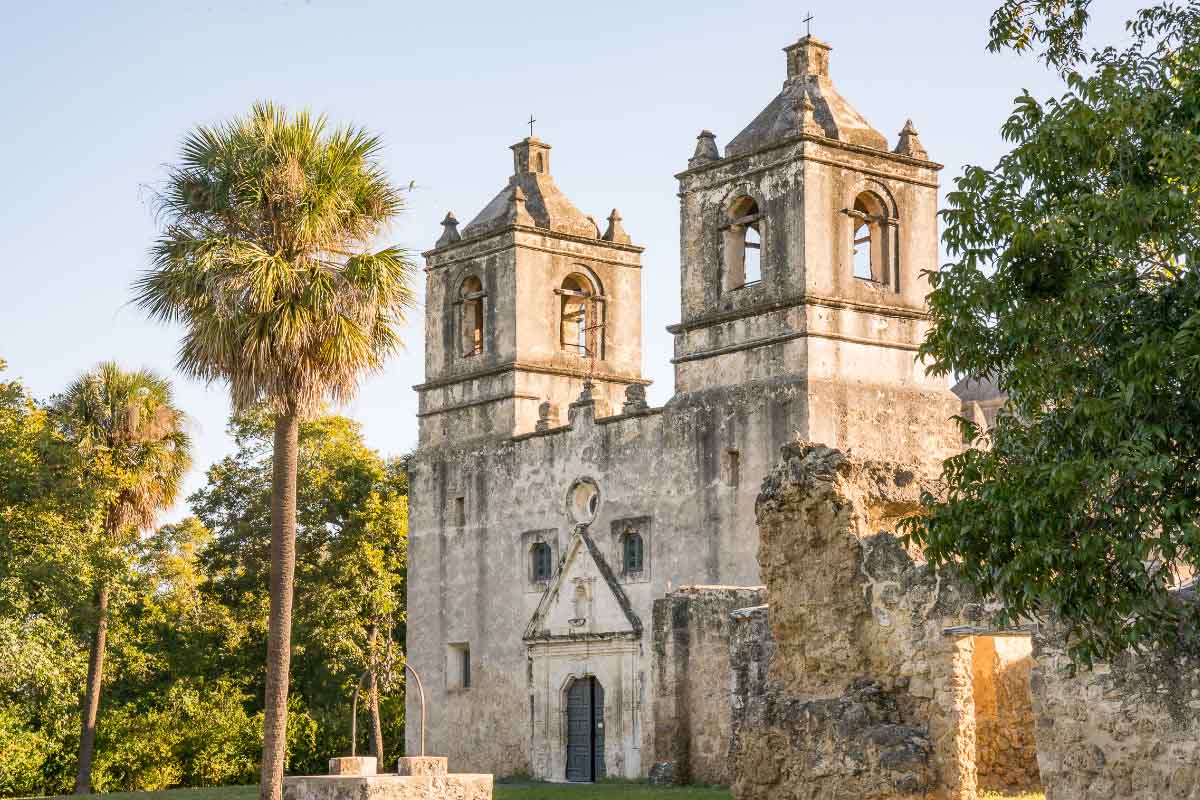 The San Antonio Missions were named a UNESCO Historic Site in 2015. There are five missions and a great day out is to bike between them. The distance is about a 16 mile return trip.
The Pearl District is where to head for the latest food trends including its farmers market. For something different head to the Japanese Tea Garden.
10. Portland, Oregon
Portland is where hipster culture started but Oregon's largest city is also very pretty. As the city straddles the Willamette River there are many scenic opportunities.
Washington Park is home to the International Rose Test Garden, museums, the Hoyt Arboretum and the zoo. There is also a second rose garden, the Portland Japanese Garden, on the grounds of an old zoo.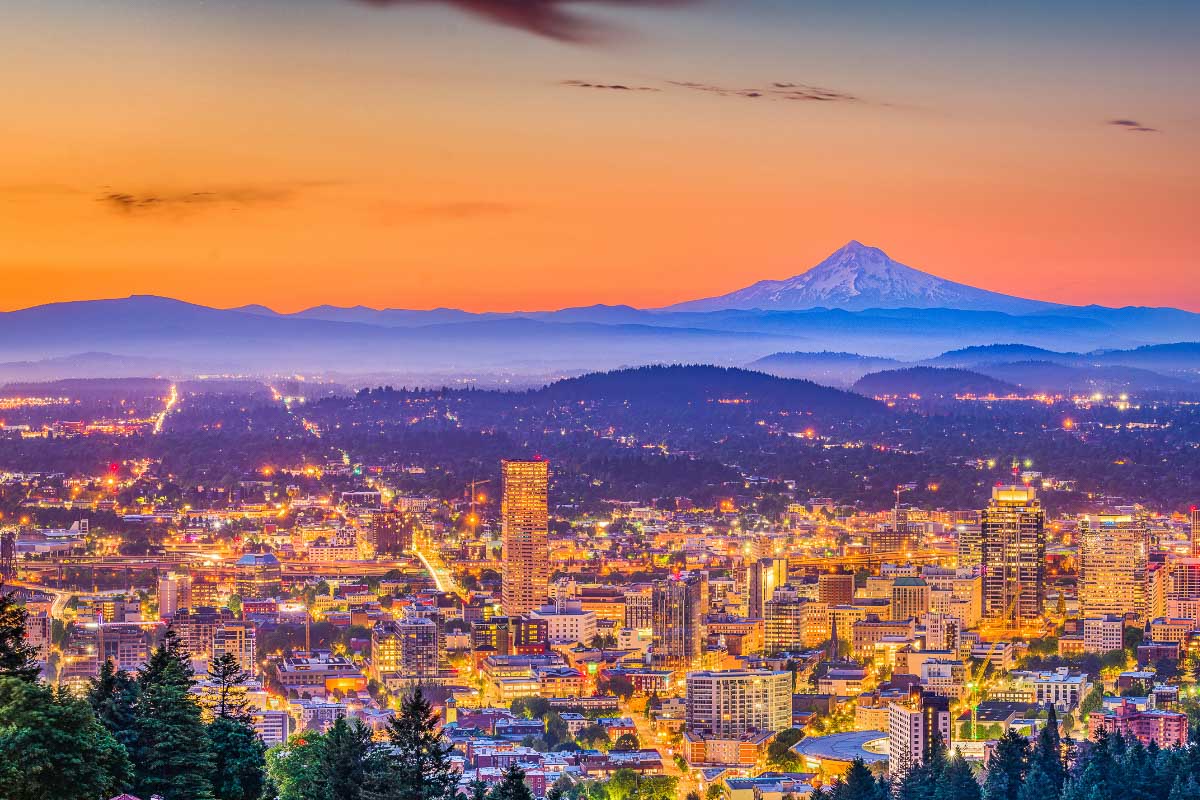 Portland also has a Chinese garden. Lan Su Chinese Garden only opened in 2000 but covers 40,000 square feet in central Portland. Check out the tea house and the special events calendar.
Forest Park is in the west of the city and covers more than 5,000 acres. There are more than 80 miles of hiking and walking trails in the park.
Crystal Springs Rhododendron Garden contains waterfalls, ponds, azaleas, magnolias, Japanese dogwood and of course Rhododendrons. It is at its most spectacular in the Spring.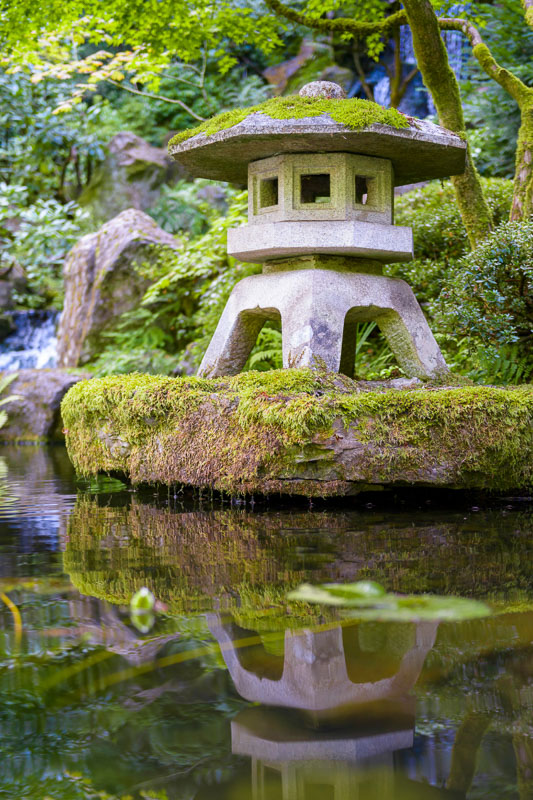 The Portland Art Museum is the oldest museum in the Pacific Northwest and home to more than 50,000 items in a beautiful building.
One of the most popular day trips from Portland is to visit the Columbia River Gorge National Scenic Area. The Columbia river marks the border between Oregon and Washington State.
11. New Orleans, Louisiana
There is nowhere else quite like New Orleans. Known for parties, jazz, creole, drinking in the streets, an atmospheric downtown, beautiful big houses and much more. I would also like to thank them for beignets.
The French Quarter is where most visitors start their stay in New Orleans. Some of the beautiful French style buildings date back 300 years. Bourbon Street is the most famous street in the French Quarter but also check out Royal Street and Frenchmen Street for jazz.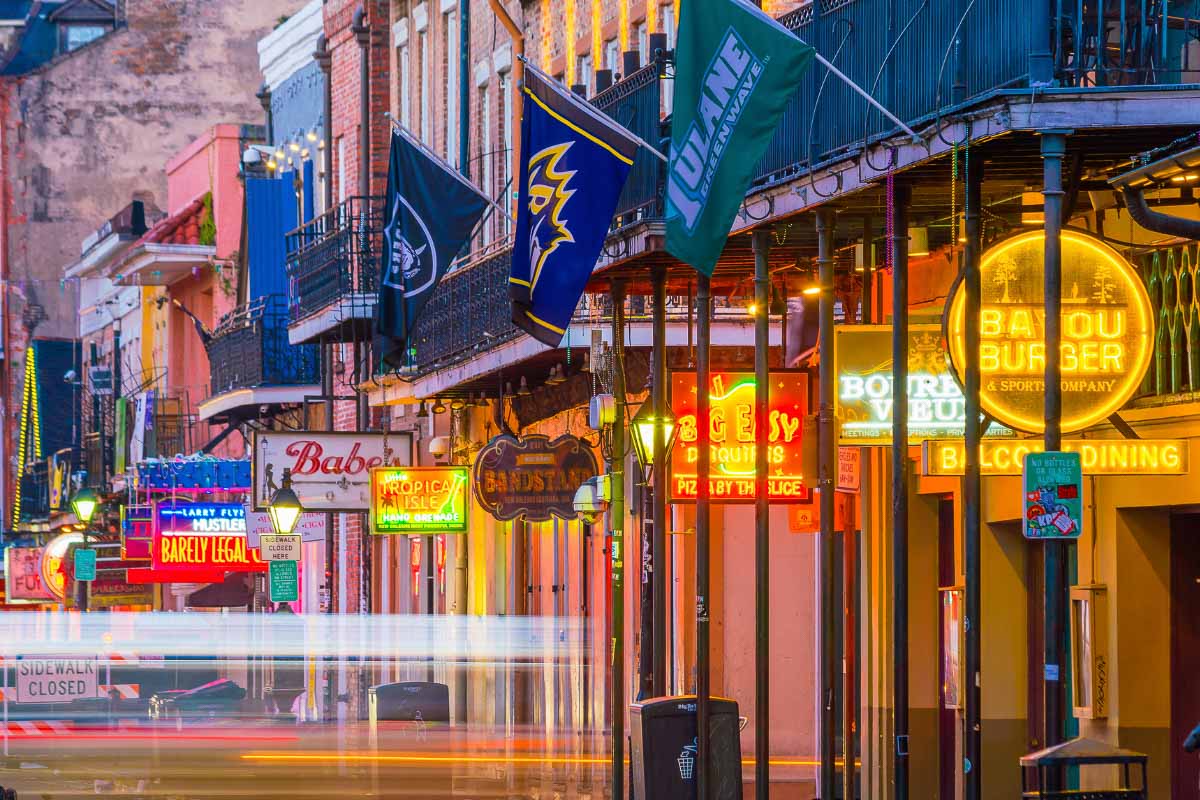 Jackson Square is in the centre of the French Quarter and flanked by the impressive St Louis Cathedral. The square is often frequented by artists and there are shops and restaurants nearby.
The lovely Garden District is home to some of the most stunning houses in New Orleans. Take a guided tour or explore the area on foot. Don't miss First street, Camp street and Prytania street.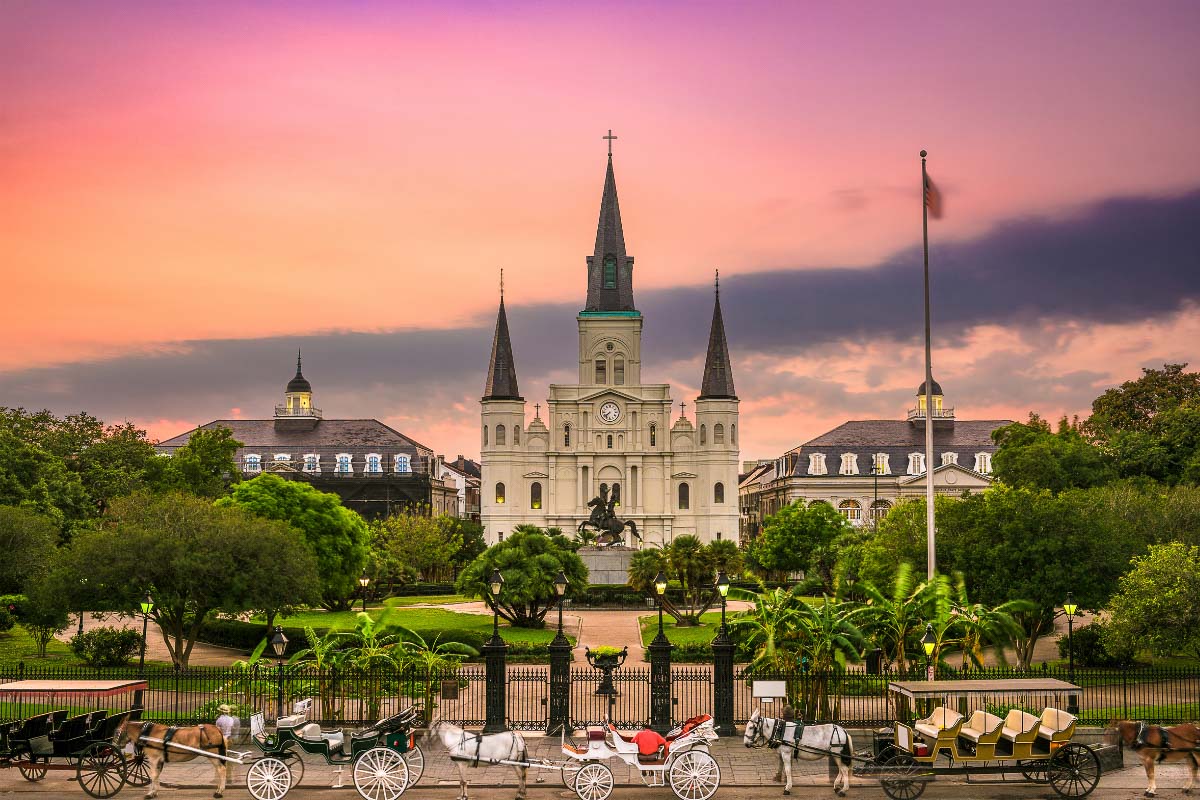 Then why not take a cruise on a paddle steamer on the Mississippi River? Cruises tend to run for two hours and are a great way to experience river life and offer some terrific views.
12. Seattle, Washington
This is the second beautiful city in the USA where I have actually lived. I was in Seattle for 3 years way back in the 1980s whilst at high school and loved it.
Seattle is of course the coffee capital of the USA as it was where Starbucks and coffee culture began. The first Starbucks was at the fantastic Pike Place Market.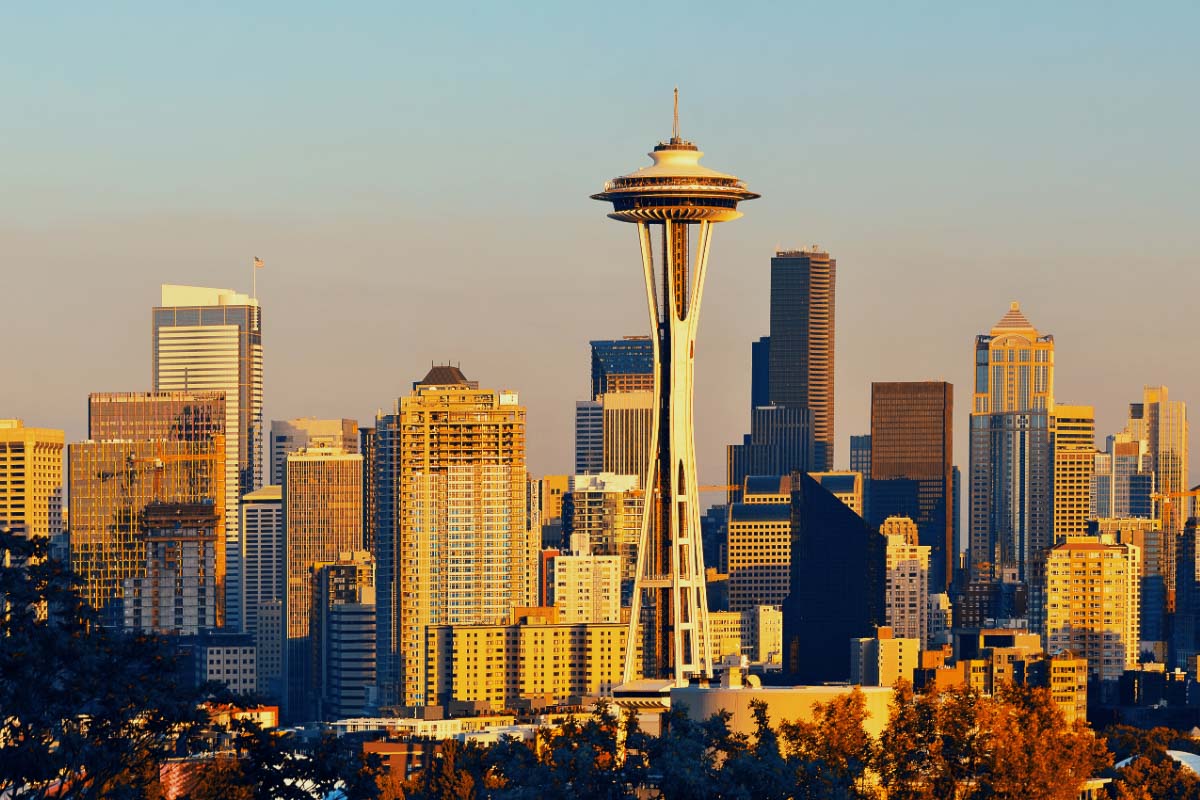 Pike Place Market is spread over two levels on the Seattle waterfront and not to be missed. In addition to an amazing range of every type of food product you could imagine there are loads of other stores for some serious shopping.
One of the most spectacular elements of Seattle is its amazing mountain views. Three mountains can often be seen in Seattle: Mount Rainier, the Cascade Mountains and the mountains of Olympic National Park.
The Seattle Space Needle is a top North American landmark. Visit Seattle Centre and see the monorail and take the elevator up to the Observation Deck for some spectacular views. This is a great place to watch sunsets in Seattle. There are also some great modern buildings and artworks in the area.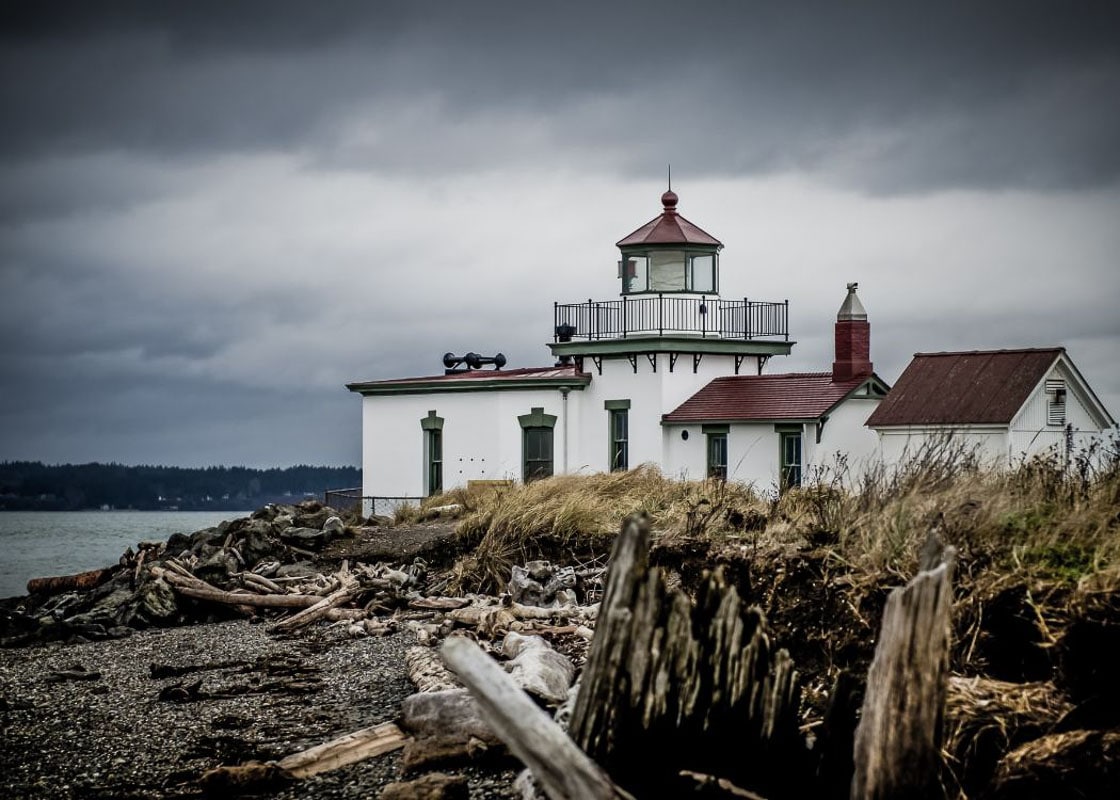 Head to Chihuly Garden to see the stunning glass blowing artwork of local Dale Chihuly. Then continue your art walk to the free Olympic Sculpture Park on the edge of Elliott Bay.
Head to Ballard Locks or Chittenden Locks to watch the busy boat traffic along Puget Sound. The Carl S English Jnr Botanical Garden is nearby.
Discovery Park is the largest park in Seattle and covers 550 acres. It also has one of the best beaches in Seattle. West Point lighthouse offers some fantastic views.
If you're heading to Seattle don't miss my post on the best places to see Sunsets in Seattle.
13. New York City
Where to begin with New York City? My best friend has been living in NYC for 19 years and I think I have visited roughly once a year since so it is a city that I know well.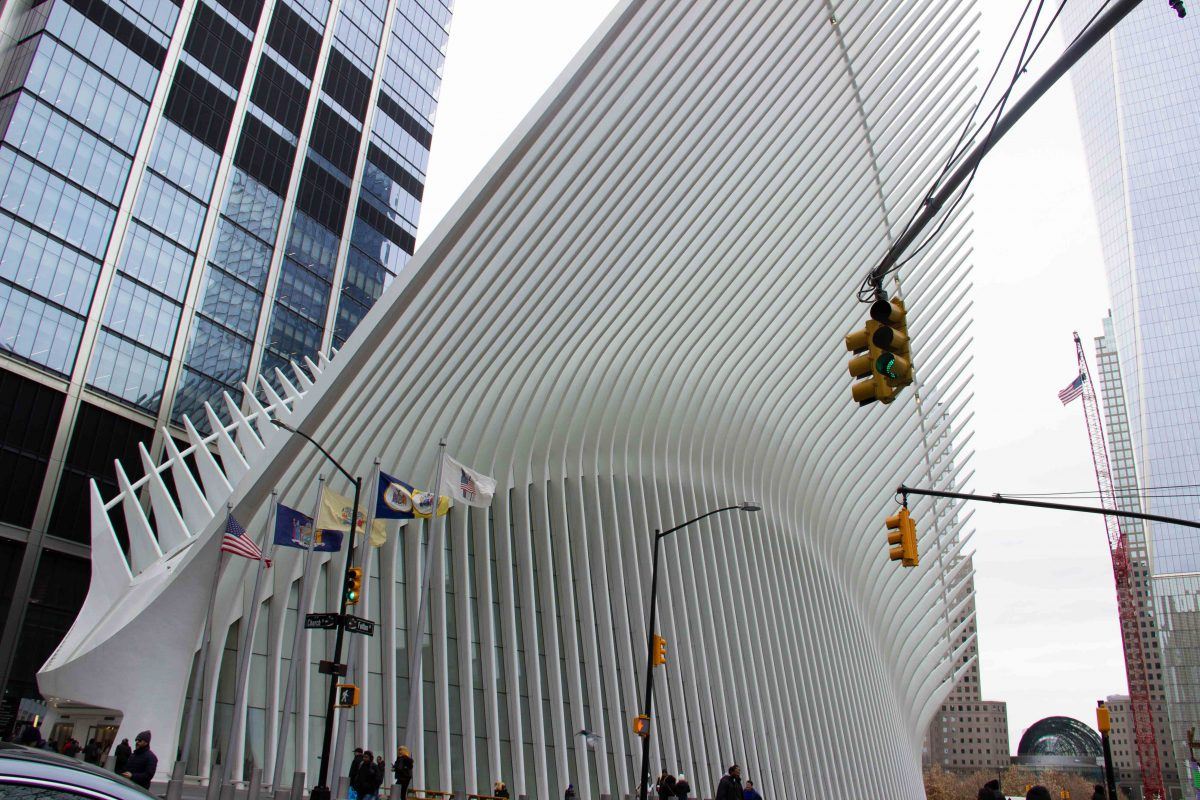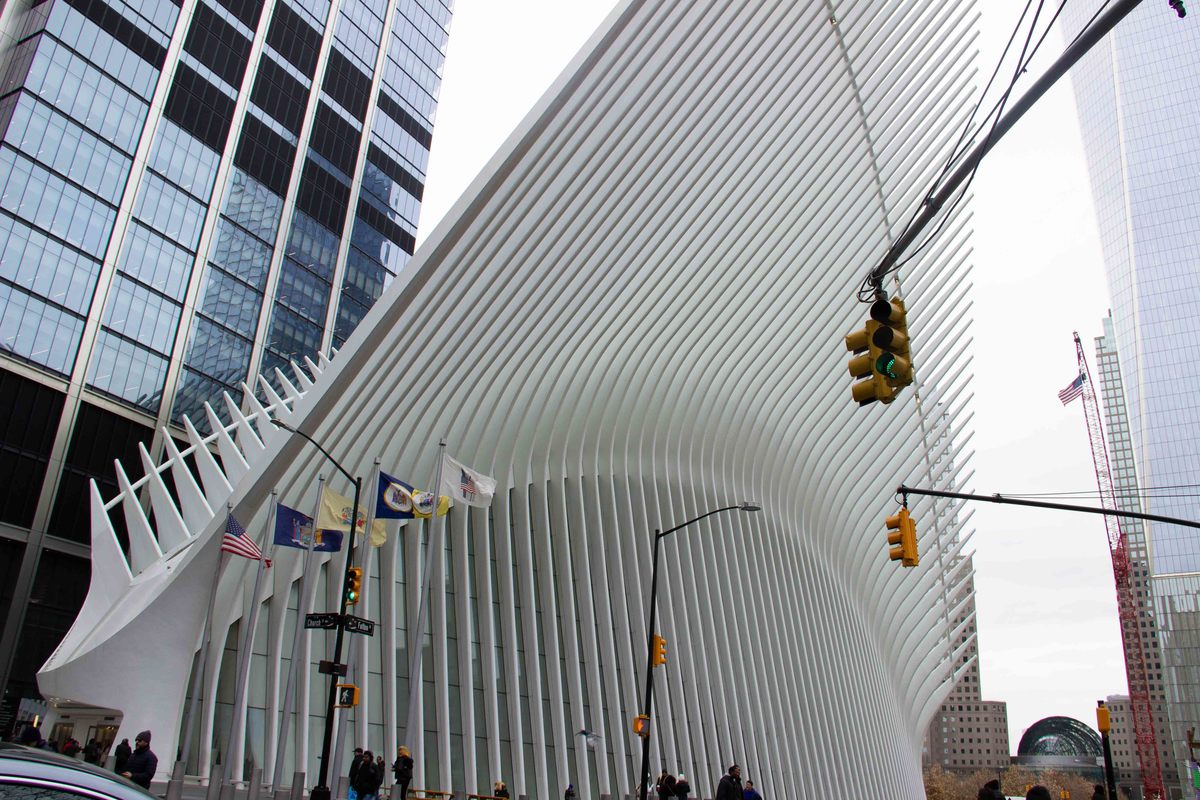 My favourite area is where Anne lives which is Lower Manhattan – there are loads of great things to do there like exploring (and eating) in Little Italy and Chinatown, going thrift and book shopping and visiting the Oculus.
Head even farther south and you'll hit Battery Park, the place to grab the ferry to visit the Statue of Liberty.
When it comes to nature there are two particularly beautiful places to visit in NYC. First up is of course Central Park. One of my favourite things to do is to cycle through the park.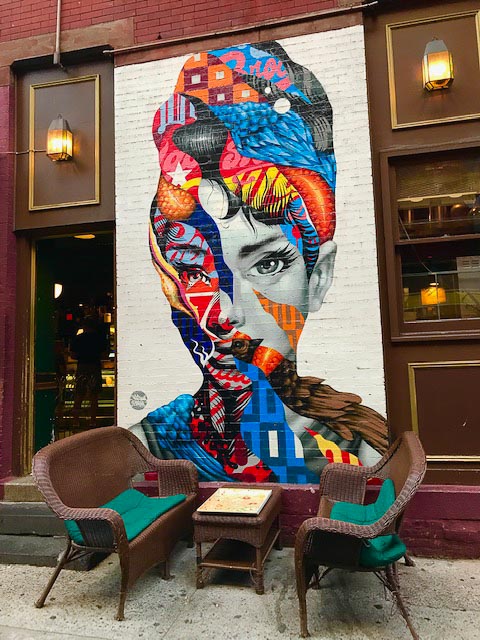 Second up is the fantastic High Line. The High Line was an old railway line that was no longer used. It was regenerated and filled with plants, benches, little food stalls and much more. It is a lovely place to spend an afternoon.
For something a little different get the ferry out to Governor's Island. It's open May through October and has many live events. It is another great place to cycle in New York City.
Washington Square isn't the greenest park you'll ever visit but it has so much character and life in it – there is always something interesting going on.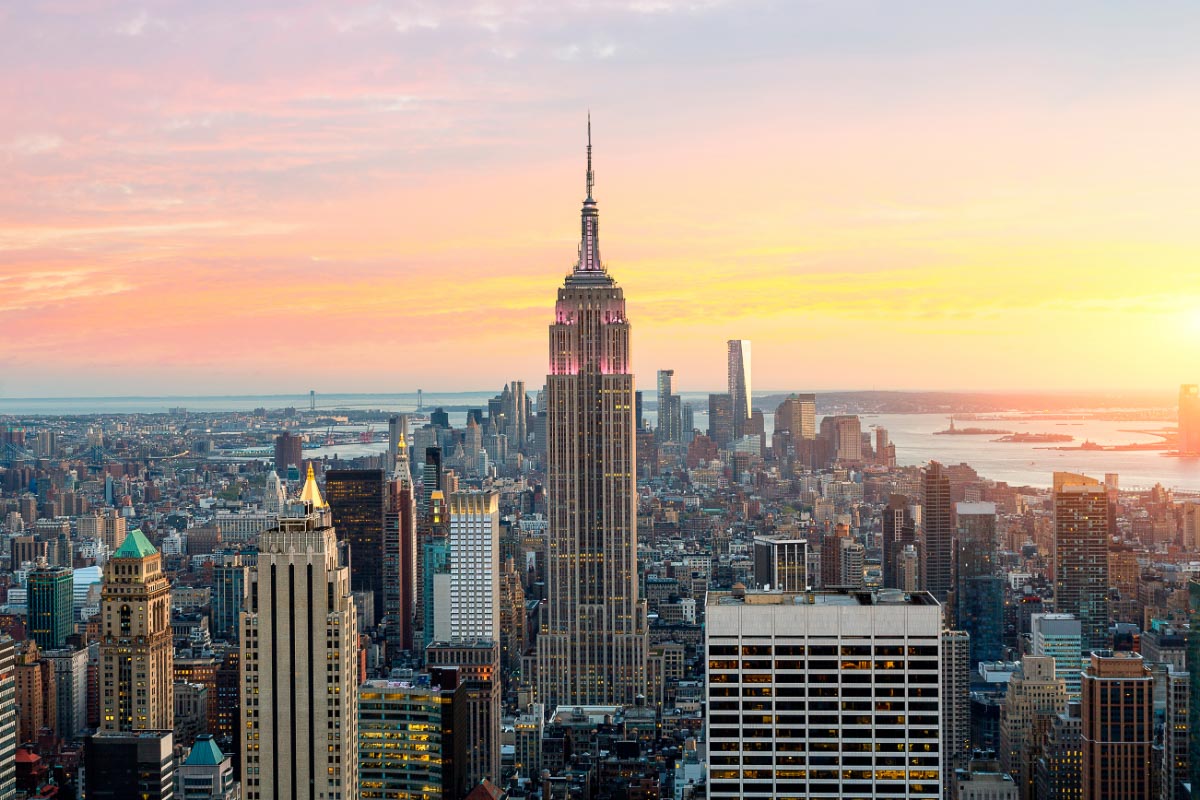 NYC has so many extraordinary buildings. For me, the most beautiful is the Chrysler Building. I also love the art deco wonder that is Grand Central Station. And Rockefeller Centre is just stunning at Christmas time.
If you're planning a trip to NYC read my post on the 8 Fantastic things to do in Lower Manhattan.
14. Anchorage, Alaska
Whilst Anchorage isn't Alaska's capital it is the largest city in the state. It is quite a modern city as much of it was destroyed in 1964 by the earthquake and tsunami and is surrounded by the Chugach Mountains.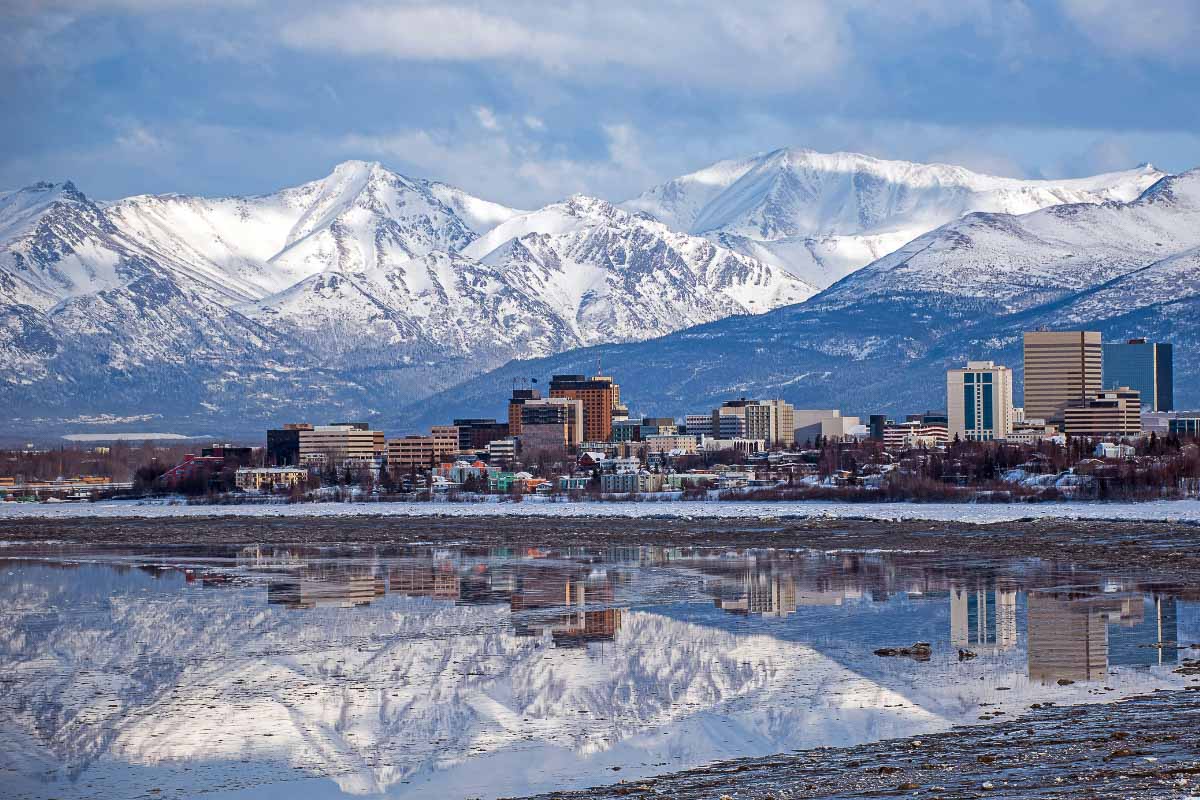 The Tony Knowles Coastal Trail covers 11 mile of Anchorage shoreline. It runs from downtown Anchorage to the South West. Walk or cycle along it to gain some stunning views at Kincaid Park – and you might even run into a moose or a whale on the way.
Chugach State Park is one of the largest in the USA and covers over 700 square miles. The park has hiking, skiing, camping and quite a bit of wildlife.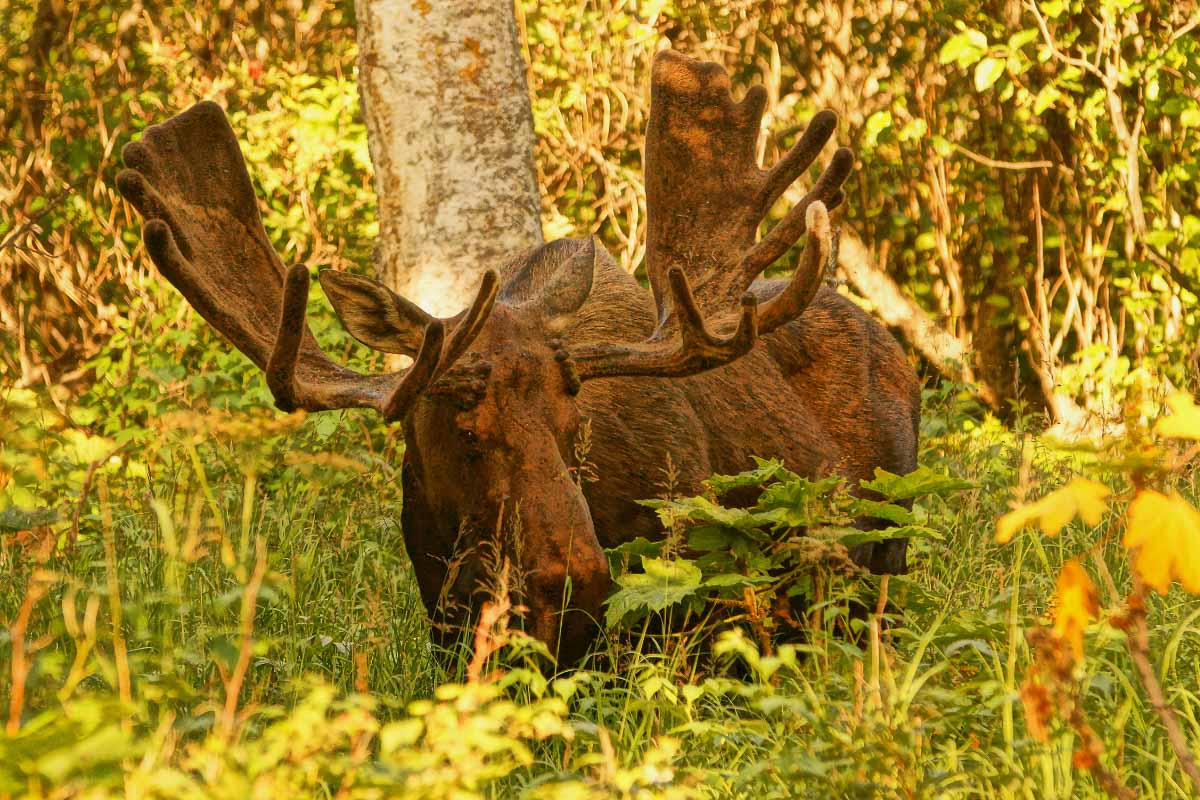 Taking a ride on a sea plane is a fantastic way to explore Anchorage and the surrounding areas. Kenai Fjords National Park is next to the glaciers of the Kenai Peninsula. It is possible to walk on trails near the glacier.
⇒ Looking for some travel inspiration? Check out my posts on the 15 North America Landmarks, Top Ten Famous Landmarks in the US, 11 Beautiful Canada Landmarks and the 20 Most Beautiful Cities in United States.
15. Las Vegas Nevada
I was unsure as to whether or not I would enjoy Las Vegas before my first visit. I'm not much of a gambler so I wasn't sure that it would be for me. I was wrong – I loved it and have been back a second time. There are so many things to do in Las Vegas that don't involve gambling – and that are very scenic.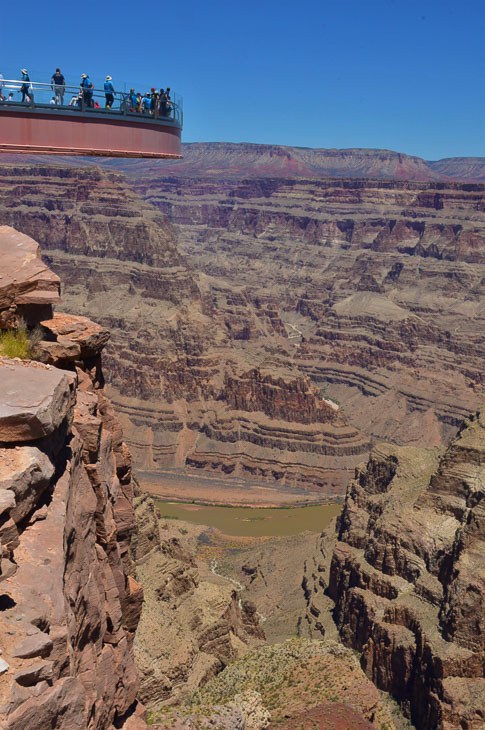 One of the most scenic things to do in Las Vegas is to take a helicopter ride to and over the Grand Canyon. Not only are there amazing views of the Grand Canyon but you'll fly over lovely Lake Mead and most rides will do a run down the Strip.
The Las Vegas Strip may be flashy but that doesn't mean it isn't visually pleasing. Neon can be quite attractive – I particularly enjoy the re-creations of Paris, New York and Italy.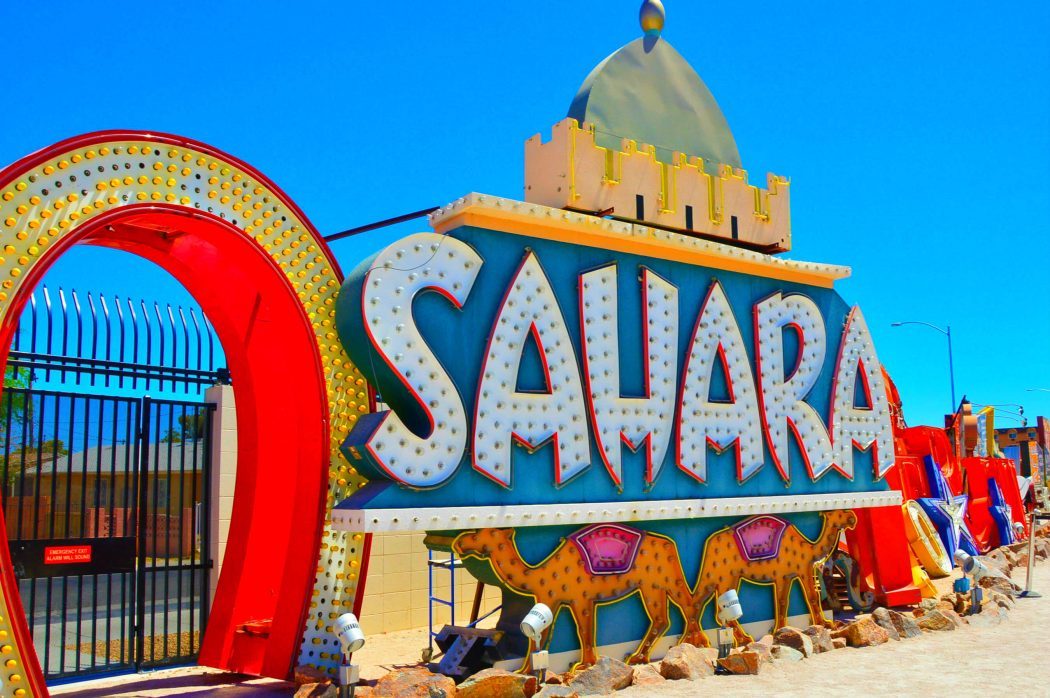 And if you like Neon don't miss the fantastic Neon Museum in downtown Las Vegas. This is where the Neon signs come once they're no longer wanted.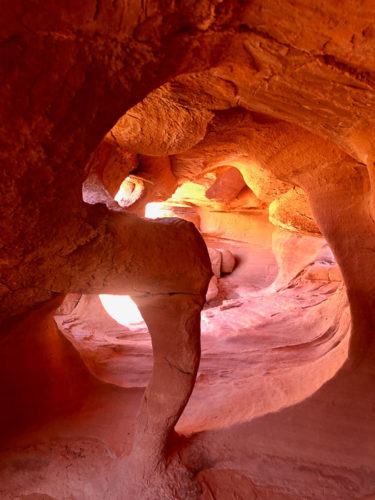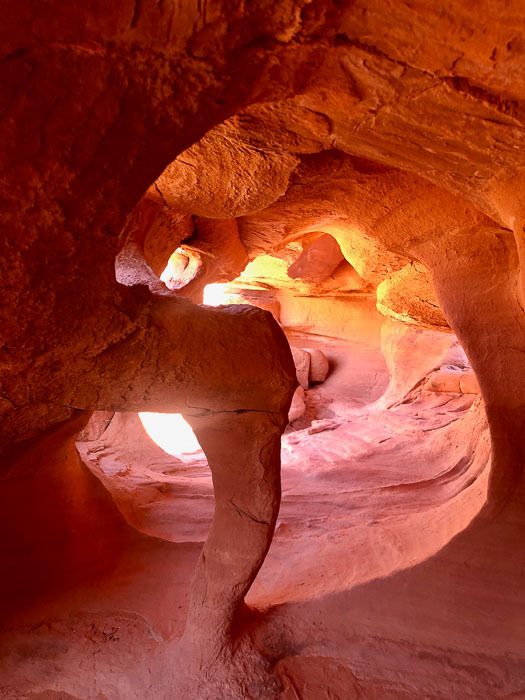 The Hoover Dam is only 30 minutes from the Strip and an excellent half day trip. 7 Magic Mountains is a beautiful art installation about 15 minutes from the strip. The Valley of Fire is just a 15-minute drive from the strip as well and is a jaw-dropping sandstone national park.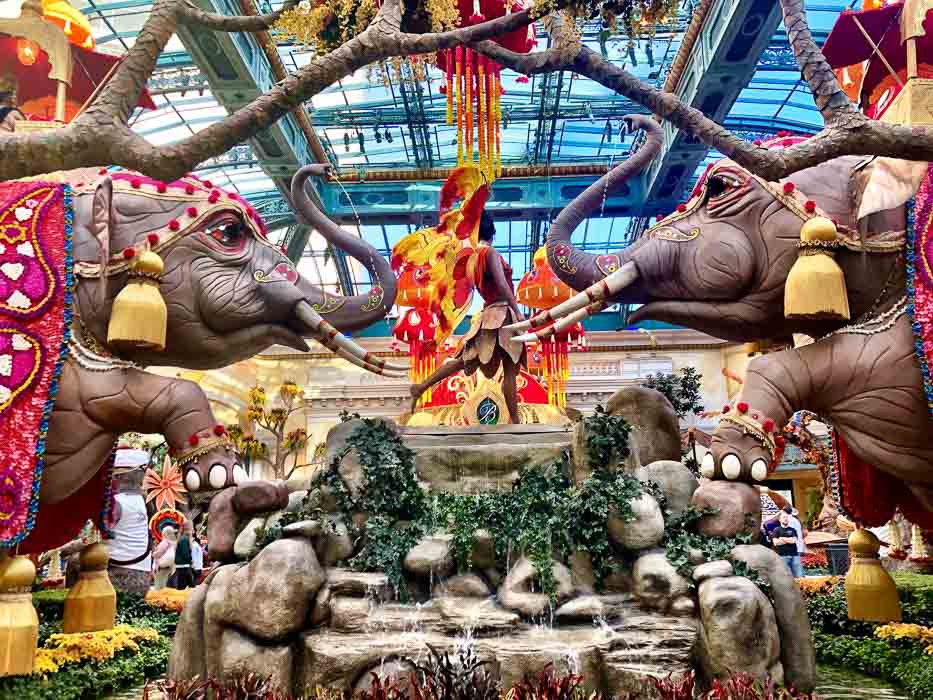 Finally, don't leave Las Vegas without visiting the Bellagio Conservatory and Botanical Garden. You don't need to be staying at the Bellagio to visit nor is there a cost. The designers at the Bellagio put on a floral extravaganza which is changed 4 times a year. And don't miss the Fountain Show either.
Going to Las Vegas doesn't mean that you have to hit the slot machines. Check out my post 25 Things to do in Vegas besides gamble.
16. Asheville, North Carolina
Asheville is in the far west of North Carolina and located near the Great Smoky Mountains. There are quite a few places in Asheville that offer fantastic views of the mountains and this is one of the reasons it made this list of the 20 most beautiful cities in United States.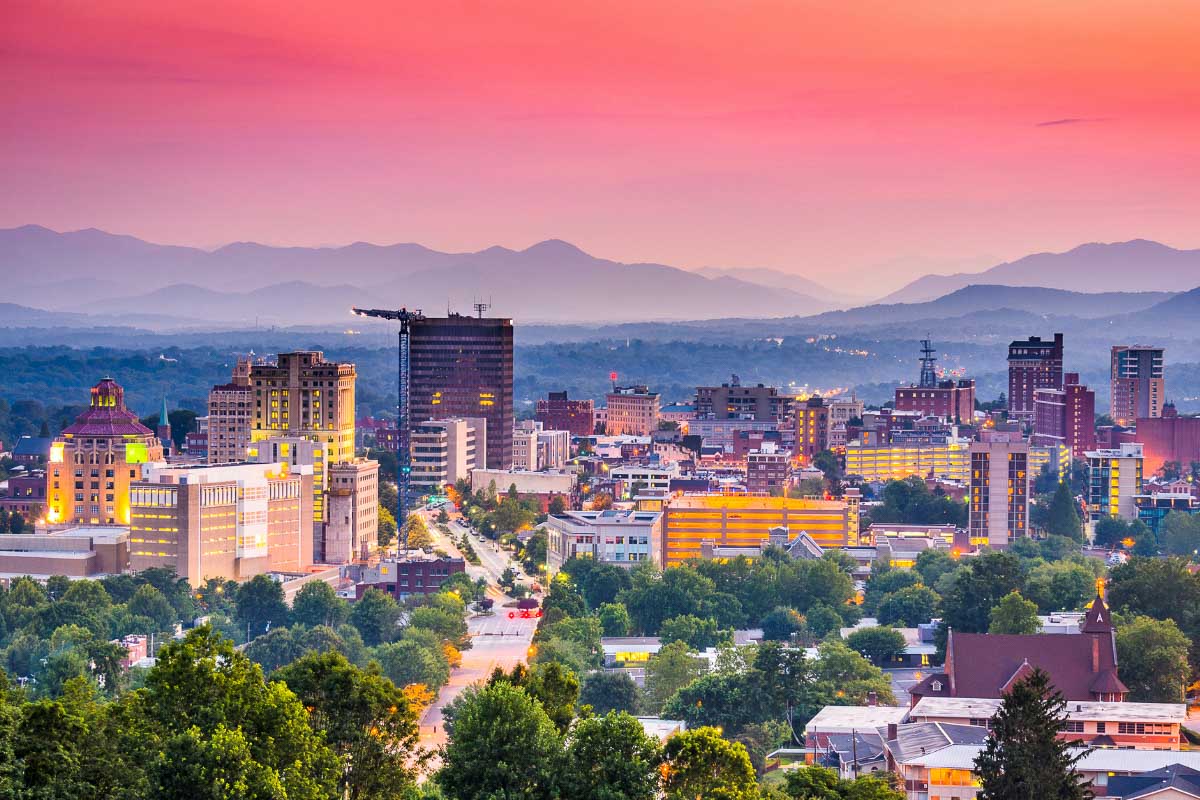 Blue Ridge Parkway starts in Virginia but ends at the Great Smoky Mountains. There are many places to stop for jaw-dropping views along the road. The best times of year to visit are fall and early summer.
The Blue Ridge National Heritage Area has scenic drives, wildlife, walking trails, local events and farmer's markets.
The largest private home in the United States, the Biltmore Estate or Vanderbilt Mansion, is in Asheville. Tours are available to explore its 250 rooms.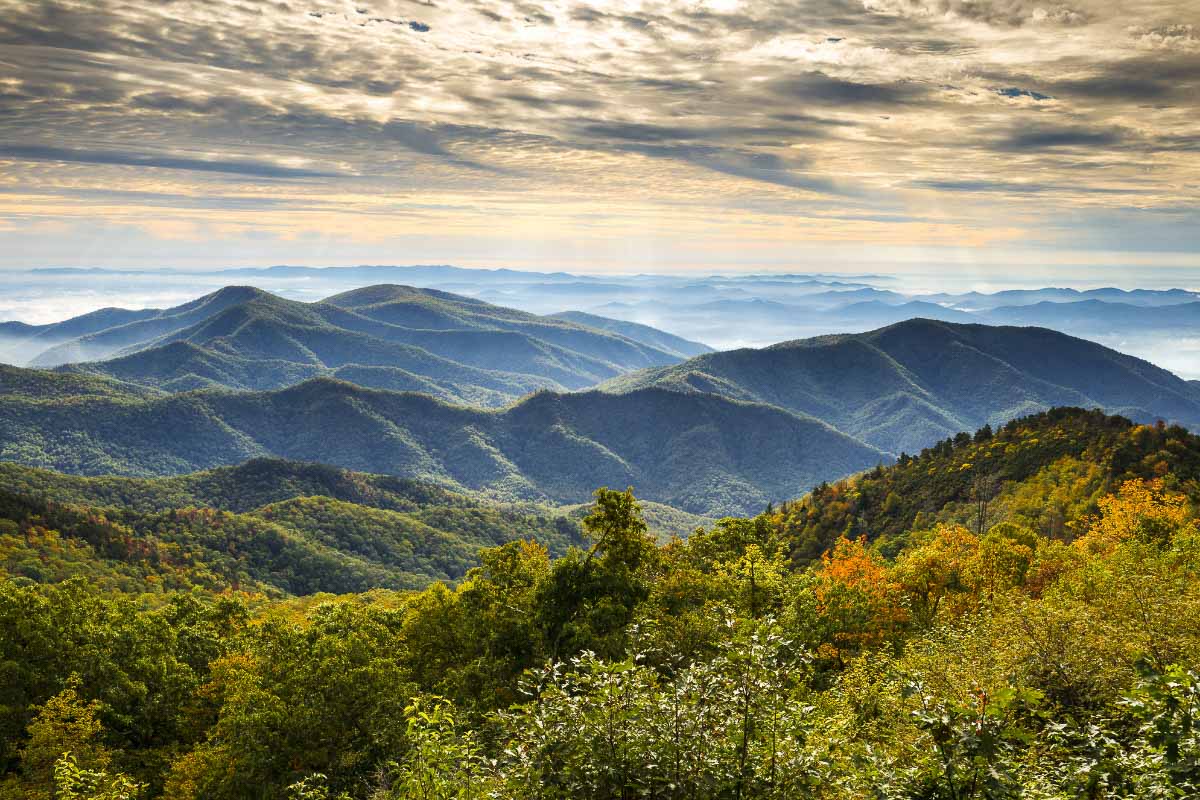 Nearby Biltmore was built for the workers of the Biltmore Estate and modeled on an English village. It is now a popular tourist attraction due to its historic buildings. And don't miss the atmospheric and artsy downtown area of Asheville and its numerous great restaurants.
The North Carolina Arboretum runs over 65 acres and features everything from azaleas to bonsai trees. The Botanical Gardens of Asheville focuses on local plants and trees and is at its best in late Spring and early Summer.
17. Denver, Colorada
Denver, Colorado sits one mile above sea level, has 300 days of sunshine a year and the Rocky Mountains as a back drop – no wonder it is commonly cited as one of the most beautiful cities in the United States.
Denver Botanic Gardens is one of the largest in the United States at 23 acres. The garden has a mix of international and native plants and 49 individual gardens – from Japanese to orchids to sub-tropical.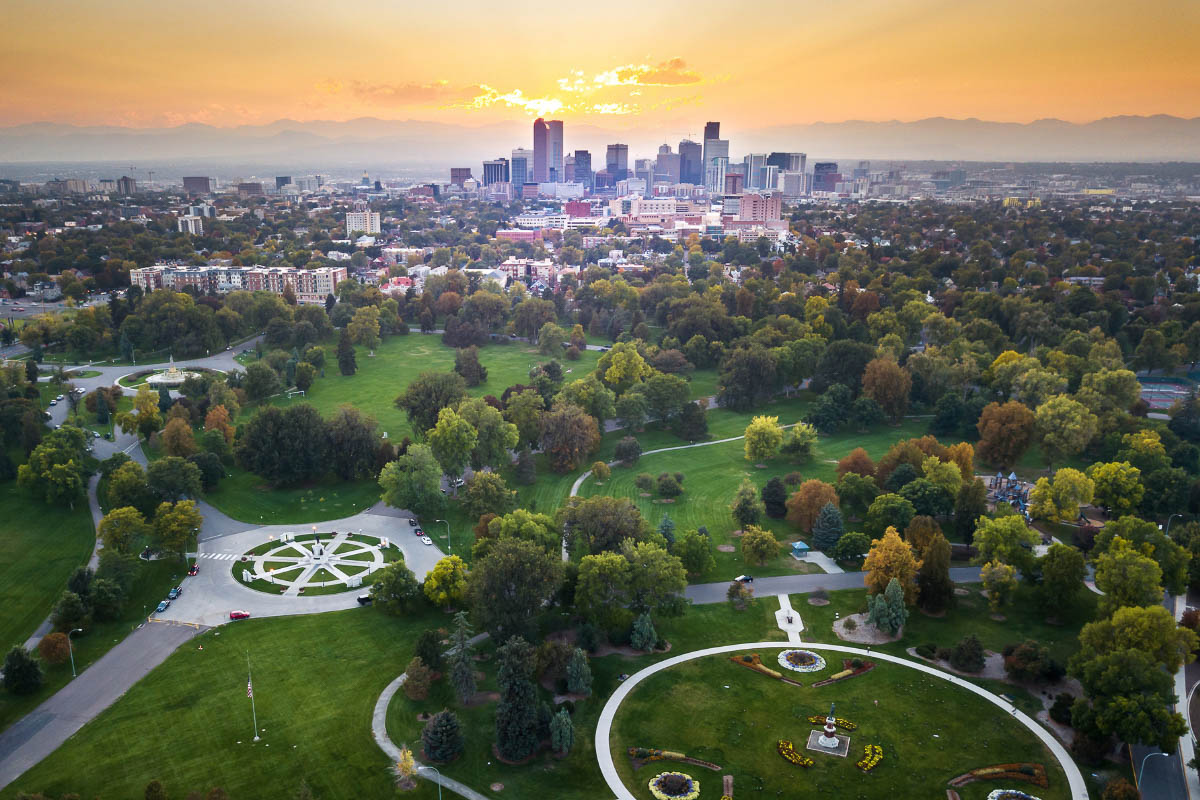 The city of Denver is home to many historic and culturally interesting buildings such as the United States Mint, Denver Public Library, the Colorado State Capital and the modern Denver Art Museum.
And visit the 16th street mall for a taste of Europe and atmospheric Larimer Square with its restored buildings from the Civil War era.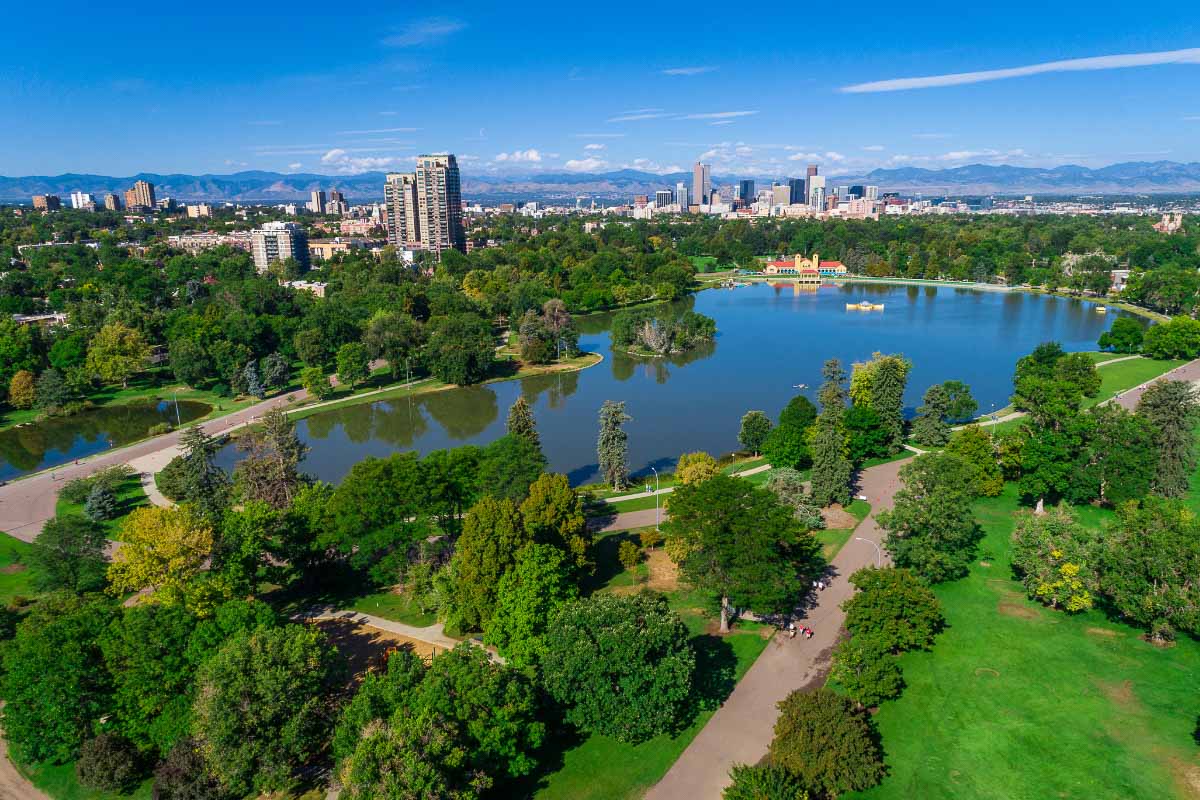 Denver's most popular attraction is just outside the city centre – the Red Rocks Park and Amphitheater. The park has spectacular red sandstone formations and the amphitheater sits against some of these, providing unique acoustics.
18. Salt Lake City, Utah
Utah's capital is about much more than just Mormons. It is quite a young and dynamic city with many nearby skiing and mountain adventures on offer.
Temple Square takes up 35 acres in the middle of Salt Lake City. This holy place of Mormons is home to four important Mormon buildings, fountains, flowers, historic monuments and more.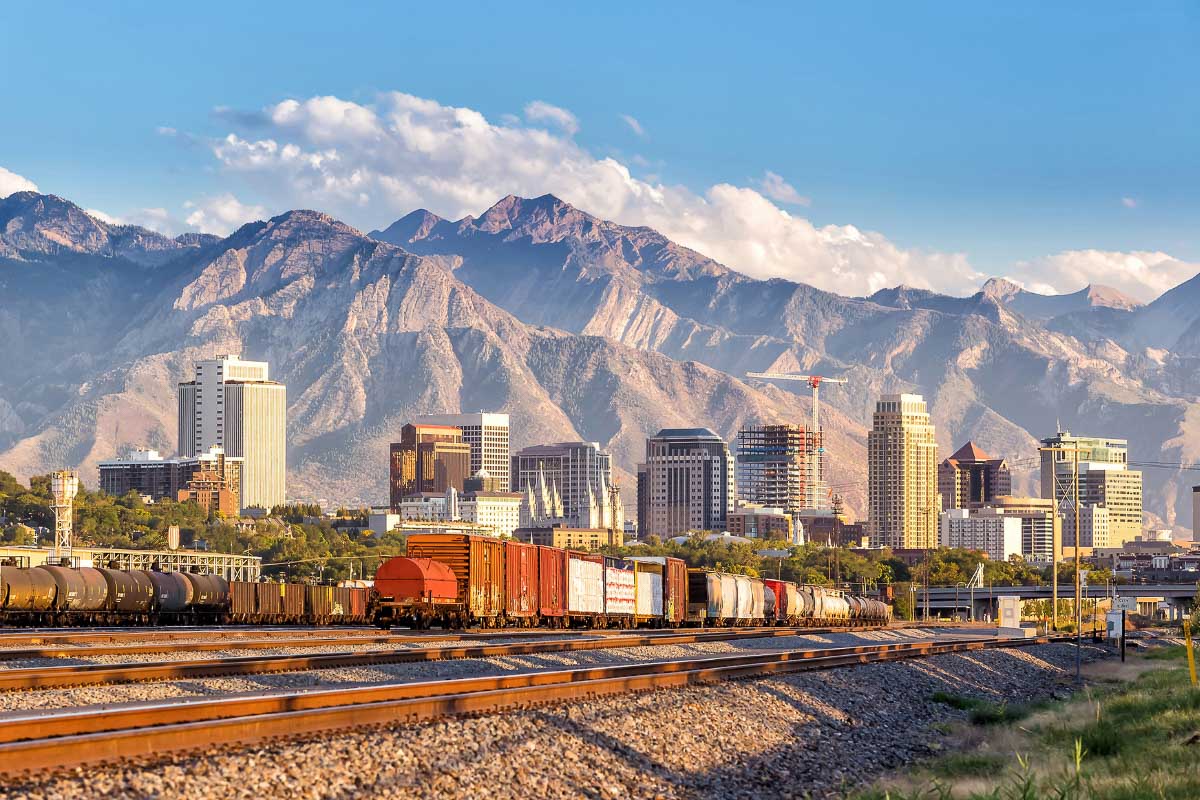 One of those four buildings is the Mormon Temple. This huge granite structure has three towers on each end and was built in a classic Mormon style (who knew there was Mormon architecture?).
This is the Place heritage park has a fantastic name. Apparently this is what Brigham Young said when he arrived at Salt Lake City after a 1,300 mile trek. There is a This is the Place monument, the Old Deseret Village, pony rides and you can even dig for gold.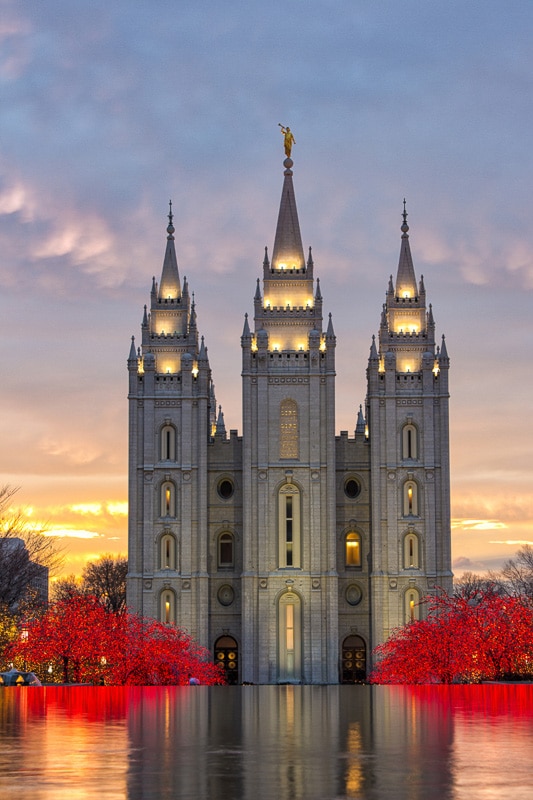 Liberty Park is Salt Lake City's largest public park. Its 80 acres has running paths, an aviary, basketball courts, a public swimming pool and more.
And if you're looking to ski Park City, Deer Valley, Snowbird, Alta and Solitude are all nearby.
19. Tucson, Arizona
A common feature of the most beautiful American cities in this post is sunshine. Tucson's warm and dry climate has earnt it the name The City of Sunshine.
San Xavier del Bac Mission or the White Dove of the Desert is a stunning building in the southwest of Tuscon.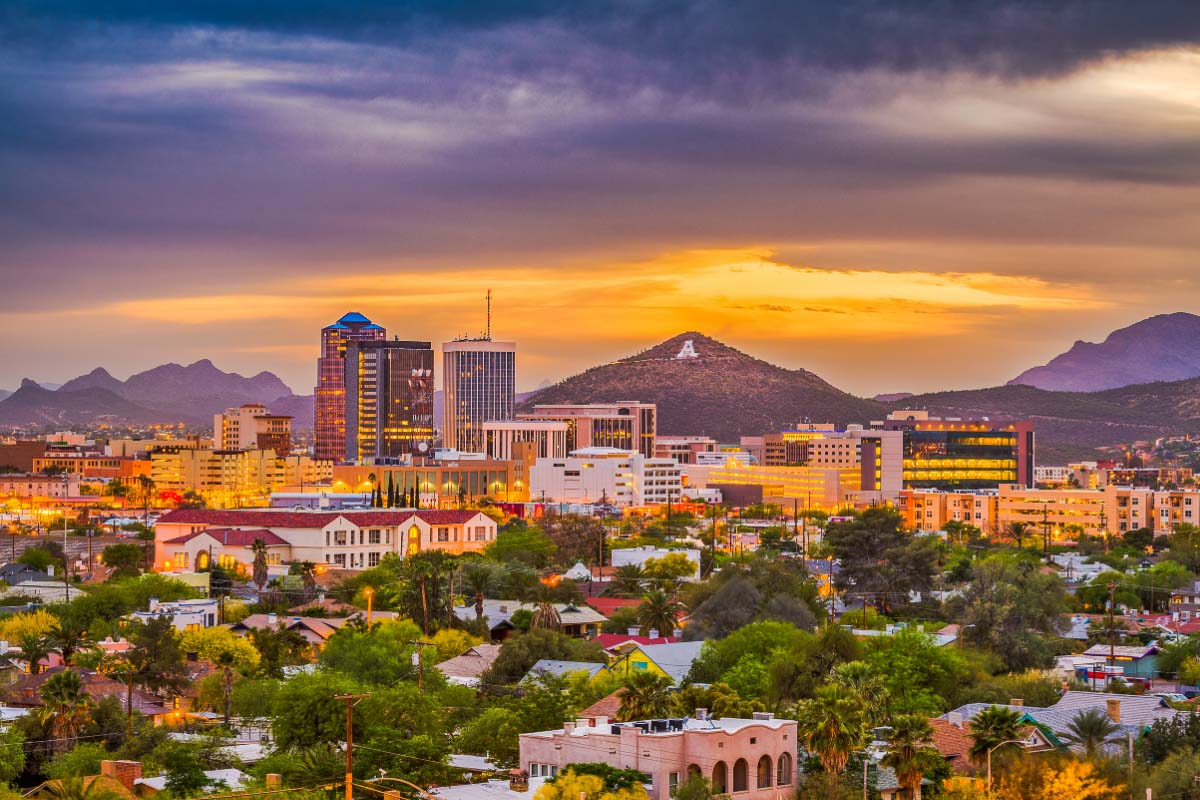 Saguaro National Park has the tallest species of cactus in North America, the saguaro cactus. The park is full of scenic drives and hiking trails that offer the chance to see local wildlife and more cacti and trees.
Tucson Mountain Park covers over 20,000 acres and is also the home of the Old Tucson Movie Studios and the Arizona-Sonora Desert Museum. The old movie studios have recreated a 19th century style western town. This town may look familiar as it has been used as the set for many films and tv shows.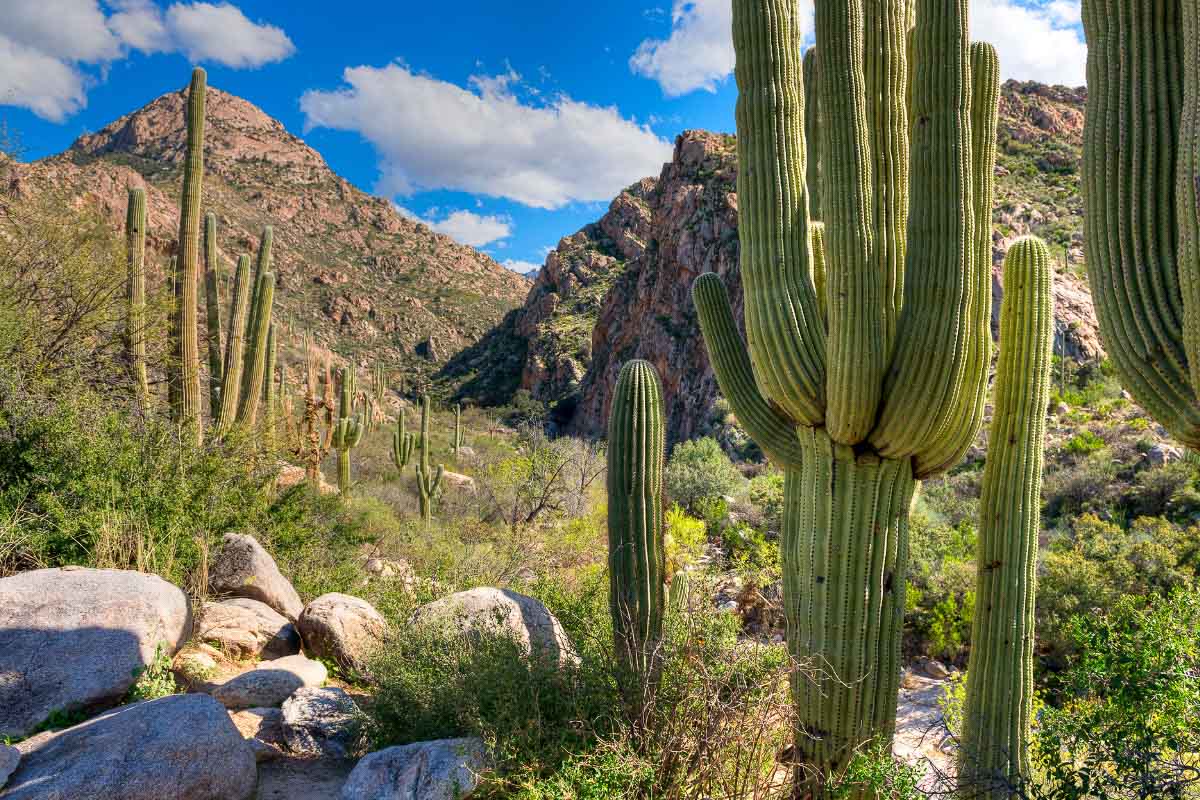 El Presidio Historic District is a mix of Spanish and American architectural styles with many beautifully restored adobe houses. The area also includes Old Town Artisans, an old style marketplace.
Mount Lemmon Scenic Byway is a beautiful 27 mile one way road which runs through the Santa Catalina Range. Experience several landscapes along the way. There are plenty of places to stop and admire the view.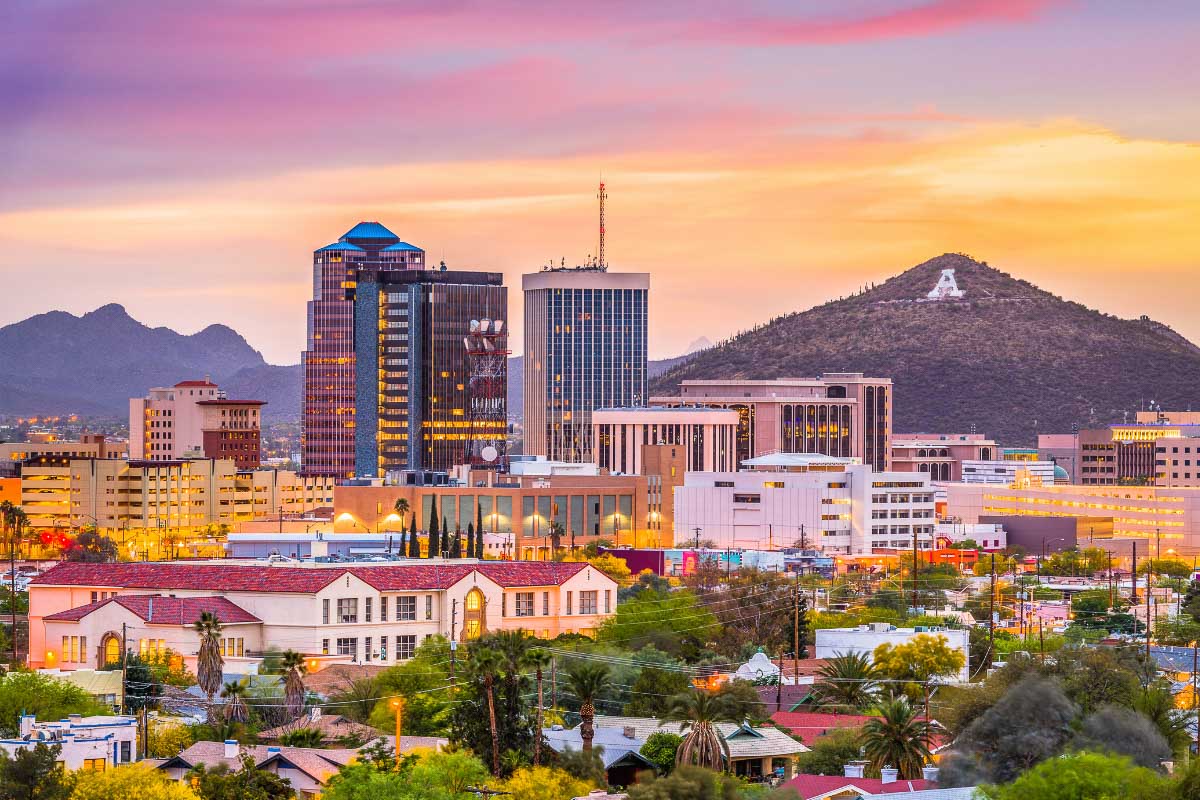 If you're looking for some exercise and a great view head to Tumamoc Hill. The path is 3.1 miles return.
20. Santa Fe, New Mexico
New Mexico's capital city has both a river in the Rio Grande and mountains, the Sangre de Cristo range. Plus a city that is a mix of anglo, mexican, native american and spanish influences creating picturesque streets and a fantastic food scene.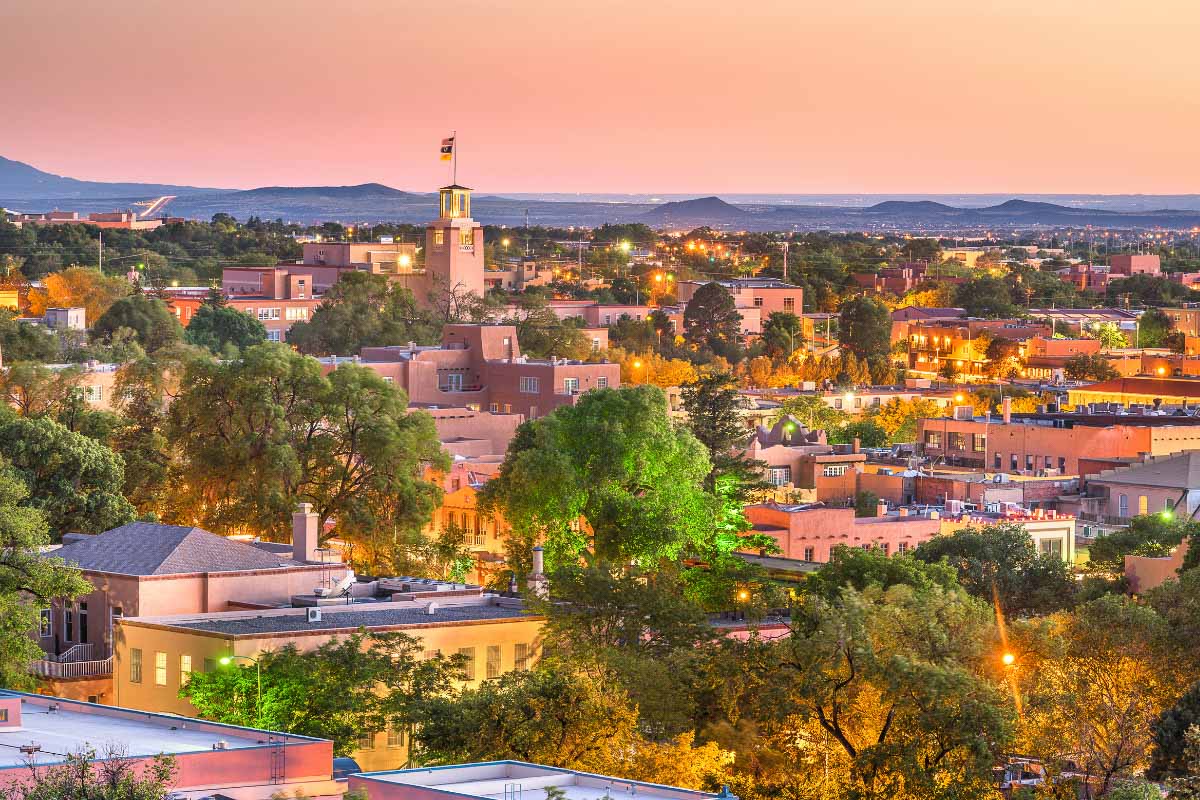 Canyon Road is a cute and colourful street that is home to cafes, galleries and shops. The beautiful Cathedral Basilica of St Francis of Assisi looks like it has been dropped in from an Italian city. And check out the beautiful stained glass windows of the Loretto Chapel.
Plaza is the simply named town market square. Popular with both tourists and locals this is the place for shopping, atmosphere and restaurants. The Georgia O'Keefe Museum is the world's largest collection of the artist's works.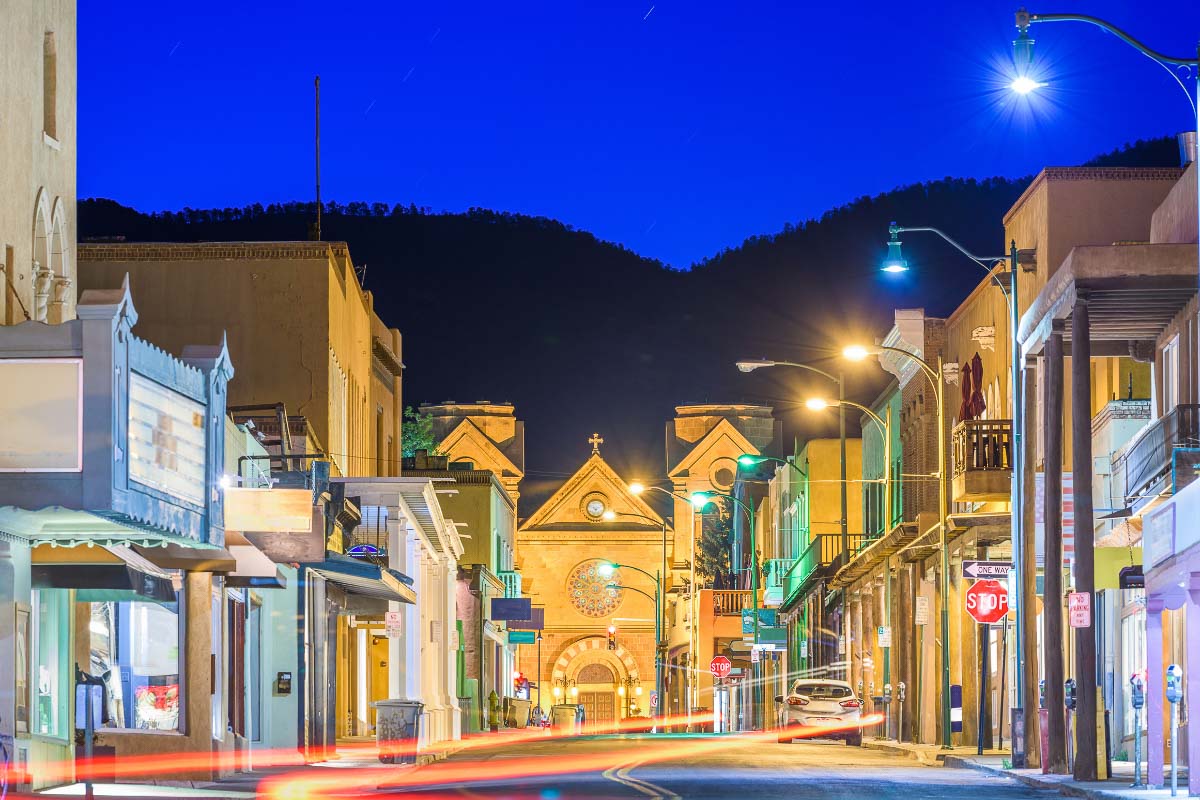 Abiquiu and its Ghost Ranch is about one hour from Santa Fe. Stop at Penitente Morada on the way and see the stunning Echo Ampitheatre. It is also possible to visit Georgia O'Keefe's former home in Abiquiu.
Shortcut Travel Toolkit
Ready to Book? Here are my travel favourites:
⇒ For accommodation Booking.com – great prices, great clear layout of accommodation options & brilliant for cancellation (& good photos!)
⇒ Or feel like a local by staying at an airbnb or having one of their great local experiences Airbnb
⇒ For flights skyscanner.net – always have the cheapest prices and great tools to help easily figure out if it would be better to leave the day before etc
⇒ For car hire rentalcars.com – huge range of options and a price match guarantee
⇒ Every trip is improved if you know at least a little bit of the local language – Rosetta Stone is the best and often have great getting started deals.
⇒ Skip the Line tours – Viator have over 14,000 of these – I am always so happy when I have pre-booked one of these! And you can cancel most Viator tours with full money back if you're more than 24 hours out
⇒ And finally and super important – Roam Right for Travel Insurance have an excellent rating and lots of choice. I particularly like their policies that just cover medical or car rental. They also have great options for adventurous travellers.
So do you agree with my choice of the 20 most beautiful cities in the USA?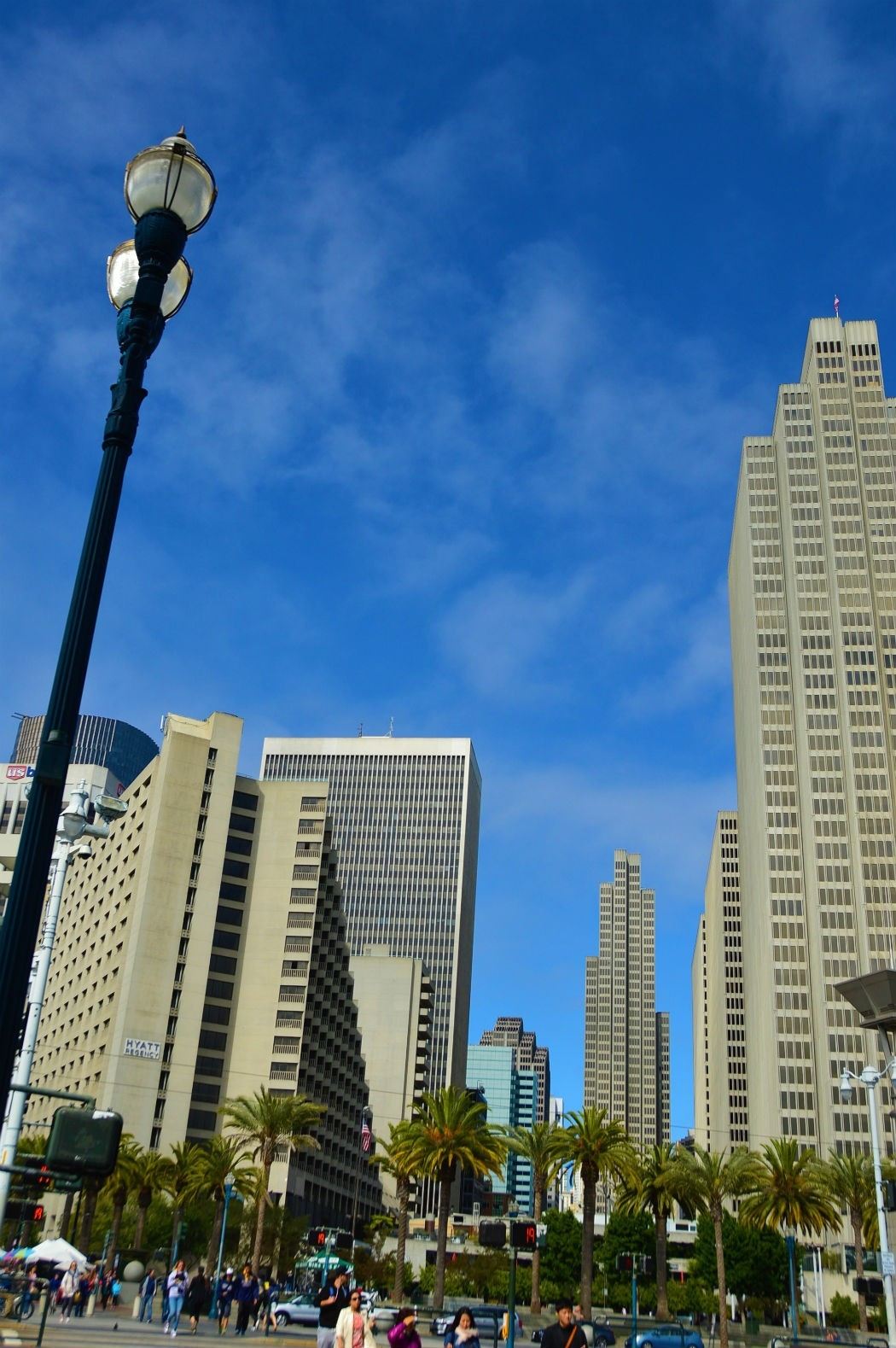 Who Paid for What in this Post?
I covered all of the costs involved in writing this post. However, this most beautiful cities in United States post includes affiliate links. That means if you click through and end up making a purchase I will receive a small commission. I wanted to make sure you were aware of this.