Also known as the Emerald City, Seattle is one of the most popular North American travel destinations. Boasting thousands of acres of wide-open parklands and loads of cultural activities, Seattle is a prime travel spot.
Seattle's famous vistas are comprised of a unique combination of natural and man-made wonders. From the magnificent mountain ranges in the distance to the ocean waters stretching into the harbor, Seattle's views are downright majestic.
Of course, one can't forget the iconic Space Needle, which stands proud and high no matter where you are in Seattle.
This article will cover all of the best places to watch the sunset in Seattle for those looking to spend a relaxing late afternoon drenched in beautiful sunset hues of gold, orange, and red.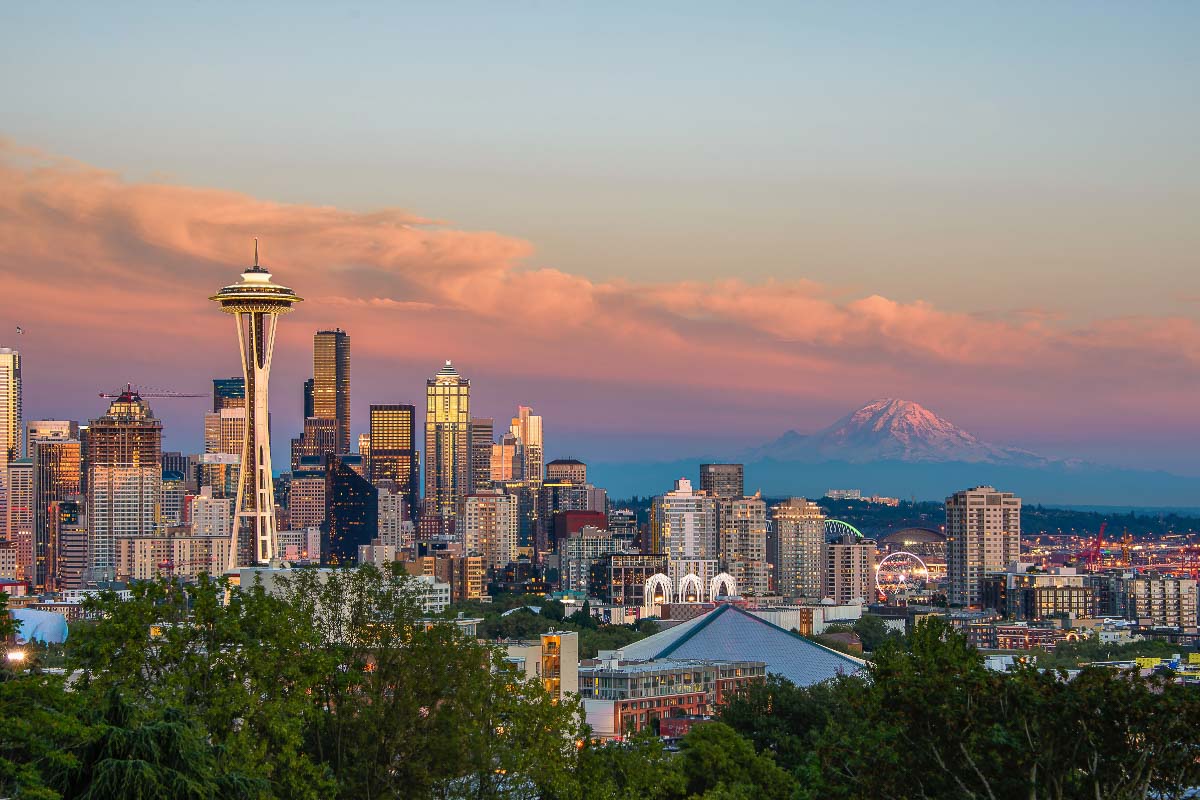 Best Time To Watch Sunsets In Seattle
If you've been to Seattle before, you'll know that it rains there nearly 50% of the time, and sometimes more. This may not be an issue if you're watching the sunset from indoors, but if you're visiting the outdoor locations on this list, you'll want to keep an eye on the weather forecast.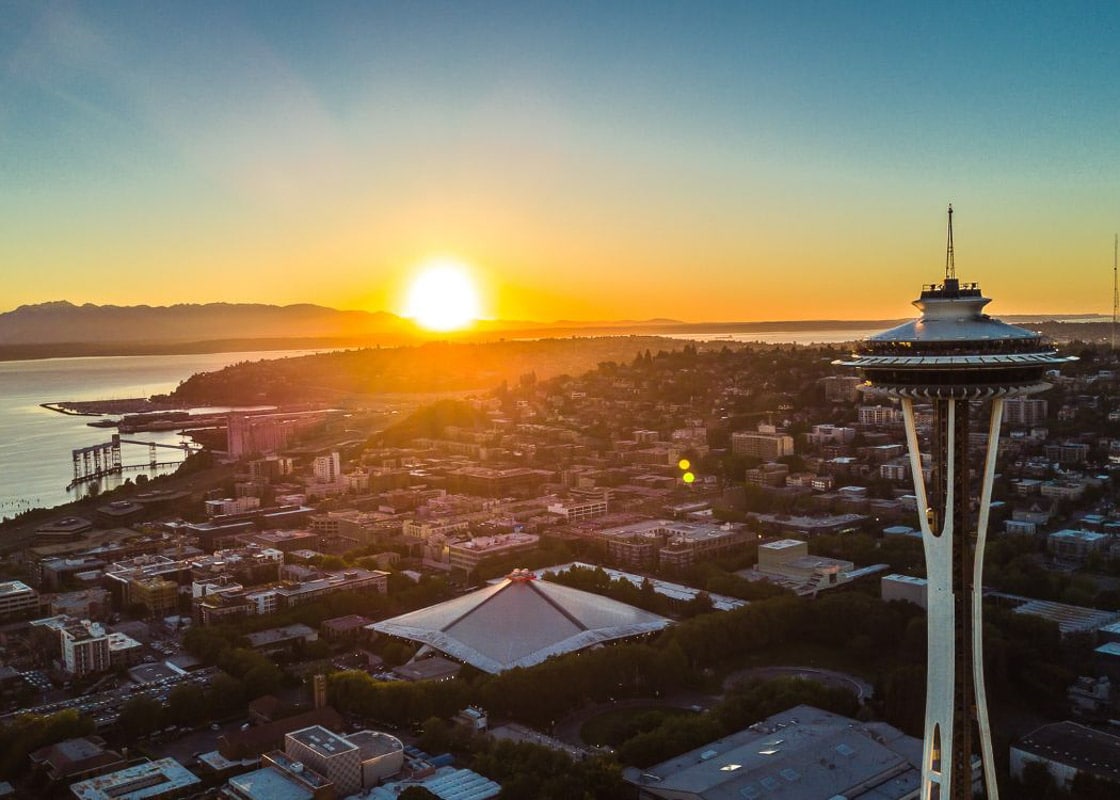 This section will break down the best times to see sunsets in Seattle, to help give you an idea of the best time of year to visit the Emerald City. The time of day of the sunset is also outlined in each section below.
This way, you'll know exactly when you can see Seattle's clearest sunsets.
Summer
Months: June – August
Summers in Seattle can be fickle, oscillating between cold and damp conditions, and warm sunny days. However, July is Seattle's driest month, so this might be a good time to view sunsets unimpeded by rain.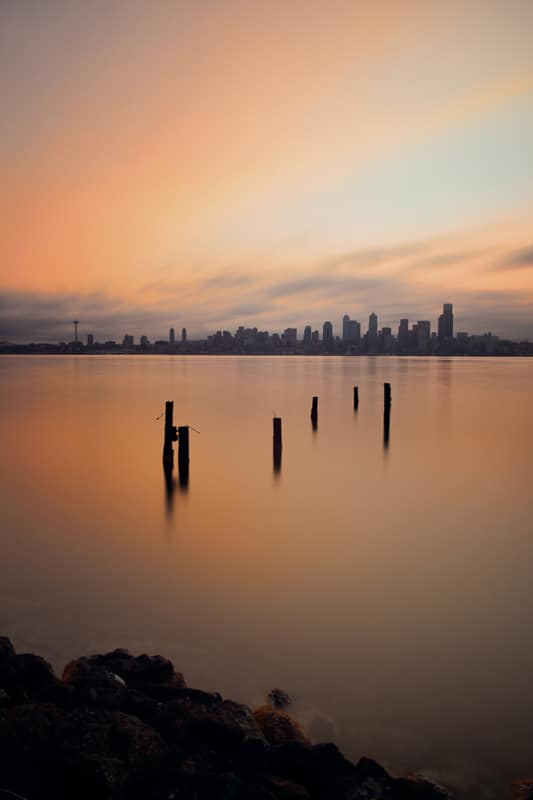 The sunsets are as late as 10 pm during the summer months! For a sunset trip that lasts hours and hours, summer in Seattle comes highly recommended.
The temperatures in summer average at about 76 degrees Fahrenheit, so you'll find pleasant conditions most of the time.
Fall
Months: September – November
September and October offer slightly cooler weather, which some may prefer. There is plenty of sunshine and little rain in September, but October marks the beginning of Seattle's rainy season.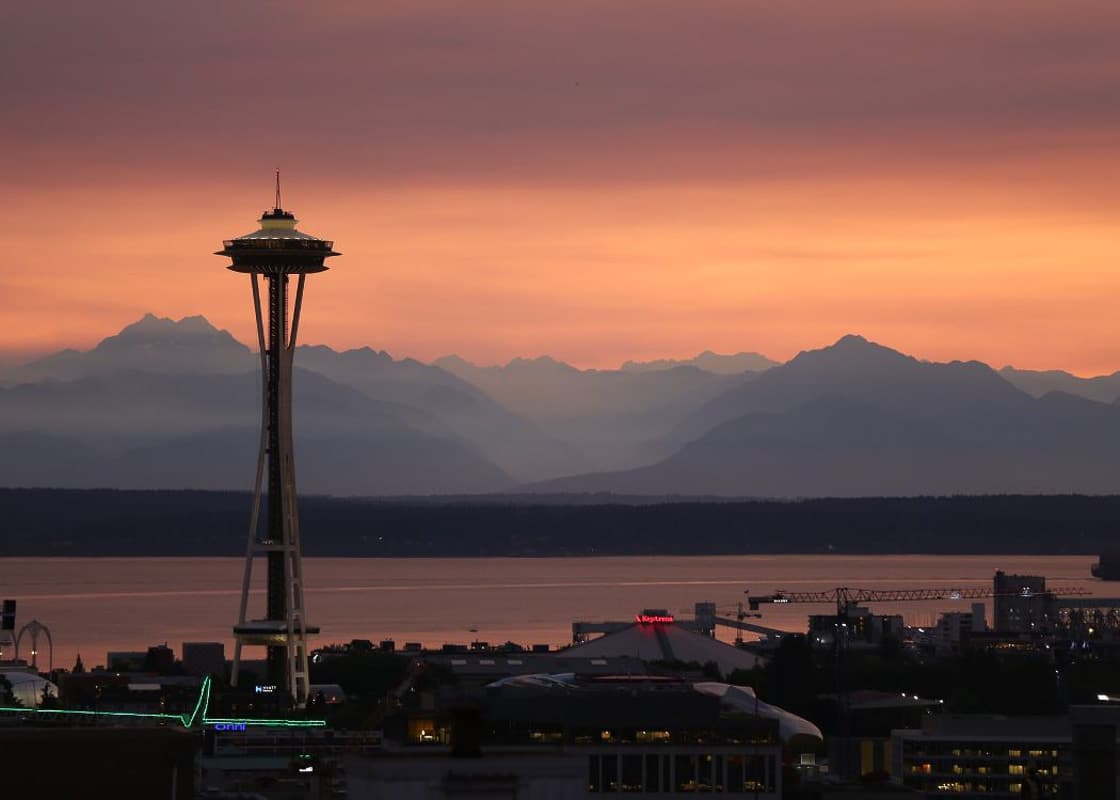 The days shorten in fall, with sunsets occurring around 7 or 8 pm. Temperatures in Fall are around 50 degrees – 70 degrees Fahrenheit on average.
Winter
Months: December – February
Winter is the wettest season in Seattle, so unless you're staying indoors, you might want to avoid the colder months. The rain is near-constant, and the city becomes very windy around this time.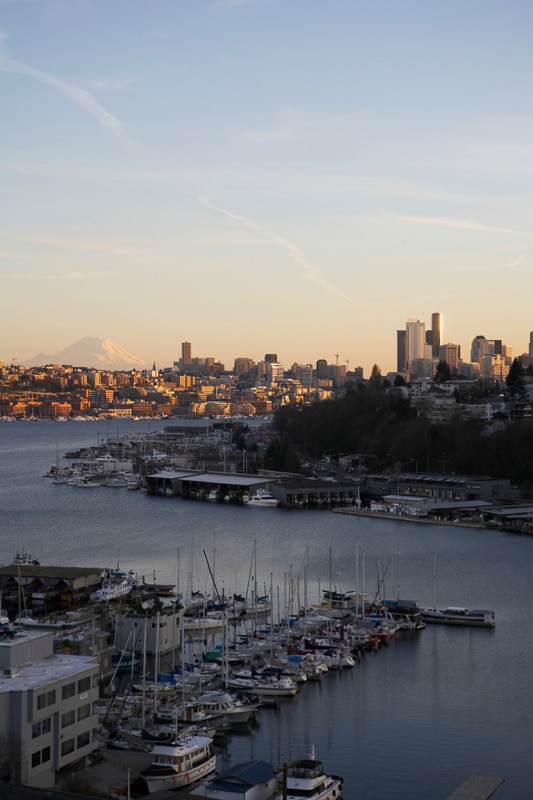 In winter, Sunsets happen around 4:40 pm, making it difficult to see a nice sunset on a workday. Winter temperatures range between 30 and 40 degrees Fahrenheit.
Spring
Months: March – May
The sun starts to peak through the cloud in March, and spring gives way to warmer weather compared to the winter months. In particular, May is a beautiful month in Seattle as the flowers are in bloom and there is more sunshine than rain.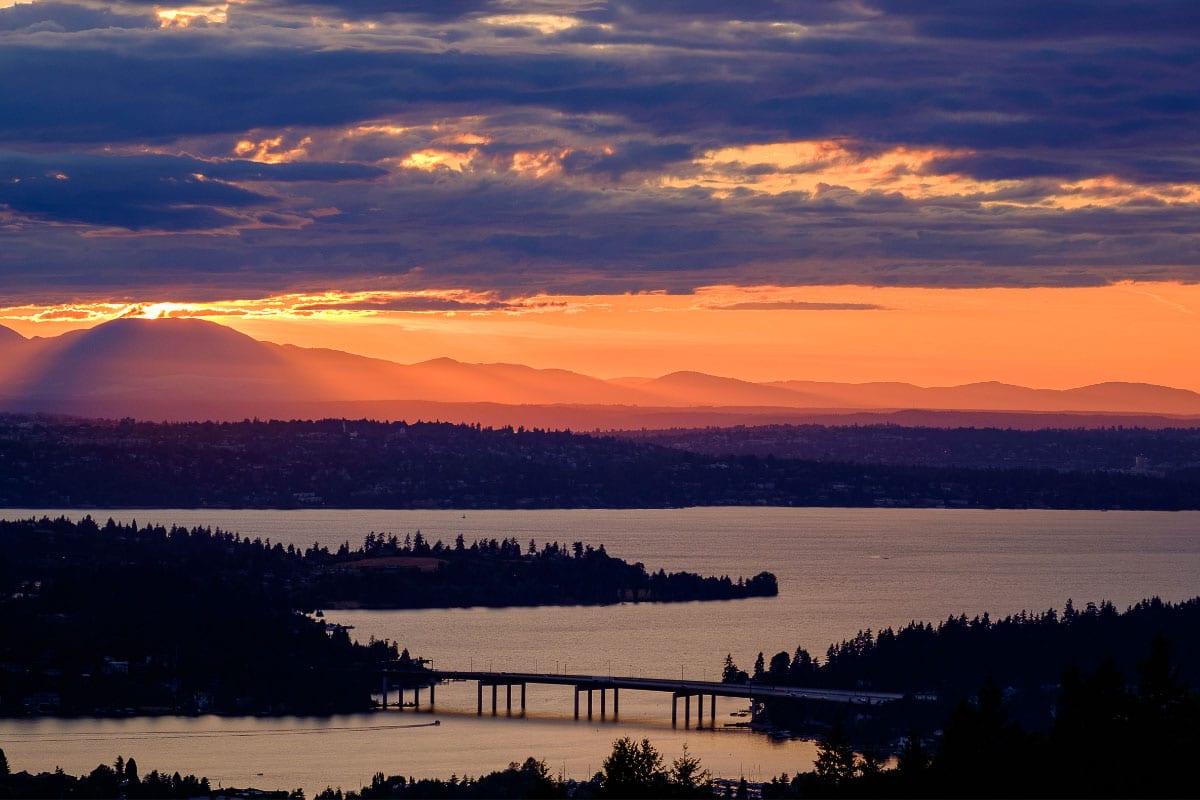 Temperatures in springtime average at about 60 degrees Fahrenheit with some light breezes and occasional rain.
⇒ Interested in heading to California? Check out my posts on Unique Restaurants in San Francisco, 15 Gorgeous Sunflower fields in California, Things to do in Calistoga review of the great Solage Spa, 19 awesome places to watch San Diego Sunsets, visiting Yosemite in One Day, 15 Best Northern California Hot Springs, 15 Best Places to Watch San Francisco Sunsets, 10 Stunning Sunsets in California and in Yosemite in October, 32 Best Places in Bay Area, 17 Great Stops on a Road trip from Los Angeles to San Francisco, 31 California Landmarks and my guide to a Livermore Wine Tasting.
Best Places To See The Sunset In Seattle
This list includes some fantastic lawns and parks to watch the sunset from, as well as some secluded trails and lookout points in Seattle. You'll find everything you need below, from kid-friendly parks to romantic observation spots.
1. Kerry Park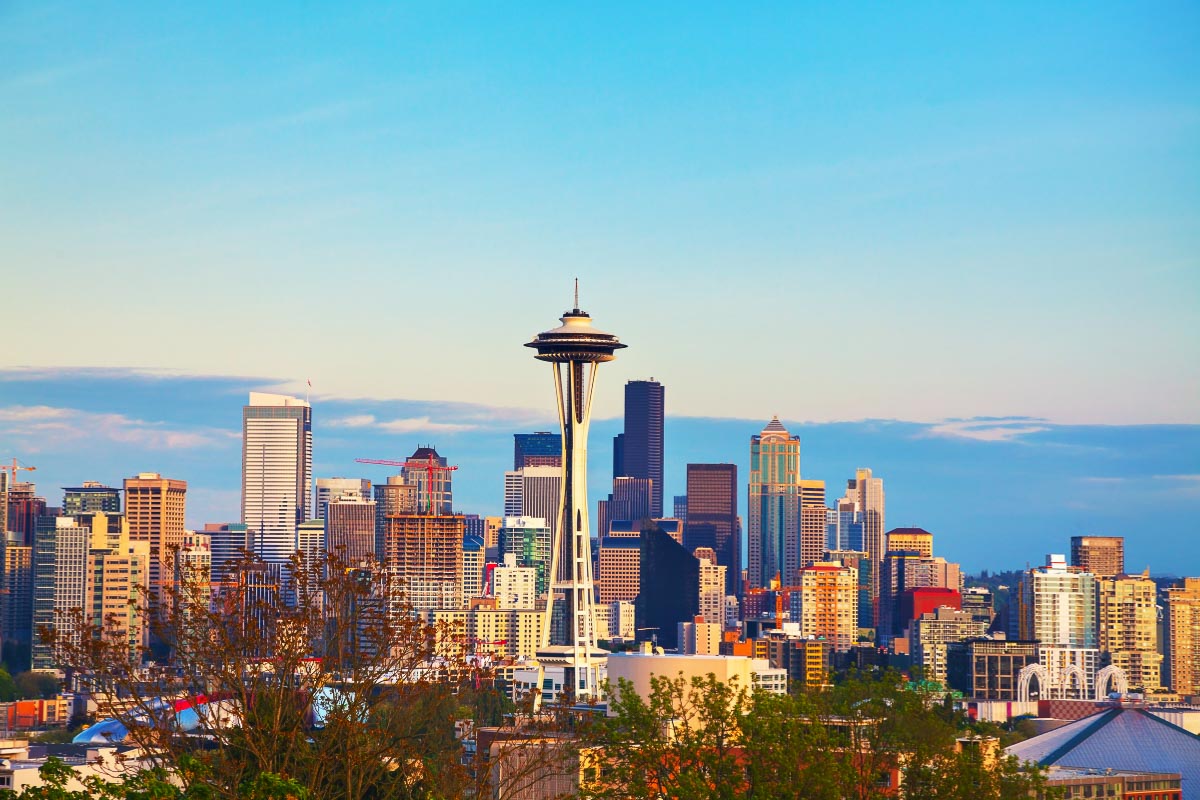 Kerry Park offers a sweeping view of Seattle that shows off the best the city has to offer. You can see ships docking at Elliot Bay to your right and Mt. Rainier to your left, foregrounded by the impressive Seattle skyline.
With the iconic Space Needle right at the center of this impressive sight, it's no wonder Kerry Park is a popular location for filmmakers. You'll see this well-known viewpoint in movies like 10 Things I Hate About You, The Details, and A Guy Thing.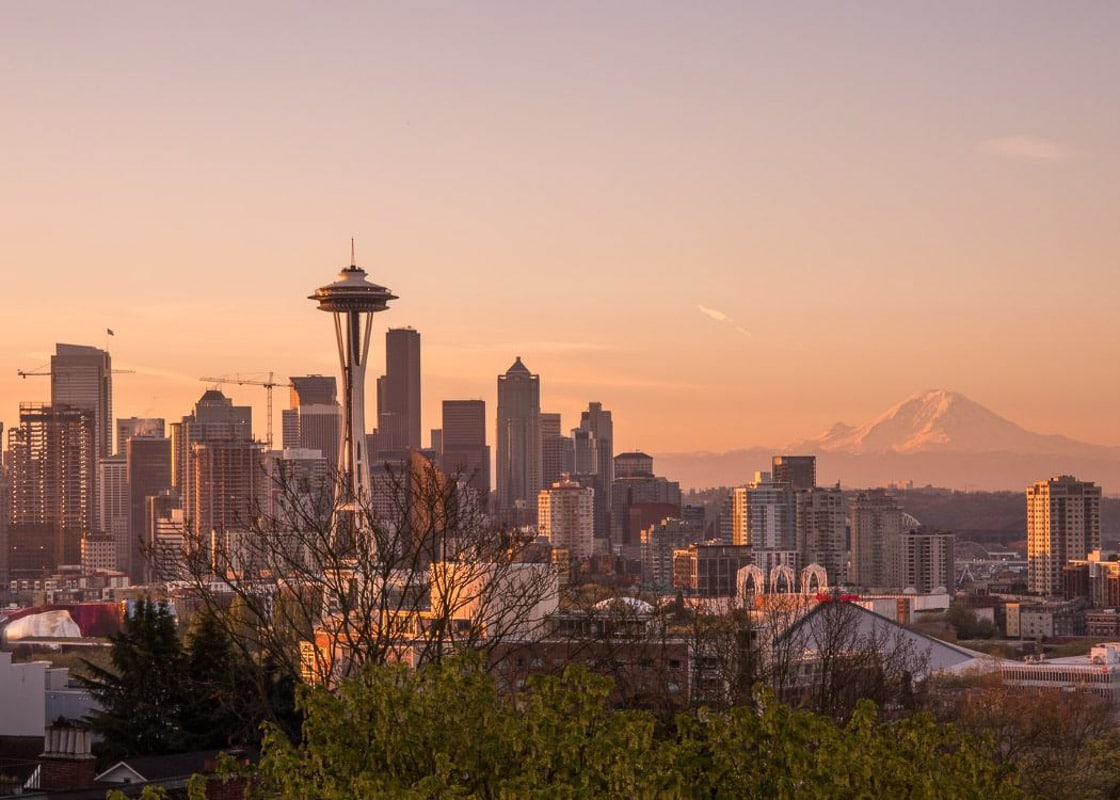 You can find this sweet public park on the south side of Queen Anne Hill. There is a railing erected right at the hill's precipice, so you can feel truly immersed in the brilliant view.
You'll also find plenty of park benches, a small playground, and Changing Form – a unique steel sculpture that frames the view behind it.
⇒ Here are some of the best places in the world to watch the sunrise and fall: 10 Places to watch the Sunset in California, 7 Best Places To Watch Sedona Sunsets, 18 Spectacular Spots for the Best Sunsets in Seattle, 5 Stunning Santorini Sunsets, 8 Sunsets in Ibiza, 19 Spots to watch San Diego Sunsets, 11 Places to see the Venice Sunset, 17 Key West Sunsets Spots for Great Views, 15 Best Places to see San Francisco Sunsets, 6 Spots to Watch Sunrise in Paris, 21 Spots to see the Sunset Ottawa Style, 9 Best Places to see Maui Sunsets, 11 Places to see Sunset Edinburgh style, 16 Places to see the Best Sunsets in the World, 18 Best Places to watch the Sunset in Melbourne, 11 Best Places to watch the Sunset in Tucson, 11 Best Spots to watch the Sunset in Glasgow, 15 Places to see Sunsets in London and 9 Spots to watch the Sunrise in London.
2. Alki Beach
Another famous film location, Alki Beach features in the '90s rom-com classic Sleepless in Seattle. This charming waterfront neighborhood is the perfect place to spend a late afternoon in the summer.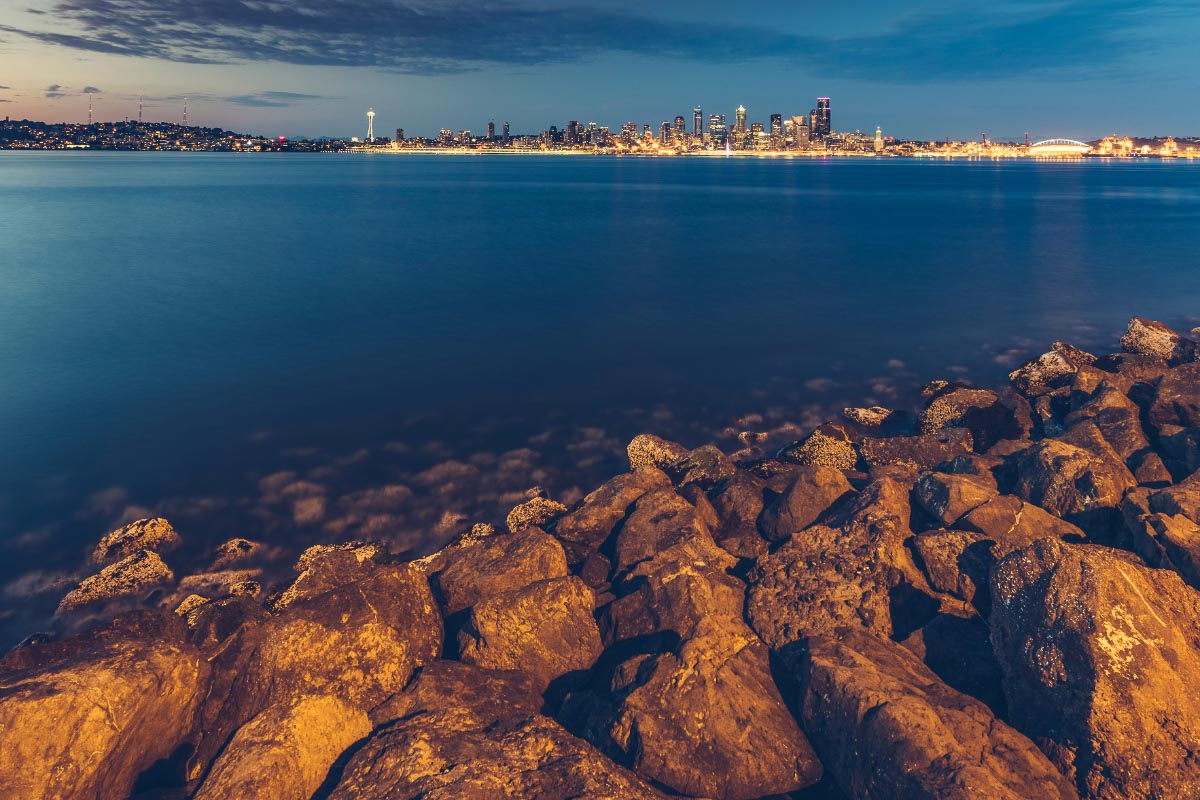 The promenade along the seawall is a popular spot for a sunset walk, offering a long beach strip that reaches Elliot Bay. You can watch the sunset behind the hilly landscape over the water and watch the tugboats and ferries in the harbor as the city lights up at dusk.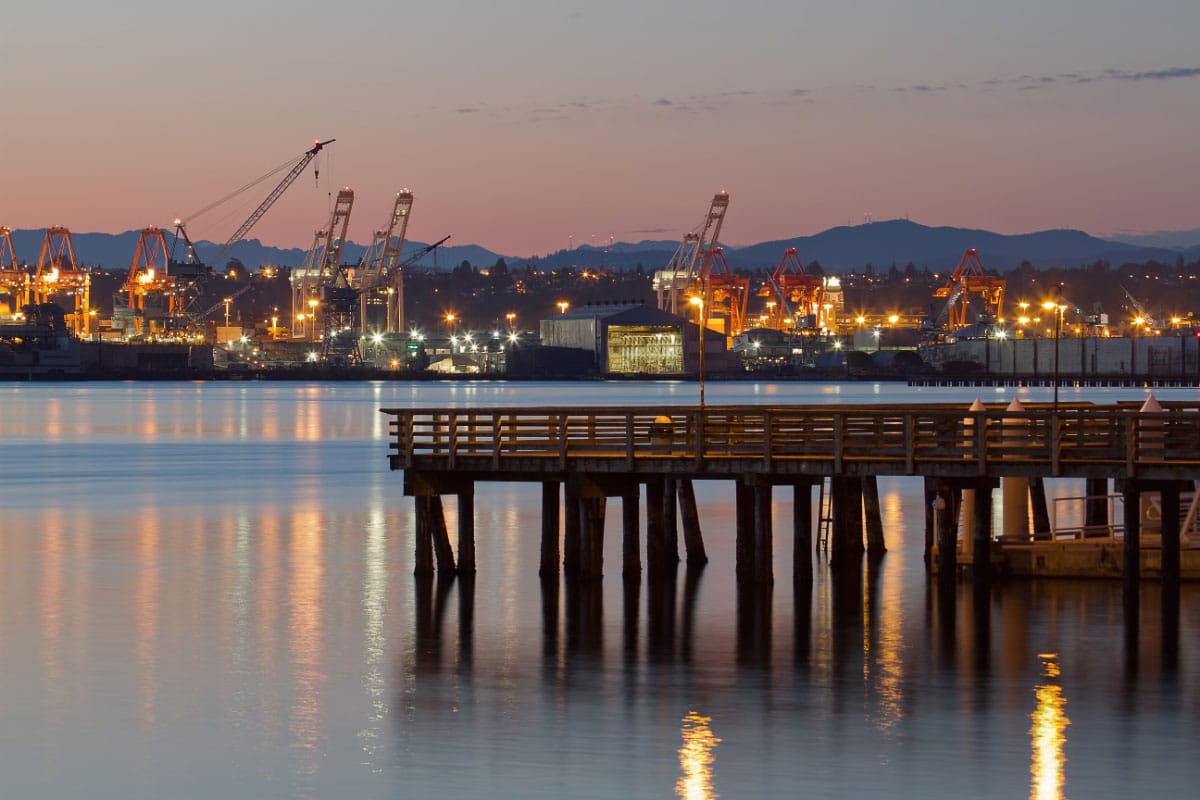 Want to see Alki Beach from the water? You can take a breathtaking 3-hour cruise of the Seattle Harbor. This cruise starts at Seattle Waterfront, running along Elliot Bay and Alki Beach, and ending at the gorgeous Smith Tower's port.
3. Discovery Park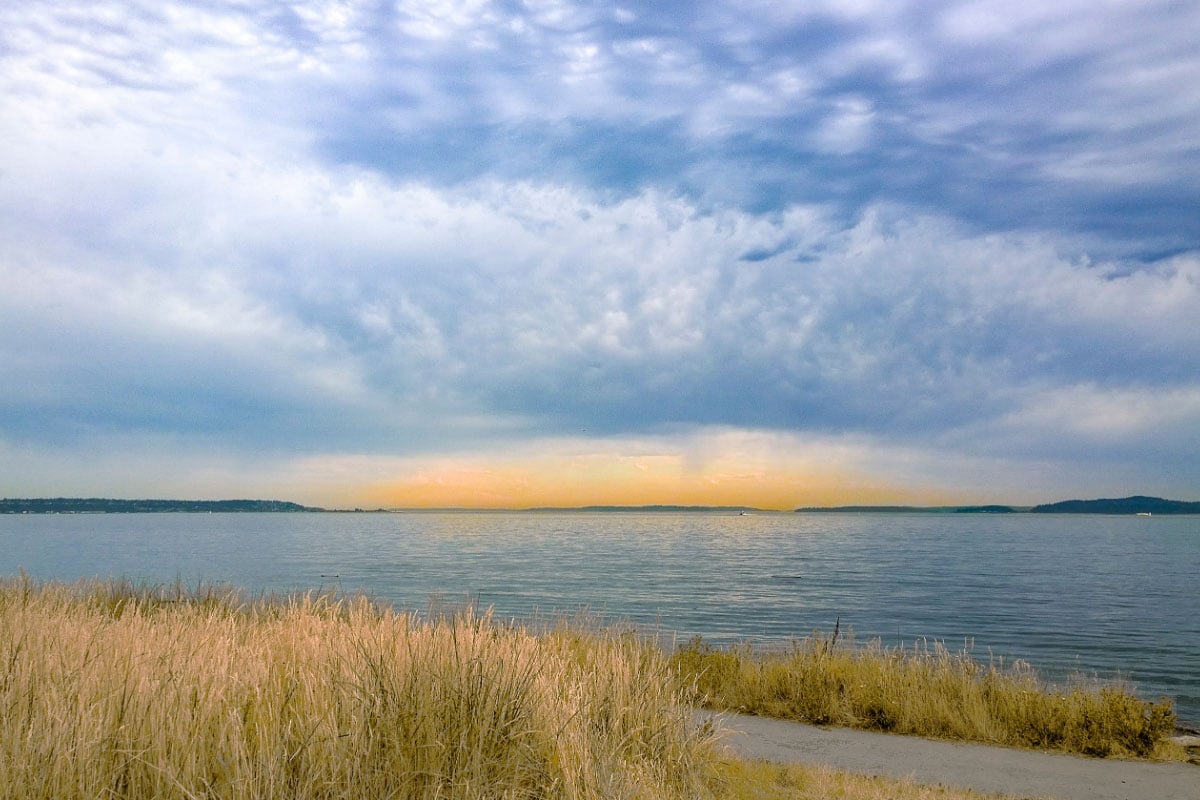 If you're looking for a little adventure with a huge pay-off, try out Discovery Park. This is a popular spot for first-time visitors and an excellent place to watch dusk settle over Seattle.
The largest city park in Seattle, Discovery Park spans over 500 acres and overlooks the beautiful waters of Puget Sound.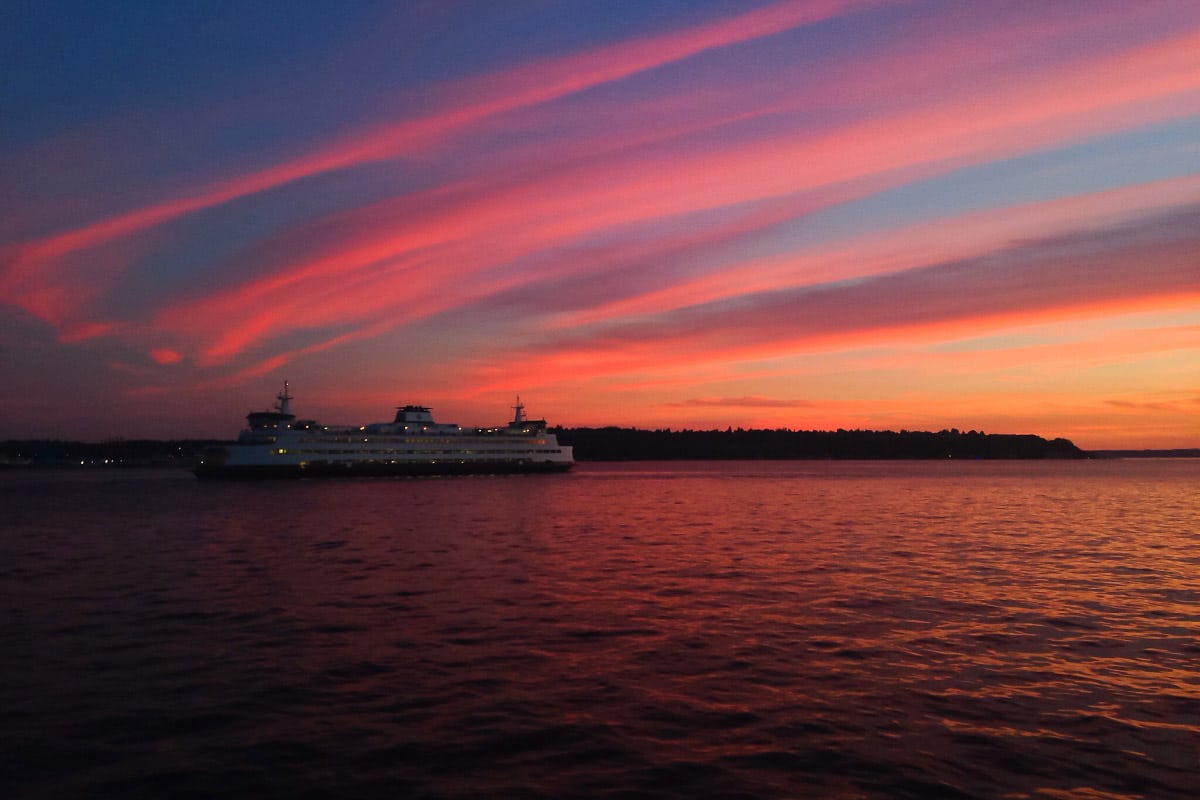 If you drive thirty minutes outside of downtown Seattle, you'll find the Discovery Park Visitor's Center situated on Magnolia Bluff. From there, you can embark on a hike through the stunning Bluff meadows and forestry.
This area is abundant with wildlife and offers a 2-mile loop trail with panoramic views of the Sound at various spots.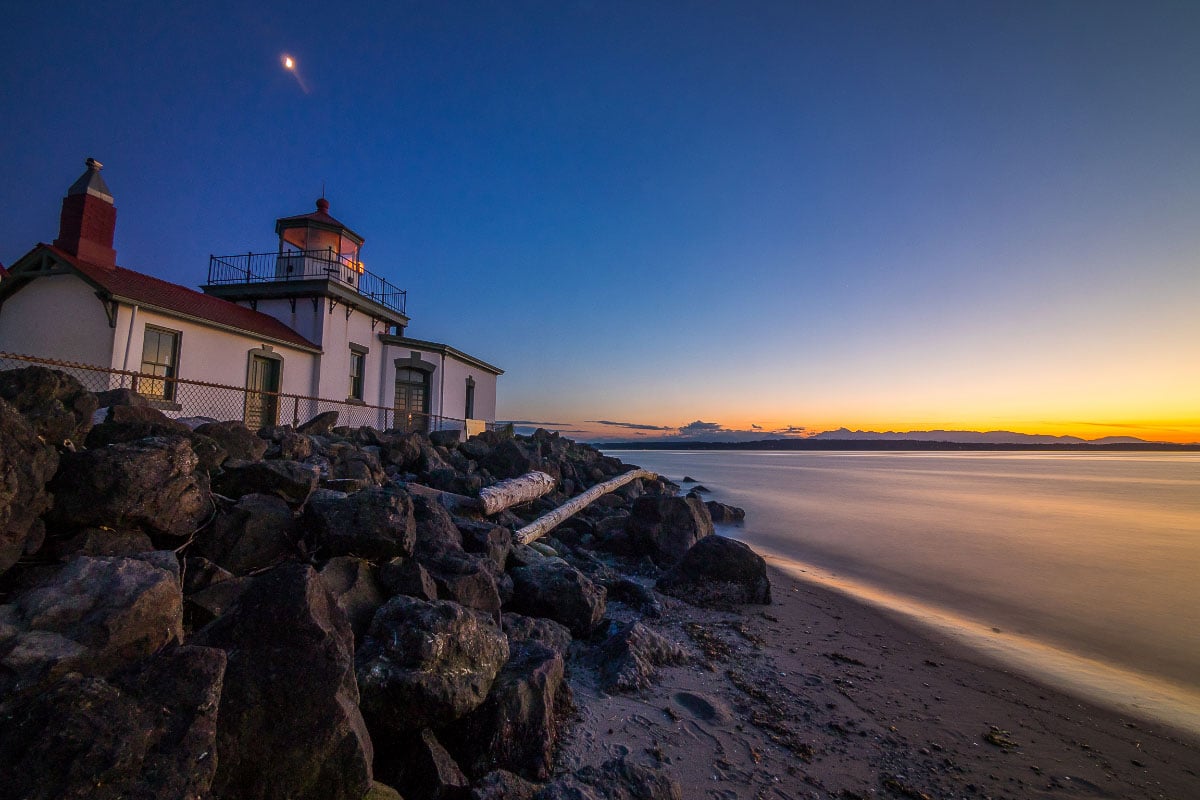 The trail ends on the bluff's secluded rocky beaches, where you'll see a sunset in view of the West Point Lighthouse. This is an attractive option if you're looking to enjoy the sunset away from the city's crowds and perhaps enjoy a quiet sunset picnic.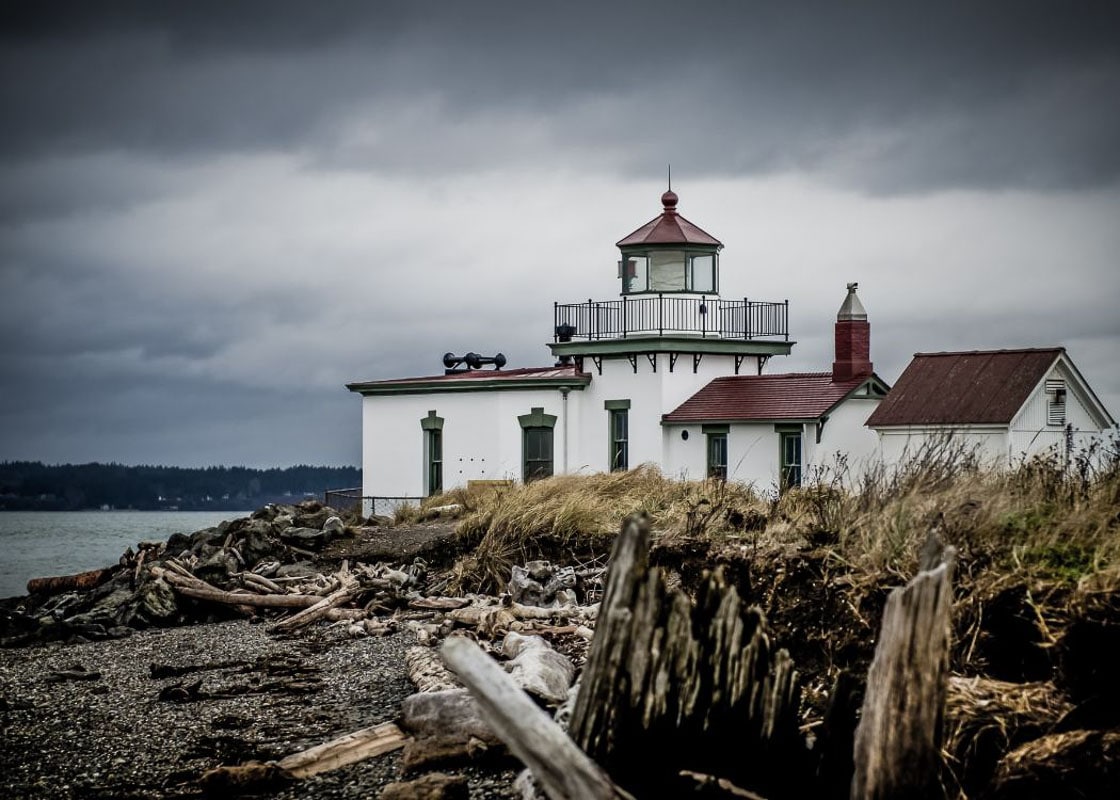 Another fun way to reach the beach is on a Discovery Park electric bike tour. If you're up for 15 miles through the meadows, this is a unique way to spend an afternoon. The tour will take you through Seattle's waterfront and Discovery Park's lush maze trails.
⇒ Looking for some travel inspiration? Check out my posts on the 25 North America Landmarks, Top 15 Famous Landmarks in the US, 25 Beautiful Canada Landmarks, 10 Best Places for Hot Springs in the USA, 16 Most Beautiful Cities in Canada, 23 Brazil Landmarks, 23 Must See Landmarks in Mexico,15 Most Beautiful States in the US, American Bridges you Must Cross, 33 Things to do in Tulum, 19 Historical Places in New York, 37 Best Places to Visit in Mexico, Best Things to do in Fredericksburg, VA, Most Beautiful Lakes in Canada and the 20 Most Beautiful Cities in United States.
4. Gas Works Park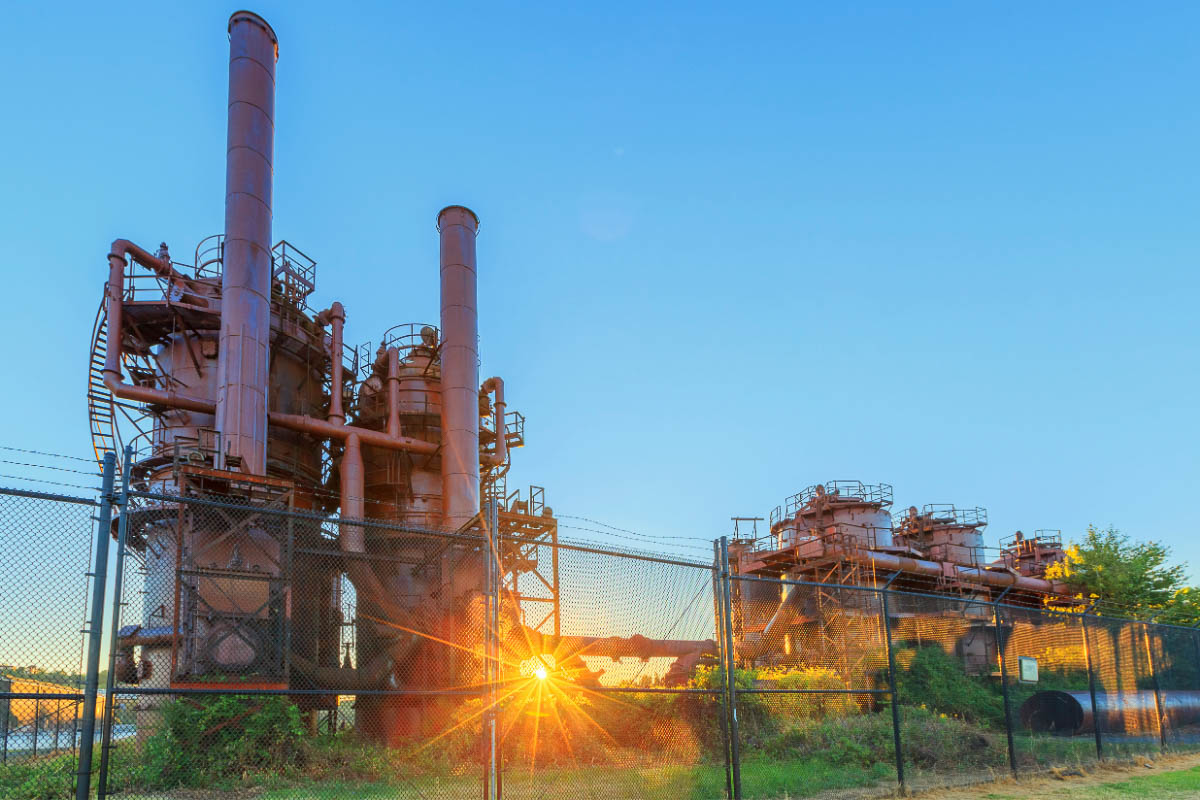 Gas Works Park is a unique Seattle gem and a family-friendly spot to watch the sun go down. Extending along Lake Union, this coal and oil gasification plant from the 1900s has been re-created into an urban park with distinctive charm.
Many of the original steel structures are still in place, making Gas Works Park one of the most visually exciting destinations in Seattle Washington.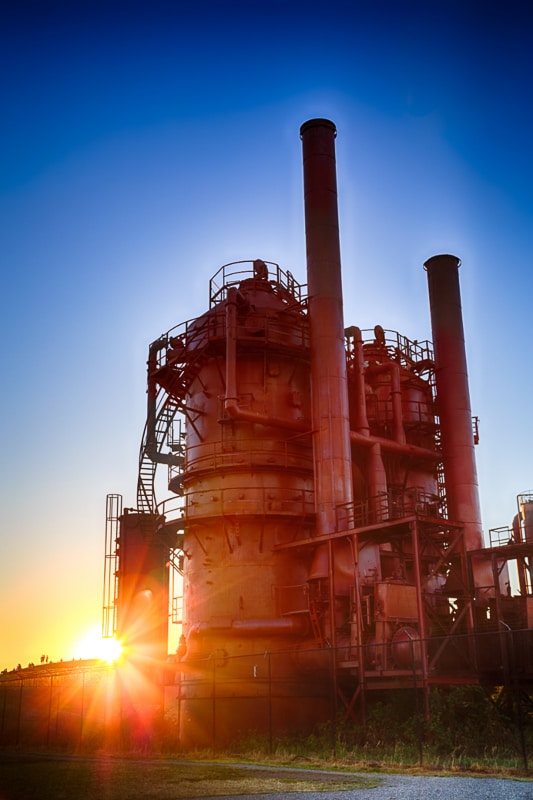 The sunset colors that hit the steel buildings at dusk give the park a brass twinkle simply incomparable to other North American city parks.
This park is more than kid-friendly, with a picnic shelter and play barn located on the impeccable lawns. You can also relax by the Lake Union shores and watch the locals fly kites.
The steam-punk originality of the park brings locals and tourists alike to the area, which also happens to be a National Historic Landmark.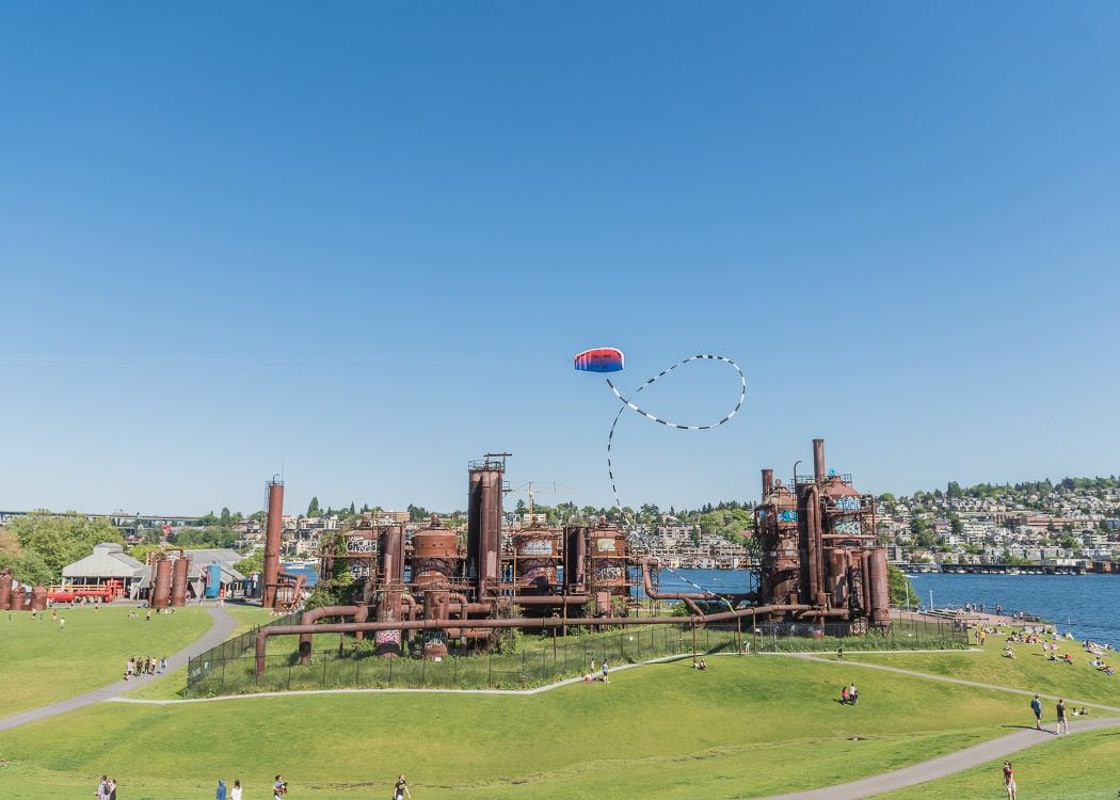 5. Sunset Hill Park
The best part about watching the sunset in Seattle is the city's rich landscape, and Sunset Hill Park shows off its range of features.
Gaze at the Olympic Mountain Range and look out at the sailboats cruising along the bay below from Sunset Hill Park.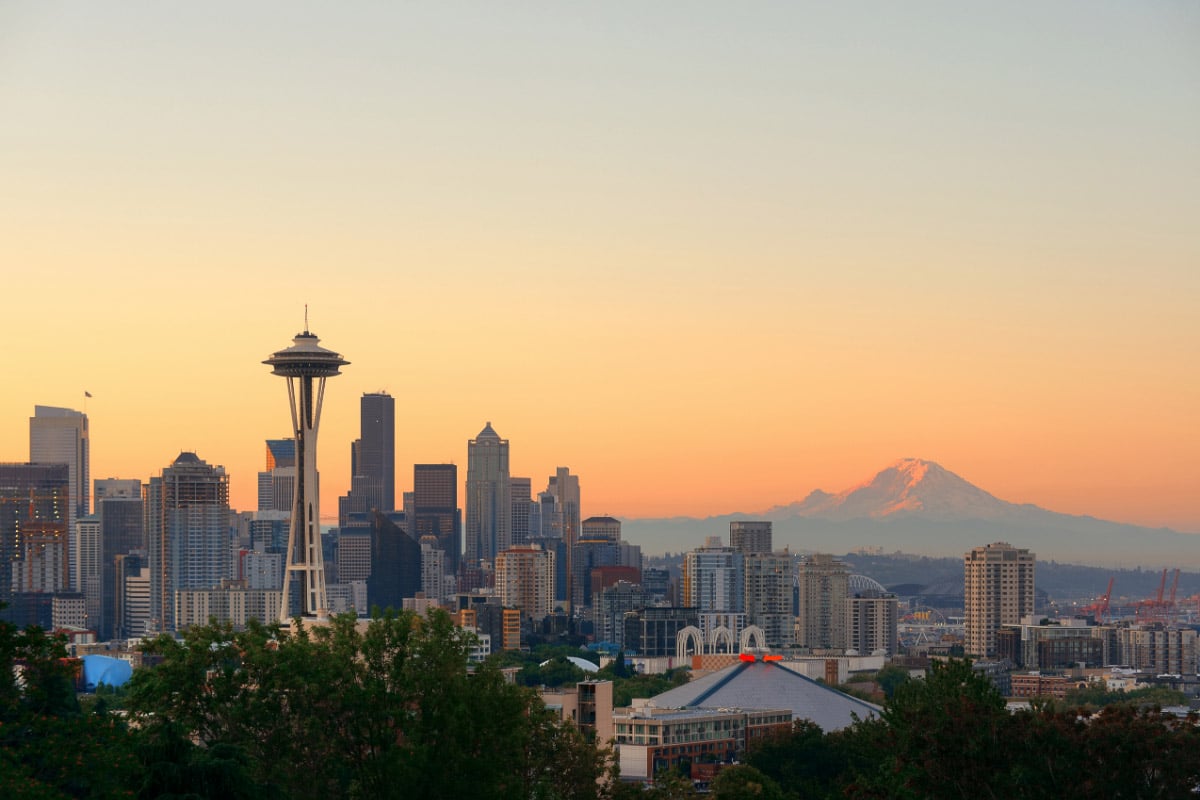 Expect to find strollers, joggers, and yoga-enthusiasts on the Sunset Hill Park pathways. This is a popular spot to watch the sunset, but the atmosphere is incredibly relaxing and low-key.
The salty sea air will surely put you at ease for a scenic and romantic view of the sunset colors.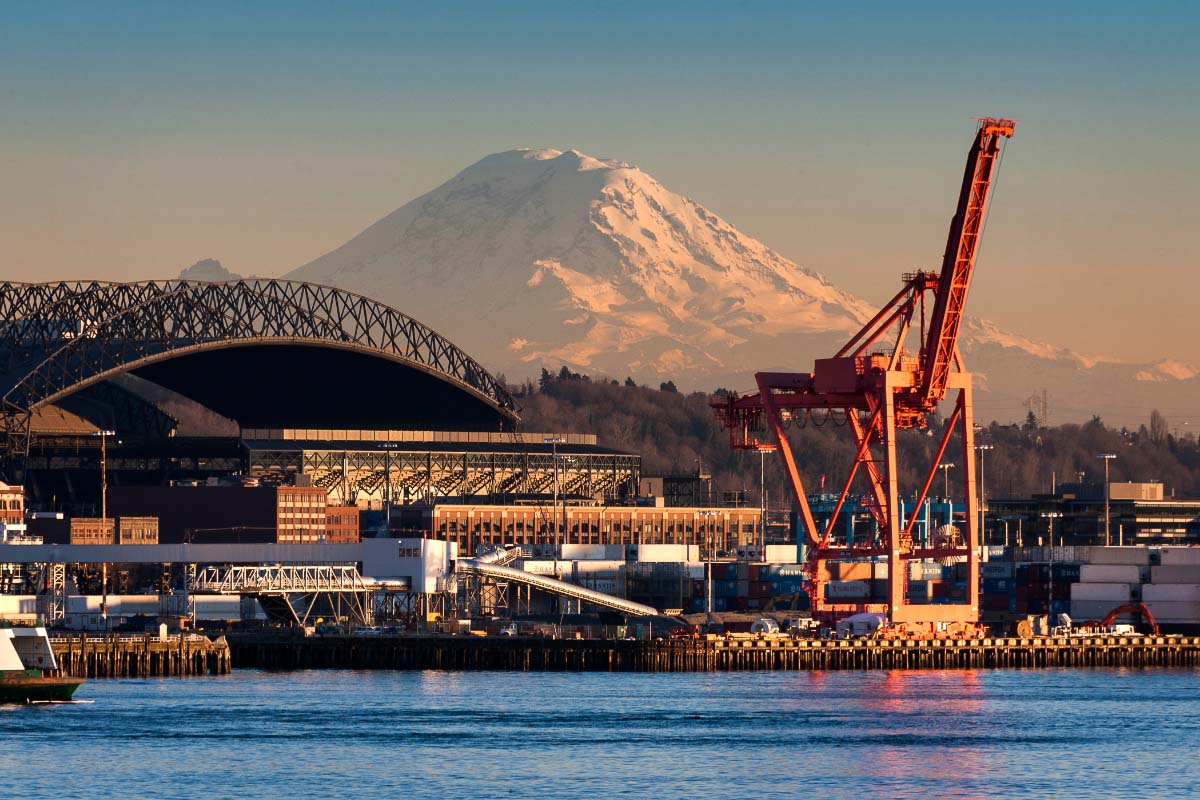 The park has fresh-cut, vibrant, and manicured lawn grass, so don't be afraid to take your picnic basket with you for a sunset vibe with friends.
You'll also be able to see the Shilshole Bay Marina from this stunning panoramic viewpoint.
6. Sky View Observatory at Columbia Center
Over 900 feet in the air, on the 73rd floor of the Columbia Center, you'll find the sensational panoramic views offered by the Sky View Observatory.
The observatory has high glass windows to peer out of, not to mention a bar on-site if you'd like to pair your sunset with a bottle of champagne.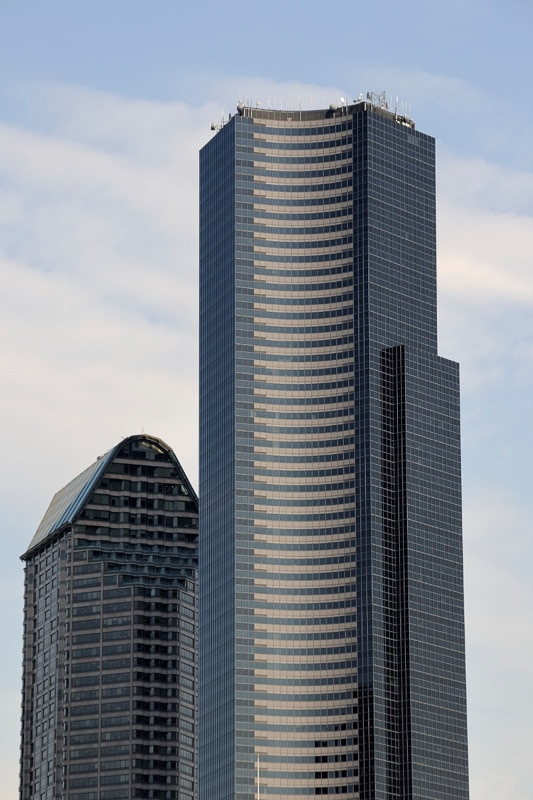 The 360-degree view from the observatory is the highest in the Pacific Northwest, from which you can spot the Space Needle, the harbor, and the entire city skyline.
You can also spot Bainbridge Island, Pike Place Market, and the Great Wheel from the Sky View Cafe.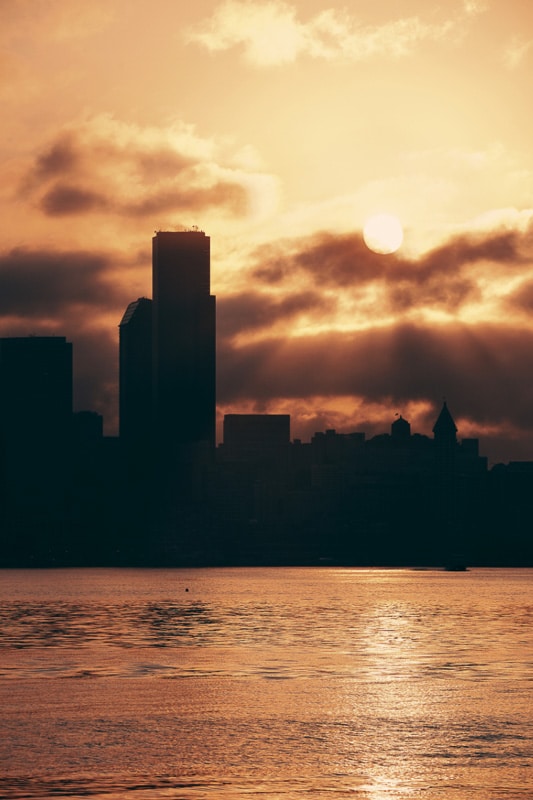 Purchase a Sky View Observatory admission ticket online to skip the inevitably long queues at this popular sunset hotspot.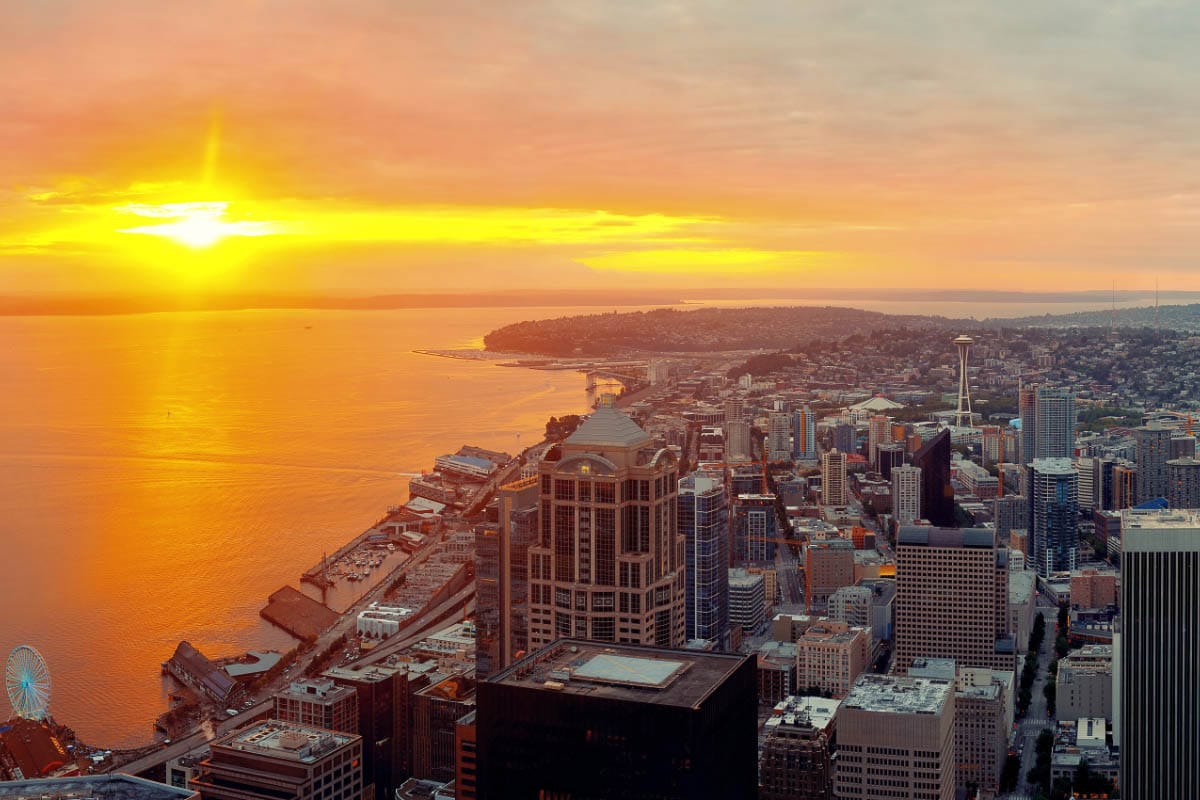 7. Space Needle
So the big downside of watching the sunset in Seattle from the Space Needle is that you won't be able to see the Space Needle in your view. The Space Needle has an all glass floor as well as a floor to ceiling option for amazing 360 degree views. Plus they run a 360 Sunset at the Top experience which includes wine and snacks.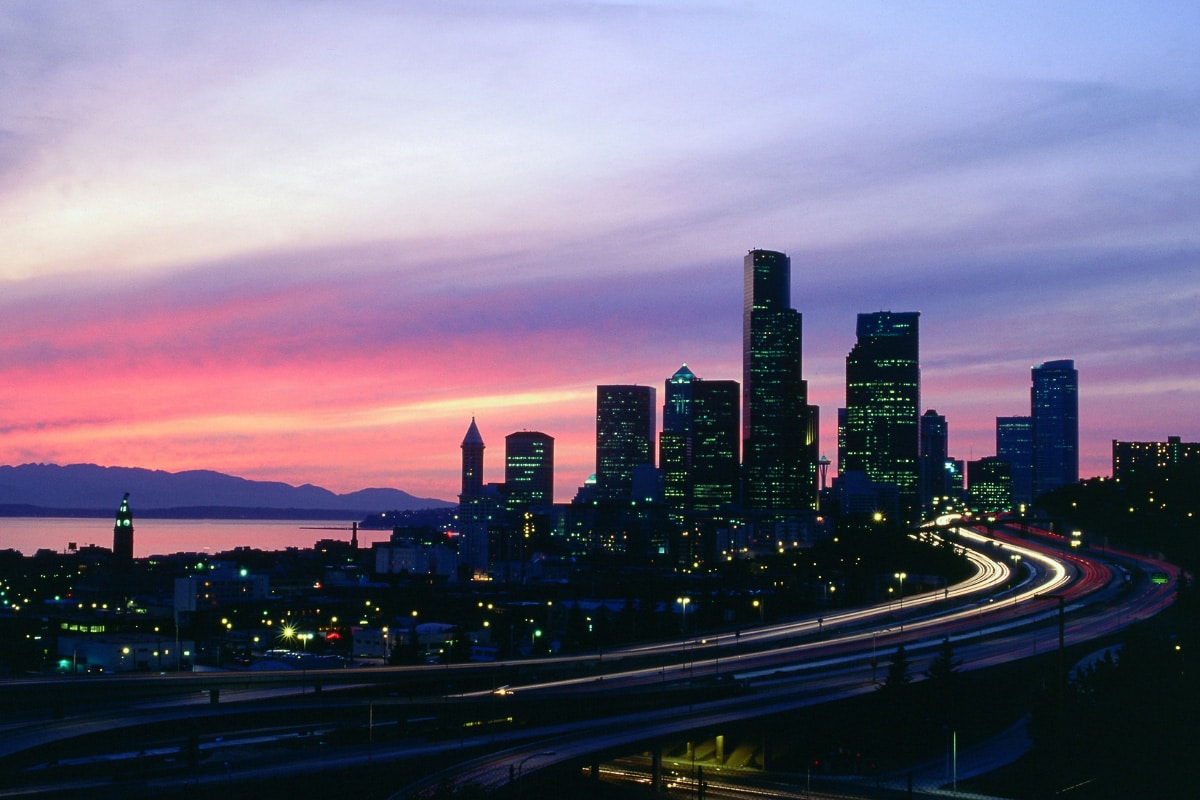 8. Olympic Sculpture Park
The Olympic Sculpture Park is a nine acre sculpture park on the waterfront in Seattle's largest downtown green space and is one mile north of the Seattle Art Museum. The park is open 360 days a year and entry is free. Head to the park just before sunset and find a spot to sit and watch the sun come down over the water. The sculptures make for a great foreground.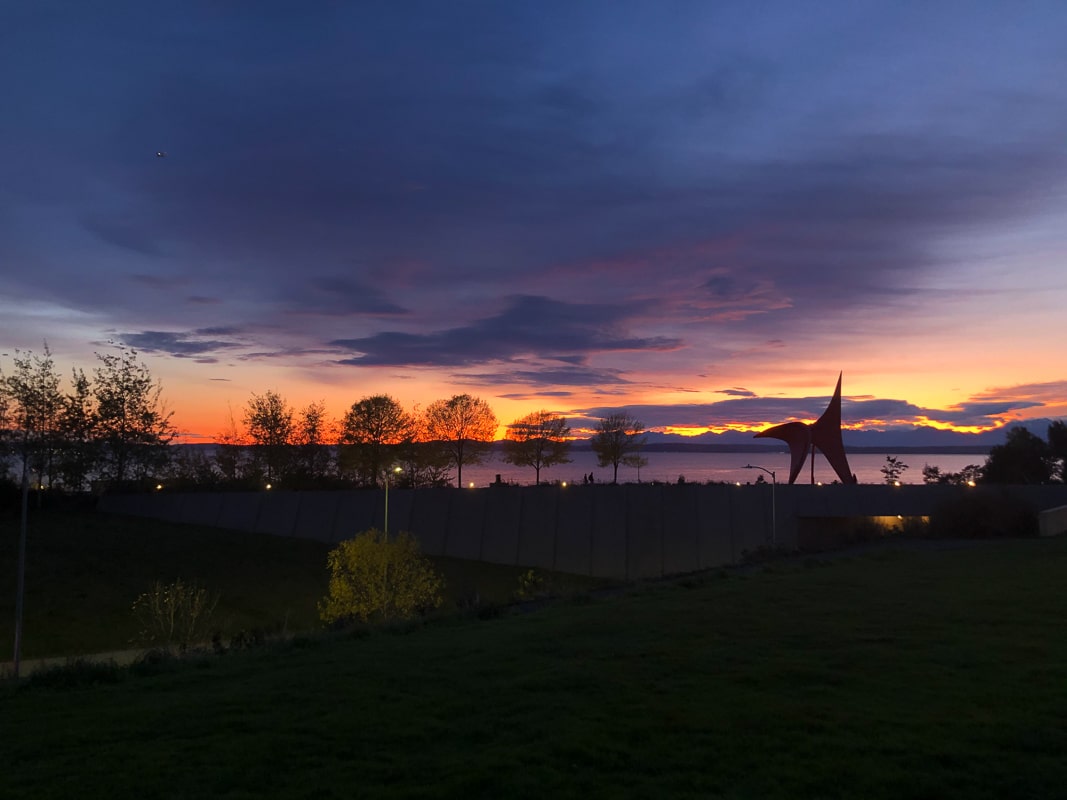 9. Seattle Great Wheel
There are two ways to get some great sunset shots when it comes to the Seattle Great Wheel. One option is of course to go on the Seattle Great Wheel and take photos from the wheel. All tickets for the Seattle Great Wheel are general admission at any time so check sunset times before deciding when to take your ride. The Great Wheel is generally open till 8pm. There are great reviews of Mount Rainier from the Seattle Great Wheel.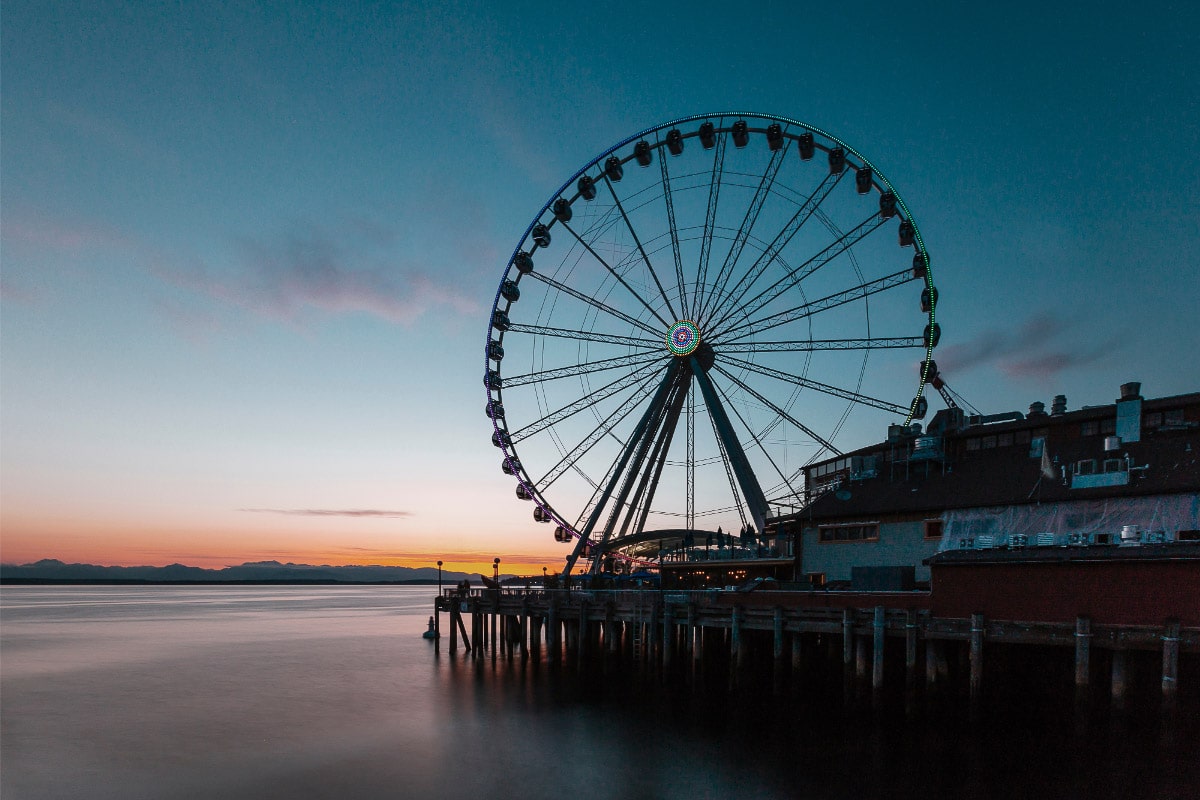 The Seattle Great Wheel itself looks fantastic in the foreground against the Seattle sunset. These shots can be obtained from the bottom of the Seattle Great Wheel at Pier 57.
10. Marination Ma Kai
Make sure you head to the branch on Harbor Avenue as there are three branches of this Hawaiian-Korean restaurant chain in Seattle. Marination started with a food truck in 2009 and is now a fully-fledged business. If the weather permits try to get a table on the patio and match your booking time to sunset. Can't beat tacos and a spectacular sunset!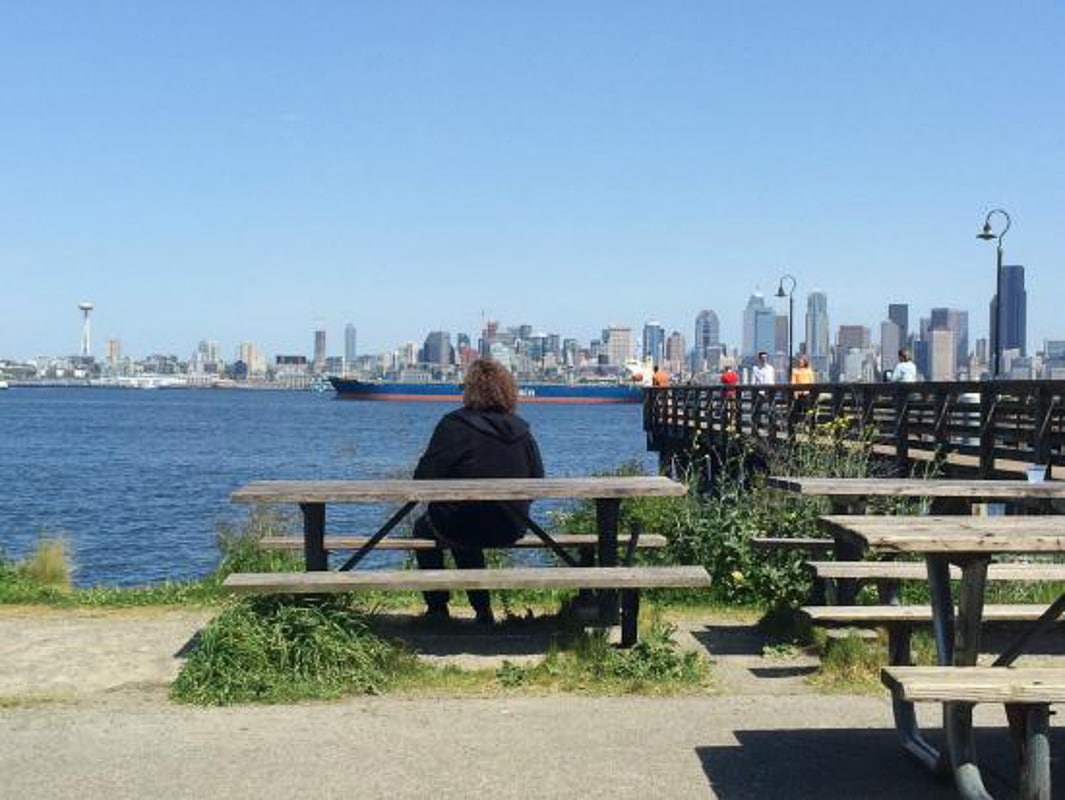 11. Golden Gardens Park
Golden Gardens is a public park in the suburb of Ballard. It has wetlands, a beach, hiking trails, and a picnic area. Head to the beach to capture a fantastic Seattle sunset. It offers views of the Olympic Mountains and Puget Sound. Plus it is often filled with sailboats which look terrific in the foreground of photos.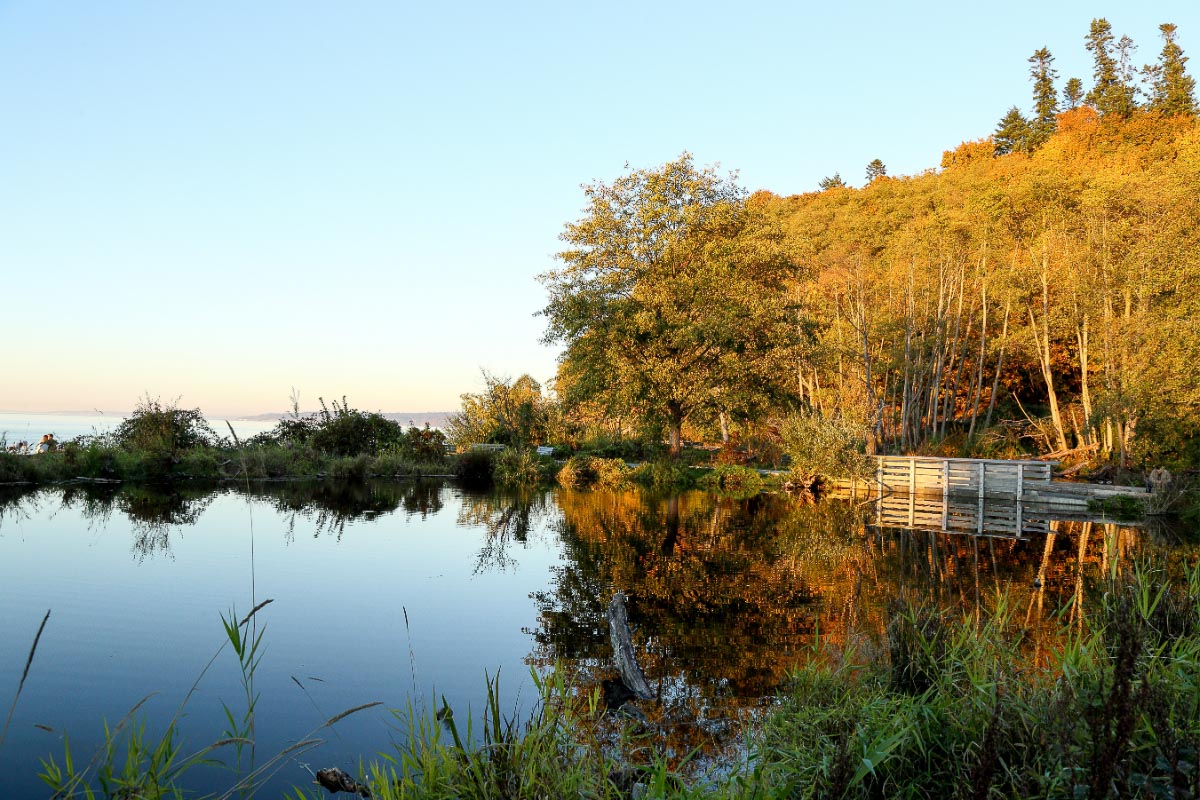 12. Lowell's Restaurant
Lowell's is a seafood restaurant in Pike Place Market spread over three floors. All three floors offer fantastic waterfront views and this is a brilliant place to see a stunning Seattle sunset and to enjoy some local seafood. The bar on the second level is a particularly good spot for sunset views.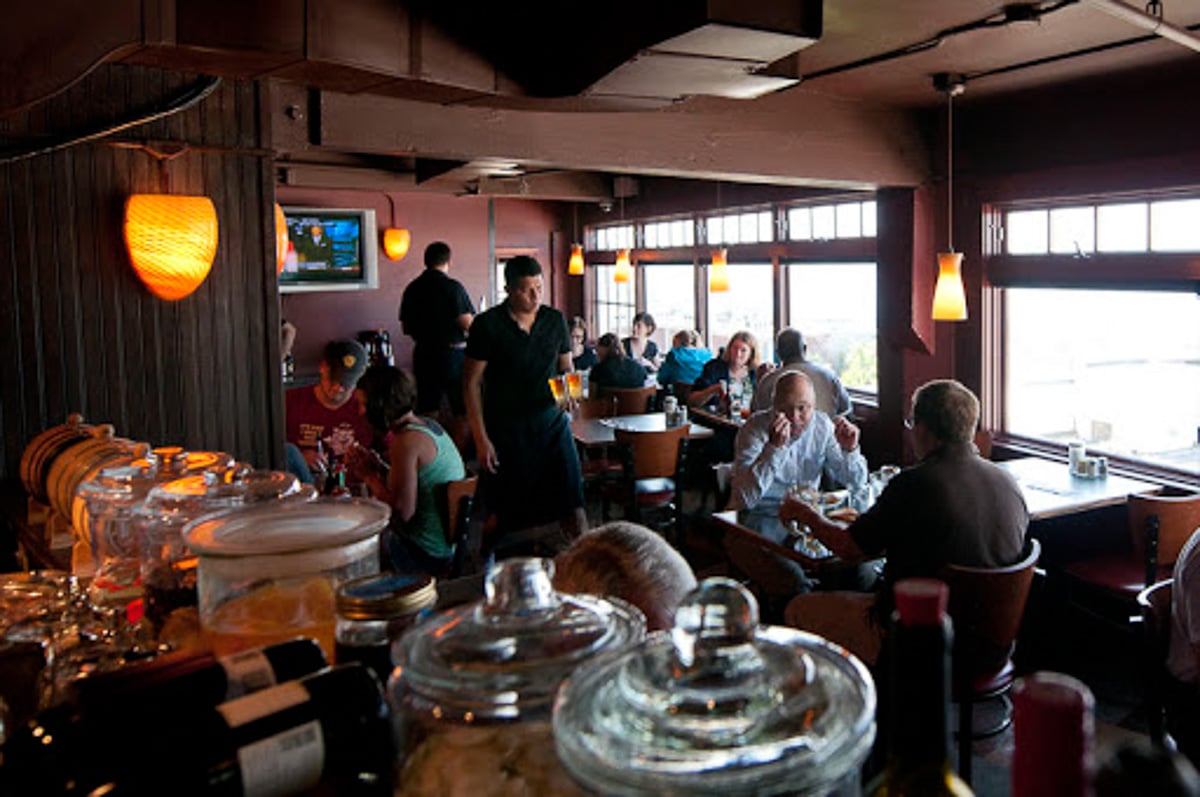 13. Dr. Jose Rizal Park
Dr Jose Rizal Park captures views of the Seattle skyline and the Interstate 5 at sunset. This 9 acre park is located on the west slope of Beacon Hill. The park is named after the national hero of the Philippines. Head to the grassy upper area for a picnic table to sit at and appreciate the sunset.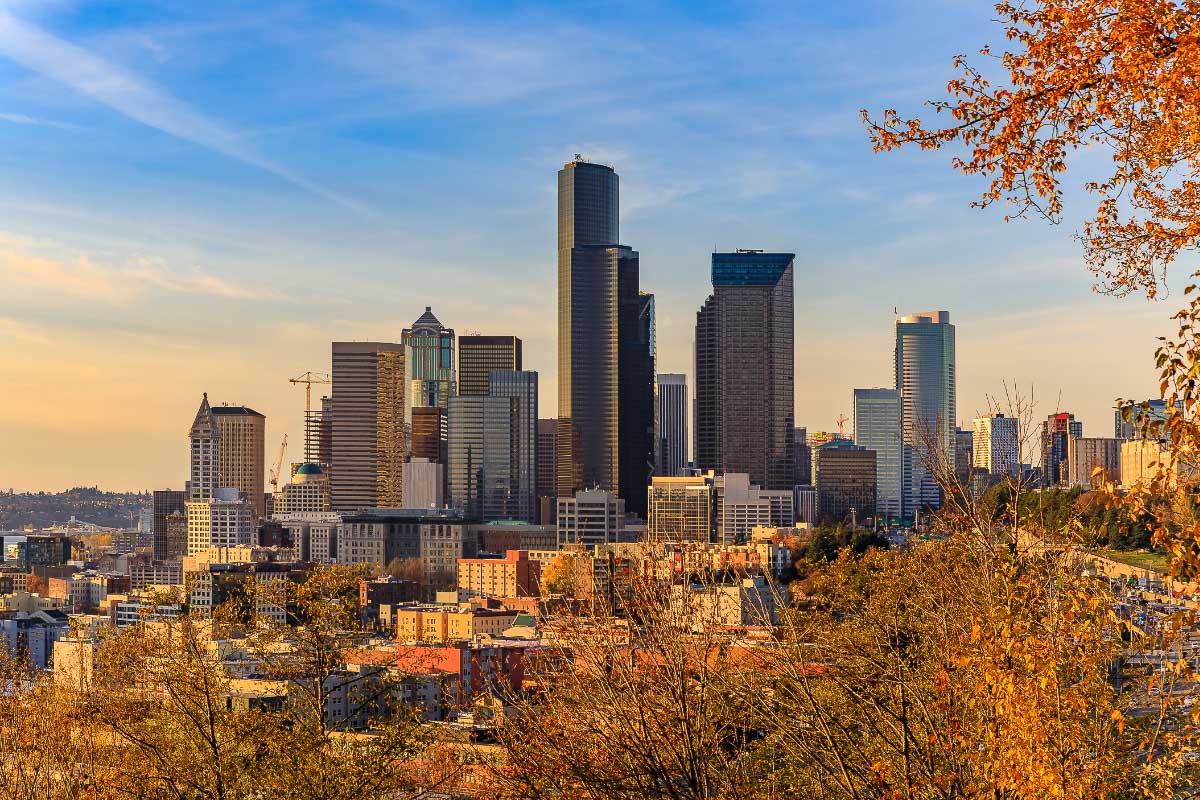 14. Westward Restaurant
Located on N Northlake Way, this seafood restaurant has an outdoor fire pit and is located on the water with some Adirondack chairs for relaxing and enjoying an amazing sunset view. The bar at Westward also has great views.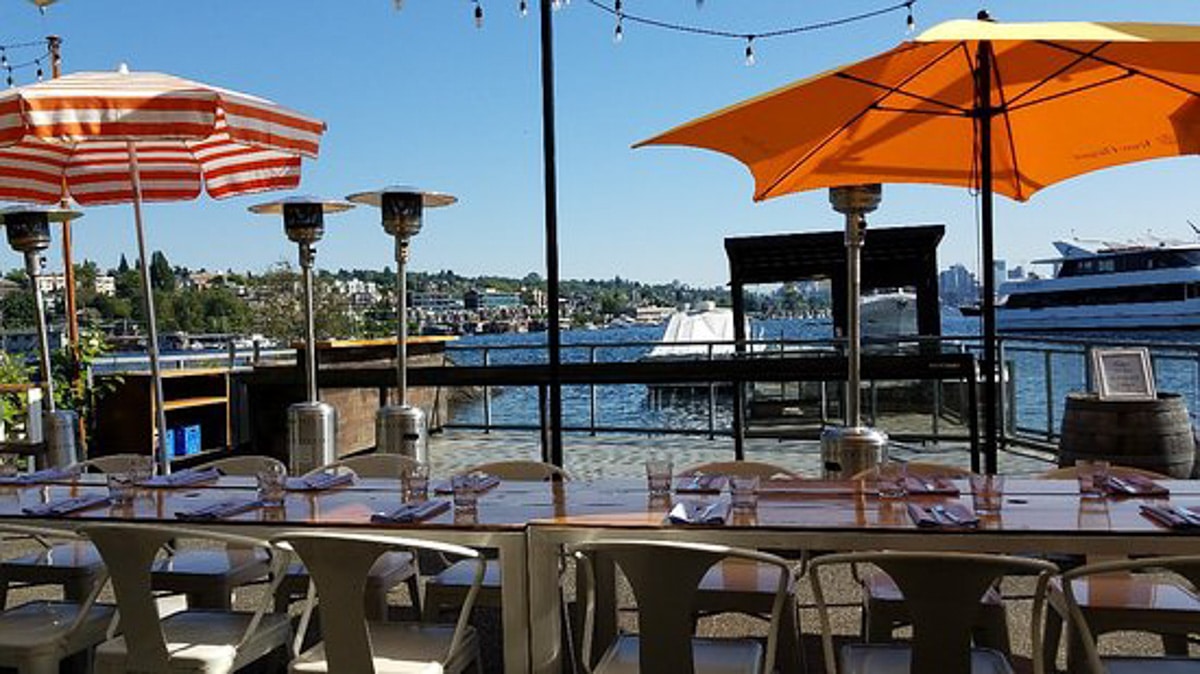 15. Volunteer Park Water Tower
Head to the top of Volunteer Park Water Tower for some 360 views of Seattle and Bellevue. The tower sits on the top of Capital Hill and it is 75 feet tall. It is a 107 step climb to get to the top of the Volunteer Park Water Tower but the views are worth it.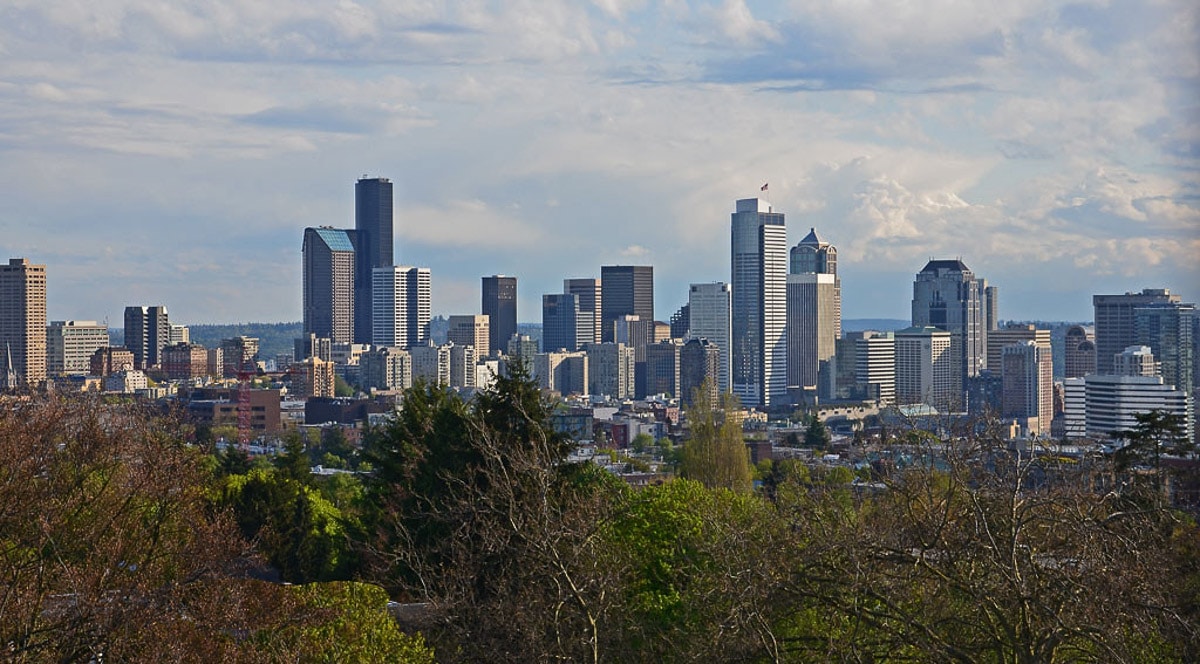 It is free to climb to the top of the water tower and as the park is open from 6 am to 11 pm you can easily do your climb at sunset.
16. Ray's Boathouse
This seafood restaurant in Ballard has casual dining upstairs and formal dining downstairs. But both have fantastic views – get a table on the deck if it's summer and then dig into their well-known clam chowder soup.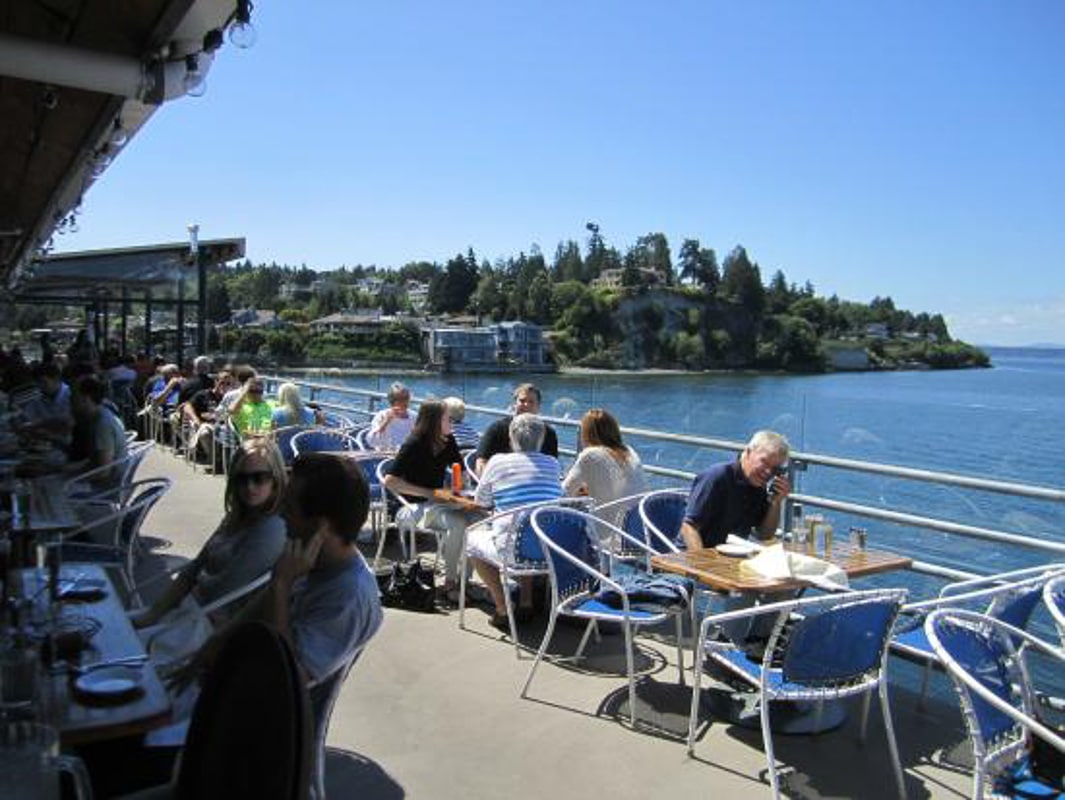 17. Lake Union Park
Located at the end of the South Lake neighborhood, Lake Union Park has great views of the lake and the Space Needle. Their is loads of space for a rug and a relax as well as a lovely fountain. The Museum of History and Industry is also located here.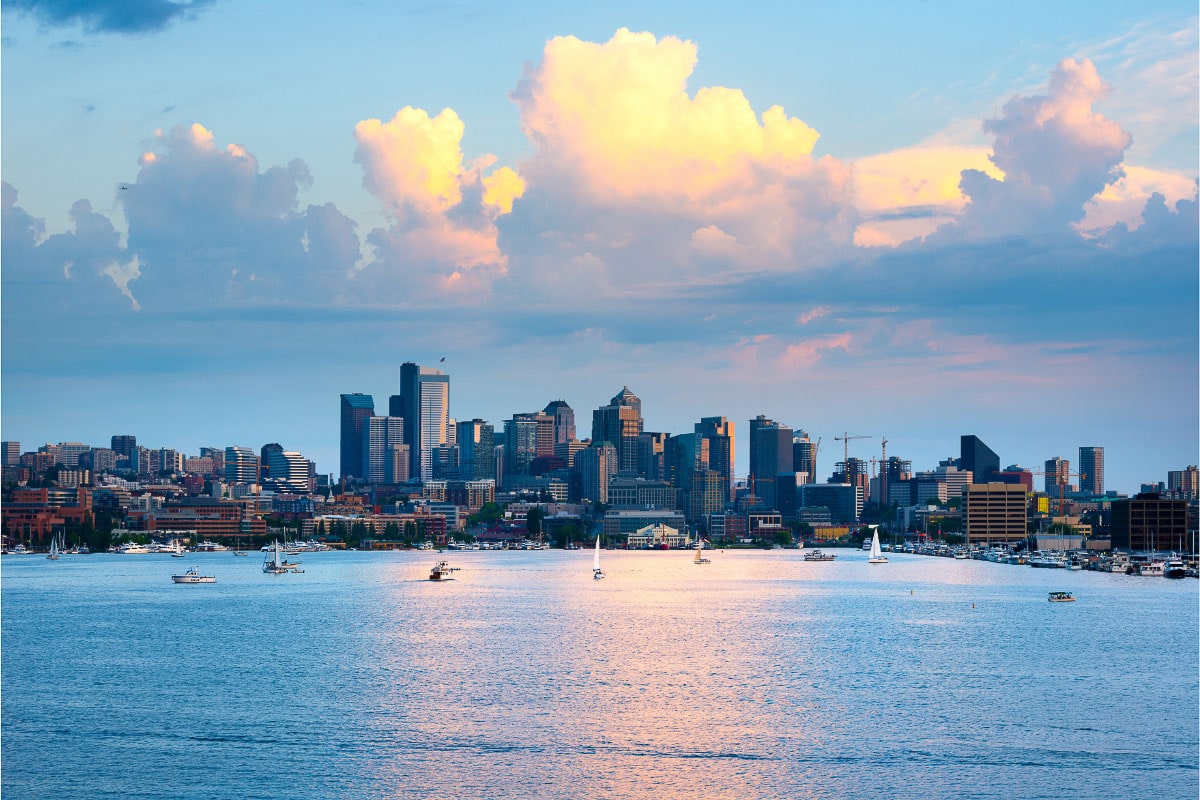 18. Carkeek Park
Fantastic views of Puget Sound and the Olympic Mountains. Carkeek Park also has loads of trails, lots of areas for a picnic or just to relax, and train tracks along its beach. Carkeek Park is in northwest Seattle and 9 miles from the downtown area.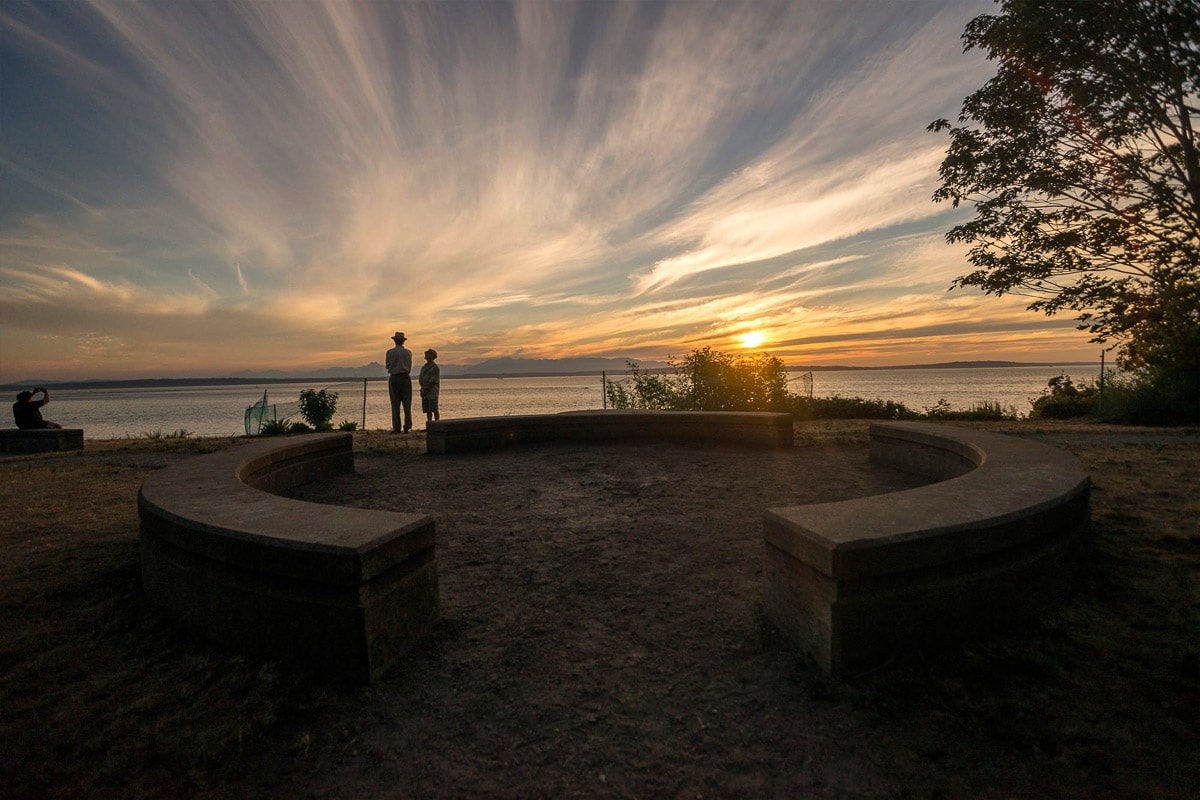 Final Thoughts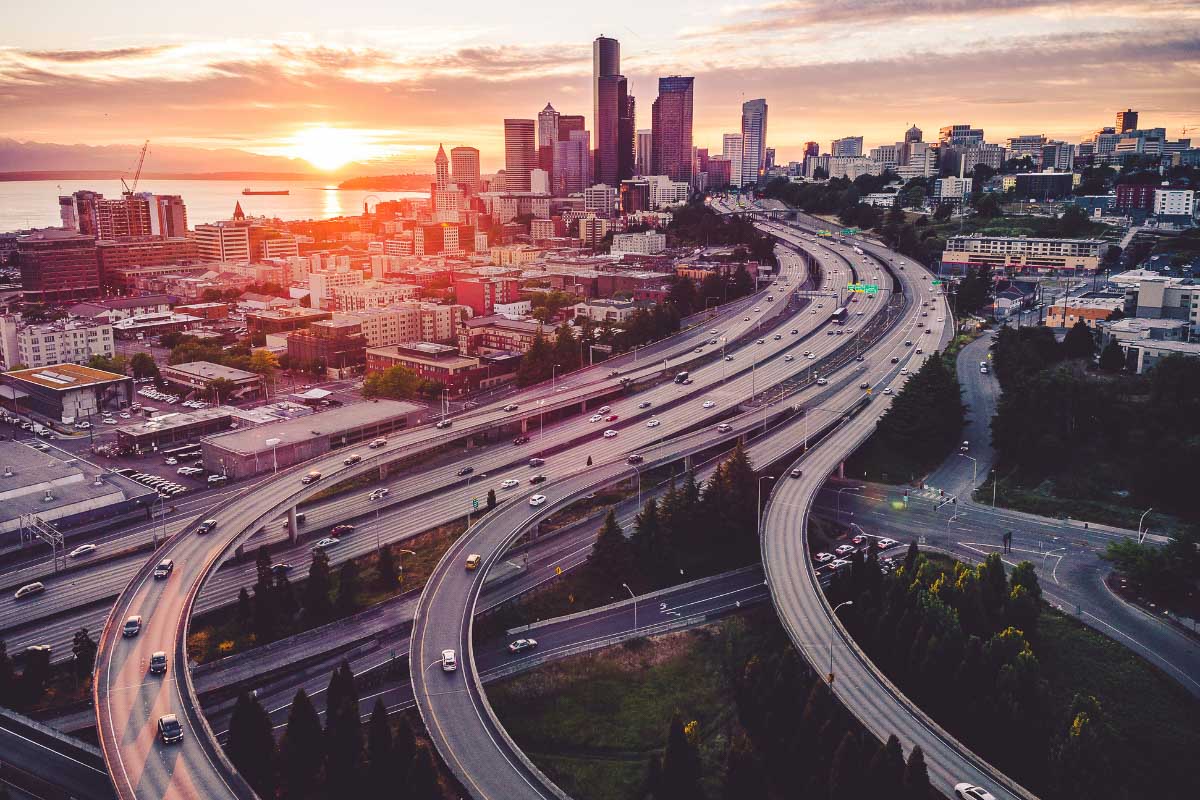 Emerald City is a fascinating destination and well-liked spot for tourists, which means there are so many activities there to keep you busy.
However, one cannot discount the simple pleasure of watching the sun go down. Seattle's landscape offers the perfect scenery for a picturesque sunset.
There are plenty of other great places to watch the sunset in the U.S. If you're interested, check out the best places to watch sunsets in Sedona.
If you enjoyed reading this post you'll love my post on The Best Sunsets in the World.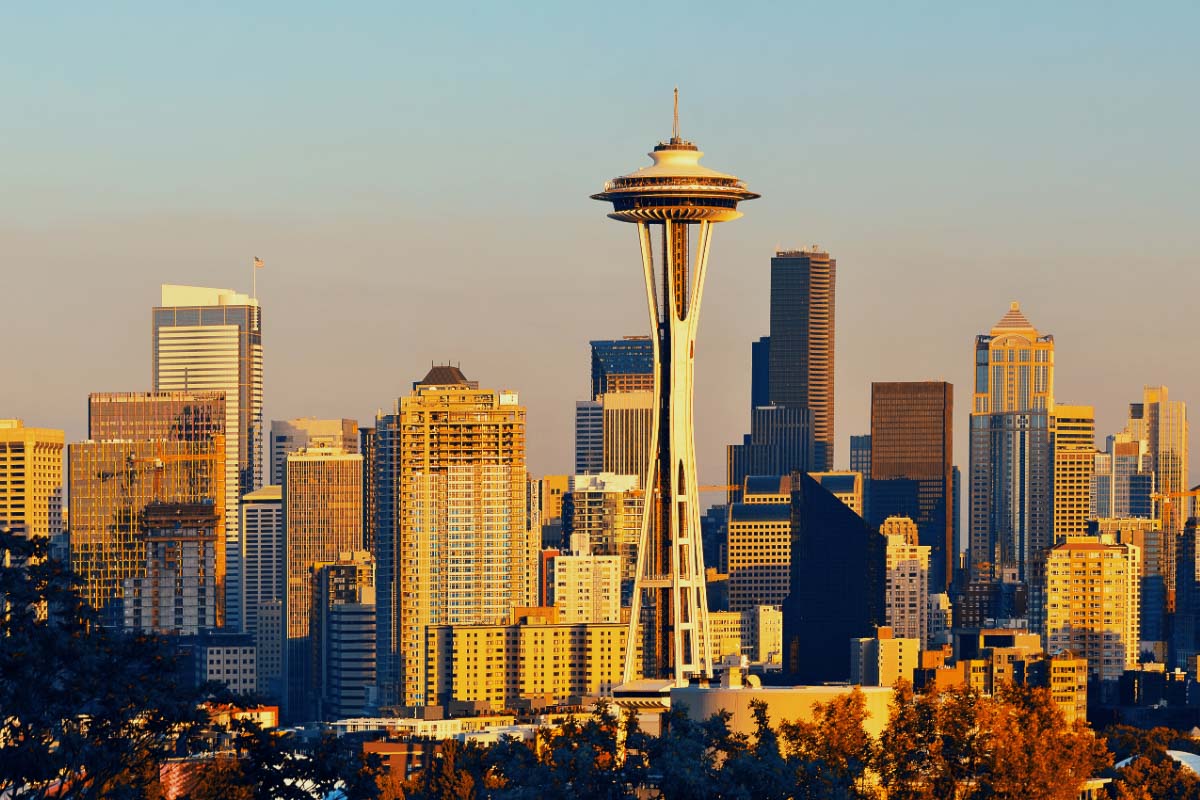 I covered all of the costs associated with writing this Sunsets in Seattle post. However, this post does include affiliate links. That means if you click through and end up making a purchase I will receive a small commission. I wanted to make sure you were aware of this.