Looking for some steamy hot springs to settle into and enjoy the natural delights nature has gifted us? Hot Springs in Nevada are hidden jewels when it comes to exploring and outdoor adventures. You'll get to uncover plenty of these secret spots burrowed amidst over 300 mountain ranges, towering peaks, canyons, and some of the driest areas in the US.
For most, when the name Nevada springs to mind, one either imagines the band, or expansive desert escapes and neon casino lights. What one might not think of are the many natural hot springs that are sprinkled throughout these peaks and deserts.
Picture this: When a cool summer evening falls on the desert plateaus, immerse yourself in a steaming pool and stargaze across the beautiful mountain ranges and beyond. So, while we are on this delightful notion, let's dive into some of Nevada's top hot springs to soak in.
Psst…While we're on the topic of hot springs, take a look at this guide to hot springs in Northern California.
23 Hot Springs in Nevada to Soak In
From pools near Las Vegas to Reno, you'll find some bubbling, steamy pools to frolic in. And bear in mind, it's always wise to dip your toe in first before diving into the waters. Depending on the location and season, temperatures can range from lukewarm to scalding hot.
Take a look at this list below of the top favourite hot springs to visit in Nevada.
Psst…Speaking of Las Vegas, if you're looking for things to do besides gambling, take a look at this fun and entertaining guide.
1. Spencer Hot Springs
Located off of 'America's Loneliest Highway,' Spence Hot Springs consist of a steamy metal tub filled from an in-ground source. Picture relaxing amidst the vast Nevada Desert backed by jagged ranges of the Smoky Valley.
These hot springs boast different sources. The water temperature ranges from 37.7°C (100°F) to 48.8°C (119°F). These pools are a series of hot mineral springs emerging from the ground. Admire panoramic views while relaxing and enjoying a good soak.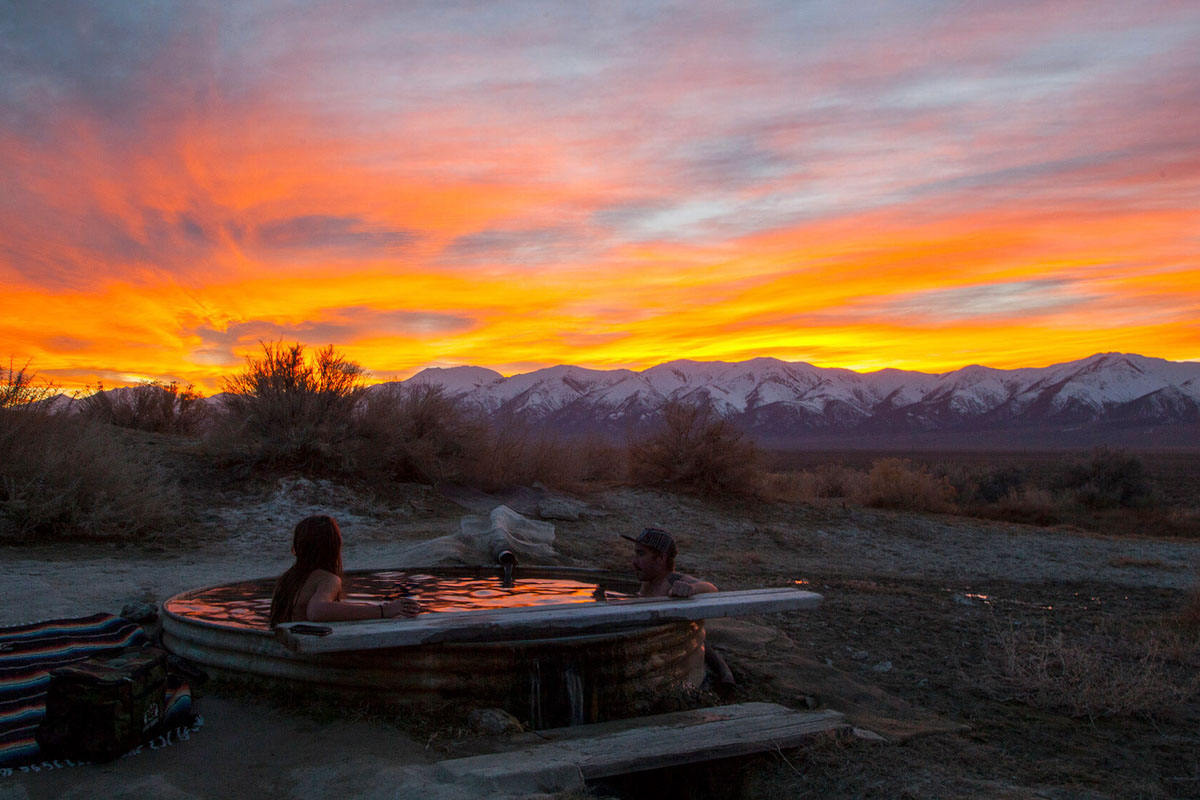 If you're looking for a place to stay, there's an established campground 20 minutes north at the Hickson Petroglyphs Recreation Area. The site offers free camping with fire rings and bathrooms provided. There's also plenty of other campsites around the hot springs that are great for relaxing after spending some time soaking up the glorious hot water.
⇒ Read more reviews on TripAdvisor
2. Arizona Hot Springs
Grab your sunnies, smear on some sunscreen lotion, and head to this three-tiered hot springs pool nestled in a narrow canyon near the Hoover Dam. The pools are built up with sandbags and boast lukewarm temperatures in the lowest pool and hot temperatures reaching up to 43°C (109°F) at the top.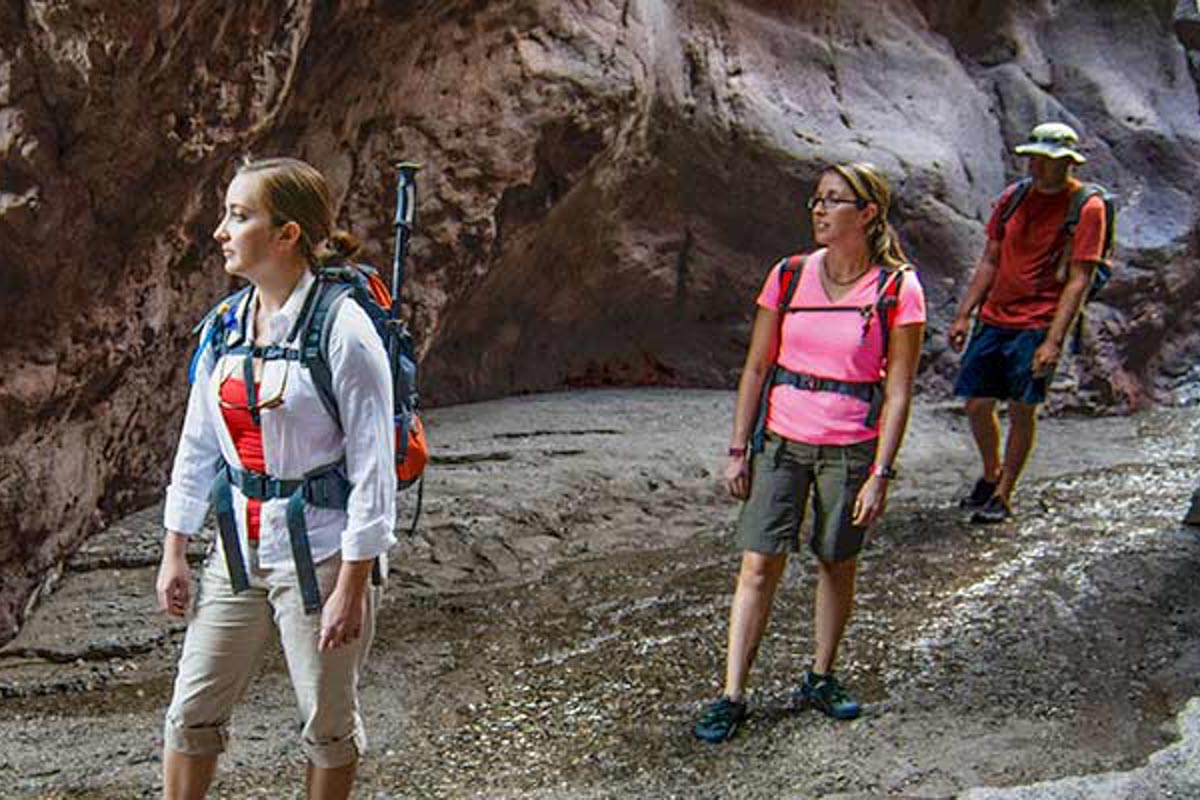 The springs are easily accessible from the Las Vegas area. They can also be reached by the White Rock Canyon Trail or the Arizona Hot Spring Trail.
Note: Getting to these hot springs involves a trek, and keep in mind that it gets quite hot out there. So, the best time to visit is from late October to April, when the temperatures are a little cooler.
⇒ Read more reviews on TripAdvisor
3. Kyle Hot Spring
Located 48 km (30 miles) off 1-80 near Mil City, Kyle Hot Springs is easily accessible by car. Best known for the exquisite sunsets, the two plastic soaking tubs boast sweeping views of the mountains and have average water temperatures in the low-30s°C (low-90s°F).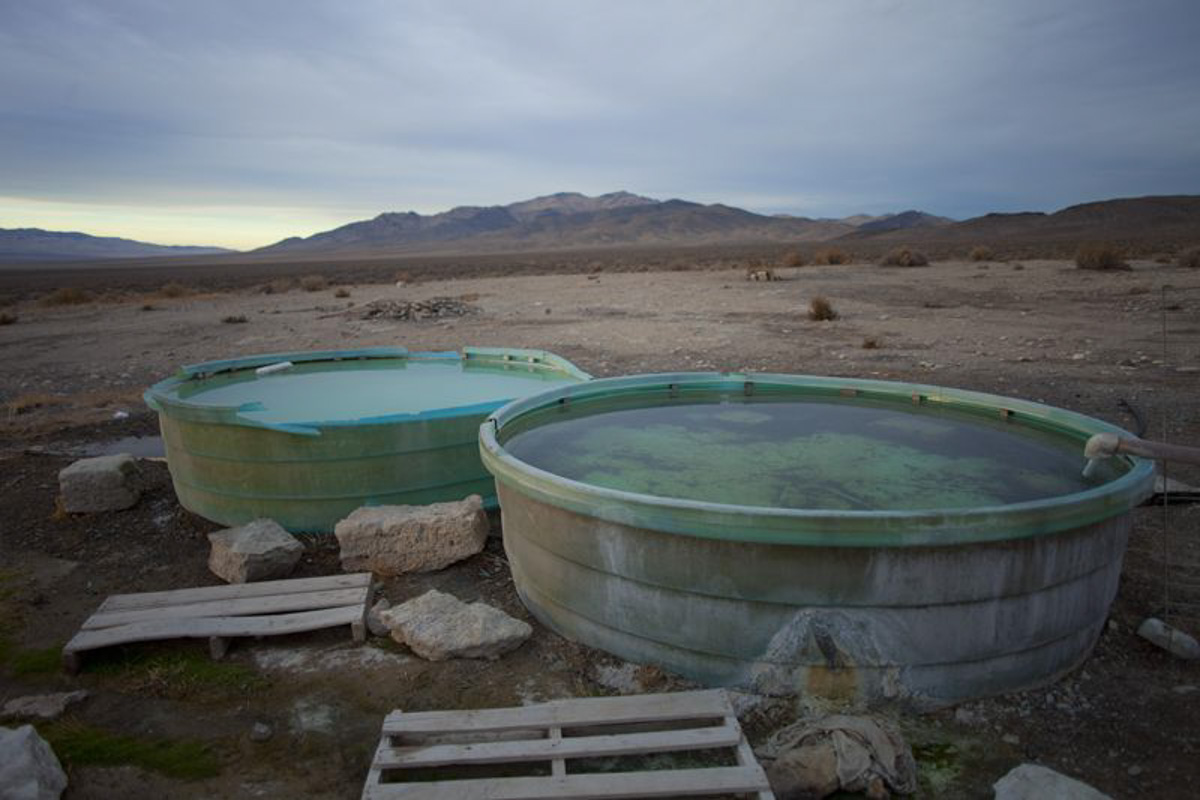 It's a great place for couples who are looking for a little quiet time together surrounded by peace and beauty. It's also a place with history. There are abandoned remnants of an old hot springs resort, including an original concrete tub.
4. Carson Hot Springs Resort
Located in the middle of Carson City, on the east side of Lake Tahoe, this family-friendly hot spring resort offers a large outdoor pool and deck area to relax. There is also private soaking rooms, saunas, fire pits, and a massage fountain known as 'the hammer.'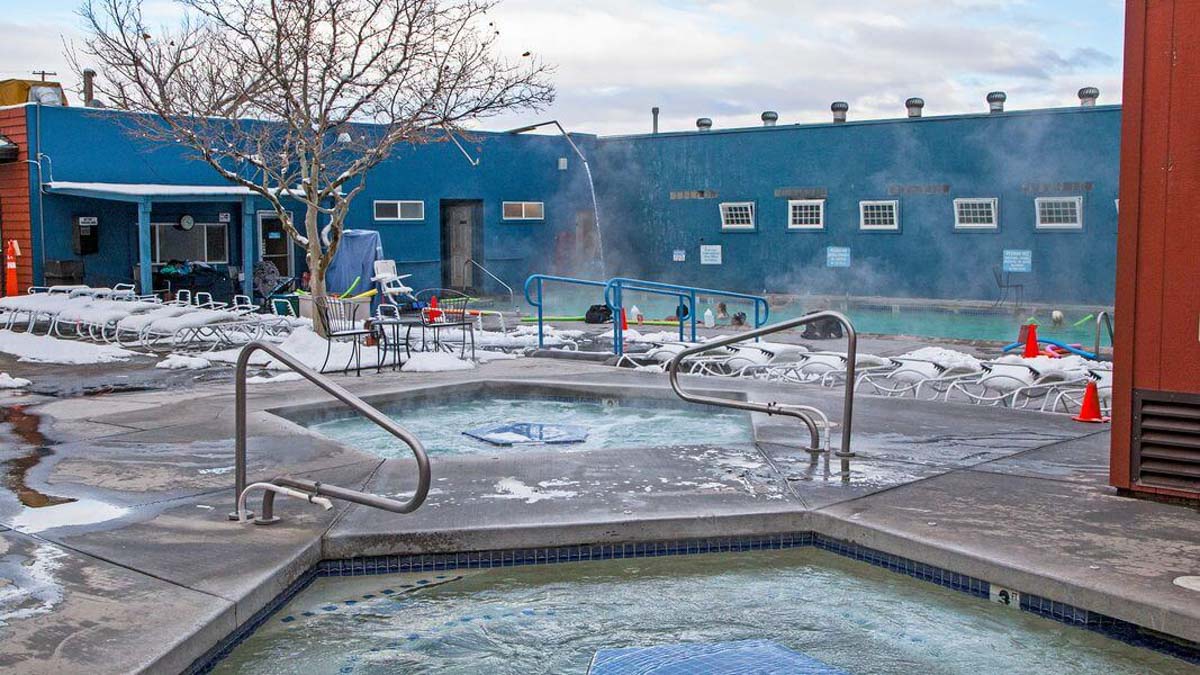 The water flows naturally from an underground spring at 49°C (121°F) at Carson Hot Springs. It then gets treated and cooled to provide a variety of temperatures in the pools. The resort is open from 7 am to 10 pm daily.
5. Trego Hot Springs
While the Black Rock Desert's claim to fame is the 8-day exhibition of Burning Man in Northern Nevada, it's also home to a number of bubbling hot springs. The silty Trego Hot Springs provides a mineral-dense mud bath and a variety of water temperatures to enjoy.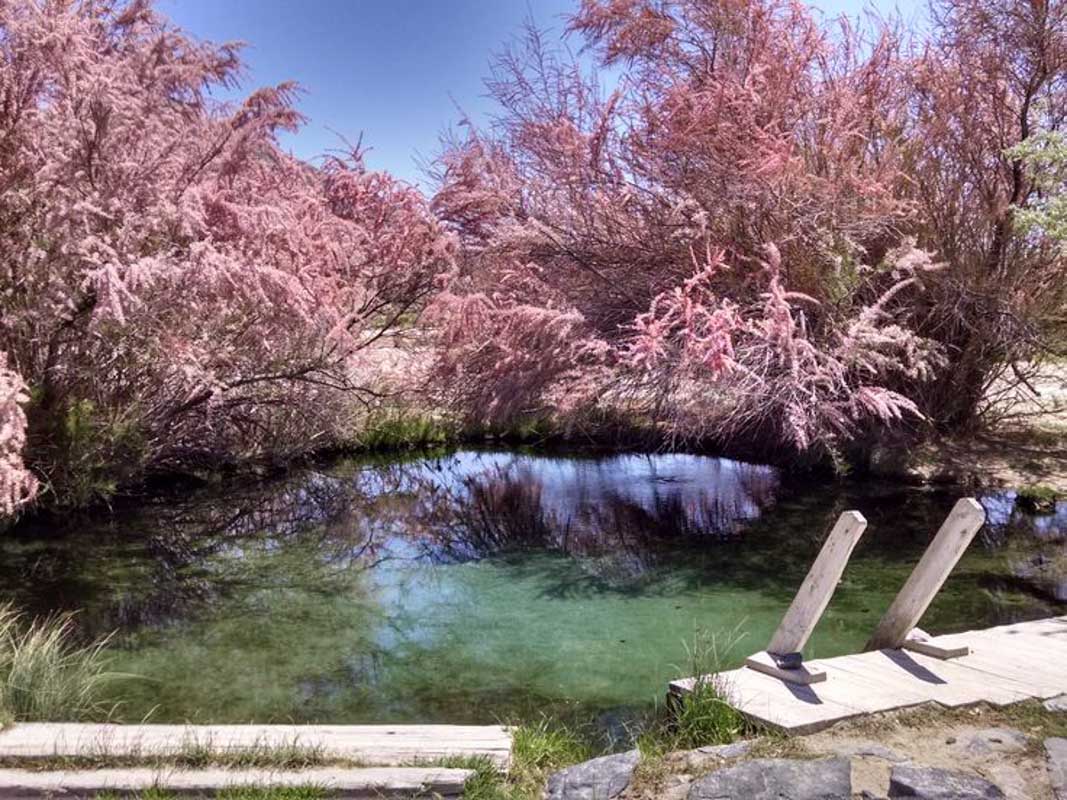 The Trego Hot Springs is considered one of the easiest springs to locate. You simply take route 49 in the direction of Sulphur, Nevada. After 48 km (30 miles) up the rock-strewn gravel washboard, you'll come to find the Trego Crossing. And just a short distance further, you'll find yourself at the springs.
6. Fish Lake Valley Hot Springs
Located in Nevada's Great Basin, the Fish Lake Valley provides a large rectangular-shaped concrete hot pool and two natural warm ponds. These pools have gained popularity because of their easy accessibility and beautiful surroundings.
The pool has a depth of 1 metre (3.5 ft) and can fit 7 – 8 people at a time. Enjoy temperatures of around 40.5°C (105 °F). Or if that's too hot, there are other hot springs nearby with cooler temperatures around 32.7°C (92°F).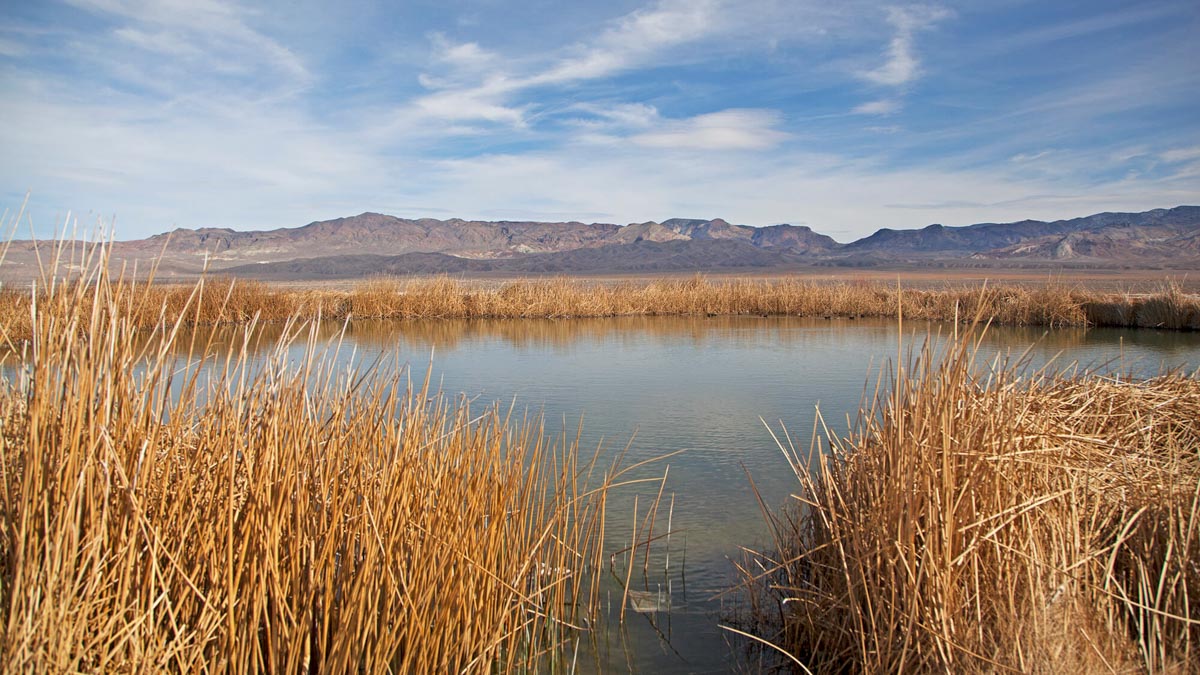 Fish Lake Valley is popular with ATVers and RV campers since it is one of the few hot springs in Nevada that offers facilities such as BBQs and fire pits. Get an eyeful of the two surrounding mountain ranges, the snow-capped Eastern Sierra Mountains and the White Mountains, while you soak in the pools.
7. Ruby Valley Hot Springs
Located a little over an hour south of Elko, off the 1-80 and bordering Ruby Wildlife Refuge, you'll come to find Ruby Valley Hot Springs. It's a series of hot springs hugged by a deep, teal pool that holds lovely warm temperatures.
The main pool is almost 9 metres (30 ft) deep and is surrounded by other smaller collections. Most pools reach around 37.7°C (100°F), and some are too hot to enter.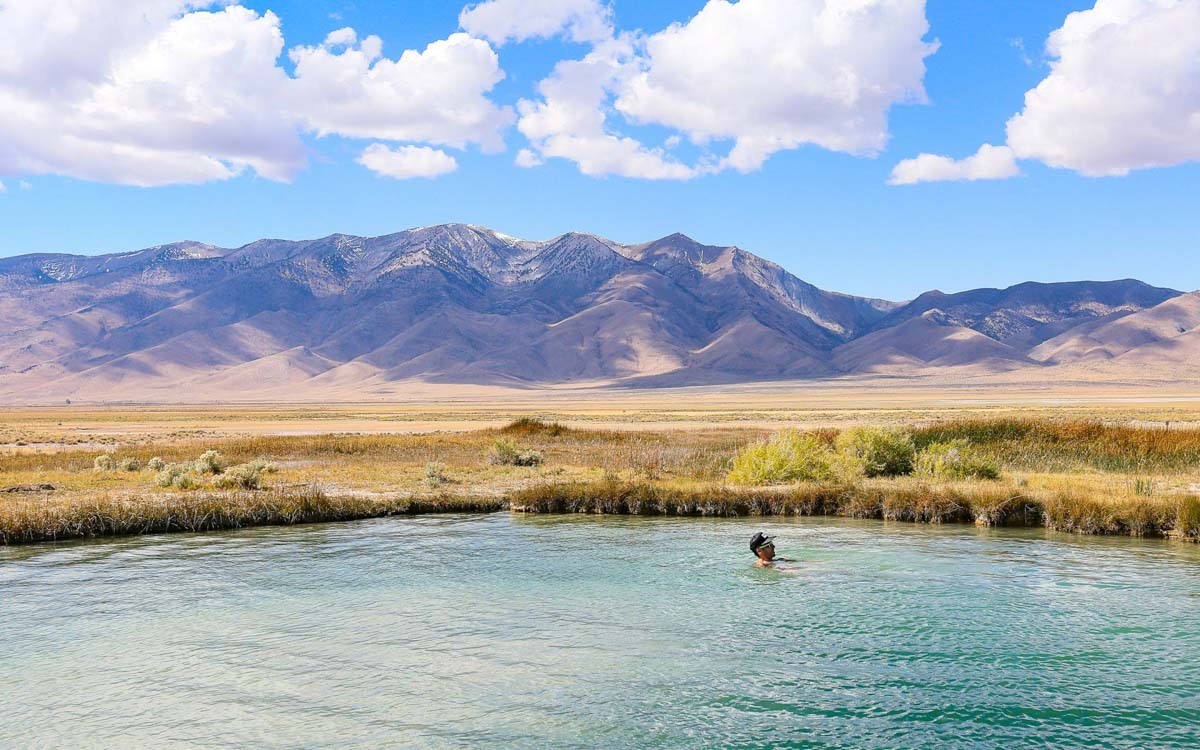 There is free camping accommodation in the area, so grab your tent, find a spot, and enjoy the outdoors at Ruby Valley Hot Springs.
Note: A large marshy area surrounds these pools, so bring along your water booties if you mind getting muddy.
8. Soldier Medows Hot Springs
Near Gerlach, at the northern tip of the Black Rock Desert, you'll find the Soldier Medows Hot Springs. The collection of pools are situated in a vegetated area with sweeping views of the distant mountains. There are six pools and a nearby stream to frolic in and enjoy the surroundings.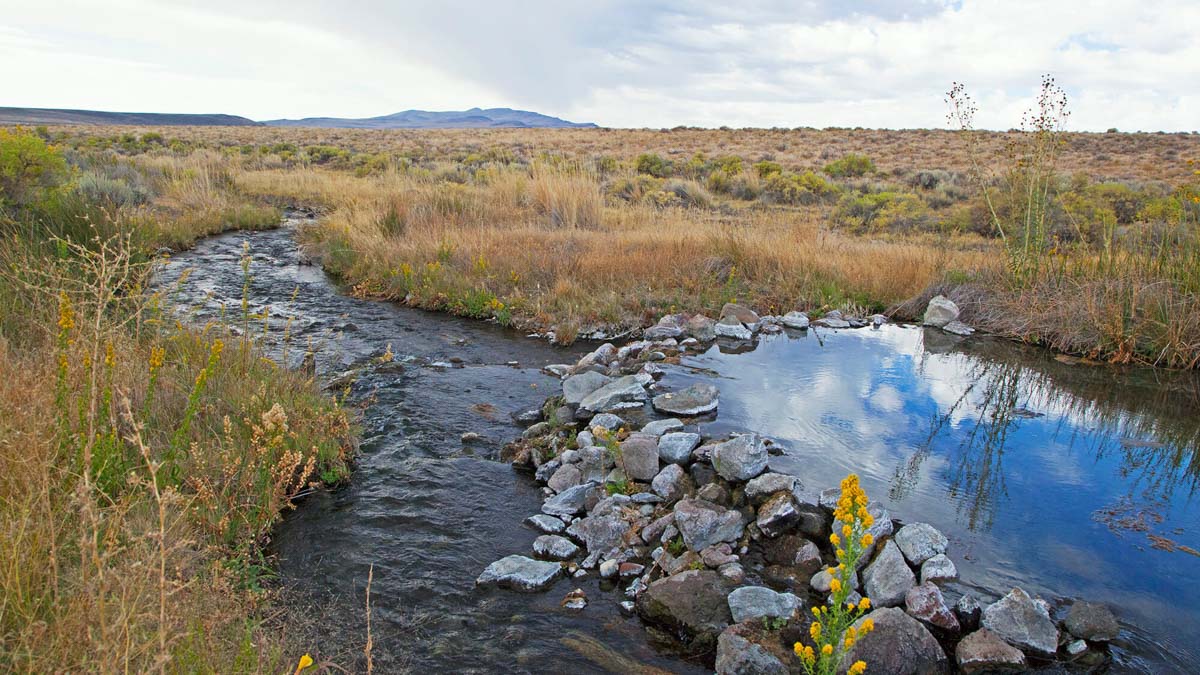 It's a great place to spend the night and enjoy plenty of trails and creeks adjacent to the springs. Soldier Meadows Ranch is a cattle ranch next to the springs that provides lodging and delicious home-cooked meals. Alternatively, if you're keen on roughing it, you can find one of the free Bureau of Land Management (BLM) camping sites in the area.
9. Gold Strike Hot Springs
Gold Strike is located around 45 minutes from downtown Las Vegas along the Colorado River. To reach these springs, you'll need to take a 6.4 km (4 mile) hike through a narrow canyon.
Once you get to the lovely steamy waters, you'll be rewarded with pools and steamy waterfalls. There's a natural spa with water seeping out from fissures in the canyon walls.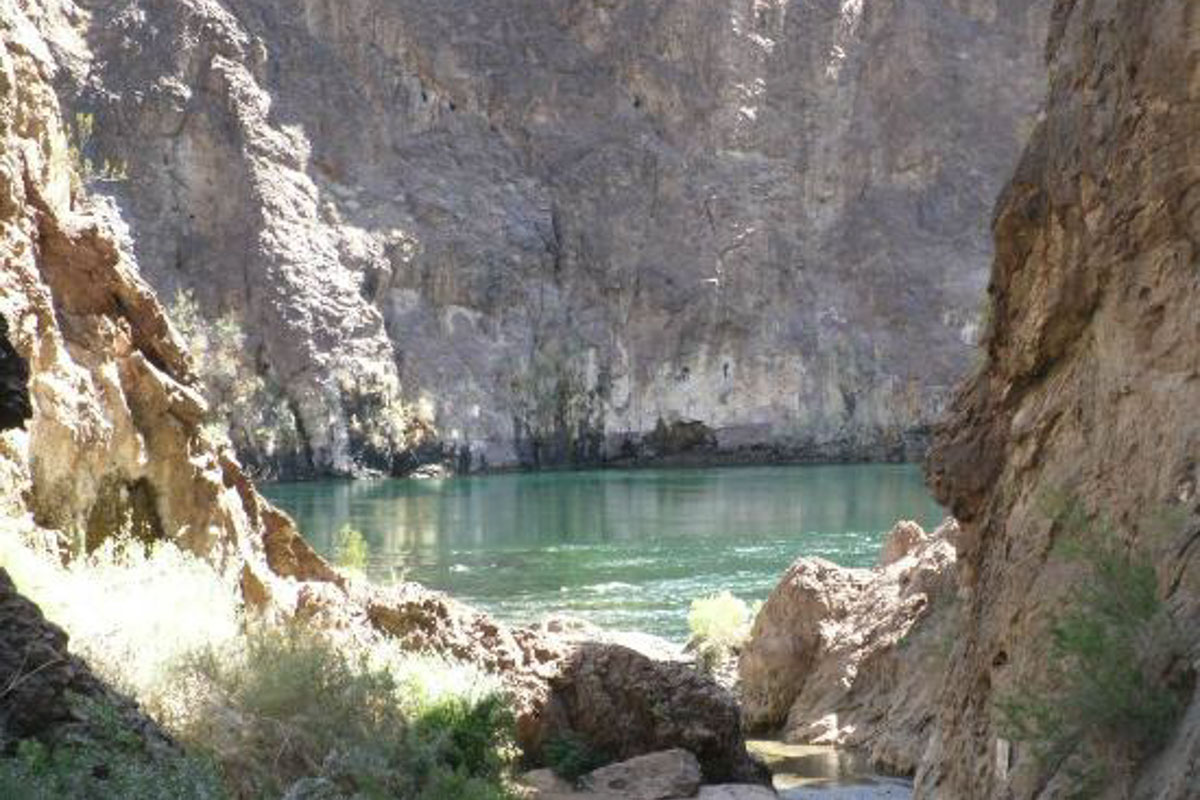 Once you're all soaked up and your fingers have turned to prunes, you can find a place to rest at Willow Beach Campground. It's located on the Arizona side of the Colorado River and offers access to a marina, where you can enjoy water activities such as kayaking.
⇒ Read more reviews on TripAdvisor
10. Virgin Valley Warm Springs
Virgin Valley Warm Springs boasts a sparkling hot pool on the Nevada side of the Colorado River near Hart Mountain National Antelope Refuge. It is a single pool that is 10.6 metres (35 ft) long and holds water temperatures of around 32.2°C (90°F).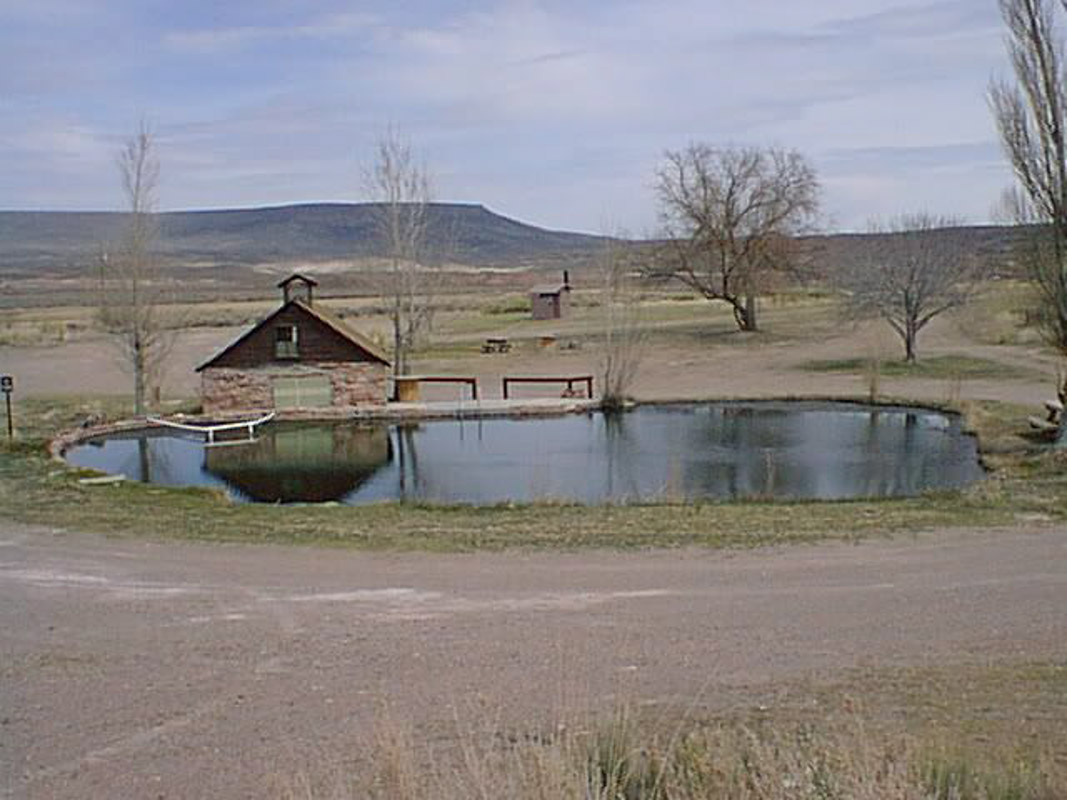 Moreover, there's a lovely first-come, first-serve campsite providing potable water, pit toiletries, and picnic tables – great for a vacation under the Nevada sun.
11. Twelve Mile Hot Springs
Settled along the Humboldt River in Wells, Northeastern Nevada, lies a large sweltering pool. Twelve Mile Hot Springs, also known as Bishop Creek Hot Springs, is a historic location in Bishop Creek Canyon that offers panoramic vistas and good hiking possibilities.
The springs sit 12 metres (40 ft) long and 0.9 metres (3 ft) deep, providing plenty of room for everyone. The water bubbles from the spring at 40.5°C (105°F), depending on the season, and lies between 35 °C (95°F) to 40.5°C (104°F) once it settles in the pool.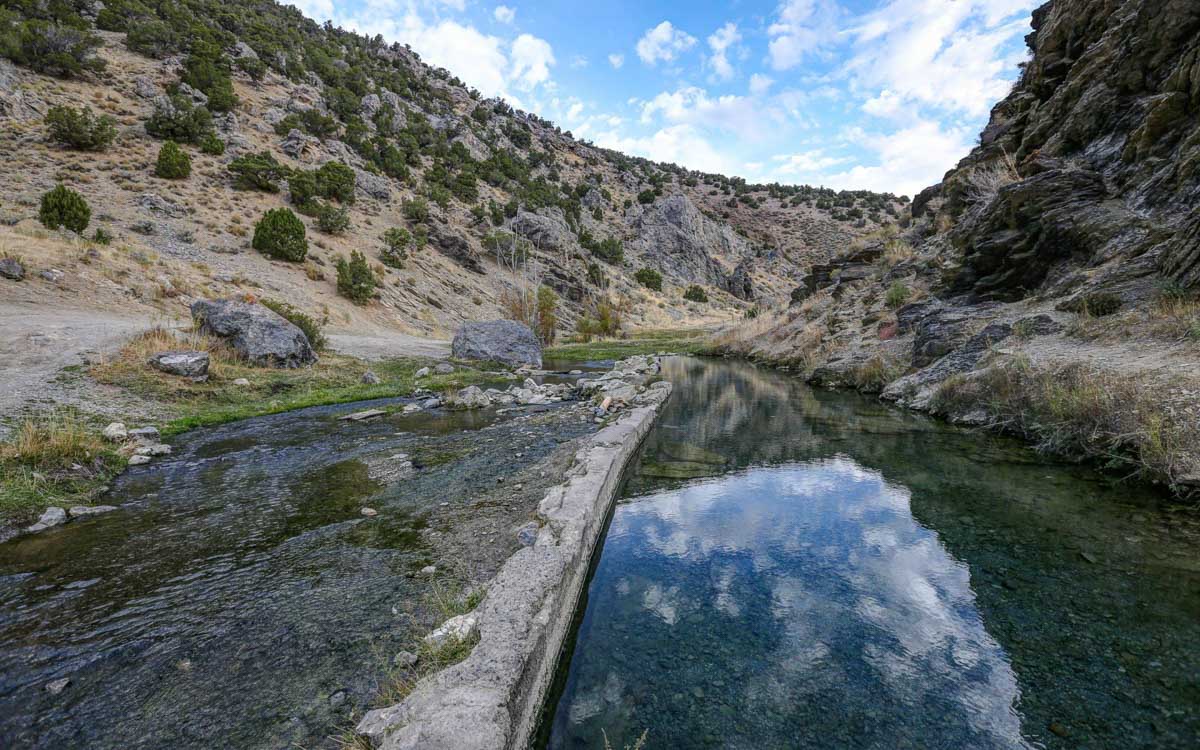 Get toasty in the hot springs, then awaken your senses by diving into the chilly river after. Or lie back and enjoy the steamy sensation as you peer out into the peaceful surroundings, admiring the encircling Humboldt Mountains in the distance.
Note: Getting to the mountains can be a little tricky since these springs are not marked on the map, and you may also need a high clearance vehicle as the road can be a little bumpy. From the town of Wells, you'll need to make a left on 8th Street and drive 14.6 km (9.1 miles) until you come to a dirt road. Then drive for another 3.2 km (2 miles) until you reach the springs.
12. Paradise Valley Hot Springs
Surrounded by snow-capped mountains and amidst the Great Basin lies Paradise Valley Hot Springs. Soakers are spoiled with typically clear steamy waters and sweeping views of the surrounding area. Locals have built a sturdy wooden entrance platform where you can leave your belongings while you soak in the hot springs.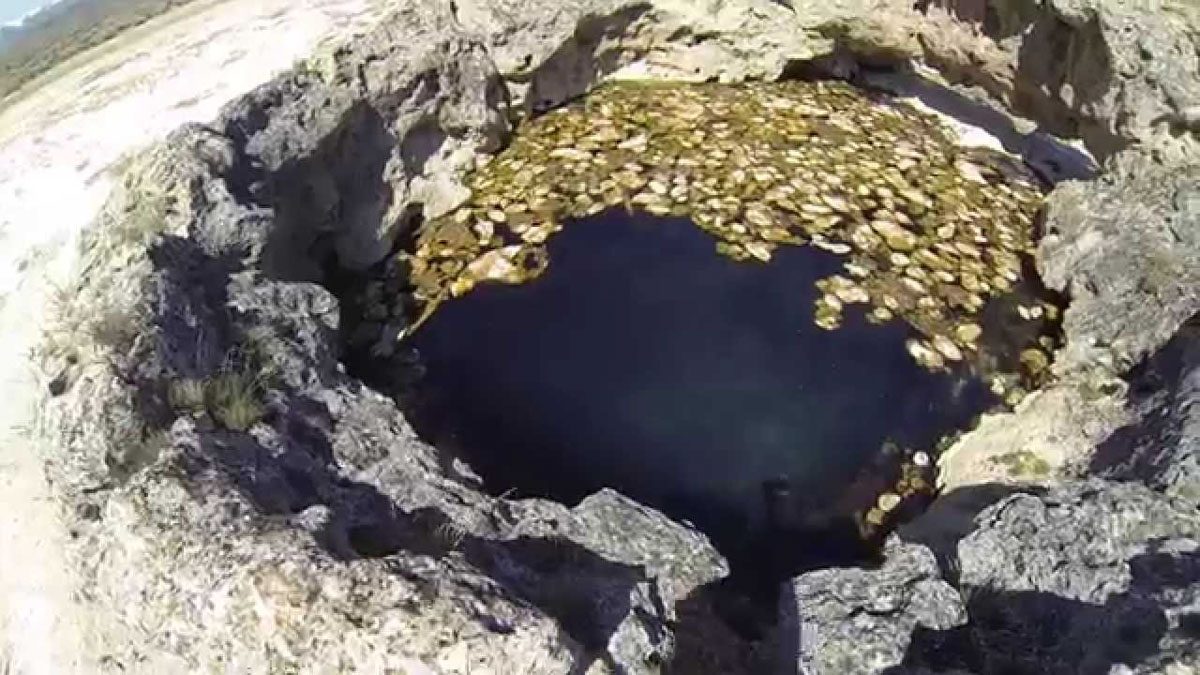 Tip: The pool near the parking area can reach piping hot temperatures of up to 54.4°C (130°F). Don't mistake this for the springs. You should follow the stream down to the river until you reach the well-maintained pools.
13. Rogers and Blue Point Hot Springs
The Rogers and Blue Point Hot Springs are located in the Lake Mead National Recreation Area, between Echo Bay and Overton. These pools help support a desert ecosystem that includes an array of beautiful palms and other lush greenery.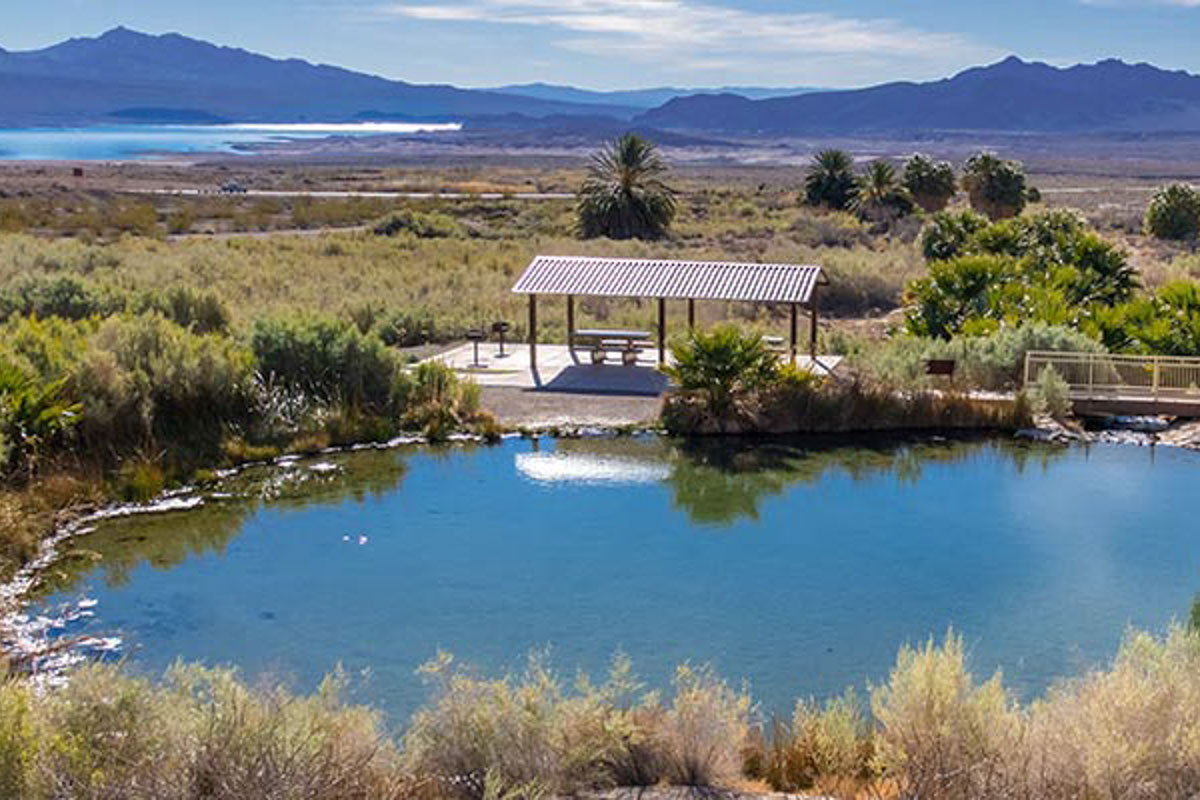 The springs can pump approximately 3,785 litres (1,000 gallons) per minute, with water temperatures reaching an average of 29.4°C (85 °F), depending on the season. It's a great place to soak in nature and enjoy the beauty of the surrounding oasis.
14. Dyke Hot Springs
Another set of springs located at the edge of the Black Rock Desert, Dyke Hot Springs, consists of two single bathtubs along the edge of a pond.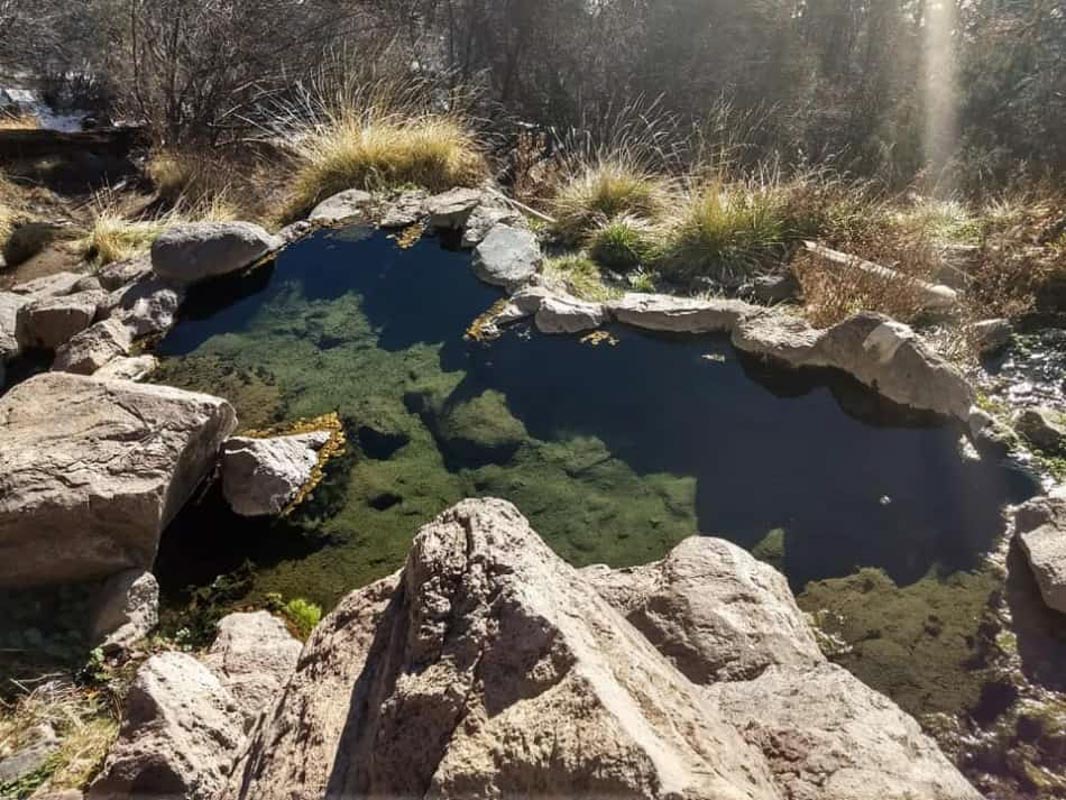 When you arrive, you'll find piping that leads from the 65.5°C (150°F) source pond at the top of the hill down into the tubs. You can fill them up and wait until the water is the best temperature for you, and then … get your soak on.
Note: Don't forget to drain the tubs once you are done to help keep them clean and algae-free.
15. Black Rock Hot Springs
This huge geothermal desert oasis welcomes tourists to relax in its waters. The unmistakable pointed black rock in the distance gives Black Rock Hot Springs its name. It's a popular site for both locals and tourists, and it is regarded as one of Nevada's top natural hot springs.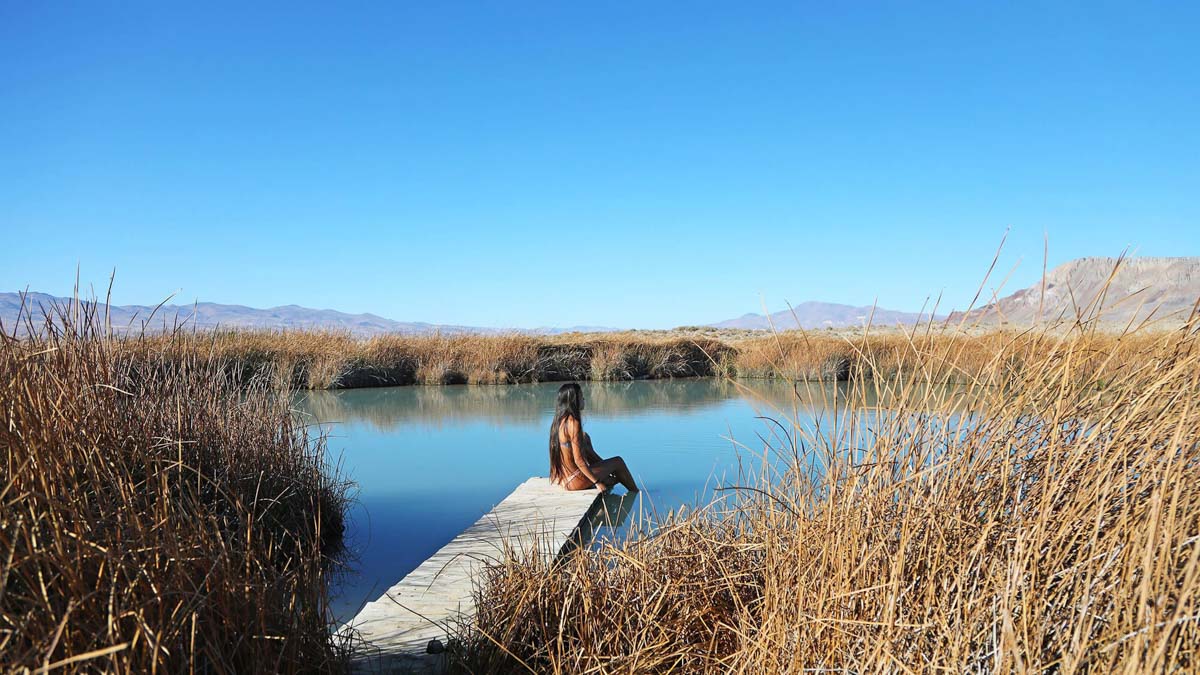 Since this area is remote, you'll need to travel across the playa to access the springs. After following the pointed black rock on the horizon, you'll come to a large blue pool of natural hot spring water with reeds hugging its border.
Note: Before diving in, check the temperature as the waters are known for being piping hot.
16. Diana's Punch Bowl
Diana's Punch Bowl, also known as Devil's Cauldron, really does pack a punch when it comes to scalding hot temperatures. It's so hot that it's the only unsoakable hot spring on this list. This geologic wonder, however, is a must-see and a fast side trip for visitors to the deserted town of Pott's Ranch in central Nevada.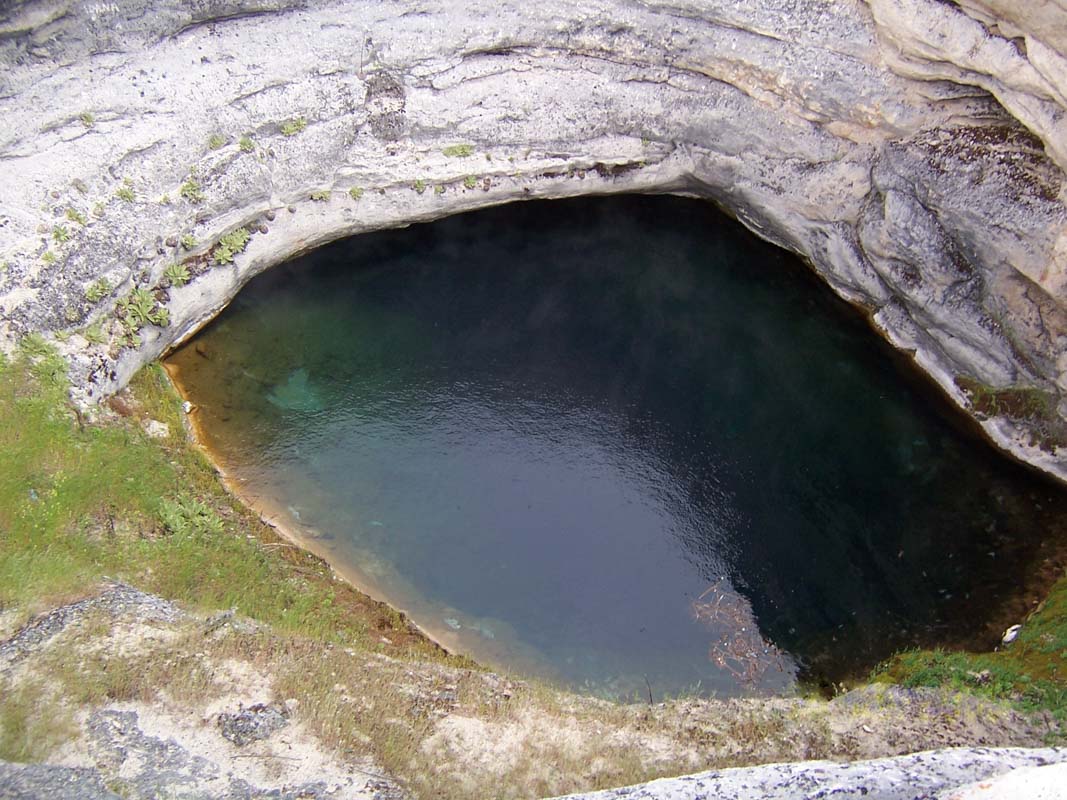 The Devils Cauldron is a sunken crater found in the middle of a large travertine hill. It measures 15.24 metres (50 ft) across and 9 metres (30 ft) deep and is filled with a sweltering 93.3°C (200°F) dark blue water. So, take caution when you approach nature's boiler as you certainly won't want to accidentally fall in there – yikes.
17. Bog Hot Springs
Bog Hot Springs is situated between the Pueblo Mountains and the Steen Mountains, giving visitors a picturesque view of the pools' natural landscapes. Unlike other hot springs in Nevada, these steamy pools are found in the middle of a warm flowing river.
The hot springs are formed by damming a warm-water-fed stream and creating a succession of mineral pools with various temperatures. These ponds have sandy bottoms and are terraced.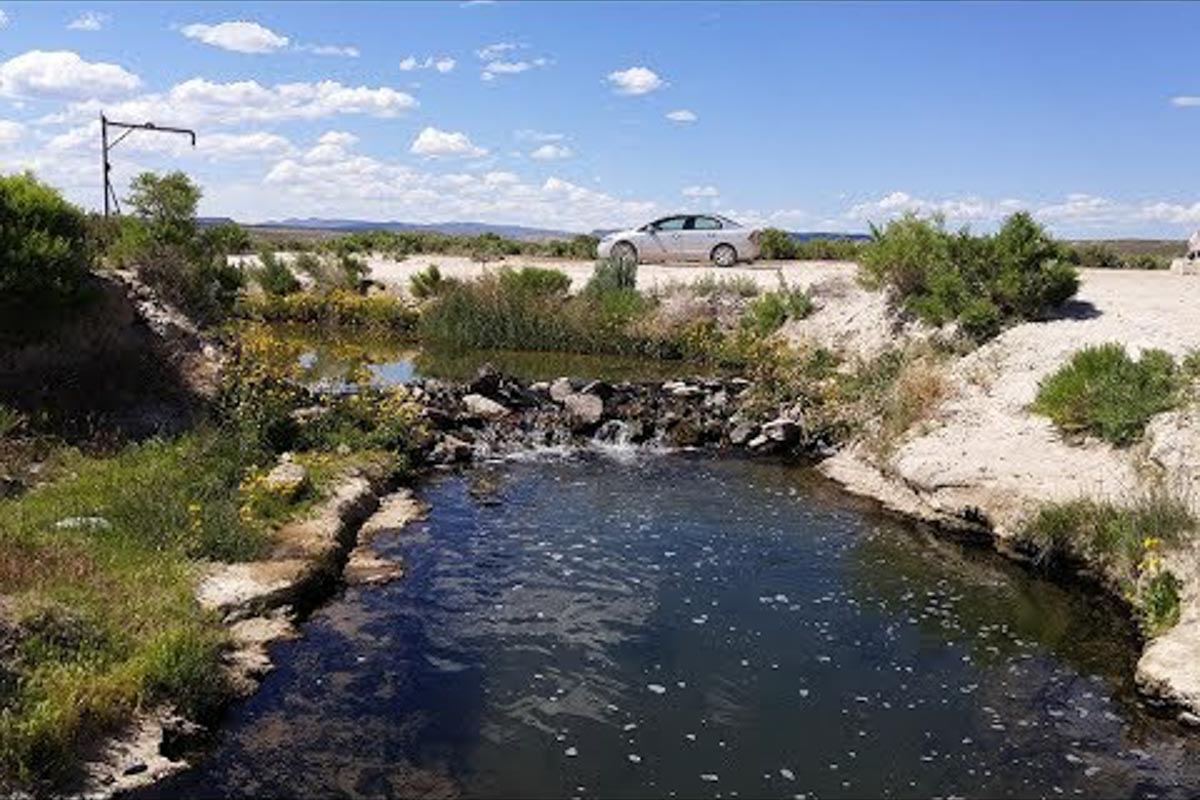 The source feeds the creek with waters of 48.8°C (120°F) and cools down the further away it travels. The larger pools reach between 40.5°C (105°F) and 46.1°C (115°F). The smaller pools are around 32.2°C (90°F) to 40.5°C (105°F), providing a luxurious gift from nature.
18. Kirch Hot Springs
Kirch Hot Springs, also known as Sunnyside, is situated within the Wayne E. Kirch Wildlife Management Area. These pools are considered one of the most beautiful. They feature crystal clear waters that rival that of Lake Tahoe and boast majestic views of the surrounding Nevada desert and White River Valley.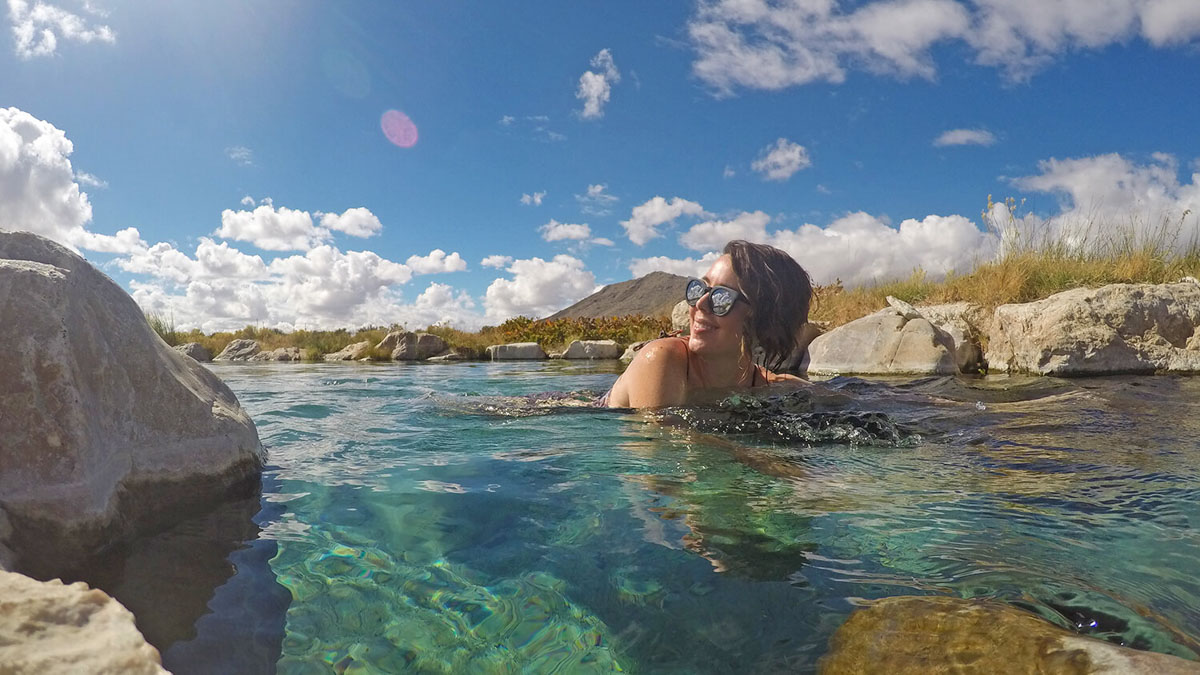 This region is an important natural refuge for numerous birds, reptiles, amphibians, and large animal species. So, keep a lookout for wildlife as you frolic in the vaporous waters.
19. Steamboat Hot Springs
Steamboat Hot Springs, located south of downtown Reno, is a commercial hot springs resort. The water comes from a geothermal source and contains some healing minerals, including magnesium, sodium sulfate, and calcium carbonate.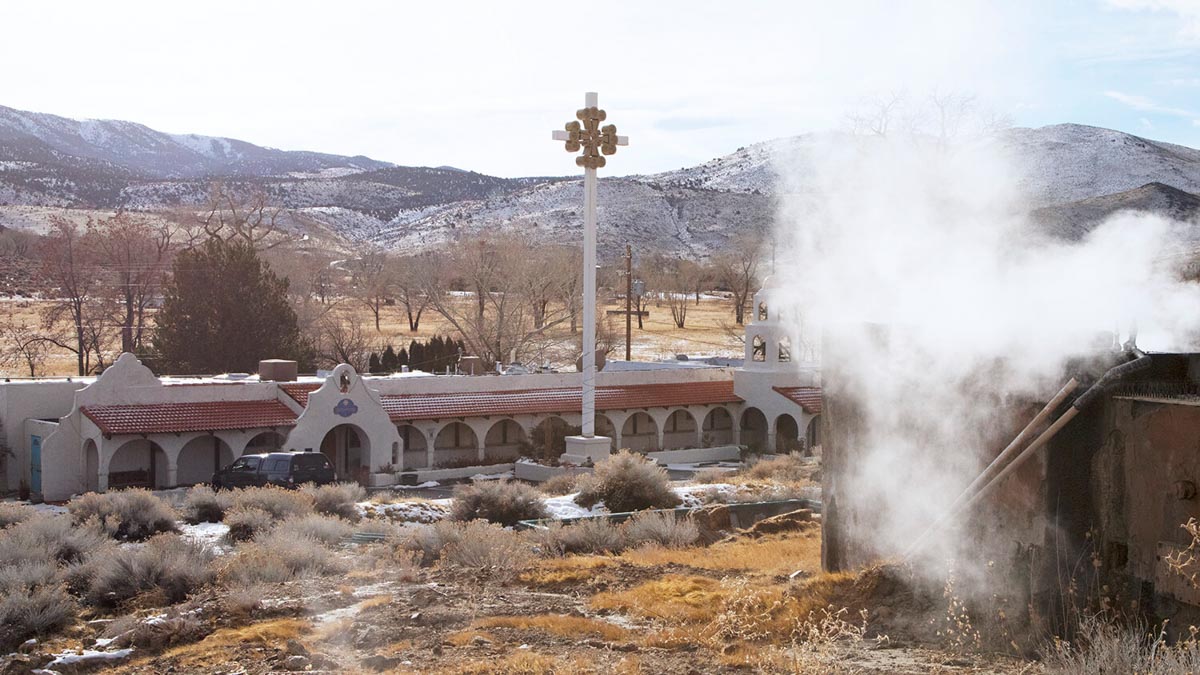 ⇒ If you're enjoying this article you'll love my articles on 15 North America Landmarks, the 10 Most Famous Landmarks in the US, 7 Most Beautiful Bridges American Bridges, 60 Most Famous Landmarks in the World, 9 Gorgeous Lakes Canada has on offer, 23 Must See Landmarks in Mexico, 15 Most Beautiful States in the US, 31 California Landmarks, 16 Most Beautiful Cities in Canada, 17 Washington DC Landmarks Not to Miss, 11 Beautiful Canada Landmarks and the 20 Most Beautiful Cities in the United States.
Here at Steamboat, visitors can unwind and de-stress in the resort. Apart from the hot springs, there are also outdoor tubs, private baths, aromatherapy, massage services, and a steam room available.
20. Smith Creek Valley Hot Springs
Located on northern Nevada's dry desert lake bed, Smith Creek Valley Hot Springs is considered an all-time favourite. Here you'll find two troughs that get filled from pipes attached to the natural water source.
Getting to Smith Creek Valley Hot Springs can be a little tricky as some dirt roads are unmarked. But if you're up for a little rustic adventure, then it's the best destination for you.
Tip: Smith Creek isn't too far from Spencer Hot Springs, so if you have the time and are looking to go hot spring hopping, do a double-dip.
21. Pyramid Island Hot Spring
Located on the Kern River, Pyramid Island Hot Spring is a secluded spring best known for its alluring beauty. The pool is spacious, perfect for the whole family or a group of friends. It boasts a small waterfall that feeds flowing water into the pool and temperatures that reach up to 39.4°C (103°F).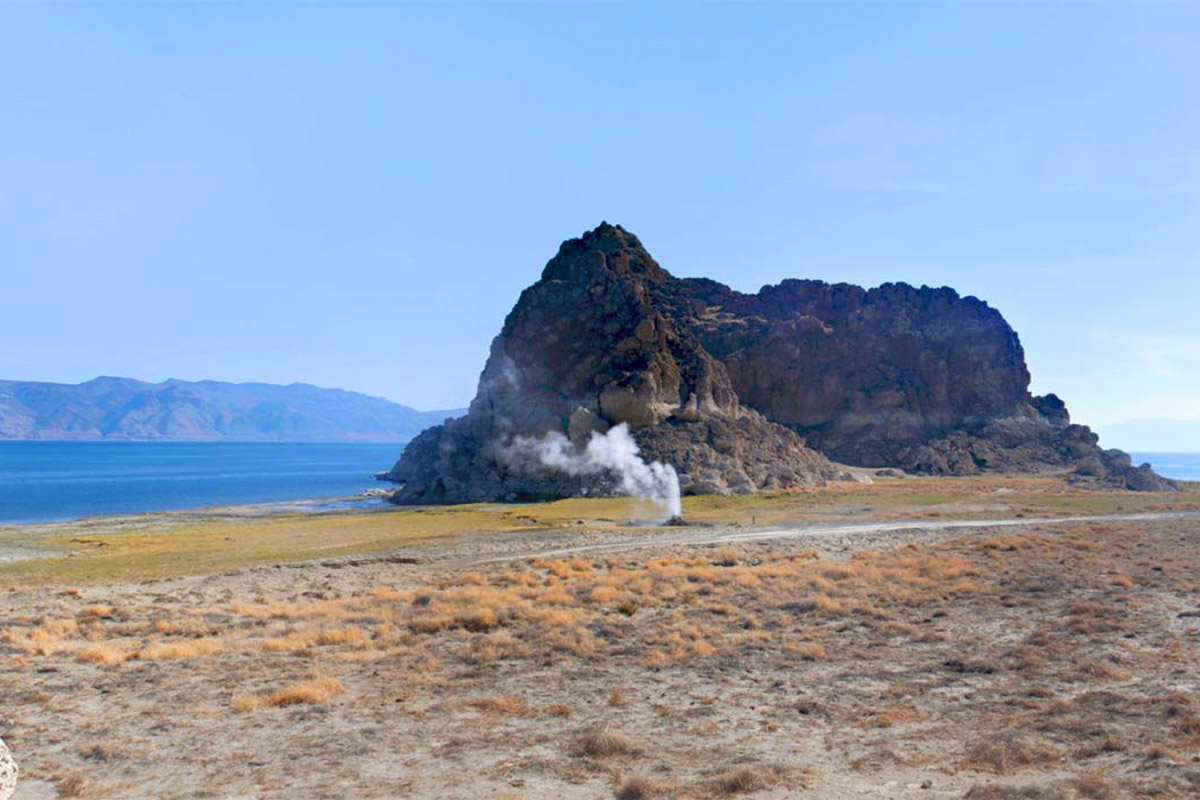 A large boulder sits next to the pool and shelters it from noise or any outside activity. This provides you with an intimate feel that you can enjoy with the distant mountains as your backdrop.
22. Bartine Hot Springs
Bartine Hot Springs is considered one of the most scenic hot springs in Nevada's high desert in Eureka County. The water is clear and well-circulated, reaching a cosy 38.8°C (102​​°F). One of the pools is shaped like a heart and boasts stunning scenic views. So, lie back and enjoy the sprawling panoramas of the north end of the Monitor Range.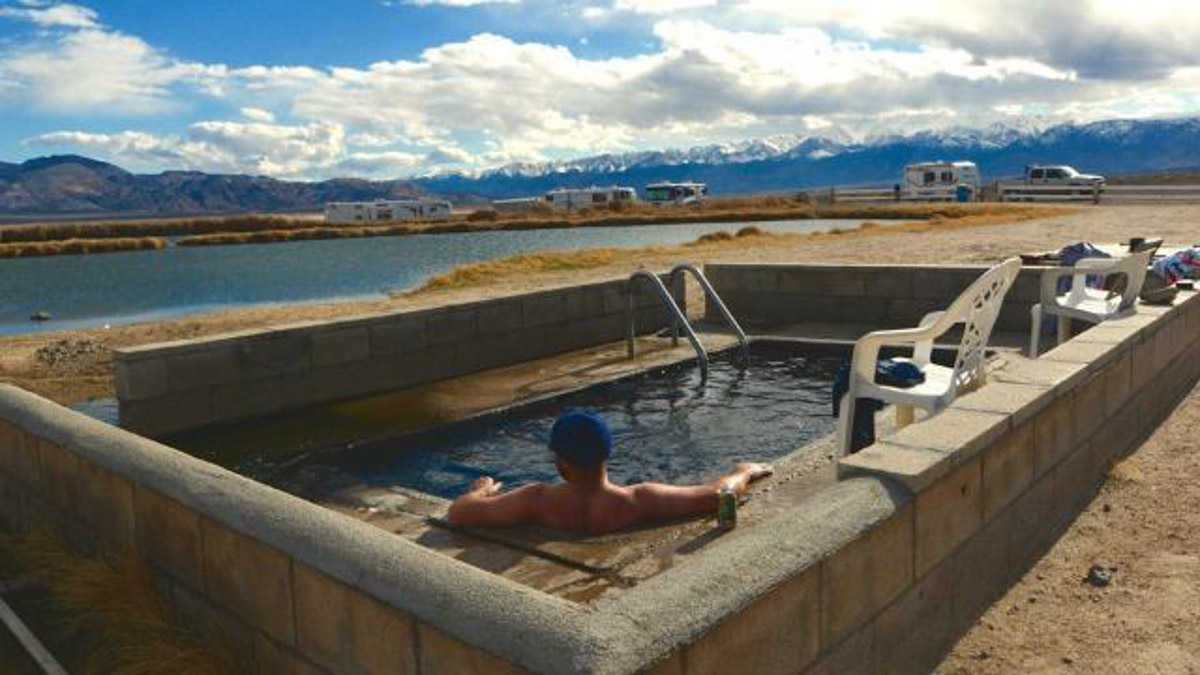 ⇒ Interested in heading to California? Check out my posts on Unique Restaurants in San Francisco, 15 Gorgeous Sunflower fields in California, Things to do in Calistoga review of the great Solage Spa, 19 awesome places to watch San Diego Sunsets, visiting Yosemite in One Day, 15 Best Northern California Hot Springs, 15 Best Places to Watch San Francisco Sunsets, 10 Stunning Sunsets in California and in Yosemite in October, 31 California Landmarks and my guide to a Livermore Wine Tasting.
To get to Bartine Hot Springs, you'll take Highway 50 east from Austin. It's around 11.2 km (7 miles) after Bean Flat, where you'll come to Three Bards Road. Take a left and follow the powerlines until you reach another road to the right; follow it until you reach some fencing and a well. Park here, and around 30.4 metres (100 ft) northwest, you'll find the stone tub.
23. Iva Bell Hot Springs
If you're a connoisseur of superheated water, then Iva Bell Hot Springs may be the perfect place to explore – if you haven't done so already. These natural pools are spread out on a remote mountainside, and each spring has its own temperature range.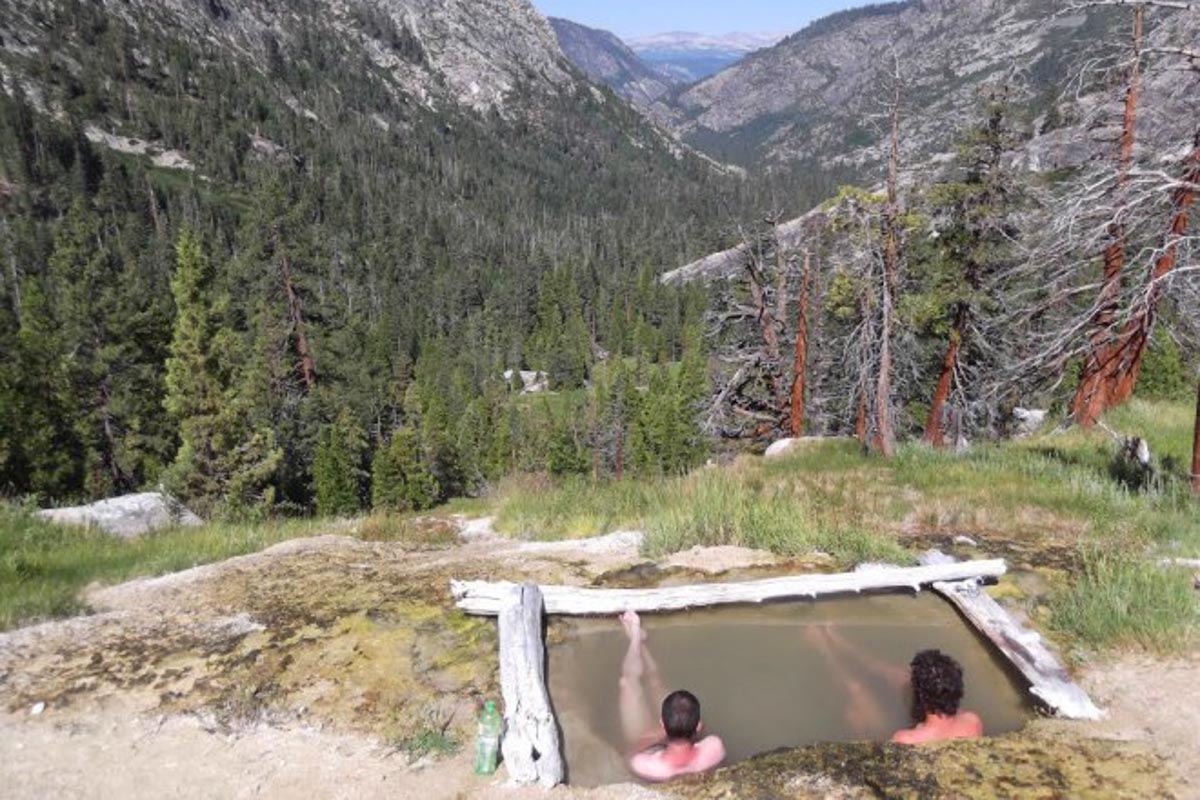 The pools are located deep in the Sierra Nevada, in the Cascade Valley. They may require a multi-day backpacking trip to reach their piping hot waters. But, if you're in for an adventure, they are certainly worth the effort.
The hot springs are accessible via the 41.1 km (25.6 mile) moderate Fish Creek Trail near Mammoth Lakes. However, there is a closer hike from Red's Meadow.
A Footnote: Hot Springs in Nevada
Nevada boasts an array of hot springs, more than any other state in the US. They're sprinkled across canyons and marshland retreats, from the Mojave Desert to America's Loneliest Road.
So, there you have it, the best bubbling, steamy springs in Nevada. If you've soaked in one of these blissful sanctuaries, please share your experiences; I'd love to know.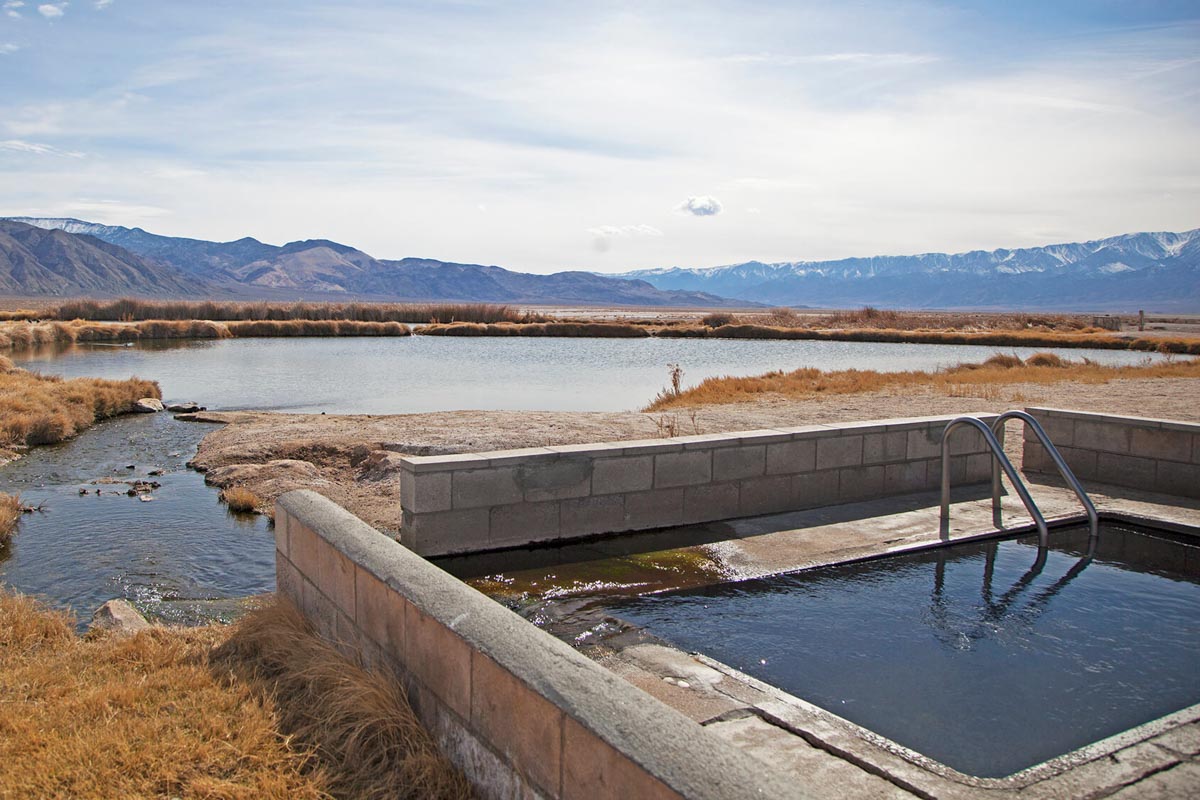 Looking to experience some of the best nature experiences in the United States? Check out my posts on the 15 Best Northern California Hot Springs, 13 Best Pumpkin Patches in Arizona, 9 Best Hot Springs in Washington State, 11 Best Pumpkin Patches in Las Vegas, 33 Historical Places in Florida, 3 Hot Springs in Steamboat Springs, 13 Spectacular Sunflower Fields in Long Island, 11 Pumpkin Patches in Houston, 13 Sunflower Fields in Illinois, 13 Hot Springs Oregon, 15 Stunning Sunflower fields in New Jersey, 13 Best Pumpkin Patches in San Diego, 10 Best Places for Hot Springs in the USA, 6 Best States to see Sunflower Fields in the United States, 15 Gorgeous Sunflower Fields in California, 15 Best Places for Cherry Picking in Michigan, 23 Hot Springs In Nevada, Radium Hot Springs Colorado, 29 Hot Springs in Montana, 21 Sunflower Fields in Ohio, 13 Best Hot Springs in Pagosa Springs, 7 Stunning Sunflower fields in Minnesota, 29 Hot Springs of New Mexico, 29 Idaho Hot Springs and 11 Terrific Texas Sunflower Fields.
I covered all of the costs associated with writing this article. However, this hot springs in Nevada post includes affiliate links. That means if you click through and end up making a purchase I will receive a small commission. I wanted to make sure you were aware of this.
Note – it wasn't easy to find photos of Nevada Hot Springs. I found most of the photos for this post on Facebook. Once a pic is on facebook it is in the public domain. However, if one of these photos is yours just put a comment on this post. I would be very happy to add a photo credit and provide you with a back link to your website/facebook page etc.