Visiting a pumpkin patch is a great way for families to spend the day outdoors and get some cute family photos in. But pumpkin patches are not just for families looking to take their kids on an outing.
Pumpkin patches are the perfect adventure for everyone to enjoy the fall season and all the activities that come along with it.
Houston has plenty of great places where you can explore and learn about how pumpkins are grown, taste pumpkin-flavored treats, and even get some Insta-worthy pictures in.
Keep reading to discover 11 awesome pumpkin patches in Houston and why they're worth paying a visit.
11 Pumpkin Patches in Houston for Pumpkin Picking
If picking out and carving a pumpkin, or trying some tasty pumpkin pie wasn't already on your travellers bucket list, then these two activities are worth adding.
Houston and its surrounding areas have a few great farms and parks that have pumpkin patches with various activities including fall festivals, and much more where you can pick out the perfect pumpkin.
1. Old Macdonald's Farm
Location: 3203 Farm to Market 1960 Road, East, Humble Texas
Just 22 miles from Houston is the 15-acre Old Macdonald's Farm pumpkin patch which has been providing family-fun for over 30 years.
For just $14 per person, you and your family can enjoy unlimited access to all the farm's facilities and activities which include a pumpkin patch, a picnic area, a hay barn, and train and pony rides.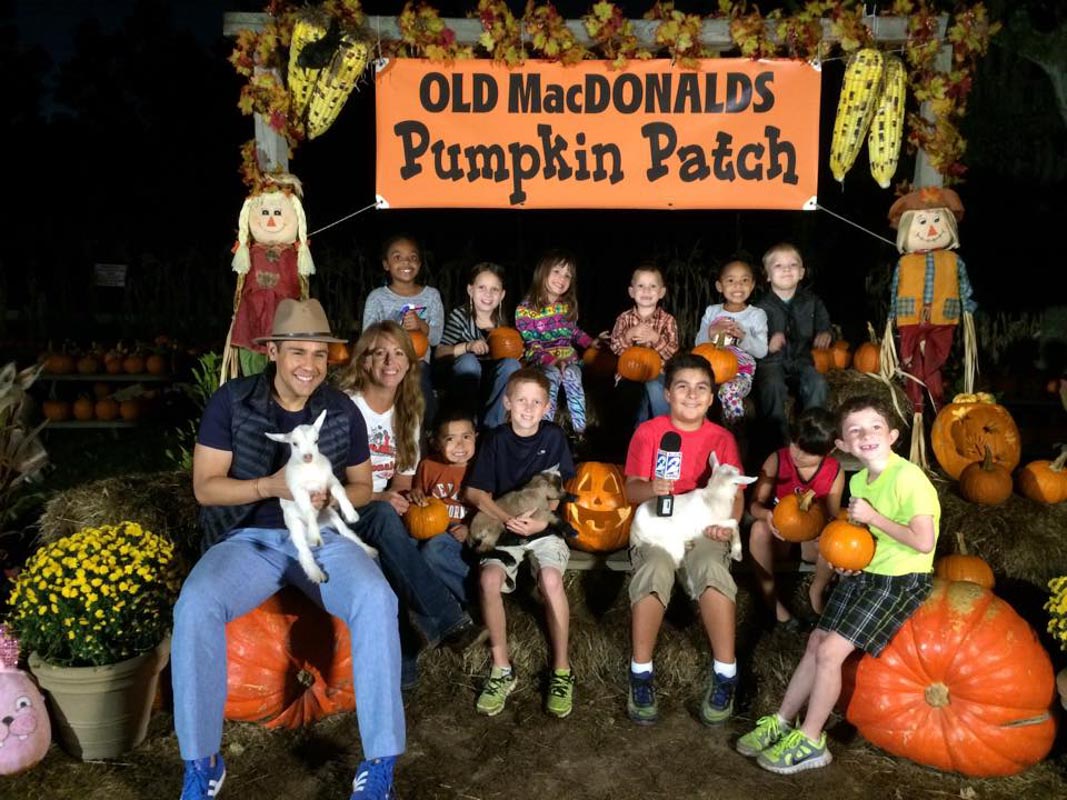 There's also a huge playground for kids,12 petting zoo barns, a swimming pool with water slides, and a volleyball area.
Old Macdonald's Farm also offers discounts to military personnel and senior citizens. Kids under the age of 18 months can enjoy a fun day at the park for free, and in addition to that, will get a free pumpkin from the patch.
With so many activities to offer, it's no wonder that Old Macdonald's Farm is a favorite hangout for many families in Houston.
2. Dewberry Farm
Location: 7705, Brookshire, Texas
Dewberry Farm is located just west of the town of Katy. The farm is 45 miles outside of Houston and is another favorite amongst families.
This 8-acre farm has a massive pumpkin patch, so you'll have no trouble picking out the perfect pumpkin.
Once you arrive at Dewberry Farm, you'll get a hayride to the pumpkin patch where you can pose for photos and pick out a pumpkin or two that's just right for you.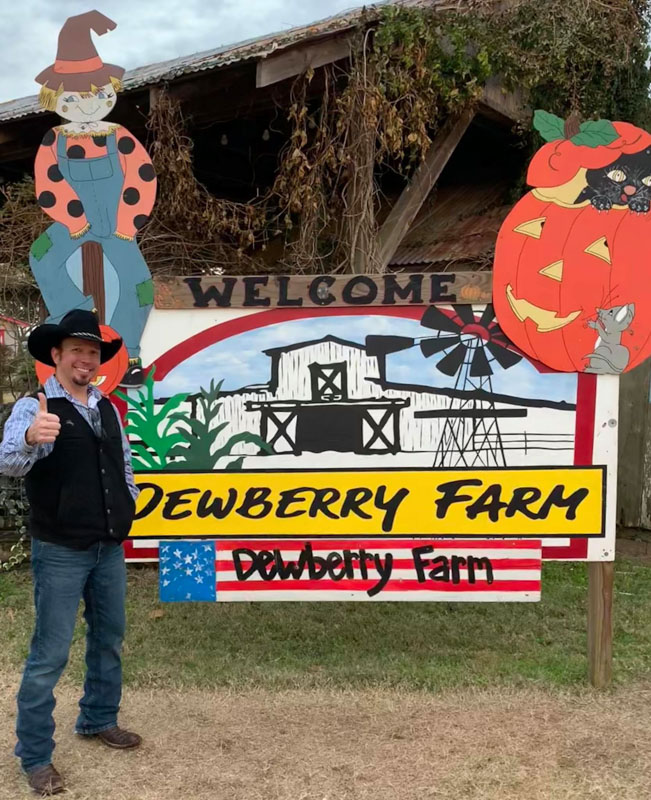 While you're at it you can also check out the Pumpkin Hollar Barn that has hundreds of intricately carved pumpkins that are lit up.
Pumpkins aren't the only thing on display at Dewberry Farm. The farm has over 50 attractions and activities that include a corn maze, playgrounds, rides, petting zoos, slides, and much more.
If you start getting hungry, there's no need to worry, as the farm has 11 food outlets serving up everything from ice cream, lemonade, corn dogs, pizza, and many other mouthwatering treats.
3. Old Time Christmas Tree Farm
Location: 7632 Spring Cypress Road, Spring, Texas
North Houston residents can head up to this wonderful family farm, just 30 minutes away from the city.
This family-owned farm has been run by owners Damian and Leia Prause since 1996 and is spread over 40 acres of land.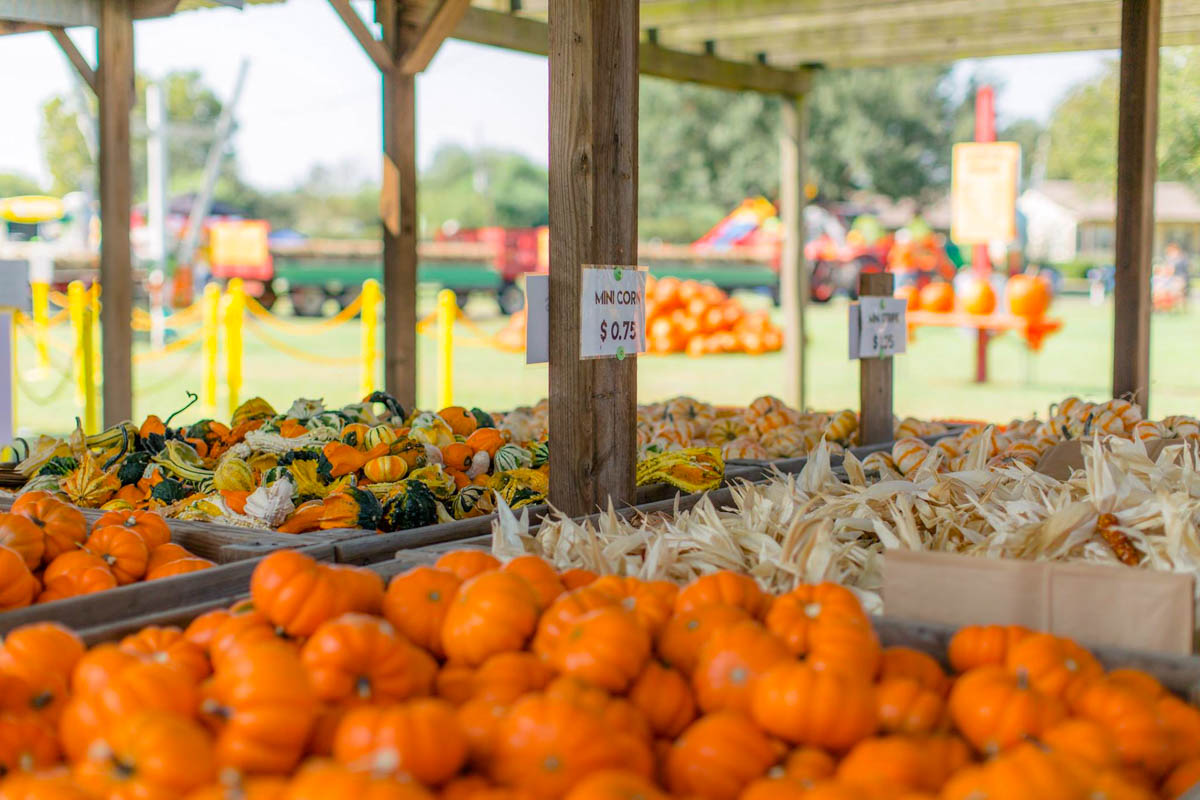 For just $7 (kids under two enter free) you can visit the farm and pick out the best pumpkins for jack o'lanterns and scrumptious pumpkin pies from their pumpkin patch.
The Old Time Christmas Tree Farm has a number of rides including train and hayrides, a petting zoo, as well as jumping castles and slides for kids.
When you start to get hungry, be sure to head over to one of the farm's many food vendors that have everything from funnel cake, shaved ice, and delicious smoky barbecue.
4. Halter Inc.
Location: 17410 Clay Road, Houston, Texas
If you're doing a city tour of Houston, then it's well worth the effort to stop at the Halter Inc. pumpkin patch which has been voted as one of the best pumpkin patches in Houston for eight consecutive years in a row.
Halter Inc. was founded in 2001 and sits on 30 acres of land surrounded by beautiful trees. For just $10 you can visit this peaceful site and enjoy a day picking out and posing with pumpkins.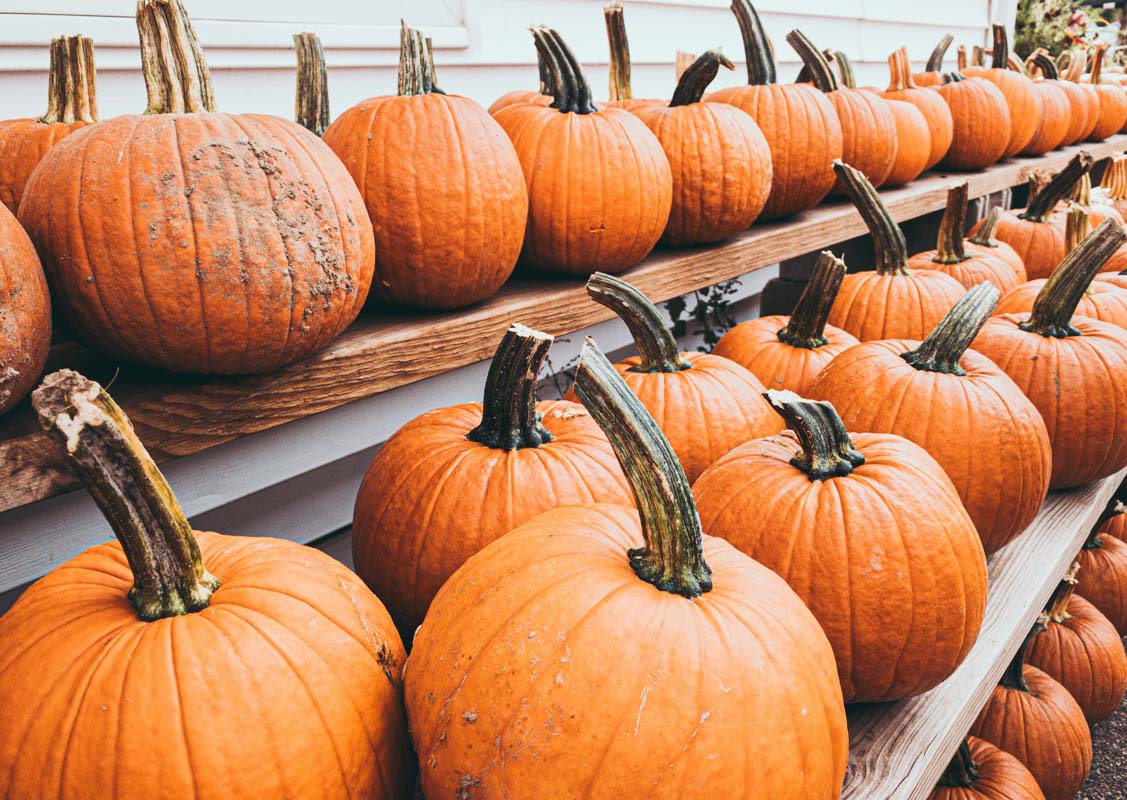 While they do not have as many activities as neighbouring farms, they do offer pony rides, a petting zoo, mini cart rides, and a mini horse obstacle course for children with special needs.
They also have a stockyard maze, a haunted walking trail, and a chip and drink booth. Children who are 2 years and under don't have to pay an entrance admission fee.
5. TGR Exotics Wildlife Range Pumpkin Patch
Location: 22115 Sherrod Ln, Spring, Texas
If you and your kids love pumpkins and animals, then the pumpkin patch at the TGR Exotics Wildlife Range is the place for you.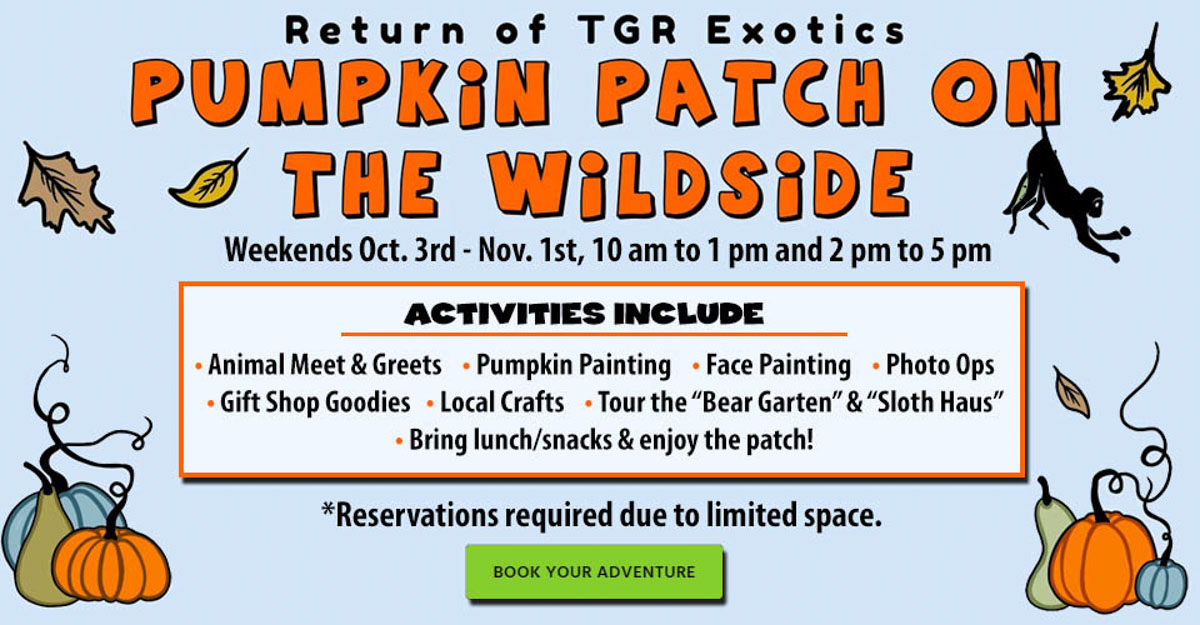 Here you can participate in a carving workshop where you'll be able to create a pumpkin masterpiece. Afterward, you can take a tour of the wildlife park and feed your creation to the animals along the way.
There's also a great picnic area in the pumpkin patch where you can sit and enjoy a tasty lunch after picking out and carving your pumpkins.
6. Oil Ranch Pumpkin Patch
Location: 23501 Macedonia Rd, Hockley, Texas.
The Oil Ranch prides itself on being one of the best amusement parks in the Houston area. And with over 50 acres of fun-filled adventures, it's not hard to see why.
For over 20 years the Oil Ranch has been hosting the Oil Ranch Pumpkin Patch and Scarecrow Festival where you can see thousands of pumpkins out in their patch.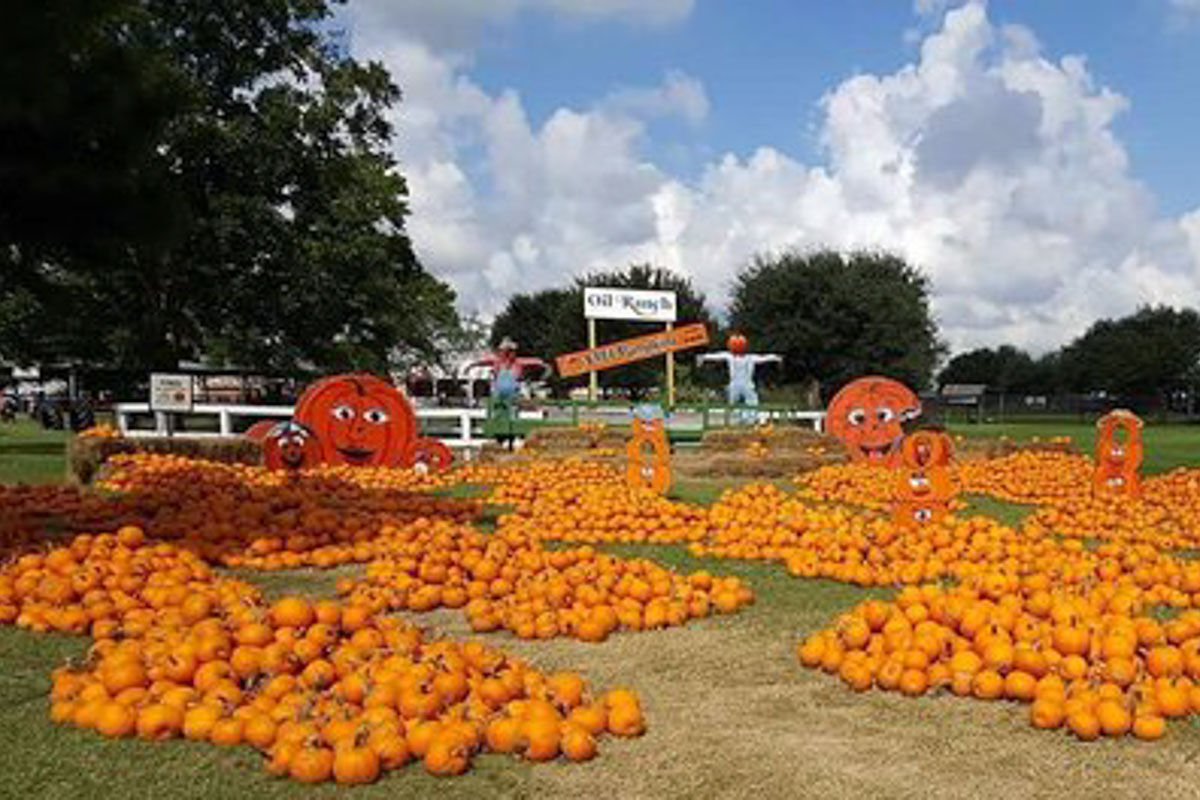 In addition to an enormous pumpkin patch, they have an array of exciting different facilities and activities for all ages.
Their facilities include a swimming pool, sports field, hay barn, stockyard maze, and petting zoo. Kids can enjoy a range of rides, paddle boating, and mini-golf.
There's plenty to do for adults as well, and dads can even enjoy a bit of fishing.
7. Blessington Farms Pumpkin Patch
Location: 510 Chisholm Trail, Simonton, Texas
Blessington Farms is located just 40 miles outside of Houston and is a great place for a family outing.
They host their own Pumpkin and Fall Festival each year from September to November where you can pick out some of the best pumpkins for carving and cooking.
They have a mountain of activities for kids and families which include giant slides, animal encounters (including camels and miniature donkeys), train rides, pedal cars, and much more.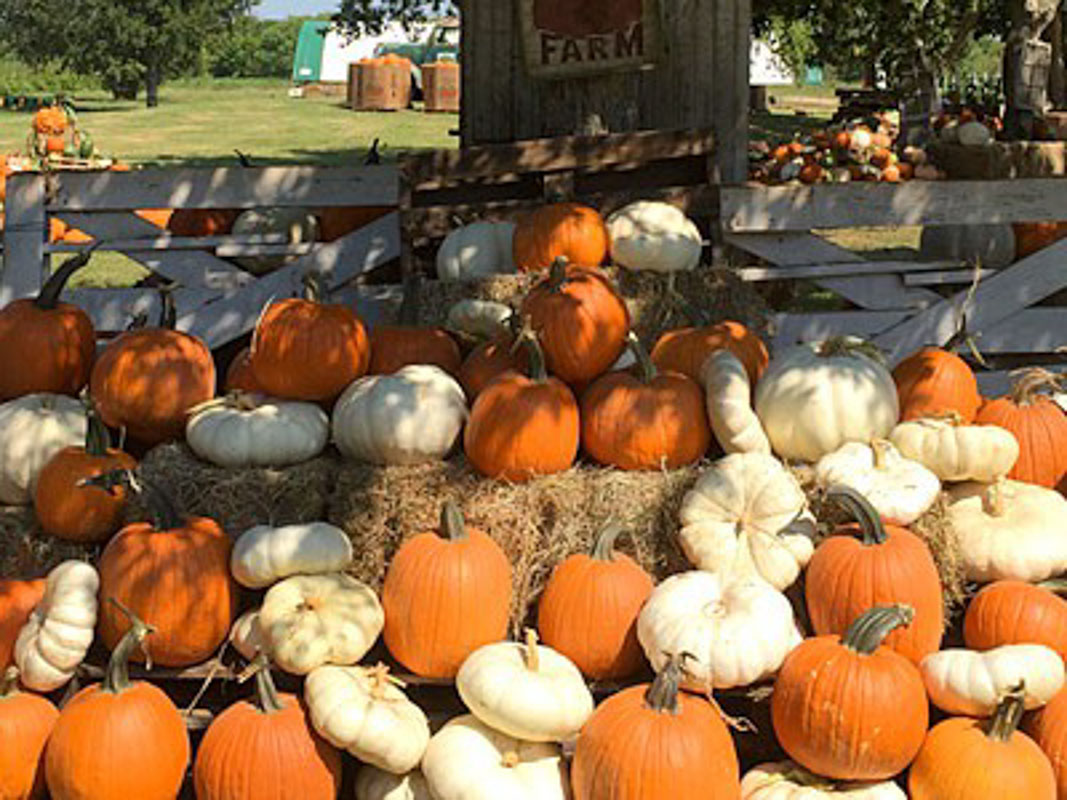 Each year they add several new activities to the festival and their newest activities include a rope maze, camel feeding, and bird feeding.
After picking out your pumpkins, you can enjoy lunch under one of their shaded picnic areas or fish at the lake.
You can enjoy all these activities for just $20 and kids two and under can explore for free.
8. Nature Discovery Center
Location: 7112 Newcastle St, Bellaire, Texas
Located just 15 minutes outside of Houston sits the winner of the 2014 "Best Fall Festival in SW Houston and Fort Bend County", the Nature Discovery Centre.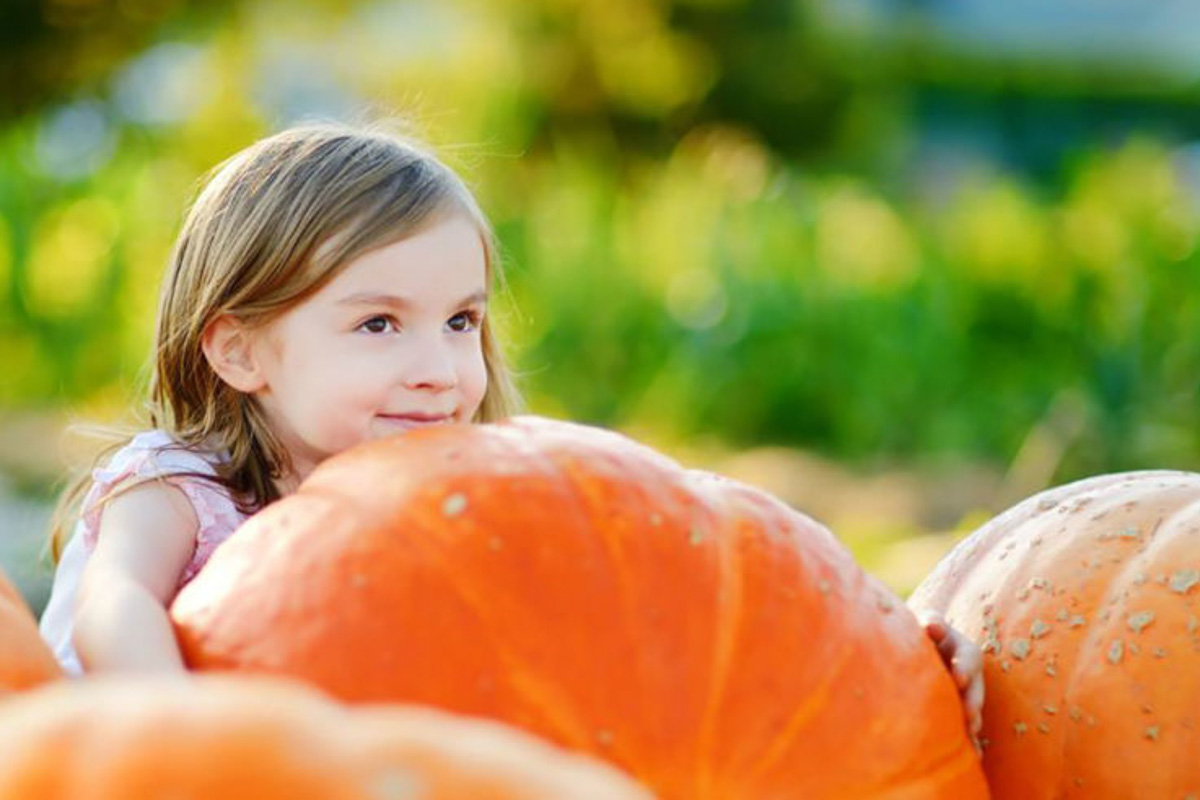 The Pumpkin Patch Festival held in the Nature Discovery Center is one of the pricier festivals with tickets costing $50 per person. However, this price includes entry, a pumpkin, a raffle ticket, pumpkin decorating, and even a mini photoshoot.
There's also a range of carnival games for all ages and carnival-style food available at the festival.
9. Froberg's Farm
Location:3601 Hwy 6, Alvin, Texas
Just 30 minutes out of Houston, lies the Froberg's Farm that sells homemade canned goods, delicious pies, fresh produce, and candy.
In addition to this they also allow visitors to come and pick some of their fresh produce all year round.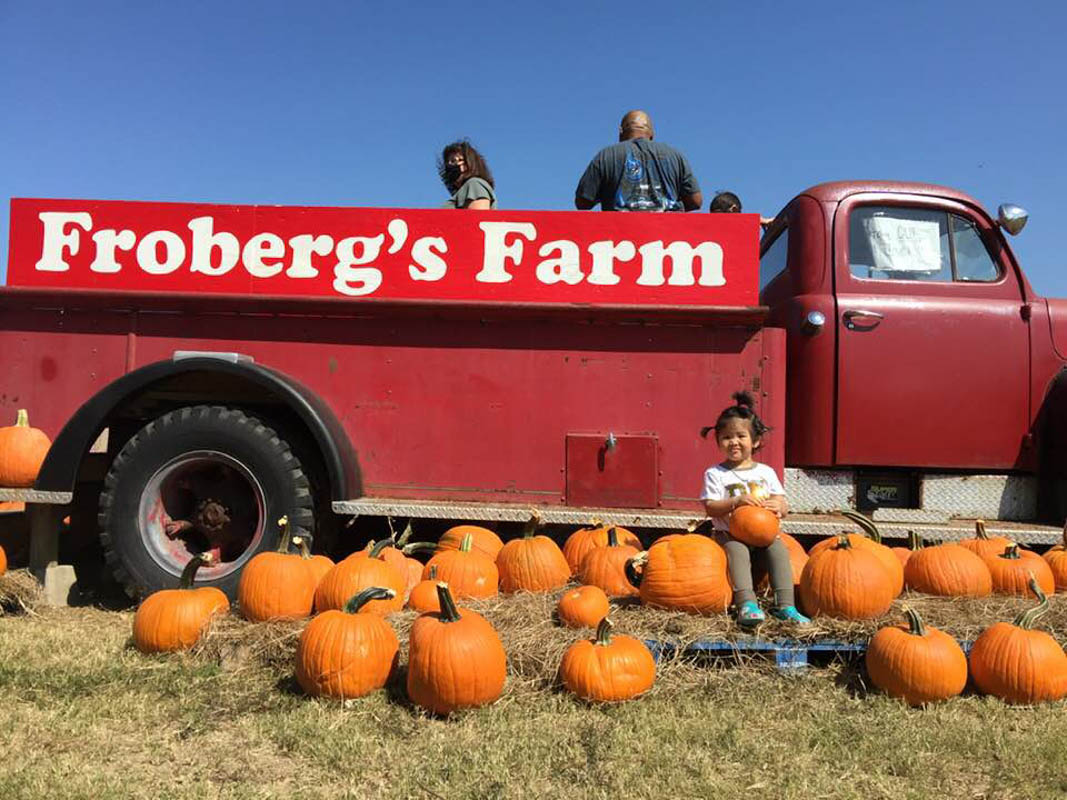 Every October they host their annual Fall Festival that has a large outdoor pumpkin patch where visitors can take some Insta-worthy pictures amongst some pretty impressive pumpkins.
They also have a massive play area called the Berry Fun Land for kids to play to their heart's content.
10. St. Andrew's Episcopal Church
Location: 1819 Heights Blvd, Houston, Texas
St. Andrew's Episcopal Church is affectionately known as the "pumpkin church" by Houston residents.
Although it's not as large and flashy as some of the other patches and fall festivals mentioned earlier, the church has one of the most popular annual pumpkin patches in Texas.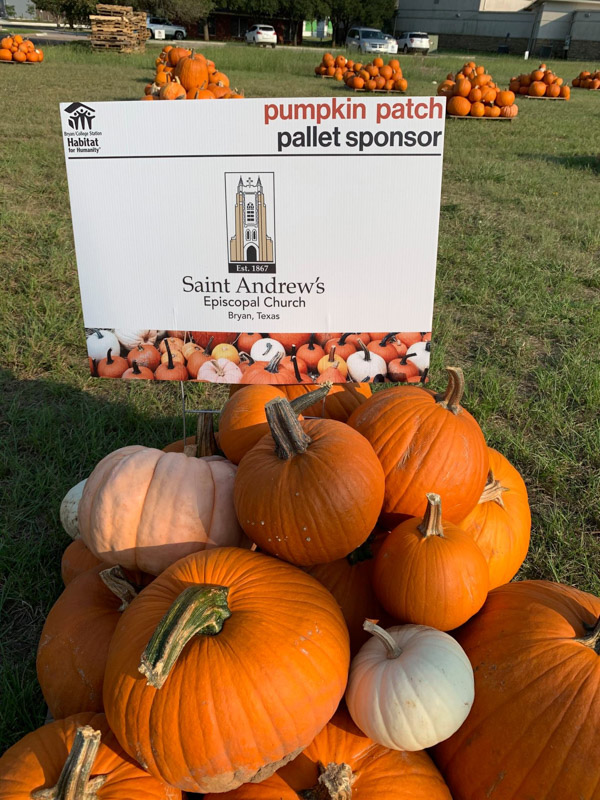 It proves to be a rather popular spot especially for families to gather and take their fall pumpkin picking photos. The proceeds help with youth mission trips and charitable causes.
11. Berryland Farms of Texas
Location: 2877 FM 1941, Winnie, Texas
Each fall, Berryland Farms host their own Fall Festival and for just $7 (and only $5 for senior citizens), families can enjoy a wonderful time picking out pumpkins on the farm's outdoor patch.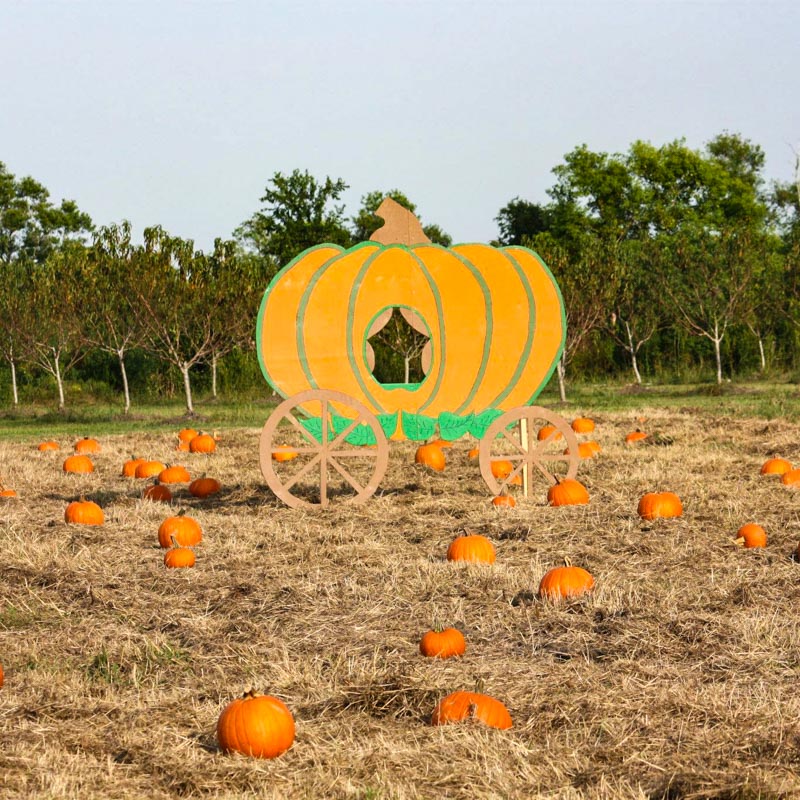 There's also plenty to do for the kids, such as hayrides, culvert & net swings, giant slides, and much more (kids under 2 enter for free).
Final Thoughts on Pumpkin Patches in Houston
There are many great things to do in Houston like touring the Houston Space Center. But if you're after a different kind of adventure, then visiting a pumpkin patch in the fall should be on your list.
Not only will you get to see giant pumpkins and take some pretty amazing pictures with them, but you'll also be creating memories of a lifetime.
Whether you're going as a family, as a couple, or even as a solo traveller, there's something for everyone to enjoy.
Psst: While you're in Houston, be sure to check out these 11 Terrific Sunflower fields in Texas, you won't be disappointed!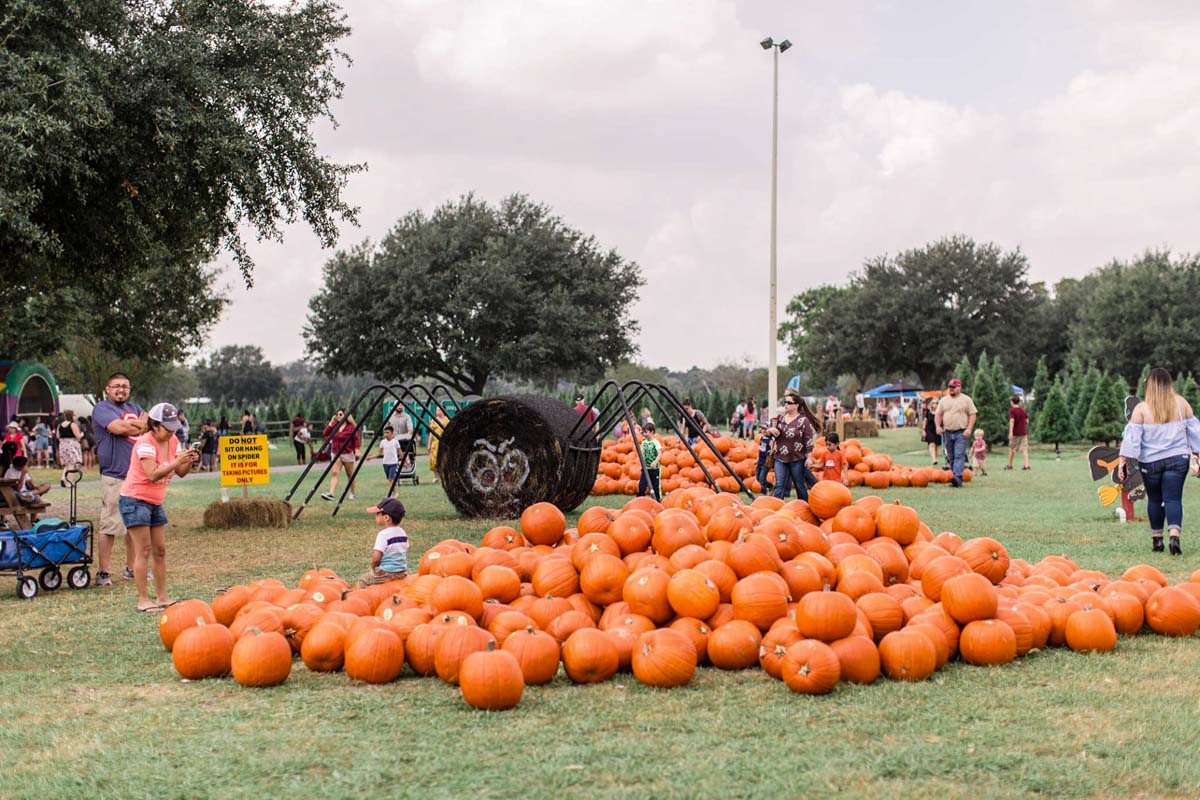 I covered all of the costs associated with writing this article. However, this pumpkin patches in Houston post includes affiliate links. That means if you click through and end up making a purchase I will receive a small commission. I wanted to make sure you were aware of this.