There are so many wonderful things to do in Vegas besides gamble. Whilst I don't mind gambling – I actually like gambling when it comes to horse racing – but slot machines are not my thing. I do like 21, Bridge and a few others but in no way did I feel that I had sufficient skills to play these games in the home of gambling.
However, I had always wanted to go to Las Vegas as I thought it would be great fun. I did quite a bit of research around things to do in Vegas besides gambling and the list of Las Vegas activities was really long. So here are my top 25 Things to do in Vegas besides gamble.
1.Things to do in Vegas Besides Gamble: Cirque Du Soleil
I did a lot of really fun things whilst in Las Vegas. However, the best thing I did was go to Cirque du Soleil. I am surprised that I am writing this as I would never have expected to enjoy the shows as much as I did. I don't really like musicals or live theatre. But Cirque du Soleil is AMAZING.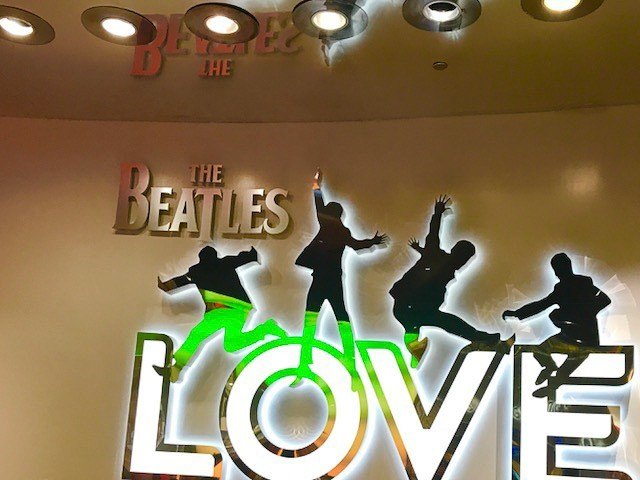 I saw the Beatles LOVE show and it blew me away. There was constantly so much to look at and so much happening and it was stunning and and and – wow it was just one of the best shows I have ever ever seen.
On my most recent trip to Las Vegas, I went and saw "O" at the Bellagio. This was also amazing. It is all about water and there is essentially a pool on the stage – jaw-dropping and definitely one of the top things to do in Vegas.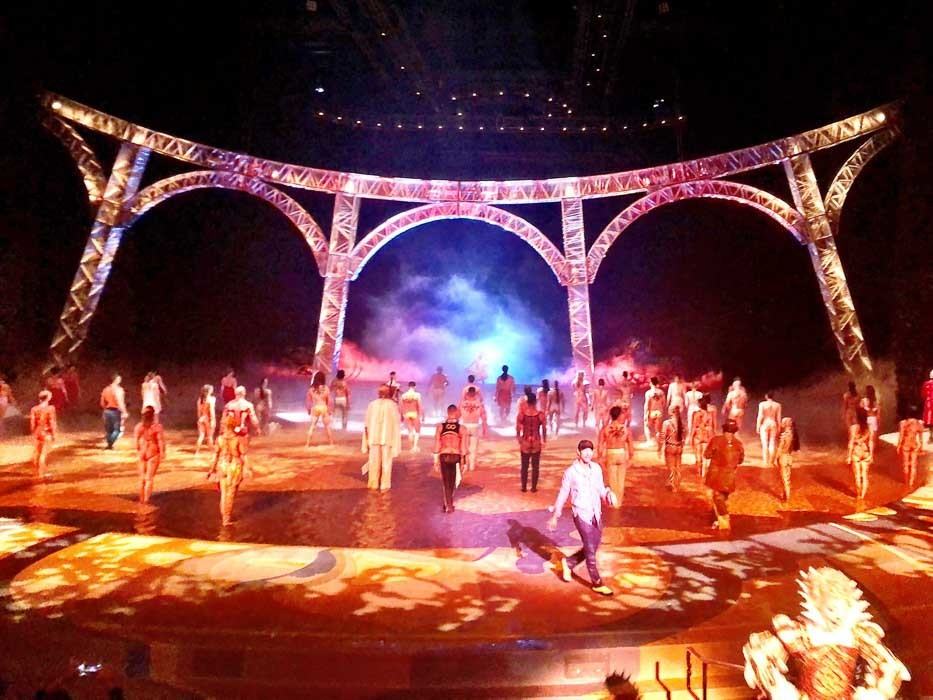 Travel Expert Tip - Book Your Shows Before you Go to Las Vegas
Las Vegas has all kinds of different shows – but the most popular ones tend to book out fast. As soon as you have confirmed your trip head to
Vegas.com
. This site has every kind of show on in Vegas, guarantees the best prices and allows you to book ahead.
2.Things to do in Vegas Besides Gambling: David Copperfield
Again, I can't believe I am putting this as number 2 but I loved David Copperfield. There is a good reason he is so very famous. David Copperfield a master showman.
The show was brilliant. It was funny, smart, intriguing, fast-paced and engaging. No one told me magic could be this good.
A car materialized – yes in the middle of a theatre a car materialized. I hope this is enough to convince you to go and see David Copperfield. This was one of my funnest things to do in Vegas.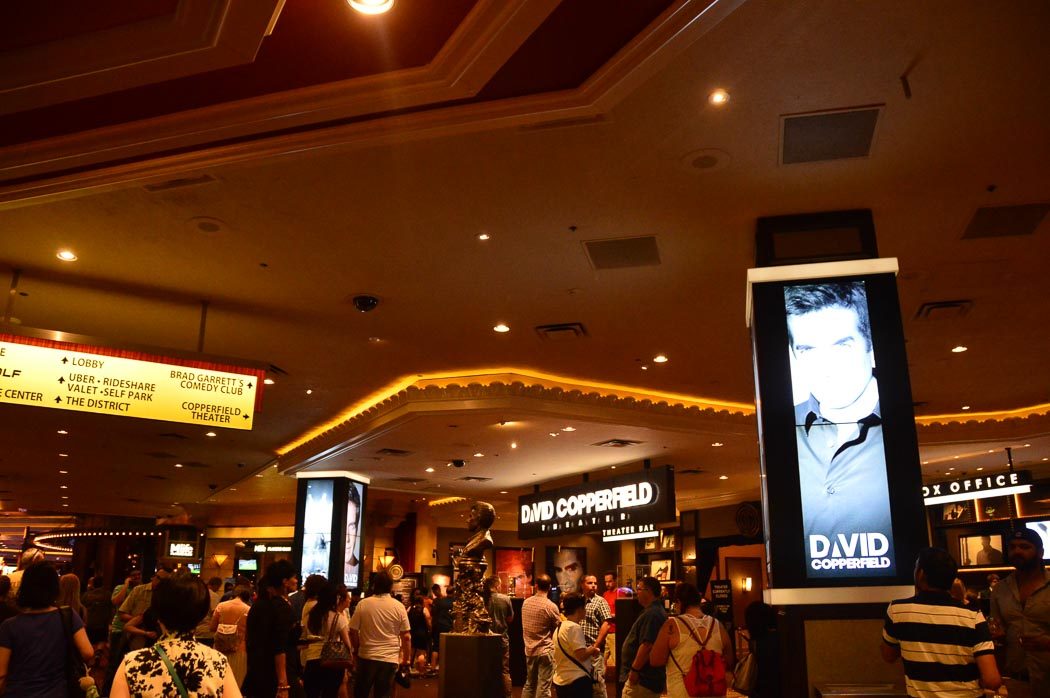 ⇒ Book David Copperfield Tickets
3.What to do in Las Vegas Besides Gamble: a Helicopter ride over the Grand Canyon
There are loads of great things to do outside of Las Vegas when you are staying there. A Helicopter ride over the Grand Canyon isn't cheap but it is well worth it. I was picked up at my hotel in a limo – because how else would you travel in Vegas???
We went to a small airbase. The helicopter ride to the Grand Canyon from Las Vegas is less than an hour and the views are stunning.
I loved seeing the red desert. We then flew over Lake Mead which was stunning. My ticket included doing the Grand Canyon SkyWalk Express Tour.
Personally, I didn't find it scary but I am ok with heights. The best thing was taking photos nearby.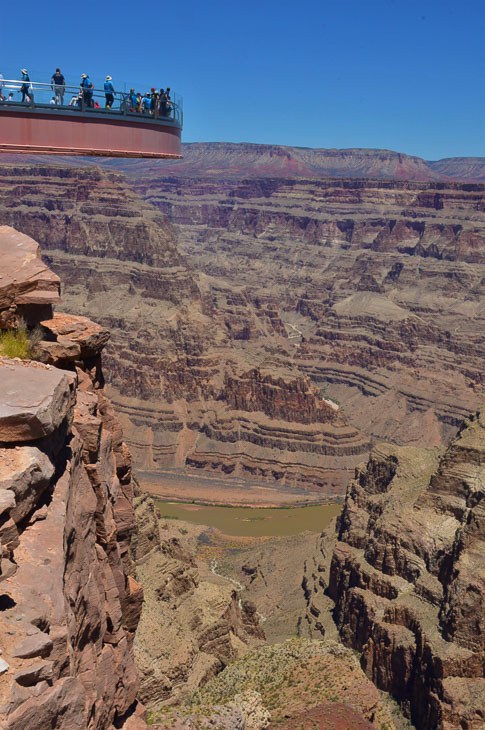 The helicopter back to Las Vegas took a slightly different route. As if the Grand Canyon and Lake Mead weren't enough we also flew down the Las Vegas strip on our return which was fantastic.
⇒ Book your Helicopter over the Grand Canyon.
4.Things to do in Vegas other than Gamble: Dinner-buffet at the Wynn
I was pleasantly surprised by how good the food is in Las Vegas. I was expecting the worst of American clichés but I was absolutely delighted. Vegas is, of course, famous for a buffet and the Wynn has an excellent reputation. This is with excellent reason.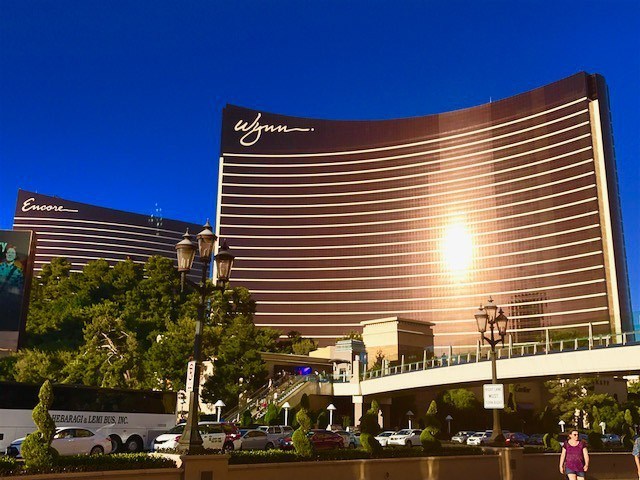 If you looked up buffet in the dictionary I think there should be photos of the Wynn buffet. This was the most extensive and most impressive buffet that I have ever visited.
It was an Instagram friendly buffet – in a very Instagram friendly room – which is not common. The highlight of the Wynn buffet Las Vegas for me was the seafood on offer.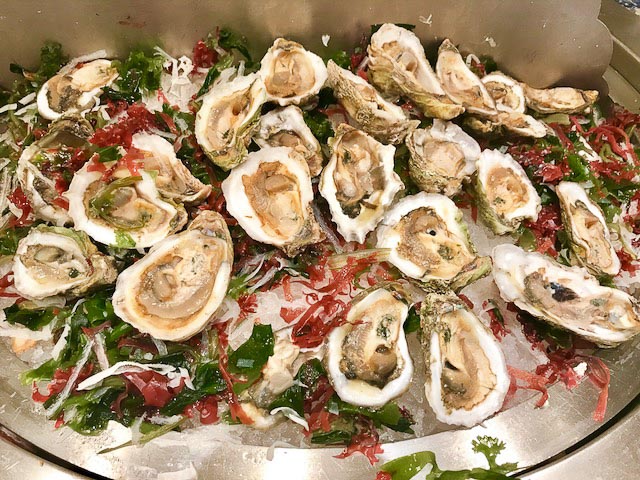 5.Fun Things to do in Vegas Besides Gamble: Visit Major Tourist Destinations
Sure you're in Las Vegas but why not visit the Pyramids, the Eiffel Tower, and the Brooklyn Bridge whilst you are in town? All of the hotels that feature these tourism extravaganzas are along the Strip.
I most enjoyed new york New york and the Brooklyn Bridge. There are loads of places for great fun cheesy photos.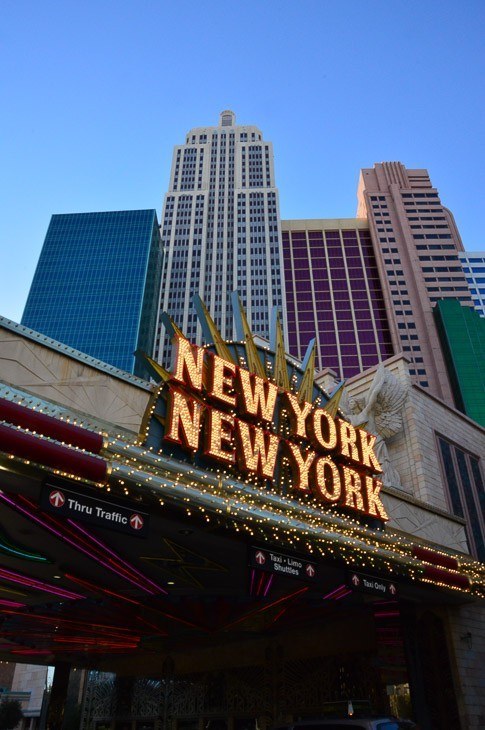 6.Swim in as many of the 10 pools of the Venetian & Palazzo as you can
Why swim in only one pool when your hotel has so many pools that it actually provides a pool map? Yes, this is a map so you know where all 10 pools are located across The Venetian & The Palazzo.
There is also a code that lets you know if a pool leans towards Relax, Family or High Energy. Fantastic to be able to match your mood to your pool.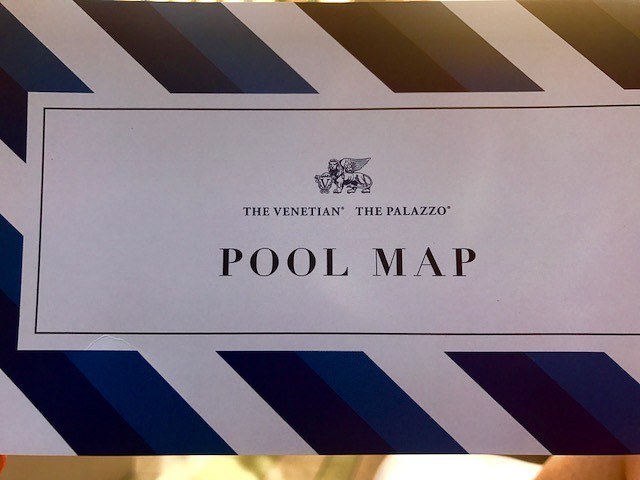 I have a confession to make. I only made it to one swimming pool. It was so so so hot. It was too hot to be outside. I had to return to the air conditioning.
But if you go and it isn't the middle of July please do investigate more of the swimming pools at The Palazzo and the Venetian and let me know. Swimming in 10 different pools is one of the more unusual things to do in Vegas.
⇒ Read reviews of the Palazzo on TripAdvisor ⇒ Book Now
7. Things to do in Las Vegas besides Gamble: Visit the Neon Museum
Las Vegas off the strip has a lot to offer. I was really looking forward to the Neon Museum and it did not disappoint. This unique museum is located in downtown or old las vegas. You will need a car or a cab to the Neon Museum in Las Vegas.
The Neon Museum is mostly outdoors. It is sort of like a car park that is filled with the old Neon signs of Las Vegas. Kind of like a neon retirement home! The Neon Museum was one of my favourite activities Las Vegas.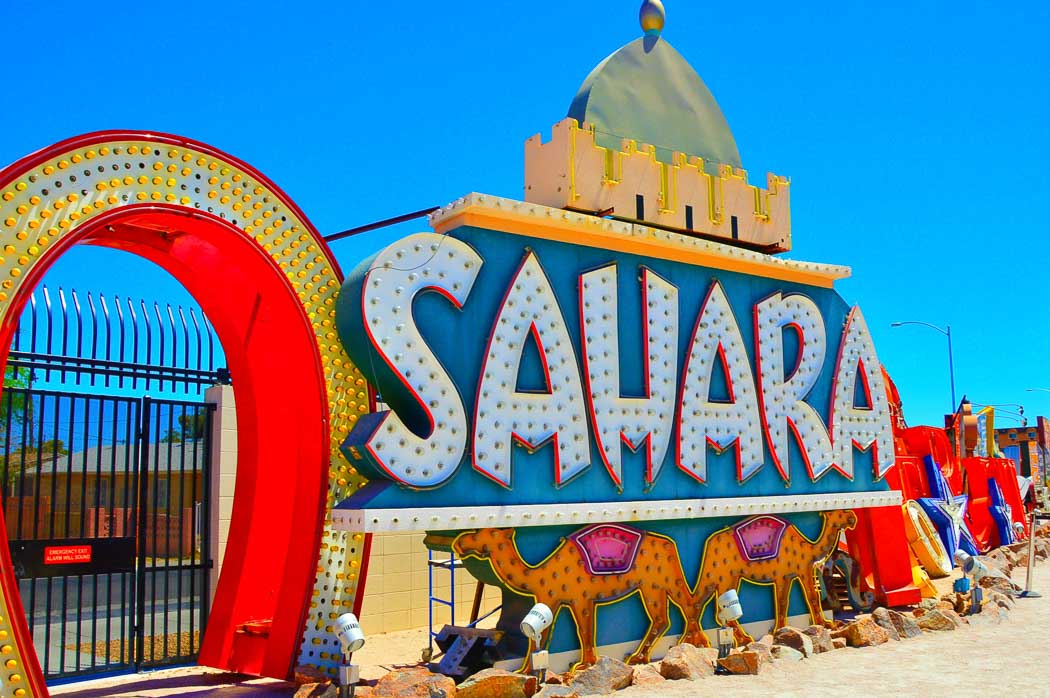 I loved seeing all the old signs and the Neon Museum is extremely photogenic. However, do make sure you check opening times. You do need to go on a tour to see the entire Neon museum and these do not run in the height of summer. It is possible to see a limited selection of this Las Vegas museum if you can't do a tour.
This is what I had to do and I still really enjoyed it. The Neon Museum also has a fantastic gift shop with some great classic Vegas souvenirs. When it comes to what to do in Vegas besides gamble this is a brilliant option.
8. Things to do in Las Vegas besides Gambling: Explore the Arts District
Downtown Las Vegas has enjoyed a bit of a resurgence through art and funky coffee and cafes. There is also quite a bit of cool street art. The city has helpfully provided a map of the Arts District and it is full of galleries and shops.
I really enjoyed the Arts Factory and Art Square. These are great things to do in Las Vegas during the day.

9. Things to do in Vegas if you don't gamble: Dinner at Nobu
One of the best things to do in Vegas other than gamble is eating well. It is tough to have a bad meal at Nobu. The Las Vegas branch of Nobu is no exception.
The Nobu Las Vegas is located in Caesar's Palace hotel so it also gives you a chance to check out another over the top Vegas hotel.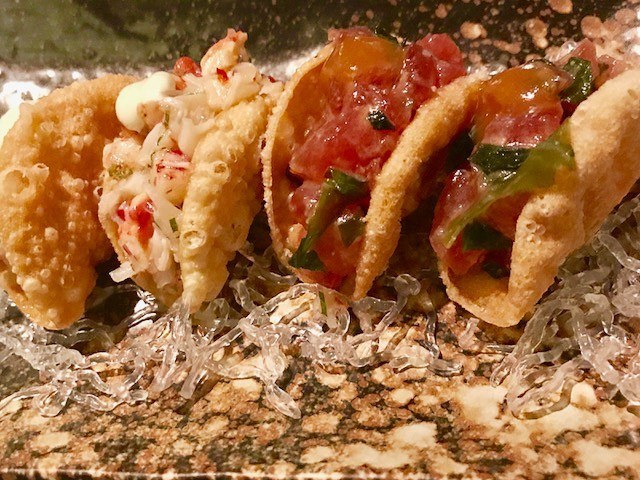 The service at Nobu was fantastic. We were celebrating a birthday and essentially had the waiter order for us and he did an amazing job. It wasn't cheap but the food was amazing and it is worth it for a special occasion. Don't miss the Yellowtail Sashimi at Nobu Las Vegas.
10. Things to do in Las Vegas if you don't Gamble: Drink coffee and have brunch at Makers and Finders
I was not impressed with the coffee available on the Las Vegas Strip – even at the good brunch restaurants. Too milky, too cappuccino like. I needed hipster servers with over the top grinding methods and bean obsessions.
I found them at the fantastic Makers and Finders which is a great spot in Downtown Las Vegas to visit for brunch or lunch before exploring the arts district.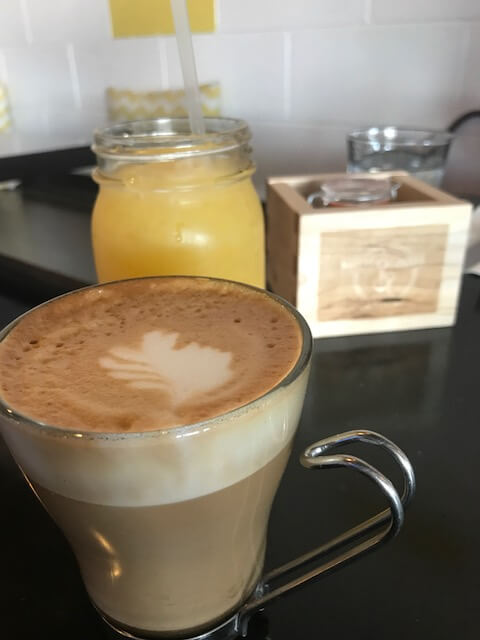 Makers and Finders Las Vegas has a funky stripped back feel to it. There is a great menu. We started with some breakfast empanadas and they were an absolute sensation – fantastic light and flaky pastry. The coffee at Makers and Finders was absolutely brilliant – a perfect flat white.
11. Things to do around Vegas besides Gambling: Visit the Hoover Dam
In recent years I appear to have become a big of an Engineering nerd – the Hoover Dam was one of 2 man-made natural wonders I visited in 2017. (the second being the Panama Canal). And I so enjoyed both of them.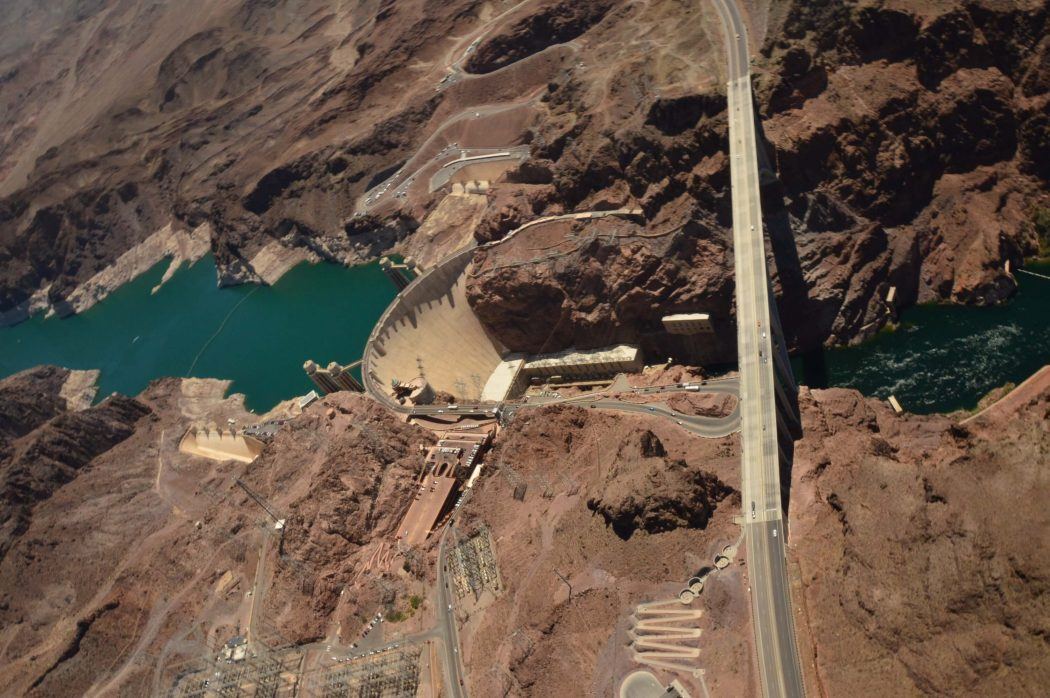 The Hoover Dam is a half-day trip from the Strip and another of the great things to do outside Las Vegas. It takes about one hour to get to Hoover Dam and the total trip is 4 ½ hours.
There are loads of great photo opportunities. The Hoover Dam tour will most likely take you to these spots and advise accordingly.
The Hoover Dam structure is very art deco and cool – even the toilets. The highlight is heading down 600 feet and seeing the turbines and learning about how they used water to cool the concrete so it would set faster and a whole bunch of ingenious and amazing things that were done to make this dam work.
⇒ Book your Hoover Dam Tour
12. Things to do around Las Vegas besides gambling: See some Big Horned Sheep
Wildlife was certainly not something I expected to see in Vegas. OK insert standard jokes about badly behaved drunk people but seeing interesting animals just hanging out was quite unexpected as another thing to do in Las Vegas other than gambling.
The end of the Hoover Dam tour involved stopping at the lovely Hemenway Park which was full of Big Horned Sheep. The park also has a great view of Lake Mead. This is one of the few non-touristy things to do in Vegas.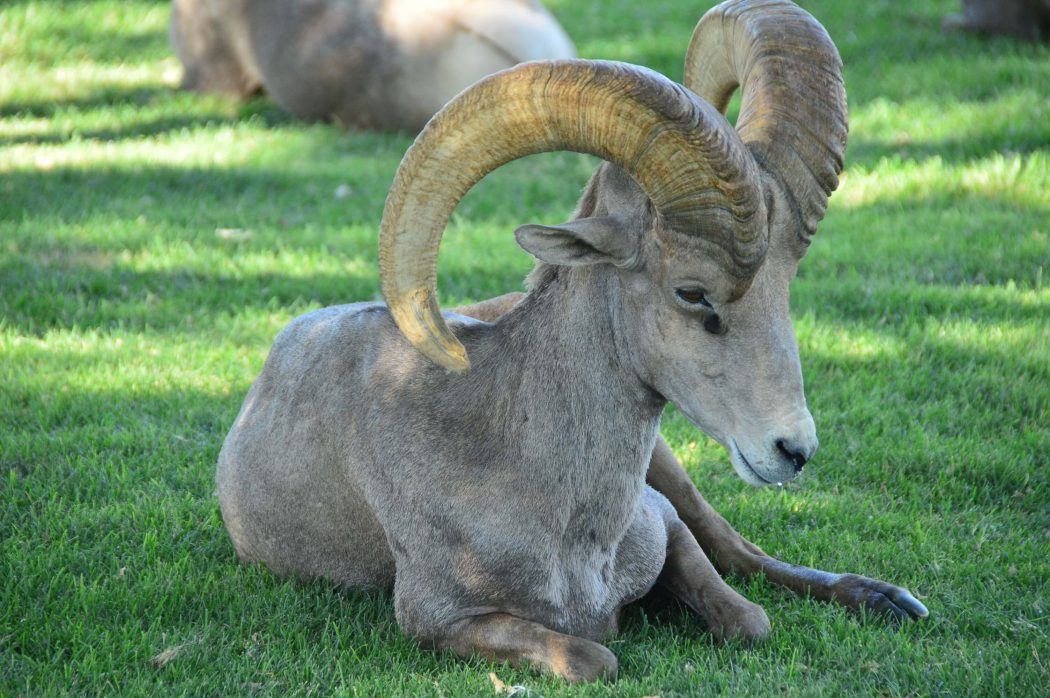 13. Things to do in Las Vegas besides Gambling: 7 Magic Mountains
7 Magic Mountains was another item high on my Vegas agenda. I had seen photos of these neon sculptures in the middle of the desert and was dead keen to get my own. You will need a car to visit 7 Magic Mountains Las Vegas – we used Uber.
The drive to 7 Magic Mountains takes about 30 minutes each way from the strip. You only need about 15 minutes when you get there so the best thing to do is see if your driver will wait.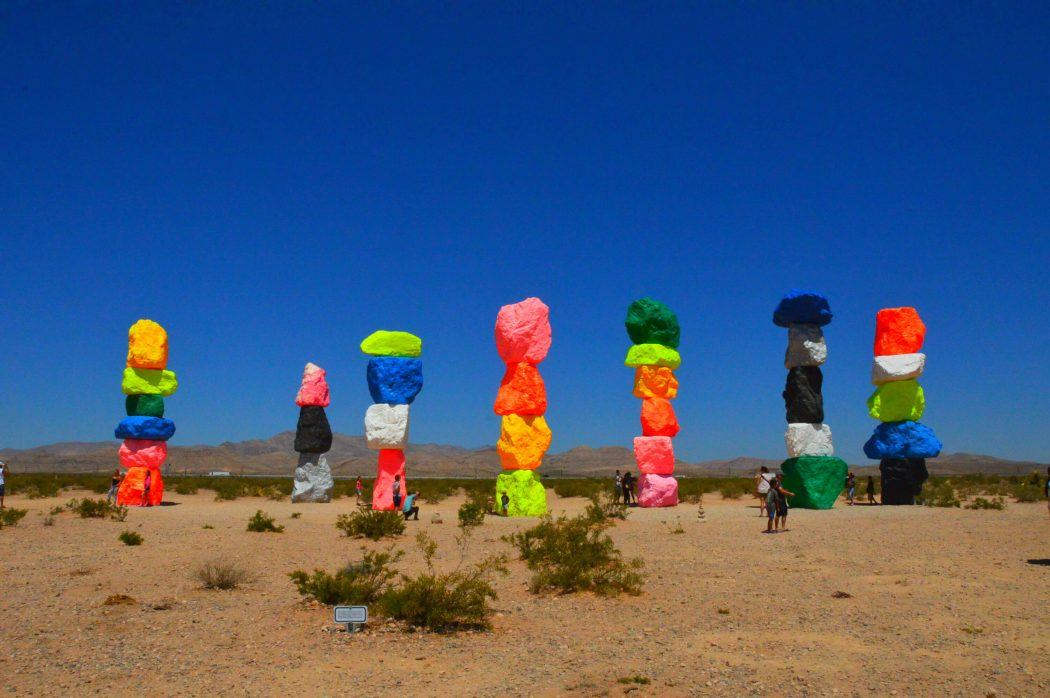 This is a good time to get your photo taken with the Welcome to Las Vegas sign – although there is often a serious queue. The sign is on the median strip and there is a parking area. Checking out the art scene is one of the best things to do in Las Vegas besides gambling.
14. Things to do in Vegas besides Gambling: Breakfast at Bouchon
I had heard of the French Laundry before this trip but I had not realized that the Bouchon brand has become a big deal in the US. We headed to Bouchon Bistro our first morning for brunch and we were absolutely delighted.
This was the type of full-on over the top delicious American breakfast in Vegas that I was seeking. I had some amazing waffles with fruit and chantilly cream and everything else.
The Bouchon Bistro Las Vegas has a French bistro feel and the service was great.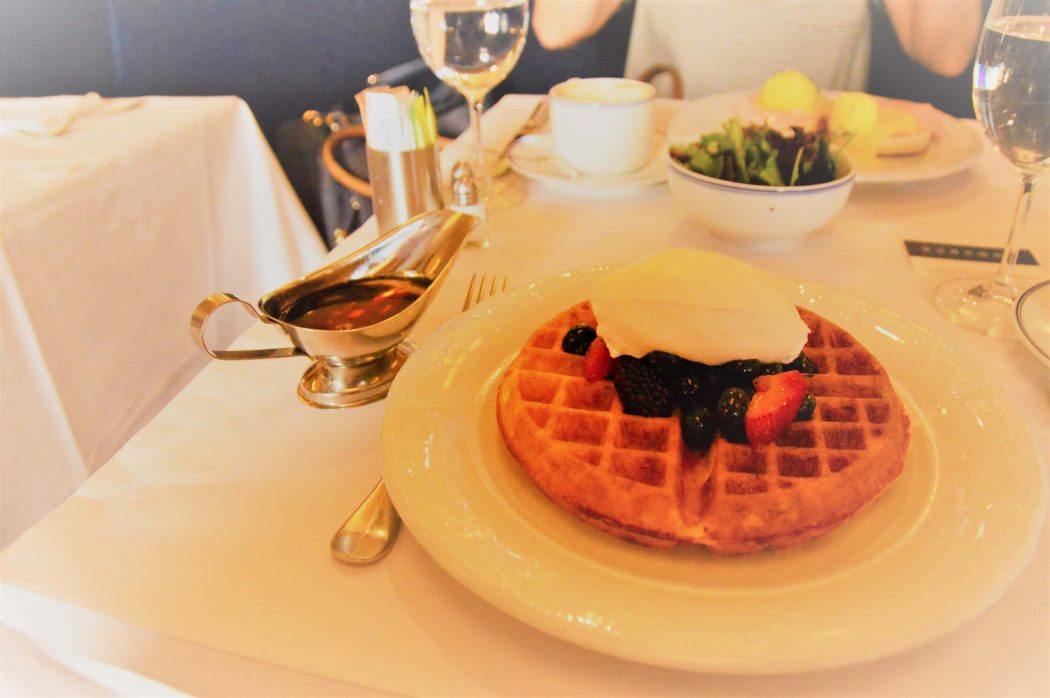 The Bouchon is in the Venetian Hotel.
15. What to do in Las Vegas if you don't gamble – go Discount shopping!
The Las Vegas North Outlet mall is amazing. It is one of those very modern discount malls that doesn't look at all like a discount mall. Diane Von Furstenberg, Kate Spade, Rag and Bone, BCBG and many more.
We ubered there and back – the North Outlet mall Las Vegas isn't far from the Strip. This was a fantastic fun thing to do in Las Vegas.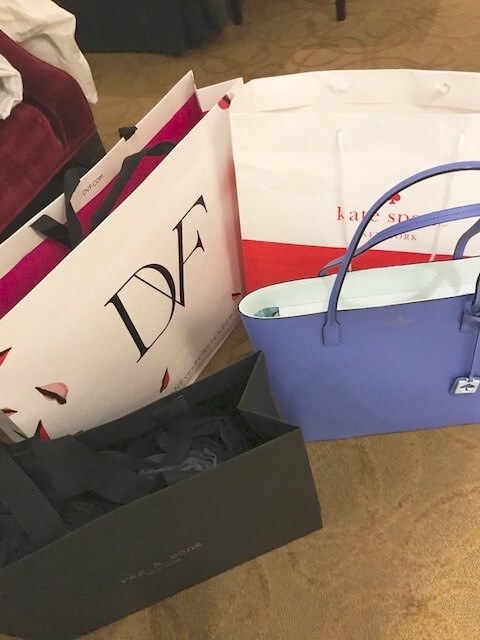 There is a lot of shopping in the hotels – but do watch for the salespeople in the malls along the strip. You could be at a market in Asia. They are very full-on with their free samples and compliments and questions. My advice is to avoid eye contact.
16. Things to do in Vegas Besides the Strip – Head to Fremont Street
Fremont Street is the old Las Vegas Strip. It is now a rather tacky tourism extravaganza but kind of fun. Fremont Street is a pedestrianized street that of course has a zip wire running over the top of it. There are loads of bars and many old casinos.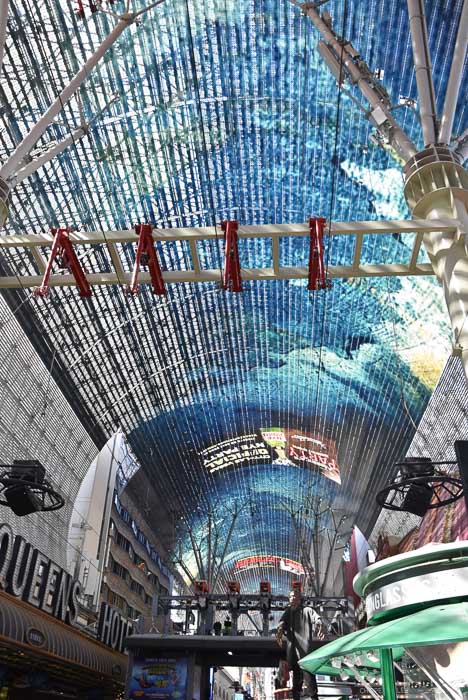 Freemont Street is known as a serious party/drinking area so if that is your thing this is your place. It is worth a visit out of curiosity. It is known as a really fun thing to do in Vegas.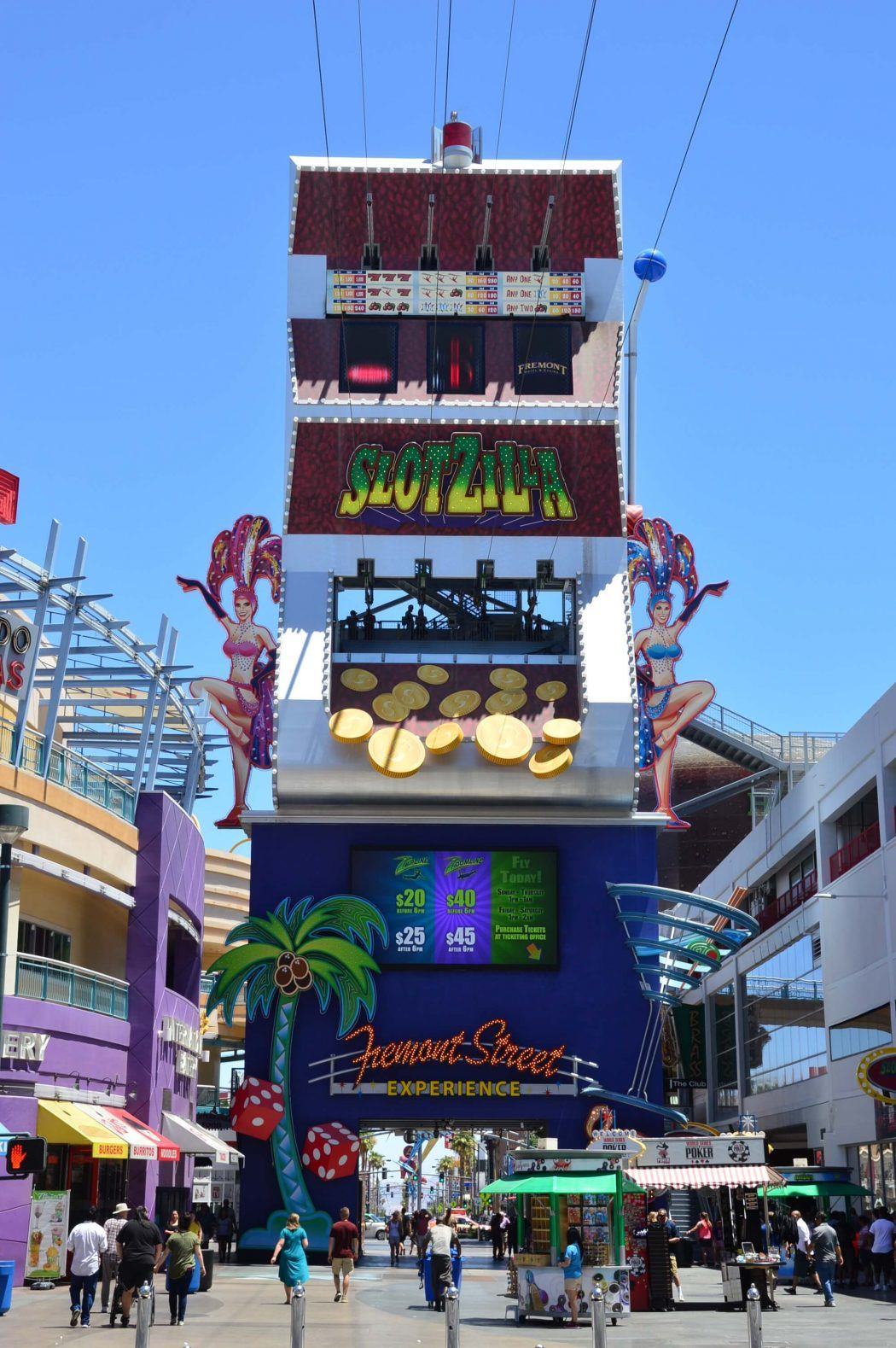 17. What to do in Las Vegas besides gambling – Watch the Fountain show at Bellagio
This stunning mix of water, lights, and music is on every 15 minutes after 8 pm. The best way to see the Bellagio Fountain Show is to have dinner at one of the six restaurants at the Bellagio.
Do make sure you book ahead though as many people seem to know that this is the best way to see the Fountains show and the tables at the Bellagio book out fast.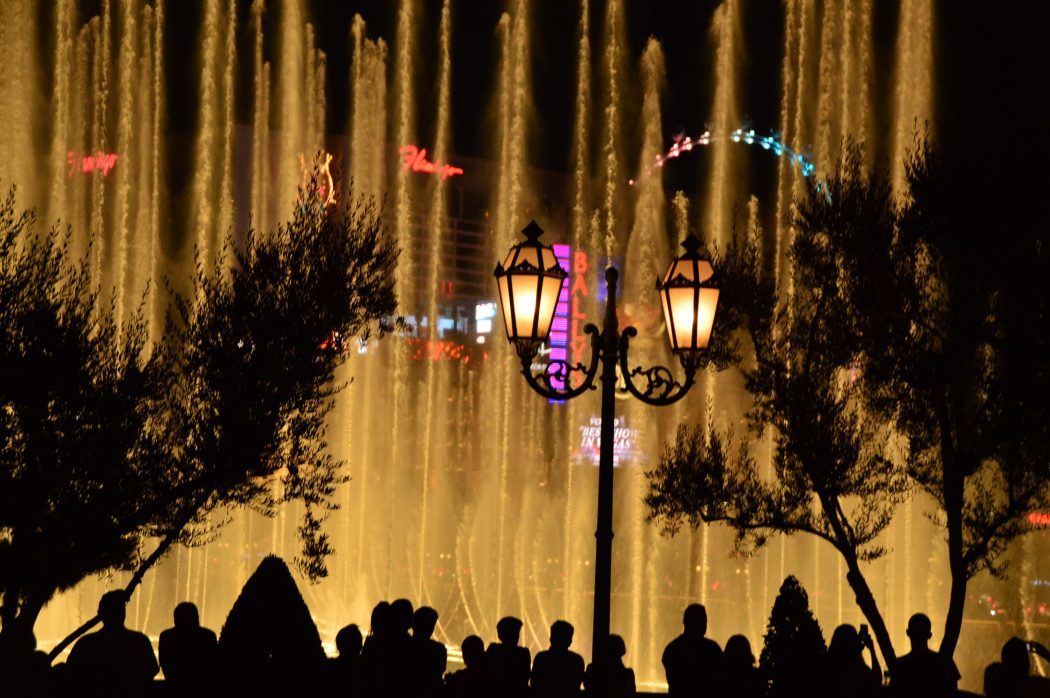 ⇒ Read reviews of the Bellagio on TripAdvisor ⇒ Book Now
18. Things to do on the Vegas Strip besides gamble – have breakfast at Morels
This was one of my favourite breakfasts on the Las Vegas Strip. Morels is also very conveniently located in the Palazzo hotel. It is not dissimilar to Bouchon in terms of décor but I thought the brunch menu at Morel's Las Vegas was quite a bit better and more extensive.
Morels is the place if you like your eggs plus plus plus. There is quite a bit of seafood on the menu for breakfast – particularly some great innovations like crab eggs benedict.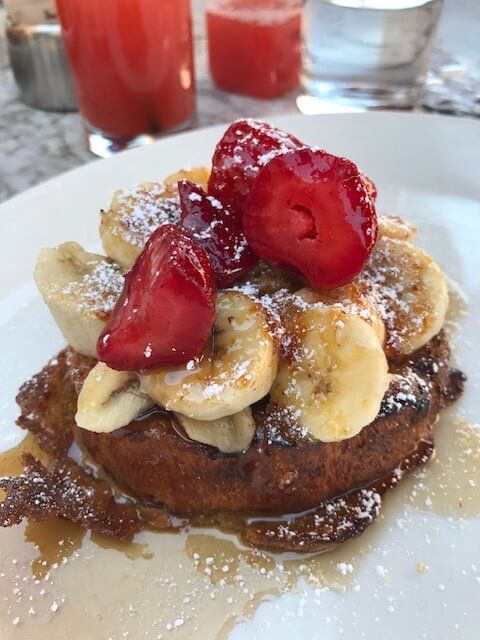 The portions of food at Morel's were huge. And they have some nice outdoor seating that has you virtually on the strip and makes for some fantastic people watching.
19. Fun things to do in Vegas besides gambling – Stay at the Palazzo
It is very difficult to choose a hotel in Vegas. There are stunning hotels at extremely reasonable prices with absolutely huge rooms.
The Palazzo and the Venetian are next door to each other and owned by the same people. I stayed at the Palazzo on my first visit to Las Vegas.
The Palazzo Las Vegas was ridiculously cheap for an absolutely stunning huge room with two giant double beds and a sunken living room.
The thread count on the sheets at The Palazzo was excellent as were the towels. The finish is luxe and you definitely feel you are having a 5-star experience.
The location of this Las Vegas hotel is fantastic with easy access to everything you may need. The service at The Palazzo was also excellent – particularly the concierge service.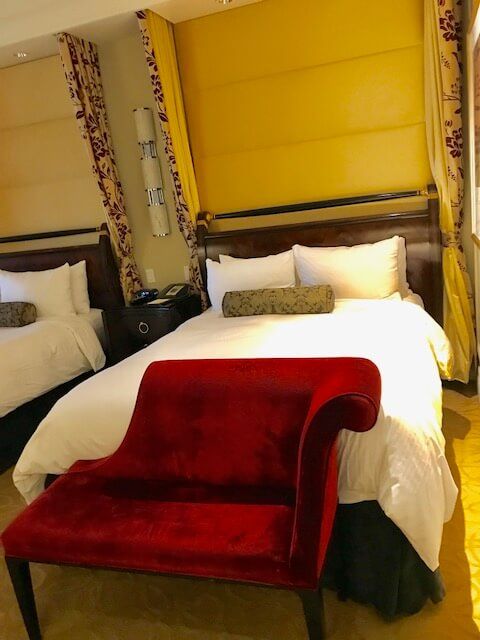 Breakfast is generally not included at The Palazzo Las Vegas but there are so many restaurants to explore I would not have wanted it included in the price. Do note that if you even move something in the minibar you get charged.
I assume the reason for this is that people go and buy much cheaper alcohol at the Walgreens underneath the hotel and bring it back up. We did do this with some champagne but it was fine to grab a bucket and some ice and DIY chilling!
⇒ Read reviews of the Palazzo on TripAdvisor ⇒ Book Now
20. Things to do in Las Vegas besides gambling and drinking – Get a spray tan at the Palazzo
Why not look the part while you're in Las Vegas? I had a fantastic spray tan at the Venetian and if I lived nearby I would be doing this on a regular basis.
The Canyon Ranch Spa has a branch in The Venetian Las Vegas where you will get substantial discounts and extra access to facilities as a guest of either The Venetian or The Palazzo.
I should have devoted more time to Canyon Ranch. So many things to do in Vegas that aren't gambling. Invest your money in shows and food and day trips rather than slot machine traumas.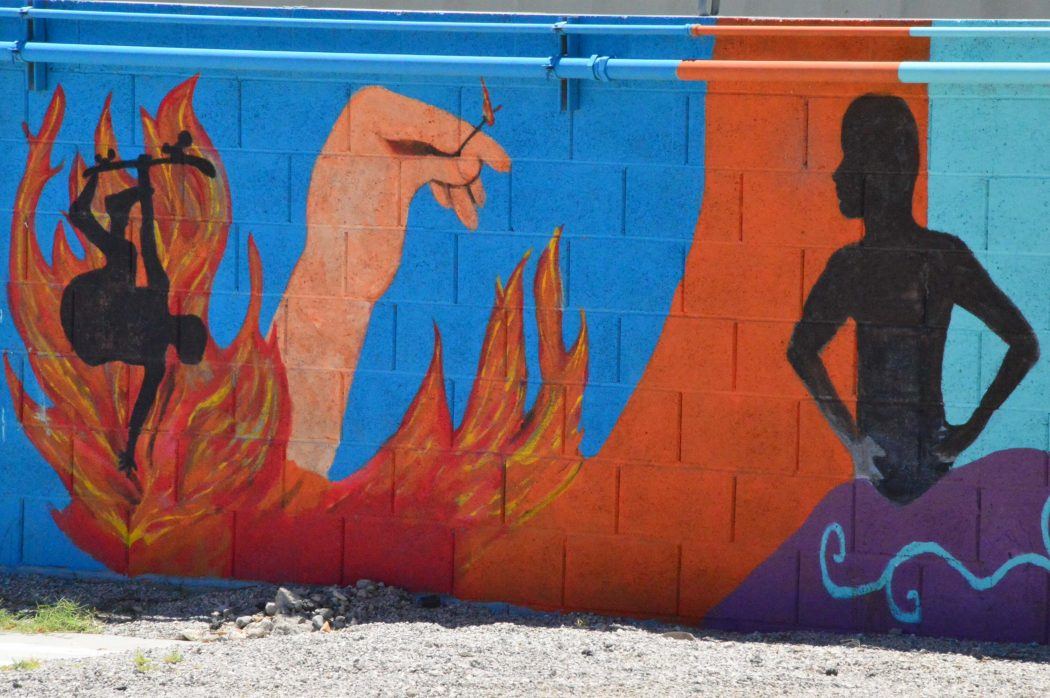 21. Things to do in Vegas not Gambling – have an NYC Brunch
One of the hottest new restaurants in Las Vegas is Sadelle's. Sadelle's is a well-known brunch expert in New York City and has now opened a branch in Las Vegas at the Bellagio. The menu boasts that they are bringing NYC brunch to Las Vegas.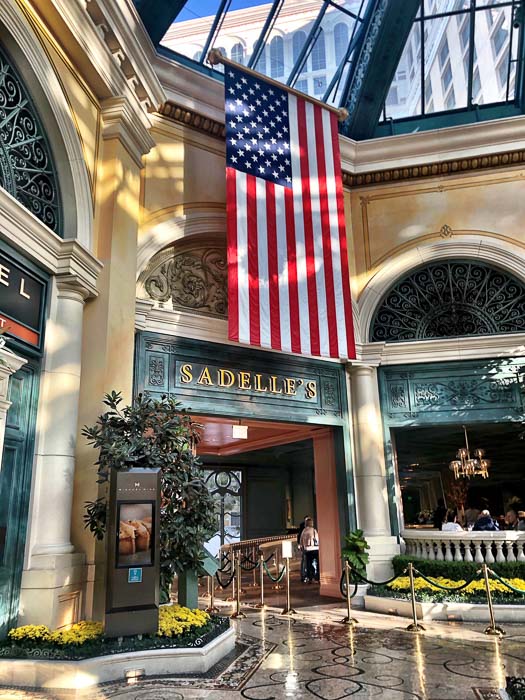 I had breakfast at Sadelle's twice whilst staying at The Bellagio – I enjoyed it that much. On my first visit, I ordered their salmon bagel which was fantastic.
I was brought multiple plates – a plate of salmon, a plate of cucumbers, tomatoes and capers, separate cream cheese and an excellent bagel. The smoked salmon at Sadelle's was some of the tastiest smoked salmon I have ever eaten.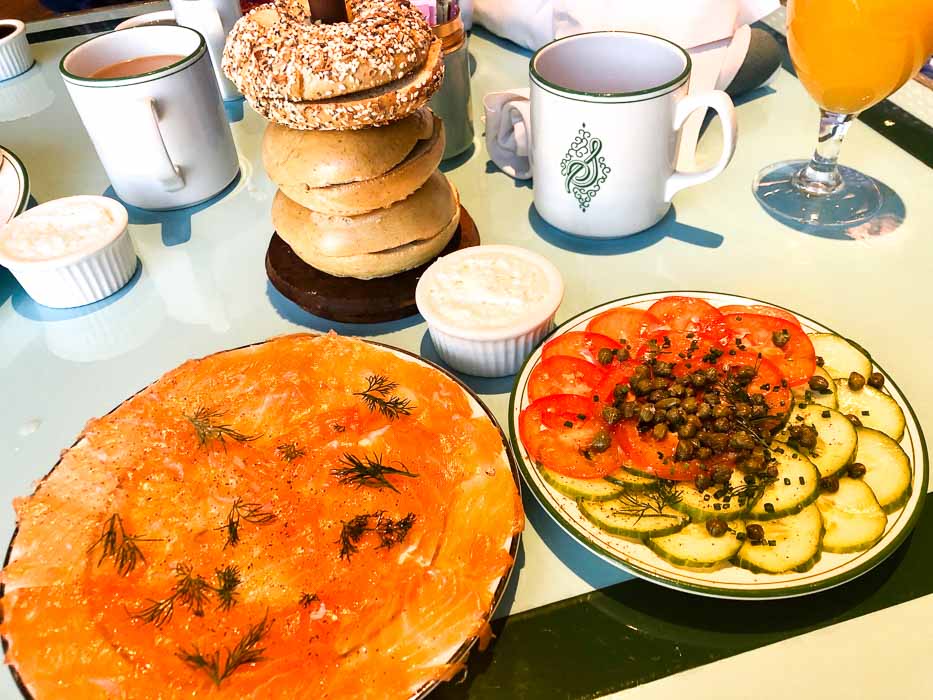 My second breakfast at Sadelle's involved pancakes. I was very keen on some full-on American pancakes and this seemed like the place. I ambitiously ordered 2 banana pancakes, feeling that 1 was insufficient. I was quite wrong.
These pancakes were delicious but wow were they huge and I only got through one. If you're wondering what is there to do in Vegas besides gamble, I can assure you that trying all the different food options on the Las Vegas strip alone will keep you very busy.
22. What to do in Vegas if you don't gamble – Go photo mad in the Bellagio Conservatory and Botanical Garden
Four times a year, to mark the change in the seasons, the designers and the horticulturists at the Bellagio Las Vegas turn a 14,000 square foot area of the Bellagio into a floral extravaganza. It is absolutely stunning – and so over the top.
The first time I visited the Bellagio Garden Las Vegas the theme was the Italian island of Capri. On my most recent visit, it was the Indian summer.
And best of all it is free to see this beautiful garden and it isn't necessary to be a guest at The Bellagio. This is one of the most photogenic things to do in Las Vegas not gambling.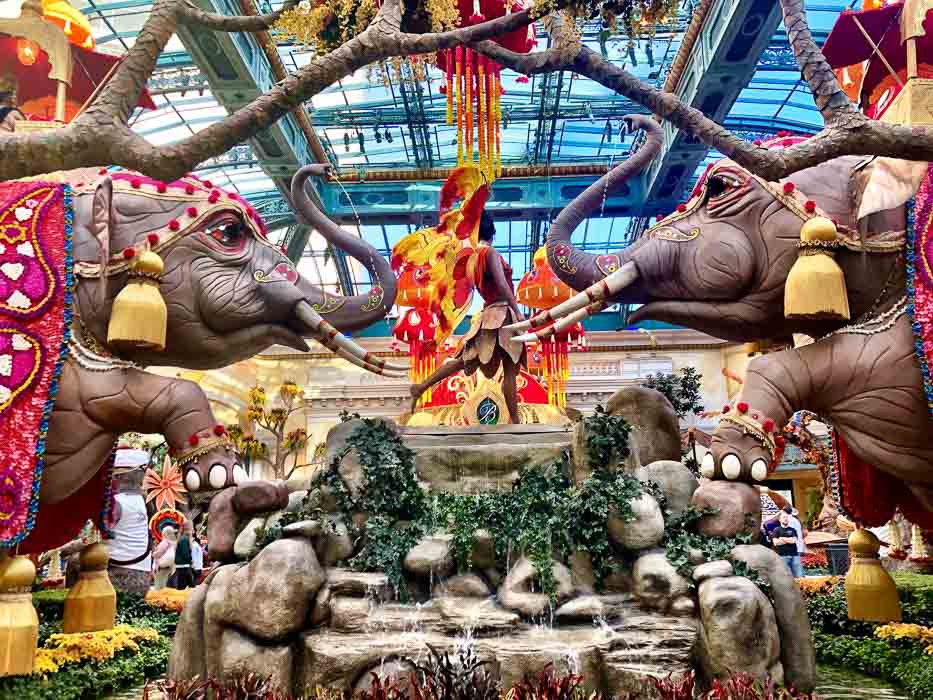 23. Things to do in Las Vegas other than gamble – stroll the LINQ promenade and take a ride on the High Roller
The LINQ Promenade Las Vegas combines retail, dining, and experiences in the heart of the Las Vegas strip. The LINQ promenade runs perpendicular to the Las Vegas Strip and is next to The Flamingo Hotel.
Around 40 stores and restaurants line the LINQ promenade including Ghiradelli chocolates, Gordon Ramsay Fish and Chips, and even a Harley Davidson shop.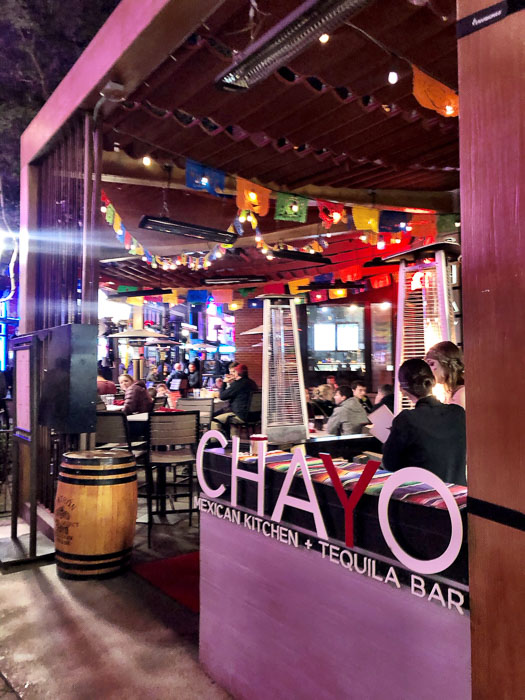 I enjoyed a great Mexican dinner at Chayo. They have a nice big outdoor seating area and then inside the restaurant is absolutely huge. And they have one of those bucking bronco/electric bull-type things.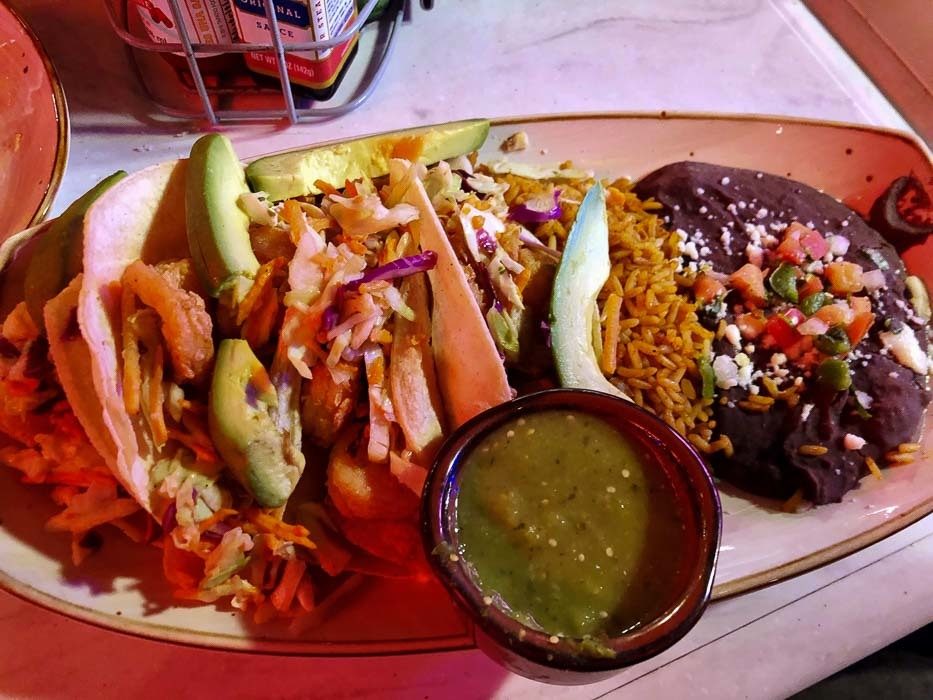 There is also a smaller version of the famous Welcome to Las Vegas sign on the LINQ promenade – great if you don't have time to see the real thing.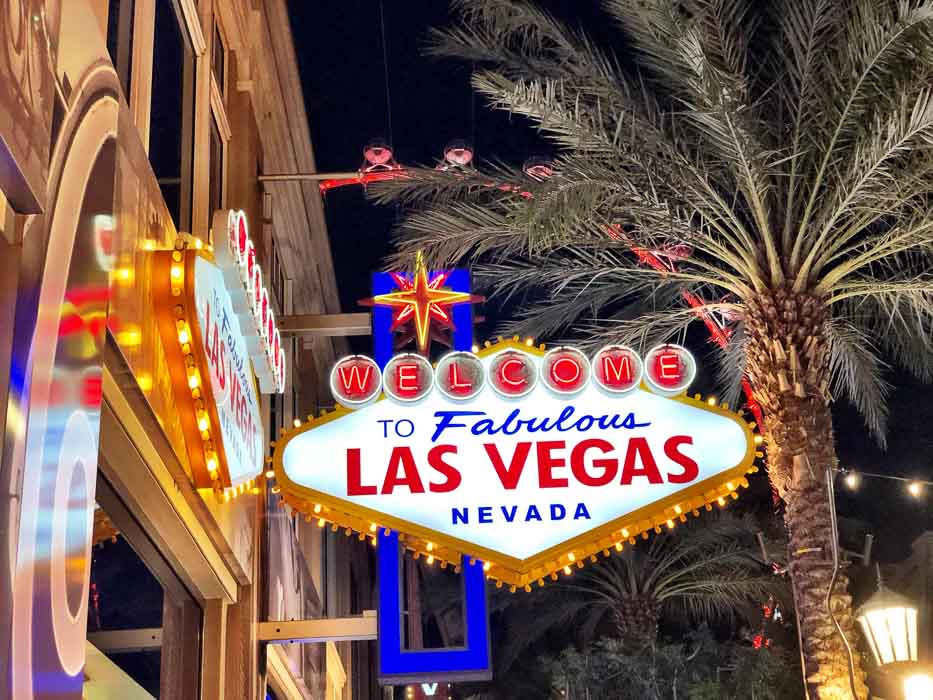 However, the focal point of the LINQ promenade is the High Roller, the tallest Ferris wheel in the world. The High Roller Las Vegas is 550 foot high and provides 360-degree views across greater Las Vegas. Another one of the super photogenic things to do in Las Vegas other than gambling.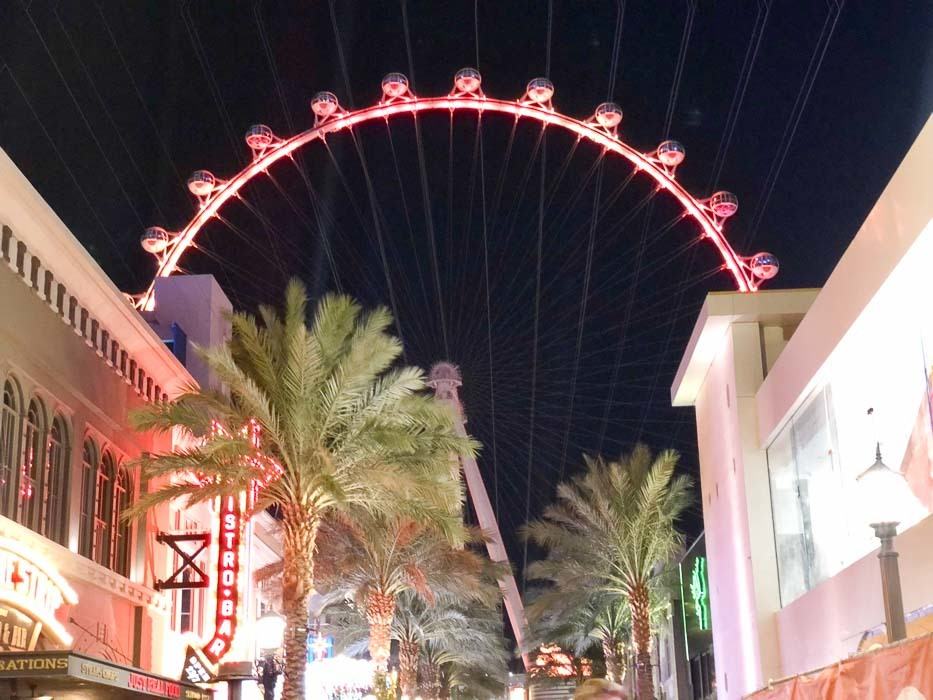 24. What to do in Las Vegas if you don't gamble – Visit the Mob Museum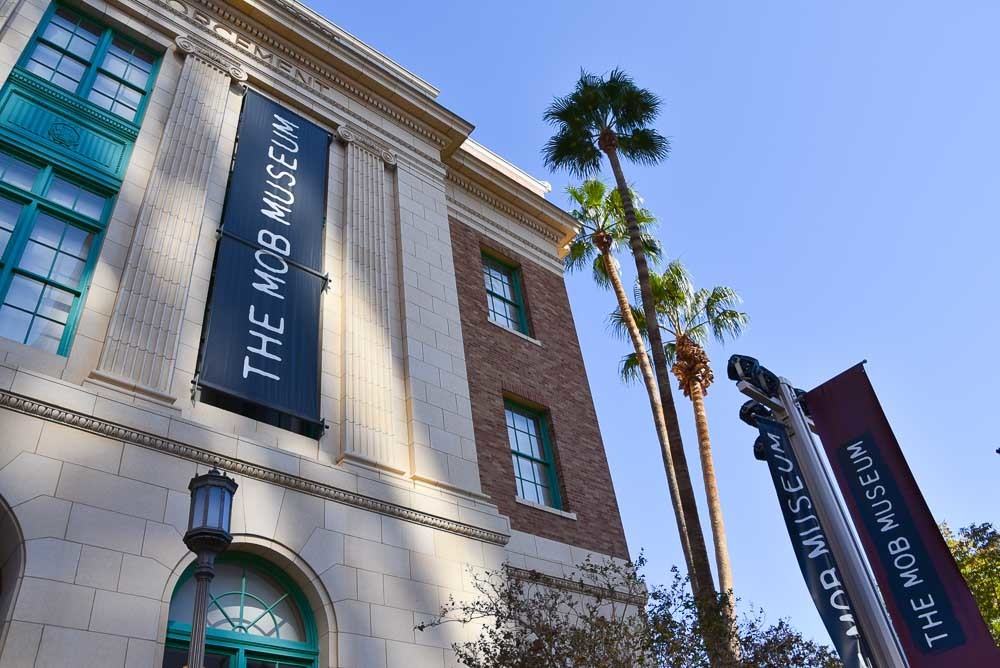 This fantastic museum is located in downtown Las Vegas and is a must-visit. I had such a great time at The Mob Museum. The Mob Museum is very interactive.
I booked to experience both the Crime Lab and the Firearms Training Simulator and I highly recommend doing both.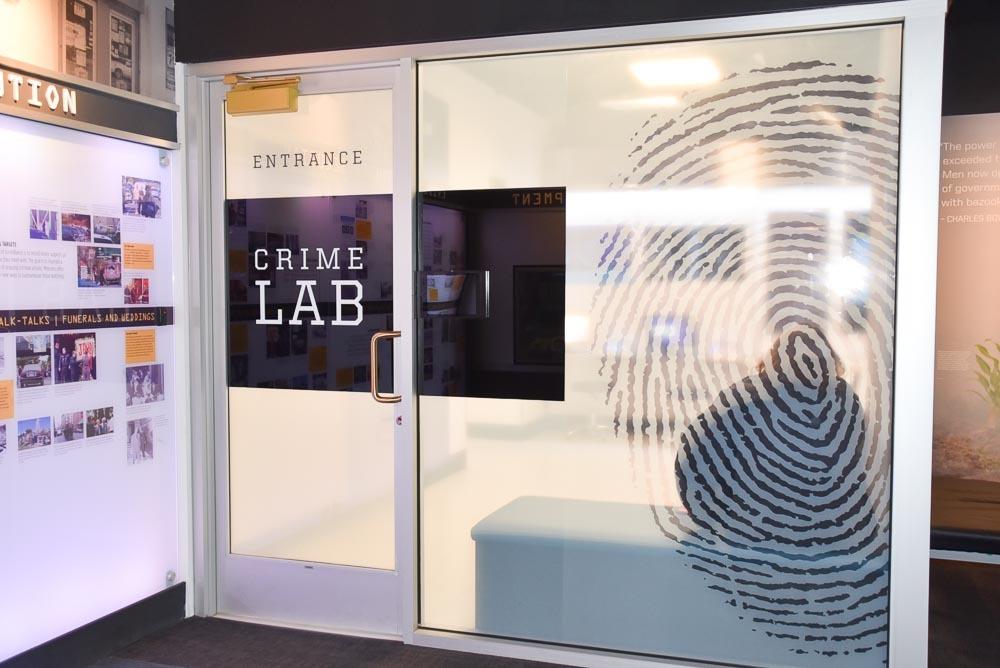 At the Crime Lab, there is an autopsy table with real photos, an opportunity to find out which famous mobster you share a DNA profile with and much more. If you like CSI Las Vegas you will love the Crime Lab at the Mob Museum.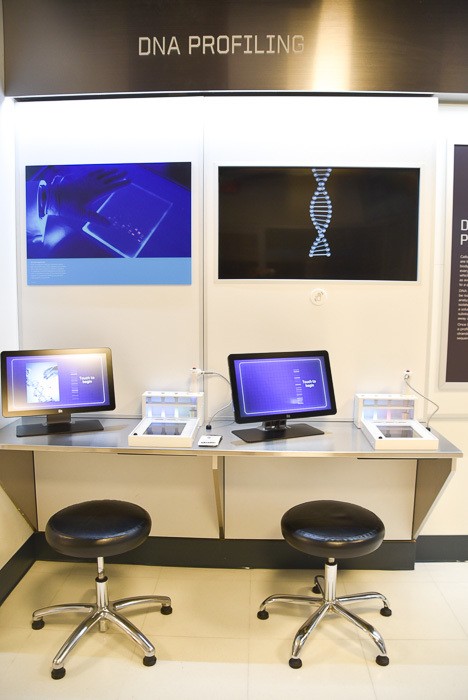 The firearms training simulator experience at the Mob Museum involves being given a "firearm" and then being instructed in when it is appropriate to use lethal force in a police situation. Mockup experiences are then provided – including one with a real human being.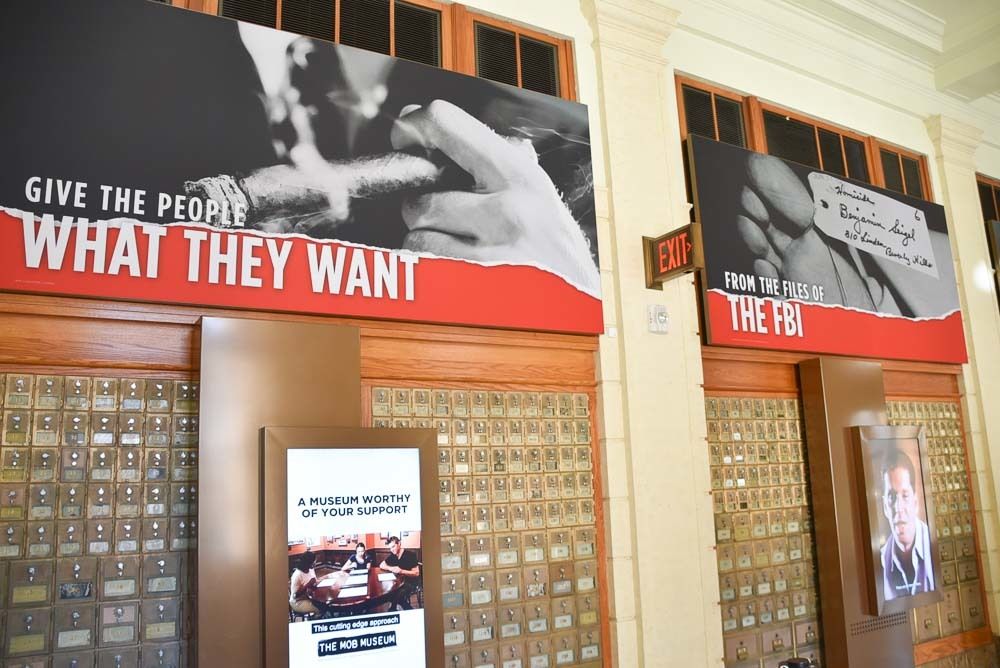 The Mob Museum does a fantastic job of storytelling. Mobsters and their stories are brought to life so well – including the Mob's greatest hits. I also loved some of the wonderful mobster quotes which are exhibited throughout this Las Vegas museum.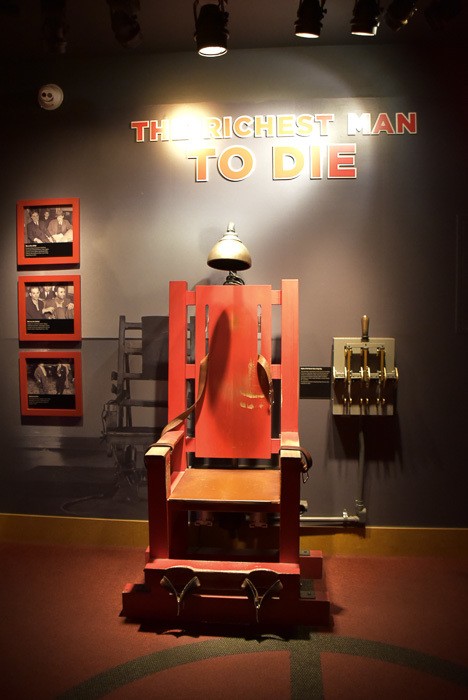 There is also a distillery as well as a speakeasy and an outstanding souvenir shop. When it comes to what to do in Vegas other than gamble put the Mob Museum high on your list.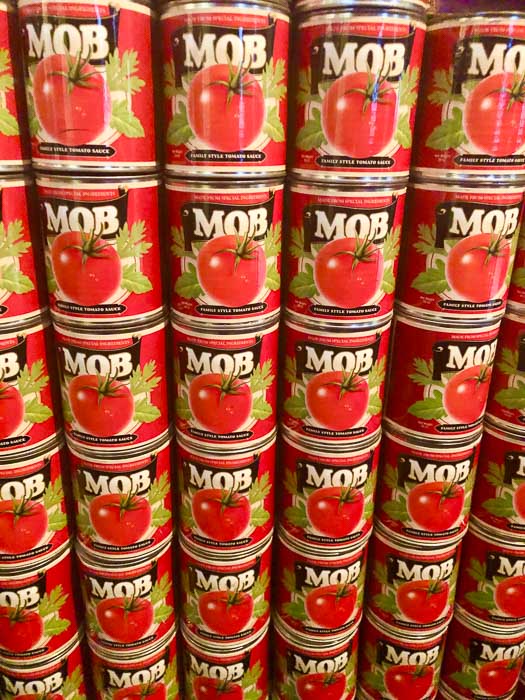 25. What to do in Las Vegas if you don't Gamble – go The Valley of Fire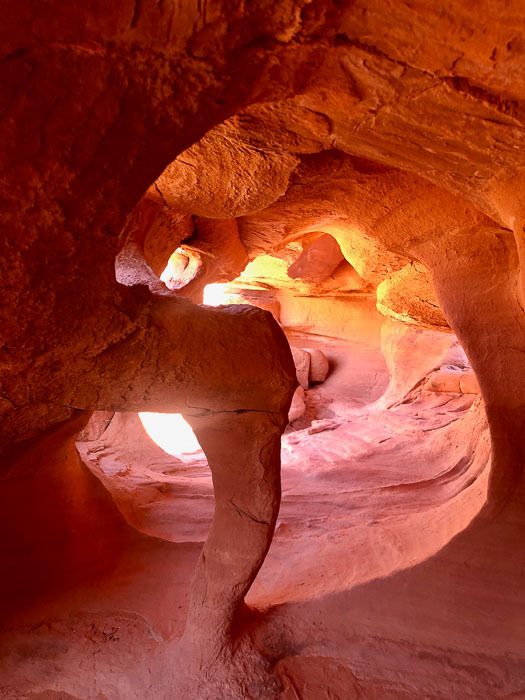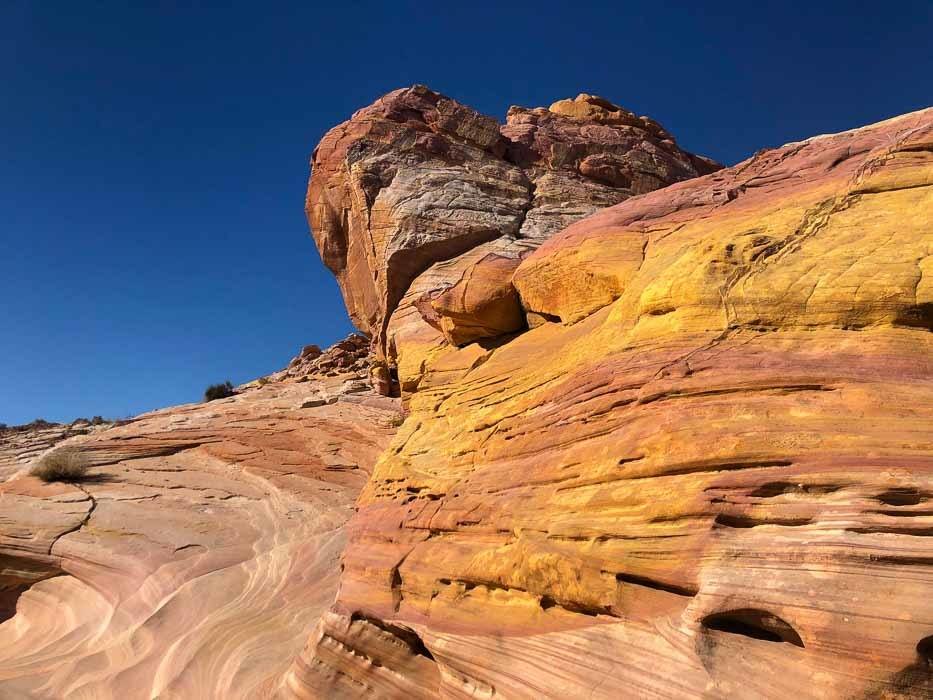 I was blown away by the Valley of Fire. It is 40,000 acres of stunning sandstone and trees and the most amazing colours. I have not been to Utah yet but it would be hard-pressed to beat the stunning Valley of Fire. Valley of Fire State Park allows campers, self-drive etc and all the usual state park options.
⇒ Interested in heading to California? Check out my posts on Unique Restaurants in San Francisco, Things to do in Calistoga review of the great Solage Spa, visiting Yosemite in One Day, 10 Stunning Sunsets in California and in Yosemite in October and my guide to a Livermore Wine Tasting.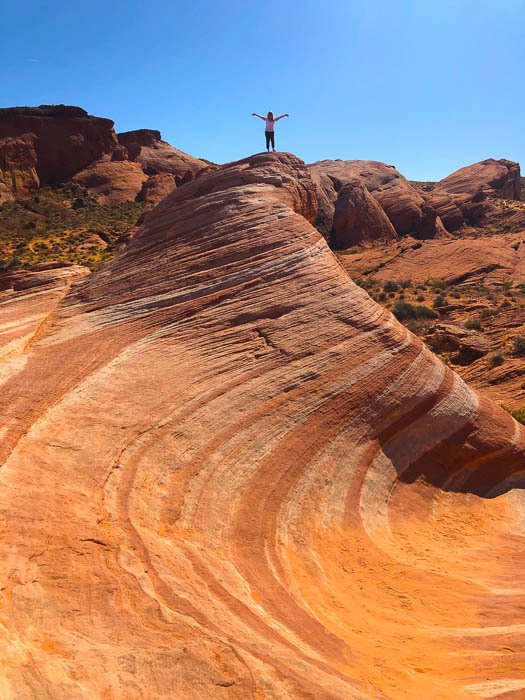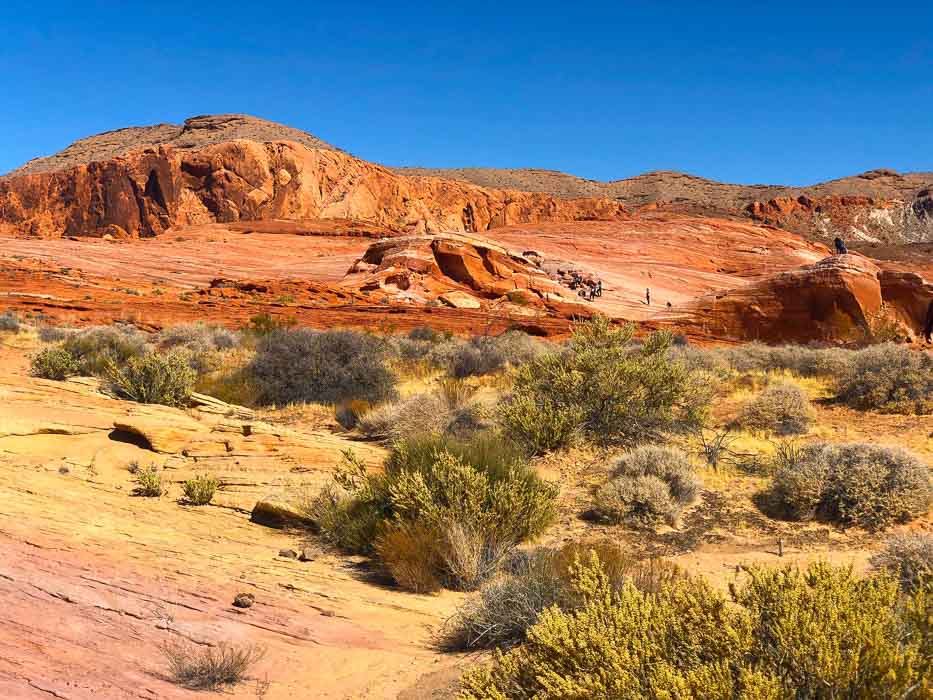 I visited the Valley of Fire on a day trip from Las Vegas. Valley of Fire state park is only about a 30-minute drive from the Las Vegas strip. Whilst you could hire a car and drive there yourself if you have limited time I would recommend an organised day trip.
Our driver knew where to take us and for how long which meant maximum photo opportunities. The total day trip is 6 hours from hotel pick up to hotel drop off.
⇒ Book Your Valley of Fire day trip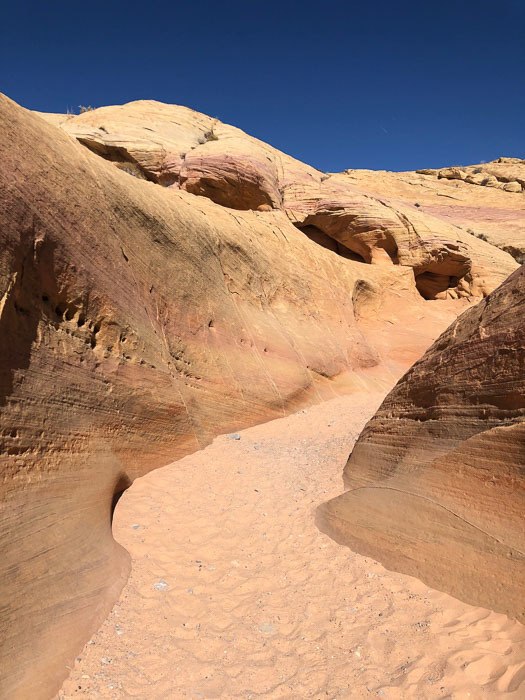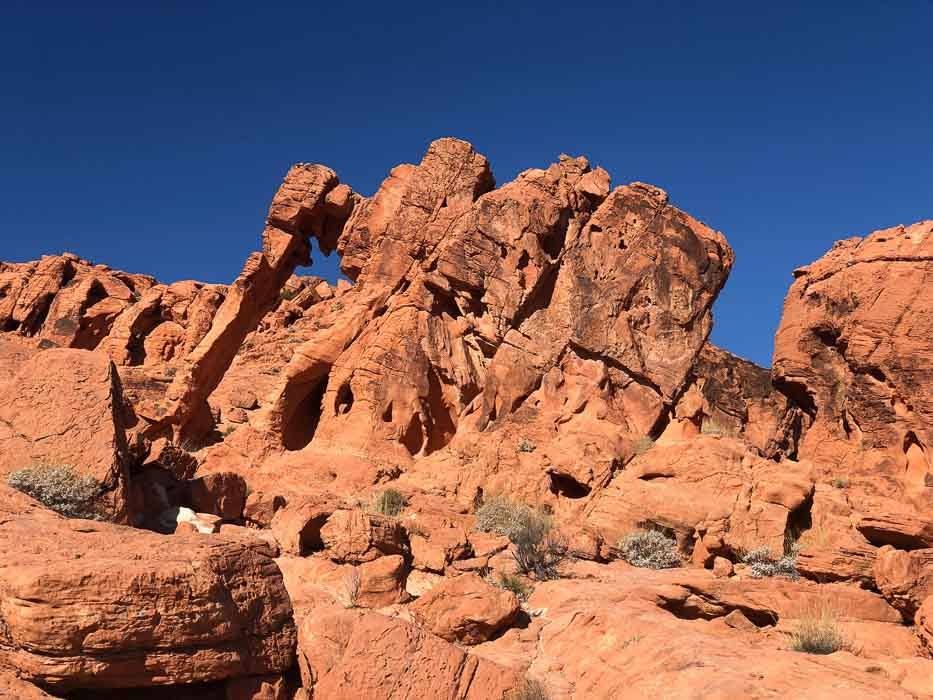 Las Vegas FAQs
Is Las Vegas Fun if you don't Gamble?
Absolutely. These days Las Vegas generates more revenue from non-gambling activities than the gambling. There is world class food, entertainment events, fantastic activities and even an old town Las Vegas style.
What Should I Not Miss in Vegas?
Here are my top 10 things not to miss in Las Vegas:
See a show like Cirque du Soleil or David Copperfield
Eat at a Buffet like The Wynn the No 1 buffet in Las Vegas
Visit Fremont Street
Explore the Arts District
Take a helicopter ride over the Grand Canyon and the Strip
Have an amazing dinner somewhere like Nobu
Visit the Bellagio to see the Conservatory and the Fountain
Check out the Mob Museum
Get an Instagram shot at 7 Magic Mountains
Take a trip to the Valley of Fire
Is it Safe to Walk the Strip at Night?
Absolutely. The Las Vegas strip is very brightly lit and usually heaving with people. However, avoid the streets that head off from the strip. They can be poorly lit and less safe.
It is very easy to get ubers or taxis from any of the many big hotels along the Las Vegas strip. If in doubt it is usually a cheap and quick ride to move up and down the strip.
Getting Around Las Vegas
Las Vegas plays tricks on you. Initially, everything seems quite walkable. However, you quickly realise that the hotels on the Las Vegas strip are the size of small cities, and walking to the one next door can take 20 minutes. The Las Vegas strip is LONG.
Strangely there are outside escalators all along the Las Vegas strip so that you can walk along a raised corridor to keep you away from the traffic. My gosh, do people speed down the strip.
A map of the Las Vegas Strip is actually very helpful – it can be far more confusing than you would expect. Uber is the best way to get around – they are plentiful and cheap. We used them to get up and down the strip.
There are buses but that seemed quite painful. We also used Uber to get to the North Vegas outlet mall and to the downtown Vegas area.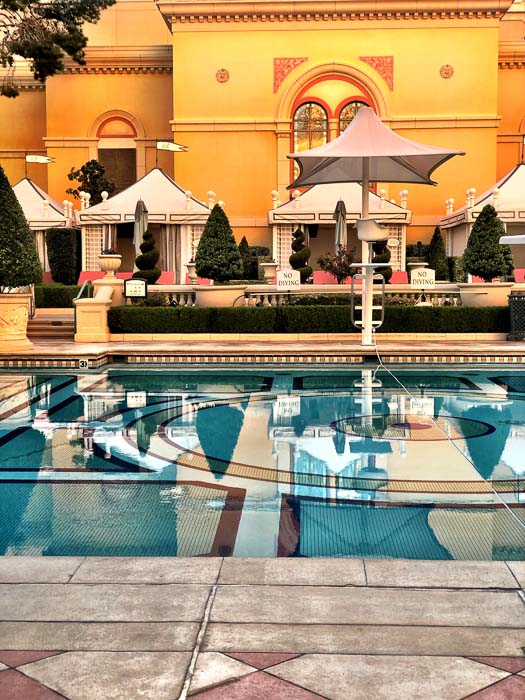 Where to Stay in Las Vegas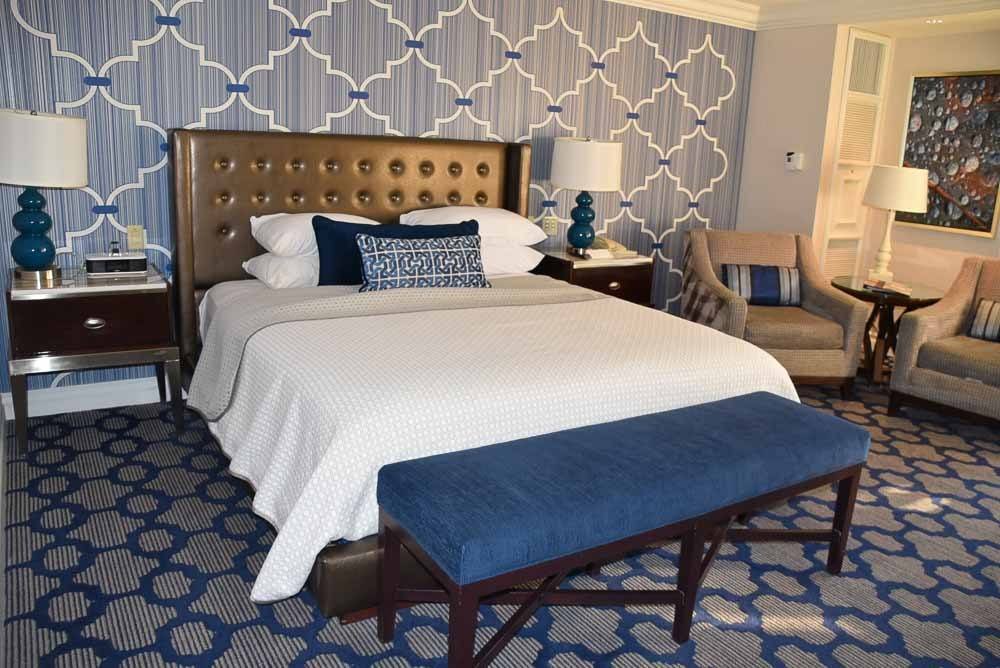 Las Vegas is not really about boutique hotels. I am sure there some but honestly to have the full Vegas experience I am breaking with my boutique positioning and saying go for the full-on decadent 5-star experience – I consider it almost a tourist attraction to do this.
Here are my top choices on the Las Vegas strip: For European glamour and top-end luxury, I loved my stay at The Palazzo.
⇒ Compare prices and read reviews of the Palazzo on TripAdvisor ⇒ Book Now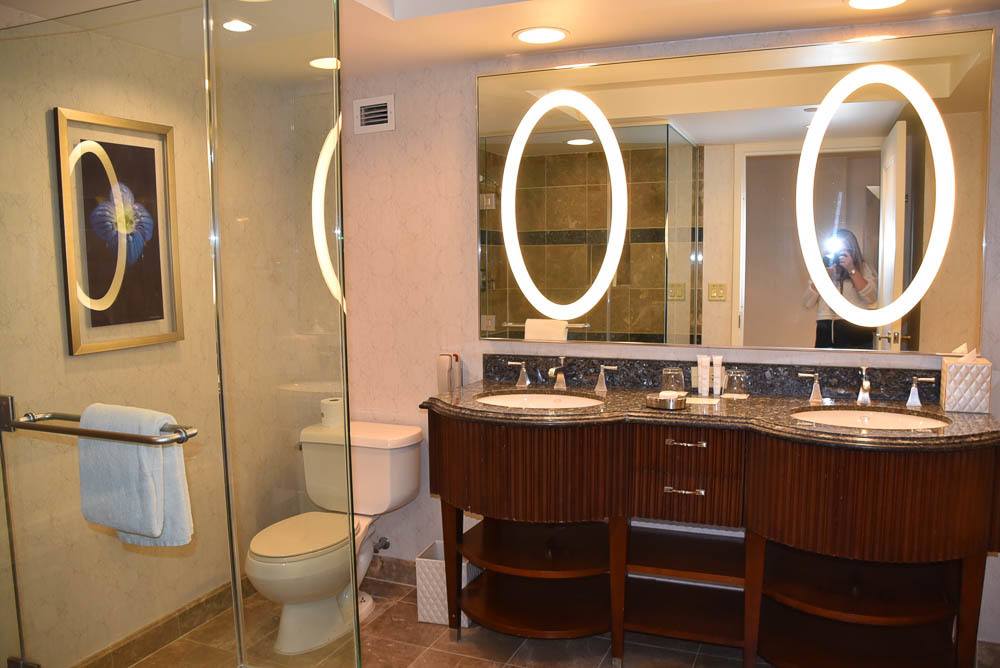 For the full Oceans 11 experience, I highly recommend a stay at The Bellagio – there is so much going on at this stunning hotel.
⇒ Compare prices and read reviews of the Bellagio on TripAdvisor ⇒ Book Now
For a more old-world Las Vegas experience check out New York New York.
⇒ Compare prices and read reviews of New York New York on TripAdvisor ⇒ Book Now
Shortcut Travel Toolkit
Ready to Book? Here are my travel favourites:
⇒ For accommodation Booking.com – great prices, great clear layout of accommodation options & brilliant for cancellation (& good photos!)
⇒ Or feel like a local by staying at an airbnb or having one of their great local experiences Airbnb
⇒ For flights skyscanner.net – always have the cheapest prices and great tools to help easily figure out if it would be better to leave the day before etc
⇒ For car hire rentalcars.com – huge range of options and a price match guarantee
⇒ Every trip is improved if you know at least a little bit of the local language – Rosetta Stone is the best and often have great getting started deals.
⇒ Skip the Line tours – Viator have over 14,000 of these – I am always so happy when I have pre-booked one of these! And you can cancel most Viator tours with full money back if you're more than 24 hours out
⇒ And finally and super important – Roam Right for Travel Insurance have an excellent rating and lots of choice. I particularly like their policies that just cover medical or car rental. They also have great options for adventurous travellers.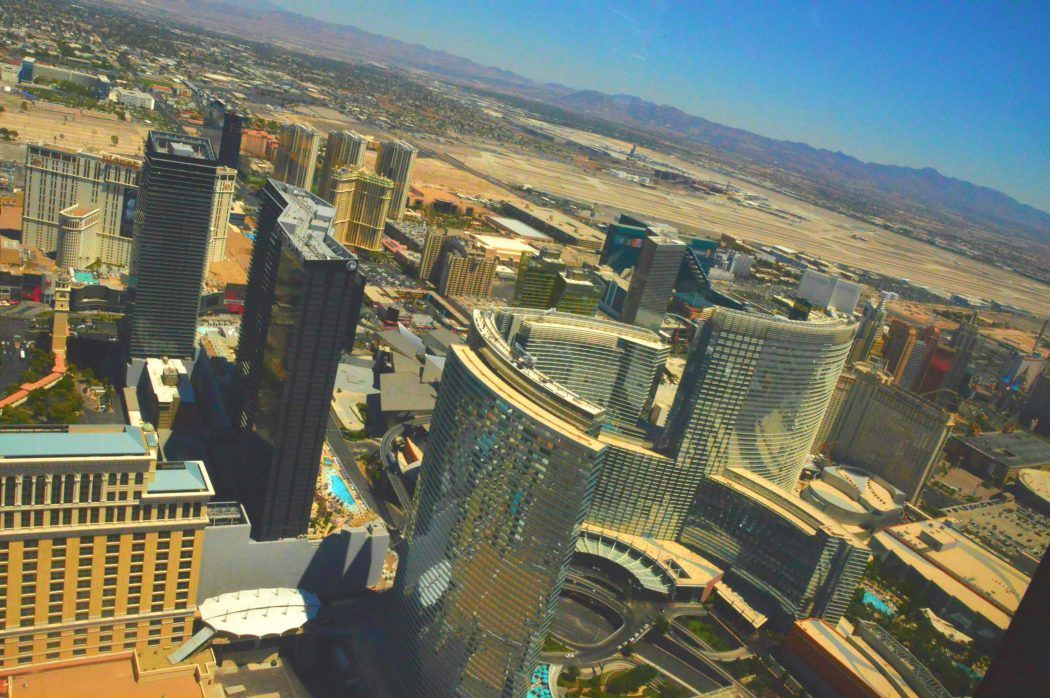 Getting to Las Vegas
There are some fantastic drives around Las Vegas – explore canyons, drive to the Grand Canyon or use it for 7 Magic Mountains and the Outlet Mall.
⇒ If you're planning a trip to the US and thinking about flying premium economy – which is a great idea – check out my reviews and comparisons of American Airlines Premium Economy 777 , Virgin Atlantic Premium Economy Review and British Airways World Traveller Plus Review.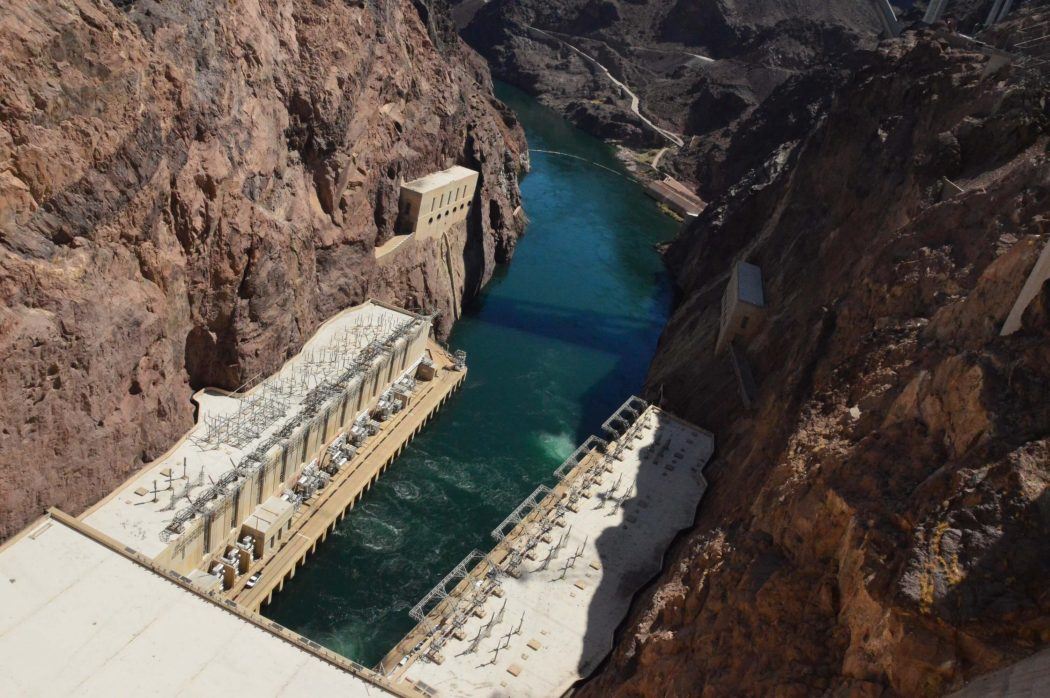 Great Las Vegas Tours & Day Trips
Las Vegas is like an adult Disneyland – it is just so much fun and so over the top. I enjoyed it far more than I expected. But it is not just about the slot machine cliche. There are loads of things to do in Las Vegas other than gambling. Some of the top tours on offer include:
⇒ Night Helicopter Flight over the Las Vegas Strip
⇒ Hot Air Balloon Ride over Las Vegas
⇒Day tour to the Valley of Fire
To my mind, when it comes to what to do in Las Vegas many of the best things like the food and seeing shows don't involve gambling at all.
Some of the most interesting activities like the Neon Museum and Freemont Street are completely Las Vegas off the strip – and don't forget the discount malls. The list of things to do in Vegas if you don't gamble is a long one.
⇒ Heading to the East Coast of the US? Check out my posts on the best things to do in Lower Manhattan, the most instagrammable places to visit in Philadelphia, and great Philadelphia food tours, and the best coffee shops Baltimore has on offer, more fab Baltimore food tour options, Hotel Indigo Baltimore and some very Instagram worthy Baltimore attractions!
Who Paid for What in this Post?
I paid for everything on this trip apart from my ticket to the Mob Museum. However, this things to do in Vegas besides gamble post does contain affiliate links. That means that if you click through on them and make a purchase I may well receive a small commission. I just wanted to make sure that you knew.
Like this Things to do in Vegas besides gamble post? Why not Pin It?