Many people dream of traveling to Hawaii, whether it's for a long-awaited honeymoon or just another special family vacation. And, if you have ever seen a sunset there, it's no wonder why.
Out of the 50 U.S states, Hawaii is the only one located outside of North America composed completely out of islands. Not only that, it is also the only state where you can watch the sun setting in the tropics.
The Hawaiian islands are an archipelago of tropical beauty and culture, consisting of more than 130 islands, including one of the more major ones, the marvelous island of Maui.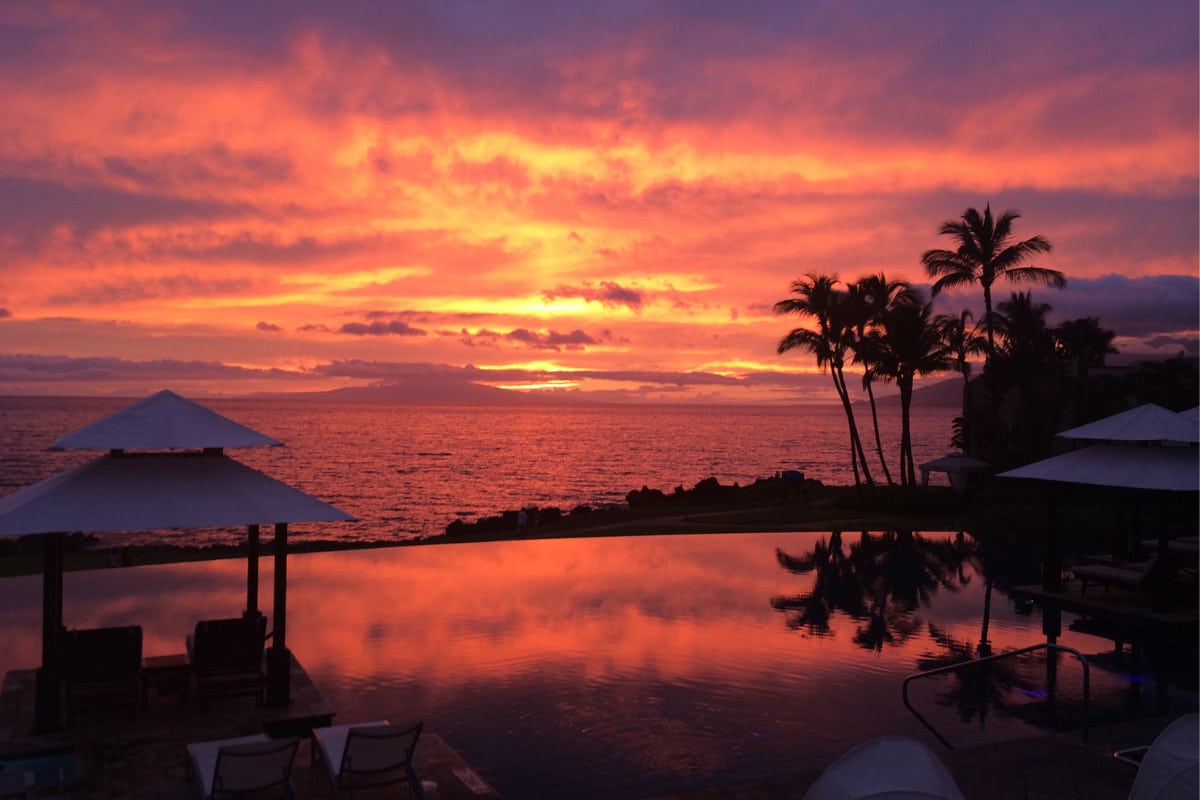 9 Best Places to Watch Maui Sunsets
Magnificent Maui is the second-largest island in the state of Hawaii and home to the scenic, and winding, Hana Highway. Of all the things Maui has to offer, its sunsets are some of the most spectacular.
Here are 9 of the top spots to take in the sun going down in Maui.
1. Kapalua Bay
The gorgeous Kapalua Bay is known for its long rocky stretches of beach on either side of the bay, giving it that extra safe and sheltered feeling. With white sand beaches and shallow waters which are rich in coral, it is the perfect spot for swimming and snorkeling no matter the time of year.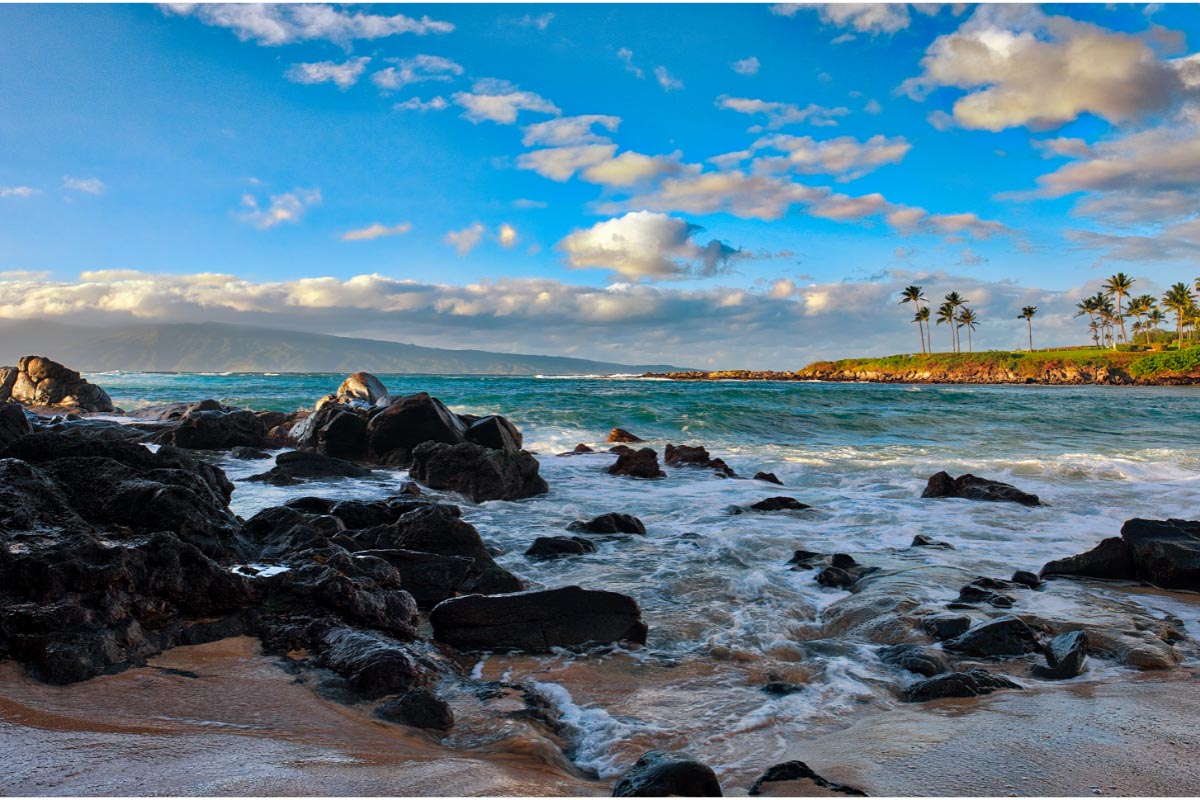 Not only is the bay the perfect place for a beach day, it is also a spectacular spot to settle into as the sun goes down. Make sure you wait around long enough after a day spent swimming and snorkeling, and you'll be treated to one of the most gorgeous sunsets in Maui.
2. Keawakapu Beach
Keawakapu, a beautiful Hawaaian name for this long sandy beach, translates to 'forbidden cove'. Sounds like the perfect sunset spot if you ask me.
Surrounded by lava rocks, this definitely won't be your typical Californian beach sunset experience. Described as having moody and romantic sunsets, you'll be happy to bring along your significant other to enjoy this intimate spot.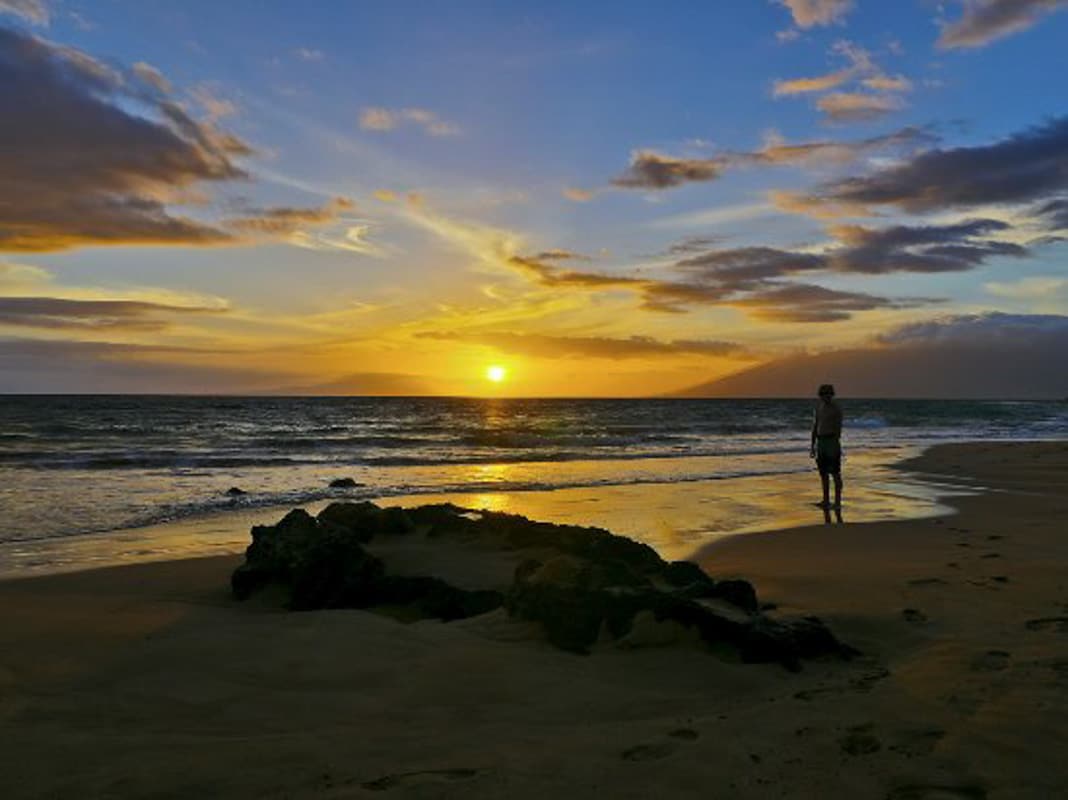 If you'd rather see the sunset from a different vantage point, why not take a canoe out and watch as the sunset reflects in the waters. And while you're at it, you might as well extend your little adventure until midnight, when you can take a look at the constellations gleaming in the tidepools.
3. Makena Cove Secret Beach
This intimate little beach, also known as Paako Cove, serves as the perfect place to watch the sun go down. The famous black lava rocks scattered along the beach might be the perfect touch to pull you into this little paradise. And the palm trees won't make you feel like you're in Hollywood,instead it will give your Hawaii trip that exact paradise-vacation feel you need.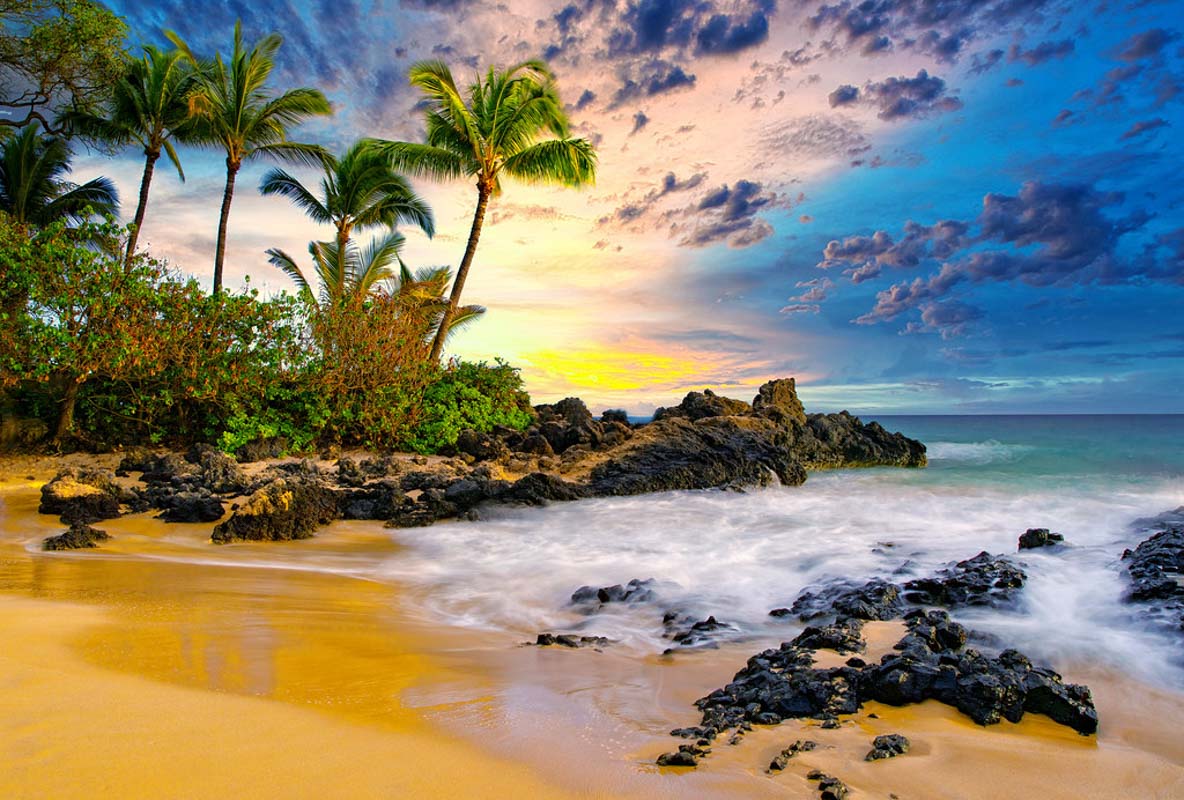 While you lie along the warm, white beach, watching as the sun sets slowly, you might even scope out the Kahoolawe and Molokini islands.
Just be careful upon arriving at this "secret" destination hidden behind a rock wall, as the intimacy attracts many wedding celebrations.
4. Hanakao'o Beach Park
You'll be happy to find that Hanakao'o Beach is more of a local spot rather than your typical touristy site. This beach park is called Hanakao'o, but is also commonly referred to as Canoe Beach as you might just find the casual canoer out at sea.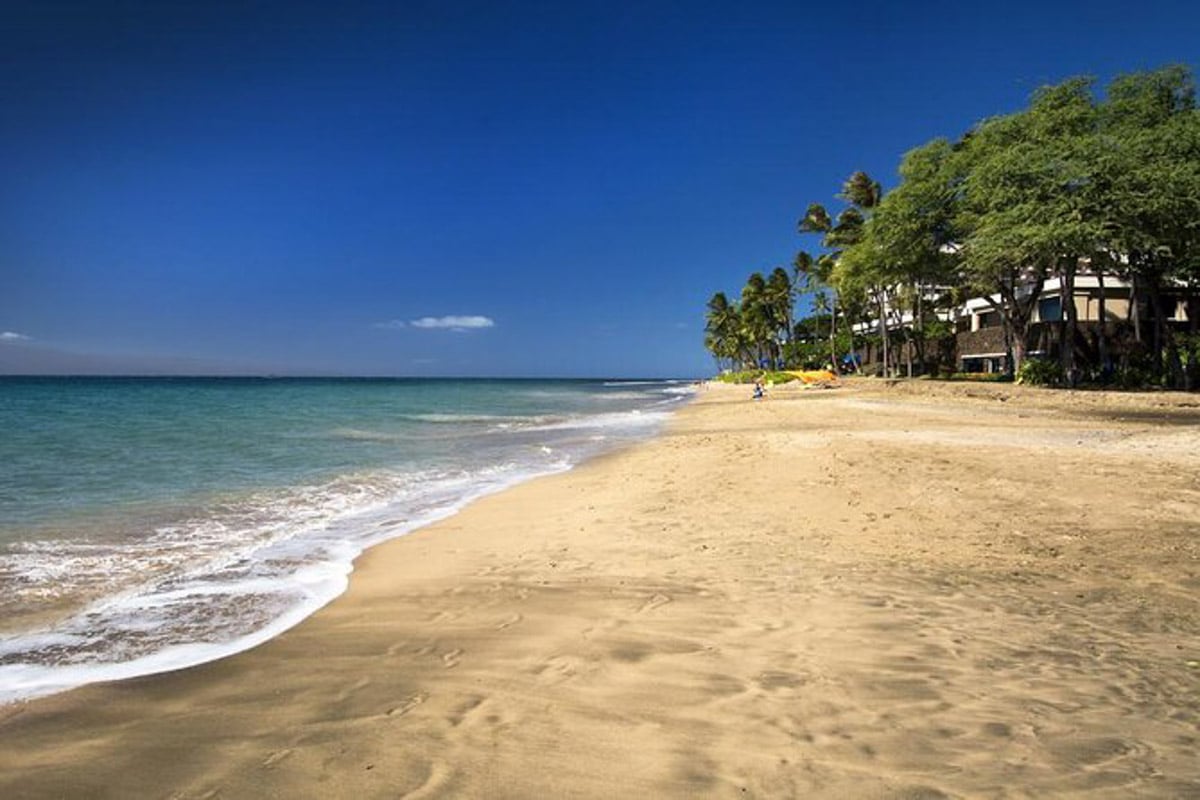 Also, as a little bonus, this beach connects to an even larger one called Ka'anapali Beach. This makes it the ideal long beach walk as the sun goes down. You might even spot some turtles!
5. Wailea Beach
Rated as one of the world's best beaches, Wailea Beach is like a scene from a movie. Wailea means 'The Water of Lea' – Lea being the goddess of canoe-makers. Although it was previously called Kahamanini, which means 'surgeonfish', we'll stick with its goddess name.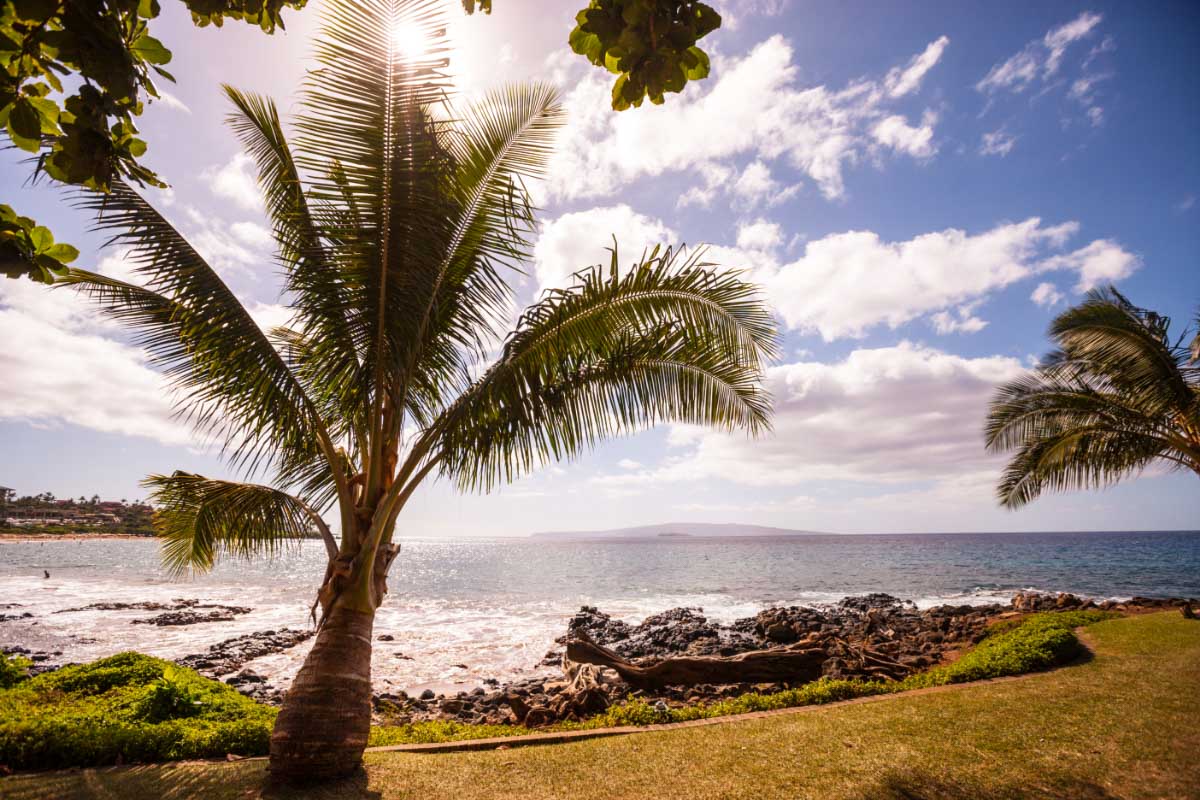 Wailea is gorgeous, luxurious and very popular. So just a little tip from us to you: If you really want to soak up the stunning sunset, arrive early and find yourself a luscious grassy mound to sit back on. Relax, and enjoy the show… or sunset, in this case.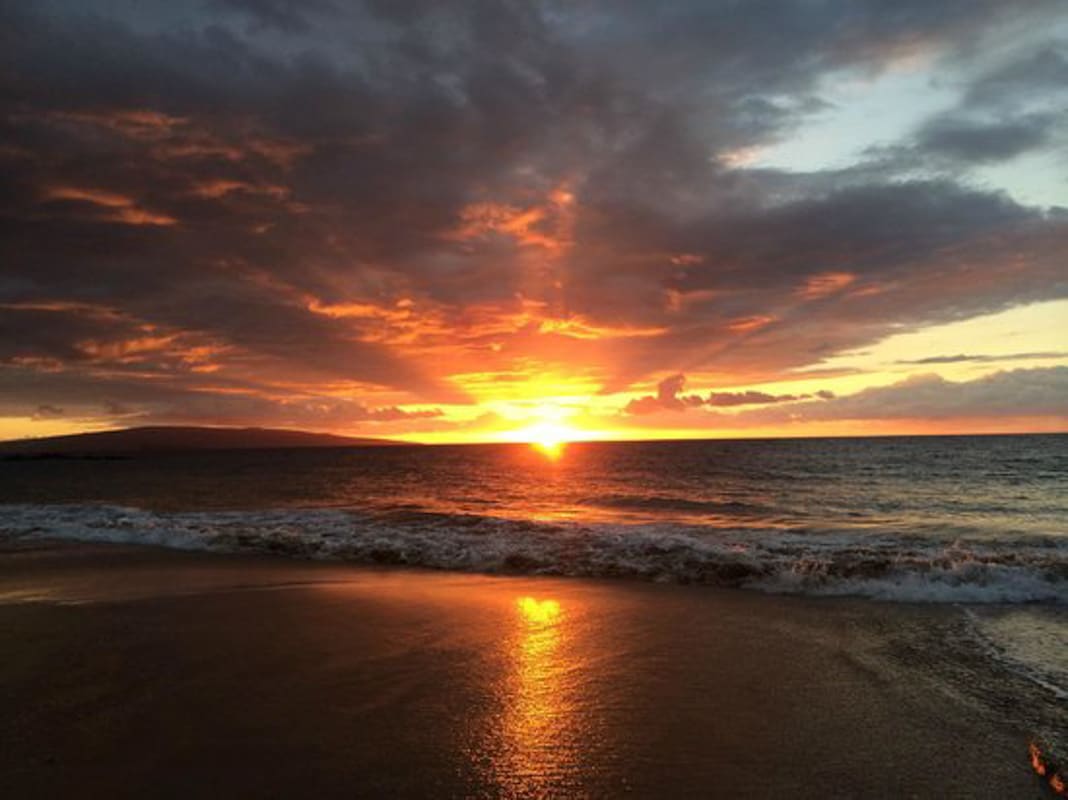 ⇒ Interested in heading to California? Check out my posts on Unique Restaurants in San Francisco, 15 Gorgeous Sunflower fields in California, Things to do in Calistoga review of the great Solage Spa, 19 awesome places to watch San Diego Sunsets, visiting Yosemite in One Day, 15 Best Northern California Hot Springs, 15 Best Places to Watch San Francisco Sunsets, 10 Stunning Sunsets in California and in Yosemite in October, 32 Best Places in Bay Area, 17 Great Stops on a Road trip from Los Angeles to San Francisco, 31 California Landmarks and my guide to a Livermore Wine Tasting.
6. Haleakala Volcano
Taking a break from our beachy sunsets, why don't you dive a little deeper into nature this time with Haleakala National Park. With its varse spread of flora and fauna, you're guaranteed to leave with a million new plants and animals to add to the list of things you've seen. . And if you're looking for an adventure, what better way to do so than to hike up a volcano.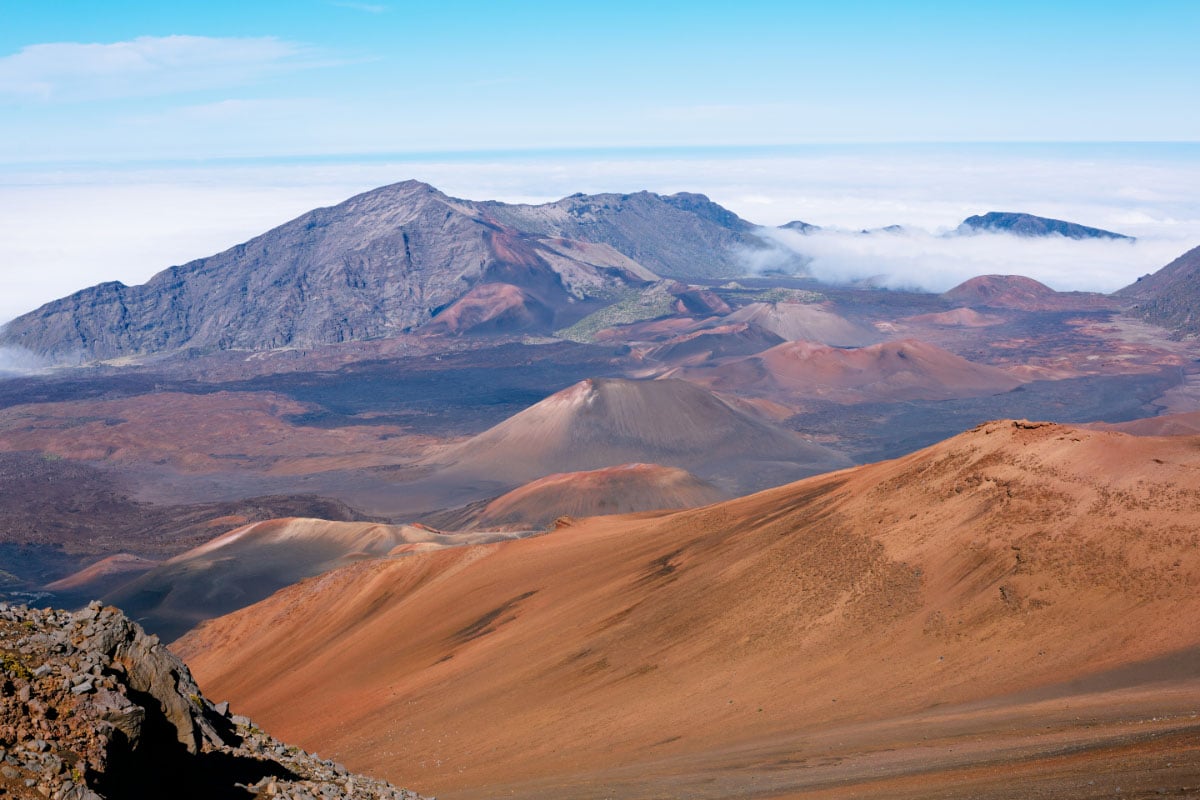 Also known as Haleakala Crater, this dried-up lava mountain with cinder cones and silence, will leave you with a once in a lifetime experience. I mean, how impressive would it be to say you've seen a sunset from the top of a volcano!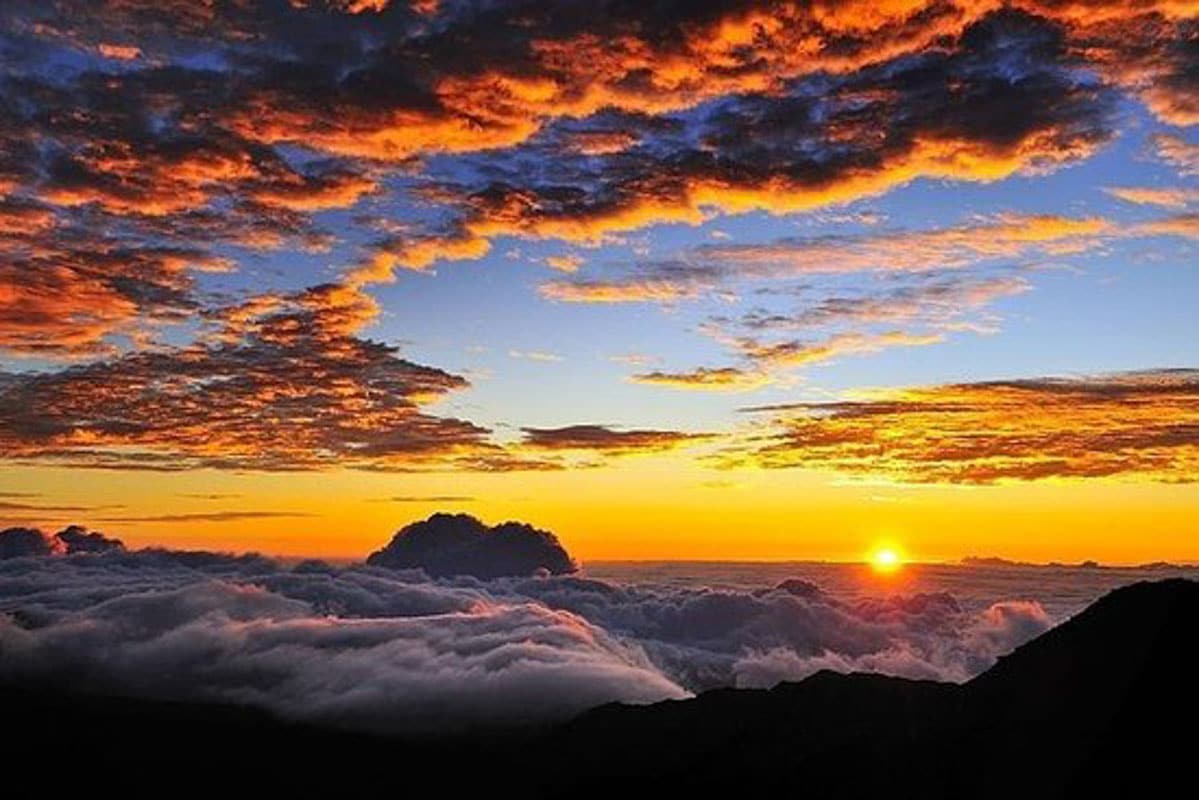 Take your time, appreciate every pain-wrenching moment as you climb, because it will all be over before you know it. The sunset on the summit will take your breath away.
7. Po'olenalena Beach Park
Back to the beaches, Po'olenalena Beach (also called Paipu Beach or Love Beach), will definitely have you feeling the love in the air.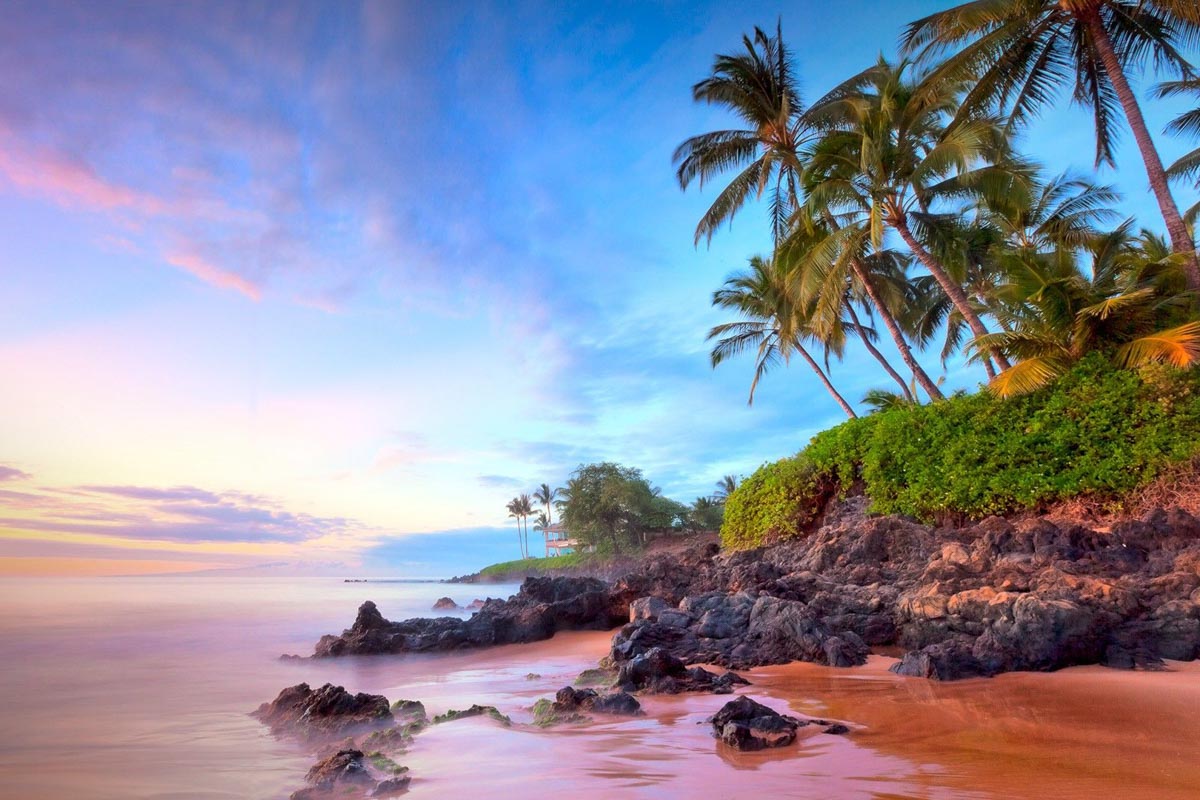 This little paradise is a popular wedding spot. But as time passes and the sun starts to set, the beach also allows for a quieter atmosphere. Po'olenalena is also perfect for those long romantic beach walks as the sun goes down. Ah yes, Love Beach.
8. Lahaina Pali Trail
Much like our lovely Haleakala Volcano, we have another exciting hiking adventure with a sunset to top it off. Pali means 'cliff', but don't let that chase you away. After all, the tougher the climb, the more worthwhile the sunset.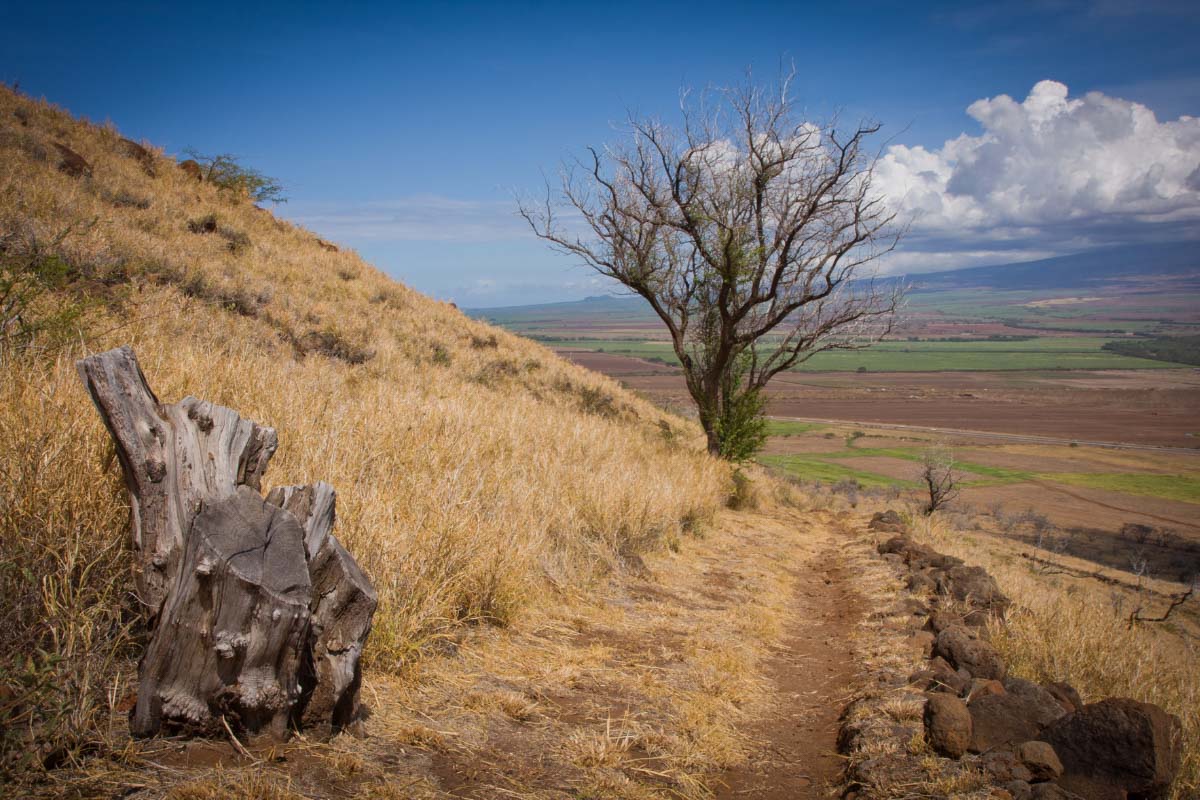 ⇒ Looking for some travel inspiration? Check out my posts on the 25 North America Landmarks, Top 15 Famous Landmarks in the US, 25 Beautiful Canada Landmarks, 10 Best Places for Hot Springs in the USA, 16 Most Beautiful Cities in Canada, 23 Brazil Landmarks, 23 Must See Landmarks in Mexico,15 Most Beautiful States in the US, American Bridges you Must Cross, 33 Things to do in Tulum, 19 Historical Places in New York, 37 Best Places to Visit in Mexico, Best Things to do in Fredericksburg, VA, Most Beautiful Lakes in Canada and the 20 Most Beautiful Cities in United States.
With exquisite views of the ocean and the other Hawaiian islands and, if you're lucky, some whales. The hike up Lahaina Pali will be worth it once you reach that summit sunset.
9. Ho'okipa Beach Park
Last, but not least, is the secret sunset spot of Ho'okipa Lookout. Famous for its windsurfing competitions, this beach can get pretty busy. But when competition season is out of the way, it remains seemingly uncrowded and much more enjoyable.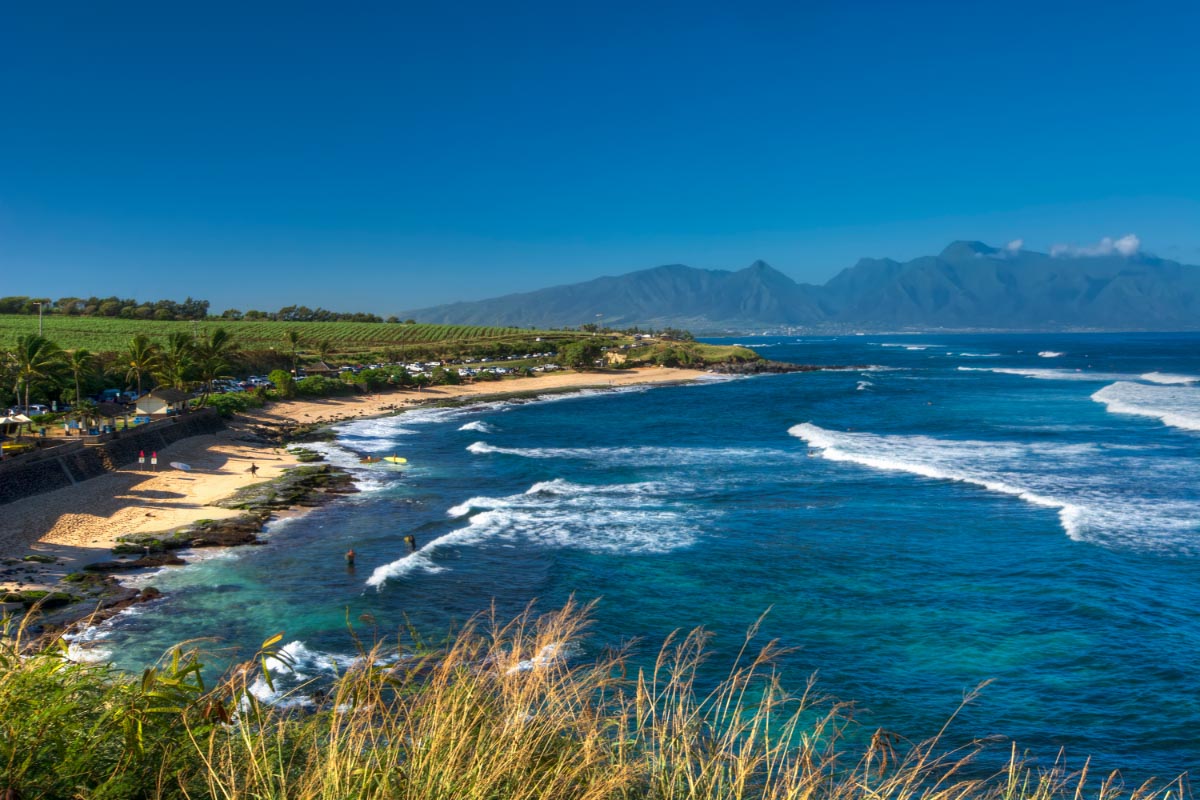 If you find yourself on a winter getaway, this beach might just be what you're looking for. Ho'okipa means 'hospitality', or more literally, 'welcoming comfort' which you'll definitely experience thanks to the stunning sunsets.
And if you get hungry, Mama's Fish House will be just as welcoming! Trust us, you won't want to miss this one.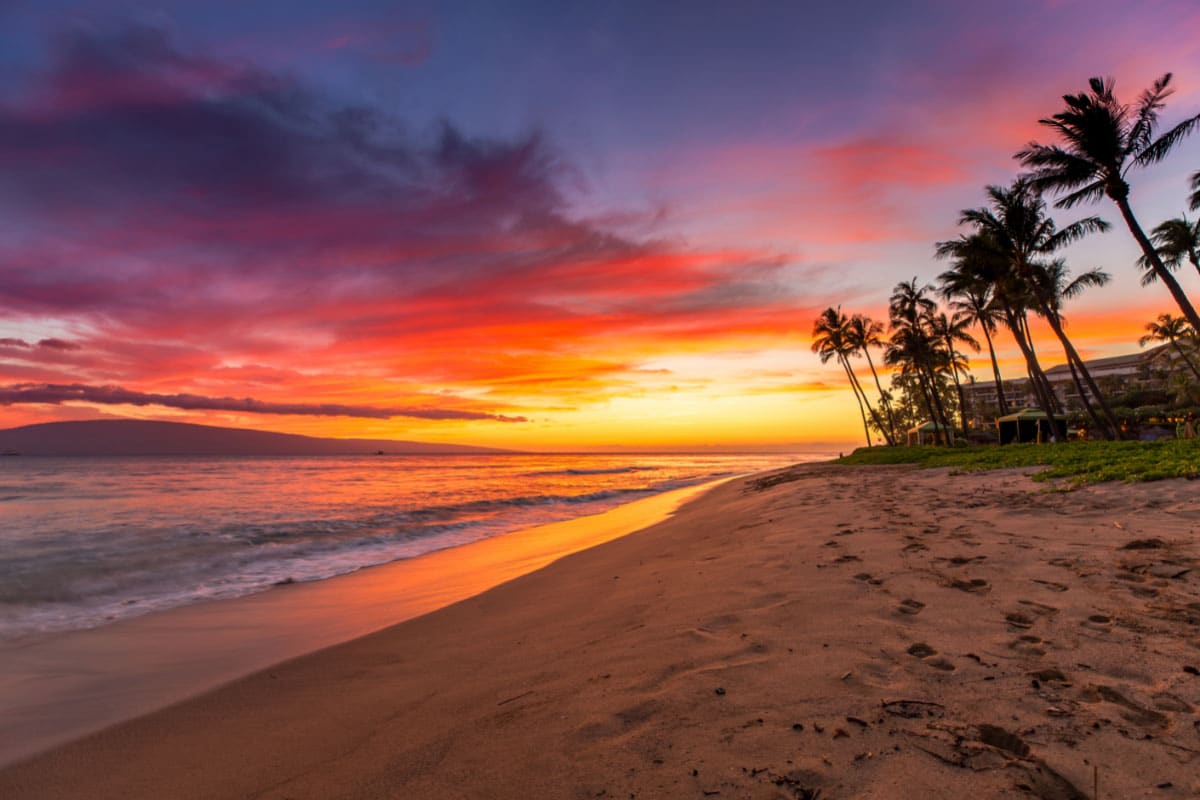 ⇒ Here are some of the best places in the world to watch the sunrise and fall: 10 Places to watch the Sunset in California, 7 Best Places To Watch Sedona Sunsets, 18 Spectacular Spots for the Best Sunsets in Seattle, 5 Stunning Santorini Sunsets, 8 Sunsets in Ibiza, 19 Spots to watch San Diego Sunsets, 11 Places to see the Venice Sunset, 17 Key West Sunsets Spots for Great Views, 15 Best Places to see San Francisco Sunsets, 6 Spots to Watch Sunrise in Paris, 21 Spots to see the Sunset Ottawa Style, 9 Best Places to see Maui Sunsets, 11 Places to see Sunset Edinburgh style, 16 Places to see the Best Sunsets in the World, 18 Best Places to watch the Sunset in Melbourne, 11 Best Places to watch the Sunset in Tucson, 11 Best Spots to watch the Sunset in Glasgow, 15 Places to see Sunsets in London and 9 Spots to watch the Sunrise in London.
Check Out the Maui Sunsets
Well, there you have it. From Kapalua Bay to Haleakala Volcano, you know exactly where to catch a gorgeous view as the sun goes down.
Next time you plan a trip to Maui, be sure to visit a different sunset spot each day to fully embrace the beauty that the island has to offer.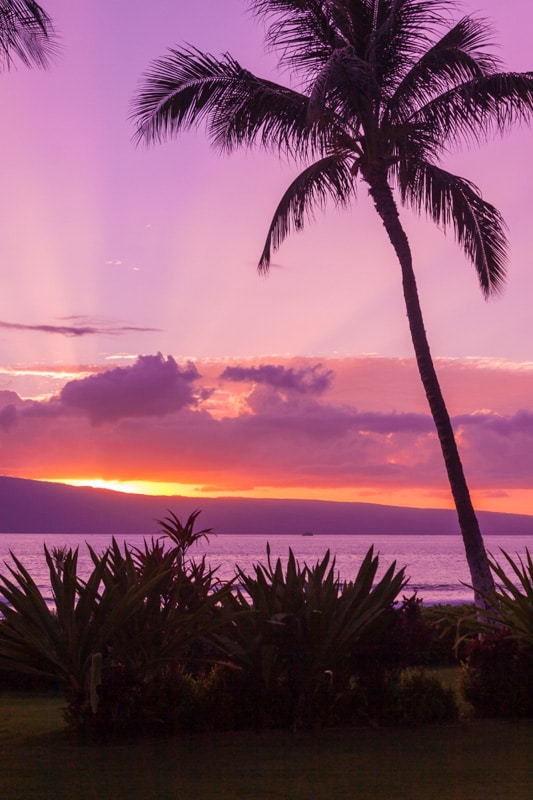 If you enjoyed reading this post you'll love my post on The Best Sunsets in the World.
⇒ If you're enjoying this article you'll love my articles on 15 North America Landmarks, the 10 Most Famous Landmarks in the US, 7 Most Beautiful Bridges American Bridges, 60 Most Famous Landmarks in the World, 9 Gorgeous Lakes Canada has on offer, 23 Must See Landmarks in Mexico, 15 Most Beautiful States in the US, 31 California Landmarks, 16 Most Beautiful Cities in Canada, 17 Washington DC Landmarks Not to Miss, 29 Arizona Landmarks, 11 Beautiful Canada Landmarks and the 20 Most Beautiful Cities in the United States.
I covered all of the costs associated with writing this article. However, this Maui sunsets post includes affiliate links. That means if you click through and end up making a purchase I will receive a small commission. I wanted to make sure you were aware of this.