From awe-inspiring cathedrals, gourmet restaurants, fairytale castles, and manicured vineyards, France offers endless stunning attractions.
Travellers to France could spend an entire week or two and only scratch the bare surface of the country's most popular cities. For many, their first option is to visit glistening Paris, being the most refined, elegant city.
However, each city in France has its own unique and distinctive claim to fame. Nice, the welcoming city in the French Riviera, exhibits an Italian flair with warm golden sands, while Lyon promotes an array of the trendiest dishes in the country. If you're a history lover, Marseille beams with stunning museums, while Boureax highlights some of the best French wines.
Let's dive into this list of France's most beautiful cities to add to your 'must-see' bucket list.
32 Most Beautiful Cities in France
1. Paris
Beaming with history and passion, just the thought of Paris conjures romance. That, and its alluring famous landmarks like the Louvre, the Arc de Triomphe, and of course, the Eiffel Tower. The city is filled with medieval cobblestone streets, graceful tree-lined boulevards, and quaint riverside pathways.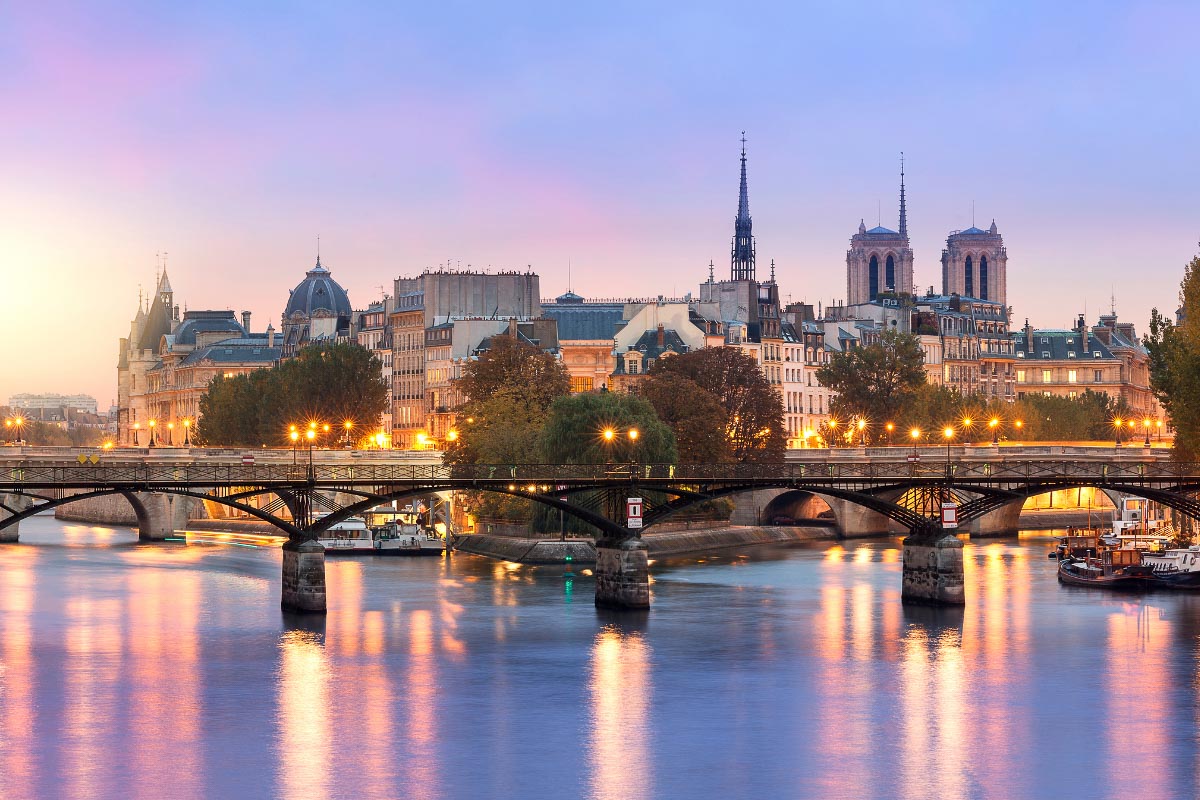 Here you'll find some of the top-rated museums and historic churches in Europe. Areas like Montmartre and the Latin Quarter invite visitors to friendly sidewalk cafes and quaint bistros.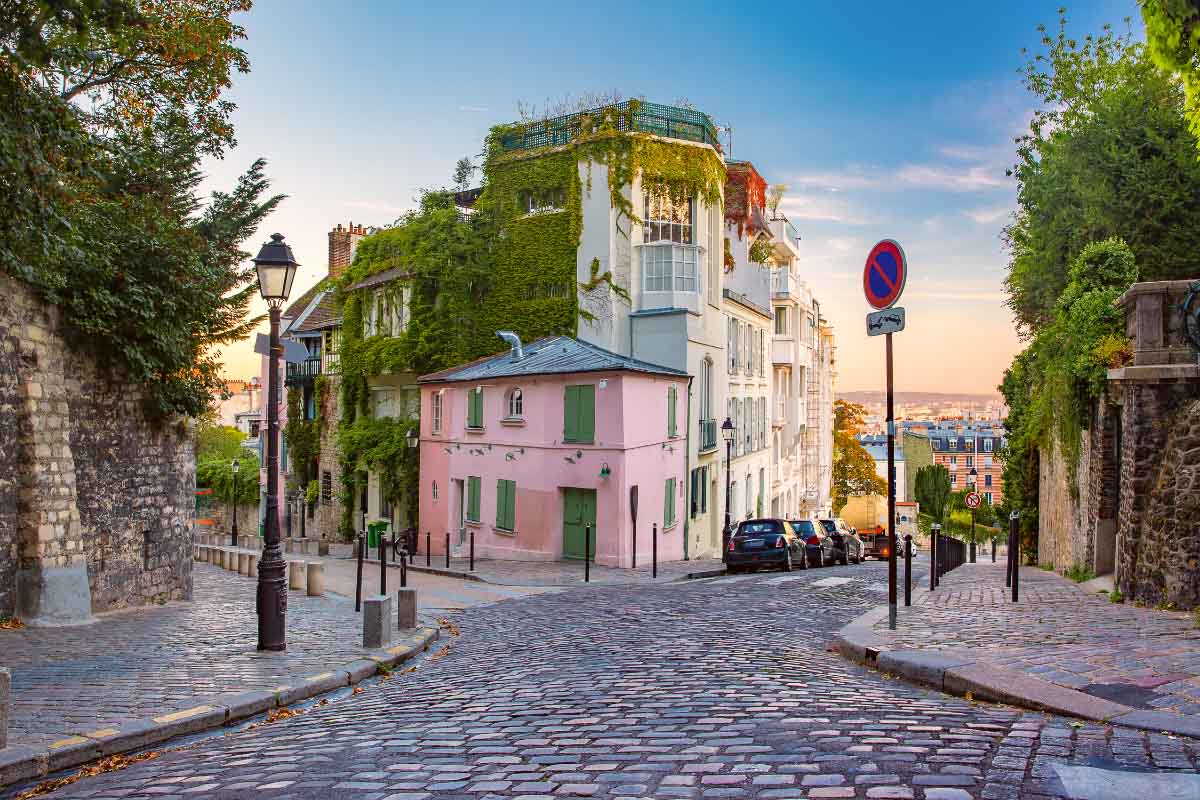 Apart from the obvious attractions to Paris, there are plenty of hidden surprises throughout the city. Treat yourself to decadent desserts at one of the many pastry boutiques, or grab one to go and listen to street musicians at the Seine River bridge. While many believe the city comes to life at night, the sunrise in Paris is truly magical.
2. Lyon, Auvergne-Rhone-Alps
Nestled between the Rhone and Saone River, Lyon boasts plenty of attractions and is considered France's food capital. Foodies flock to this historic city for a taste of authentic French cuisines.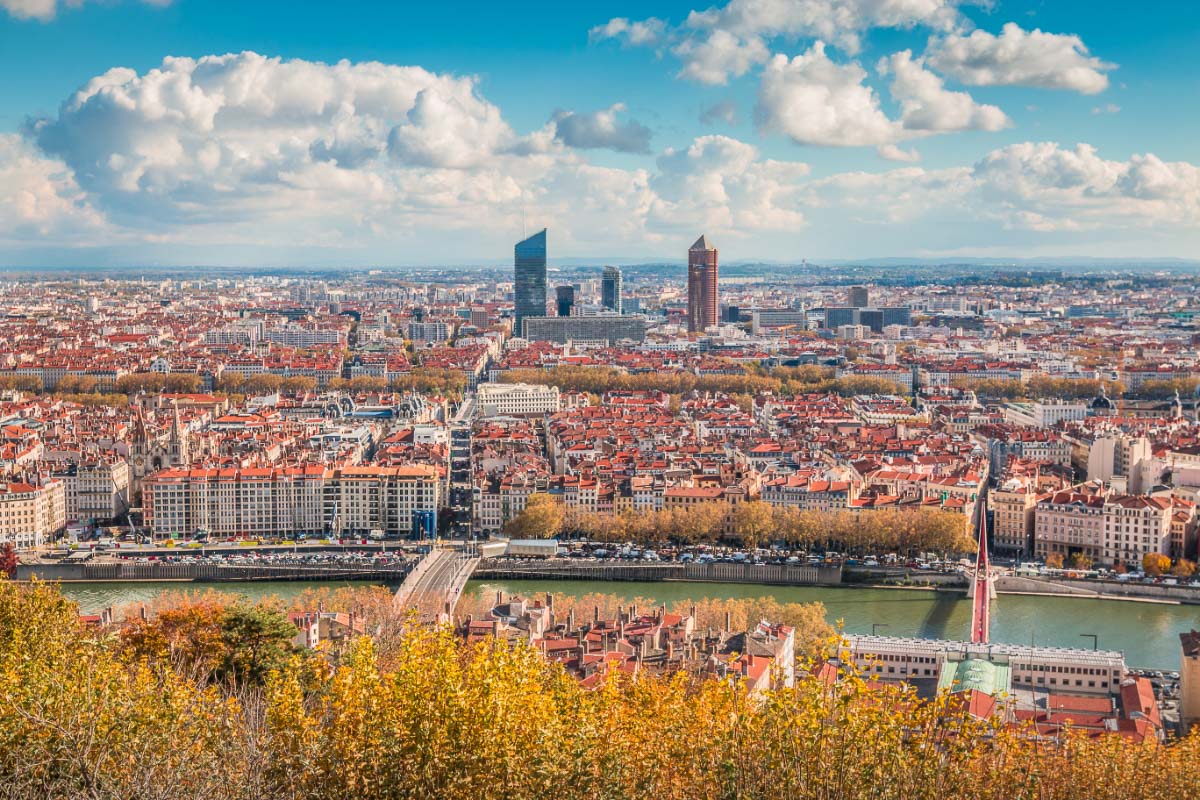 As the third-largest city in France, Lyon has a bustling metropolitan ambience. However, the UNESCO-listed Vieux-Lyon (Old Town) has preserved its historical heritage.
You'll also find medieval, Renaissance-era architecture and Roman ruins dotted throughout the city. The stunning alleyways and unique cobblestone streets are lined with boutiques and cafes to pop into.
3. Nice, Cote d'Azur
Nice, the jewel of the French Riviera (Côte d'Azur region), sports a mix of Italian and French culture. The picturesque city is located at the foothills of the Maritime Alps on the Baie des Anges and boasts some of the best pebble beaches in France.
Nice is endowed with modern art museums, a vibrant street food scene, Franco-Italian architecture, and scenic walkways such as the famous Promenade des Anglais. The city is packed with historic monuments, including the 17th-century Baroque cathedral.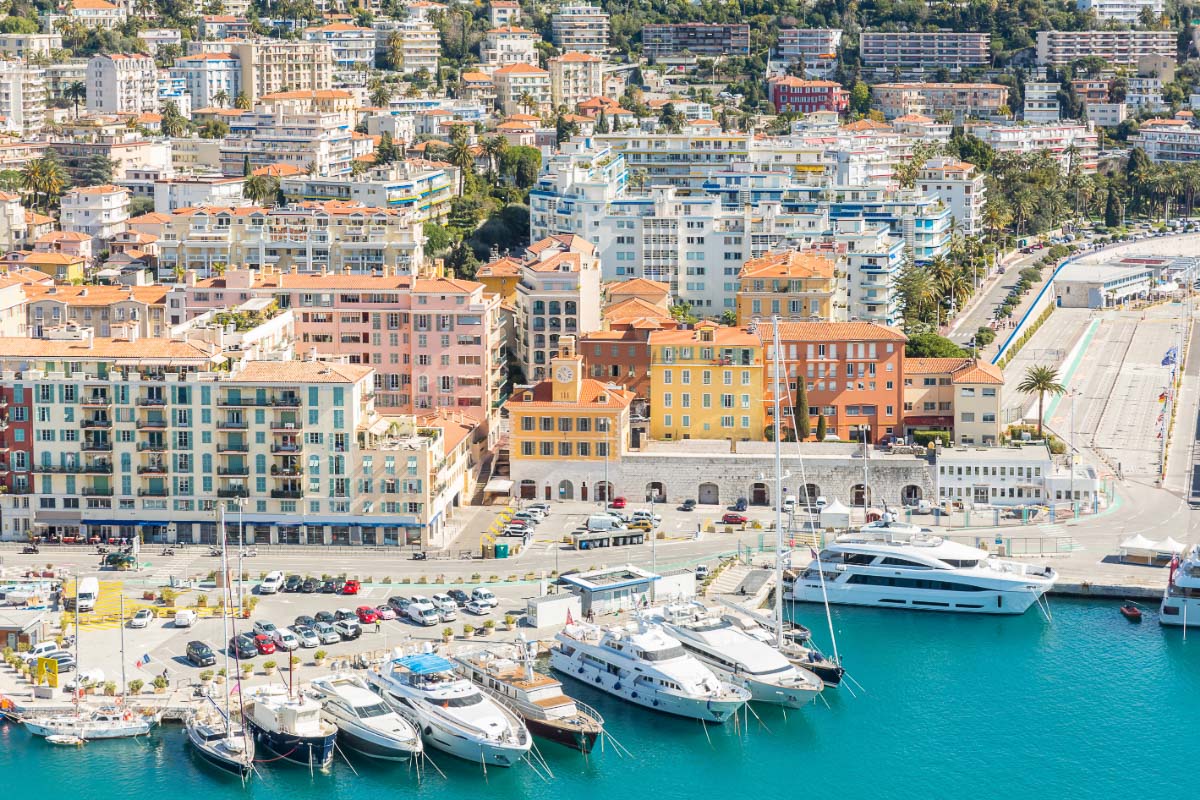 Walk through the narrow, cobblestone streets and get lost in Vieille Ville (Old Town). This neighbourhood is lined with colourful houses, charming cafes, and cute boutiques and restaurants.
Other incredible attractions in this beautiful French city include an array of blooming lavender fields and manicured gardens. For a panoramic view of this stunning metropolis, climb to the top of Castle Hill for breathtaking scenery. Alternatively, embark on a fun Segway tour of Nice to see the city's most popular attractions.
4. Bordeaux, Nouvelle-Aquitaine
If you're looking for a great wine-tasting experience, you should certainly head to Bordeaux. The capital of wine country is located in southwestern France on the Garonne River, in the Aquitaine region.
The city is filled with charming cafes, restaurants, bars, and boutiques. Head to Parlement Saint-Pierre and treat yourself to an array of different beverages. Discover sweeping views of the city at the Pey-Berland Tower.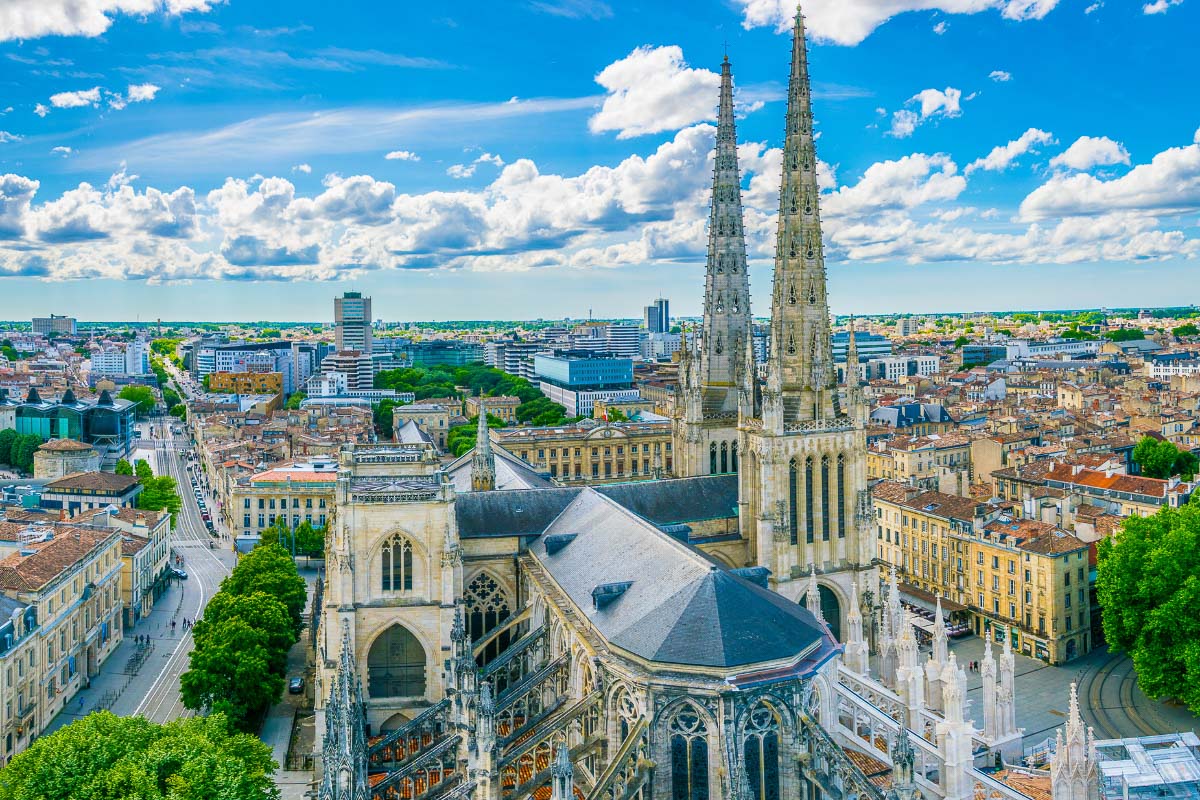 Some must-visit wineries include St. Emilion, Margaux, Medoc, and St. Estephe. While you're here, don't miss the Cite du in Museum, dedicated to the history and culture of French vineyards and wines.
Apart from world-class wines, Bordeaux is known for its well-preserved historic architecture and UNESCO World Heritage Sites.
5. Aix-en-Provence, Provence
With colourful open-air markets, quaint public squares, tranquil fountains, and picture-perfect sidewalk cafes, Aix-en-Provence is the epitome of France's cultural scene. Amble along the beautiful cobblestone streets to discover Vieil Aix (Old Town) and enjoy beautiful fountains dotted throughout its charming plazas.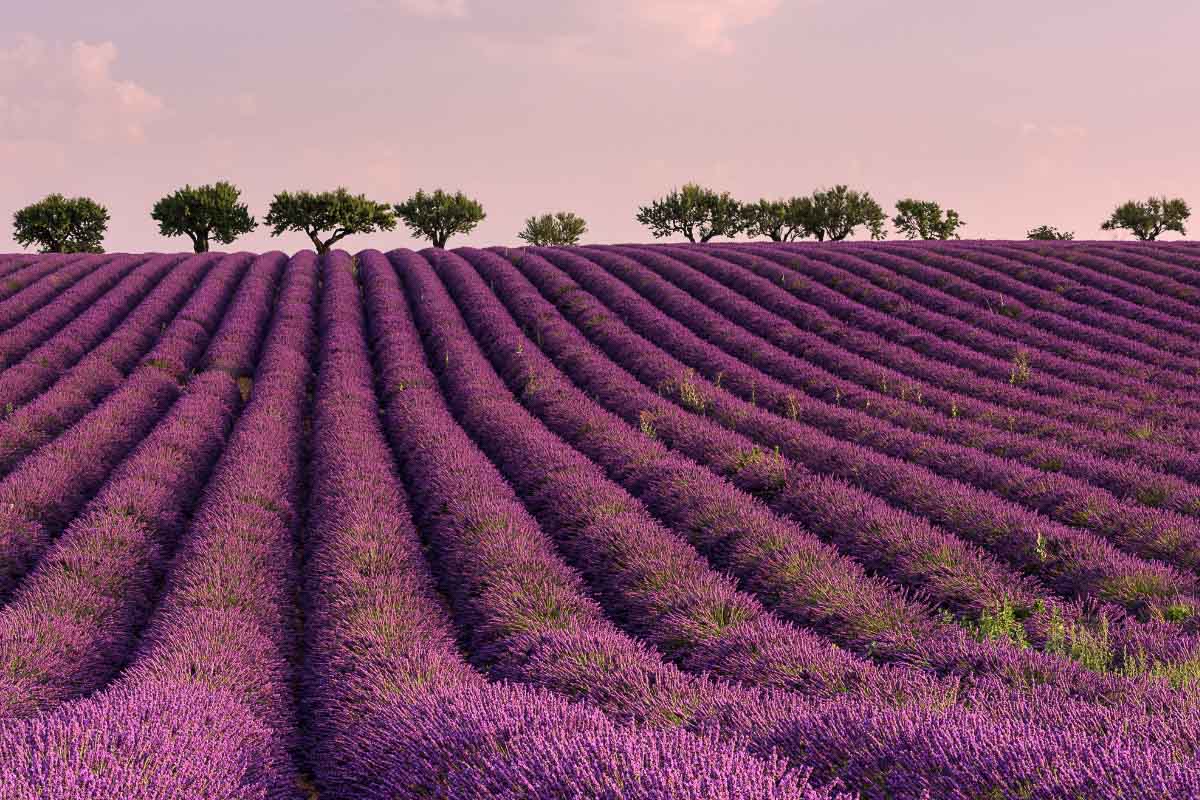 Stroll along the famous tree-lined street of Cours Mirabeau and pop into one of the many restaurants or outdoor cafes. Aix-en-Provence is famous for its world-class art museums. The Musée Granite has a superb collection of fine arts from the 14th century to modern times.
6. Marseille, Provence-Alpes-Cote d'Azur
Located on the balmy Mediterranean coast, Marseille is the second-largest city in France. The city Vieux-Port (Old Port) is still considered the main attraction. Here you'll discover vibey street music, delicious cuisines, cafes, and art exhibitions around the area.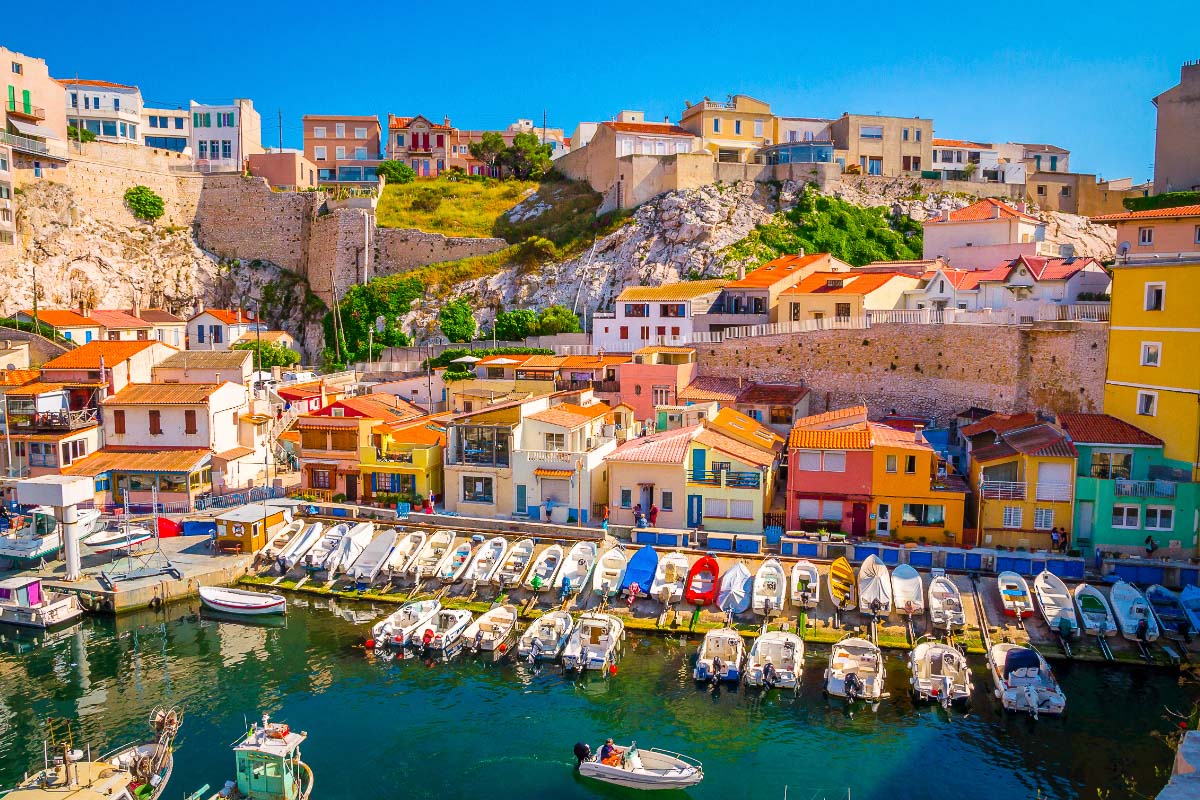 While you're here, you won't want to miss the city's renowned museums such as the Musée d'Histoire de Marseille and the Mucem. Other top attractions include Le Panier (Old Town) and the city's most iconic landmark, Basilique Notre-Dame de la Garde.
Another exciting place to visit is the National Park of the Calanques. You'll get spoiled with breathtaking views and surrounded by white cliffs and turquoise waters.
7. Strasbourg, Alsace
Located in the Alsace region near the German border, Strasbourg is the seat of the European Parliament and several other EU institutions. The city boasts an array of medieval architecture, charming burghers' houses, and delicious cuisines.
The city is most famous for having one of the most beautiful and oldest Christmas markets in France. Stroll through the picturesque streets and amidst the canals of the ancient quarters on the Grande-Île (historic centre) to discover this picture perfect city.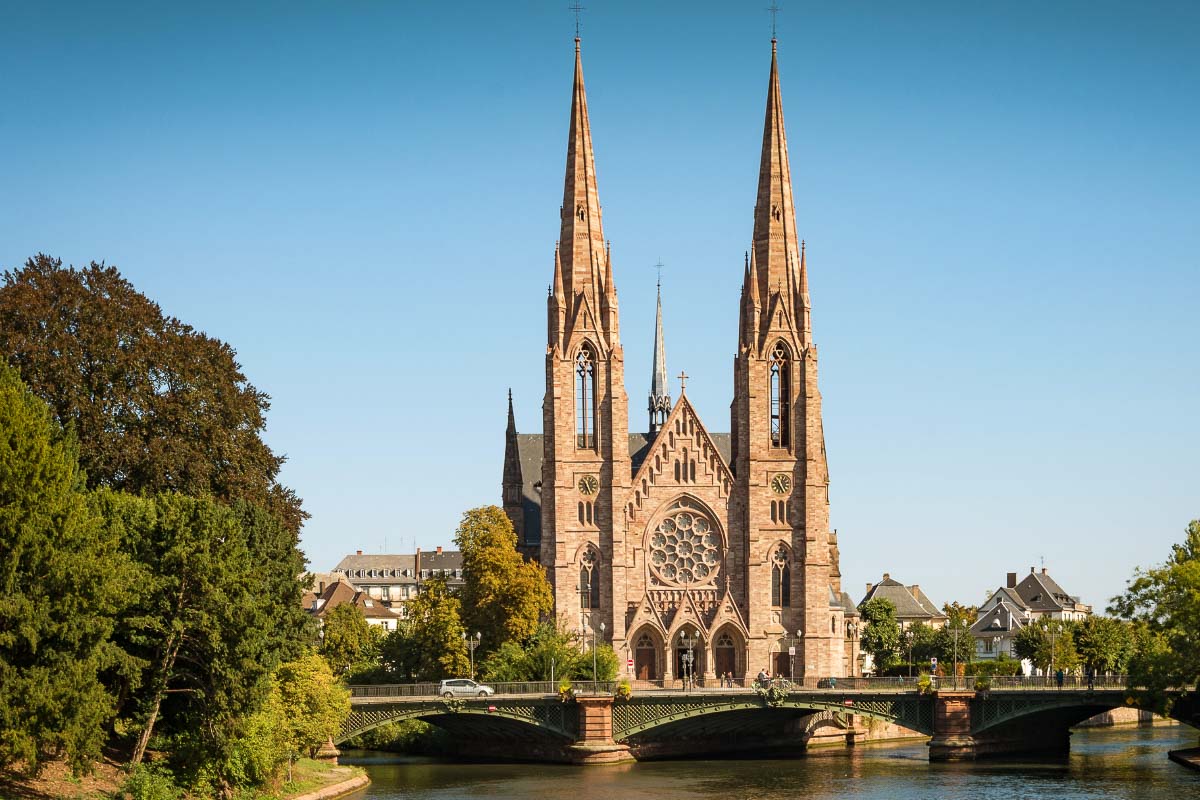 While you're here, don't forget to visit "The Pink Cathedral", the Maison Kammerzell, and the pretty neighbourhood of La Petite France. I highly suggest booking a guided tour to discover the best of Strasbourg.
This city is filled with culture and boasts a range of exceptional museums, archaeology, fine arts, and traditional Alsatian crafts.
8. Annecy, Rhone-Alps
Located in the French Alps, Annecy is by far one of the most attractive cities in France. Also known as "the Venice of the Alps", it's a fairytale city with waterways crisscrossing through the town and is lined with colourful architecture.
While you're in Annecy, visit the Château d'Annecy, a 14th-century medieval castle that's perched at the top of a hill, overlooking the city and Old Town. Pack a picnic basket, and take a walk to the Palais de l'Isle. Alternatively, join a walking tour to discover Annecy's popular places.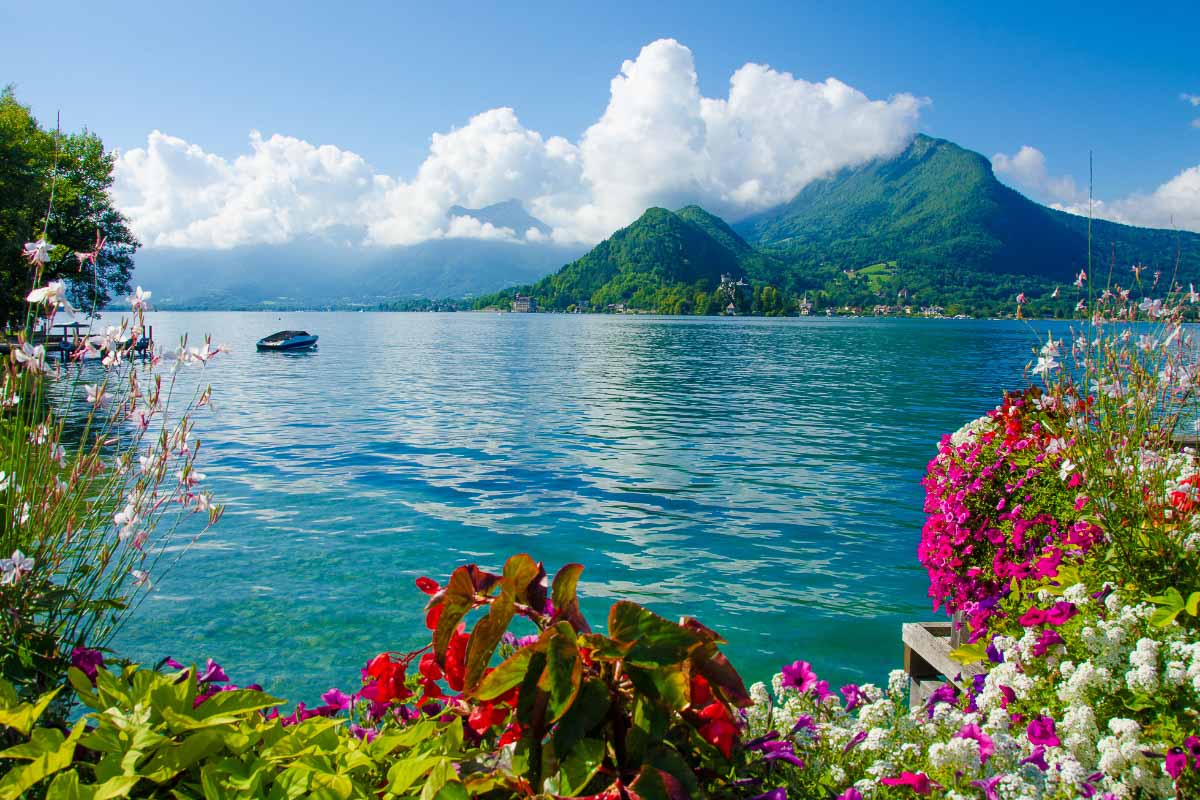 Another must-see sight bordering the city is Lac d' Annecy (Lake Annecy), it's one of the most beautiful lakes in France. The city is the perfect getaway destination for photography lovers, romantics, or foodies alike.
9. Honfleur, Normandy
Lovely Honfleur has a debt to pay to the painter Eugene Boudin. It was Boudin who convinced Monet to come to Honfleur to paint in the mid nineteenth century. Many other artists followed and today the Boudin museum is one of the best small art galleries in Normandy.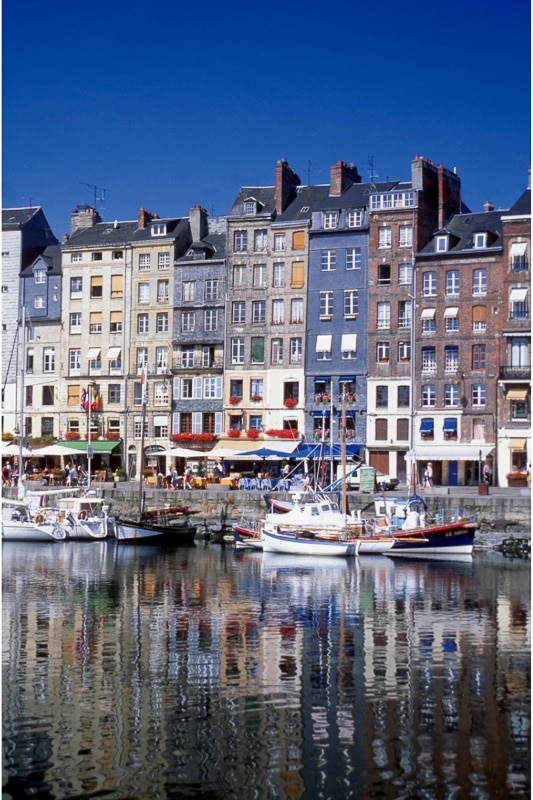 Honfleur is a town of just over 8,000 and has an historic and very photo friendly harbour, the beautiful 15th century St Catherine's Church, a maritime museum and a historic quarter. And just one kilometre from Honfleur is the lovely beach La Plage du Butin. And if you're feeling weary you can get around Honfleur on its tourist train.
10. Ploumanac'h, Brittany
This lovely seaside resort sits in a landscape of rose-tinted cliffs and boulders. Ploumanac'h is located along the northern coast of Brittany in a section called Cote de Granit Rose or the Pink Granite Coast. Originally a place of prayer, Ploumanc'h still has a both a medieval chapel and an ancient shrine.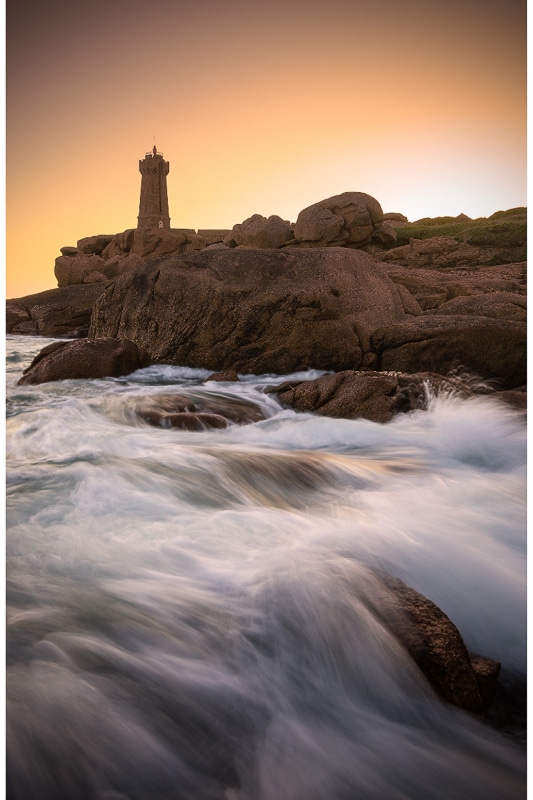 This delightful city in France consists of two sections. There is the beach area and then the village centre is a short stroll south and officially called Ploumanac'h-Bourg. The area inbetween is a rather wild public park. In summer fishing boars set off from the small fishing harbour and head for Sept-Iles seabird sanctuary.
11. Chartres, Loire Valley
Chartes is best known for its stunning UNESCO listed cathederal. It was built during the 12th century and is considered to be one of the greatest pieces of gothic architecture in the world. Climb the bell tower, explore the pilgrims' labyrinth, enjoy the stained glass windows and check out the more than 200 sculpted figures.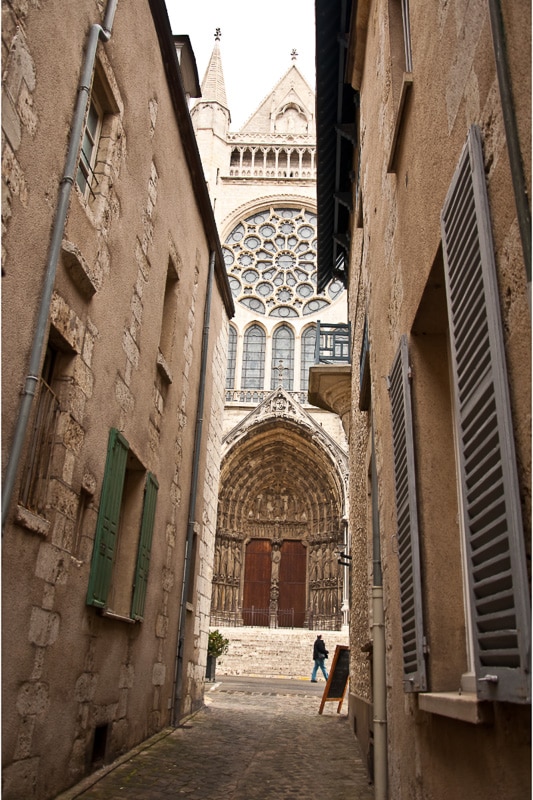 Head down to the lower town and the banks of the Eure to see half-timbered houses and water-mills. And don't miss the 64 hectar historic centre. It is full of cobblestone streets and historic architecture. For something different explore the International Stained Glass Centre and watch craftsmen and women at work.
12. St Tropez, Cote d'Azur
This coastal town on the French Riviera in south eastern France is synonymous with glamour. It was the home of the international elite in the 1960s and even today is known for its beaches and nightlife. In reality, this town has a population of less than 5,000 people so it is more like a little village.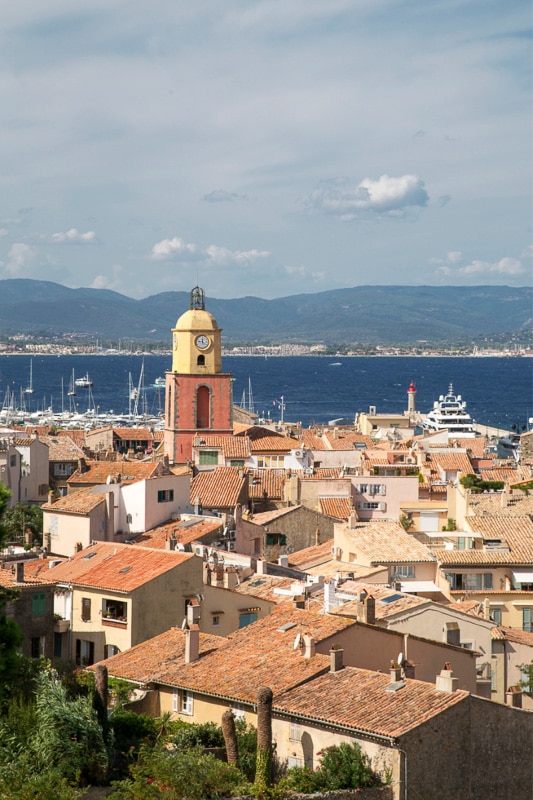 The Vieux Port is the heart of St Tropez and filled with fishing boats and colourful houses. This is the perfect place to stop and enjoy a coffee with a view. If you're up early head to the Place Aux Herbes and its little farmer's market. Of course, when in St Tropez you must go to the beach and lie under an umbrella and swim in its sublime turquoise waters.
13. Grasse, Cannes
Grasse has been famous for perfume since the 17th century. It is home to three historic perfume manufacturers, Fragonard, Galimard and Molinard, all of whom allow for free tours. The Grasse perfume and food aroma industry represents two thirds of total French production in this areas.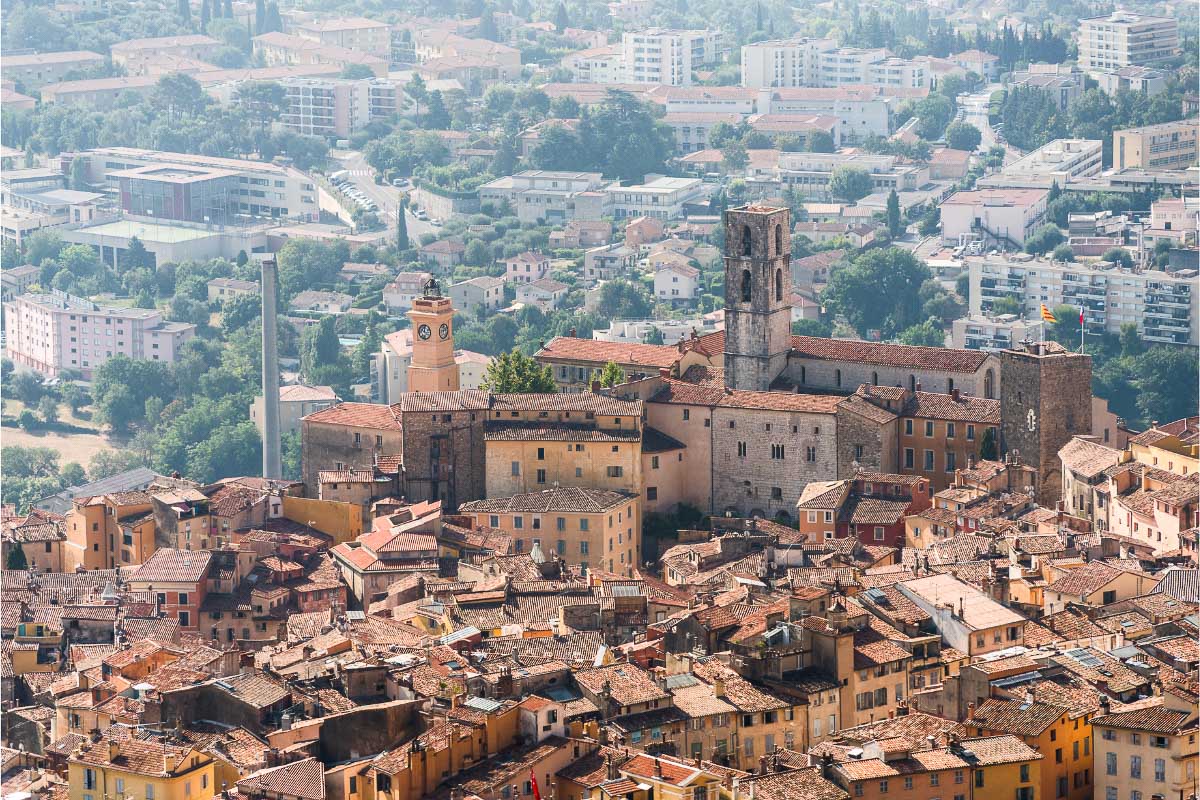 But Grasse is more than just aromas. It has a charming old town with arcades, quaint fountains, medieval houses from the 17th and 18th centuries and even a Belle Epoque casino.
14. Avignon, Provence
The famous Palace of the Popes is the largest gothic palace in Europe and was the official residence of the pontiff in the 14th century. It is located near the famous bridge Pont d'Avignon. Avignon is a walled city and within those walls are charming winding streets that are begging to be explored.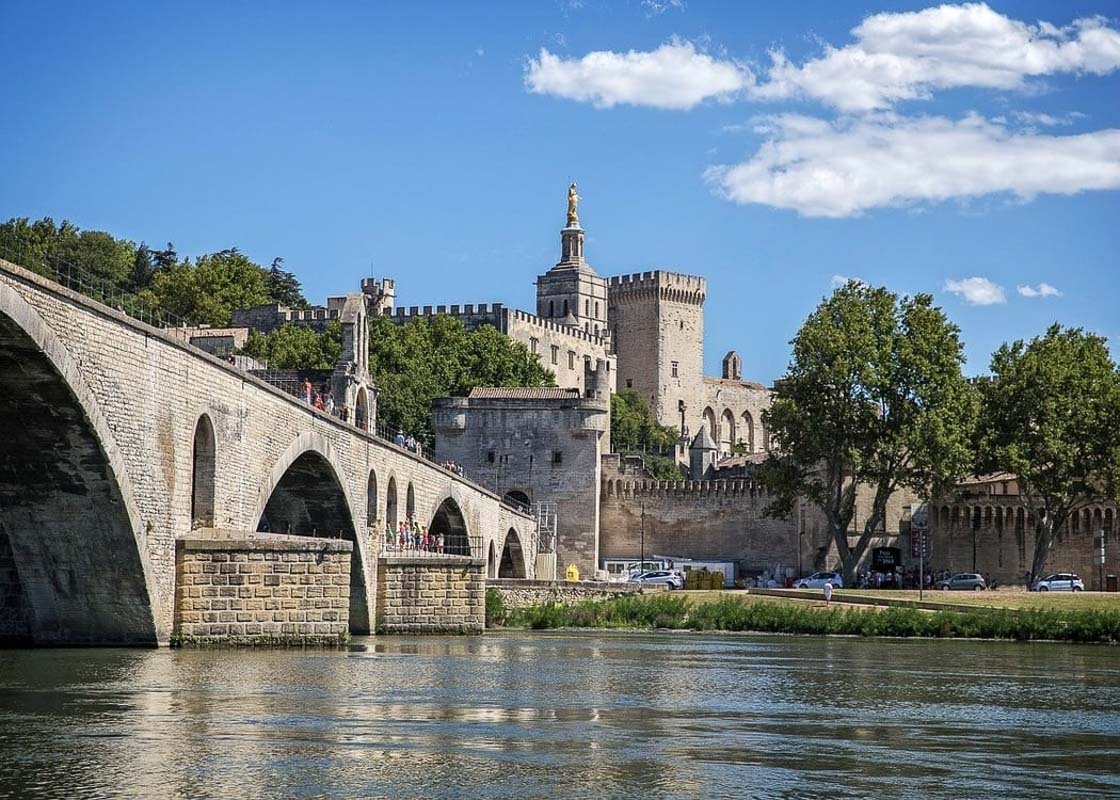 Avignon also has a wide range of museums, a famous theatre festival, is the capital of Cotes-du-Rhone wines and an important centre for Provencal cuisine.
15. L'Isle sur la Sorgue, Provence
27 kilometres east of Avignon is the "island city" of L'Isle sur la Sorgue. The river Sorgue surrounds this little city and several canals run through its centre. The city is full of narrow streets, small bridges and water wheels. The Partage des eaux is 1 kilometer upstream from the city and is where the river splits in two. It then forms a shaded body of water with much greenery and trees.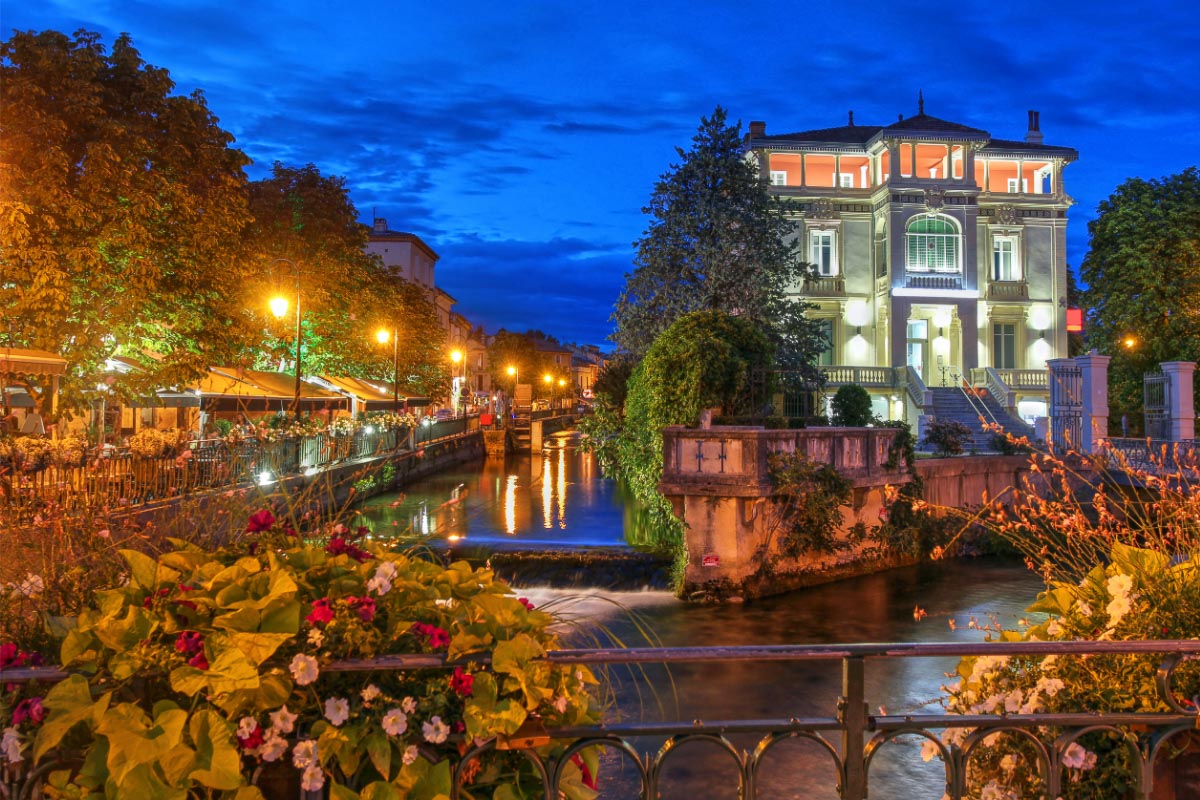 ⇒ If you like beautiful European towns check out my posts on Saint Antonin Noble Val and Tarn et Garonne in France, 30 Famous Landmarks in France, 25 Famous Paris Monuments, 37 Fascinating Facts About Paris, 32 Most Beautiful Cities in France, What is France Famous For? 33 French Icons, Best Hotels in Paris with a View, 10 Beautiful Bridges in France, 35 Things to do in Bordeaux, 10 Beautiful Lakes in France and the 6 Best Places to Watch the Sunrise in Paris
Today L'Isle Sur la Sorgues is best known for its flea markets and art galleries. There are nearly 300 antique dealers in this small town. Twice a year the town holds a major festival for antique and second-hand dealers.
16. Vezelay, Burgundy
This tiny hilltop town is a UNESCO World Heritage site and has been a centre of Christianity since the Middle Ages. Founded in the ninth century, this little town still receives over 1 million visitors each year. It is one of the starting points for the famous pilgrimage to Compostela in Spain.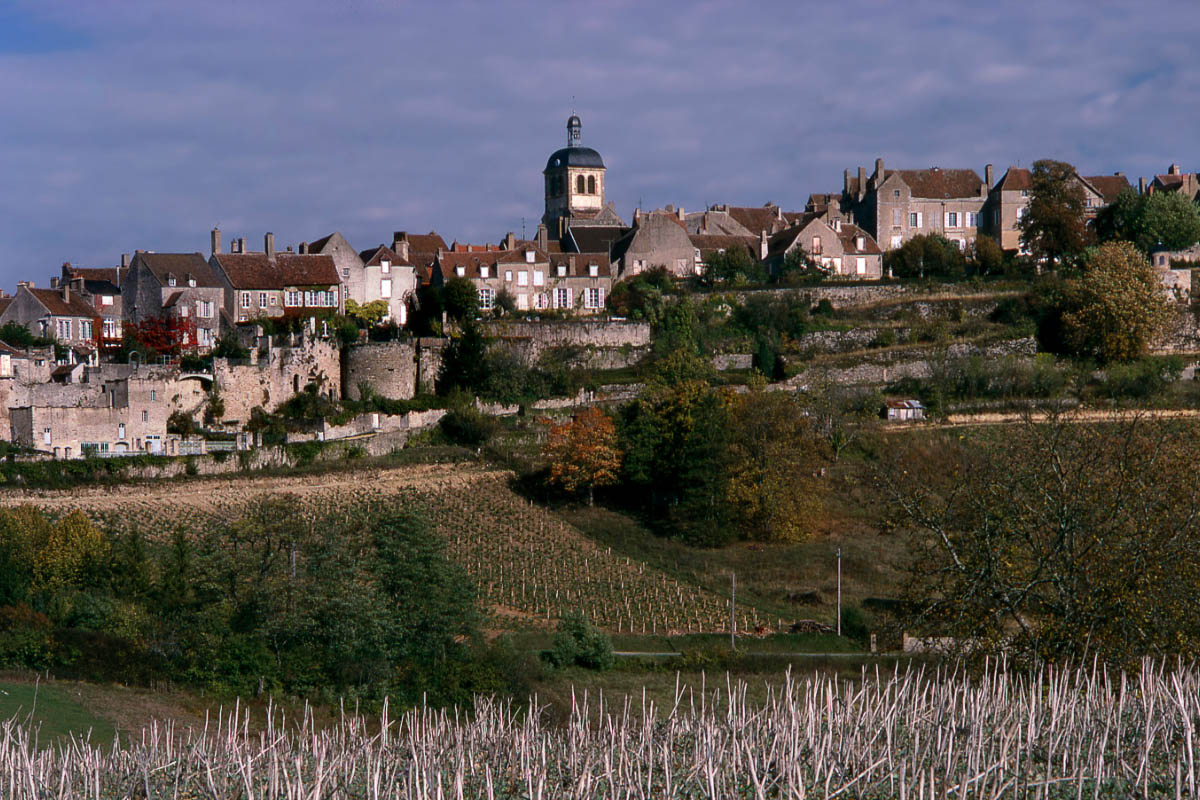 The Basilica of St Mary Magdalene is an outstanding example of Burgundian Romanesque art and architecture. The streets around the church are lined with houses whose cellars open directly onto the sidewalk. Many famous french writers came to Vezelay to climb the "Inspired Hill". And don't miss the basilica's beautiful gardens.
17, Dijon, Burgundy
Just 90 minutes from Paris on a high speed train, Dijon is the capital of the Burgundy region and of course home to the world famous mustard. Dijon is also one of the wine capitals of France and is known as one of France's great gourmet cities. It is surrounded by yellow fields in the spring but they are of colza or oil-seed rape rather than mustard.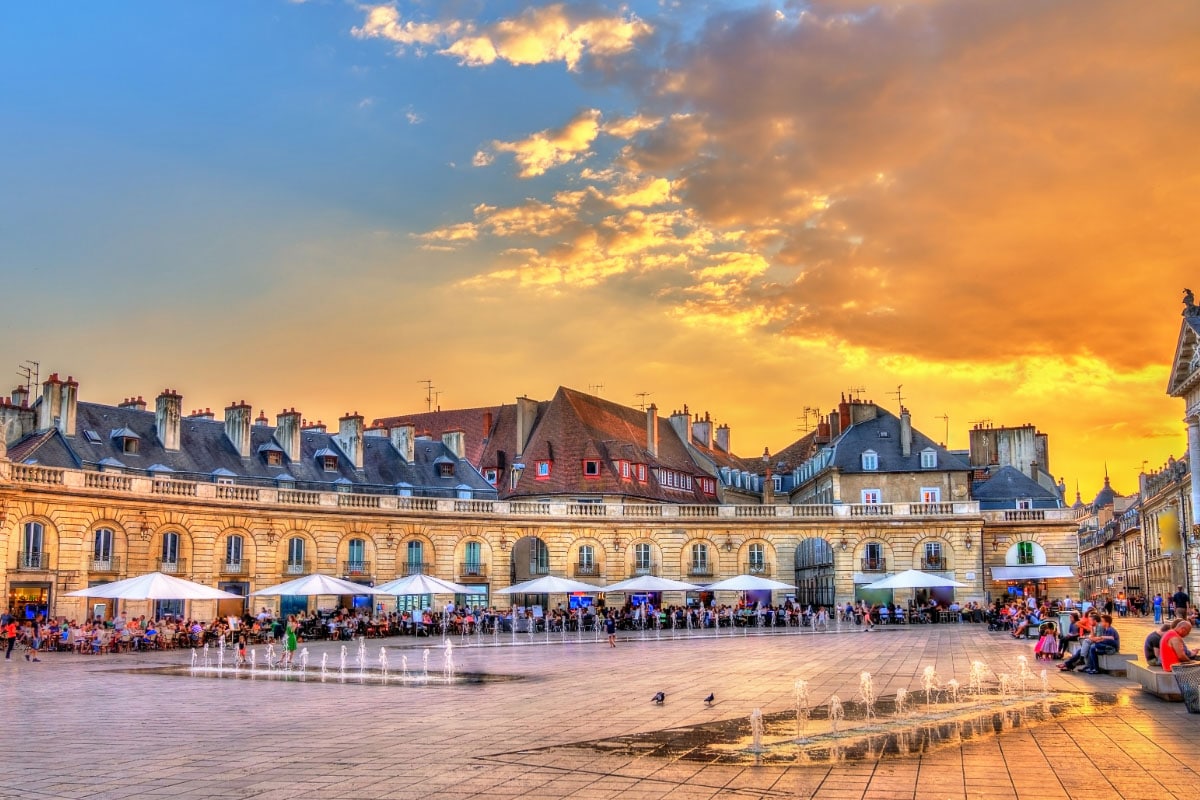 Dijon's UNESCO listed centre is a mix of late medieval and renaissance architecture. The Palace of the Dukes of Burgundy is the most impressive of all the historic buildings. Climb to the top of the Tour Philippe Le Bon for great panoramic views over Dijon.
18. Troyes, Champagne
This lovely medieval town is extremely photogenic with its half timbered houses and cobbled streets. And it is shaped like a cork, very appropriate for a town in Champagne! La Ruelle des Chats or the Cats Alley is one of the cutest streets in Troyes. It received its name because the roofs of the houses in the street are so close that cats could easily pass from one side to the other.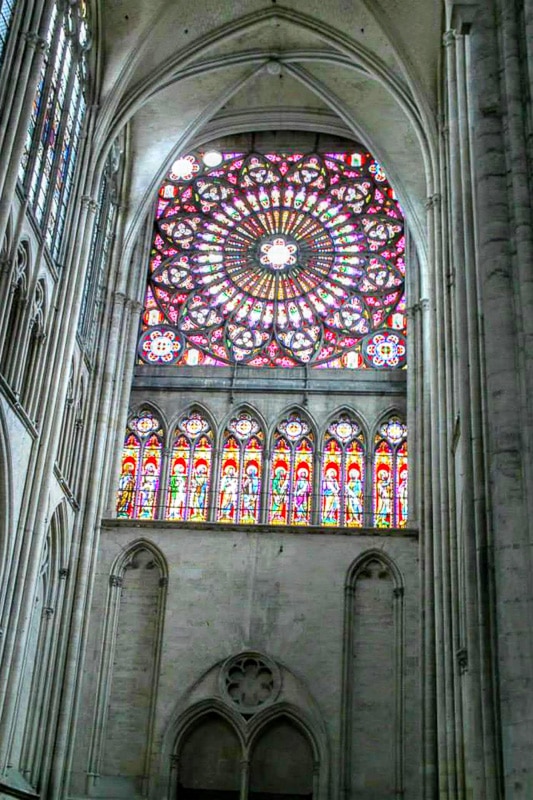 Troyes is only a 90 minute train ride from Paris so it is a delightful day trip – or even better stay the night and use it as a base for exploring the Champagne region.
19. Metz, Grand Est
This charming city is located on the east side of the Moselle River between Nancy and Luxembourg. Metz is close to three international borders (Belgium, Germany and Luxembourg) and only 80 minutes by train from Paris. The city is famous for its gothic Saint-Etienne Cathedral, its German Imperial District and more recently for its Pompidou Centre.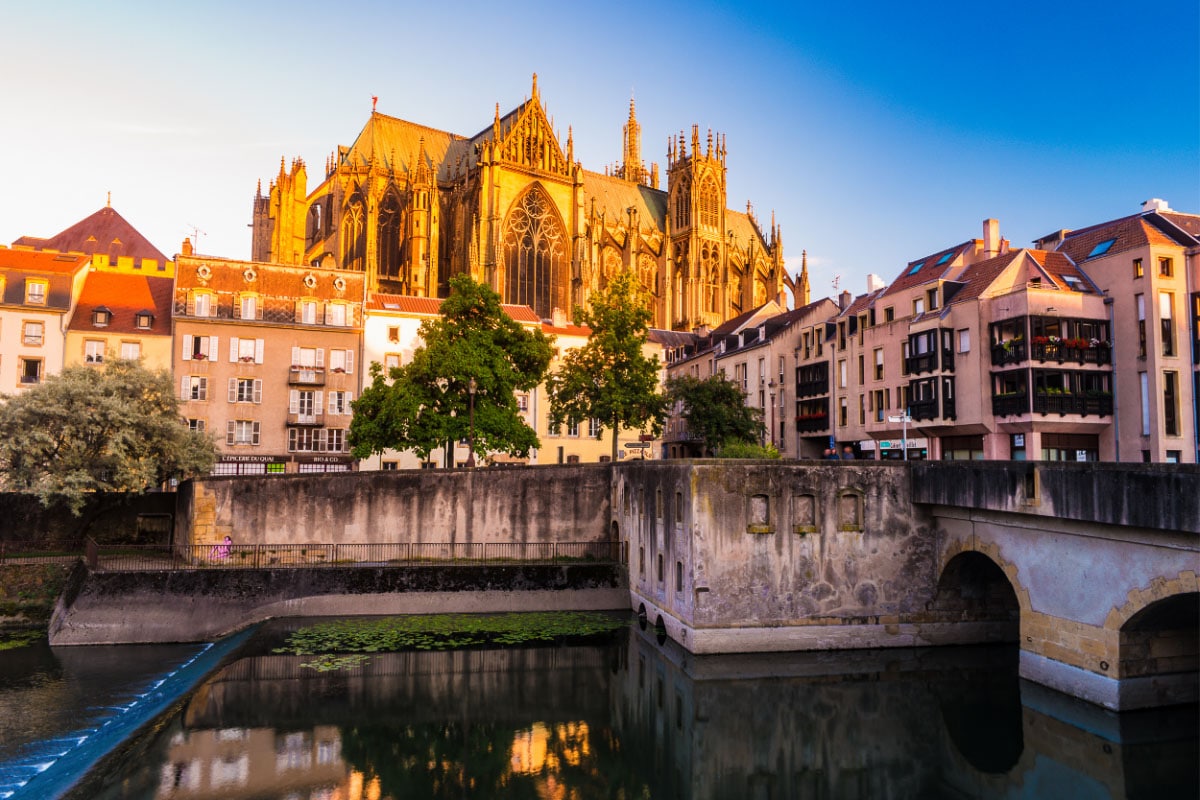 Metz is also a Garden City with many flowerbeds, trees and green streets. There are also many cafes and restaurants with outdoor terraces. It is one of France's greenest cities with more than 25 square metres of green space per inhabitant. There are kilometres of riverside paths, many of which run along the banks of the Moselle and Seille Rivers.
Metz's Pompidou Centre is the first new location of the famous Parisian museum. And Metz's German Imperial District was built following the 1870 Franco-Prussian War when the city was annexed back to Germany.
20. Chamonix, the Alps
This beautiful alpine village has the magnificent Mont Blanc's snowcapped peaks as its backdrop. Chamonix has been a world famous ski resort since it was the location for the 1924 Winter Olympics. But Chamonix is not just for skiers. It is also a great spot for paragliding, golf, hiking, rock climbing and just about every outdoor activity you can imagine.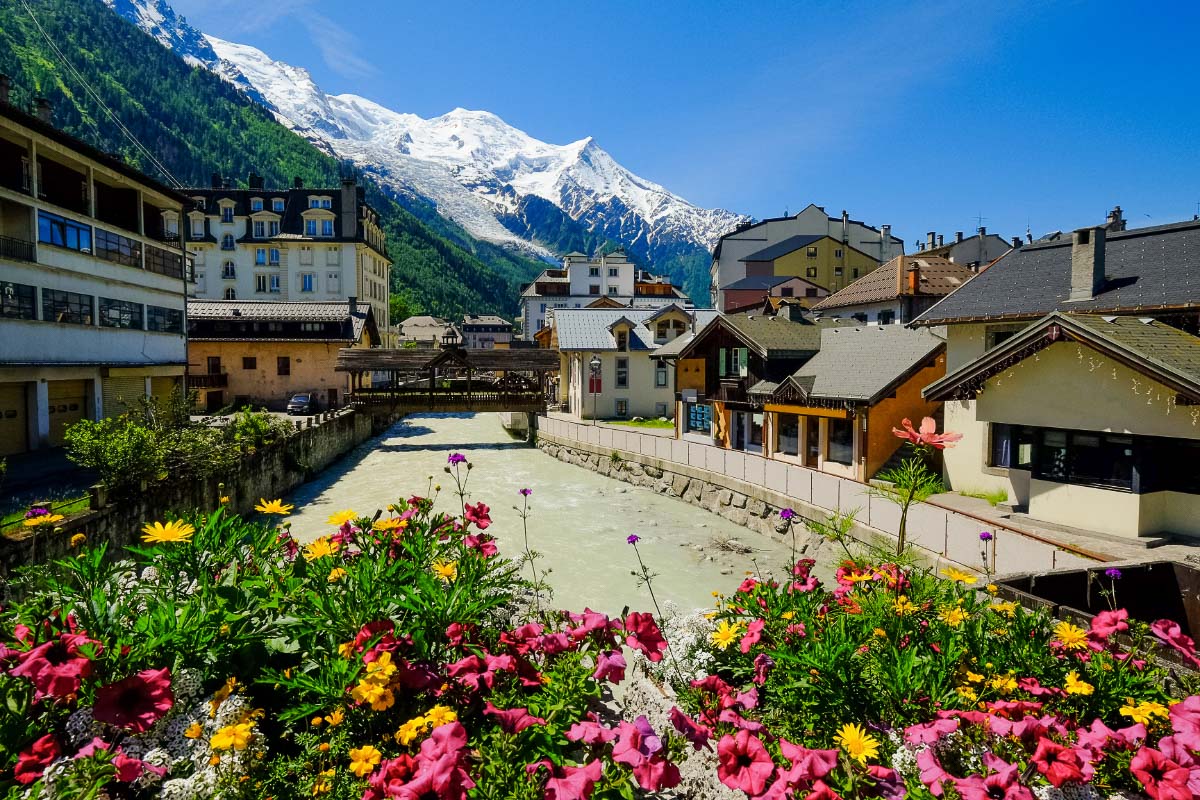 Visitors can get up close and personal with Mont Blanc by taking a gondola ride. Experienced climbers can attempt to climb to the top of Mont Blanc but it is seriously strenuous and requires technical climbing skills. Another way to enjoy Mont Blanc that is far less strenuous is the very cute Tramway du Mont Blanc.
The town of Chamonix itself is a mix of traditional Alpine architecture and modern buildings. The town has a pedestrian area and there are lots of traditional chalets and rustic lodges.
21. Toulouse, Occitanie
Toulouse or The "Pink City" is located in the heart of southwest France and is the fourth largest city in France. From the 14th to the 16th century Toulouse became a very wealthy city based on its production of pastel, a pigment able to create stunning blues. Alas, pastel ended up being replaced by the cheaper and easier-to-use indigo. Today Toulouse is known as the European capital of the aerospace industry.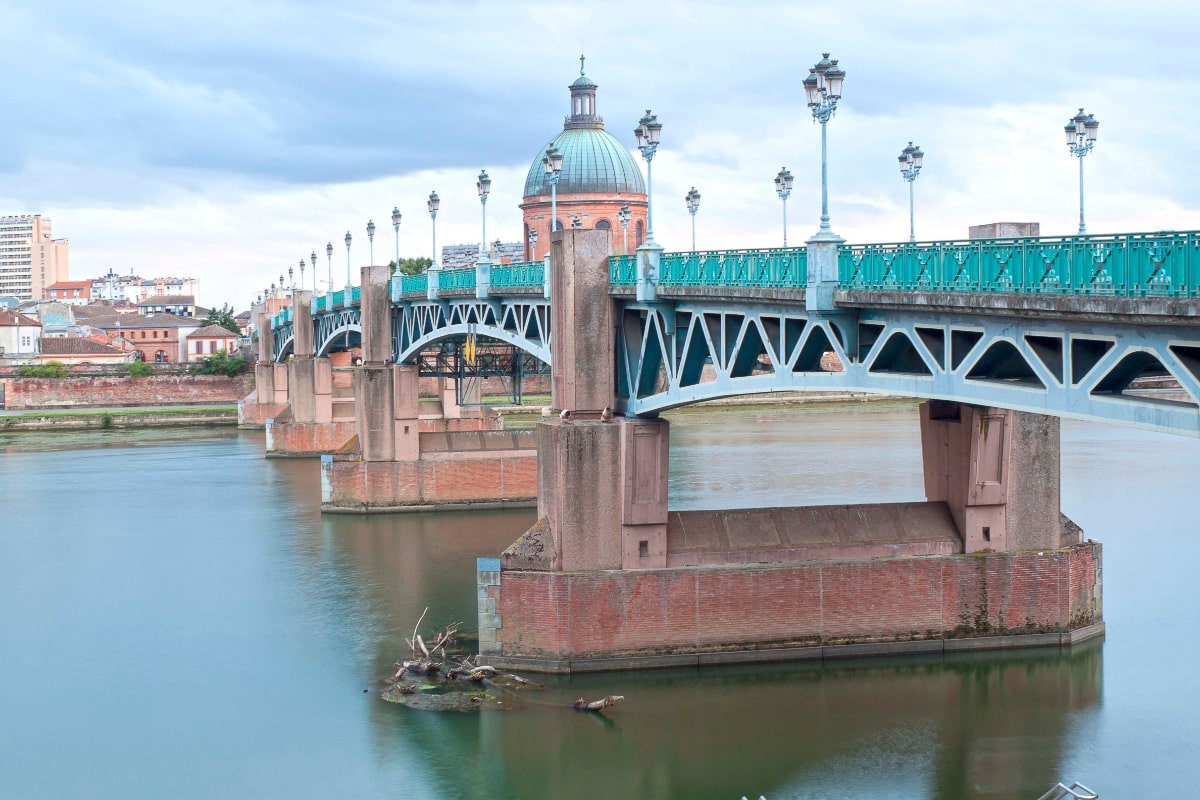 The name "pink city" came from the attractive red brick of the city's buildings. The centre of Toulouseis a maze of narrow streets with a few grand wide boulevards. Place du Capitole is the heart of the pink city.
22. Colmar, Alsace
Instagram has definitely grown awareness of this gorgeous canal-based city in France. Before that Colmar was the inspiration for the village in the Disney film Beauty and the Beast. This small town in northeast France is a unique mix of German and French historical architecture with winding cobbled street. It is insanely photogenic with its colourful houses, wooden shutters, and of course window boxes with the latest blooms.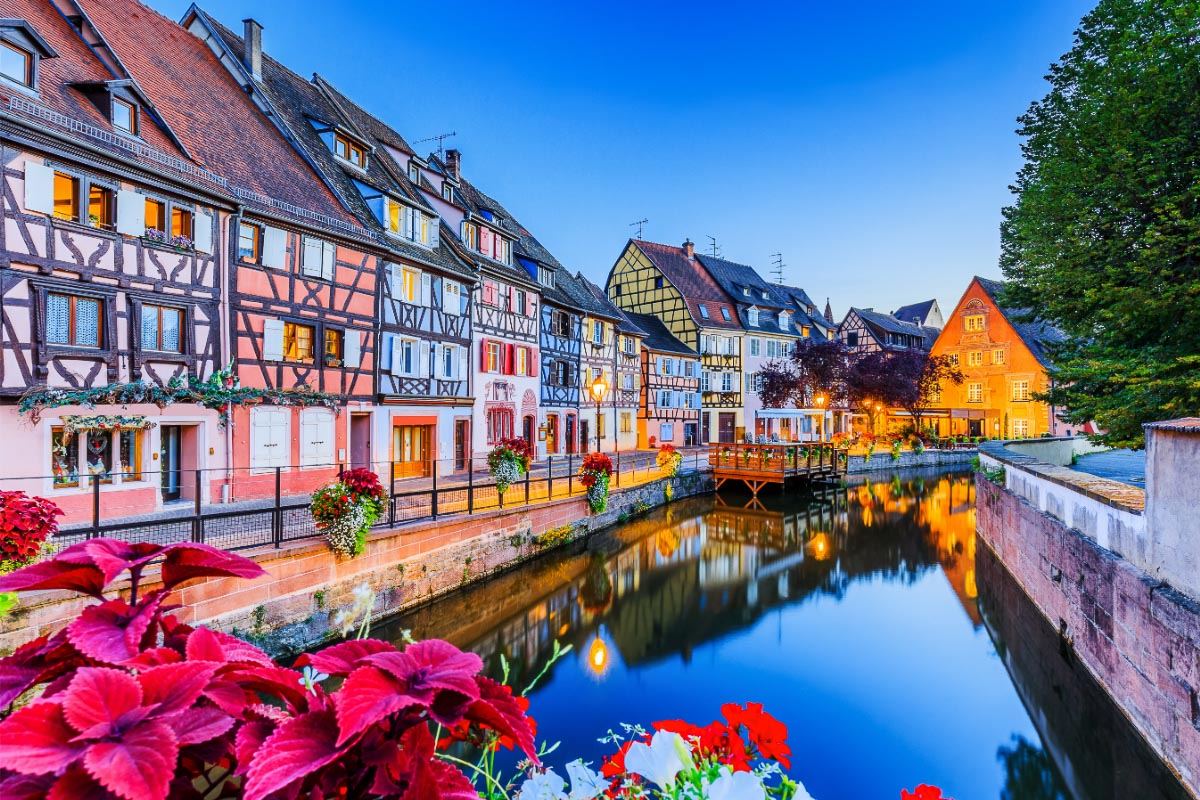 Of course there are musuems and churches but the biggest delight of Colmar is just wandering its very cute streets. Don't miss Pfister House with its wraparound wooden balcony or the area around the Quai de Poissoniers which has been nicknamed Petit Venice.
23. Nantes, Pays de la Loire
Nantes is a vibrant university city. By the 18th century Nantes was France's premier port and in the 19th century it became an industial centre. It was the first place in the world to offer a public transport service. In the late 20th century it has become an arty cultural city.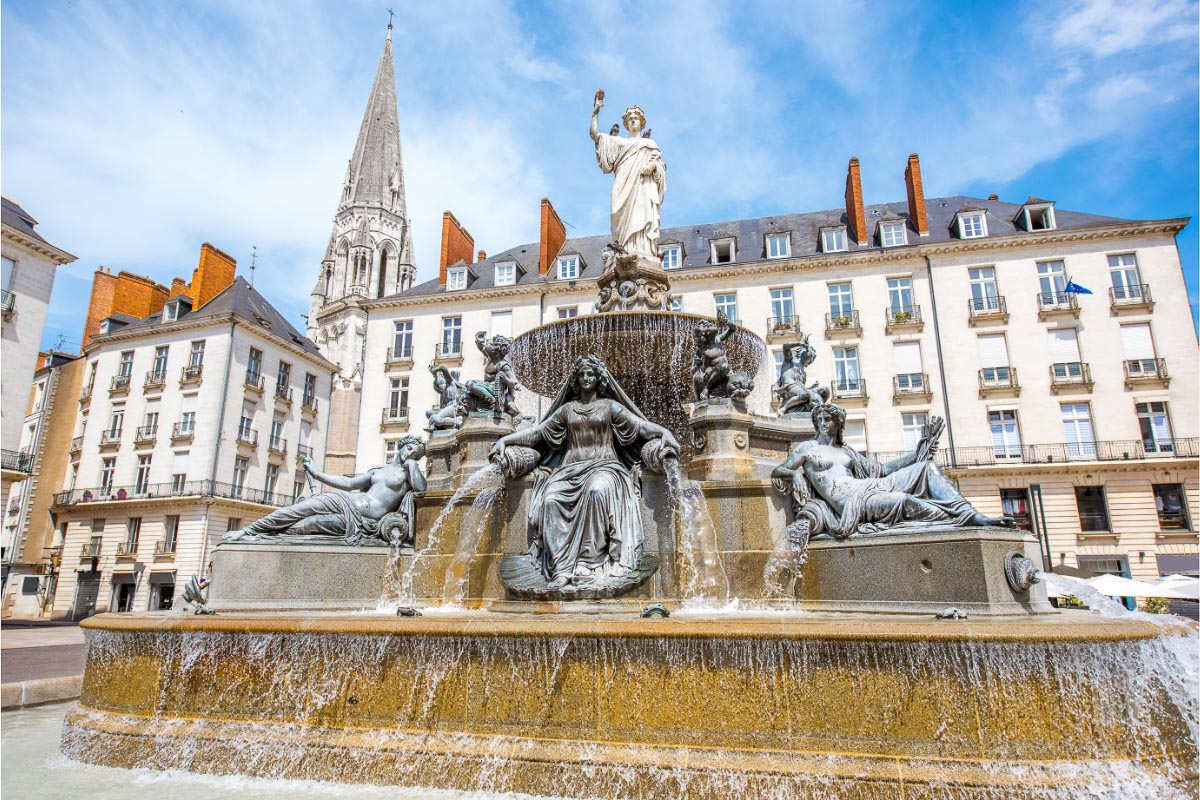 Today, Nantes is the eighth largest city in France. Its historic region stands on the north bank of the Loire and around the river Erdre. The majority of buildings in Nantes historic centre were built during the 18th century so Nantes can feel like a little Paris. Having said that, don't miss Nantes magnificent restored medieval castle the Chateau of the Dukes of Brittany.
24. Tours, Centre-Val de Loire
Another university town, Tours is known as The Garden of France. The city stands on the lower reaches of the Loire river and is kind of sandwiched between it and the Cher river. The cobblestone streets of Tours run between the two rivers. The streets are full of elegant fountains and weeping willow trees and flowerbeds. Tours has a delightful old town that is a maze of cobbled streets with half timbered and slate townhouses from the 14th to 16th century.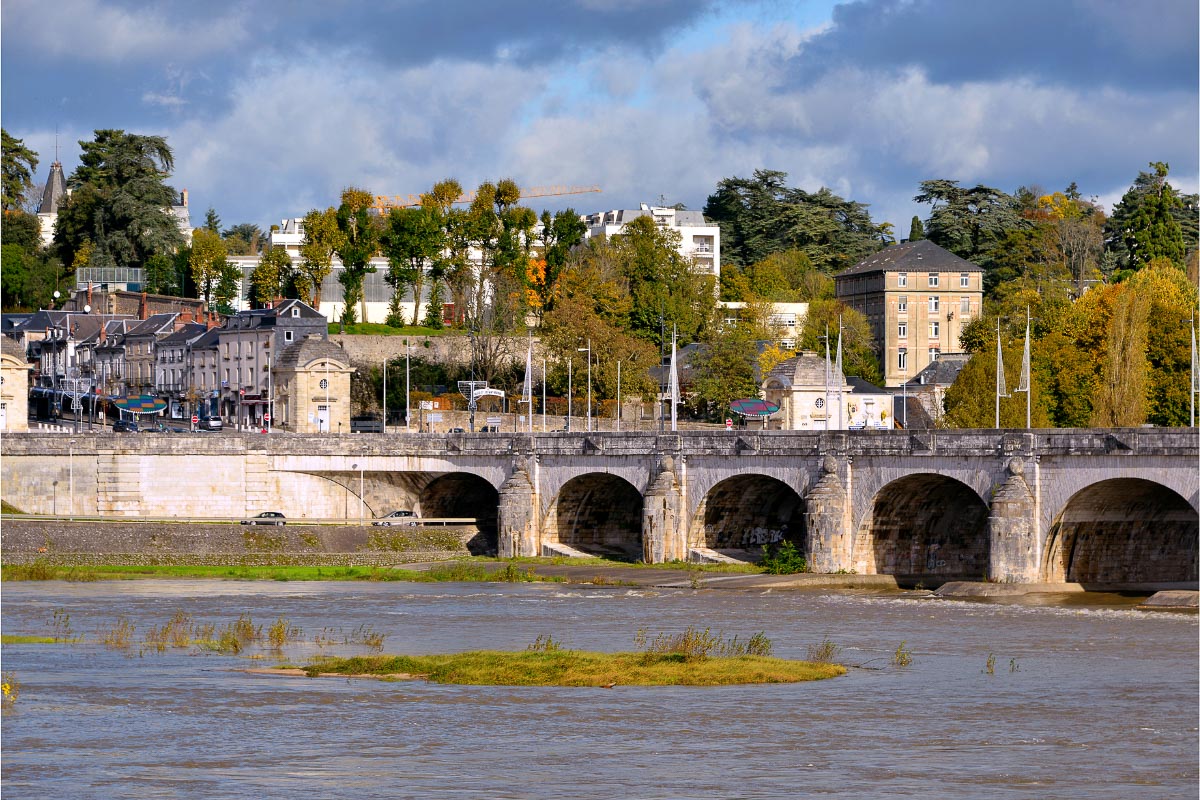 Tours is a fantatastic base for exploring the amazing chateaux of the Loire Valley. However, make sure you keep time in your schedule to explore this relaxed and charming French city. And don't miss the amazing Tours Cathedral which took nearly 400 years to build.
25. Antibes, Provence
Located on the Cote d'Azur between Nice and Cannes, Antibes has 23 kilometres of coastline along the Mediterranean Sea. The sea views combined with Antibes signature pine groves has attracted artists for years.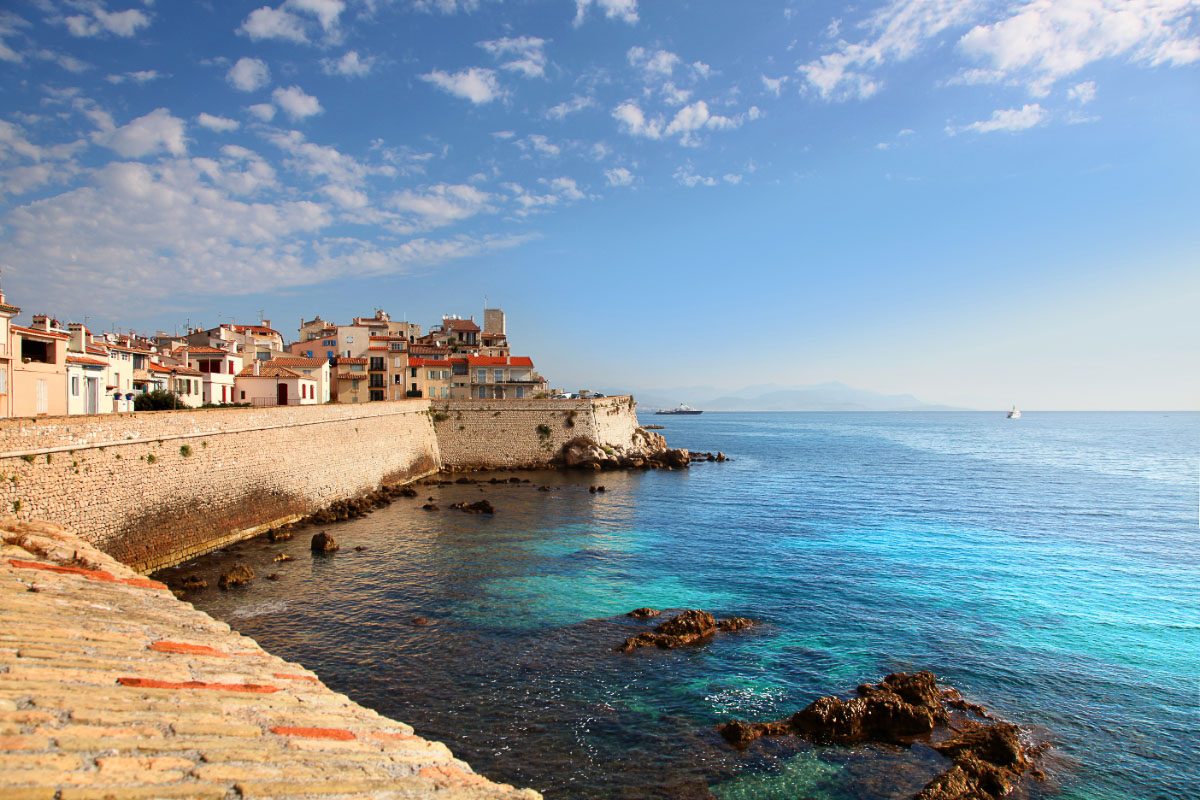 As if all of that natural beauty wasn't enough, the city also has a medieval fortified castle in its Old Town. The old town of Antibes is walled and filled with narrow, winding cobblestone streets that are home to loads of cafes, restaurants, bars and shops. A traditional market, the Marche Provencal, is held every morning on Cours Massena.
26. Bayonne, Nouvelle Aquitaine
Bayonne sits on the Nive River which is lined with colorful wooden Basque houses. The city is located at the northermost point of the French Basque Country where the Nive and Adour rivers meet. Bayonne has two main neighborhoods, Grand Bayonne and Petit Bayonne. Buildings in both neighborhoods are a colorful mix of French and Basque architecture. And both sides of the rivers are lined with bars and restaurants.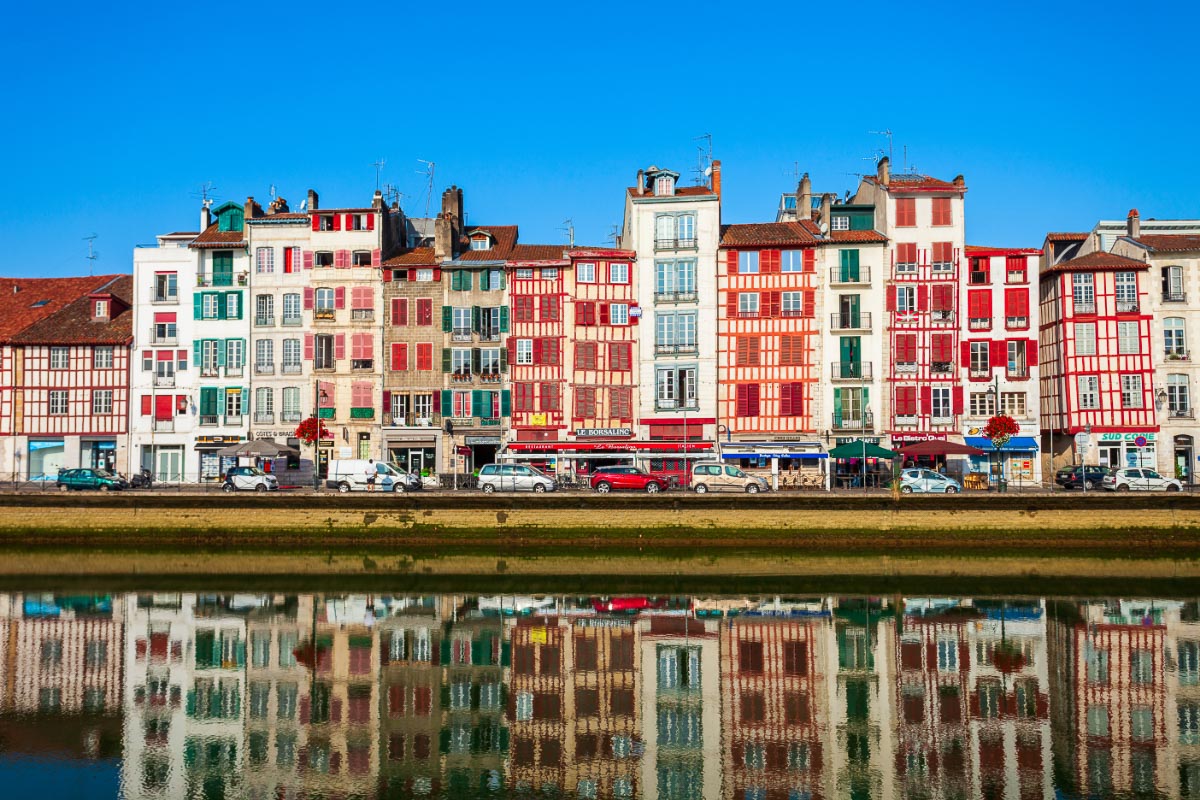 Most of the original wall which surrounded Bayonne is gone but there are some remnants. Grand Bayonne is the more commercial area but also home to some of the most ancient buildings such as the Sainte Marie Cathedral. Petit Bayonne is home to some delightful museums and its highest point is Chateau-Neuf.
27. Rouen, Normandy
The capital of Normandy sits on the River Seine in northern France. Rouen has been called "the city with a hundred bells chiming in the air" thanks to its churches and catehdral. Its famous cathedral has paintings by Claue Monet (Rouen is the birthplace of Impressionism) and dazzling stained glass windows.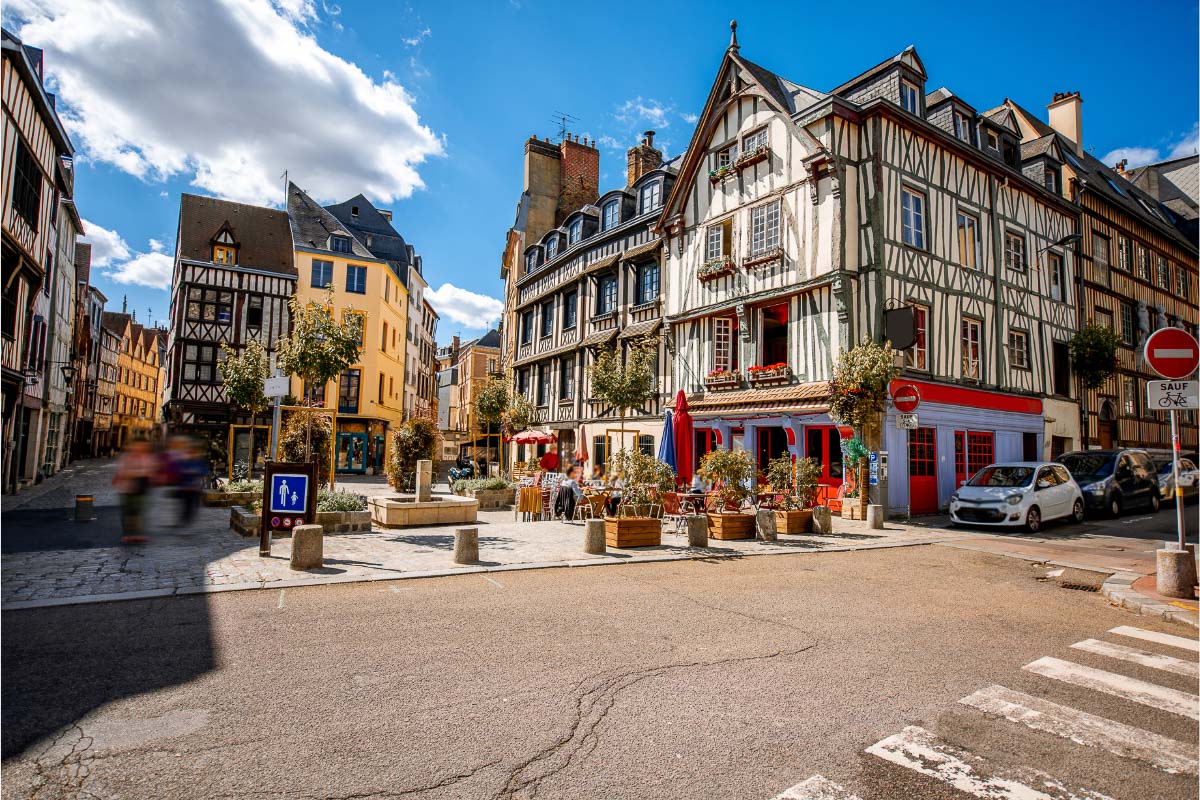 The town has pedestrianised streets lined with timber-framed houses, an antique district, several museums and gothic churches and even a plague cemetery.
28. Amiens, Hauts de France
Amiens is just 70 minutes from Paris and often used as a base to explore the battlefields of World War 1. The city itself is home to its own Notre Dame Cathedral which is twice the size of the one in Paris. St-Leu is an area just north of the town centre which has canals and small wooden and brick houses.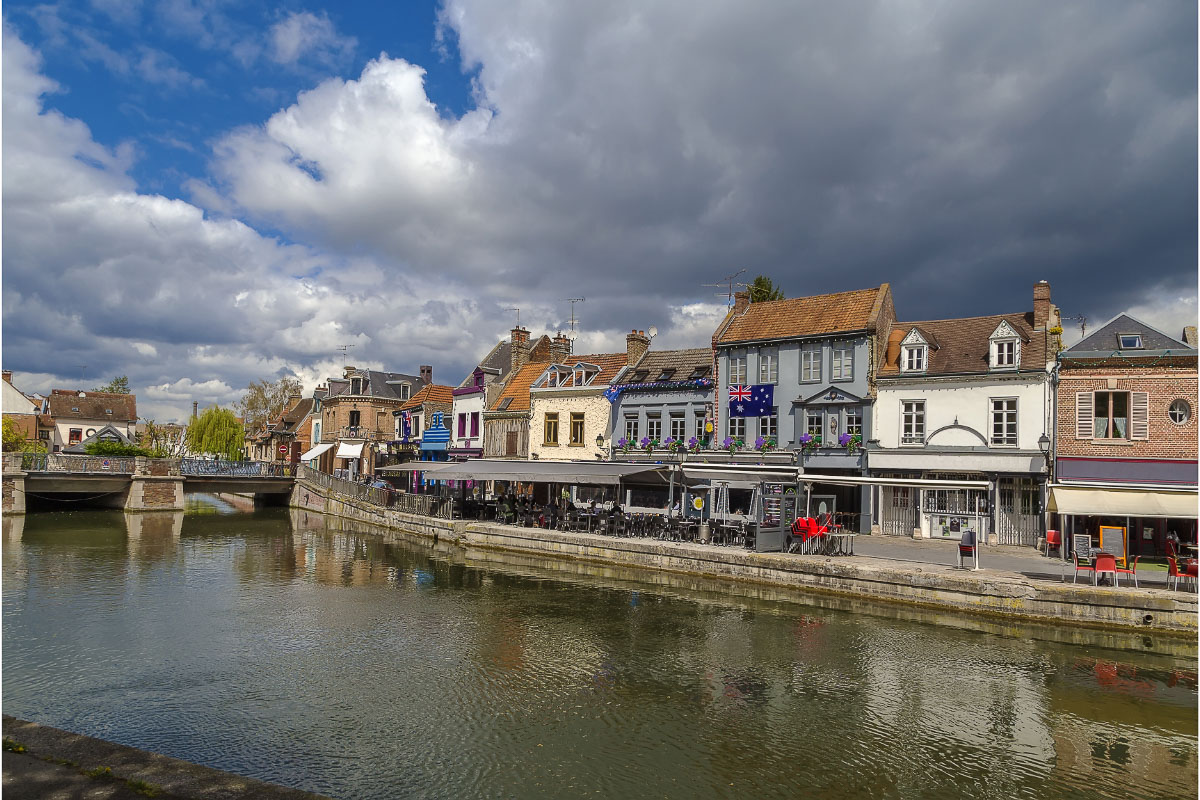 Possibly the most delightful area in Amiens is the Hortillonnages. The Hortillonnages is an area of waterways, small islands and footbridges which the locals have been using as their own gardens for centuries.
29. Lille, Hauts de France
Lille was once the industrial centre of France and the capital city of French Flanders. Today, Lille uses its position on the Belgian border to be a European transport hub. But it has far more to offer than just convenient transport links.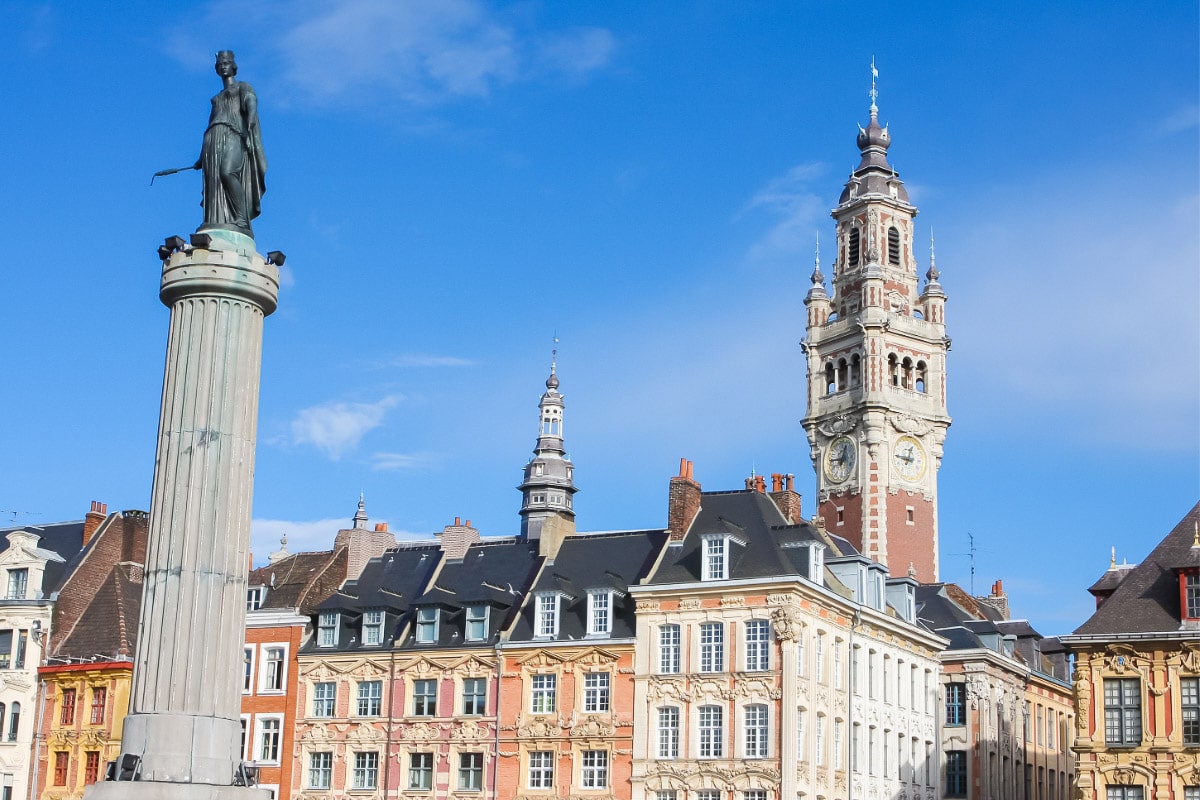 The city's old town is mix of French and Flemish architecture. The streets are paved with sonte and lined with tall red-brick buildings and golden sandsone houses. Lille is home to Palais des Beaux-Arts museum, France's second largest art collection after the Louvre.
In 2004, Lille was elected European Capital of Culture and since then it has pushed both its heritage and contemporary artists. And it is a student town – the third largest in France after Paris and Lyon.
30. Uzes, Occitanie
Uzes is a different kind of south of France city. It doesn't have beaches but the city itself is preserved in white stone. Place aux Herbes is the heart of Uzes and home to more limestone buildings. The entire old town is pedestrianised and this is definitely a city for wandering.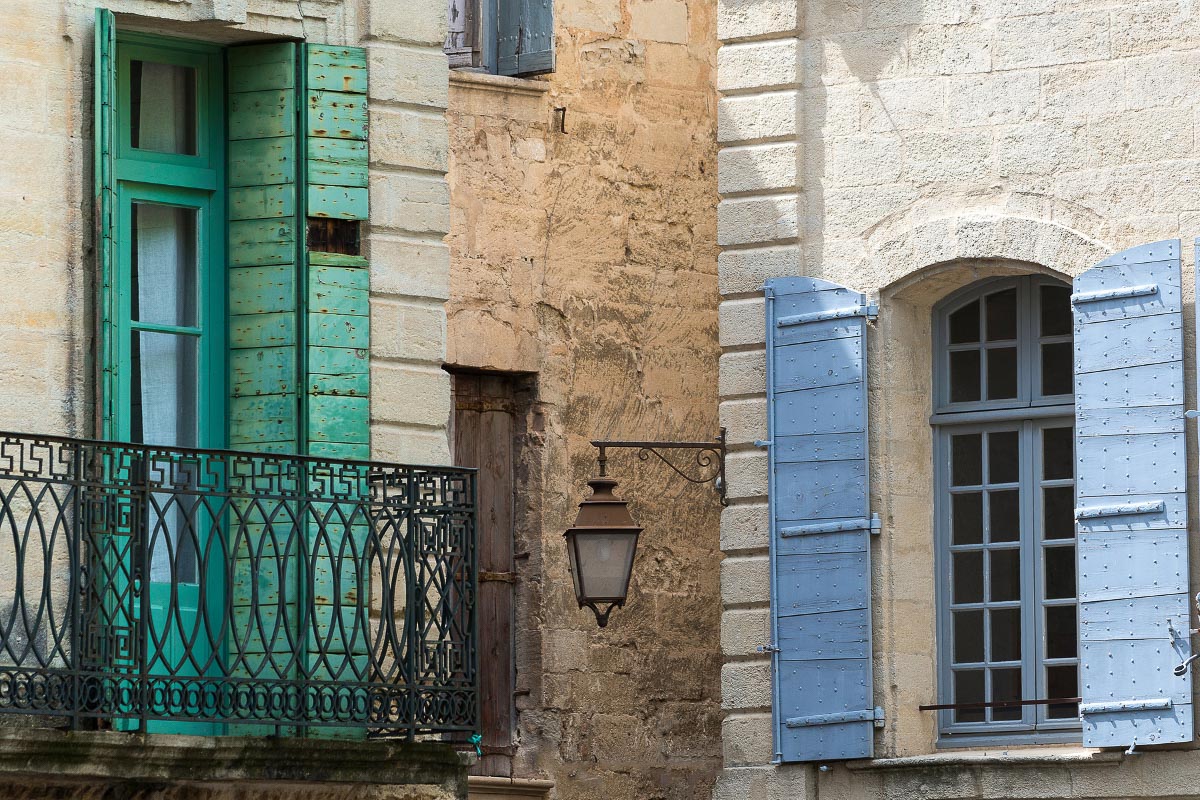 Uzes is home to a chateau, Le Duche d'Uzes where the original ducal family still live, Cathedral Saint-Theodorit d'Uzes, a medieval garden and twice-weekly markets. And as you're so close don't miss the amazing French bridge Pont du Gard. This UNESCO heritage site is just 13 kilometres east of Uzes towards Avignon.
31. Saint Antonin Noble Val – France
If you are looking for the quintessential French countryside town Saint Antonin Noble Val is it. This beautiful town has been featured in several films including Charlotte Gray and The Hundred-Foot Journey.
Saint Antonin Noble Val is situated on the Aveyron river – don't miss the beautiful bridge with its reflection in the river. Cate Blanchette rode across this in Charlotte Grey.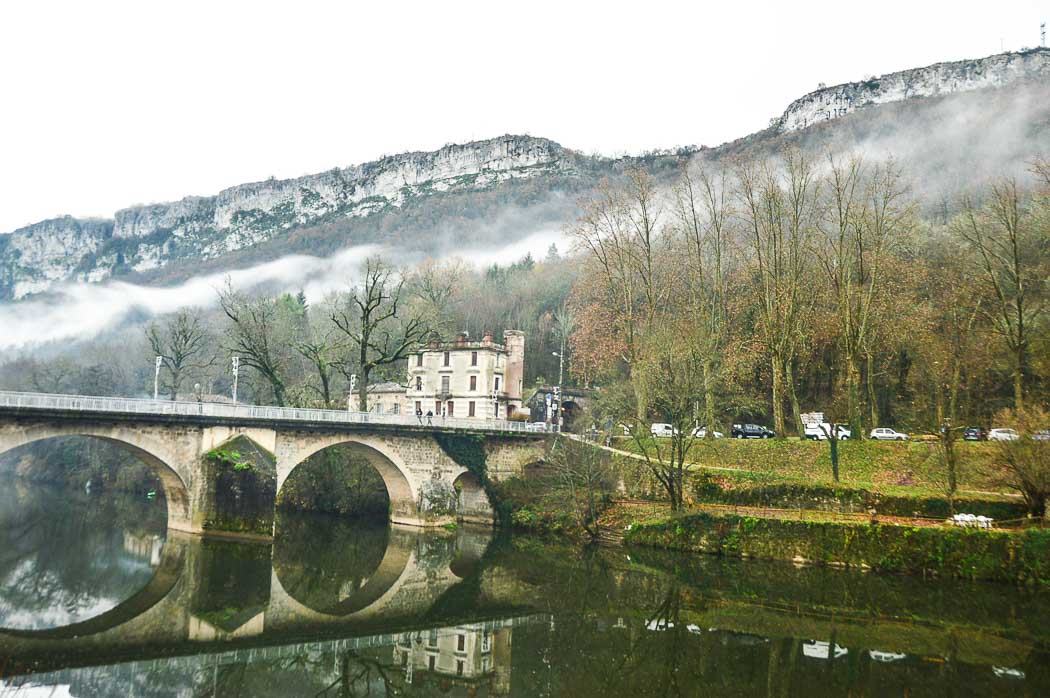 The centre of Saint Antonin Noble Val was the home of the town's most wealthy residents. In medieval times a town was the safest place to live – and within it, the safest place was the centre as anyone who wanted to invade would start with those on the edges.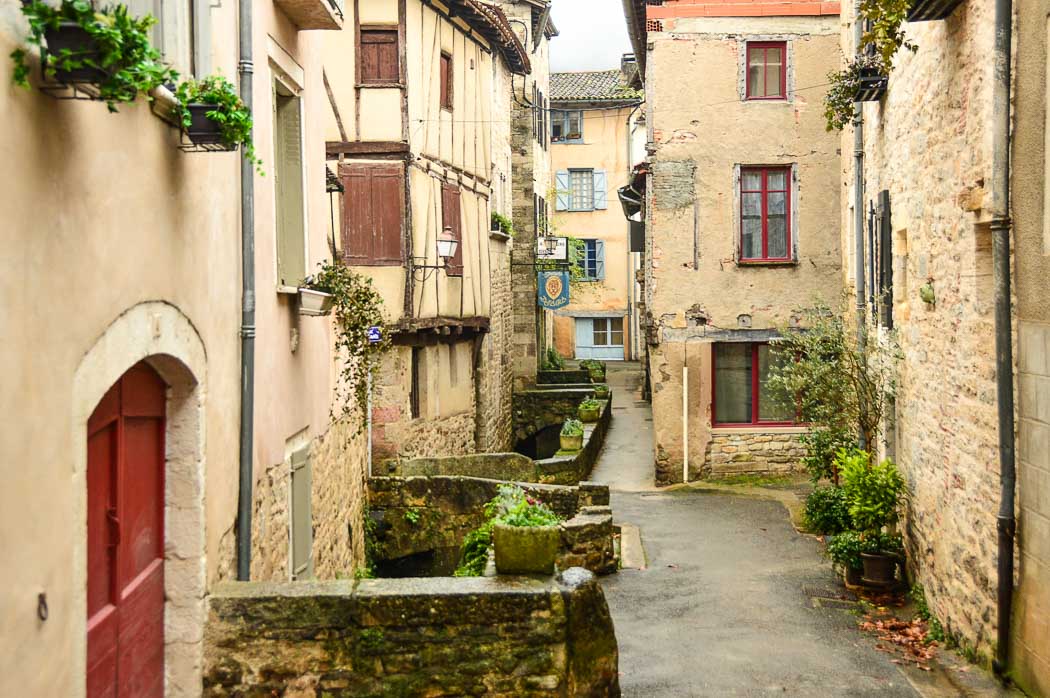 Therefore the tallest and most decadent houses are in the middle of the city – and these are the streets where the famous St Antonin Sunday Market is held. This is a good place to start exploring Saint Antonin Noble Val.
32. Montauban, Occitanie
The old town centre of Montauban is quite tiny and so delightful. The majority of Montauban France town centre is pedestrianized so it is lovely to wander its small cobblestone streets.
This is one of the oldest and best-preserved of the medieval new towns in South-West France.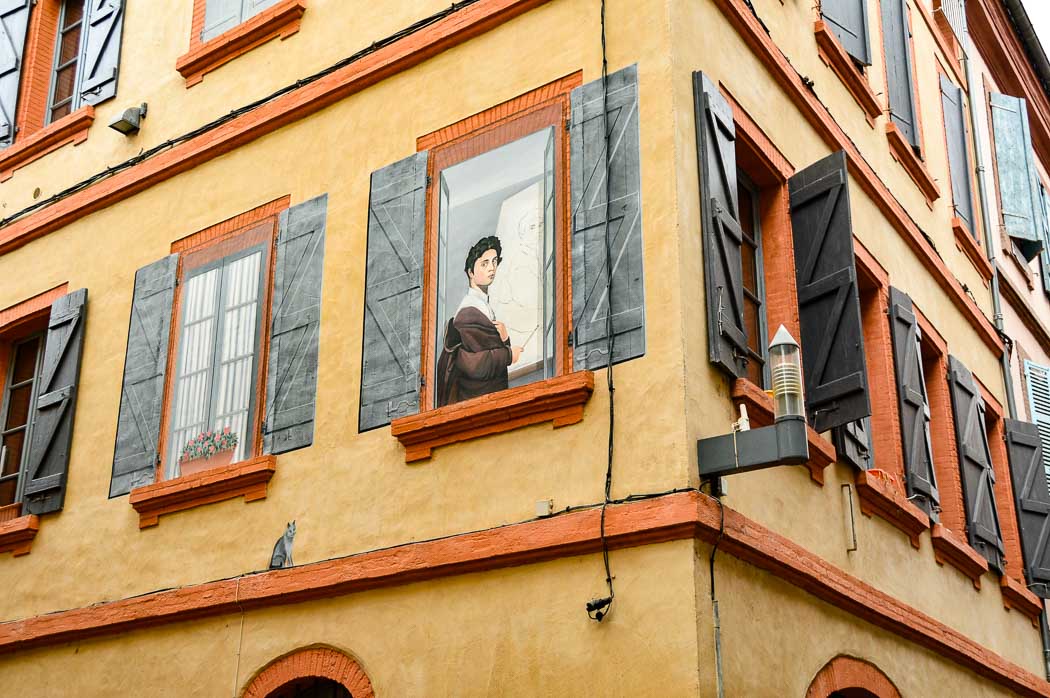 The town's name means "White Mountain" but most of what you will see is pink! This comes from the local clay and its pink colour.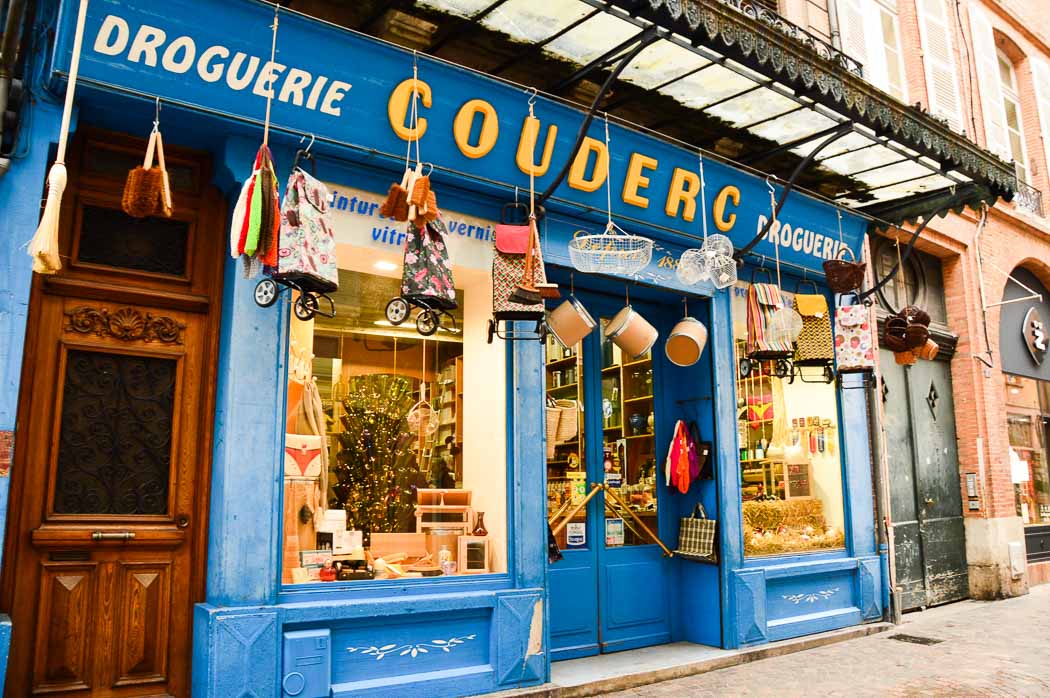 Montauban is full of local producers with the most beautiful stores. Their merchandising is so wonderful and you can feel the passion and love the merchants have for their products.
There are some stunning cheese shops, flower shops, oyster shops and wow the chocolate shops.
A Footnote: Most Beautiful Cities in France
From vast stretches of lavender fields and idyllic vineyards to quaint cobbled stone streets and picturesque waterways. France is a stunning country filled with beautiful cities to explore.
Although Paris is undeniably one of the most beautiful cities in France, the country has many incredible cities to discover. So, now that you've seen this list, it's time to indulge in your wanderlust and discover some of these spectacular cities.
I covered all of the costs associated with writing this post. However, this most beautiful cities in France post includes affiliate links. That means if you click through and end up making a purchase I will receive a small commission. I wanted to make sure you were aware of this.