I was quite excited to try out the Premium Economy cabin on Virgin Atlantic. It had been a while since I had flown with Virgin.
When I was living in Australia I used Virgin Australia frequently. Is it just me or do other people also get confused with the different Virgin airlines? I really do think there should just be one. Anyway, I digress.
I have flown Virgin Atlantic business class and economy before and really enjoyed both. So expectations were high for Virgin Atlantic Premium Economy.
I tried to temper them as my last premium economy experience in British Airways had not really been all that premium! So without further ado here is my Virgin Atlantic Premium Economy Review.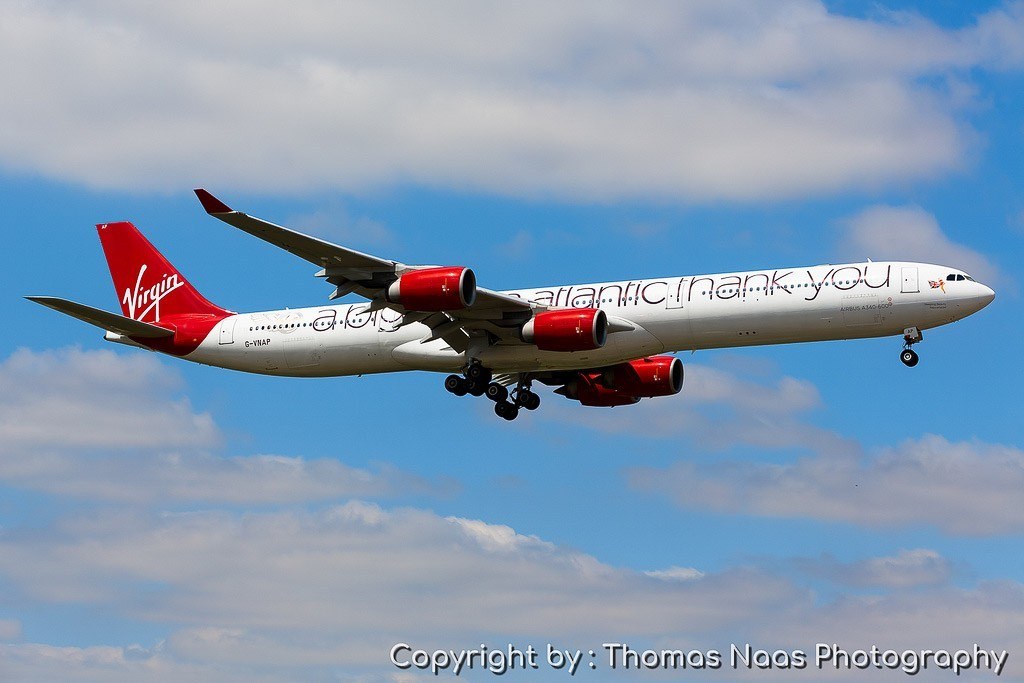 Virgin Atlantic Premium Economy Review – Making the Booking
Virgin Atlantic always seems to be an amazing deal or really expensive. Luckily, in this case, it was the amazing deal option. I was looking for a return flight to new york from London for Thanksgiving.
I always start my search for flights with Skyscanner and then move on to Expedia. This usually gives me a good idea of the best options.
⇒ Virgin Atlantic doesn't fly to as many destinations as some other airlines but there are a few that I have visited and written about. These include London, San Francisco, New York, Glasgow and Hong Kong.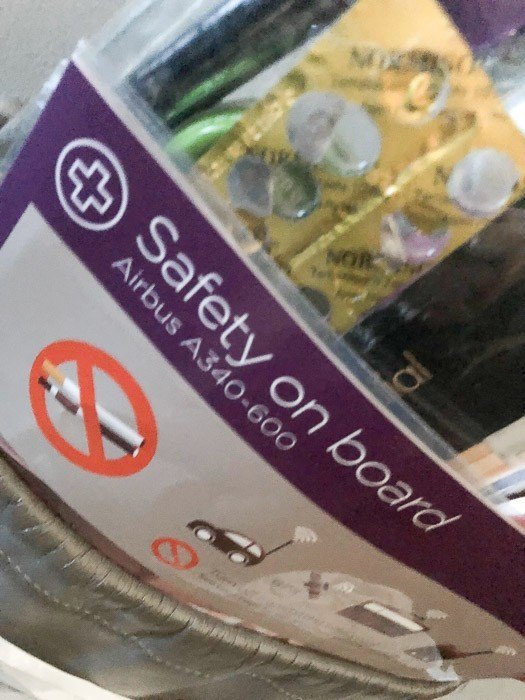 Then I like to head on to the airline's own websites. They normally guarantee the best price.
The other thing I like is it is normally easier to compare if there are savings or opportunities to be had by taking an earlier or later flight. Plus I found it helpful to have prices for Virgin Atlantic Economy cabin, Premium Economy class Virgin Atlantic and Virgin premium class next to each other for comparison.
Virgin Atlantic also has three different options for economy bookings so it may be worth checking these out depending on your needs. [separator type="thick"]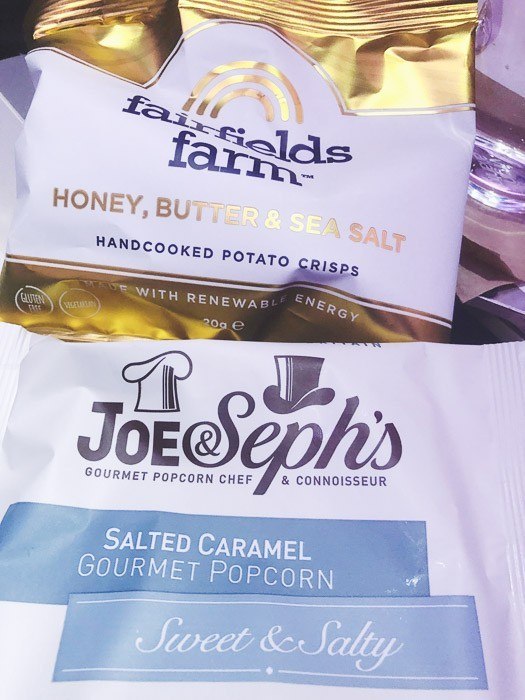 Virgin Atlantic Premium Economy – Airport and Checking In
Premium Economy Virgin Atlantic flies out of Heathrow Terminal 3. Flying in the Virgin Premium Economy cabin also gets you your own check-in area separate from economy passengers which is separate even from business class.
So that is a nice experience for premium economy passengers. I didn't get priority boarding on the way to New York but I did on the way back so perhaps I should have asked.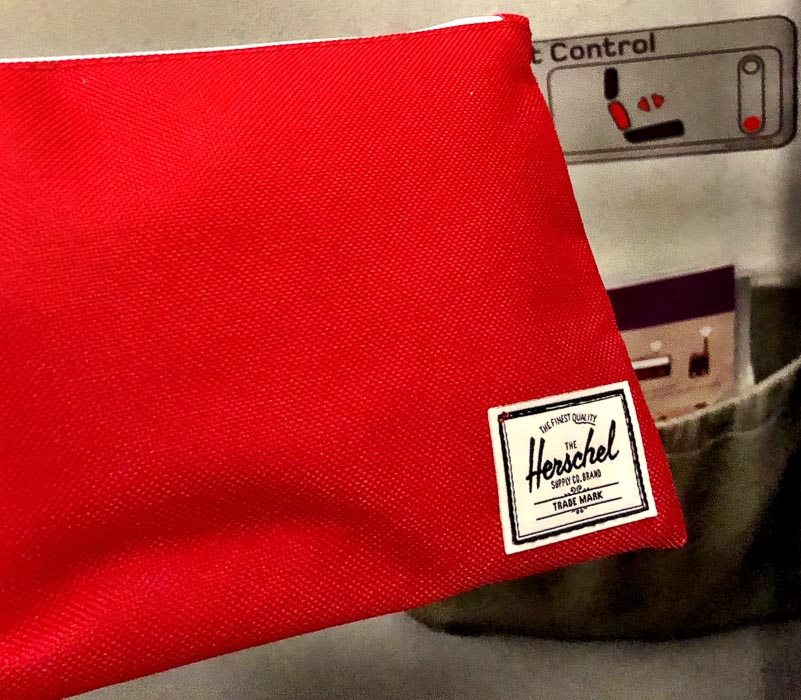 I was hoping for lounge access on my premium economy Virgin Atlantic flight. The website says that there can be lounge access depending on how busy it is. Or I was taking the frequent flyer points on my singapore Airlines scheme.
Apparently, if I was gold I would have had access but alas I am silver. Darn! Or there is a USD$60 charge to use the lounge which I chose not to take as even I can't drink that much champagne.
Anyway, there are a lot of options for food and shopping etc at London Heathrow Terminal 3 so the lounge is nice to have.
At the gate, Premium Economy gets priority boarding as well which is always nice. [separator type="thick"]
Do you need a Visa?
It can be a real pain trying to figure out if you need a visa for a country and then all the hassle of figuring out how to apply, how long you can go without your passport, when the embassy is open etc.
iVisa has completely revolutionised this process and put it all online and make it super simple and paper and hassle free.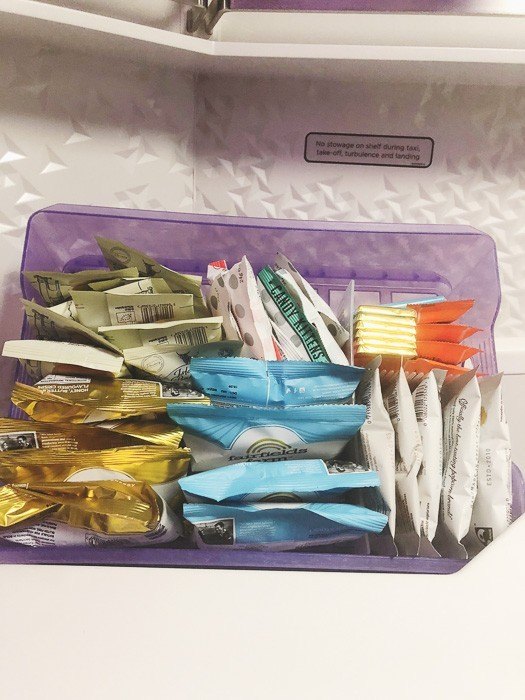 Inside Virgin Atlantic Premium Economy A330
The Virgin Atlantic Premium Economy seating plan on the a330 is 2 x 3 x 2. Each seat is 21 inches wide and has a 38-inch recline. There is also a pull-out footrest – or if you are in the front row the attendant brings a footrest all of your own.
The Virgin Atlantic premium economy seats feel properly premium. The premium economy seats on Virgin Atlantic are padded and very comfortable. Interestingly the Upper-Class seats are only 1 inch wider.
The real difference between premium economy seats Virgin Atlantic and upper class, of course, comes on overnight flights where Premium Virgin Atlantic seats turn into beds.
If you are travelling during the day and won't be sleeping I do think it is quite difficult to justify needing Upper Class over Premium Economy on Virgin Atlantic.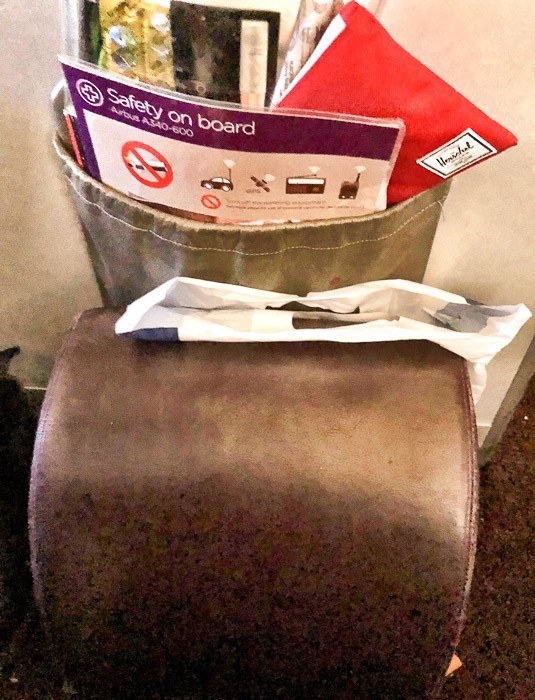 On the ground, the attendant serves Prosecco or soft drinks. What I do love about Virgin Atlantic is the relaxed and engaging customer service.
We ended up stuck on the ground at Newark on the way out for quite some time. The team continued to serve drinks and turned the in-flight entertainment on to keep us occupied.
I have never known of another airline to do this. Such a simple thing but such a nice human touch.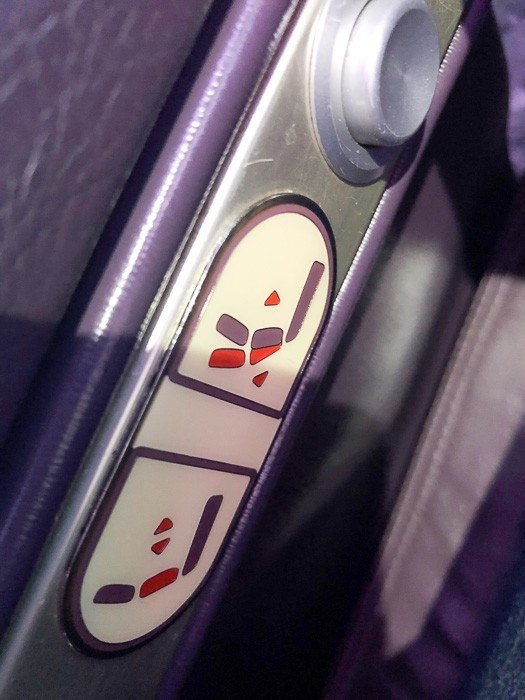 Virgin Atlantic Premium economy does have its own bathroom – and they have Noble Isle toiletries which are quite nice. The flight does have full Wifi but of course, this requires credit card payment.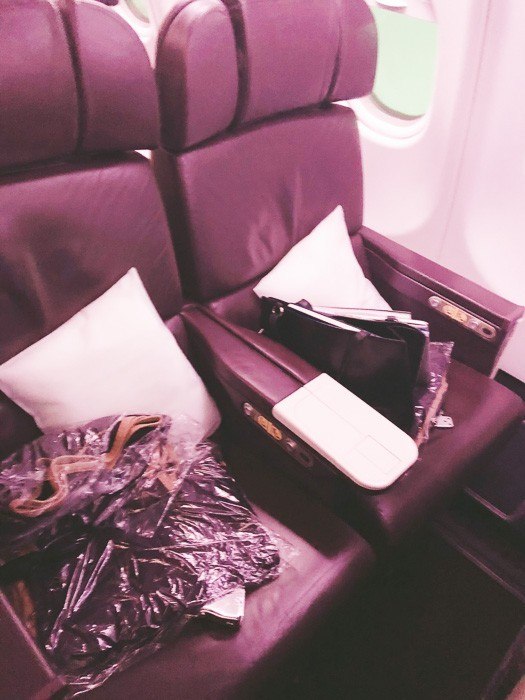 All of the Virgin Atlantic Premium Economy seating options have a powerpoint and USB port. It is tucked right down between the two seats so you'll need to put the torch on your phone on to find it. [separator type="thick"]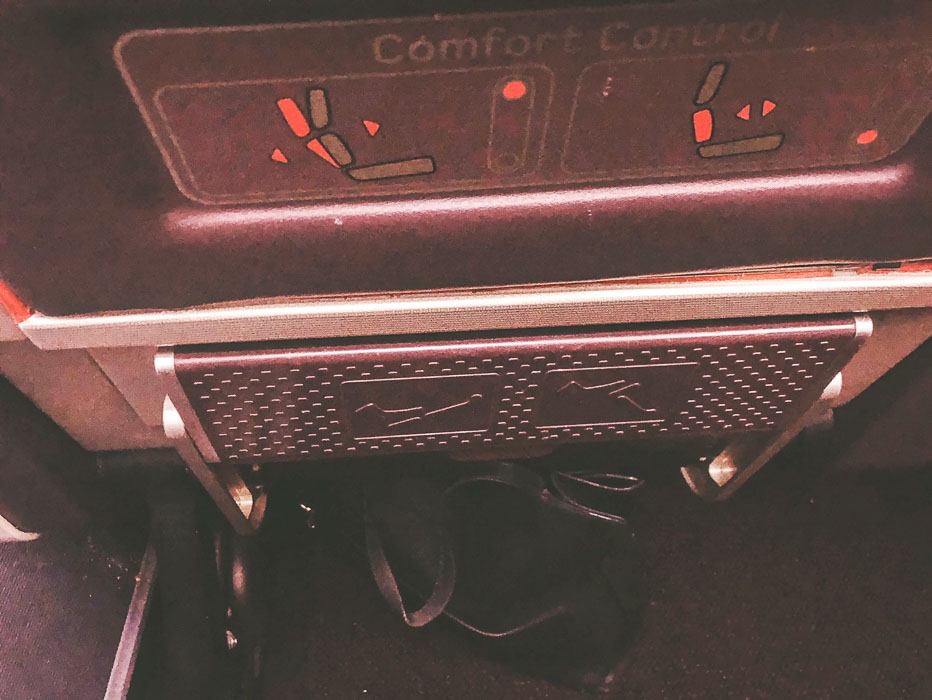 Virgin Atlantic Premium Economy Menu
I hadn't been able to find out much about the food in the premium economy Virgin Atlantic review reading. Luckily, there was a nice choice of wine – a Spanish Sauvignon and a Spanish red plus the prosecco.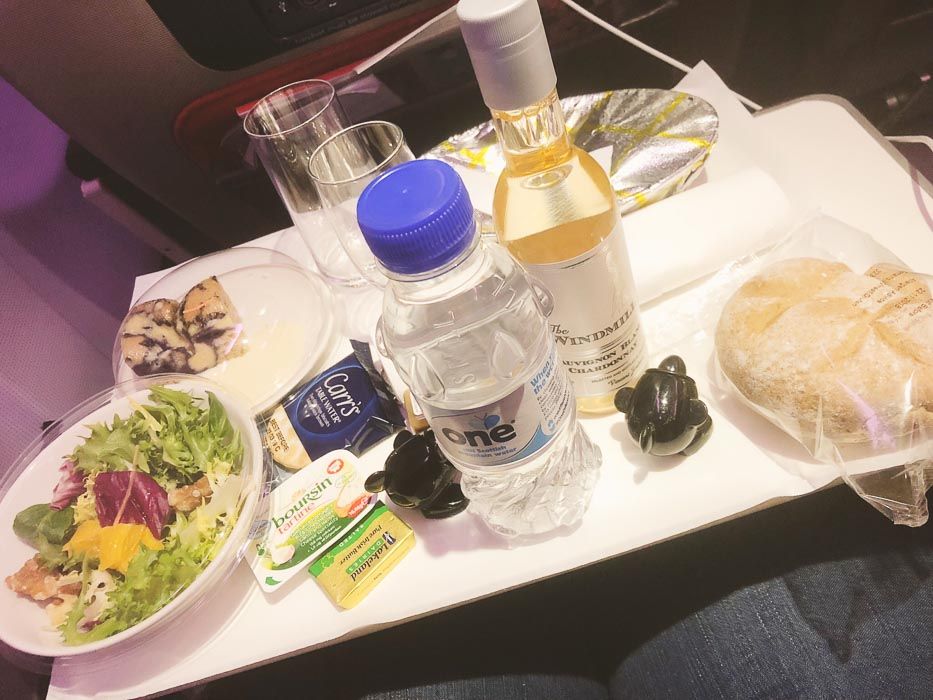 The starter on Virgin Atlantic Premium Economy a330 was an orange and walnut salad followed by a choice of 3 mains – Linguine pasta with meatballs, Coq au Vin and Wild Mushroom Risotto.
Dessert was a blueberry and cinnamon streusel and cheese and crackers. I chose the Coq au Vin and it was pretty good.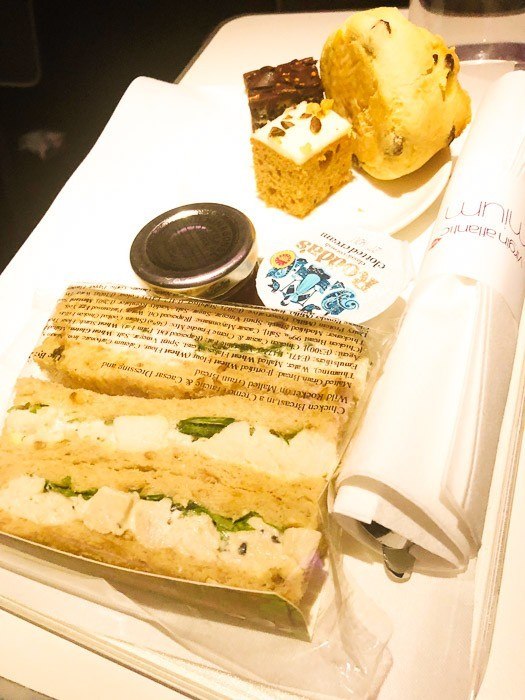 On the way to Newark airport, we also had afternoon tea later in the flight. This was chicken sandwiches, some rather nice scones and some cakes.
On the way back to London Heathrow was quite a nice breakfast before landing. The Virgin Atlantic Premium Economy service is excellent as you will read in most Virgin Atlantic premium economy reviews.
Drinks service was super fast – almost as fast as what I would expect in business class.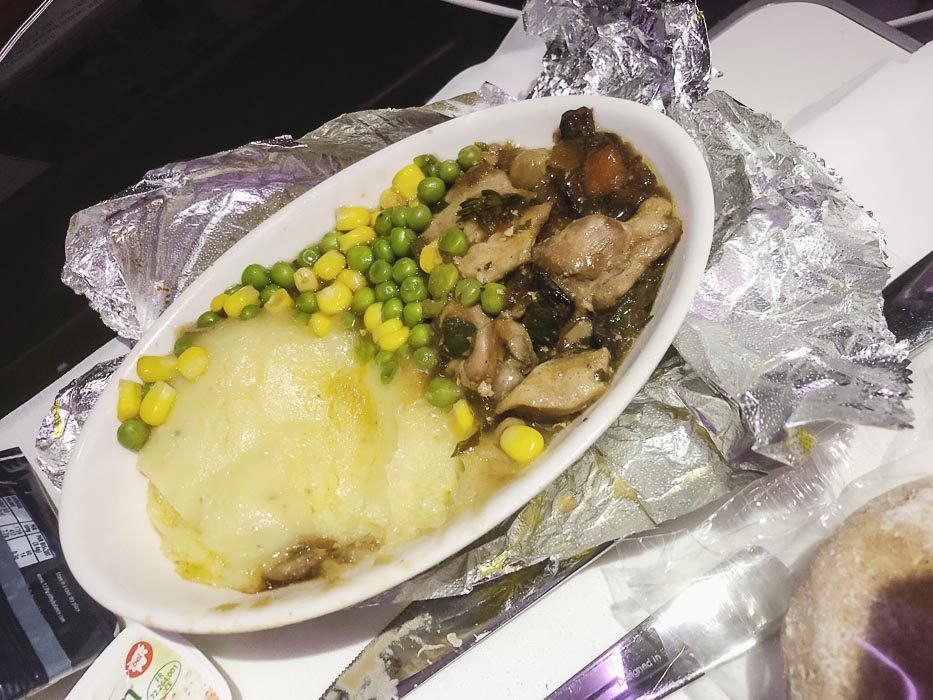 Alas, there is no access to the fantastic Virgin Atlantic Upper-Class bar – sad face. But there is a fantastic what they call Wonder Wall area which has excellent premium snacks and drinks on offer throughout the entire flight. [separator type="thick"]
Virgin Atlantic Premium Economy a330 Entertainment and Amenities
As you would expect the Virgin Atlantic premium economy in-flight entertainment is excellent. There are 139 movies to choose from and some excellent recent TV programmes.
Best of all Virgin Atlantic premium economy offers full seasons of tv shows vs just one or two episodes.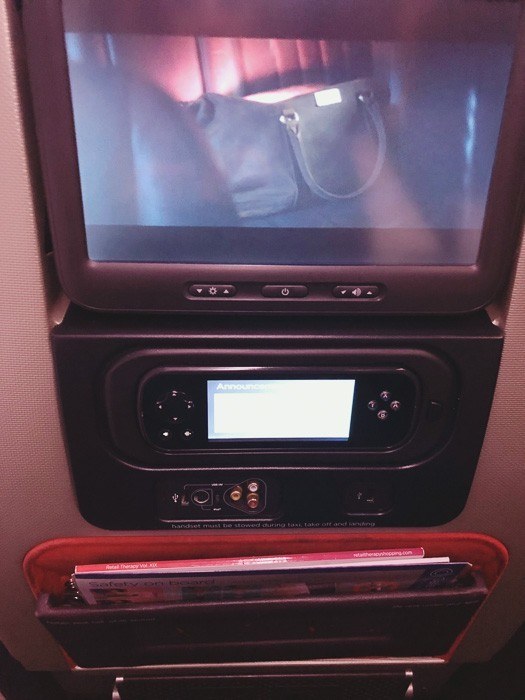 The Virgin Atlantic premium economy headphones are ok but better if you bring your own if you have a good pair. The amenities kit on Virgin Atlantic is simple but cute.
I liked the red pouch – very re-usable. There are then nicely purple branded eye masks, socks, earplugs, toothbrushes, pen etc.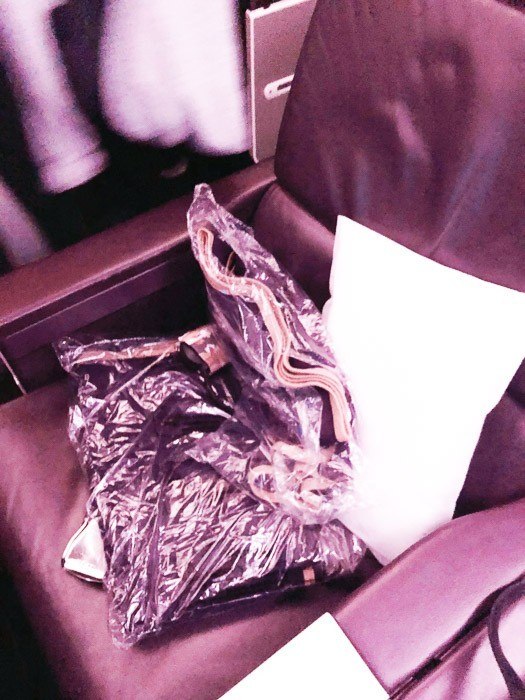 Is Premium Economy worth it on Virgin Atlantic?
Virgin Atlantic Premium Economy gets 5 stars in this review Virgin Atlantic Premium Economy. Virgin Atlantic felt genuinely premium at every point – from check in to the entire in-flight experience.
The Virgin Premium Economy seats plan and seats create a feeling of space and comfort. The footrest was a nice touch.
The experience definitely justifies the price and I will be happily flying Virgin Atlantic Premium Economy again. [separator type="thick"]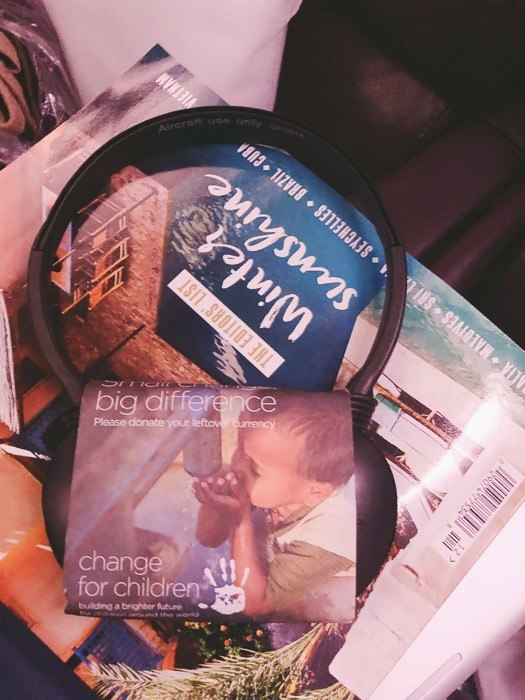 How does Virgin Atlantic Premium Economy compare with British Airways Premium Economy?
Virgin Atlantic Premium Economy is much better than the British Airways alternative. The entire Virgin Atlantic experience genuinely feels premium – from check-in to boarding to most importantly the in-flight experience.
With British Airways premium economy I still felt like I was in economy just with more leg room. I would absolutely pay at least 20 or 30% more to fly premium economy with Virgin Atlantic rather than British Airways.
Have you flown with Virgin Atlantic Premium Economy? I would love to hear about your experience!
Who Paid for What for this Post
I covered the cost of my flights on Virgin Atlantic Premium Economy. This Virgin Atlantic Premium Economy review post contains affiliate links. That means if you click on them and end up making a purchase on that website I will receive a small commission. I wanted to make sure you were aware of this.
READ NEXT: American Airlines PREMIUM ECONOMY REVIEW
Like this Post? Why Not Pin it?