Edinburgh's got a creative spirit, vibrant nightlife, and charm to spare. One of the most gorgeous cities in all of the United Kingdom, this hilly Scottish capital boasts impeccable views and a unique mix of modern and historic architecture.
There is so much to do and see in Edinburgh like take an underground vault tour, but let's focus on one of the finest, most simple pleasures of discovering a new city: the local sunset. It may seem pink and orange everywhere in the world, but that's not always the case. The light and atmosphere of a new place tend to bring a sunset view to life in the most remarkable ways.
So, this post will cover a few idyllic and stand-out spots where the sunset Edinburgh style puts its best foot forward. If you're travelling in Scotland, these sunset destinations should definitely be added to your bucket list.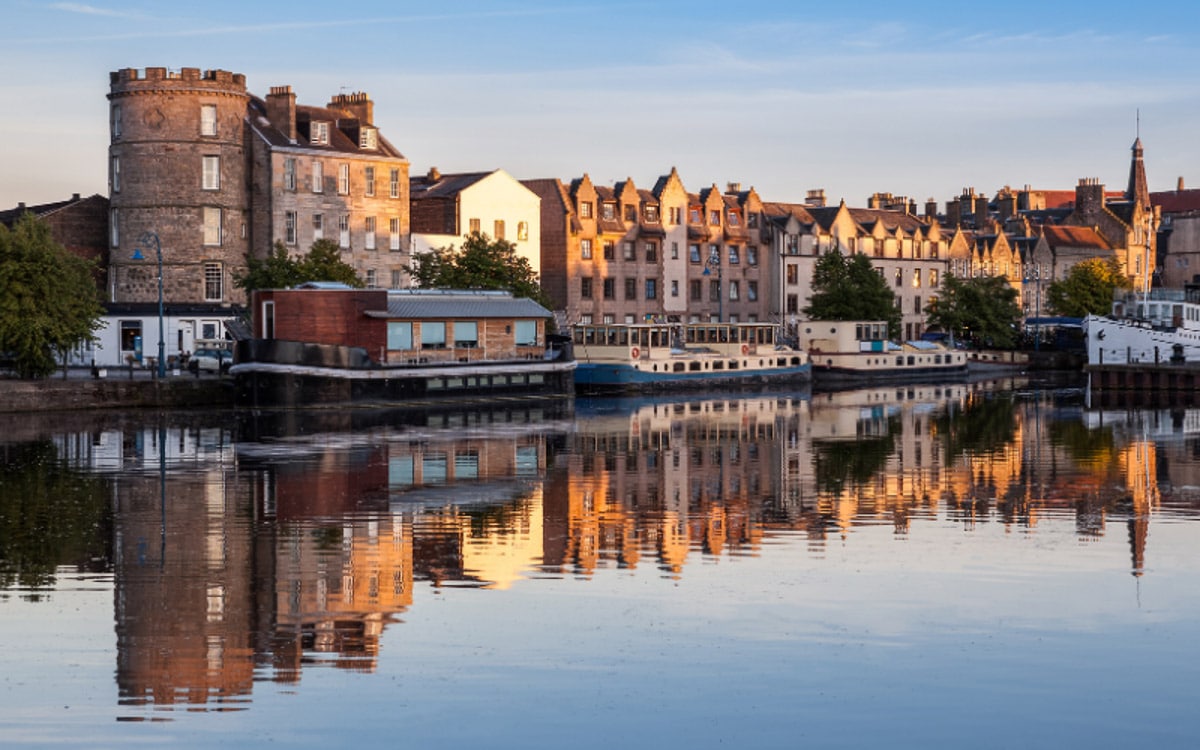 Edinburgh Sunset Times by Season
It gets mighty cold and damp in Edinburgh in the cold seasons, so it's best to plan your outings carefully if you want an ideal sunset experience. You can see how late or early the sun sets below to help you figure out what time you should have your viewing spot secured by.
Winter (December, January, February): 3-5 PM
Spring (March, April, May): 5-7 PM
Summer (June, July, August): 9-11 PM
Autumn (September, October, November): 4-6 PM
The above times are simple outlines, so it's best to keep your eye on the weather forecast if you want to avoid getting too cold up on a hill somewhere.
11 Places to Watch the Sunset in Edinburgh
Touring Edinburgh is a fun treat, but seeing the city from a distance will give you some memorable images of this beautiful Scottish hub. The places in this list offer breathtaking views of the city where you can relax and enjoy the scenery.
1. Cold Town House
Good drinks go hands in hand with a sunset viewing, and Cold Town House has got you covered in both those departments. Sip on delicious cocktails, share a stone-fire pizza and enjoy the live music on offer. Cold Town House even has cabaret shows on occasion, so keep your eye on their website for upcoming events.

This spot has a lovely open-air terrace adorned with hanging plants. The atmosphere is friendly and inviting, so it's an excellent place for a date or friendly dinner. The rooftop doesn't have a panoramic view, but instead, you get a unique snapshot of Edinburgh Castle.
2. Cask Smugglers
Nestled in the heart of Edinburgh is Cask Smugglers, a hip rooftop bar with a speakeasy vibe and an extensive whiskey collection. Fill up on street food style dishes and Old Fashions while you bathe in the sunset colours.
This bar is super hip and you'll love dining on good food and cocktails while you welcome the dusk light. Cask Smugglers is a must-visit.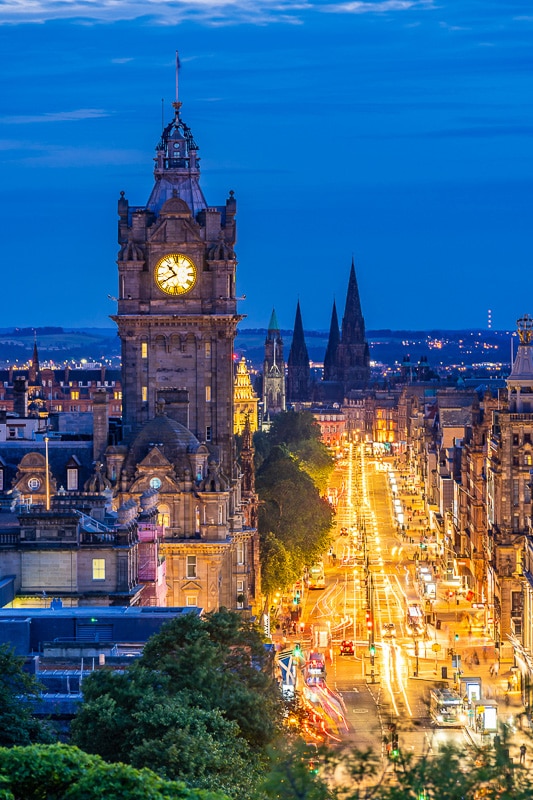 3. Calton Hill
It'll only take you five minutes to walk to the top of Calton Hill, and the pay-off is enormous. You'll be able to see some of Scotland's iconic landmarks from the 360-view on Calton, not to mention the gorgeous sunset settling over the horizon.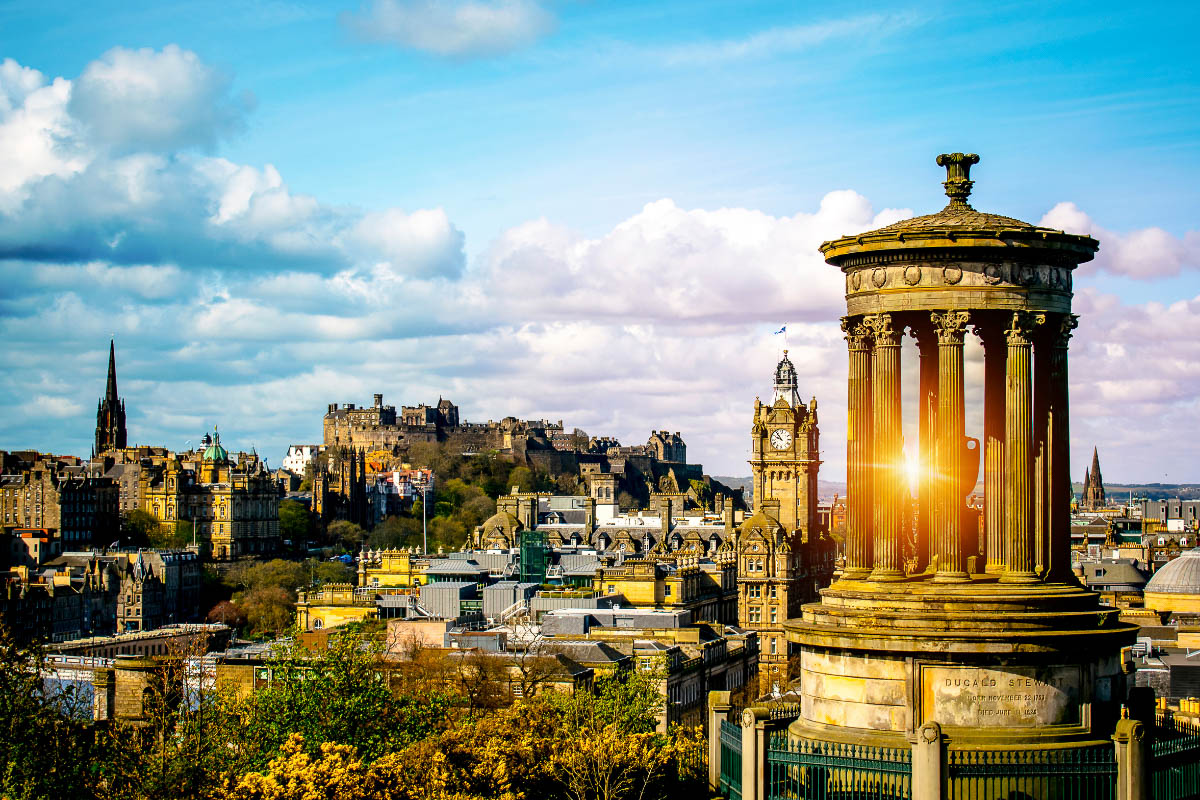 Amongst the iconic buildings in view is the National Monument, Arthur's Seat, and the Nelson Monument, to name a few.
Calton Hill is in central Edinburgh and super easy to get to. If you're not up for a stroll, you can also drive to the top and park your car as the sun begins to set.
4. Holyrood Park
With over six hundred acres of flourishing nature, Holyrood Park would be the perfect place for a late afternoon picnic. Also known as Queen's Park or King's Park, Holyrood is dotted with glens, hills, and ridges just east of Edinburgh Castle. Salisbury Crags offers one of the best viewpoints in the park for watching the Edinburgh sunset.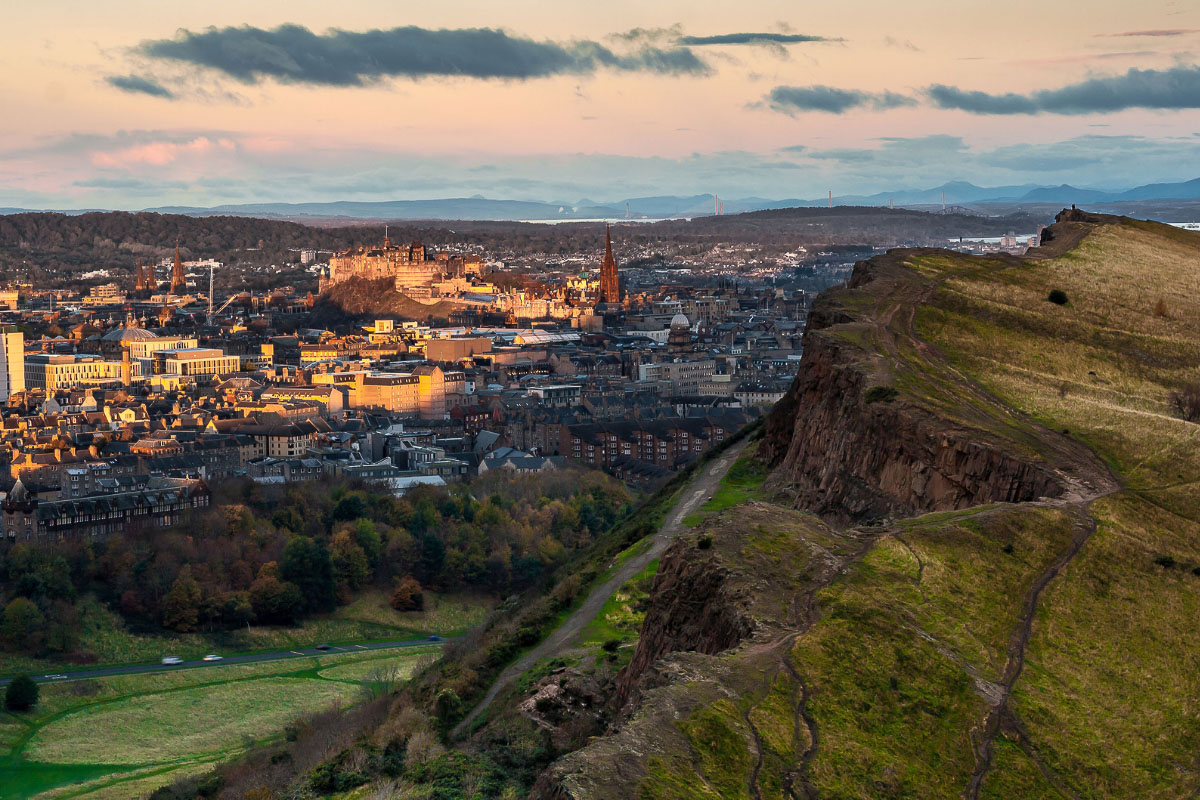 The park is open to the public, and you can enjoy the scenery here 24 hours a day, all-year-round. There's plenty of parking behind Holyrood for the measly price of £1, and it's only a two-minute drive from the city centre.
5. Arthur's Seat
Arthur's Hill is a stunning mountain and the highest point in Holyrood Park. Believe it or not, this lush hill was a volcano once upon a time but is now extinct. The mountain sits over two hundred meters above sea level, offering spectacular views of Edinburgh from its summit.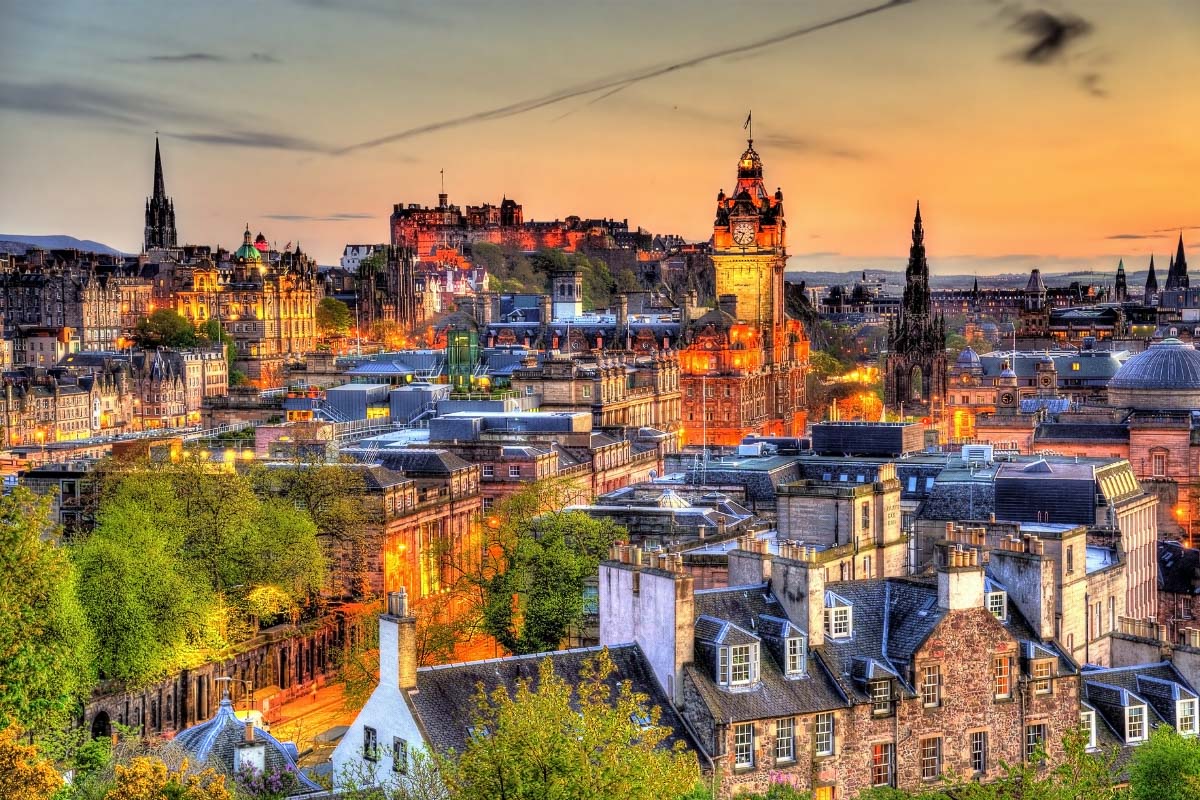 Technically, this spot isn't one hill but many, formed out of the remains of the volcano. Besides its intriguing history, Arthur's Seat offers astonishing views come sundown.
There are five different routes up the hill to choose from, so you can choose exactly what level of difficulty will suit you best.
6. Royal Botanic Garden
The Royal Botanic Garden in Edinburgh is super romantic and a lovely place to take a stroll. Once you step inside, it'll be easy to see why the garden is one of the most visited places in all of Scotland. You'll see loads of colourful flowers, pristinely manicured lawns, magnificent greenhouses, and a nursery on the property.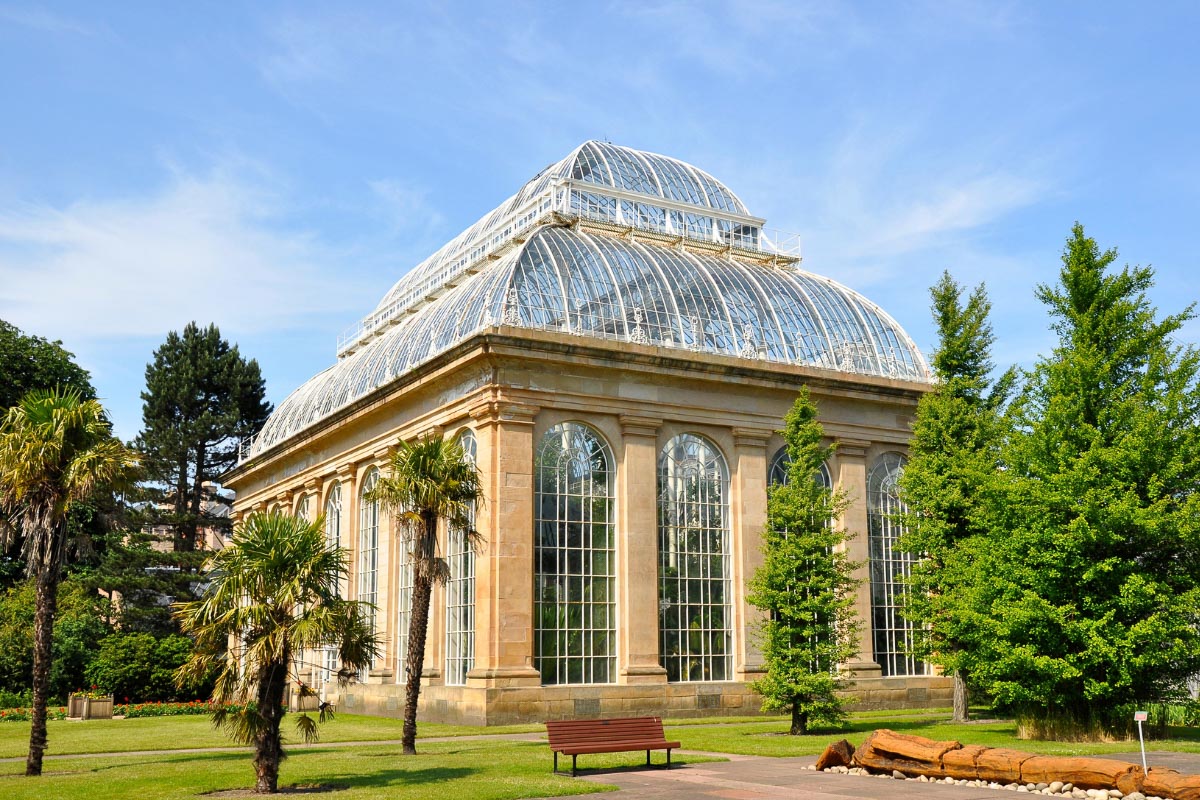 Due to COVID regulations, you'll need to book a slot online before you pop by for a visit. But booking will only take a few clicks on the garden's website.
7. Blackford Hill
Another high hill in Edinburgh, this sunset spot is located in Blackford Hill Local Nature Reserve and stands at 164 meters tall. You'll find an obscure looking fort at the top of the hill, which is actually an ancient historical monument.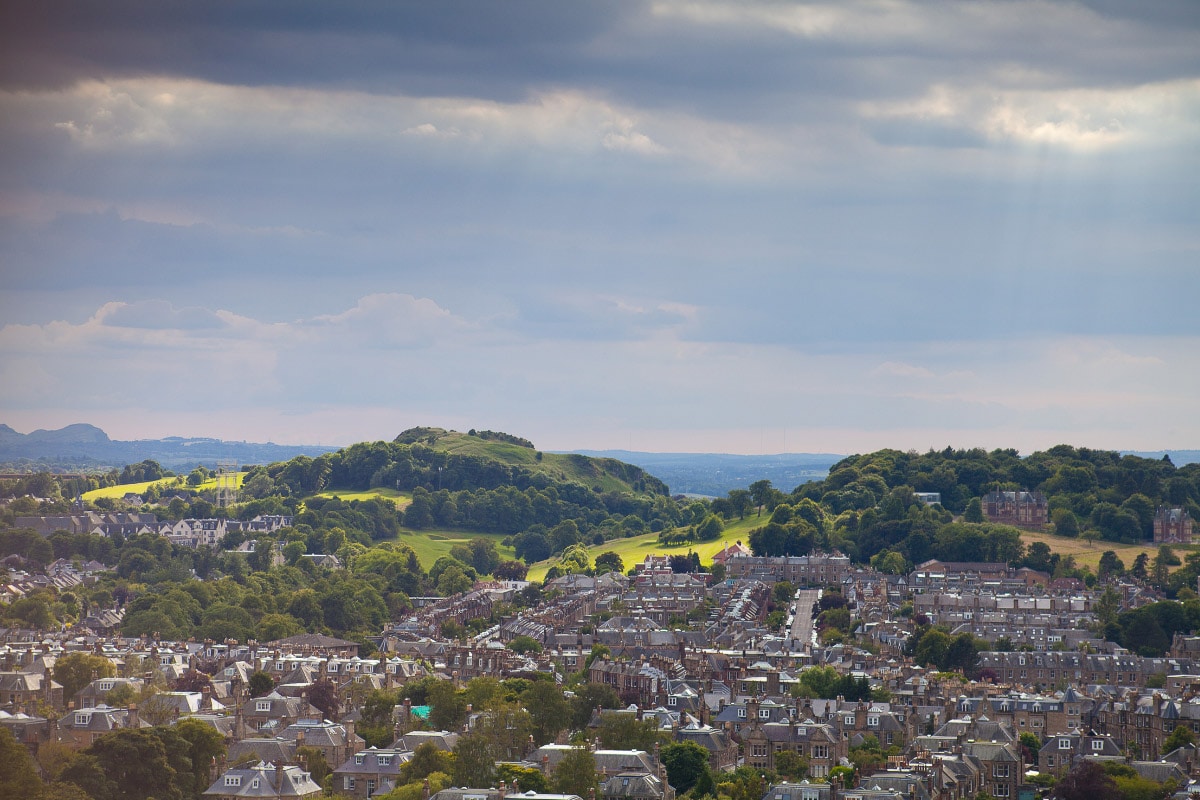 You can see Edinburgh to the north and Pentland Hills to the south from Blackford Hill once you reach its height. There are plenty of established paths you can choose from, and this is a popular spot amongst joggers.
8. Forth Bridge
This bridge is famous in Scotland and a well-liked attraction amongst tourists and locals alike. Built in 1964, this is the longest suspension bridge outside of the U.S. The bridge crosses over the River Forth, and the sunlight hitting the water makes for an astonishing view.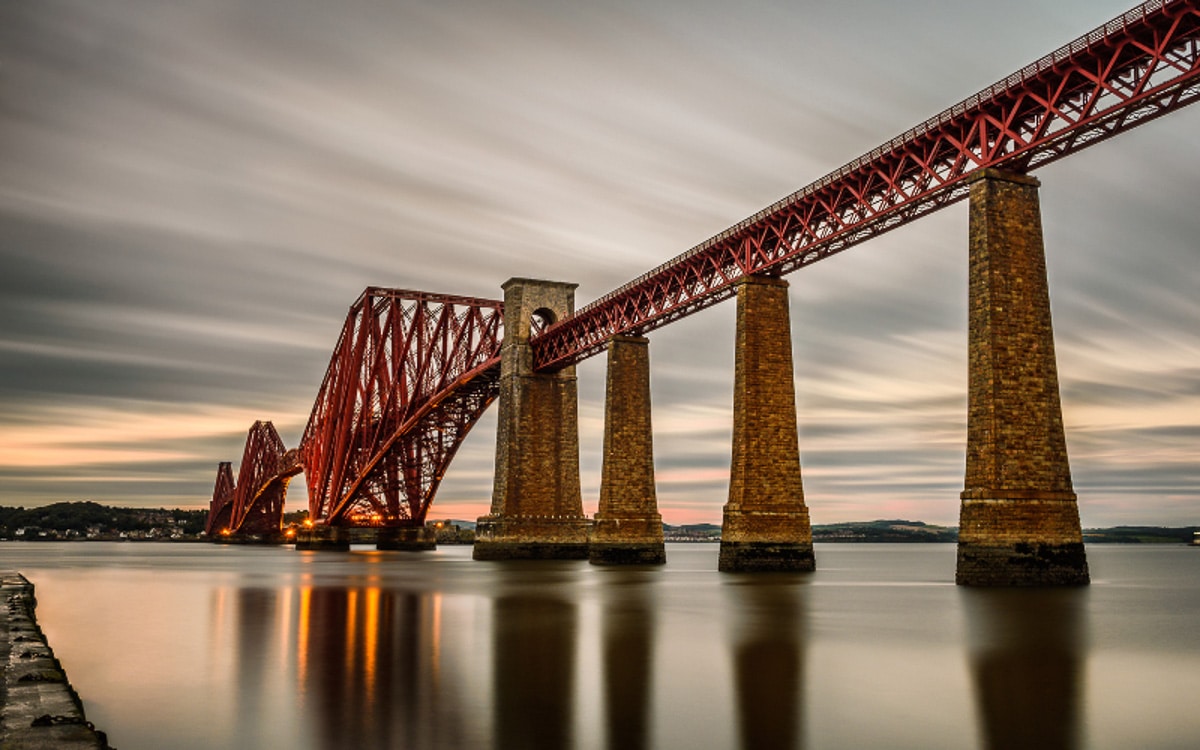 9. Cramond
Cramond is a picturesque suburb on the south shores of the River Forth. You can head out to Cramond Beach if you want to immerse yourself in the quaint fishermen village vibe. Plus, there's nothing better than sunset on the beach.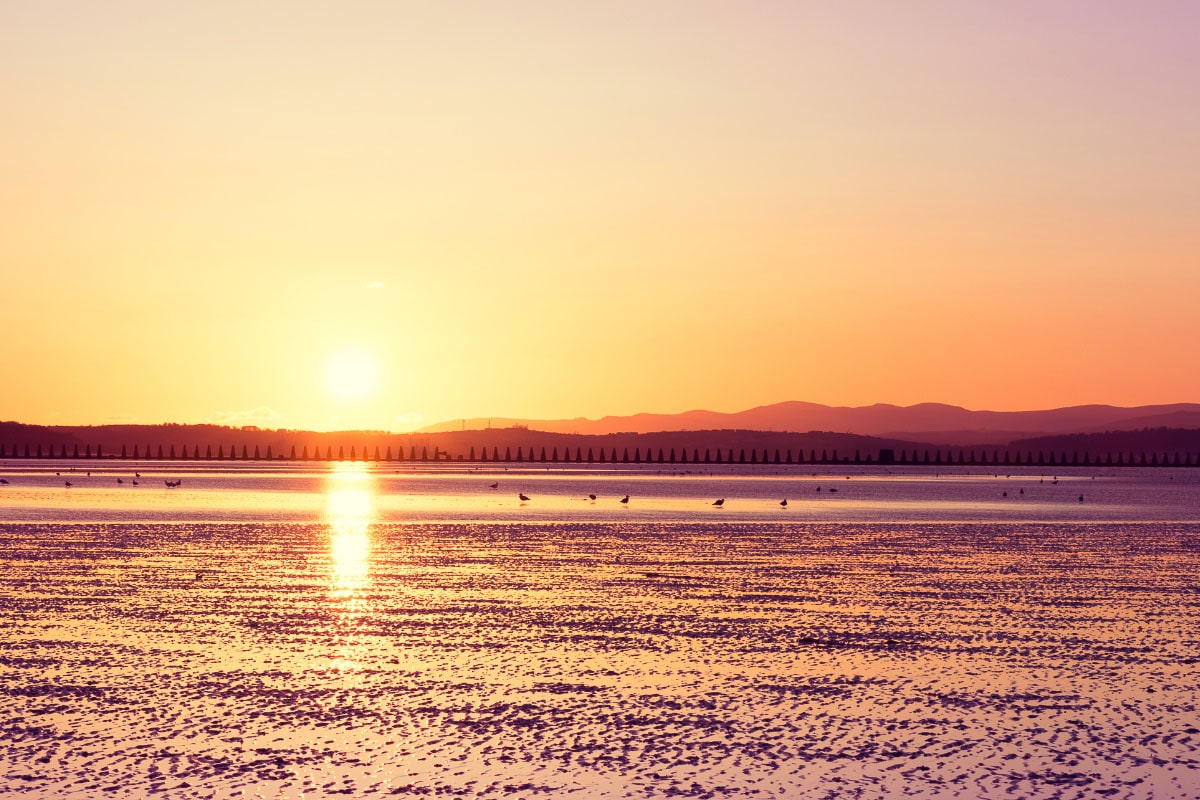 There's also a pub and coffee shop nearby where you can cosy up once the sun goes down.
10. Scott Monument
This Victorian Gothic monument was erected in honour of Sir Walter Scott, a famous novelist and Edinburgh native. The Scott Monument is a looming spire structure just over sixty meters high, and the views from the top are sensational.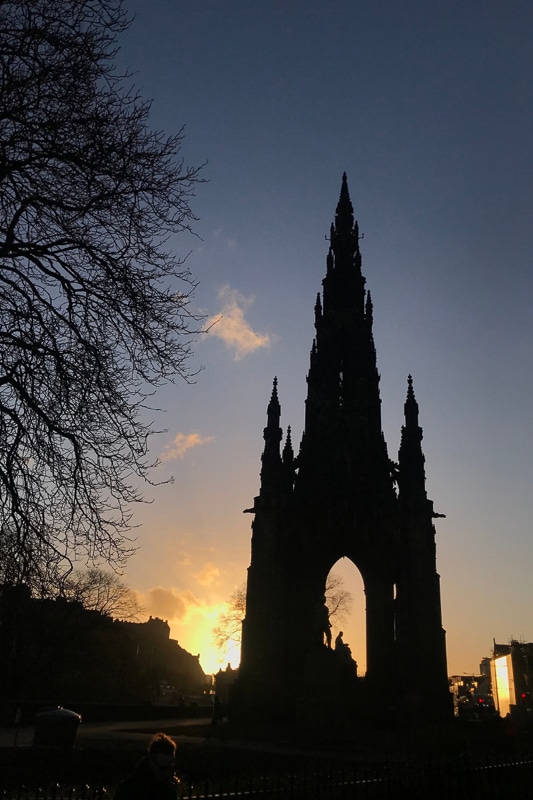 After 287 steps up the tower, you'll be greeted with one of the best sunset views in Edinburgh.
11. Newhaven Harbour
You just can't beat the combination of sunset, boats, and the ocean. Check out Newhaven Harbour for a stunning sunset shot and a romantic stroll along the docks. When the sun finally sets, and harbour lights come on, you'll be glad you ventured out to this blissful spot.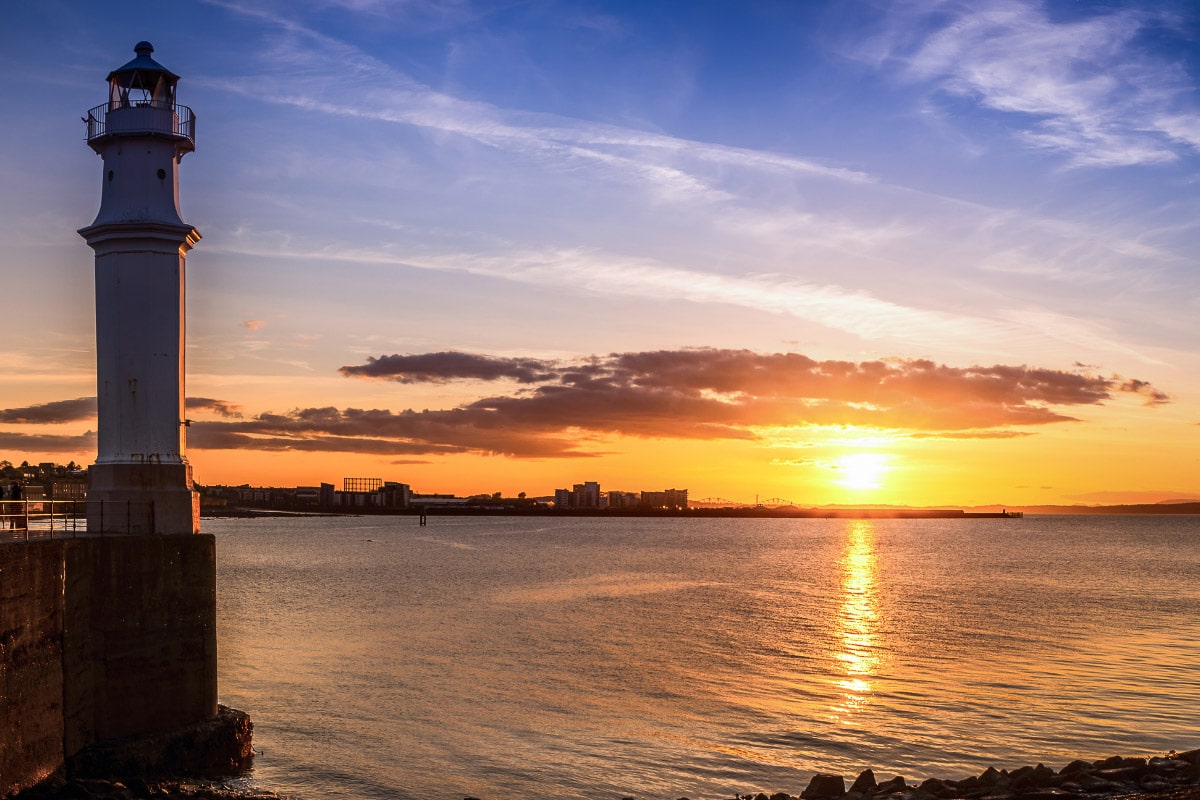 ⇒ Heading to Scotland? Check out my Scotland Itinerary 10 Days, Scotland Itinerary 7 Days, Glasgow Tours, Edinburgh vaults tour, things to do in Dumfries and Galloway, things to do in Ayrshire, my guide to Climbing Ben Nevis, 11 Places to Experience the Sunset Edinburgh style, 18 Beautiful Places in Scotland and 9 great Spa Breaks Scotland.
Top Tip: Visit Edinburgh during some its key events
Edinburgh has some brilliant events. The Edinburgh Festival is one of the biggest arts festivals in the world and is held every August. Although it has a whole range of artists and events it is perhaps best known for its fantastic comedy talent.
I highly recommend booking some shows as well as checking the schedule as many comedians often do free late-night sets during the festival.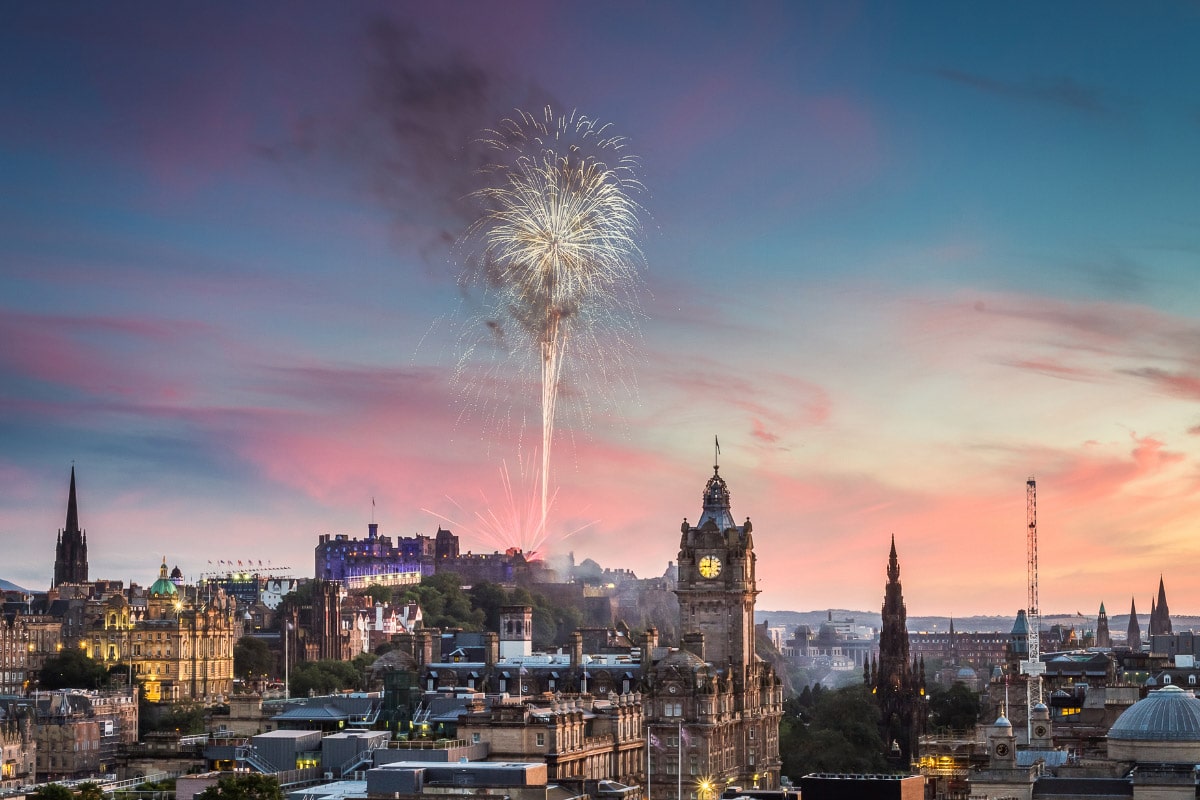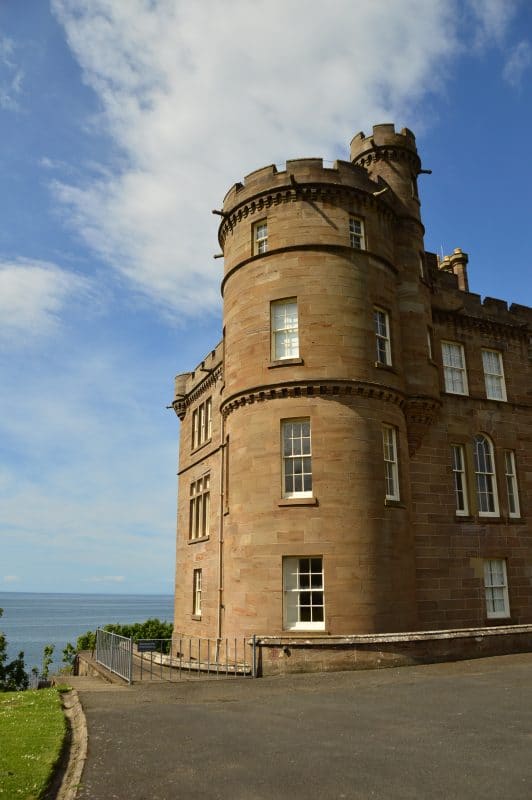 The Edinburgh Military Tattoo runs at the same time as the Edinburgh Festival and I can't recommend this more highly. When I went I didn't really expect much but I was blown away. The sights and sounds are just fantastic and the atmosphere is electric.
And Edinburgh's Hogmanay is one of the biggest celebrations of New Year's Eve in the world.
Getting to Edinburgh
A quick and cheap way to get from the airport to the centre of Edinburgh is to take Edinburgh Airport to City Centre Bus Transfer.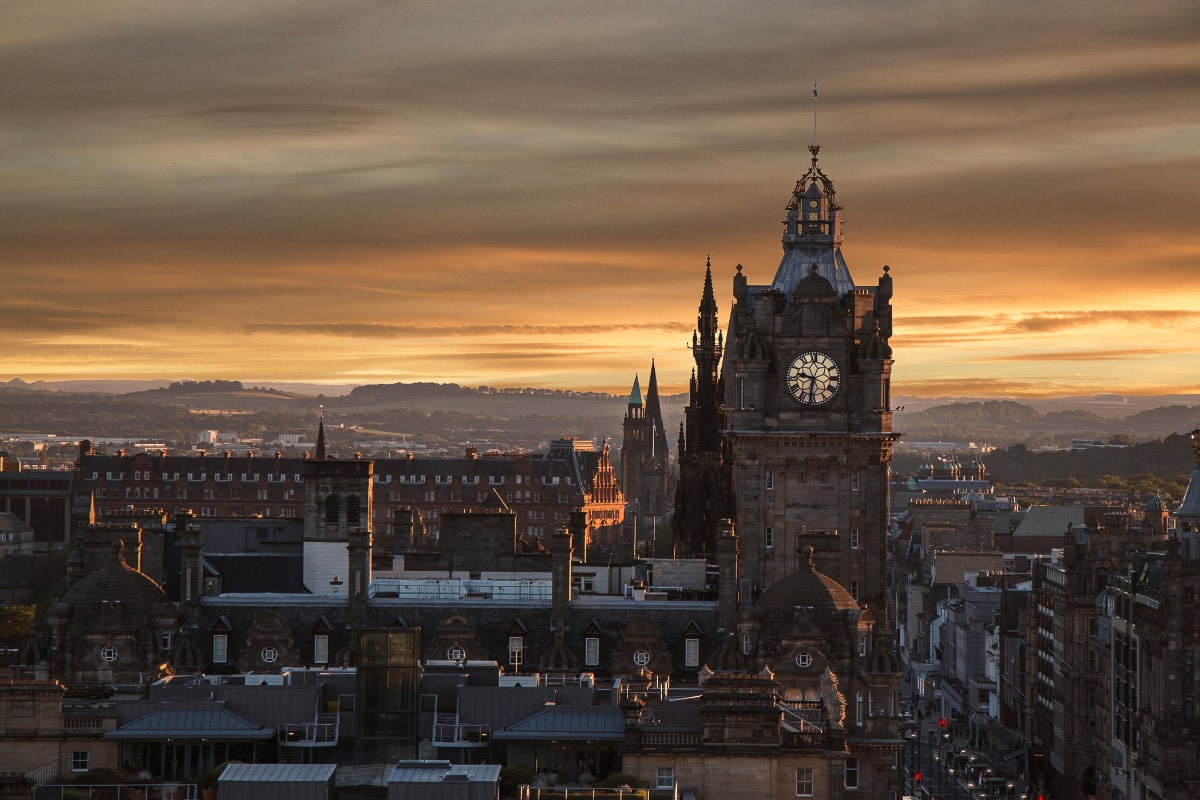 British Rail Passes for Overseas Visitors

Rail is a brilliant way to get around Scotland. The BritRail Central Scotland Pass covers the key central cities in Scotland – Edinburgh, Glasgow, Stirling and Fife Station. If you're planning on exploring the Highlands and the islands of Scotland then a better option is the BritRail Scottish Freedom Pass.
The Best Place to Stay – and Eat – in Edinburgh
I rather fell in love with 21212 – a restaurant with Rooms! 21212 is a wonderful boutique hotel in a wonderfully central yet quiet part of Edinburgh.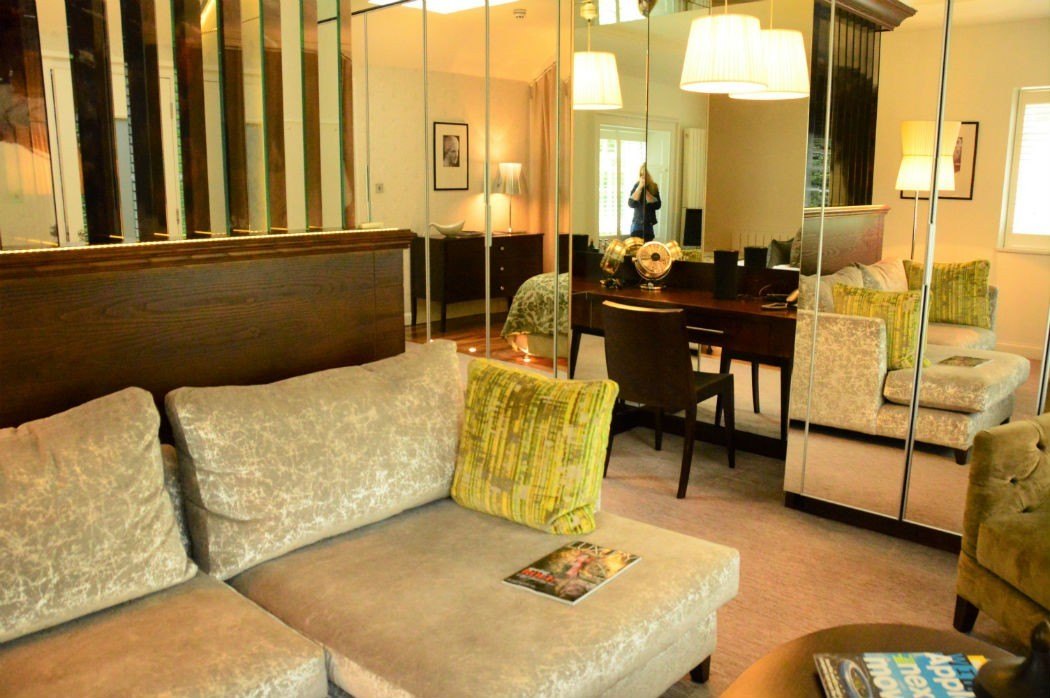 The hotel is literally 4 rooms. Oh, but what rooms they are! Wonderfully stylish, incredibly comfortable, beautifully designed – I could wax lyrical for quite some time.
I even had a mini corner couch in my room at 21212 – love a corner couch – and such a comfortable bed. I slept incredibly well. And the sloe gin in the room was a particularly nice touch. The room was magnificent.
And then there was the food at 21212. Wow wow wow! The restaurant is named 21212 because of the structure of the menu. There are 3 choices for a starter. Then there is 1 soup. 3 Choices for main. 1 cheese. 3 choices for dessert. And an amuse-bouche to begin.
I started with the "Haggis it's Risotto" which featured aubergine and onion. It was amazing. If haggis always tasted like this I would never stop eating it.
The soup sounded simple – spring vegetables. It was a taste sensation. It felt wrong to call it a soup as it was so much more flavourful and complex than any soup I have ever eaten.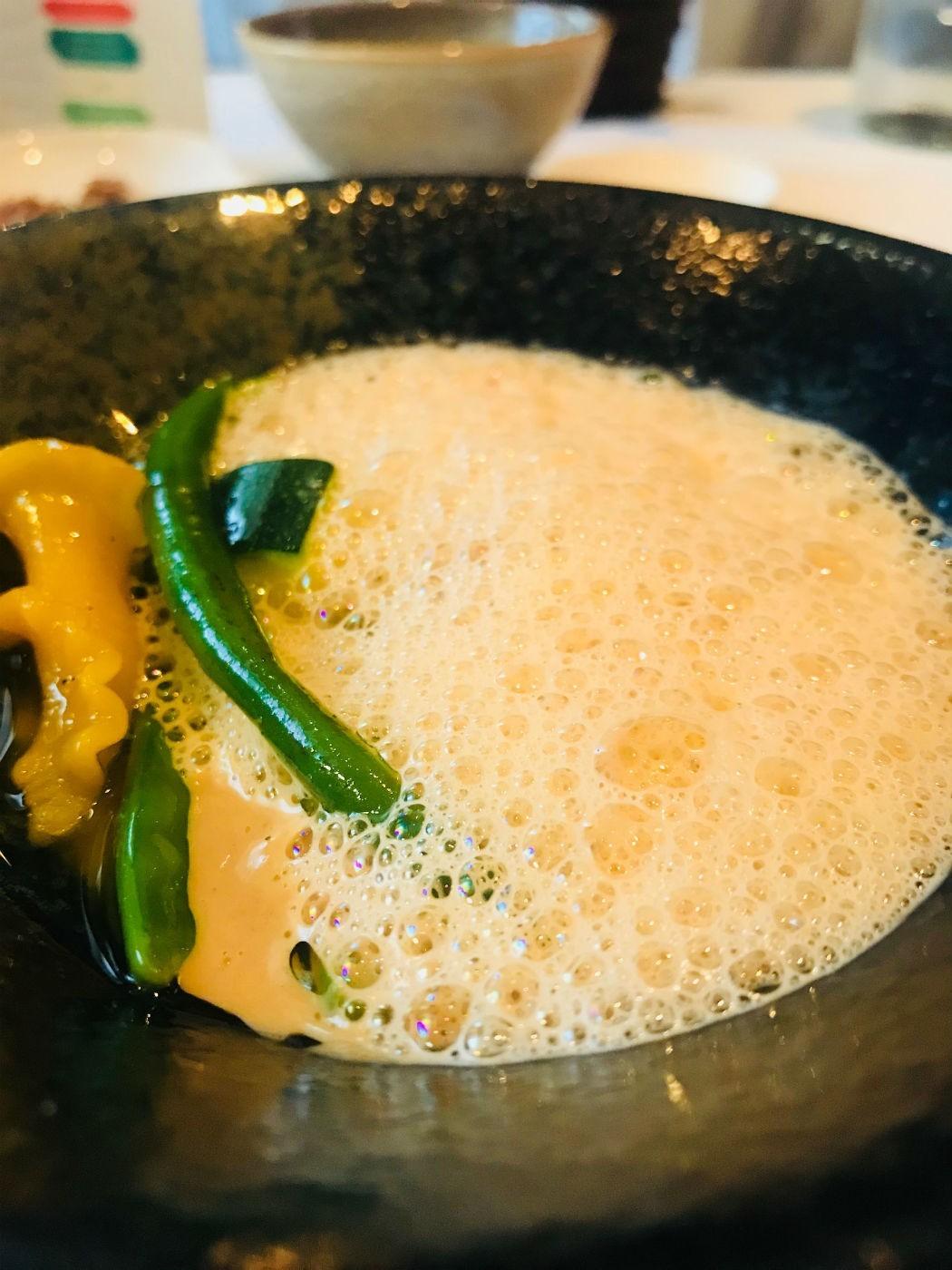 I can't resist a surf and turf on a menu so I had the Piatto a base di Carne Pesce as my main. The beef was just ridiculously good. My eyes closed involuntarily with each bite as I so so enjoyed it. And wow the scallops – amazing.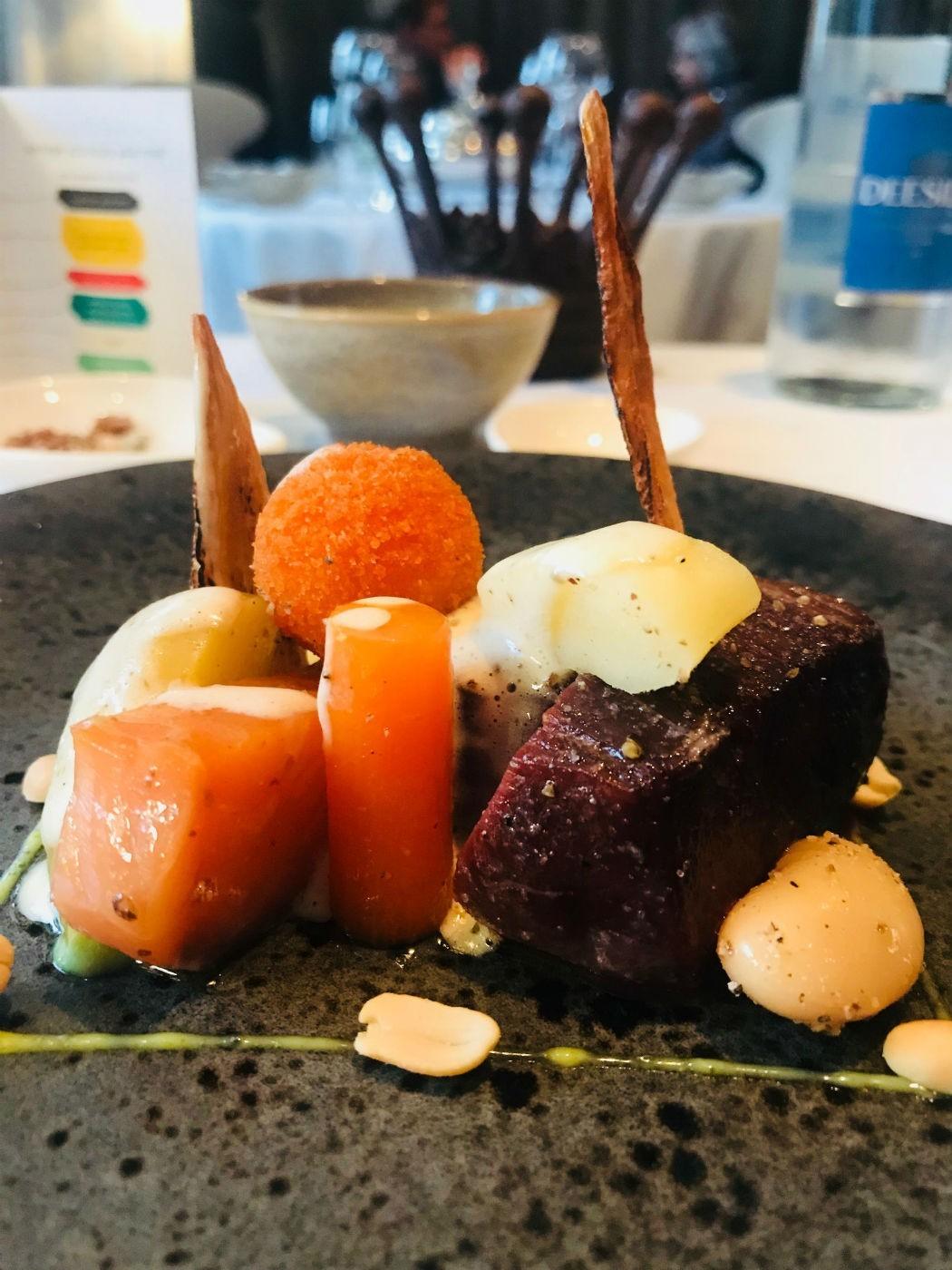 I then finished off with the "Ooh Bee Hive" (did I mention everything at 21212 Edinburgh has a fabulous name?) which featured honey, chocolate and mango.
And a tiny shot of banana smoothie which was multi-layered and really I don't know exactly what it was but gosh it was so so so good.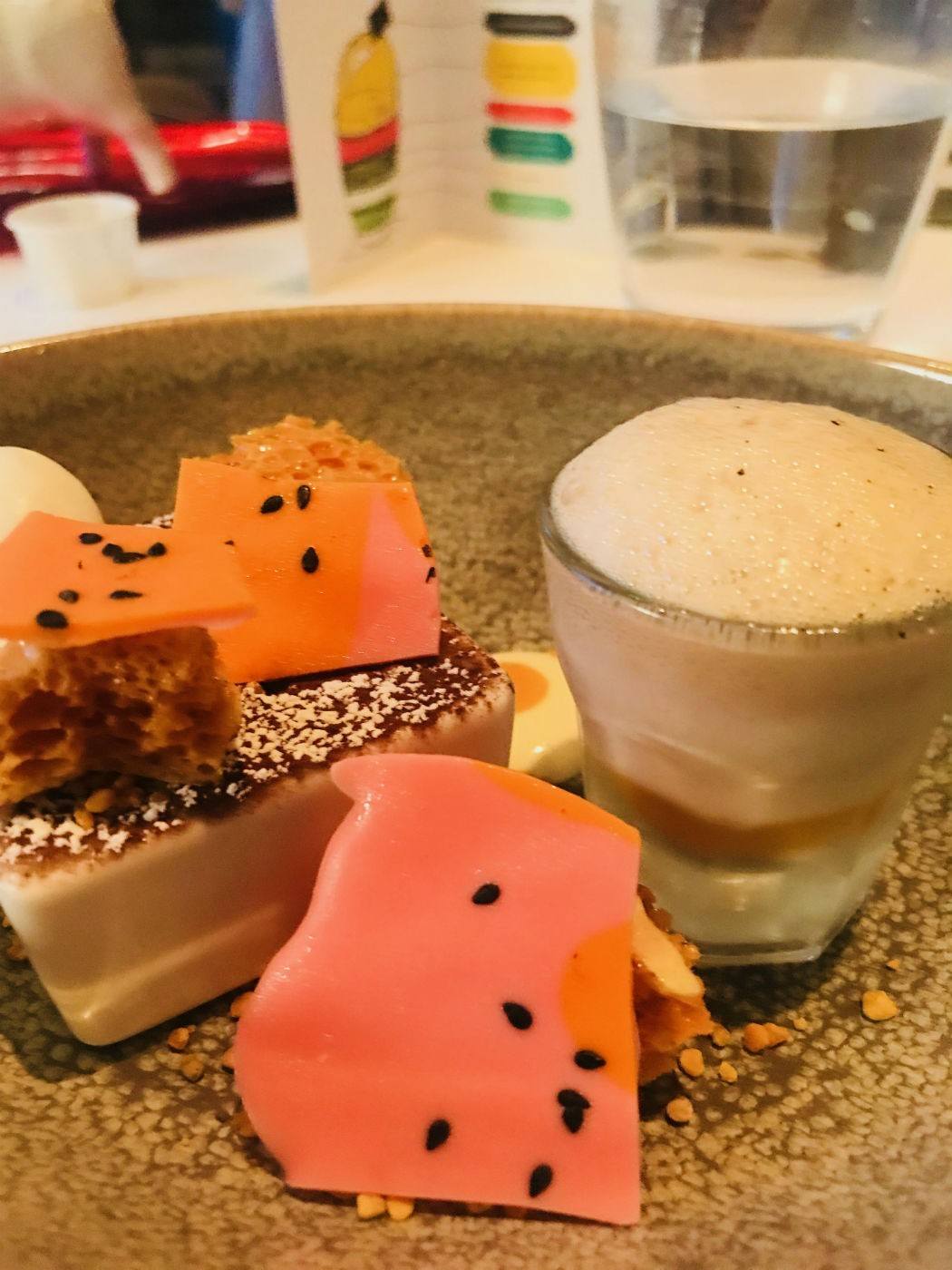 21212 is a really special, wonderful, unique place to visit and I highly recommend at minimum eating here – but gosh so nice when you just have to walk up the stairs to go to bed – in a luxe super-stylish boutique hotel.
Top tip: Work off some of that Michelin star food with a walk up Calton Hill at of course sunset! This is a super convenient place to watch what some say is the best sunset in Edinburgh. It is literally less than 100 metres from the hotel to the start of the path. [separator type="thin"]
⇒ Read more reviews on TripAdvisor ⇒ Book Now [separator type="thin"]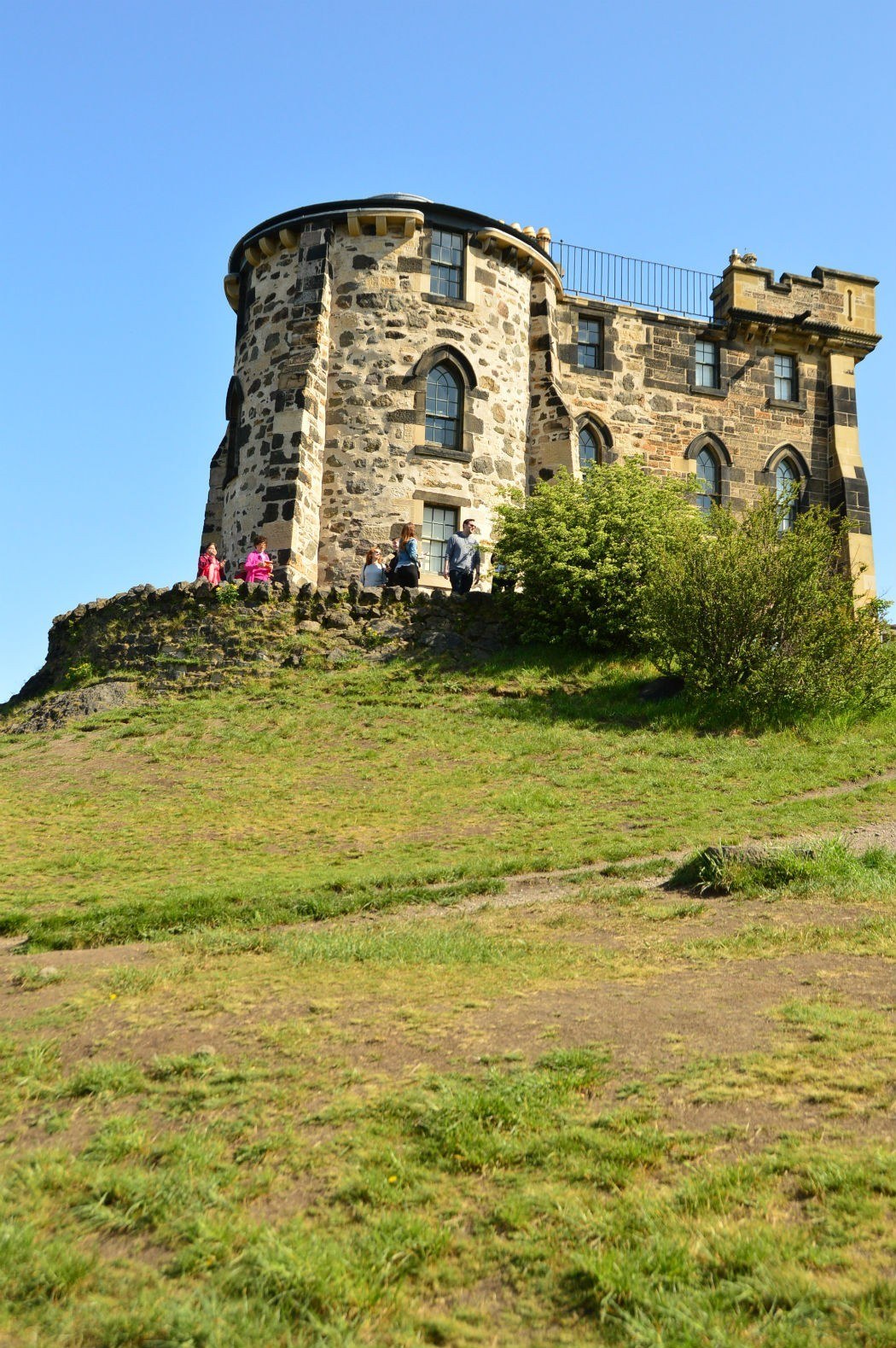 ⇒ Planning a trip to England or Wales? Don't miss my posts on the 40 Top English Landmarks, The Crown Filming Locations, Most Beautiful Castles in Cornwall and Boutique Hotels in Cornwall, Boutique Hotels in Kent, Where to Stay in the Cotswolds, 61 Magnificent Landmarks of the UK, Places to Visit in South Wales, Fun Things to do in Cardiff, Luxury Hotels in Yorkshire, Spa Hotels in the South West, Day trip to Brighton, Things to do in Exmouth, Cafes in Exeter, Pubs with Rooms in the New Forest, Ockenden Manor Spa and the Best Things to do in Winchester.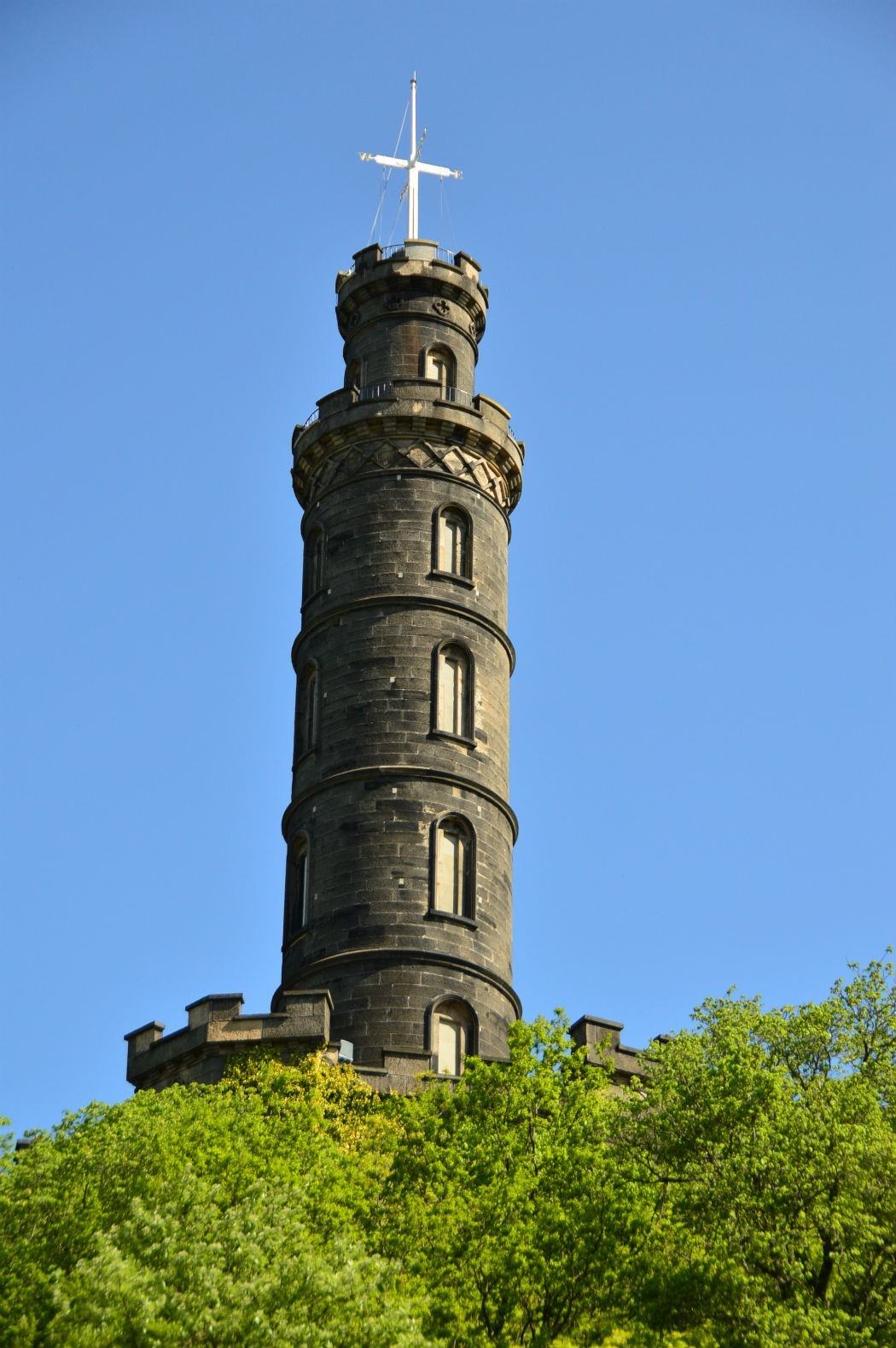 A second boutique hotel option for Edinburgh is the lovely Dunstane Houses. Dunstane Houses is actually 2 villas put together to form a beautiful boutique hotel that is filled with rich and earthy colours.
⇒ Read more reviews on TripAdvisor ⇒ Book Now
Enjoy a Special Edinburgh Sunset
Edinburgh is filled with unique activities and attractions, and sunset-hopping is undoubtedly a fun excuse to visit some of the best of the city's observation spots. If you're looking for more cool travel inspiration, you can check out this post on beautiful places in Scotland.
Hopefully, you'll get to experience as many of the pretty places on this list as possible during your Edinburg adventure. Be it in a park, a castle, or on a bridge, you're bound to see some memorable sunsets in this enticing city.
This Edinburgh sunset post includes affiliate links. That means if you click through and end up making a purchase I will receive a small commission. I wanted to make sure you were aware of this.