Getting to Scotland and Getting Around
The starting point for this 7 day Scotland Itinerary is
Edinburgh
. Edinburgh is quite walkable and there isn't a need to hire a car. To get from Edinburgh to Glasgow I would recommend taking the
train.
The train between Edinburgh and Glasgow only takes 45 minutes (fastest option) and they run very frequently. Again, there is no need for a car in Glasgow. However, I would recommend
hiring a car in Glasgow
and driving up and back to the Isle of Skye. The Isle of Skye does not have a train station. It is possible to get a train from Glasgow to Fort William, however, you will then need to connect to a bus and the whole journey takes on average at least 8 hours. Not a great use of time on a 7-day trip. It is a straightforward drive and if you're visiting outside of July and August traffic should be fine. At the end of your trip the nearest airport to the Isle of Skye is
Inverness
. It is 100 miles away and takes about 2 1/2 hours.
Scotland 7 Day Itinerary: Days 1-3: Edinburgh
Edinburgh as a city used to be literally just the royal mile area or what is now the Old Town Edinburgh. The city is built on hills so when it began to fill up the only way to accommodate people was to go up and down! Streets known as Closes began to be filled with houses literally on top of each other. And thus began the creation of a city under Edinburgh. This is just one of the many interesting things to do in Edinburgh: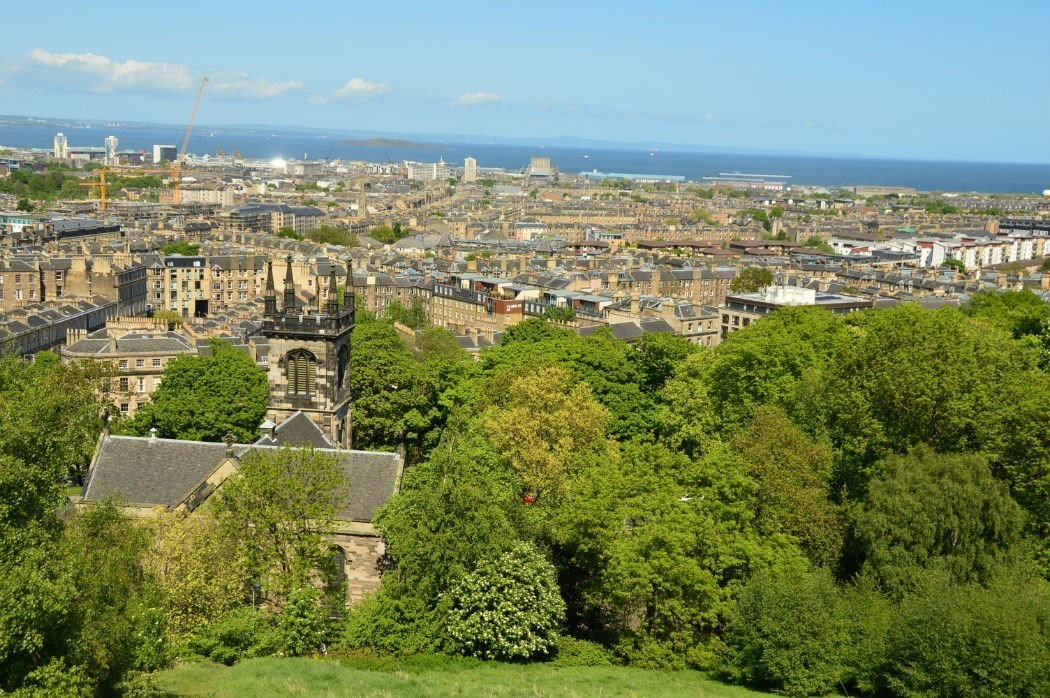 1. Explore Underground Edinburgh
One of the most fascinating things to do in Edinburgh is to explore its underground side. Edinburgh had a whole community underneath its now main streets until disease broke out and the area was evacuated, sealed and forgotten about until a pub owner discovered he had a vault in the 1980s. Two main tours will take you under Edinburgh. Mercat Tours kicks off from the Mercat Cross and covers the Blair Street Underground Vaults.
The Real Mary King's Close
is perhaps the most famous Edinburgh underground Tour. The Real Mary King's Close tour is quite a different type of tour to the Mercat Tour. It is far more interactive and theatrical.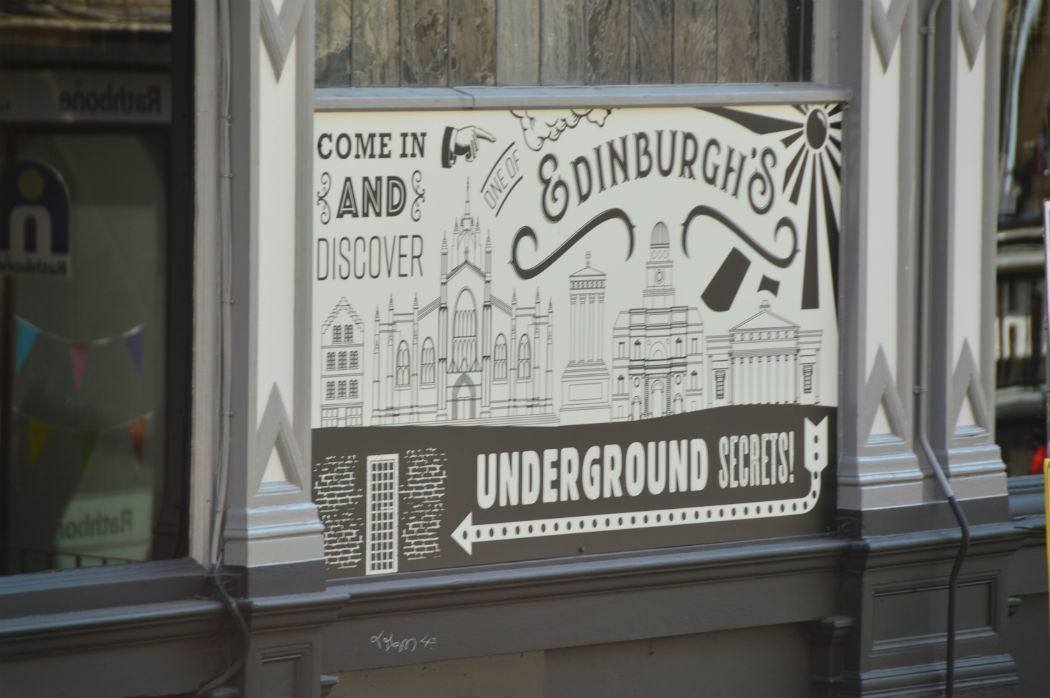 The Real Mary King's Cross features character guides in costumes and doesn't allow photos to be taken. This is a great option if you're with kids or anyone who is easily bored. The Mercat Tour is a more traditional tour that takes in several underground vaults and you will hear some fantastic stories. ⇒
Book your
Edinburgh historic vaults walking tour
⇒ Read more about Underground Edinburgh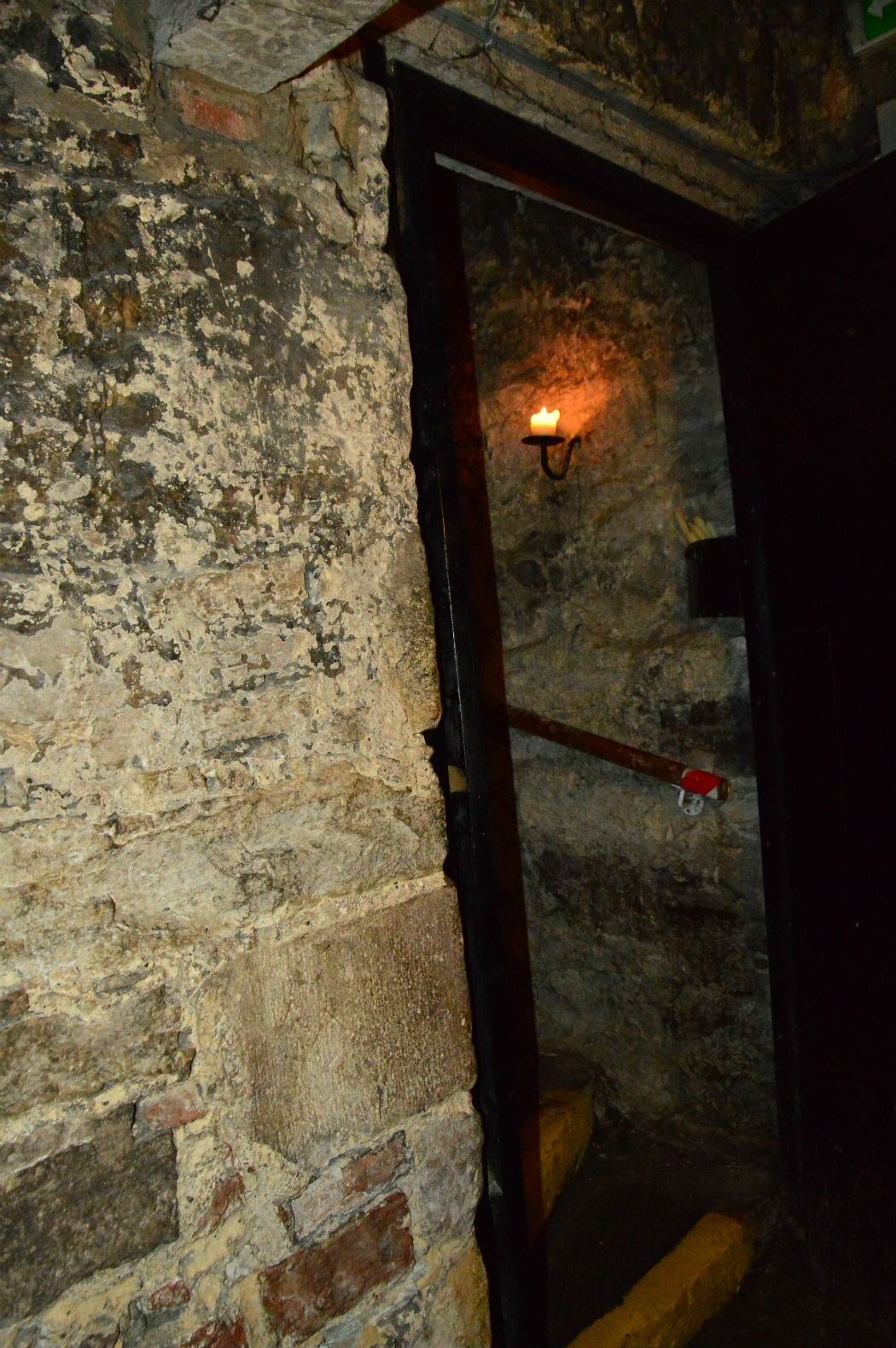 2. Take an Edinburgh Ghost Tour
Edinburgh loves a ghost tour! There are many stories of ghosts – and some dreadful stories around what life was like living in the Edinburgh vaults – and the fate of some of its inhabitants.
Edinburgh ghost tours
are generally held as an evening tour – adds some atmosphere! Hop on the
Ghost Bus Tour of Edinburgh
and you'll get a sightseeing tour of Edinburgh as well as some amusing ghostly tales.
3. Edinburgh Castle
There can be few castles in the world as magnificent as Edinburgh castle! It perches literally on the top of Edinburgh. Don't leave Edinburgh without visiting
Edinburgh castle.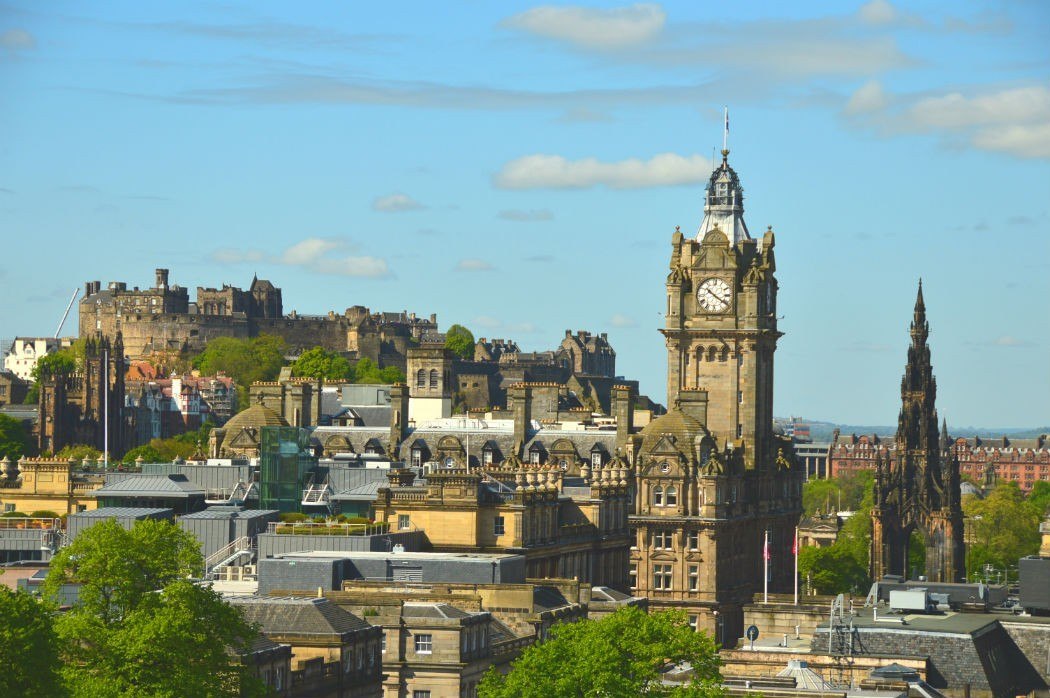 4. The Royal Mile
The
Royal Mile
is the central street in Edinburgh and is home to historic buildings, shops, several tourist attractions and lots of atmosphere – particularly during August. It takes about 15 minutes to walk from Holyrood Castle at one end to Edinburgh Castle at the other end.
5. Arthur's Seat
Arthur's Seat
is home to one of the best views over Edinburgh. It takes about 30 minutes to walk up to the top. Do be careful with the weather as boy is it windy on a windy day!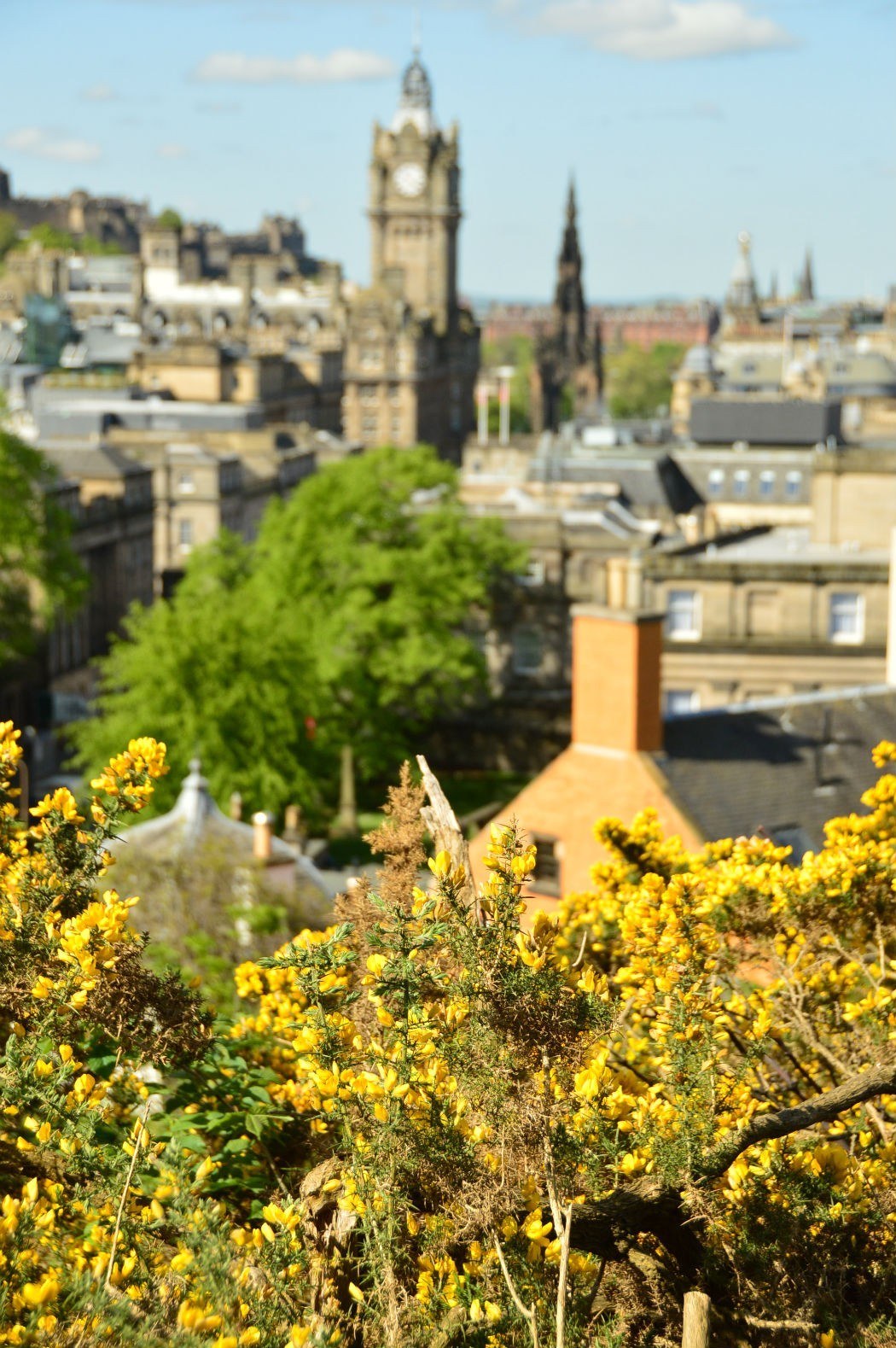 6. The Royal Yacht Britannia
I must admit, I was particularly keen to visit the Royal Yacht Britannia after watching The Crown! And it didn't disappoint. I was supplied with a terrific audio tour that did a brilliant job of bringing to life what it must have been like on the Royal Yacht Britannia. I most enjoyed being able to see and in some cases walk through the private areas of the royal family. It felt so special being, in one case, in a room where most of the major players of the 20
th
century had visited at least once! And they do a great afternoon tea!
⇒ Book Your Royal Yacht Britannia
Tickets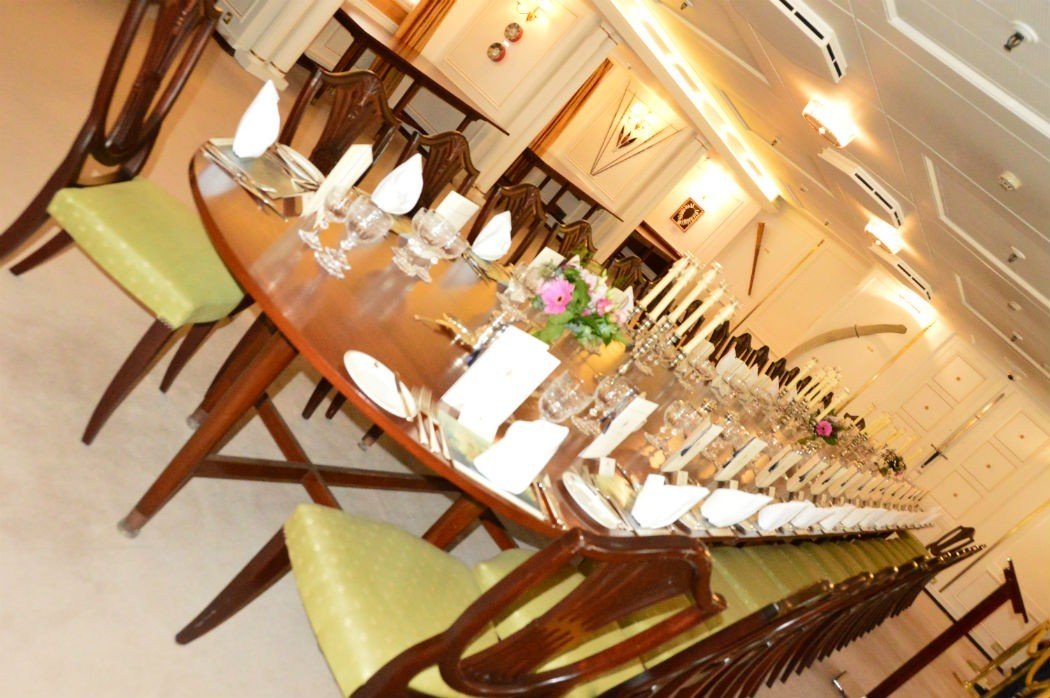 7. Edinburgh Dungeon
Keep up the perky mood with a visit to the
Edinburgh Dungeon
!
8. Seasonal Edinburgh
Edinburgh has some brilliant events. The
Edinburgh Festival
is one of the biggest arts festivals in the world and is held every August. Although it has a whole range of artists and events it is perhaps best known for its fantastic comedy talent. I highly recommend booking some shows as well as checking the schedule as many comedians often do free late-night sets during the festival. The
Edinburgh Military Tattoo
runs at the same time as the Edinburgh Festival and I can't recommend this more highly! When I went I didn't really expect much but I was blown away! The sights and sounds are just fantastic and the atmosphere is electric. And Edinburgh's
Hogmanay
is one of the biggest celebrations of New Year's Eve in the world.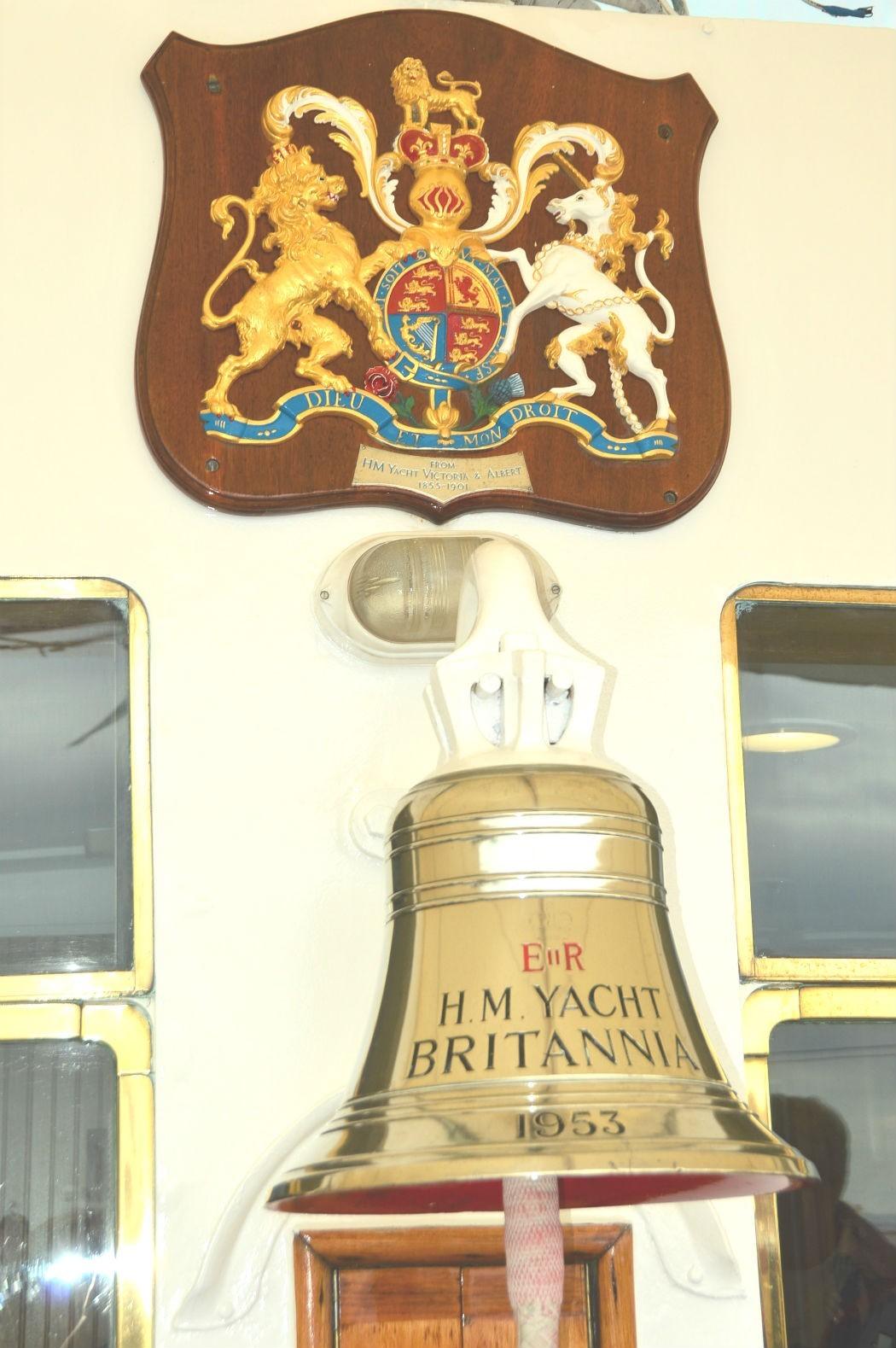 9. Edinburgh Day Trips
The most popular day trip from Edinburgh is to
Loch Ness
to see if you can spot one of the world's most famous monsters. Whilst you may reasonably expect that you won't see the Loch Ness monster, you will get some outstanding scenery. For fans of the tv series
Outlander
, there is a day trip that takes in key locations from the show. And whether or not you were a fan of Dan Brown's the DaVinci Code,
Rosslyn Chapel
is absolutely stunning and I highly recommend you add it into your Edinburgh itinerary!
Where to Stay in Edinburgh
I had a fantastic stay at
21212 restaurant with rooms
. There are just four rooms at this beautiful and stylish Edinburgh boutique hotel. And the food is amazing!
⇒ Read more reviews on TripAdvisor ⇒ Book Now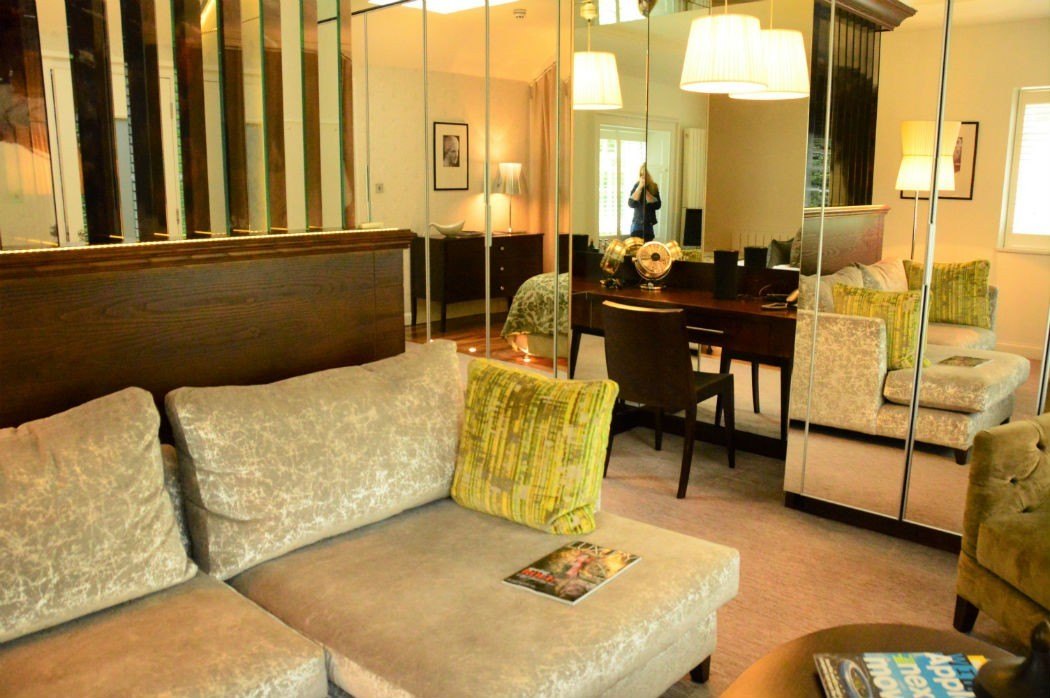 The
Dunstane Houses
is actually 2 villas put together to form a beautiful boutique hotel that is filled with rich and earthy colours.
⇒ Read more reviews on TripAdvisor ⇒ Book Now
Where to Eat in Edinburgh
You can have dinner at 21212 whether you are staying at the hotel or not and I highly recommend checking it out. For Asian-fusion and small sharing plates head to
Noto
. Go farm to fork at
Merienda
. For a decadent and memorable dining experience check out the tasting menus at
Fhior.
⇒ Looking for some relaxation during your week in Scotland? Check out my post on Scotland's Best Spa Breaks.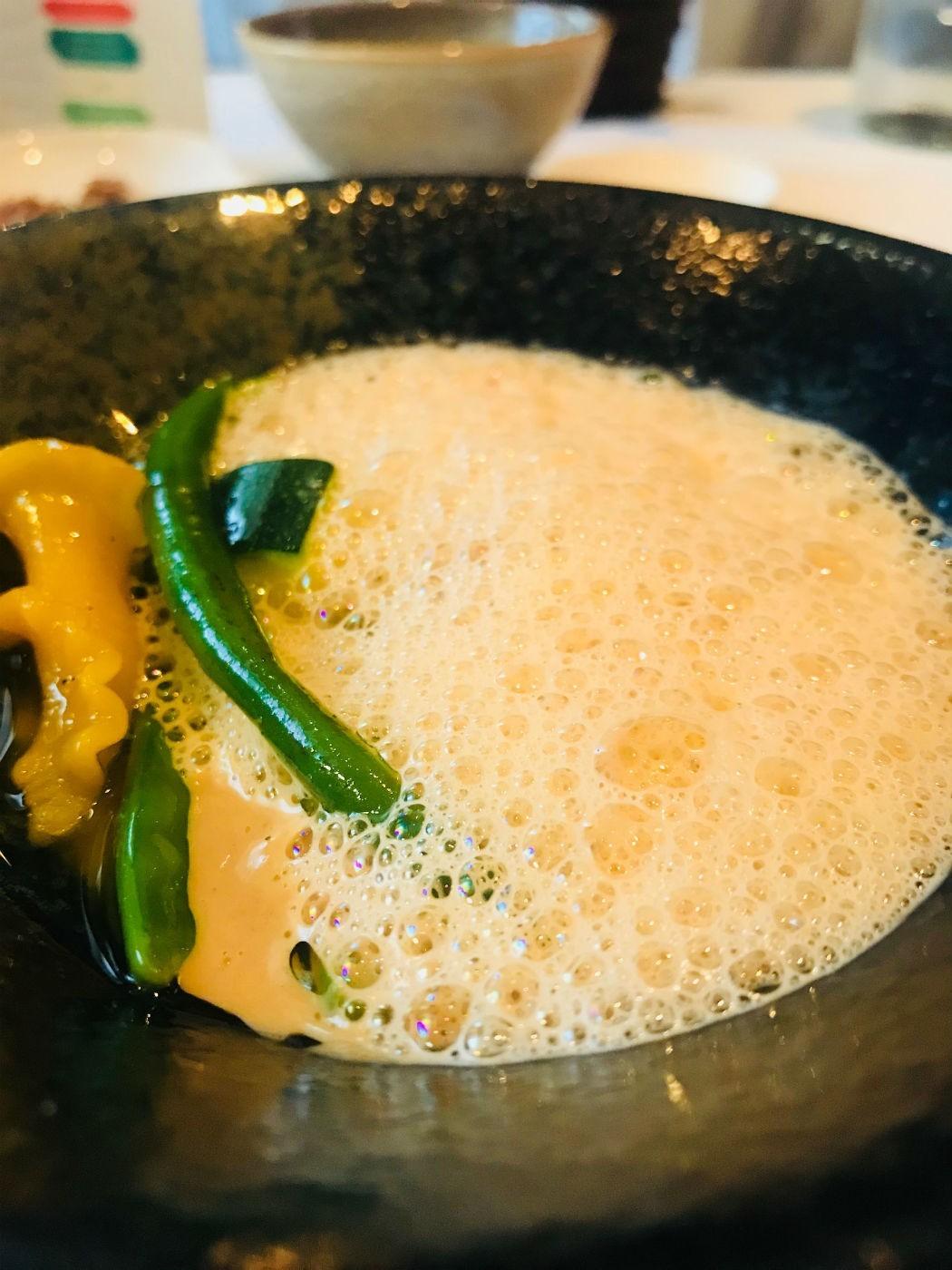 Amazing soup at 21212
A Week in Scotland: Days 4-5: Glasgow
Glasgow just oozes charm and character! This is Scotland at its cheekiest best. For me, this is a city to experience rather than being about big wow tourist attractions.
Tours
are a great way to get to know the city and to hear about its amazing and often very amusing history – and the stories still happening today!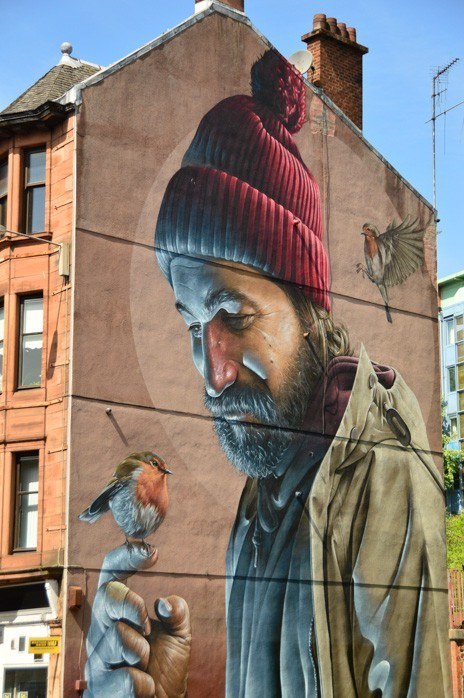 Take a Walking Tour
The
Glasgow City Centre walking tour
departs at 1230 and 2pm every day. It covers all of the key Glasgow sites such as Glasgow Cathedral and the Necropolis, and is run by locals. And it's incredibly good value! The
Glasgow Gander
is an excellent free walking tour. However, it is expected that if you enjoy the tour you will tip at the end.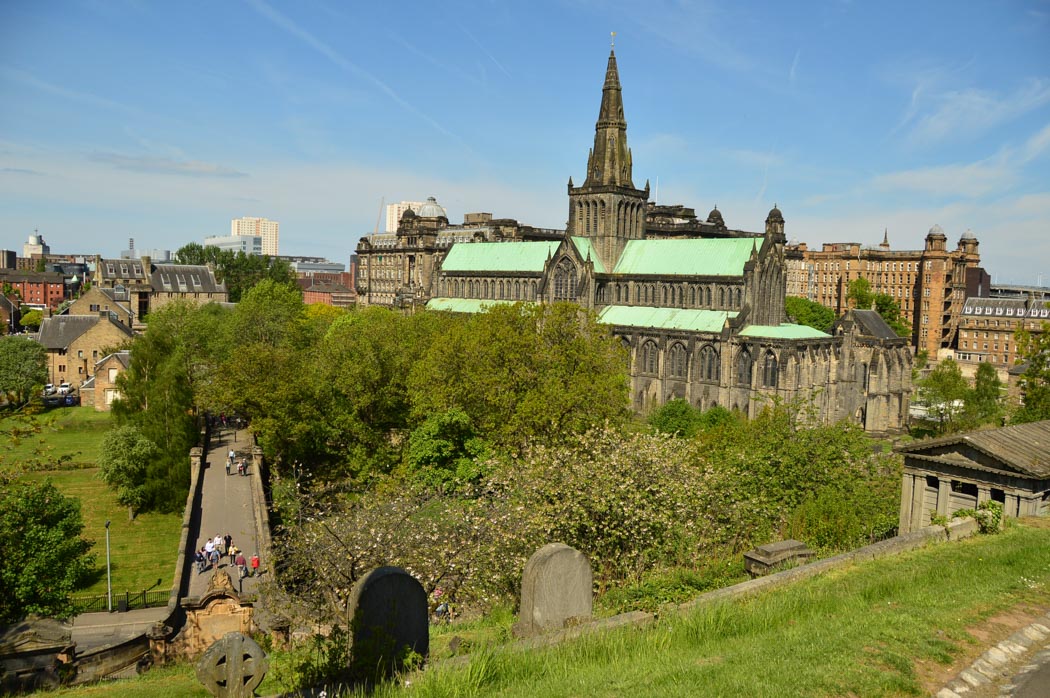 Hop on Hop off bus
I know they seem like a cliche but I quite like a
Hop on Hop off bus
! I often take them on my first day at a new destination. And I actually did do this the first time I went to Glasgow quite a few years ago! A hop on hop off bus is a fantastic way to get a feel for the key sites, how far apart they are, and which ones you will find the most interesting.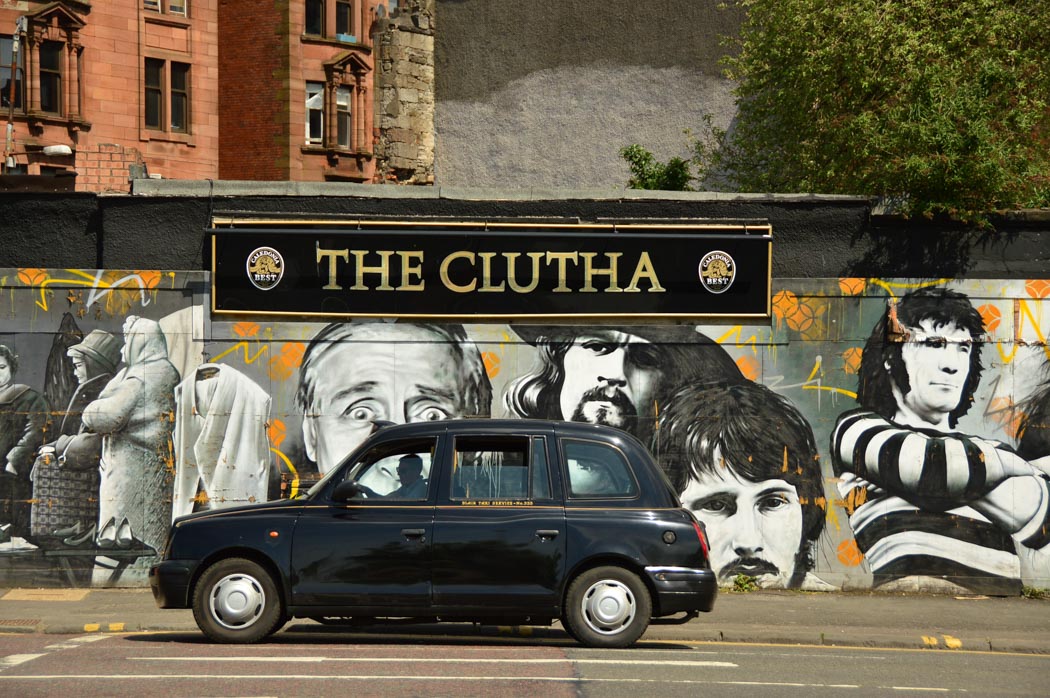 Riverside Museum
Riverside Museum
is a transport museum that sits on the banks of the Clyde River. To be honest, visiting a transport museum isn't normally high up my list. However, this transport museum is in a building designed by the amazing architect Zaha Hadid and is absolutely stunning – not to mention very photogenic.
Mackintosh House
Charles Rennie Mackintosh is synonymous with Glasgow. He was a Scottish architect, designer and artist. Personally, I love his unique work and really enjoy visiting anything exhibiting his works. The
Mackintosh House
is a recreation of the actual Glasgow home of Mackintosh and his wife. They lived in this house from 1906 to 1914. The house is beautiful and features much of the signature Mackintosh designs.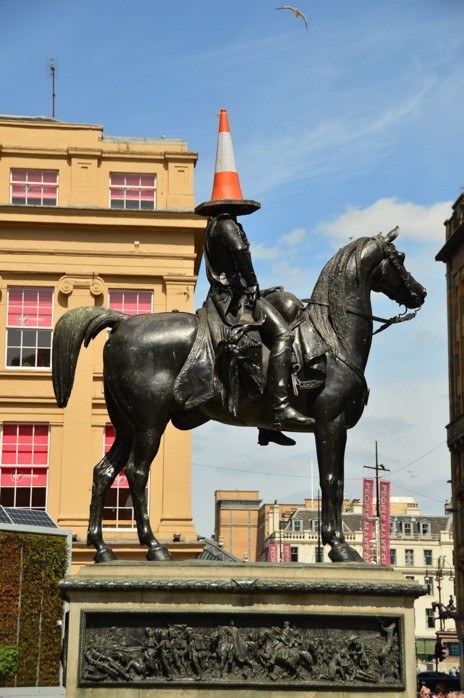 Enjoy a wee dram
There are MANY options for enjoying a whisky when in Glasgow! If you're curious about whisky but unsure as to if it is for you check out the
Single Malt Whisky and Distillery Tour
. This tour will teach you how to drink whisky, take you to a distillery and see how it is made and then check out a couple of Glasgow's whisky bars. Or you could combine visiting a
distillery with visiting Loch Lomond
on a half-day tour. If you are passionate about your whisky there are many
tours
which offer the chance to visit some of the most famous distilleries in Scotland, taste their whisky and see how whisky is made.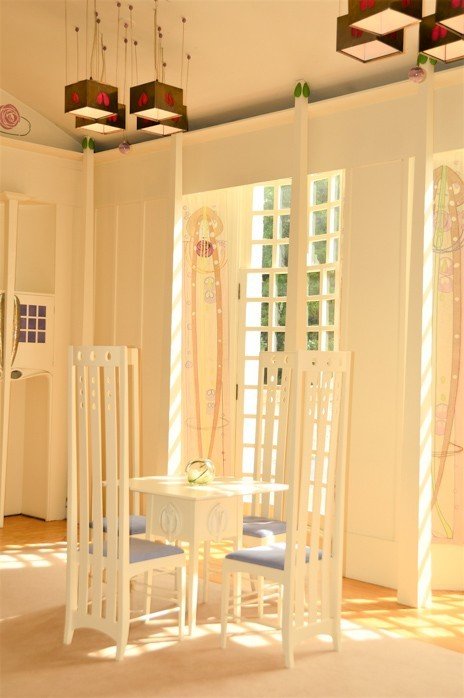 House for an Art Lover
House for an Art Lover
is just outside the centre of Glasgow. The house is an art gallery, exhibition space, a lovely restaurant, studio and visitor attraction. House for an Art Lover Glasgow was designed by Glasgow's most famous architect, Rennie Scott Mackintosh, as a country retreat. The house sits within the 169 acre ground of Bellahouston, one of Glasgow's oldest and loveliest parks. I went to see a couple of exhibitions, including a recreation of some of Rennie Scott Mackintosh's lovely work, had a great lunch and very much enjoyed wandering the grounds. Visiting House for an Art Lover is great thing to do in Glasgow – and very photogenic!
Day trips from Glasgow
If you're a fan of the
tv series Outlander
then this is the day trip for you! This
8-10 hour Outlander Tour
will take you to some of the key filming locations for the series including Lallybroch, Castle Leoch and Crainsmuir. Castle Leoch has also been used in Game of Thrones!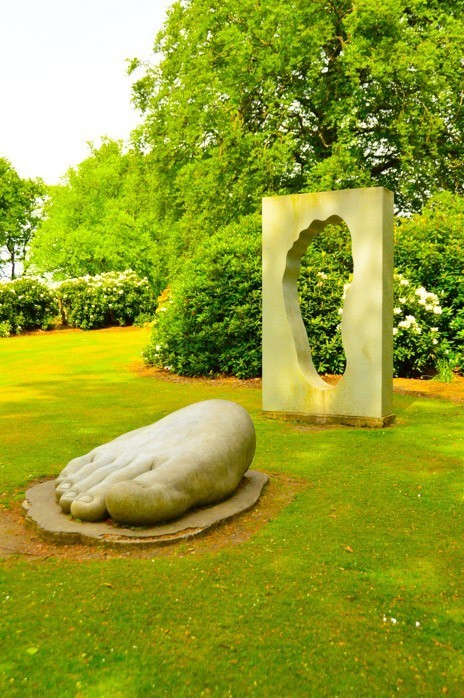 Or combine
Stirling Castle with Loch Lomond and the Whisky Trail
– one of the Glasgow days out for adults due to the whiskey component! Finally, Scotland is heaven for photographers – when the light is right! That does tend to happen several times a day but it is rather unpredictable. This
Photography Tour of Glencoe
gives you the whole day in the area which improves your odds of getting some nice shots. There is also one to one teaching.
Where to stay in Glasgow
Hotel du Vin
is in the heart of Glasgow's West End and has 49 fabulous rooms with Egyptian linen, hand sprung mattresses and deep roll-top baths.
⇒ Read reviews on TripAdvisor ⇒ Book Now
For a modern approach that is super tech-friendly checkout
Citizen M
which has also has a great central location.
⇒ Read reviews on TripAdvisor ⇒ Book Now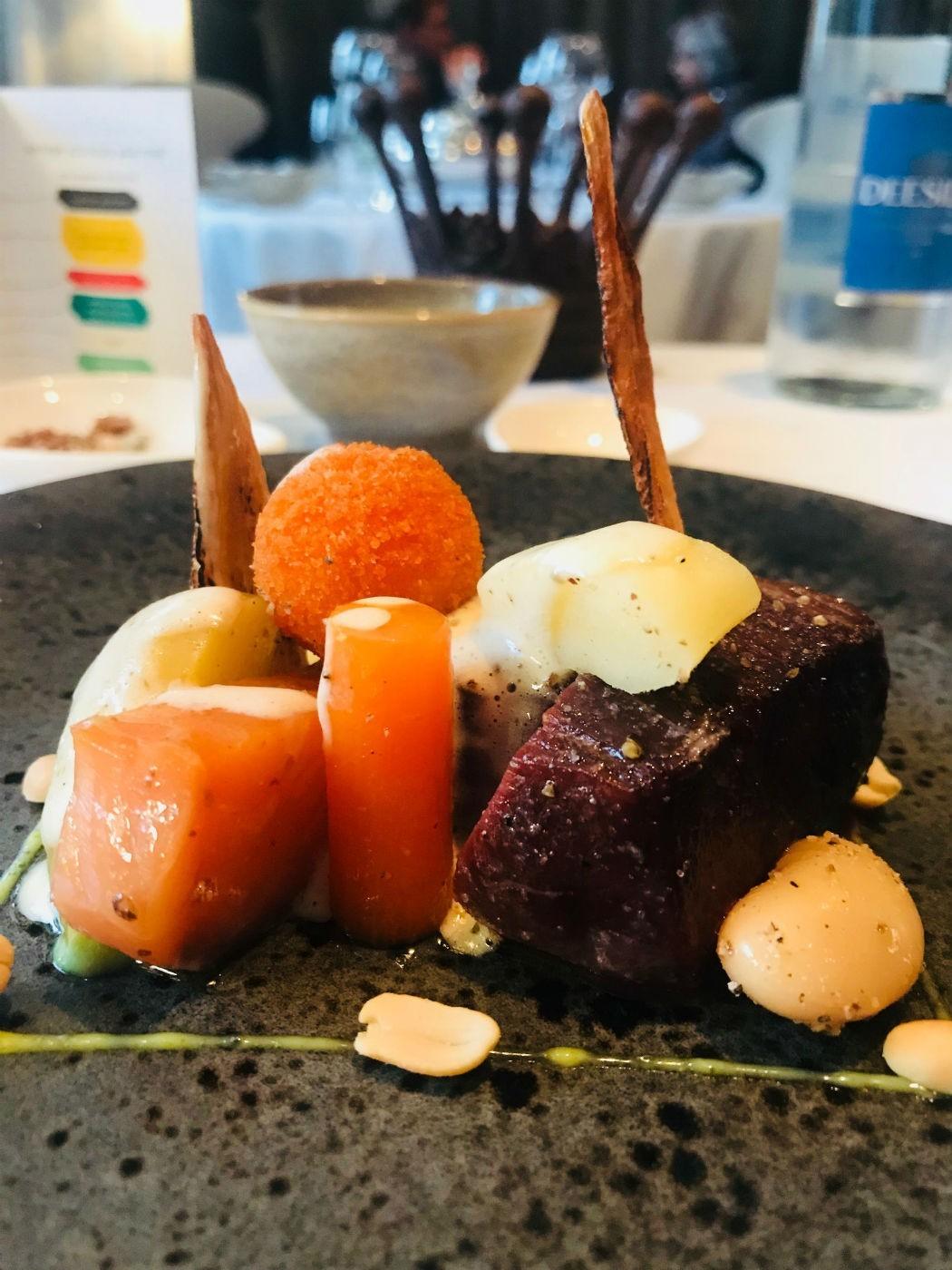 Where to eat in Glasgow
Glasgow is a fantastical foodie city. If you're keen to try Scottish cuisine served in a modern style head to
Cail Bruich
. For a more formal dining experience, you won't forget try
Two Fat Ladies at the Buttery
. For a much more relaxed experience head to the
Hanoi Bike Shop
for some great Vietnamese.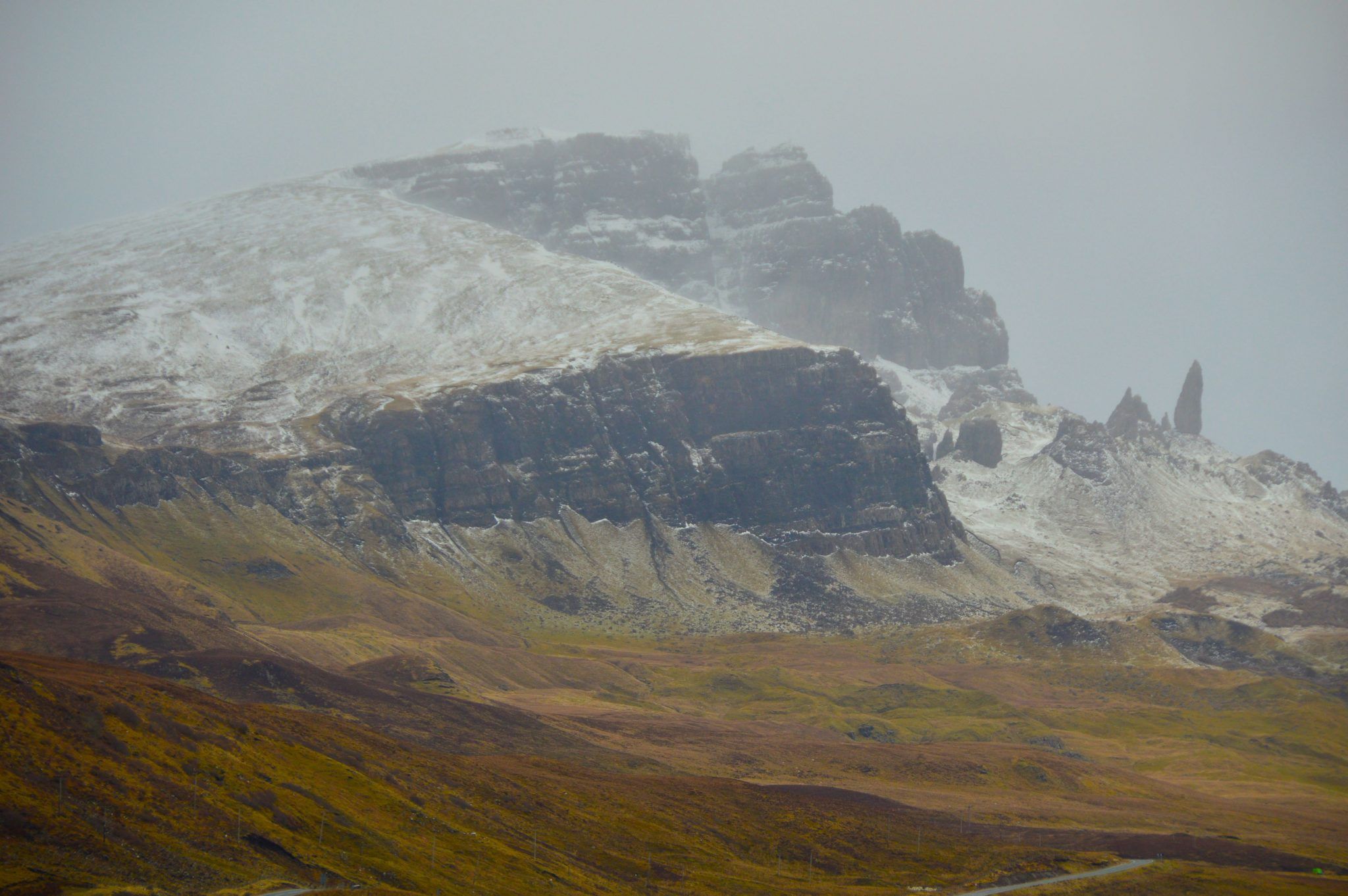 1 week Itinerary Scotland: Days 6-7: The Isle of Skye
1. Glen Coe
When you leave Glasgow head north on the A82 main road. This drive takes you through the stunning
Glen Coe
. It is frequently commented on in travel books for good reason – it is absolutely beautiful. But it is always about the light and the weather when it comes to photography – and you have to be quick in Scotland!
⇒ Heading to London? Check out my posts on 13 Unusual Experiences in London, the best London Food Tours, some great places to eat in Earlsfield, near Clapham Junction and near Victoria Station, a mad hatter afternoon tea party and day trips to Brighton and the Cotswolds.
2. Fort William
Fort William
is the outdoor capital of the United Kingdom. There is rock climbing, ice climbing in the winter, trekking, canoeing, kayaking – you name it and Fort William probably offers it. The reason that Fort William has become the outdoor capital of the United Kingdom is that it is home to Britain's tallest mountain,
Ben Nevis
.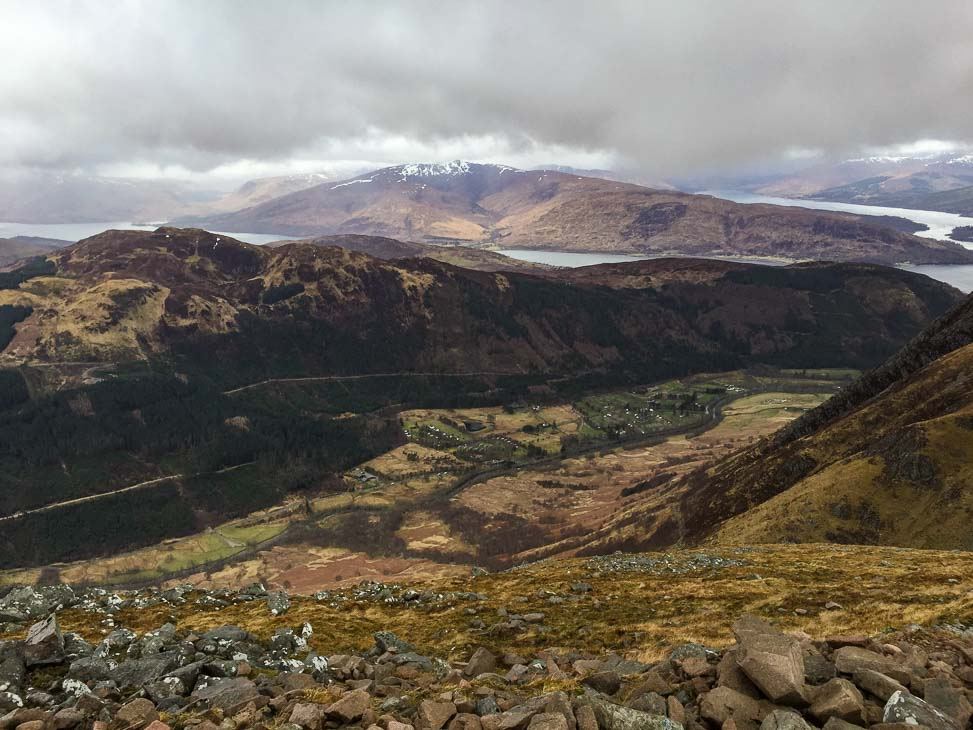 If you're interested you could alter the itinerary and stay in Fort William for Days 6 and 7. The Isle of Skye is a 2 1/2 hour drive from Fort William so it could be done in a full-on day trip. Or why not
climb the highest mountain in the UK
? If you prefer that option then there is more information on things to do in Fort William in my
10 days Scottish Highlands Itinerary
post. But now onto the amazing Isle of Skye. This island is a magical, mystical place and incredibly beautiful in this uniquely rugged way.
3. Eilean Donan Castle
The stunning
Eilean Donan Castle
is literally on the A87 road not far before it heads over to the Isle of Skye. The castle is on a small tidal island that is located where three different lochs meet and it is extremely photogenic! Capture it both from a distance and up close. Plus, you will pass Eilean Donan Castle again on your way out of the Isle of Skye.
Do make sure you check the
opening hours
before you go as they change throughout the year – plus the castle can be closed for weddings.
4. The Cuillin Hills
I had read that it was a good idea to get a guide for the
Cuillin Hills
and I found Mitchell from
Skye Ghillie
online
.
He came and picked me up at my hotel and was a lovely guy.
We headed to the base of the Cuillin Hills and grabbed a coffee at the little pub there and then headed for the hills!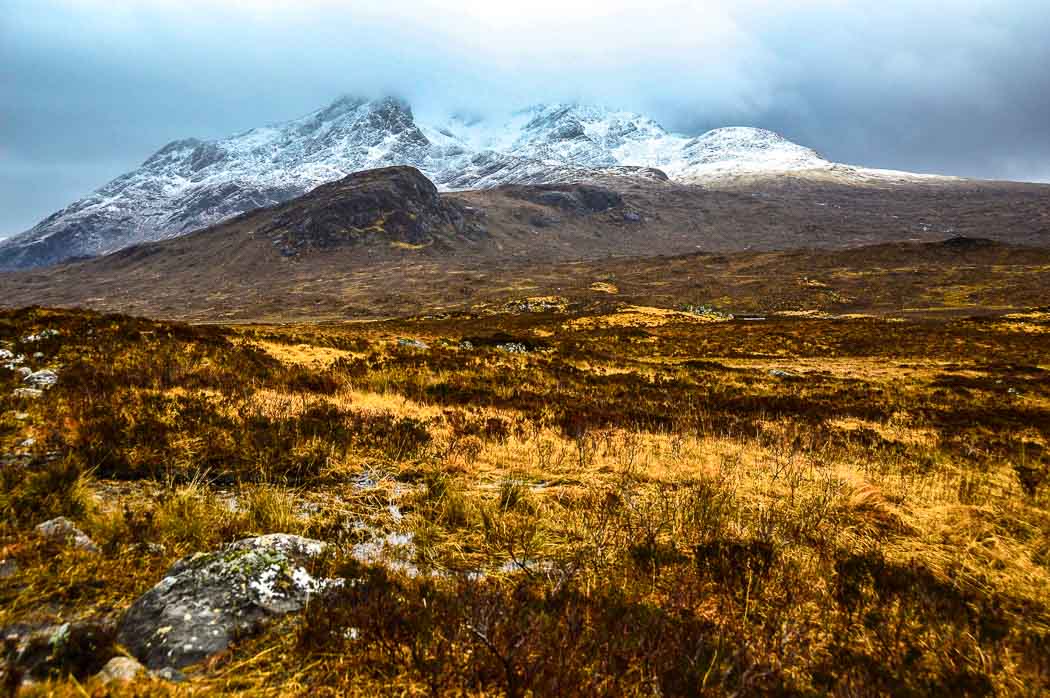 I visited the Isle of Skye in early April and the weather was still quite mixed. We walked for a couple of hours and it was absolutely stunning. However, the wind picked up a lot so instead of staying out in the Cuillin Hills for the entire day Mitchell suggested a sight seeing drive – which was a much warmer option!
5. Drive the A87 and B roads around the top east side of The Isle of Skye
This was one of my favourite activities on the whole trip – thanks to Mitchell from Skye Ghillie! The scenery in this area of the Isle of Skye was absolutely majestic – although of course, it was constantly changing with the weather! Depending on the weather your first stop can be
Quiraing
– a very scenic rock formation. There is a walk to the prison but the weather was not on my side so we didn't risk it. The
Old Man of Storr
is also great for photos and is perhaps the most famous walk on the Isle of Skye as well as its icon.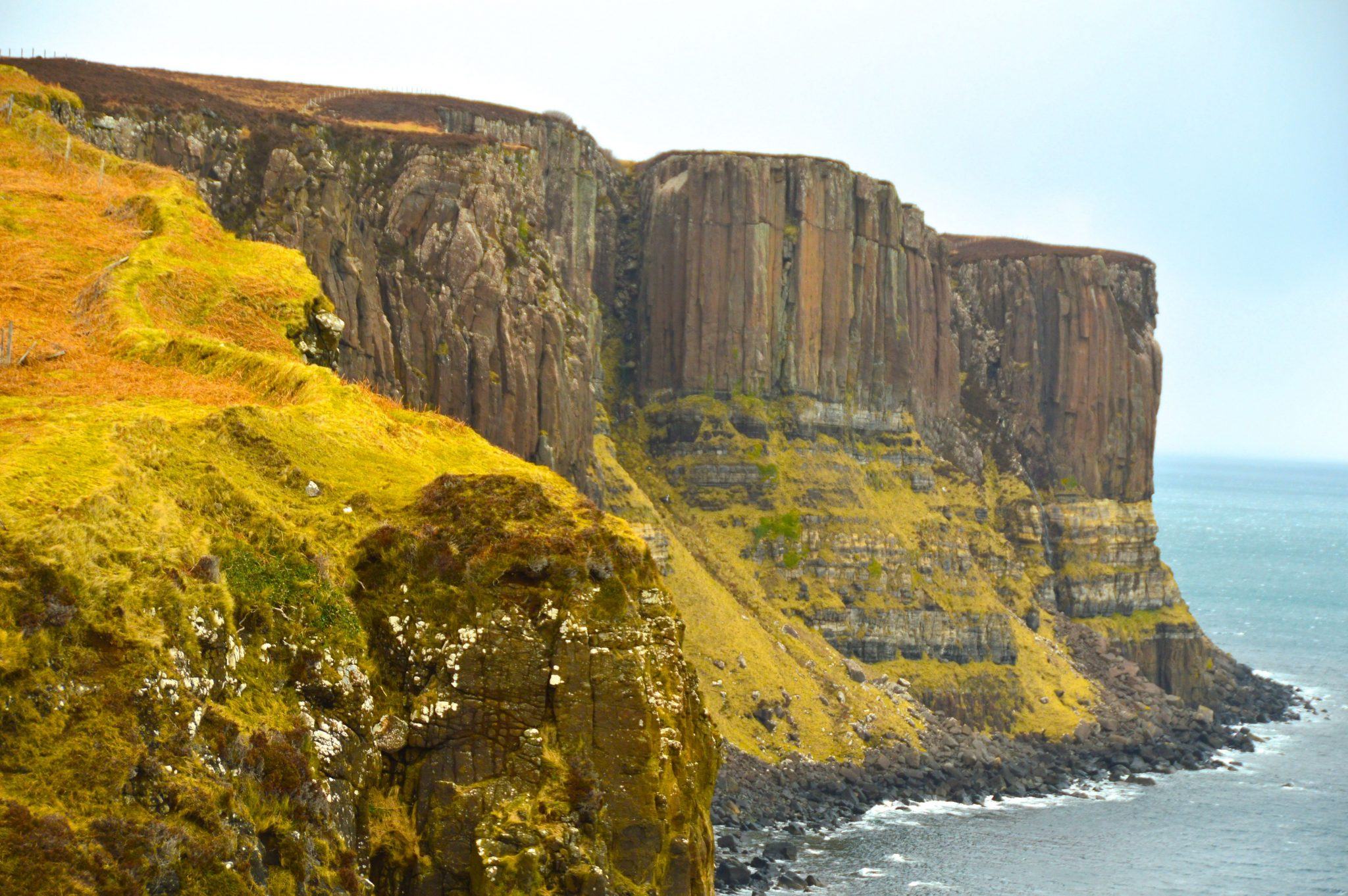 Driving along the coast and you'll then hit the stunning and windy
Kilt Rock
– so named as it does resemble a tartan print. Then head inland to the picturesque
Fairy Glen.
Movies have been filmed here and it does have a genuinely magical feel – and a lot of sheep!
Where to Stay on the Isle of Skye
Portree is the main town on the Isle of Skye and has a good central location. If you're looking to stay here check out
The Cuillin Hills Hotel.
This Scottish Highland Hotel was much bigger than I expected – I think it is well set up for bus tours. But my room was lovely and I ate well there both nights.
⇒ Read reviews on TripAdvisor ⇒ Book Now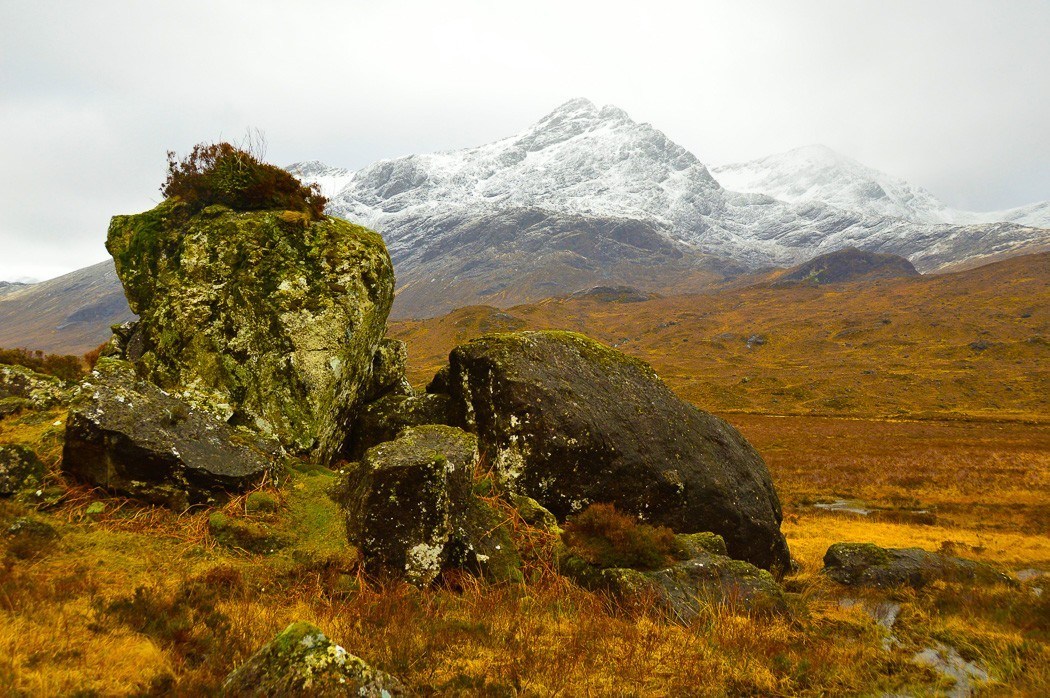 If you're looking for a more uniquely Scottish luxury hotel then
Kinloch Lodge
is for you. This stunning 16th-century hunting lodge is in the far south of the island at the foot of Kinloch Hill. It is also known for its outstanding restaurant.
⇒ Read reviews on TripAdvisor ⇒ Book Now
Where to Eat
This is one foodie island! There are loads of fantastic bakeries and restaurants and even good coffee! In Portree check out
Scorrybreac
. If you're after something special there are several Michelin star restaurants on the island as well. I really enjoyed this blog post from
Boys eat Scotland
who has personally tried out a lot of the best options!
When to visit Scotland in a week
July and August are the warmest months of the year in Scotland – but even then the average temperature is around 15 degrees Celcius. These are also both the busiest months of the year. I think it is a much better option to visit May, June of September. Average temperatures are not much lower at 13 degrees but there will be far fewer people.
⇒ Looking to explore the South and South West of England? Check out my posts on Sussex, wonderful Winchester, Brighton, Exeter and its coffee culture, Exmouth, Cardiff, the Valleys in South Wales, boutique hotels in the Cotswolds, day trips to the Cotswolds from London and spa hotels in the South West of England.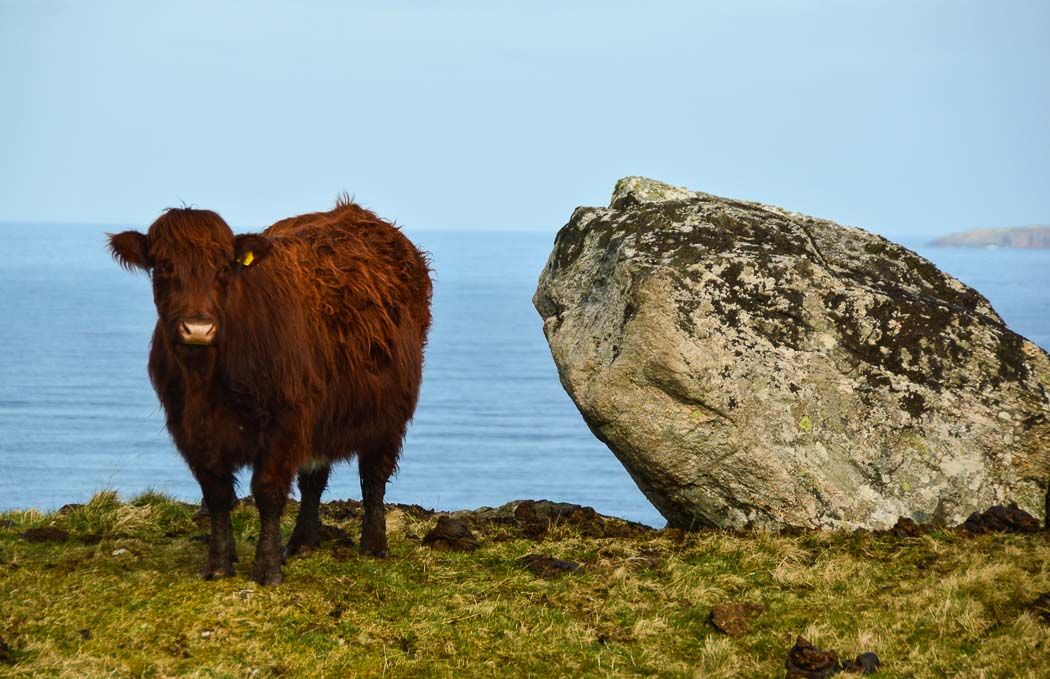 In December and January there is only about one hour of sunshine per day so this is not the best time to visit. It is still quite cold and dark in February and March. If you're keen to head to Scotland a bit earlier do try to wait until after Easter as this is when many businesses re-open for the season. If you'd like to extend your Scotland trip have a look at the South West Coastal Road 300 route. And don't miss the lovely area of
Dumfries and Galloway
as well as nearby
Ayrshire.
Things to know before your 7 Days in Scotland
⇒ Scotland is all over connectivity! There is free wifi in Edinburgh, Glasgow and even Portree in the Isle of Skye. The only time you may face some issues during your 1 week in Scotland is between Glasgow and the Isle of Skye. If you're hiring a car for that leg make sure you get sat-nav just in case.
⇒ Credit cards etc will be accepted virtually everywhere in Glasgow and Edinburgh as well as Portree. But do take a small amount of cash for when you leave Glasgow for the Isle of Skye and if you decide to take day trips from Edinburgh or Glasgow just in case.
⇒ Scotland has its own pounds. But don't worry these can also be used in England so you don't need to use them all up before leaving Scotland.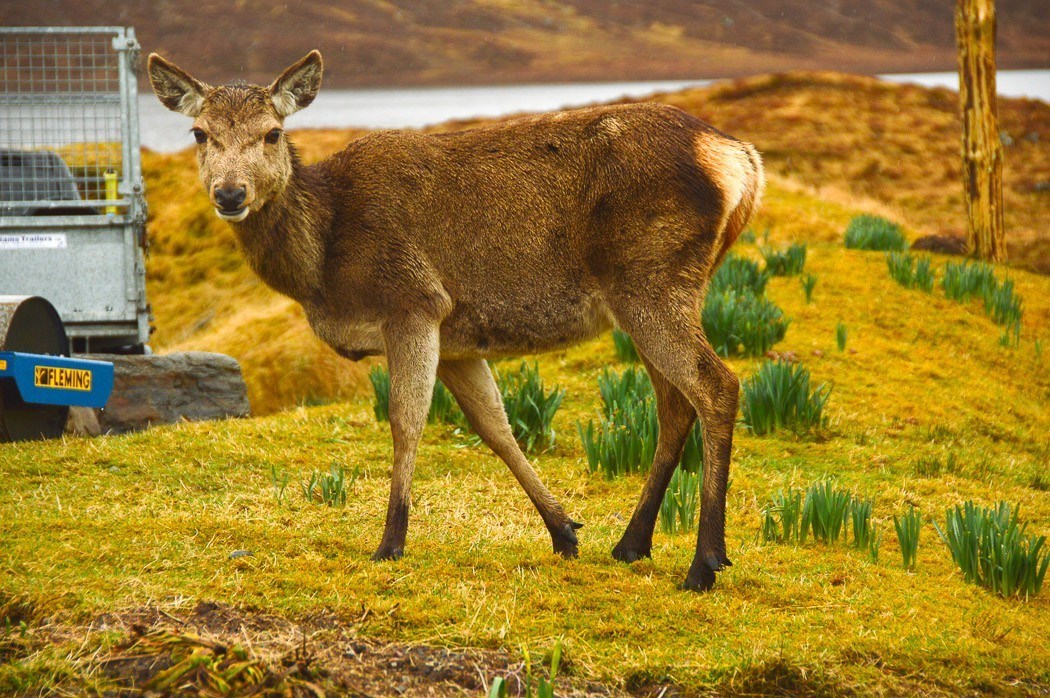 If you're heading to Scotland from outside of the UK there are some fantastic deals to be had when you purchase certain passes ahead of time. I have a full list further down this post but the ones that I think are the best value for visiting the Scottish Highlands are here:
⇒ If you're keen on taking the train around the Scottish Highlands and exploring some of the islands of Scotland as well check out the BritRail Scottish Freedom Pass
. This covers all rail within Scotland and even some of the ferries to the islands.
⇒ The Historic Scotland Explorer Pass
covers more than 75 properties including Edinburgh and Stirling Castles, Urquhart Castle at Lochness and many more.
⇒ The Scottish Heritage Pass
covers over 120 properties but can only be used between April 1 and October 31.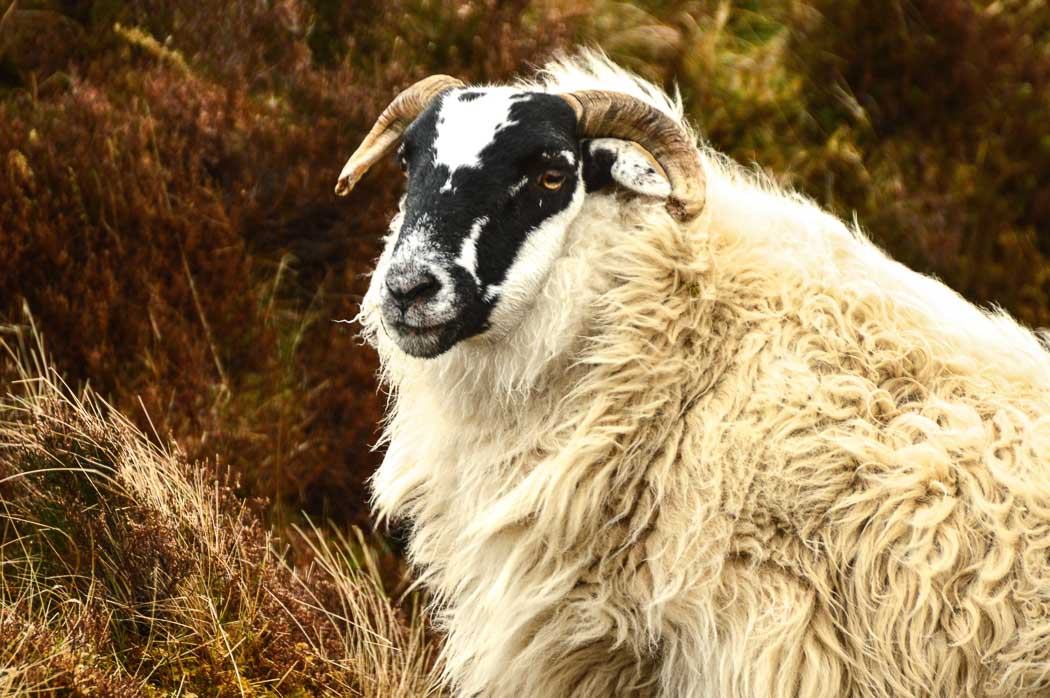 What to Pack for seven days in Scotland
Scotland's weather likes to change frequently so layers are critical – and don't forget to bring a set of waterproofs and an umbrella. This Scotland travel itinerary will involve quite a bit of walking so pack some good flat shoes. The better restaurants in Glasgow and Edinburgh can be dressier so you may want to pack one dressier outfit. And here is a brilliant
Scotland Packing Guide for your trip
Guided Scotland Tours
If you love the sound of Scotland but would prefer to join an organised tour for your one week in Scotland there are some great options:
⇒ For a range of different Scotland organised tours check out Tourradar
⇒ Rabbies has a huge range of small trip organised tours in Scotland
⇒ Intrepid also has a big range of tours in Scotland
⇒ Looking for some travel inspiration? Itineraries not only help you plan a trip they can also help you to figure out where you want to go next. Check out my itineraries for Austria, Nova Scotia in Canada, Colombia, Chile, Nepal, Namibia, Sicily, Turkey, Jordan and Korea.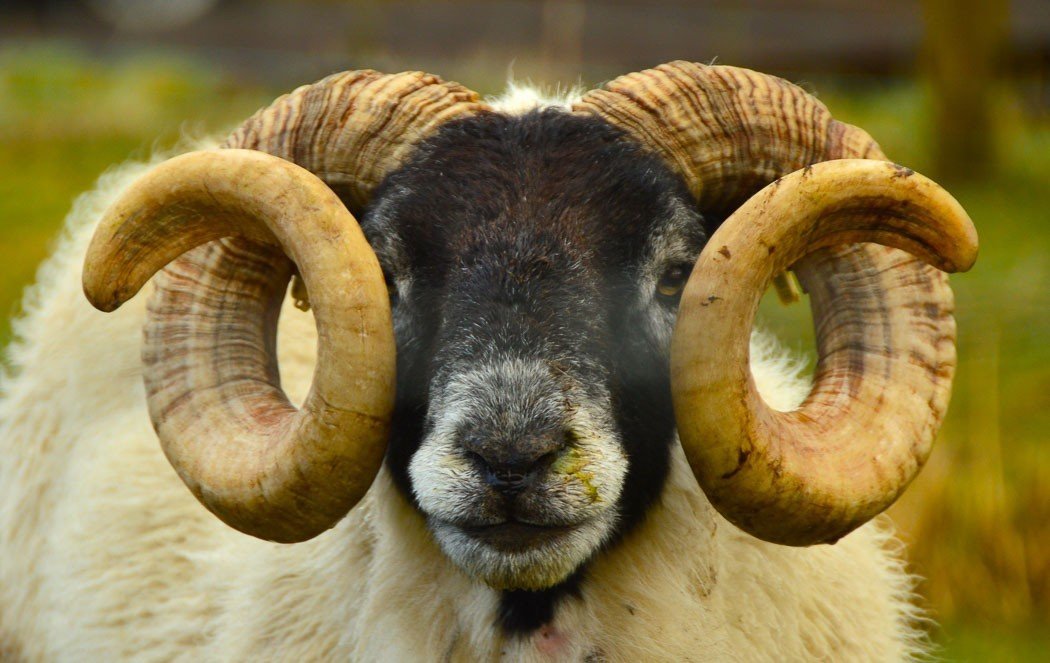 Great Deals for those visiting Scotland from outside the UK
Visit Great Britain has some fantastic offers that are just for those who live outside the UK. It is possible to make significant savings if you book certain things before you travel – not to mention how much easier it is to already have tickets for things when you arrive!
If you have just moved to the UK you can buy these passes in your first six months of residency.
Transport
There are a number of Brit Rail passes available. Rail is a brilliant way to get around the UK – the train services are generally pretty good and there are good timetables. The most important thing to check is what kind of pass you need. The best way to determine this is to start by
checking this map
against where you are planning to visit. There are two options available for Scotland:
⇒ The BritRail Central Scotland Pass
covers the key central cities in Scotland – Edinburgh, Glasgow, Stirling and Fife Station.
⇒ If you're planning on exploring the Highlands and the islands of Scotland then a better option is the BritRail Scottish Freedom Pass
. This covers all rail within Scotland and even some of the ferries to the islands.
If you're planning on travelling around England and Scotland then the best option is to buy the
BritRail GB Pass
.
This covers all train journeys across all of the United Kingdom. All of the above take the form of paper tickets that will be mailed to your home address. There is a new
BritRail MPass
which has an eticket that can be downloaded onto a mobile. However, it has one key restriction which is that the travel must be taken on consecutive days so make sure you check if this suits your plans before purchasing.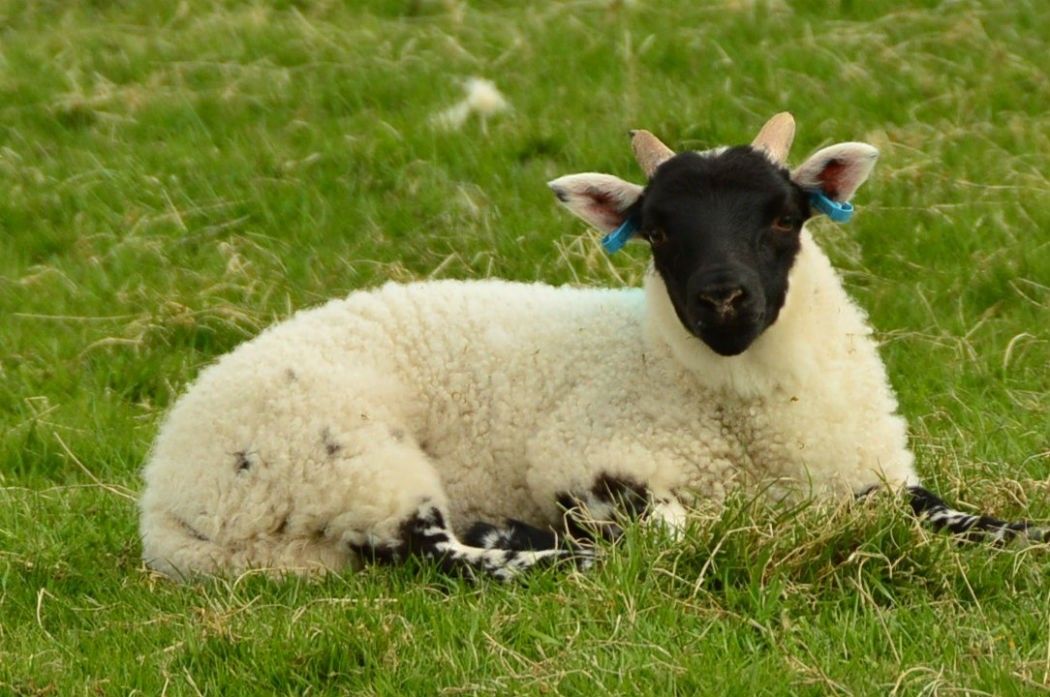 If you prefer travelling via a bus to train then check out the
skimmer pass national express coach
. National Express travels to over 1000 locations and has free wifi, USB and power sockets, onboard entertainment, air conditioning and reclining leather seats! Minicabs can be a great way to get around the UK.
Minicabit taxi bookin

g
covers 300 UK towns and cities and can be booked as far as one year out. These can be particularly good for getting from a train station to hotels/b&Bs.
Scotland Attraction Passes
One of the best value offers for overseas visitors are National Trust passes. These passes cover entry to a large number of major attractions and stately homes within the UK. If you will be visiting a few of their properties these passes very quickly become amazing value.
⇒ The Historic Scotland Explorer Pass
covers more than 75 properties including Edinburgh and Stirling Castles, Urquhart Castle at Lochness and many more.
⇒ The Scottish Heritage Pass
covers over 120 properties but can only be used between April 1 and October 31.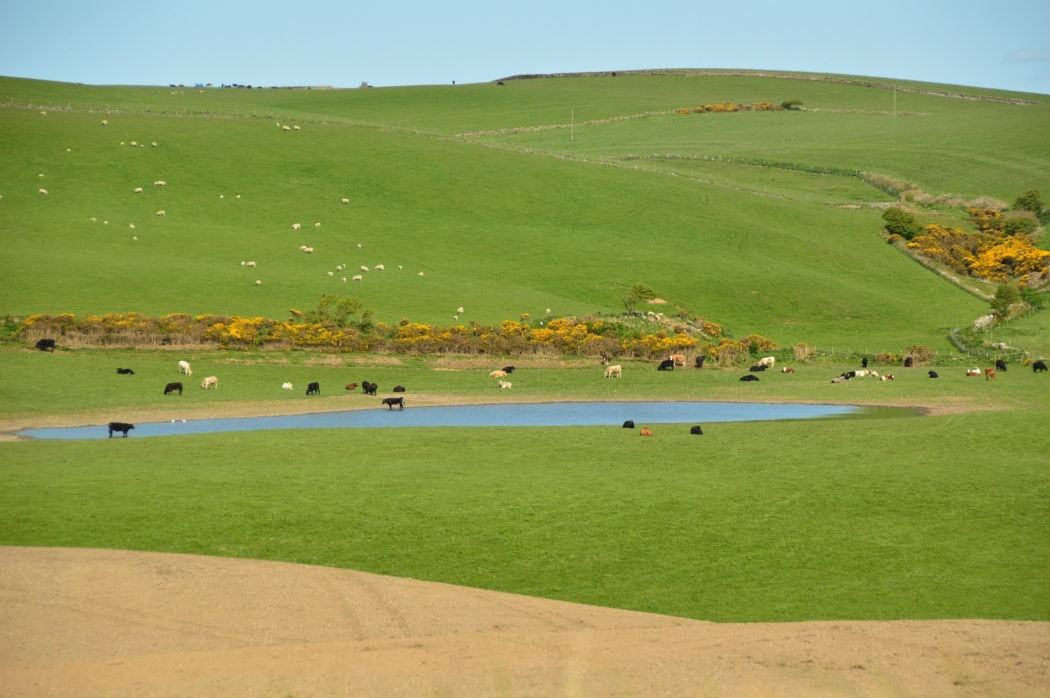 UK Travel Essentials
⇒ Grab a WorldSIM PrePaid Global SIM Card
to stay in touch at reasonable prices.
⇒ Access WIFI at local rates with the mobile wi fi rental wireless internet anywhere you go in britain
. This in your pocket wifi can be picked up at Heathrow or Paddington Station.
Who Paid for What in this Post
I covered all of the costs associated with writing this post on what to see in Scotland in 7 days. This post does contain affiliate links. This means if you click through on them and end up making a purchase I will receive a small commission. I wanted to make sure that you were aware of this.
READ NEXT: SCOTLAND 10 DAY ITINERARY: SCOTTISH HIGHLANDS
Like this post? Why not Pin it?