⇒ Book Your Ben Nevis Guided Climb from Fort William Now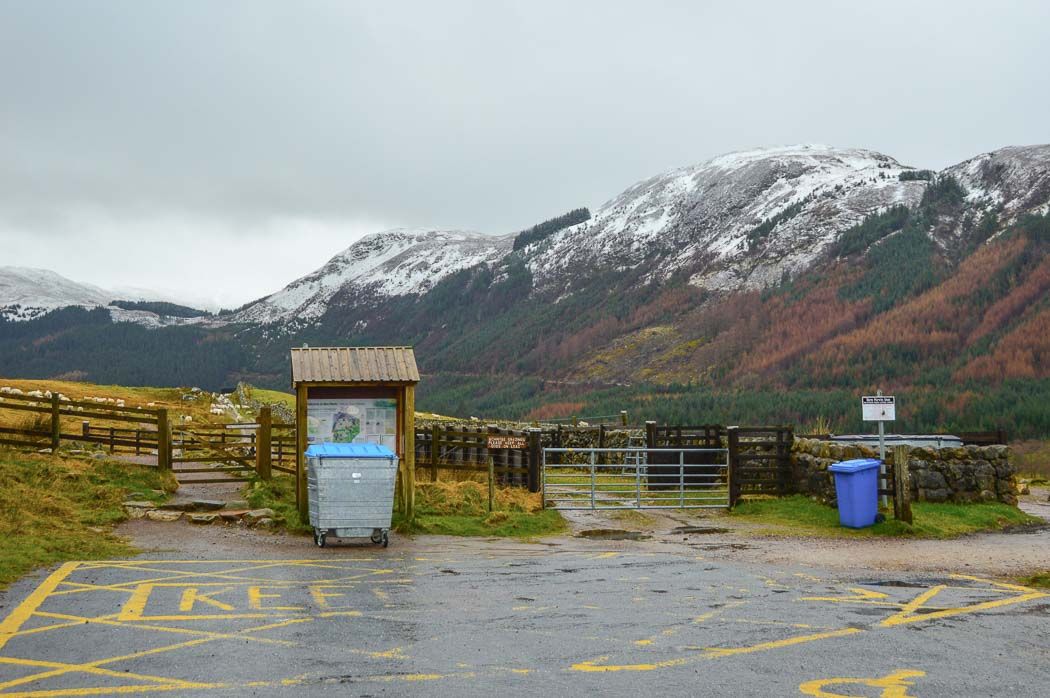 Climbing Ben Nevis: Finding a Guide
As I was
travelling solo
I decided to find a guide to help me in climbing Ben Nevis – thank goodness! I emailed the hotel I was staying at
(The Lime Tree)
and asked for a recommendation. They came back with
Atlas Mountaineering.
After I sent him an email the owner Connor actually rang me and asked if I knew what I was getting into. He explained that even though I was planning on climbing Ben Nevis at Easter there would still be a lot of snow on the top of Ben Nevis and that I would need to use crampons and an ice axe. This struck fear into my heart as my usual rule is that I don't climb anything that requires technical stuff – especially in the scary snow! He also explained that the weather changed very quickly climbing Ben Nevis. I thought oh well maybe the weather will be better than he says and stayed very positive.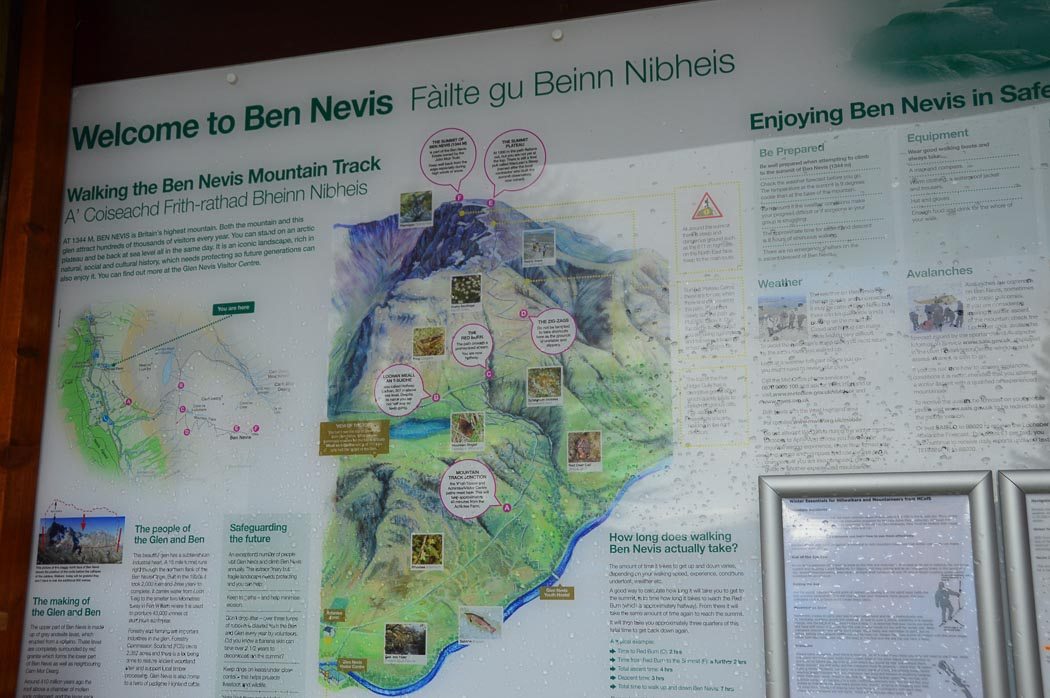 The Morning of the Climb
I was up early my first morning in Fort William and drove to meet my guide, John. He was very experienced and gave me a lot of warnings about climbing Ben Nevis. I hired the crampons and ice axe from him for my climb up Ben Nevis as well as some winter climbing boots. Winter climbing boots have a much firmer base so work better with crampons vs normal hiking books. We headed off and decided we would review how fat to climb about an hour or so in. The visibility on Ben Nevis was not great – although at that point I was only concerned about taking photos rather than actually being able to see where I was going. Anyway, we got to the go/no-go zone and John said he thought I could handle climbing Ben Nevis so I couldn't say no!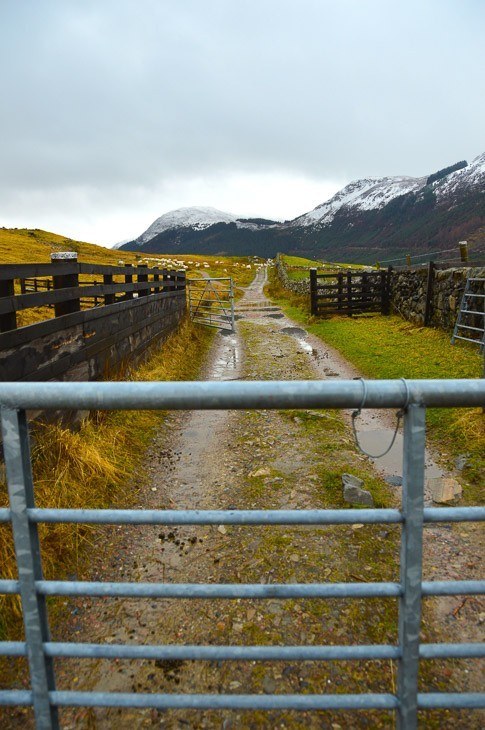 An hour later we put on crampons and I had my first go at an ice axe. The crampons were actually great – so much easier to walk in! And the ice axe was heavy but fine. About half an hour after we put them on complete whiteout descended on us. All I could see was John's pack. Every inch of me was covered and thank goodness I was exerting myself so heavily or I would have been freezing. At this stage, John was navigating using just an old-fashioned compass and his hand nearly froze.
⇒ If you love the outdoors check out my posts on a day by day guide to the Everest Base Camp Trek, the best things to do in Verbier-summer/">Verbier Switzerland, a day in Yosemite Park , Inside a Volcano in Iceland, Cano Cristales in Colombia and climbing Mount Kosciuszko in Australia.
Reaching the Summit of Ben Nevis
At one point John turned to me and said: "We're here". I asked where we were and he replied that we had reached the summit of Ben Nevis. Luckily there was a snow-covered rock that I could put my hand on and get a photo on my phone. I checked it out against shots on a clear day on Ben Nevis online the next day and could not believe the difference!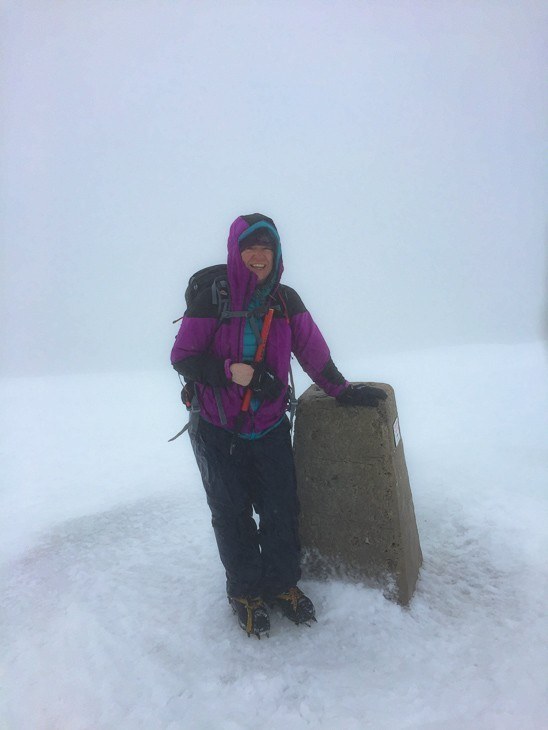 Then came the worst bit – getting down the mountain! John was keen to get us down as quickly as possible – so was I but it was hard work on the knees heading down – and scary stuff heading down at quite a fast pace in crampons! Finally, after another hour we could take off the crampons. An hour later we stopped climbing Ben Nevis for the first time that day – it was about 3 pm. Finally, I was able to eat something although I was so exhausted by that point I could barely be bothered. Another hour and a half of painful walking as my soaked socks made my foot slip inside every step – guaranteeing me another lost toenail. I also went through 3 pairs of gloves that day (soaked) and John went through 5 pairs.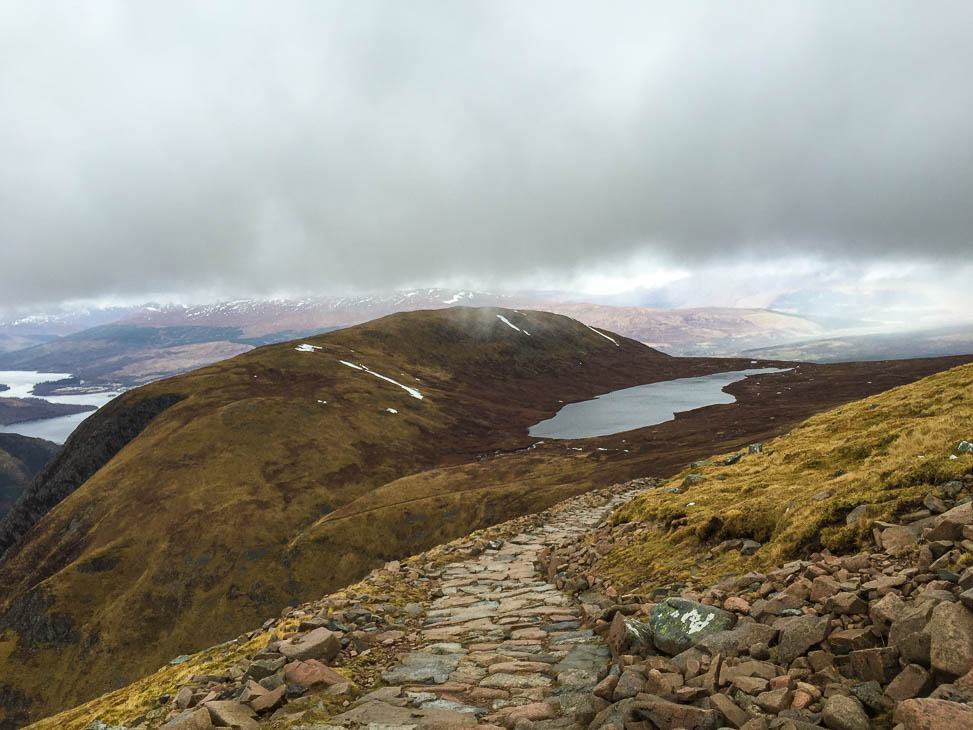 End of the Climb
I have never been so happy to see a car in my life as I was that day. I asked John how our day had compared to previous times climbing Ben Nevis – on a scale of 1 to 10 with 10 being the toughest where would this sit? He looked at me like I was a bit mad and said well it doesn't get worse than total whiteout. He had been in conditions that bad before but never anything worse which was quite sobering. He also told me how many people disappear climbing Ben Nevis each year as the weather comes in so quickly and destroys visibility. I can certainly see how this is the case!
⇒ Looking to explore the South and South West of England? Check out my posts on Sussex, wonderful Winchester, Brighton, Exeter and its coffee culture, Exmouth, Cardiff, the Valleys in South Wales, boutique hotels in the Cotswolds, day trips to the Cotswolds from London and spa hotels in the South West of England.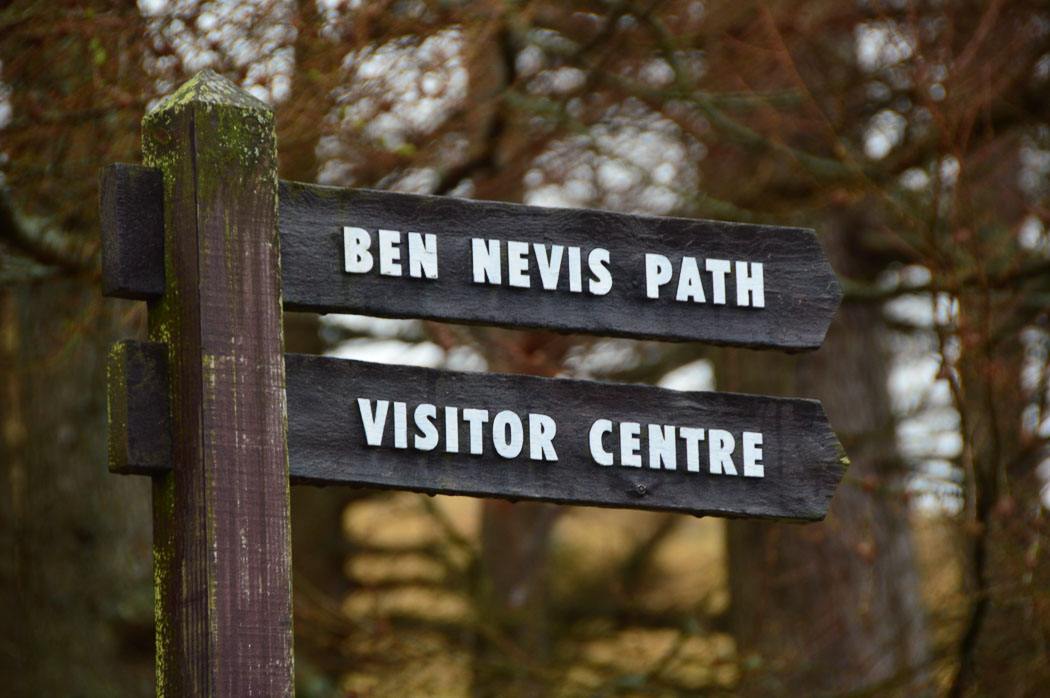 Thank goodness I had my boutique hotel booked – The Lime Tree! And I had already checked that I could have room service. I arrived at the front desk of The Lime Tree Fort William very bedraggled and the first thing they pointed out to me was the drying room of which I made good use! I had an amazing hot shower and jumped into my high thread count sheets! Delicious room service was up next with wine and tv and gosh did it feel good! I woke up in the morning to a rather sore body and a very big appetite for the large Scottish breakfast that was awaiting me.
⇒ Few things feel better after some major exertion than a good massage! Check out my post on the best Spa Breaks in Scotland.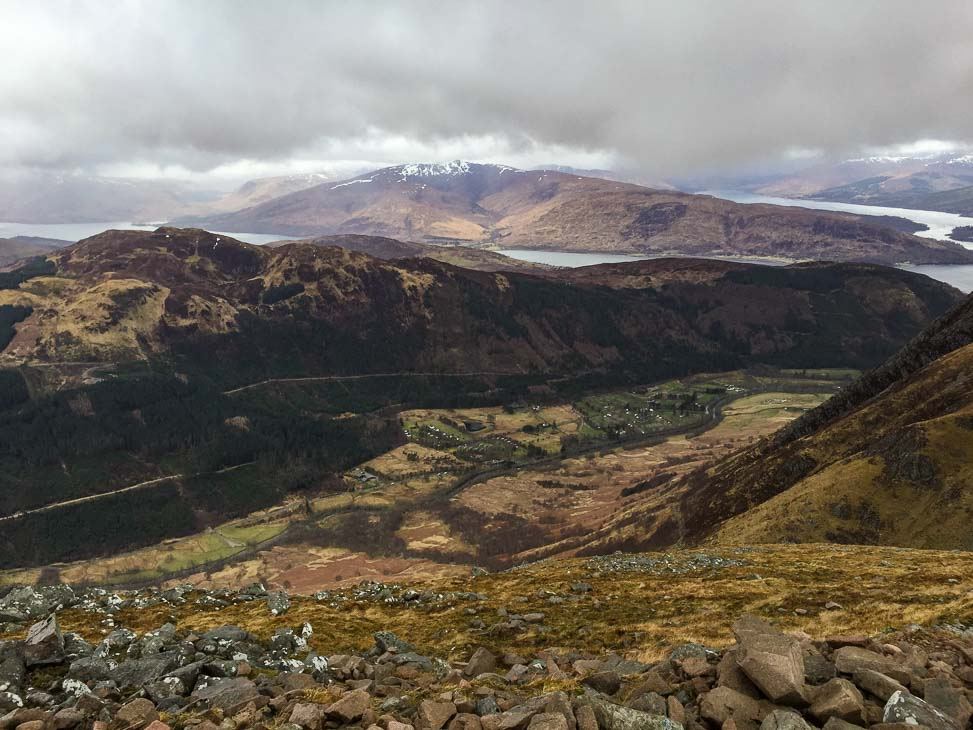 When should I climb Ben Nevis?
I would highly recommend climbing Ben Nevis in better weather than I did – preferably June before the midges. It is recommended that amateur walkers should only attempt to climb Ben Nevis between June and September. And if you are traveling solo definitely get a guide. I would also be careful going up in a group (which they run in the summer) and stick close to the guide and other members of the group. It would be so easy to get confused up there and make a wrong turn when the weather comes in. Atlas Mountaineering was fantastic and I would highly recommend them.
⇒ Book your Ben Nevis Guided Climb from Fort William Here
How Long does it take to climb Ben Nevis?
The climb generally takes anywhere between 7 and 9 hours. Most people choose to start their climb by at least 9am.
What do I need to Pack?
The most important thing to pack is solid footwear. Shoes should have good ankle support and a solid grip. Layers are critical as the weather is so prone to major changes. Do bring a water bladder and/or water bottle with at least 2 litres of water. There is nowhere to buy supplies once you are on the climb so make sure you bring snacks, some lunch etc. Many of the hotels in Fort William will provide you with something like this on request.
I⇒ f you are travelling around Scotland don't miss the lovely Edinburgh! Here is a fantastic itinerary that covers everything great to do in Edinburgh in 4 days.
⇒ And whilst in Edinburgh, I highly recommend that you explore Underground Edinburgh.
⇒ Another great option is to drive through the stunning South West of Scotland – don't miss the lovely areas of Dumfries and Galloway and Ayrshire.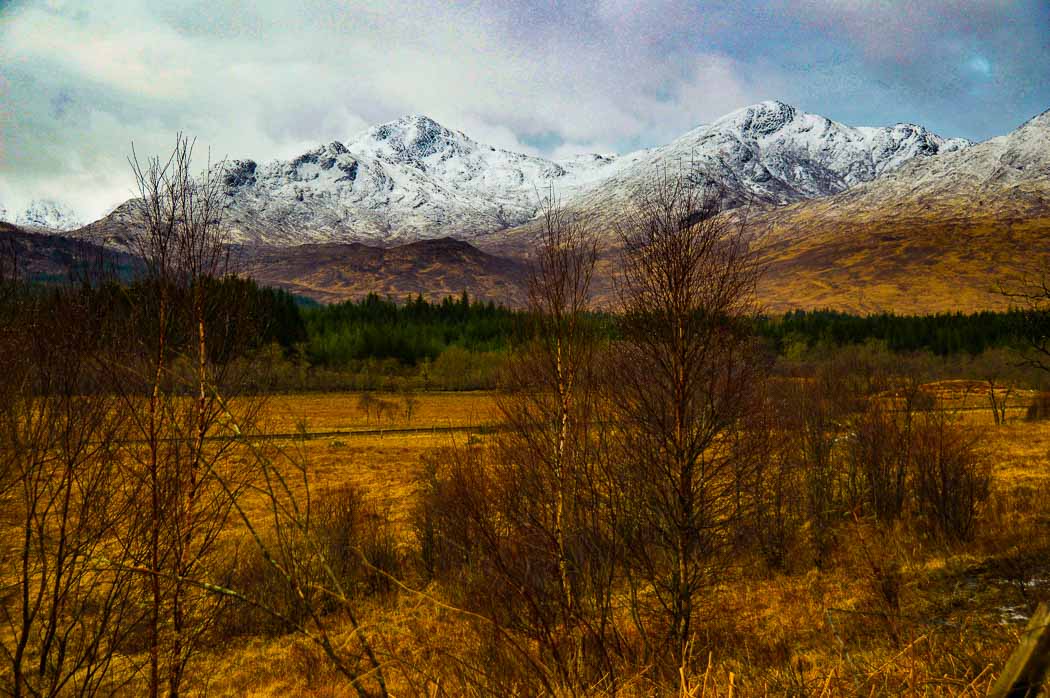 Boutique Hotels Around Fort William:
If you would like to stay as close to Ben Nevis as possible you can stay at
The Factors Inn
which is on the grounds of Inverlochy Castle. Wake up underneath Ben Nevis from just £77 per night.
⇒ Read reviews on TripAdvisor ⇒ Book Now
If you like the idea of staying super close to Ben Nevis but after something more decadent you can actually stay at
Inverlochy Castle
– but prices do start at £313 per night.
⇒ Read reviews on TripAdvisor ⇒ Book Now
The Lime Tree
is a cool boutique hotel with an art gallery right in the heart of Fort William £90 per night.
⇒ Read reviews on TripAdvisor ⇒ Book Now
Stay right on the Loch at
Cruachan Hotel
£77 per night. You can enjoy a bar meal on the loch, some stunning views and you are right in Fort William.
⇒ Read reviews on TripAdvisor ⇒ Book Now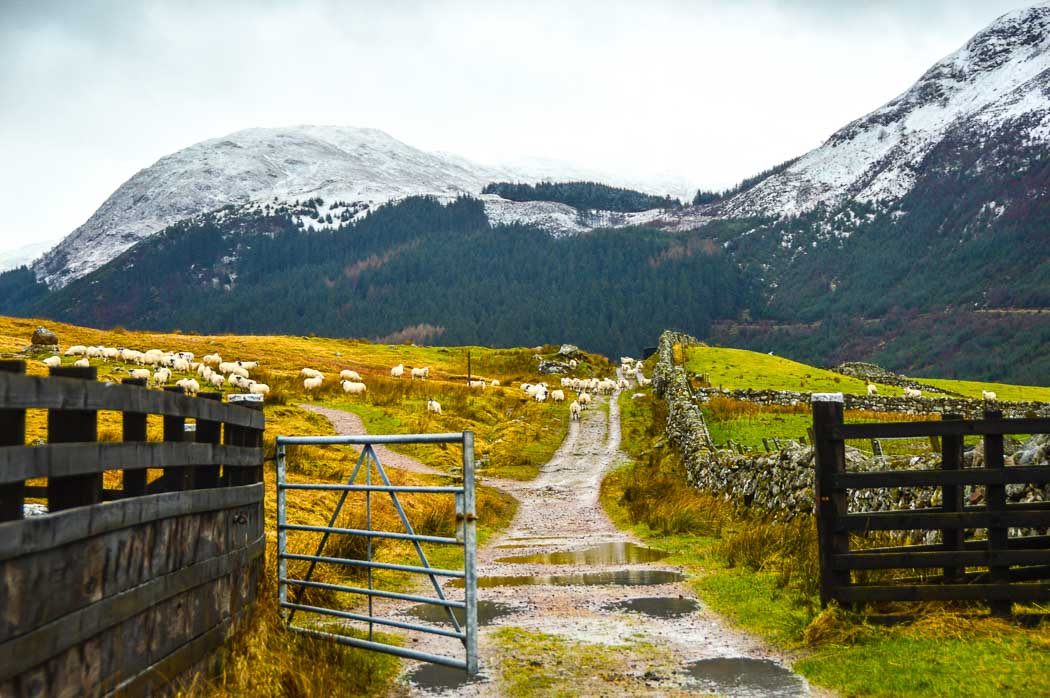 ⇒ Heading to London? Check out my posts on 13 Unusual Experiences in London, the best London Food Tours, some great places to eat in Earlsfield, near Clapham Junction and near Victoria Station, a mad hatter afternoon tea party and day trips to Brighton and the Cotswolds.
Flights and Getting Around Scotland:
The best place to fly into to climb Ben Nevis is
Glasgow
. The other option is to fly to
Inverness
which is on the east coast and drive through Loch Ness and head down to Fort William. Once you arrive in Scotland I would highly recommend that you
hire a car
. The roads are easy to drive and there is not a lot of traffic. It really is the most lovely way to see Scotland in my view. If you are heading to Scotland from London, in particular, it can be a lovely experience to
take the train
! And this can, of course, continue once you arrive. If you're staying in Glasgow check out my post on the best
tours to take in Glasgow.
⇒ In the planning stages for your trip to Scotland? Check out my posts on 7 Day and 10 Day Scotland Itineraries for some inspiration!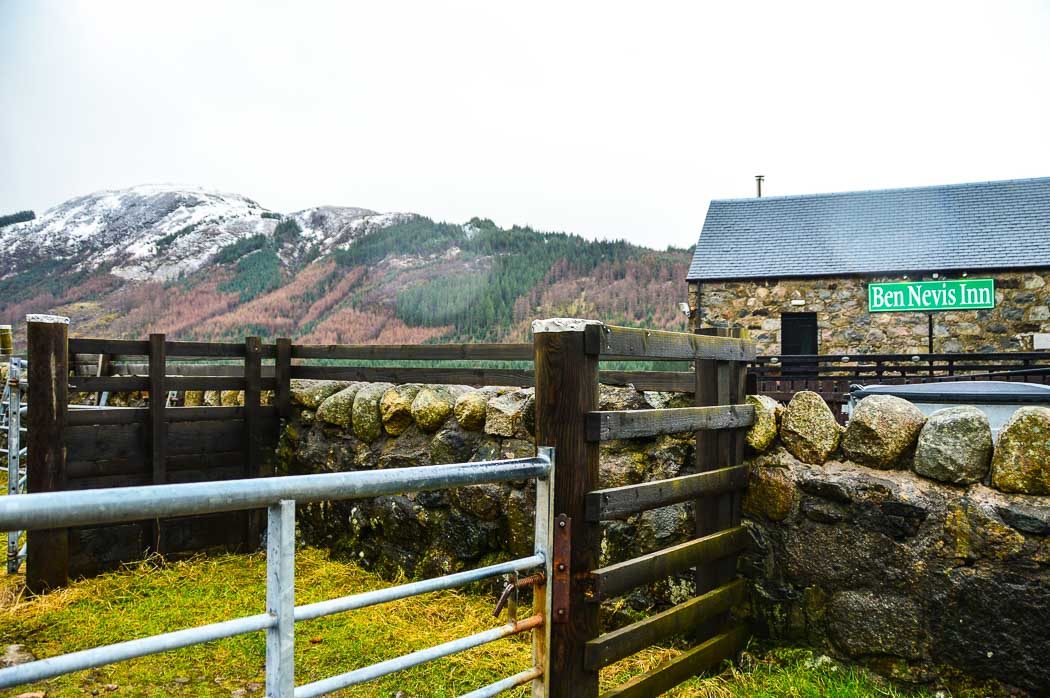 Great Deals for those visiting Scotland from outside the UK
Visit Great Britain has some fantastic offers that are just for those who live outside the UK. It is possible to make significant savings if you book certain things before you travel – not to mention how much easier it is to already have tickets for things when you arrive!
If you have just moved to the UK you can buy these passes in your first six months of residency.
Transport
There are a number of Brit Rail passes available. Rail is a brilliant way to get around the UK – the train services are generally pretty good and there are good timetables. The most important thing to check is what kind of pass you need. The best way to determine this is to start by
checking this map
against where you are planning to visit. There are two options available for Scotland.
⇒ The BritRail Central Scotland Pass
covers the key central cities in Scotland – Edinburgh, Glasgow, Stirling and Fife Station.
⇒ If you're planning on exploring the Highlands and the islands of Scotland then a better option is the BritRail Scottish Freedom Pass
. This covers all rail within Scotland and even some of the ferries to the islands.
If you're planning on travelling around England and Scotland then the best option is to buy the
BritRail GB Pass
.
This covers all train journeys across all of the United Kingdom. All of the above take the form of paper tickets that will be mailed to your home address.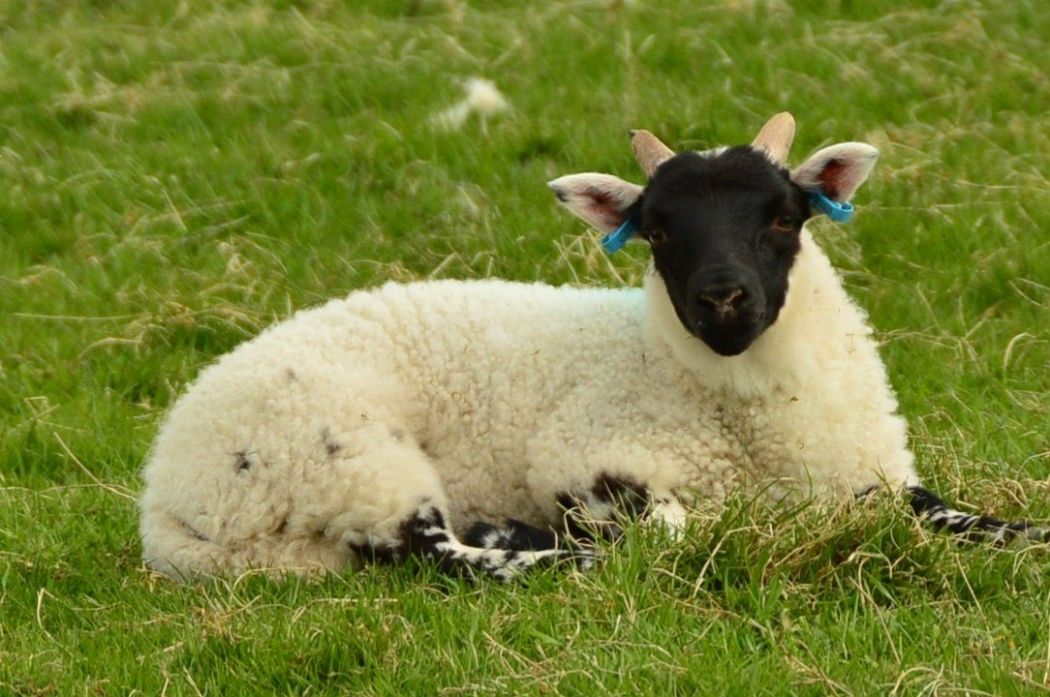 There is a new
BritRail MPass
which has an e-ticket that can be downloaded onto a mobile. However, it has one key restriction which is that the travel must be taken on consecutive days so make sure you check if this suits your plans before purchasing. If you prefer travelling via a bus to train then check out the
skimmer pass national express coac

h
. National Express travels to over 1000 locations and has free wifi, USB and power sockets, onboard entertainment, air conditioning and reclining leather seats! Minicabs can be a great way to get around the UK.
Minicabit taxi booking
covers 300 UK towns and cities and can be booked as far as one year out. These can be particularly good for getting from a train station to hotels/b&Bs.
Attractions Passes
One of the best value offers for overseas visitors are National Trust passes. These passes cover entry to a large number of major attractions and stately homes within the UK. If you will be visiting a few of their properties these passes very quickly become amazing value.
⇒ The Historic Scotland Explorer Pass
covers more than 75 properties including Edinburgh and Stirling Castles, Urquhart Castle at Lochness and many more.
⇒The Scottish Heritage Pass
covers over 120 properties but can only be used between April 1 and October 31.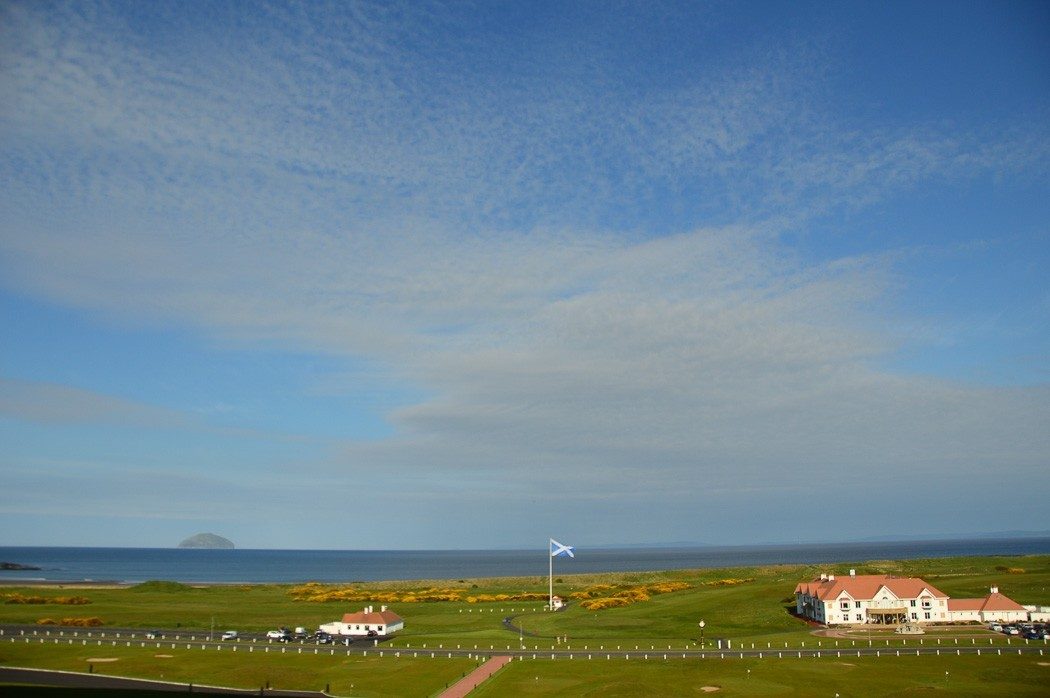 UK Travel Essentials
⇒ Grab a WorldSIM PrePaid Global SIM Card
to stay in touch at reasonable prices.
⇒ Access WIFI at local rates with the mobile wifi rental wireless internet anywhere you go in Britain
. This in your pocket wifi can be picked up at Heathrow or Paddington Station.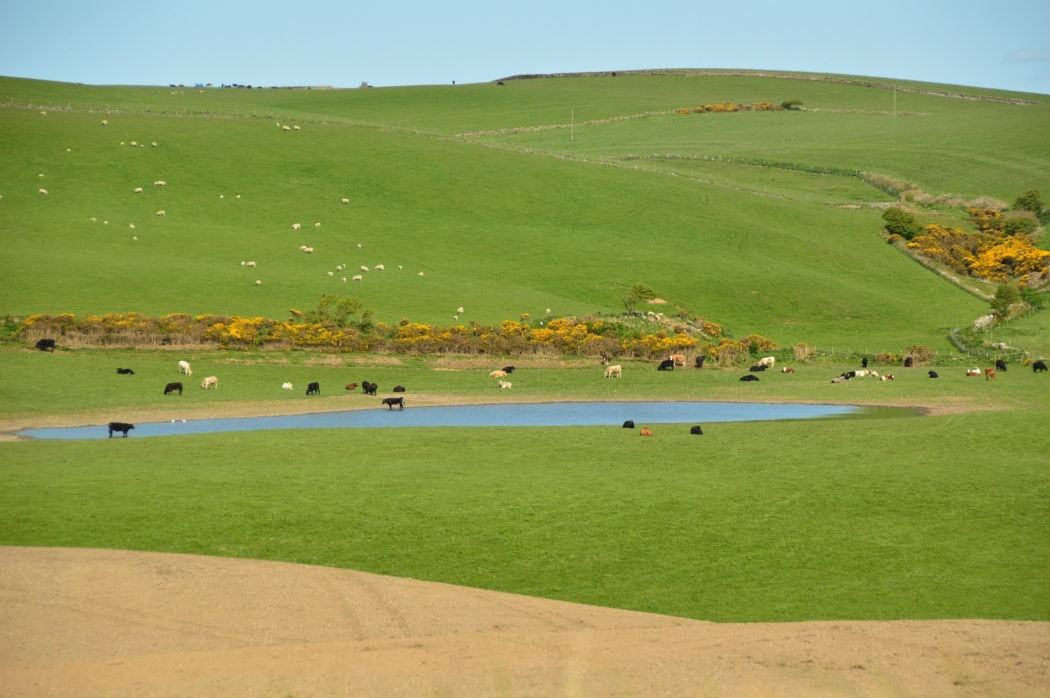 Tours for Solos:
If you are
travelling solo
and heading to Scotland check out these organised tour options:
travel insurance
.
Who Paid for What in this Post
I covered all of the costs associated with my climb up Ben Nevis. However, this post does contain affiliate links. That means if you click through on them and end up making a purchase I may receive a small commission. I wanted to make sure that you were aware of this.
READ NEXT: THE BEST TOURS IN GLASGOW
Like this post? Why Not Pin It?