As the trekking capital of the world, Nepal isn't normally associated with luxury! However, it is quite easy to have a lovely luxurious long weekend in Kathmandu at a relatively low cost. As it is a 5-hour flight from Hong Kong and only a 4-hour flight from Qatar a long weekend makes more sense – and it allows you time to take advantage of some of the lovely facilities listed below. It is also the perfect amount of time to spend in Kathmandu recovering from a major trek! Here are the best places to visit in Kathmandu for a luxurious long weekend:
Places to visit in Kathmandu – Stay at Dwarika's Hotel
Dwarika's is half hotel half museum. It is a stunning boutique hotel that is locally owned. The hotel has been designed to keep the best of Nepalese woodworking art and practices alive. Although there is a stunning theme to the hotel every room is unique. There are several fantastic restaurants (see below), a spa, a gorgeous pool, three gift shops, a library and multiple outside and inside areas for relaxing. Staying at Dwarika's is like staying at someone's amazing home rather than being at a hotel and perfect for a luxurious long weekend in Kathmandu.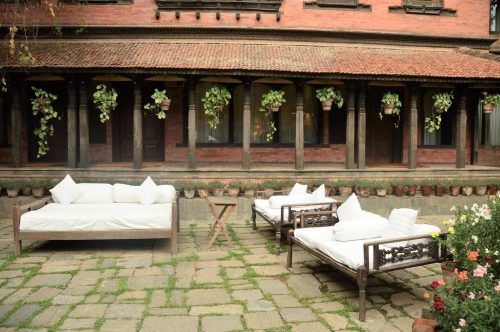 However, it does have all the upsides of a good hotel! Great plunger coffee and tea in the rooms, delicious snacks and turn down chocolates, gigantic very comfortable beds with appropriately high thread count on the linen sheets, full cable tv and a dvd player, toiletries and everything else you may need.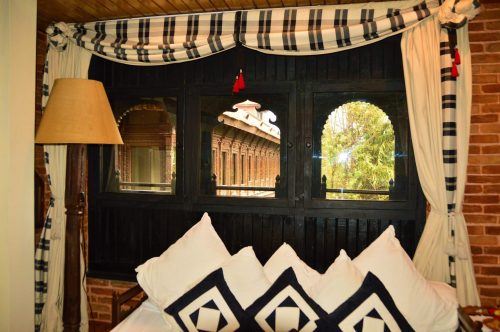 This is the perfect hotel for relaxation and a luxurious long weekend in Kathmandu. Start with breakfast in the courtyard, lie by the pool, perhaps pop out and see a Stupa, be back from lunch, relax and read in one of the many courtyards in the afternoon and then get ready for some wine and a delicious dinner!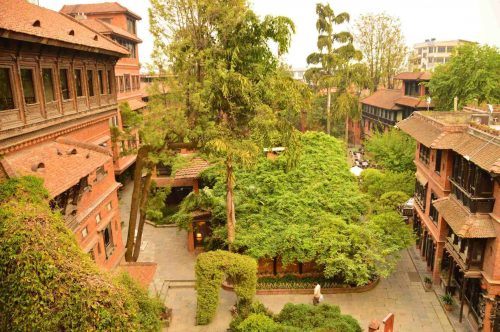 Places to Visit in Kathmandu – Have lunch at the Garden of Dreams
Kathmandu is a crazy busy dirty city. A good deal of construction is going on at the moment which brings up a lot of dust and dirt and that is the norm. This is one of the things that makes the Garden of Dreams such a wonderful oasis in Kathmandu. Located literally on the edge of the busy Thamel district behind walls it is a lovely clean garden with a fantastic restaurant called the Kaiser Café.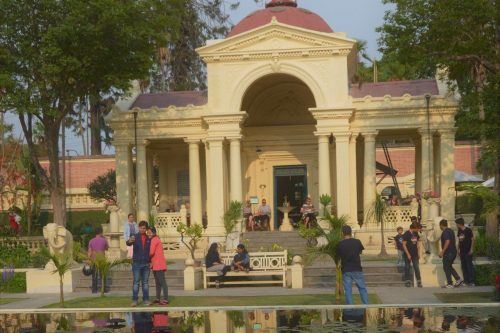 Have a wander around the garden and fountains when you arrive and fight through the locals taking selfies galore! Explore slowly as there are lots of hidden nooks and crannies in the gardens. Once you're done grab an outside table at the Kaiser Café for lunch and don't forget to have their well-known ice cream for dessert!
Places to Visit in Kathmandu – Have a spa day in the Himalayas
Less than a one hour drive from Kathmandu is the town of Dhulikhel which is home to the amazing Dwarika's Resort (sister to Dwarika's Kathmandu). This stunning resort sits on the top of the Kathmandu Valley and has extraordinary 360 views. If you can ideally spend one night here and one at Dwarika's Kathmandu for the perfect luxurious long weekend in Kathmandu.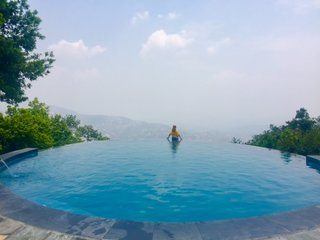 There is a multitude of delightful sounding options at Dwarika's resort – chakra sound therapy chambers, an infinity pool, yoga, a meditation maze etc etc. There are two things that I would highly recommend you try which are quite unique to Nepal and the Himalayas. The first is the pink Himalayan salt room. You can take your book in and relax for 20 minutes and clear out your system.
The second is singing bowl therapy. The singing bowl originated in the Himalayan region and here it is used as a form of sound therapy – apparently, each organ in the body vibrates at a certain frequency when healthy and singing bowl therapy can bring them back into balance. This was my first ever experience of sound therapy and I really enjoyed it. The sound does seem to travel right through your body and it was very calming.
Places to Visit in Kathmandu – Dinner at Nepal's best restaurant
Krishnarpan Restaurant is Nepal's most well-known restaurant – as evidenced by the many photos in the reception of the famous people who have eaten there. It is a beautiful restaurant – all in traditional Nepalese red and black. It serves traditional Nepalese cuisine in a multi-course format that aims to take you on a journey through Nepal's diverse culinary cultures.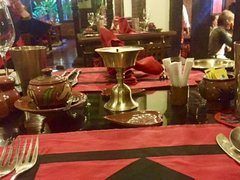 I went with the 6-course option – the fewest on offer! What a meal! It began with mixed local hors d'oeuvres beautifully presented, then bread, roasted mushrooms and chickpeas. Next up were some delicious momos followed by an amazing mushroom soup. The highlight for me was the traditional Nepalese curry which was so wonderfully tasty. It also came with some fantastic vegetables – particularly the eggplant. Dessert was some amazing yoghurt and a truly delicious carrot cake.
This was, without doubt, the best meal I had in Nepal and it would have performed well anywhere in the world.
Places to Visit in Kathmandu – Go Shopping
I bought the most stunning blue cashmere wrap whilst in Nepal. It is amazingly soft and comfortable and I do love it. I bought it at Musumusu which is one of the shops at Dwarika's. Their cashmere products are all locally made and the colours are absolutely stunning.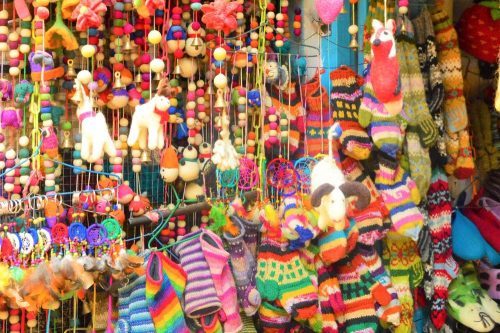 The second place to go is the town of Bhaktapur which is about 30 minutes in a cab from Kathmandu. It is also on the way to the Dwarika's Resort so you can combine this with the spa day above. Bhaktapur is also a lovely little town and well worth a wander. I thought the shops here were the best I saw in Nepal. There are some lovely paper shops which also have nice designs. I also purchased some wooden boxes and there were many other wooden items as well as pashminas etc on sale.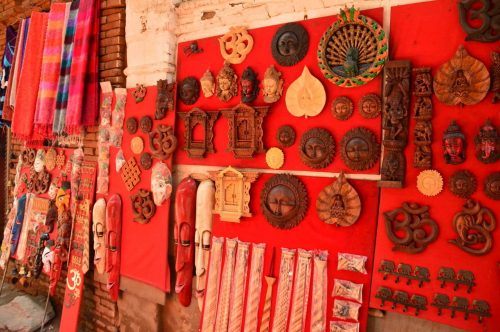 Places to Visit in Kathmandu – Helicopter Ride over the Himalayas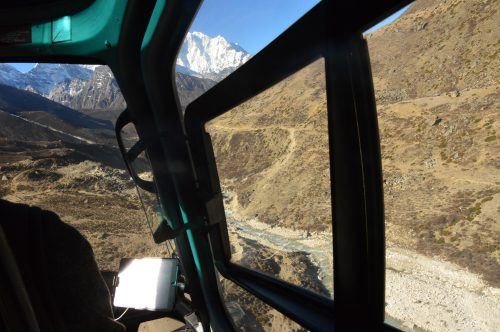 This is a don't miss amazing experience! It is normally best done first thing in the morning eg 6am and make sure you check the weather conditions as of course if it is cloudy there is no point in going. The views are absolutely amazing so take your camera and your phone.
There are several companies who offer helicopter rides and there are variations as to how far you can go and how long you can spend in some locations eg you can go all the way to Everest base camp but you will only be able to stay for 5 minutes due to altitude concerns. Of course the higher you go the higher the cost! However, it is worth every penny!
Places to Visit in Kathmandu Useful Links:
Places to Visit in Kathmandu Accommodation:
Looking for hotels in Kathmandu? Click here for the best options
Looking for a hotel in Lukla? Click here for the best options
Places to Visit in Kathmandu Flights:
Looking for flights to Kathmandu? Click here for some great deals
Looking for flights to Lukla? Click here for some great deals
Or try my favourite Middle Eastern Airlines – particularly if you like flying Business Class!
Places to Visit in Kathmandu Gear:
Kathmandu has everything you could possibly need for trekking 
Other Posts you Might Enjoy Reading:
Click here for my Post on the Everest Base Camp Trekking Day by Day
Click here for the Complete Real Run down on Himalaya Trekking Everest Base Camp Trek – food, facilities and tea houses
My complete guide to preparation and packing for the Mount Everest Base Camp Trek
My Review of Dwarika Hotel Kathmandu
Nepal Travel Itinerary: 3 weeks what I did and what I would do differently
My Review of Dwarika Resort Dhulikhel
Places to Visit in Kathmandu Tours
Looking for tours in Nepal? Click here for some great options
For some Adrenaline rushes check out these adventure activities to do in Nepal
Travelling Solo To Nepal? Check out some of these organised group options:
Click here for a Great Deal on Travel Money
Need Travel Insurance? Click here for a great deal
Like this post? Why not Pin It?
Places to visit in Kathmandu Pinterest
Click here to follow my Pinterest Board on Everest Base Camp Trek
Click here to follow my Pinterest Board on Nepal

Click here to follow my Pinterest Board on Kathmandu
You can support The Boutique Adventurer by clicking through on the links that appear on my blog posts around flights, accommodation, tours, travel insurance etc. I get a small commission if you end up buying on these sites. If that's ok with you thanks as it all helps
---
Also published on Medium.
Summary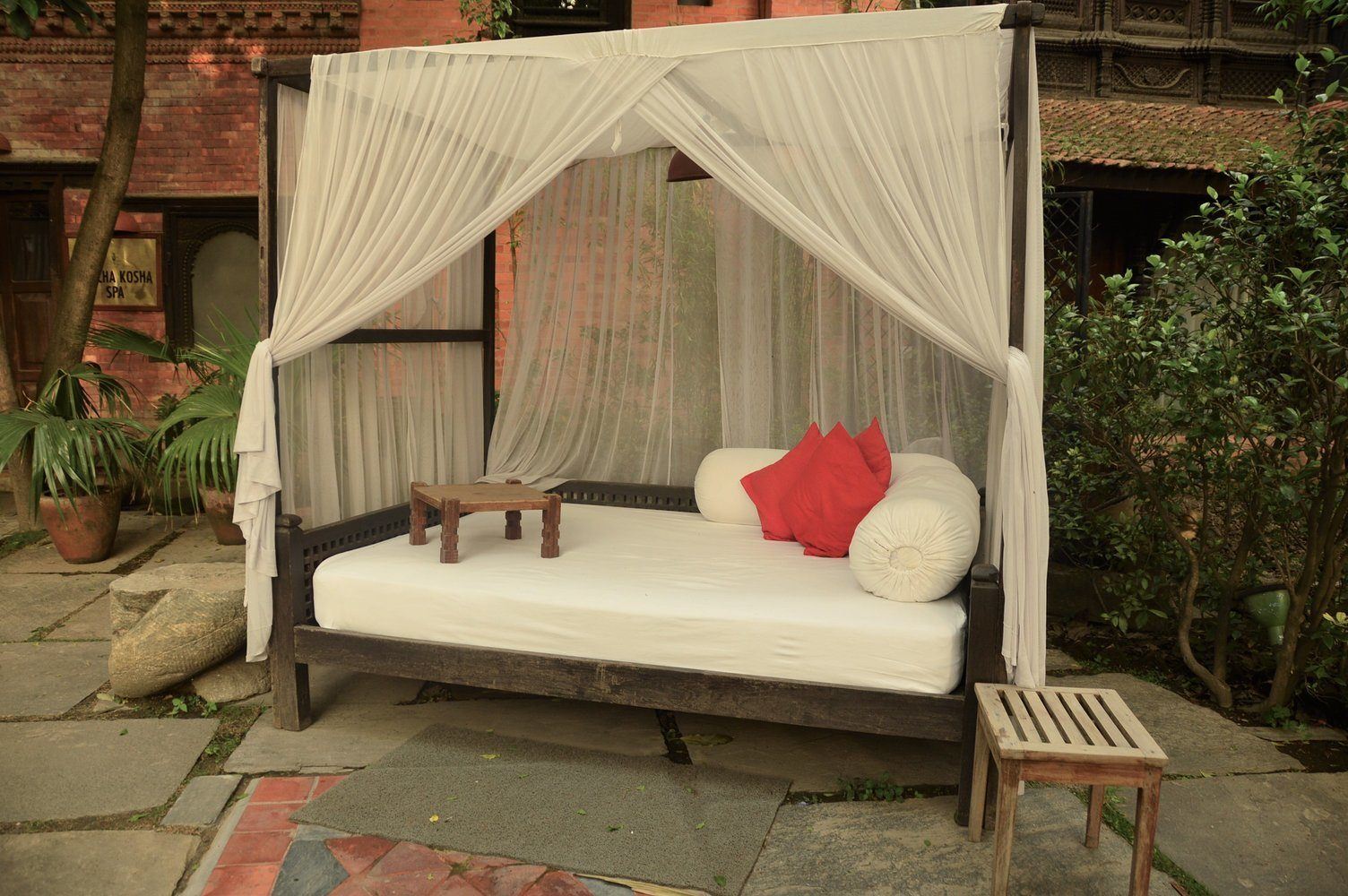 Article Name
The Best Places to vist in Kathmandu
Description
Looking for places to visit in Kathmandu? Here is how to treat yourself with a luxurious long weekend if you live not too far from Nepal or after a trek
Author
Publisher Name
Publisher Logo