Dwarika Hotel Kathmandu
is pretty much my perfect hotel!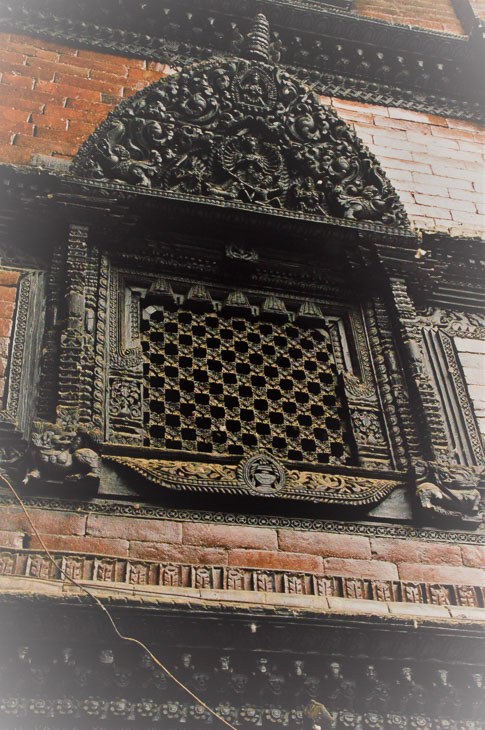 Dwarika's hotel Kathmandu Nepal is almost half museum/half hotel (you can even visit the wood carving workshop) and it is a stunning venue that brings its guests the absolute best of Nepal. The hotel was inspired by the architectural grandeur of Newari royal palaces and it brings the best of Nepal's craftsmanship to a living building.
Dwarika Hotel Kathmandu Review – The Rooms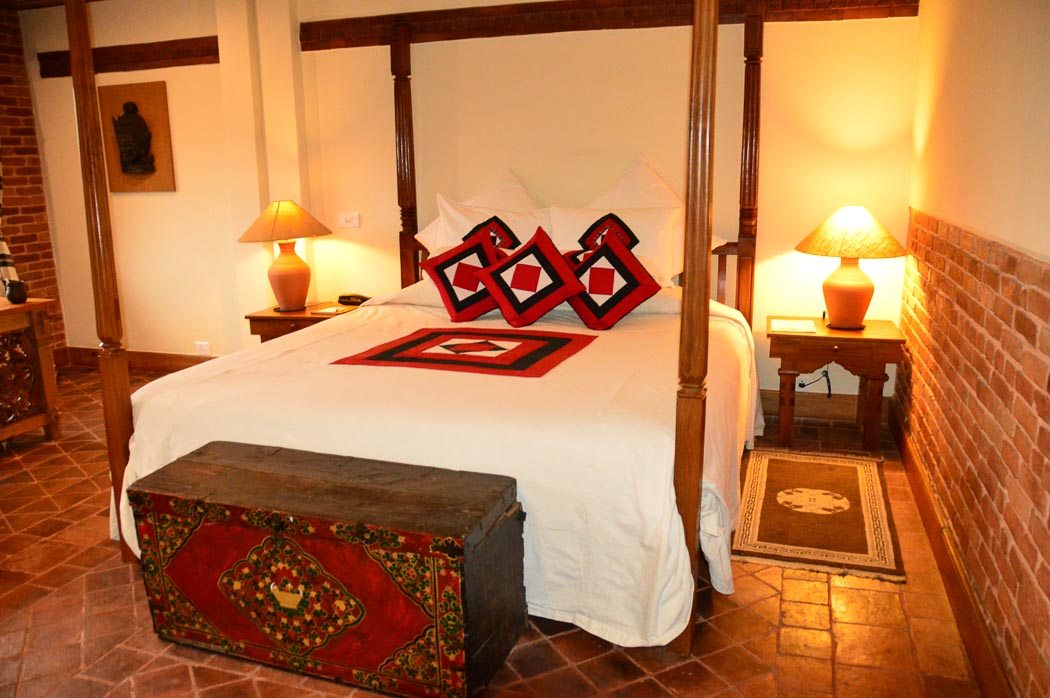 Let's start with the sheets! Definitely a high thread count here! Indeed the linen is organic! I ended up with 3 different rooms at Dwarika's Hotel Kathmandu as I had 3 separate stays (see my post on getting sick on the
Everest base camp trek!
). This highlighted a key feature of Dwarika's Nepal – every room is unique. All were stunning. One was more modern, another more classic, another in a different format and outlook – but all so lovely.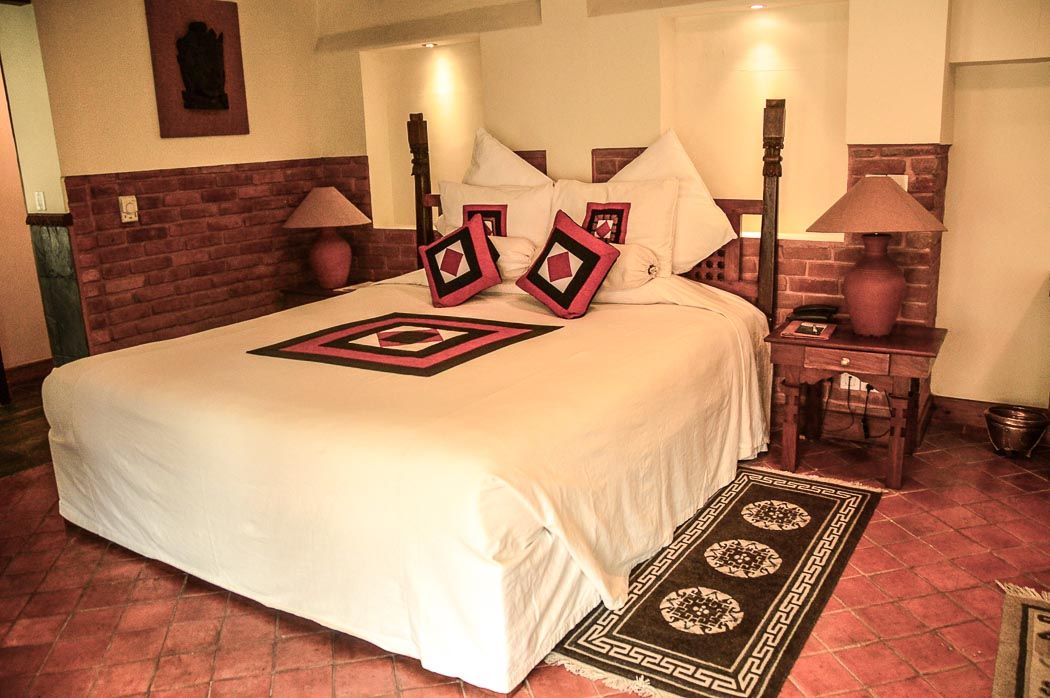 The devil is in the detail which is everywhere at hotel Dwarika Nepal – from the fabulous golden tiger game on every coffee table to the amazing wooden carvings to the stunning soft furnishings. The creator/owner of Hotel Dwarika Kathmandu was passionate about the wood carving industry in Nepal and has essentially saved this art by bringing wood carvings from all over Nepal to Dwarika's Kathmandu. These wooden features are so unique and are a huge part of the charm of this delightful Kathmandu hotel.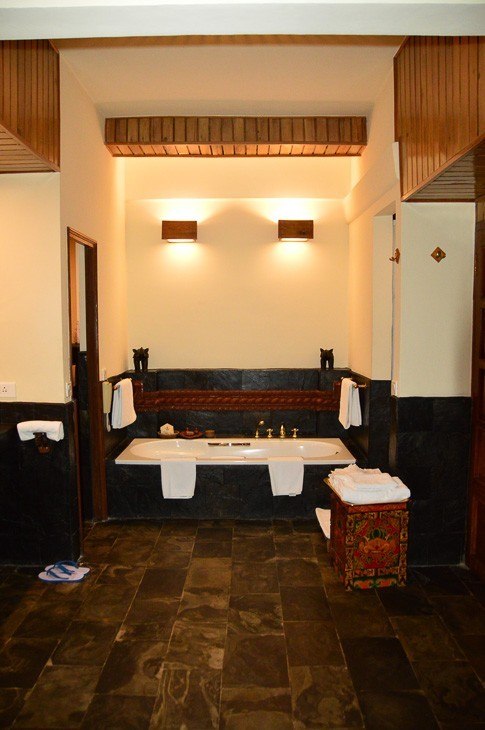 Each room I stayed in at this hotel in Kathmandu had a huge king-sized bed which was super comfortable. The bathrooms were massive with both bath and separate shower. Complimentary snacks and fruits were in the rooms as well as good coffee and tea (plunger coffee). The toiletries at Dwarika's Kathamndu are decanted into ceramic containers (very environmentally friendly!) but were excellent and heavy on the lemongrass. There was also a whole range of toothbrushes, body lotion etc in the room. Nice big tv with full cable, excellent wifi, room service, turndown service and chocolates – really you name it they had it!
⇒ Check out my post on Places to Visit in Kathmandu
Dwarika's Kathmandu – The Food
So wow the food at
Dwarika's Kathmandu
! Let's start with the highlight – the amazing Krishna's or Krishnarpan. This is probably the most famous restaurant in Nepal as evidenced by the number of photos of dignitaries who have eaten there in the reception (from Prince Charles to Hilary Clinton to Demi Moore). It is classic traditional Nepalese food. When you come into Krishna's you lose the shoes and sit on a low seat at a low table. I was on my own so I had the lightest menu option which was 6 courses!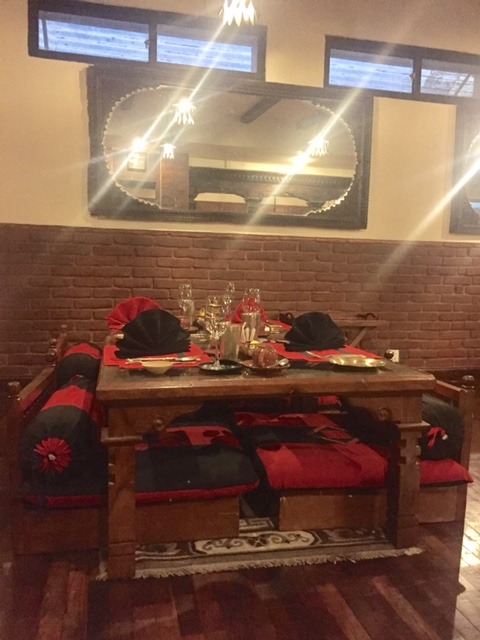 The food at Krishna Kathmandu was AMAZING! From delicious bread to amazing momos to fabulous chicken curry and ending with amazing carrot cake this was the best meal I ate in Nepal – and would have been on good footing in London. Even if you don't stay at this hotel you must eat at Krishna at Dwarika's when in Nepal!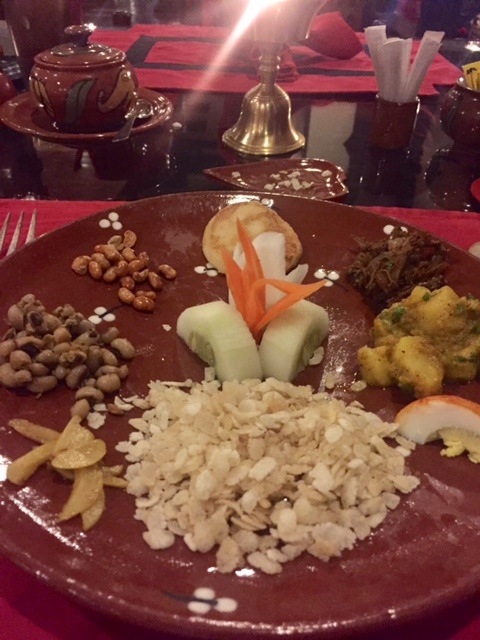 The Toran restaurant at Dwarika's serves up a delicious breakfast. There are a fabulous buffet and excellent hot options. Toran restaurant Kathmandu has a more European style menu in the evening and I ate here very well several times. I also enjoyed a pre-dinner wine at the Kaiser bar and did eat there one night albeit from the Toran menu. I didn't visit the Japanese restaurant as I was told there was a similar restaurant at
Dwarika's Dhulikhel
where I was headed next.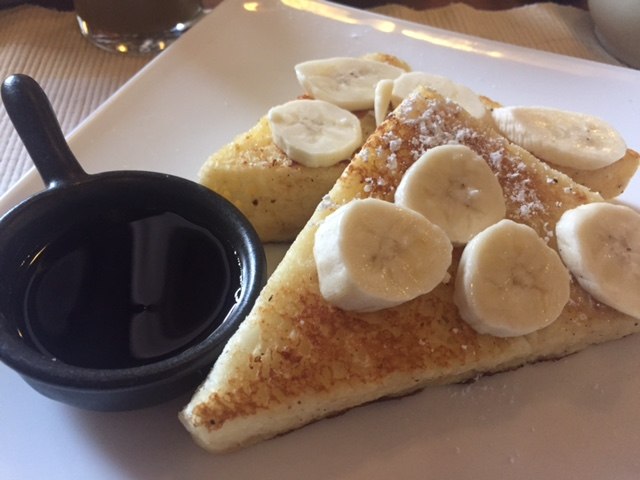 Much of the produce for Dwarika's Hotel Kathmandu comes from its own farm near its Dhulikhel resort (which you can visit – the farm and the resort). The hotel is aiming to have 90% of its vegetables and grains sourced from its own farms or other organic producers in the next two years.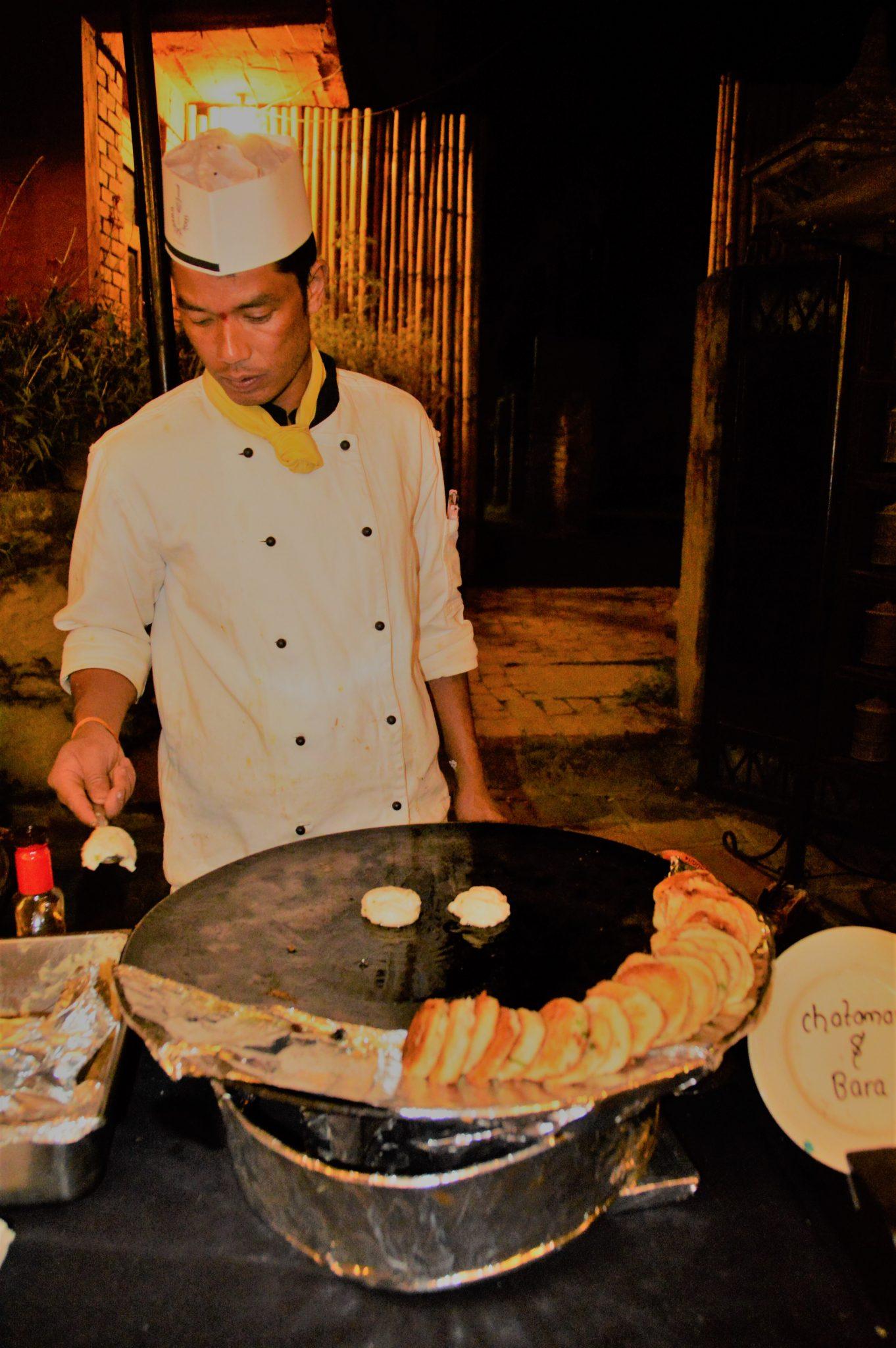 And finally, if you possibly can organise to stay at Dwarika's Hotel Kathmandu on a Friday night when they serve their Nepalese BBQ buffet. Oh my goodness! It was a struggle to choose between this or Krishna as my best meal in Nepal. The Dwarika's buffet was absolutely fantastic and the atmosphere is lovely as it is served around the pool area.
The Gift Shops
There are a whopping 3 gift shops within Dwarika's, one of the top hotels in Kathmandu Nepal. One is a lovely antique focussed store and the second has a great selection of books and classic gifts shop type items. The third was my favourite – Misschu. This store has the most stunning cashmere scarves/jumpers/gloves etc. I bought the most beautiful and soft cashmere wrap here that I absolutely love. I highly recommend popping in there to make a purchase!
⇒ Keen to explore Japan? Check out my posts on Tokyo, Kanazawa and the Nakasendo Trail.
The Facilities at Dwarika's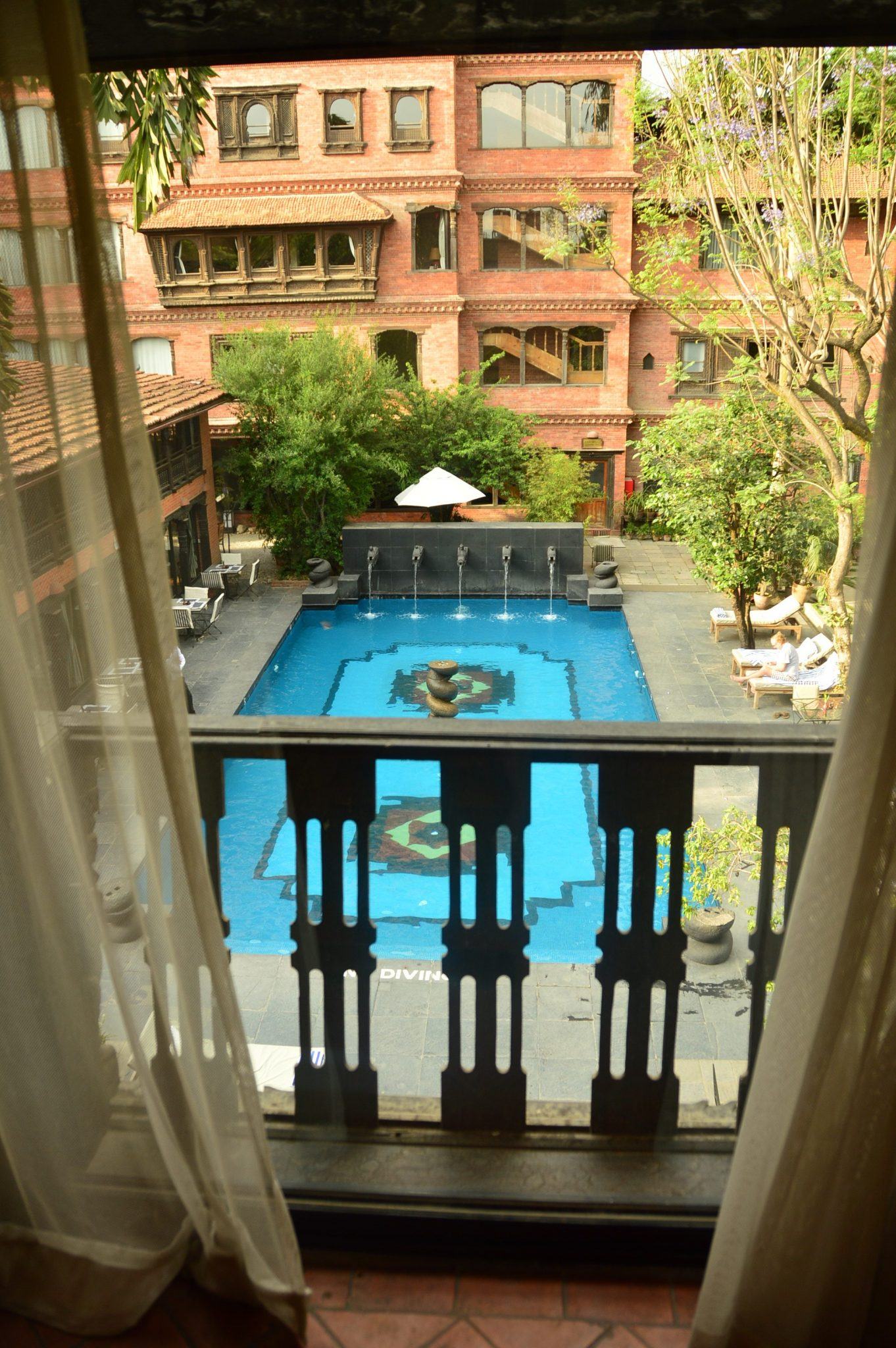 Dwarika's has a gorgeous pool surrounded by comfy lounges. Just behind this is a garden area with beautiful day beds. The hotel has a spa that has a fantastic menu. I had an excellent massage at the spa. There is also a lovely library with the latest newspapers and books available. The front desk will organise anything you would like. Dwarika's is aligned with a local tourism agency who can literally take care of any desire you may have. Or the friendly concierge service will get a taxi for you to wherever you need. There is also a Dwarika hotel spa which is fantastic.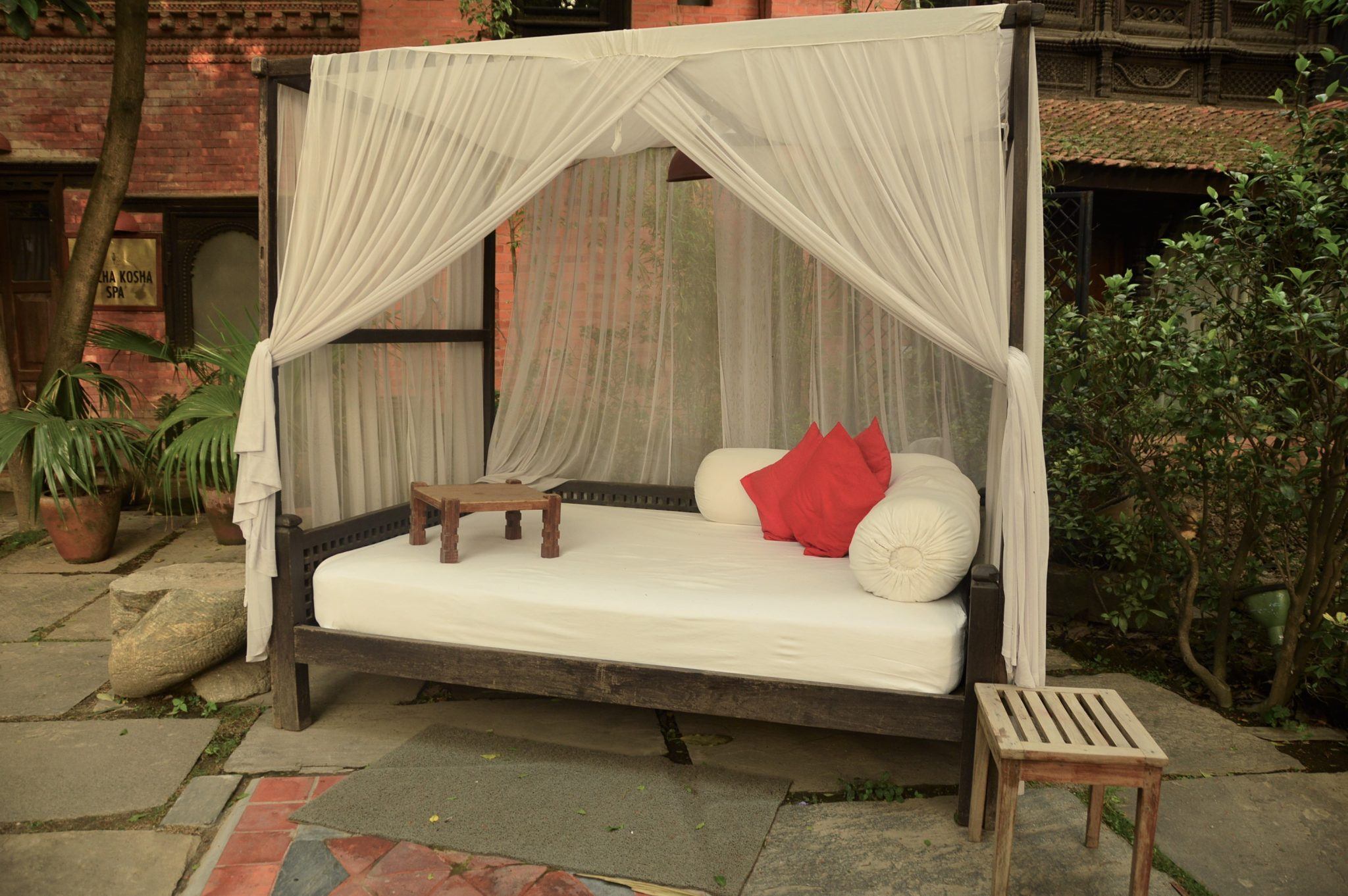 Speaking of taxis Dwarika's is kind of on the edge of central Kathmandu. However, taxis are so cheap it is super easy to get anywhere – and every taxi driver in town knows Dwarika's Hotel Kathmandu.
⇒ Check out if Korea is somewhere for you in my posts on a Korea Itinerary, things to do in Daegu and on JeJu Island.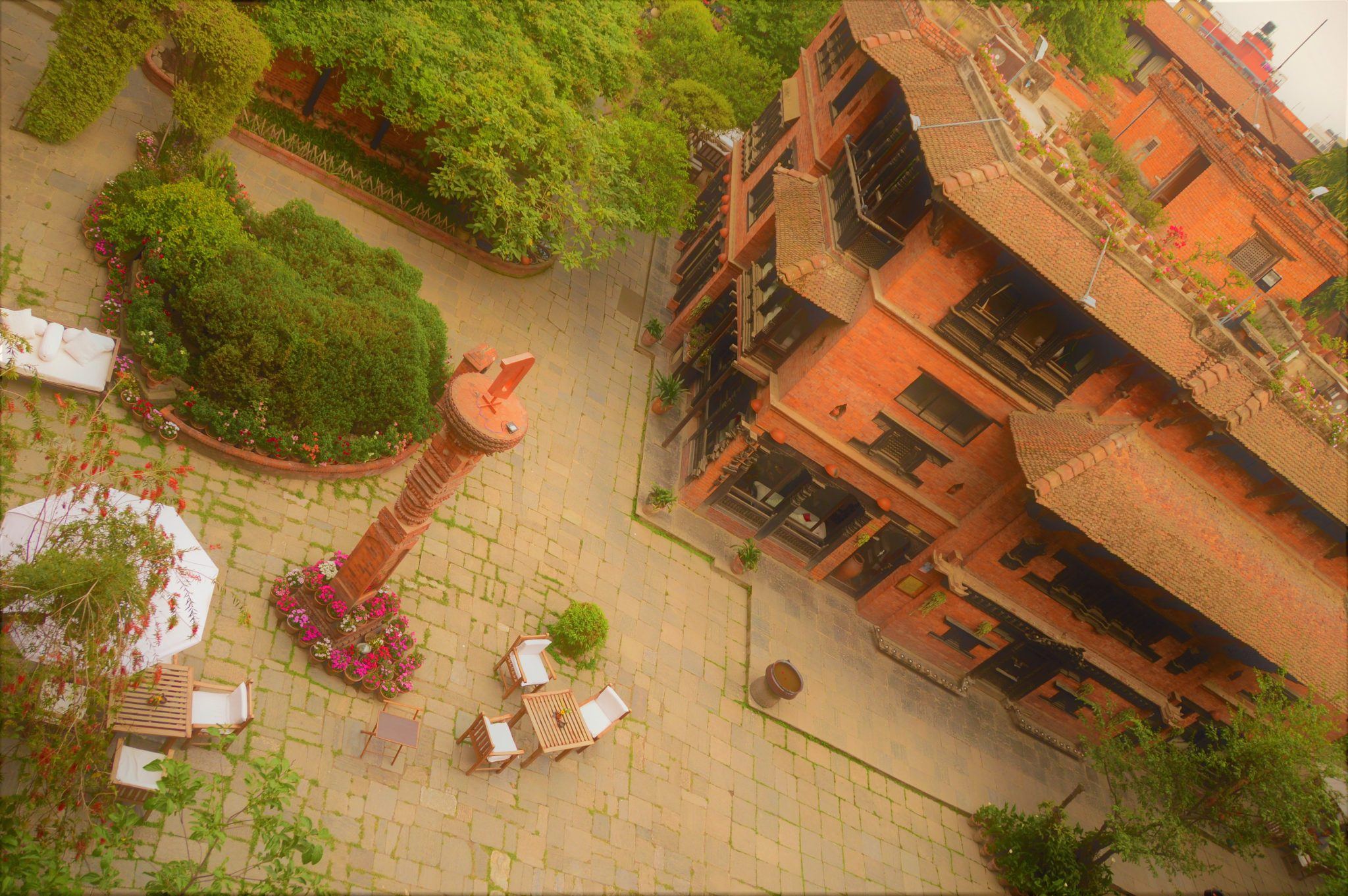 Finally even after all the lovely things I've described above the one thing that really made my stay at Dwarika's so very special was the staff. They literally could not do enough to assist but it was never over the top. Anything you asked for was made to feel easy. For one of my stays at Dwarika's, I was very unwell with altitude sickness and I was treated so well. I was travelling on my own but I didn't feel like it staying at Dwarika's Hotel Kathmandu – the staff felt like my Kathmandu family as everyone was just so lovely to me! I don't think there are many 5-star hotels in Kathmandu Nepal but I can't imagine any would be better than this!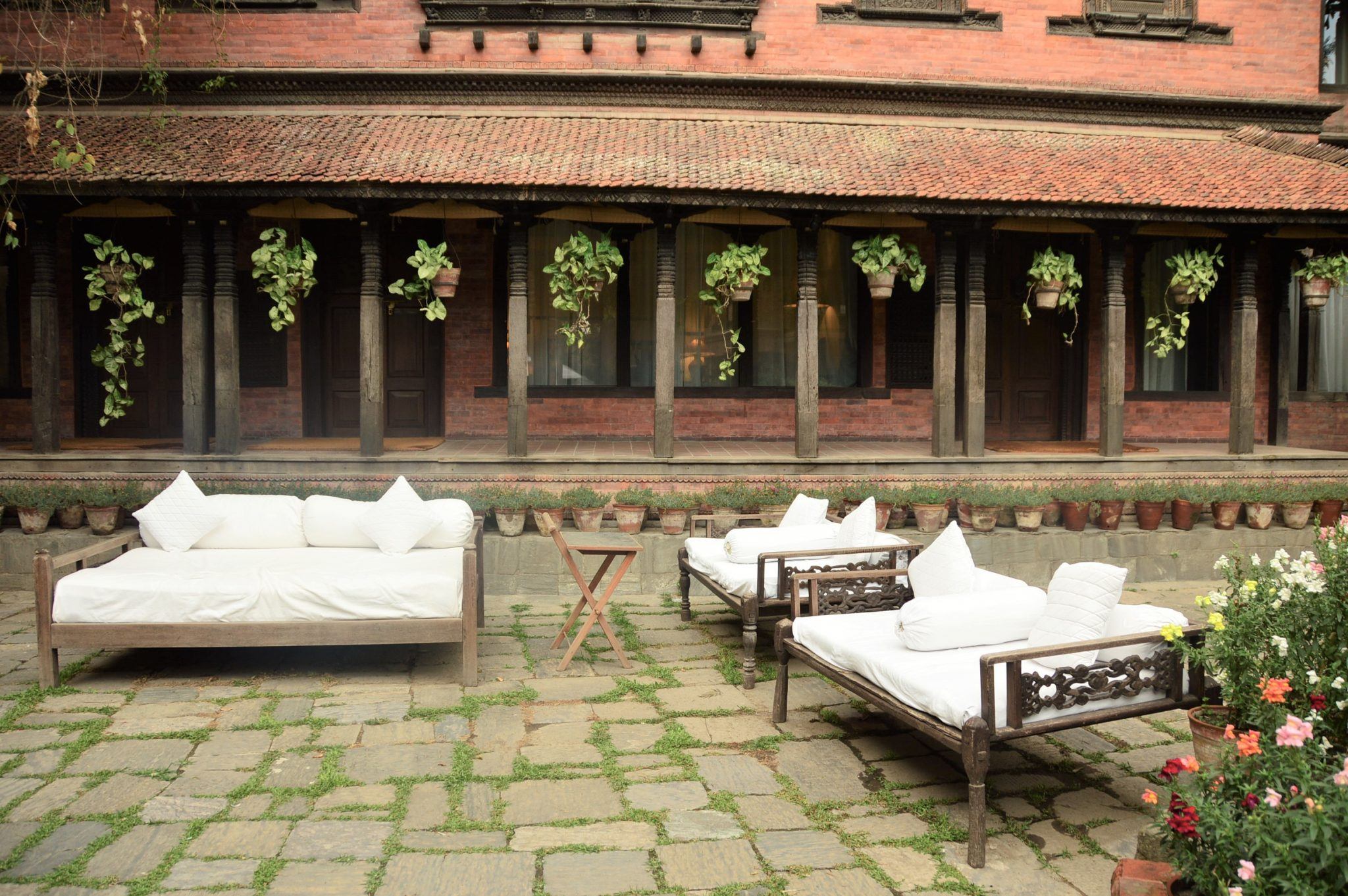 The above might sound a little over the top but to be honest it is completely justified. Dwarika's Hotel Kathmandu is now one of my favourite hotels I have ever stayed at – and I'm sure one of the top Kathmandu Nepal hotels – and I do hope you have an opportunity to experience it.
How to get to Kathmandu:
Qatar Airways
business class from London and it was a fantastic experience. Check out my reviews of business class on
Thai Airways
and
Malaysia Airways
and premium economy on
British Airways
and
Virgin Atlantic.
This is one trip where you MUST take out
travel insurance
! I certainly ended up using mine!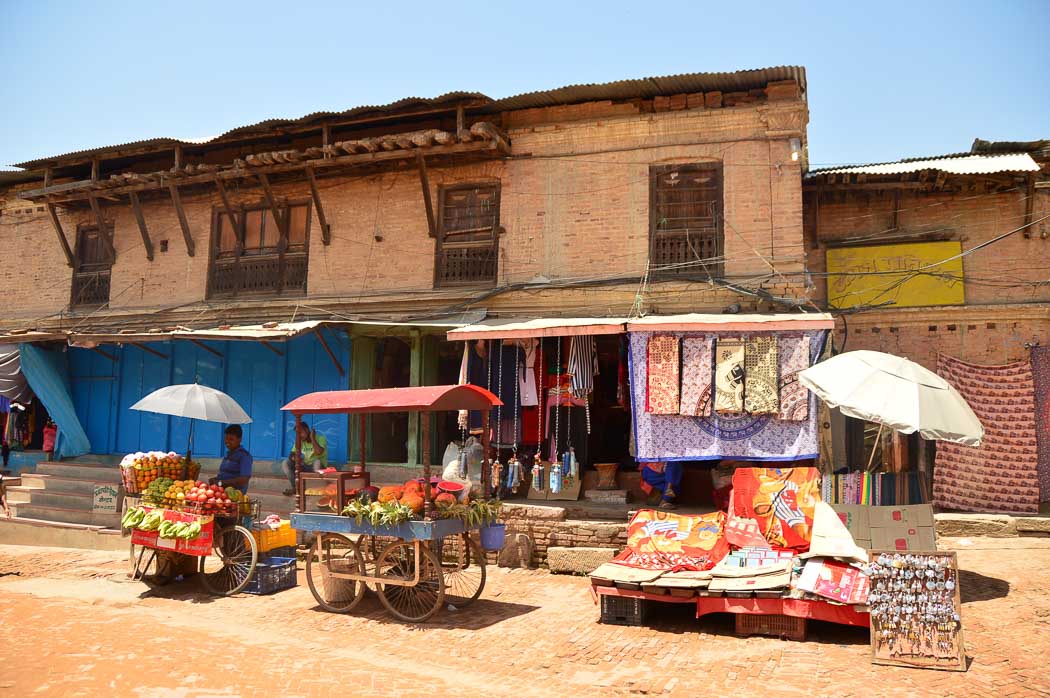 Everest Base Camp Trek Guided Tour Options
⇒ If you're planning on heading up to Everest Base Camp check out this really good comparison of tour options on Viator.
I did the Everest Base Camp Trek with
Exodus

.
Exodus is the biggest tour operator for Everest Base Camp so there are quite a few benefits in going with them in terms of expertise, access to the best teahouses etc. They also know what they are doing and are very organised. As Exodus is a big deal in Nepal anyone working with them locally will be keen for this to continue and therefore service levels are pretty good.
⇒ Click here for Exodus Everest Base Camp Treks.
In terms of UK based tour operators, we saw quite a few
G Adventures
groups during our trek. They tend to stay at the same kinds of tea houses and have a similar setup. I have also heard that
Intrepid
is a good operator for base camp.
⇒ Heading to Asia? Check out my posts on Singapore, Bali, Kuala Lumpur, Hong Kong, Kamalaya on Koh Samui and Hoi An in Vietnam.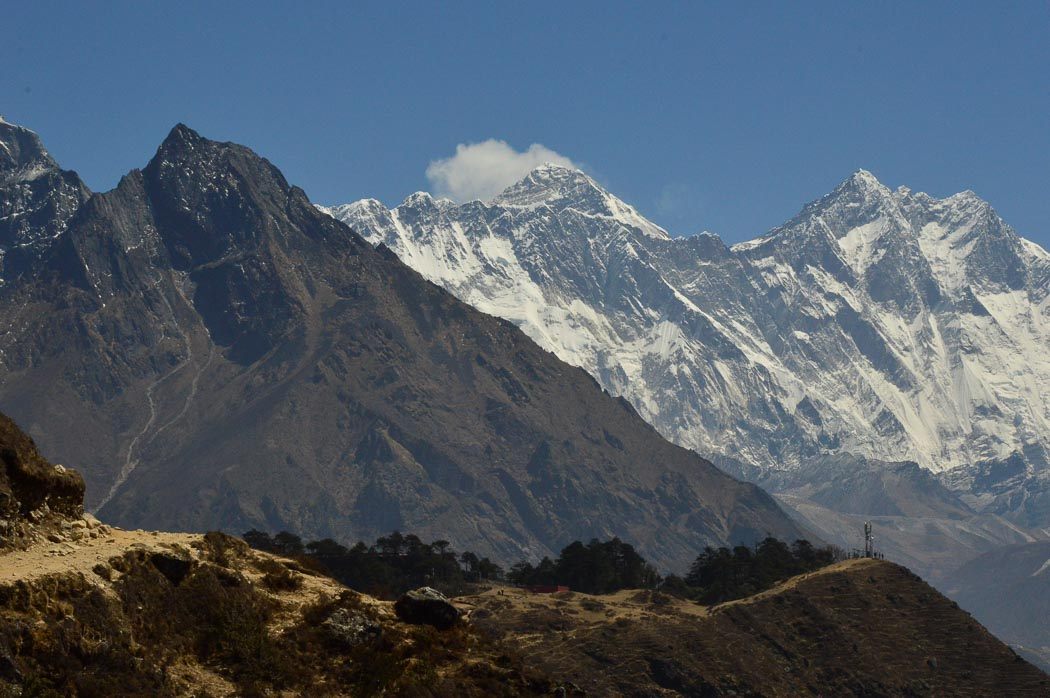 I have written several blog posts on my rather tumultuous Everest Base Camp Trek Experience which you may enjoy reading:
⇒ My day by day guide to the Everest Base Camp Trek
⇒ What it is really like on the trek to Everest Base Camp – the food, facilities, and tea houses
⇒ My complete guide to prepare and pack for the Everest Base Camp Trek
⇒ Nepal Travel Itinerary: 3 weeks what I did and what I would do differently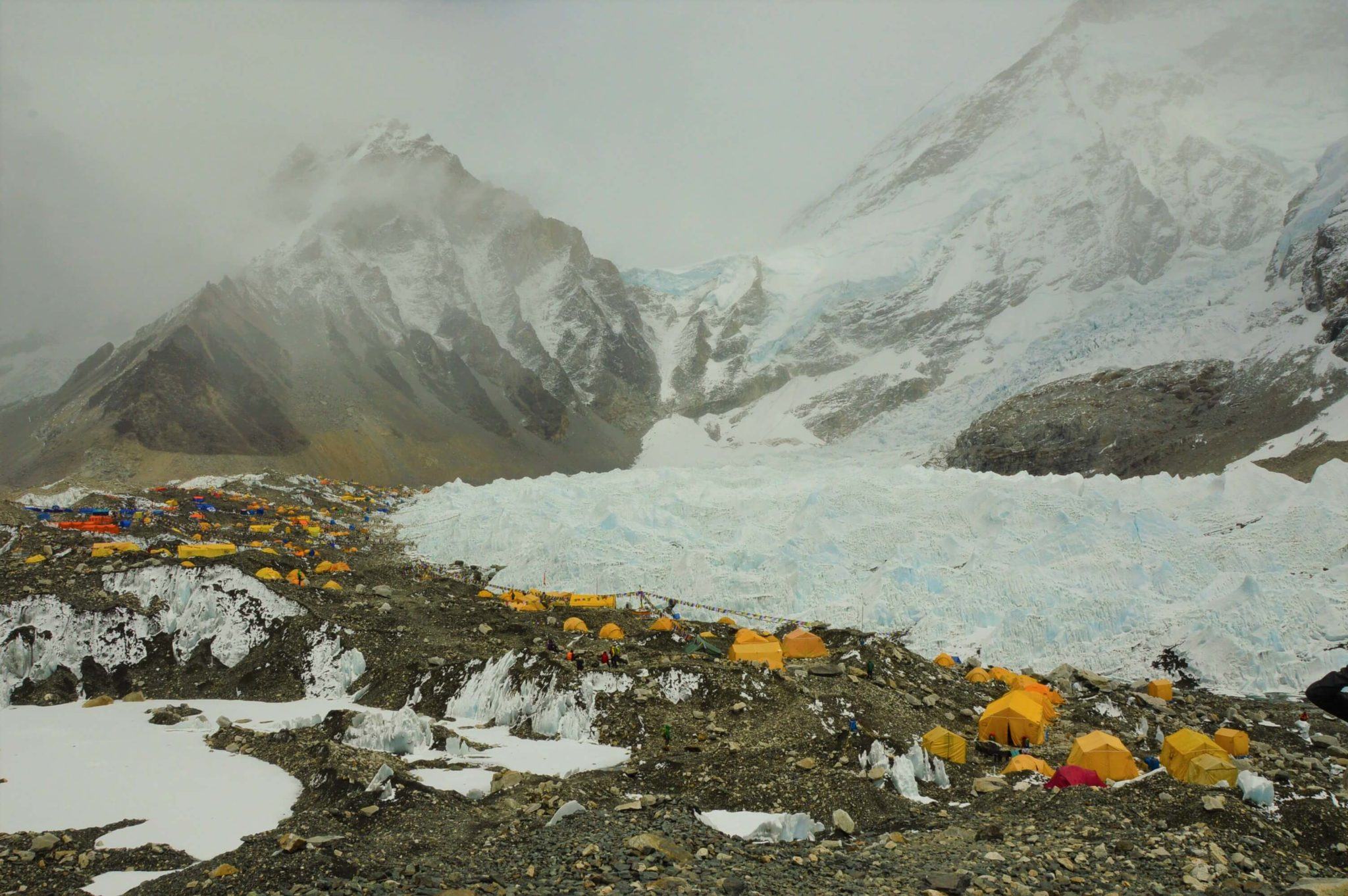 Other Boutique Hotels in Kathmandu
It isn't exactly boutique but as options at a higher boutique end are a bit low in Kathmandu I am going to list the
Hyatt Regency Kathmandu.
⇒ Read reviews on TripAdvisor ⇒ Book Now
Kathmandu has some more basic boutique hotels that offer great value for money.
Dalai-La
and
Kantipur Temple Hous

e
offer traditional Nepalese style.
⇒ Read reviews of Dalai-La on TripAdvisor ⇒ Book Now
⇒ Read reviews of Kantipur Temple House on TripAdvisor ⇒ Book Now
Aria Boutique Hotel & Spa
is somewhat more modern with its offer. Uniquely for Kathmandu, its interiors are heavy on white!
⇒ Read reviews on TripAdvisor ⇒ Book Now
⇒ After my trek, I went heavy on luxury and stayed at the stunning sister hotel to Dwarika's Kathmandu – Read my review of Dwarika's Dhulikhel
⇒ Latest Prices and availability for Dwarika's Resort Dhulikhel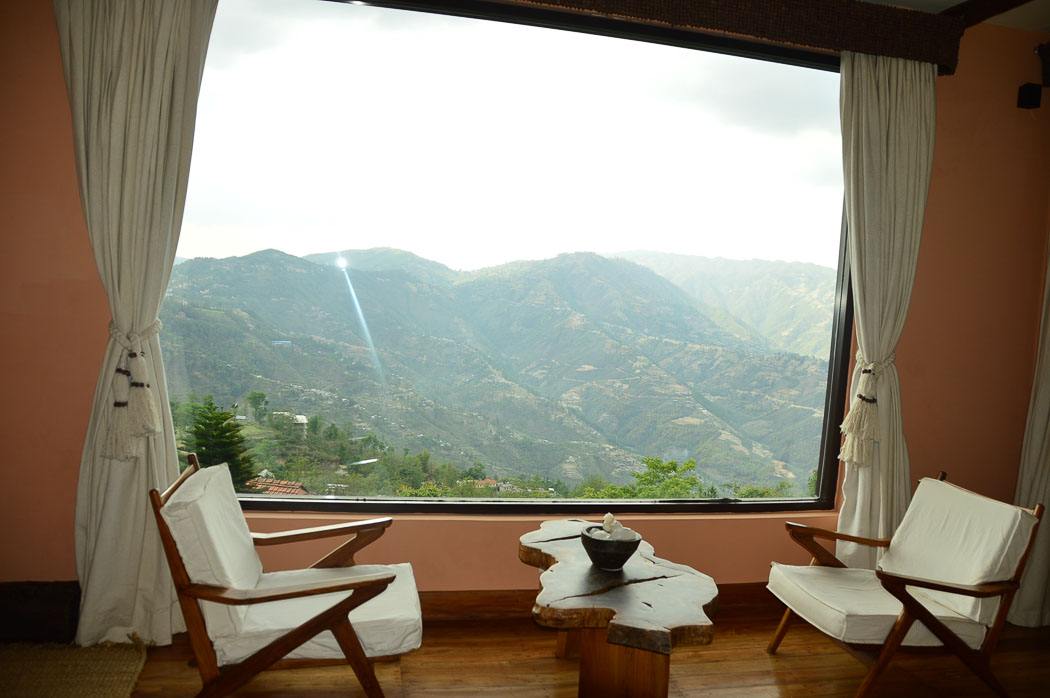 Who Paid for What in this Post
I covered my costs associated with most of this trip but Dwarika's were kind enough to give me a discount on my accommodation costs. But as always my opinion is my own. This post contains affiliate links. That means if you click through on them and end up making a purchase I will receive a small commission. This won't affect the price that you pay. I just wanted to make sure that you were aware of this.
READ NEXT: DWARIKA'S RESORT DHULIKHEL REVIEW
Like this post? Why not Pin It?