Dhulikhel Resort Dwarika
whilst googling during my trip planning phase. This Dhulikhel Resort is locally owned (they have a sister hotel in Kathmandu that is also great) and located at near the top of the Kathmandu Valley about one hour from Kathmandu.
⇒ Check Prices for Dhulikhel Resort Dwarikas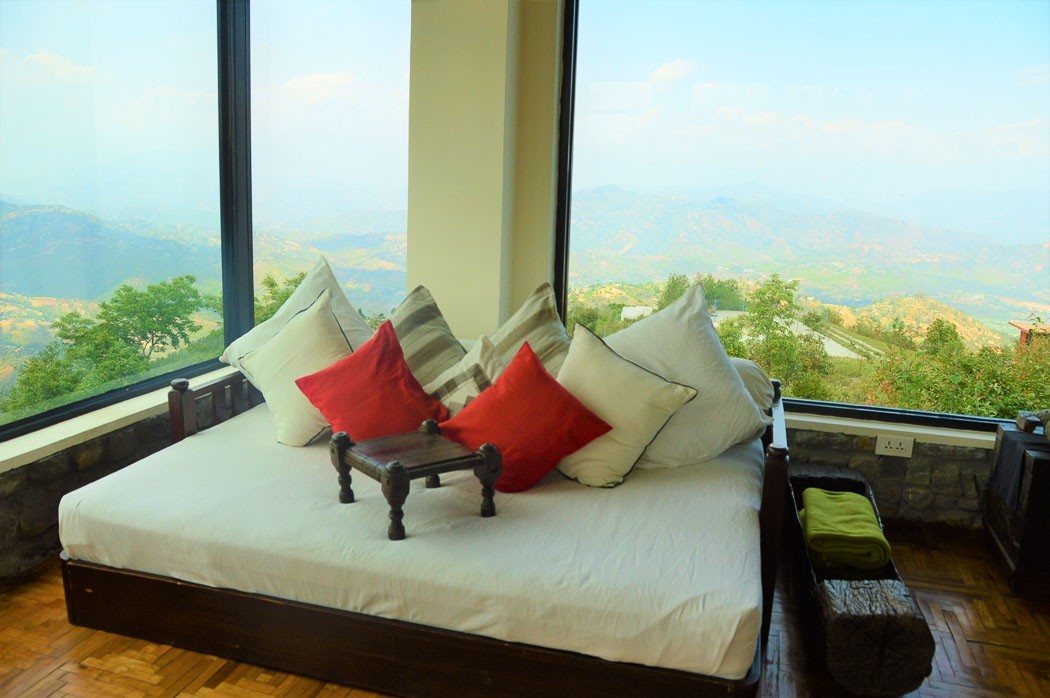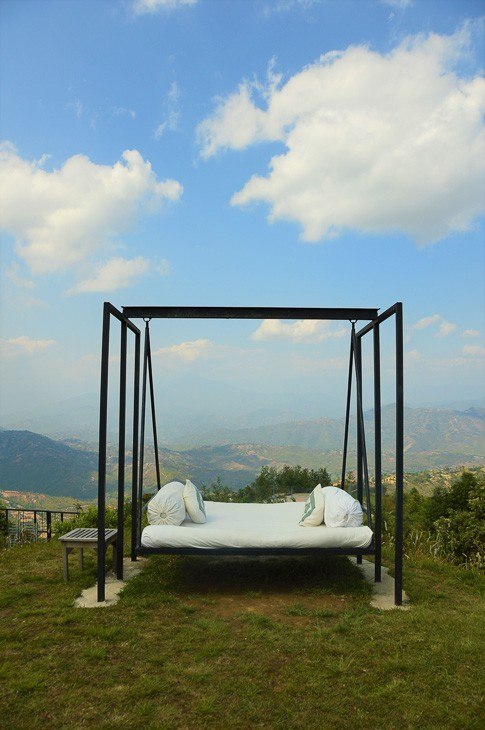 Dwarika Resort Dhulikhel Nepal is huge! However, there are numerous paths and friendly Nepalese people with buggies making it easier to get around. It has a slightly magical feel with some of the most stunning views of the Himalayan Horizon Dhulikhel. I travelled solo and found that not only was it quite easy to meet people the staff at this Dhulikhel lodge resort were so friendly they felt like my buddies by the end of my 3 nights.
Dhulikhel Resort Dwarikas: The Rooms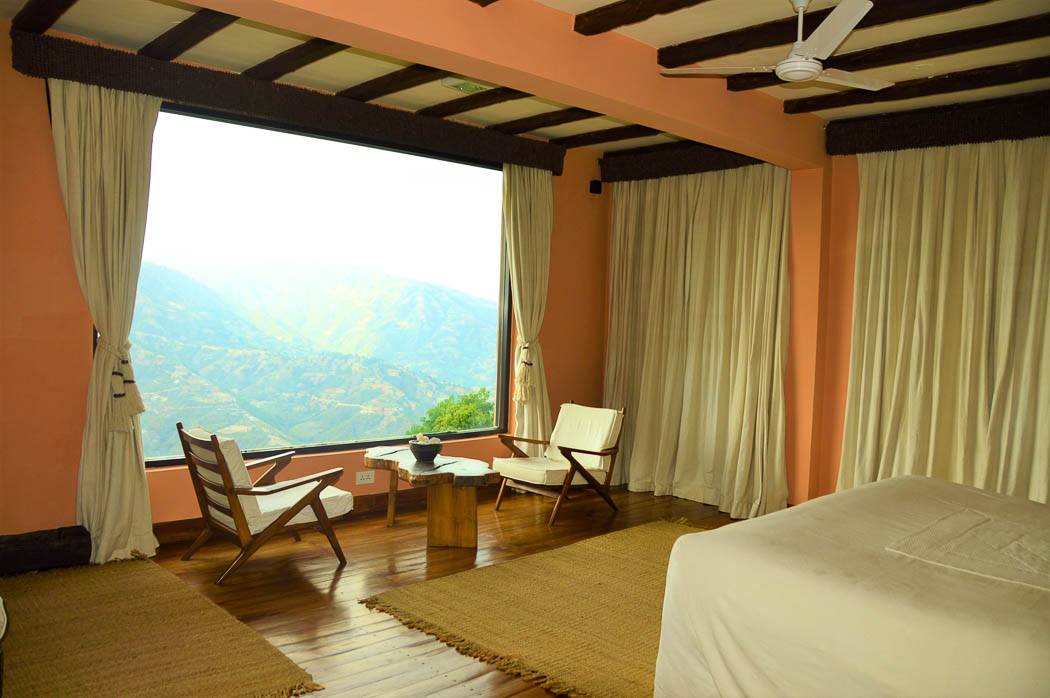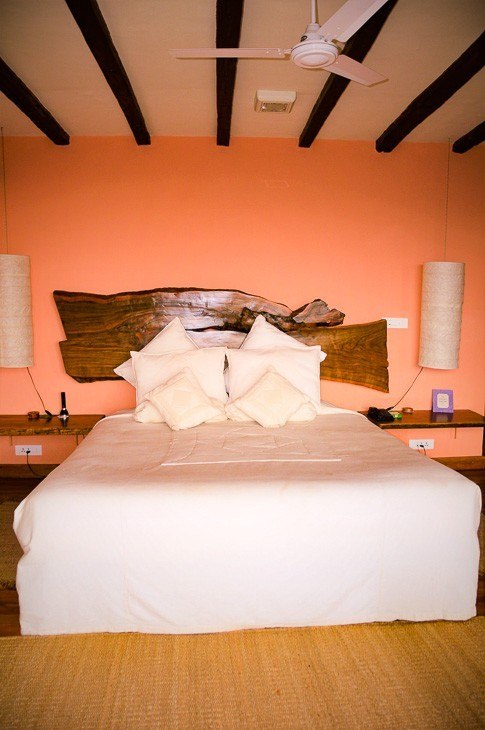 Every room at this Dhulikhel Resort has massive windows and stunning views over the Kathmandu Valley – they almost look like a giant tv screen! They are beautifully decorated and the giant king-size bed was extremely comfortable. The bathroom was an interesting pebbled floor and had a wonderful bath with a view over the valley as well as a big powerful shower. Good-quality ground coffee and plunger were in the rooms at Dwarika's Dhulikhel Nepal as well as tea. I also had a massive private terrace area above my room overlooking the Dhulikhel mountain – and free wifi.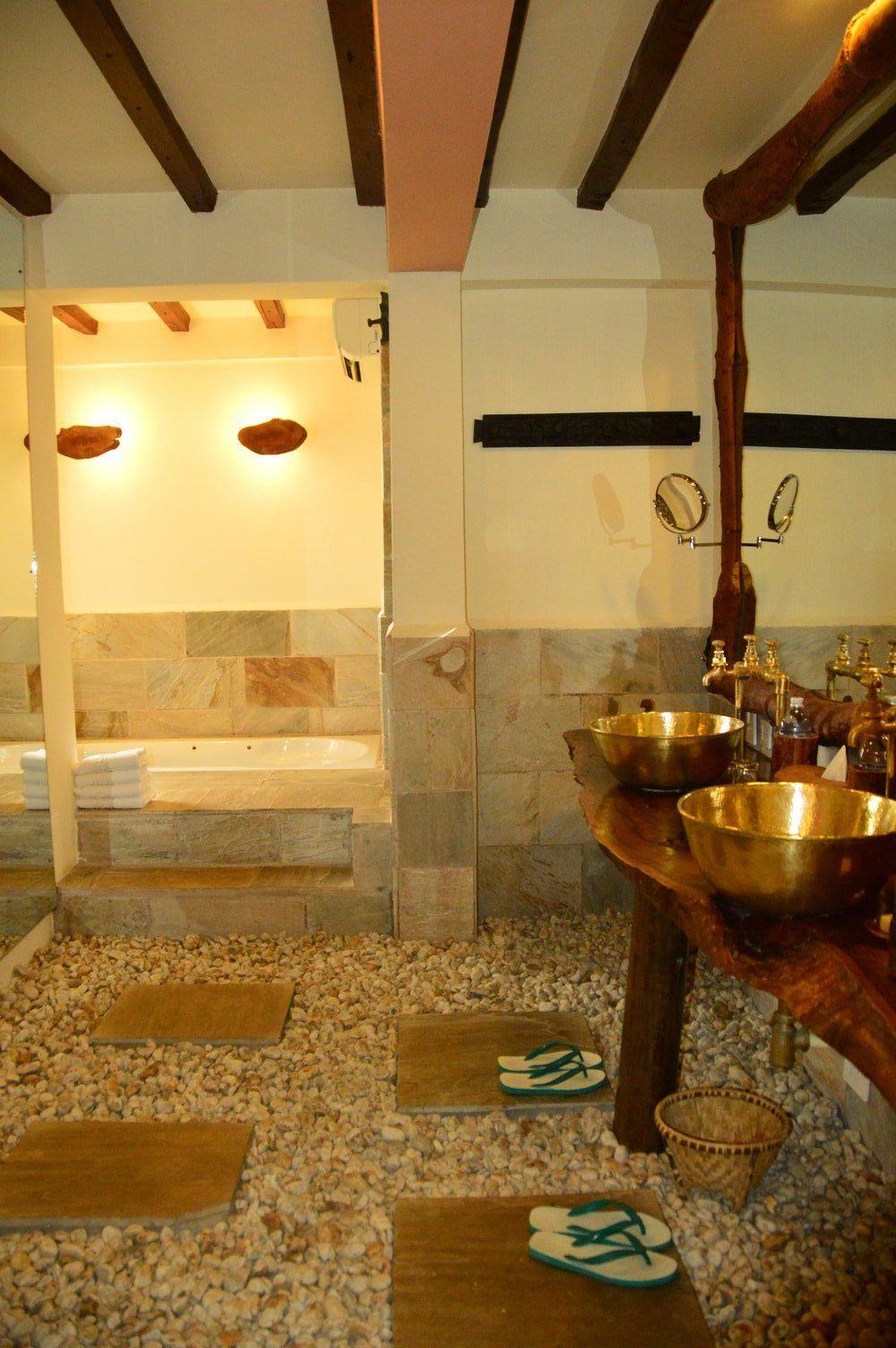 One of my favourite local touches at Dwarika Dhulikhel Resort was that each day you received a scarf of a different colour in your room. These colours are chosen by Nepalese tradition as being optimal for that day of the week. The staff ask guests to wear these scarves. It is a lovely touch and most guests participate.
Dwarika Dhulikhel Resort – The toiletries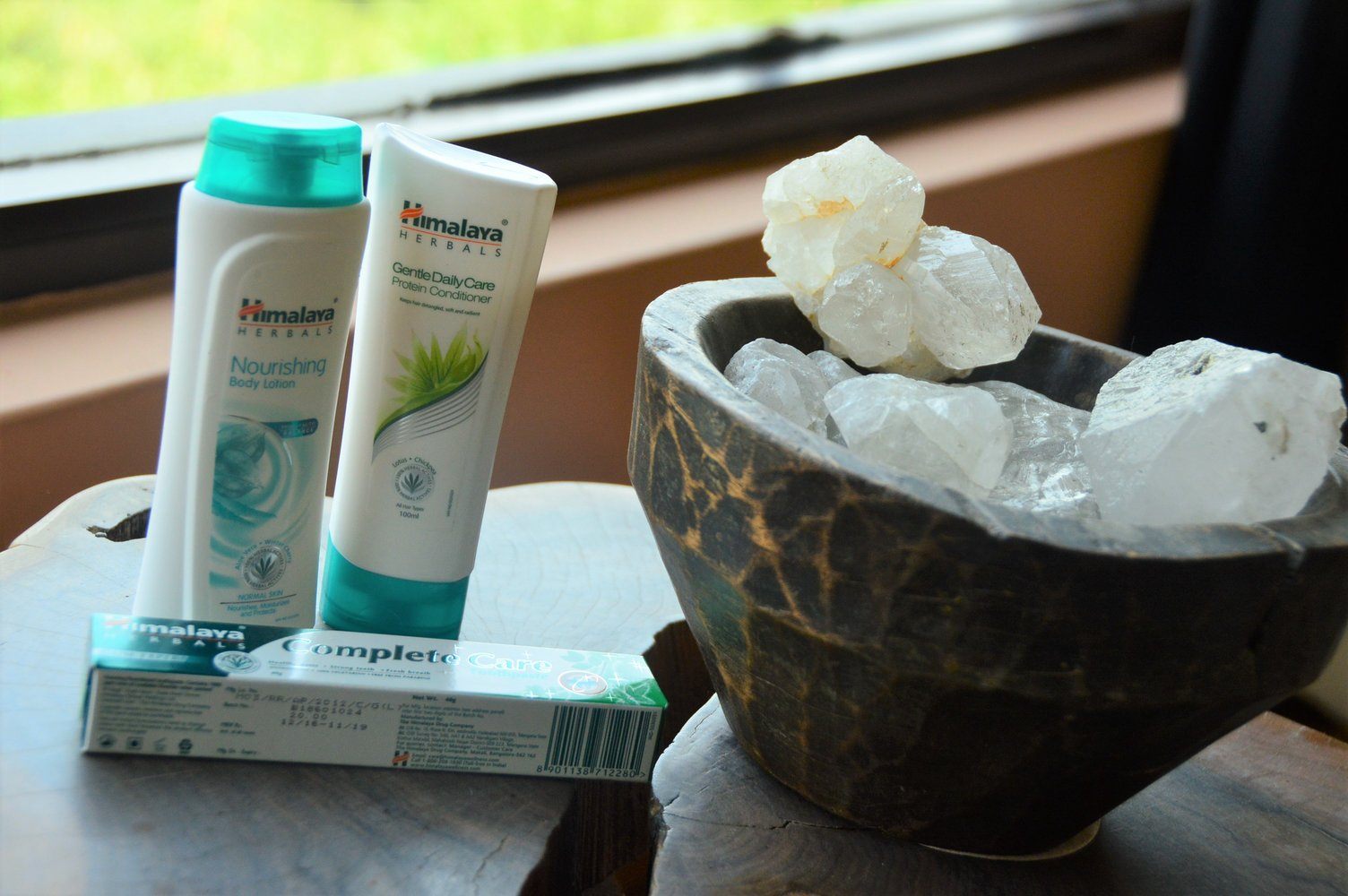 Surprisingly Dwarika's Dhulikhel doesn't do their own toiletries. There was lovely lemongrass soap and then they have small ceramic containers for shampoo, shower gel etc. There is then a range of branded toiletries available. My favourite was the Himalayan range of toothpaste, moisturizer etc – when in the Himalayas etc!
The Pool at Dwarika's Dhulikhel Resort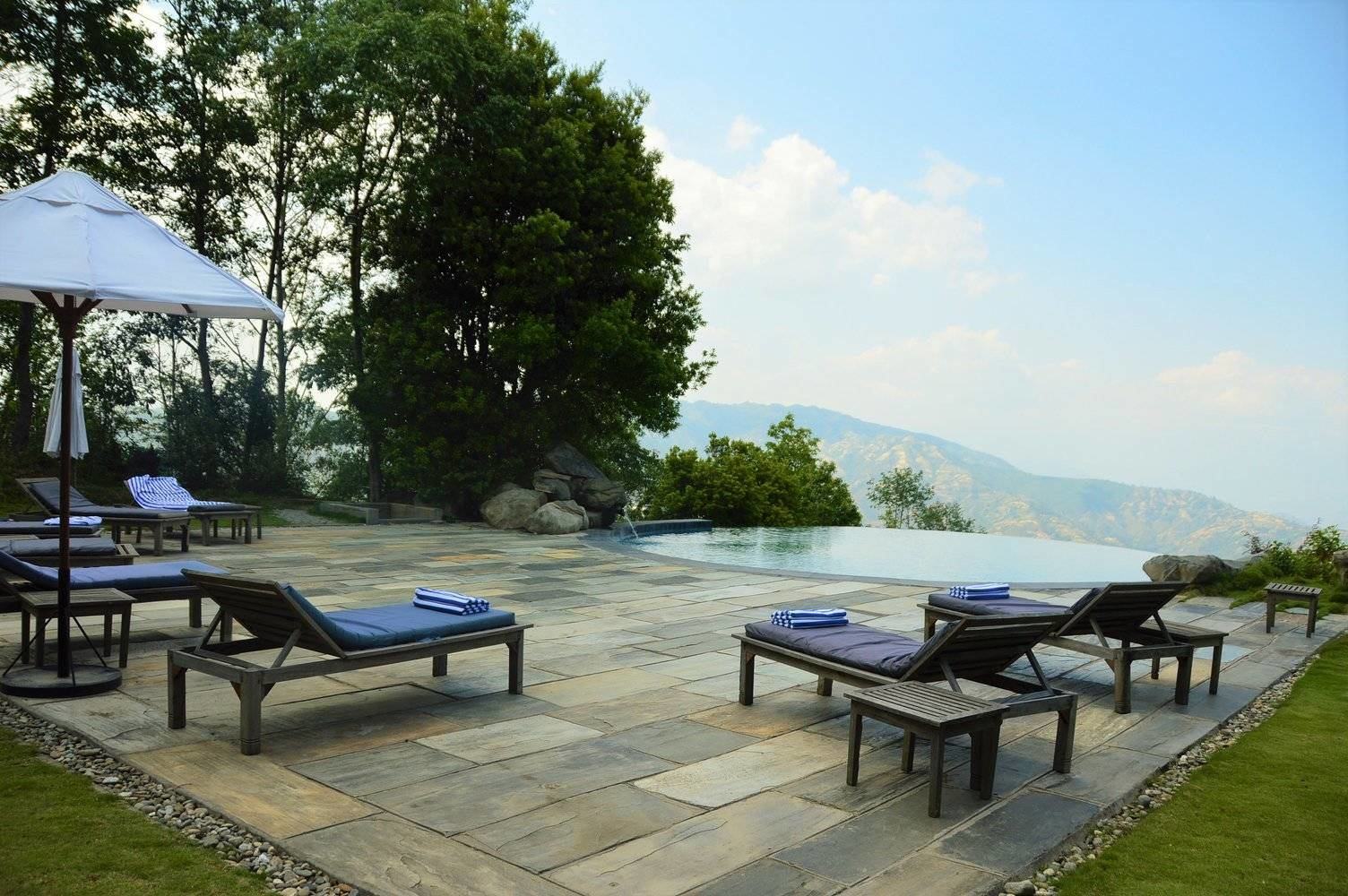 There is a stunning infinity pool located near the top of Dwarika Dhulikhel Resort. It was made for Instagram – make sure you do the slightly dangerous walk along the edge to get a stunning picture of yourself walking on water with the Himalayan mountains in the background! There are lounges as well as day beds and the pool is next to the restaurant used for lunch so it is very easy to get pool snacks and drinks.
Dwarika Dhulikhel Resort – The Spa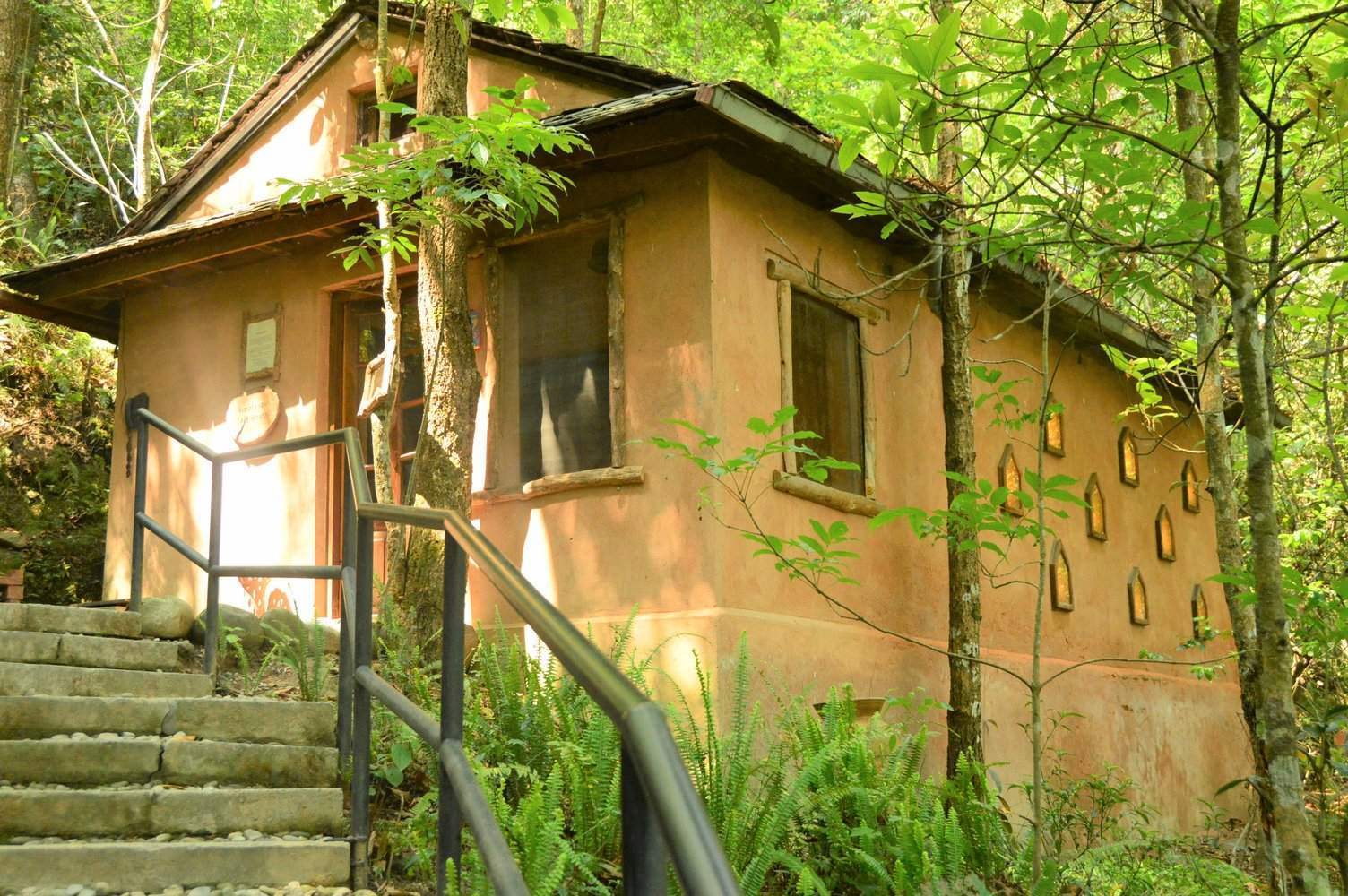 The spa at Dwarika's Dhulikhel consists of about 12 different huts which are used as treatment rooms. I did two treatments whilst I was there. The first was a singing bowl treatment. I had never heard of this before I went to Nepal but it had its own special hut at Dwarika's and the singing bowl expert had to come from Kathmandu! The singing bowl treatment started with a chat about blockage areas. He then moved the bowl around my body and then proceeded to use it to massage my back whilst it was ringing.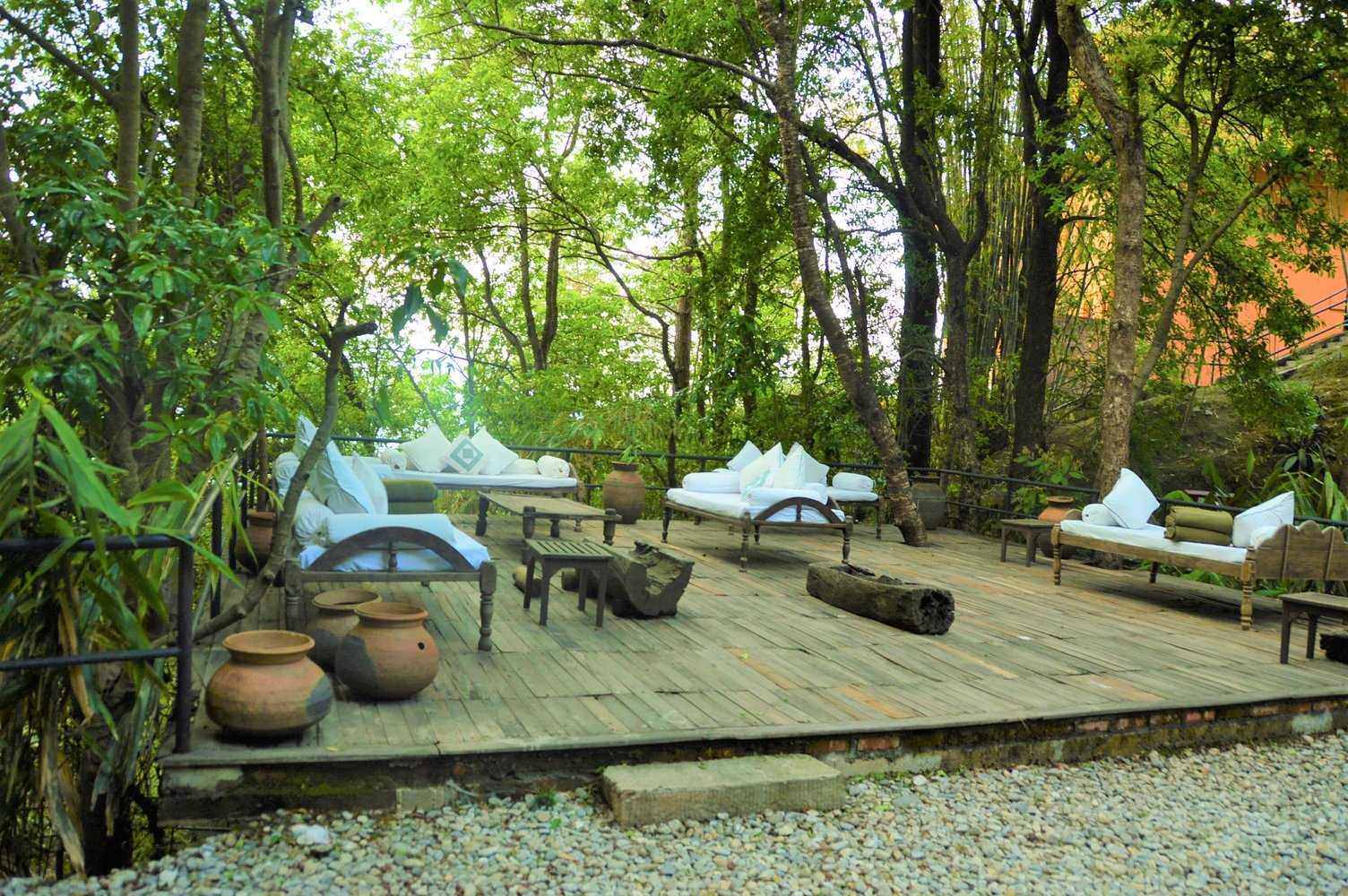 It was unusual to have these sound currents whizzing through my body but in an enjoyable way and it made sure I was very in the moment. He finished the singing bowl treatment by putting a large bowl upside down on my head and then banging it. OK I know that sounds the opposite of pleasant and I would not have wanted to have a hangover but it was quite therapeutic! I also had a Himalayan trekkers massage which was fantastic.
The Food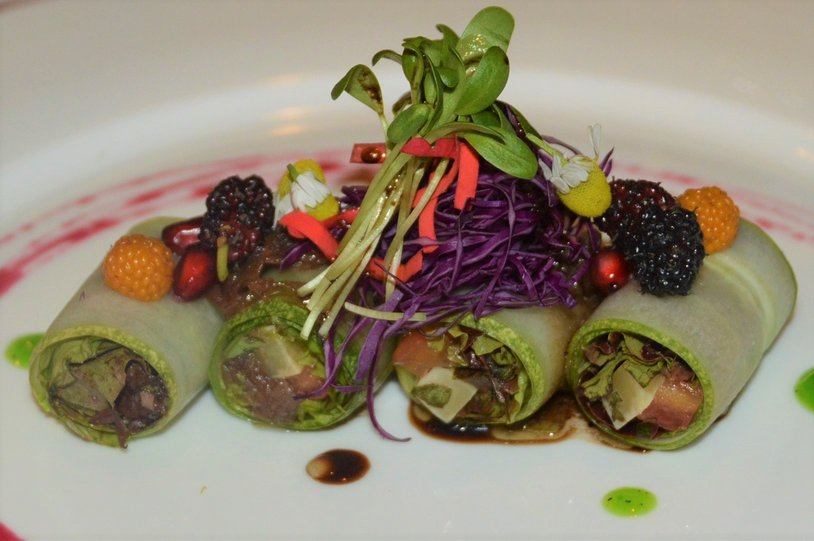 Dwarika Dhulikhel Resort has three restaurants and a bar. The poolside restaurant is the place for lunch. The main restaurant at Dwarika's Nepal is Nature's Flavours and this is where breakfast is served. The breakfast at this Dhulikhel resort is fantastic – a great range of cold and warm with the fantastic local yoghurt and honey. There is a hot breakfast/omelette man who does fabulous egg dishes.
⇒ Keen to explore Japan? Check out my posts on Tokyo, Kanazawa and the Nakasendo Trail.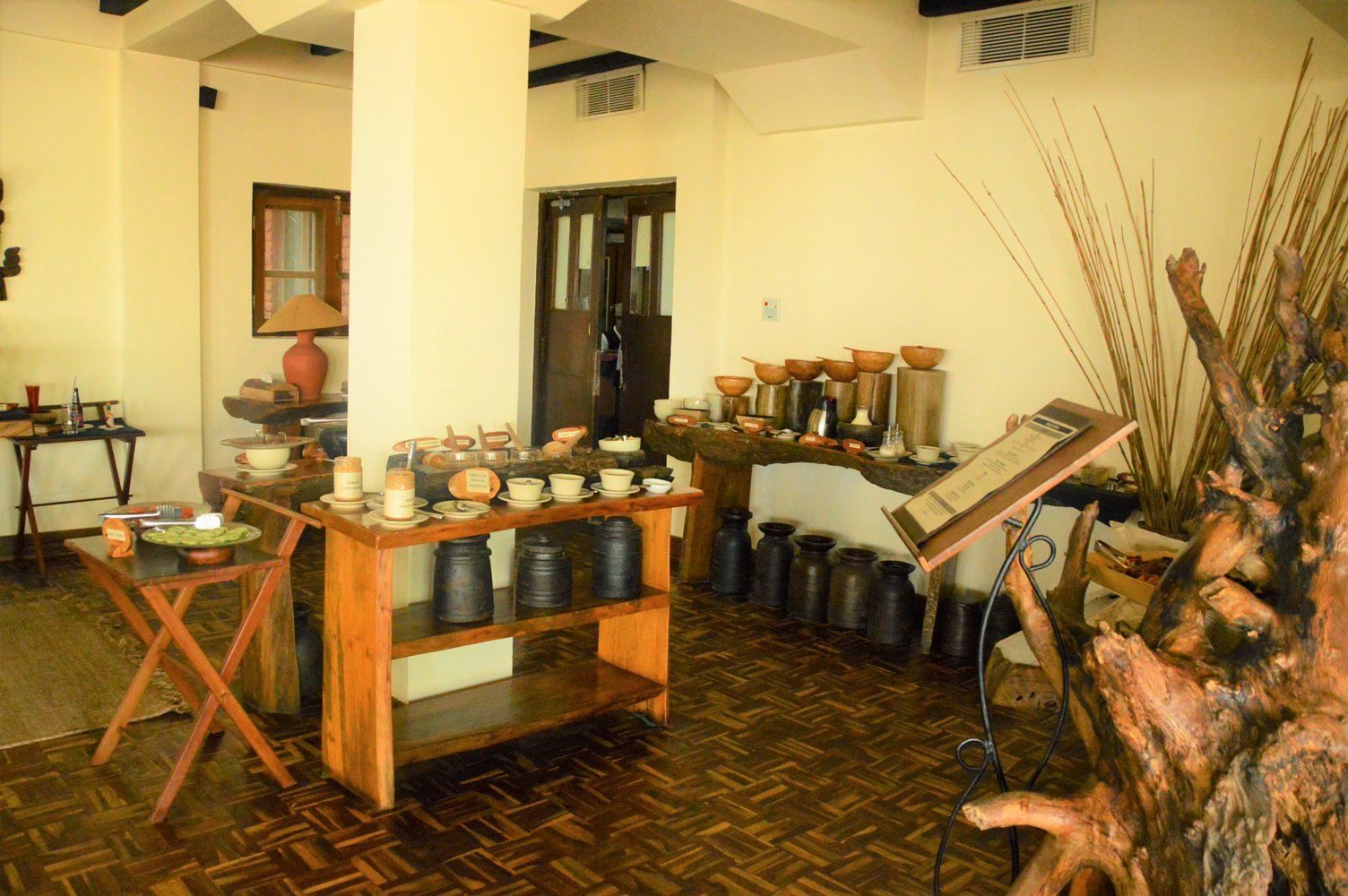 Nature's Flavours is also then open for dinner. The menu changes every night and is based on what is locally available. Dwarika's actually has a farm up the road and many ingredients are sourced from there. The food was delicious and this was my favourite. There is also a Japanese restaurant at Dwarika's Dhulikhel which I tried one night. Although it was beautifully done I was still a bit hungry by the end so it was back to Nature's Flavours the next night!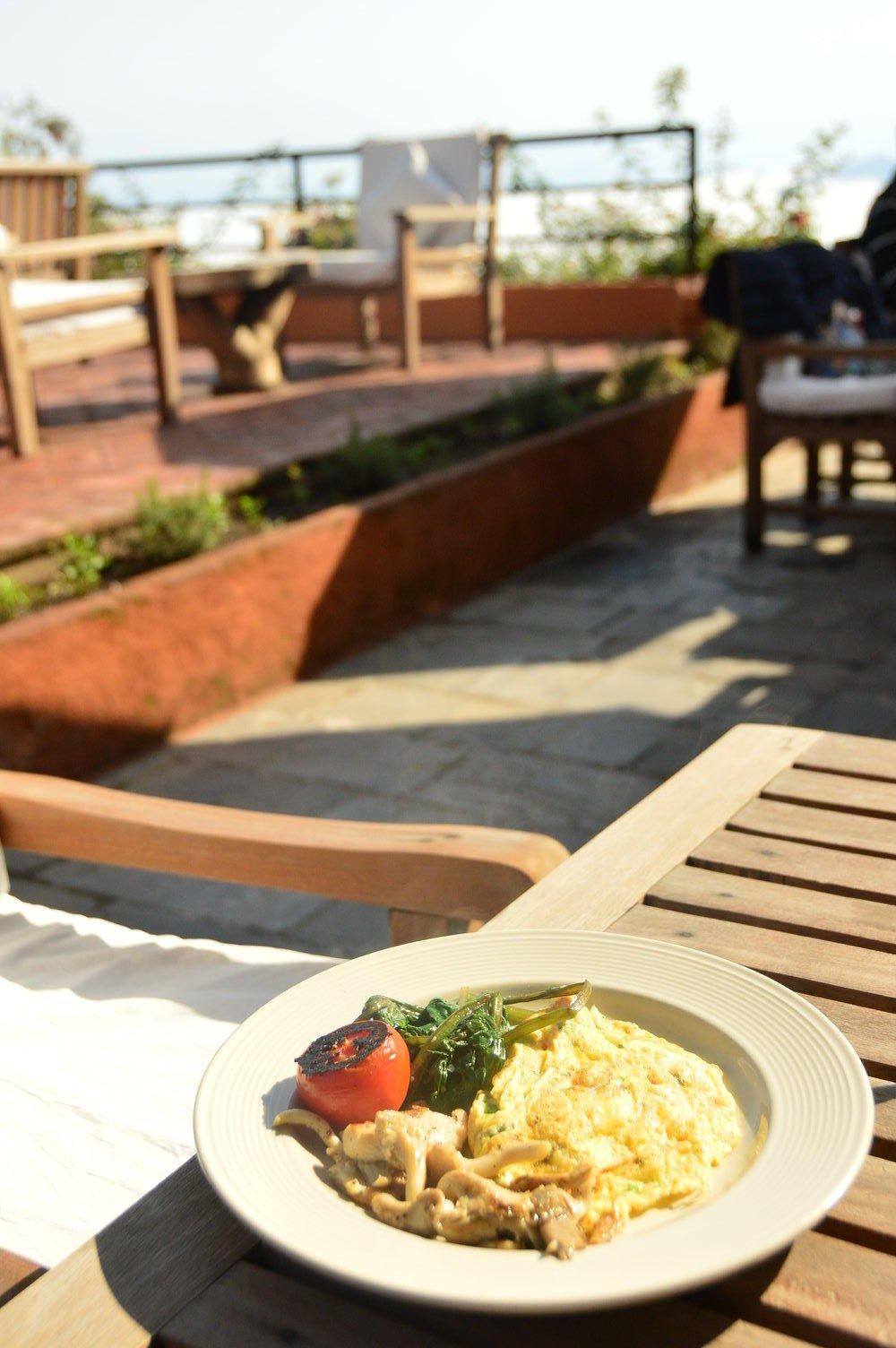 Importantly there is a bar and there is wine! Of course, it is not cheap but there is some decent sauvignon blanc which is also available in the other restaurants.
⇒ Check out if Korea is somewhere for you in my posts on a Korea Itinerary, things to do in Daegu and on JeJu Island.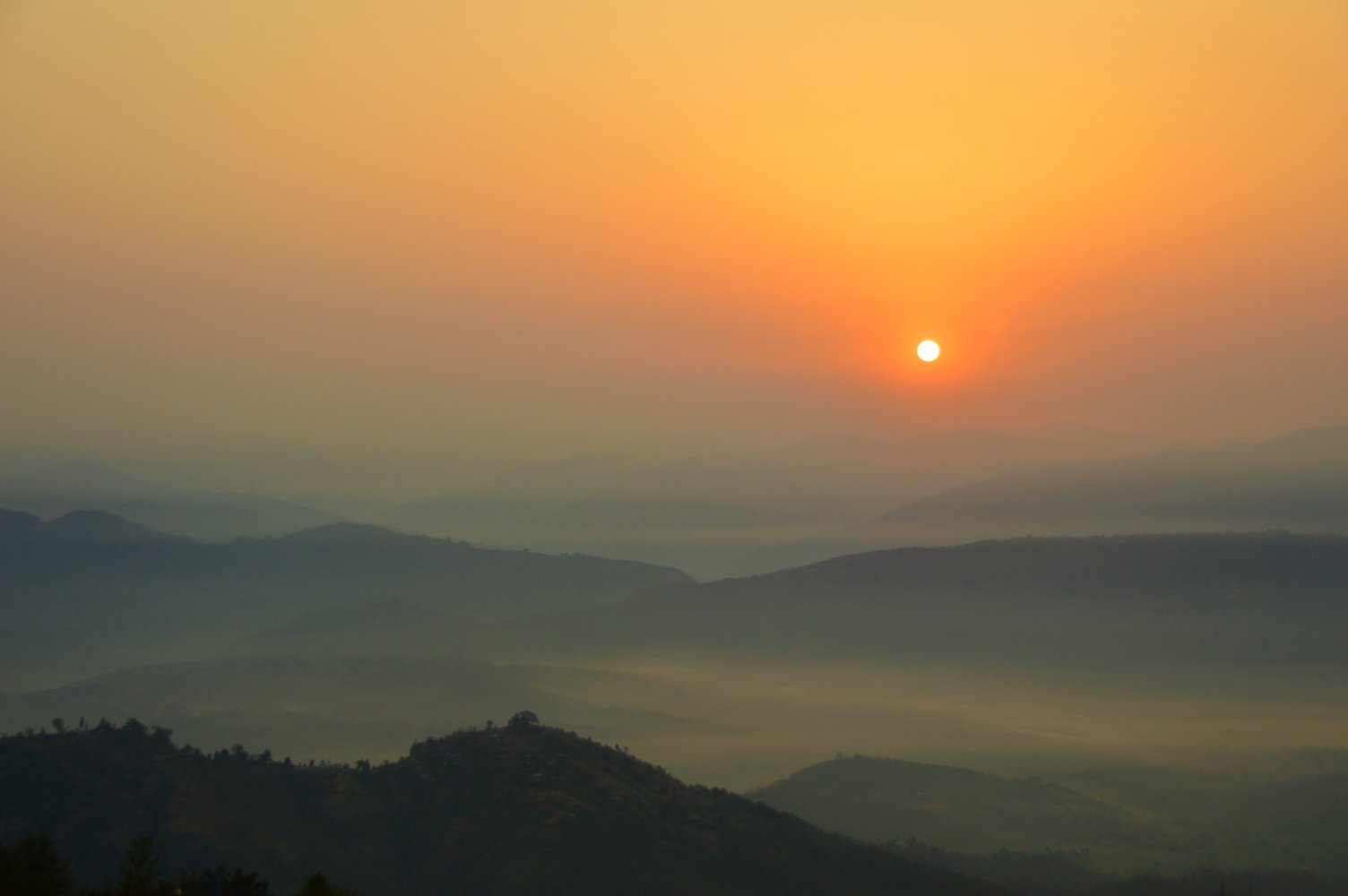 Dwarika Dhulikhel Resort – The views
The views from Dwarika's are just amazing. There is a building called zero point at the top of the property which has 360 views over the Kathmandu Valley so you can see the sunrise and set. Tea is served at sunset and sunrise every day. I was in Dhulikhel in May so things were a little hazy and often only the outline of the mountains could be seen in the distance. Apparently, September/October is the best time to go for amazingly clear views across this Nepalese Valley.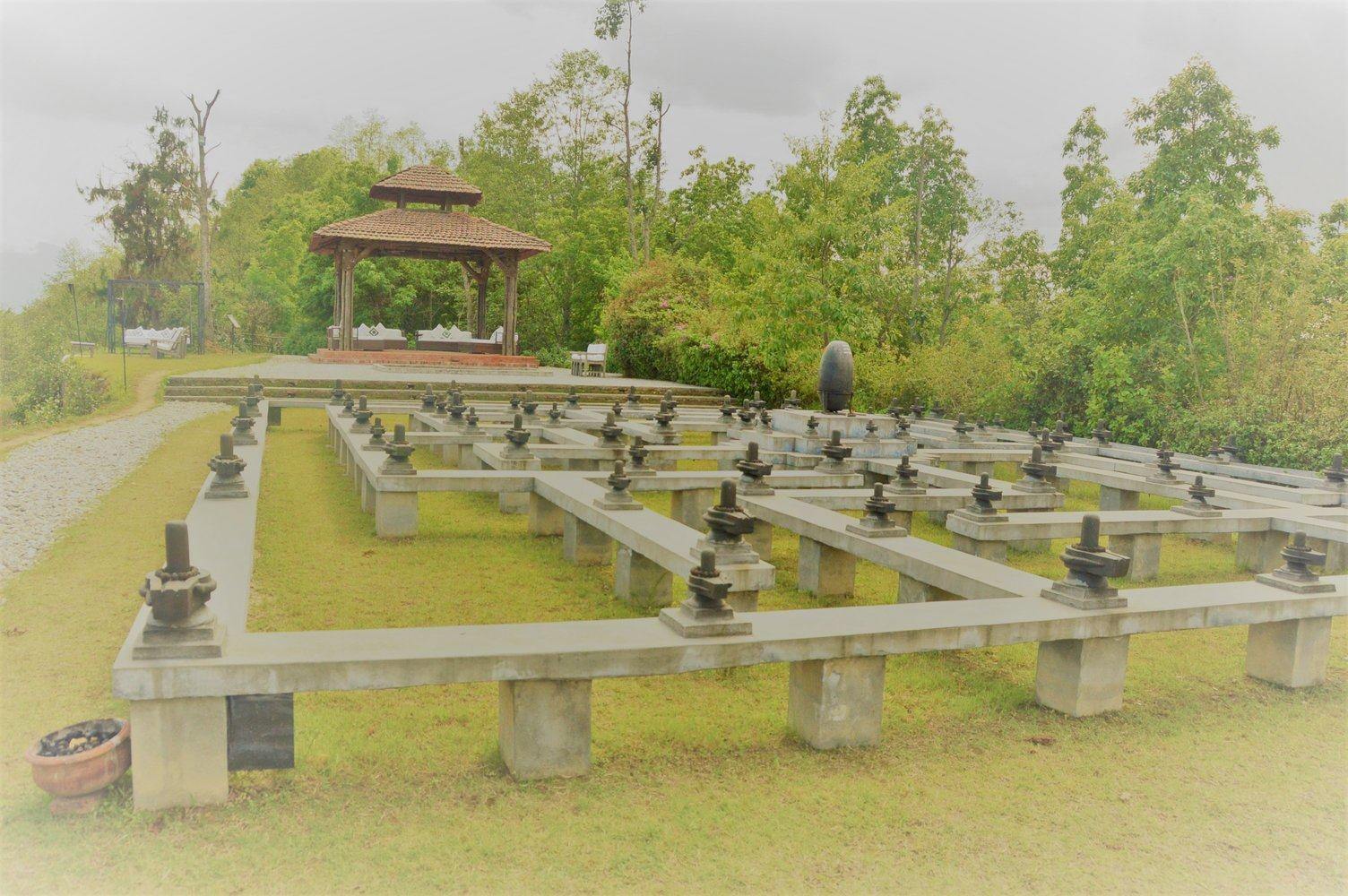 ⇒ Heading to Asia? Check out my posts on Singapore, Bali, Kuala Lumpur, Hong Kong, Kamalaya on Koh Samui and Hoi An in Vietnam.
The Activities at Dwarika's Dhulikhel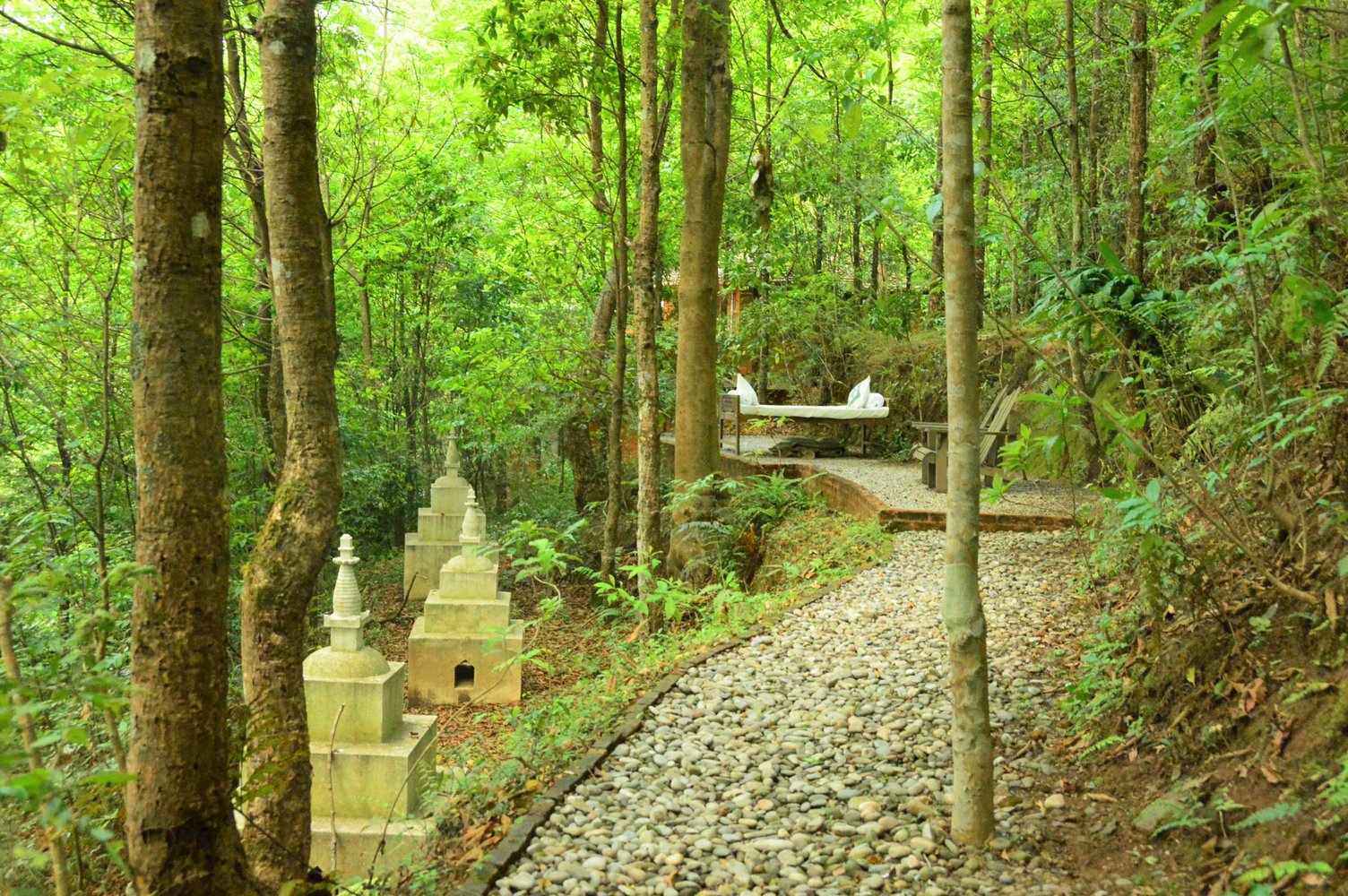 Yoga and meditation sessions run twice a day and you can sign up for these in the main building. There is also the chance to do one on one sessions at Dwarika's Nepal. I did yoga each morning and the teacher was excellent. I also did a chakra sound therapy session which was ok but not amazing. Pottery, painting and local walks are also on offer.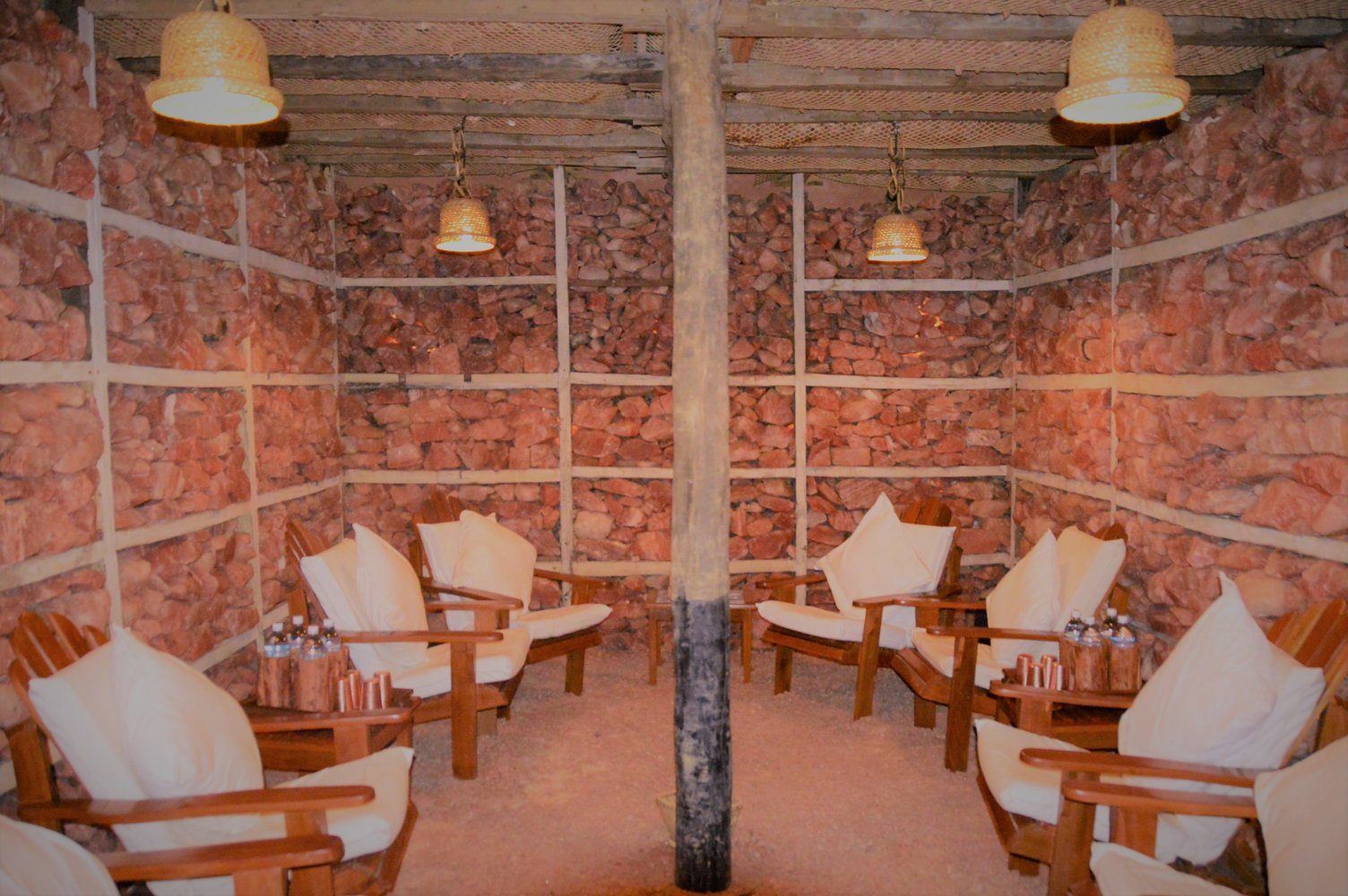 What I most enjoyed at Dwarika Resort were some of the quirkier local experiences on offer. The Himalayan salt room is filled with pink Himalayan salt and it is recommended that you spend 20 minutes in there which I did every day. There is also a meditation maze at the top of the property. You take your shoes off and wander the maze (the actual maze is very low so you won't get lost) and this is best experienced after a meditation session.
I love visiting spas! If you're looking for some more spa inspiration check out my posts on spas in Thailand, Australia, Czech Republic, Baden Baden, Yorkshire, Sussex, Devon and Cornwall, Iceland, Ireland, the Cotswolds, Scotland and California.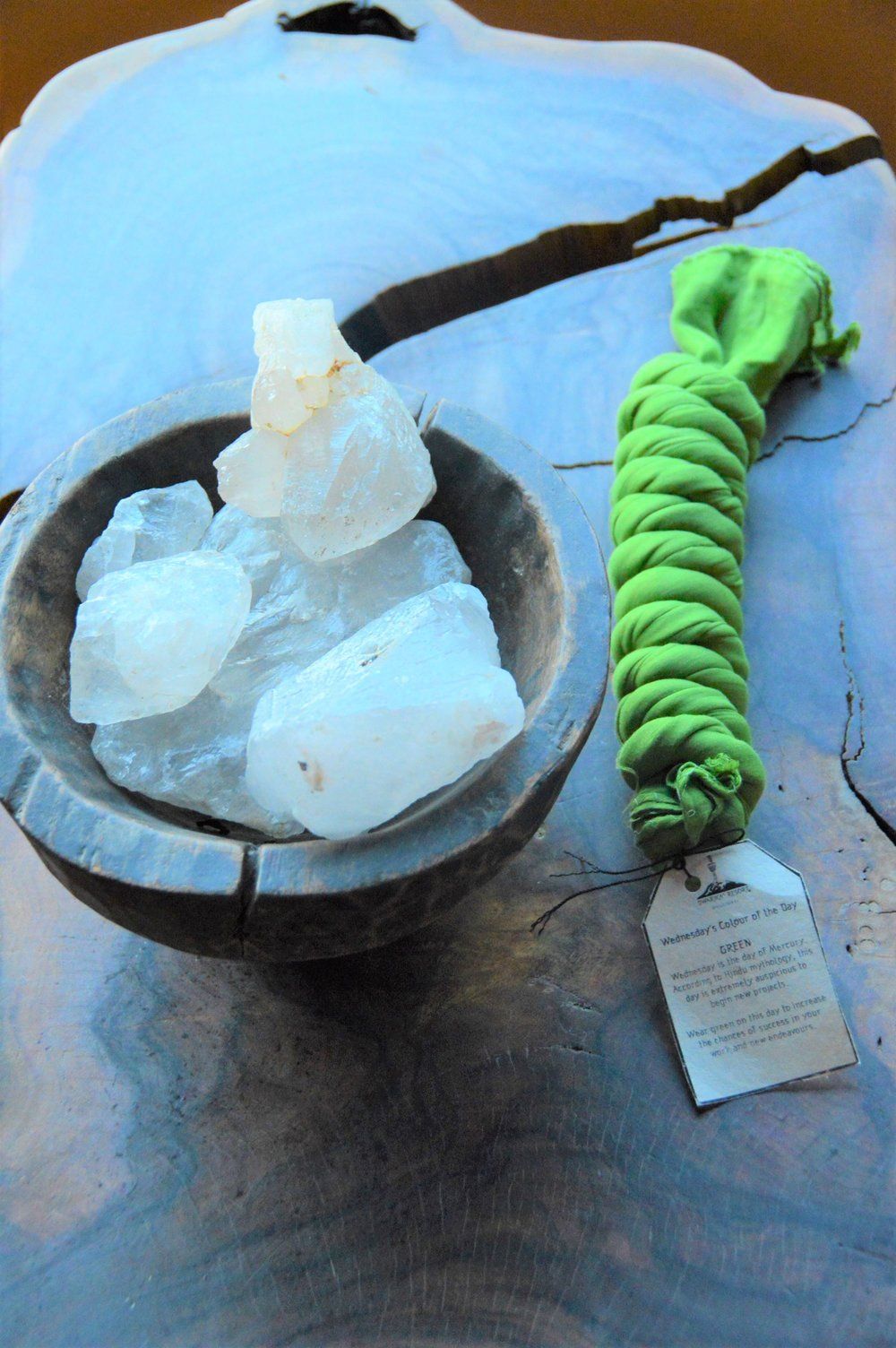 There is just something about mostly Buddhist countries that give the air a slightly magical feel. I really felt this at Dwarika's Resort Dhulikhel. I loved how much they incorporate the best of Nepalese traditions and foods to provide a completely unique luxury spa experience. I didn't experience other hotels in Dhulikhel but I can't imagine any of them can compete with Dwarika's! Staying at Dwarika's Dhulikhel was a genuinely special experience and one I will remember forever. I can't imagine anyone not being delighted with their stay in this lovely and unique resort.
⇒ Read more reviews of Dhulikhel Resort Dwarikas on TripAdvisor ⇒ Book Now
How to get to Kathmandu:
⇒ Read my post on Luxury Things to do in Kathmandu
Or try my favourite Middle Eastern Airlines – particularly if you like flying Business Class! I flew with Qatar Airways business class when I went – read my
Review of Qatar Airways Business Class here.
Check out my reviews of business class on
Thai Airways
and
Malaysia Airways
and premium economy on
British Airways
and
Virgin Atlantic.
⇒ Click here for prices and availability on Qatar Airways Kathmandu
This is one trip where you MUST take out
travel insurance
! I certainly ended up using mine!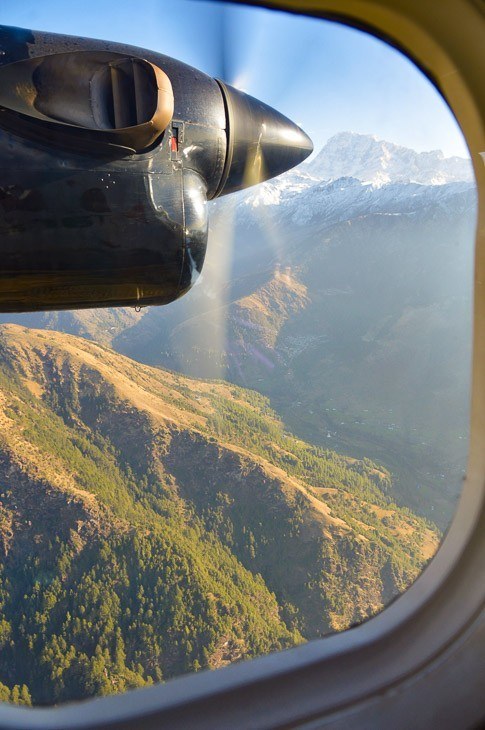 Everest Base Camp Trek Guided Tour Options
For a really good comparison of tour options available check out
Viator.
I travelled with
Exodus

.
Exodus is the biggest tour operator for Everest Base Camp so there are quite a few benefits in going with them in terms of expertise, access to the best teahouses etc. They also know what they are doing and are very organised. As Exodus is a big deal in Nepal anyone working with them locally will be keen for this to continue and therefore service levels are pretty good.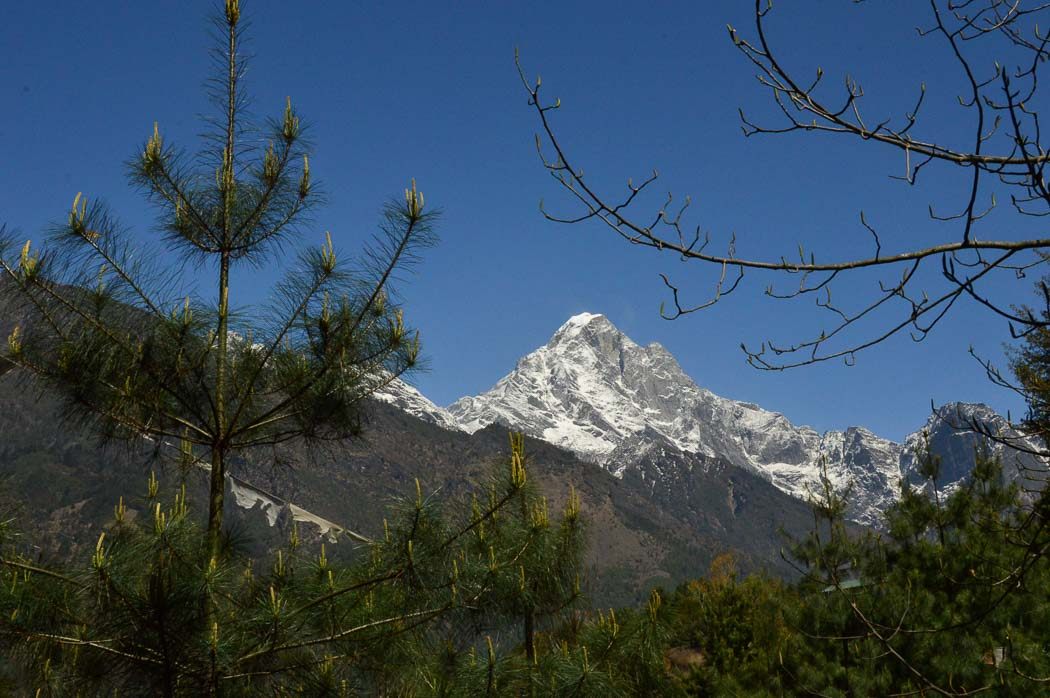 ⇒ Click here for Exodus Everest Base Camp Treks.
In terms of UK based tour operators, we saw quite a few
G Adventures
groups during our trek. They tend to stay at the same kinds of tea houses and have a similar setup. I have also heard that
Intrepid
are a good operator for base camp. I have written several blog posts on my Everest Base Camp Trek Experience which you may enjoy reading:
⇒ Click here for my Post on the Everest Base Camp Trekking Day by Day
⇒ Click here for the Complete Real Rundown on Himalaya Trekking Everest Base Camp Trek – food, facilities and tea houses
⇒ My complete guide to preparation and packing for the Mount Everest Base Camp Trek
⇒ Nepal Travel Itinerary: 3 weeks what I did and what I would do differently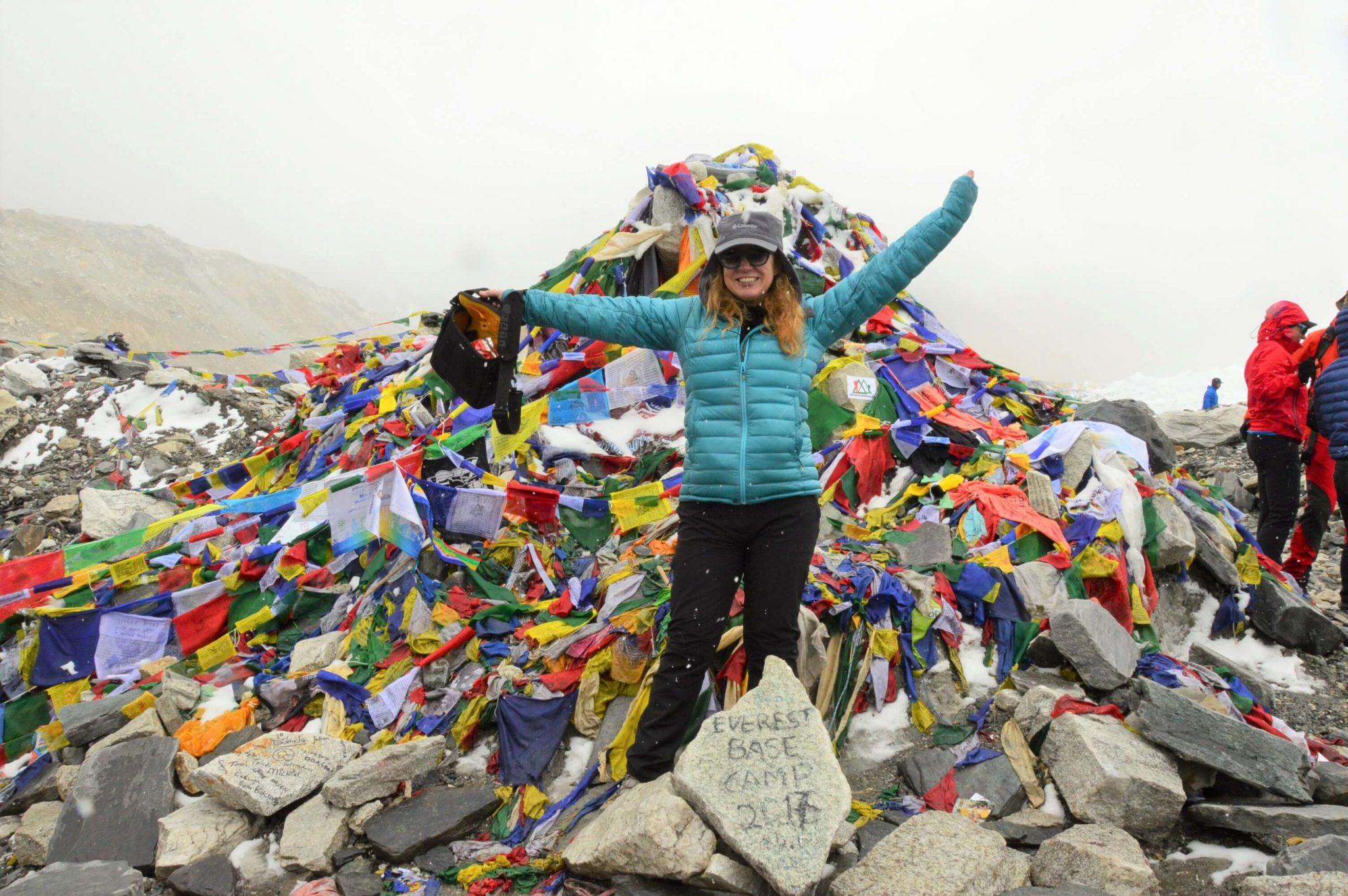 Boutique Hotels in Kathmandu
I recommend enjoying some luxury pre and post the Nepal Tea Houses! Without question, the best boutique hotel in Kathmandu is the lovely lovely
Dwarika's
⇒ Read reviews of Dwarika's on TripAdvisor ⇒ Book Now
It isn't exactly boutique but as options at a higher boutique end are a bit low in Kathmandu I am going to list the
Hyatt Regency Kathmandu.
⇒ Read reviews on TripAdvisor ⇒ Book Now
Kathmandu has some more basic boutique hotels that offer great value for money.
Dalai-La
and
Kantipur Temple Hous

e
offer traditional Nepalese style.
⇒ Read reviews of Dalai-La on TripAdvisor ⇒ Book Now
⇒ Read reviews of Kantipur Temple House on TripAdvisor ⇒ Book Now
Aria Boutique Hotel & Spa
is somewhat more modern with its offer. Uniquely for Kathmandu, its interiors are heavy on white!
⇒ Read reviews on TripAdvisor ⇒ Book Now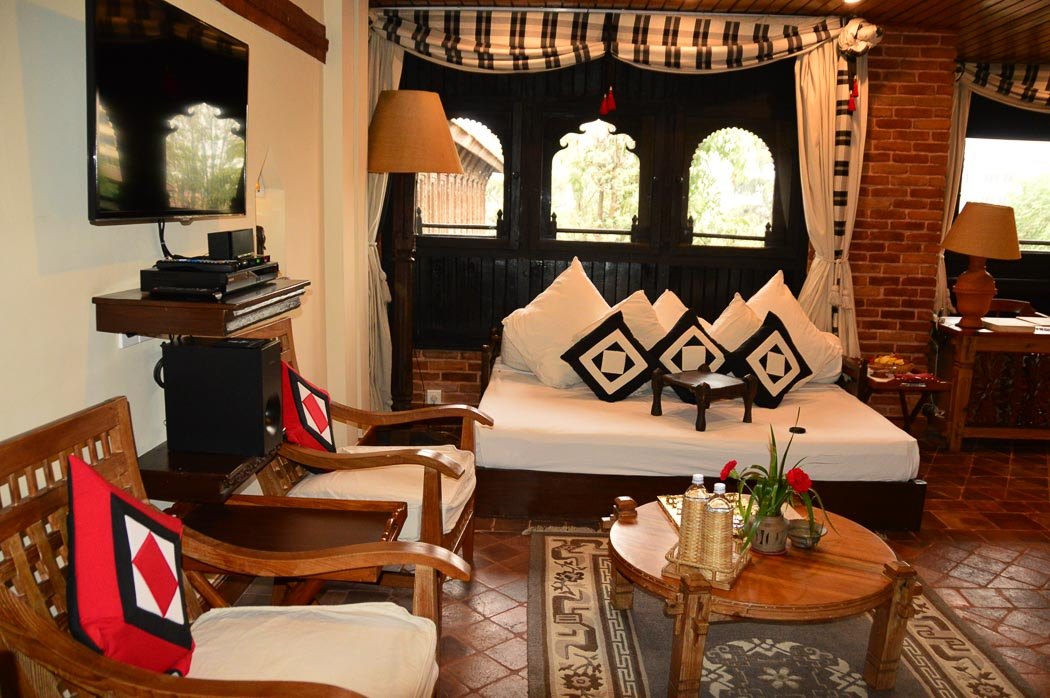 Who Paid for What in this Post
I covered my costs associated with most of this trip but Dwarika's were kind enough to give me a discount on my accommodation costs. But as always my opinion is my own. This post contains affiliate links. That means if you click through on them and end up making a purchase I will receive a small commission. This won't affect the price that you pay. I just wanted to make sure that you were aware of this.
READ NEXT: DWARIKA'S KATHMANDU REVIEW
Like this post? Why not Pin It?