Travelling to Kyoto is high on the wishlist for most tourists who come to Japan. The city is home to countless shrines and golden temples, as well as walls of bamboo forest and hidden gems amidst the canals.
This beautiful metropolis is the quintessential Japanese city, filled with history and priceless structures. This 2-day itinerary guide offers travel tips and suggestions on how best to spend your time in Kyoto.
Let's discover some of the best places to see and things to do in Kyoto, Japan.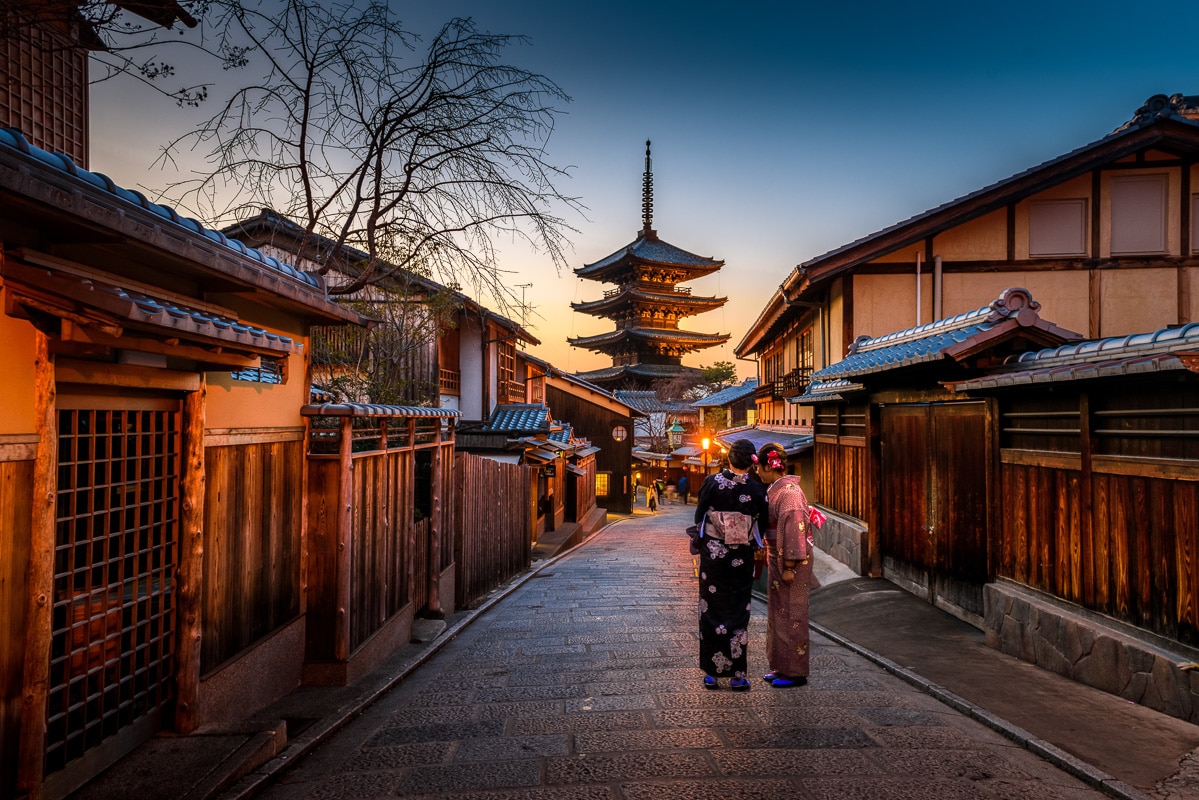 2 Day Itinerary Kyoto: How To Get To And Around Kyoto
The nearest airports to Kyoto are Kansai International Airport (KIX) and Osaka International Airport (Itami) in Osaka. But you can also land at one of Tokyo's airports.
Tokyo has two airports that receive international flights, Narita and Haneda airports. Narita Airport is quite a bit farther away from central Tokyo so if possible fly into Haneda rather than Narita airport.
Haneda handles most domestic flights (but also international flights – JAL operates from Haneda Airport) and Narida handles more international flights.
Meet, Greet and Wifi at the Airport
Japan Rail has a brilliant Meet and Greet service where they will meet you at the airport after arrivals and get you going with your rail ticket, Pocket Wifi for Japan and take you to your next mode of transport – so good after a long journey.
⇒ And definitely log in to 12Go when you're organising how you're going to get around Japan. This super easy to use platform has all modes of transport on the one platform and allows you to compare based on time, cost, and reviews.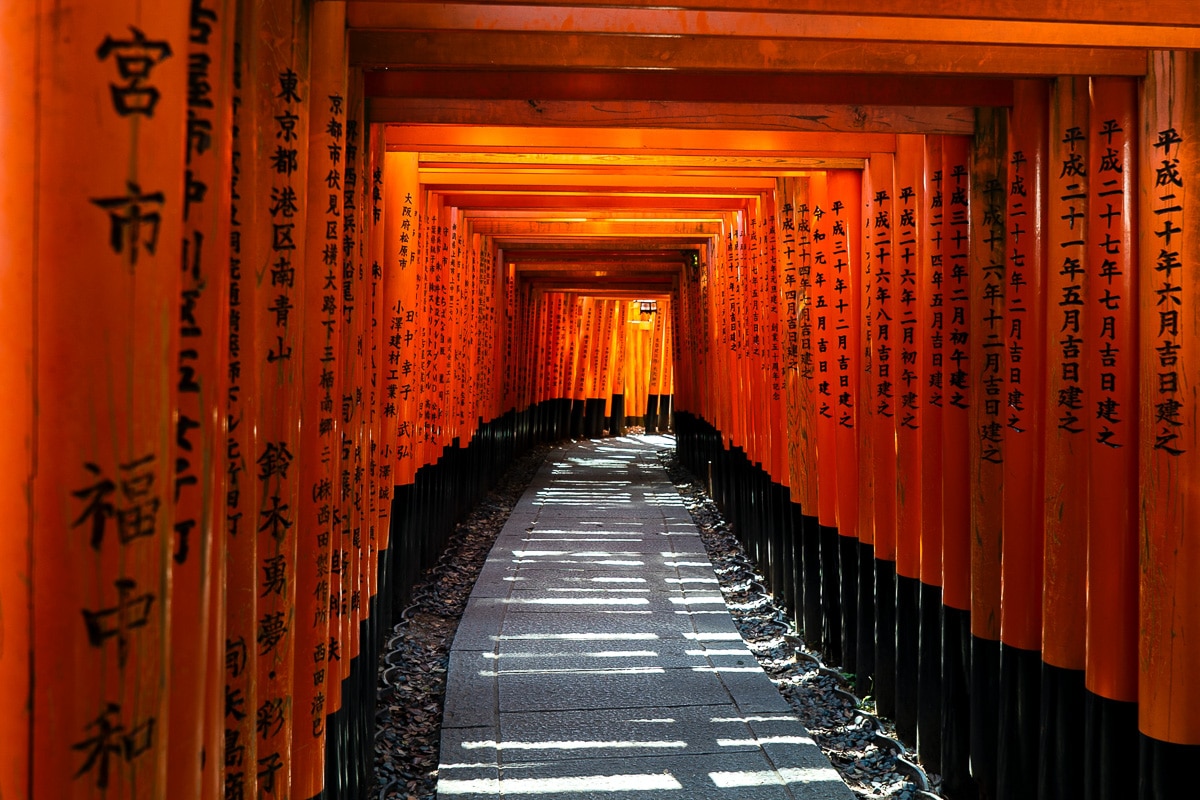 If you must fly in or out of Narida airport then I suggest using the more expensive option of the Narita Express train. The journey from Narita Airport to Tokyo station takes one hour and is direct.
The good news is that if you have purchased the japan Rail pass (which is a great idea if you are spending time in Japan) it covers the Narita Express Train.
⇒ Check out my reviews of Qatar Airways business class, Thai Airways Business Class Review andMalaysia Airlines Business Class Review and British Airways World Traveller Plus Review and Virgin Atlantic Premium Economy Review.
[su_box title="Travel Expert Tip – The JR Pass" box_color="#334ede" title_color="#fdfdfd" radius="20″]The JR Pass offers amazing value to overseas visitors. The pass covers virtually every train in Japan – including most bullet trains – and costs just USD$270 for 7 days rail travel. 14 and 21-day options are also available. As is a very reasonably priced upgrade to first class. Amazing value for Japan's excellent trains.[/su_box]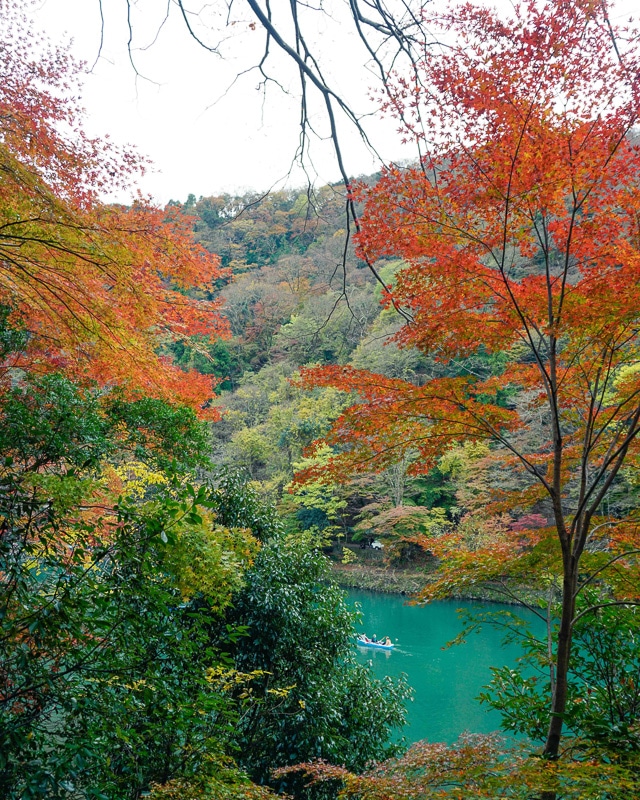 Take a look at some of the region's transportation options.
Using the Japan Rail Haruka airport express with your Japan Rail Pass is the fastest and easiest way to get to Kyoto from the Kansai International Airport.

The ride takes around 75 minutes and is free for holders of a JR pass. If you don't have a pass, the fee is 3,490 yen for reserved seats and 2,980 yen for unreserved seats.
High-speed Shinkansen: If you have a JR Pass, you can take the "bullet" train, which provides the fastest transportation service between Tokyo and Kyoto.
KIX Airport Limousine Bus: The Limousine bus is another alternative if you don't have a JR Pass and are looking for a more inexpensive option. The buses run along three routes and cost around 2,500 yen per ticket.
Kyoto is easy to explore by public transportation (trains, buses, taxis and subways) or at your own pace (by walking).
⇒ Don't miss my other blog posts on Japan – One Day in Tokyo, 10 Day Japan Itinerary, the best things to do in Kanazawa and what to expect on the Nakasendo Trail.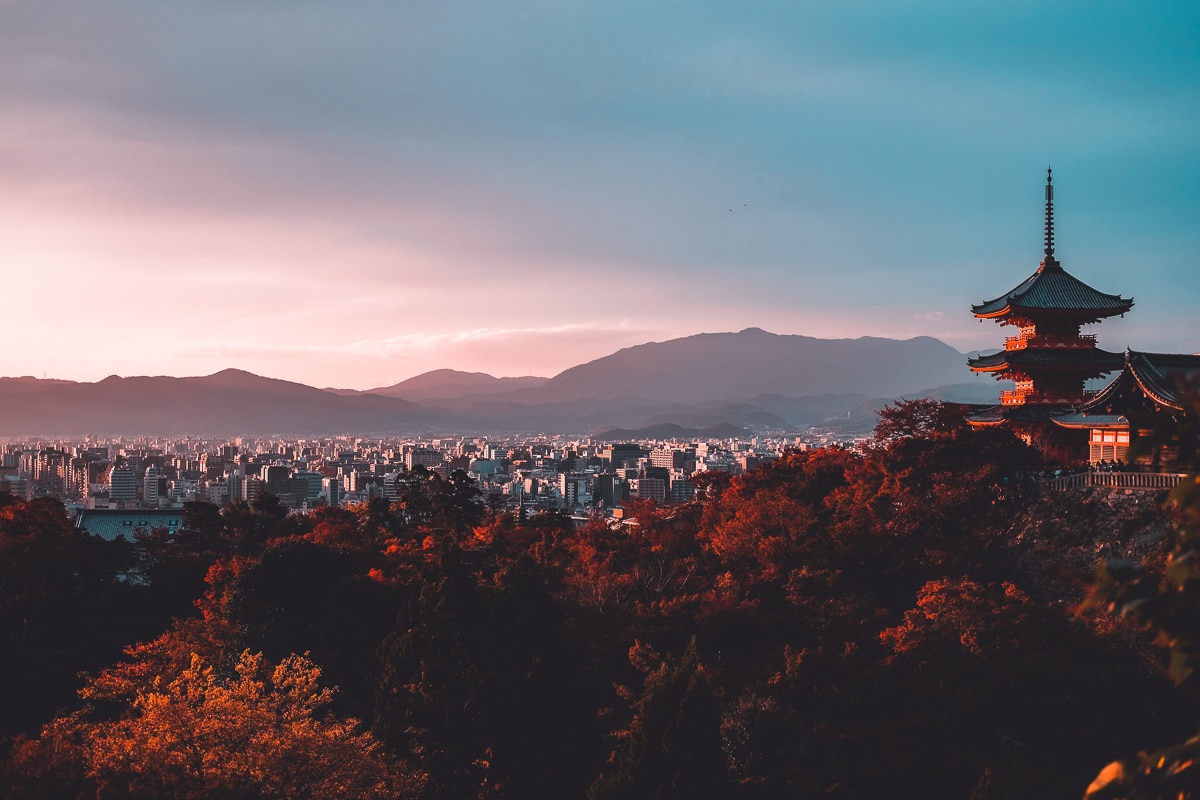 2-Day Kyoto Itinerary: Day 1
Let's dive into our first day in the city and explore the west. You're going to want to get up bright and early to discover the best of Kyoto in 2 days.
1. Admire The Kinkakuji Temple – The Golden Pavilion
Also, known as Kinkakuji Temple, the Golden Pavilion is considered one of Japan's most iconic landmarks and is a UNESCO world heritage site.
You'll want to get here at the opening time (9h00 – 17h00), as there are fewer crowds, and it's more photogenic.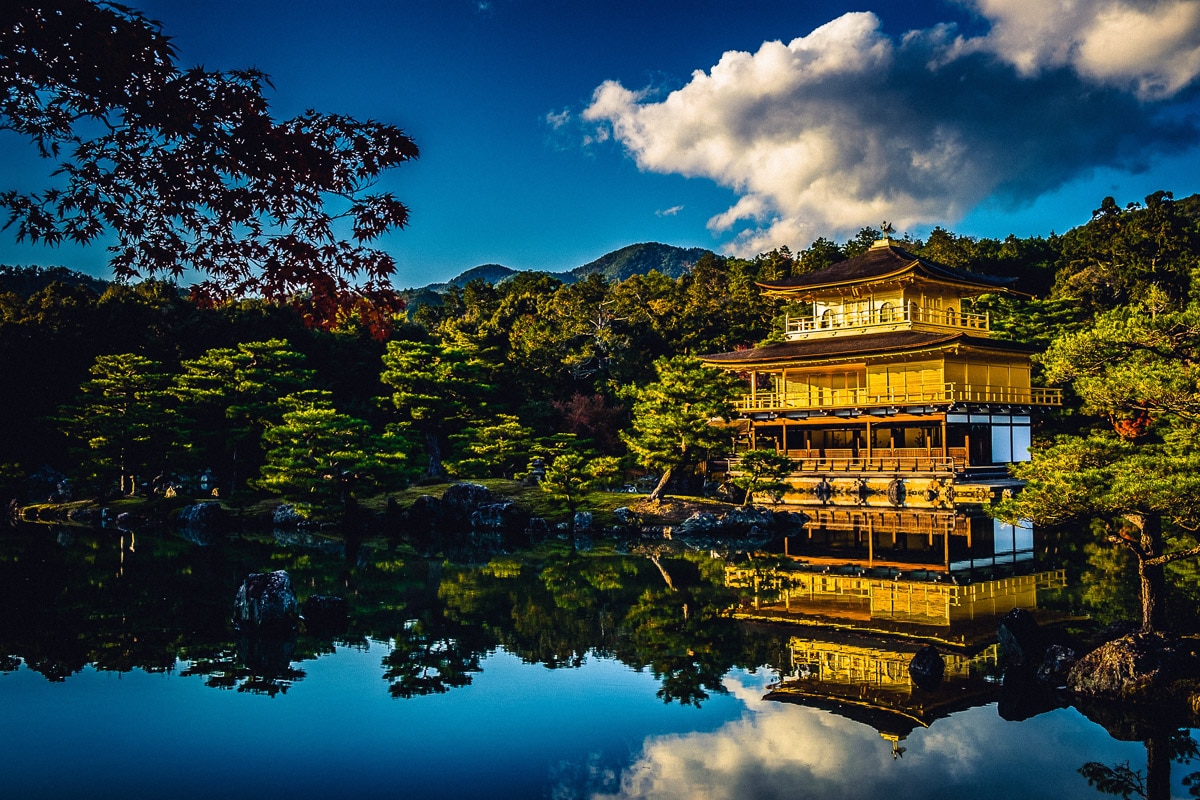 There are plenty of places to see on the temple grounds. As you walk through the terraces, you will find an abundance of statues, the beautiful Anmintaku Pond and the Sekkatei Teahouse. Towards the exit, there is a small tea garden and some souvenir shops for you to explore.
2. Visit The Ryoanji Temple
The Ryoanji Temple is a pleasant 20-minute walk from the Golden Pavilion. This temple is noted for having one of the most famous rock gardens in Japan, with 15 rocks laid out in small groups.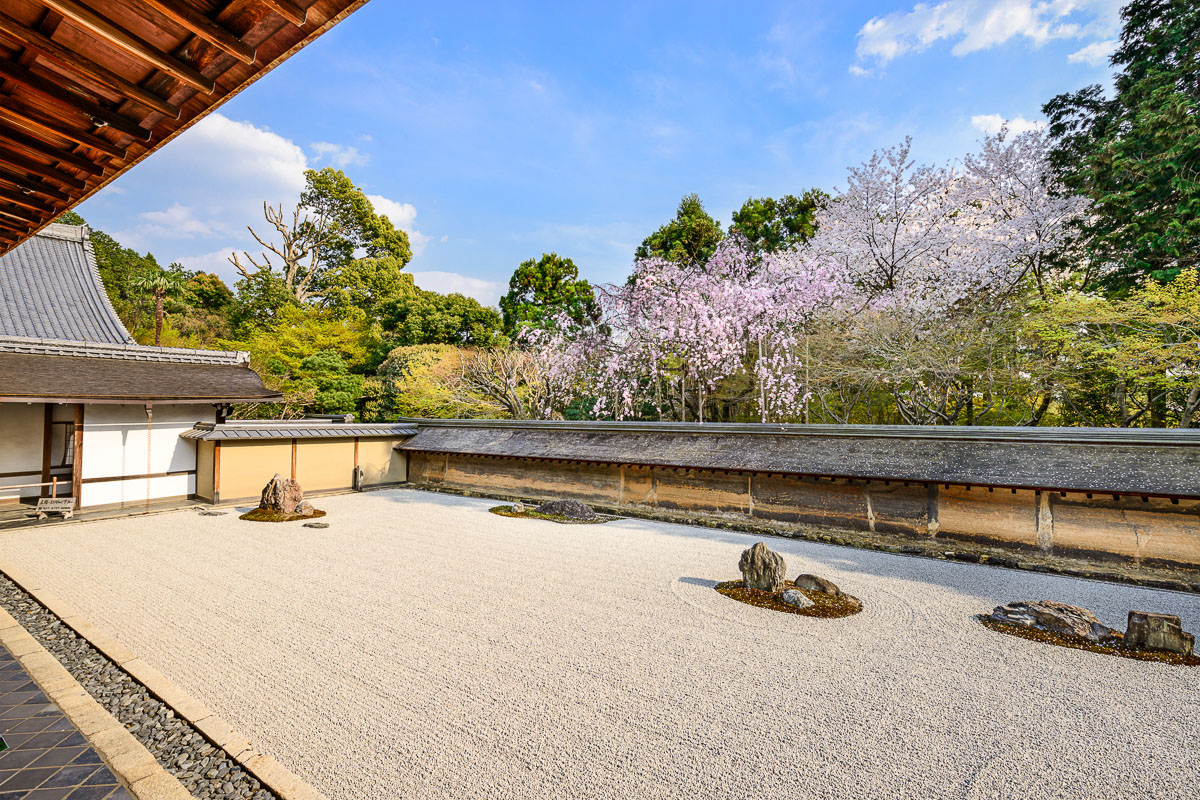 The beautiful garden has an interesting design around a large pond and is lovely to walk around and sightsee. There is a restaurant at the park that specialises in Yudofu (boiled tofu) and is a must-try.
3. Discover The Arashiyama Neighbourhood
After admiring the gardens, take a 15-minute bus to Arashiyama, a district on the outskirts of Kyoto. This is one of the most popular neighbourhoods, for a good reason. It has some incredible tourist attractions, from bamboo forests to temples.
Stroll Through The Shopping District To Togetsukyo Bridge
The Togetsukyo Bridge crosses the Katsura River and is an iconic landmark of the Arashiyama area. The road leading to the bridge is known as the Sagano shopping district and is home to many Kyoto highlights. It's lined with plenty of restaurants and tourist shops. It's an ideal place to relax and stop for some lunch.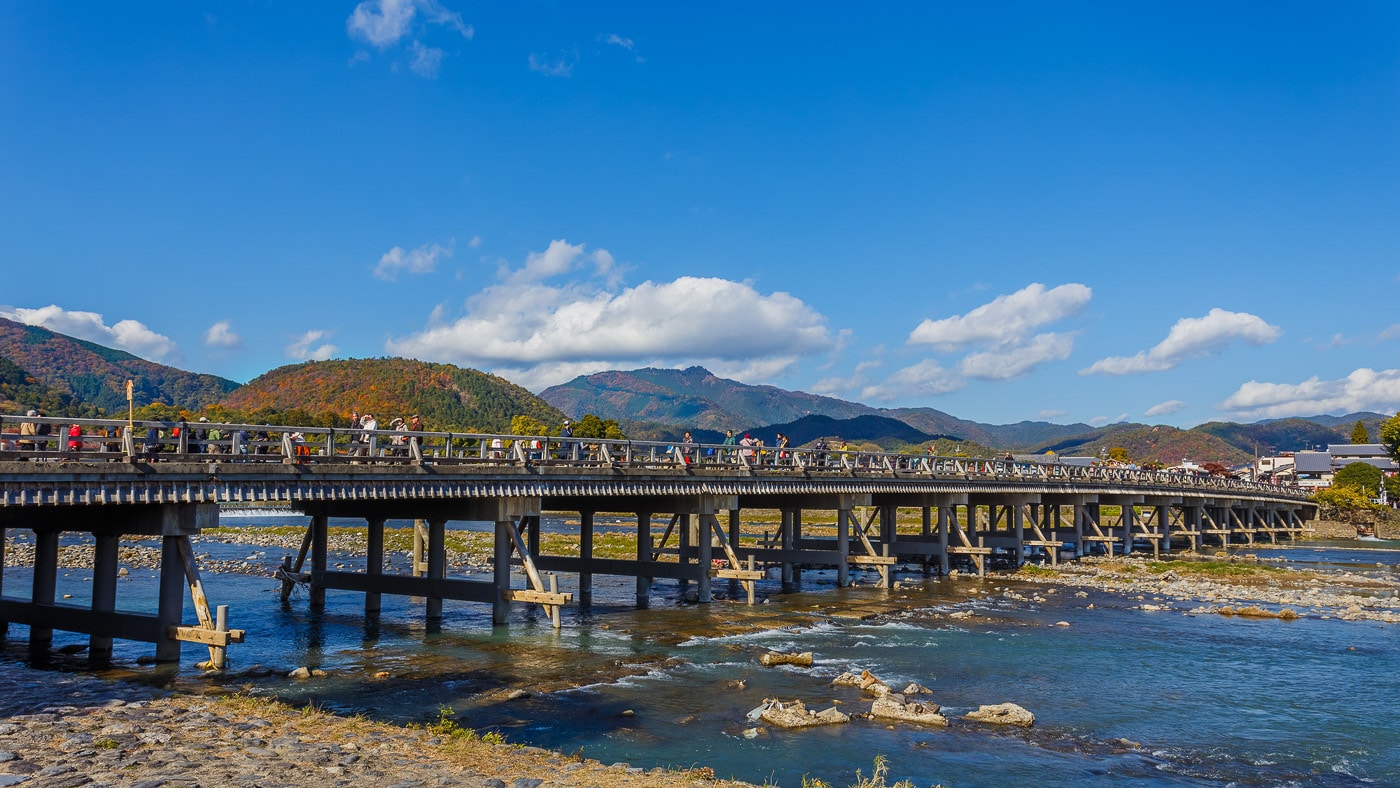 ---
A lovely restaurant just before you cross the bridge is Arashiyama Yoshimura. They serve divine tempura, soba noodles and other delicious Japanese dishes.
Explore The Arashiyama Iwatayama Monkey Park
The park is located on a mountain near the south of the Katsura river. It is home to 130 snow monkeys, also known as the Japanese macaque monkeys.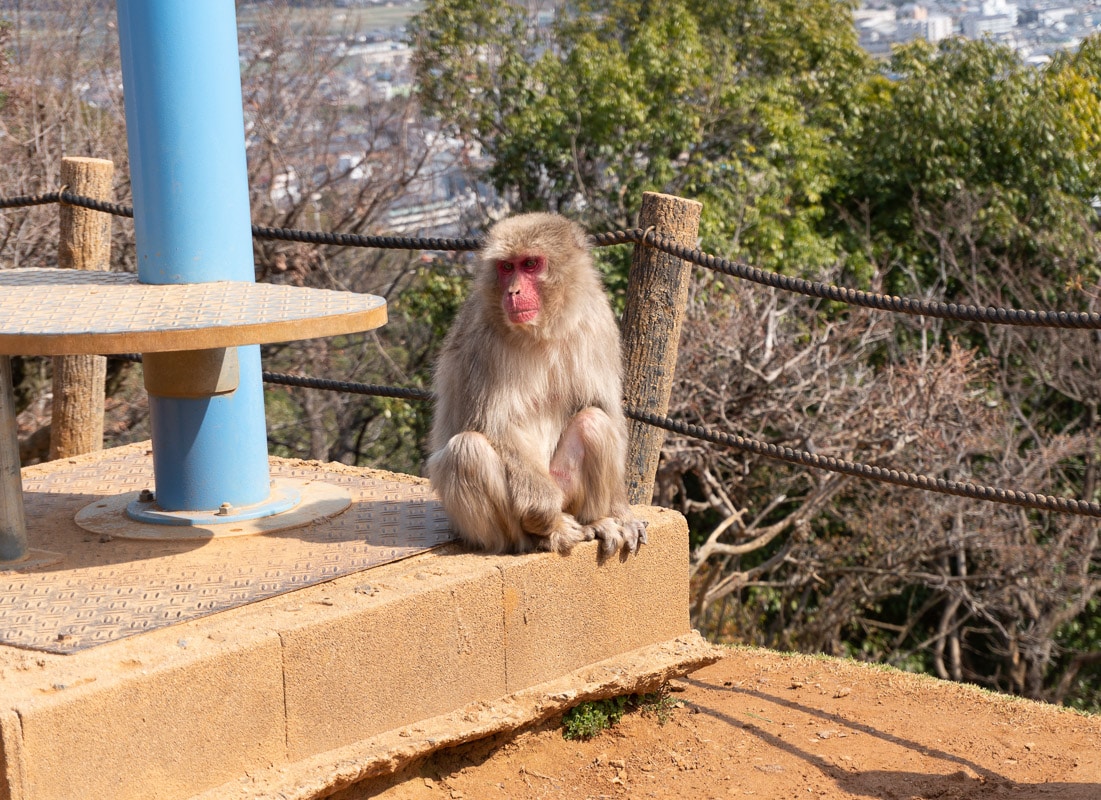 The entrance to the park is located near the Togetsukyo bridge, marked as the Torii gates, where you can buy your tickets for 550 yen per person. It's an enjoyable 30-minute uphill climb to the top, boasting stunning scenery.
Once you reach the summit, there are stalls where you can buy snacks such as bananas, peanuts and different types of fruits to feed the monkeys.
⇒ Korea is absolutely fascinating. Check out my posts on what to do for some inspiration: 8 Things to do in Gangnam, 13 things to do in Myeongdong, 8 things to do in Incheon, 7 Fantastic Seoul Boutique hotels, the best Seoul Day Trips, Where to Stay in Busan, the best things to do in Jeju Island, 15 Places to see Cherry Blossoms in Korea, 26 Beautiful Places in South Korea and the best things to do in Daegu. Then plan your trip with my Korea Itinerary, Seoul Itinerary, Jeju Itinerary, and Busan Itinerary.
Take Photos In The Arashiyama Bamboo Grove
The Arashiyama Bamboo Grove is one of the most famous places in Kyoto and is a truly picturesque sight. It consists of a long stretch of bamboo forest that meanders behind the streets of Arashiyama.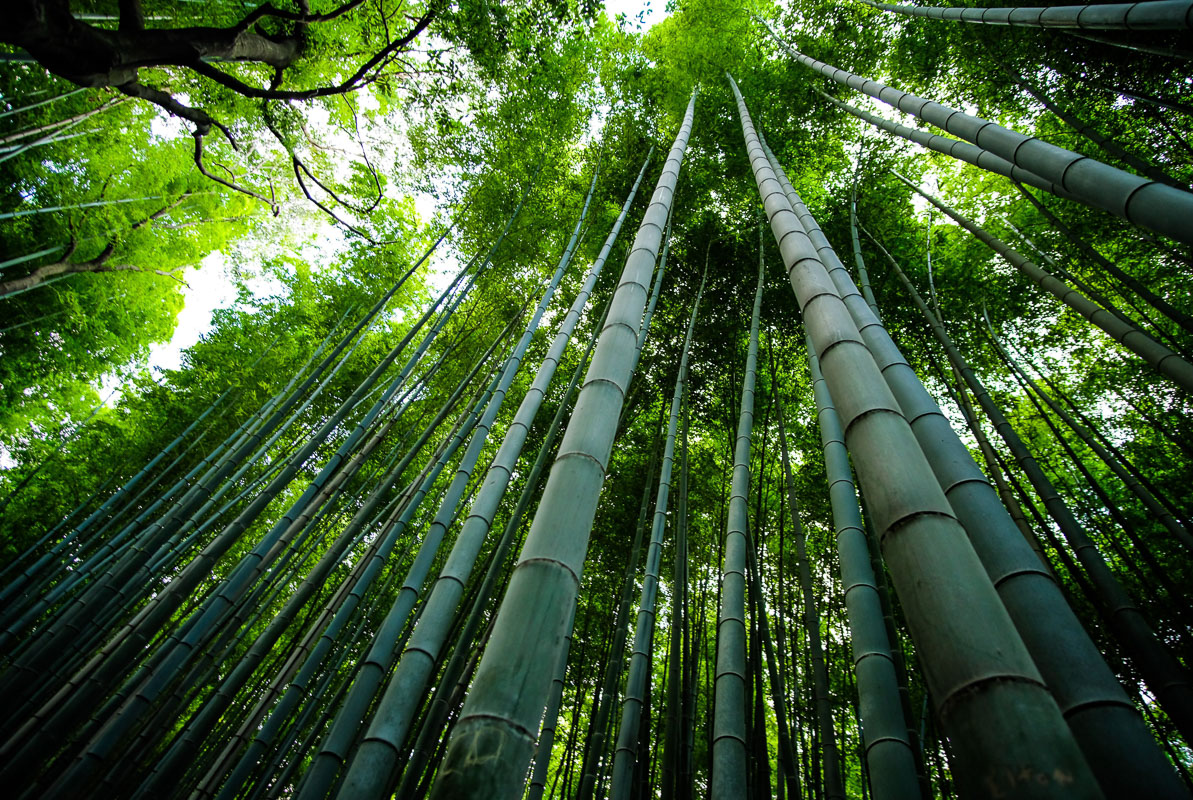 If you walk along the path aside from the river, you will join the trail toward the Jojakkoji Temple, which is your next stop.
Drink Tea In The Jojakkoji Temple
End your day with one of the most authentic things to do in Kyoto. Appreciate the peaceful gardens at the Jojakkoji temple, located on a mountain slope.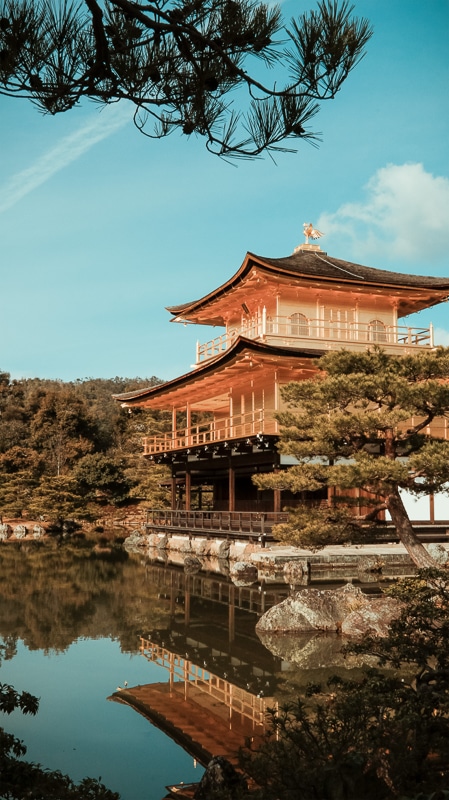 Why not experience the authentic art of tea drinking by taking part in a tea ceremony at the Jojakkoji temple? You can learn about the ancient ritual of tea drinking, and its significance to the Japanese culture, and sample different teas while you're at it.
Kyoto 2 Day Itinerary: Day 2
On the second and last day of your 2-day trip, let's move over and explore Kyoto things to do on the east side of the city.
1. Tour The Silver Pavilion
Known as Ginkakuji, the Silver Pavilion is a Zen temple that dates back to 1490 and is celebrated for its beautiful gardens and incredible views.
Despite its name, Ginkauji is not covered in silver, though these were the original plans. But due to delays and the death of the patron Ashikaga Yoshimasa, the plan was abandoned.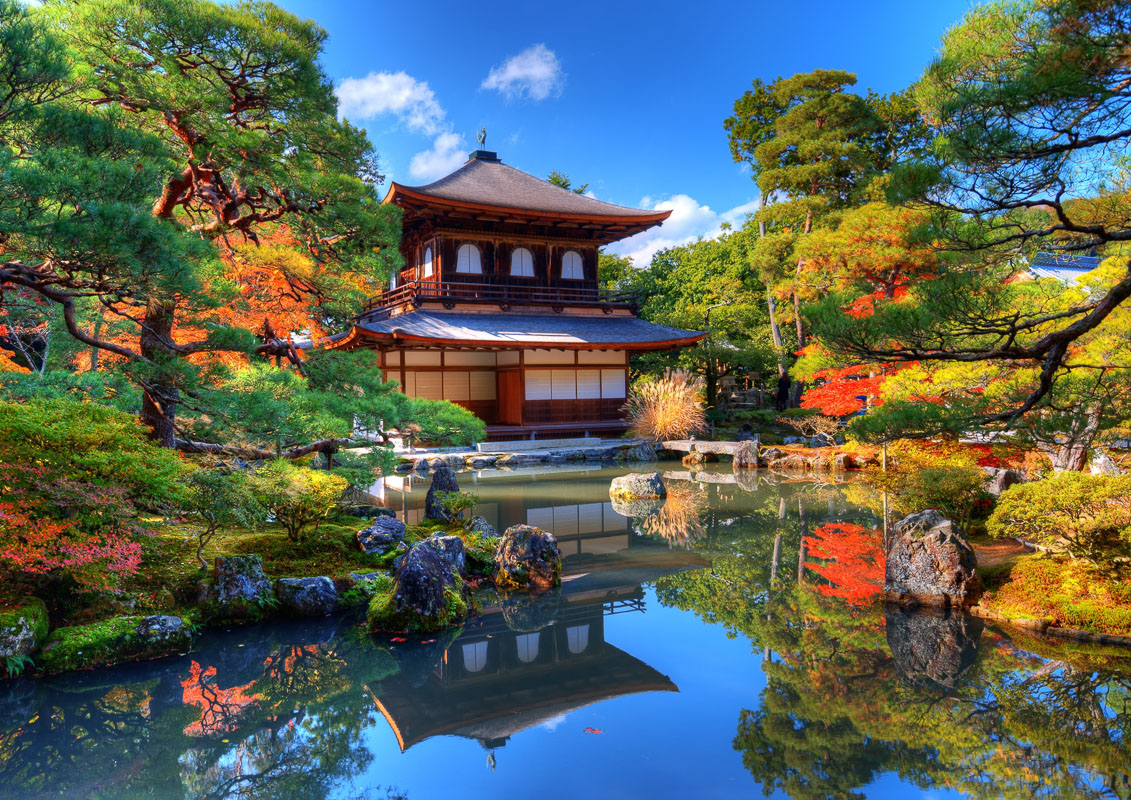 The Silver Pavilion provides beautiful gardens and half a dozen other temple buildings to see. Though the main hall (Hondo) is not open to the public, visitors can enjoy walking along a circular path through the terraces savouring the peaceful scenery.
2. Stroll Along The Philosopher's Walk
The Philosopher's Walk is a pedestrian walkway along Lake Biwa Canal. It's lined with beautiful cherry blossom trees and is best seen during spring. It got its name from Japanese philosophers that stroll to this walkway.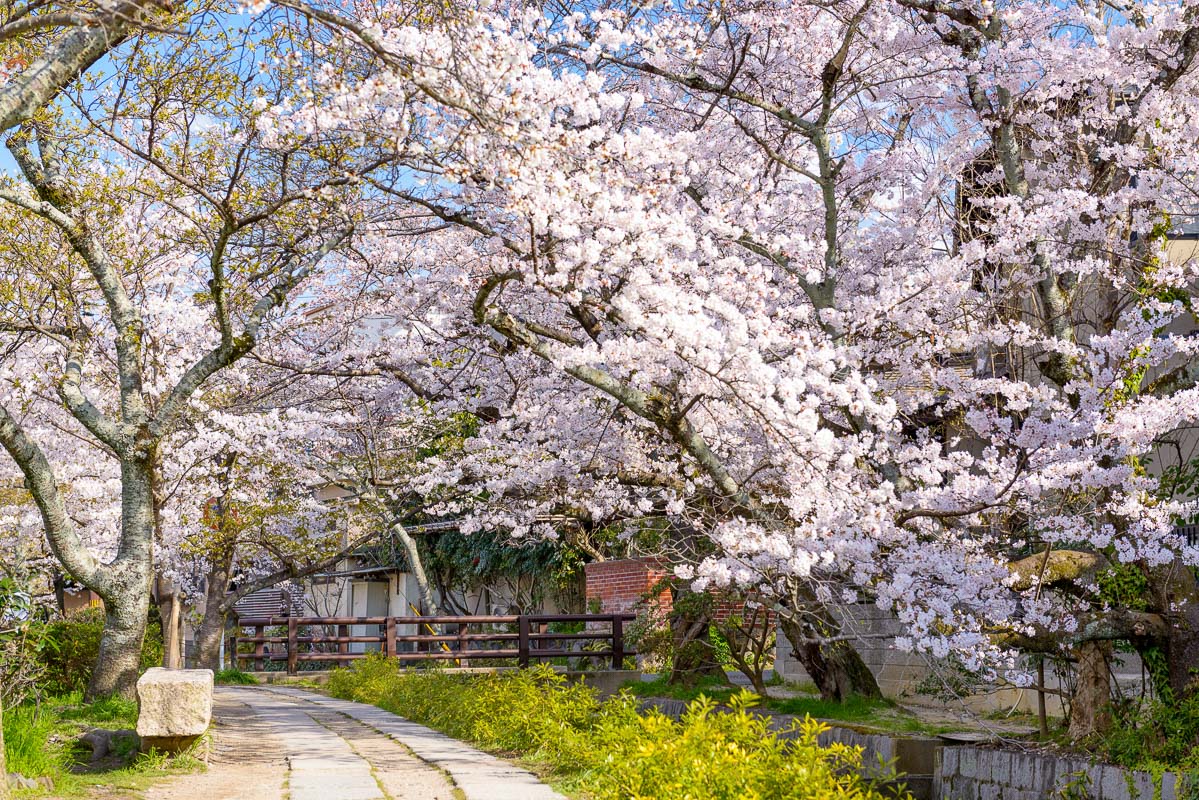 The walk is picturesque, and as you saunter along the canal, you will pass several temples, restaurants, and boutique stores. If you continue ahead, the Nanzenji Temple is a 30-minute walk away along this path.
To learn about different sites in the area along the Philosopher's Walk, take a guided tour.
3. Stop Over At The Honen-in Temple
A great little stop along the Path of Philosophers is the Honen-in Temple. It's a free temple to add to your Kyoto itinerary and is a delightful sight to discover, hidden away under a thick canopy of trees.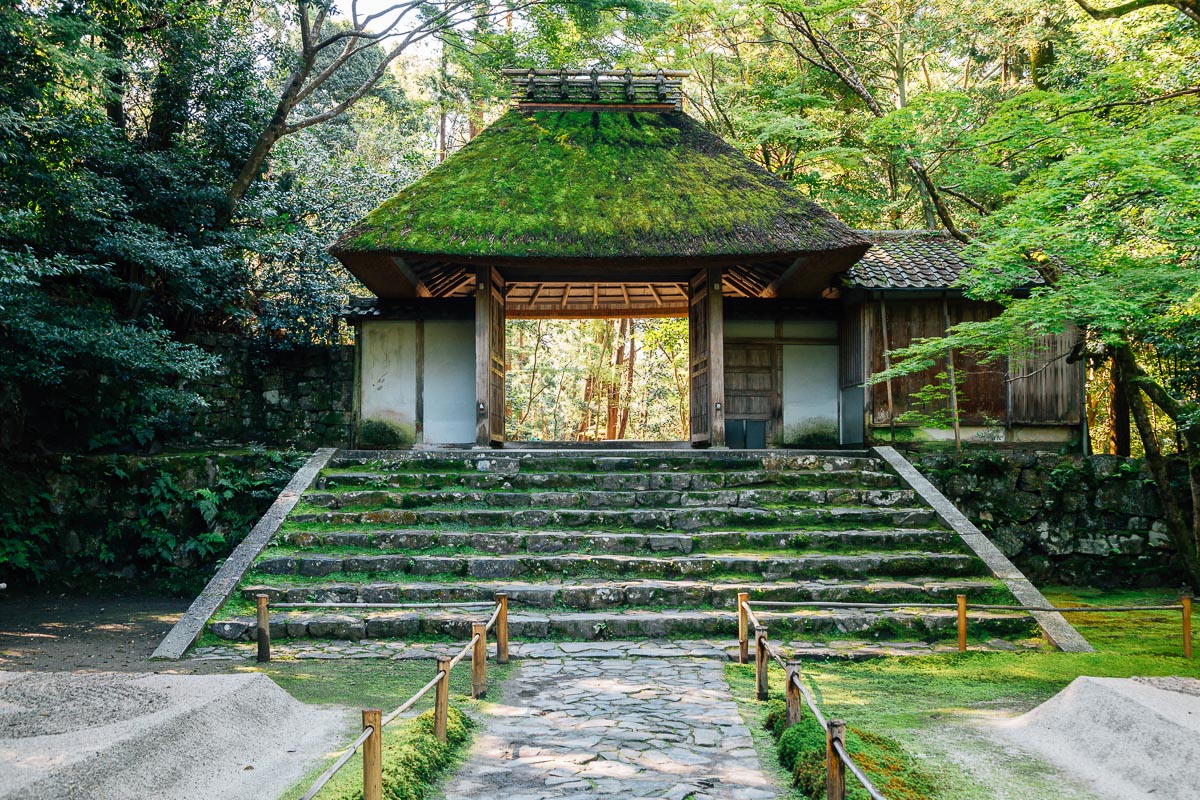 ⇒ Here are some of the best places in the world to watch the sunrise and fall: 10 Places to watch the Sunset in California, 7 Best Places To Watch Sedona Sunsets, 18 Spectacular Spots for the Best Sunsets in Seattle, 5 Stunning Santorini Sunsets, 8 Sunsets in Ibiza, 19 Spots to watch San Diego Sunsets, 11 Places to see the Venice Sunset, 17 Key West Sunsets Spots for Great Views, 15 Best Places to see San Francisco Sunsets, 6 Spots to Watch Sunrise in Paris, 21 Spots to see the Sunset Ottawa Style, 9 Best Places to see Maui Sunsets, 11 Places to see Sunset Edinburgh style, 16 Places to see the Best Sunsets in the World, 18 Best Places to watch the Sunset in Melbourne, 11 Best Places to watch the Sunset in Tucson, 11 Best Spots to watch the Sunset in Glasgow, 15 Places to see Sunsets in London and 9 Spots to watch the Sunrise in London.
4. Peek At The Nanzenji Temple
One of the most popular and influential zen temples in Japan is the Nanzenji Temple.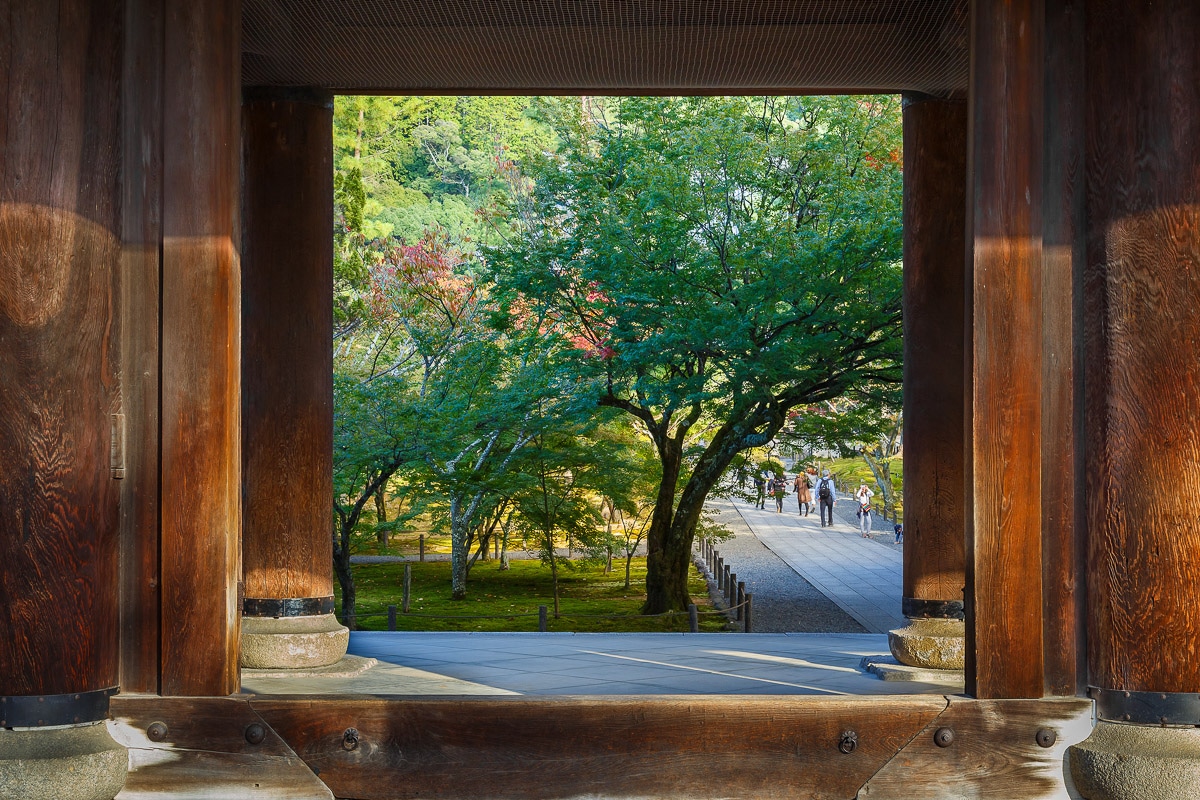 The temple features some impressive sites such as a Sanmon gate, shrines, rock gardens, tea rooms, pond gardens, and an aqueduct. If you're looking for an interesting experience, take a guided Zen Temples photography tour through Kyoto's gardens.
5. See The Large Chion-in Temple Gates
The next stop as you walk along the canal is the Chion-in Temple. You can't miss this temple; it has an entrance gate standing 24 meters tall and 50 meters wide – making it the largest wooden gate in Japan.
You should certainly stop over and take a picture next to the large gate before entering the temple to admire the main hall and the temple's 70-ton bell.
6. Visit The Kiyomizu Dera Temple
The Kiyomizu Dera Temple stands next to the Otowa Waterfall. In 1994, the temple was added to UNESCO's list of World Heritage sites.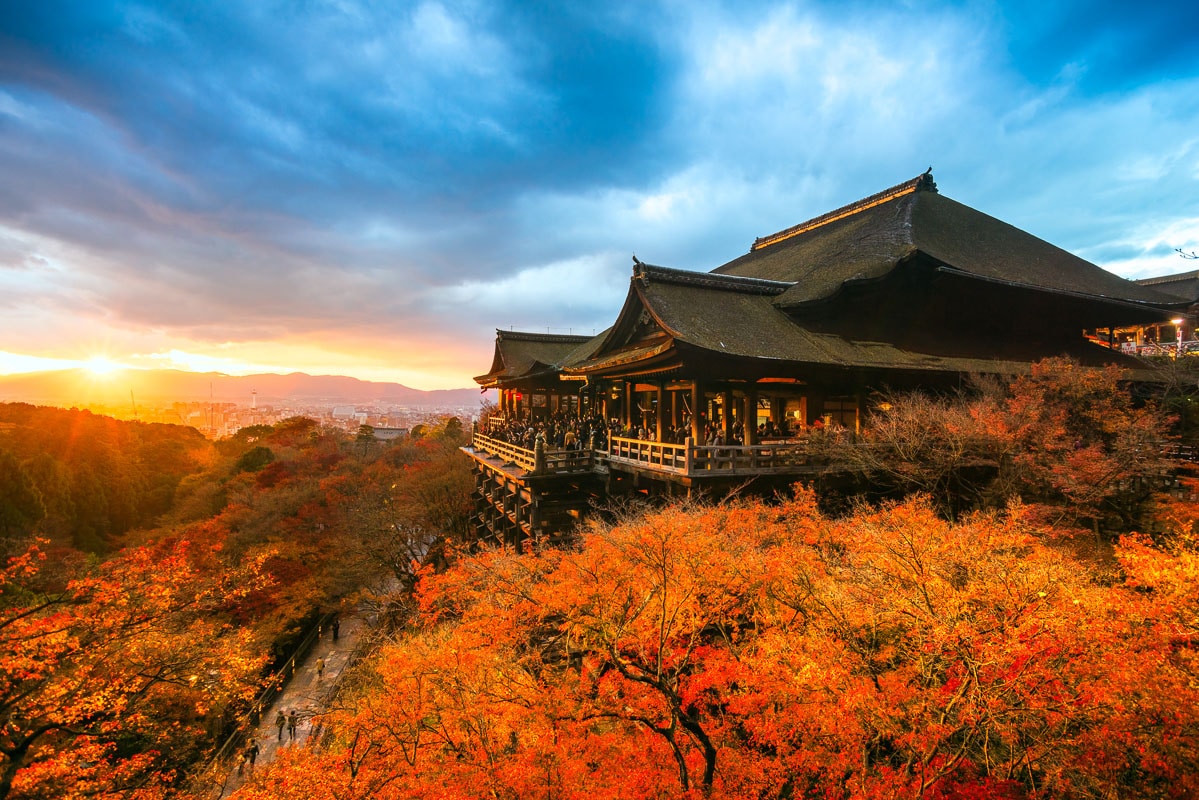 The main appeal of the temple is the wooden balcony on the first floor. It provides sweeping views of the cherry blossom and maple trees in the temple's gardens, and Kyoto's city skyline in the distance.
7. Spot The Beautiful Geishas And Explore Gion District
Gion is situated in the Higashiyama district and is one of the few remaining Geisha neighbourhoods in Japan.
The best time to spot these beautifully trained artists is around sunset as they make their way into wooden teahouses, known as okiya, for an evening of work. I suggest booking a guided tour to see the traditional geisha women and learn about the picturesque neighbourhood.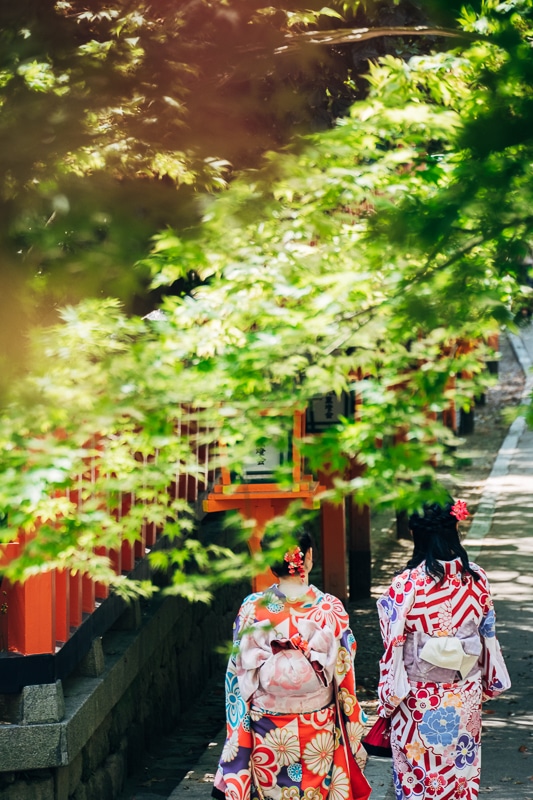 After your sighting of the elegant geishas, take a walk through Nishiki Market and the Teramachi Shopping Arcade. What better way to end an incredible time in Kyoto than tasting Kyoto's street food?
Where To Stay In Kyoto
When you arrive in Kyoto, find a place close to your areas of interest. Take a look at some of these phenomenal places to stay during your trip.
The beautiful Junei Hotel in Kyoto looks to create comfort in its guests by echoing all of the senses. The interior design uses Kyotogami – an embossing technology using woodblocks.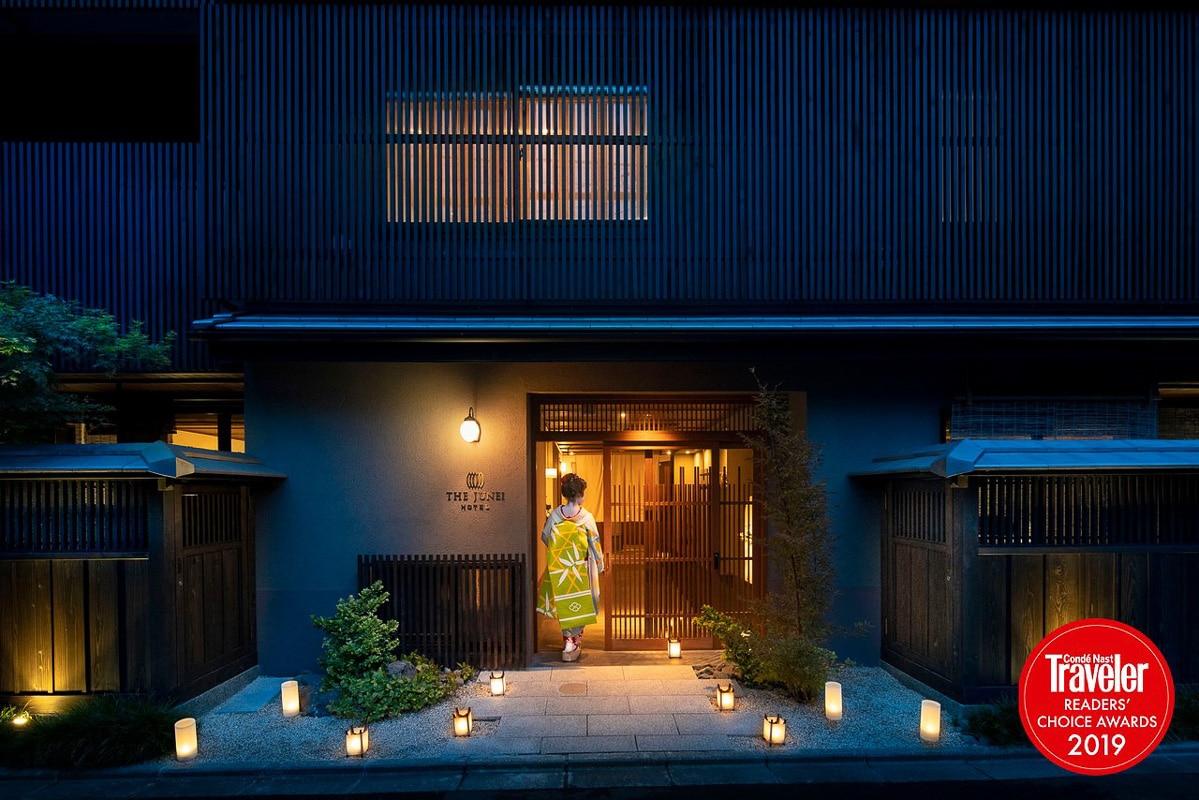 An amazing japanese breakfast with multiple elements will be delivered to your room in the morning. But you may struggle to leave your bed! The mattresses at the Junei Hotel are manufactured by Serta and the linen is made by Kyoto Nishikawa. A perfect Japanese boutique hotel!
⇒ Read more Reviews on TripAdvisor ⇒ Book Now
With only 12 rooms, this villa in Rakuchu, Kyoto is a mix of tradition and innovation and has a "hideaway" feel to it. Each room at Villa Sanjo Muromachi has Kyo-Tara paper art boards with traditional patterns.
⇒ Read more Reviews on TripAdvisor ⇒ Book Now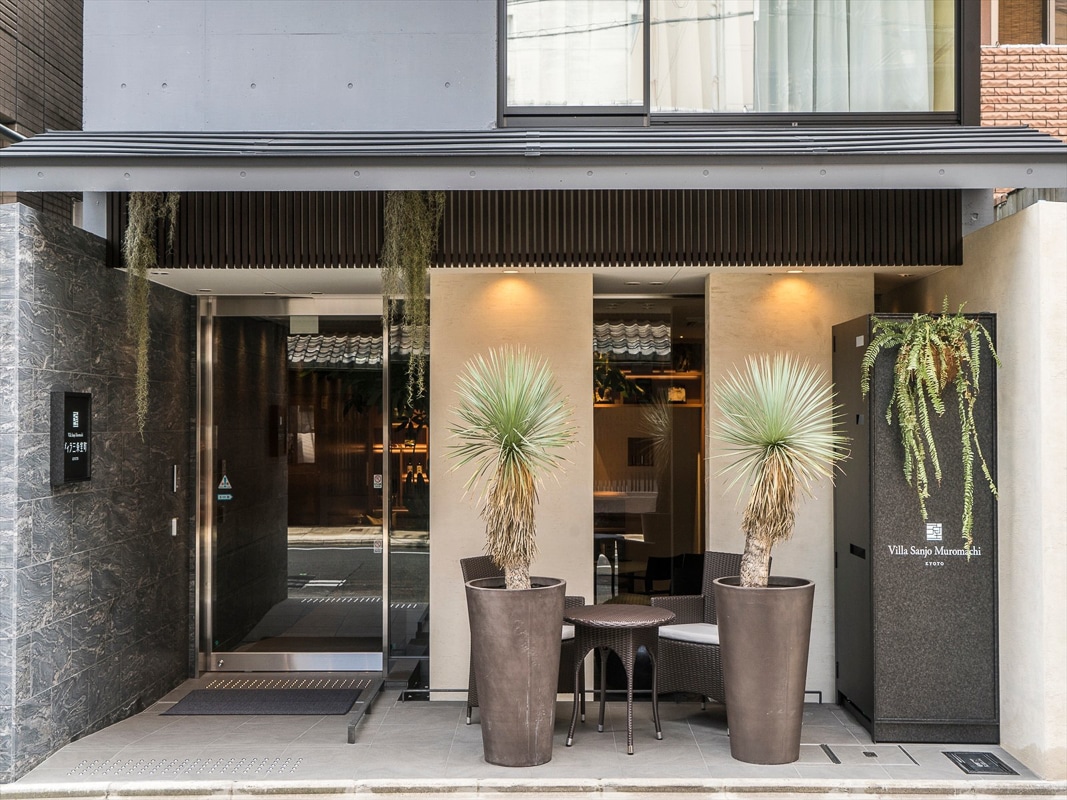 Money
The Japanese currency is the Yen. Whilst many places accept credit and debit cards, cash is still the most common method of payment. Many smaller restaurants, taxis, and shops will only accept cash. Do make sure you have some cash with you on this 2 Day Itinerary Kyoto.
Best Time To Visit Kyoto
Like Osaka, the capital city provides moderate weather all year round, but I would recommend visiting Kyoto during the springtime (March to May) or fall (October to November).
In spring, everything starts to bloom, including the famous cherry blossoms (Sakura). The whole city turns pink and is a remarkable experience. Head to the parks and join the masses who picnic and take selfies under the incredible Sakura. Keep in mind, this is also the most touristy season, and prices may spike too.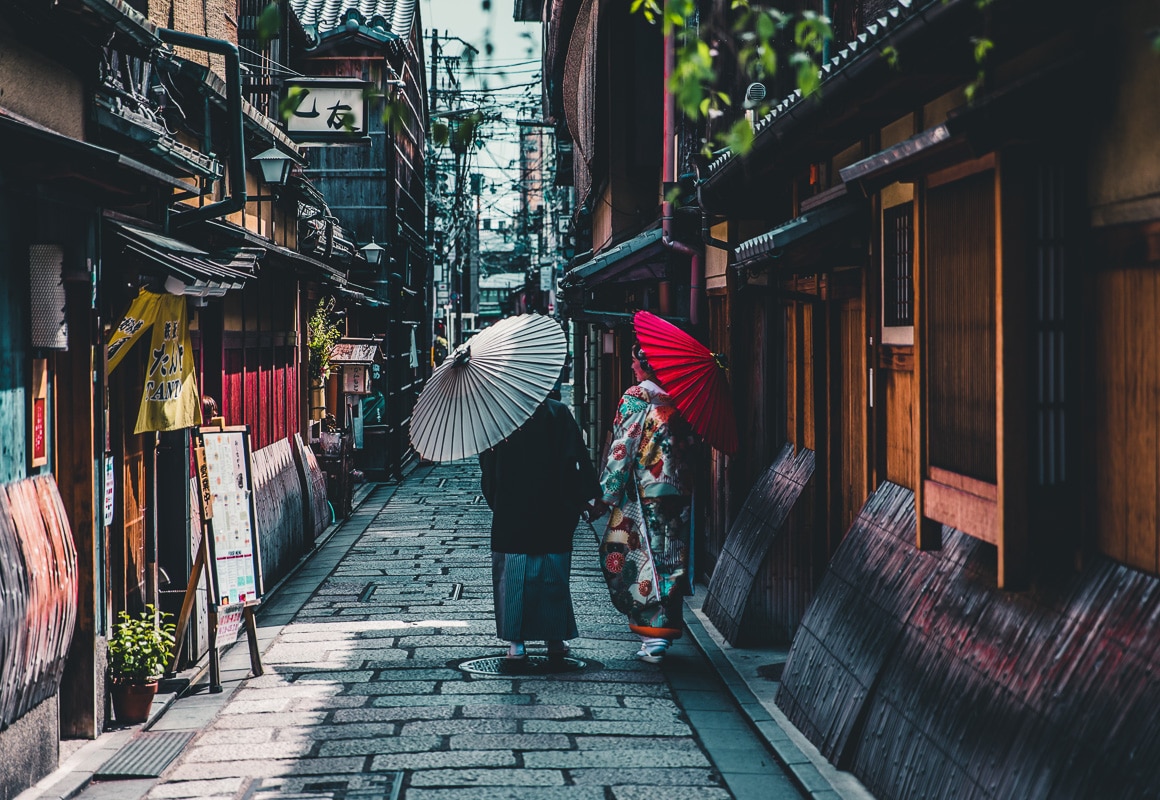 Autumn is another picturesque season to visit Kyoto. The climate is mild, and the city is filled with colourful foliage from the shed of maple trees. Again, because of this photogenic beauty, autumn attracts many tourists, but not quite as many as during the Sakura season. This is one of my favourite times for a 2 day Itinerary Kyoto.
If You Have 3 Days In Kyoto – Explore More
If you decide to extend and make your stay a Kyoto 3 day itinerary, whether you're travelling solo or with a group, I highly suggest seeing the Kyoto Station, Kyoto Tower, and the Imperial Palace Park.
While you might not be able to see all of the magical surrounds in this beautiful city, this 2-day itinerary consists of the very best Kyoto has to offer.
⇒ Interested in Nepal? Check out my posts on the Nepal tea house, a full Everest Base Camp packing list, an Everest Base Camp trek itinerary and a day by day Everest base camp trek blog And for post-trek the fantastic boutique hotel Dwarika Hotel Kathmandu, the Dhulikhel Resort and the best places to visit in Kathmandu.
This 2 day itinerary Kyoto post includes affiliate links. That means if you click through and end up making a purchase I will receive a small commission. I wanted to make sure you were aware of this.