Putting together a Seoul Itinerary 5 Days? If you are planning a trip to discover South Korea, you most likely have Seoul on your desired destination list – it is an important stop on any Korea itinerary.
As the capital of the country, Seoul is the main point of entry into South Korea and boasts a wide variety of fun, interesting and tasty experiences to try.
The following Seoul travel blog consists of my top suggestions for 5 days in Seoul. However, depending on how many days in seoul you wish to stay, you can also adapt the bucket list for 3 days in Seoul.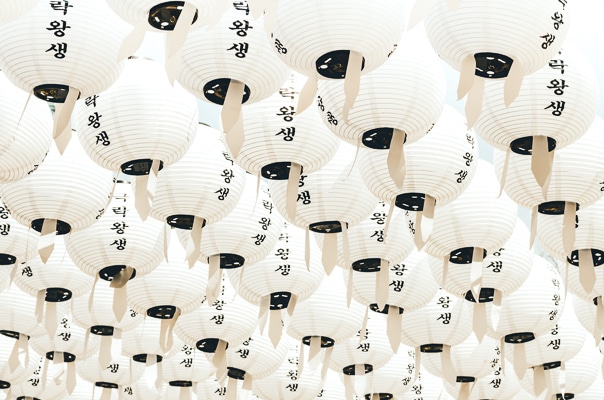 Seoul Itinerary 5 Days: How to get there and how to get around
Seoul is the capital of Korea and Incheon International Airport has many options for international flights both in and out of the country. Seoul also has a second international airport Gimpo which is smaller than Incheon Airport Korea and mostly offers flights to and from japan, China and Taiwan as well as domestic flights.
⇒ Check out my reviews of Qatar Airways Business Class Review, Thai Airways Business Class Review, Malaysia Airlines Business Class Review, British Airways World Traveller Plus Review, Top Tip for Cheap Flights Business Class and Virgin Atlantic Premium Economy Review
Incheon Airport is 49km from Seoul. Traffic in Seoul can be bad so depending on the time of day a taxi can be an expensive lengthy journey (expect it to take at least one hour).
⇒ And definitely log in to 12Go when you're organising how you're going to get around South Korea. This super easy to use platform has all modes of transport on the one platform and allows you to compare based on time, cost, and reviews.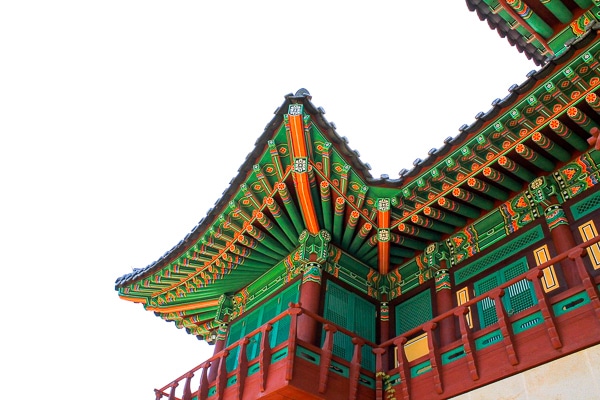 The other options for getting from the airport to Seoul are the Limousine City Bus which takes 70 minutes or the Express Train (45 mins) or All Stop Train (60 mins). Personally I took the Express train from Incheon Airport to Seoul and this was an excellent option.
Gimpo Airport is only 16kms from Seoul and a taxi will generally take about 25 minutes. The All Stop Train also goes to Gimpo Airport from Seoul Station and only takes 22 minutes. The final option is to take a bus to Gimpo Airport Seoul which takes about 45 minutes.
Knowing even a small amount of the local language can add a whole new level of enjoyment to any trip. Why not learn some basic Korean before you leave home?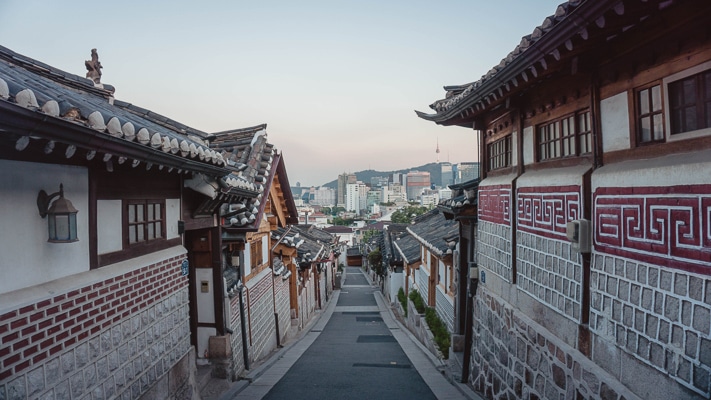 Do you need a Visa for your Korea Trip?
It can be a real pain trying to figure out if you need a visa for a country and then all the hassle of figuring out how to apply, how long you can go without your passport, when the embassy is open etc.
iVisa has completely revolutionised this process and put it all online and make it super simple and paper and hassle-free! Using iVisa is one of my top travel tips!
NB: Citizens of the United States, Great Britain, Australia and Canada do not need a Visa for Korea if they are staying less than 90 days. Do double check that this still holds when you book your airfares.
⇒ Check if you need a Visa for Korea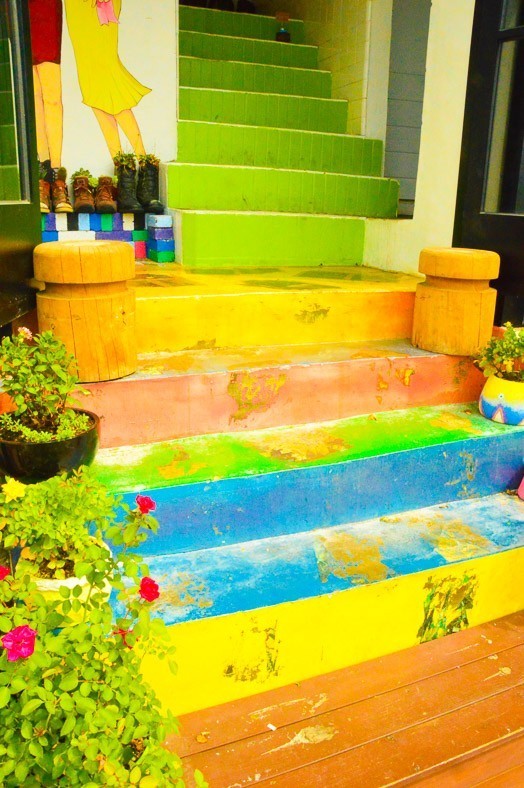 Getting around Seoul
Seoul is one of the biggest cities in the world and can be quite intimidating. The Seoul subway station system is great but it is not the easiest to understand as I have never seen so many stops on an underground! And the Seoul subway stations are huge!
It is critical to check which is the best station exit for you to use for where you are going or you could get very confused. And very sore feet! But the subway is one of the best ways to discover Seoul.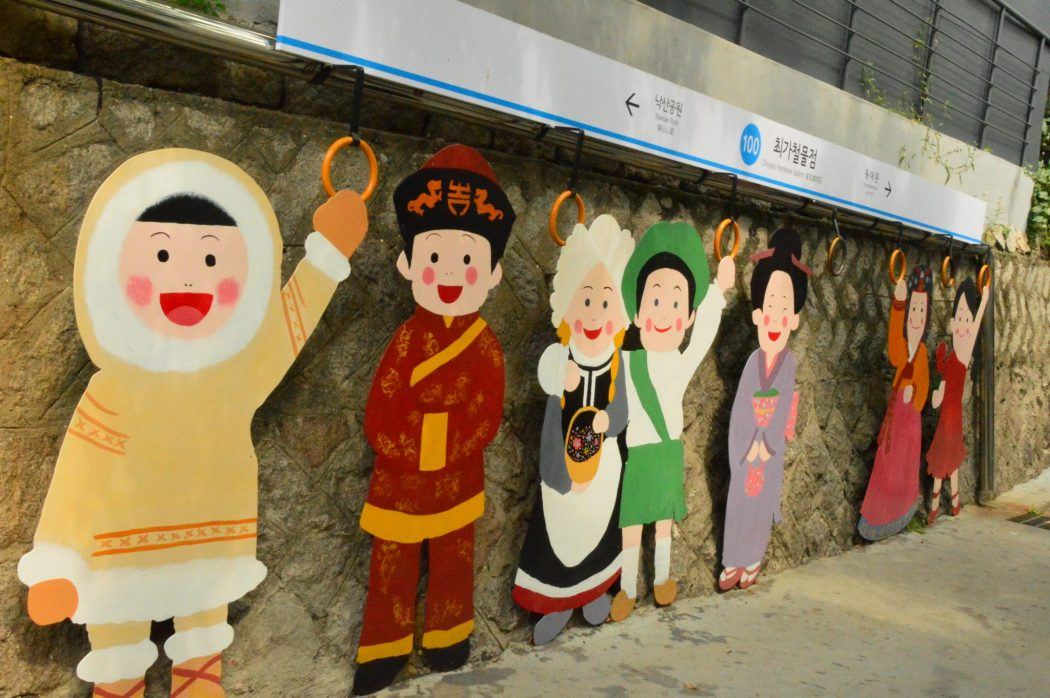 There are 2 excellent options for tourists wishing to get around Seoul via subway. The first is to purchase an MPass card. This card is exclusively for tourists and offers 20 rides a day for whichever pass duration you choose (passes cover 1, 2, 3, 5 or 7 days).
The second option is the Discover Seoul Pass. This card offers transport coverage for 24, 48 or 72 hours. It also includes free admission to many major tourist sites as well as discounts.
Both of these Seoul transport cards can be purchased at subway stations or convenience stores.
Of course, it is possible to take taxis around Seoul. However, if you are planning to do this do make sure you have the name of your destination in Korean and/or an image if possible.
Or even better have your hotel or a Korean person who speaks English let your driver know where you would like to go.
Do note some taxi drivers in Korea don't read the Korean language and this can make communication in taxis very tricky.
⇒ Check out my posts on the best Seoul Day Trips, 8 fantastic Things to do in Incheon, 13 things to do in Myeongdong, my Seoul Itinerary 5 Days, 7 Fantastic Seoul Boutique Hotels and the best things to do in Gangnam.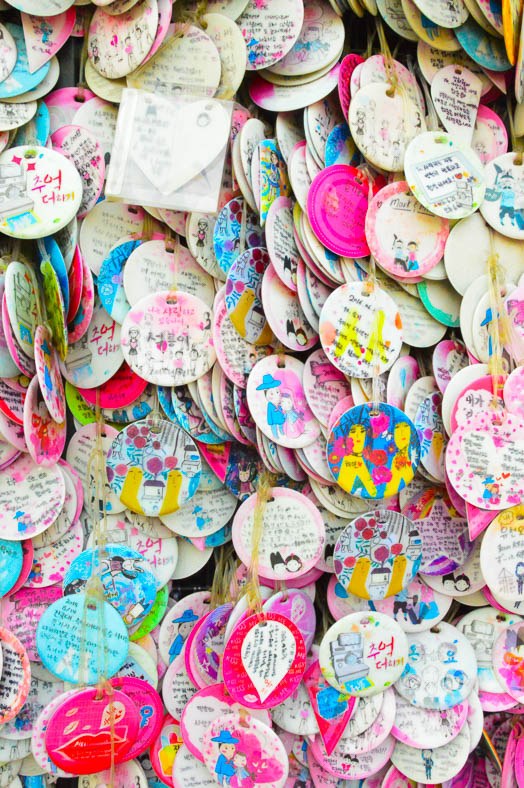 5 Day Itinerary Seoul Korea: Day 1:
It is easy to be overwhelmed when you first arrive in Seoul – even for seasoned travellers. The cosmopolitan city is ultra-modern and is home to 25 million citizens – this is more than half of Korea's population.
My suggestion for your first day in Seoul is to experience one memorable activity to settle in, rather than moving between many.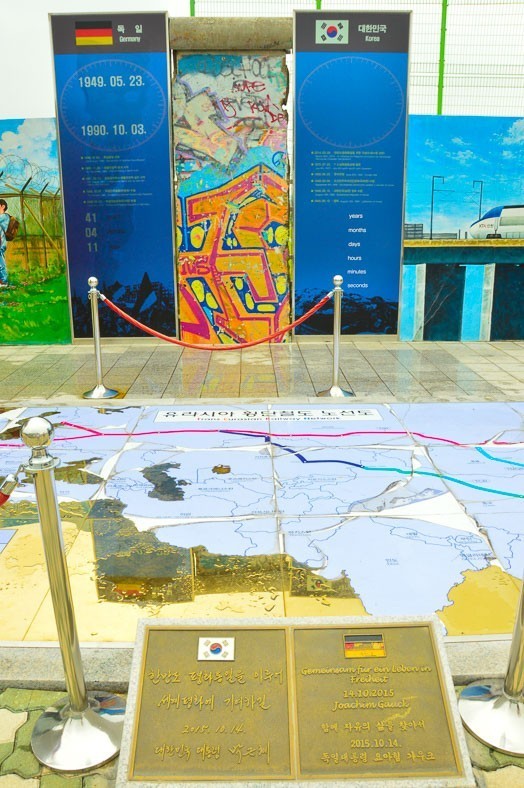 Visit the DMZ
The DMZ, also known by its full name 'The Demilitarized Zone', is the area that lies on the border between North and South Korea. A trip to the DMZ is the most popular of the Seoul day trips options.
A tour of the DMZ shares interesting insights into the history of the Korean War. Included in these points of interest are the 3rd Tunnel and the Dora Observatory where travellers can view North Korea through a telescope.
Do make sure you book the DMZ Tour ahead – this Korea tour sells out fast. A bus will take you towards the border. There are then several stops on the way to the DMZ. The train station that never happened. The Bridge to Nowhere.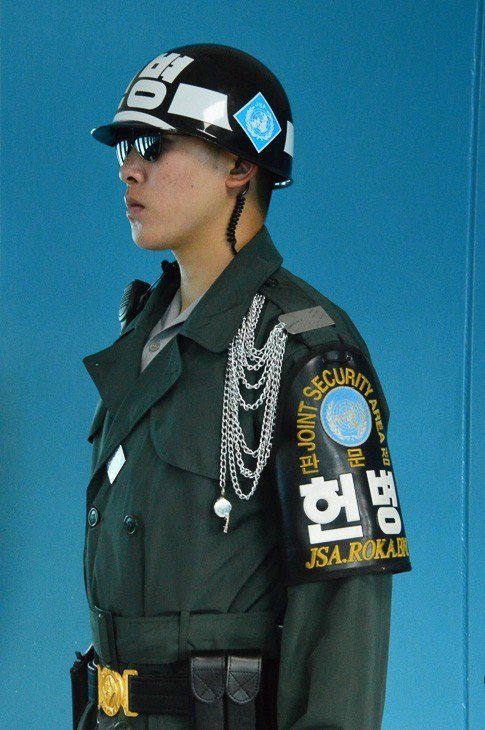 To be able to experience this unique part of Seoul, you have to be a part of a guided tour. These DMZ tours can either be a half day or a full day in duration, depending on how much time (and energy) you have to complete the experience.
Itinerary for Seoul – Day 2:
Now that you are a little bit more rested and settled in, you should be ready to escalate your South Korea itinerary. Day two has a few gems that are must go in Seoul for any visitor.
Visit Seoul's Two Palaces: Gyeongbokgung and Changgyeonggung
Opened in 1395, Gyeongbokgung Palace is an integral part of Seoul's history. As the main royal palace of the Joseon dynasty, Gyeongbokgung Palace is commonly referred to as the Northern Palace due to its location in the north of Seoul.
⇒ Planning on travelling beyond Seoul in Korea? Check out my posts on the best things to do in Daegu , where to stay in Busan, the best things to do in JeJu Island, 15 Places to see Cherry Blossoms in Korea, 26 Beautiful Places in South Korea and plan your trip with my Korea Itinerary, Jeju Itinerary and Busan Itinerary.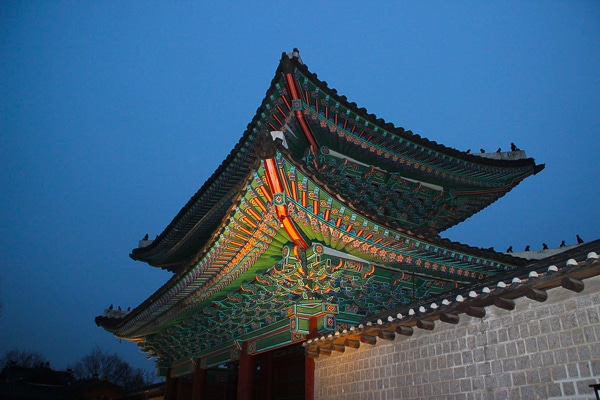 Today, this Seoul palace is restored and available for visitors to explore the rich history and beautiful grounds.
Changgyeonggung Palace is located in the heart of Seoul and originally served as the residential quarters for queens and concubines during the 15th century.
During the Japanese colonial rule of Korea, it temporarily became an amusement park comprising of a botanical garden and a zoo before being restored to the palace that it is today. Be advised that this Korean palace is closed to visitors on Mondays.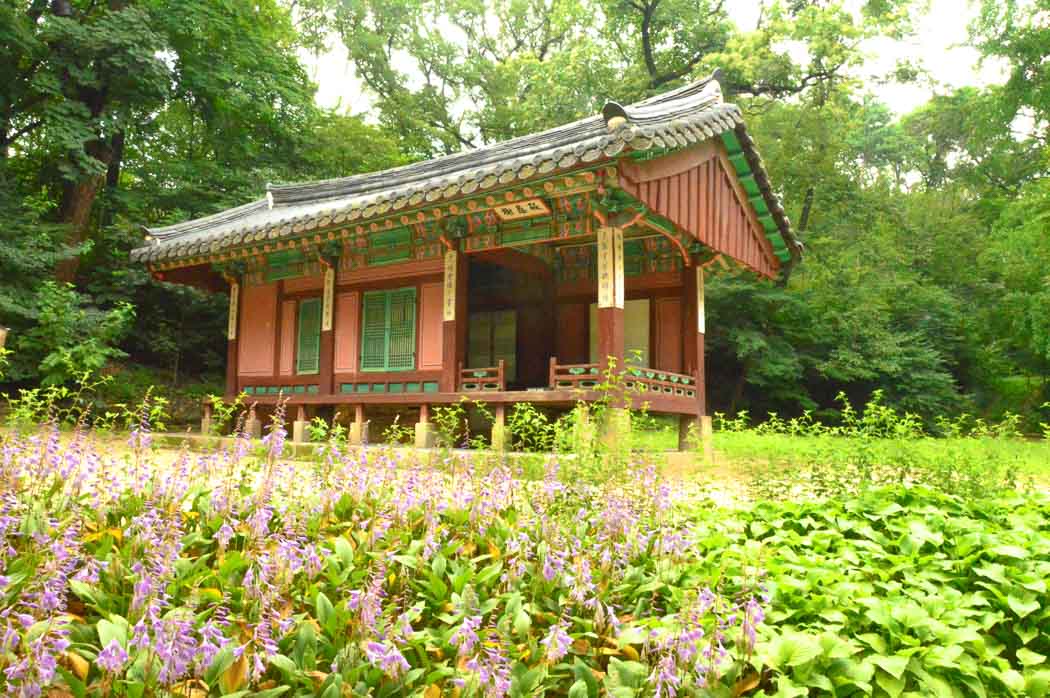 To help you decide where to go, you can visit these palaces, and more, on a cultural guided day tour of Seoul.
⇒ Beat the Queues and book your visit to Gyeongbokgung Palace before you go
Visit Insa-dong
Insa-dong is one of the more vibrant, livelier areas within Seoul, well known for the vast array of shops and restaurants that line the streets.
While there is plenty to do and see in Insa-dong, I definitely suggest that you take the time to visit Shin Old Tea House, one of the best cafés in Seoul. The cosy haven offers a peaceful escape from the heat (and bustle) of the city.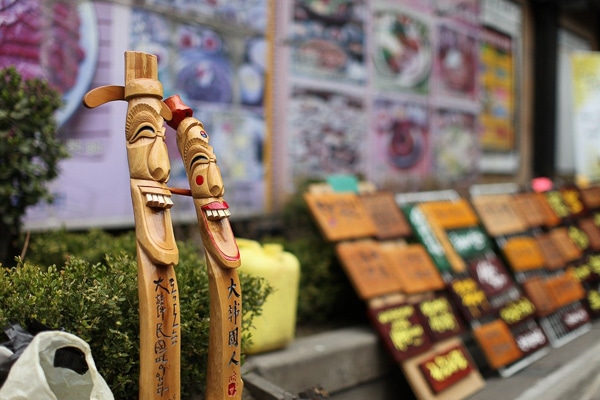 ⇒ Here are some of the best places in the world to watch the sunrise and fall: 10 Places to watch the Sunset in California, 7 Best Places To Watch Sedona Sunsets, 18 Spectacular Spots for the Best Sunsets in Seattle, 5 Stunning Santorini Sunsets, 8 Sunsets in Ibiza, 19 Spots to watch San Diego Sunsets, 11 Places to see the Venice Sunset, 17 Key West Sunsets Spots for Great Views, 15 Best Places to see San Francisco Sunsets, 6 Spots to Watch Sunrise in Paris, 21 Spots to see the Sunset Ottawa Style, 9 Best Places to see Maui Sunsets, 11 Places to see Sunset Edinburgh style, 16 Places to see the Best Sunsets in the World, 18 Best Places to watch the Sunset in Melbourne, 11 Best Places to watch the Sunset in Tucson, 11 Best Spots to watch the Sunset in Glasgow, 15 Places to see Sunsets in London and 9 Spots to watch the Sunrise in London.
The area of Insa-dong is also home to several captivating museums such as Kyung-in Museum of Fine Art, the Beautiful Tea Museum and the quirky Alive Museum.
Take a Small Group Food Tour
Chances are that you've probably heard of kimchi, a traditional Korean side dish of salted and fermented vegetables. However, Korean cuisine expands a lot further than kimchi, with many other dishes that are as unique and tasty.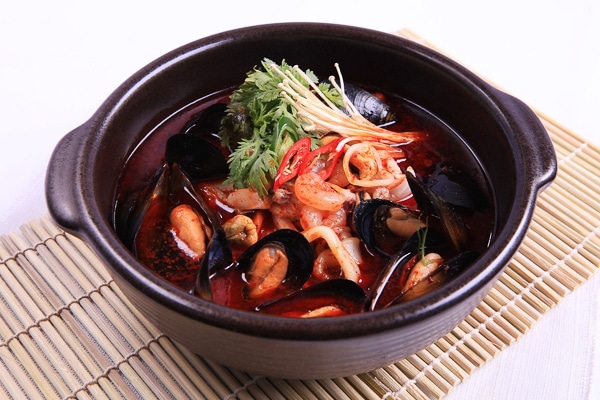 The best way to experience these flavours is to book a small group for a food tour with a local guide to assist you in both tasting the local food and drink as well as teaching you about the history of the food. Food tours are also a great way to make new friends.
What To Do in Korea On Day 3:
The long list of must-do activities in Seoul continues with a focus on the weird and wonderful hotspots of the great Asian city.
Dongdaemun Design Plaza
Also called the DDP, Dongdaemun Design Plaza is a major urban development. The design of the development is described as neo-futuristic and is characterized by boldly curved formations. Admired as South Korea's fashion hub, the DDP Seoul also boasts several ecological features such as solar panel and a recycling water system.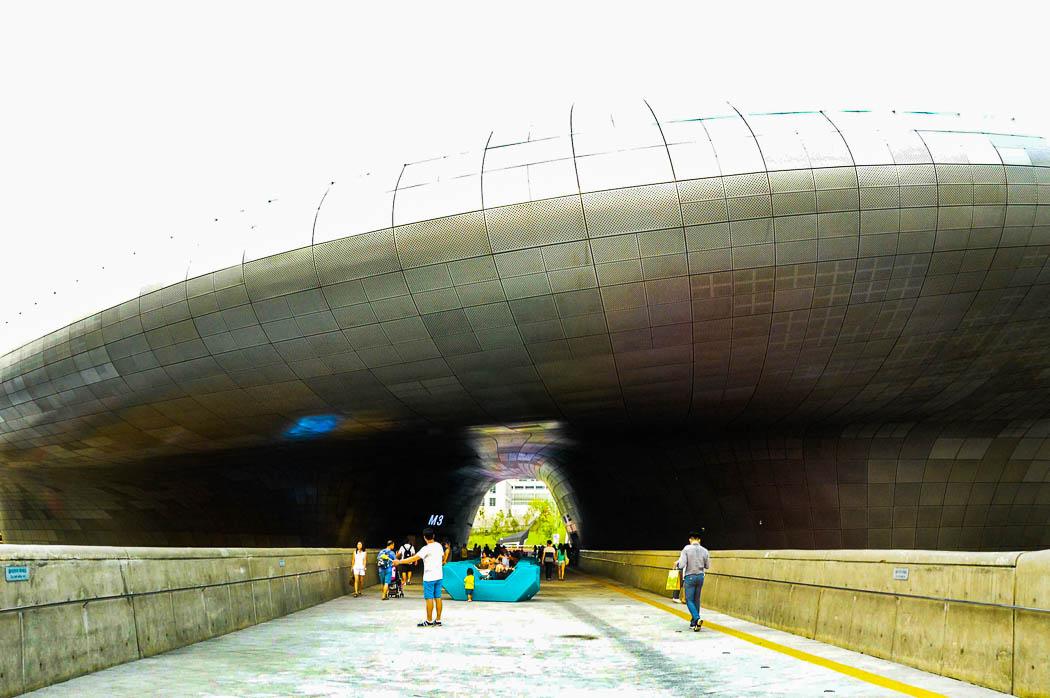 A visit to the cutting edge landmark is not only inspiring and beautiful but visitors can also marvel at the many public features including shopping, cafes, exhibition halls and a design museum.
Visit a Cat Café
Cat cafés are the perfect way for a cat-lover to unwind, decompress and catch their breath in-between visiting tourist attractions in Seoul. There are several excellent cat cafés in Seoul where patrons can enjoy sipping on freshly-brewed coffee while petting silky felines.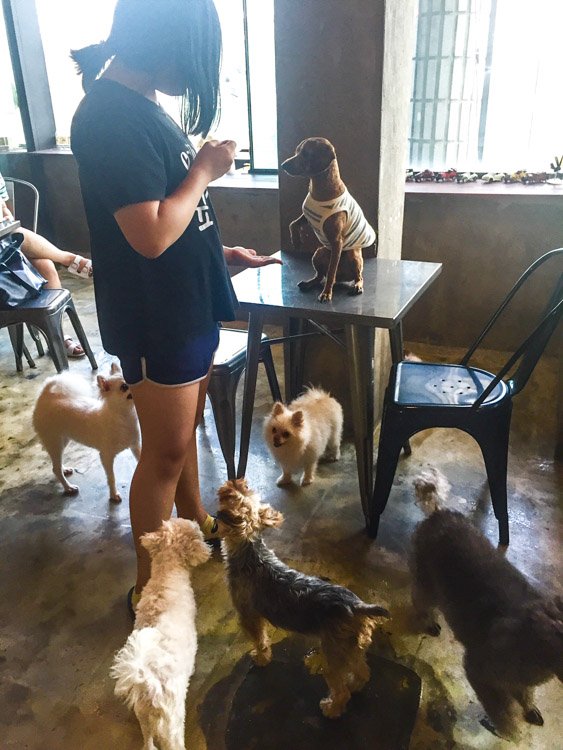 While there are several great cat cafés in Seoul to choose from, I would recommend Lily Cat Café and Cat Attic, both of which have a cosy atmosphere and super friendly cats.
Shop 'till You Drop In Myeongdong Shopping Street
The Myeongdong shopping district is loved as a shopper's paradise for locals and international travellers alike. A lot of people flock to the Myeongdong to buy famous Korean skincare and cosmetic products, as well as branded fashion and accessories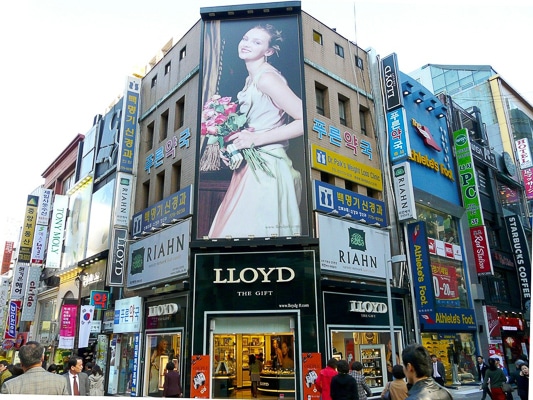 As evening approaches, vendors push their food carts to the streets and the smell of delicious Korean snacks fill the air, giving you the much-needed energy to continue exploring the stores.
Seoul Tower
Also known as Namsan Seoul Tower, or just 'N Tower', Seoul Tower was the first tower-styled tourism attraction in Seoul. The tower's height of 236.7 metres makes it one of the tallest towers in the Orient, and definitely worth a visit.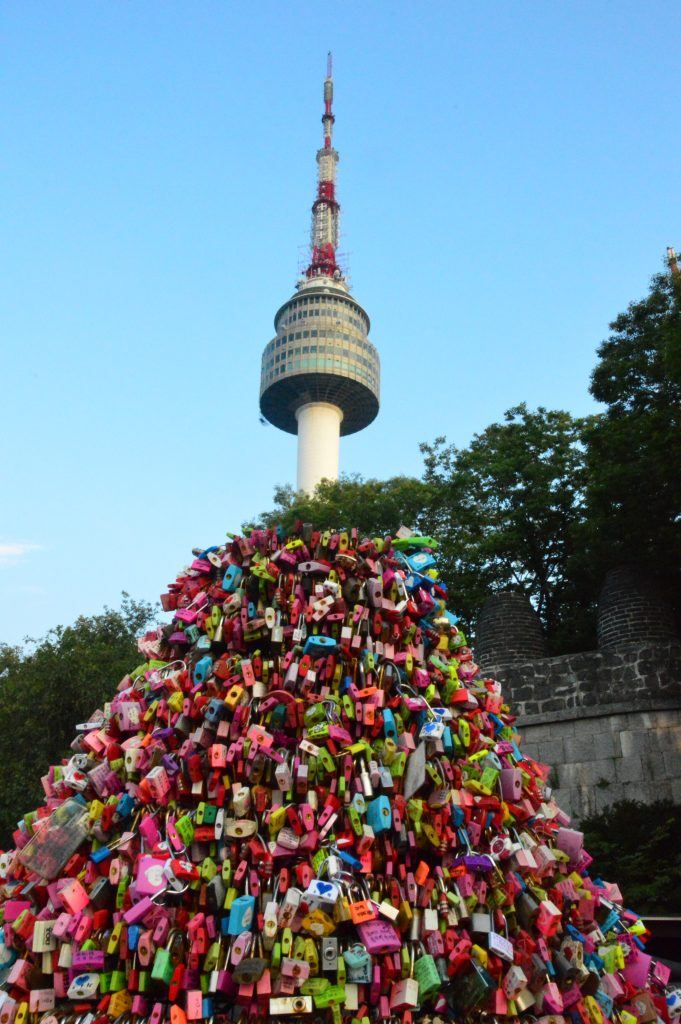 The communication and observation tower can be found on Namsan Moutain in the centre of Seoul. Many visitors use the Namsan cable car to the mountain and then walk to the tower.
Be sure to stick around and catch the nighttime view of Seoul Tower which is truly something special as the entire structure gets brightly lit up in LED lights.
Day 4 in Seoul:
The following activities are particularly special for those with a love of architecture, culture and history. The excitement continues with your Seoul itinerary 4 days in.
Seoul Wall
The Fortress Wall of Seoul, locally known as Hanyangdoseong, is a wall made up of various materials with the historical aim of protecting the city from invaders. First built in 1396, Seoul wall stretches along a length of 18.6 kilometres. Today, there is a 12-kilometre section that is preserved as a historical site.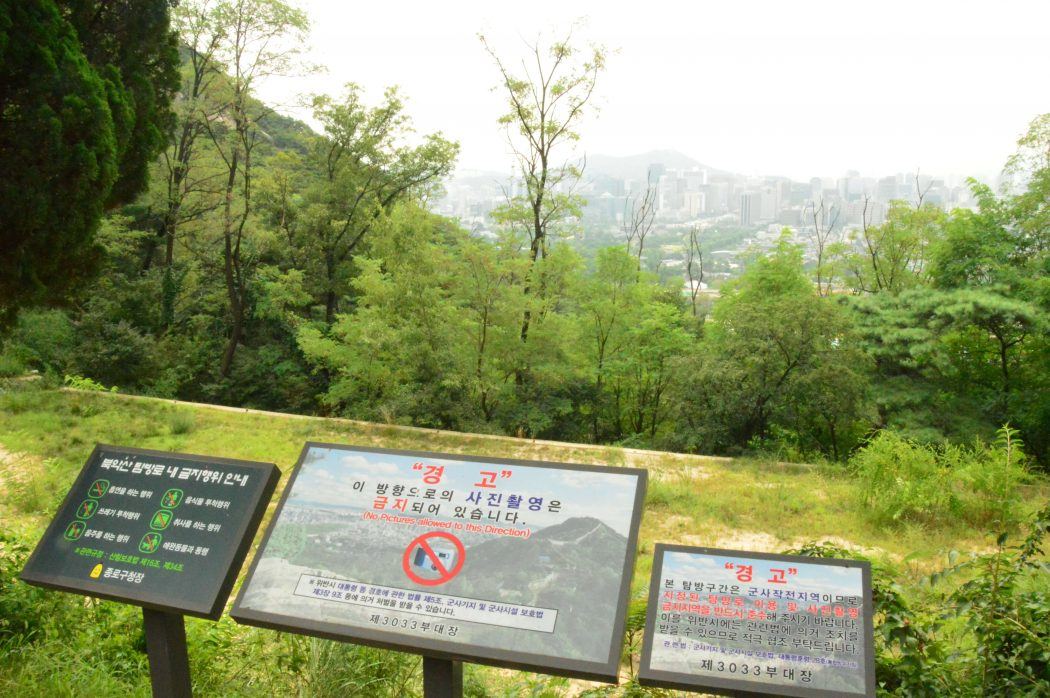 A popular way for travellers to enjoy the beauty and history of the Seoul walls is to hike alongside it. There are various Seoul Wall hiking trails to choose from, each with their own offering of beauty and discovery. One of the more popular routes ends at Naksan Park which has stunning panoramic views of the city.
Ihwa Mural Village
Also near Naksan Park is the Ihwa Mural Village which consists of the paintings and installation art of over 70 artists. The area was previously considered a bit of a slum until the 'Art in the City Project' in 2006 which injected vibrant life back into this area of Seoul.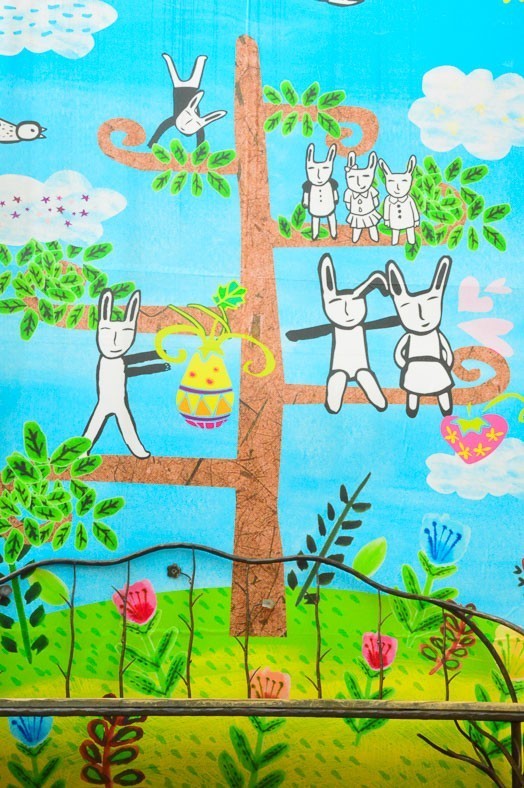 The lively hub is an artistic tourism landmark and one of Seoul's hidden treasures. If you make your way up to Ihwa Mural Village, be sure to appreciate the beautiful art, but also be respectful that it is, in fact, a residential area.
Korean War Memorial
Previously the site of the army headquarters, the Korean War Memorial documents the military history of Korea. The intention of its existence is to educate people about the Korean War and in turn, prevent a future war with the same devastating effects but rather highlight the desire for the peaceful reunification of the country.
The Korean War Memorial Seoul is open from 09:30 am to 06:00 pm every day, except for Mondays, for visitors to explore the various exhibition halls and learn about the rich military history. There is also an expansive outdoor section of the memorial where visitors can picnic and enjoy the scenery.
Day 5 in Seoul:
Continuing to make the most of your time in Seoul, the Korea travel guide for day five is just as enriching as the first four days.
Bukchon Hanok Village
Bukchon Hanok Village is a traditional Korean village located near other iconic attractions such as Gyeongbokgung Palace, Changdeokgung Palace and Jongmyo Shrine. The village is full of traditional Korean houses called 'hanoks'. Today, many of these 'hanoks' operate as cultural centres, restaurants and tea houses.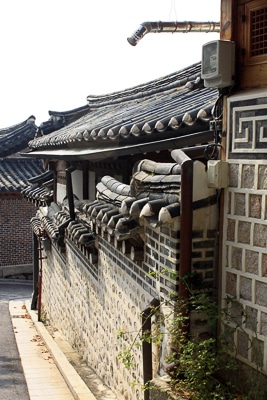 A visit to Bukchon Hanok Village Seoul offers guests an authentic cultural experience that simply cannot be compared to anything else. There is no admission fee to visit the village, which makes a visit to Buckchon not only incredibly special but also free.
Jogyesa Temple
The Jogyesa Temple is the centre of Korean Buddism and is the main venue for several faith-related happenings such as holding rituals and ceremonies. The temple is located in Insa-dong and is open all year-round for visitors to experience the calm environment and incredible building.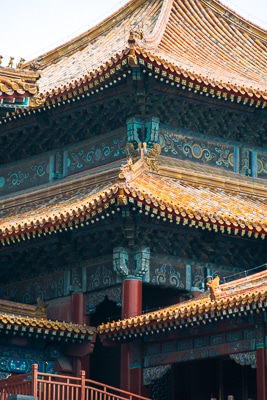 Be sure to visit Daeungjeon Hall where the famous statue of the seated Buddha is enshrined. Jogyesa Temple's tranquil setting is largely made up of the surrounding nature. There is even a rare 500-year-old Baeksong lacebark tree to marvel at!
⇒ Don't miss my other posts on Korea – from best things to do in Daegu, my complete Korea Itinerary, the best Seoul day trips and the most fun things to do in Jeju Island.
Korean Food Tour with BBQ Lunch
The Korean BBQ is an important part of Korea's culinary scene and travellers cannot leave the city without experiencing a taste. The best way to experience the BBQ lunch (and the snacks that typically precede it) is to book a walking food tour.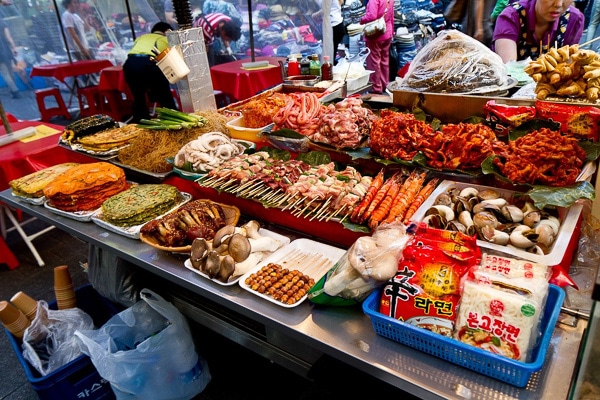 In this way, you can taste the goods from several different vendors while learning about the interesting food history and culture of Korea. With a cooking demonstration included – you may even be able to go home and show off the flavours to your friends and family.
Gwangjang Market
If you still have space after the food tour, then a stop at Gwangjang Market is a must! As one of Korea's largest traditional markets, Gwangjang Market Seoul is a great way to further discover the street food of Korea.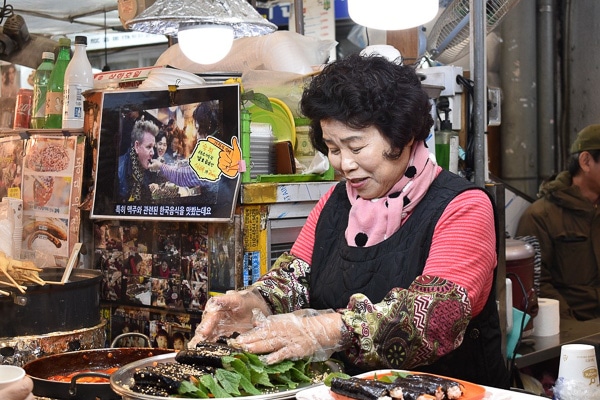 In addition to the tasty morsels, the market is also full of stalls selling quality silk products, linen, hand-made products and even a vintage clothing arcade. The market is particularly popular among young people but has something special for everyone.
Due to its popularity, Gwangjang market can get very crowded and I would definitely suggest that you shop around a bit before committing to a purchase.
Where to Stay in Seoul
In Seoul, Glad Live is in the now-famous Gangnam area. This is a stylish and sleek boutique hotel which starts at a very reasonable £66.
⇒ Compare prices on TripAdvisor ⇒ Book Now
Also in Seoul is another Glad Hotel – Glad Hotel Yeouido. This one is in the high-rise part of Seoul and wonderfully describes itself as a poetic express in brick! Prices start at £70.
⇒ Compare prices on TripAdvisor ⇒ Book Now
⇒ One of the loveliest places to go in Asia is Bali. Check out my posts on the best 10 Days Itinerary Bali, Where to Stay in Bali, where to stay in Ubud and the best boutique hotels in Ubud, Bali Retreats for Singles, Bali Boutique Hotels, where to stay in Canggu and the best boutique hotels Seminyak has on offer.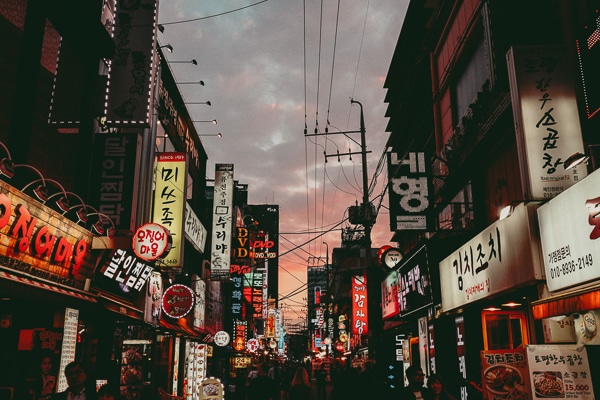 The Splaisir Hotel in Dongdaemun has an absolutely fantastic location right near the stunning Dongdaemun Design Centre. It is also very close to several full-on shopping centres with lots of interesting food places.
Splaisir Hotel Dongdaemun Seoul is quite stylish and importantly has friendly staff who can speak English!
⇒ Compare prices on TripAdvisor ⇒ Book Now
The IP Boutique hotel is under Namsan Mountain and has a strong design aesthetic. Lots of glass outside and they love some strong colours inside and out. Prices start at £70.
⇒ Compare prices on TripAdvisor ⇒ Book Now
Down the road from the KY Heritage Hotel is the JW Marriott. I am not normally a Marriott person as it doesn't meet my usual boutique standards but they had a rooftop bar and white wine by the glass and that was more than enough to get my custom in Seoul!!
The JW Marriott Seoul did seem like a good place to stay – nice hotel and lots of good food options. Prices start at £260.
⇒ Compare prices on TripAdvisor ⇒ Book Now
The most economic way to travel South Korea by train is the Korea Rail Pass. This pass is only available to foreign travellers. The KR pass covers 600 stations and 80 different high speed routes with unlimited rides. It is available in 3 or 5 consecutive days or flexible 2 and 4 days.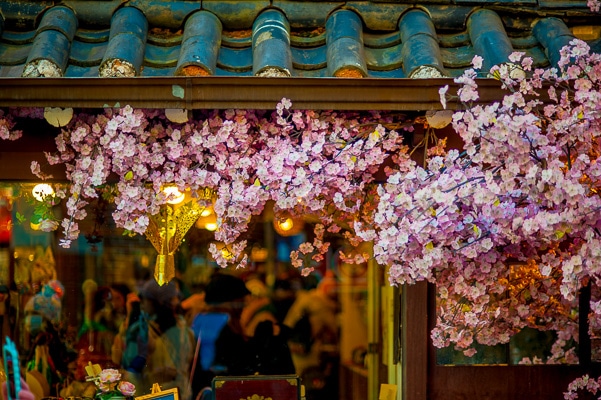 If you want to go very upmarket the lovely Banyan Tree has a hotel and spa in the former Tower Hotel building. Each guestroom is inspired by the four seasons of the year and the five oriental elements: water, fire, metal, wood and earth.
Prices from £240.
⇒ Compare prices on TripAdvisor ⇒ Book Now
⇒ Beautiful Japan is one of my favorite countries to visit. Check out my posts on One Day in Tokyo, 2 Day Itinerary Kyoto, 10 Day Japan Itinerary, What is Japan Famous For? 31 Japanese Claims to Fame, 9 Beautiful Japan Famous Landmarks, the best things to do in Kanazawa and what to expect on the Nakasendo Trail.
Where to Eat in Seoul
When visiting Korea, eating amazing food is always a highlight! Here are some of my favourite places to eat in this city.
Tosokchon Samgyetang
Located near Gyeongbokgung Palace, this gem of a restaurants serves up top-notch local food. The soups at Tosokchon Samgyetang are amazing, as is the ginseng chicken stuffed with rice. You can expect hearty, traditional fare at Tosokchon Samgyetang Seoul in a relaxed and friendly environment.
Hanchu
This casual spot is absolutely perfect for winding down after a busy day with a cold beer and some Korean fried chicken – a must eat when in Seoul.
The food at Hanchu is simple and delicious, while the restaurant is always busy. The soju, stuffed fried peppers, and spicy soondubu are all major highlights at Hanchu Seoul.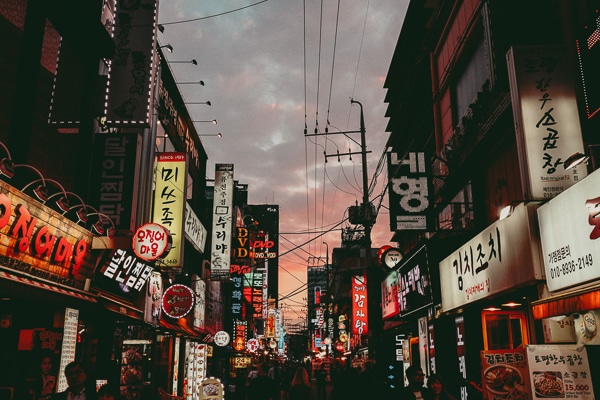 Omiga Sinsa
This hidden gem located in Gangnam-Gu has so much to offer. The interesting menu at Omiga Sinsa is well varied, with meals for all kinds of palates. The food is made with love by the friendly, warm staff.
The restaurant is modern, comfortable and homely. You will love every bite at Omiga Sinsa Seoul and will definitely want to return.
Gaehwaok
If you are looking for some of the best, authentic Koren food in Seoul, then Gaehwaok is the place to go! This restaurant serves amazing bibimbap and Korean BBQ, with some delicious kimchi on offer as well. Located on Sinsa-Dong, Gaehwaok Seoul is the perfect place to end your busy day in the city.
⇒ Interested in Nepal? Check out my posts on the Nepal tea house, a full Everest Base Camp packing list, an Everest Base Camp trek itinerary and a day by day Everest base camp trek blog And for post-trek the fantastic boutique hotel Dwarika Hotel Kathmandu, the Dhulikhel Resort and the best places to visit in Kathmandu.
Little Taiwan
Located in Yeonnam-dong, Little Taiwan is an absolute favourite. This restaurant serves up some stellar Taiwanese fried chicken, soups, and noodle dishes. The bubble tea is great too! Little Taiwan is a fun and trendy spot for the great taste of Seoul.
When to Visit Seoul
Seoul summers are long, hot and muggy and Seoul in winter is dry and freezing. Annoyingly summers tend to be cloudy and winters clear so it can be frustrating for photographers!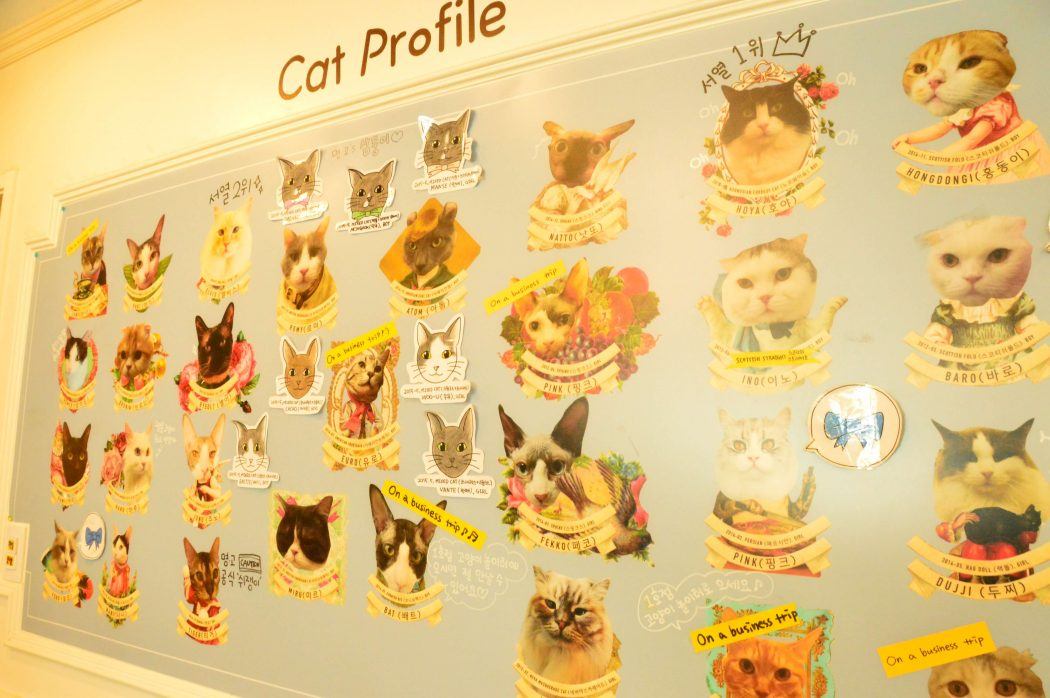 The ideal times to visit Seoul for comfortable weather are late May to early July and from late August to early October.
Final Thoughts on a Seoul Itinerary 5 Days Long
I hope that this Seoul blog helps to guide you in the right direction of where to start when visiting the incredible city. There are so many things to do in Korea, and a visit to Seoul will definitely give you a good taste for what is to come.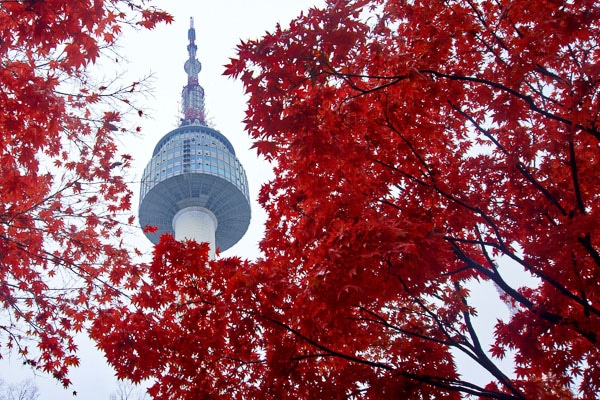 For a longer trip to Korea including the best things to do in Daegu and things to do in Jeju Island, you can check out my recent Korea Itinerary.
Seoul is such a magical place to visit, with so much history, culture and good food. Whether you are travelling as a solo traveller, or with your friends or family – the city promises special memories to cherish forever.
I covered all of the costs associated with producing this Seoul itinerary 5 days post. However, this post does contain affiliate links. This means if you click through on some of the links and end up making a purchase I may well receive a small commission. I wanted to make sure that you were aware of this.
If you like this Seoul Itinerary 5 Days post why not Pin it?