Heading to South Korea's for a visit to Seoul? Just a heads up, you'll be landing in a paradise of trendy fashion, superfine cosmetics, mouth-watering foods, and famous K-pop stars.
Myeongdong translates to 'bright town' and is considered one of the best places to go Jung-gu, Seoul. As the name suggests, it's a neon-lit, bustling area at night. And during the day there is a world of things to do in Myeongdong Seoul.
Let's take a look at some must-see places to visit in Myeongdong you won't want to miss.
How to Get To Myeongdong From The Airport
There are a number of ways to get to Myeongdong if you're arriving at the Incheon International Airport.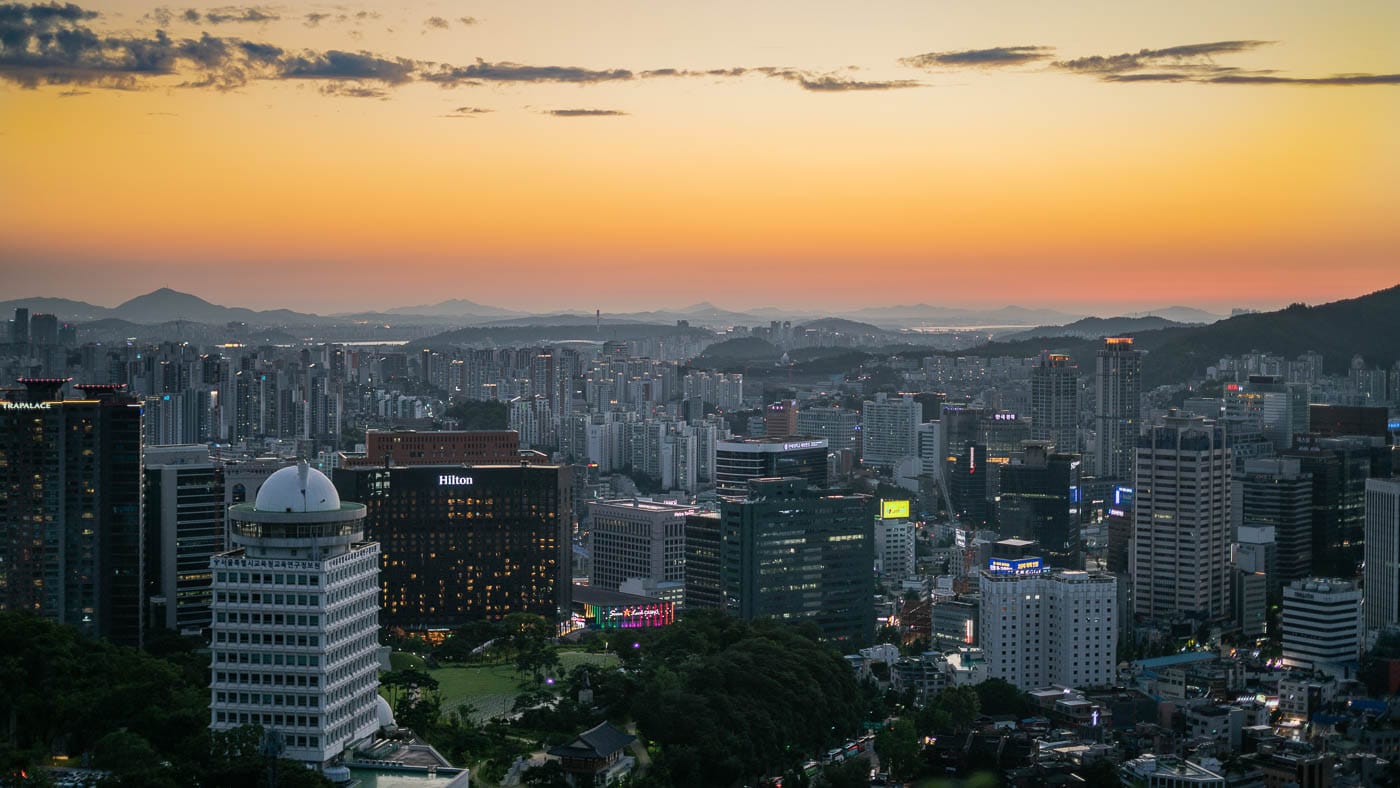 Subway
If you're travelling by subway, make sure you have your T-Money card with you and that it's topped up. Alternatively, you can get a Korea Rail Pass (KR PASS) which is considered the most economical way to travel.
Myeongdong Subway station is located on line 4 and is accessible from any station in central seoul. Head to Myeongdong station and take exit 7 (the escalator) or exit 6 (the stairs) to get to the main shopping street. The journey will take about 1 hour and 20 minutes.
Bus
There are also direct buses running from most of the tourist districts to Myeongdong. You can check live bus times on the Kakao Map App, which comes in handy when travelling around Korea. The bus journey should take about 1 hour and 40 minutes.
A fun way to explore Myeongdong is to get on a Seoul City hop on and hop off bus.
⇒ And definitely log in to 12Go when you're organising how you're going to get around South Korea. This super easy to use platform has all modes of transport on the one platform and allows you to compare based on time, cost, and reviews.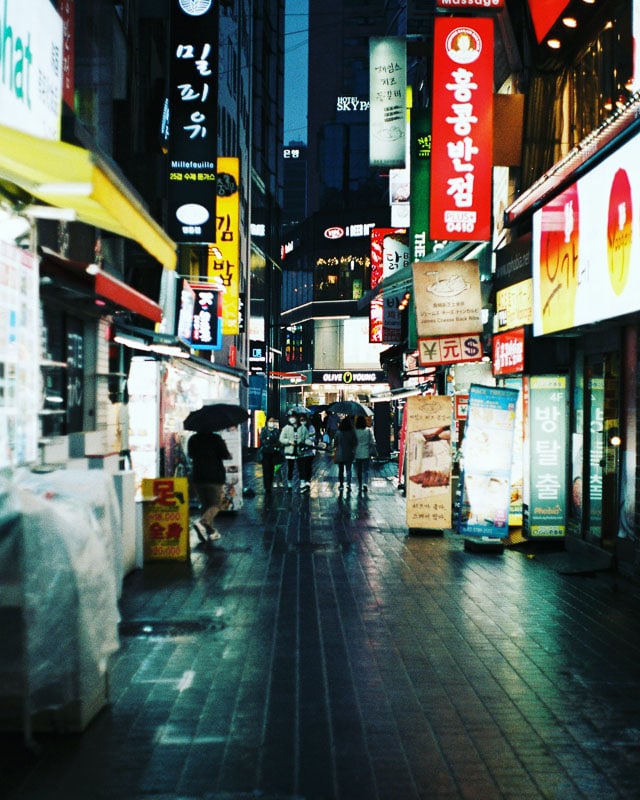 Taxi
Enjoy a comfortable and safe, private taxi ride between the Airport and Seoul. Expect the journey to take 45 minutes.
Things To Do In Myeongdong
There's no shortage of places to go in Myeongdong. Here are some of the top things to explore to get you excited.
1. Shop 'Till You Drop at Myeongdong Shopping Street
If you're a fan of K-pop music, Myeongdong Shopping Street is the perfect place to be. There are shops packed with everything from CDs to posters and other K-pop goodies.
Take a look around the underground stores in Myeongdong; there you'll find dozens of souvenir shops and music stores. If you're a sock fan, you'll find funky socks in many Myeongdong stores.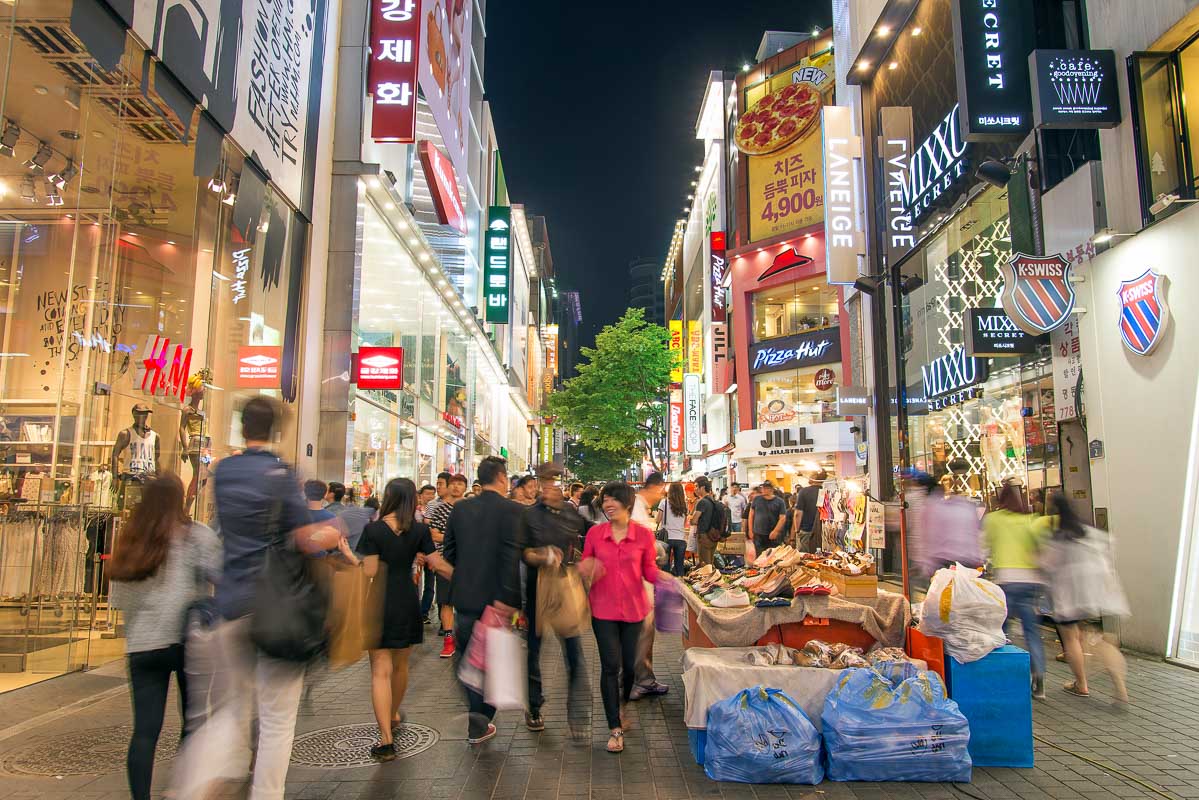 If it's cosmetics you're after, the Myeongdong shopping street is paradise. Korean beauty, or K-beauty, products are famous around the world.
Whatever K-beauty products you're searching for, Myeongdong shopping street offers them all. Some of the popular brands are Etude Maison, 3CE, AHC, Skinfood, Tony Moly, Innisfree and many more.
Opening hours: 10:30 to 23:00 (some store times vary)

Best suited: Shopaholics

Things to note: Most of the stores here offer tax-free claims for foreigners, but you need to show your passport or flight number


2. Relax at the Cat Themed Cafe
Korea is famous for its themed cafes, and the most popular are the cat cafes. If you're a cat lover, why not pop over to the adorable Cat Cafe in Myeongdong Street to relax in paradise with your furry friends.
Keep in mind there are rules in the cat cafes in Myeongdong to ensure the animals' well-being. Before you enter, you must wash your hands. You need to agree not to run or try to catch the cats or disturb them while they sleep.
Opening hours: Opens daily from 13:00 – 22:00

Best suited: Anyone wanting to take a break and relax with feline friends, in an original setting

Things to note: Entrance fee is 9000KRW and includes a free drink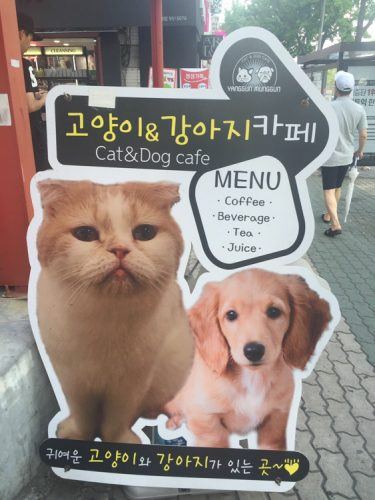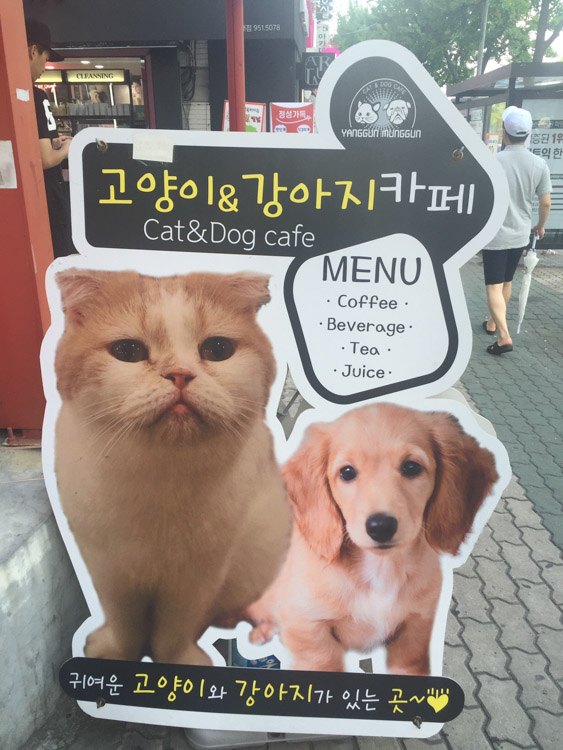 3. Join a Korean Cooking Class
Learn how to make your own kimchi and tteokbokki (spicy rice cakes) in a one-hour class at the Myeongdong Kimchi School. It's an excellent experience for anyone interested in learning new recipes and provides insight into Korean food culture.
Opening hours: 10:00 – 19:00 Daily

Best suited: Culturally interested foodies

Things to note: You need to book in advanced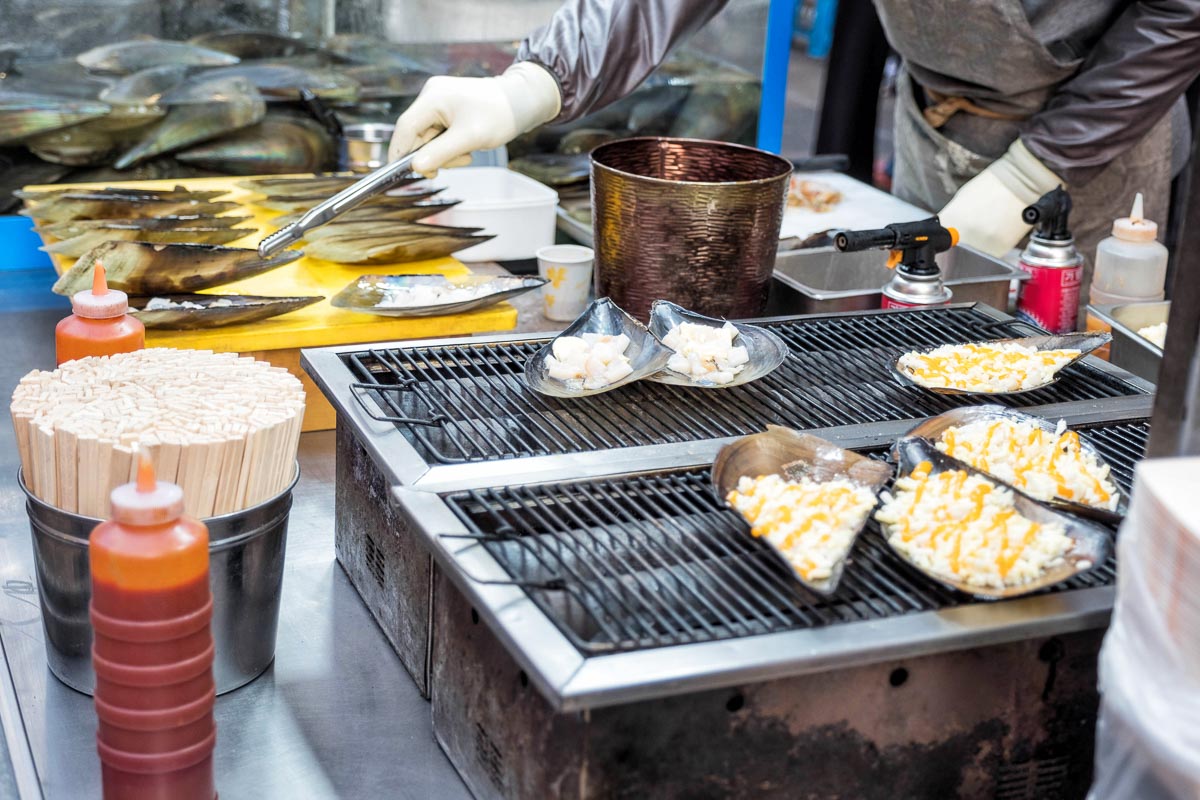 4. Make Your Own Perfume
Why not create your own unique perfume at the Myeongdong G.N studio. You can choose from over 150 perfume bases.
Once your class is complete, you can take your one-of-a-kind fragrance and bottle home. This also makes for the perfect unique souvenir from your South Korea trip and is one of the most fun Myeongdong attractions.
Opening hours: 13h00 – 19h00 (class times vary)

Best suited: Anyone interested in scents and fragrances

Things to note: Classes can be taken in English, Japanese, Korean and Chinese
⇒ One of the loveliest places to go in Asia is Bali. Check out my posts on the best 10 Days Itinerary Bali, Where to Stay in Bali, where to stay in Ubud and the best boutique hotels in Ubud, Bali Retreats for Singles, Bali Boutique Hotels, where to stay in Canggu and the best boutique hotels Seminyak has on offer.
5. Sample Scrumptious Foods at the Myeongdong Market
Walking around, exploring and shopping is bound to work up an appetite. One of the best places to eat in Myeongdong is at the night market, a street food haven. This is the place to go for nice food in Myeongdong!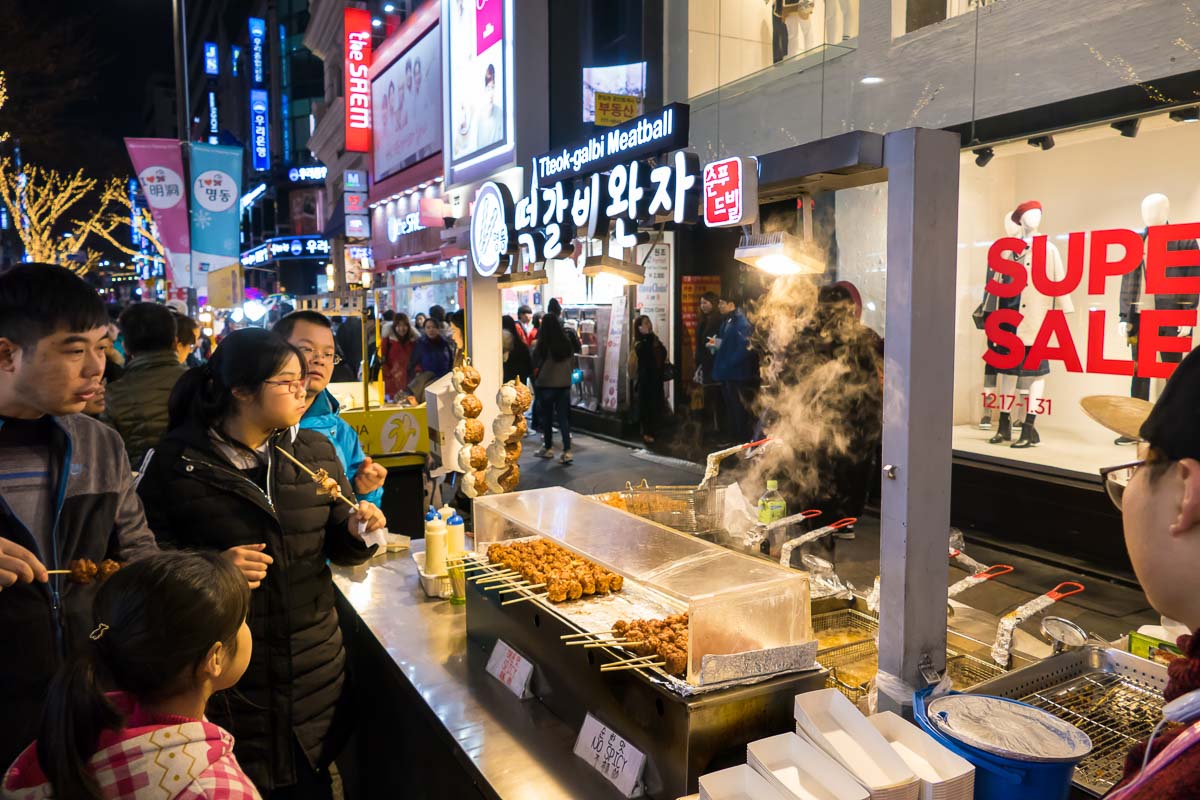 You can sample finger foods like Dakgangjeong (sweet and sour chicken), sundae (sausage), Dak Ggochi (chicken skewers), and Ojingeo-twigim (fried giant squid). If you're on the hunt for something a bit more luxurious, try out the lobsters with cheese at the Myeongdong night market Seoul – it's simply divine.
Opening hours: 11:00 – 22:00 (store times vary)

Best suited: Hungry travellers

Things to note: There are plenty of stalls offering hot fish soup to keep you warm if you travel to Myeongdong in winter
6. Relax and Rejuvenate at Hana Mud Spa Experience
Mud masks, sauna treatments and relaxing massages. what better way to treat yourself on your Korean vacation than to take a spa day? Or better yet, a Hana mud spa experience.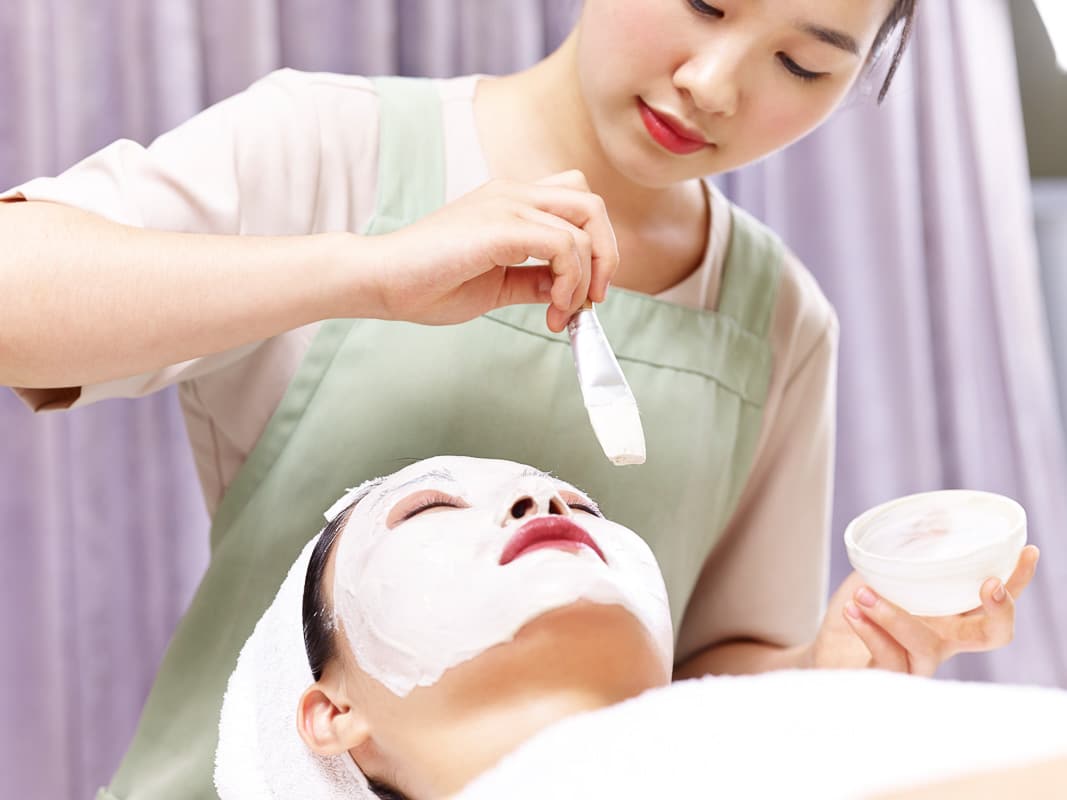 Try out the Myeongdong mud sauna. It provides various treatments for your skin using the famous Boryeong mud from South West Korea. The Korean mud is known for being rich in minerals and is gentle on the skin.
Opening hours: 9:00 – 23:00

Best suited: Ladies needing some pampering

Things to note: This spa is for women only
7. See the Myeongdong Cathedral
Besides visiting the bustling shopping street for cosmetics and trendy clothes, at the very end of the street, you will find Myeongdong Cathedral. At first glimpse, this church in Seoul it might seem a little more attuned to a European city rather than an Asian metropolis like Seoul.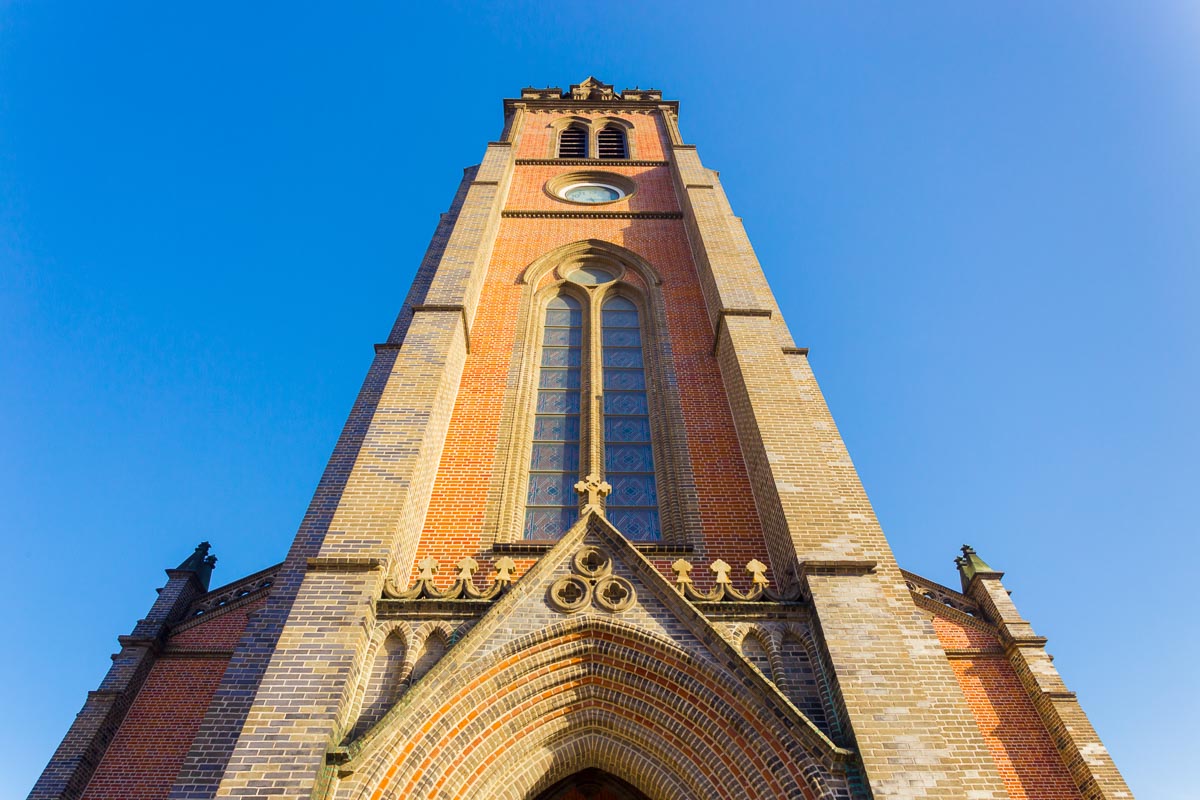 ⇒ Here are some of the best places in the world to watch the sunrise and fall: 10 Places to watch the Sunset in California, 7 Best Places To Watch Sedona Sunsets, 18 Spectacular Spots for the Best Sunsets in Seattle, 5 Stunning Santorini Sunsets, 8 Sunsets in Ibiza, 11 Places to see the Venice Sunset, 6 Spots to Watch Sunrise in Paris, 11 Places to see Sunset Edinburgh style, 15 Places to see Sunsets in London and 9 Spots to watch the Sunrise in London.
The Gothic-style church was built in 1894 under the King Gojong regime and remains a symbolic landmark in Korea. Myeongdong Cathedral Seoul is one of the oldest Catholic churches and it played a significant role in protest demonstrations for democracy in the 1980s and 1990s.
Opening hours: 10:00 – 18:00

Best suited: History enthusiasts

Things to note: This is considered one of the most important Catholic churches in Korea
The most economic way to travel South Korea by train is the Korea Rail Pass. This pass is only available to foreign travellers. The KR pass covers 600 stations and 80 different high speed routes with unlimited rides. It is available in 3 or 5 consecutive days or flexible 2 and 4 days.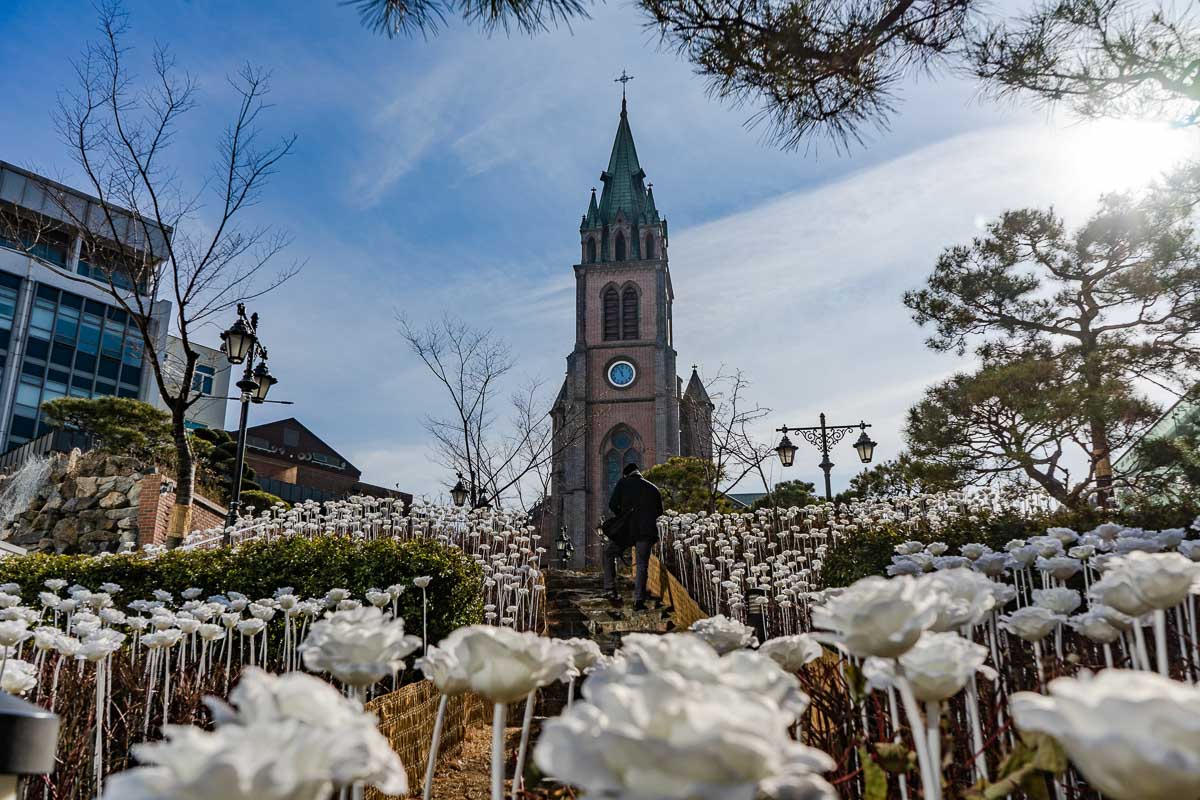 8. Explore the Grevin Waxwork Museum
Visit the Grevin Wax Museum in Myeongdong to snap photos with your favourite Hollywood celebrities and K-pop idols.
There are over 88 wax figures to meet at this Myeongdong wax museum, from K-pop idols to famous athletes and actors. The list also includes Einstein, Queen Elizabeth, and a few past American presidents.
Opening hours: 9:30 – 19:00

Best suited: Those interested in history and fame

Things to note: The museum also offers interactive digital games
9. Laugh at The Nanta Cooking Show
Experience the award-winning comedy-drama at the longest-running theatrical performance in Seoul. The fun and entertaining Nanta Shows are filled with music, comedy and acrobatics based on cooking Korean food.
Book a ticket to the show and marvel at the energetic and silent culinary skills of the performers.
Opening hours: Monday-Thursday from 17:00 – 20:00, and weekends from 11:00-20:00

Best suited: Travellers needing a laugh

Things to note: This is an entertaining, non-verbal show and a must-do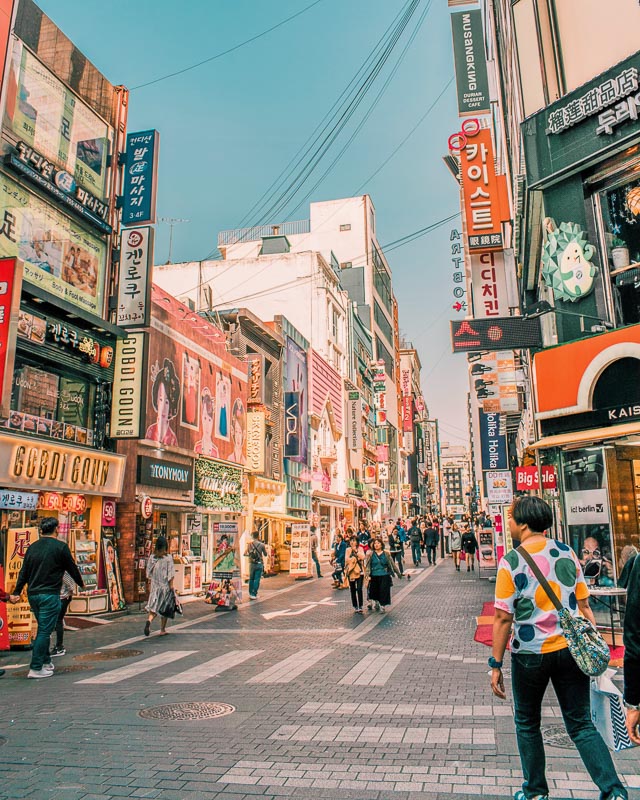 10. Take Your Shot at the Myeongdong Korea Shooting Range
If you're looking for a unique experience during your South Korea trip, why not enjoy testing your aiming skills at the Myeongdong shooting range?
Receive one-on-one coaching from professionals on the Korean national shooting team and choose from a variety of firearms to practice with.
Opening hours: 9:00 – 21:00

Best suited: Those interested in firearms

Things to note: You can choose to shoot from category A or B guns
11. Visit the Line Friends' Flagship Store
Line Friends is a global brand featuring characters that were originally created for the use of the leading mobile application, 'Line'. The app produces adorable characters, and you can find these characters at the Line Friends Store in Myeongdong Mall.
Make your way to meet one of the characters, the popular giant "Brown" teddy bear in the centre of the room. He is picture-ready and waiting for you.
Opening hours: 10:00 – 23:00

Best suited: Fans of cute cartoon characters

Things to note: You may have to queue to take a picture with the welcoming giant "bear"
12. Try Kalguksu in Myeongdong Kyoja Restaurant
One of the top things to do on the bustling streets of Myeongdong is to eat. And if there is any place that will reinforce this reputation it's at Myeongdong Kyoja (Gyoja).
Here you will taste some of the finest dumplings and noodles in Seoul. Your taste buds are in for a treat, especially if you try out their signature dish Kalguksu. This delicious soup has wheat noodles and broth teeming with dumplings, meat and vegetables.
Opening hours: 10:30 – 21:30

Best suited: Travellers in search of Korea's best cuisines

Things to note: This is a Michelin star restaurant, and it's popular, so it's best to book in advanced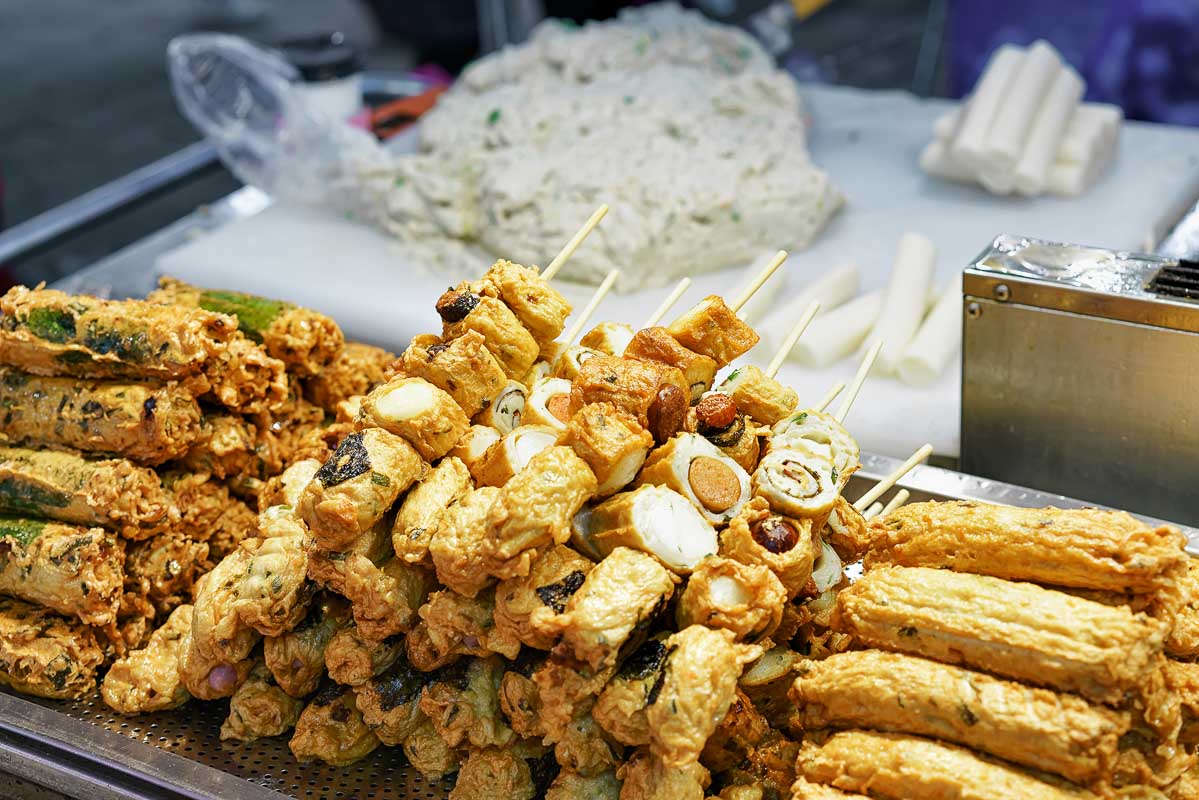 ⇒ I love ticking off seeing a landmark. See how many famous landmarks you've seen in my series of posts: 60 Most Famous Landmarks in the World, 27 Top Australian Landmarks, 25 Asia Landmarks, 61 Magnificent Landmarks of the UK, 13 China Landmarks, 35 Japan Famous Landmarks, 60 Most Famous Landmarks in Europe, 25 North America Landmarks, 25 Canada Landmarks and 15 Famous Landmarks in the US.
13. Visit The Lotte Department Store
You certainly cannot go to the Myeongdong shopping street without taking a peek around the Lotte Department store. The 14-floor Korean department store opened its doors in 1979, and since then it's become one of the most famous places to shop in Korea.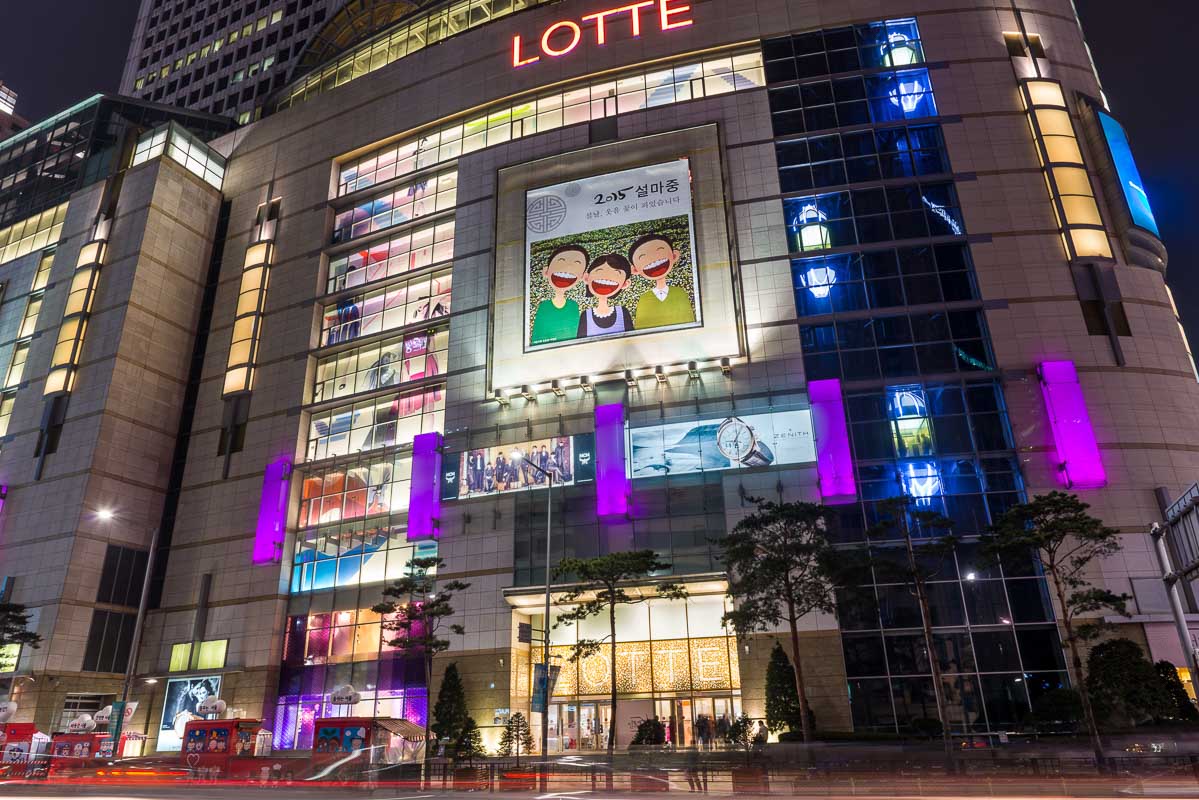 The Lotte department store Myeongdog boasts an endless supply of the latest domestic and international beauty products, from skincare to make-up, and everything in between.
Opening hours: 10:30 – 20:30

Best suited: Anyone looking for luxury beauty products

Things to note: It's a duty-free shop that offers tax refunds to foreigners
What's Your Favorite Thing To Do In Myeongdong?
Myeongdong is arguably one of the most popular shopping destinations in Seoul. The crazy busy street is full of surprises, so get ready to be 'wowed' from the experience.
The retail heaven is certainly worth the visit! So, get your walking shoes on and your cameras ready for an incredible shopping and sightseeing experience in Myeongdong Seoul.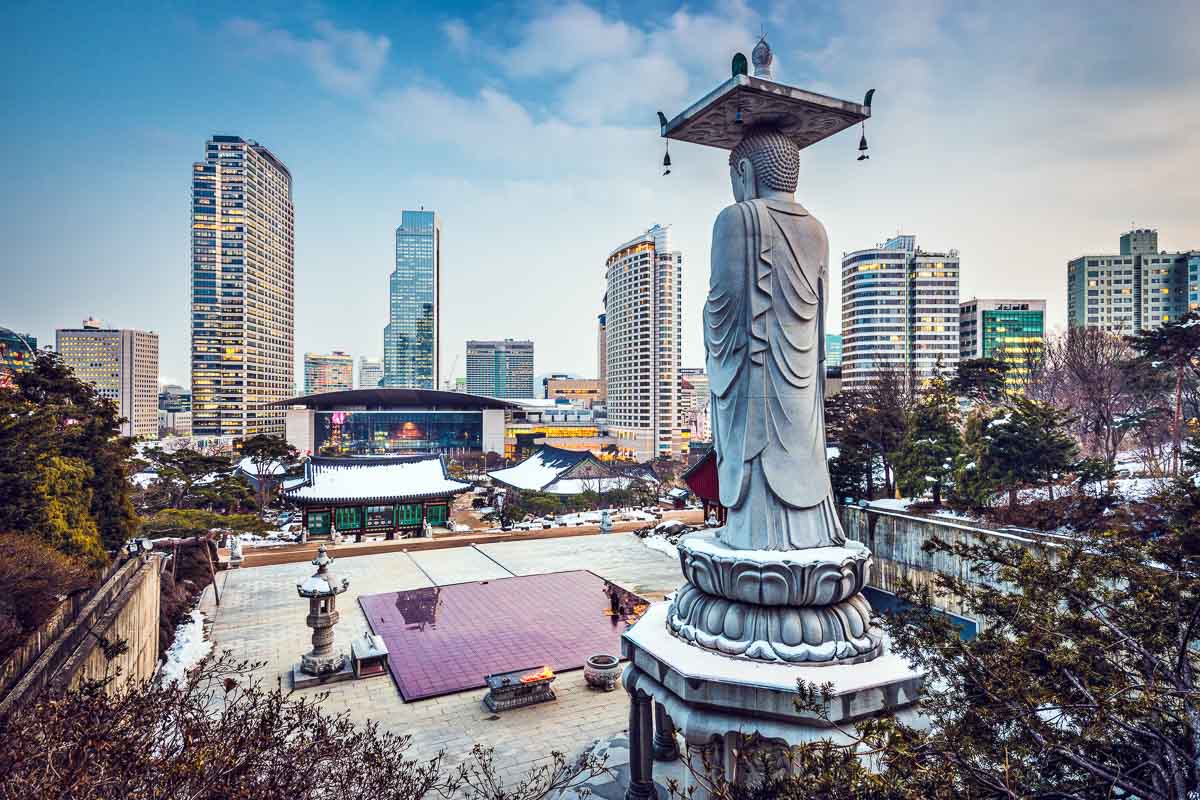 Where to Stay in Seoul
In Seoul, Glad Live is in the now-famous Gangnam area. This is a stylish and sleek boutique hotel which starts at a very reasonable £66.
⇒ Compare prices on TripAdvisor ⇒ Book Now
Also in Seoul is another Glad Hotel – Glad Hotel Yeouido. This one is in the high-rise part of Seoul and wonderfully describes itself as a poetic express in brick! Prices start at £70.
⇒ Compare prices on TripAdvisor ⇒ Book Now
The Splaisir Hotel in Dongdaemun has an absolutely fantastic location right near the stunning Dongdaemun Design Centre. It is also very close to several full-on shopping centres with lots of interesting food places.
Splaisir Hotel Dongdaemun Seoul is quite stylish and importantly has friendly staff who can speak English!
⇒ Compare prices on TripAdvisor ⇒ Book Now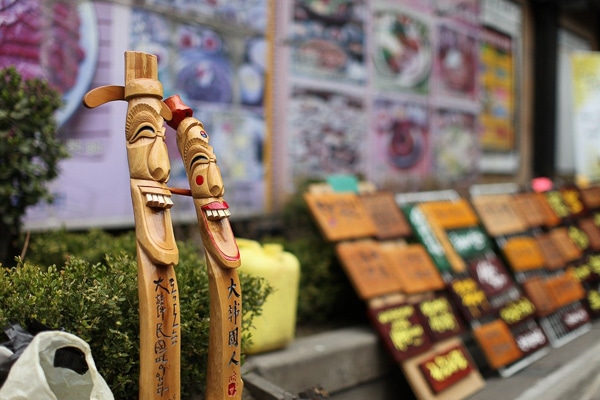 The IP Boutique hotel is under Namsan Mountain and has a strong design aesthetic. Lots of glass outside and they love some strong colours inside and out. Prices start at £70.
⇒ Compare prices on TripAdvisor ⇒ Book Now
Down the road from the KY Heritage Hotel is the JW Marriott. I am not normally a Marriott person as it doesn't meet my usual boutique standards but they had a rooftop bar and white wine by the glass and that was more than enough to get my custom in Seoul!!
The JW Marriott Seoul did seem like a good place to stay – nice hotel and lots of good food options. Prices start at £260.
⇒ Compare prices on TripAdvisor ⇒ Book Now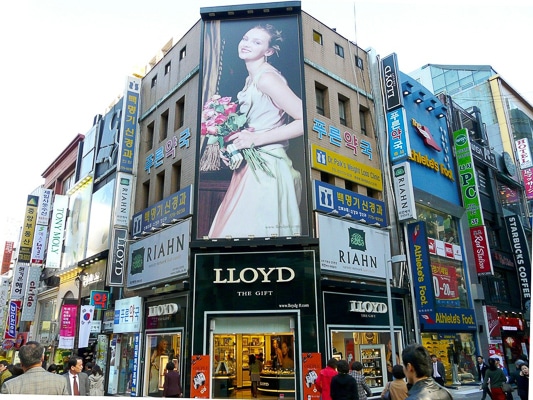 If you want to go very upmarket the lovely Banyan Tree has a hotel and spa in the former Tower Hotel building. Each guestroom is inspired by the four seasons of the year and the five oriental elements: water, fire, metal, wood and earth.
Prices from £240.
⇒ Compare prices on TripAdvisor ⇒ Book Now
⇒ Read my complete post on the 7 Best Seoul Boutique Hotels.
Where to Eat in Seoul
When visiting Korea, eating amazing food is always a highlight! Here are some of my favourite places to eat in this city.
Tosokchon Samgyetang
Located near Gyeongbokgung Palace, this gem of a restaurants serves up top-notch local food. The soups at Tosokchon Samgyetang are amazing, as is the ginseng chicken stuffed with rice. You can expect hearty, traditional fare at Tosokchon Samgyetang Seoul in a relaxed and friendly environment.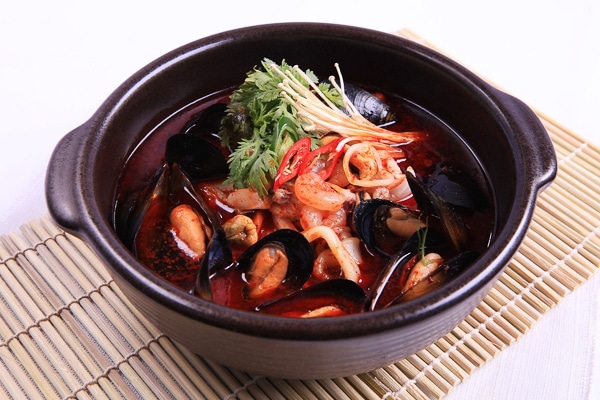 Hanchu
This casual spot is absolutely perfect for winding down after a busy day with a cold beer and some Korean fried chicken – a must eat when in Seoul.
The food at Hanchu is simple and delicious, while the restaurant is always busy. The soju, stuffed fried peppers, and spicy soondubu are all major highlights at Hanchu Seoul.
Omiga Sinsa
This hidden gem located in Gangnam-Gu has so much to offer. The interesting menu at Omiga Sinsa is well varied, with meals for all kinds of palates. The food is made with love by the friendly, warm staff.
The restaurant is modern, comfortable and homely. You will love every bite at Omiga Sinsa Seoul and will definitely want to return.
Gaehwaok
If you are looking for some of the best, authentic Koren food in Seoul, then Gaehwaok is the place to go! This restaurant serves amazing bibimbap and Korean BBQ, with some delicious kimchi on offer as well. Located on Sinsa-Dong, Gaehwaok Seoul is the perfect place to end your busy day in the city.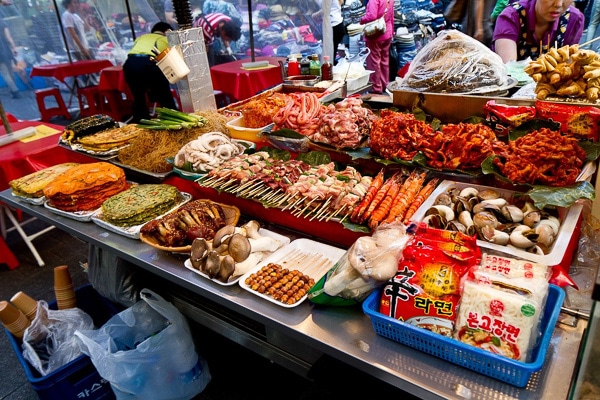 Little Taiwan
Located in Yeonnam-dong, Little Taiwan is an absolute favourite. This restaurant serves up some stellar Taiwanese fried chicken, soups, and noodle dishes. The bubble tea is great too! Little Taiwan is a fun and trendy spot for the great taste of Seoul.
When to Visit Seoul
Seoul summers are long, hot and muggy and Seoul in winter is dry and freezing. Annoyingly summers tend to be cloudy and winters clear so it can be frustrating for photographers!
The ideal times to visit Seoul for comfortable weather are late May to early July and from late August to early October.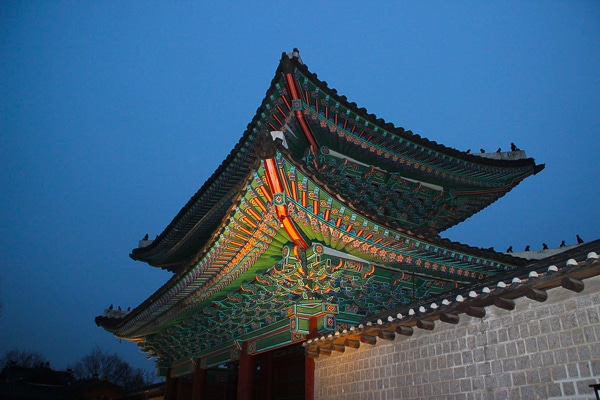 How to get to Seoul and How to Get Around Seoul
Seoul is the capital of Korea and Incheon International Airport has many options for international flights both in and out of the country. Seoul also has a second international airport Gimpo which is smaller than Incheon Airport Korea and mostly offers flights to and from japan, China and Taiwan as well as domestic flights.
⇒ Check out my reviews of Qatar Airways Business Class Review, Thai Airways Business Class Review, Malaysia Airlines Business Class Review, British Airways World Traveller Plus Review and Virgin Atlantic Premium Economy Review.
[separator type="thick"]
Incheon Airport is 49km from Seoul. Traffic in Seoul can be bad so depending on the time of day ataxi can be an expensive lengthy journey (expect it to take at least one hour).
The other options for getting from the airport to Seoul are the Limousine City Bus which takes 70 minutes or the Express Train (45 mins) or All Stop Train (60 mins). Personally I took the Express train from Incheon Airport to Seoul and this was an excellent option.
Gimpo Airport is only 16kms from Seoul and a taxi will generally take about 25 minutes. The All Stop Train also goes to Gimpo Airport from Seoul Station and only takes 22 minutes. The final option is to take a bus to Gimpo Airport Seoul which takes about 45 minutes.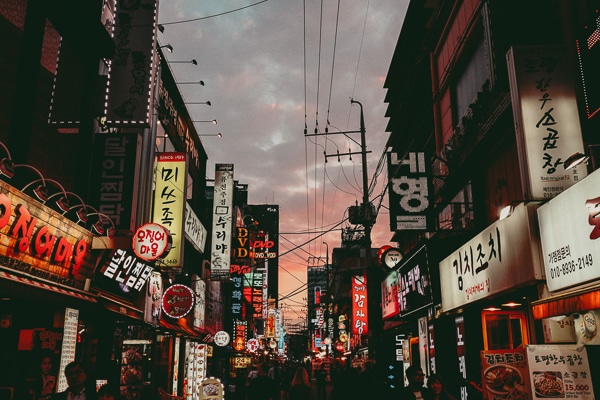 A Little Language Goes a Long Way
Knowing even a small amount of the local language can add a whole new level of enjoyment to any trip. Why not
learn some basic Korean
before you leave home?
Getting around Seoul
Seoul is one of the biggest cities in the world and can be quite intimidating. The Seoul subway station system is great but it is not the easiest to understand as I have never seen so many stops on an underground! And the Seoul subway stations are huge!
It is critical to check which is the best station exit for you to use for where you are going or you could get very confused. And very sore feet! But the subway is one of the best ways to discover Seoul.
There are 2 excellent options for tourists wishing to get around Seoul via subway. The first is to purchase an MPass card. This card is exclusively for tourists and offers 20 rides a day for whichever pass duration you choose (passes cover 1, 2, 3, 5 or 7 days).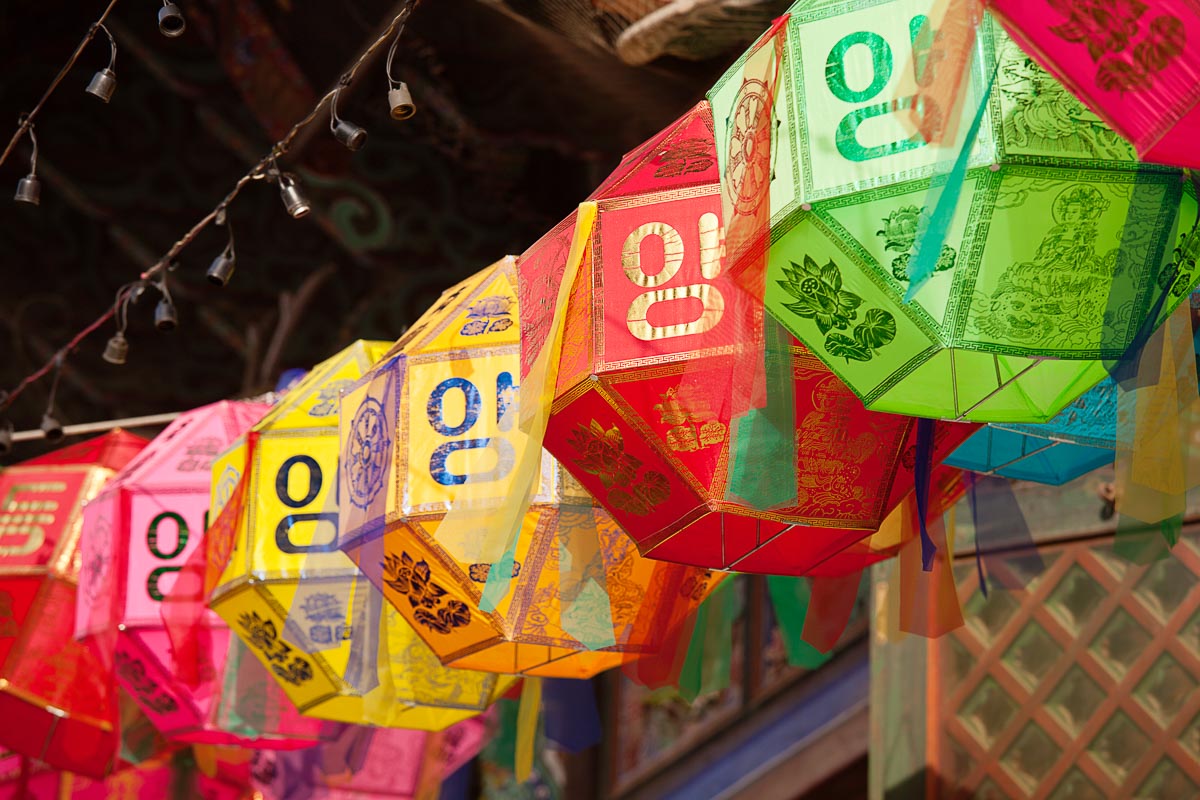 The second option is the Discover Seoul Pass. This card offers transport coverage for 24, 48 or 72 hours. It also includes free admission to many major tourist sites as well as discounts.
Both of these Seoul transport cards can be purchased at subway stations or convenience stores.
Of course, it is possible to take taxis around Seoul. However, if you are planning to do this do make sure you have the name of your destination in Korean and/or an image if possible. Or even better have your hotel or a Korean person who speaks English let your driver know where you would like to go.
Do note some taxi drivers in Korea don't read the Korean language and this can make communication in taxis very tricky.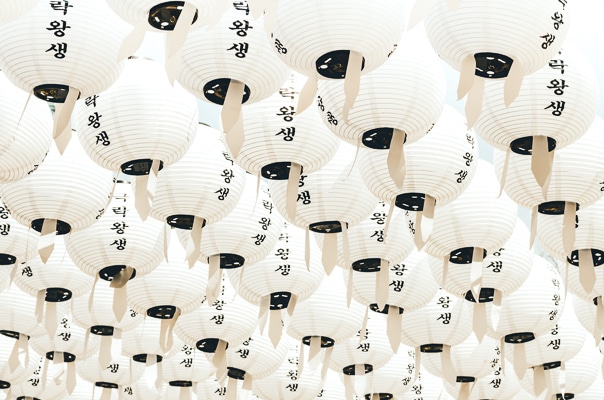 Do you need a Visa for your Korea Trip?
It can be a real pain trying to figure out if you need a visa for a country and then all the hassle of figuring out how to apply, how long you can go without your passport, when the embassy is open etc.
iVisa has completely revolutionised this process and put it all online and make it super simple and paper and hassle-free! Using iVisa is one of my top travel tips.
NB: Citizens of the United States, Great Britain, Australia and Canada do not need a Visa for Korea if they are staying less than 90 days. Do double check that this still holds when you book your airfares.
⇒ Check if you need a Visa for Korea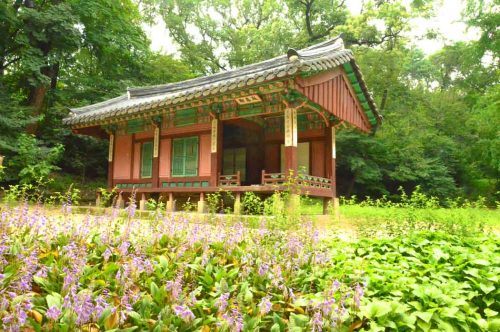 Who Paid for What in this Post?
I covered all of the costs associated with producing this Myeongdong Seoul travel blog post. However, this post does contain affiliate links. This means if you click through on some of the links and end up making a purchase I may well receive a small commission. I wanted to make sure that you were aware of this.
If you like this post why not Pin it?