Poor old Malaysia Airlines. The brand at the front of two of the worst air disasters in recent years. They have bravely stuck with their name and are soldiering on.
When the travel agent said they had the best deal business class to get to Thailand I thought gosh what are the odds of there being a third disaster – and let's help a poor struggling brand get back up and going.
So off I headed – and here is my Malaysia Airlines Business Class Review.
Malaysia Airlines Business Class Review – London to Kuala Lumpur – The cabin
I was on Malaysia Airlines A380 business class london to kuala lumpur on both legs of the journey. For the A380 it already feels a little bit tired. The seats are next to each other – you don't have the privacy of the "pods" that many other airlines now have in business.
The seats extend to a full bed and of course, once you are lying down you can't see the person next to you. It is a little more awkward when you are the window and need to step over to go to the bathroom but there you go.
You are supplied with a sort of base sheet as well as a duvet and pillow. [separator type="thin"]
⇒ Got a stopover in Kuala Lumpur? Click here to read my guide One Day in Kuala Lumpur. [separator type="thin"]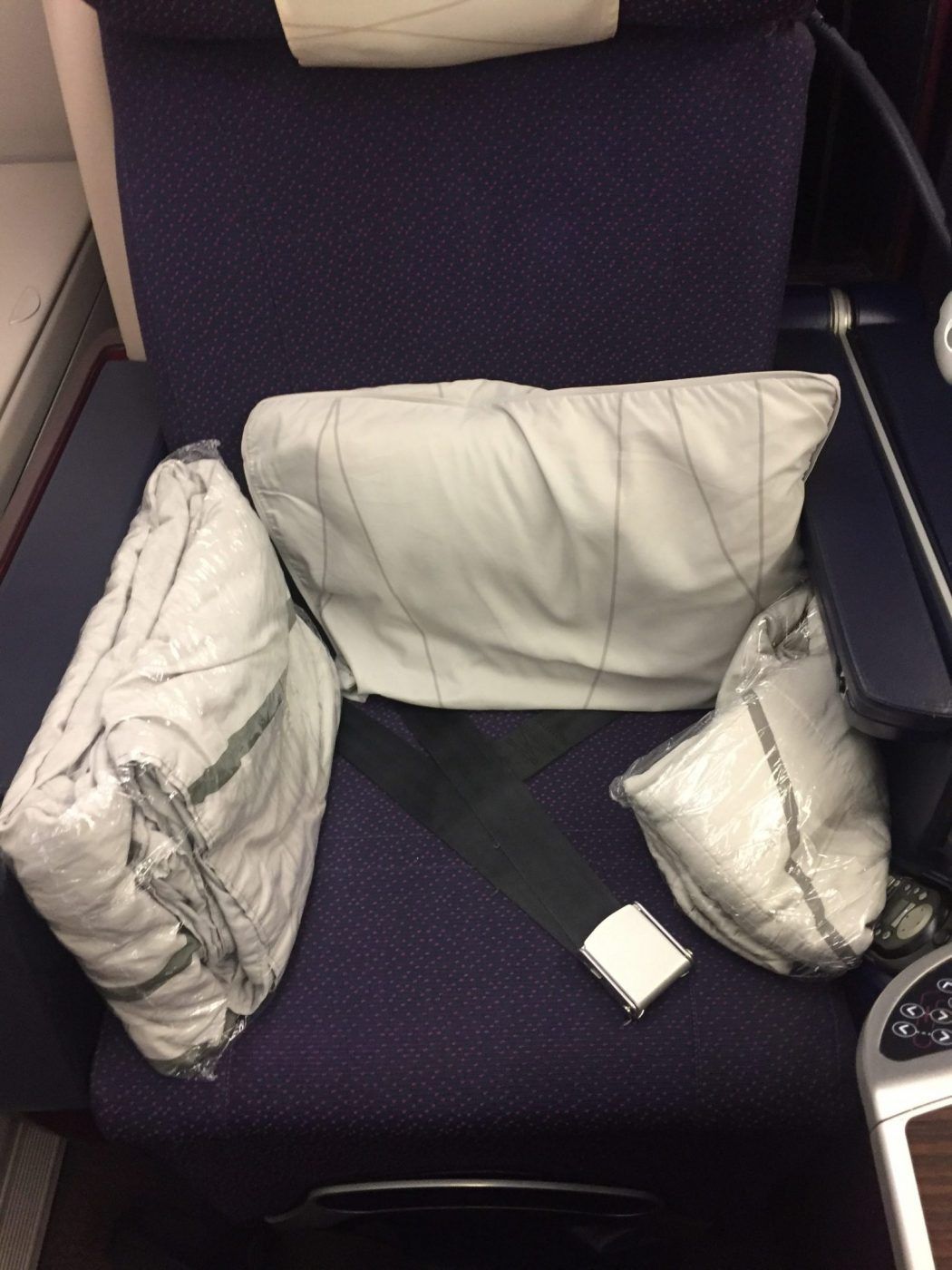 I did have the experience of visiting the largest loo I have ever seen on a plane. It was twice the size of the standard loo. It felt quite decadent.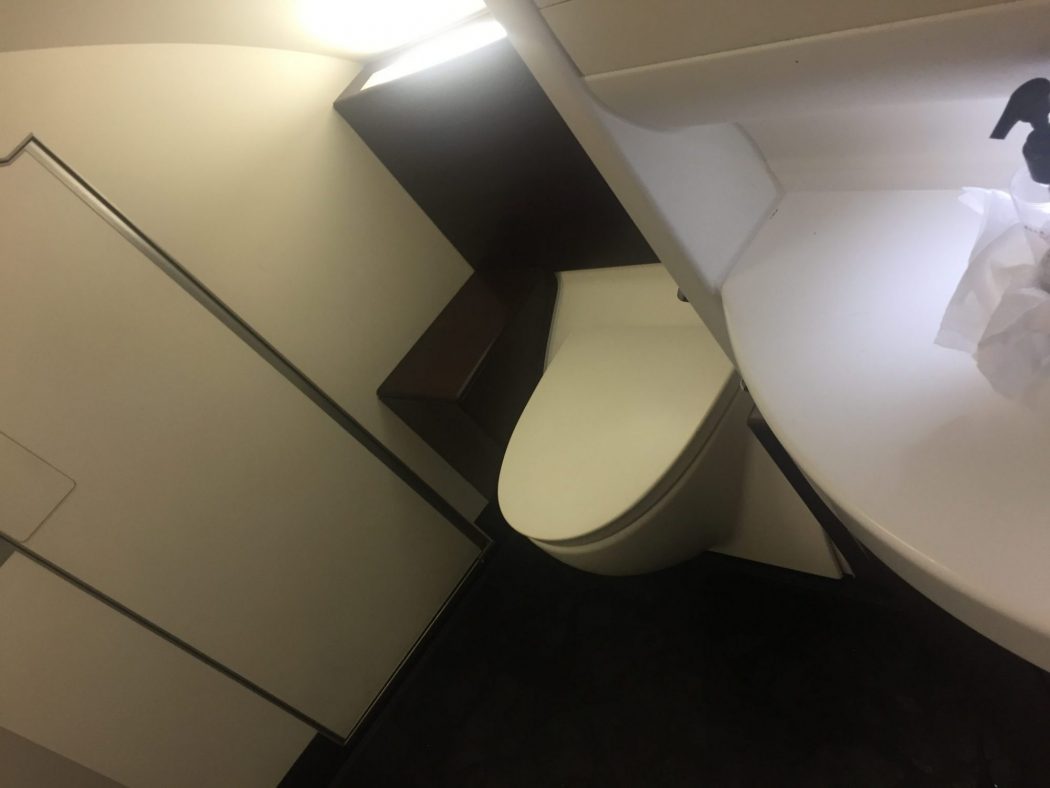 The in-flight toiletries weren't great – Porsche design? Acca Kappa body lotion and lip balm – never heard of them? The entertainment system is decent.
The selection of films was quite extensive as were the tv options. They are more extensive than say Etihad but less extensive than singapore, Qantas, BA etc. But enough of a choice to keep you going.
I was surprised that the entertainment options were the same on my return flight in January as they were heading out in December. I also flew from Kuala Lumpur to Bangkok business with Malaysia airlines.
This was a more old-fashioned business set up with wide reclining seats but no beds – not that this was needed. It was a decent enough business class for a 2-hour journey.
⇒ And definitely log in to 12Go when you're organising how you're going to get around Malaysia. This super easy to use platform has all modes of transport on the one platform and allows you to compare based on time, cost, and reviews.
Malaysia Airlines Business Class Review 2018 – The food and wine
The food was a highlight for me – although I highly recommend you go with the local cuisine options as they were by far the tastiest. The best thing was the satays provided not long after takeoff.
A man with a trolley piled high with chicken and beef satays comes around. The satay sauce is excellent. This is almost a giant amuse-bouche before you head into the starter, main and dessert.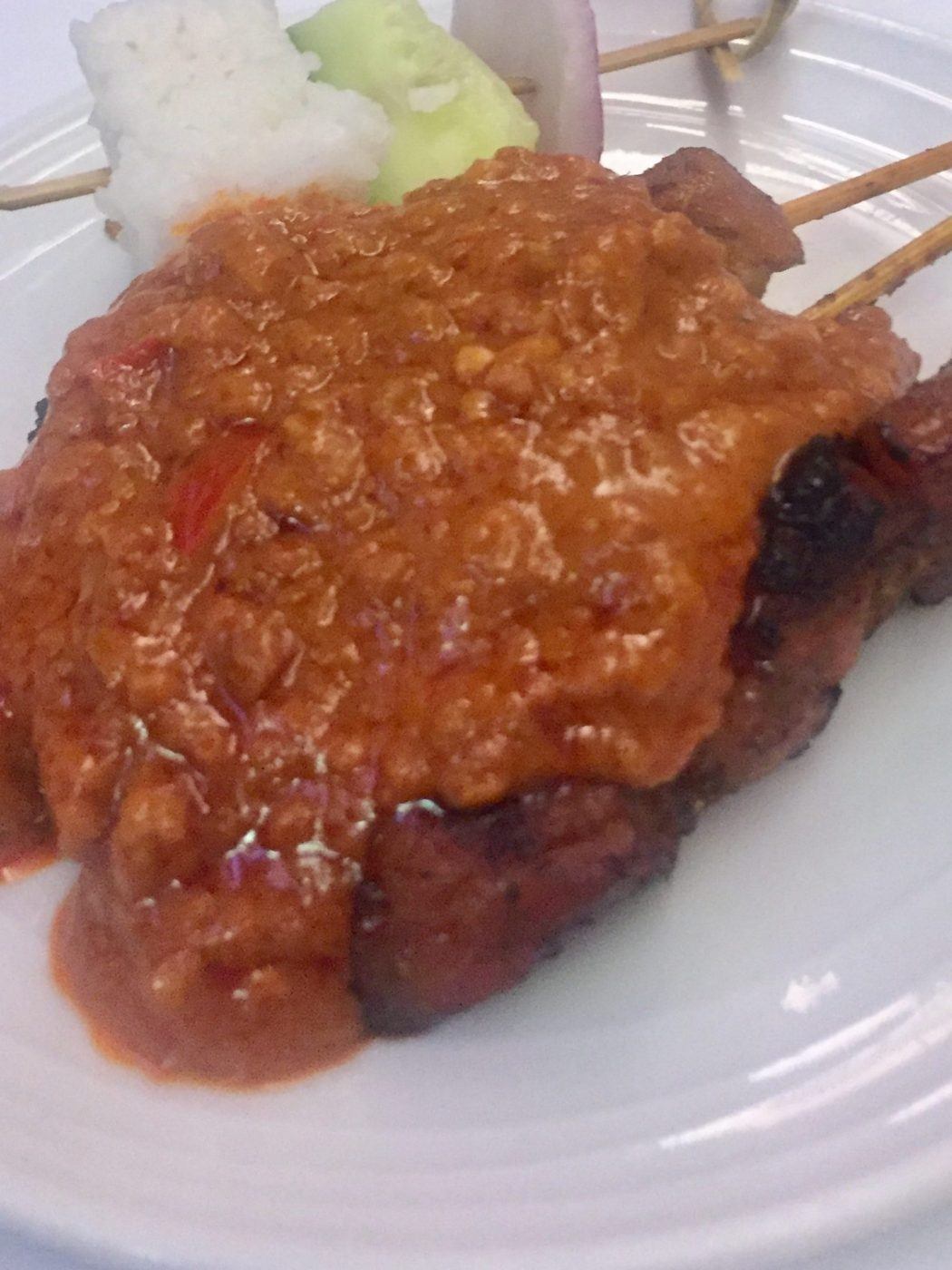 I had the chicken rendang and the ayam masak merah in and out – both of which were very good. The egg noodles dine anytime option wasn't as tasty – a bit more pot noodle plus. The Asian beef was a better option on return.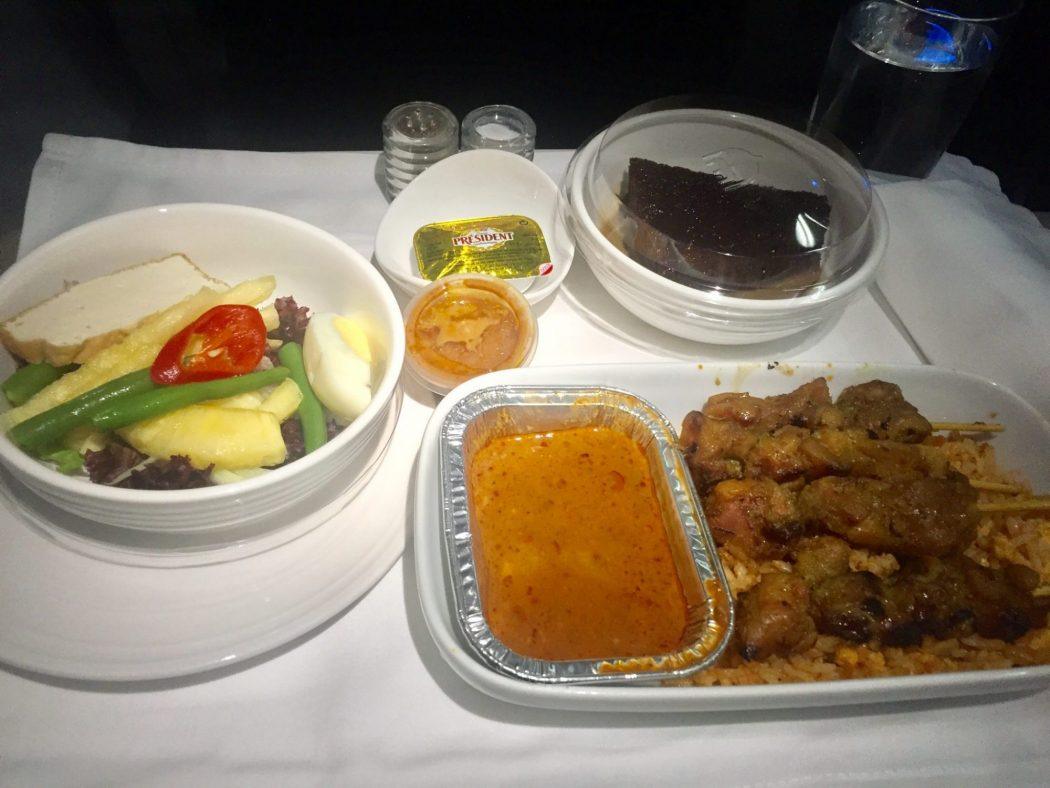 The beverage selection was good. Proper French champagne. They had a nice Wairau River sav blanc as well.
⇒ Check out my Thai Airways Business Class Review [separator type="thick"]
Do you need a Visa?
It can be a real pain trying to figure out if you need a visa for a country and then all the hassle of figuring out how to apply, how long you can go without your passport, when the embassy is open etc.
iVisa has completely revolutionised this process and put it all online and make it super simple and paper and hassle free!
Malaysia Airlines a380 Business Class Review – The service
The service was good but not outstanding. It was a bit of a mix on the timeliness front – I waited a good 20 minutes for a drink once or twice but then everything else was very quick and efficient.
⇒ Check out my Iberia Business Class Review here [separator type="thick"]
Malaysia Airlines Business Class Lounge Heathrow & Kuala Lumpur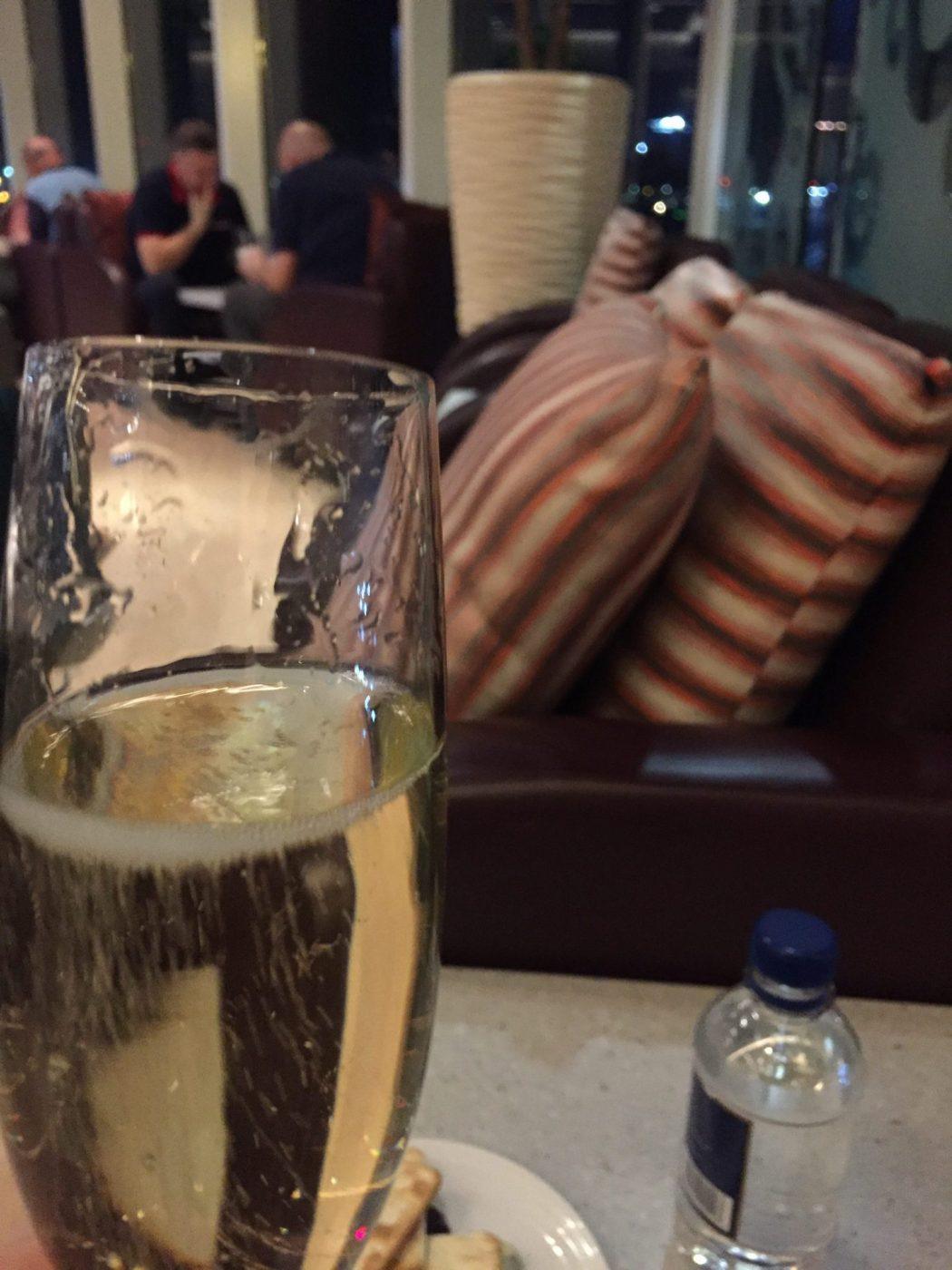 The Malaysia Airlines business class lounge Heathrow Terminal 4 was ok but nothing great. It is located near Gate 6 and is shared with Gulf Air. There is proper champagne which is very good.
However, I arrived at 8 pm for a 930pm flight and the food options were very limited and not particularly appealing. It is quite a small space and there were minimal snacks on offer. But the wifi was good.
Malaysia Airlines flies to wide variety of destinations: Austria, Brisbane, the Gold Coast, Melbourne, Perth, Sydney, Hong Kong, Rome, Japan, Kathmandu, Singapore, South Africa, South Korea, Thailand, Istanbul, Edinburgh, Glasgow, London, New York and Vietnam.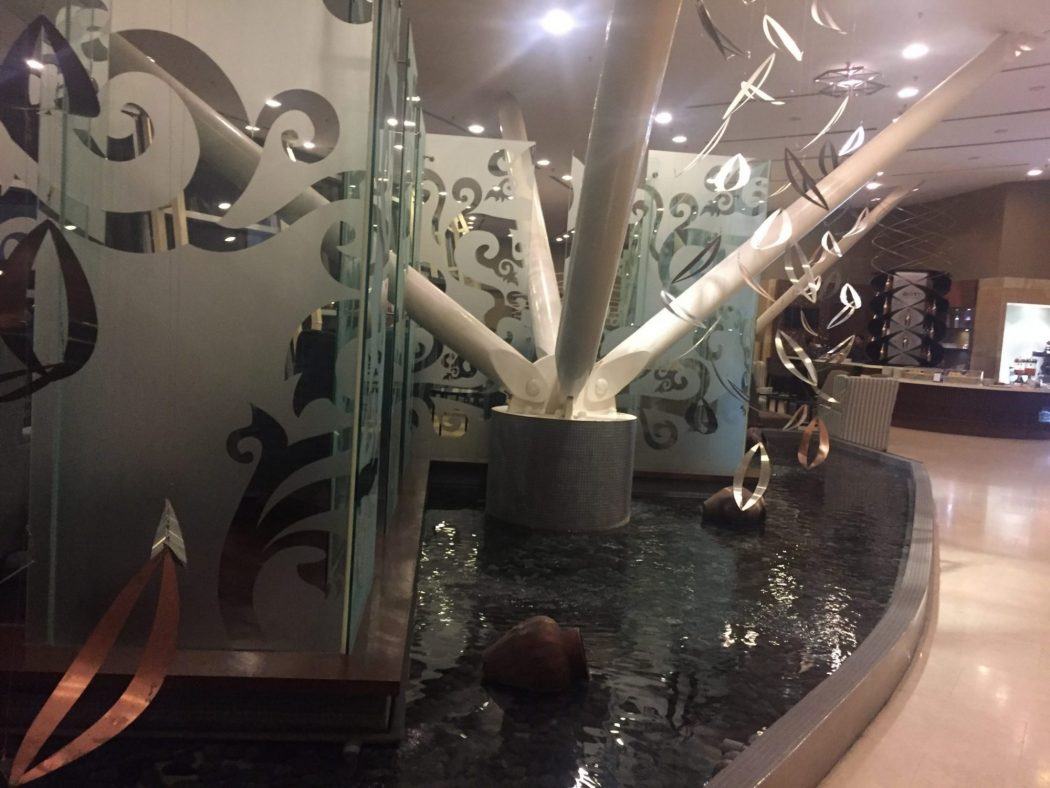 Arriving in KL Malaysia Airlines has 3 lounges. Kuala Lumpur is not exactly Changi – it is a dated airport. I used the lounge at H gate.
The entry was impressive but it wasn't as impressive inside. However, it did have a curry laksa bar which I tried and it was excellent.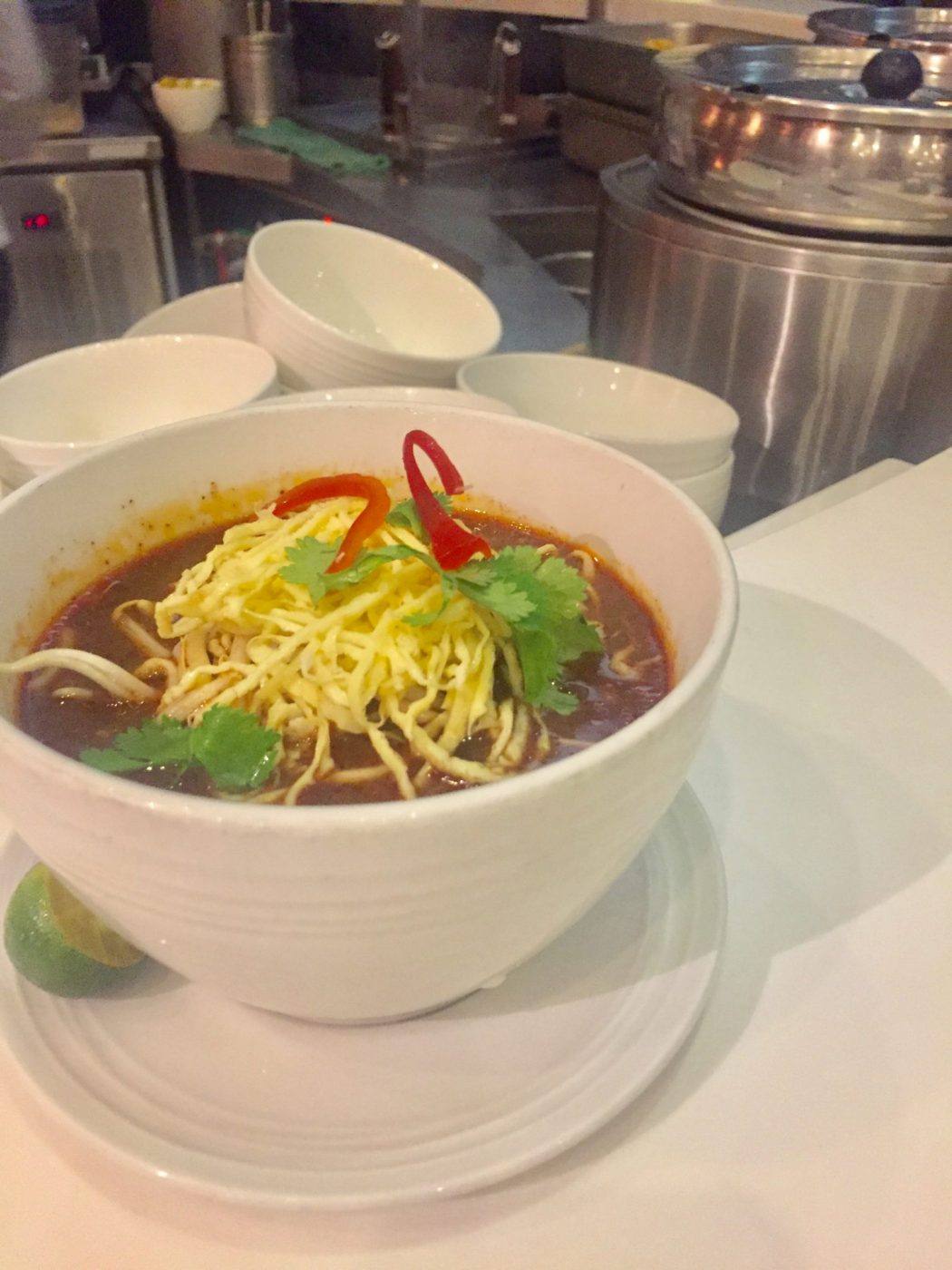 Heading out of KL I went to the lounge at the C gates which was much better. It is just above the trains that transport you across the terminals. It was a lot bigger and newer.
However, like the rest of Malaysia airlines, it did feel a bit old and tired.
⇒ Wanting to get a better understanding of the value for money in Premium Economy? Read my reviews of British Airways World Traveller Plus, Virgin Atlantic Premium Economy and American Airlines Premium Economy.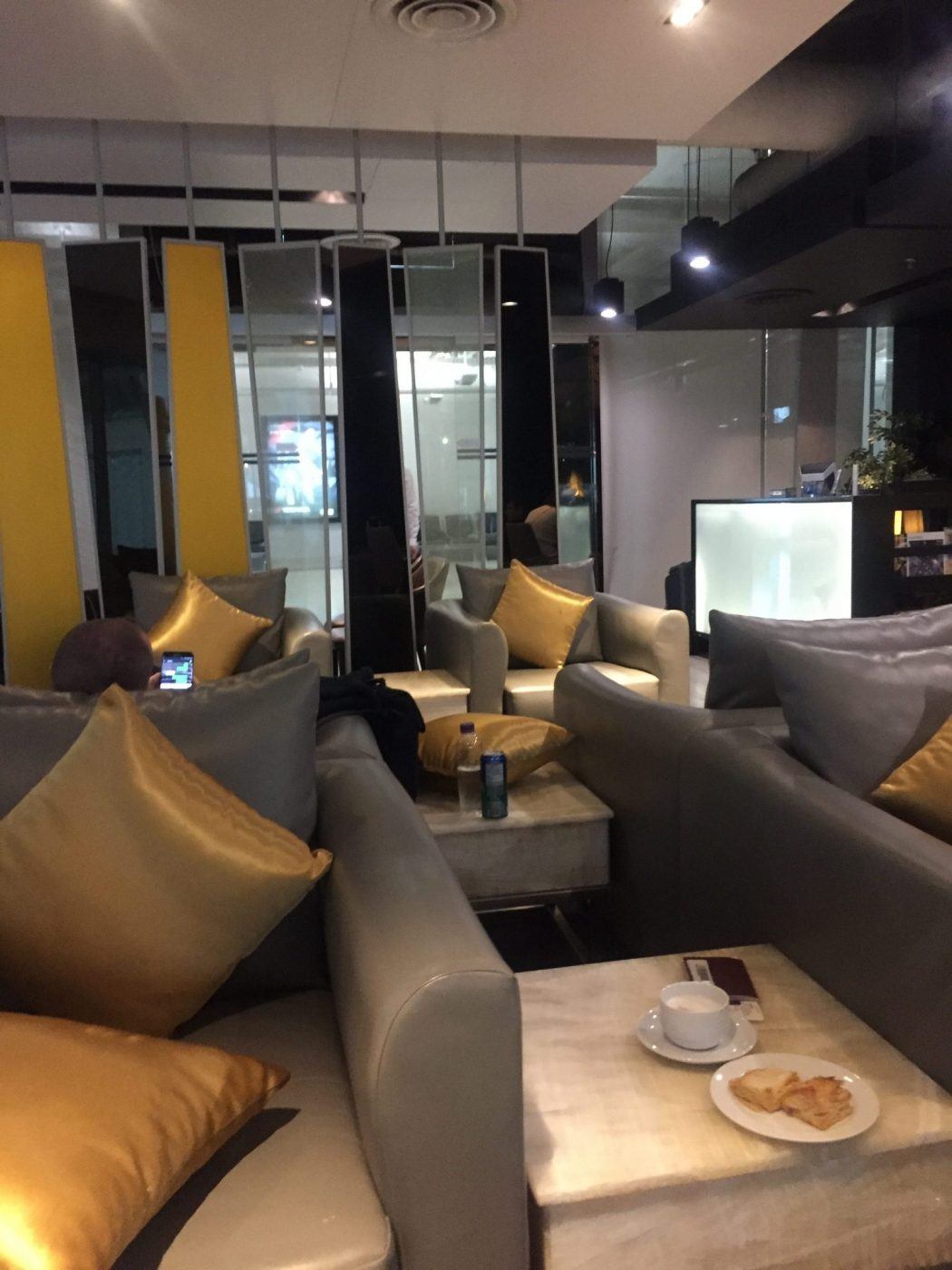 How Good is Malaysia Airlines?
Overall I would give the experience of flying business with Malaysia an average. I certainly think that Singapore, BA, Etihad and Qantas all offer a more modern and better business class experience.
However, obviously, I flew with Malaysia Airlines because of the price. Most importantly you can get a decent sleep on the plane and there are good food and wine options.
Perhaps if they modernized the lounges they would get me back again.
⇒ Business Class Flights to Malaysia
Boutique Hotels in Kuala Lumpur:
For a great value, comfortable hotel in the middle of everything check out Anggun. The friendly and knowledgeable staff will make your stay. Prices start from £53
⇒ Read reviews on TripAdvisor ⇒ Book Now
If you are happy to stay out of the heart of things try Villa Samadhi. It is located in the embassy district and has an incredibly instagrammable pool! Price from £165 per night.
⇒ Read reviews on TripAdvisor ⇒ Book Now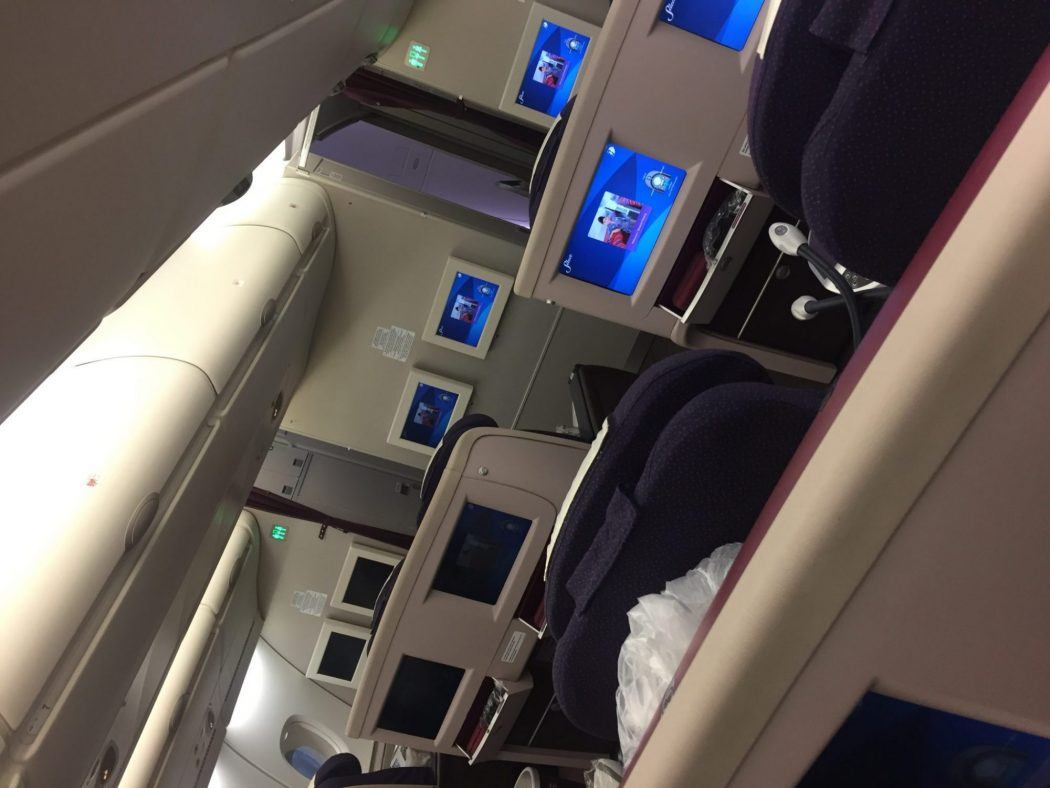 KL Journal Hotel is located in the Bukit Bintang entertainment industry. It is a very tech-friendly and hip hotel with free wifi, a communal work area, specialty coffee concept and even better a rooftop bar. Prices start from £65
⇒ Read reviews on TripAdvisor ⇒ Book Now
If you are looking to stay near KL international airport check out my review of the fantastic Sama Sama Hotel which is literally at the airport.
The transport links are fantastic and this is a great easy to stay in a super convenient hotel. Prices start from £88
⇒ Read reviews on TripAdvisor ⇒ Book Now
⇒ Read my Qatar Airways Business Class Review [separator type="thick"]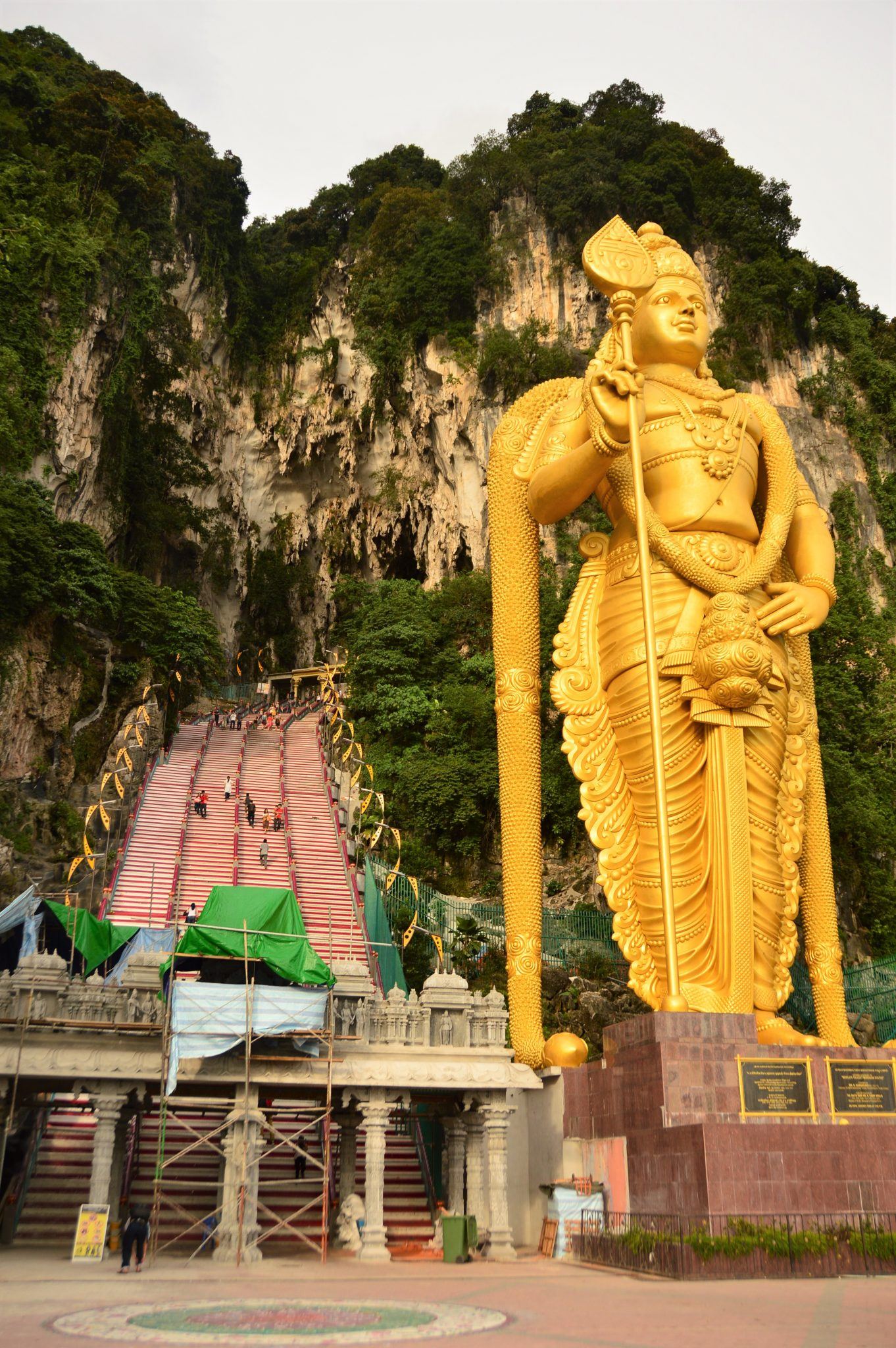 Guided Tour Options
If you're short on time somewhere taking a guided tour can be a great option. Get your own private guide for a Kuala Lumpur city tour, take a half-day local food walking tour to enjoy some of the great tastes of Kuala Lumpur, book a half-day tour with a local or take a Kuala Lumpur night tour.
Tours for Solo Travellers:
travelling solo to Malaysia? Here are a few group tour options:
Who Paid for What in this Malaysia Airlines Business Class Review Post
I covered all of the costs associated with writing this Malaysia Airlines business class review. This post does contain affiliate links. This means if you click through on them and end up making a purchase I will receive a small commission. I wanted to make sure that you were aware of this.
[separator type="thick"]
READ NEXT: REVIEW OF Air France BUSINESS CLASS
[separator type="thick"]
Like this Malaysia Airlines Business Class Review post? Why Not Pin it?