From trendy restaurants and cafes to upscale homes and antique shops, the expansive stretch of Long Island, New York, is the place to be.
But city life is not all the 'island' has to offer. Long Island is home to one of the best small towns in New York. And with many farms, fields and mazes to visit, you truly can have the best of both worlds when visiting Long Island. We particularly love the sunflower fields!
Where to See the Sunflower Fields in Long Island
If you're in the mood for a family-fun farm day but you're just not sure where to start, here are 13 of the best sunflower fields and farms in Long Island.
And, if you just can't get enough of sunflowers, here are some more sunflower fields in New Jersey.
1. Waterdrinker Family Farm & Garden
Located in Manorville, on the corner of Wading River Road and South Street, is the Waterdrinker Family Farm & Garden. This farm is perfect for the whole family, including your furry little friends.
Waterdrinker Farm is open from 9am to 5pm everyday, and until sunset on Fridays and Saturdays. Be sure to bring your camera along for the spectacular sunflower sunsets.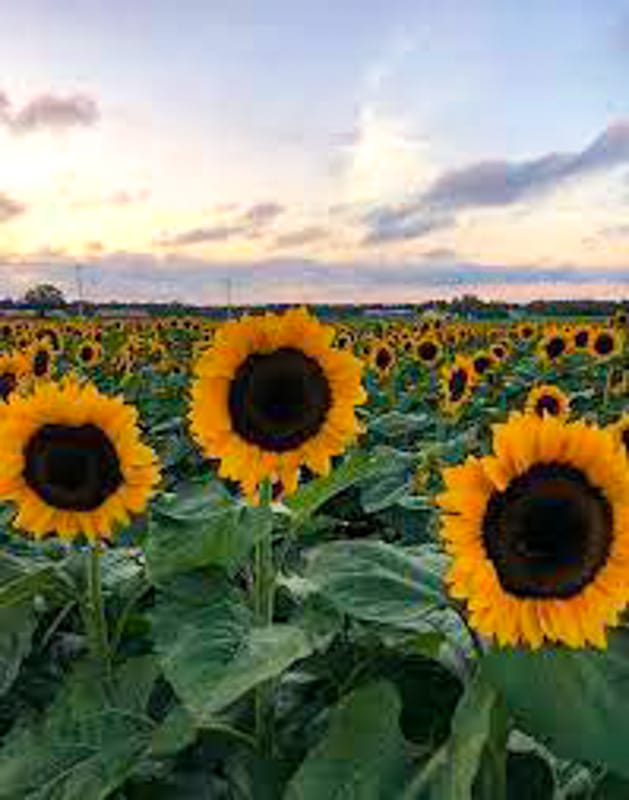 Aside from the sunflower mazes, a greenhouse, mini-golf and so much more, be sure to keep an eye out for some of Waterdrinker's annual festivities. These include the Fall Festival and Winter Wonderland, and of course the Sunflower Festival. And if sunflowers aren't the only flowers you fancy, there's even a Tulip Festival.
2. Manor Farm Sunflower Maze
Hand-planted sunflowers and harvest festivals – that's all you need to know to draw you to this gorgeous little farm. With the help of some volunteers like high-school kids or even boy-scouts, these sunflowers are brought to life.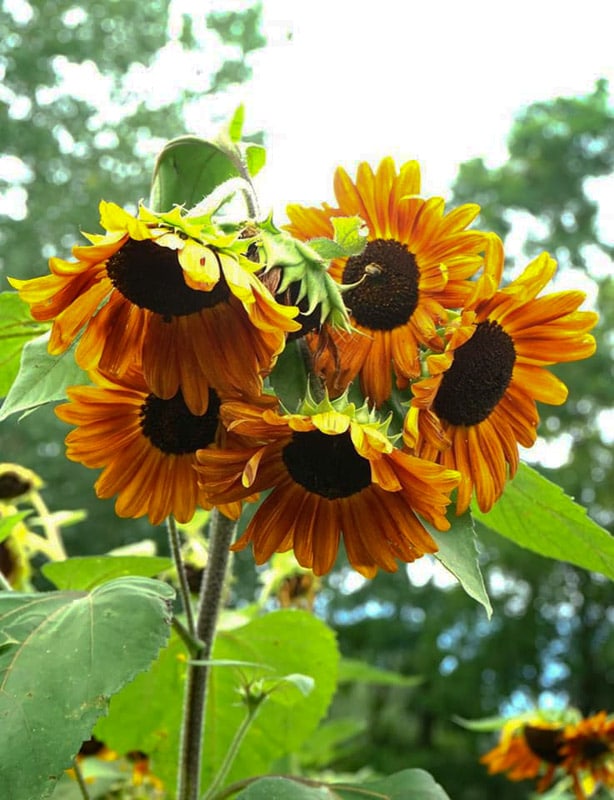 Manor Farm doesn't only offer the chance to see beautiful sunflowers. You can also expect stunning sunrises and sunsets, community yard sales, egg-hunts and more. Definitely the place to go for some sunshine and sunflowers.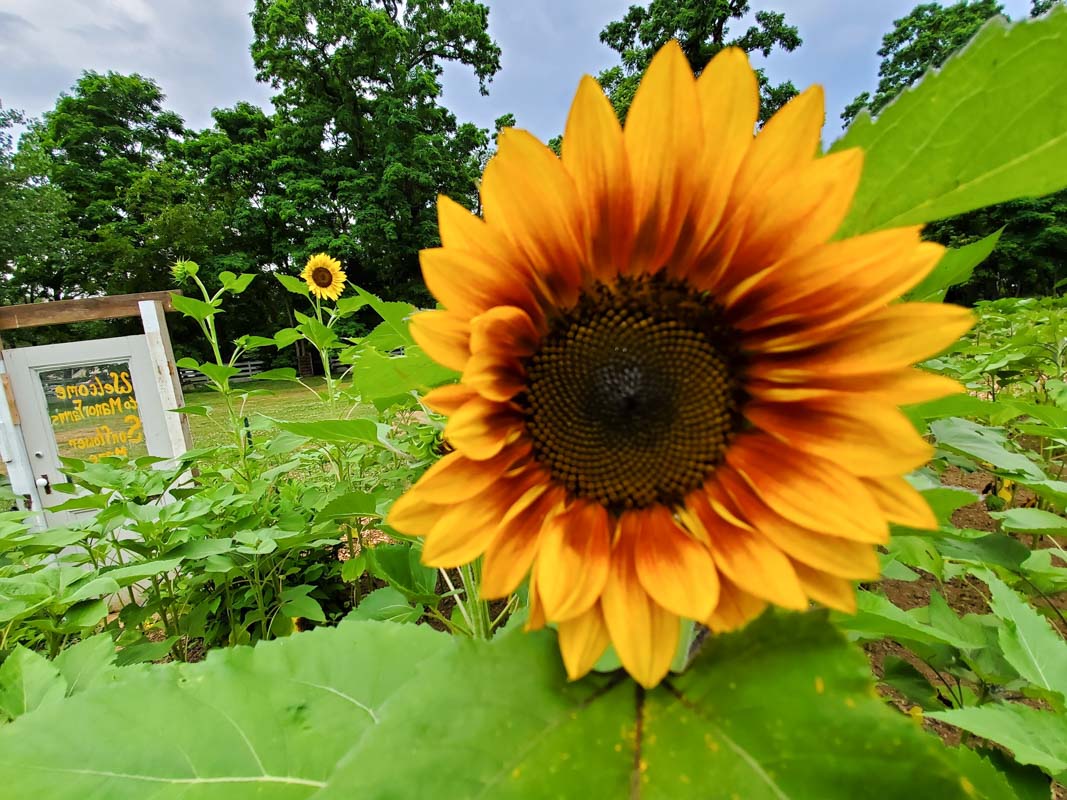 3. Rottkamp's Fox Hollow Farm
Rottkamp's Fox Hollow Farm will entice you with sunflowers of all different colors. From the classic, yet beautiful, yellow flowers to pink, maroon and even white ones. This farm has all the colored sunnies you could dream of.
By paying the $5 entry fee, you will be given access to roam the fields while eating yummy treats from the For Goodness Cakes Co. The perfect combo!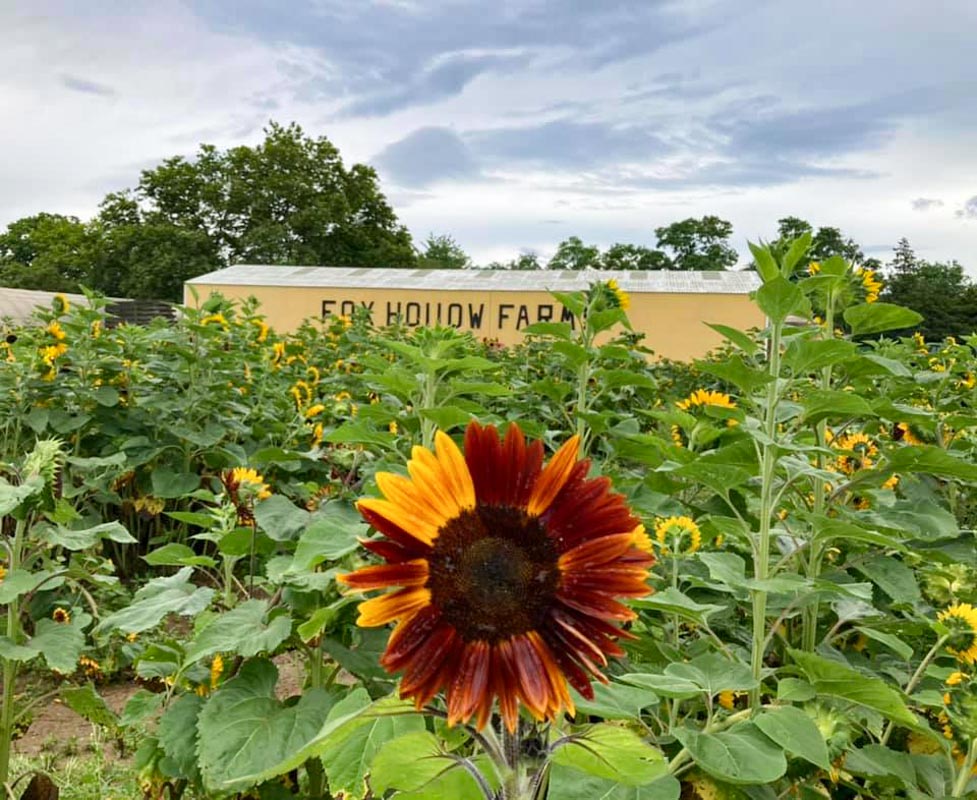 You'll also have access to corn mazes, hayrides, and a farmstand with the freshest produce in Long Island. Whether it's fresh fruits or delicious desserts, you'll be feeling satisfied by the end of it. So, you better prepare your sweet tooth for this one.
4. Pindar Vineyard and Sunflower Fields
Ever seen a sunflower that looked so beautiful you just had to have it? Well, here you don't have to steal it, simply grab yourself a basket and get picking for $2 a stem.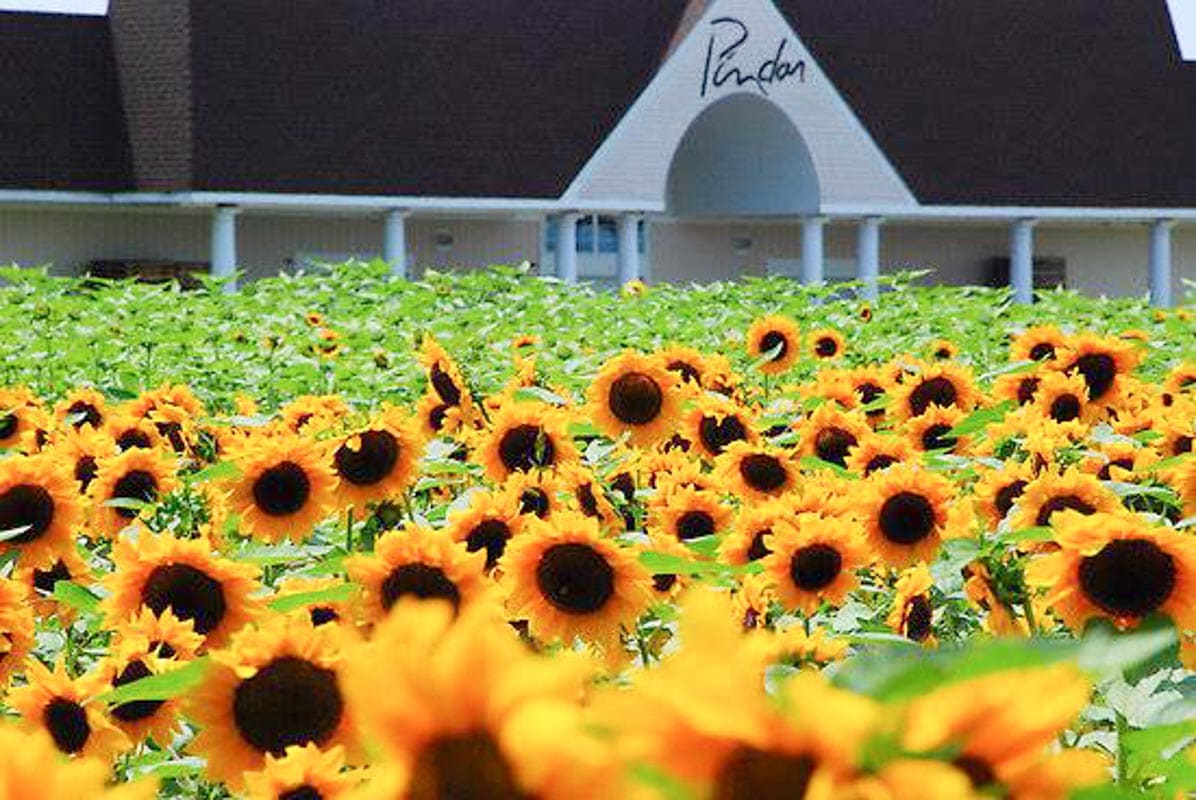 And after you've picked yourself a few sunflowers, why not sit down and enjoy some wine tasting on a Sunset Friday with vibey live music to top it all off. At Pindar Vineyard and Sunflower Fields, your sunny experience will give you all you need.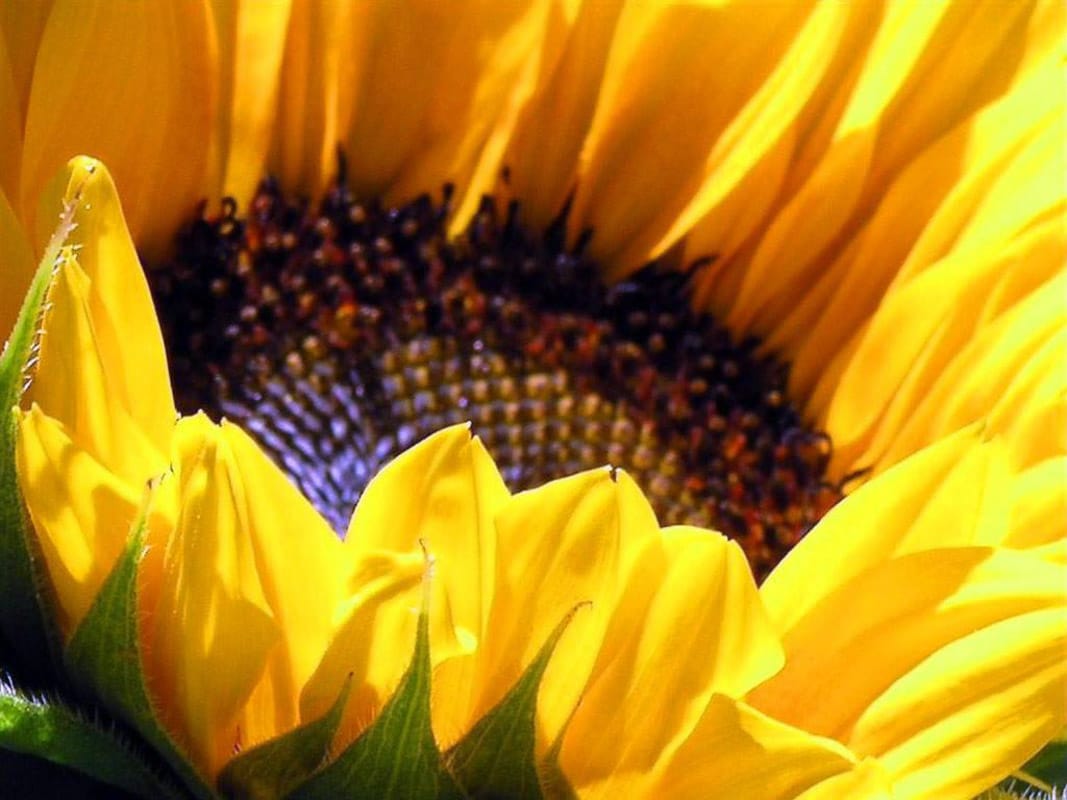 5. Crossroads Farm at Grossman's
Sunflowers and a farmer's market – what more could you ask for? Crossroads Farm brings you the best of both. With many different stands offering anything you could think of, you'll never get bored.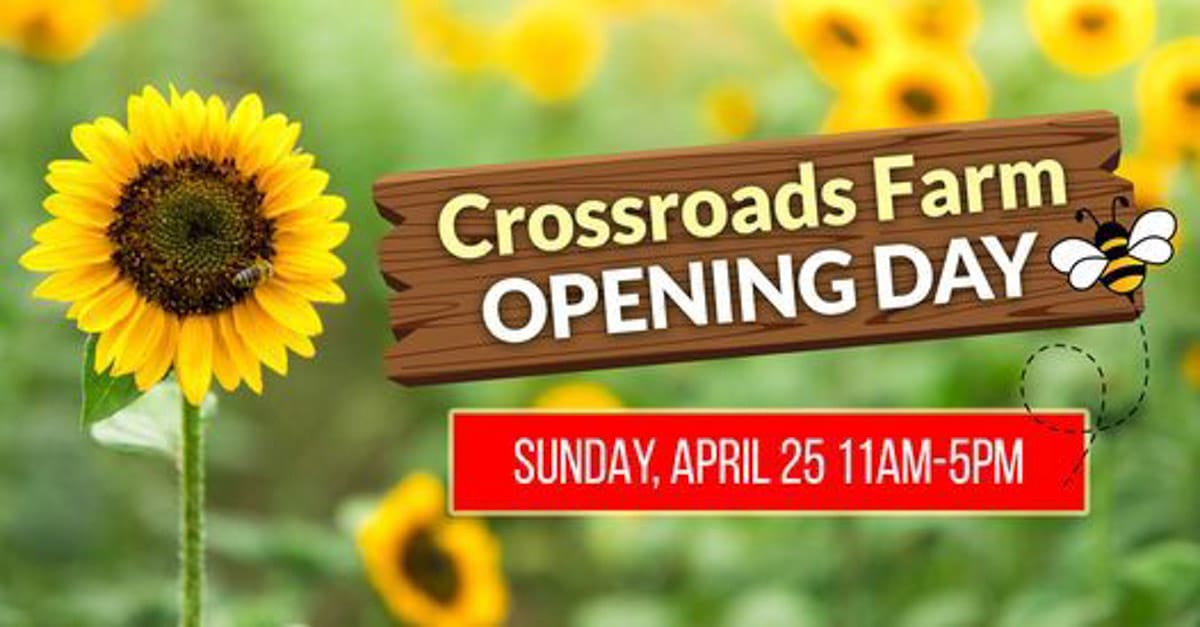 They even have a petting zoo for your little ones. Not to mention the live music. And the best part yet; you can leave this little experience with a little souvenir thanks to the convenient photography services.
6. Schmitt's Family Farm
This sunny spot is open 7 days a week. So, whenever you get the chance, don't miss out on Schmitt's Family Farm. Whether you want to pick some sunflowers or pumpkins, this place is bound to keep you busy.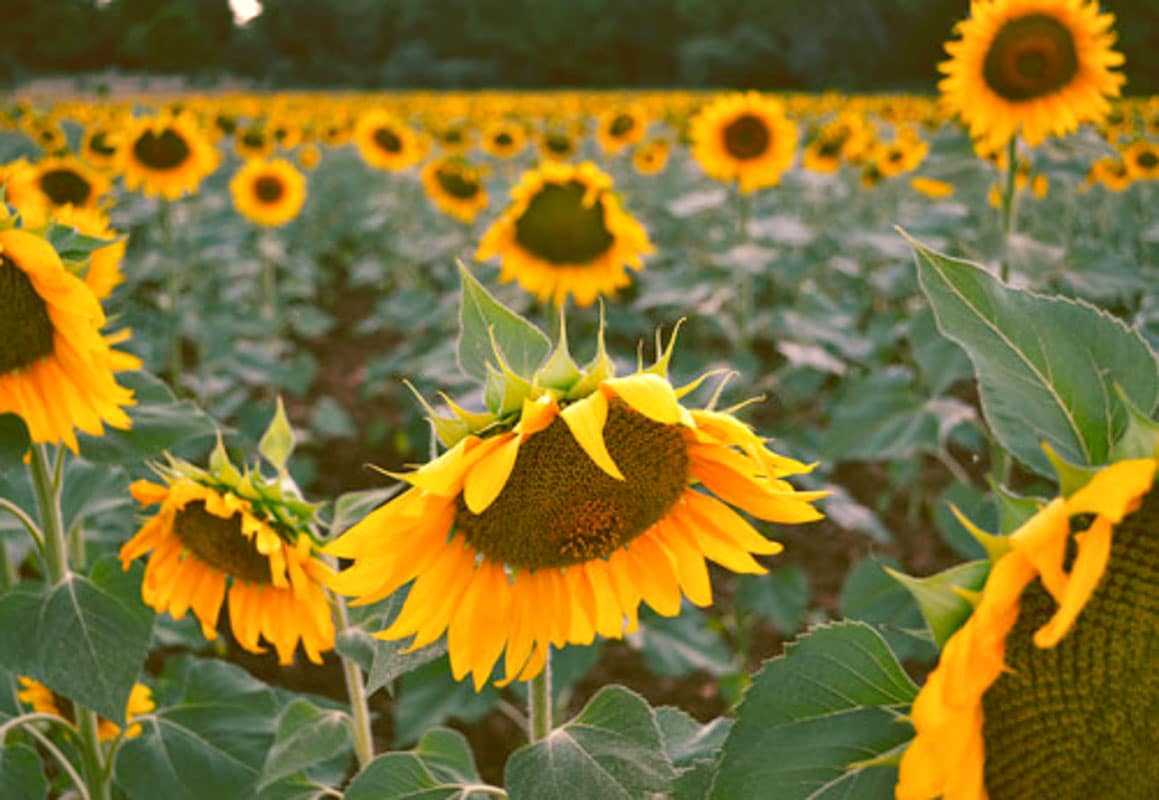 Looking to experience some of the best nature experiences in the United States? Check out my posts on the 15 Best Northern California Hot Springs, 13 Best Pumpkin Patches in Arizona, 9 Best Hot Springs in Washington State, 11 Best Pumpkin Patches in Las Vegas, 33 Historical Places in Florida, 3 Hot Springs in Steamboat Springs, 13 Spectacular Sunflower Fields in Long Island, 11 Pumpkin Patches in Houston, 13 Sunflower Fields in Illinois, 13 Hot Springs Oregon, 15 Stunning Sunflower fields in New Jersey, 13 Best Pumpkin Patches in San Diego, 10 Best Places for Hot Springs in the USA, 6 Best States to see Sunflower Fields in the United States, 15 Gorgeous Sunflower Fields in California, 15 Best Places for Cherry Picking in Michigan, 23 Hot Springs In Nevada, Radium Hot Springs Colorado, 29 Hot Springs in Montana, 21 Sunflower Fields in Ohio, 33 Unique Things to do in Florida, 33 Great Things to do in Destin Florida, 21 Awesome Things to do in East Texas, 13 Lakes in Southern California, 32 Best Places to visit in Bay Area, 13 Best Hot Springs in Pagosa Springs, 23 Things to do in Orlando for adults, 17 best stops on a Road Trip from Los Angeles to San Francisco, 21 Texas Coastal Towns, 7 Stunning Sunflower fields in Minnesota, 29 Hot Springs of New Mexico, 29 Idaho Hot Springs and 11 Terrific Texas Sunflower Fields.
Sunflower picking, mini golf, pumpkin patches – there's so much to do! For a fun-filled fall, this is definitely the place to be.
7. Patty's Berries and Bunches
At Patty's, you don't have to settle for picking only sunflowers, you can pick some fresh (and delicious) berries too. This pet-friendly farm really is the perfect place to go.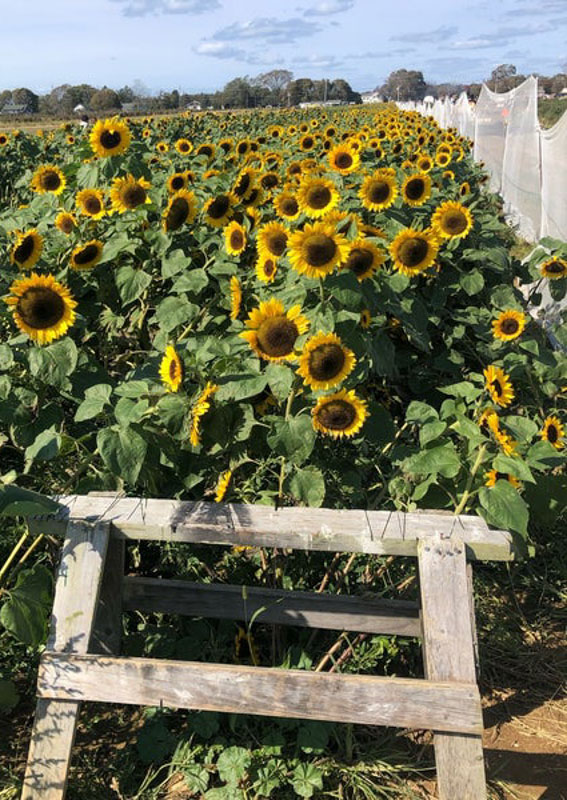 They offer yard art, live music, classes, and as if that wasn't enough, they even have homemade vegan ice-cream!
8. Shore Farms & Market
Sound Shore Farms is the perfect place for a stroll through the sunflower fields. You can even grab a few fresh goodies and sunflower souvenirs, as this is a U-Pick venue.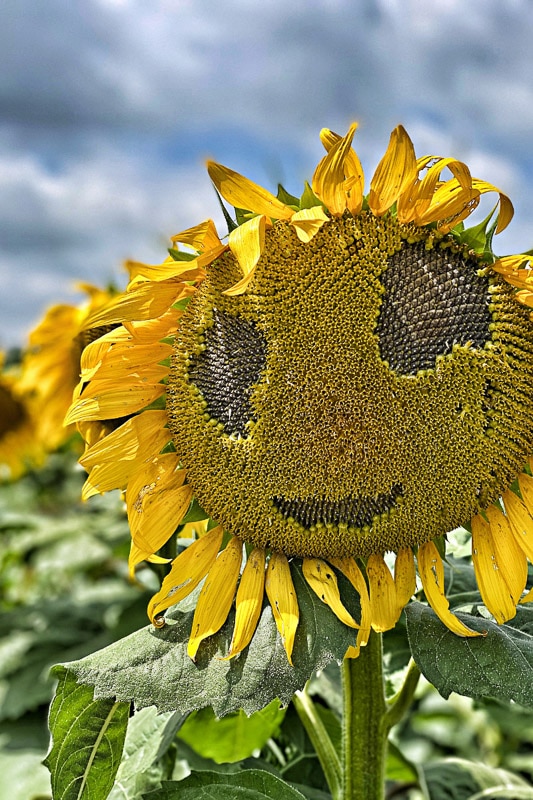 And if you're bored of the typical visit to the supermarket, why not grab some fresh produce from this lovely little fruit and veg market while you're visiting Sound Shore Farm.
9. Martin Sidor Farms
Not only is Martin Sidor Farms a gorgeous spot for a stroll through the sunflowers, but it's also a sunflower oil farm. Interestingly enough, they use their sunflower oil to make yummy potato chips, which you can grab on your way in or out.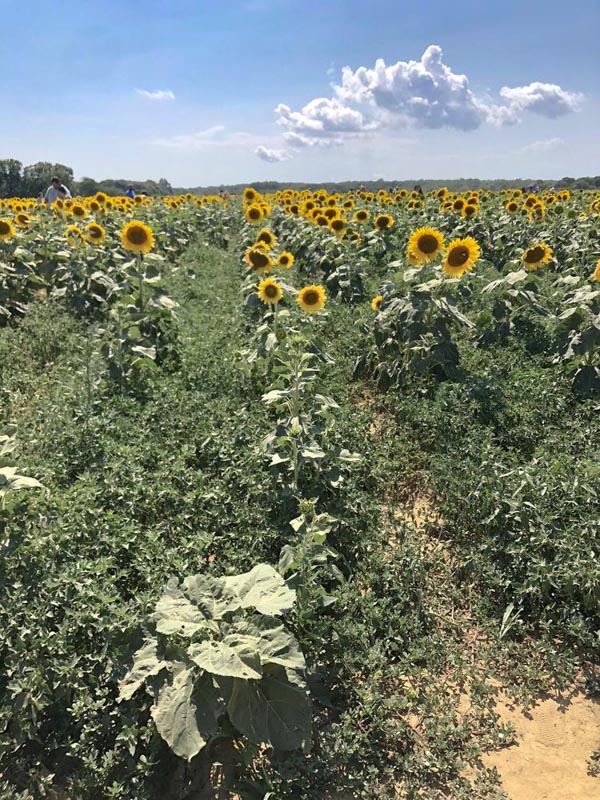 For a $7 admission, you'll be given access to so many different opportunities. Such as private photography lessons, proposal opportunities, yoga or even painting classes. What more could you want?
10. Bayview Farms and Market
Something about picking your own flowers and fresh, organic produce just sounds so appealing. At Bayview Farms, you get to do just that: hand pick your own sunflowers and fruit. They even sell artisanal treats like jam and honey, which are made with their own ingredients from the farm.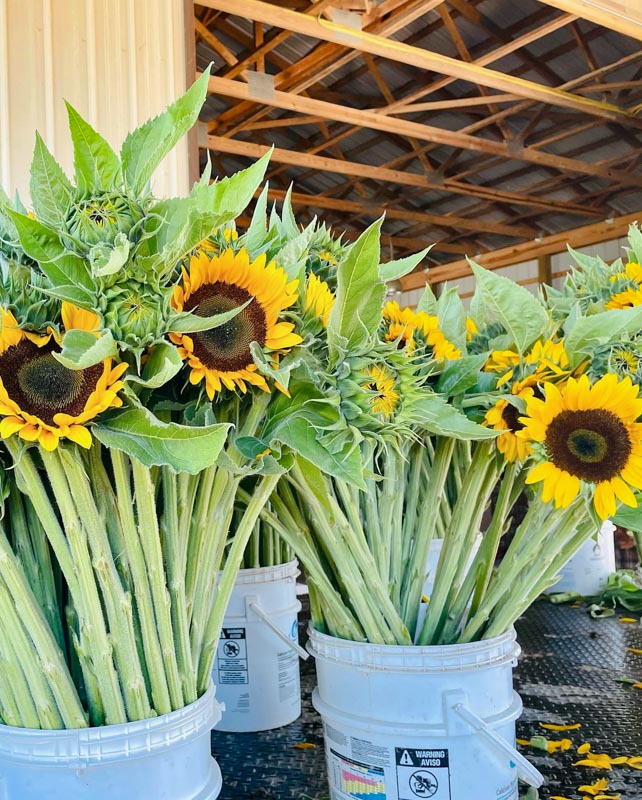 With different activities such as the food market, growing your own plants, or experiencing the different seasonal flowers, Bayview Farms is a must-see. And to top it all off, you can watch the sun go down behind a field of sunflowers.
11. Harbes Family Farm & Vineyard
With wine-tasting and freshly-cut sunflowers – Harbes Family Farm and Vineyard sounds like the perfect weekend activity. You can even bring the kiddies along to enjoy a barnyard adventure and some rather unique ice-cream flavors.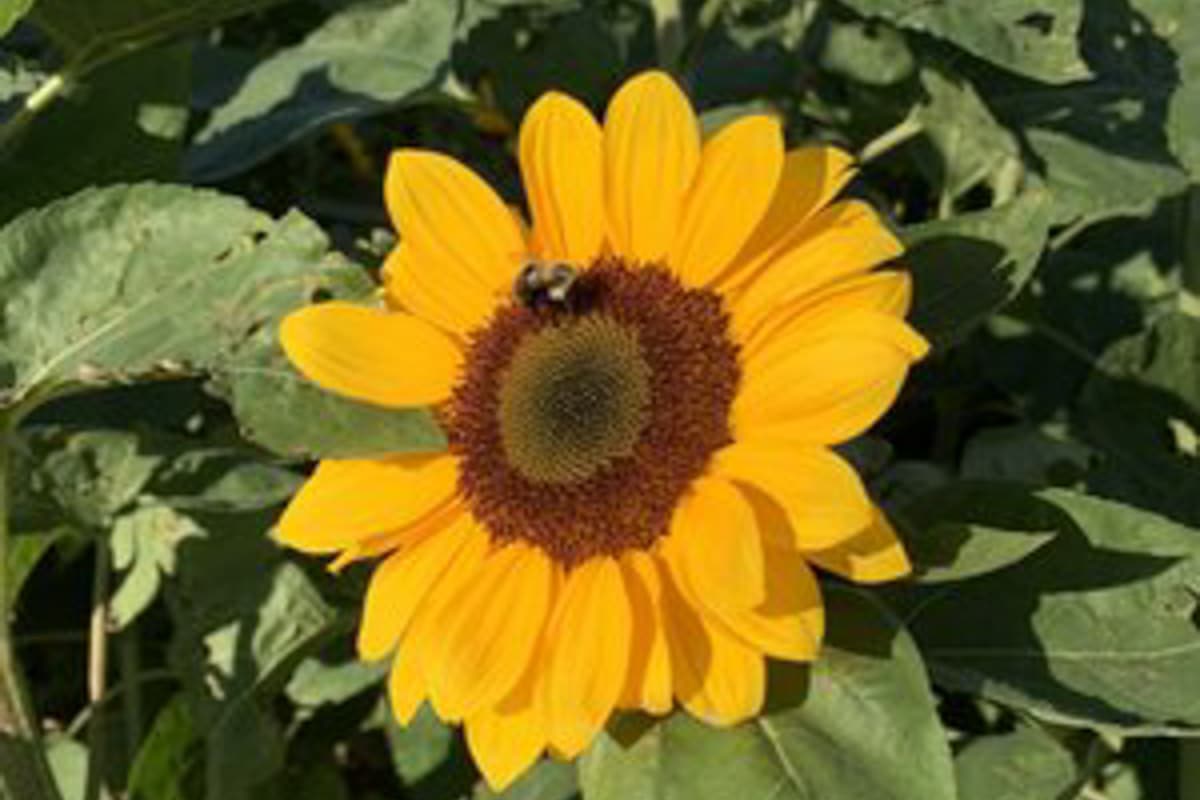 Not only is there something for everyone, but the whole family can enjoy an afternoon together as you take a walk through the stunning sunflower fields. You can also go apple picking or taste some delicious homemade desserts.
12. Briermere Farms
Briermere Farms is a fruit farm with a bakery that sells fresh fruit pies. It also has sunflower fields to top it all off. For $10 per person, you can take a lovely little stroll through the sunflower fields and end your day with a freshly-made pie or pastry.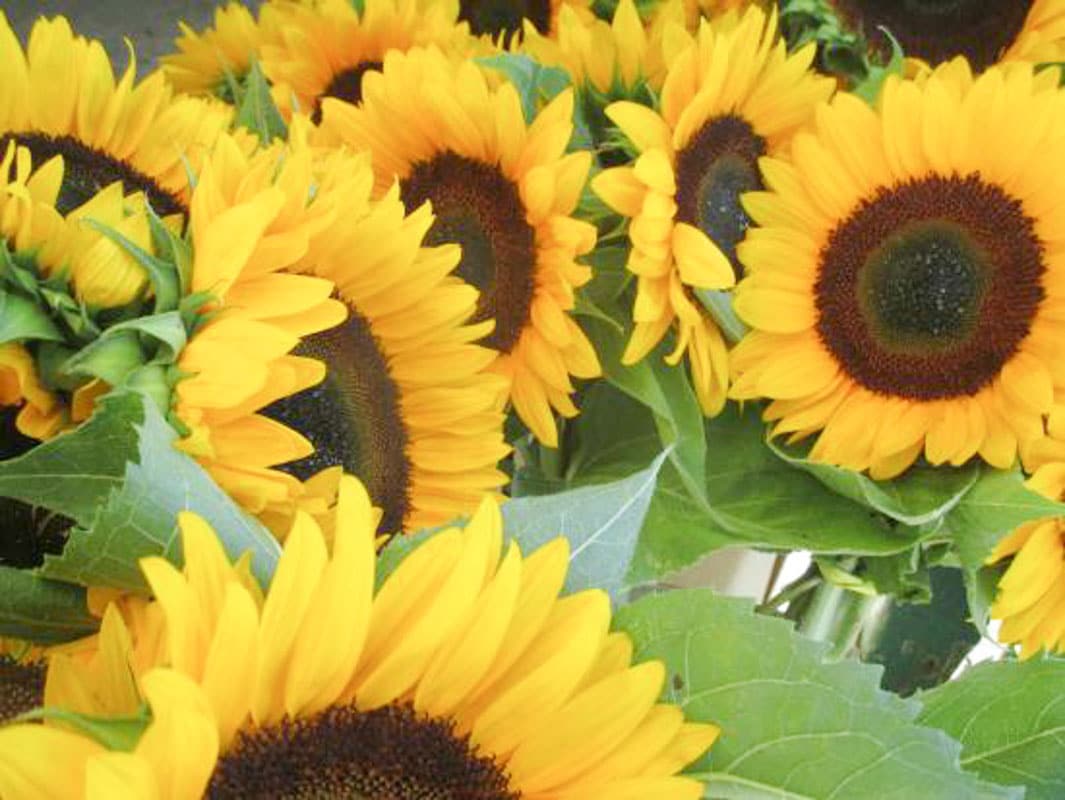 Not to mention they offer brand new menus every day!
13. Hank Hulse Farms
Formally known as a wholesaler of fruits and veggies, Hank Hulse Farms aims to offer you so much more. With corn mazes, U-Pick sunflower fields and a farmstand with the freshest fruits and veg – Hank Hulse has it all.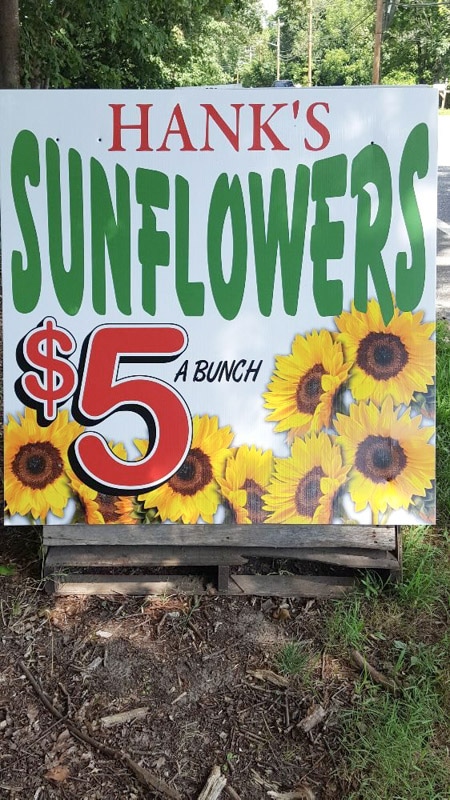 Be sure to soak up the sun as you stroll through the sunflower fields, and pick a few to take home.
⇒ Interested in heading to California? Check out my posts on Unique Restaurants in San Francisco, 15 Gorgeous Sunflower fields in California, Things to do in Calistoga review of the great Solage Spa, 19 awesome places to watch San Diego Sunsets, visiting Yosemite in One Day, 15 Best Northern California Hot Springs, 15 Best Places to Watch San Francisco Sunsets, 10 Stunning Sunsets in California and in Yosemite in October, 32 Best Places in Bay Area, 17 Great Stops on a Road trip from Los Angeles to San Francisco, 31 California Landmarks and my guide to a Livermore Wine Tasting.
Fun Facts about Sunflowers
Not all sunflowers are yellow – they also come in purple and red.

Sunflowers can range in height. There are two categories of sunflowers: tall and dwarf. Tall sunflowers tend to be yellow and durable and will reach between 12 and 16 feet high. Dwarf sunflowers tend to be grown in clusters in small gardens and pots. They are referred to as dwarfs because they tend not to grow taller than 3 feet. However, both sizes love the full sunlight.

Young sunflowers track the sun. Their face will follow the sun from sunrise to sunset every day and keep repeating this until they mature.

Mature sunflowers face East. Once a sunflower reaches maturity their internal clocks start slowing down. Also, sunflowers are more productively warmed when facing East and once warmer they can attract up to five times more pollinators.

Sunflowers are native to the United States. Although it is now harvested around the world, the sunflower plant is native to North America. North Dakota is the leading US state for sunflower production.

Thousands of tiny flowers create a sunflower's head. Each petal on the circumference of a sunflower is a unique flower. The long petals are called "ray florets".

There is a Teddy Bear Sunflower. These sunflowers are particularly bushy and spherical. They tend to produce double blooms which gives them a full fluffy head that looks like a teddy bear.

Sunflower Seeds are highly nutritious. They are loaded with minerals like potassium, calcium, magnesium and iron as well as vitamins. Plus they are a valuable source of protein, fiber and polyunsaturated fat.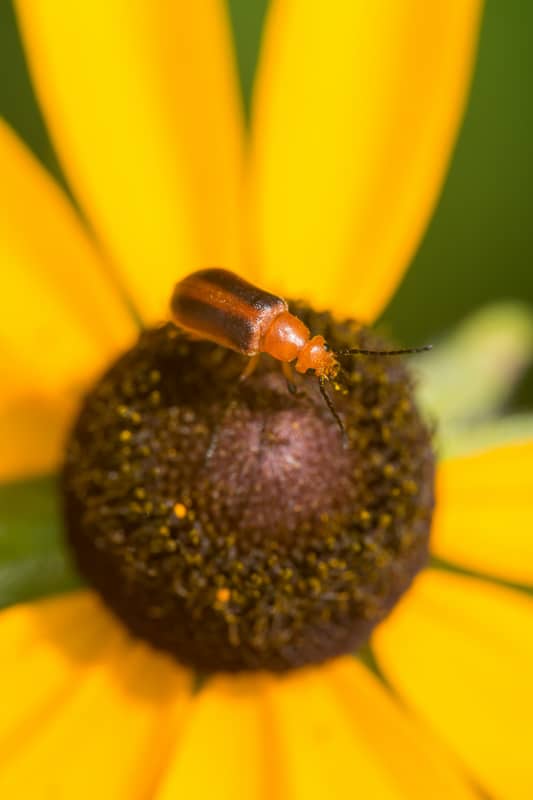 What Can I do with Sunflower Seeds?
Sunflower seeds are most commonly used in two ways. One is to eat them and two is to grow more sunflowers. Here's how!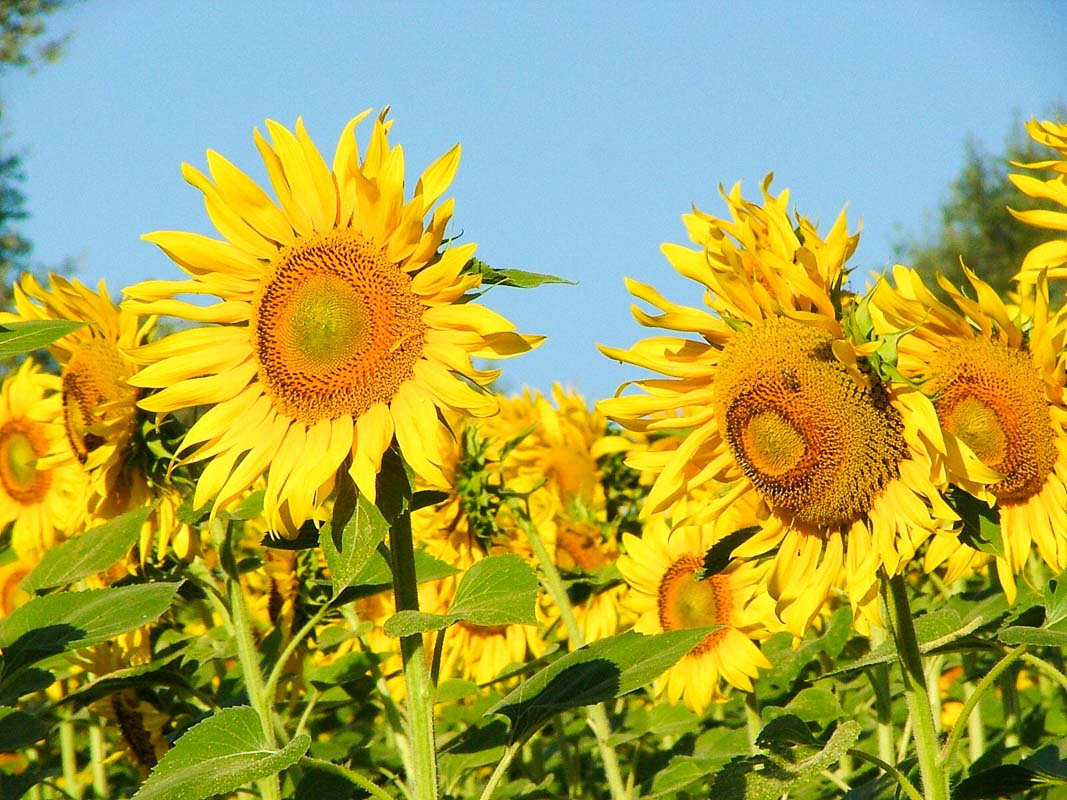 How to Cook with Sunflower Seeds
Sunflower seeds are often forgotten in the pantry but they are super nutritious and can also add great flavour to food. Here are six ways to cook with sunflower seeds:
Add to dough when making bread
Sprinkle on your salads for some extra crunch
Add to baked goods like muffins before putting them in the oven
Add to vegetables for more flavor – toast the sunflower seeds before or add them to the cooking method
Mix them in with your breakfast cereal
When making pesto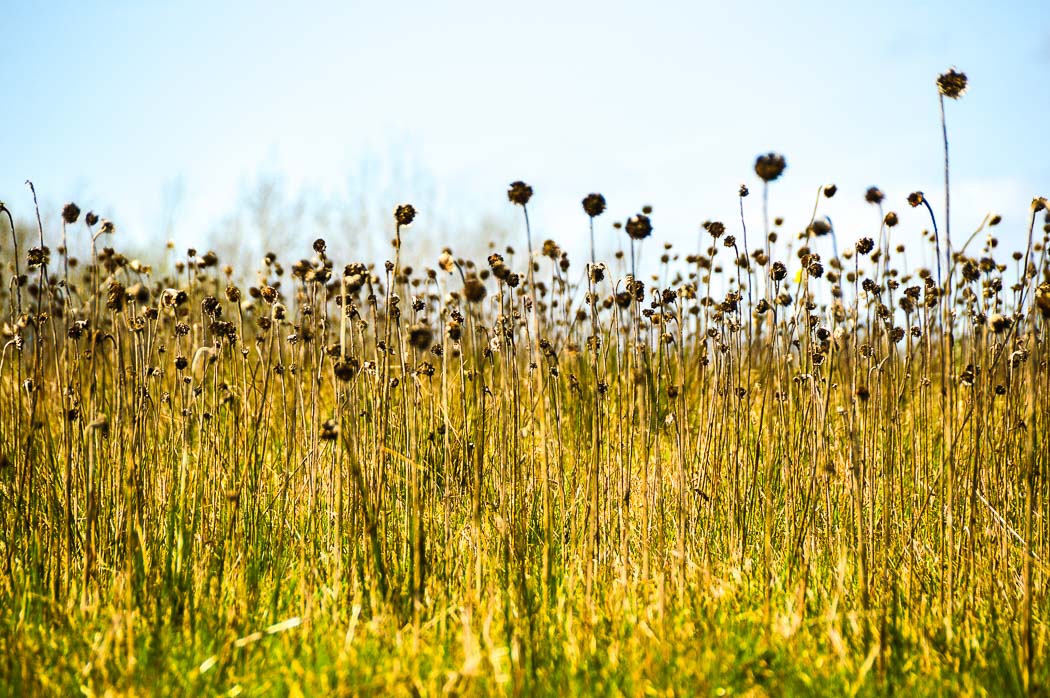 How to Grow Sunflowers at Home
It is relatively easy to grow sunflowers at home. Sunflowers like full sun but they also need a bit of shelter so they don't fall over. Against a wall or a fence is perfect. Literally sow the seeds where you want the sunflowers to grow. Place the seeds about 12mm deep and 45cm apart. Mid April to May is the best time of year to sow sunflower seeds. Give them a good thorough water at least once a week.
If you want to cut your sunflowers do so early in the morning and make sure you use a tall vase so that their heads are support.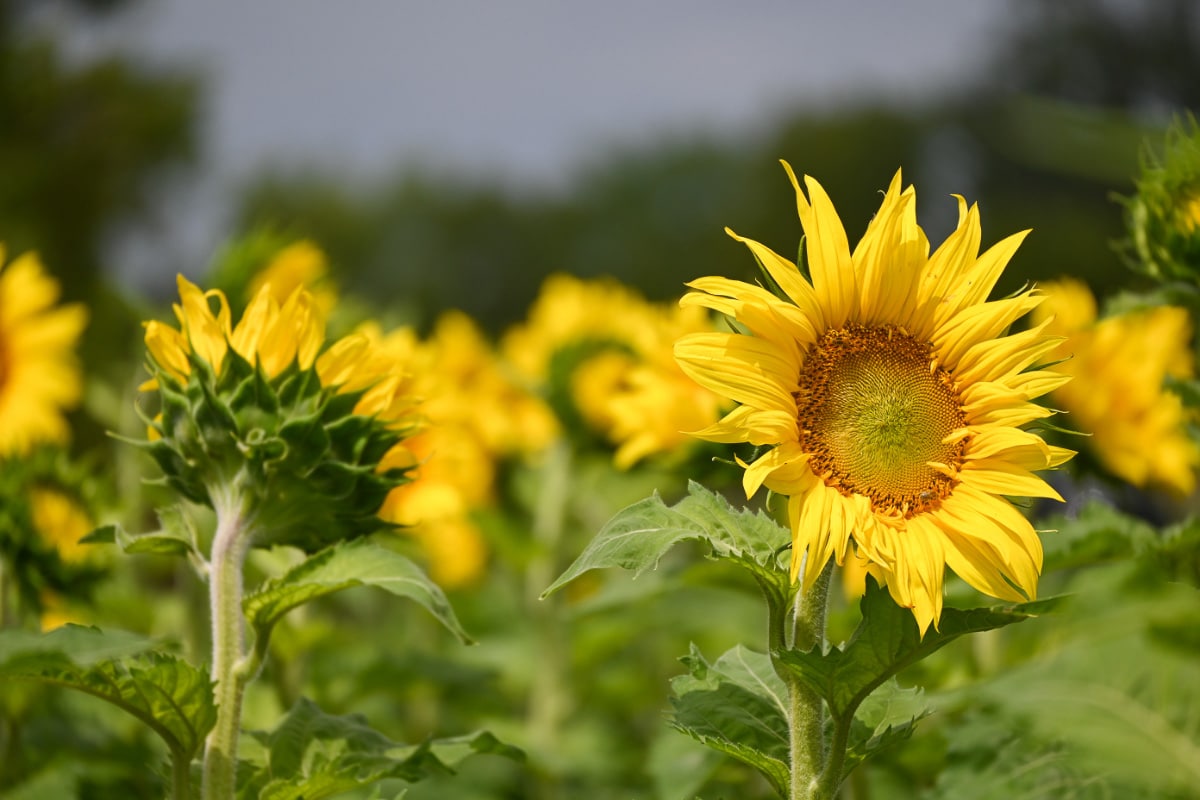 See the Sunflower Fields in Long Island
Well, there you have it. The best of the best sunflower fields in Long Island. So, grab your friends and family, your camera and maybe even a picnic basket. Then, take a drive out to Long Island for some summer fun in the sunny sunflower fields!
Now all you have to do is decide where to head first. And, if you're passing through Philadelphia on your way, here are some of the best places to visit!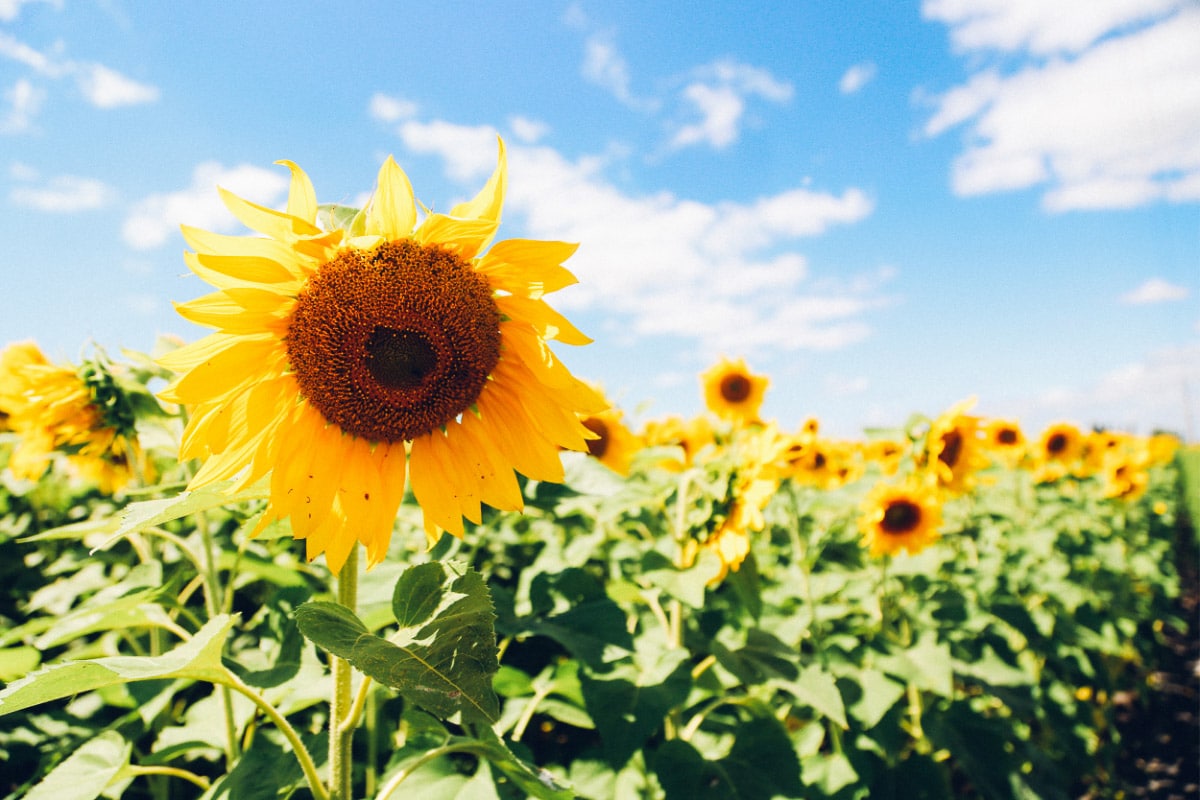 ⇒ If you're enjoying this article you'll love my articles on 15 North America Landmarks, the 10 Most Famous Landmarks in the US, 7 Most Beautiful Bridges American Bridges, 60 Most Famous Landmarks in the World, 9 Gorgeous Lakes Canada has on offer, 23 Must See Landmarks in Mexico, 15 Most Beautiful States in the US, 31 California Landmarks, 16 Most Beautiful Cities in Canada, 17 Washington DC Landmarks Not to Miss, 29 Arizona Landmarks, 11 Beautiful Canada Landmarks and the 20 Most Beautiful Cities in the United States.
Check out my post on the Best States to See Sunflower Fields
Related Posts:
15 Sunflower Fields in California
I covered all of the costs associated with writing this article. However, this sunflower fields in Long Island post includes affiliate links. That means if you click through and end up making a purchase I will receive a small commission. I wanted to make sure you were aware of this.