Are you flying into Chicago for a vacation in Illinois? Alongside the architecture, art, and beautiful blue water beaches, this windy city offers sunflower fields in the farms nearby.
You may have noticed incredible sunflower fields in Minnesota, North and South Dakota, Texas, New York, and even Ohio. However, the Prairie State's farms offer unique art classes, farmers' markets, and mazes to keep you entertained as well.
Read about 13 sunflower fields to visit in Illinois to best plan your trip.
13 Sunflower Fields in Illinois
While North Dakota is the U.S. state with the highest production of sunflowers, Illinois offers visitors incredible sunflower fields, farmers' markets, guided tours, and fresh produce to pick.
Note: If you are a photographer looking to do a shoot, check with the farms as some require permission and others charge a fee.
1. Von Bergen's Country Market
​​Location: Route 173, Hebron, Illinois
Time: 1-hour 16 minutes
Von Bergen's hosts a Sunflower Festival with over 30 acres of sunflower fields, opening with a maze on the 5th of July. You can book an after-hours class to learn to paint while surrounded by sunflower fields.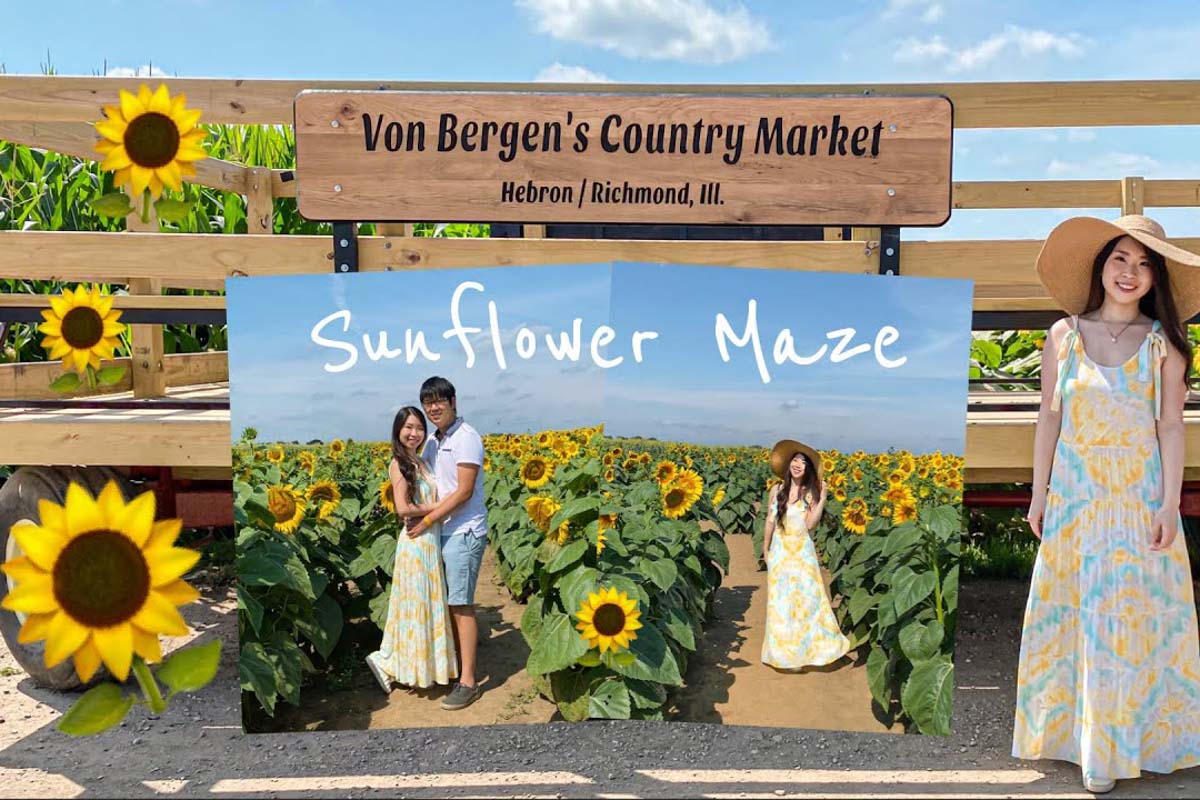 Visit the farm and market daily from 9 am to 6 pm on Monday to Thursday and enjoy extended hours until 8 pm on Friday to Sunday. Pay less than $10 for admission (even less for kids) during weekdays, or add a couple of dollars to enjoy weekends here.
2. M & D Farms and Garden Center
​​Location: Bell Road, Homer Glen, Illinois
Time: 35-minutes
Travel from Chicago to the pet-friendly M & D Farm's jaw-dropping sunflower fields located 30 miles from Chicago. Sunflowers open in August and you can find some of them to take home. In summer, the farm typically grows Arkansas tomatoes, red potatoes, onions, and multi-colour sunflowers.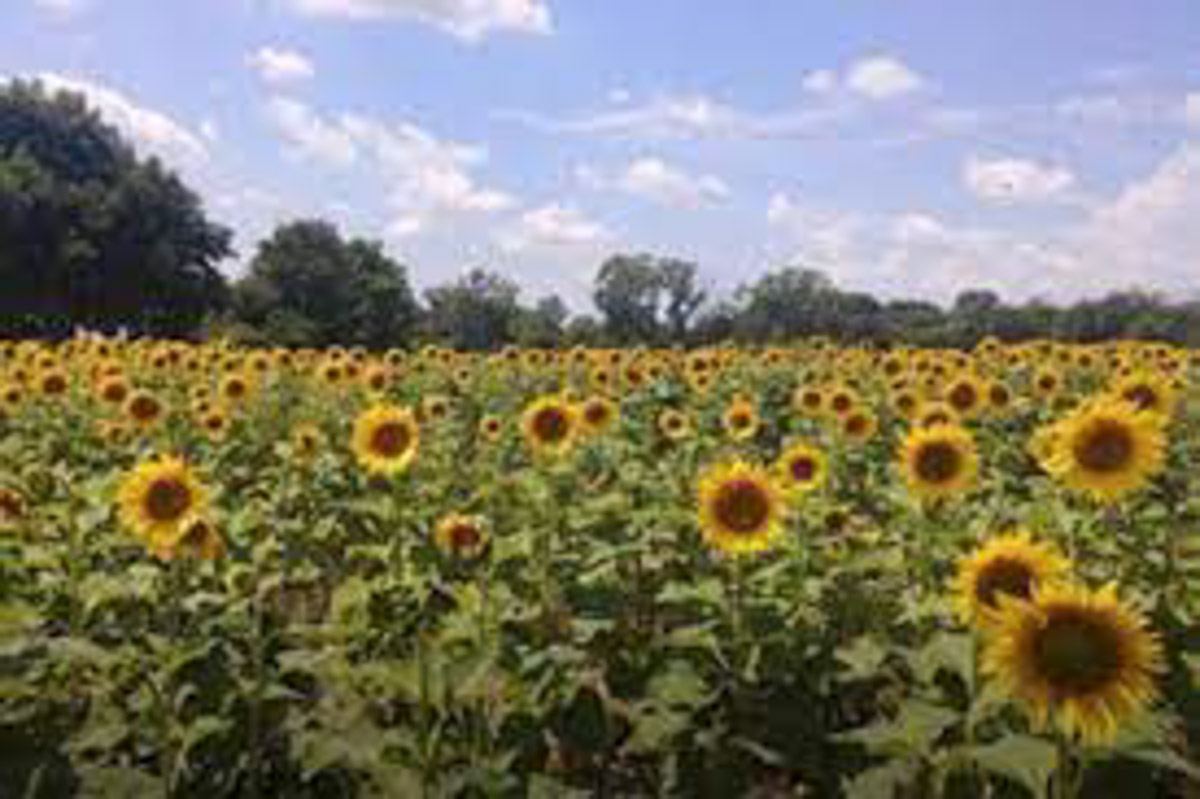 The farm and garden centre open from 9 am until 6 pm during the week and close at 5 pm on Saturdays and 3 pm on Sundays.
Note: Fields close 30 minutes before the farms closing time
3. Stade's Farm and Market
​​Location: Miller Road, McHenry, Illinois
Time: 1-hour 10 minutes
Travel close to the Wisconsin border to visit Stade's Farm and Market, located 60 miles north of Chicago in scenic McHenry County. Visit the sunflower fields in July and August before perusing the market for fresh produce.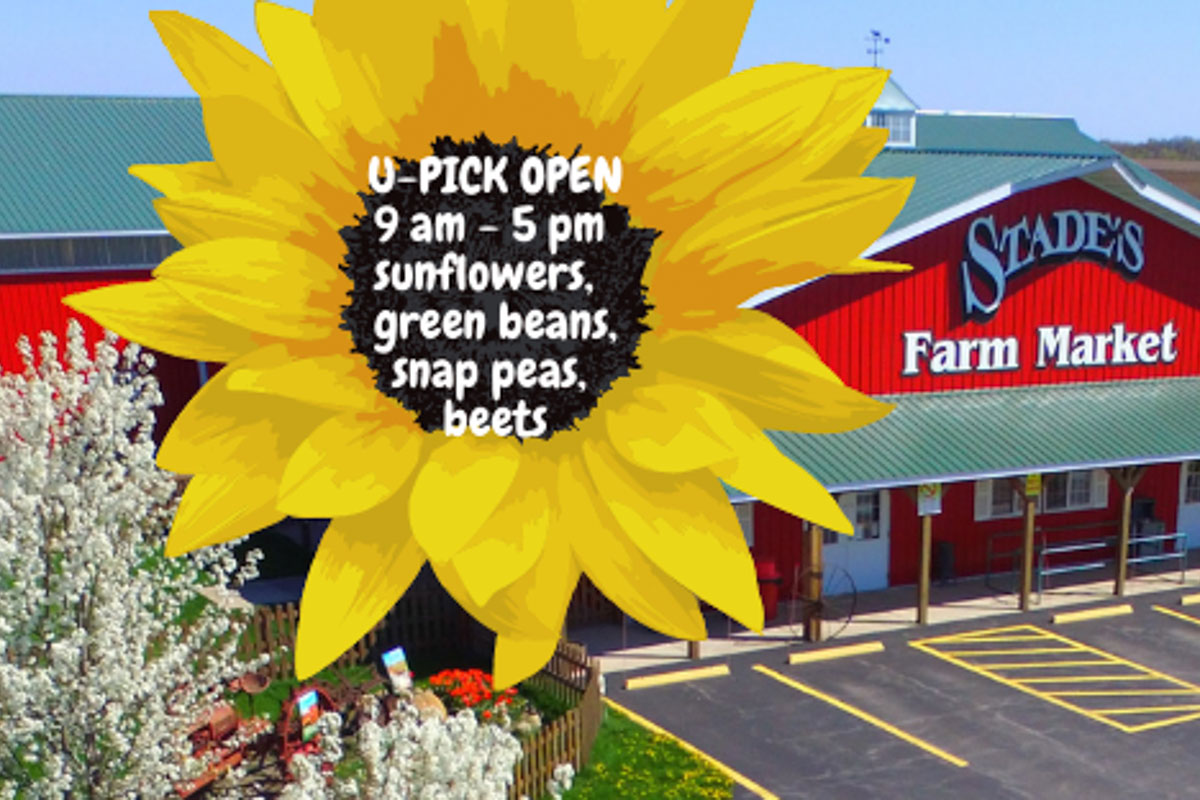 The farm has 2200 acres of fresh fruits and vegetables. Time your visit during the harvest, and you can pick zinnias, tomatoes, sugar snap peas, and more. Your kids will love the petting zoo, corn maze, giant slides, and hayrides.
4. Heap's Pumpkin Farm
​​Location: US Highway 52, Minooka, Illinois
Time: 1-hour
Start this 52-mile journey at the Route 66 end at the corner of Adam Street and Michigan avenue in Chicago for an authentic road trip feeling.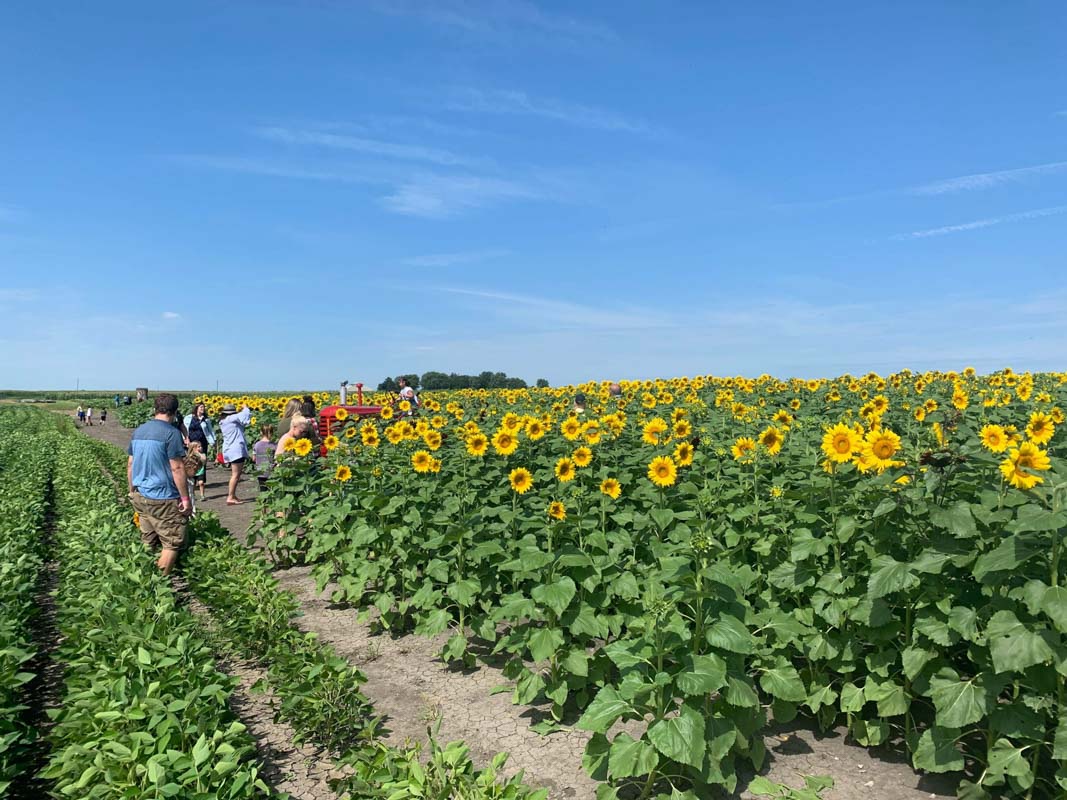 Once at Heap's Pumpkin Farm, a $12 day pass gives you one bloom to take home and access to all the activities. Explore the corn maze, soybean maze, kids playground, and more for a fun-filled time. The farm is picturesque and has over 5 acres of sunflowers and a zinnia patch.
5. Goebbert's Pumpkin Patch
​​Location: Reinking Road, Pingree Grove, Illinois 60140
Time: 50 minutes
Hop into the car for a 50-mile journey northwest from Chicago to Goebbert's Pumpkin Patch. The farm offers visitors a chance to take photos or cut sunflowers from a four-acre field. Summertime is the busiest at Goebbert's Pumpkin Patch, with the farm produce and u-pick vegetable fields attracting many visitors.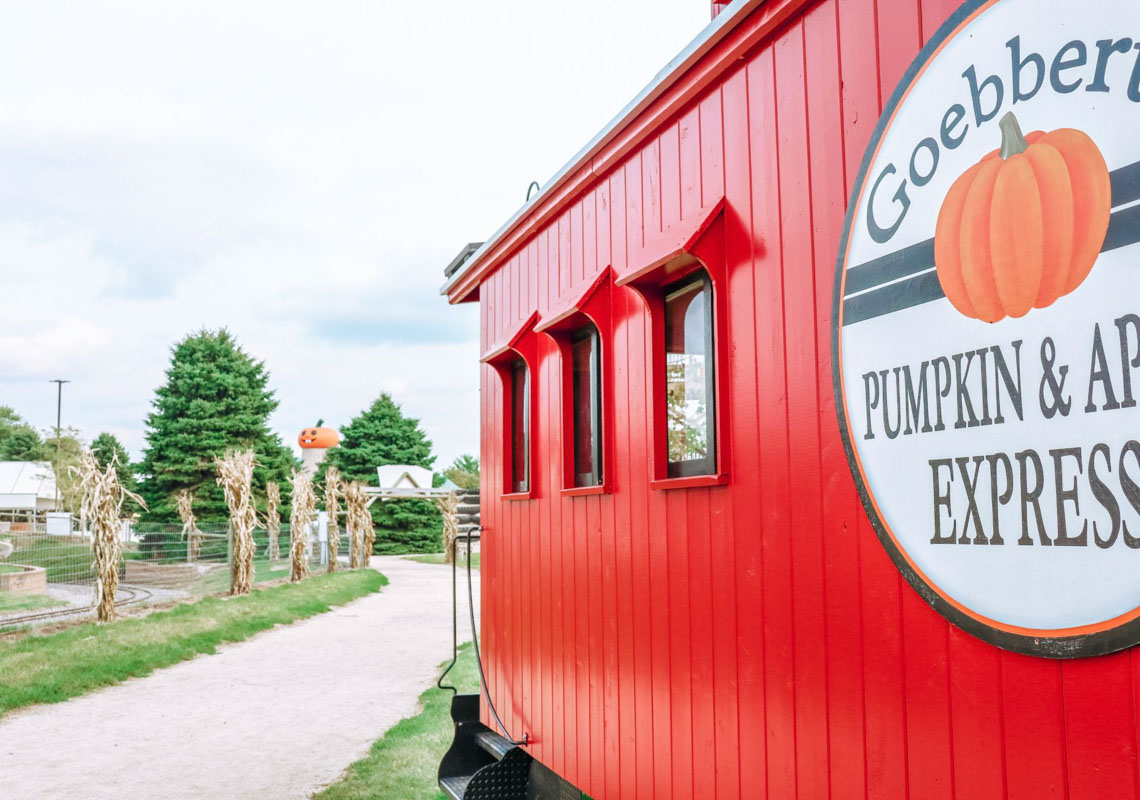 Looking to experience some of the best nature experiences in the United States? Check out my posts on the 15 Best Northern California Hot Springs, 13 Best Pumpkin Patches in Arizona, 9 Best Hot Springs in Washington State, 11 Best Pumpkin Patches in Las Vegas, 33 Historical Places in Florida, 3 Hot Springs in Steamboat Springs, 13 Spectacular Sunflower Fields in Long Island, 11 Pumpkin Patches in Houston, 13 Sunflower Fields in Illinois, 13 Hot Springs Oregon, 15 Stunning Sunflower fields in New Jersey, 13 Best Pumpkin Patches in San Diego, 10 Best Places for Hot Springs in the USA, 6 Best States to see Sunflower Fields in the United States, 15 Gorgeous Sunflower Fields in California, 15 Best Places for Cherry Picking in Michigan, 23 Hot Springs In Nevada, Radium Hot Springs Colorado, 29 Hot Springs in Montana, 21 Sunflower Fields in Ohio, 33 Unique Things to do in Florida, 33 Great Things to do in Destin Florida, 21 Awesome Things to do in East Texas, 13 Lakes in Southern California, 32 Best Places to visit in Bay Area, 13 Best Hot Springs in Pagosa Springs, 23 Things to do in Orlando for adults, 17 best stops on a Road Trip from Los Angeles to San Francisco, 21 Texas Coastal Towns, 7 Stunning Sunflower fields in Minnesota, 29 Hot Springs of New Mexico, 29 Idaho Hot Springs and 11 Terrific Texas Sunflower Fields.
The farm charges an entry fee and pickings are charged separately. Unfortunately, no pets are allowed to visit.
6. Richardson Adventure Farm
​​Location: English Prairie Rd, Spring Grove, Illinois.
Time: 1-hour 10 minutes
The Richardson Adventure Farm offers 13 acres of sunflowers planted in a whimsical design.
With up to 25 different varieties, you'll enjoy capturing photos of the orange, yellow, gold, red, and peach colour sunflowers. Fill up on flowers before sampling the food, playing a giant checkers game, and visiting the animal barn – dogs on a lead may join you.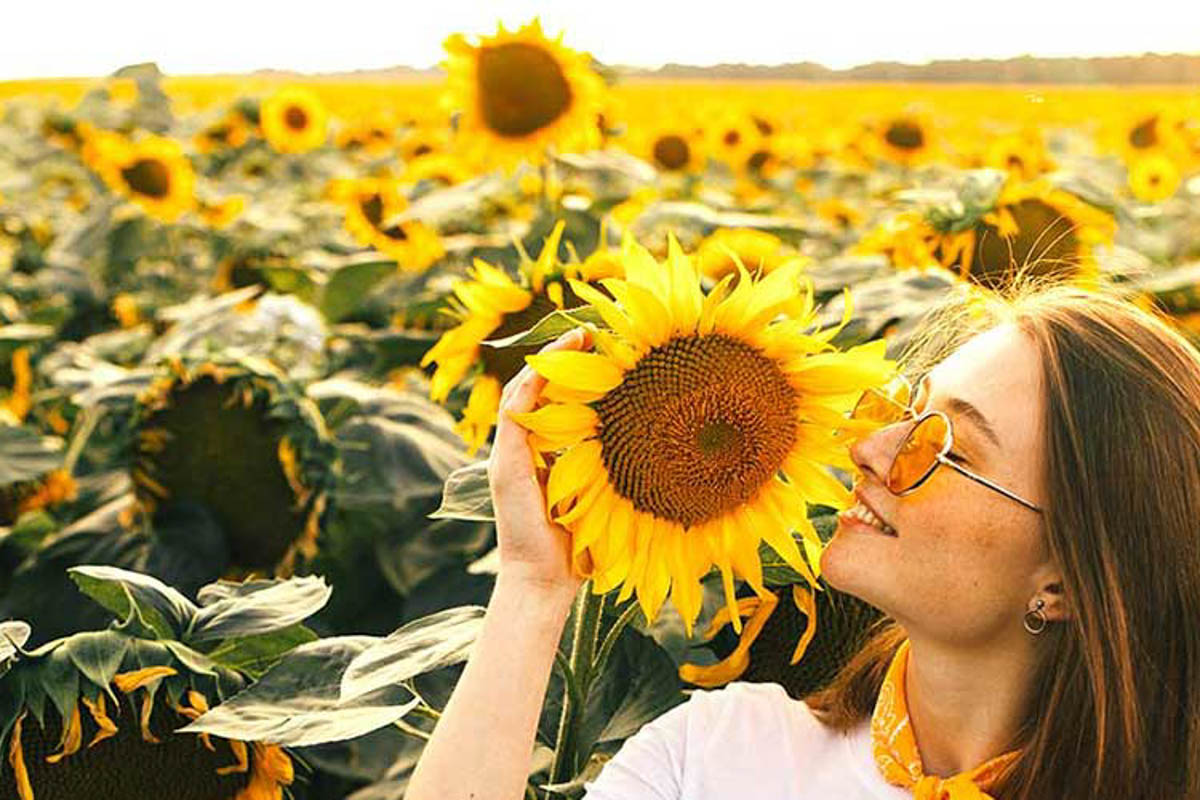 7. Kuipers Family Farm
​​Location: Watson Road, Maple Park, Illinois 60151
Time: 1-hour
Only a 58-mile drive west of Chicago, Kuipers Family Farm offers over 5 acres of different sunflower varieties. Weekends provide live music and farm-fresh food options served on the scenic orchard lawns.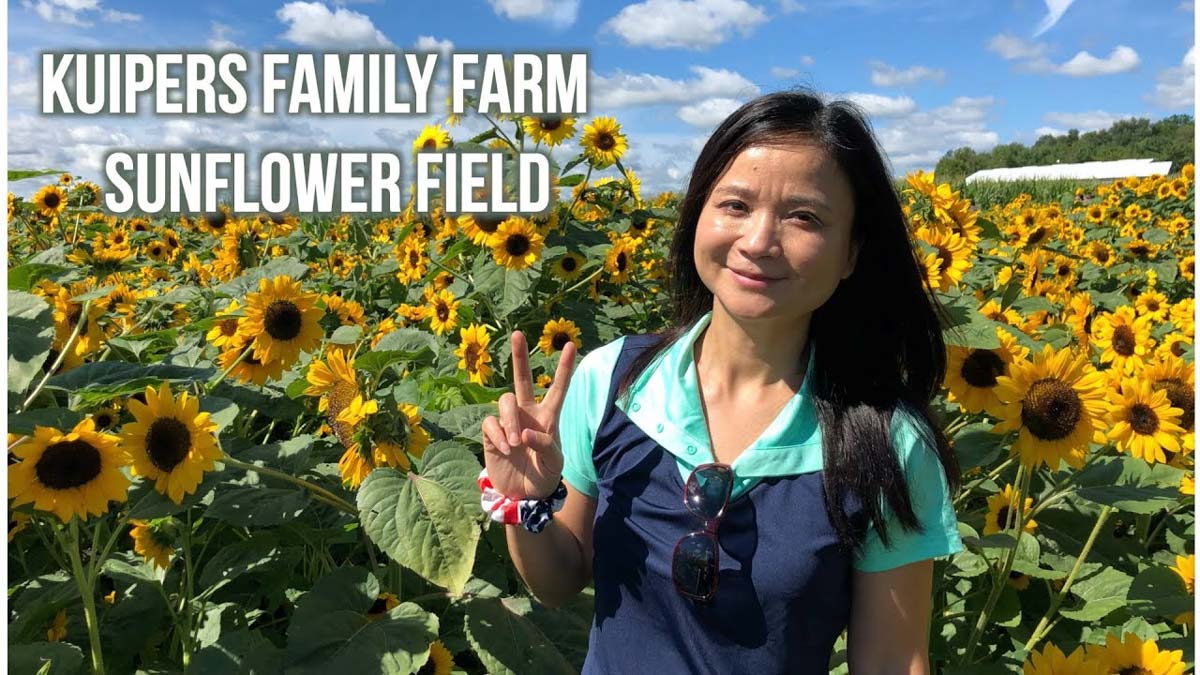 Visit on Monday to Saturday between 9 am until 6 pm and on Sundays from 10 am until 6 pm. Your entry fee includes one bloom and there's a small fee for any extra blooms you pick.
8. Matthiessen State Park
​​Location: IL-178, Oglesby, Illinois
Time: 1-hour 30 minutes
Set off on a 96-mile journey southwest of Chicago to the Matthiessen State Park which offers beautiful rock formations. There's also a 60-acre sunflower field in the southern part of the park.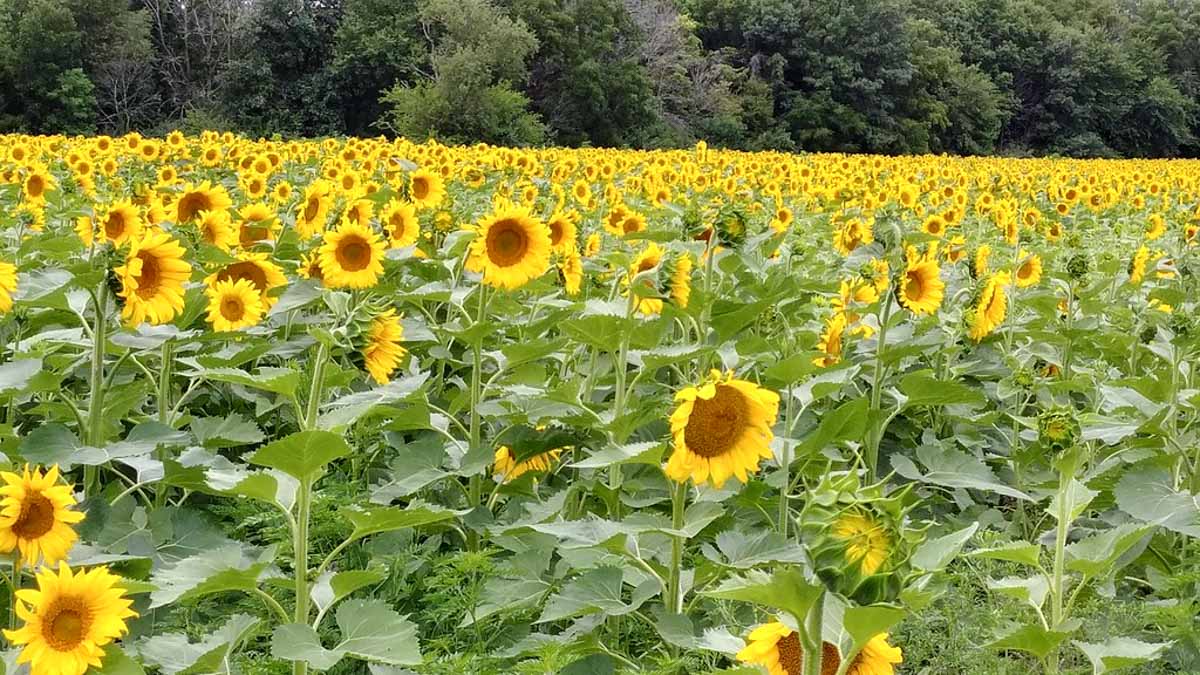 Explore the canyons, streams, and forests located in LaSalle County. The abundant vegetation and wildlife make the Matthiessen State Park a unique outing to see sunflower fields in Illinois.
Consider spending the night nearby in the Brightwood Inn.
9. L & A Family Farms
​​Location: Staley Rd, Paris, Illinois.
Time: 3-hour 20 minutes
Set off towards the Indiana border about 186 miles south of Chicago and 90 miles west of Indianapolis. Enjoy a tractor ride to the 5 acres of sunflower fields and a sunflower maze. Alternatively, you can walk through natural paths at L & A Family Farms to reach the starting point of the maze.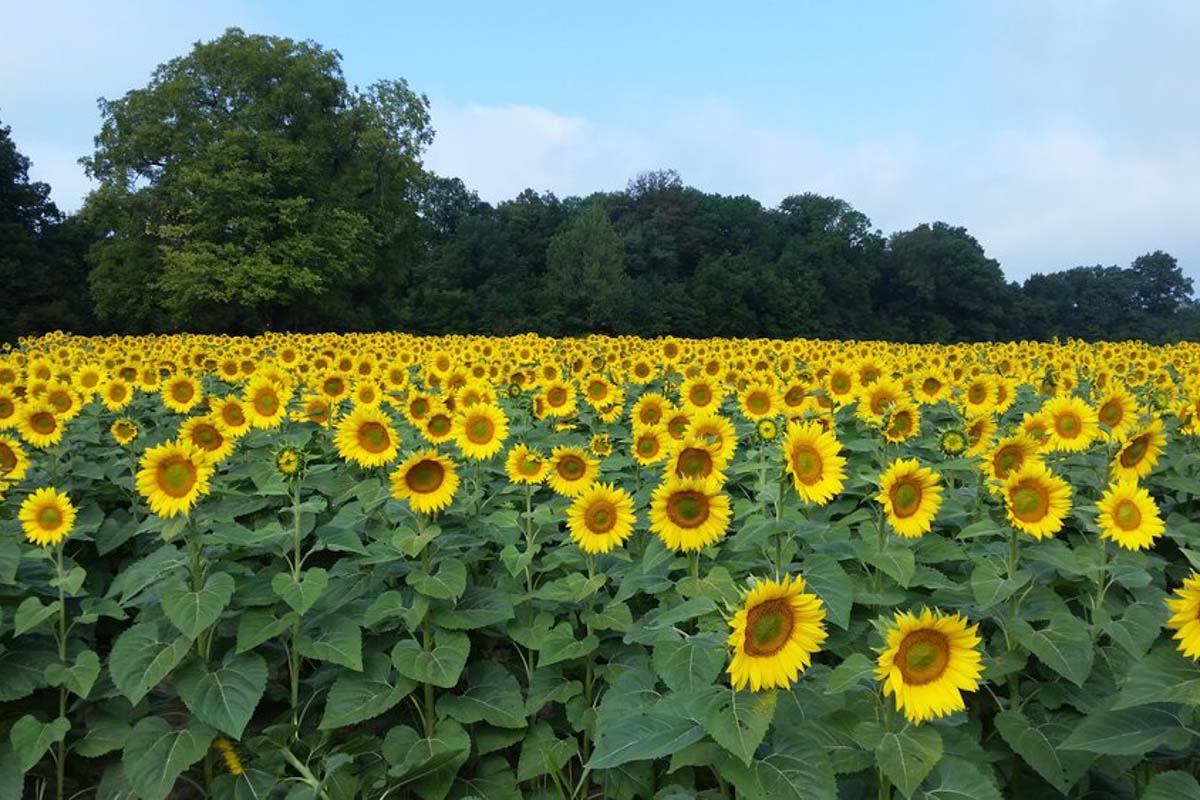 Then settle in and enjoy the 'on farm' store's offer of drinks, snacks, fresh meat, and seasonal produce.
10. Eckert's Family Farm
​​Location: Green Mount Rd, Belleville, Illinois.
Time: 4-hour 30 minutes
Fly to St. Louis, Missouri, or road trip from Chicago to visit Eckert's Family Farm. They offer a sunset & sunflower experience for anyone 21 years and older. You'll be impressed by the property as the farm is the largest family-owned pick-your-own orchard in the US.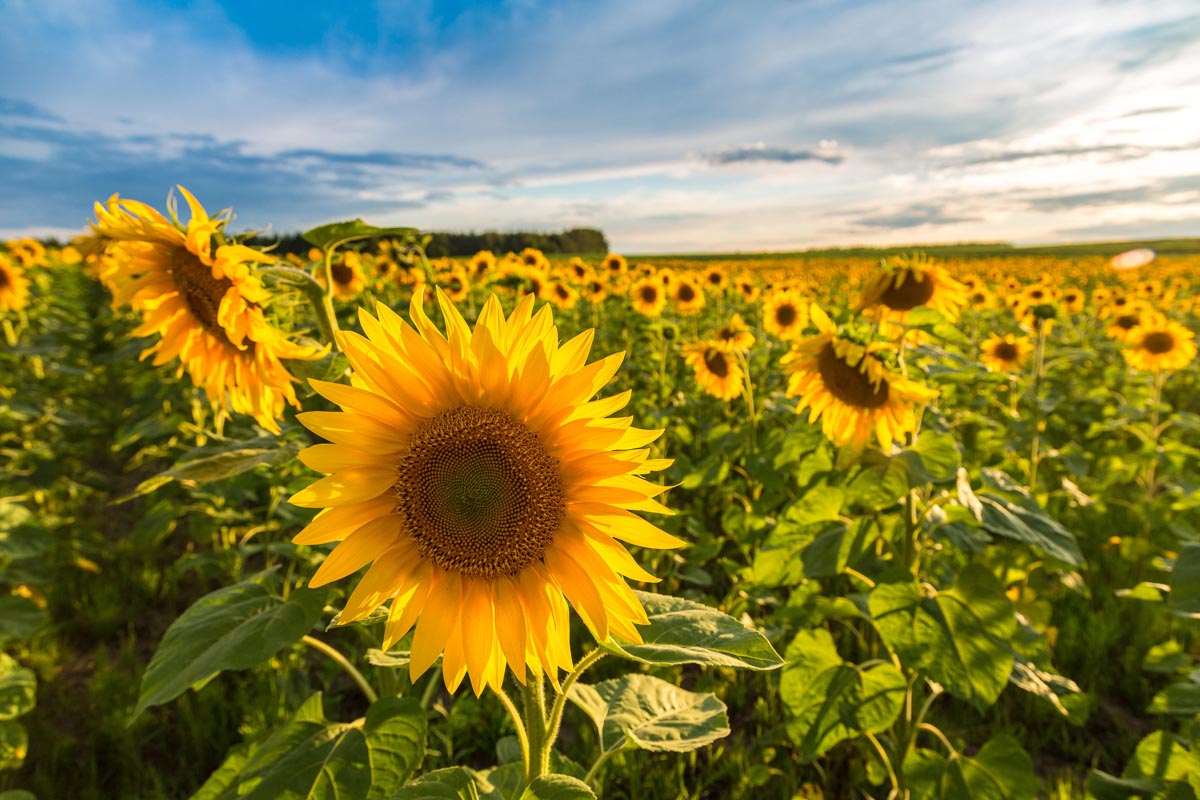 Soak in the views while walking along the 2-acre sunflower field on the sunflower trail.
11. Tom's Farm Market
​​Location: Algonquin Road, Huntly, Illinois.
Time: 1-hour 15 minutes
Offering a farm market, garden center, bakery and gift shop you can easily spend your afternoon at Tom's Farm Market. Walk through their 4-acres of sunflowers and stop for fun photo opportunities along the way. The play area is suitable for children and the sunflower maze is great for families.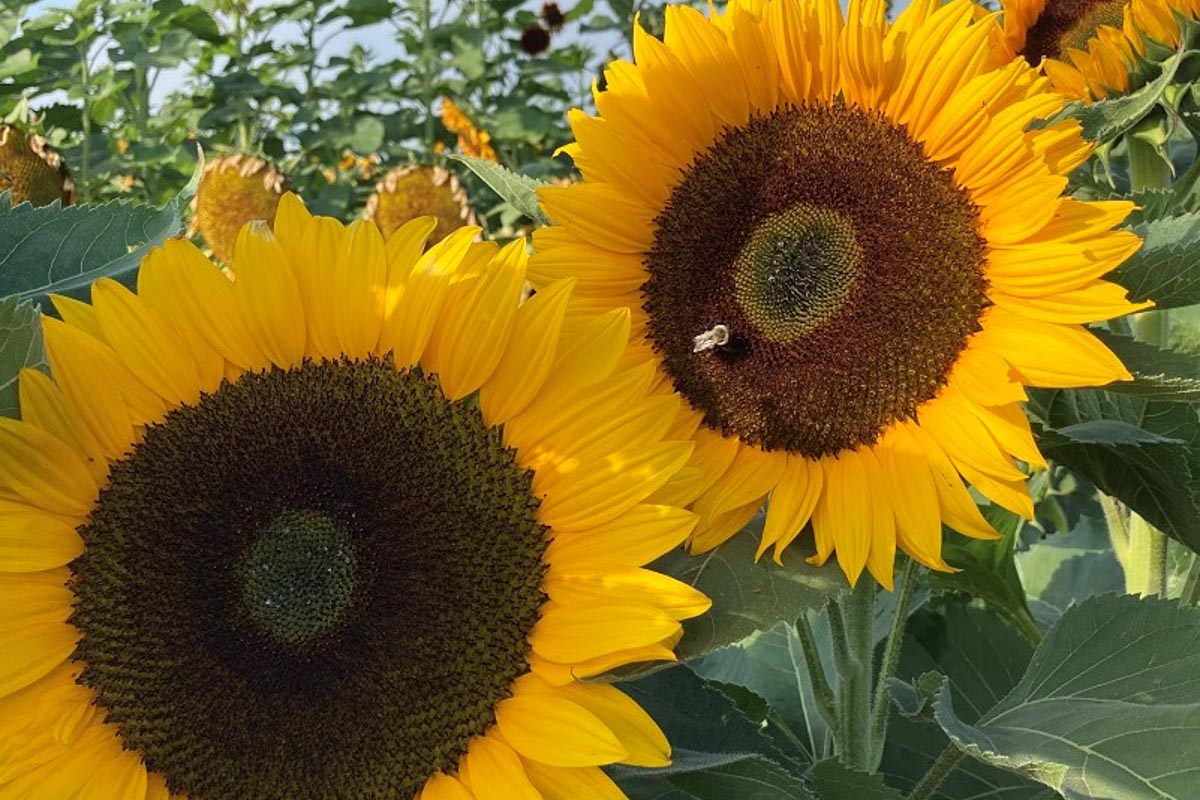 There is an entrance fee but 3-year-olds and under enter for free. You can visit the cutting field to pick and pay for your sunflowers.
Top tip! You can save by booking online, visit Tom's Farm Market website to purchase tickets.
12. Barrington Hills Farm
​​Location: Springs Creek Road, Barrington Hills, Illinois.
Time: 1-hour
Travel along Spring Creek Road to this 700-acre organic farm. You can appreciate Barrington Hills Farm and the surrounding habitat left untouched for wildlife species.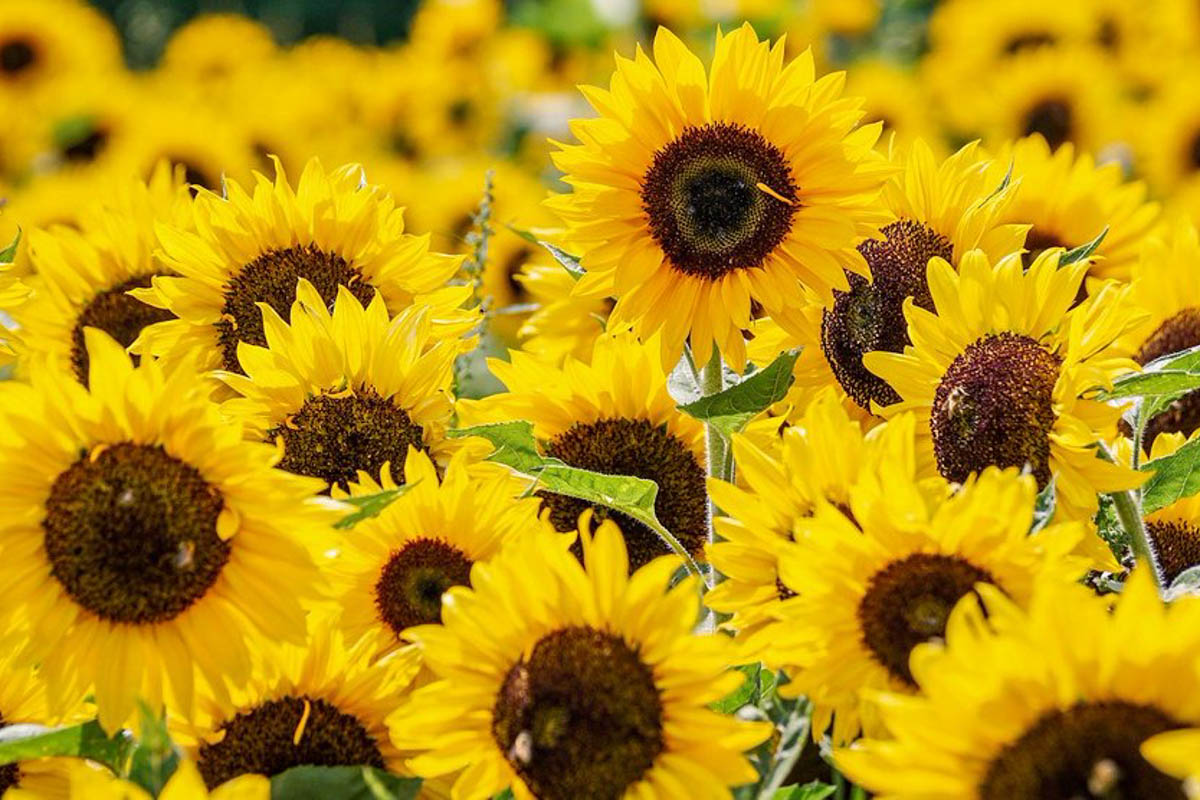 While the 50 acres of sunflower fields here are striking, the farm is best known for its production of organic wheat and a red-brick silo built in 1895. With activities suitable for the whole family, you can take time to release some residual stress during a horse ride.
The Barrington Hills Farm supports fellow sunflower growers as a member of the National Sunflower Association.
13. Rendleman Orchard
​​Location: State Highway 127 N.Alto Pass, Illinois.
Time: 5-hours 15 minutes
Celebrating 148 years of family farming, Rendleman Orchard continues to grow from strength to strength. While the farm focuses on apples, peaches, and nectarines, the sunflowers and wildflowers make it an extremely photogenic location.
The farm market is open daily from mid-June and is free during the week. There is a fee on Saturdays, Sundays & Holidays, while 12-year-olds and under enter for free.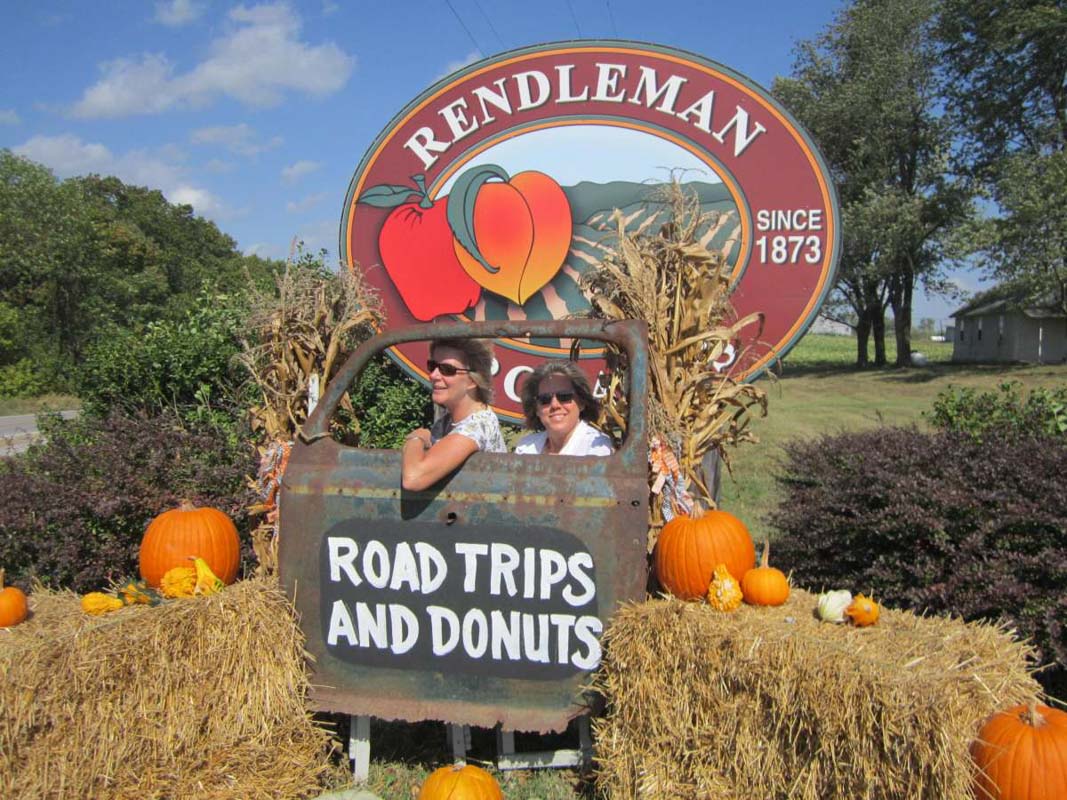 Fun Facts about Sunflowers
Not all sunflowers are yellow – they also come in purple and red.

Sunflowers can range in height. There are two categories of sunflowers: tall and dwarf. Tall sunflowers tend to be yellow and durable and will reach between 12 and 16 feet high. Dwarf sunflowers tend to be grown in clusters in small gardens and pots. They are referred to as dwarfs because they tend not to grow taller than 3 feet. However, both sizes love the full sunlight.

Young sunflowers track the sun. Their face will follow the sun from sunrise to sunset every day and keep repeating this until they mature.

Mature sunflowers face East. Once a sunflower reaches maturity their internal clocks start slowing down. Also, sunflowers are more productively warmed when facing East and once warmer they can attract up to five times more pollinators.

Sunflowers are native to the United States. Although it is now harvested around the world, the sunflower plant is native to North America. North Dakota is the leading US state for sunflower production.

Thousands of tiny flowers create a sunflower's head. Each petal on the circumference of a sunflower is a unique flower. The long petals are called "ray florets".

There is a Teddy Bear Sunflower. These sunflowers are particularly bushy and spherical. They tend to produce double blooms which gives them a full fluffy head that looks like a teddy bear.

Sunflower Seeds are highly nutritious. They are loaded with minerals like potassium, calcium, magnesium and iron as well as vitamins. Plus they are a valuable source of protein, fiber and polyunsaturated fat.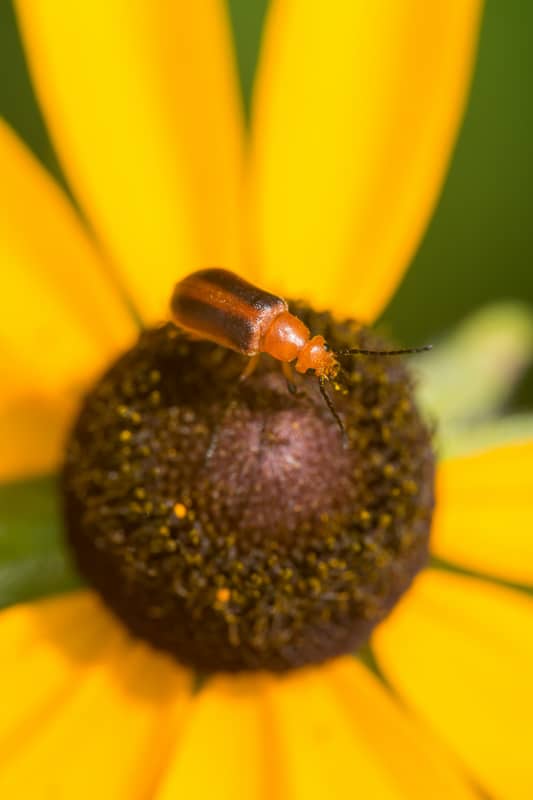 What Can I do with Sunflower Seeds?
Sunflower seeds are most commonly used in two ways. One is to eat them and two is to grow more sunflowers. Here's how!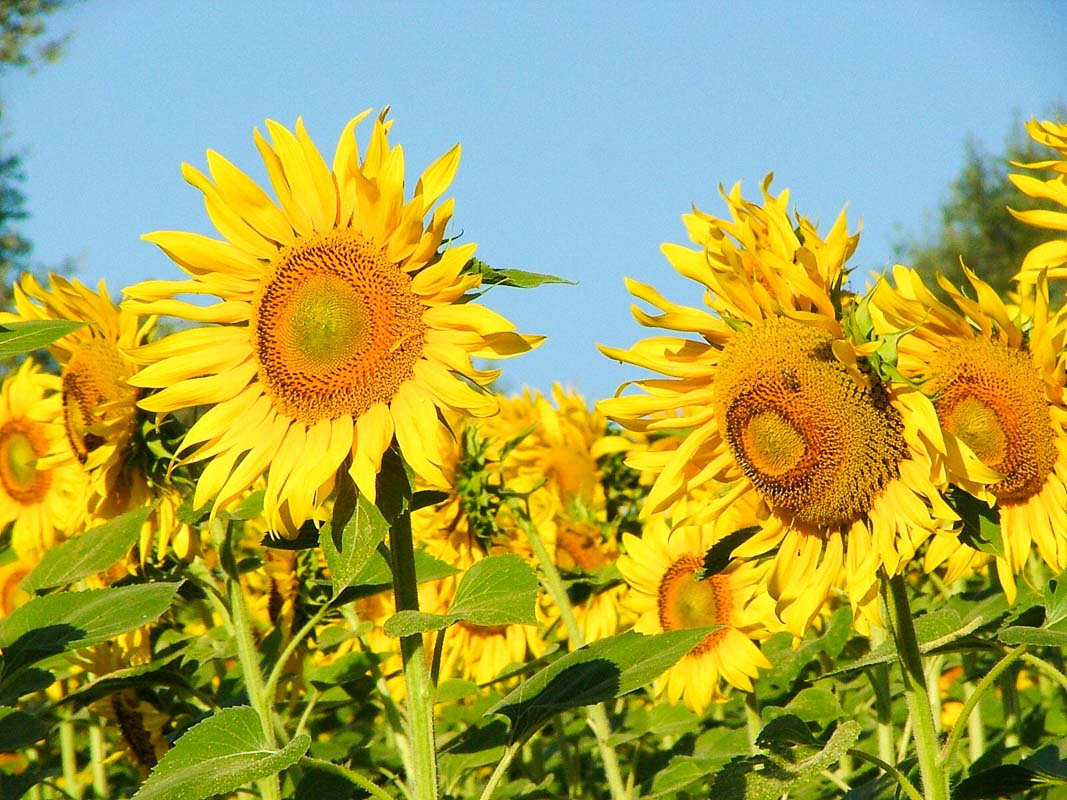 How to Cook with Sunflower Seeds
Sunflower seeds are often forgotten in the pantry but they are super nutritious and can also add great flavour to food. Here are six ways to cook with sunflower seeds:
Add to dough when making bread
Sprinkle on your salads for some extra crunch
Add to baked goods like muffins before putting them in the oven
Add to vegetables for more flavor – toast the sunflower seeds before or add them to the cooking method
Mix them in with your breakfast cereal
When making pesto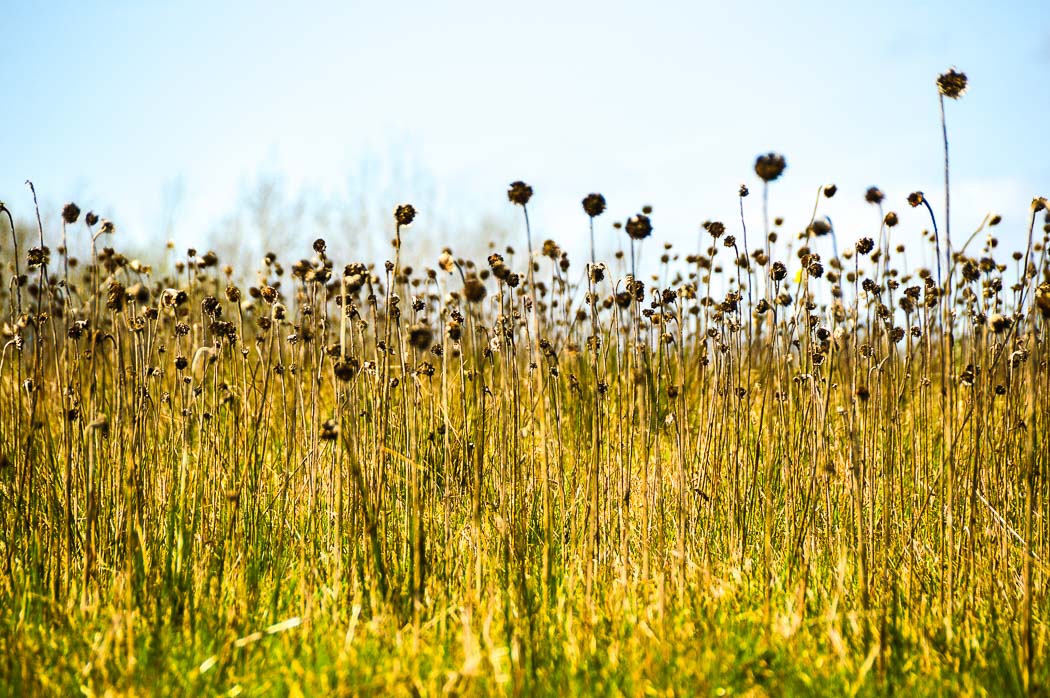 How to Grow Sunflowers at Home
It is relatively easy to grow sunflowers at home. Sunflowers like full sun but they also need a bit of shelter so they don't fall over. Against a wall or a fence is perfect. Literally sow the seeds where you want the sunflowers to grow.
Place the seeds about 12mm deep and 45cm apart. Mid April to May is the best time of year to sow sunflower seeds. Give them a good thorough water at least once a week.
If you want to cut your sunflowers do so early in the morning and make sure you use a tall vase so that their heads are support.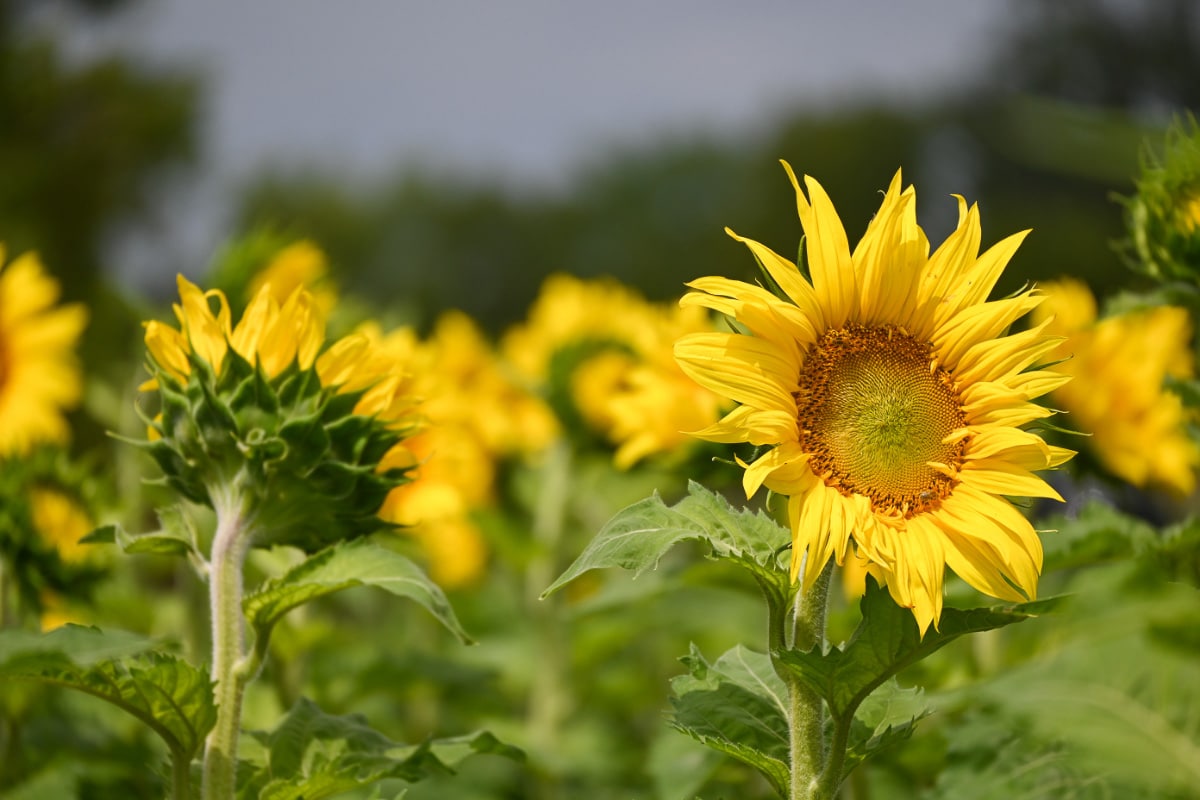 Set Off To See the Sunflower Fields in Illinois
Now that you know the best sunflower fields to visit in Illinois, you can start to plan your road trip. Soak up the scenery, and remember to take only sunflowers (with permission) and leave only footprints behind.
Check out my post on the Best States to See Sunflower Fields
Related Posts:
15 Golden sunflower fields in California
13 Stunning sunflower fields in Illinois
13 spectacular sunflower fields in New Jersey
I covered all of the costs associated with writing this article. However, this Sunflower fields in Illinois post includes affiliate links. That means if you click through and end up making a purchase I will receive a small commission. I wanted to make sure you were aware of this.