Thinking about planning a summer vacation where you can see sunflower fields in bloom? It's a great idea. The popularity of sunflower fields has exploded in recent years. Many farms across the United States have now turned sunflower season into a major event with displays, stalls, mazes, games and many more fun activities.
7 Best States to see Sunflower Fields in the United States
Fun Facts about Sunflowers
Not all sunflowers are yellow – they also come in purple and red.

Sunflowers can range in height. There are two categories of sunflowers: tall and dwarf. Tall sunflowers tend to be yellow and durable and will reach between 12 and 16 feet high. Dwarf sunflowers tend to be grown in clusters in small gardens and pots. They are referred to as dwarfs because they tend not to grow taller than 3 feet. However, both sizes love the full sunlight.

Young sunflowers track the sun. Their face will follow the sun from sunrise to sunset every day and keep repeating this until they mature.

Mature sunflowers face East. Once a sunflower reaches maturity their internal clocks start slowing down. Also, sunflowers are more productively warmed when facing East and once warmer they can attract up to five times more pollinators.

Sunflowers are native to the United States. Although it is now harvested around the world, the sunflower plant is native to North America. North Dakota is the leading US state for sunflower production.

Thousands of tiny flowers create a sunflower's head. Each petal on the circumference of a sunflower is a unique flower. The long petals are called "ray florets".

There is a Teddy Bear Sunflower. These sunflowers are particularly bushy and spherical. They tend to produce double blooms which gives them a full fluffy head that looks like a teddy bear.

Sunflower Seeds are highly nutritious. They are loaded with minerals like potassium, calcium, magnesium and iron as well as vitamins. Plus they are a valuable source of protein, fiber and polyunsaturated fat.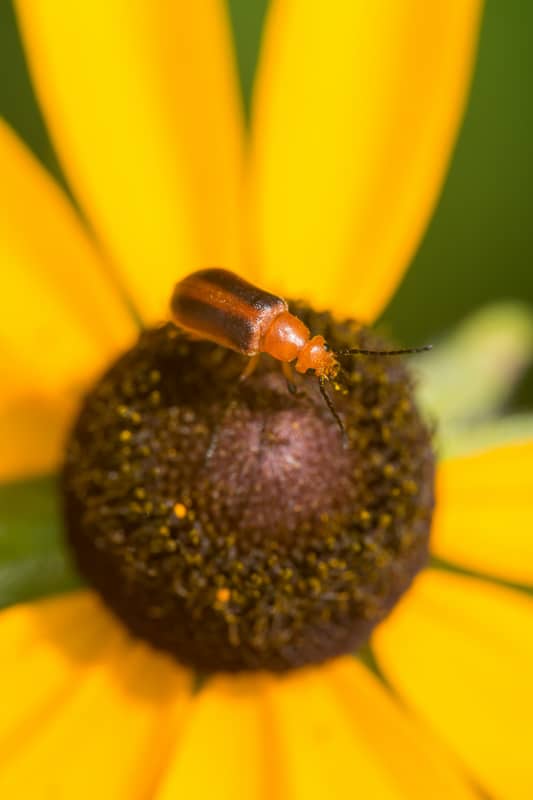 What Can I do with Sunflower Seeds?
Sunflower seeds are most commonly used in two ways. One is to eat them and two is to grow more sunflowers. Here's how!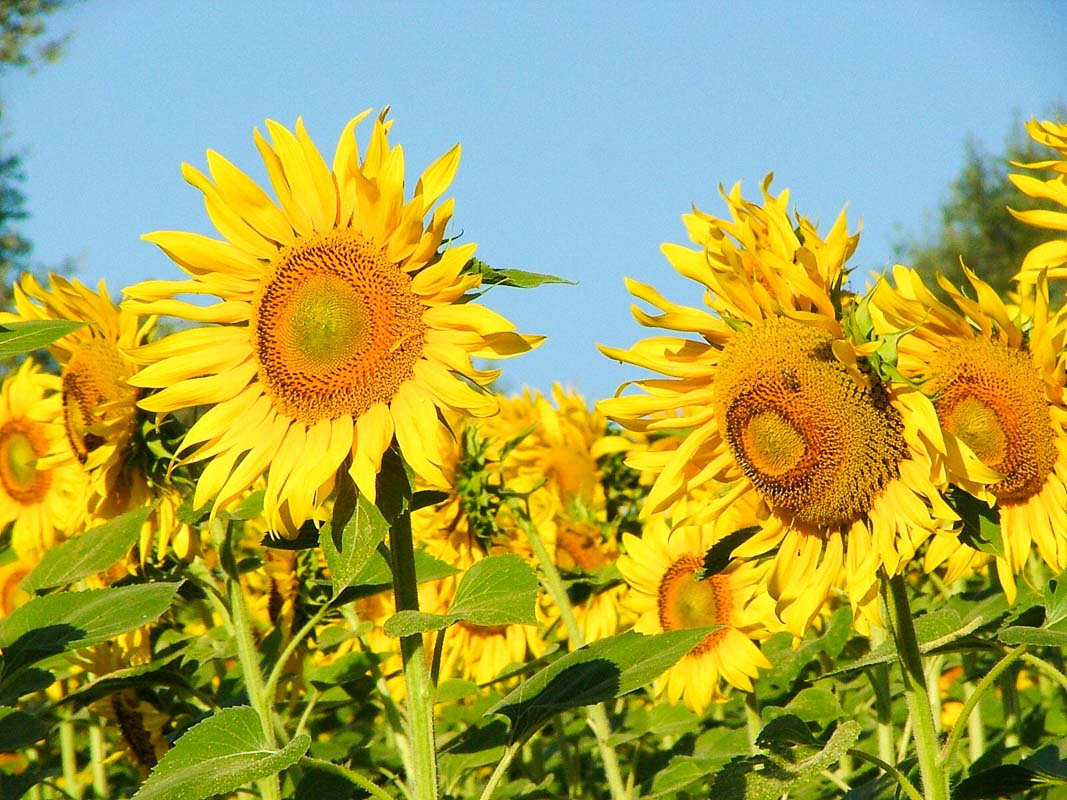 Looking to experience some of the best nature experiences in the United States? Check out my posts on the 15 Best Northern California Hot Springs, 13 Best Pumpkin Patches in Arizona, 9 Best Hot Springs in Washington State, 11 Best Pumpkin Patches in Las Vegas, 33 Historical Places in Florida, 3 Hot Springs in Steamboat Springs, 13 Spectacular Sunflower Fields in Long Island, 11 Pumpkin Patches in Houston, 13 Sunflower Fields in Illinois, 13 Hot Springs Oregon, 15 Stunning Sunflower fields in New Jersey, 13 Best Pumpkin Patches in San Diego, 10 Best Places for Hot Springs in the USA, 6 Best States to see Sunflower Fields in the United States, 15 Gorgeous Sunflower Fields in California, 15 Best Places for Cherry Picking in Michigan, 23 Hot Springs In Nevada, Radium Hot Springs Colorado, 29 Hot Springs in Montana, 21 Sunflower Fields in Ohio, 33 Unique Things to do in Florida, 33 Great Things to do in Destin Florida, 21 Awesome Things to do in East Texas, 13 Lakes in Southern California, 32 Best Places to visit in Bay Area, 13 Best Hot Springs in Pagosa Springs, 23 Things to do in Orlando for adults, 17 best stops on a Road Trip from Los Angeles to San Francisco, 21 Texas Coastal Towns, 7 Stunning Sunflower fields in Minnesota, 29 Hot Springs of New Mexico, 29 Idaho Hot Springs and 11 Terrific Texas Sunflower Fields.
How to Cook with Sunflower Seeds
Sunflower seeds are often forgotten in the pantry but they are super nutritious and can also add great flavour to food. Here are six ways to cook with sunflower seeds:
Add to dough when making bread
Sprinkle on your salads for some extra crunch
Add to baked goods like muffins before putting them in the oven
Add to vegetables for more flavor – toast the sunflower seeds before or add them to the cooking method
Mix them in with your breakfast cereal
When making pesto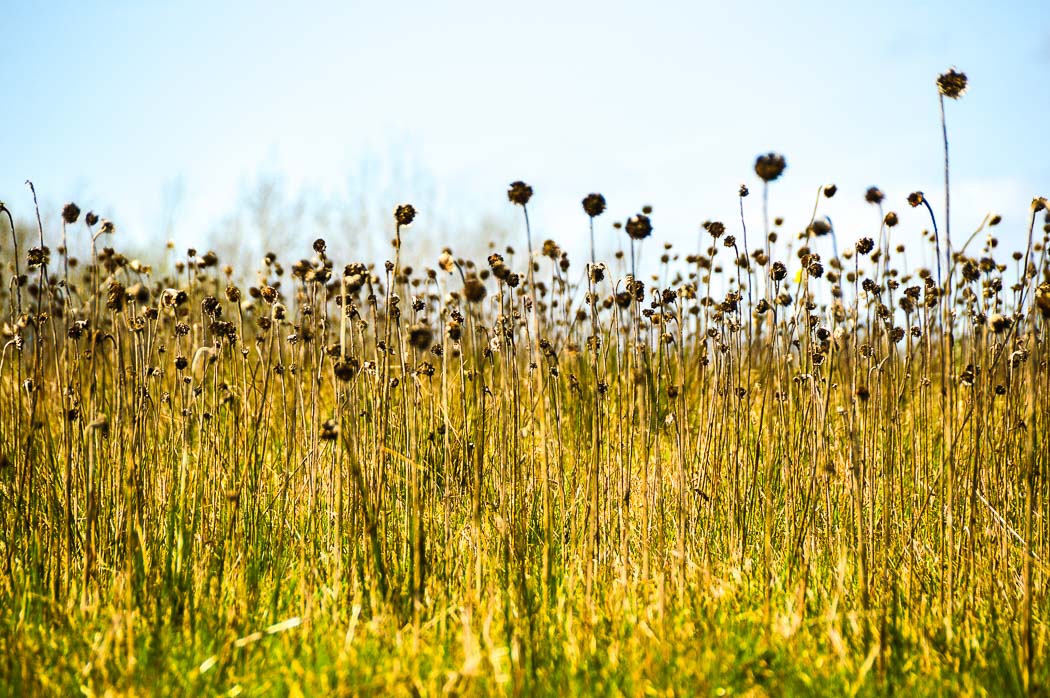 How to Grow Sunflowers at Home
It is relatively easy to grow sunflowers at home. Sunflowers like full sun but they also need a bit of shelter so they don't fall over. Against a wall or a fence is perfect. Literally sow the seeds where you want the sunflowers to grow. Place the seeds about 12mm deep and 45cm apart. Mid April to May is the best time of year to sow sunflower seeds. Give them a good thorough water at least once a week.
If you want to cut your sunflowers do so early in the morning and make sure you use a tall vase so that their heads are support.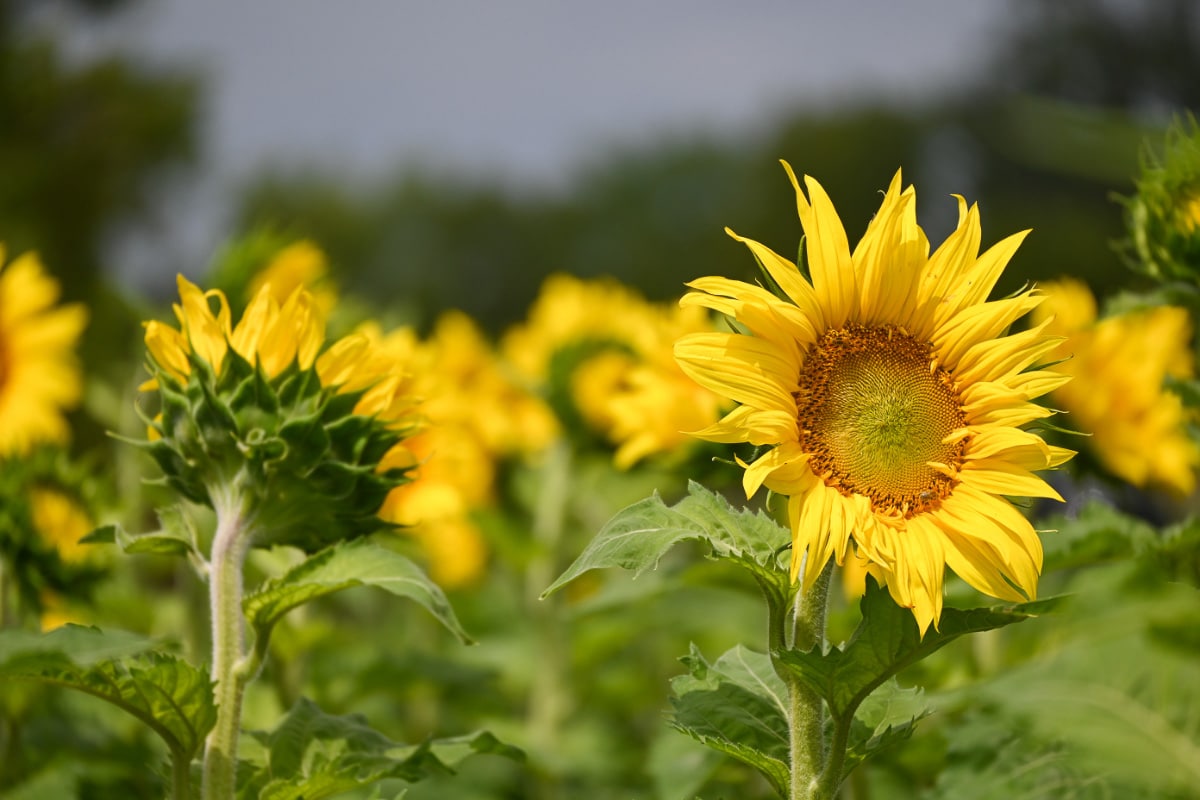 Now that you know the best sunflower fields to visit in the United States, you can start to plan your road trip. Soak up the scenery, and remember to take only sunflowers (with permission) and leave only footprints behind. And make sure to leave a comment on this post once you've done the rounds of sunflower fields and let us know which ones were your favourites.
I covered all of the costs associated with writing this article. However, this sunflower fields post includes affiliate links. That means if you click through and end up making a purchase I will receive a small commission. I wanted to make sure you were aware of this.