France is a wonderfully scenic country. It's full of beautiful lakes and rivers, over which cross many different bridges. Bridges in France come in all shapes and sizes, from ancient aqueducts and stunning arch bridges to masterful viaducts.
These impressive European landmarks are a true sight to behold and reveal an aspect of the country's history you might not be familiar with. Some have been standing since Roman times, while others were only built in the last few centuries.
All are special in their own way and will make a fabulous addition to any travel itinerary. Without further ado, here are the most unique and beautiful bridges in France.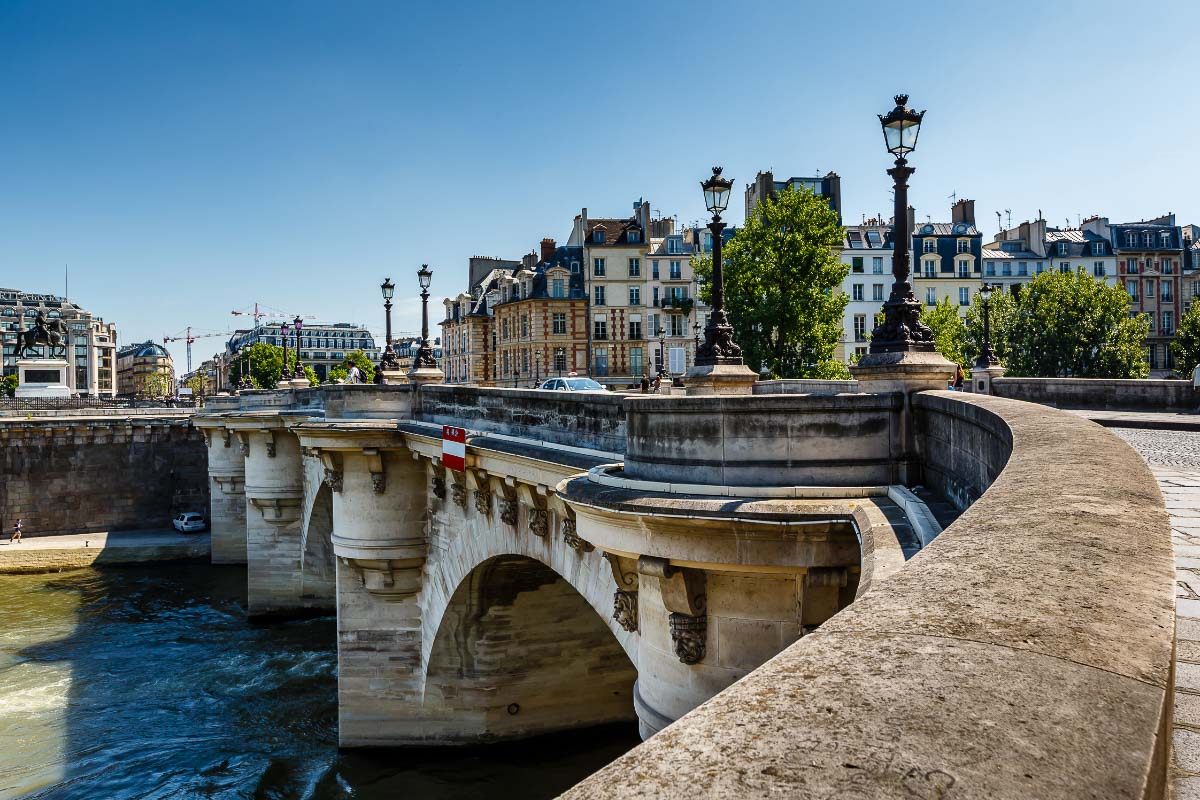 10 Beautiful Bridges in France
1. Pont Neuf
Pont Neuf is the oldest standing bridge that runs over the Seine River in Paris. The first stone of the bridge was laid by Henry III in 1578. However, it wasn't until 1604 that it was open to traffic, and not until 1607 that it was inaugurated by Henry IV.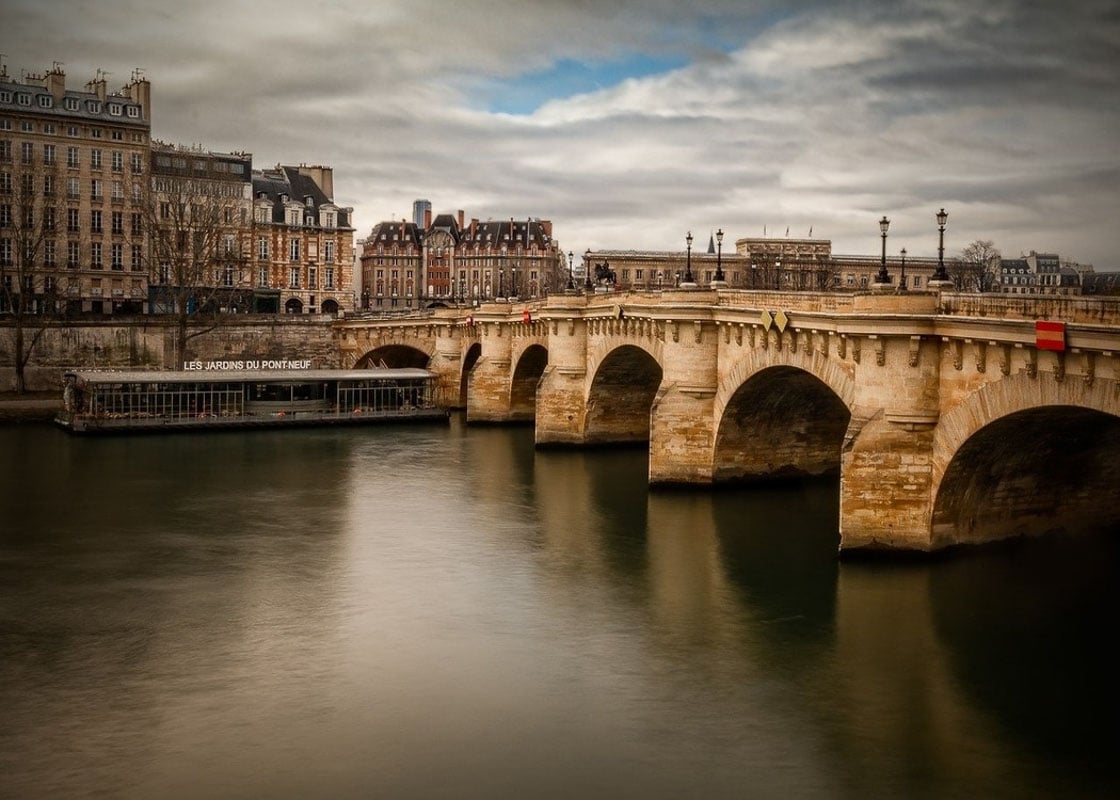 Like most bridges built during that time, it followed Roman precedents. It was constructed as a series of short arch bridges and made using stone. Over the years, it has gone through many repairs and renovations, including a major restoration project that took place from 1994 to 2007.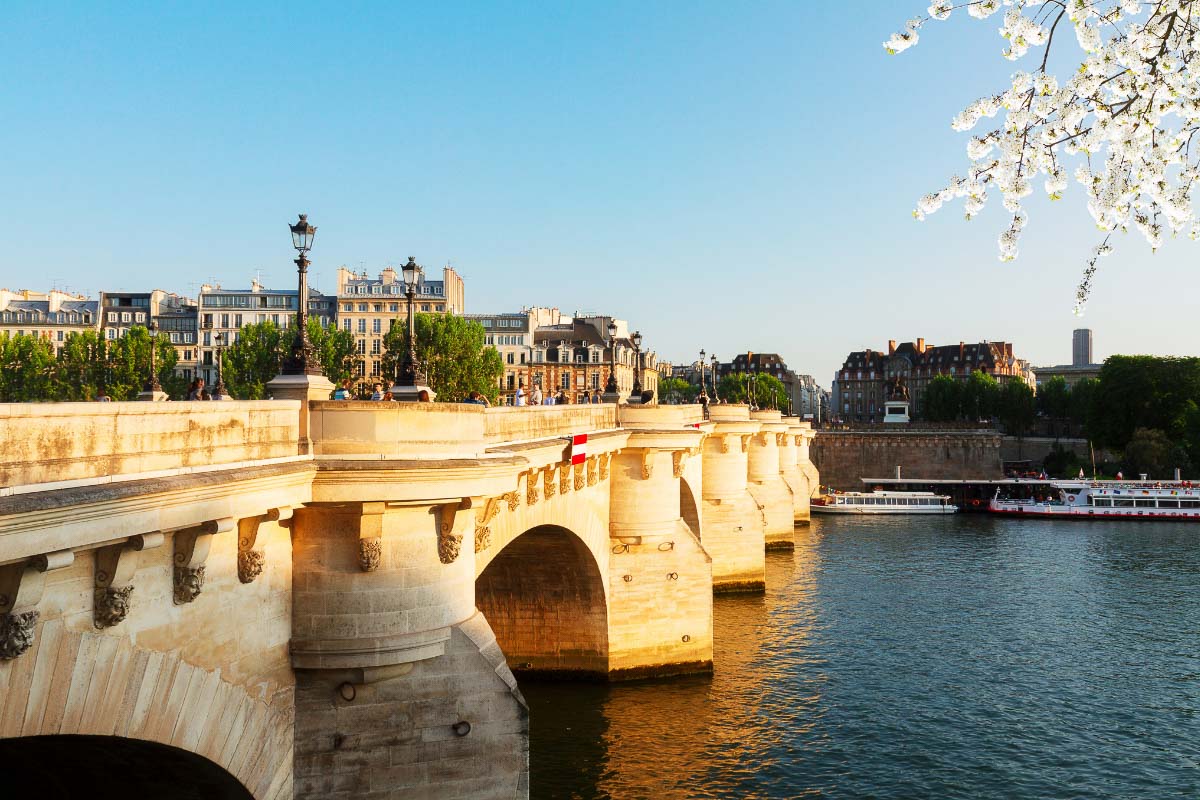 An equestrian statue of Henri IV stands proudly on the bridge. It was commissioned by his widow, Marie de Médicis, after his assassination. During the French Revolution, the statue was destroyed. However, it was replaced in 1818.
⇒ Book a Paris Illuminations River Cruise
2. Pont Ambroix
Pont Ambroix is a 1st century BC Roman bridge in Villetelle, France. Originally, it contained 11 arches, however, today, only one remains. The last arch was carried away by a flood in 1933.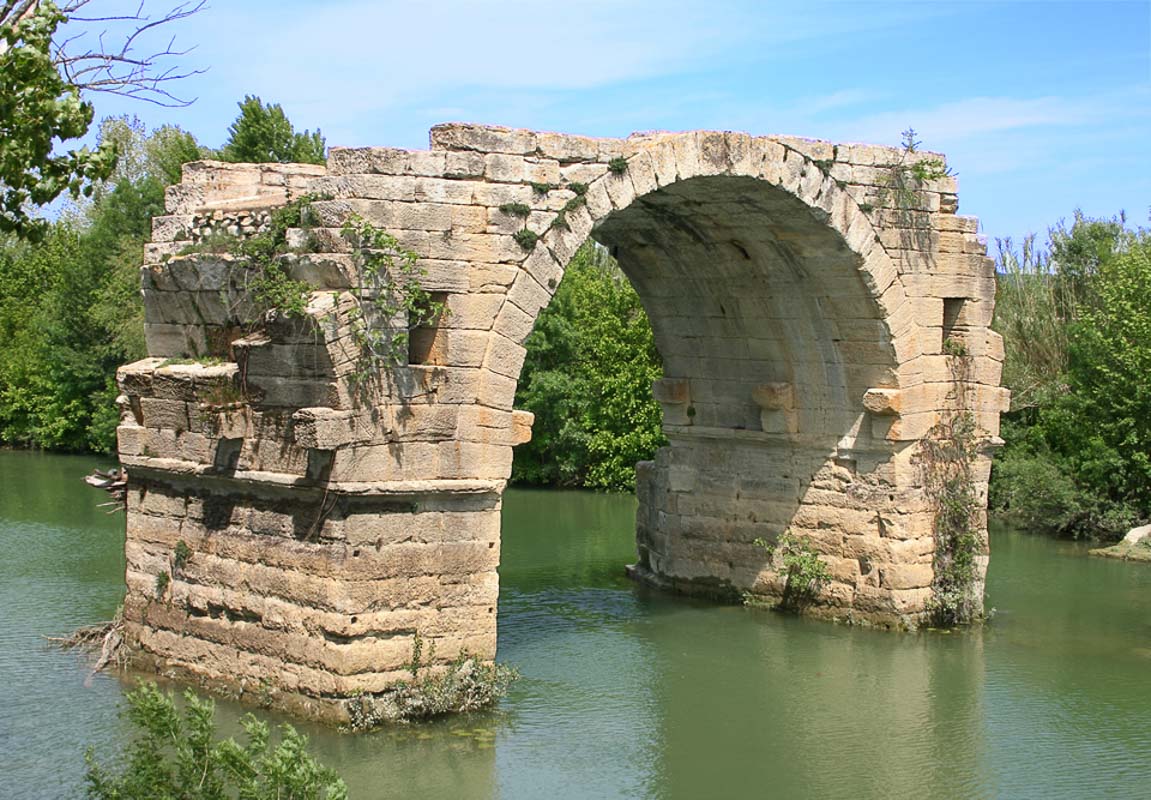 The bridge has all but completely succumbed to 2000 years of erosion. Although, it's still a sight of great beauty. It sits in the middle of the Vidourle River and proudly displays the vestiges of the ancient Roman empire. It's a lovely place for a scenic waterside stroll.
3. Pont d'Avignon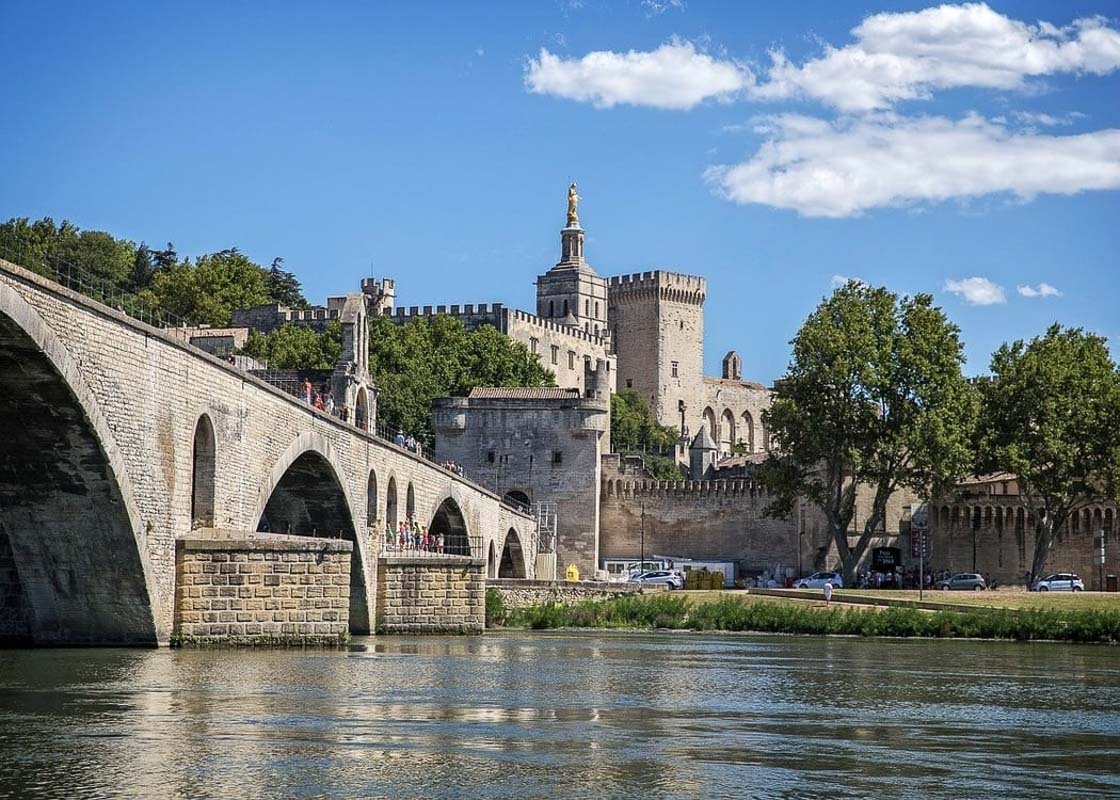 Image from gillag on Pixabay
Pont d'Avignon is a beautiful medieval bridge in the town of Avignon, France. From 1177 to 1185, a wooden bridge was constructed where the present structure stands. This early bridge only stood for 40 years; it was destroyed during the Albigensian Crusade in 1226.
The bridge was rebuilt in 1234 and contained 22 stone arches. However, it met a sad fate again In 1663, when the structure was abandoned. It proved too expensive to maintain, as the arches often collapsed each time the river flooded.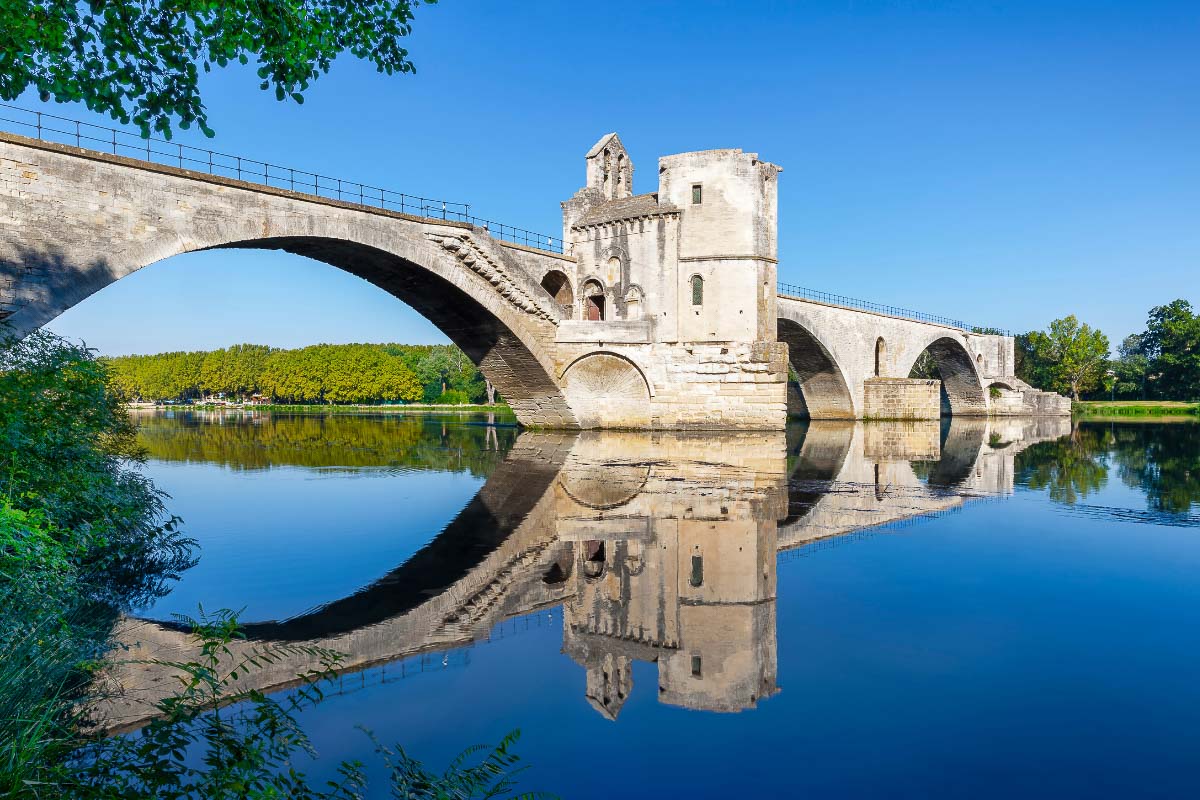 Today, only four of the original arches remain. Nevertheless, Pont d'Avignon is a famous feature of the town and in 1995, it was designated a World Heritage Site.
⇒ Book an Avignon Walking Tour & Wine Tasting
4. Pont Alexandre IIIl
Pont Alexandre III is a deck arch bridge that's widely viewed as the most ornamented and grand bridge in Paris. It crosses over the Seine River and connects the Champs-Élysées quarter with Les Invalides and the Eiffel Tower.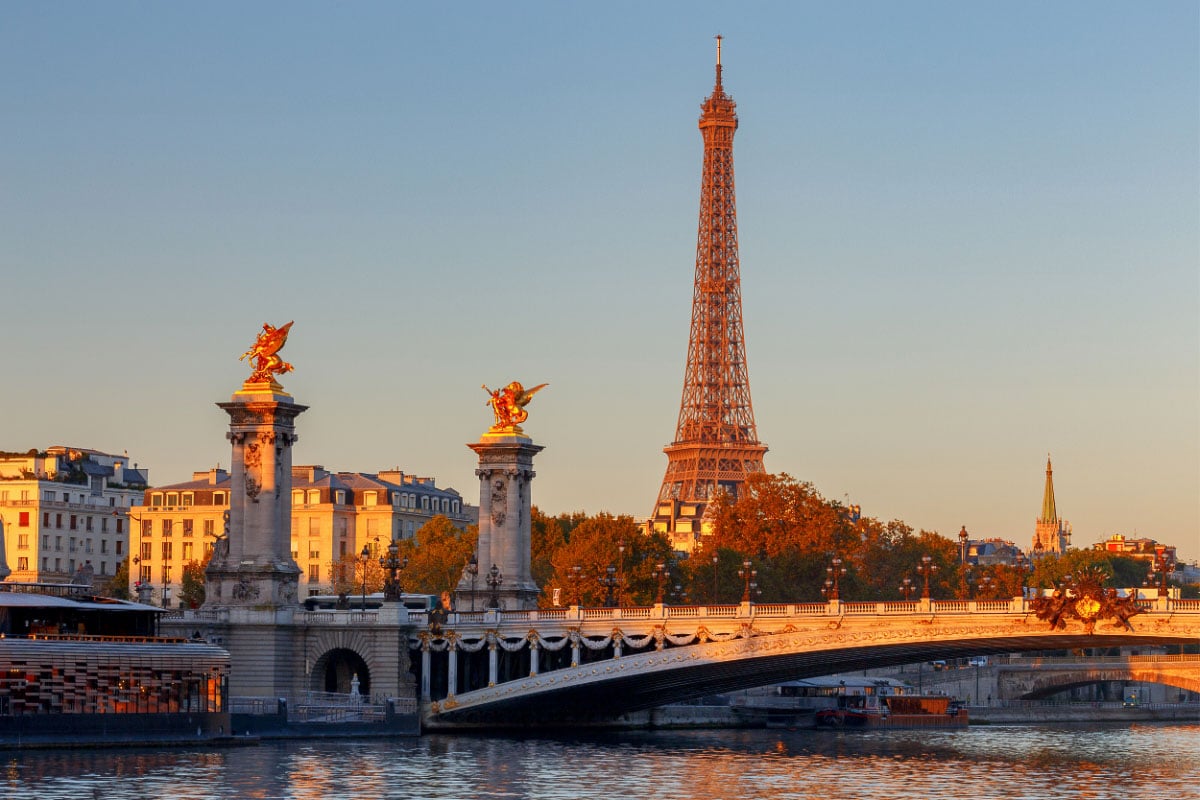 It was named after Tsar Alexander III to celebrate and honour the diplomatic relationship between France and Russia at the time. Although, it was Alexander's son, Nicholas II who laid the first stone for the bridge in 1896.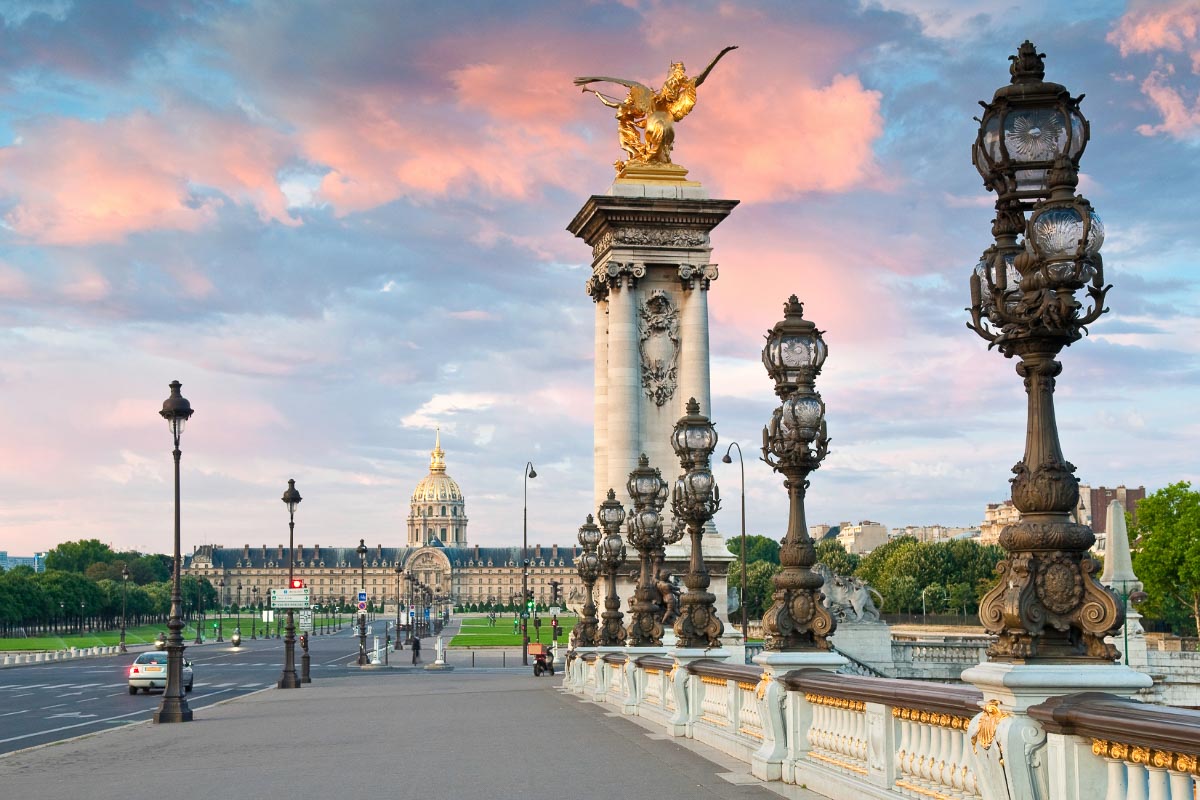 Pont Alexandre III was built for the Exposition Universelle of 1900. It features an array of masterful and unique sculptures, including cherubs, nymphs, winged horses, and Art Nouveau lamps. It's also one of the best spots to watch the sunrise in Paris.
⇒ Book a Paris Evening Cruise with Dinner on River Seine
5. Pont du Gard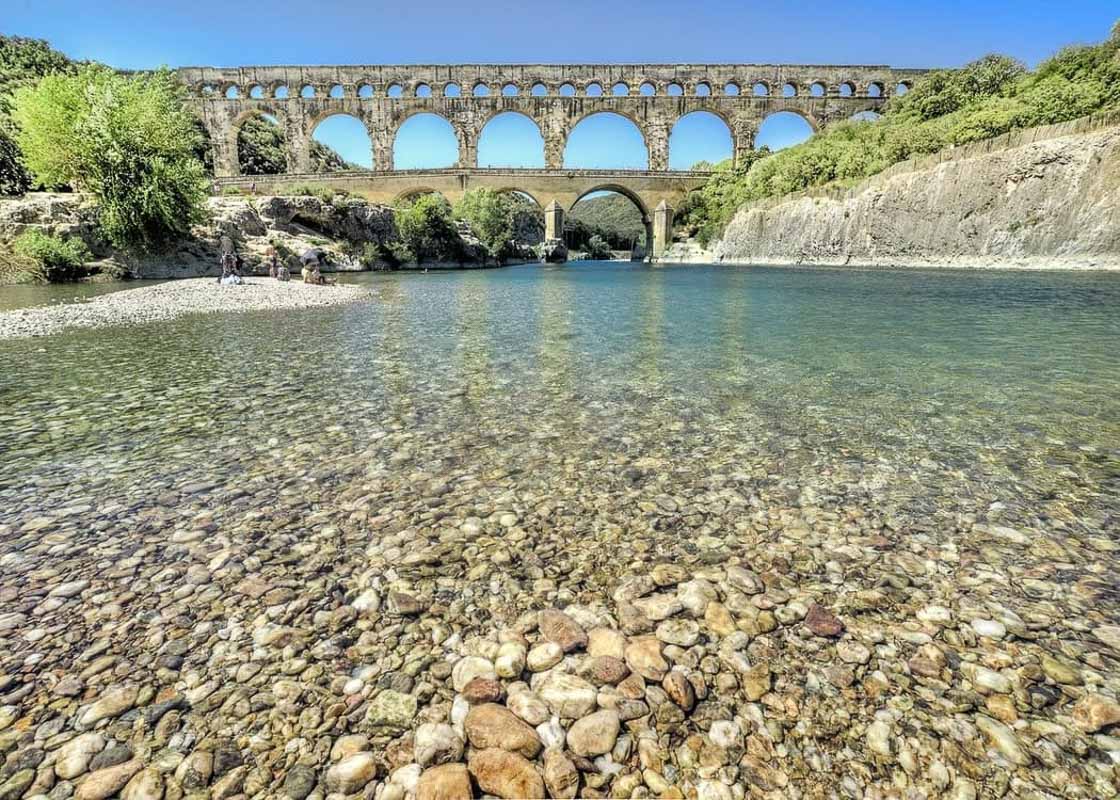 Image from Skitterphoto on Pixabay
Pont du Gard holds significant historical importance. It was constructed from 40 to 60 AD and is one of the best-preserved Roman aqueducts in the world. It's located in southern France, near the town of Vers-Pont-du-Gard.
The ancient bridge showcases the brilliance of Roman engineering. It contains three tiers of arches and stands 49 metres high.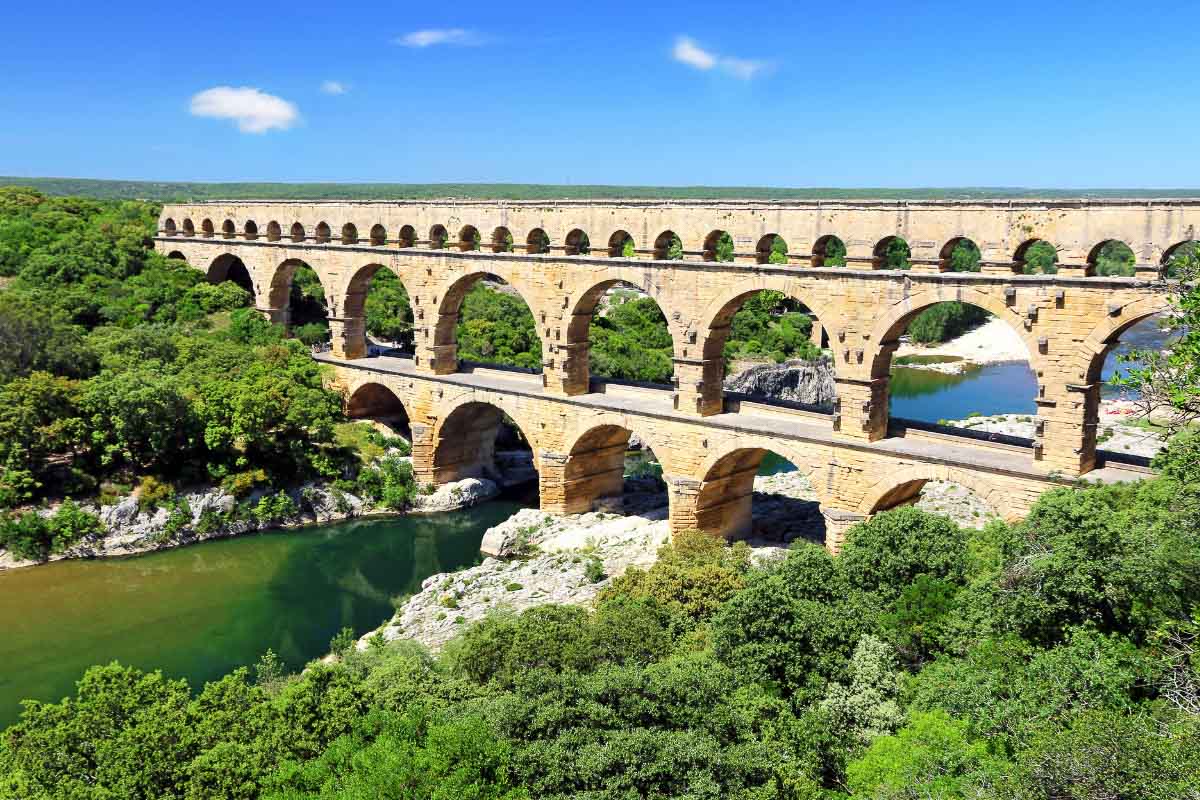 When it was used for its original purpose, it carried an estimated 40,000 m3 (8,800,000 imp gal) of water per day to nearby homes, fountains, and baths.
It is thought to have been used up until the late 6th century, with some parts possibly used for longer. After the Roman Empire collapsed, the aqueduct was abandoned. However, it remained in use as a toll bridge.
Its upkeep was paid for by levy tolls from travellers crossing the river. Between the 18th and 21st centuries, it went through a series of renovations. Today, it's one of the country's most popular tourist attractions.
⇒ Book a Pont du Gard, Uzès, and Nîmes Half-Day Tour
6. Pont des Arts
Pont des Arts is a pedestrian bridge in Paris that links the Institut de France with the Louvre Museum. It was constructed from 1981 to 1984 but sits at the same location as the city's first metal bridge, which was built between 1802 and 1804.
The previous bridge was closed for passage in 1977 after several deficiencies were reported.
In 1979, it suffered a major collapse after a barge crashed into it.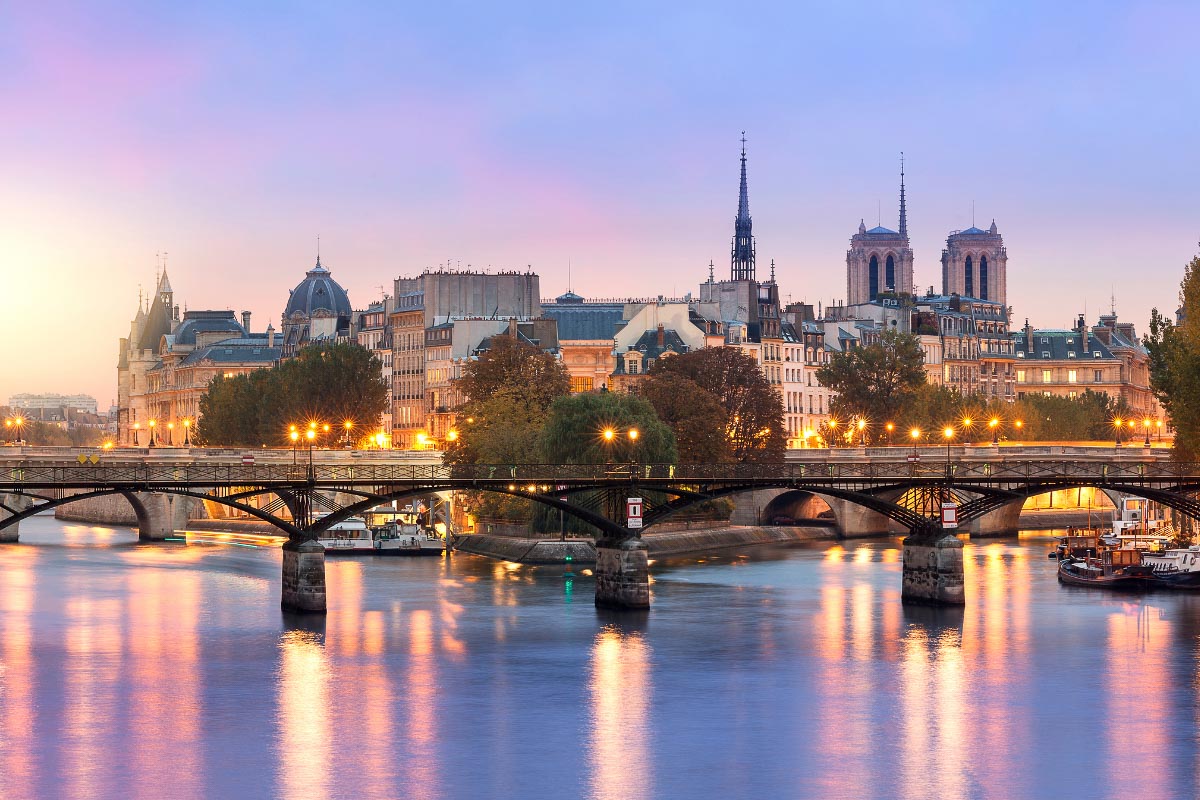 The Pont des Arts is nearly identical to the previous bridge. For a while, it was a popular spot for lovers to attach locks to. They would write their initials onto the lock, secure it to the bridge, then toss the key into the Seine River.
However, in 2014, the weight of the locks caused one of the bridge's side barriers to collapse. Due to the risk of further damage, this practice was banned. The side of the bridge was replaced with a glass panel that padlocks couldn't be attached to.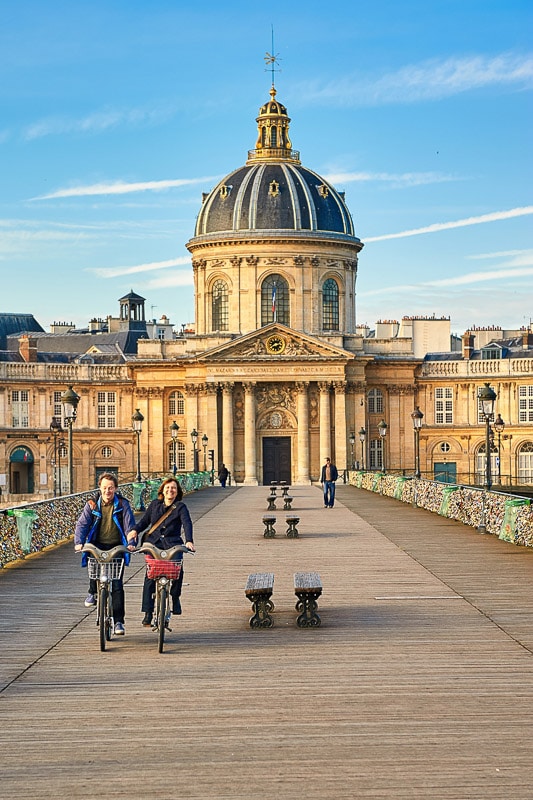 ⇒ If you like beautiful European towns check out my posts on Saint Antonin Noble Val and Tarn et Garonne in France, 10 Beautiful Bridges in France, 10 Beautiful Lakes in France and the 6 Best Places to Watch the Sunrise in Paris
Lovers are still encouraged to visit the bridge, however, it is now recommended they take selfies instead of leaving locks.
⇒ Book a Paris Eiffel Tower Tour, Seine Cruise and City Tour
7. Pont Valentré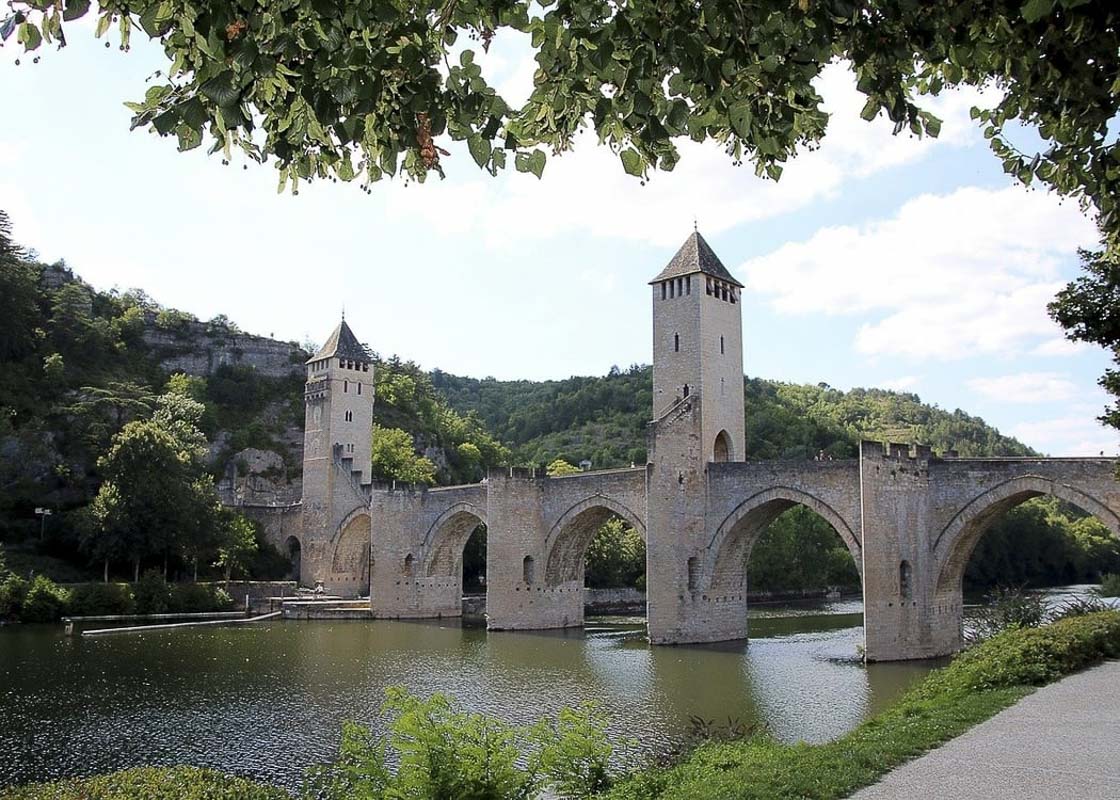 Image from pbarnoux on Pixabay
Pont Valentré is a handsome 14th-century fortified stone bridge that crosses over the Lot River in Cahors, France. It features six Gothic arches and three bridge towers. The construction period lasted for 70 years, from 1308 to 1378, with its opening for use in 1350.
According to the local legend, the foreman, angered by the sluggish pace of the work, signed a deal with the Devil. If the Devil sped up the work, the foreman would sacrifice his soul. When the bridge was all but finished, the foreman went back on his word, trying to save his soul.
He gave the Devil an impossible task — to collect water with a sieve for the workers. In revenge for being tricked, it is said that the Devil sends a demon each night to loosen the stones so that the bridge can never be complete.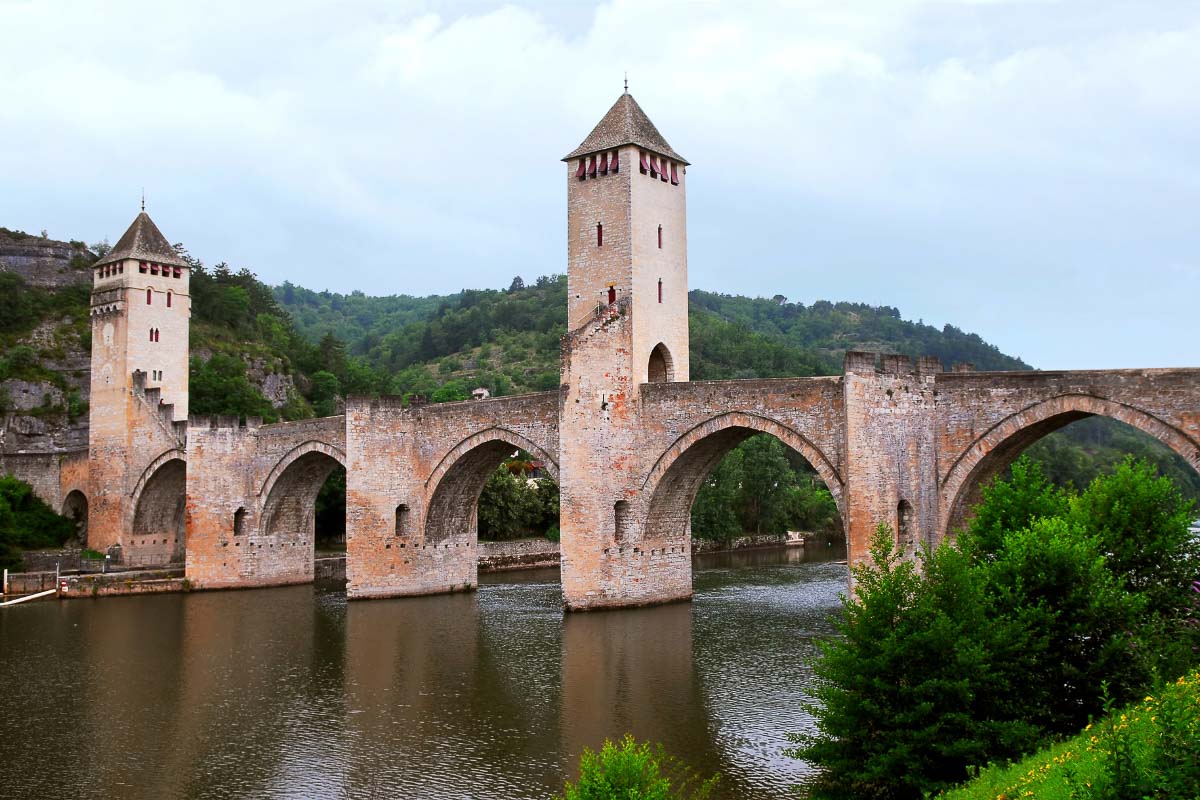 ⇒ Explore more of Europe in my posts on 14 Beautiful Cities in Europe 16 European Palaces not to Miss, 17 Beautiful Castles in Europe Not to Miss, 12 Beautiful Famous Spain Landmarks and 16 Famous Landmarks in Europe.
From 1867 to 1879, a restoration project for the bridge was carried out. Familiar with the legend, the architect seeing out the project placed a sculpture of a small demon on the central tower. This is said to confuse the devil into thinking that his imp is there to carry out his vandalism.
Visitors can cross the bridge on foot and see the small statute for themselves.
8. Viaduc de Garabit
Viaduc de Garabit is a railway arch bridge that crosses over the River Truyère, near Ruynes-en-Margeride, France. It was designed by famed French civil engineer Gustave Eiffel, the same man who designed the Eiffel Tower in Paris.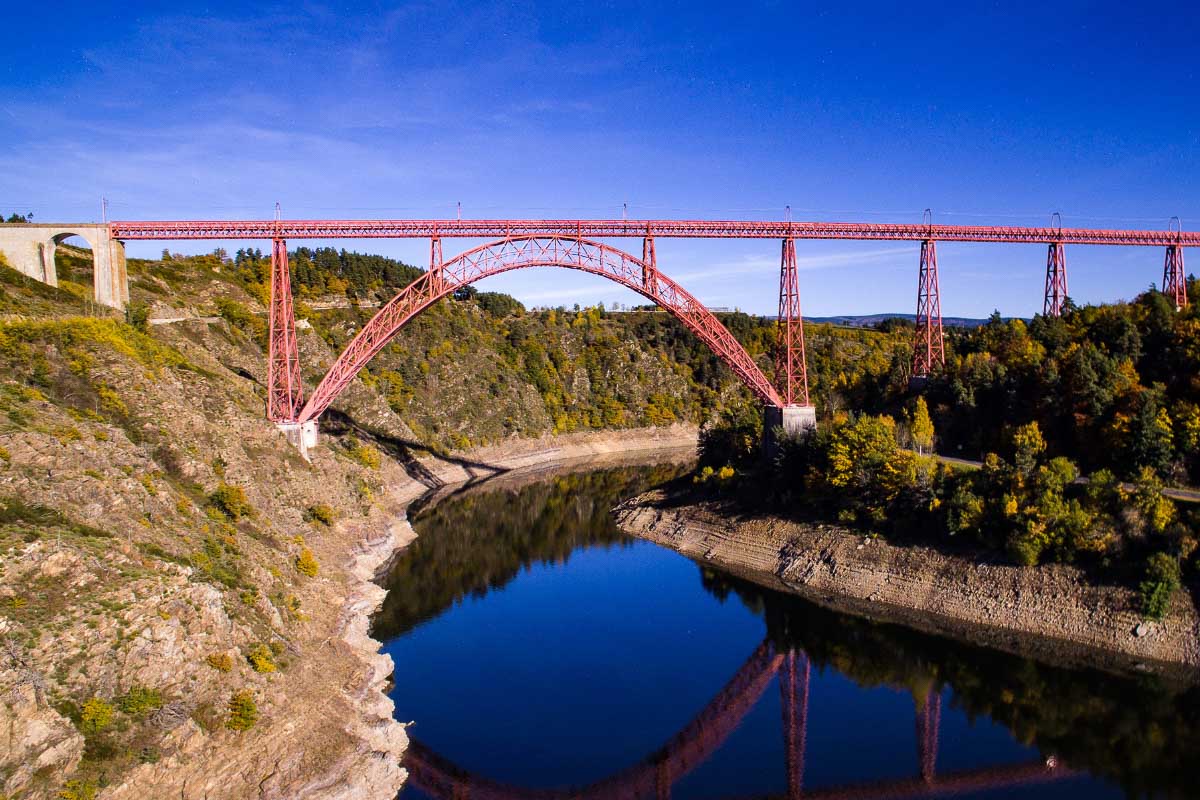 The bridge was constructed from 1882 to 1884. It opened in 1885 and was, at the time of its completion, the world's highest arch bridge. The brilliant red iron bridge is a masterpiece of civil engineering.
It's so large, it can easily be seen from afar, especially in the evenings during the summer months when it is beautifully illuminated.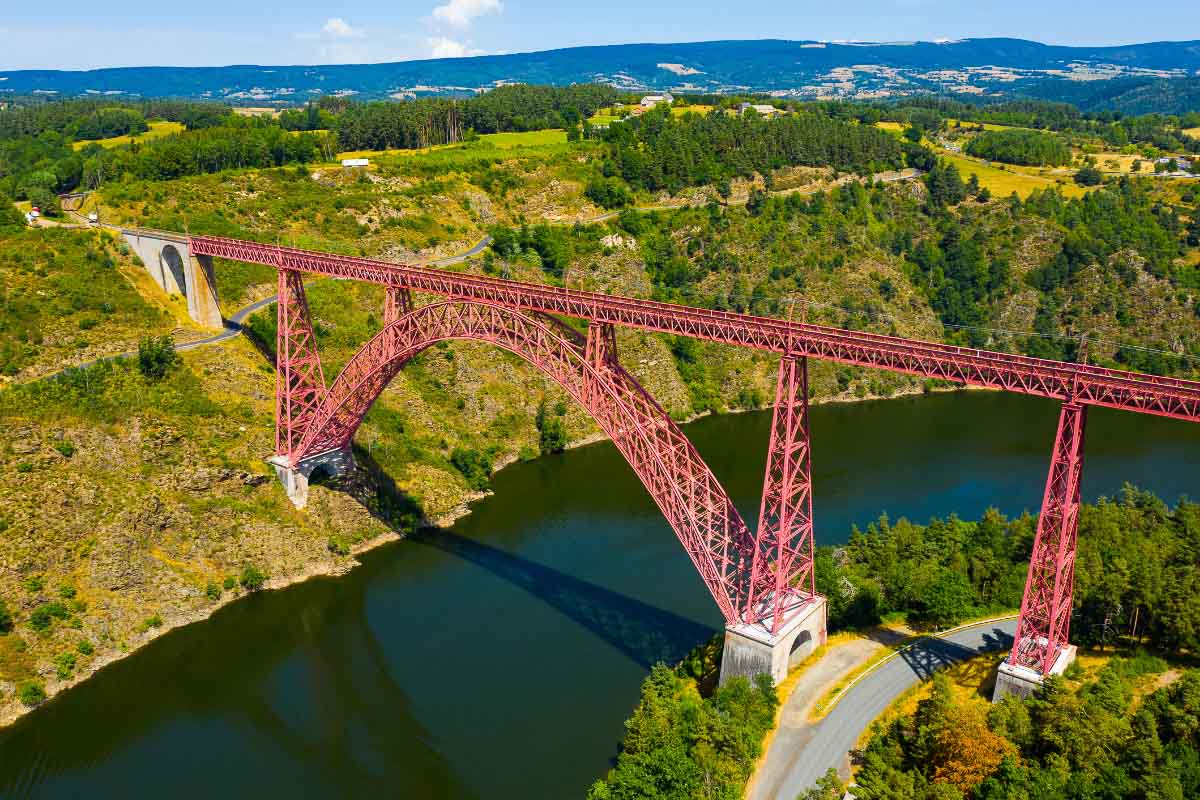 ⇒ There is something about landmarks – I am always a bit awed when I get to see one! 16 Famous Landmarks in Europe You Must See, 12 Beautiful Spain Famous Landmarks, 11 Stunning Canada Landmarks, 15 North America Landmarks, 16 Australian Landmarks, Top 10 Famous Landmarks in the US, 21 Stunning Asia Landmarks, 10 Bridges in London Not to Miss, 20 Most Beautiful Cities in the World, 9 Picturesque Japan Landmarks and 11 Historic Greek Landmarks.
9. Briare Aqueduct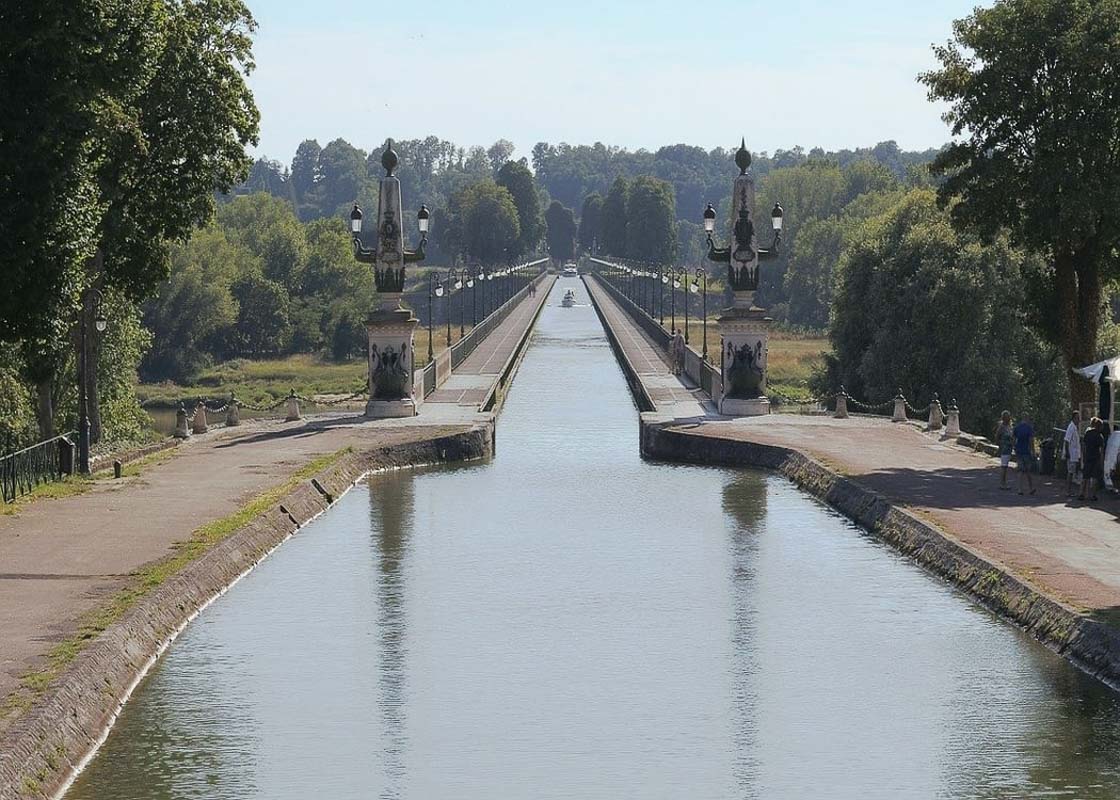 Image from luctheo on Pixabay
The Briare Aqueduct is a canal bridge in Briare, France. It carries the water from the Canal Latéral à la Loire over the Loire River on its journey to the Seine River in Paris. It opened in 1896 and held the title of the longest steel canal aqueduct in the world for quite some time.
Currently, it's France's longest canal aqueduct. Both sides are outlined by a paved walkway that people can walk or cycle across.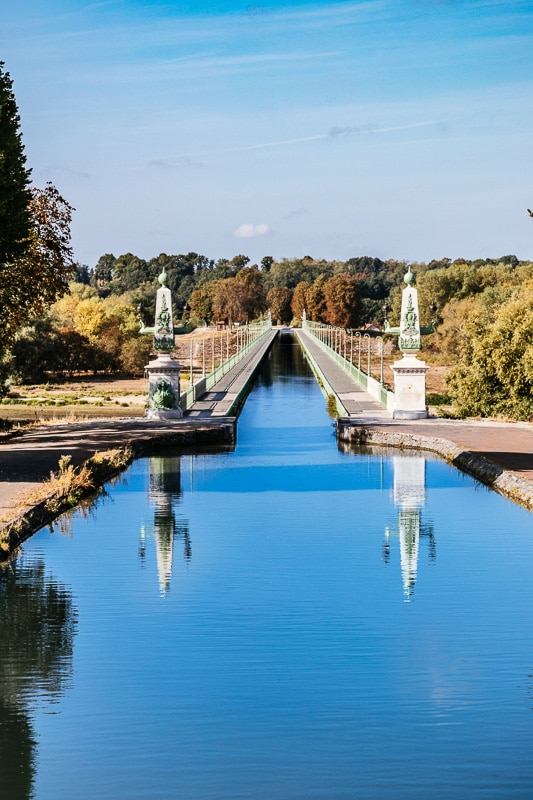 ⇒ If you're planning a trip to Spain don't miss my posts on 12 Famous Spain Landmarks, 14 things to do on Lanzarote, Best Place to Stay in Lanzarote, 20 Gran Canaria Excursions, Gran Canaria Markets, 8 Places to watch Sunsets in Ibiza and 8 Things to do in Maspalomas.
10. Viaduc de Millau
The Millau Viaduct is a cable-stayed bridge that stretches 2.4 km across the Tarn River near Millau in Southern France. It has a structural height of 336.4 metres, making it the tallest bridge in the world (as of January 2021).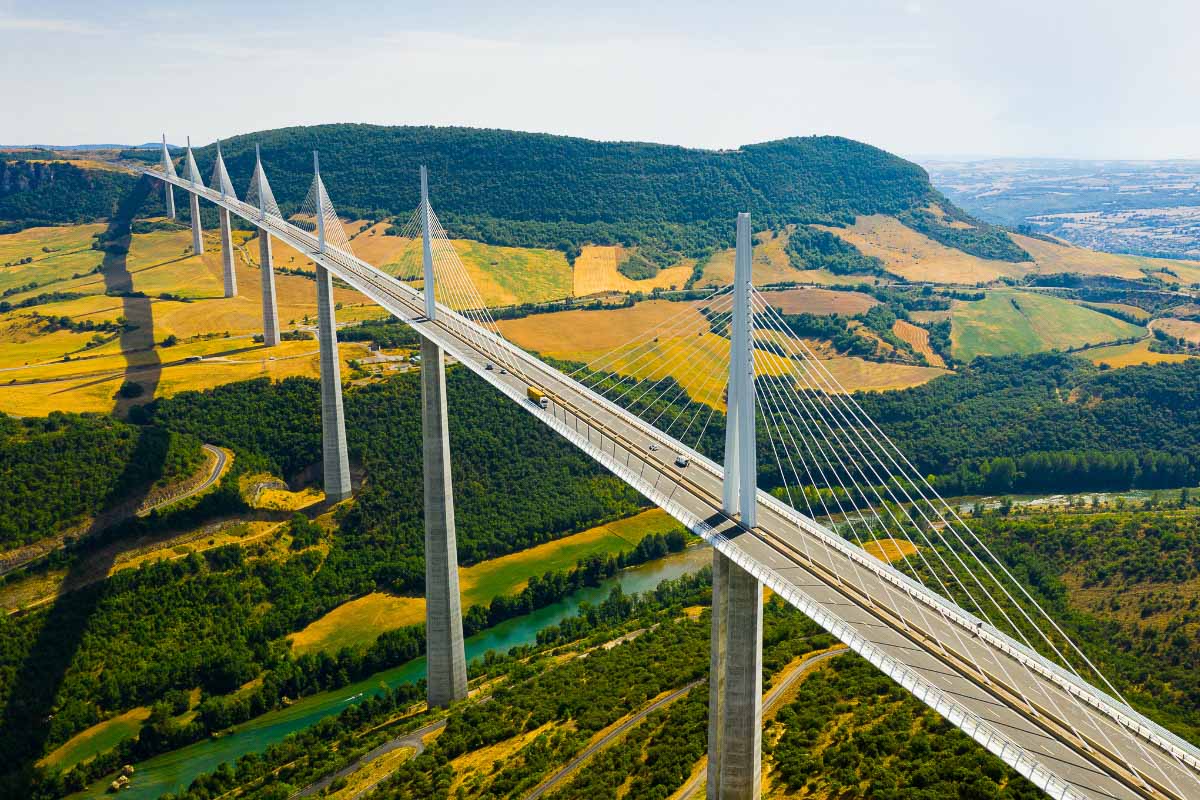 After three years of construction, it opened to traffic on 16 December 2004. It has been ranked as one of the greatest engineering feats of modern times. It has a thin, slightly curved appearance.
The seven slender masts contain eleven stays (metal cables) between them. This gives the bridge a large yacht-like appearance.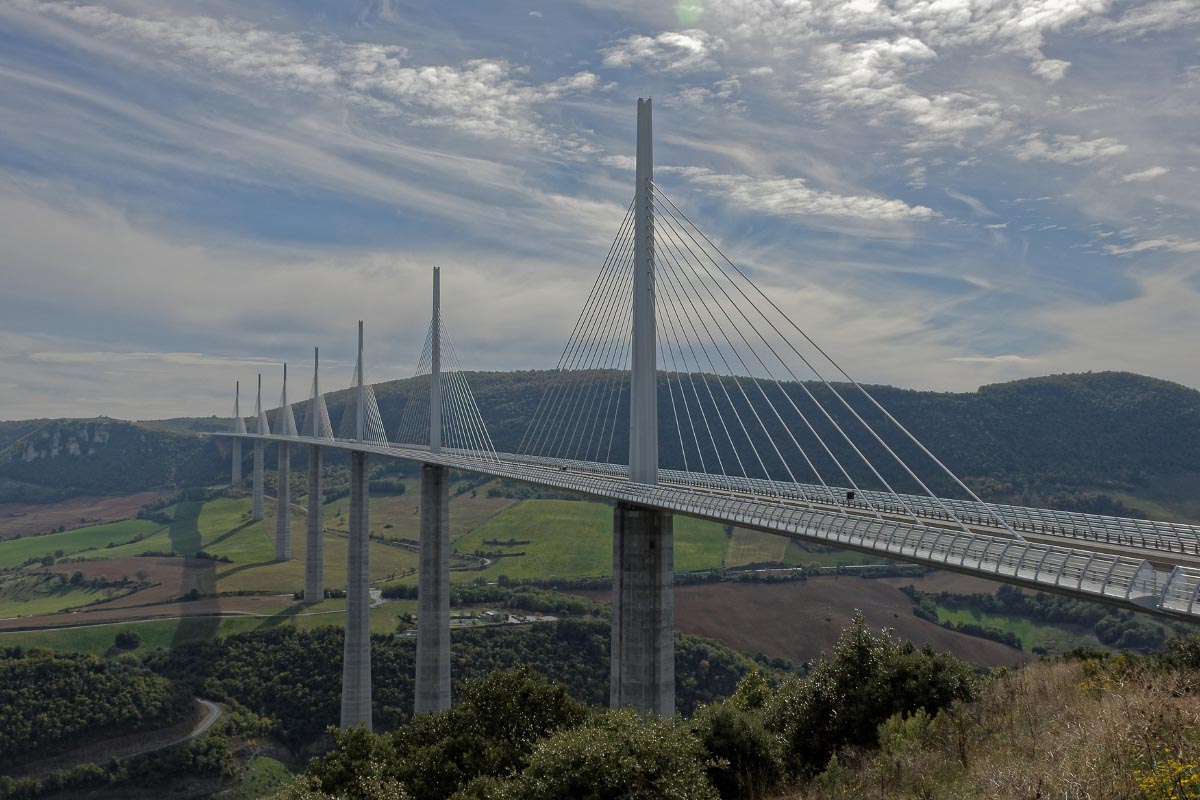 ⇒ A highlight of Europe is wonderful Italy. Check out my posts on things to do in Rimini, best places to visit in Puglia, boutique hotels in Bologna, Sardinia boutique hotels, wineries in Montepulciano, Best Italy Ski Resorts, things to do in Sicily, where to stay in Sicily Sicily Itinerary 7 days, 15 Most beautiful cities in Italy, Skip the Line Colosseum Guide, 18 Venetian Palaces to See or Sleep In, 16 Famous Landmarks in Europe and the 14 most beautiful cities in Europe you may not know.
Beautiful Bridges in France: Final Thoughts
France contains some remarkable bridges. Each has its own fascinating story and serves as a visual reminder of an important chapter in the country's past. You'll find them in the larger cities, like Paris, as well as in the smallest of villages.
You don't have to be a history buff or an architecture fan to appreciate just how spectacular these structures truly are.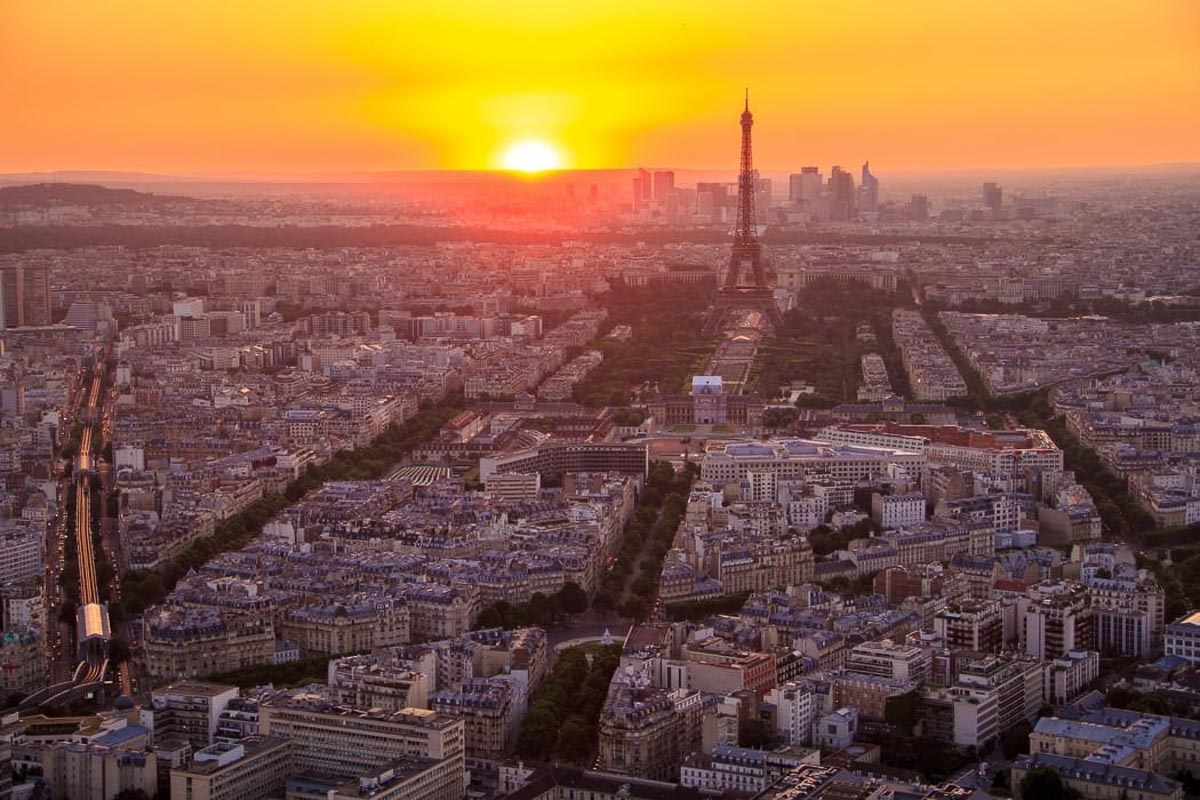 ⇒ Another fantastic European town is Verbier in Switzerland. There are so many things to do in Verbier and its not just for skiing – check out my Verbier summer guide.
Who Paid for What in this Post?
This bridges in France post includes affiliate links. That means if you click through and end up making a purchase I will receive a small commission. I wanted to make sure you were aware of this.