I do like quirky bars in London!  So when I heard about a cocktail bar based on Breaking Bad and liquid nitrogen cocktails I was in. I wasn't the biggest Breaking Bad fan but I had watched enough episodes that I got the gist of the storyline. So I headed to east London to visit ABQ London.
Embarrassingly we did have a challenging time finding ABQ London – due to the fact we totally missed that it was in a bus/Winnebago as per the meth lab in the show! We walked past it and had to ask – and then realised we were right in front of it and so much less hip than we might have thought! I have put where we had dinner before hand below but in the area, with the bus, there is a food truck doing Italian so you can grab something there. No food on the bus!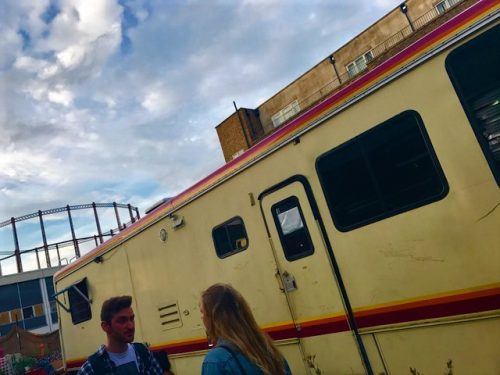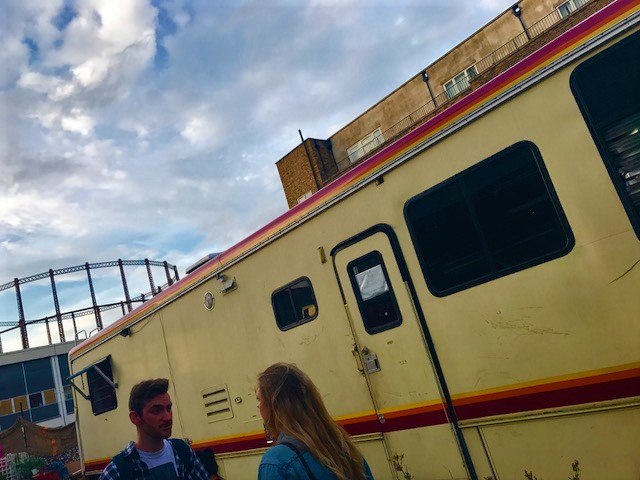 Our ABQ London host came out to great us in character – lots of high fives, drug references etc. We got into the bus and had yellow boiler suits waiting for all of us. They are not the easiest things to get on and the fabric is far from breathable but it is essential to put them on for the total experience! You can also then get shots taken with various masks etc.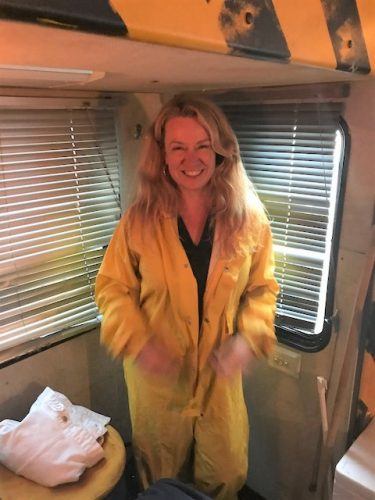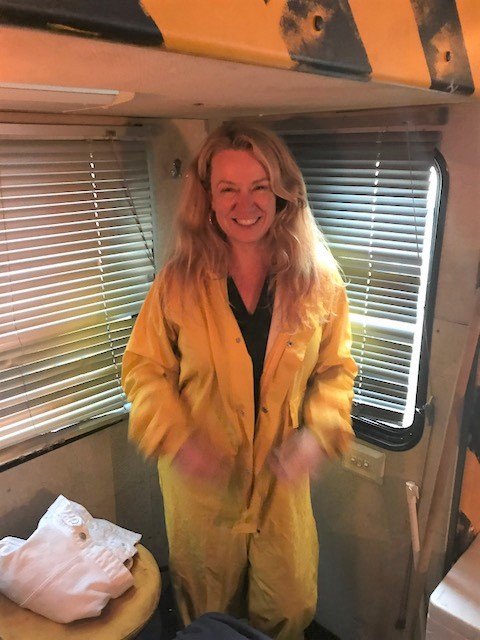 There is a glowing mural of Walter at the end of the bus which is well worth a photo.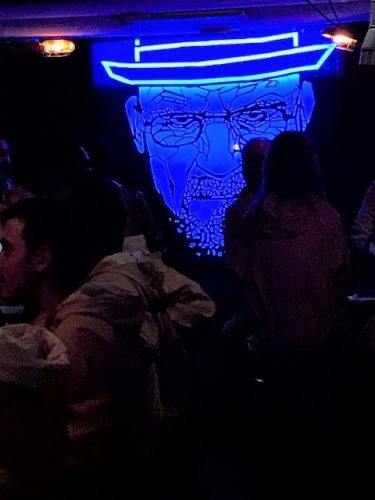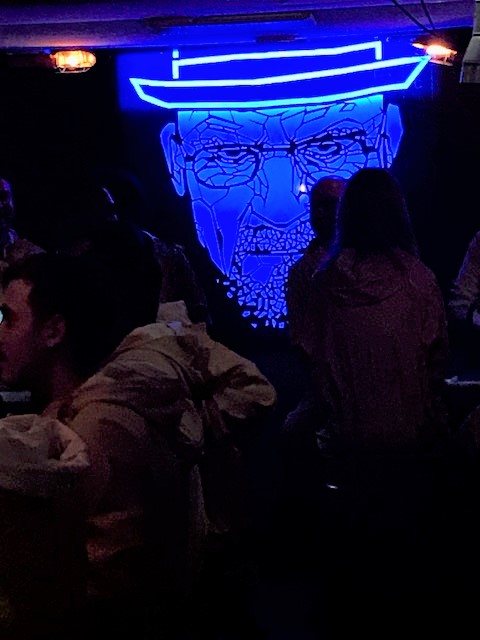 Once inside things kicked off with a welcoming drink. This is a mojito type concoction which is served in a beaker – such a good idea! It also comes with a plastic syringe with some blue liquid inside – up to you how much you put into your beaker. I injected the whole thing and was still standing so feel free to do the same thing!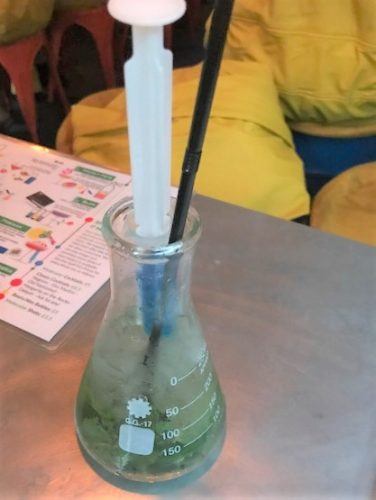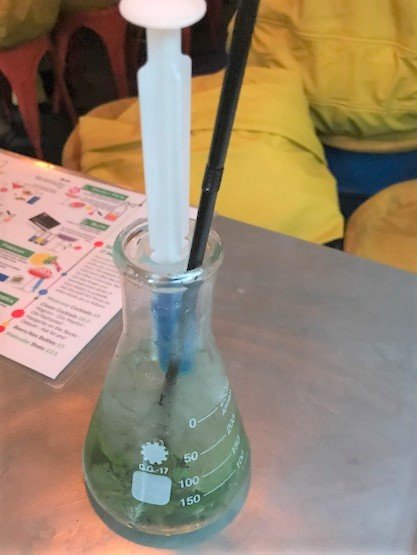 We were then asked to choose 2 cocktails from 12 on the ABQ London spring/summer cocktail menu. All had fabulous names such as the Walter JR Breakfast, La Tortuga etc. You get involved in the making of the cocktails that you order. The waiter brings you several ingredients and you then use a type of nitrogen cavitation or dry ice to finish the cocktail off.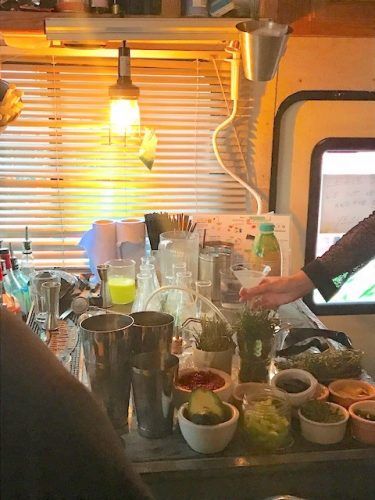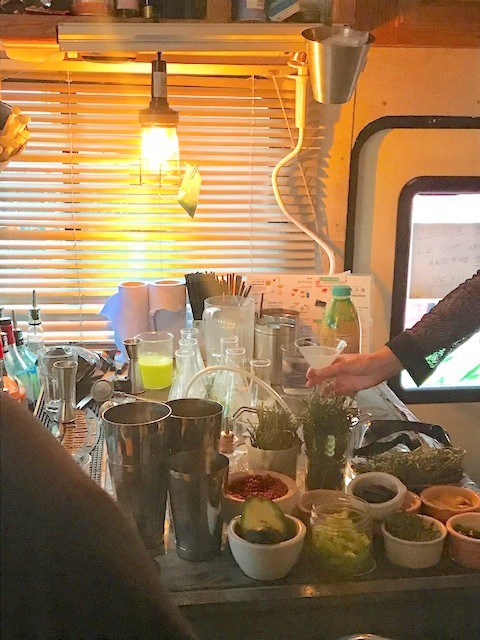 My first choice was La Tortuga which was mezcal, agave, lime and pineapple. I then infused the drink with sage and jalapeno chilli. This was done using the type of container that you normally see whipped cream in. I put the ingredients in and did some shaking and out came my infusion which I put on the top of my drink.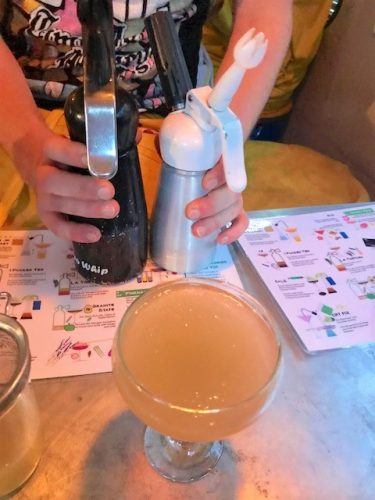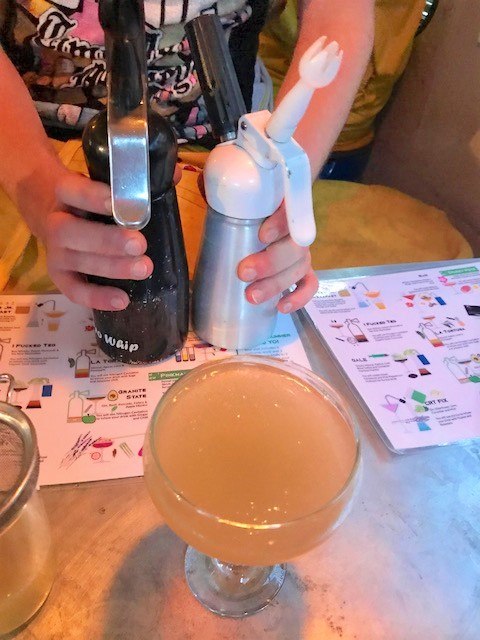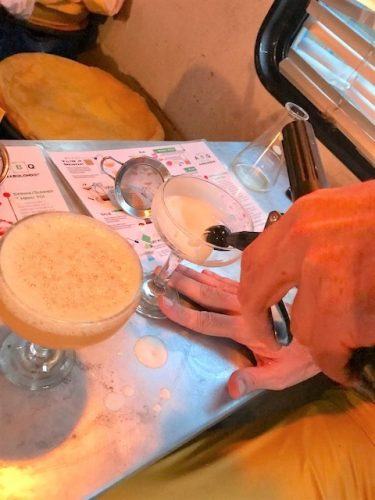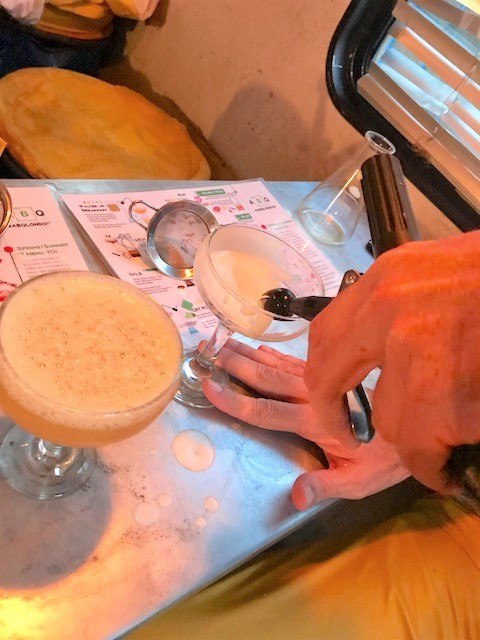 Next up I wanted something with dry ice as this had been demonstrated earlier and was the most dramatic option! I ordered the CRT Fix which was Gin, elderflower, lime, cucumber and mint. In a beaker, I mixed up the thyme and rosemary with the dry ice and then used a liquid tube to put the outputs of the dry ice on the top of the drink. This was definitely the most photogenic option!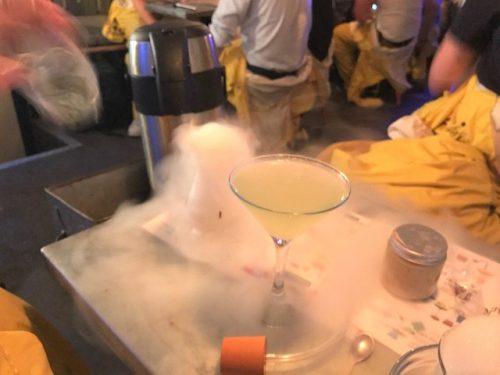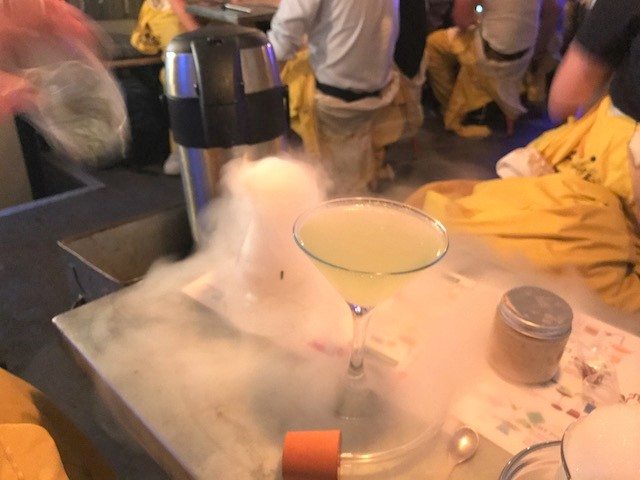 And I should add at this point that the drinks also tasted fantastic!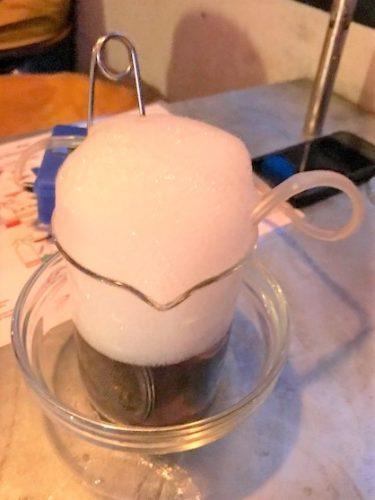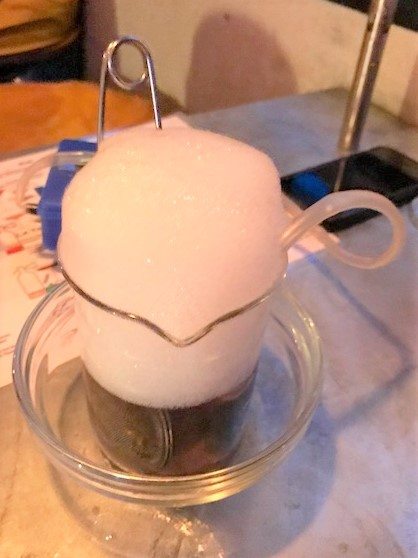 The staff give excellent instructions when they bring you the ingredients for each drink and your host stays in character through the evening.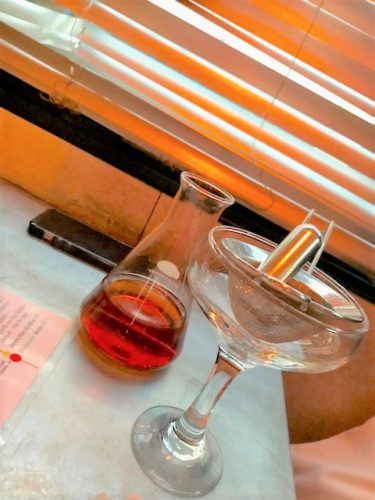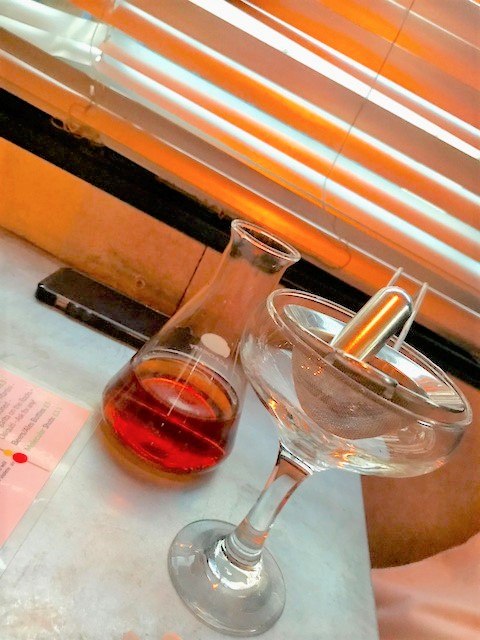 Once you have had your three drinks (these are covered in your 30-pound entry fee) you can then move on to a more "normal" cocktail menu or try some of the others on the list.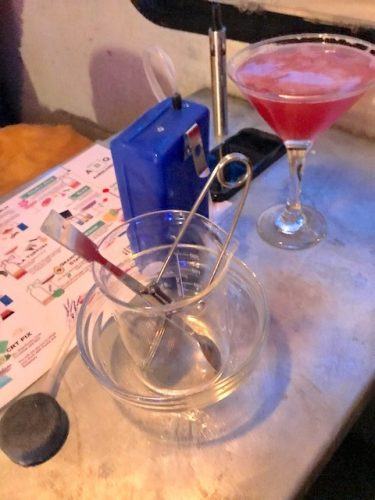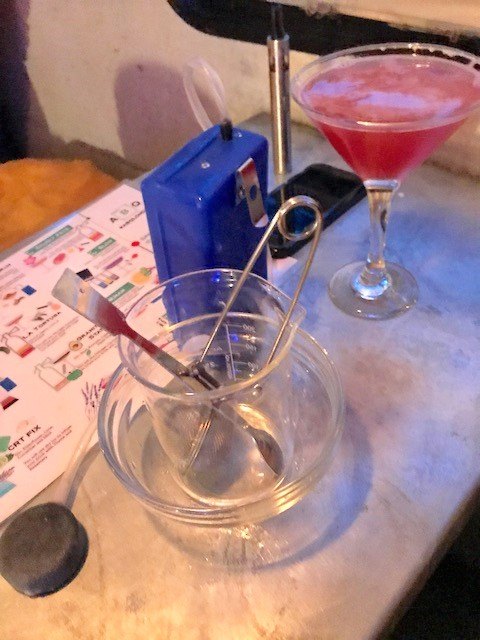 This was a great fun experience and would be fantastic for groups and also for a second or third date.
Before you go to ABQ London: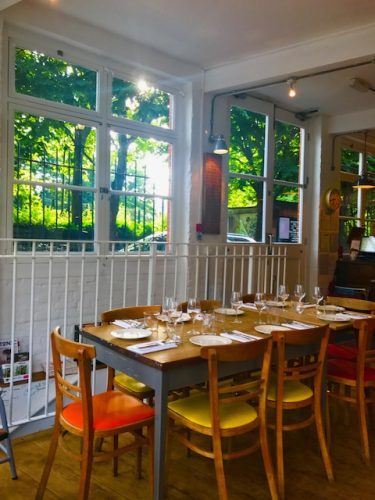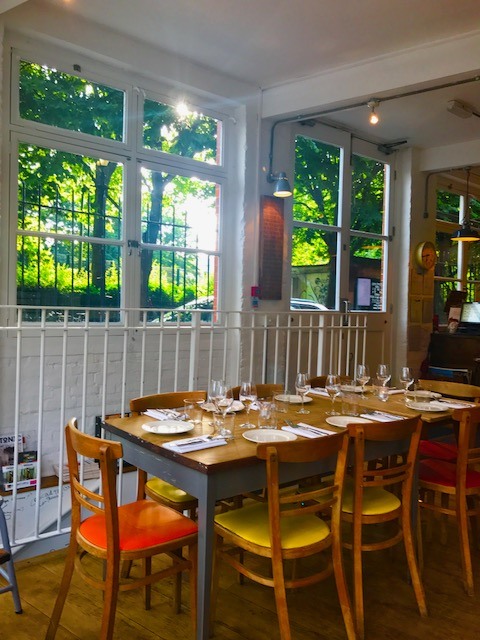 We did dinner beforehand at Brawn on Colombia Road and it was excellent! The restaurant is very cute and has a very impressive wall of wine! The wine list is also excellent with some unusual choices even by the glass. It is a tight menu but more than enough good options. We started off with the Beetroot, Bottarga, Soft Egg and Dandelion (yes indeed!) and the Burrata and Caponata – both were fabulous but the Burrata was the big winner. For my main, I had the Pork Collar with chick peas, chard and mojo Verde which was a sensation! Especially the mojo verde! I guessed this was some type of green pesto like sauce and it was – it made the meal.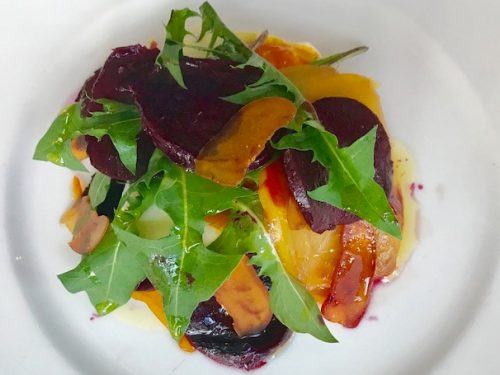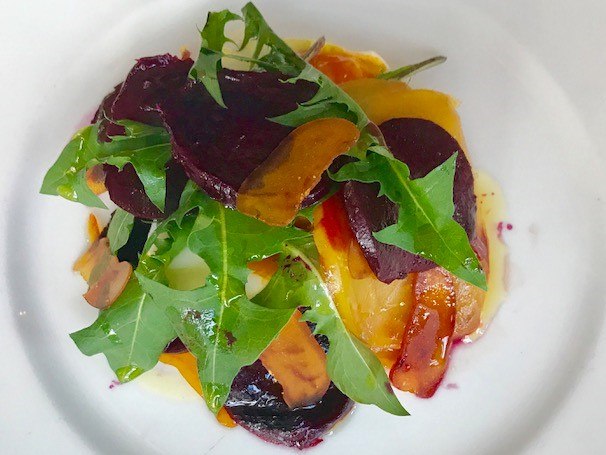 They have a great selection of interesting wines as well. Try their orange wine for which they are known. We didn't like it but you never know!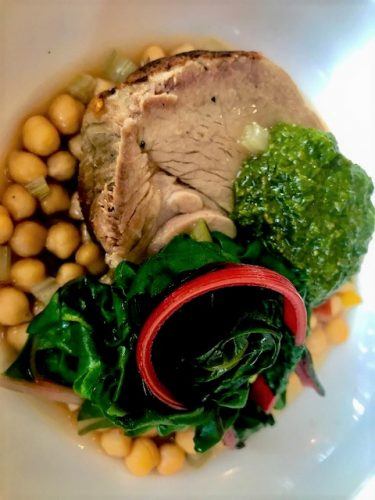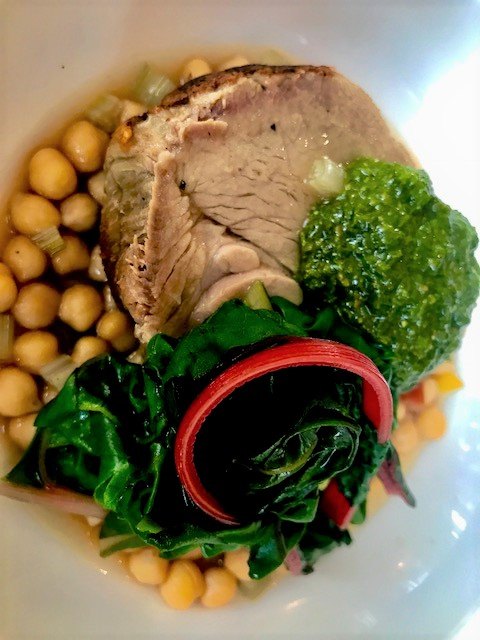 The team behind ABQ London also run the fantastic Bletchley Bar – check out my post on it here.
Quirky Bars in London ABQ Useful Links:
Heading to London? Check out some of my other posts here:
The Secret Food Markets of London
London's best new restaurants 2017
London Afternoon Tea Mad Hatter style 
London Victoria Nova Restaurants
Quirky Bars in London Accommodation:
Click here for some London accommodation options
Quirky Bars in London Flights:
Looking for flights to London? Click here for some great deals.
Or check out my favourite Middle Eastern airlines – particularly if you're flying Business Class
Quirky Bars in LondonTours:
Travelling solo and interested in joining a group tour?
Just You Holidays United Kingdom
Exodus Holidays United Kingdom
Explore Holidays United Kingdom
Need travel insurance? Click here
Follow my Pinterest board on London here
This post contains affiliate links
Thanks to ABQ London for sponsoring my visit to their fabulous bar.
Summary
Reviewer
The Boutique Adventurer
Review Date
Reviewed Item
ABQ Cocktail Bar London
Author Rating
---
Also published on Medium.