I loved loved loved Paxos Greece. It has managed to escape mass tourism as there is no airport on this small island. Paxos Island Greece is 10km long and 4km wide and filled with olive groves, crystal clear water, dry stone walls, beautiful Paxos beaches, farmhouses and fantastic food.
Life is relaxed on Paxos Island. There are three small main settlements that are at different points along the coast – Gaios, Loggos and Lakka.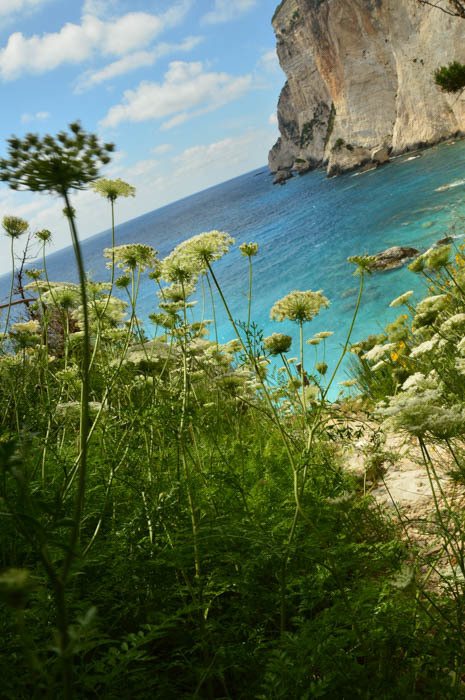 There are few inland villages on this greek island and those that exist are very small. It has a wonderful peaceful air. It feels like actual people live on Paxos – not like Santorini.
There, of course, are tourists and the island does cater to tourism. However, the smallest of the Ionian islands seems to have the right balance of being authentic yet still easy. And wow is it beautiful. And Paxos is so photogenic.
It is filled with Instagram opportunities as you will see in my Paxos travel guide with an Insta focus.
13 Best Things to do on Paxos, Greece
1. Tripitos Arch
Tripitos arch is located on the south-west coast of Paxos. It is a natural rock arch that is over 20 meters high at its peak. It is stunning. Remember there was the arch on Gozo in Malta that was very insta famous and unfortunately collapsed? Well, I think Tripitos Arch Paxos Greece is far more spectacular.
This is a must-see in most Paxos reviews.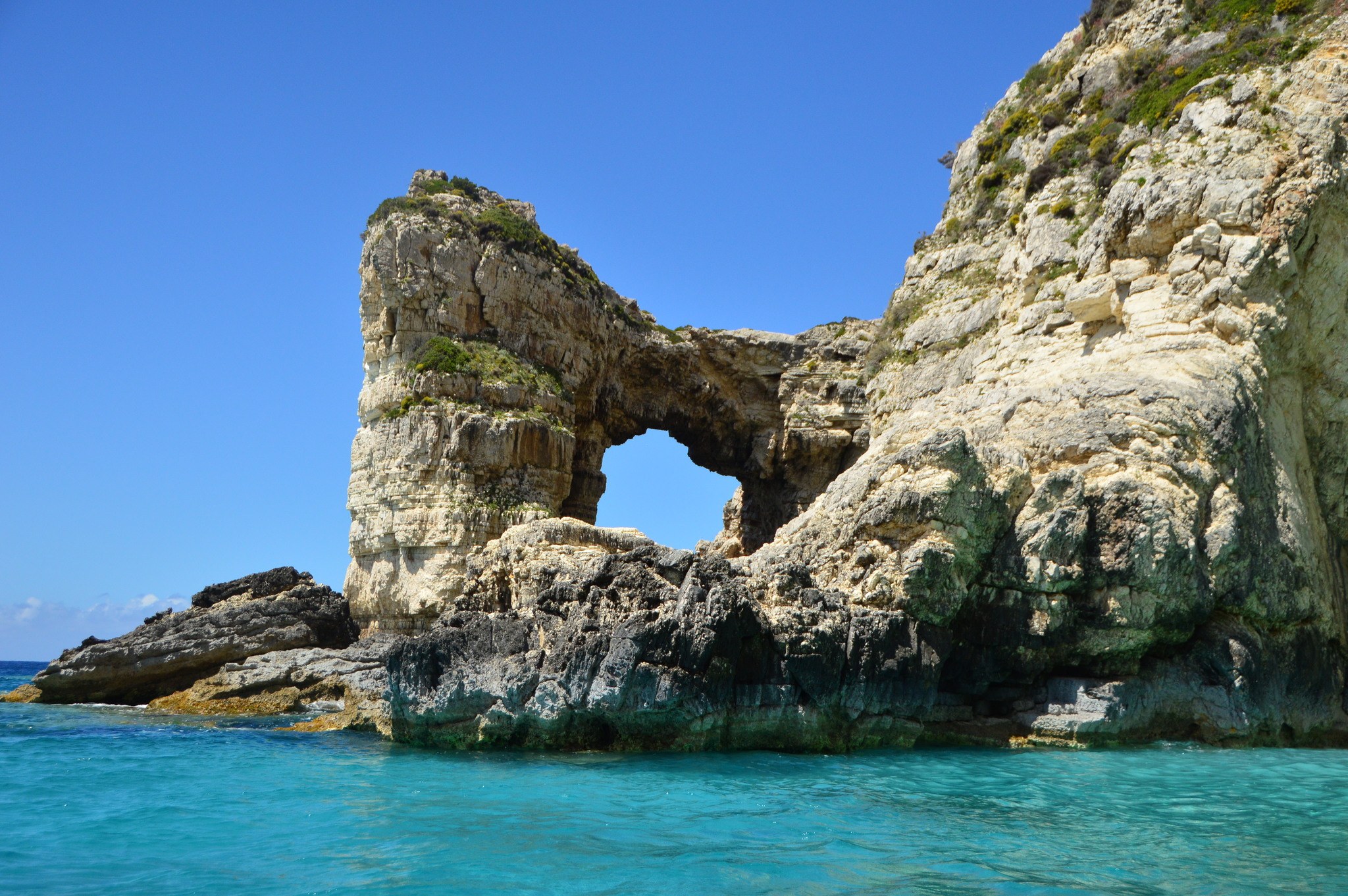 There are two ways to see Tripitos Arch and I recommend doing both. The first is to see Tripitos arch from the sea. The easiest way to do this is via a boat trip (see the details on this farther down my post).
The second option is from the land. The closest village on Paxos to Tripitos Arch is Ozias. Follow the roads from here. Having said that, the backstreets of Paxos can be quite confusing and GPS resistant. The key decision is at which point do you stop and park your car and start walking.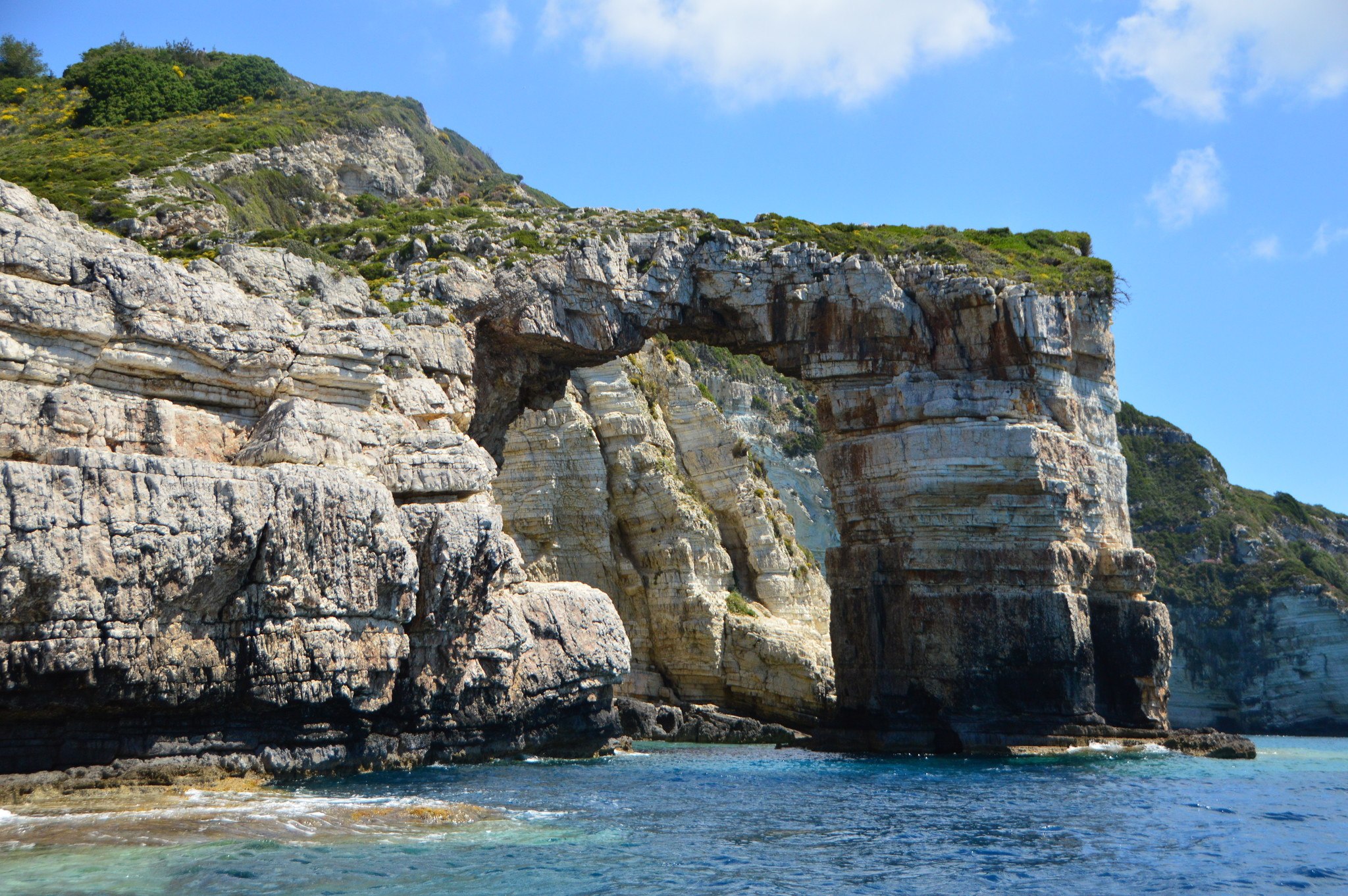 The road becomes very bad and it is best to avoid the Paxos reverse eg reversing a long way down a crappy windy road. When you see the spray-painted arch sign park off to your left. It is then a bit confusing to find the actual path for Tripitos arch. We took 3 wrong turns.
But other people are doing the same thing so we just asked the few people we came across what was the best way to walk to Tripitos Arch. The actual path to the arch is the smallest of the paths and is a couple after the first time you think hey that might be the path. It is very slim.
Because of all the wrong turns, it took us about 30 minutes of walking to get to Tripitos Arch – but only 10 minutes to get back to the car as we knew the way.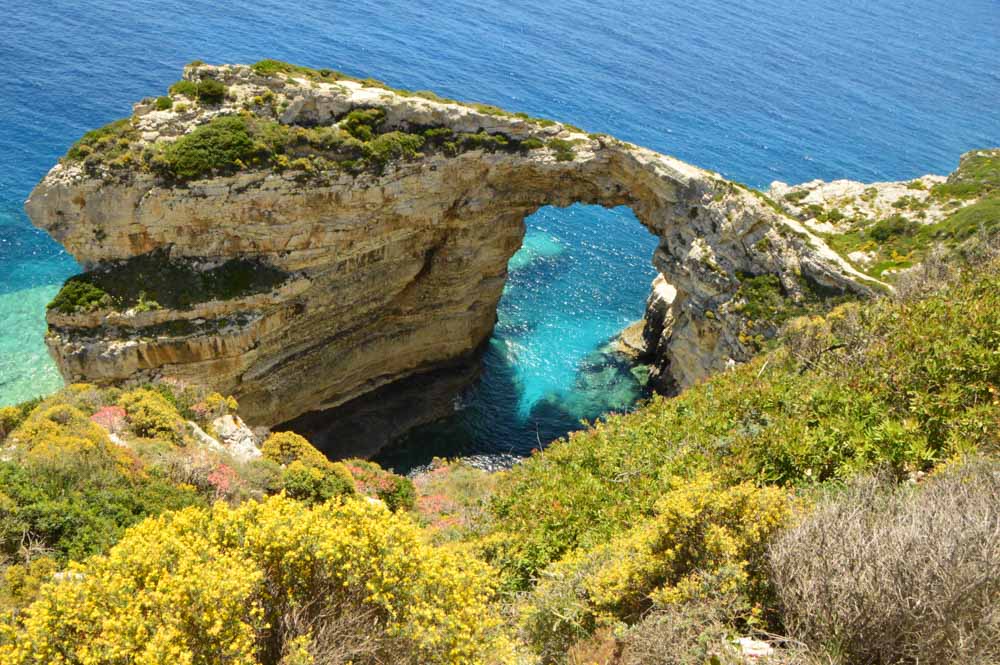 The path itself was beautiful. It was full of wildflowers when we visited at the end of May – the yellows were amazing. It was quite magical.
Once you get to the cliff do be careful – you can't miss the arch at this point so walk towards it. Despite appearances, the top of Tripitos arch is actually quite wide and very easy to walk over. But it isn't for anyone with a fear of heights.
It was very easy to walk out across the top of the arch – which obviously makes for the best photos. And there are fantastic views of Antipaxos Island Greece from the arch. What it comes to wat to do in Paxos Greece put a visit to Tripitos Arch at the top of your list.
Top tip – Paxos Guide – definitely wear sensible shoes to walk to the arch – particularly if there has been any rain. Don't wear flip flops or sandals – runners or walking boots will make it much more comfortable and safe.
2. Ben's Bar
Ben's Bar and restaurant sits on Mononedri Beach on the way to the northeast corner of Paxos Island. This bar, beach taverna and restaurant can be your home for the entire day.
Ben's Bar Paxos Greece has sunbeds, snorkelling, a DJ, massages and of course a lot of swimming.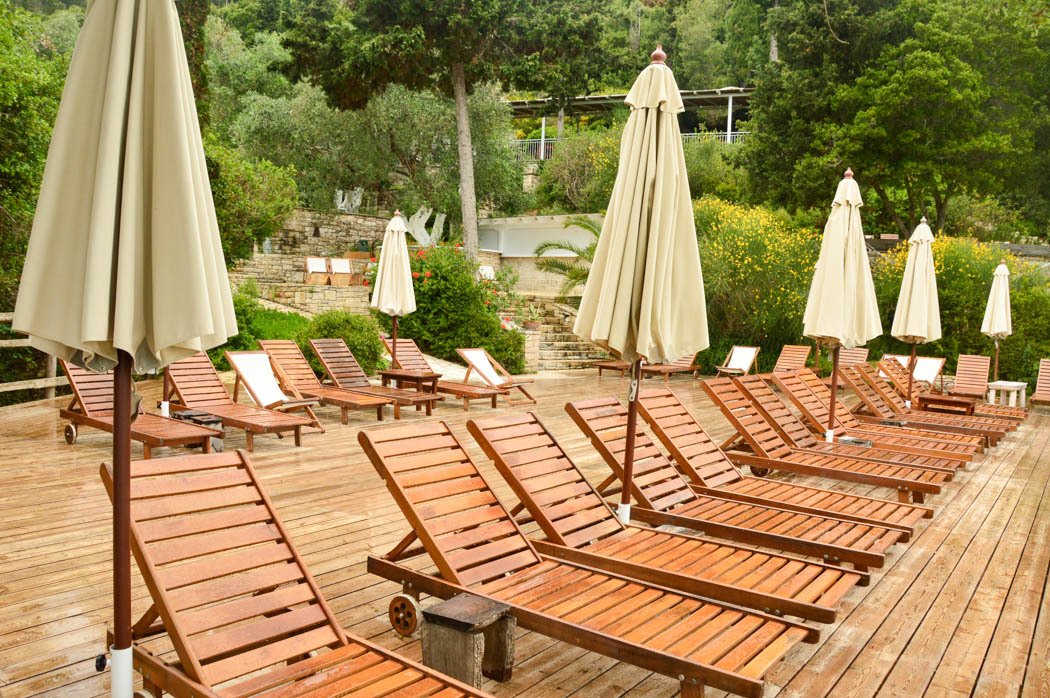 Ben's Bar is over quite a large area so there are several different places to hang out. Go for the classic sun lounger with service on the deck or on the beach. Head to the bar. Or hit the restaurant.
Ben's Bar Paxos has a great extensive breakfast menu including pancakes. The lunch and dinner menus at Ben's are compact in size and veer towards Italian – although of course there is seafood.
Paxos Travel Tip – download the fantastic and free Paxos App. [separator type="thick"]
⇒ Hungry? Here is my post on 5 Authentic & Delicious Paxos Restaurants [separator type="thick"]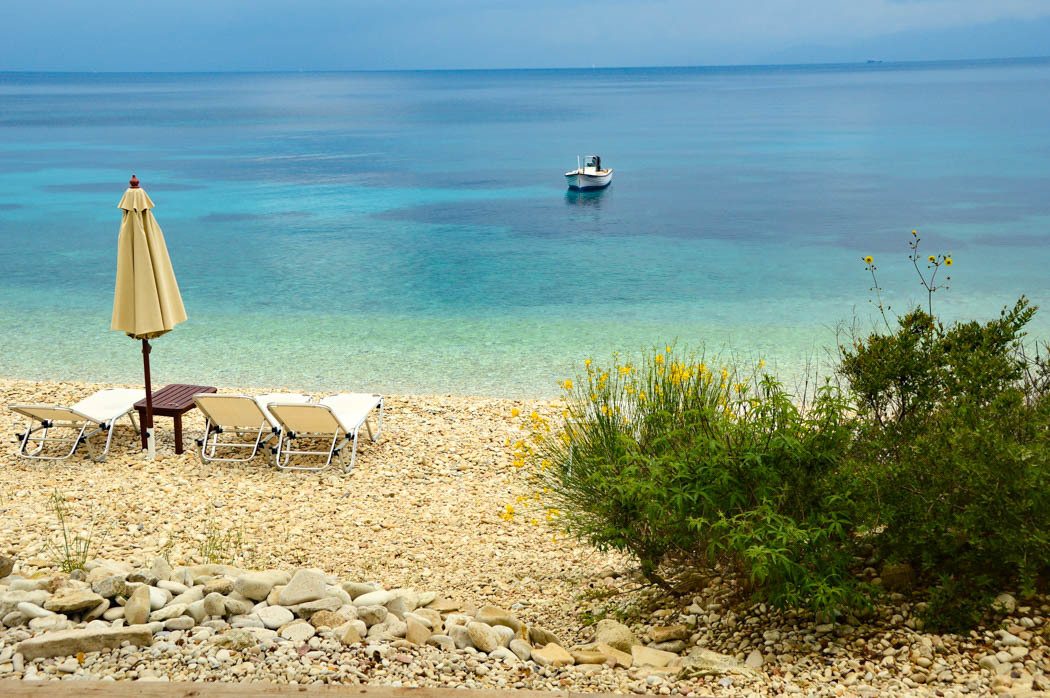 3. Antipaxos Greece
Little Antipaxos is 2km south of Paxos and covered with grapevines from which slightly questionable wine is produced. There are two beaches on the island – Vrika and Voutoumi.
A boat is needed to visit Vrika and Voutoumi but they run daily out of Gaios during the season. And most boat trips will also stop at Antipaxos and allow you to explore. [separator type="thick"]
⇒ Planning a trip to Gran Canaria? Read my posts on the Best Things to do in Maspalomas and the Gran Canaria Markets and Gran Canaria Excursions Not to Miss.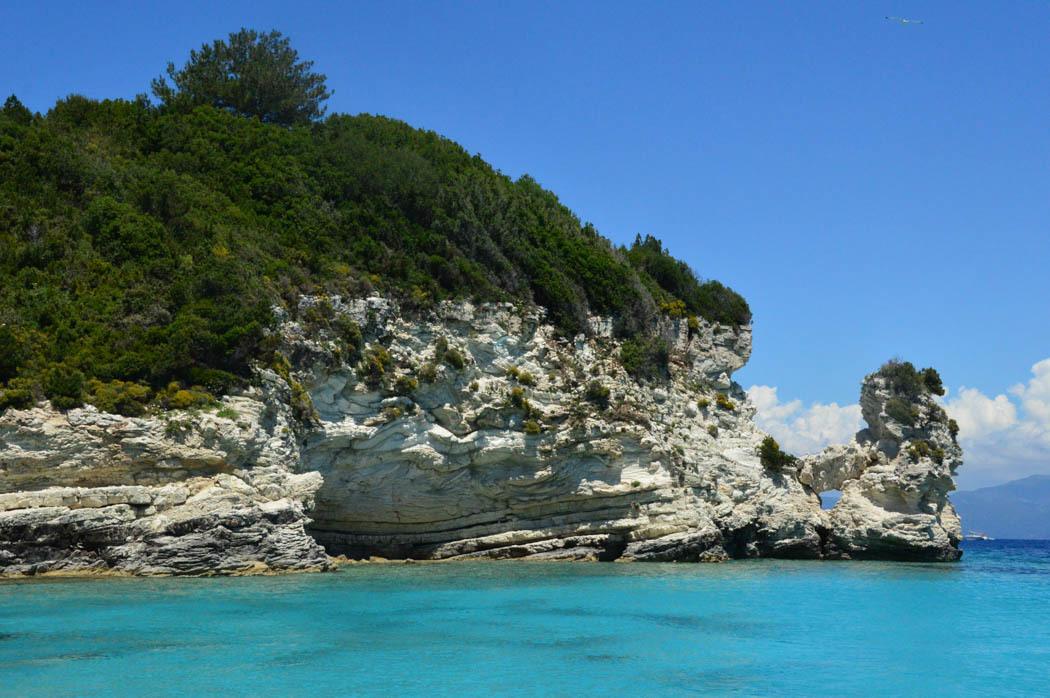 Vrika is the larger of the two beaches and is at the northeastern tip of the island. There are two restaurants – Spiro's Taverna and Vrika Taverna. The tavernas also have loungers and umbrellas.
There is a path on Antipaxos which connects Vrika beach with Voutourmi beach. It is quite a short walk. Voutourmi beach is pretty but it has large pebbles whereas Vrika is a sand beach.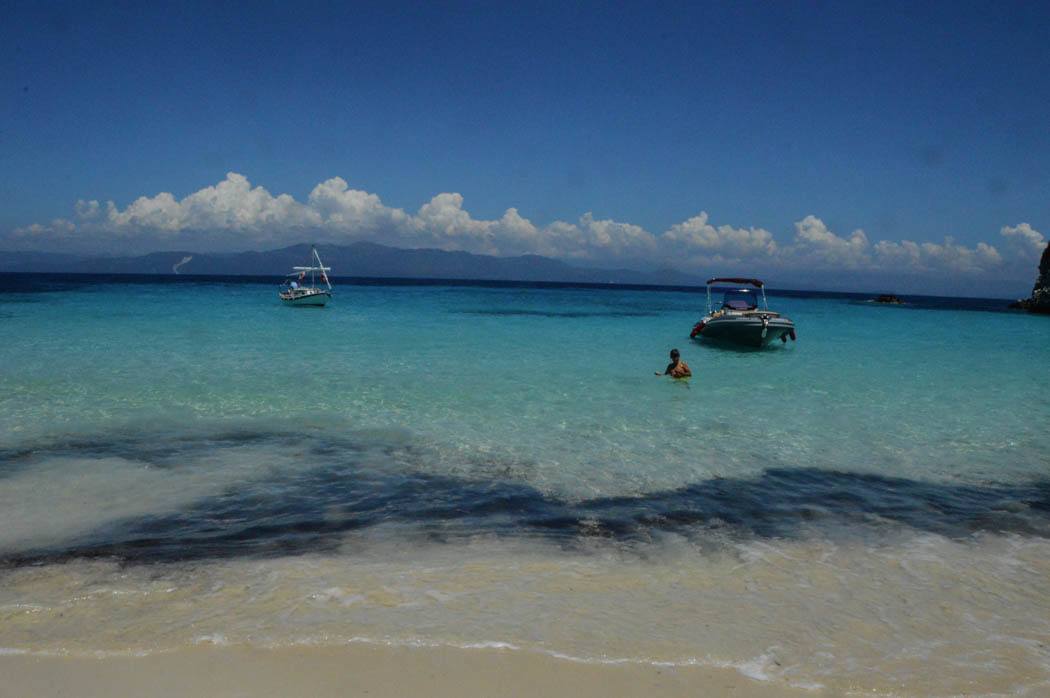 ⇒ Here are some of the best places in the world to watch the sunrise and fall: 10 Places to watch the Sunset in California, 7 Best Places To Watch Sedona Sunsets, 18 Spectacular Spots for the Best Sunsets in Seattle, 5 Stunning Santorini Sunsets, 8 Sunsets in Ibiza, 11 Places to see the Venice Sunset, 6 Spots to Watch Sunrise in Paris, 11 Places to see Sunset Edinburgh style, 15 Places to see Sunsets in London and 9 Spots to watch the Sunrise in London.
Of all the Paxos Greece beaches, Antipaxos Greece has the most insanely clear pale blue water. For me, the best shots were those that showed the boats almost floating on this translucent water. [separator type="thick"]
⇒ Another Greek Island with some fantastic food is Ios. Check out my post of the 17 best Things to do in Ios. [separator type="thick"]
4. Gaios
Gaios is the very charming and insta friendly capital of Paxos. There is a super cute pink church on the harbour in the main square and loads of cute taverns. The main square of Gaios Paxos is the centre of town.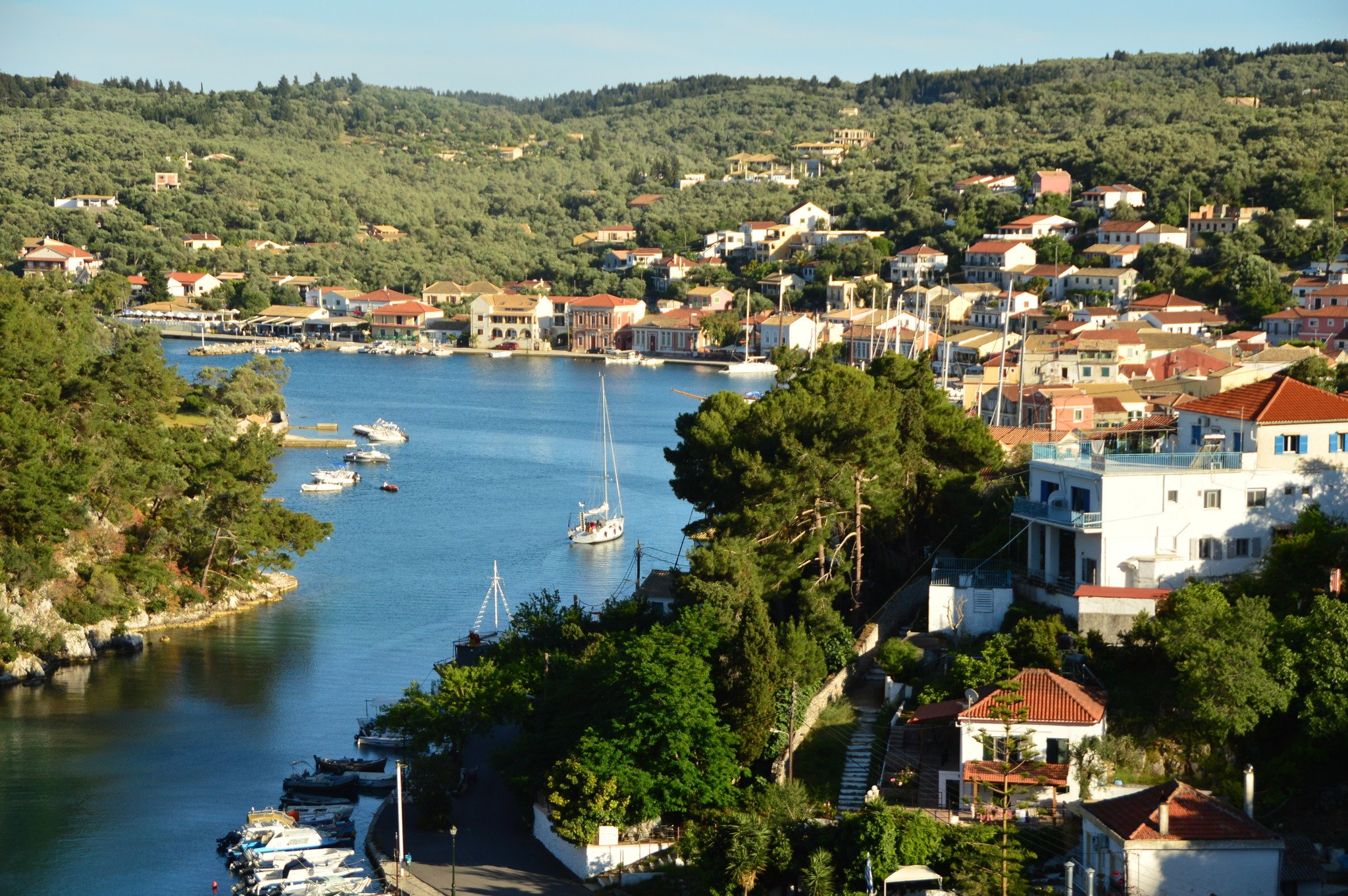 It is then lovely to walk along the Gaios harbourfront – home to more tavernas – and my favourite shop Koo which features loads of lovely local Greek designers. Koo Paxos is particularly good for shoes – and has super cute bathers for those on the slim side.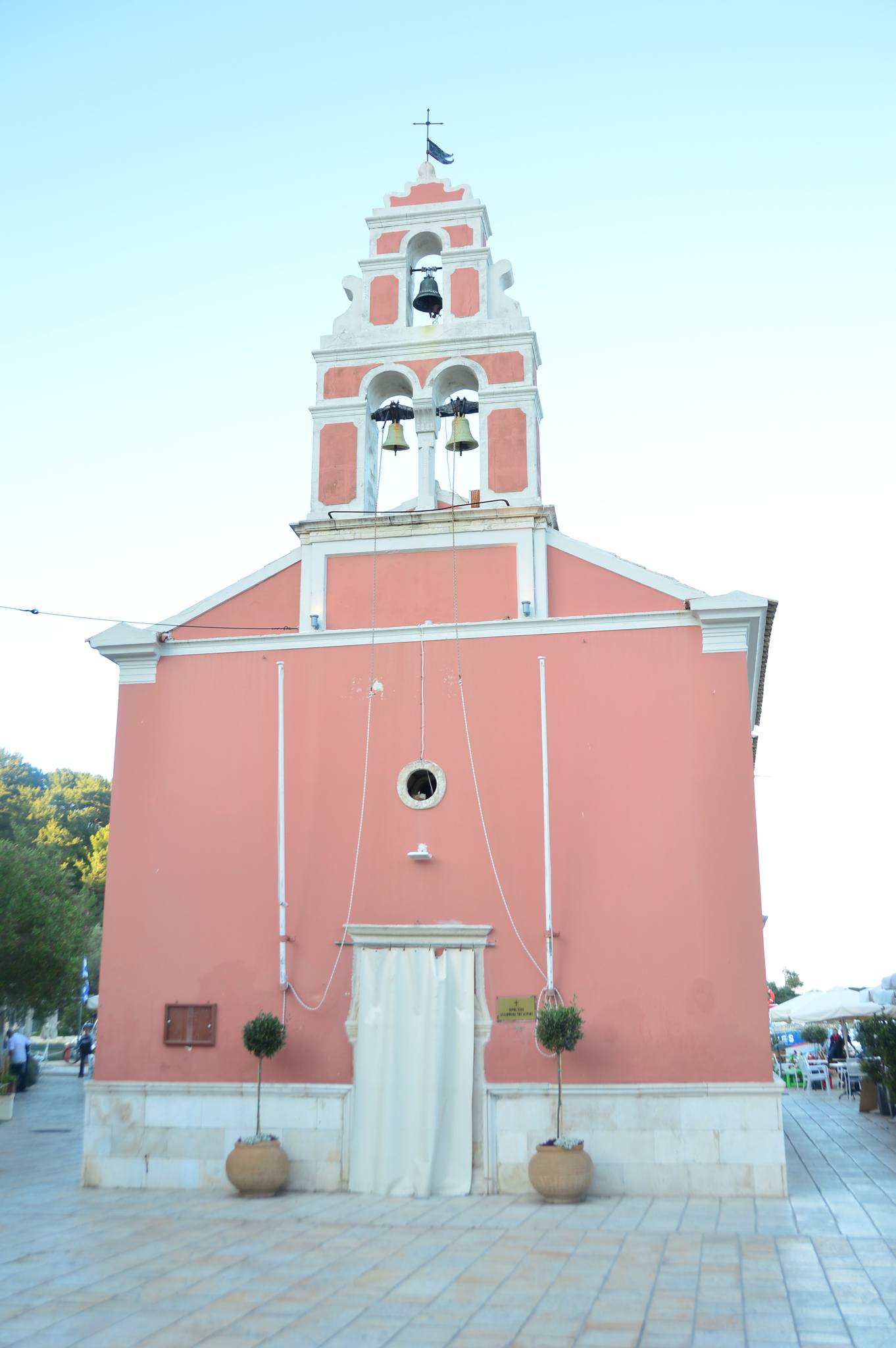 Gaios Paxos Greece also has cute backstreets for exploration. Bouganvillea is everywhere, colourful buildings – all the cute things you want from a small Greek town.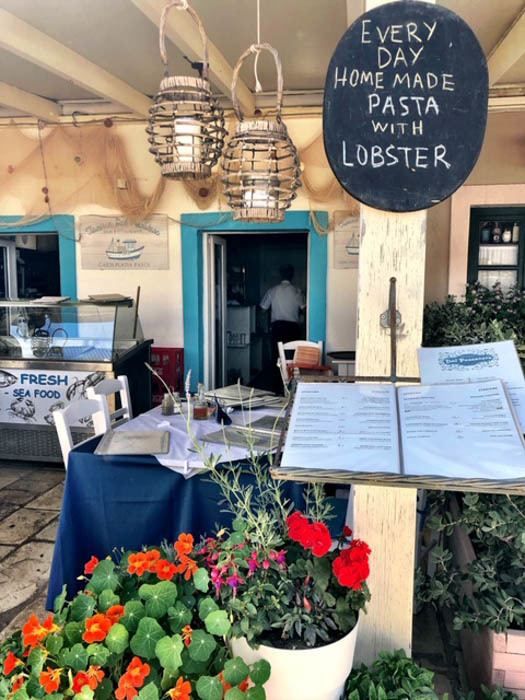 Plus if you are staying in one of the Paxos villas there are 2 butchers (shut most of the afternoon so come at lunchtime or early evening) and several good small supermarkets with all you need.
I also found a nice olive oil/wine shop on the Gaios harbour and bought some great Greek wine. Many of the boat tours depart from the new harbour which is easily walkable from Gaios.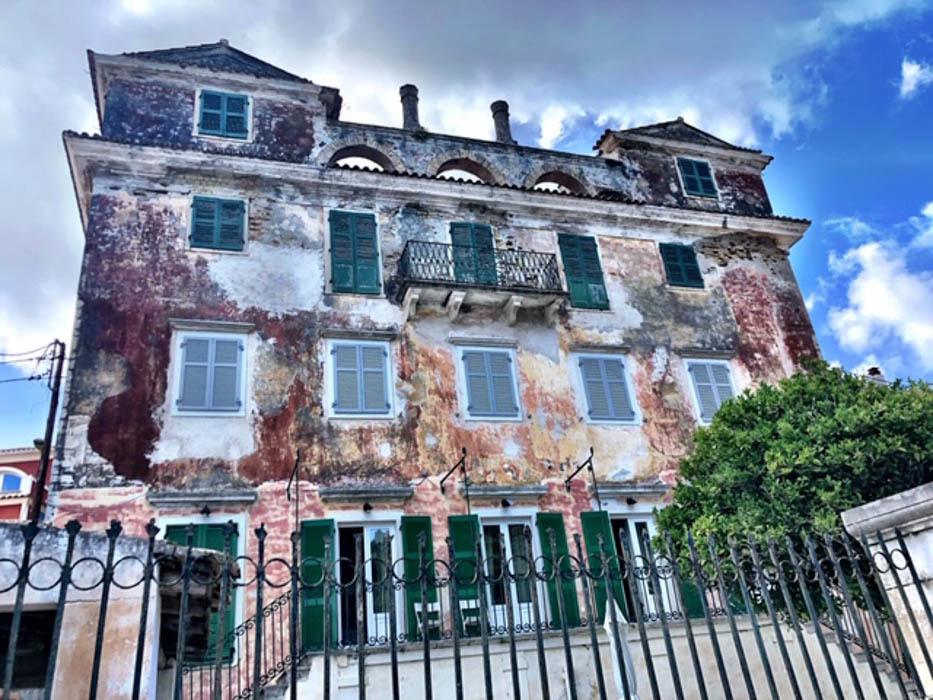 ⇒ Lanzarote is in Spain's Canary Islands. Read about the 14 Things to do on Lanzarote you must not miss and the Best Place to Stay in Lanzarote – and don't miss my post on 12 Beautiful Spain Famous Landmarks.
5. Boat Trip Around the island
The traditional Paxos boat trip goes around the entire island and also visits Antipaxos – ideal for lunch and swimming. This is well worth doing – the west coast, in particular, is absolutely stunning.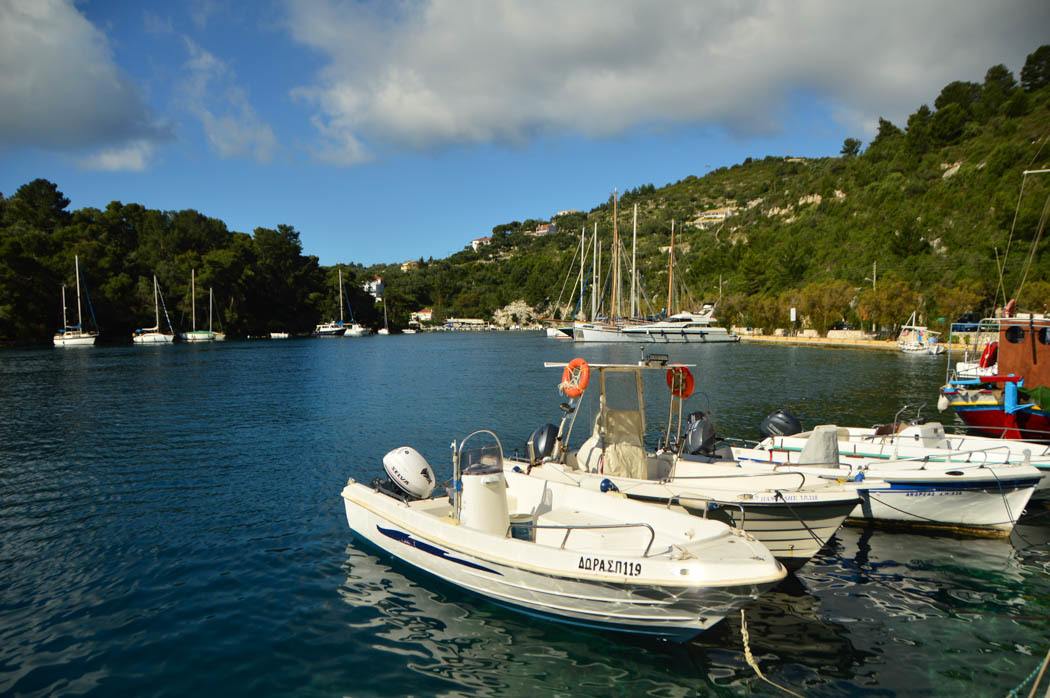 And you will see all 3 of Paxos' main towns from the water. As they are all harbour towns can get some nice photos and a feel for where you would like to go.
A Paxos boat trip is also a chance to see all of the island's beaches so you can figure out which ones you want to go back to and photograph them from the water.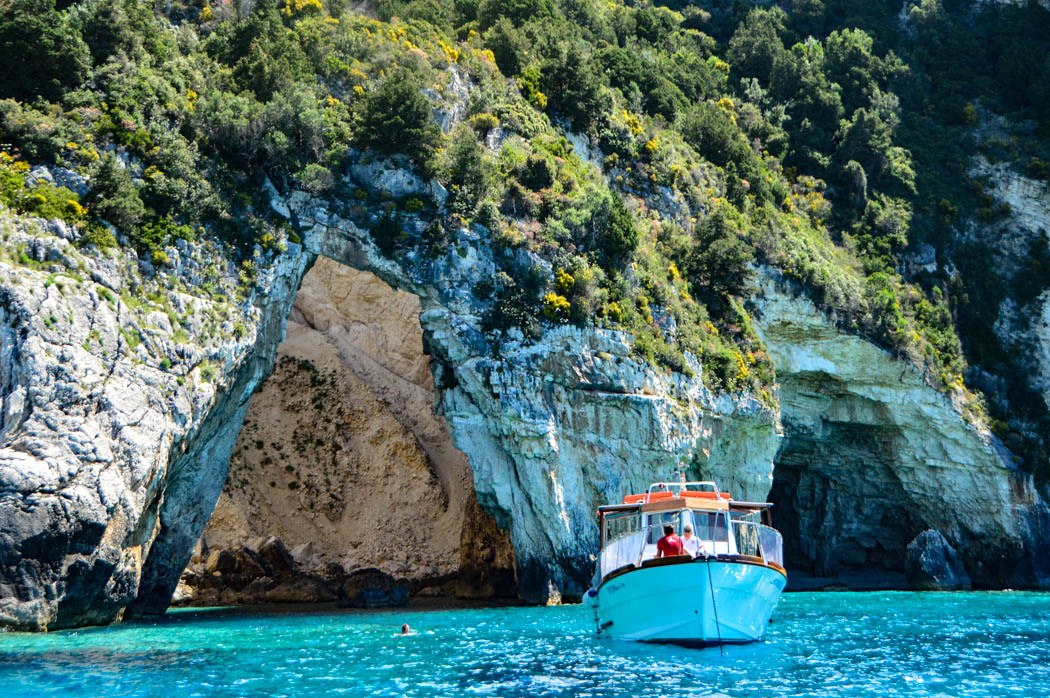 It is possible to have a sailing lesson and then captain your own boat. Personally, I would be quite nervous to do this but it is an option. I went with a boat that had a skipper.
If you want to take photos this is definitely the best option. Several of the best Paxos photo opportunities need someone who knows what they are doing to navigate through the often skinny arches and curves.
⇒ Boat Hire Gaios Paxos Reviews
6. Ortholithos
Ortholithos is a jagged rock that sits about halfway down the west coast of Paxos. On its own, it isn't particularly interesting. However, when photographed from the cave opposite Ortholithos it is possible to frame the rock and you then have one of the iconic Paxos photographs.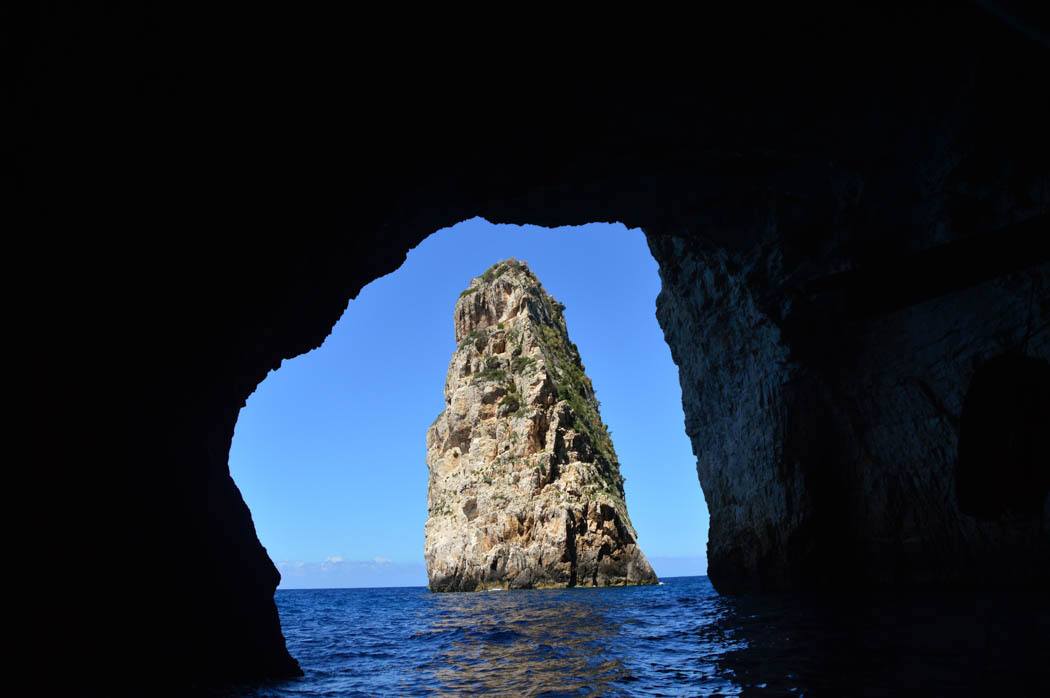 ⇒ Explore more of Europe in my posts on 14 Beautiful Cities in Europe 16 European Palaces not to Miss, 17 Beautiful Castles in Europe Not to Miss, 21 Most Beautiful Countries in Europe, 9 Most Beautiful Cities in Germany, 26 Landmarks of Germany, 25 Rome Monuments, 60 Most Famous Landmarks in the World, 12 Beautiful Famous Spain Landmarks, 9 Famous Ireland Landmarks and 16 Famous Landmarks in Europe.
7. Lakka
Lakka is a pretty harbour town on the north coast of Paxos. The bay is mostly sheltered from the sea so is perfect for swimming and water sports.
There are loads of cute restaurants and bars in Lakka Paxos. And of course, the town is very photogenic.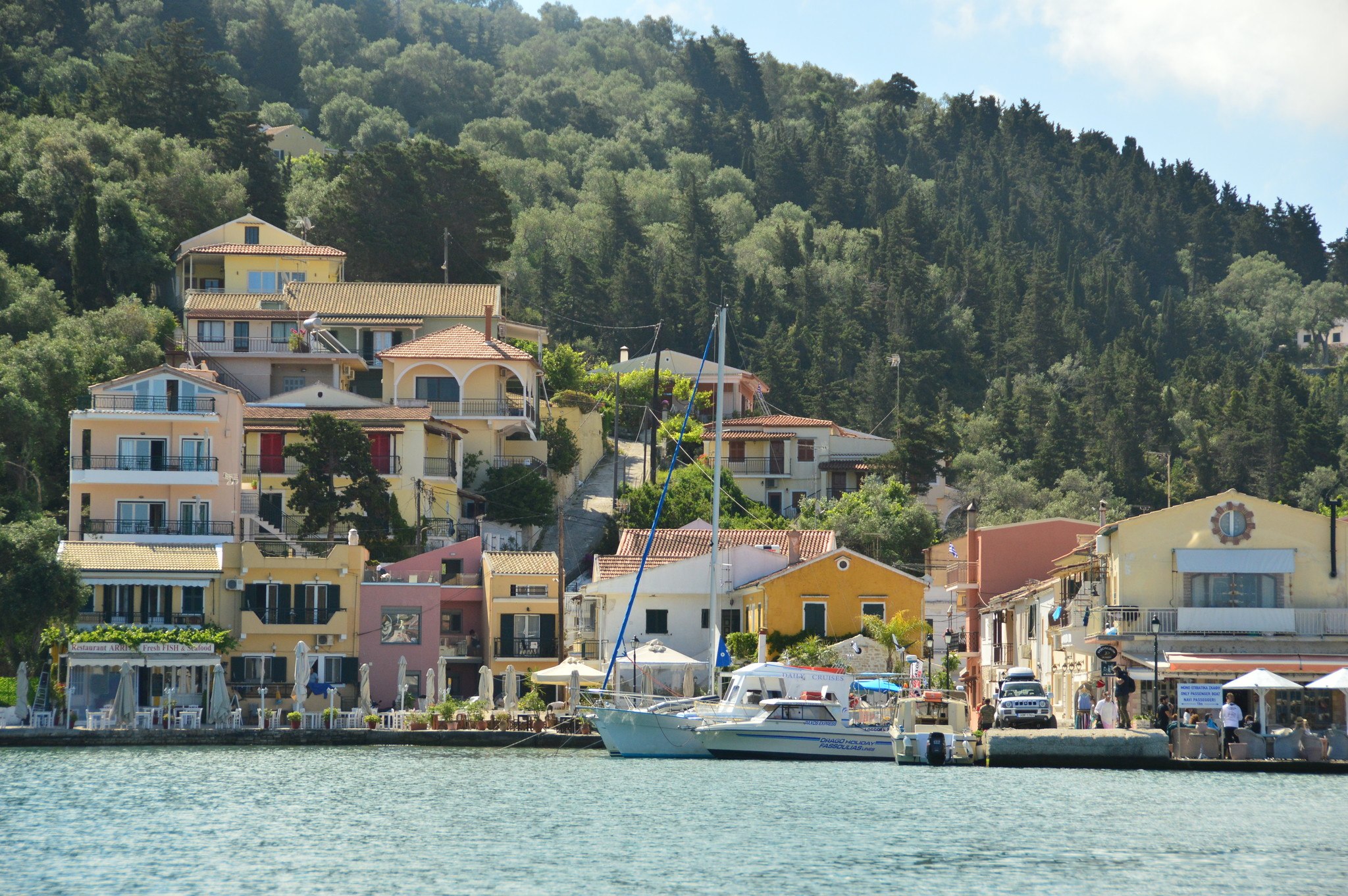 8. Erimitis Limestone Caves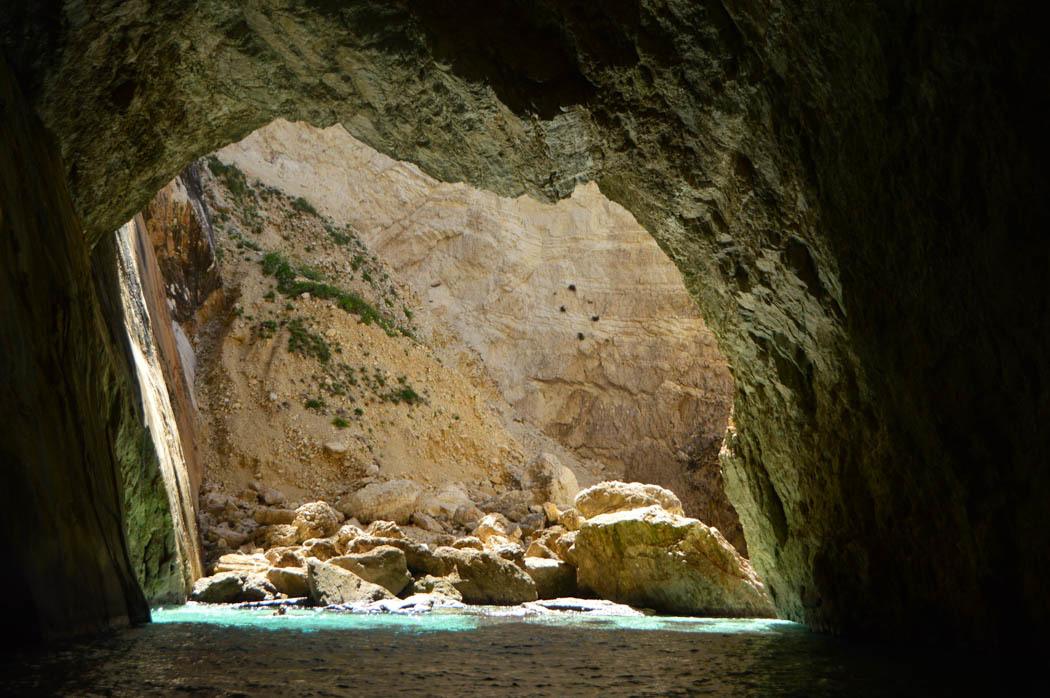 Only really visible from the sea, these limestone caves are just stunning! Located on the west coast of Paxos, Erimitis limestoe caves are very photogenic, particularly in a good light.
The entire west coast of Paxos is just stunning with the combination of the bright blue clear sea with the limestone cliffs but the limestone caves of Erimitis are a particular highlight.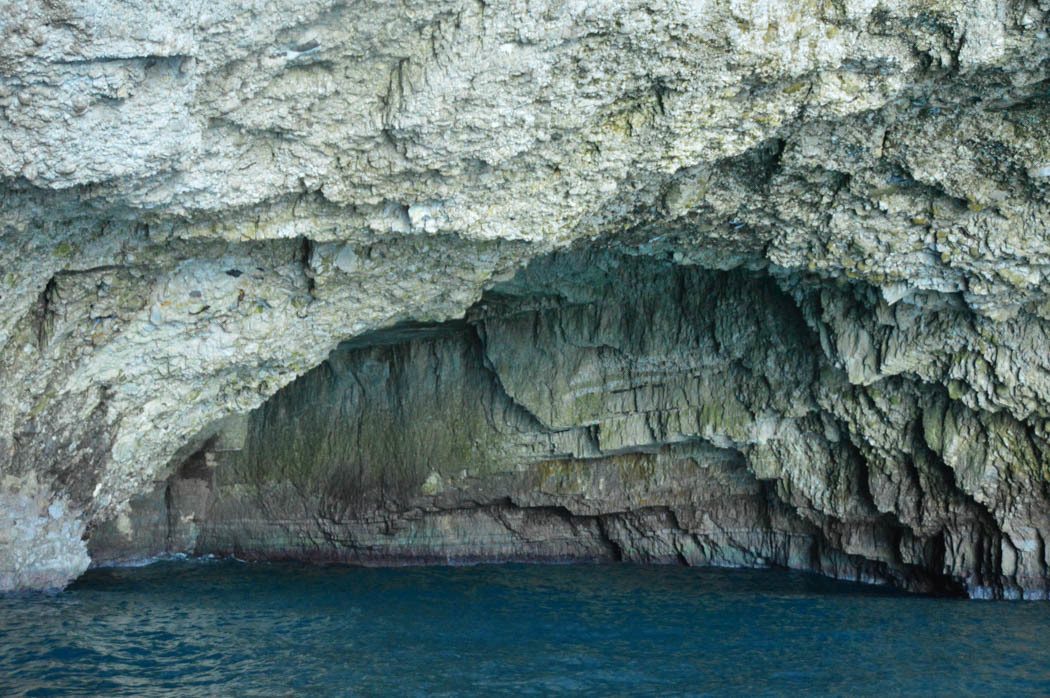 9. Inland Villages
The inland villages of Paxos are less well known than the harbour towns and picturesque coastline but are still very cute and worth a visit. Ozias is at the southern end of the island and is the oldest settlement on Paxos.
⇒ Planning a trip to Turkey? Read my Istanbul 3 Day Itinerary, Gallipoli tours from Istanbul, 7 Day Turkey Itinerary and 3 Day Cappadocia Itinerary.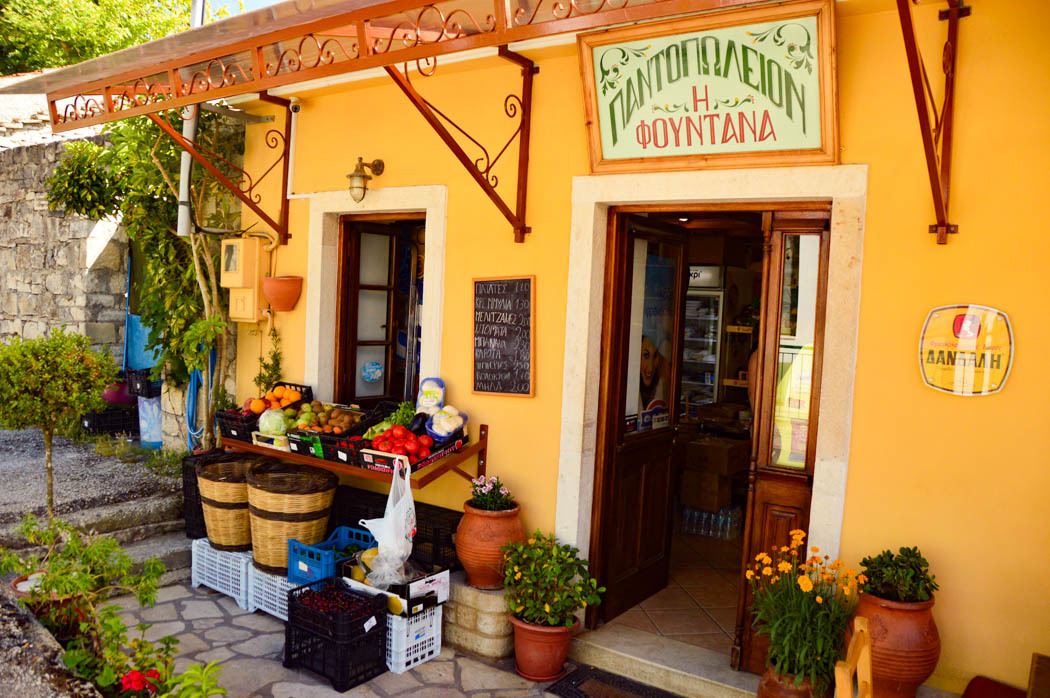 Fontana is a small cute little village with a nice bakery and a few tavernas – plus of course a cute church.
10. Loggos
Loggos is the smallest of the 3 towns on Paxos and was my favourite! It is mostly on the harbour with a few back streets. Loggos harbour is of course filled with restaurants and bars.
Don't miss a meal at Vasilis. Vasilis has fantastic food and a fantastic location right on the harbour of Loggos Paxos.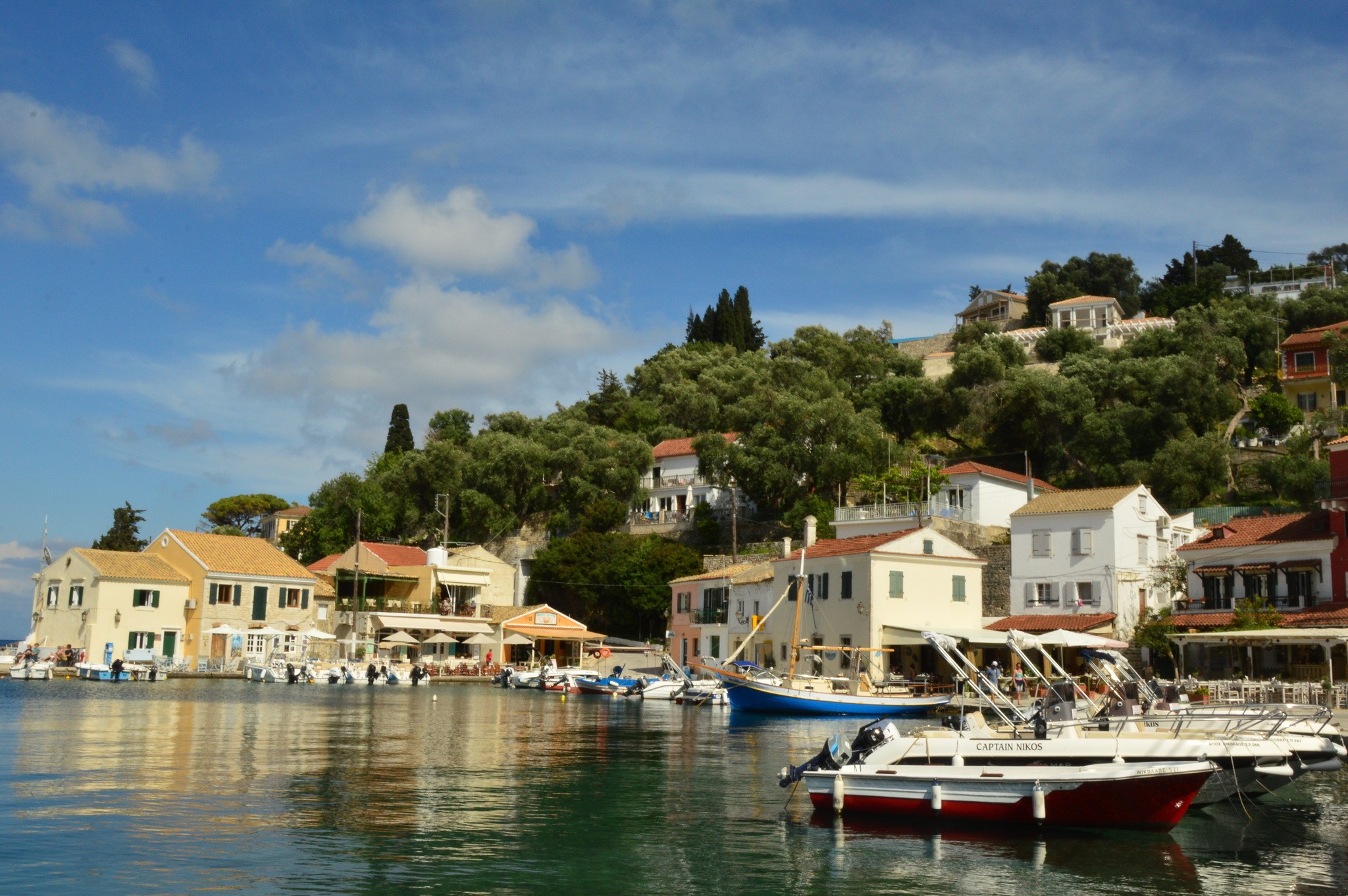 Check out Le Rocher Cafe as well. They have a lovely terrace out the back that is very insta friendly.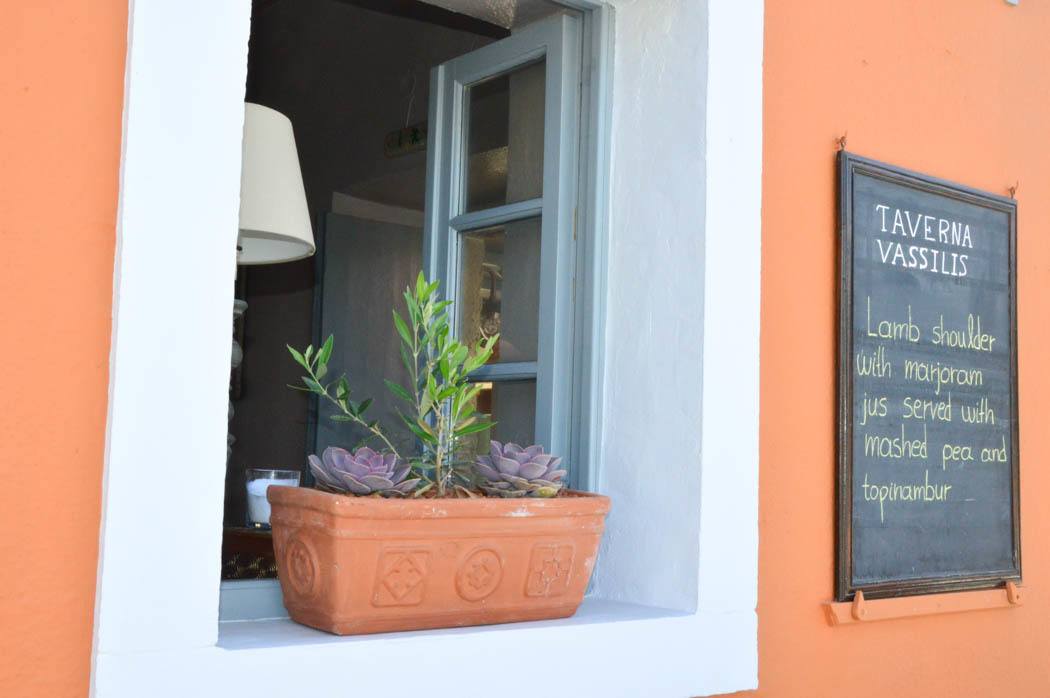 ⇒ I love ticking off seeing a landmark. See how many famous landmarks you've seen in my series of posts: 60 Most Famous Landmarks in the World, 27 Top Australian Landmarks, 25 Asia Landmarks, 61 Magnificent Landmarks of the UK, 13 China Landmarks, 35 Japan Famous Landmarks, 60 Most Famous Landmarks in Europe, 25 North America Landmarks, 25 Canada Landmarks and 15 Famous Landmarks in the US.
11. Erimitis Beach & Restaurant
Erimitis Restaurant sits above Emiritis beach and is located about halfway along the west coast of Paxos. This restaurant and bar are most famous for its wonderful sunset views.
Erimitis Restaurant Paxos opens at 4 pm every day and is also known for great food. The menu is quite European with a selection of seafood and meat dishes plus some pasta.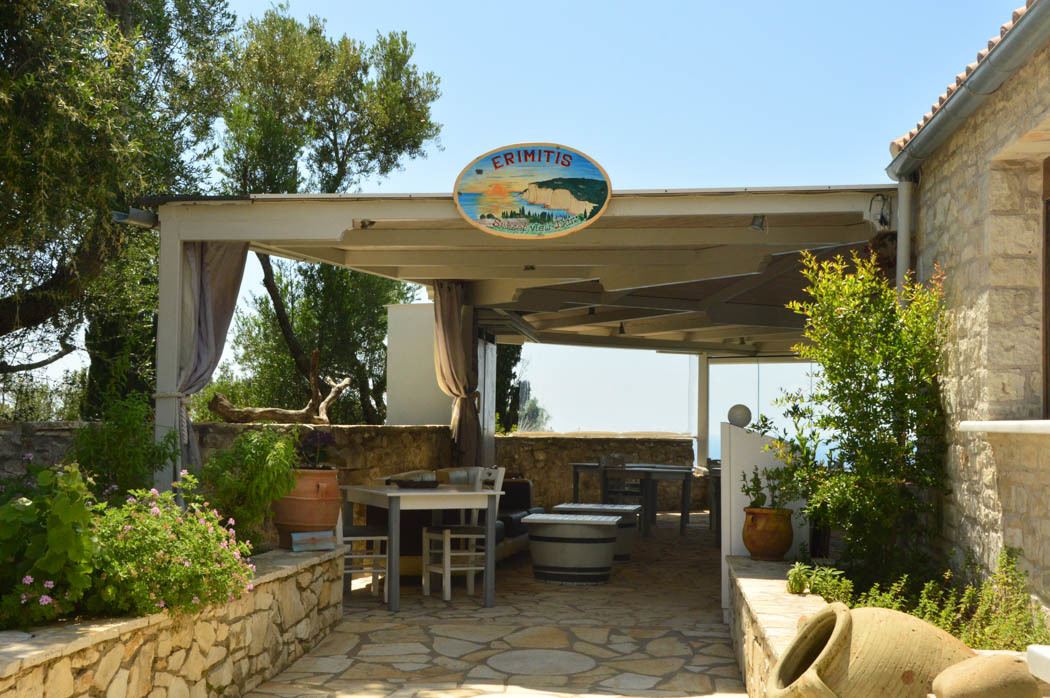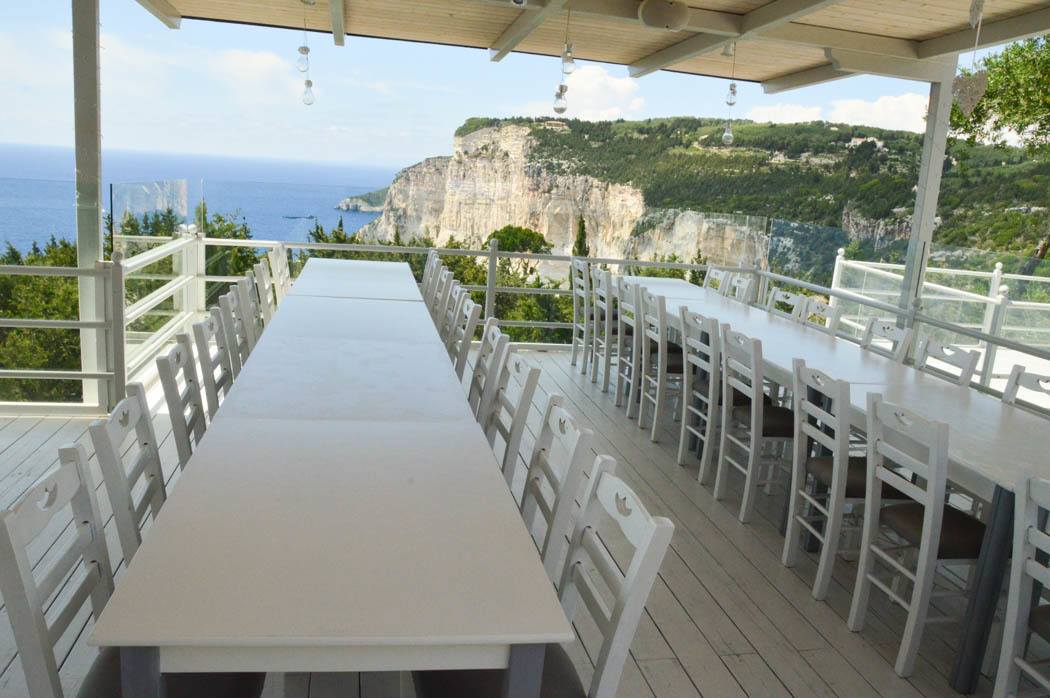 Erimitis beach is just beautiful. From the restaurant, it is a slightly steep walk down to the beach. The beach is bordered by amazing limestone cliffs.
Erimitis is a pebble beach – nice photogenic white pebbles – rather than sand. And from what I could see there is very little shade so do bring your own umbrella and sun protection.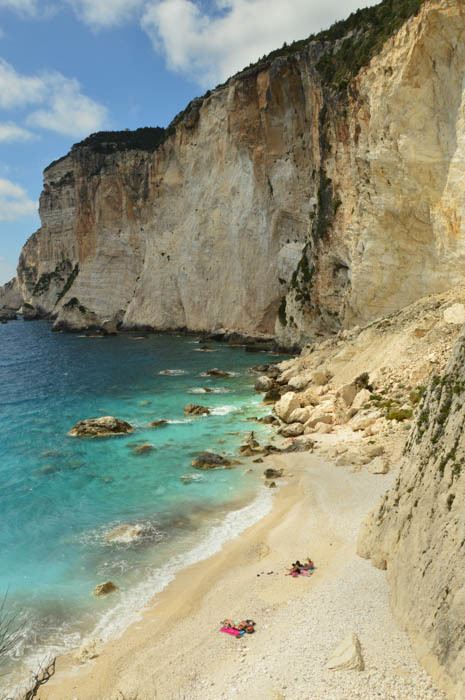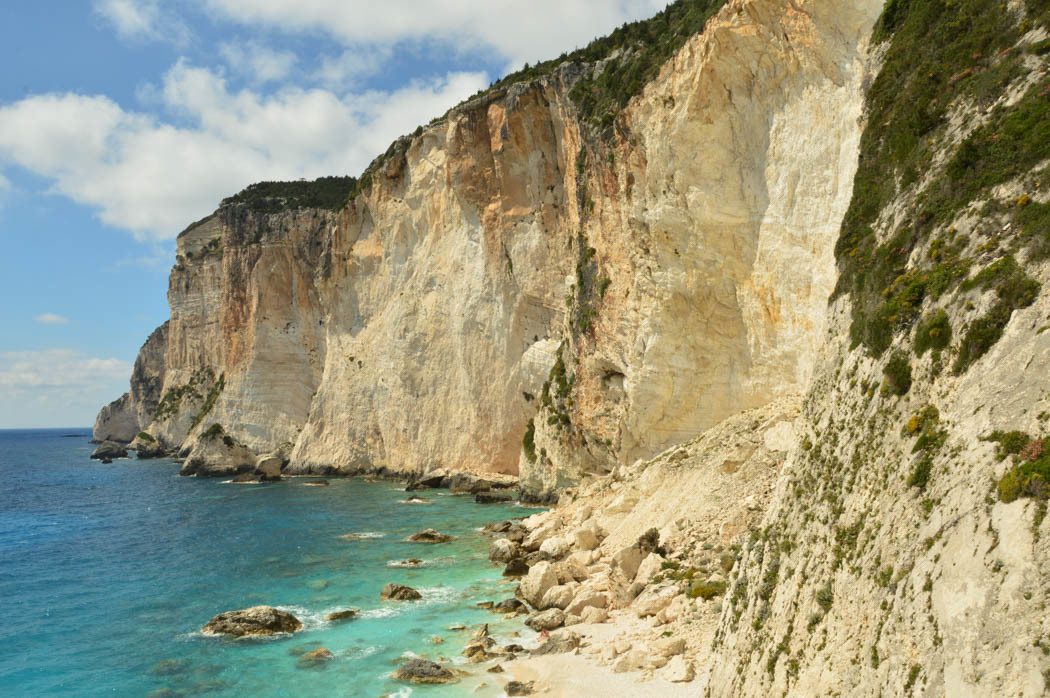 [separator type="thick"]
⇒ For another fantastic Greek Island beach check out my Complete Guide to Mylopotas Beach Ios Greece [separator type="thick"]
12. Eat Seafood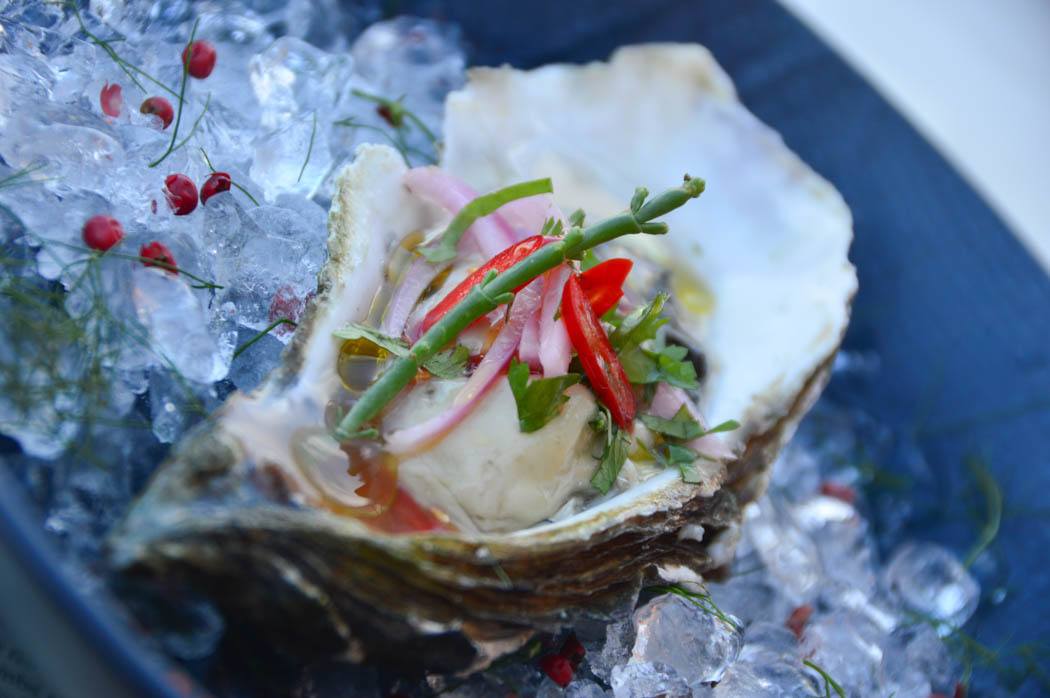 Would you get naked at a spa? Check out my posts on Naked or Clothed – Baden Baden Spa Guide, the best Baden Baden Tour options, 26 Landmarks of Germany, 9 Most Beautiful Cities in Germany and One Day in Hamburg – all in Germany.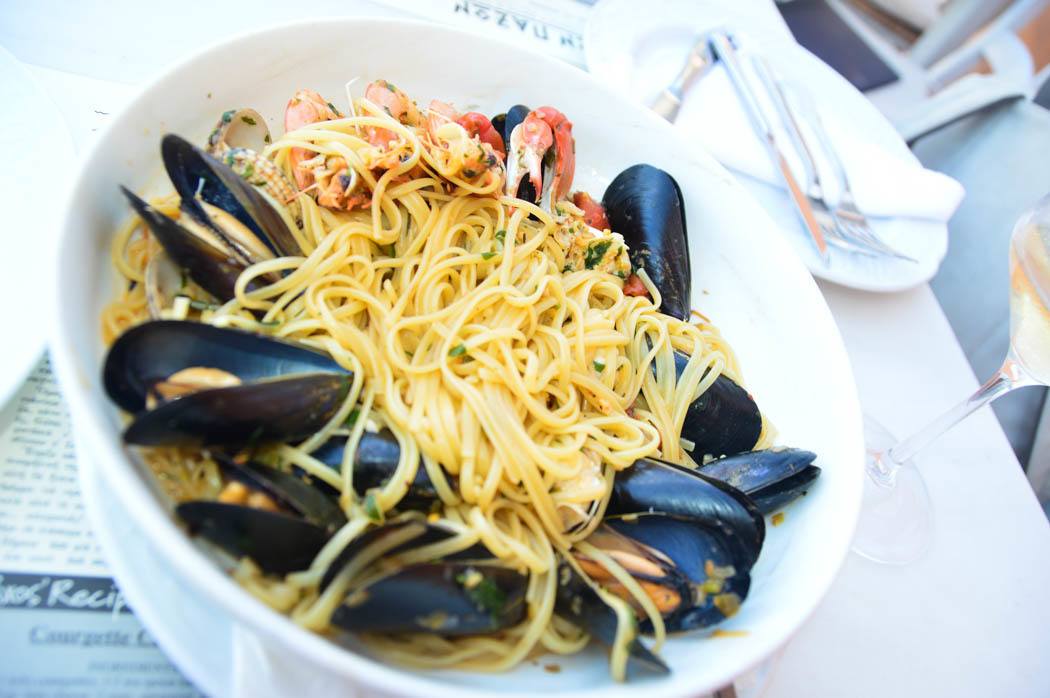 Aaahh greek seafood – I am hungry just thinking about it! I imagine it would be difficult to eat bad seafood on Paxos. Anyway, I certainly didn't have a bad meal. Not only was the seafood delicious it was very photogenic.
Paxos tavernas tend to keep their plates quite simple and let the seafood be the hero. The lovely lighting on this Greek island also helps.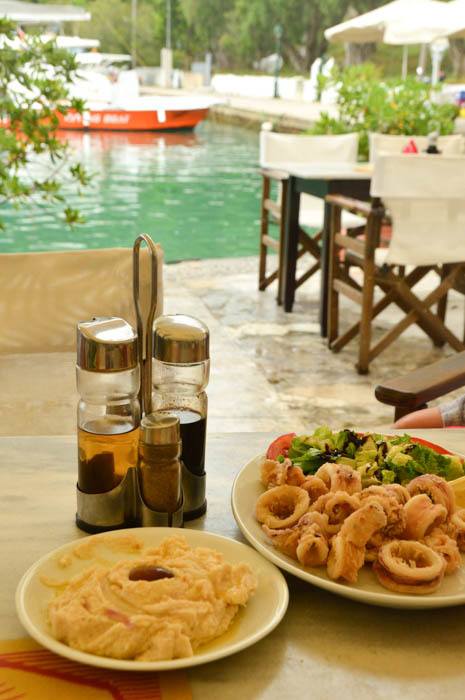 13. The Churches of Paxos
In general Greek churches are just ridiculously cute and Insta friendly! Paxos is, of course, full of cute churches but they are not all the cliched blue and white traditional greek island church look.
Gaios has its almost pink church on the harbour and then the church bells down one of its backstreets.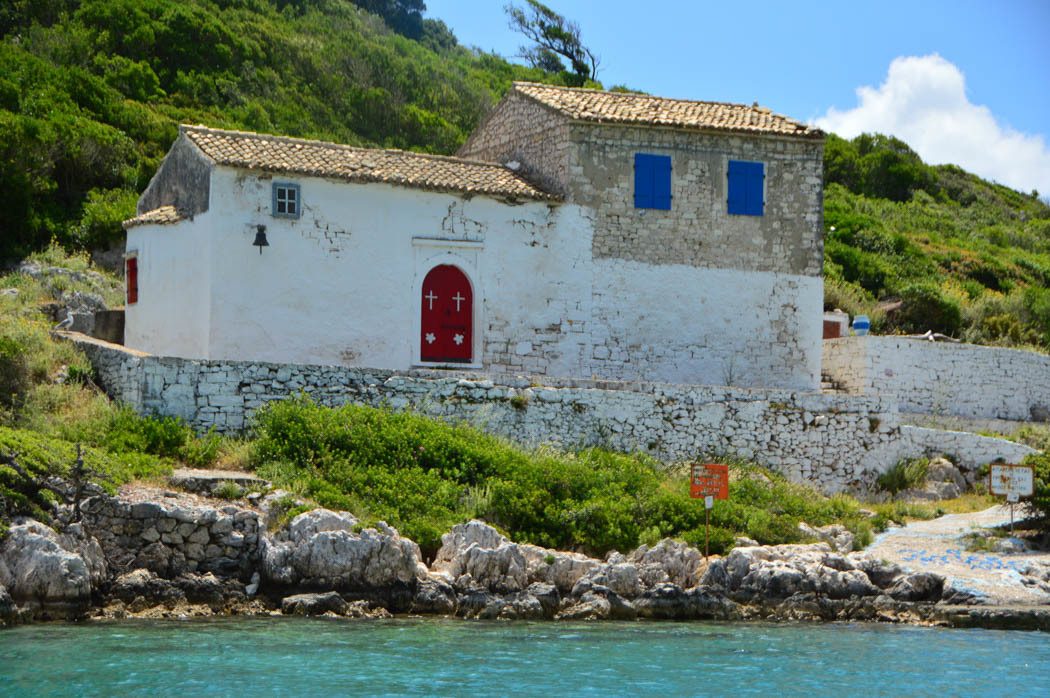 And there are some lovely churches around the Paxos coastline – particularly the very cute St Spiridon on Kaltsionsi Island near Gaios port and St Ioannis on St Nicholas island.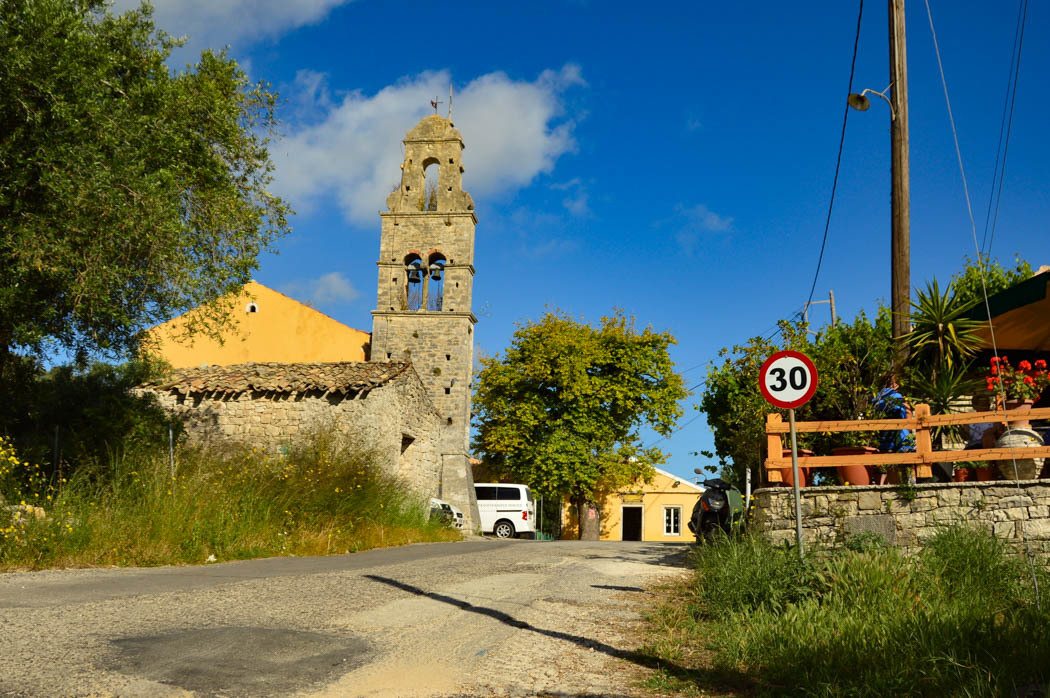 Paxos Travel Tip 1 – watch out for different spellings. I was quite confused whether Longos was Loggos. Turns out it is. There is Greek, Greek English and then English.
Travel Top Tip 2 – figure out where you would like to go and plot them into a google map before you head out. It is much easier to navigate off a preset google map vs trying to deal with going in and out of reception – I would use this tip for all greek islands.
Looking for a different perspective on Things to do in Paxos? Check out these great posts by Heather on Her Travels and Life Beyond Borders.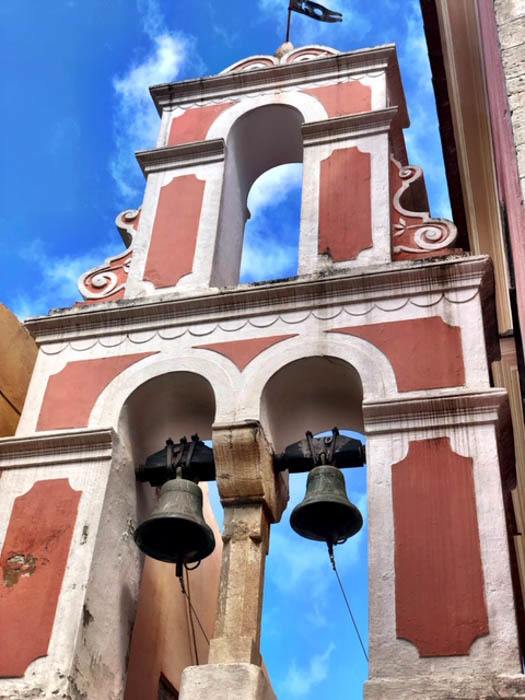 Where to stay on Paxos
Paxos is definitely a villa/apartment kind of place. There are not that many Paxos Greece hotels and they tend to lean towards b & bs etc.
To really get the most out of the island I think a villa is ideal – and boy was I in a fabulous villa. I can't imagine there are many better Paxos Greece Villas than Villa Glaros,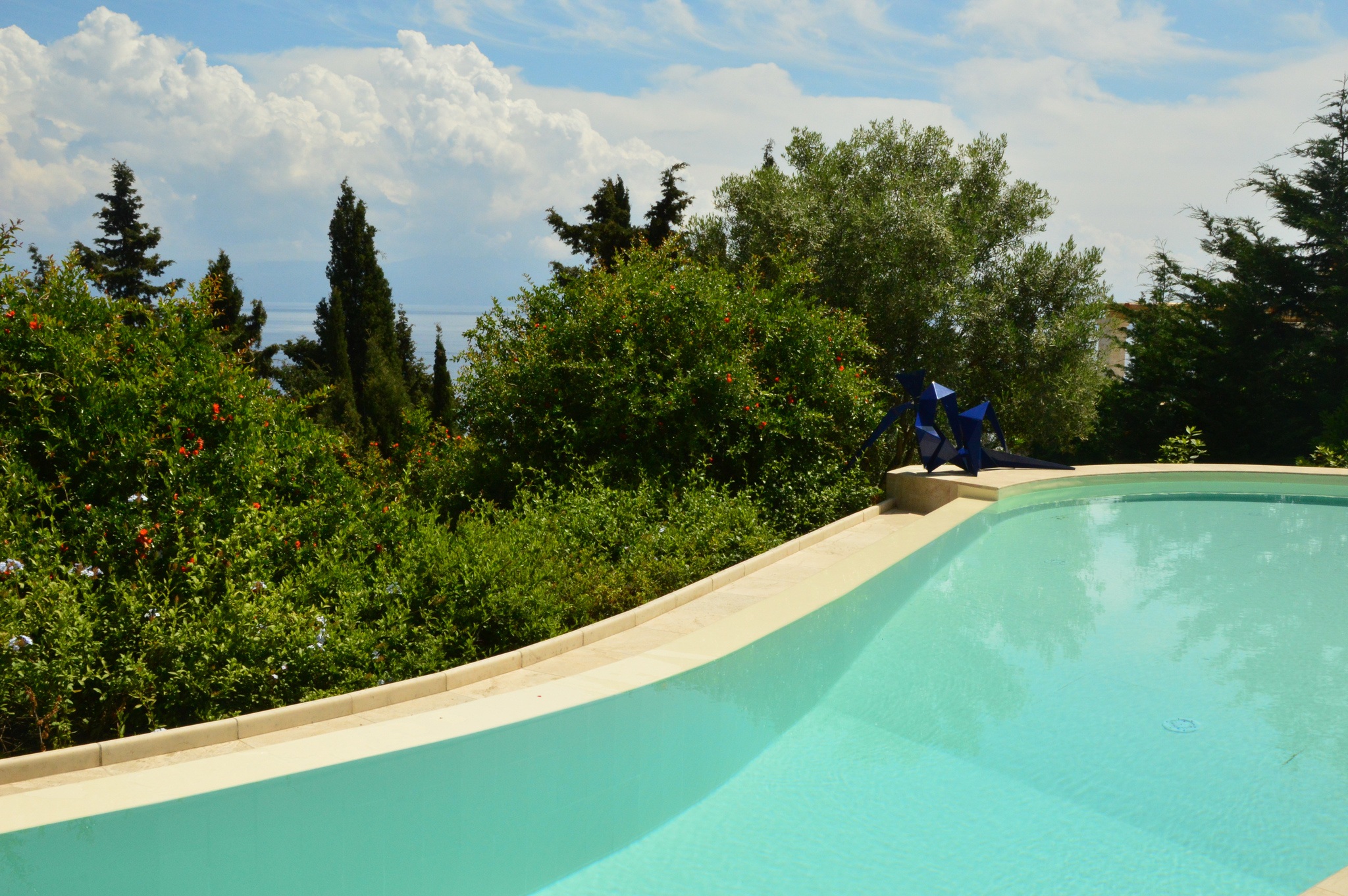 Villa Glaros is a stunning, modern property with 7 bedrooms, 25m infinity pool, secluded cove, amazing views, multiple outdoor areas and really just everything you could want.
This stunning Paxos villa sits on top of a cliff on the east coast of the island and the closest village is super cute Fontana.
⇒ Head East for more interesting European experiences from Czech Spa Towns to things to do in Riga and things to do in Latvia.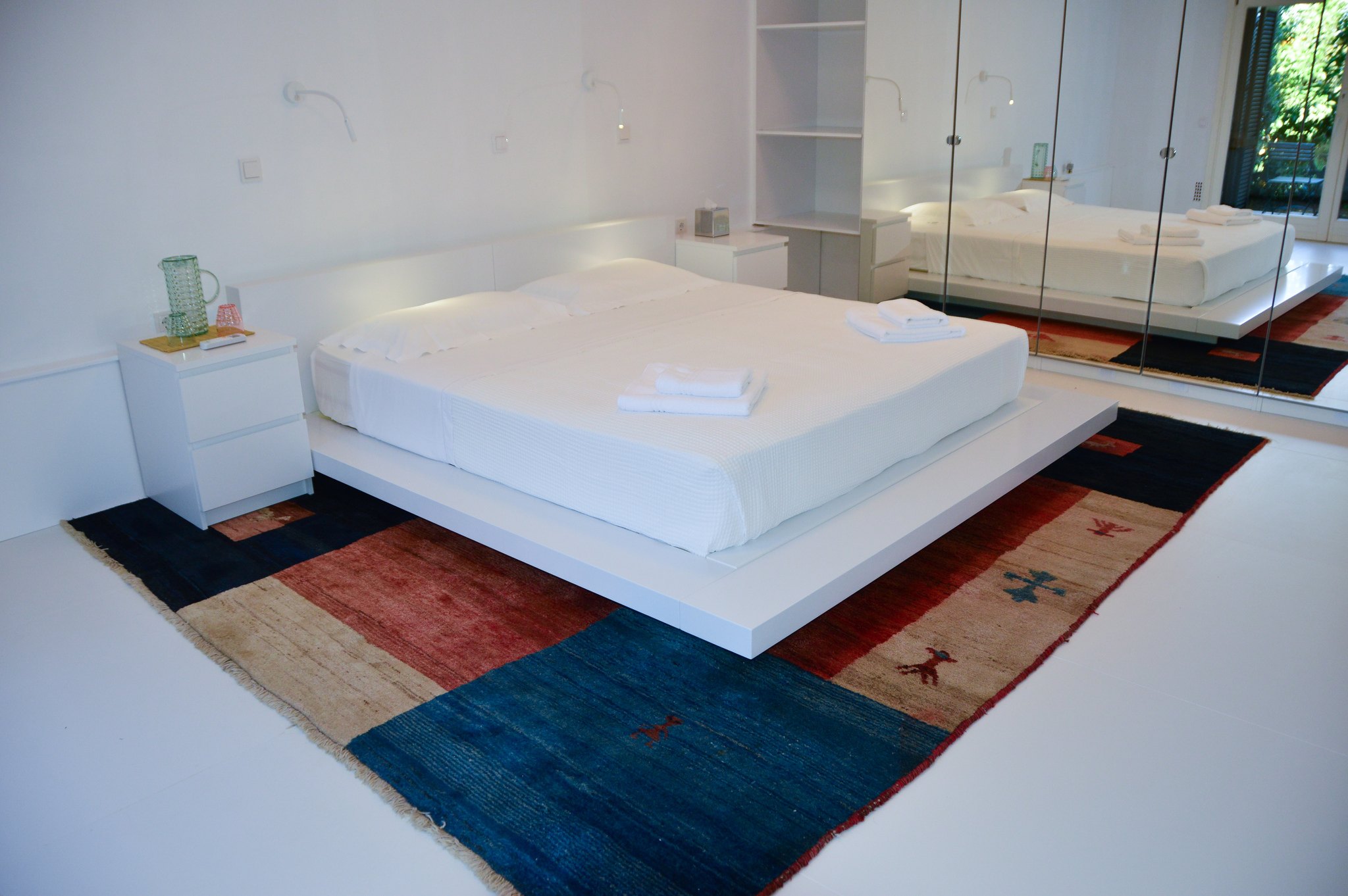 Villa Glaros Paxo is only 10 minutes by car from Gaios and about the same to Loggos and Lakka so it is fabulously central.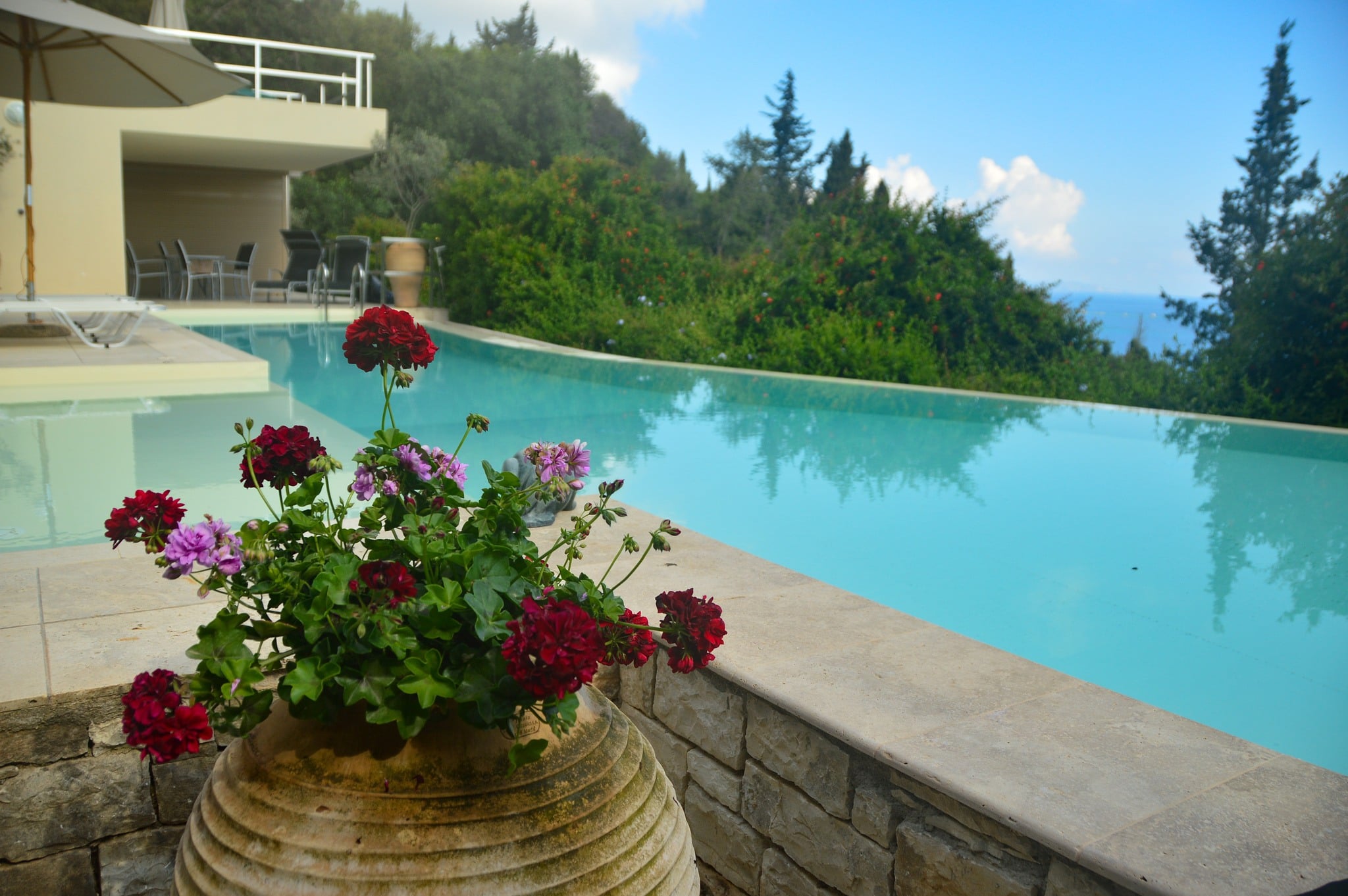 The main house of the villa has 3 bedrooms – all with stunning sea views and 2 with their own balconies. The interior is modern and light – perfectly designed to maximise the lovely light and the Paxos Greece weather.
Villa Glaros has a large modern kitchen that is the perfect place to prepare local ingredients to enjoy the food in one of the many gorgeous outdoor areas.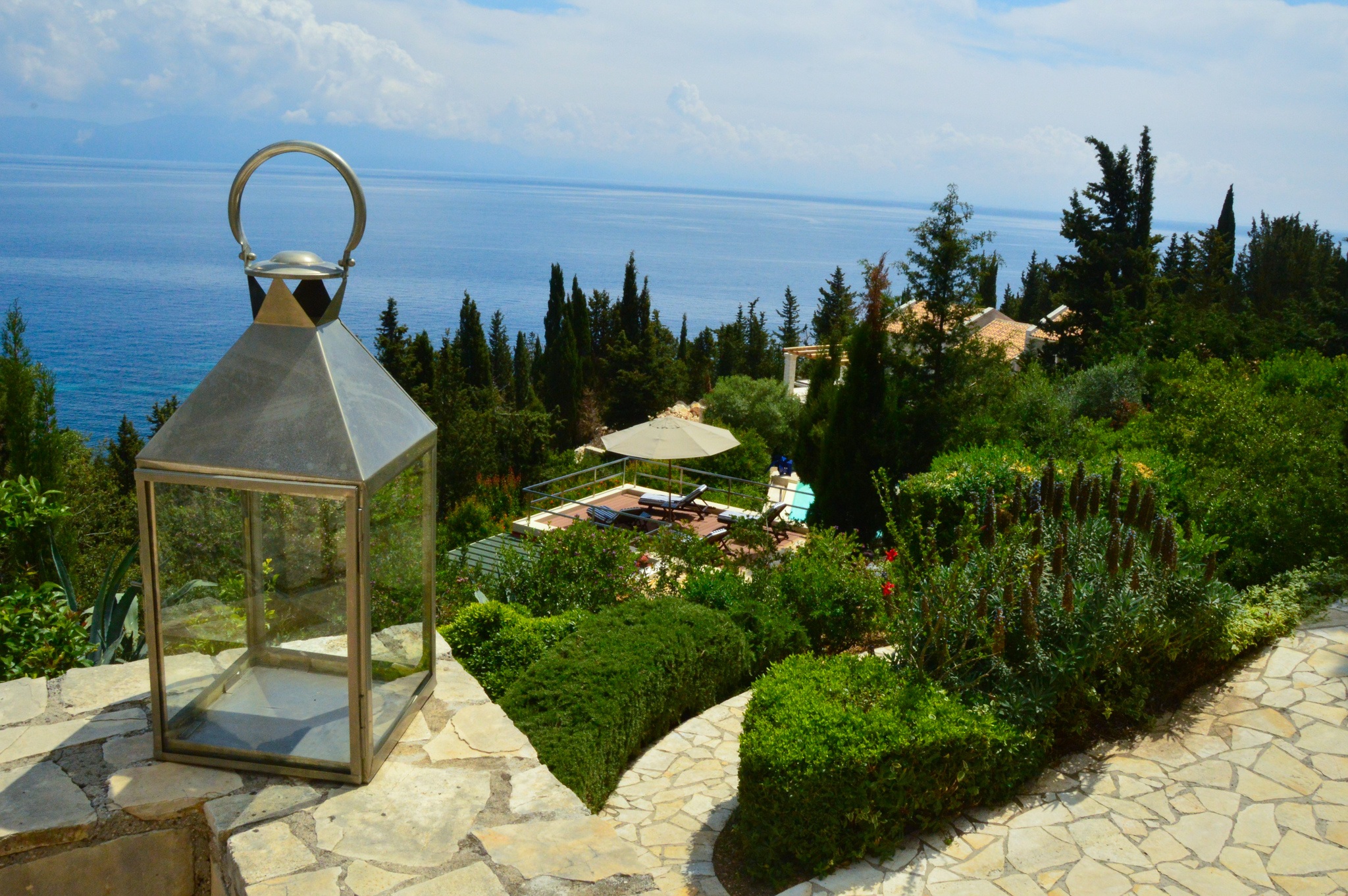 There is also a gym, all the watersports equipment you could possibly need, a speed boat and skipper ready to go – there is even a treehouse.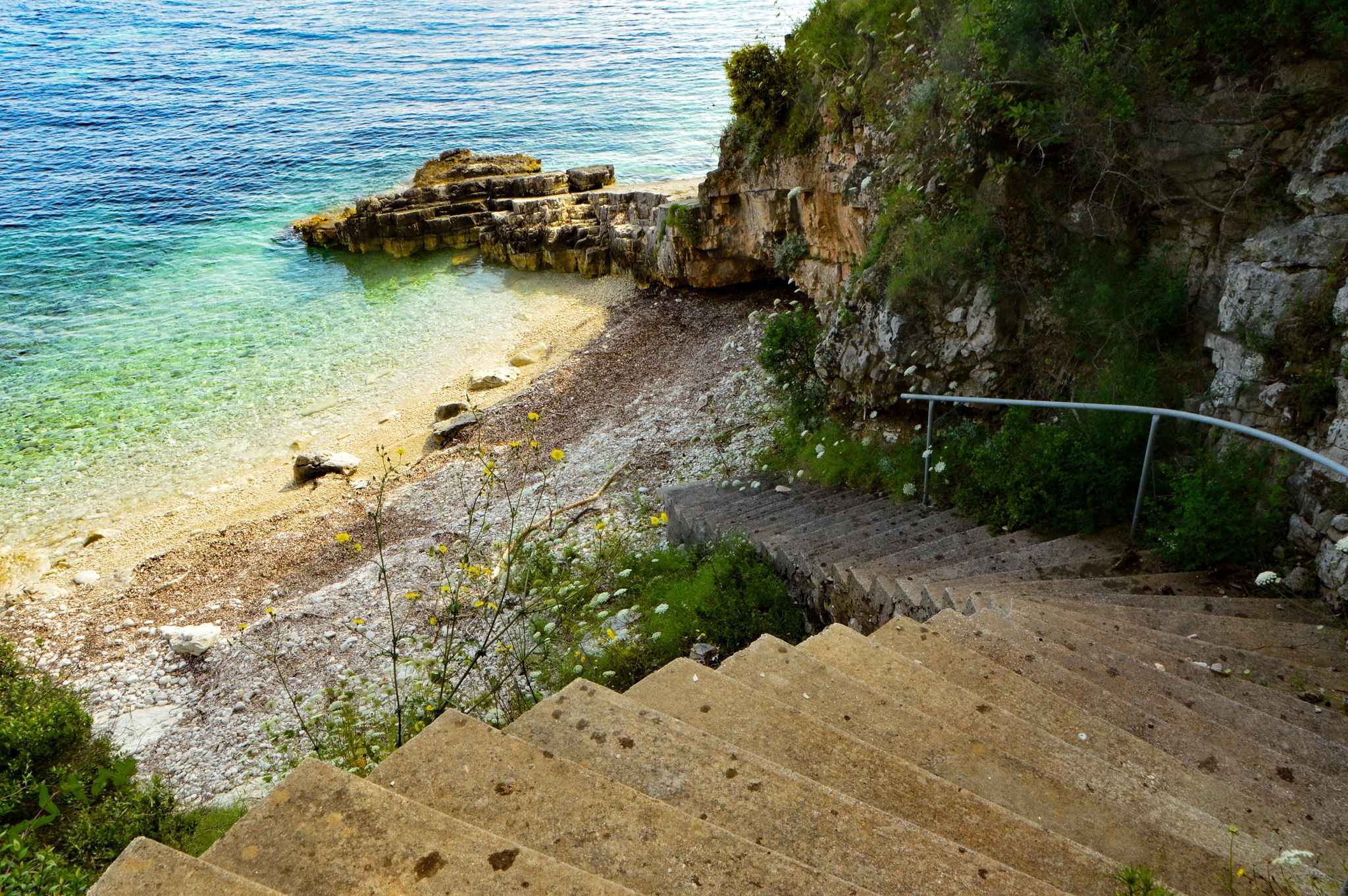 But the best part of Villa Glaros is that everything can be done for you for the ultimate relaxation. The Villa provides a concierge and chef (a lovely couple) who will organise everything you need for the perfect stay.
Send your shopping list ahead of time. Have them organise your transport. Have the chef prepare meals of your choice. Have the concierge organise your poolside massage.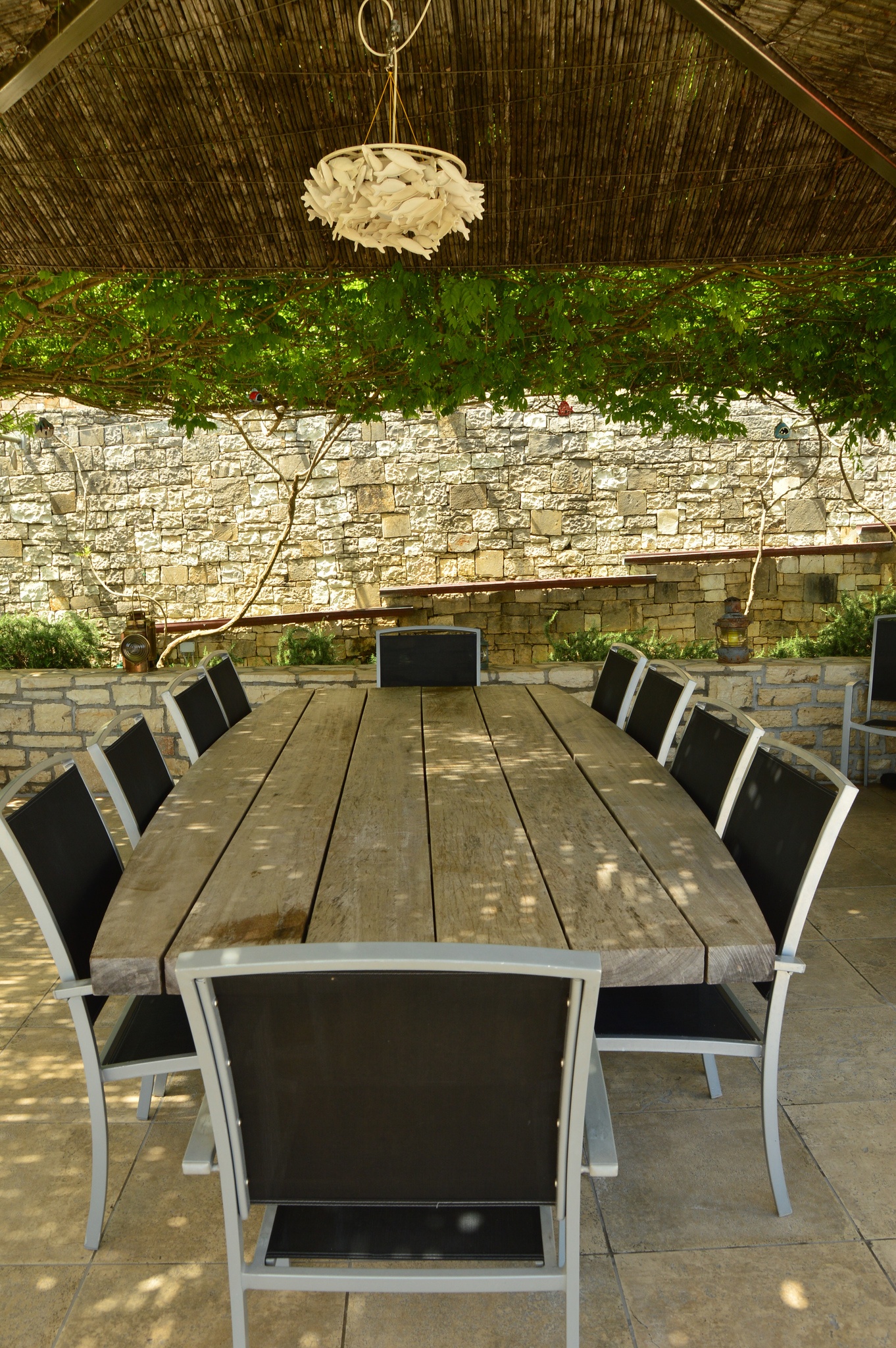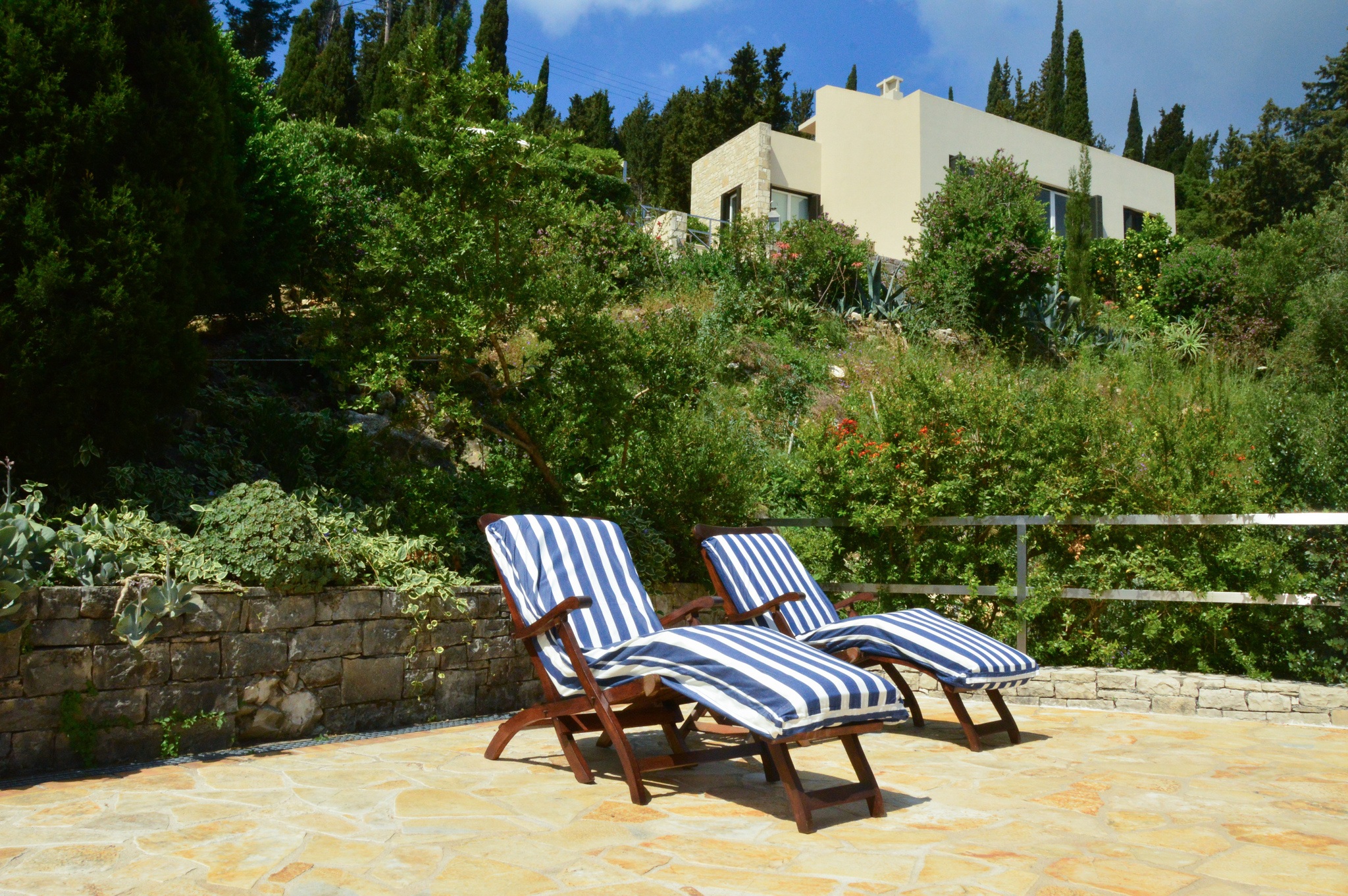 The set up at Villa Glaros means you start your holiday the moment you arrive as everything has been organised to suit your needs. And to provide an authentic Greek experience.
Check out some more reviews of the stunning Villa Glaros provided by my trip buddies Heather on Her Travels and Life Beyond Borders.
⇒ The stunning Villa Glaros Paxos website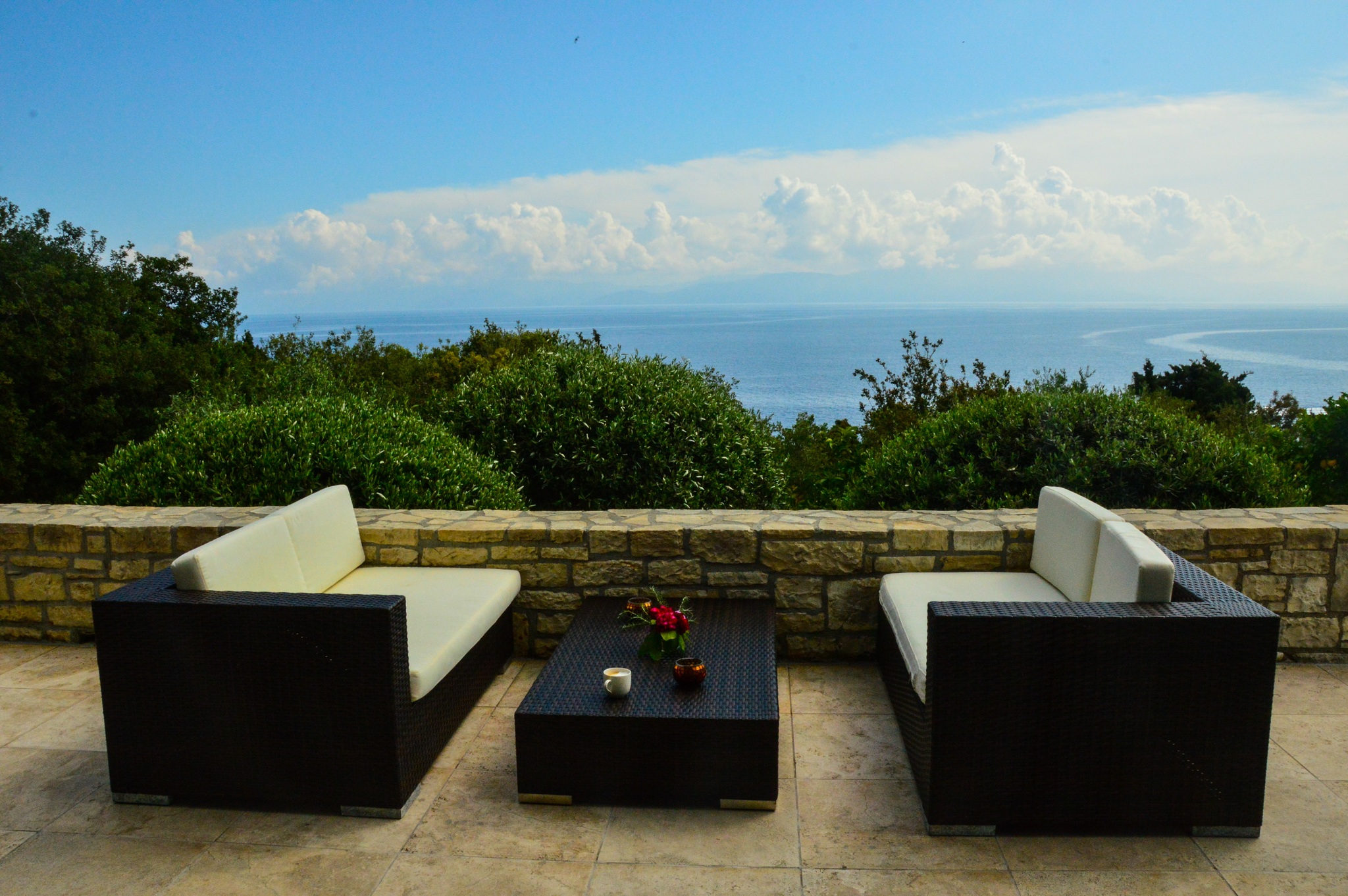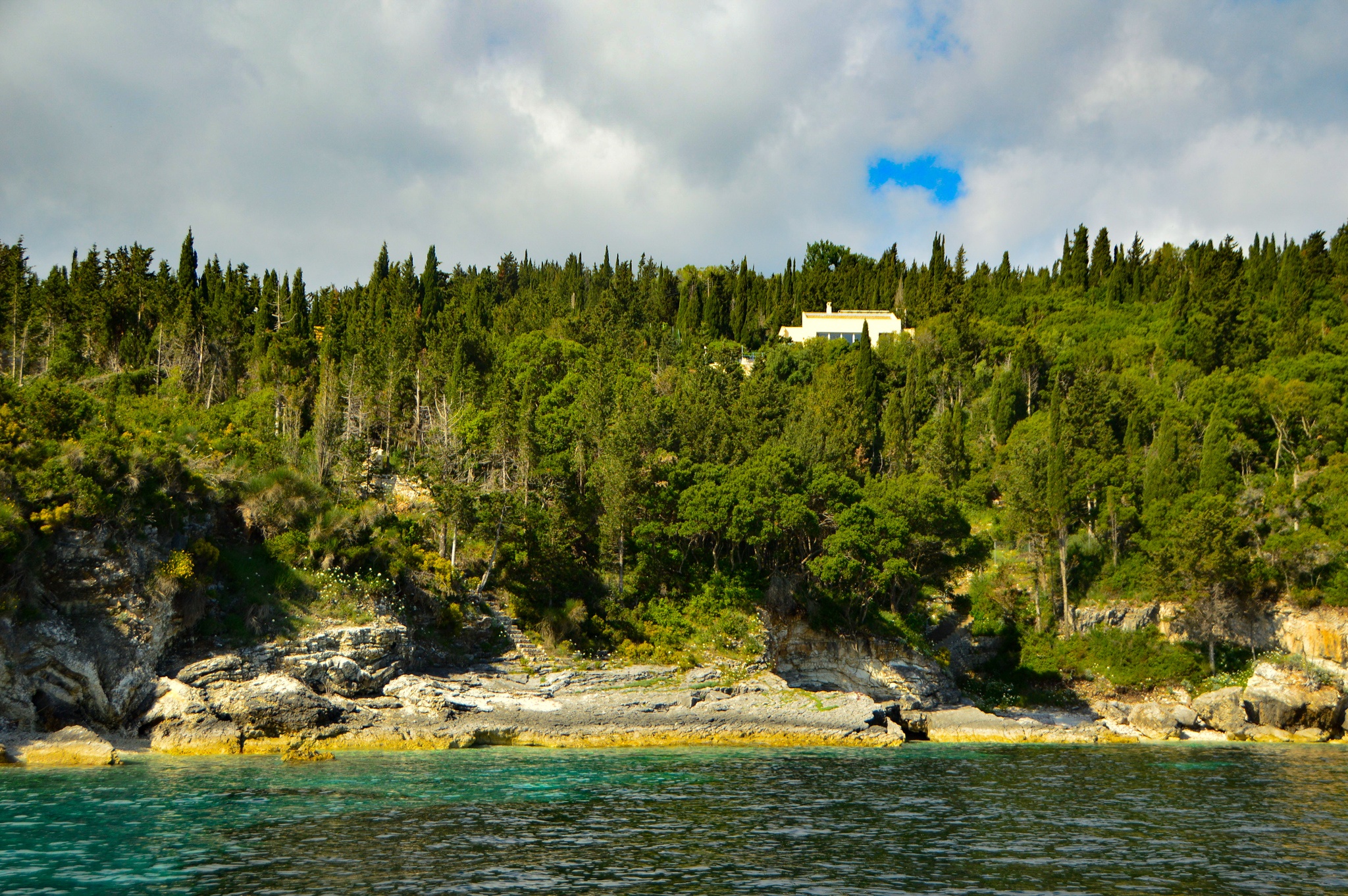 How to get to Paxos
The nearest airport for Paxos is Corfu. Corfu is a busy airport with lots of flight options – particularly if you are flying to and from London. Many of the cheap airlines fly to Corfu as does British Airways.
Direct flights from London to Paxos take just over 3 hours. And there is a 2 hour time difference between the UK and Greece. [separator type="thin"]
⇒ Flights to Corfu [separator type="thin"]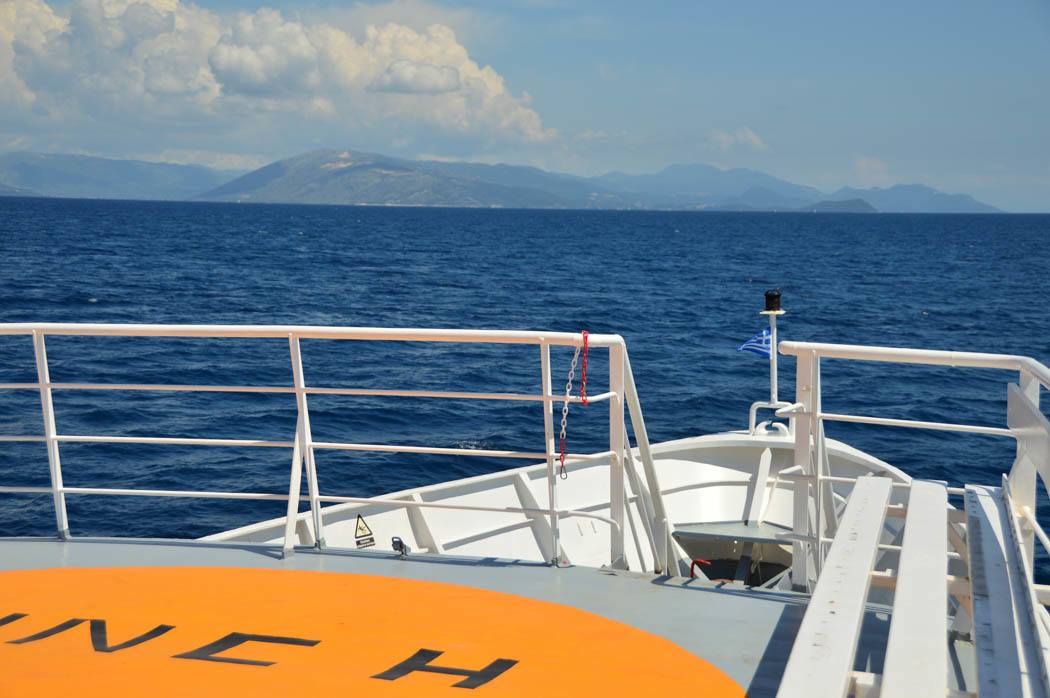 Corfu to Paxos
Corfu Port is a 10-minute taxi ride from Corfu Airport. Corfu Airport is small so you will most likely move through it quite quickly. There were lots of taxis available outside the airport.
Once you arrive at Corfu port it is usually necessary to pick up your actual physical ticket at the port office and then join everyone else at Café Sette Venti which is attached to the waiting area.
The ferries can virtually be seen arriving from your table. And I quite enjoyed my calamari lunch at Sette Venti. Plus the cafe has power points for charging and wifi.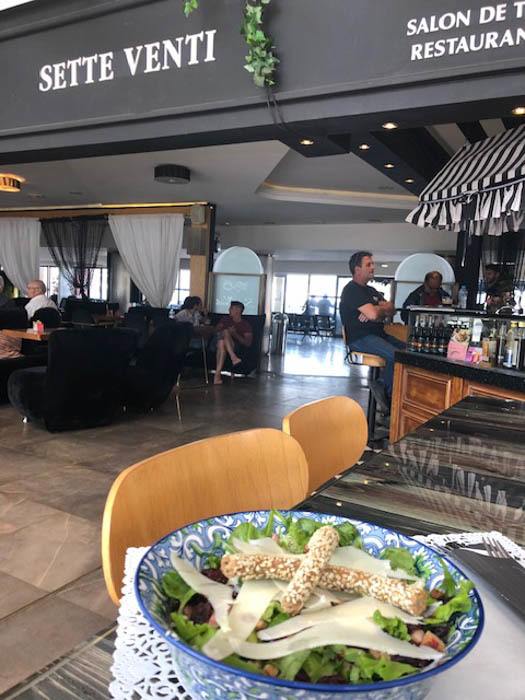 The ferries from Corfu to Paxos are a mix. My research on the duration of the Corfu to Paxos ferry said 95 minutes on average. My ferry from Corfu to Paxos was meant to be the hydrofoil but that was changed last minute and delayed 30 minutes.
The journey from Corfu to Paxos then took 2 1/12 hours due to choppy seas.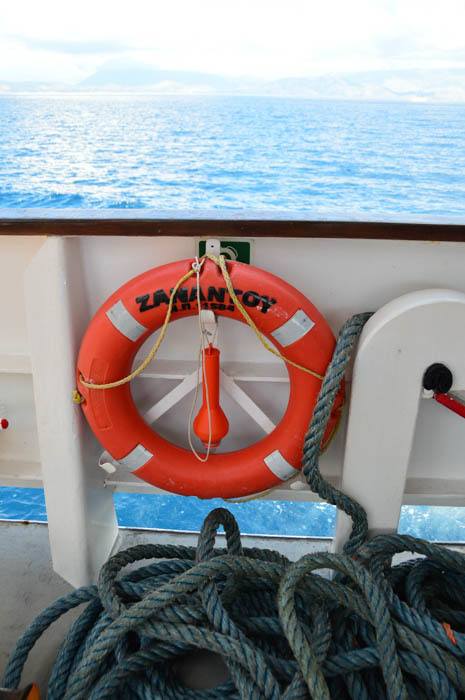 On the way back from Paxos to Corfu we had the 8 am hydrofoil which took nearly 2 hours. The seas were smoother seas but it still took a while. My top tip is to allow lots of buffer times when it comes to the Paxos ferry.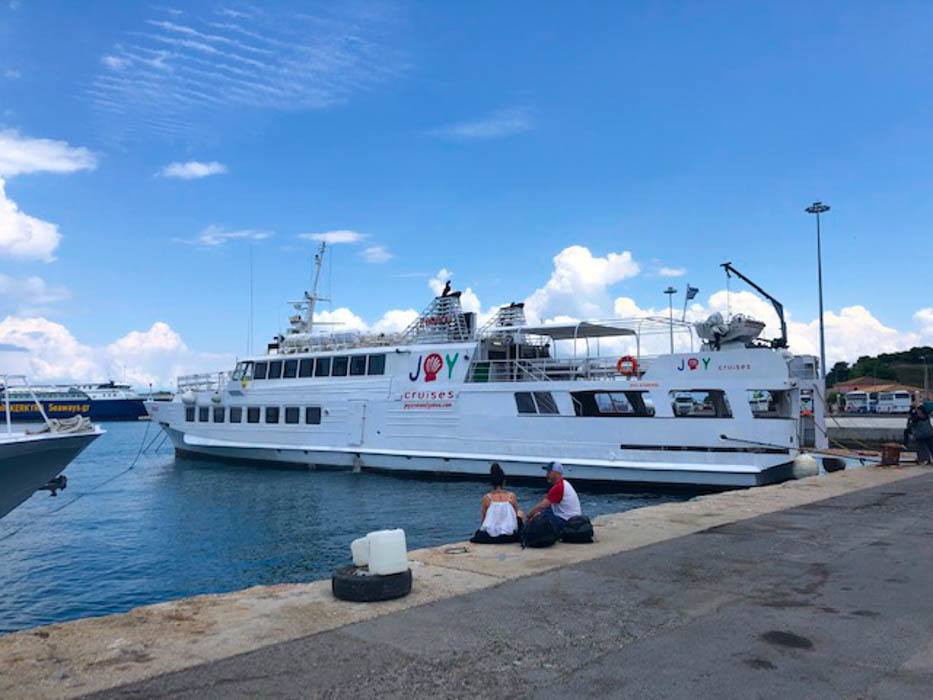 Travel Tip – on the way back from Paxos to Corfu Ferry port it was difficult to get a taxi. There were literally none around when the boat pulled in. I got someone at the ferry port to help me as I had quite a short amount of time before my flight.
I now always ask my taxi from the airport to the ferry station to give me their card so I can text/email a day before and see if I can book them in.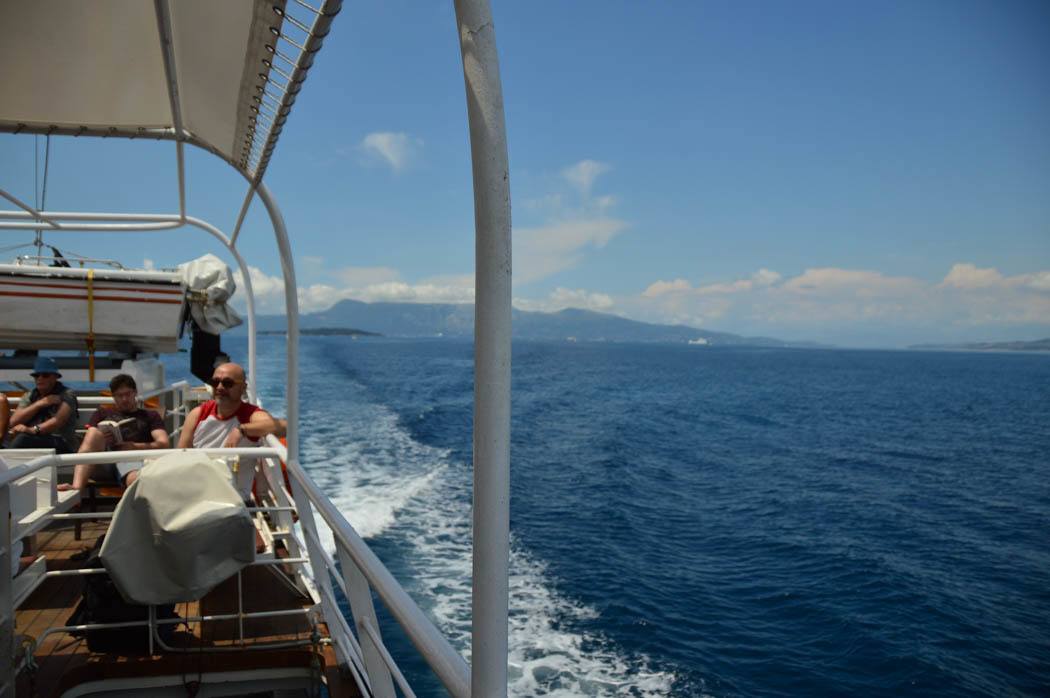 How to Get Around Paxos
The best way to get around Paxos is to hire a car. There are buses which link the three main towns together but they only run about 5 times a day. There are some taxis on Paxos but not many.
It is also possible to rent scooters and mopeds but the roads can be rough so car hire is usually the best bet. Also, the roads get very slippery after rain and I saw a couple of scooter/moped accidents during my stay.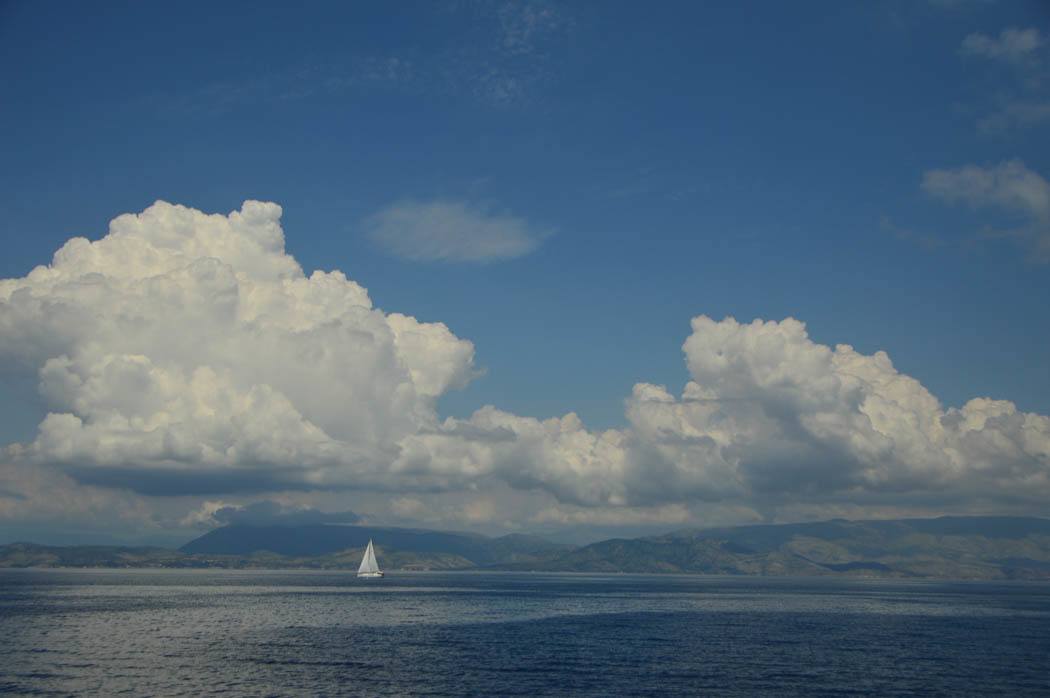 Paxos Holidays are a paradise for walkers. If that sounds like you then check out the Bleasdale Walking map of Paxos.
Who Paid for What in this Post
My flights and ferry tickets were covered by the owner of the amazing Villa Glaros – and I didn't pay to stay at this stunning villa. There was an expenses budget but let's face it I didn't spend much of my own money during my trip to Paxos.
This post contains affiliate links. That means if you click through and make a purchase I will most likely receive a small commission. Just wanted to make sure you were aware of this.
[separator type="thick"]
READ NEXT: 5 DELICIOUS AND AUTHENTIC PAXOS RESTAURANTS
[separator type="thick"]
Like this post? Why Not Pin It?