Nestled in the south-eastern region of the United States, Florida is a world-famous holiday destination. You'll find a plethora of natural beauty, modern attractions, and must-visit historical places in Florida.
The Sunshine State is renowned for its year-round pleasant weather, idyllic beaches, and theme parks. There are plenty of exhilarating adventures in the state, from enjoying water sports to visiting Walt Disney World. However, some of the best experiences occur at places that form part of a bygone era.
Whether you're looking to explore state parks or intriguing museums, there are suitable historical spots for every kind of traveller. In this guide, you'll find the most remarkable landmarks to explore on your next trip.
Here are 33 historical places in Florida you'll love.
33 Historical Places in Florida
Are you ready to take a peek into the past? Below are 33 of the most impressive North American landmarks to visit for a memorable getaway in Florida.
1. Castillo de San Marcos National Monument
The Castillo de San Marcos National Monument is the oldest masonry fort in the United States. It is located in one of the country's oldest cities, St. Augustine.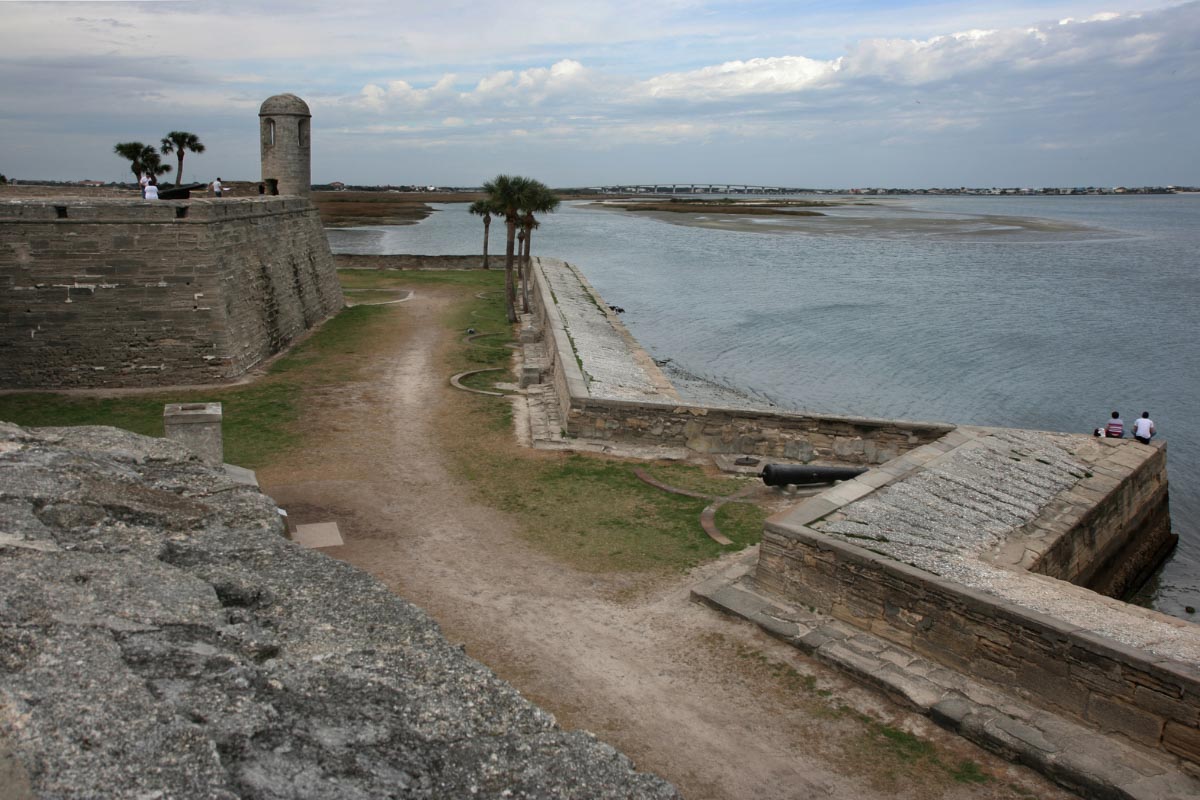 The Spanish built this fort between 1672 and 1695 to protect their interests in the city. It also played a significant role in the Civil and Spanish-American wars. Stopping by this fascinating site on a St. Augustine tour offers a wonderful experience for history buffs and families. It is one of several castles in Florida that are well worth a visit.
2. Key West Lighthouse
The Key West Lighthouse is a magnificent landmark positioned in Key West, Florida. This impressive lighthouse was built in 1825 to help ships navigate the dangerous reefs and enter the port. The 22-metre (73-foot) tower remained in operation until 1969.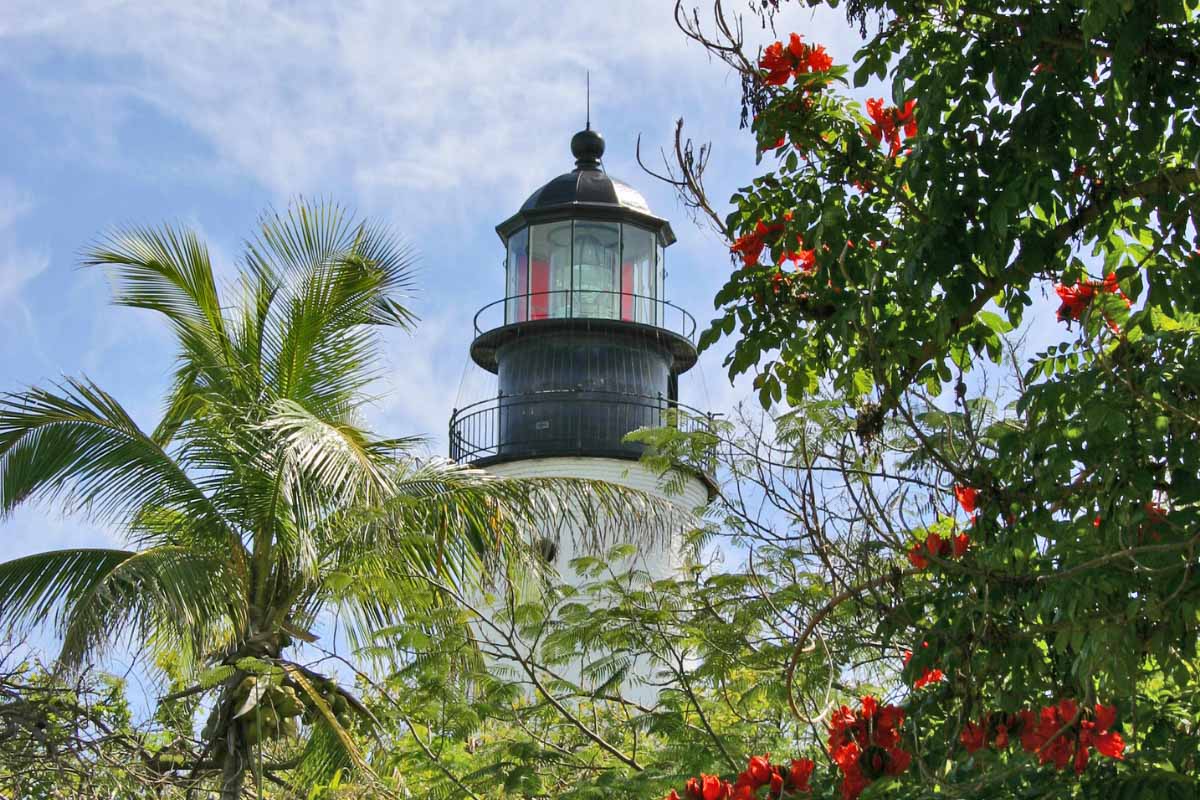 Here you can discover the island's maritime history and enjoy spectacular sunsets in Florida. For the best views, you'll have to climb 88 iron steps to get to the top of the lighthouse.
3. Bok Tower Gardens
The Bok Tower Gardens is one of the most picturesque places in the Sunshine State. It is a 250-acre garden and bird sanctuary situated atop Iron Mountain in Lake Wales.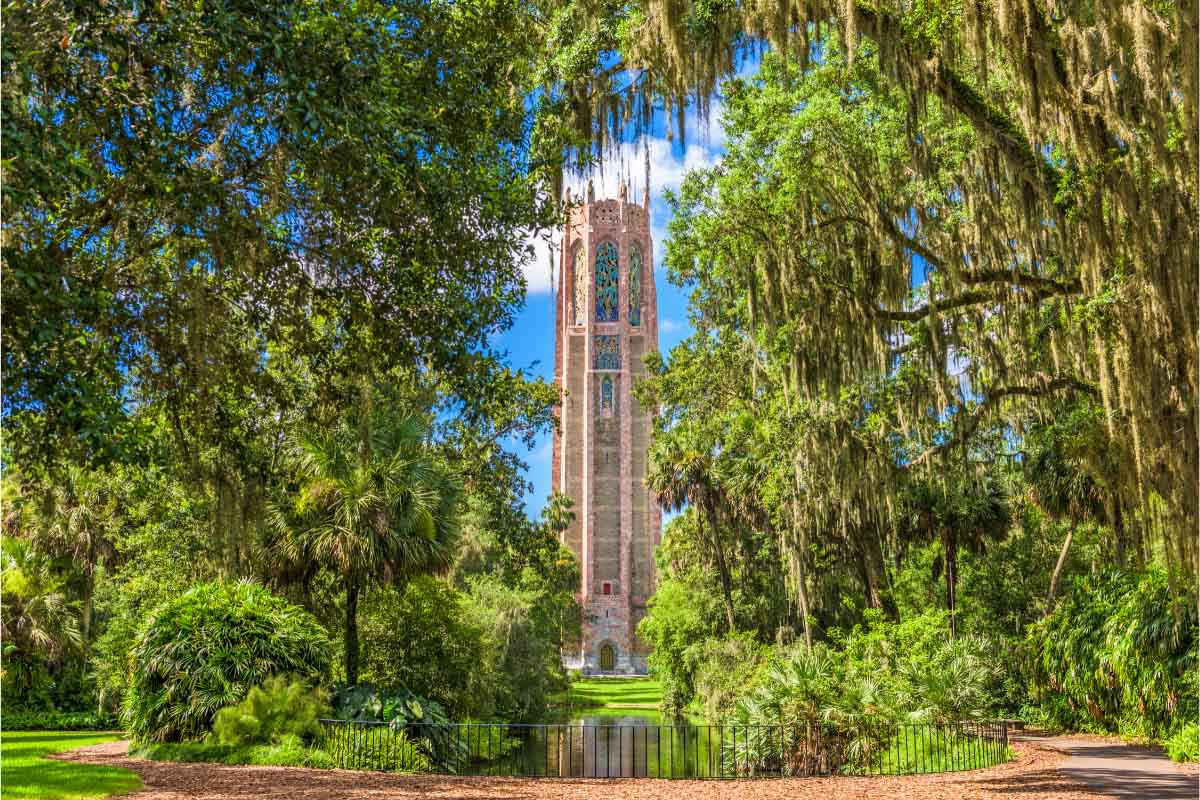 Established in 1929, this National Historic Landmark is home to a 62-metre (205-foot) Singing Tower. You'll hear the music of the Singing Tower carillon and experience artistic and cultural enrichment while strolling through the lush gardens.
4. The Barnacle Historic State Park
This charming destination comprises five acres of historic land positioned along the breathtaking Biscayne Bay in Coconut Grove, Miami. Constructed in 1891, the Barnacle is the oldest house in Miami-Dade County and dates back to the sailboat era.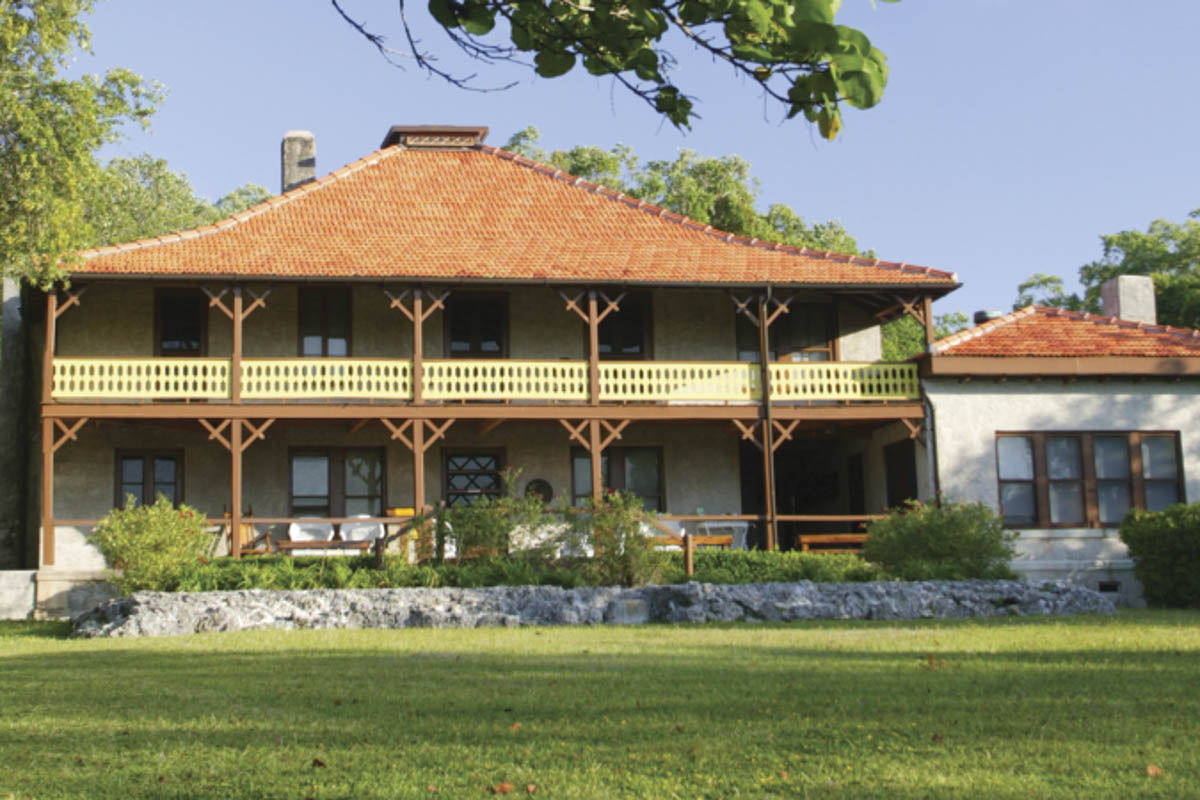 Today, you'll come across remarkable replicas of historic sailboats. Additionally, the lawns are perfect for a peaceful picnic under the Banyan trees.
5. Kingsley Plantation
The Kingsley Plantation is a historical site situated in Jacksonville, Florida. It tells the story of Zephaniah Kingsley and his family, who lived on the plantation from 1814 to 1837.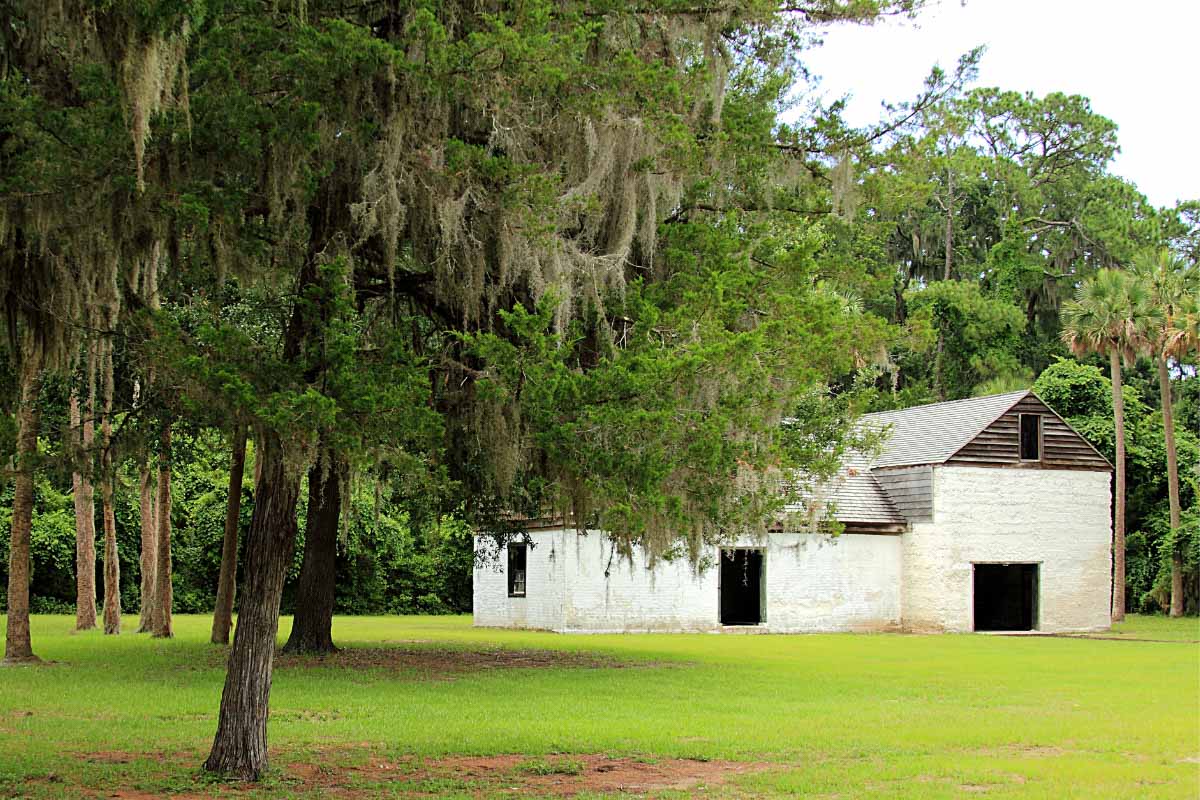 The plantation produced Sea Island cotton, sugar cane, corn, and beans. The property features a plantation house, scenic garden, barn, and slave quarters. Here you can learn more about the location's intriguing history with audio tours.
6. Bonnet House Museum & Gardens
The Bonnet House Museum and Gardens is a historic home located in Fort Lauderdale. It is named after the beautiful bonnet lily. The scenic site is a must-visit destination for history buffs, nature lovers and birders.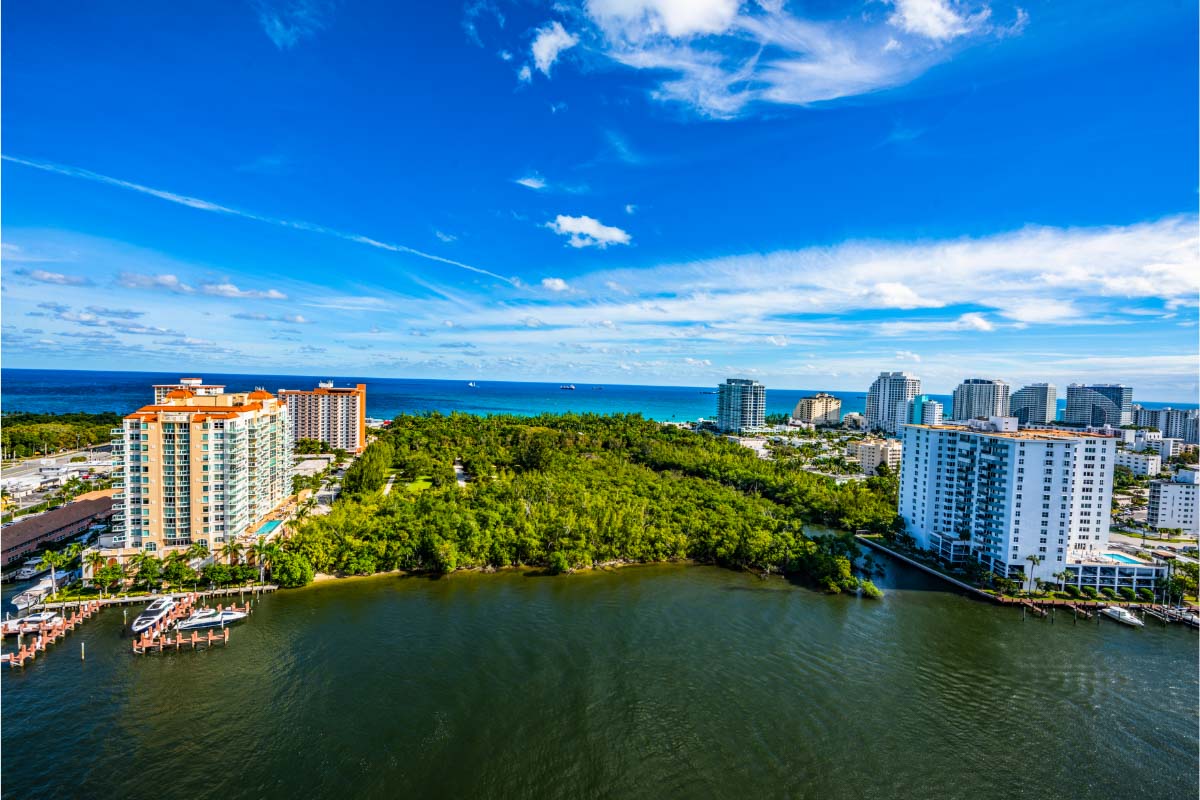 Constructed in 1920, the Bonnet House was home to artists Fredric and Evelyn Bartlett. Here you'll be transported back to the beginning of the 20th century on guided tours or self-guided audio tours.
7. Fort Jefferson
Nestled in Key West, Fort Jefferson is one of the best locations to visit during a Dry Tortugas National Park day trip. This massive and unfinished coastal fortress consists of more than 16 million bricks and spans across 16 acres.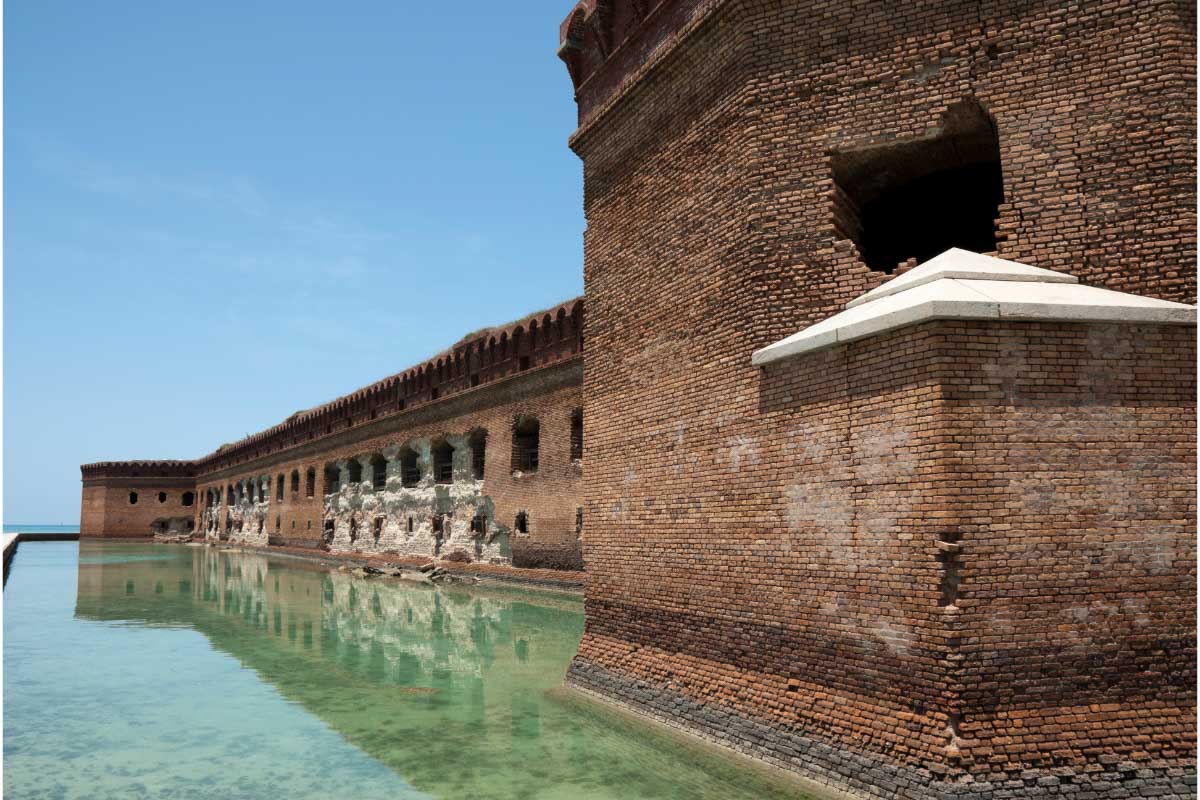 It is one of the largest brick masonry structures in the United States. At this spectacular destination, you'll learn about mysterious legends of shipwrecks and treasure chests.
8. Vizcaya Museum & Gardens
The Vizcaya Museum and Gardens is the former villa of an agricultural industrialist, James Deering. Located in Miami, this magnificent museum opened in 1916. Here you'll experience an enchanting atmosphere as you tour scenic gardens and awe-inspiring architecture.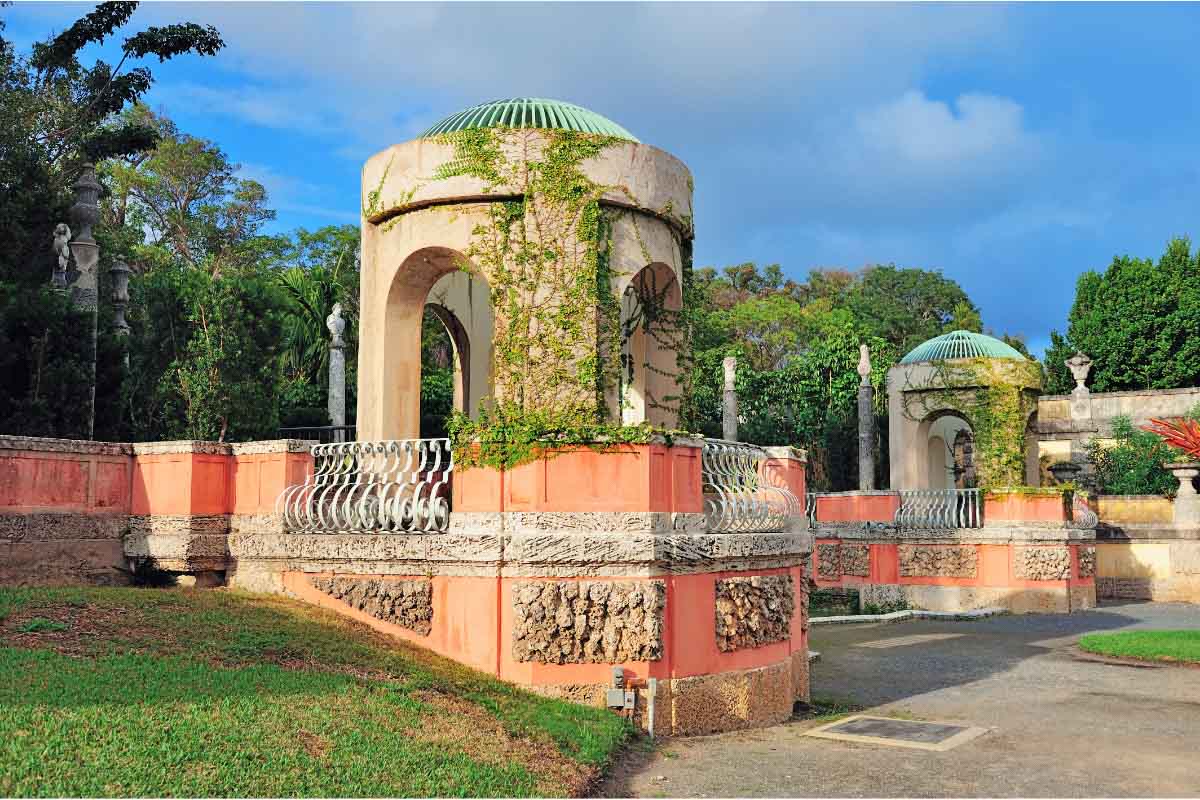 This landmark in Florida features 20th-century designs, and the rooms are filled with vintage artworks and antiques. The expansive garden boasts lush low-cut shrubs, striking flowers, and classical statues.
9. Lightner Museum
The Lightner Museum is an extraordinary attraction located in the ancient town of St. Augustine. It is set in the former Hotel Alcazar building and was once famous for supporting the world's largest indoor swimming pool.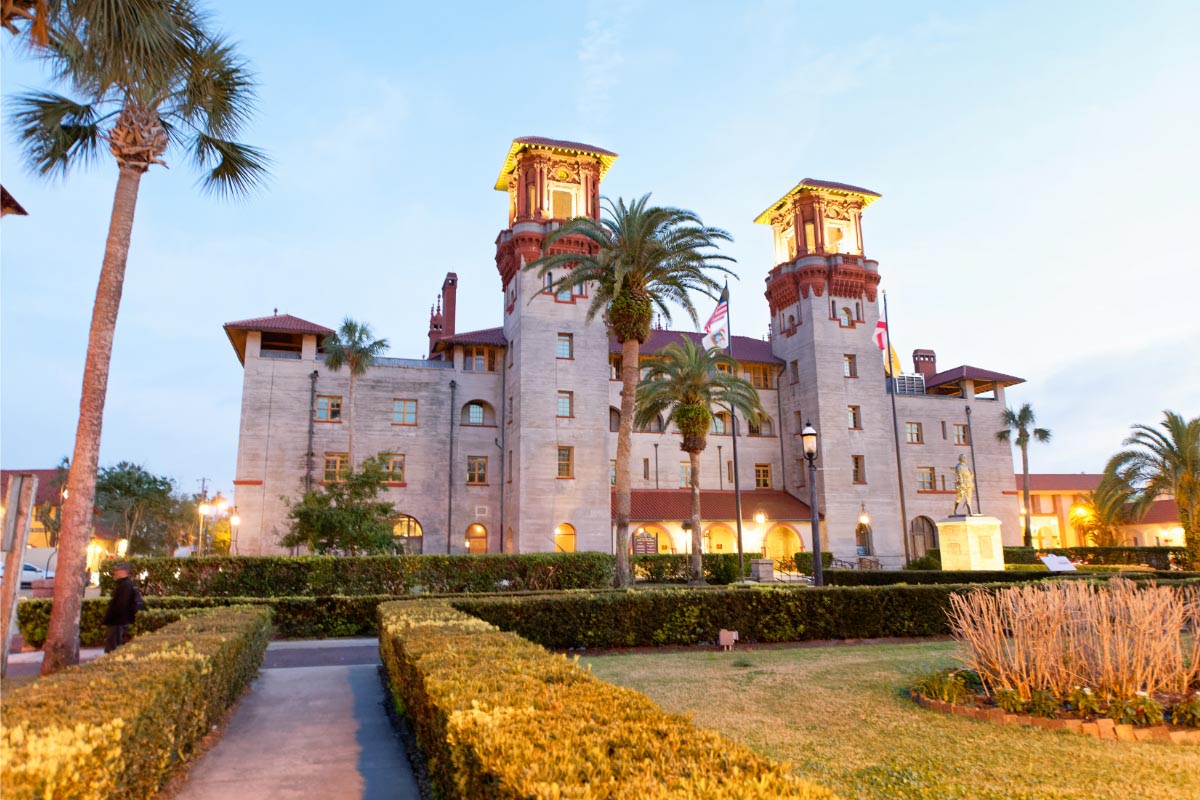 This 1887 Spanish Renaissance Revival style building leaves visitors in awe. Here you can admire the breathtaking architecture and spectacular 19th-century art collection.
10. Dade Battlefield
Nestled in Sumter County, the Dade Battlefield Historic State Park is one of the most famous landmarks in Florida. The 80-acre park is filled with pine flatwoods and oak hammocks.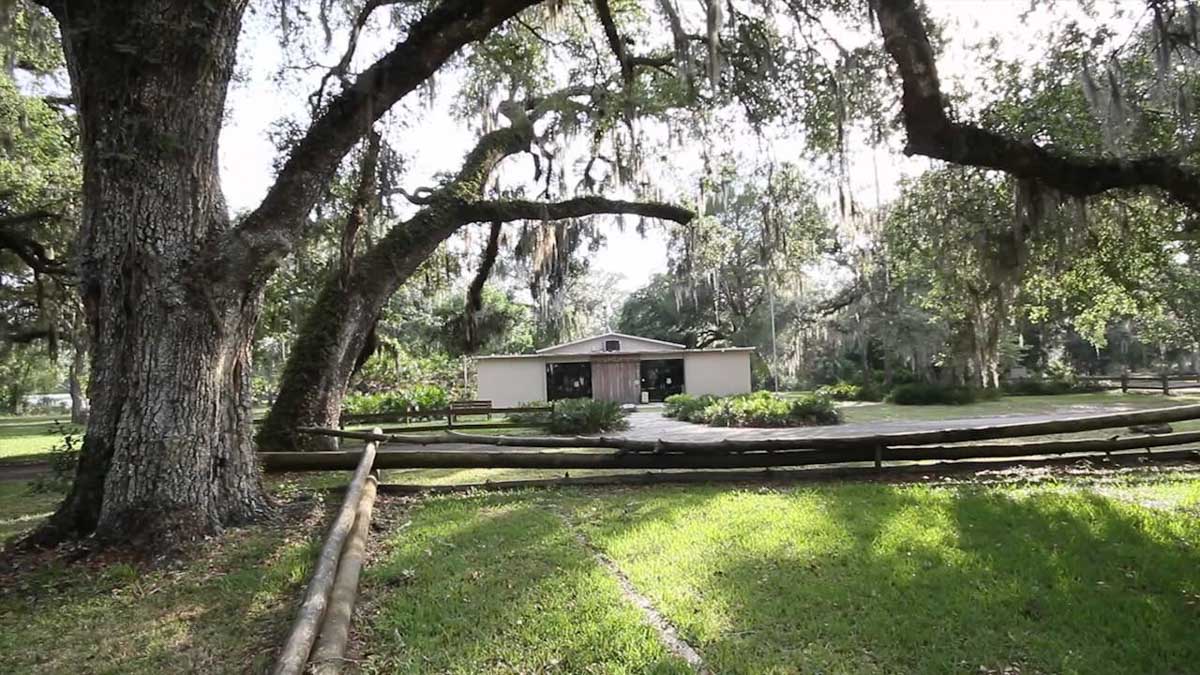 It was established in 1921 to commemorate and preserve the site of the Dade battle in 1835. Thousands of travellers visit the park to witness the annual re-enactment of the battle. Other enjoyable activities at the park include picnicking, hiking, and wildlife photography.
11. House of Refuge Museum
The House of Refuge at Gilbert's Bar is a maritime museum situated in Stuart. It was one of ten buildings that were constructed along the east coast of Florida to aid shipwrecked sailors.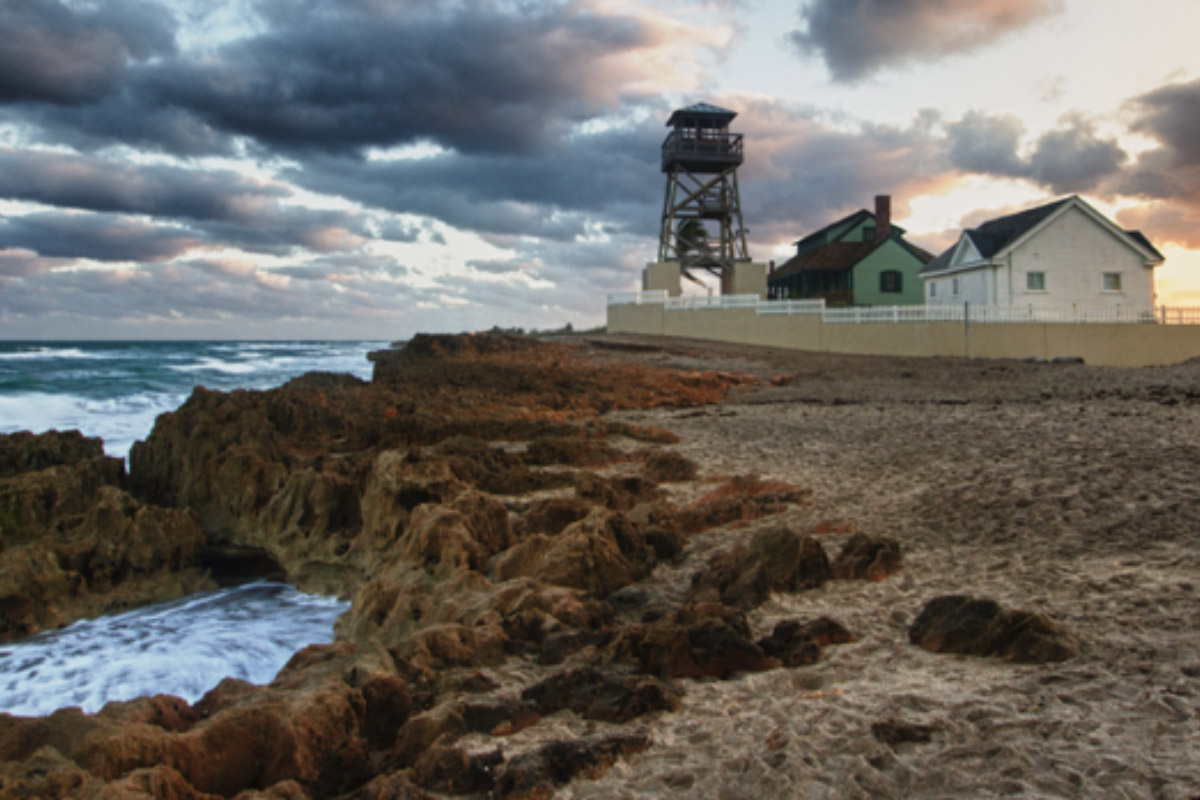 Today, it is the only remaining House of Refuge and the oldest structure in Martin County. After viewing the captivating exhibits, you can take a short stroll to the shore for water activities like snorkelling and diving.
12. Fort Matanzas National Monument
Fort Matanzas National Monument is another notable landmark situated in St. Augustine. It preserves the fortified coquina watchtower that was built in 1742.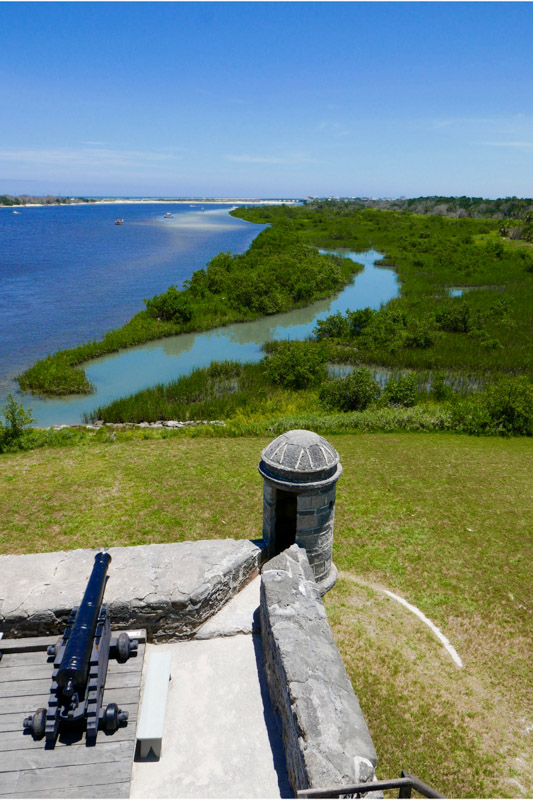 During the colonial wars, the fort defended the city's southern river approach. It also guards an extensive area that features maritime forest, marsh, dunes, diverse fauna and flora, as well as endangered species.
13. The Kampong
If you're looking for a peaceful adventure in a scenic setting, The Kampong is the perfect place to visit. This 9-acre botanical garden is located in Coconut Grove, Miami.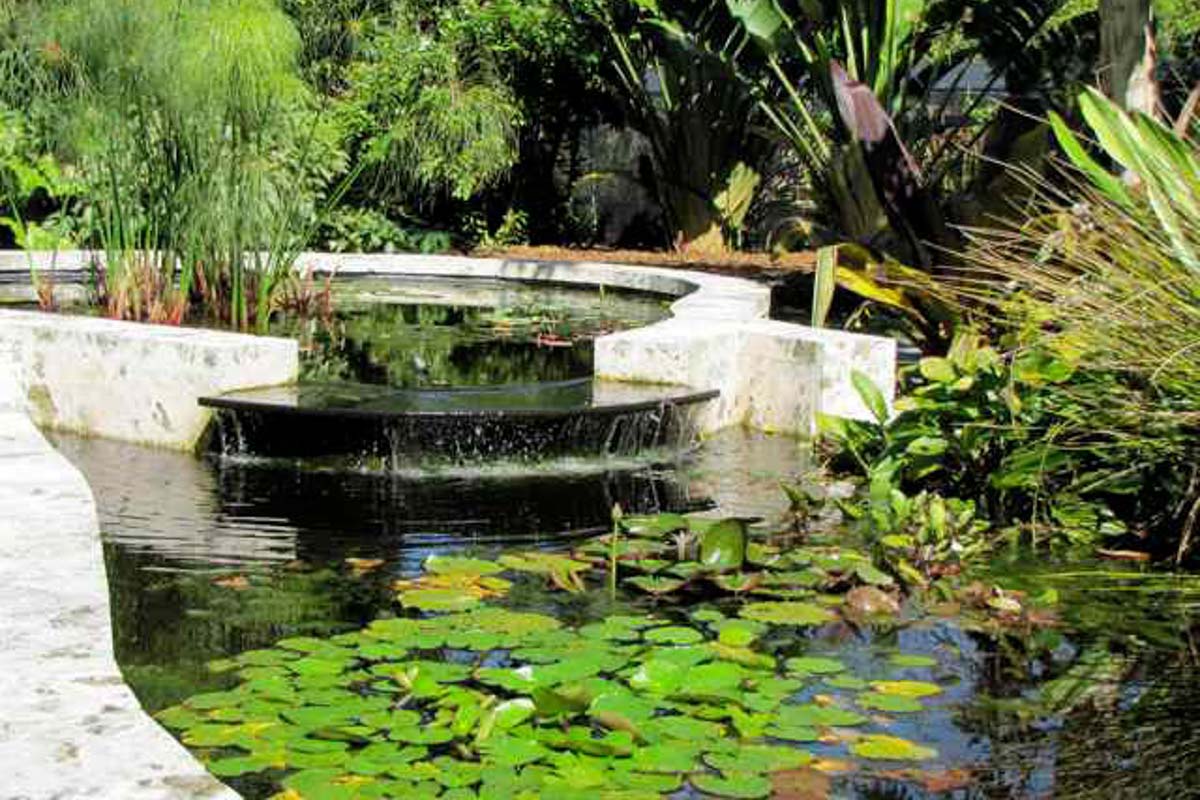 It once belonged to a famous botanist, Dr David Fairchild, who collected exotic flowers from tropical regions. At The Kampong, you can tour the historic main house and stroll through the lush gardens amongst the fragrant flowering plants.
14. The Ernest Hemingway Home & Museum
In the 1930s, this stunning Spanish Colonial home was the residence of the famed author Ernest Hemingway. It is situated in Key West, just a short walk from the Key West Lighthouse.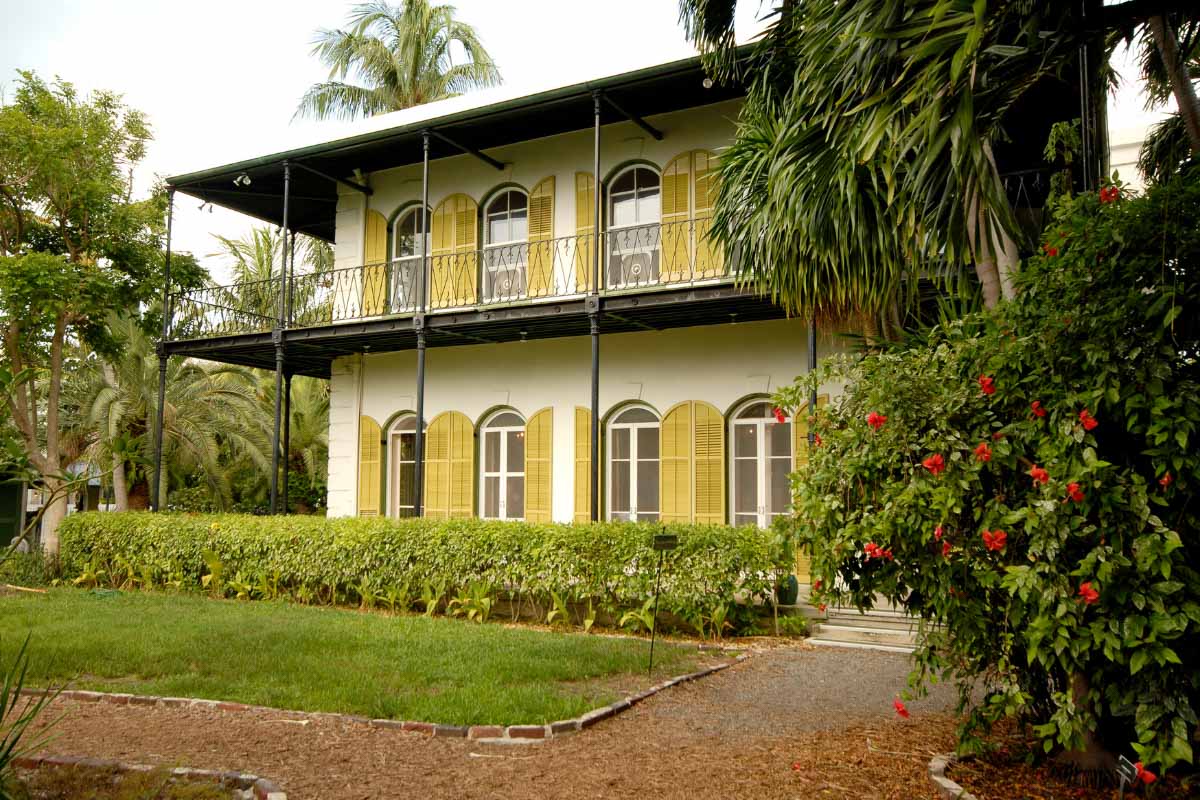 The Ernest Hemingway House was converted into a private museum following Hemingway's death. You'll encounter several fascinating features at the museum, from stories of the late author to observing the sixty seven-toed cats.
15. Stiltsville
Stiltsville is a historical landmark located in Key Biscayne, just 1.6 kilometres (one mile) south of Cape Florida. It is a collection of wood stilt houses that stands about 3 metres (10 feet) above the shallow waters.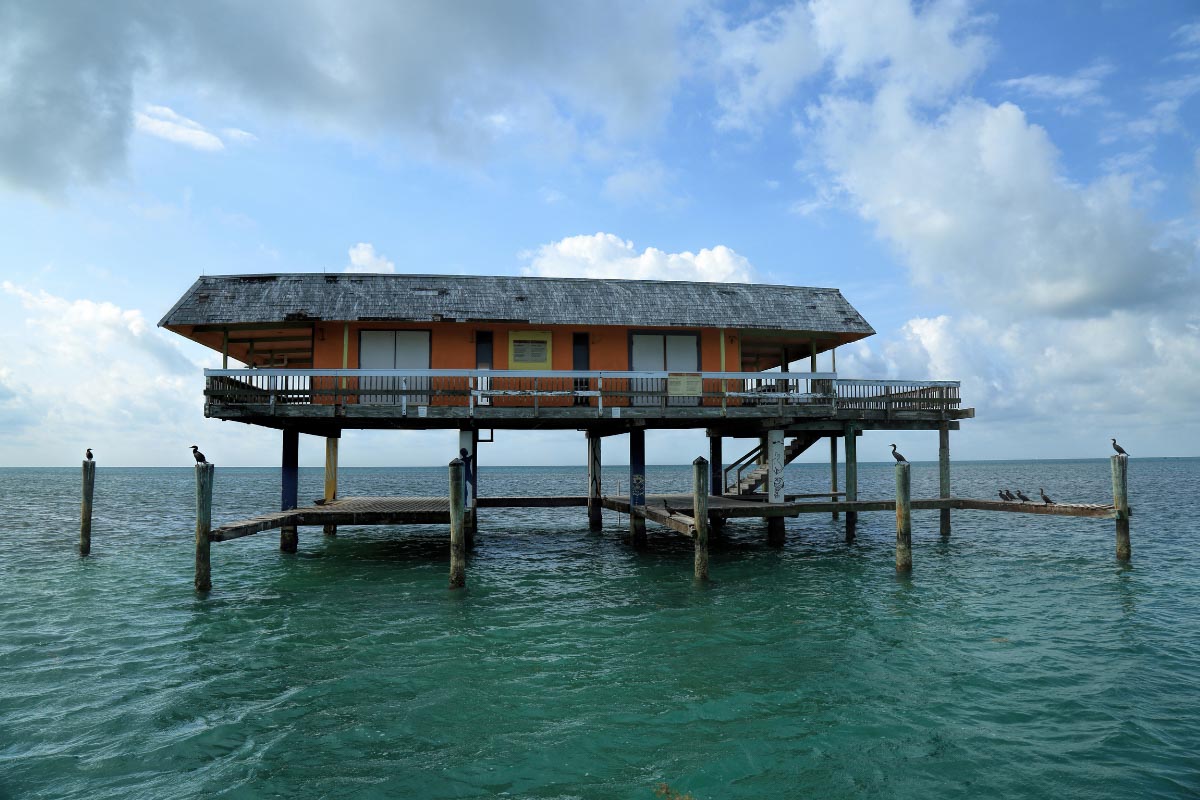 In the 1940s and 1950s, Stiltsville was a popular getaway destination for wealthy and influential visitors. A great way to see the colourful Stiltsville houses is with a thrilling Biscayne Bay boat tour.
16. Mound House
Mound House is a unique archaeological and historical site situated in Fort Myers Beach, Florida. This restored house museum sits atop an ancient Calusa Indian shell mound directly on Estero Bay.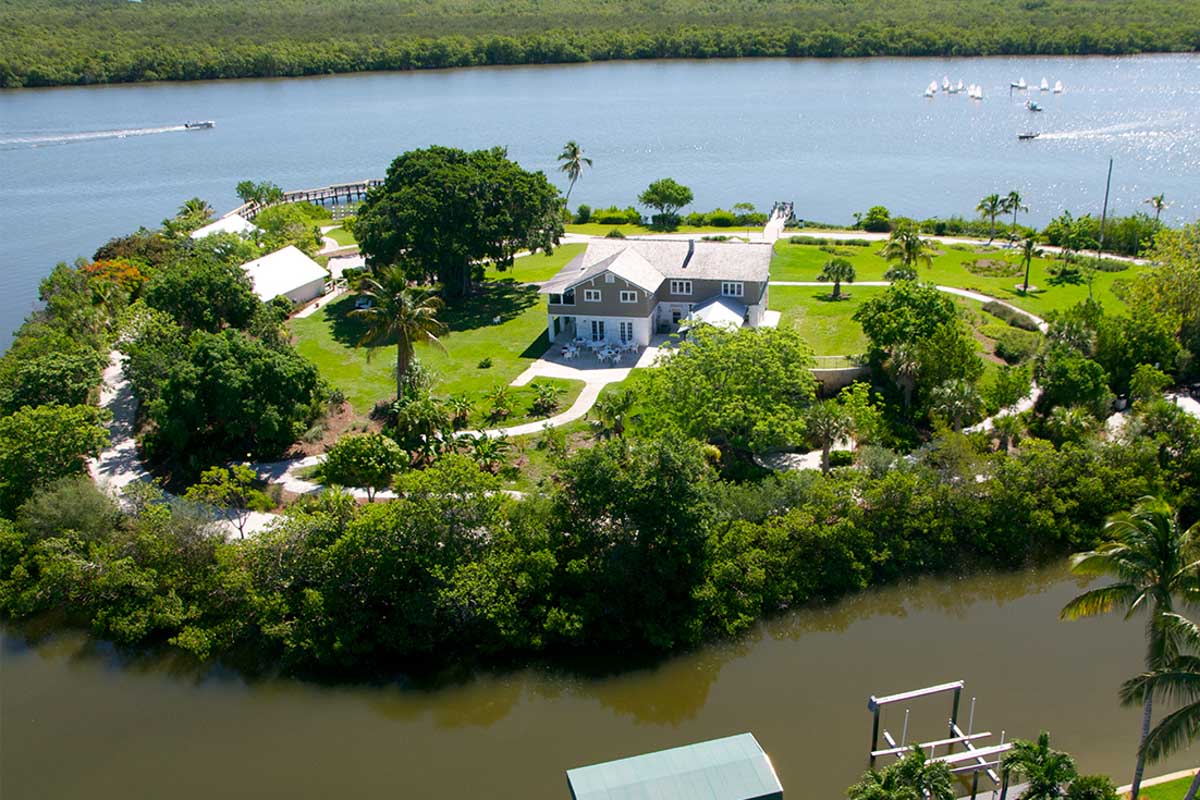 It was built in 1921 and is the oldest standing structure in Fort Myers Beach. Here you'll encounter captivating artefacts and a variety of cultural programmes for an enlightening outing.
17. Cathedral Basilica of St. Augustine
If you're a history buff or architecture enthusiast, a trip to the Cathedral Basilica of St. Augustine will not disappoint. It is home to the first parish of the United States.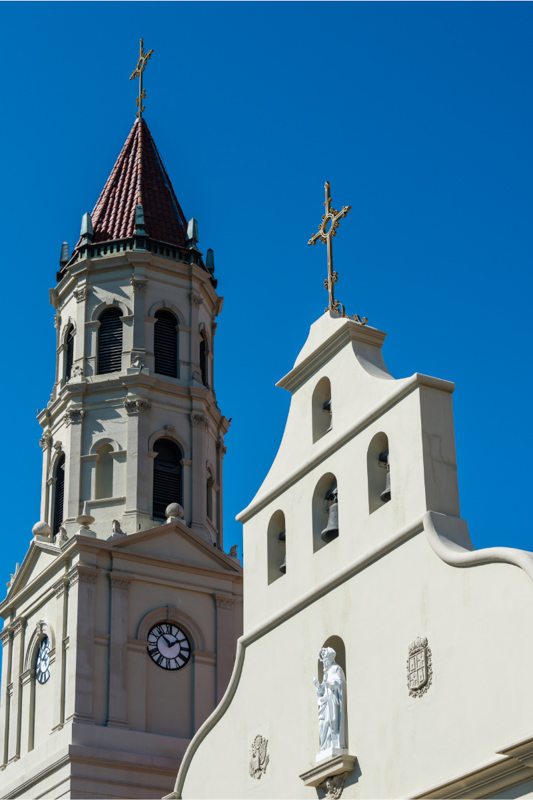 The Cathedral Basilica of St. Augustine was first built in 1797 and reconstructed during the 18th century following fire damages. The style of the structure is truly mesmerizing, from the Spanish-Renaissance bell tower to the Victorian stained-glass windows.
18. Weeki Wachee Springs State Park
If you're looking for a family-friendly outing that'll keep the kids entertained, visiting the Weeki Wachee Springs State Park is perfect. This historical park is situated in Spring Hill.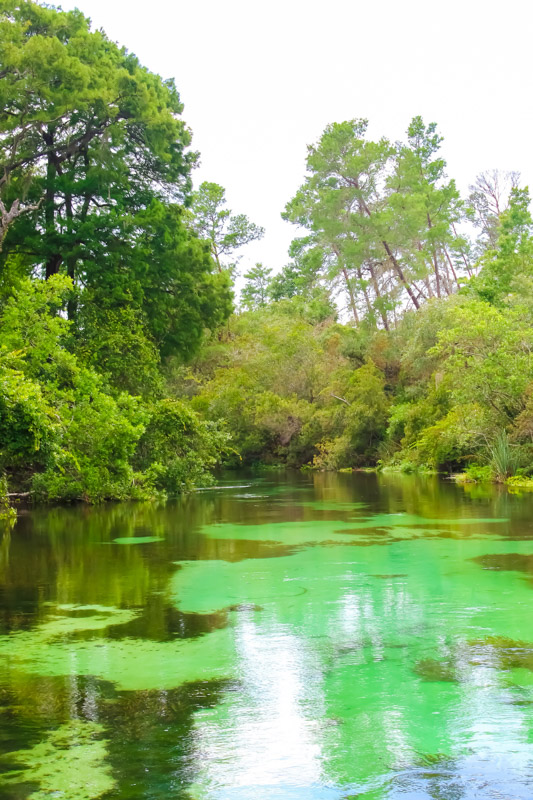 It is home to the deepest natural freshwater cave system in the U.S. and an abundance of protected wildlife. Here you can step back in time and see live mermaid performances at the enchanting spring. Other fun activities to enjoy include boat cruises, swimming, paddling, and learning about native wildlife.
19. Ferdinand Magellan
The Ferdinand Magellan railcar was used as a Presidential Rail Car from 1943. It was originally built in 1928 and refurbished in 1942 when it was presented to President Franklin D. Roosevelt.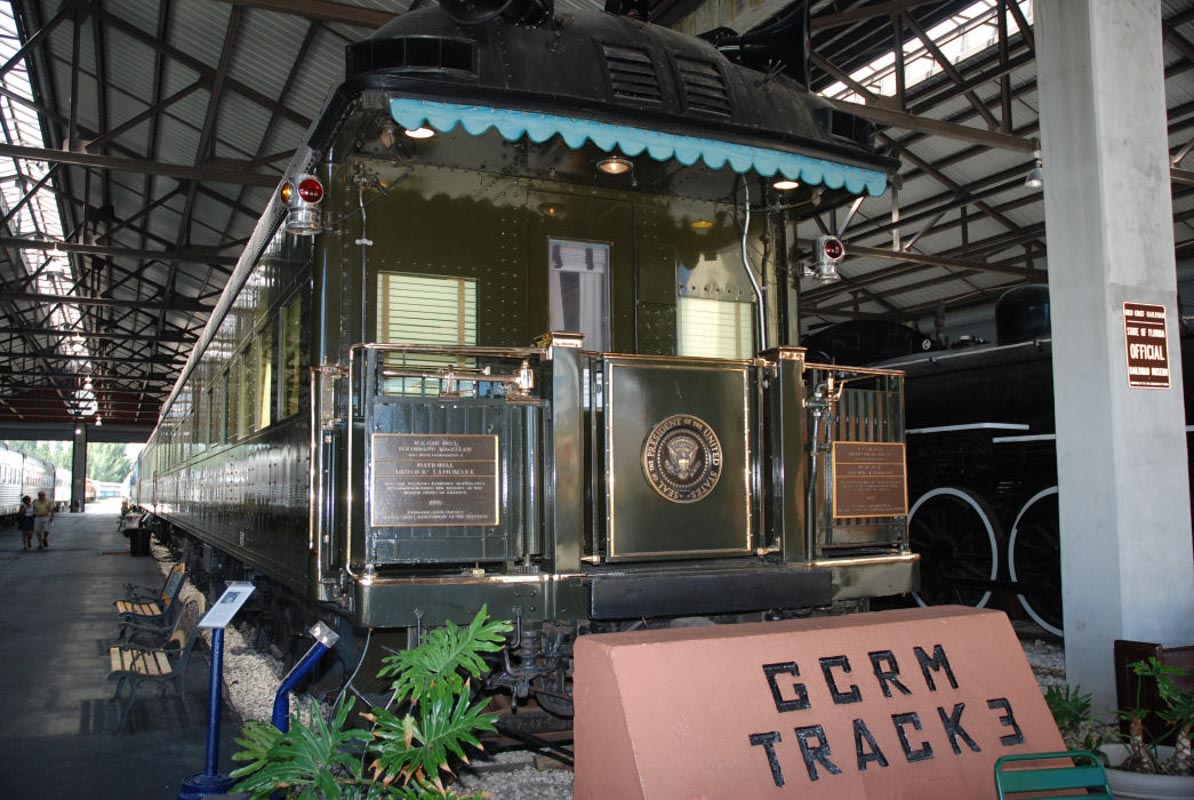 This must-see railcar was used extensively by President Roosevelt and President Truman for re-election campaigns, as well as business and personal trips. In 1959, the Gold Railroad Museum in Miami acquired ownership of the Ferdinand Magellan.
20. Venetian Pool
If you're looking for an epic pool day in the Sunshine State, the Venetian Pool might be the ideal spot for you. It is a historic U.S. freshwater swimming pool located in Coral Gables.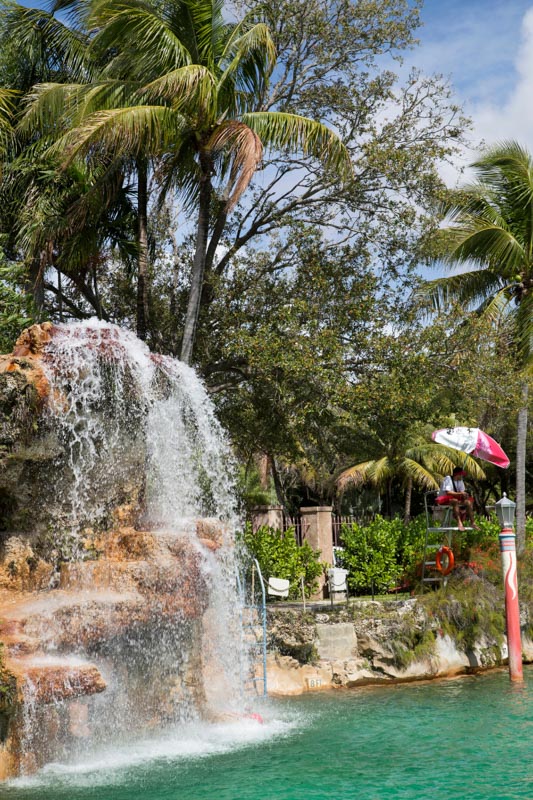 The Venetian Pool was constructed from a coral rock quarry in 1924. The 4-acre pool is an excellent pick for travellers looking to cool down on a hot summer day in Florida.
21. Henry Morrison Flagler Museum
If you love luxury and history, you'll adore this Gilded Age mansion. The Henry Morrison Flagler Museum, also called Whitehall, is an opulent public museum in Palm Beach.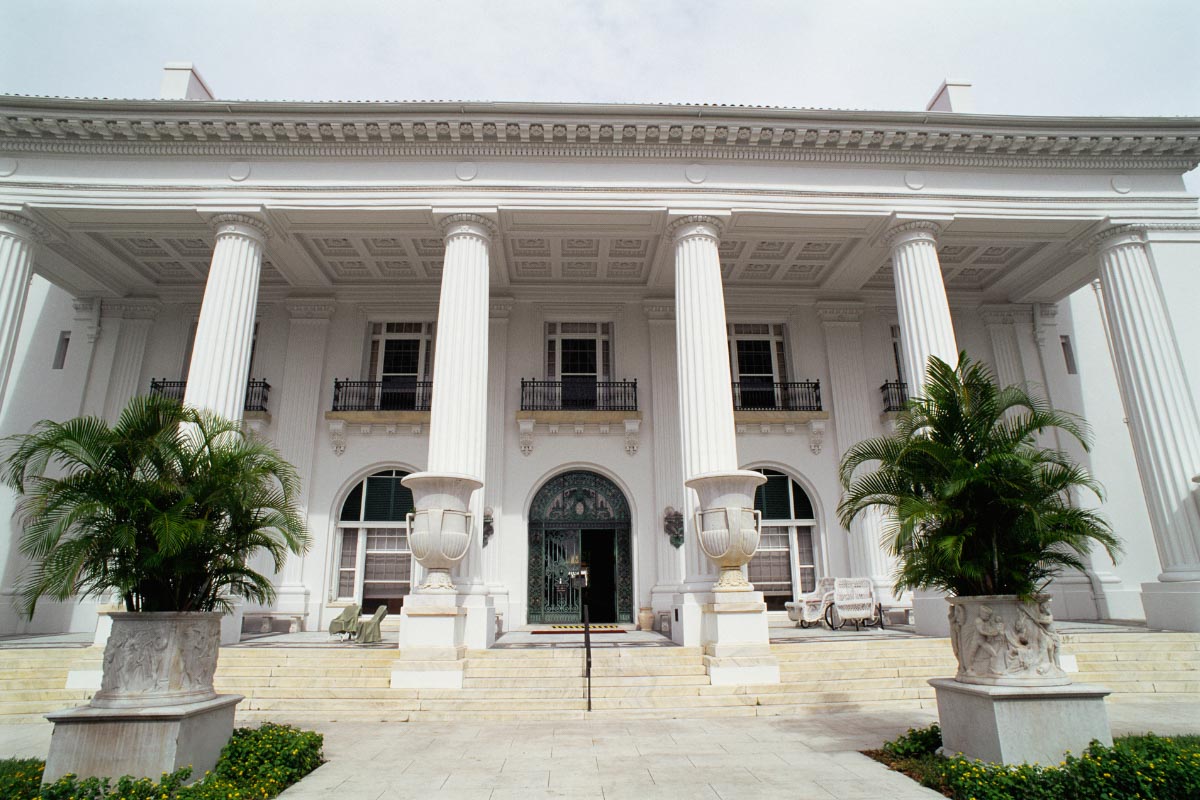 An oil tycoon, Henry Flagler constructed this Beaux-Arts style mansion for his third wife in 1902. Here you can admire the captivating European architecture, artwork, historical exhibits, and antique furniture.
22. Bill Baggs Cape Florida State Park
The Bill Baggs Cape Florida State Park is situated in Key Biscayne. It is home to the notable Cape Florida Lighthouse that was constructed in 1825.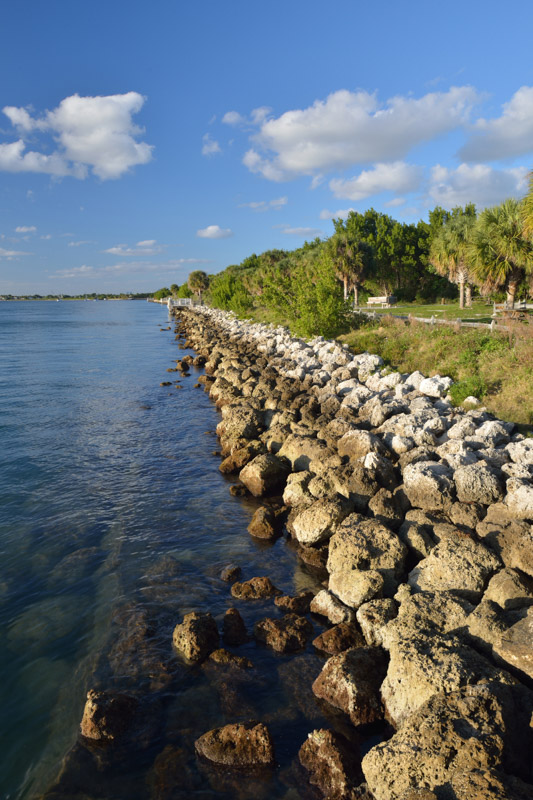 You can experience awe-inspiring views of Biscayne Bay and the Atlantic Ocean from atop this historic lighthouse. As the lighthouse is located on a beautiful beach, you can enjoy other thrilling activities, including kayaking and shoreline fishing.
23. Pigeon Key & Seven Mile Bridge
The Seven Mile Bridge is a 10,888-metre bridge in the Florida Keys, Monroe County. It was constructed in 1978 and opened in 1982. Beneath the bridge, you'll see a small island called Pigeon Key.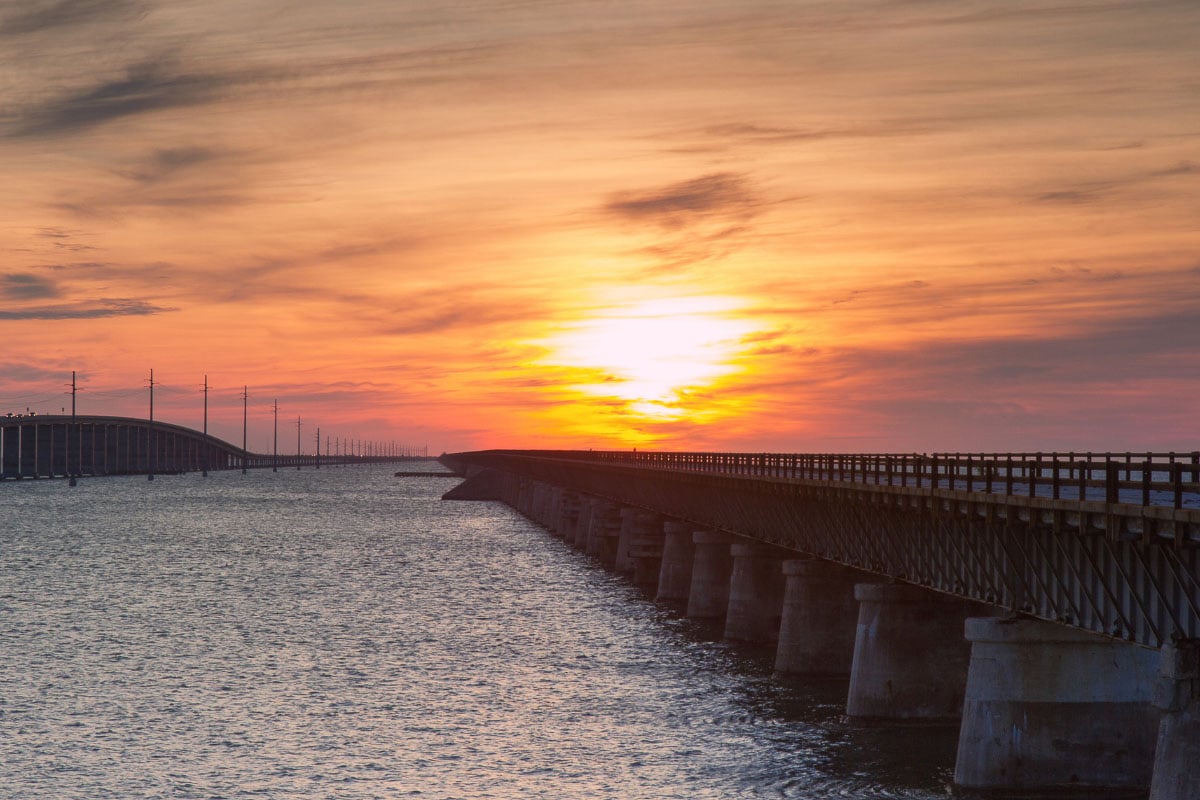 This 5-acre island is home to eight must-see historical buildings. There are also several displays and artefacts that tell stories of notable events, such as the deadly 1935 Labour Day hurricane. You can enjoy breathtaking views on this historic railroad and take a scenic boat tour to Pigeon Key.
24. Ponce de Leon Inlet Lighthouse
The Ponce de Leon Inlet Lighthouse is a picturesque lighthouse and museum situated in Ponce de Leon Inlet. This spectacular structure was constructed in 1887.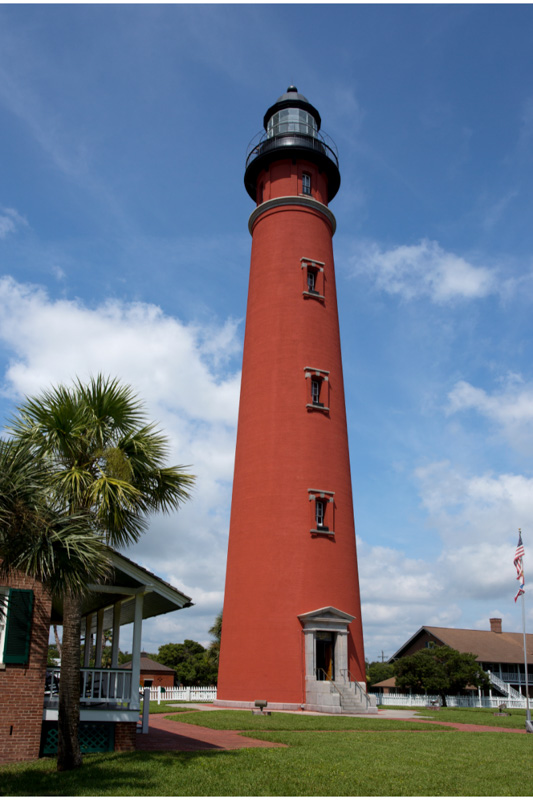 The lighthouse stands at a staggering 53 metres (175 feet) tall. Here you'll learn about the rich history of this remarkable landmark. Additionally, you can climb its 203 steps and enjoy stunning panoramic views from the top of the tower.
25. Fernandina Beach on Amelia Island
Fernandina Beach is a charming city situated on Amelia Island. The island's historic district features more than 400 historical buildings, including homes, commercial buildings, and churches.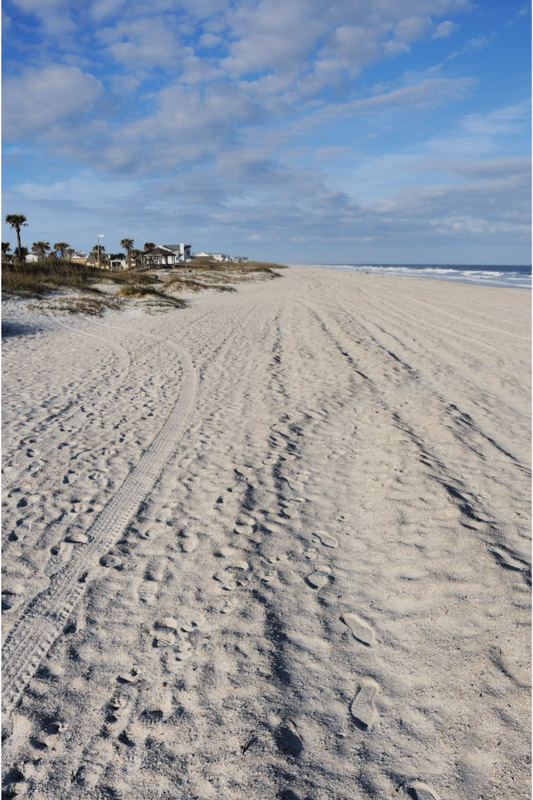 You'll come across eye-catching Victorian-era architecture, as well as several galleries and antique shops. One of the top spots in the area is the Palace Saloon. It's an iconic 1903 bar where you can admire vintage murals and enjoy live music.
26. Henry B. Plant Museum
The Henry B. Plant Museum was built in 1891 in Tampa, Florida. It is situated in the south wing of Plant Hall on the University of Tampa's campus.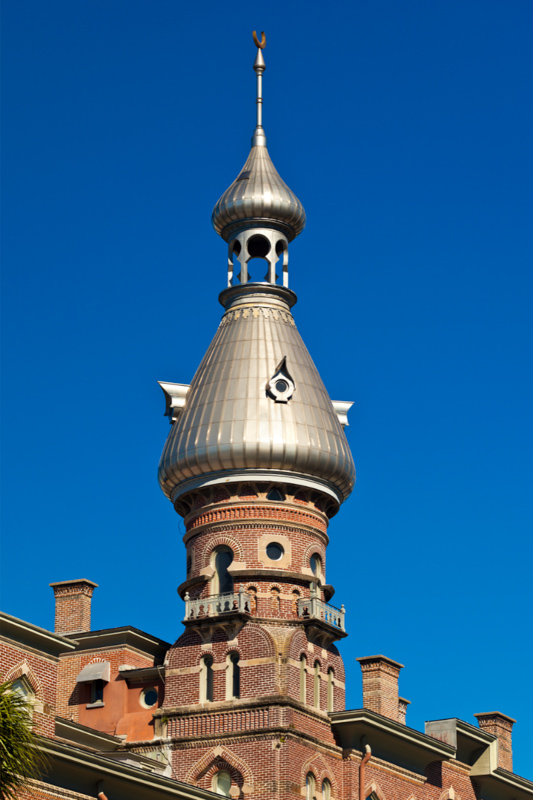 The museum was once a resort for wealthy individuals and features stunning Moorish Revival architecture. It is home to several artefacts collected from all around the world and educates visitors on Gilded Age tourism.
27. Koreshan State Park
The Koreshan State Park is a must-see ancient attraction located in Lee County. The park features several historic buildings and lush gardens.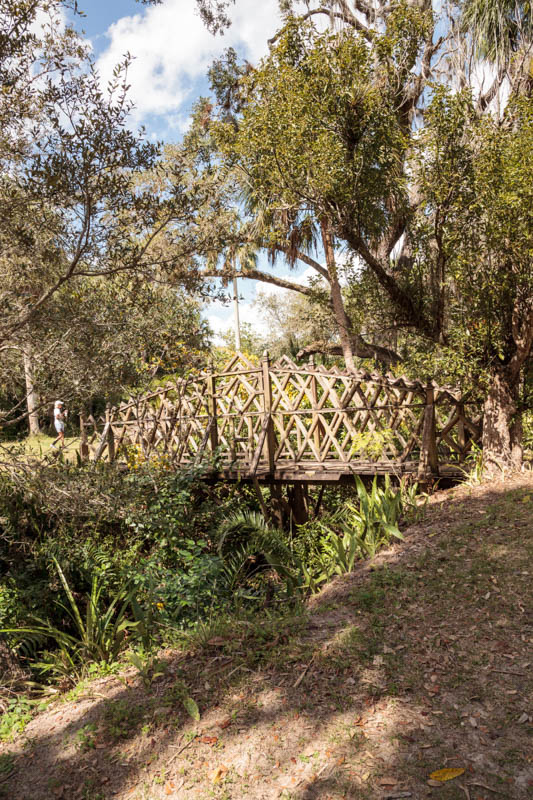 You'll also come across an abundance of majestic oak trees positioned along the banks of the Estero River. It's a popular spot amongst history lovers and outdoor enthusiasts for activities like camping and kayaking.
28. Mary McLeod Bethune Home
The Mary McLeod Bethune Home is a notable museum in Daytona Beach, Florida. It is situated on the Bethune-Cookman University campus.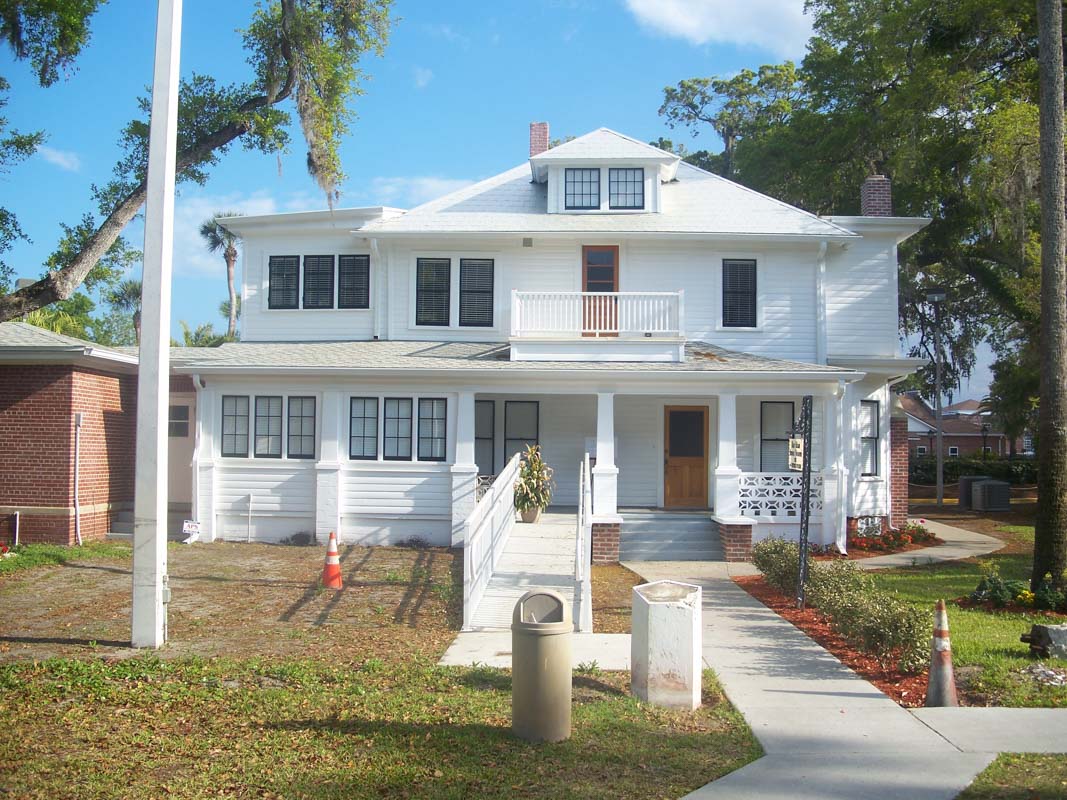 This remarkable landmark was built in 1904. It was the residence of a prominent civil rights leader and educator, Mary McLeod Bethune.
29. Cap's Place
Established in 1928, Cap's Place is the oldest restaurant in Broward County, Florida. It sits atop an island off Lighthouse Point and can be reached with an exciting boat ride.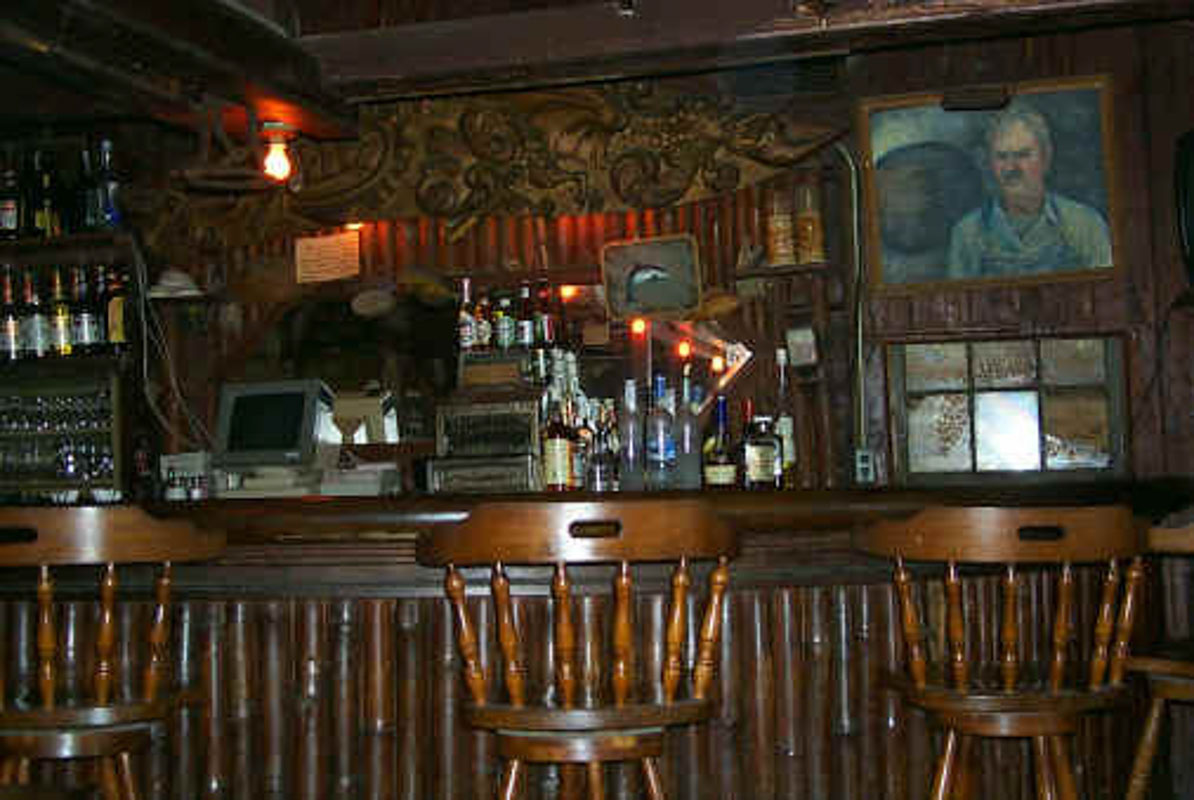 Many world-famous individuals frequently visited Cap's Place, including Franklin D. Roosevelt, Winston Churchill, and Al Capone. Whether you're looking to indulge in delicious seafood or admire the historic designs, visiting this restaurant will not disappoint.
30. Fort King National Historic Landmark
Fort King is a former U.S. army frontier fort located in Ocala. The fort was built in 1827 and is a notable symbol of the Seminole War.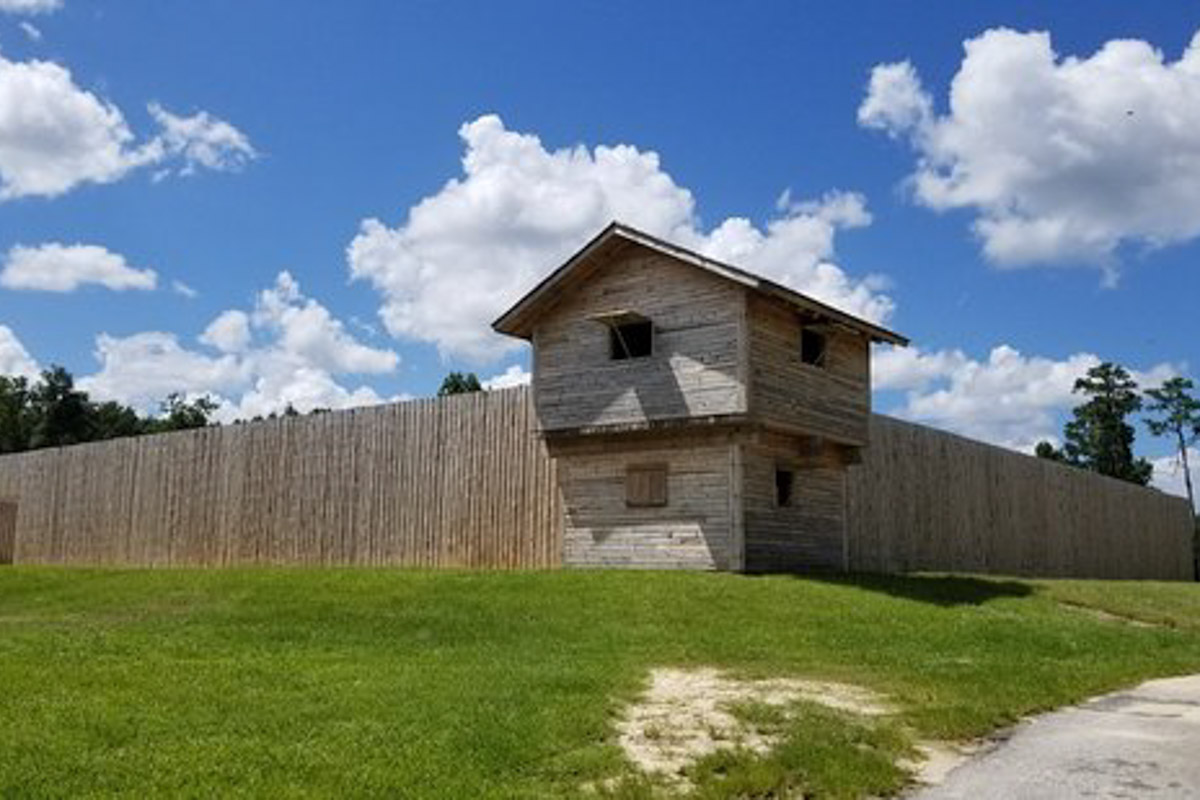 There are several programmes and events at the Fort King National Historic Landmark where you can learn more about significant happenings of the past. Additionally, you can stroll down the walking trails and explore the scenic heritage garden.
31. Fort Zachary Taylor Historic State Park
Fort Taylor is a historic state park located in Key West, Florida. The state park is home to an extensive collection of Civil War armaments.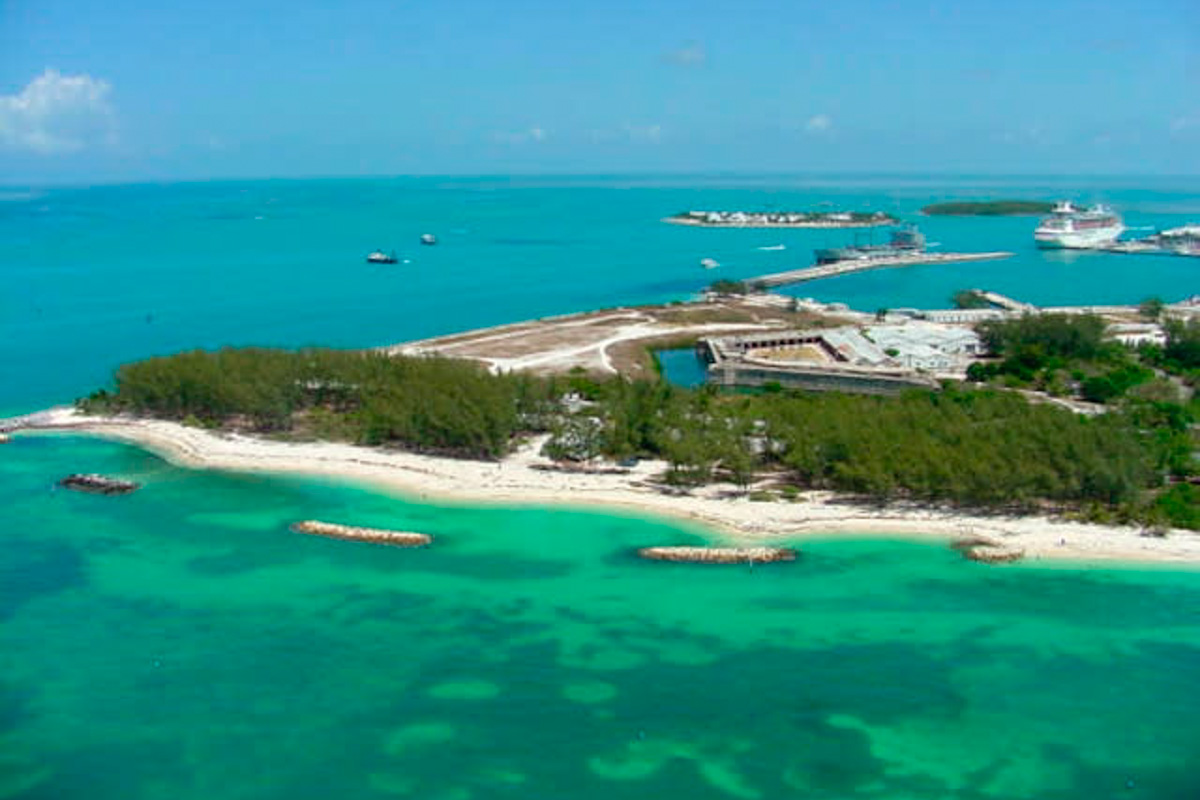 The tour guides and interpretive panels convey the fort's significance in the Civil War and Spanish-American War. In addition to immersing yourself in history, you can also enjoy activities like swimming and bird watching.
32. Gonzalez Alvarez House
The Gonzalez Alvarez House, also called The Oldest House, is a historic house museum in St. Augustine. As its name suggests, it is believed to be the oldest surviving Spanish colonial dwelling in the city.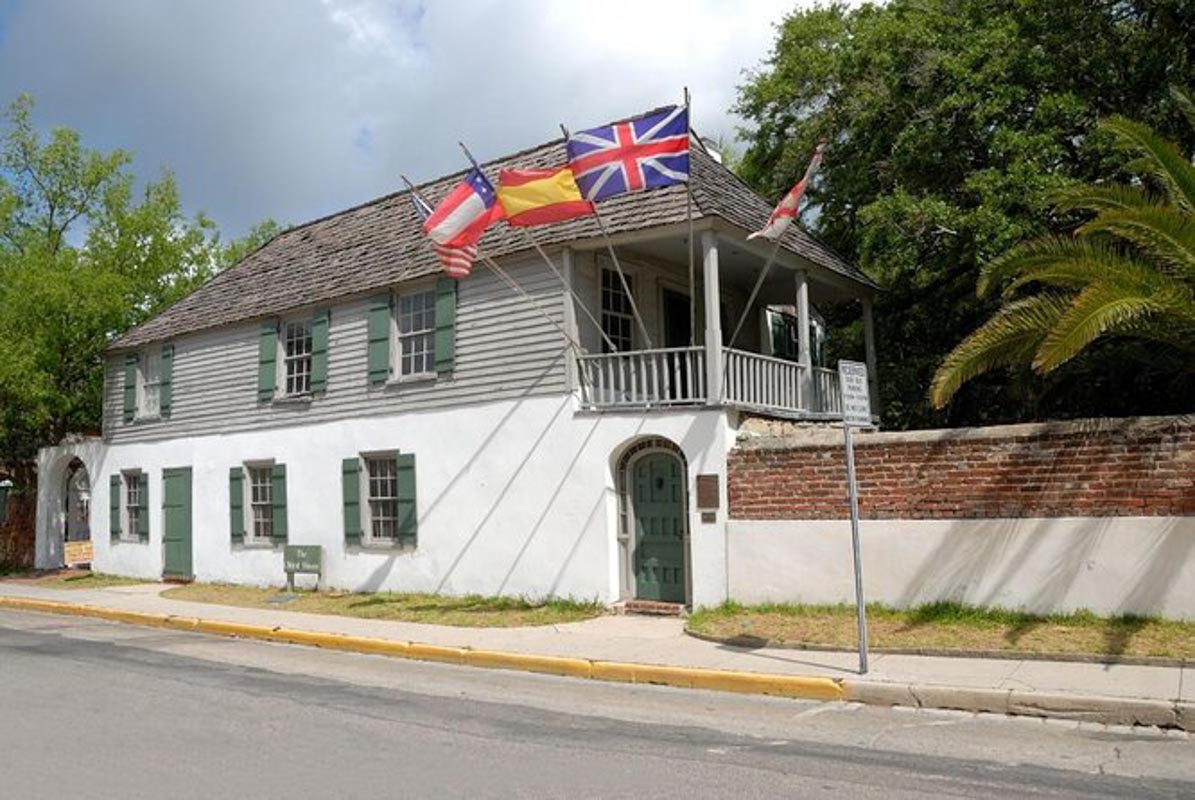 Looking to experience some of the best nature experiences in the United States? Check out my posts on the 15 Best Northern California Hot Springs, 13 Best Pumpkin Patches in Arizona, 9 Best Hot Springs in Washington State, 11 Best Pumpkin Patches in Las Vegas, 33 Historical Places in Florida, 3 Hot Springs in Steamboat Springs, 13 Spectacular Sunflower Fields in Long Island, 11 Pumpkin Patches in Houston, 13 Sunflower Fields in Illinois, 13 Hot Springs Oregon, 15 Stunning Sunflower fields in New Jersey, 13 Best Pumpkin Patches in San Diego, 10 Best Places for Hot Springs in the USA, 6 Best States to see Sunflower Fields in the United States, 15 Gorgeous Sunflower Fields in California, 15 Best Places for Cherry Picking in Michigan, 23 Hot Springs In Nevada, Radium Hot Springs Colorado, 29 Hot Springs in Montana, 21 Sunflower Fields in Ohio, 33 Unique Things to do in Florida, 33 Great Things to do in Destin Florida, 21 Awesome Things to do in East Texas, 13 Lakes in Southern California, 32 Best Places to visit in Bay Area, 13 Best Hot Springs in Pagosa Springs, 23 Things to do in Orlando for adults, 17 best stops on a Road Trip from Los Angeles to San Francisco, 21 Texas Coastal Towns, 7 Stunning Sunflower fields in Minnesota, 29 Hot Springs of New Mexico, 29 Idaho Hot Springs and 11 Terrific Texas Sunflower Fields.
The present house has a construction history that dates back to around 1723. It features both Spanish and British colonial architectural styles that leave visitors in awe.
33. Coral Castle
Coral Castle is an eye-catching limestone structure situated between Homestead and Leisure City. Edward Leedskalnin carved this magnificent castle in 1920.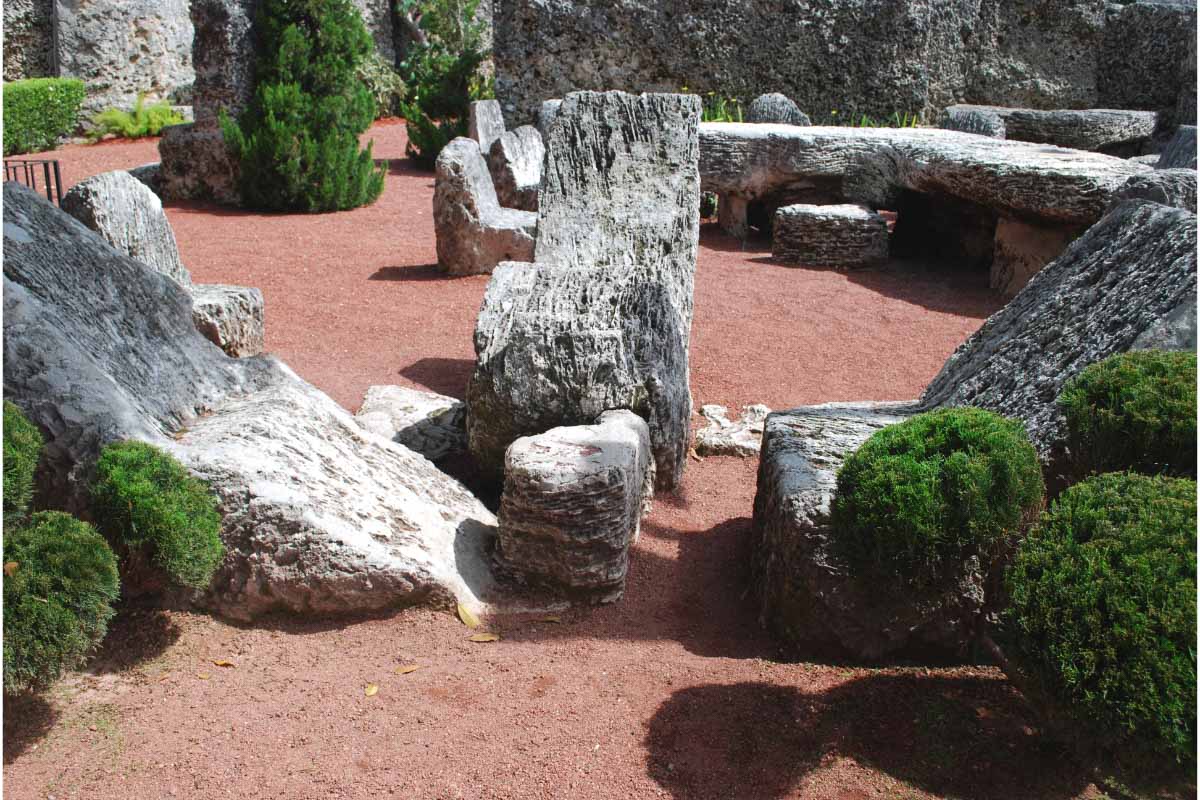 He single-handedly sourced and carved more than 1,000 tons of coral rock to create this masterpiece. The exact story of its creation and how it remained intact remains a mystery.
Get Ready to Explore the Best Landmarks in Florida
Florida is home to an abundance of remarkable landmarks, each with its own intriguing history. With so much to explore, it's easy to see why it is one of the most beautiful states in the country.
Whether you're looking to visit historical monuments or state parks, there are plenty of opportunities to learn more about the old days. Now that we've covered the top ancient places to visit, where will you be heading first?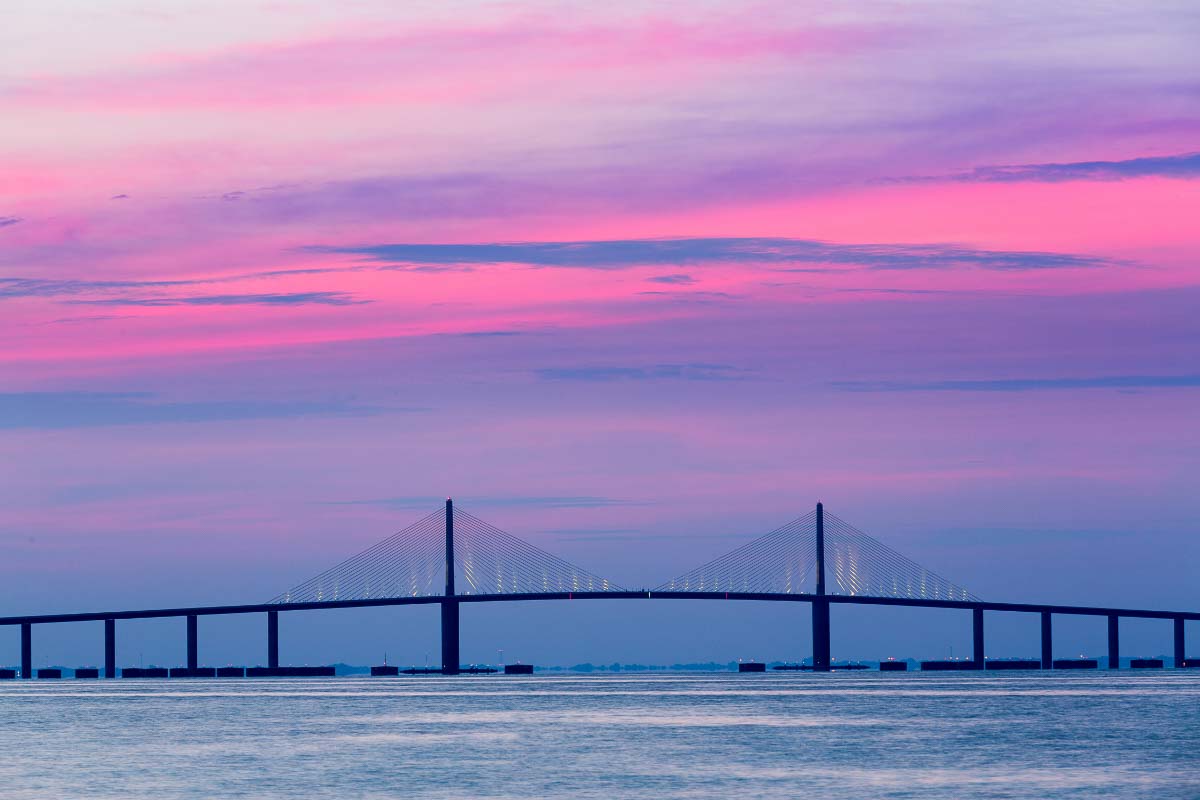 ⇒ If you're enjoying this article you'll love my articles on 15 North America Landmarks, the 10 Most Famous Landmarks in the US, 7 Most Beautiful Bridges American Bridges, 60 Most Famous Landmarks in the World, 9 Gorgeous Lakes Canada has on offer, 23 Must See Landmarks in Mexico, 15 Most Beautiful States in the US, 31 California Landmarks, 16 Most Beautiful Cities in Canada, 17 Washington DC Landmarks Not to Miss, 29 Arizona Landmarks, 11 Beautiful Canada Landmarks and the 20 Most Beautiful Cities in the United States.
Related Posts:
19 Historical Places in New Orleans
Historical Landmarks in Philadelphia
I covered all of the costs associated with writing this article. However, this historical places in Florida post includes affiliate links. That means if you click through and end up making a purchase I will receive a small commission. I wanted to make sure you were aware of this.