There are few places in the world that are as mystical and rich in history as Greece. While most thoughts of the island country evoke images of idyllic beaches in Paxos and sweeping views of white houses in Santorini, there's a lot of culture that lays the foundation of this travel hotspot and in some of the most famous Greek landmarks.
Visiting the top Greek landmarks and attractions is a great way to experience this culture first-hand.
If you're planning a trip to the ancient islands, make sure that you add as many of these famous Greek landmarks to your Greece itinerary as possible.
There's a beautiful mix of history, the influence of mythology and natural beauty just waiting to be explored.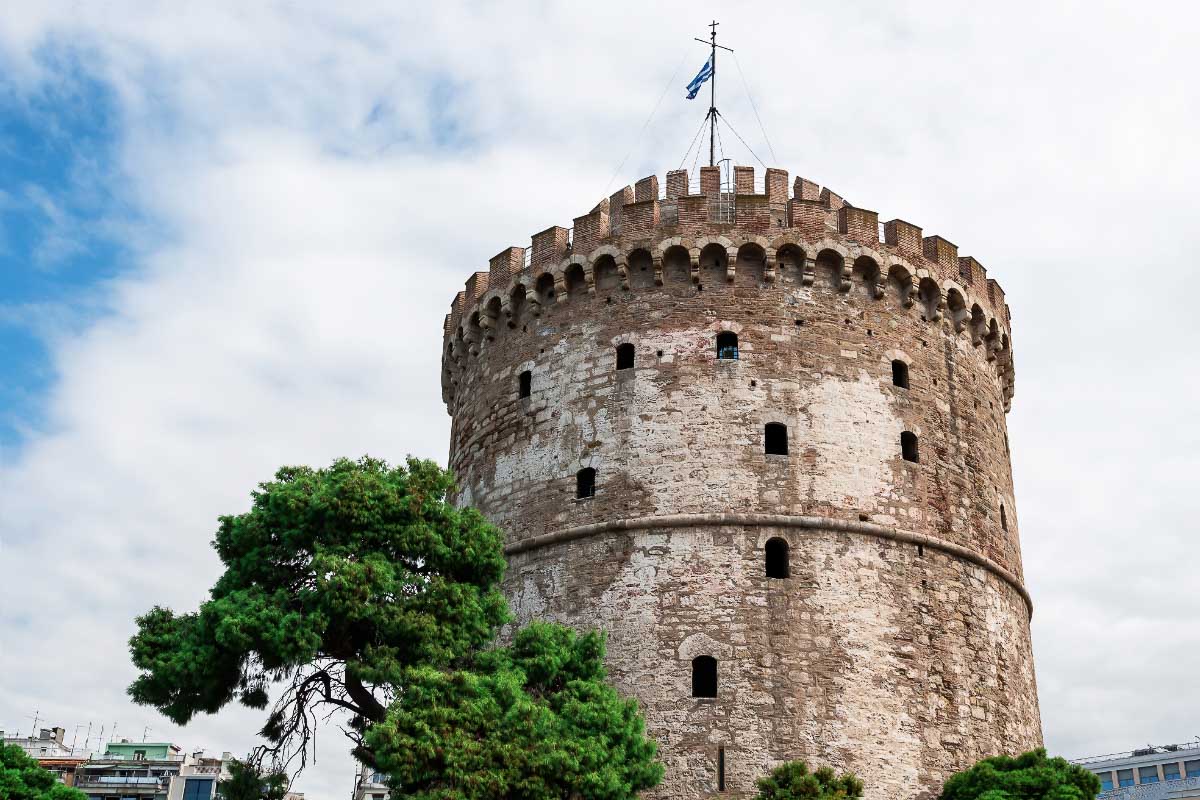 Famous Greek Landmarks
1. Athens Acropolis
At the centre of this history and allure is the vibrant city of Athens. The Acropolis, one of the most famous landmarks in Europe, shines like a beacon atop a rocky outcrop above the city.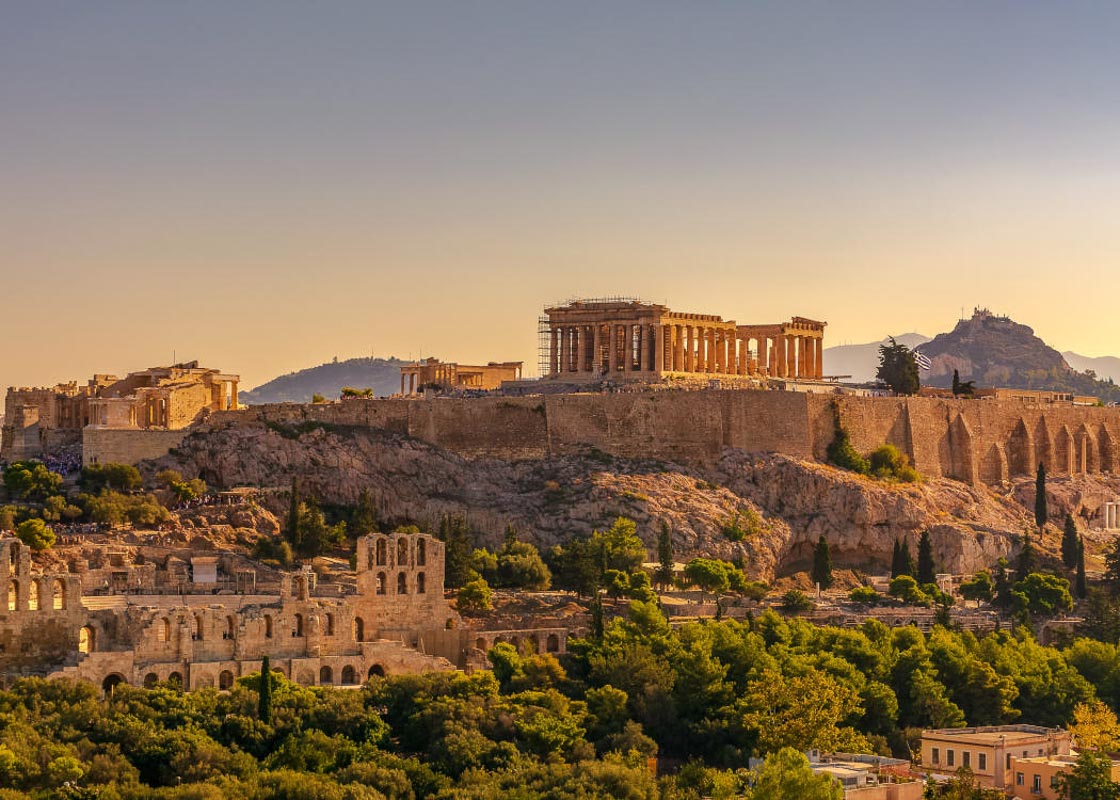 The Acropolis Greece was built in the second half of the 5th-century B.C as a home for Athena, the patron goddess of the city. Today, it is a reminder of a rich cultural heritage and is a major attraction.
If you want to avoid the crowds then it's better to arrive at the Acropolis in Athens early (the site opens to the public at 8 am in both summer and winter).
The Meditteranean sun can also reach uncomfortable temperatures so make sure that you pack water, sunscreen and a hat.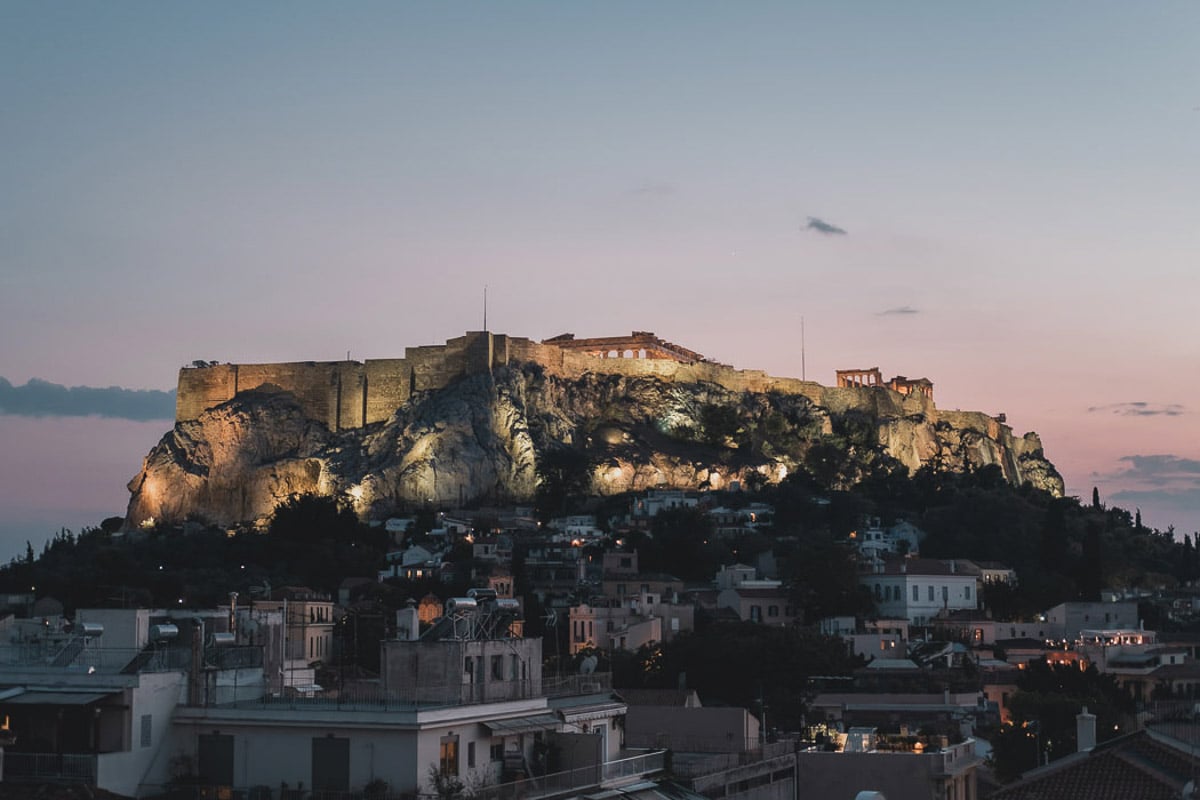 ⇒ Book your Acropolis skip-the-line entry ticket and explore the landmark of western civilization.
2. Mount Lycabettus
Mount Lycabettus stands proudly as the tallest of seven hills in Athens. It's a prominent feature of the Athens skyline and the views from the top include the entire city, the sea and the mountains of the Peloponnese.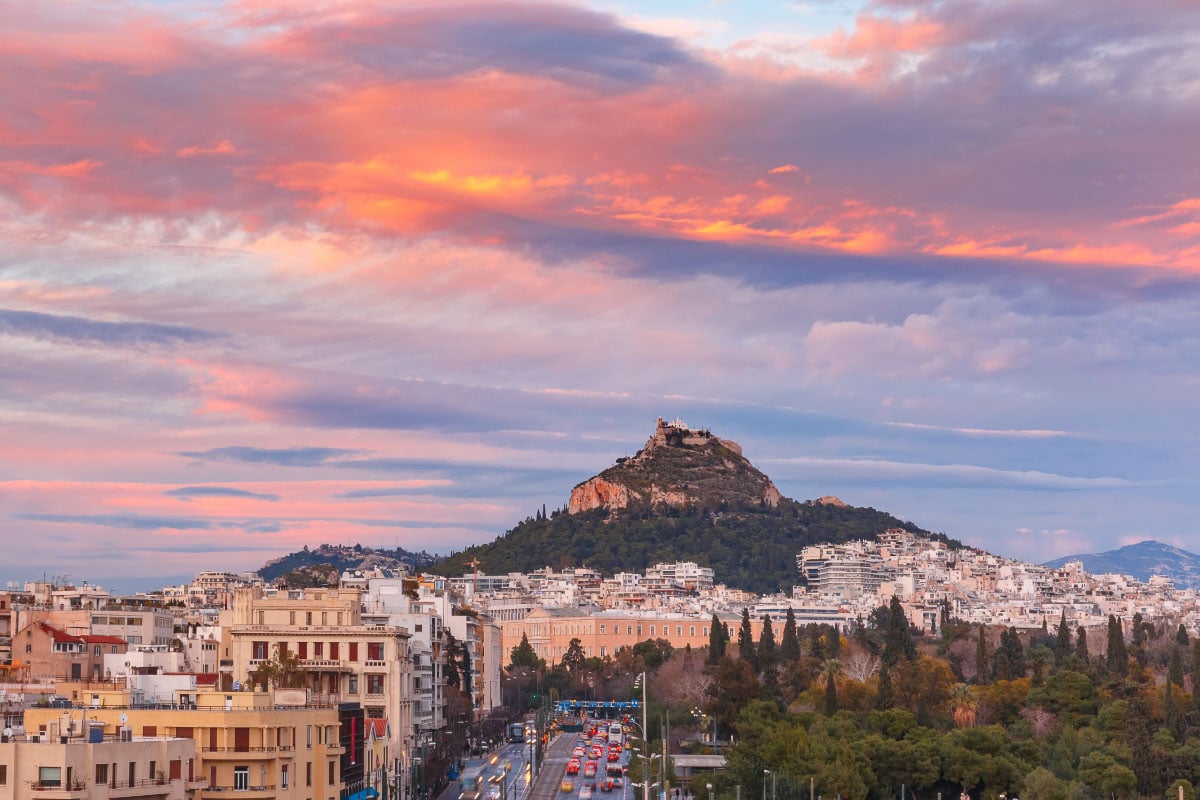 Climbing Mount Lycabettus in Greece is a perfect activity for nature-lovers who enjoy breaking a sweat while touring a new country. At the top, you'll be rewarded with sweeping views and the tiny Agios Georgios (Chapel of St. George).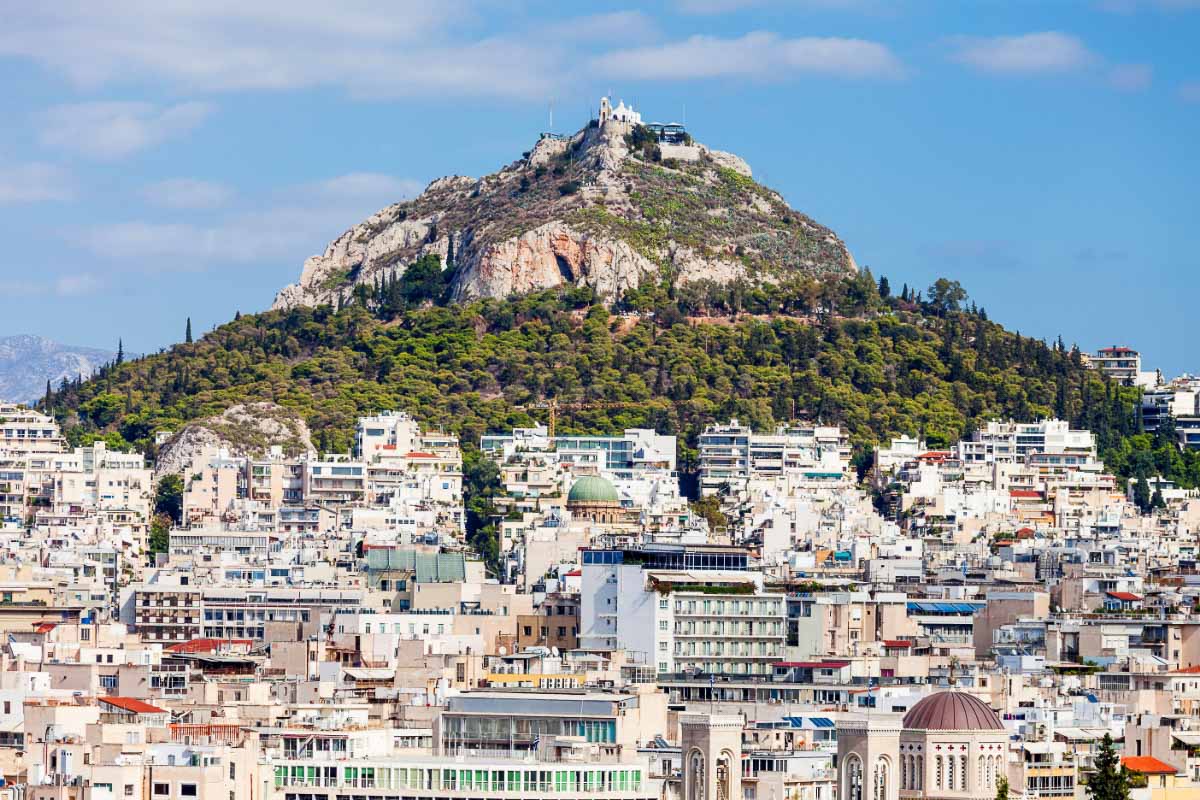 ⇒ There is something about landmarks – I am always a bit awed when I get to see one! 16 Famous Landmarks in Europe You Must See, 12 Beautiful Spain Famous Landmarks, 11 Stunning Canada Landmarks, 15 North America Landmarks, 9 Picturesque Japan Landmarks and 11 Historic Greek Landmarks.
There are several routes to choose from and the walk along the steep path to Mount Lycabettus can take between 30 to 90 minutes (depending on fitness).
3. Parthenon
Anyone who visits the Acropolis will also have access to the adjacent Parthenon in Athens with a combination ticket. The archaeological site was originally at the heart of religion while Greece was a powerful empire.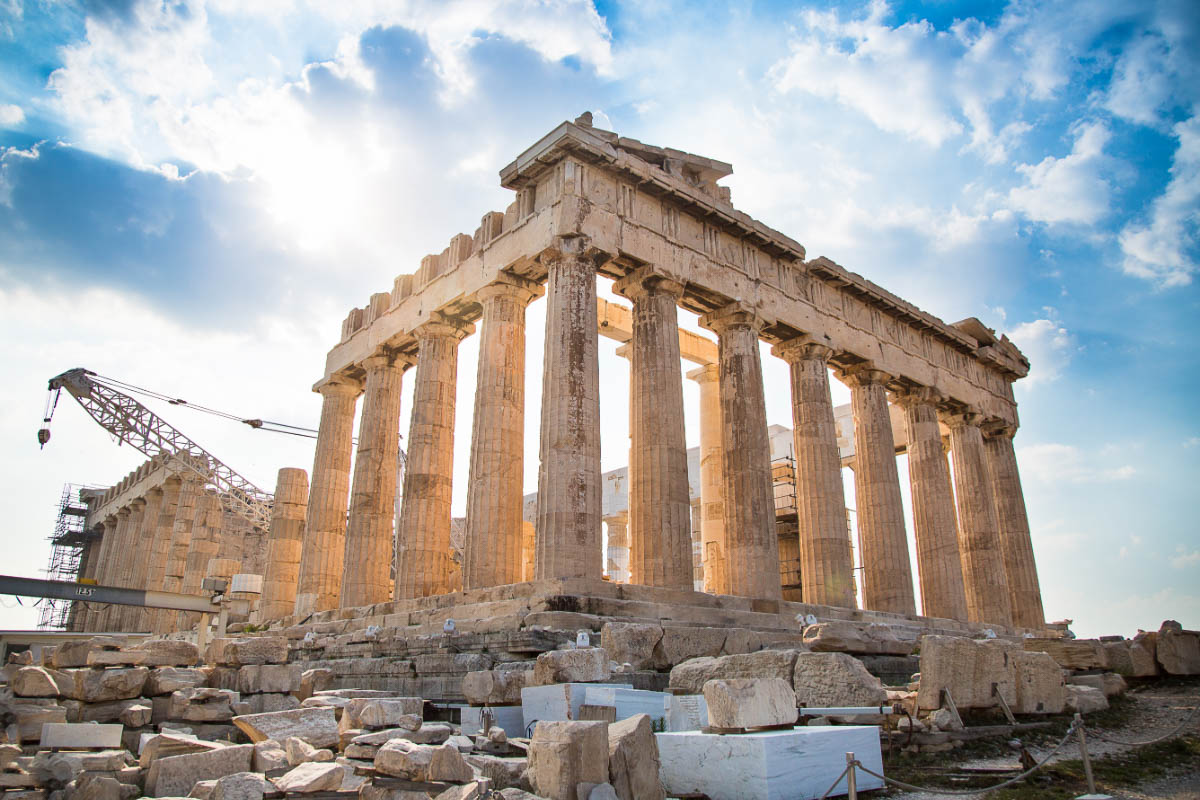 Although the Parthenon is in ruins, it was a large and lavish building that told of Greek wealth.
The temple was built between 447 and 432 B.C when the Greek Empire was at its height of influence. Over the years, the bold structure stood against earthquakes, wars, looting and fire.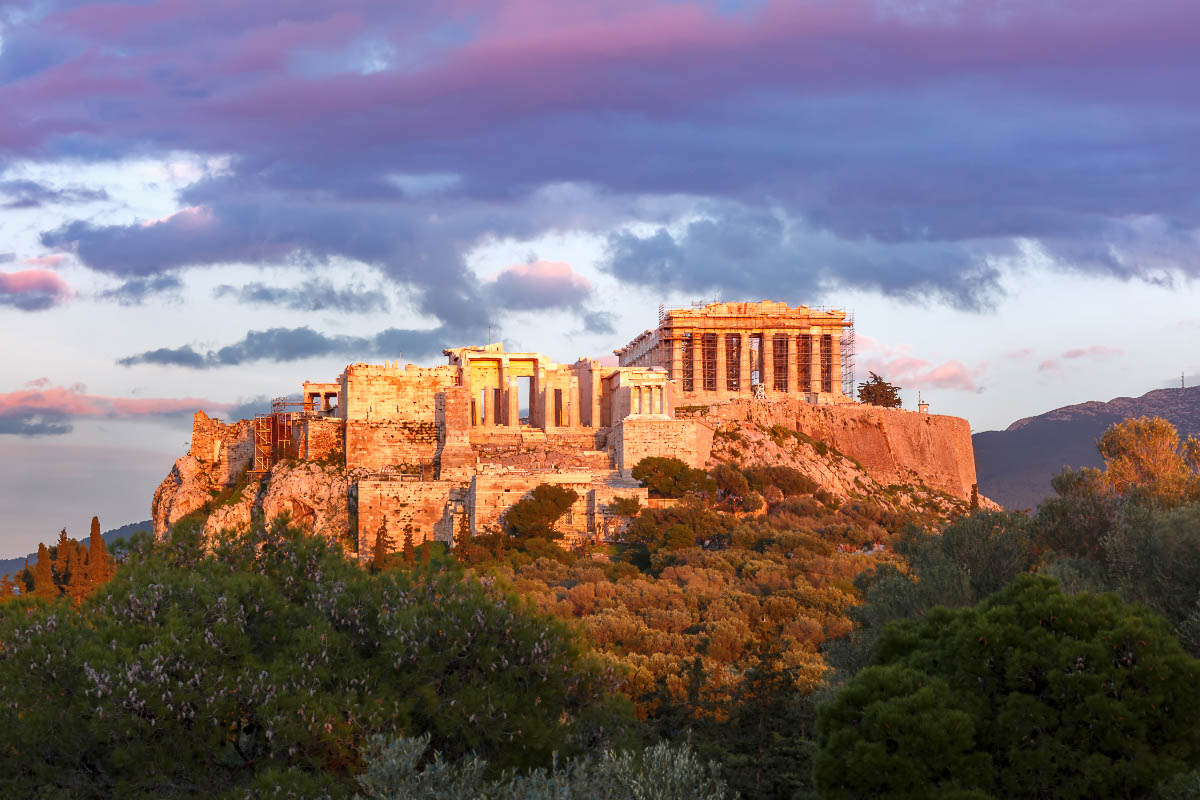 ⇒ Love watching the sunsets and sunrises? Check out my posts on the 6 Places to watch Sunsets in Seattle, 7 Spots for Sedona Sunsets, 6 Sunrise in Paris Spots, Where to watch Santorini Sunsets and Where to find the best Sunsets in California.
While it no longer stands complete, the Parthenon is a powerful symbol of ancient Greek culture.
⇒ Book your private Athens full-day sightseeing tour.
4. Mystras
It's not only Athens that is home to the most famous landmarks and attractions in Greece. The archaeological site of Mystras is located southeast of the Peloponnese and consists of a town developed down the hillside from an ancient fortress.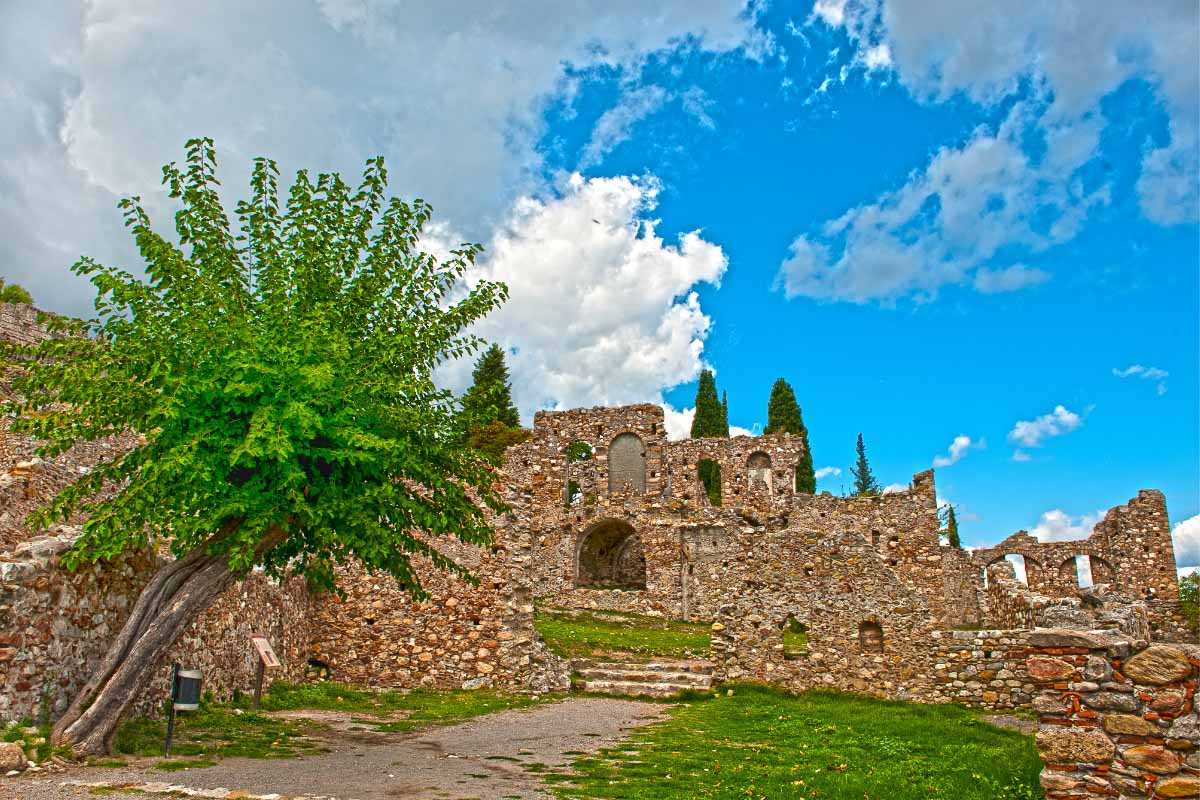 While the ancient town is enough to attract and history-enthusiast, the surrounding nature is a wonder in its own right. The wildflowers, cypresses and pine trees frame the ruins and old churches of Mystras Greece.
Mystras used to be a bustling Byzantine town but today is the home to a few nuns in the Monastery of Pantanassa.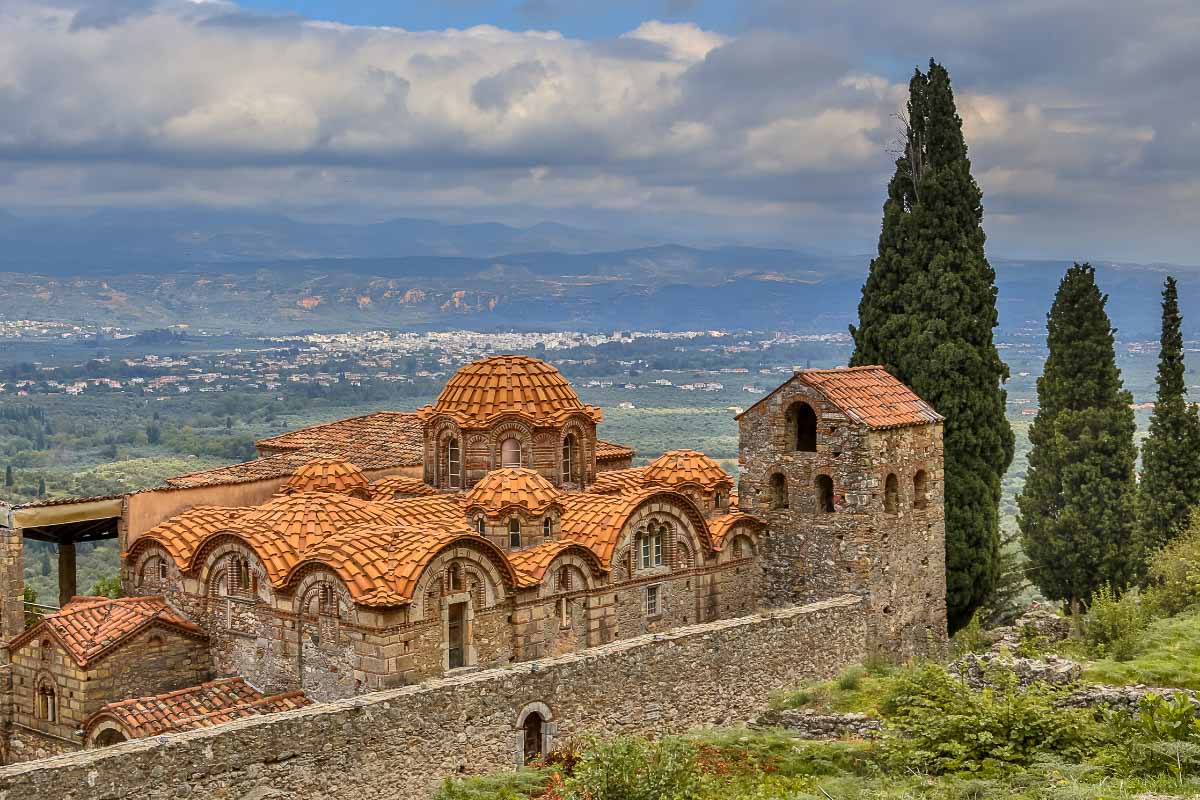 ⇒ Another fantastic place to visit in Europe is Greece. Read all about Paxos Greece as well as the best Paxos restaurants and Paxos beaches. Or find out how to get from Santorini to Ios, the best things to do in Ios and a complete guide to Mylopotas Beach. And don't miss my 10 Days in Greece Itinerary.
5. Nafplio
The Greek islands are known to be endearing seaport communities that are surrounded by beautiful hills and ancient homes. Nafplio was the first capital of Greece and is a small historic town with a beautiful castle, making it a popular attraction to visit.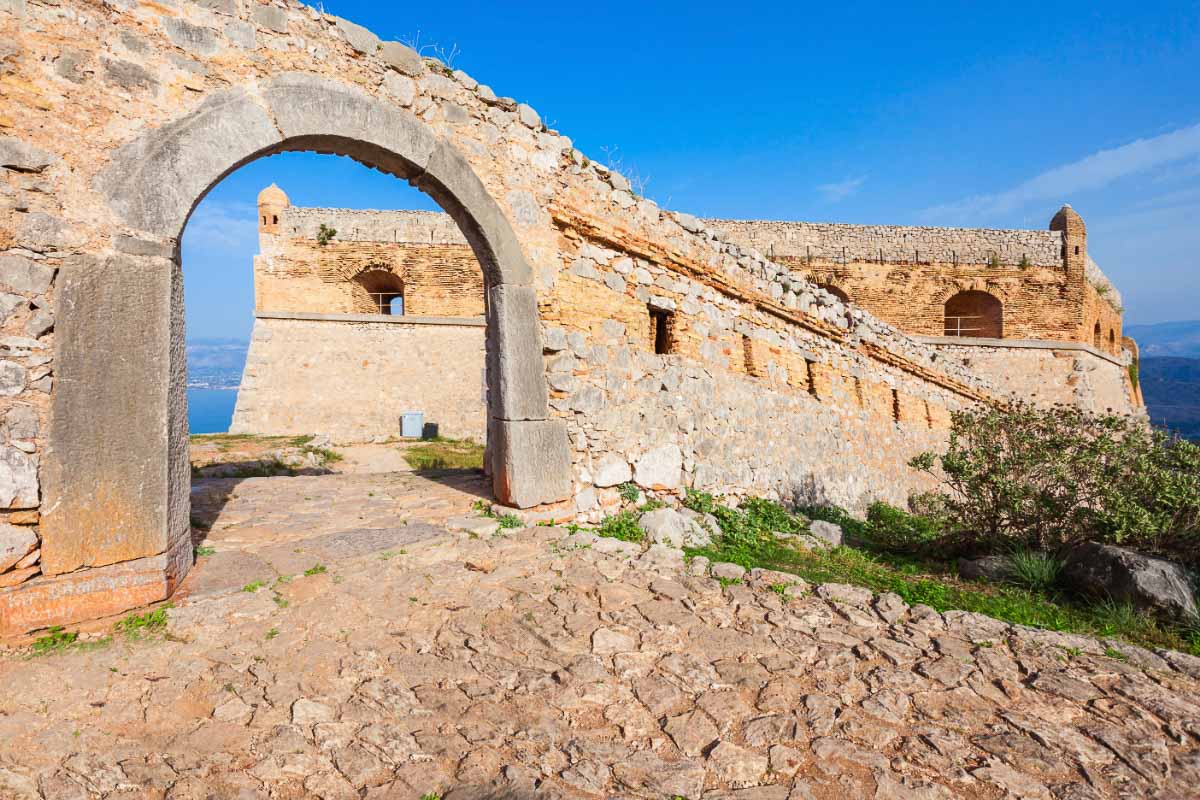 In the evenings, the castle of Nafplio Greece is lit up to highlight its beauty and watches over the bustling square which comes alive with tavernas and people strolling the cobblestone streets. When a culture is as ancient and intricately detailed as Greece, entire towns become historical attractions.
⇒ Book your walking city tour of Nafplio.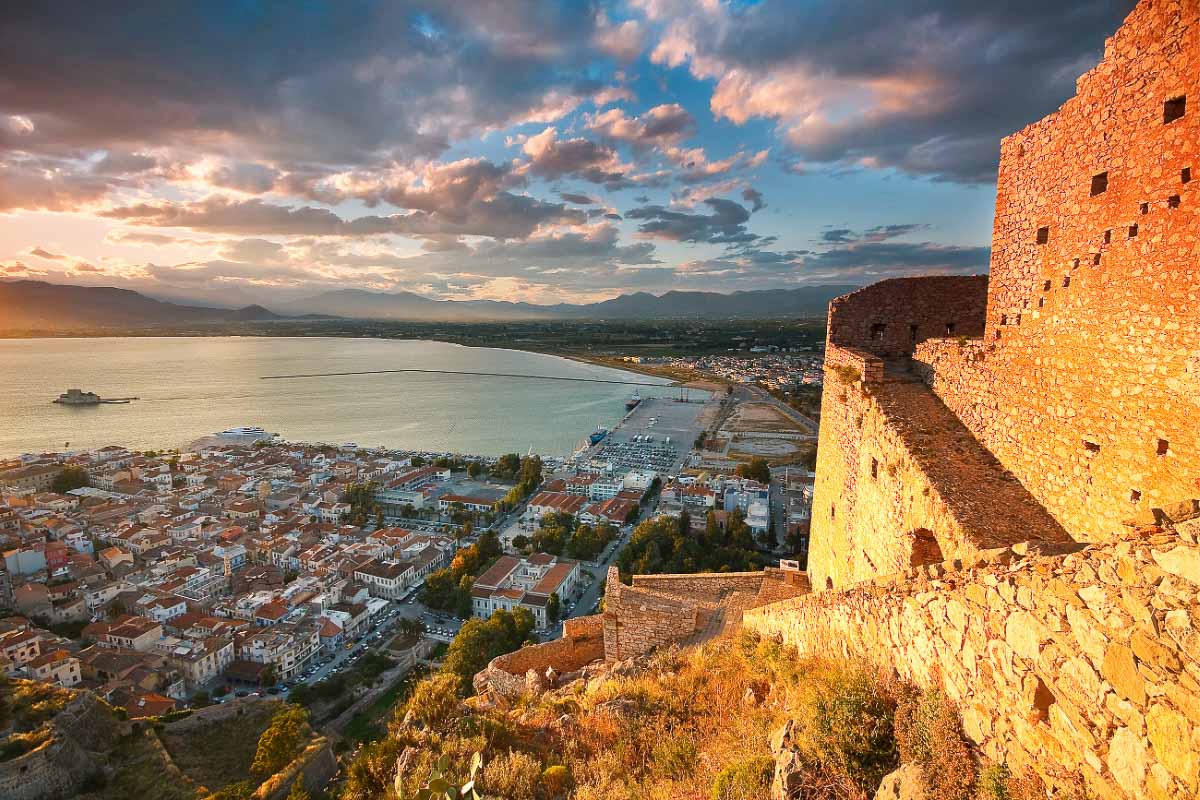 ⇒ Lanzarote is in Spain's Canary Islands. Read about the 14 Things to do on Lanzarote you must not miss and the Best Place to Stay in Lanzarote – and don't miss my post on 12 Beautiful Spain Famous Landmarks.
6. Monasteries of Meteora
There are six operating monasteries in Meteora, a place where time and culture seem frozen in time. Made up of a striking rock formation, Meteora is located in central Greece and is home to a beautifully located group of monasteries.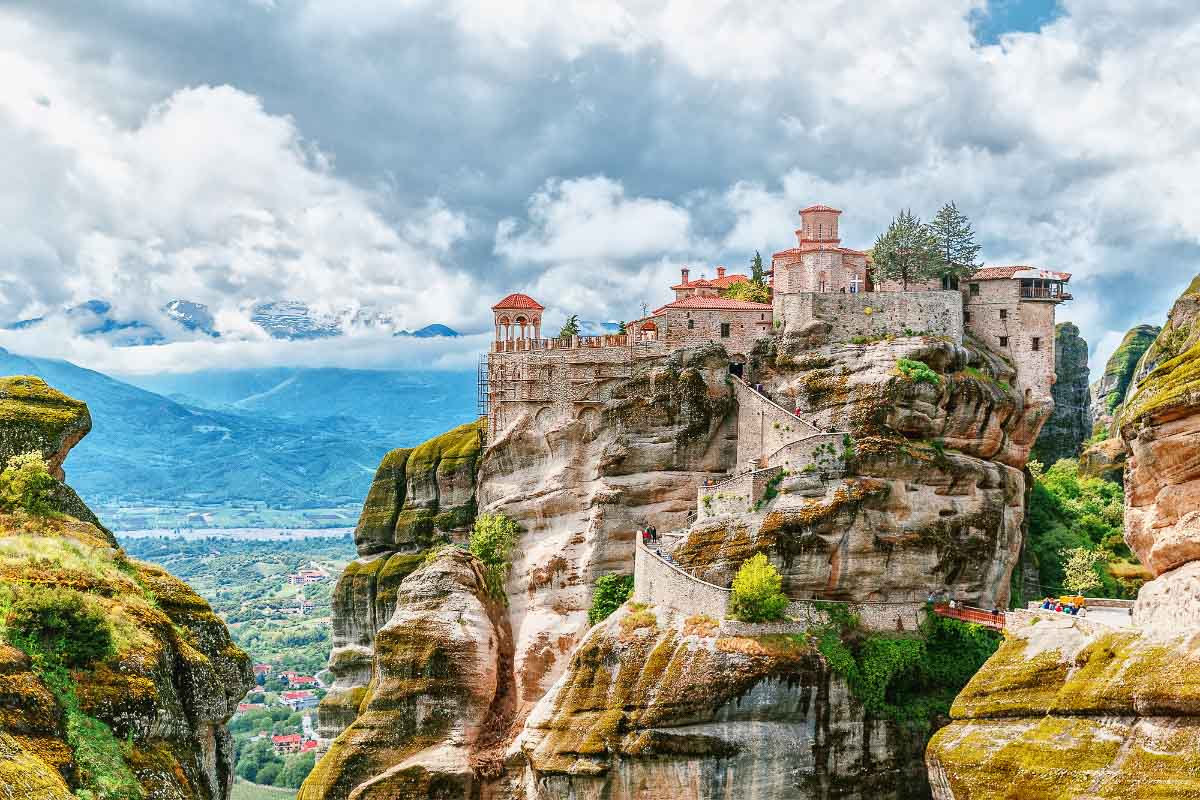 The sight of clustered religious homes on top of the steep rocks is spellbinding. Although the Monasteries of Meteora Greece look tricky to get to, it is surprisingly accessible. It requires visitors to drive to a parking lot and then hike the trail to the monastery that they wish to visit.
Take the time to soak up the incredible panoramic views from the top and bask in the ambient energy of the spiritual sites.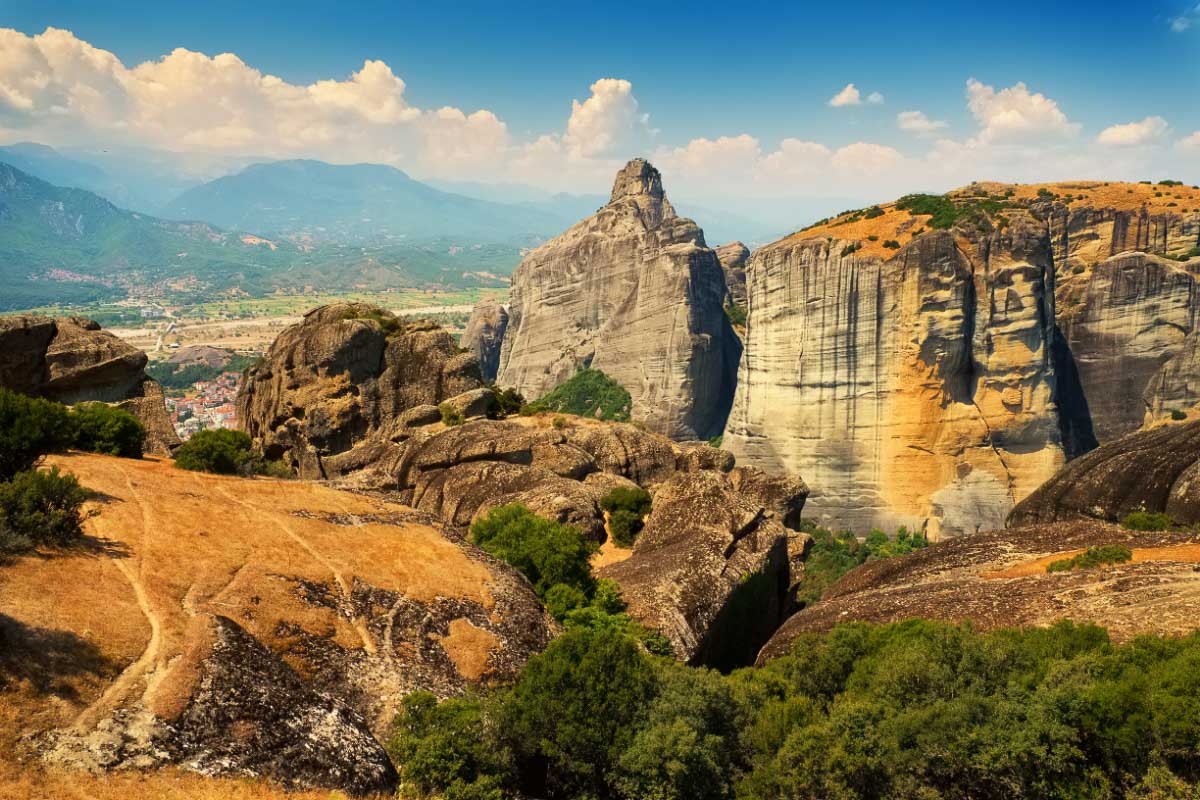 To enjoy this Greek tourist attraction at your own pace, try to plan your route in advance to avoid the crowds and reduce the amount of energy you expend.
⇒ Book a tour of the ancient Meteora Holy Monasteries.
⇒ Turkey is a fascinating blend of east and west. Check out my Turkey Itinerary 7 days, Istanbul 3 day itinerary, Gallipoli tours from Istanbul and my Cappadocia Itinerary.
7. Vikos Gorge
The Vikos Gorge, a nature reserve located in the Pindus Mountains of northern Greece, is a bold and beautiful natural attraction. The area surrounding the gorge is home to the crystal clear waters of the Voidomatis Springs and abundant fauna.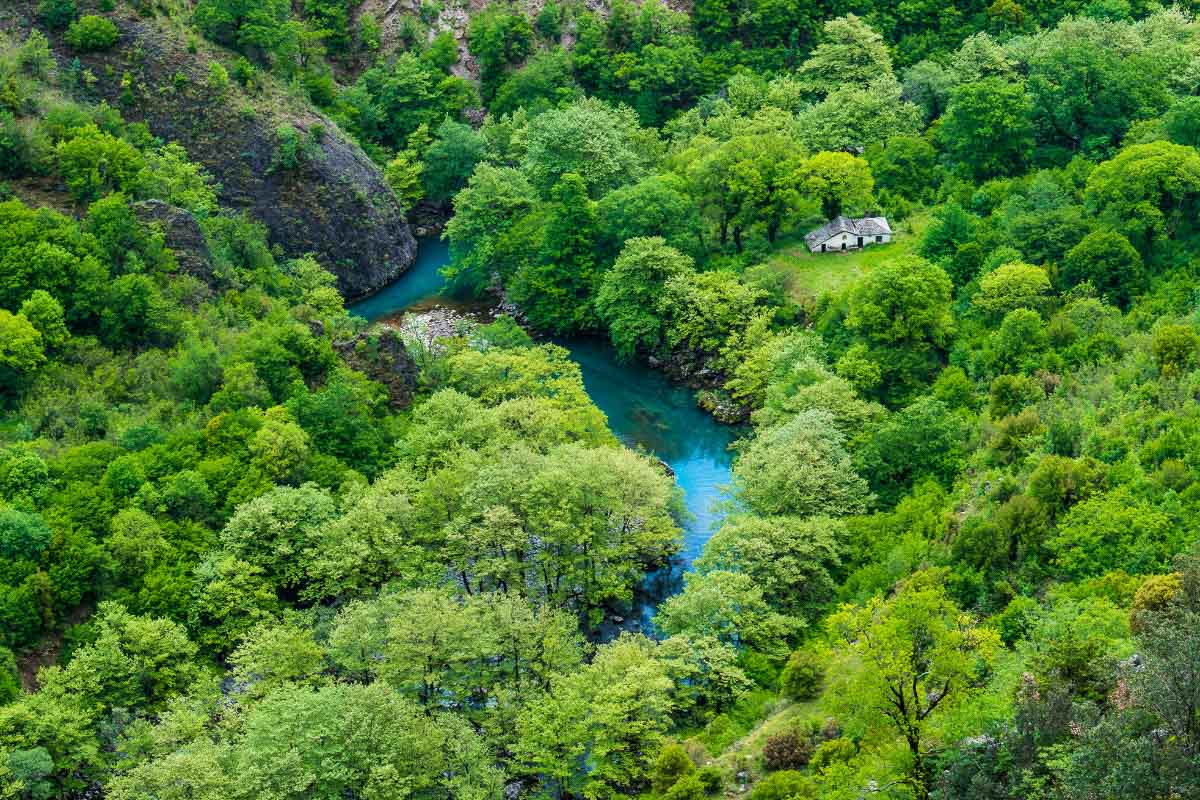 At its deepest point, the depth of the Vikos Gorge in Greece reaches 82% of its width, leading the Guinness Book of Records to list the gorge as the world's "deepest relative to its width".
The best entrance to the deep canyon is just north of Ioannina. The Aspergilli Information Centre will provide all the maps and information that you'll need for the park.
⇒ Book a guided Vikos Gorge and Voidomatis Springs hike.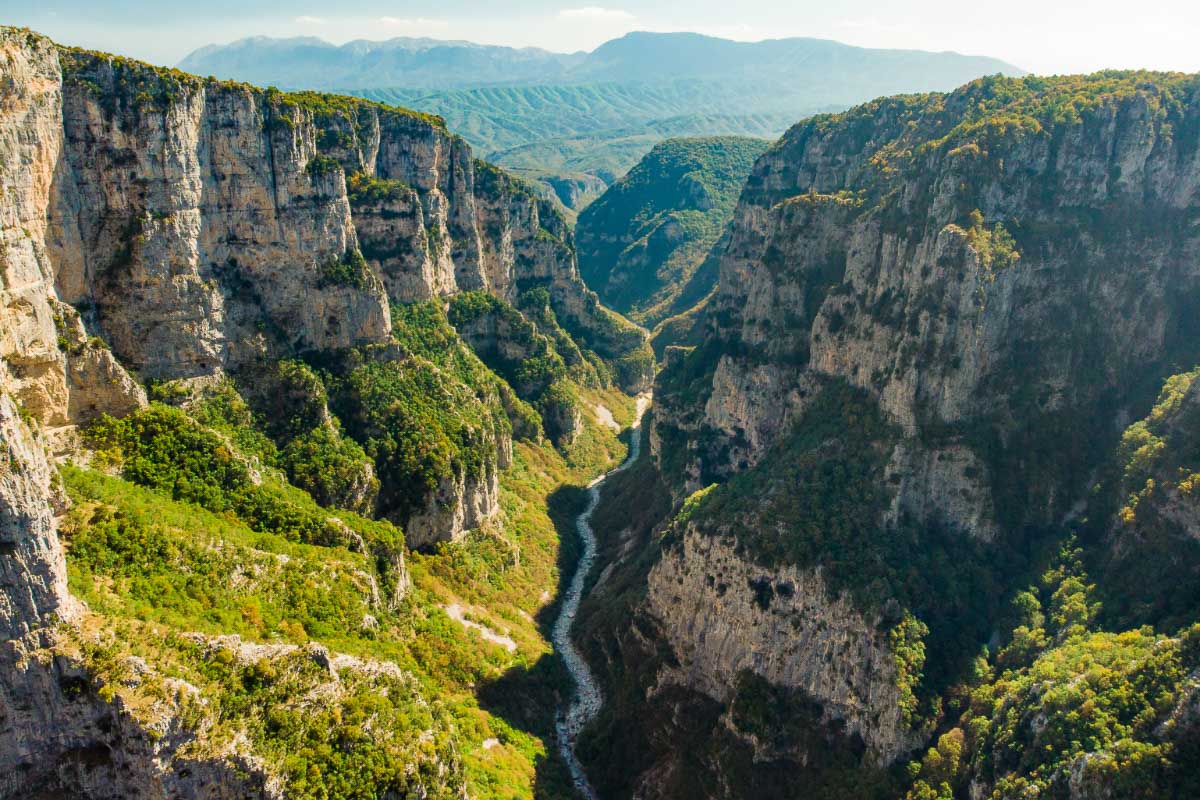 ⇒ A highlight of Europe is wonderful Italy. Check out my posts on things to do in Rimini, best places to visit in Puglia, boutique hotels in Bologna, Sardinia boutique hotels, wineries in Montepulciano, Best Italy Ski Resorts, things to do in Sicily, where to stay in Sicily Sicily Itinerary 7 days, 15 Most beautiful cities in Italy, Skip the Line Colosseum Guide, 18 Venetian Palaces to See or Sleep In, 16 Famous Landmarks in Europe and the 14 most beautiful cities in Europe you may not know.
8. White Tower of Thessaloniki
The White Tower of Thessaloniki has a historical meaning that surpasses your initial judgment. The bold tower was built in the 15th century when the large city fell to the Ottomans and has become the most popular monument in Thessaloniki.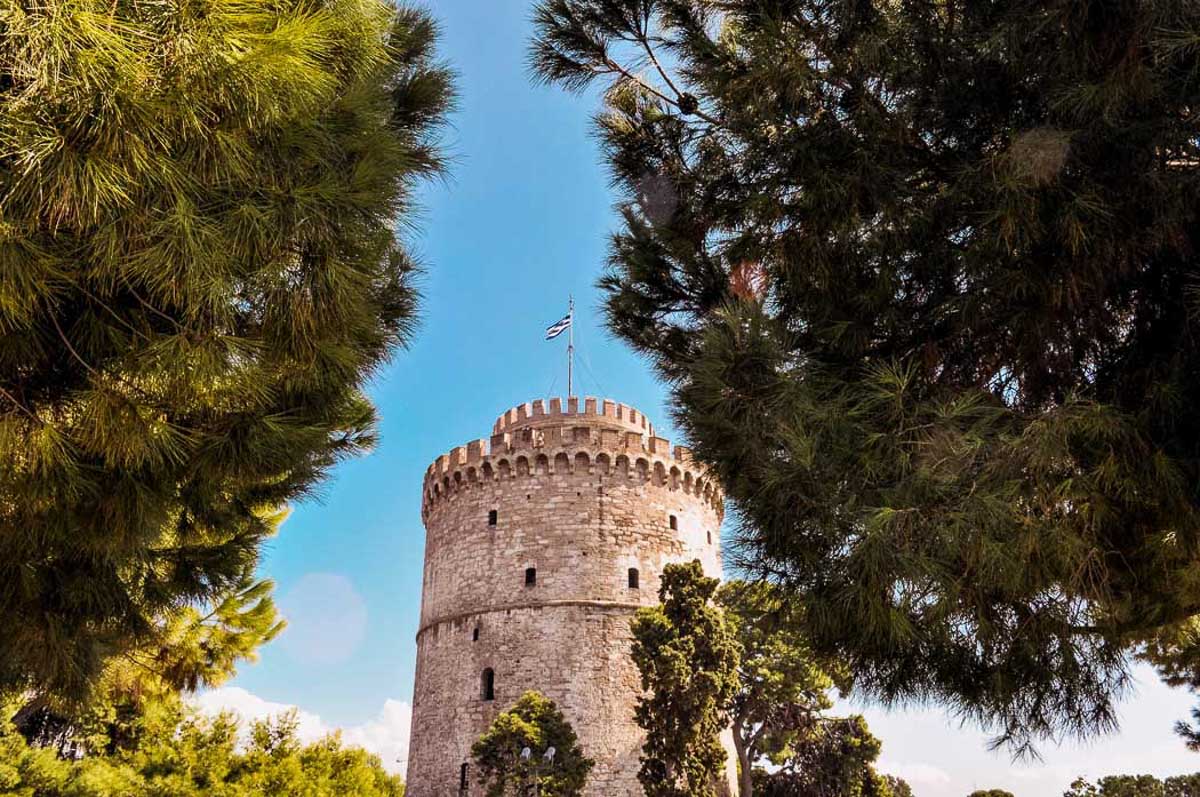 The White Tower of Thessaloniki Greece has an informative museum that adds context to the significance of the structure and all that it has endured over the years.
There are six floors to explore and a balcony that features stunning views of the Aegean Sea and the surrounding city.
⇒ Book a tour of Thessaloniki and the White Tower.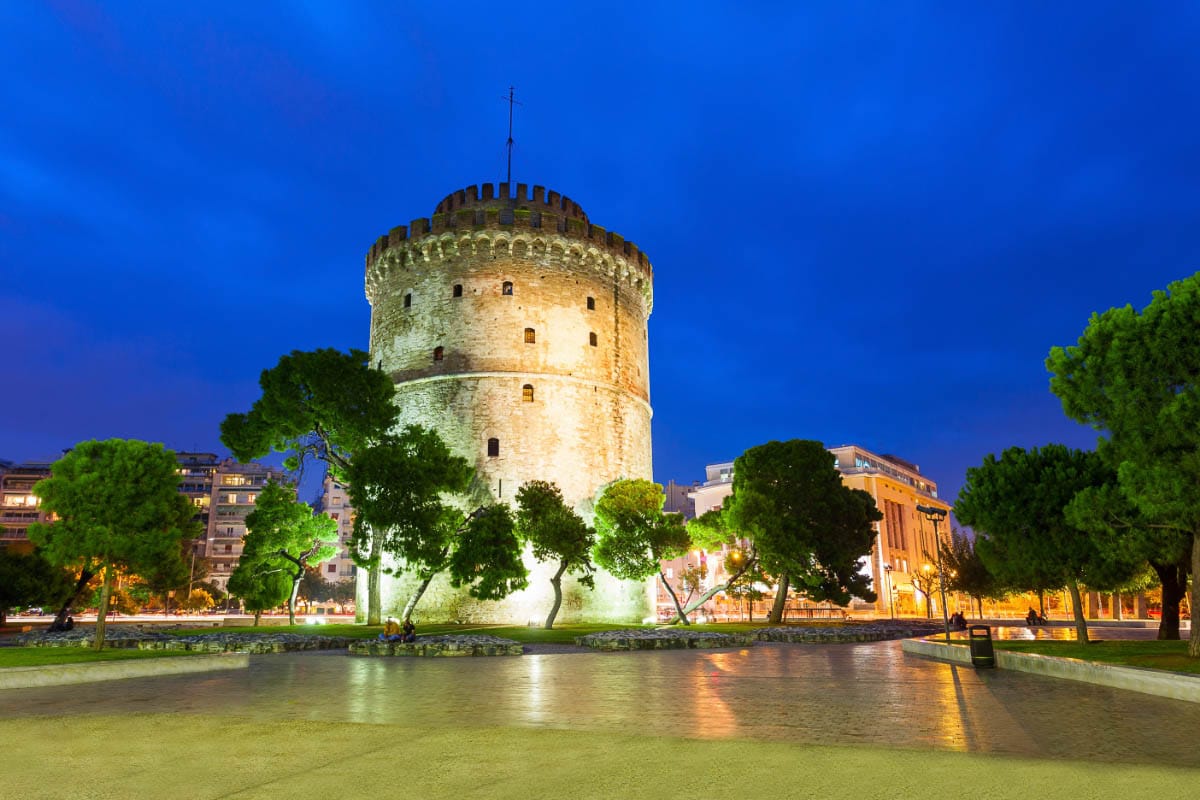 ⇒ Explore more of Europe in my posts on 14 Beautiful Cities in Europe 16 European Palaces not to Miss, 12 Beautiful Famous Spain Landmarks and 16 Famous Landmarks in Europe.
9. Temple of Olympian Zeus
Some people visit Greece for its island paradise attributes. Others visit for the delectable cuisine. And then there are those that visit Greece for its close connection with ancient culture and mythology.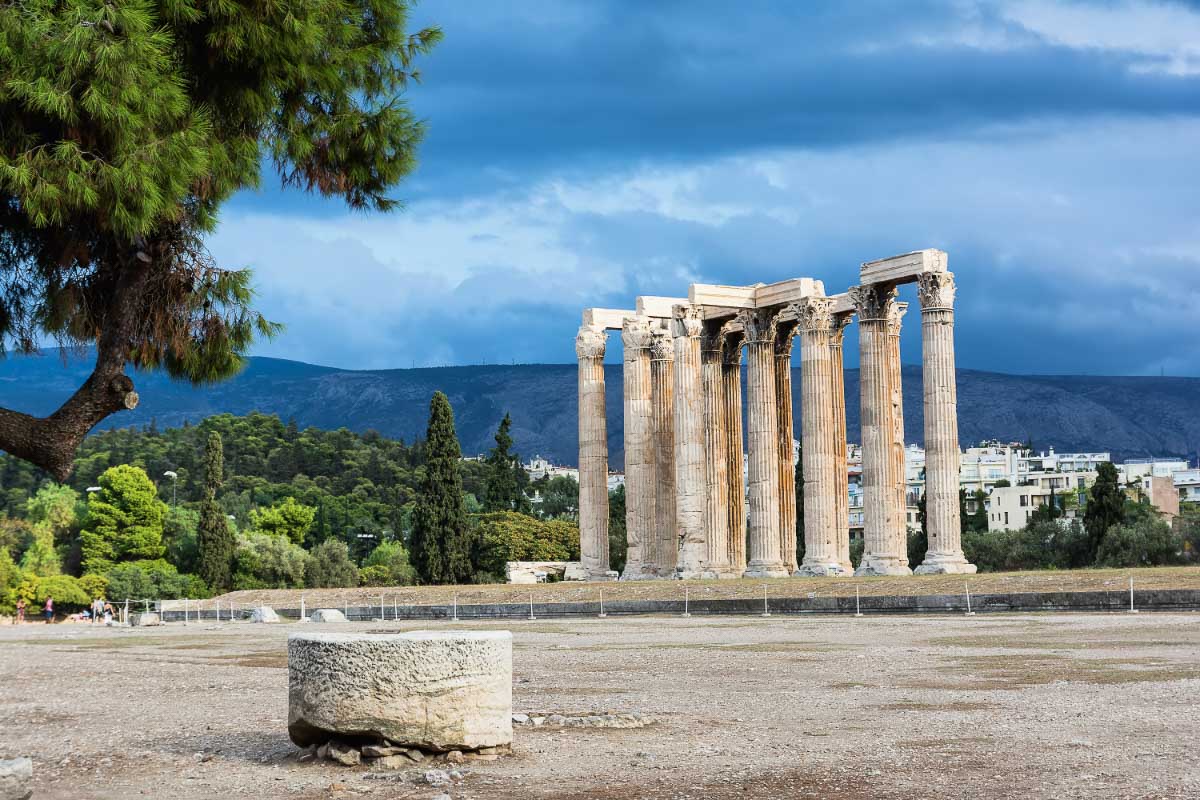 No matter what reason you decided to book your ticket to this fascinating country, a visit to the Temple of Olympian Zeus is a must-do activity. The half-ruined temple is close enough to the Parthenon and Acropolis to view all three in one go and the experience completes the historical perspective.
As you can probably guess, the temple is dedicated to Zeus, the leader of the Olympian gods. The Temple of Olympian Zeus in Greece has endured much damage due to human and natural disasters, with its remains telling the intriguing story of a time gone by.
⇒ Book a guided Athens mythological tour.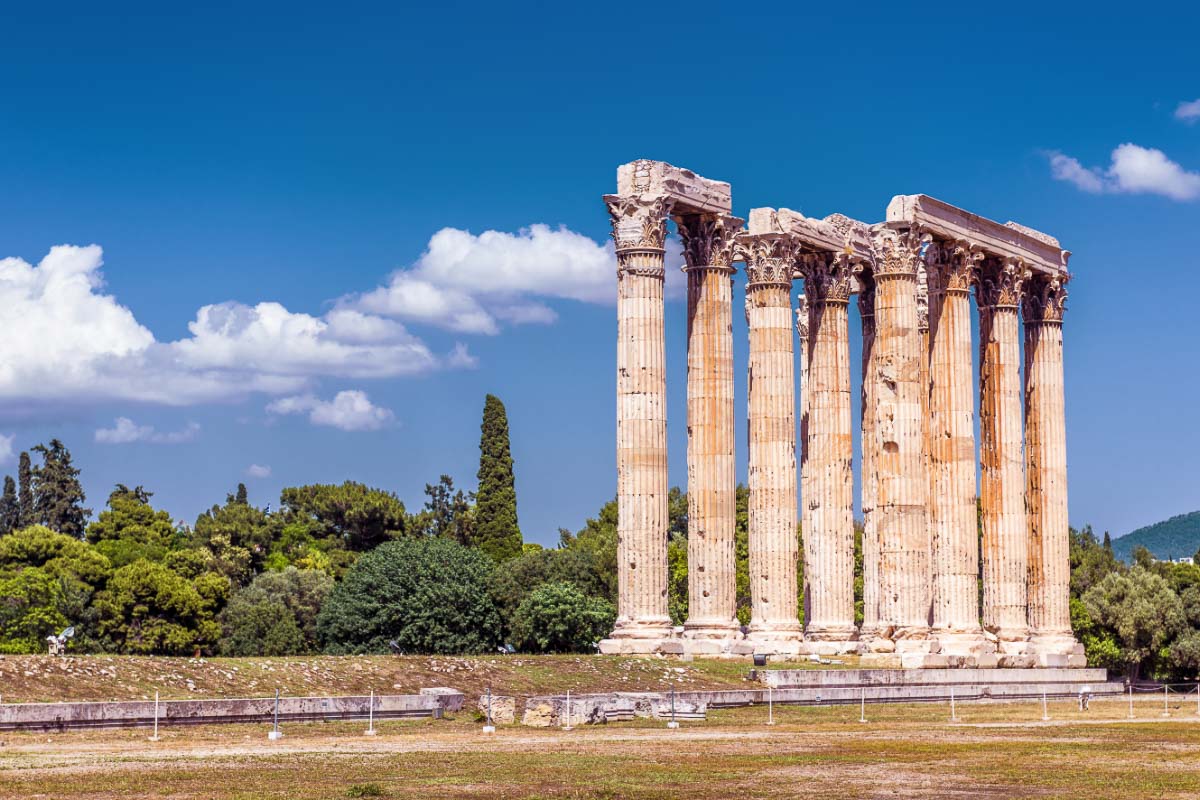 10. Delphi
Delphi is a legendary religious sanctuary that was developed in dedication to the Greek god Apollo. Main attractions within the sanctuary include the Oracle of Delphi and the priestess Pythia.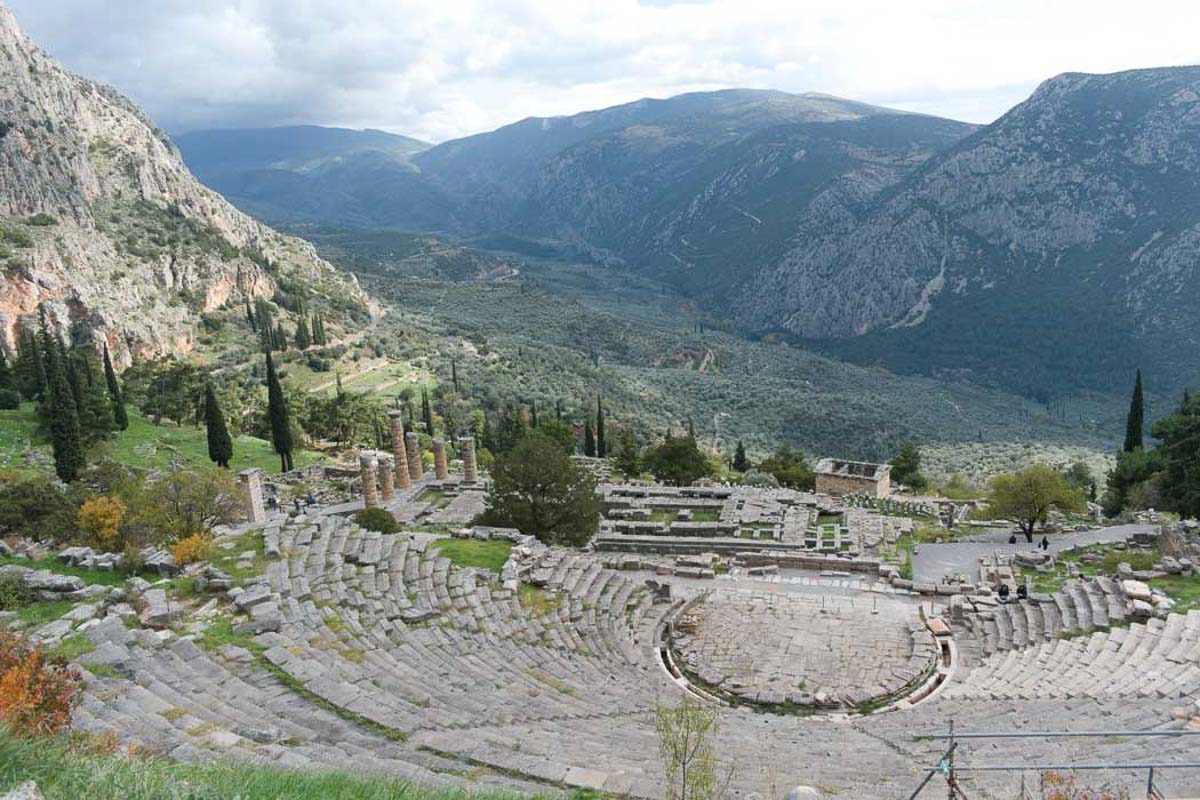 These were revered during the ancient world for playing a role in prophesying the future.
For many reasons, Delphi is considered to be the heart of classical Greek civilization and a main attraction to visit. Once arriving, you'll be able to explore the hilltop museum and ruins, as well as the amphitheatre and the Temple of Apollo.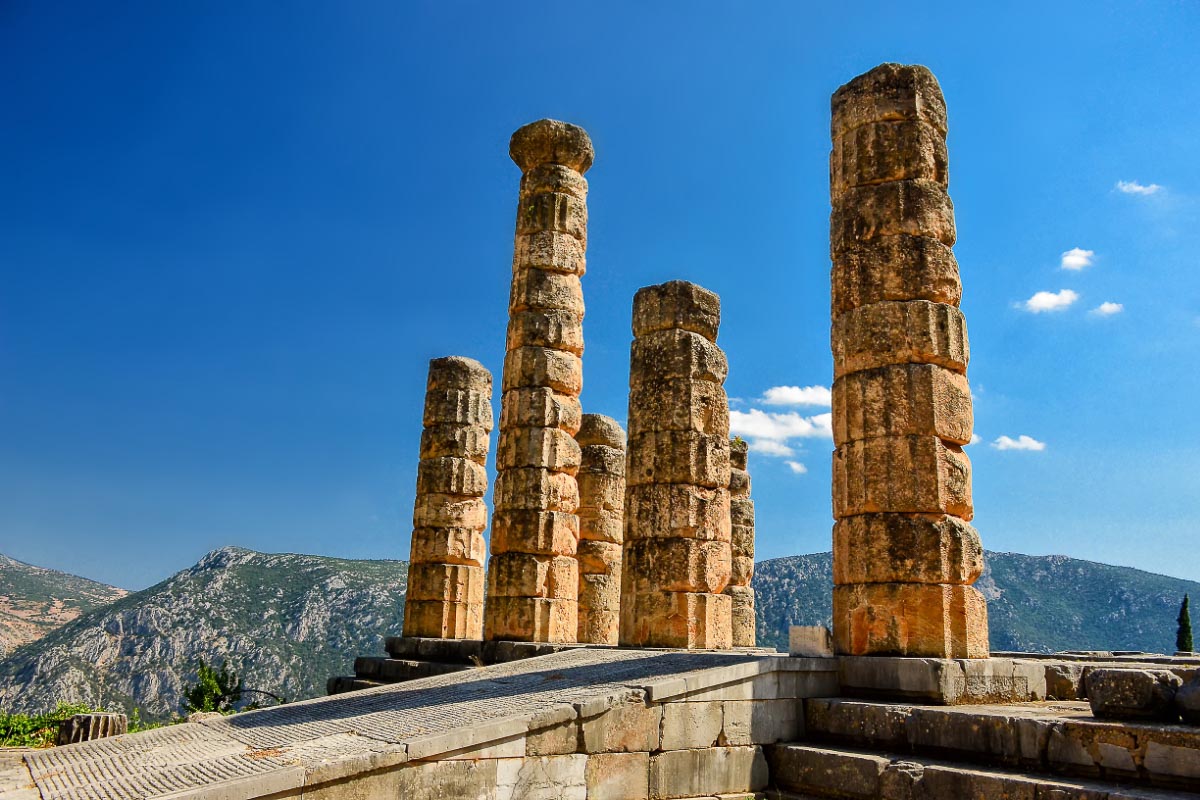 If you have time, then Delphi Greece is worth the trip. Not only is it rich in historical value, but it also gives a little break from Athens and an opportunity to explore the countryside.
⇒ Book a day trip to Delphi from Athens.
⇒ If you're planning some solo travel don't miss my posts on the best Singles Holidays over 40, vacations for over 50 singles, the best singles ski holiday options, the 30 best singles travel groups, Bali Retreats for Singles and some fantastic solo spa breaks.
11. Spinalonga
Spinalonga Island is famously known for having been a leper colony after Crete became a part of Greece. Anyone with the disease was sent to Spinalonga where they were isolated yet never received treatment.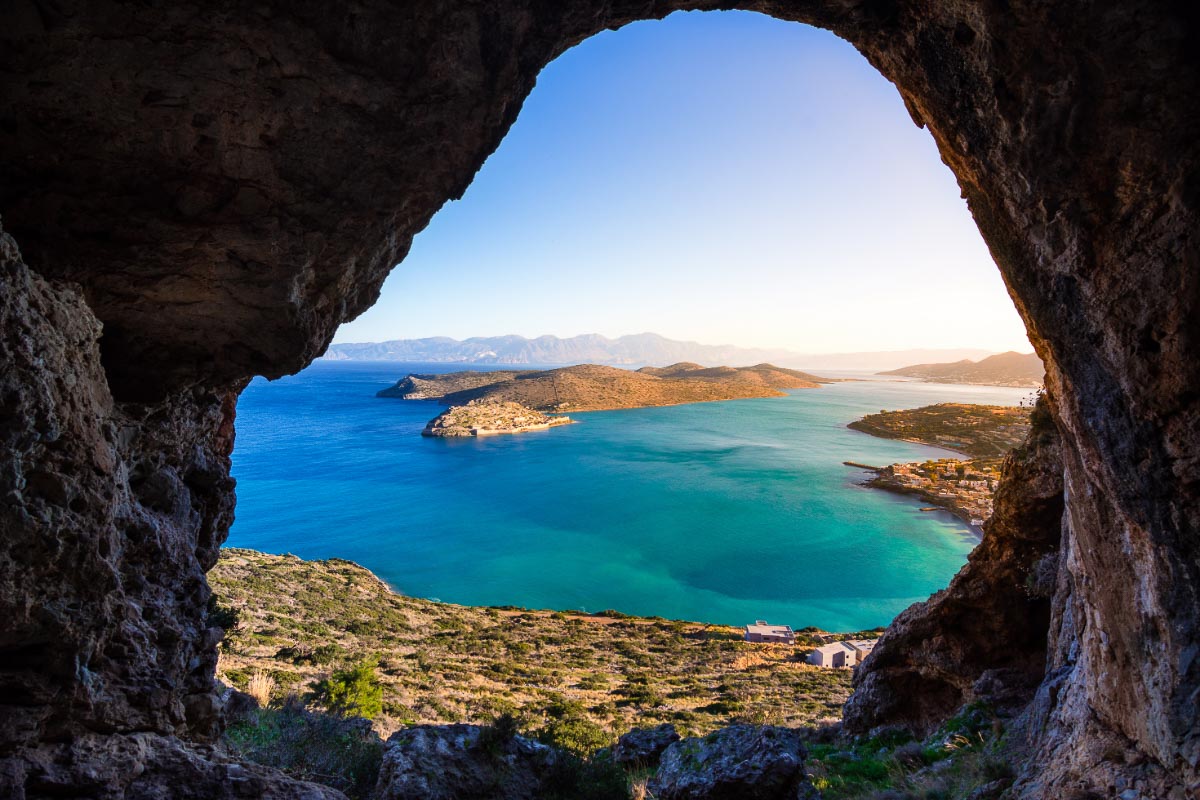 Today, the little island is easily accessible with tour boats leaving the towns of Plaka, Elounda and Agios Nikolaos on a regular basis. You can walk around this Greek island attraction and explore the erringly arid and barren island.
The experience of visiting Spinalonga in Greece is quite different from the rest of the idyllic and mythical culture, telling a story of pain and isolation. In the end, it offers a very interesting tale of Greek history.
⇒ Book a day tour of Spinalonga (as well as Agios Nikolaos and Elounda Plaka).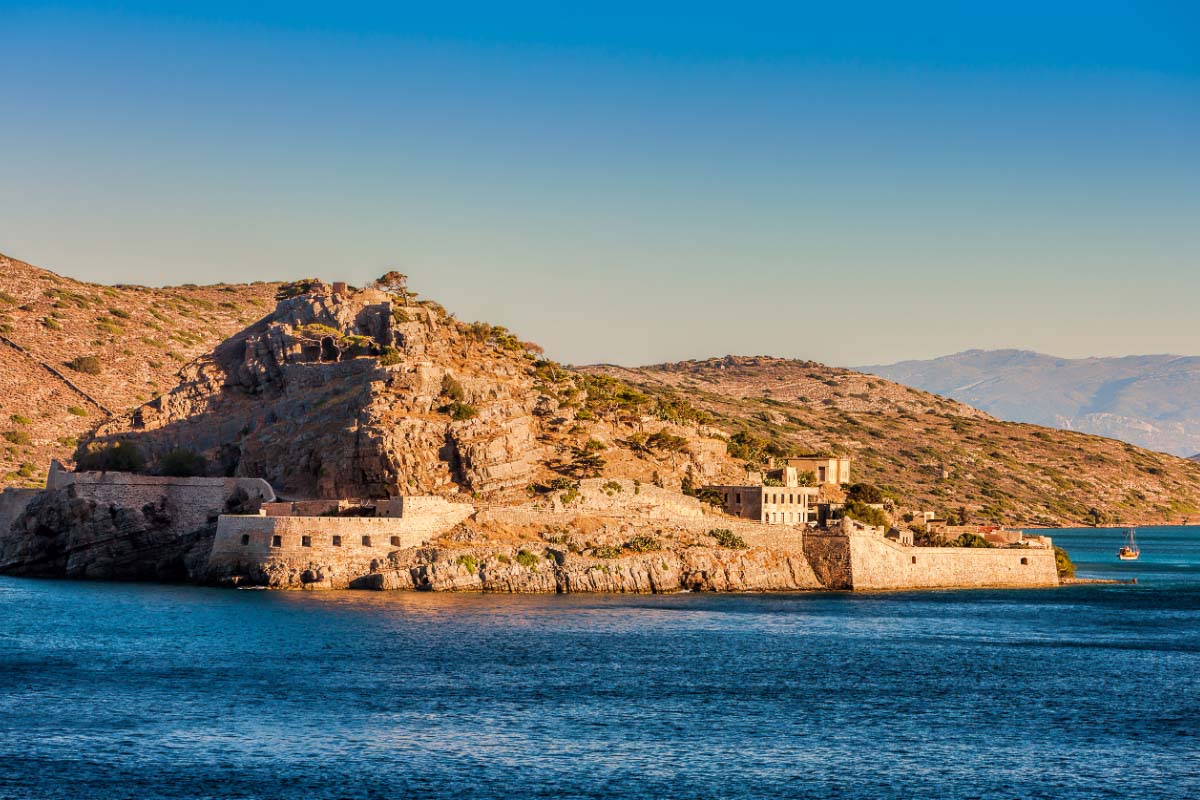 ⇒ A wonderful island to visit in Europe is Gran Canaria in the Canary Islands – read about some of the best things to do in Maspalomas, Gran Canaria Excursions and Gran Canaria markets.
Explore the Best Greek Landmarks and Attractions
Greece is full of beautiful places and ancient buildings to explore. These 11 spots are just a few of the most prominent and will start you off on the right path. If you find yourself with more time in the stunning country then you can venture off to other spots and uncover more landmarks.
From uncovering the wealth of things to do in Ios to boating between the Aegean islands – just make sure that you have your camera fully charged and a waterproof bag on the ready!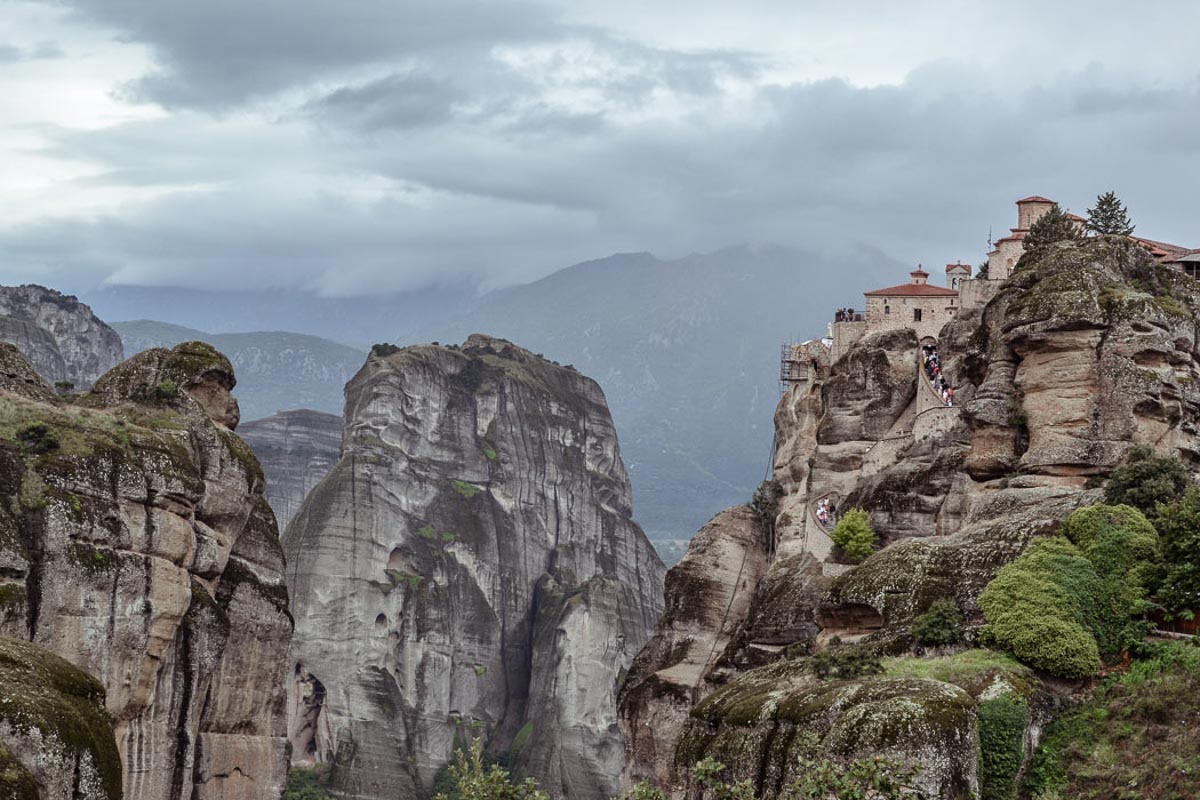 Shortcut Travel Toolkit
Ready to Book? Here are my travel favourites:
⇒ For accommodation Booking.com – great prices, great clear layout of accommodation options & brilliant for cancellation (& good photos!)
⇒ Or feel like a local by staying at an airbnb or having one of their great local experiences Airbnb
⇒ For flights skyscanner.net – always have the cheapest prices and great tools to help easily figure out if it would be better to leave the day before etc
⇒ For car hire rentalcars.com – huge range of options and a price match guarantee
⇒ Every trip is improved if you know at least a little bit of the local language – Rosetta Stone is the best and often have great getting started deals.
⇒ Skip the Line tours – Viator have over 14,000 of these – I am always so happy when I have pre-booked one of these! And you can cancel most Viator tours with full money back if you're more than 24 hours out
⇒ And finally and super important – Roam Right for Travel Insurance have an excellent rating and lots of choice. I particularly like their policies that just cover medical or car rental. They also have great options for adventurous travellers.
Who Paid for What in this Post?
This Famous Greek Landmarks post includes affiliate links. That means if you click through and end up making a purchase I will receive a small commission. I wanted to make sure you were aware of this.