Nestled on Colombia's Caribbean coast and teeming with restaurants, shops, and nightlife, Cartagena is a true gem for all who visit. This gorgeous, historic city is centuries old and superbly preserved.
Its all-year-round tropical climate makes it the perfect vacation destination for those seeking some sun and there are some fantastic Cartagena boutique hotels to stay in.
The famous walled Old Town of this city is a Unesco World Heritage Site and is an experience on its own. Spend your days strolling through the cobblestone streets, admiring the old colonial buildings.
With so much to see and explore you will have no shortage of activities. Especially since the beach is also absolutely gorgeous. Cartagena is quite different from popular Colombia towns Medellin and Bogota so put it on your Colombia Itinerary.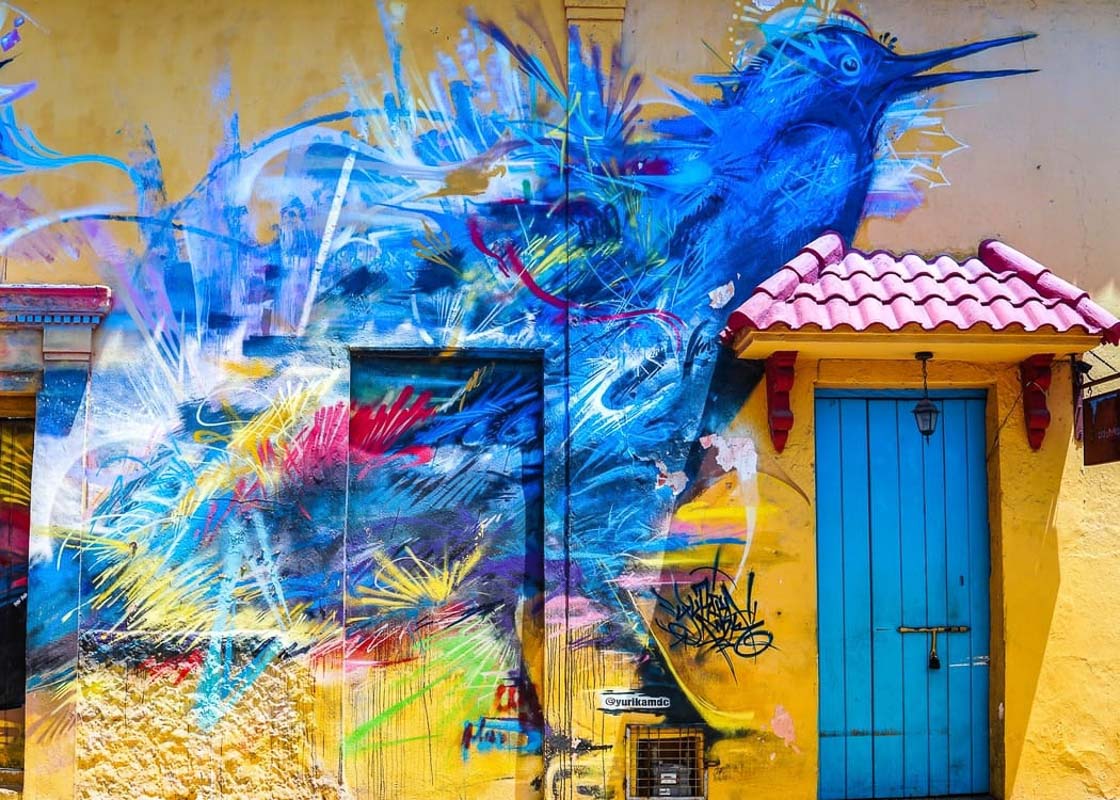 Hotels in Cartagena
Ready to live your best life in Cartagena? Gorgeous beachy vibes and places steeped in rich history await you. And of course, choosing where to make your home away from home, goes a long way to making a holiday memorable.
I've put together the ultimate guide to the best boutique hotels in Cartagena, Colombia to make your getaway as special and hassle-free as possible.
1. Hotel Quadrifolio
Hotel Quadrifolio is the perfect luxury getaway for you and your travel partner and is excellently located. This boutique hotel is beautifully decorated with tasteful colonial-style architecture and furnishings with all the special touches of South American culture.
After a day of exploring and sightseeing, enjoy a dip in the crystal clear pool at Hotel Quadrifolio Cartagena and make your favourite drink at your very own minibar.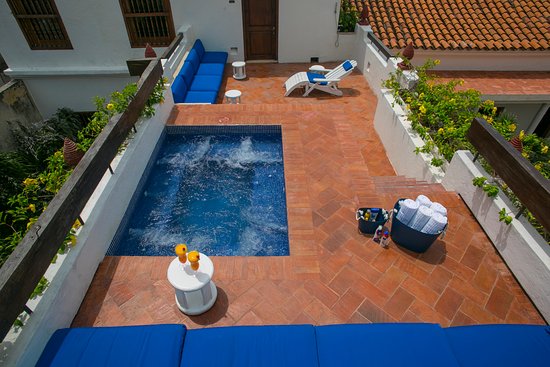 Spend the day at the beach down the road, soaking up the sun and exploring vibrant Cartagena. And when you come home to Hotel Quadrifolio Cartagena you can stretch out on your feather-soft bed under the airconditioning while you catch up on your favourite shows on the flat-screen TV.
This light-filled space has high ceilings and boasts a gorgeous garden view from the big windows. Treat yourself to a hydromassage in the hot tub on the rooftop and watch the sunset over the city.
⇒ Read more reviews on TripAdvisor ⇒ Book Now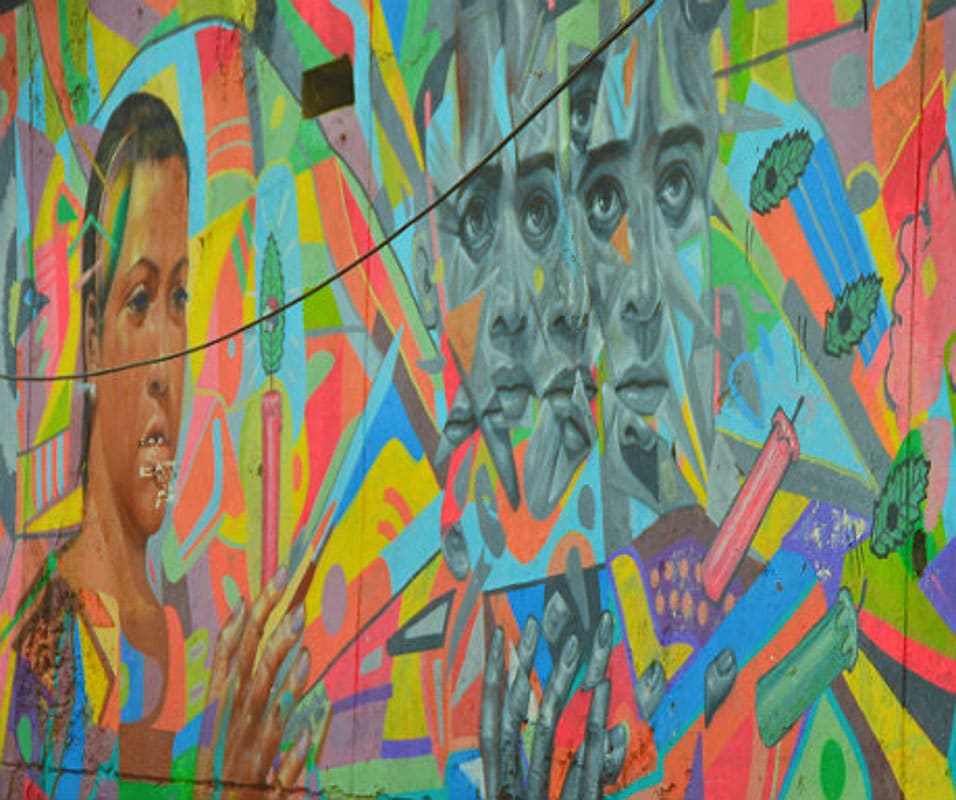 2. Hotel Capellán
This beautiful building is in the heart of the old town and has every amenity you could need or want. Hotel Capellán is a wonderful romantic hotel and screams elegant luxury.
Adorned with trendy features like exposed brick feature walls and timeless furniture pieces, you can't go wrong with this choice.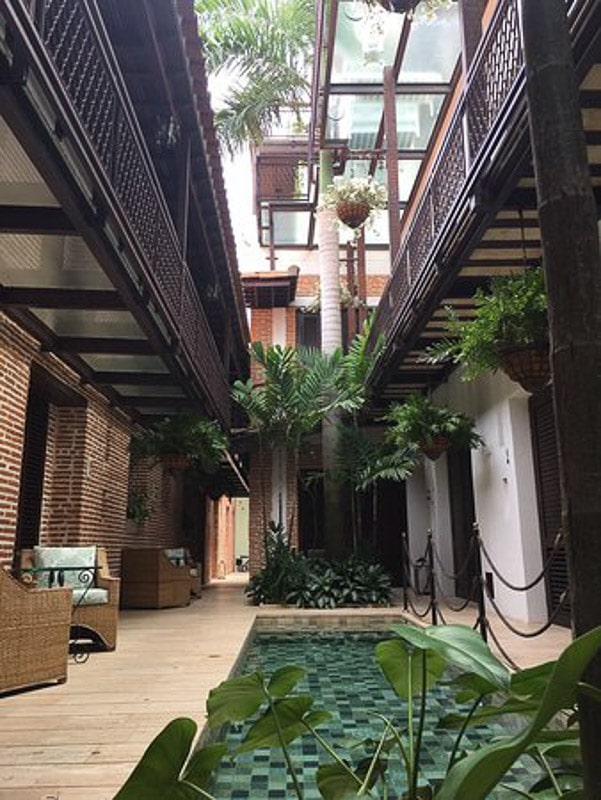 Spend the afternoon lounging out on the outdoor terrace at Hotel Capellan Cartagena with your favourite book. The pool and rooftop are also lovely spaces to relax and cool off from the Cartagena heat.
Positioned in a vibrant, magical neighbourhood and also a short walk from the walled city, the position of this boutique hotel is ideally positioned for exploring.
And after a busy day of sightseeing, snuggle up in a complimentary robe and perhaps even indulge yourself with a hot stone massage at the hotel spa
Enjoy the spacious, comfortable rooms and in the morning bring your A-game appetite for the delicious breakfast.
⇒ Read more reviews on TripAdvisor ⇒ Book Now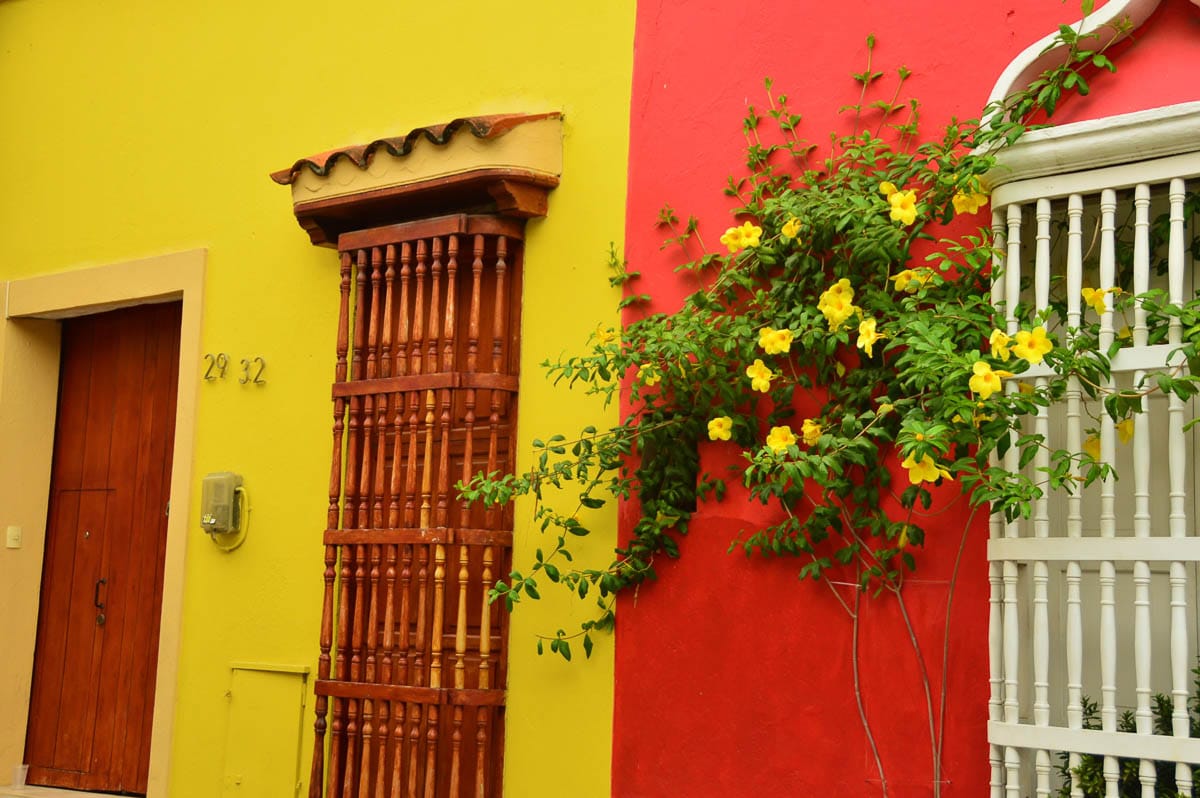 ⇒ Read my complete post on the best Things to do in Medellin
3. Hotel Casa Don Sancho By Mustique
At Hotel Casa Don Sancho By Mustique, spend your days splashing in the outdoor swimming pool, or soak in the hot tub. Sip a glass of wine on the terrace and admire the breathtaking sea views. This spacious spot makes for the perfect group getaway, as it can also be rented by you and 5 others.
Rooms at Hotel Casa Don Sancho by Mustique Cartagena are framed by gorgeous Victorian-style shutters and the lush greenery of the garden, creating the perfect peaceful atmosphere. Enjoy absolutely delicious food here in a tranquil setting. You may never want to leave.
This Cartagena boutique hotel is conveniently located, close to everything but in a lovely quiet part of the street. It's the perfect oasis from the hustle and bustle of the city.
⇒ Read more reviews on TripAdvisor ⇒ Book Now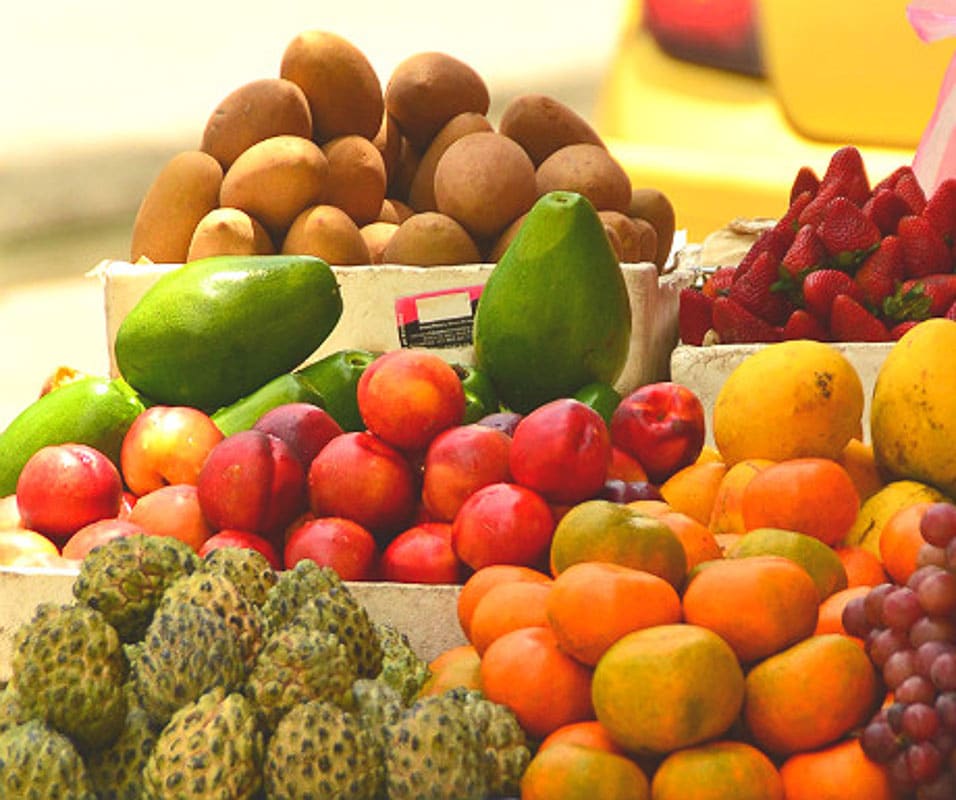 ⇒ Read my complete guide to the best restaurants in Medellin
4. Casa La Cartujita
This little hideaway boutique hotel in Cartagena is a quiet escape from the busy streets and city life. But you'll still be walking distance from great local restaurants and a lively plaza for maximum exploring opportunities.
With only 7 rooms, it allows for an intimate and personal feel. As well as an opportunity to meet other guests. At Casa La Cartujita you will undoubtedly eat like a king with the complimentary American breakfast. And if you find that you're a fan of Colombian food, you can take cooking classes in the modern kitchen.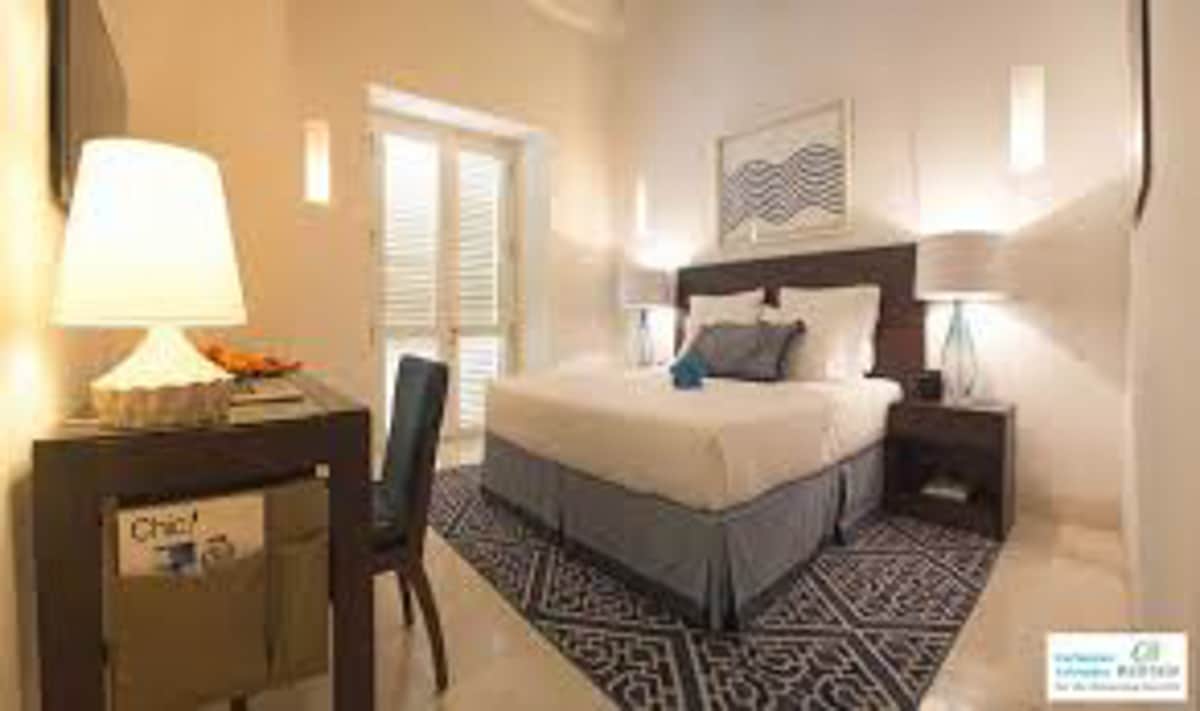 Be at Marbella beach in minutes and enjoy a day of sandy, ocean fun. After a busy day, you can look forward to a relaxing evening on the roof terrace of Casa La Cartujita Cartagena.
Whether you choose to soak in the tub or simply enjoy a drink in warm evening air and atmosphere, you will be your most relaxed-self. After the perfect wind-down, snuggle in for a great night's sleep in the comfortable beds.
⇒ Read more reviews on TripAdvisor ⇒ Book Now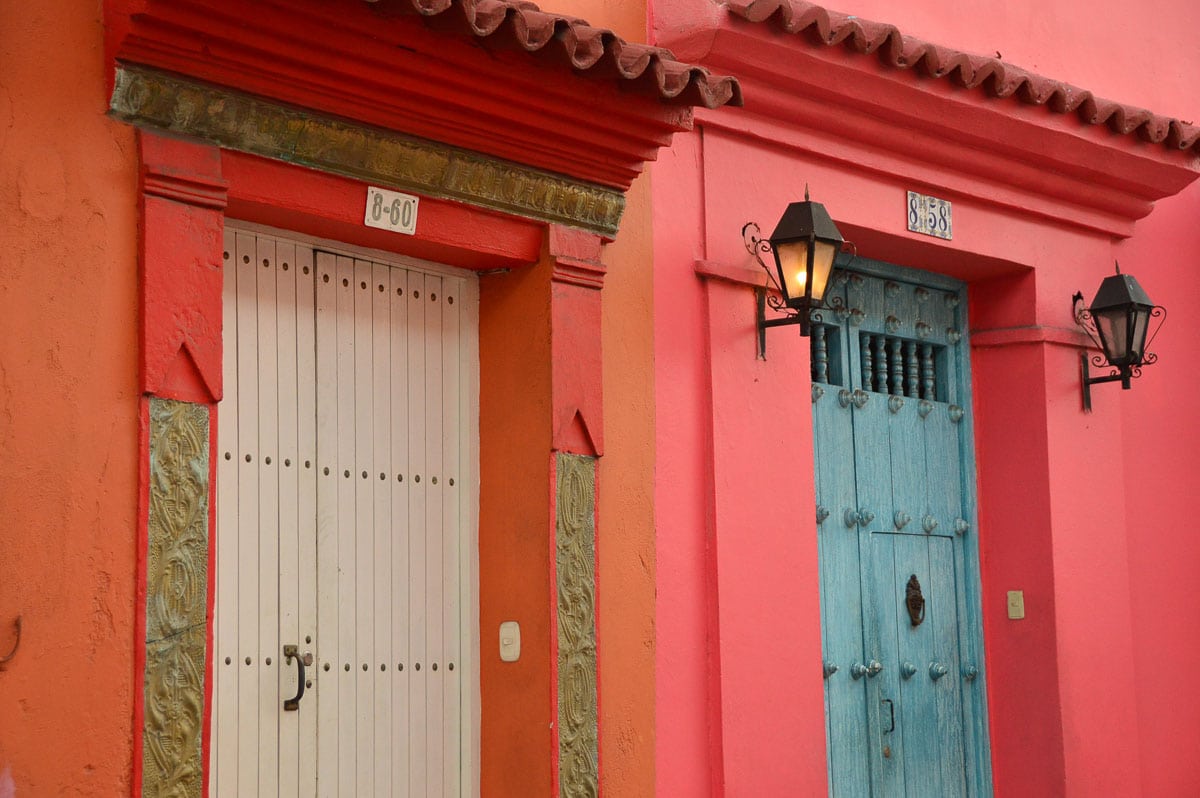 ⇒ Read all about the Best Things to do in Bogota in 24 hours.
5. Hotel Boutique Casona del Colegio
This Cartagena boutique hotel boasts a beautiful garden terrace, an infinity pool and a bar. Located in the city centre you will have easy access to vibey restaurants, coffee shops and bars. This spot is always ready to give you a cool welcome and quiet rest during your stay.
Casona del Colegio has managed to seamlessly combine colonial architecture with sustainable and luxurious Colombian influences. From the moment you walk in, to the moment you leave, you'll have a first-class experience.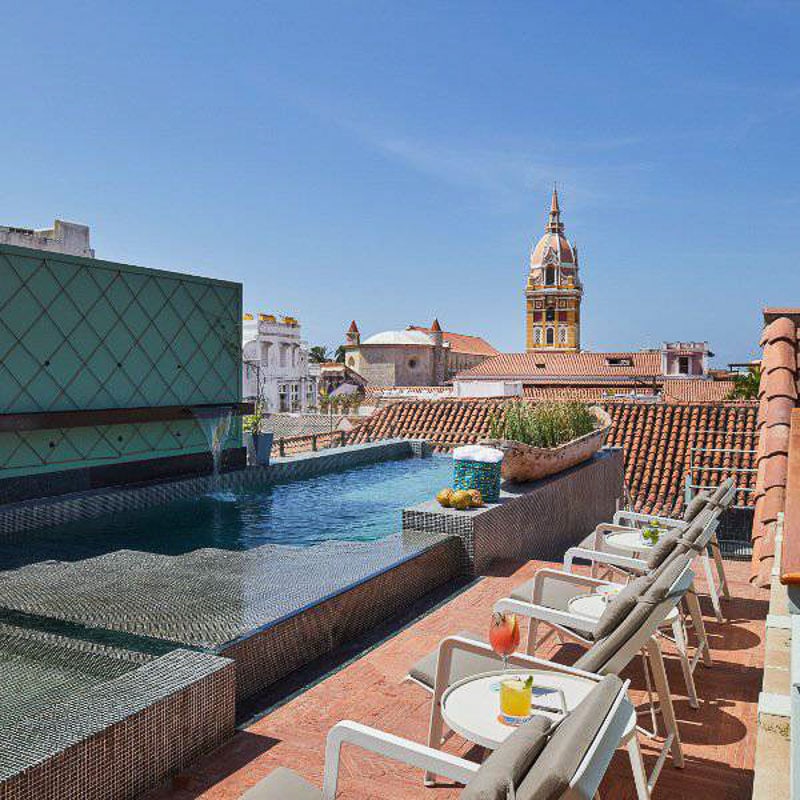 ⇒ I love ticking off seeing a landmark. See how many famous landmarks you've seen in my series of posts: 60 Most Famous Landmarks in the World, 27 Top Australian Landmarks, 25 Asia Landmarks, 61 Magnificent Landmarks of the UK, 13 China Landmarks, 35 Japan Famous Landmarks, 60 Most Famous Landmarks in Europe, 25 North America Landmarks, 25 Canada Landmarks and 15 Famous Landmarks in the US.
After a busy day of exploring and sightseeing, treat yourself to a massage in Cansona del Colegio Cartagena's spa and wellness centre. In the mornings enjoy a perfect cup of coffee from your in-room coffee machine and sip it out on the balcony.
In the evenings you can flop into your luxury bed and cosy up for a night of your favourite Netflix shows on the flat-screen TV. This stylish small-scale boutique hotel, in the old city of Cartagena, is a haven in a hot bustling city.
⇒ Read more reviews on TripAdvisor ⇒ Book Now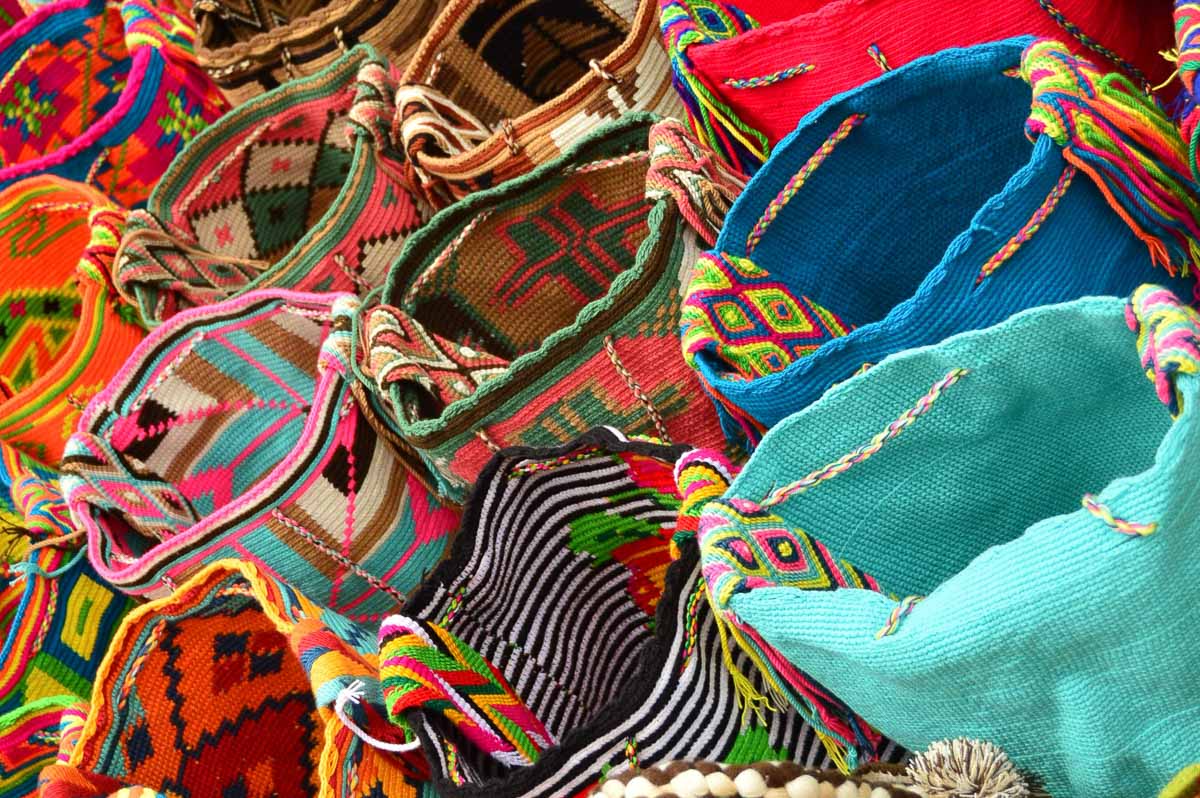 Check out some of my other posts on Colombia – from my Colombia Itinerary 2 Weeks to things to do in Guatape to the Pablo Escobar Tour Medellin to Feria de las Flores Medellin to my review of the Art Hotel Medellin.
6. Hotel Casa Lola Deluxe Gallery
Charm, elegance and pristine luxury are what comes to mind with this idyllic setting. Hotel Casa Lola Deluxe Gallery is an amazing period property that has been beautifully restored with incredible design features. This can be seen in the artisanal touches in each of the stunning rooms of this boutique hotel in Cartagena.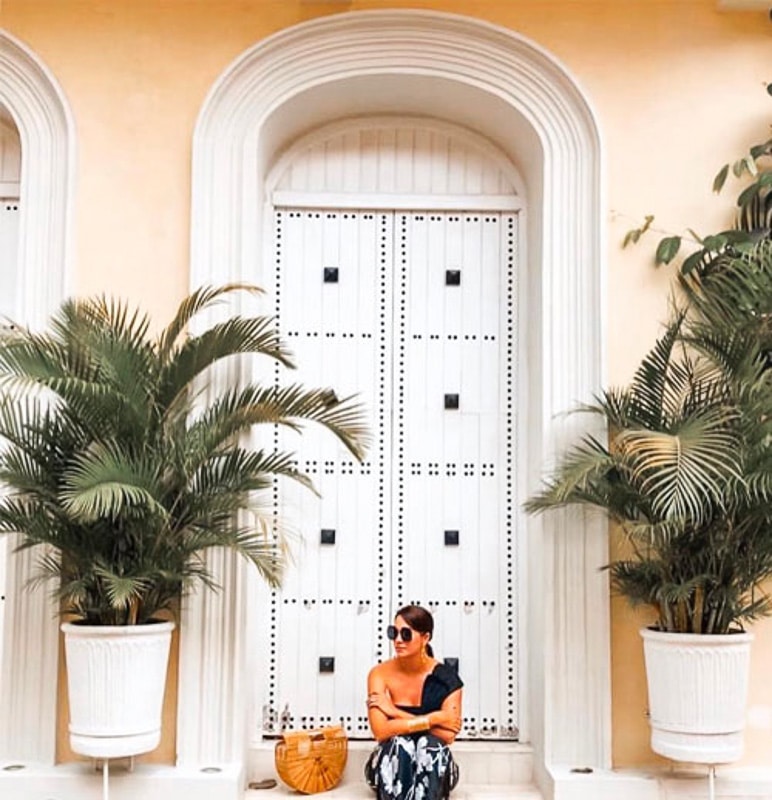 Cool off from the Cartagena heat in one of the three swimming pools in this property. In the evenings you can sip on a cocktail at the rooftop bar and soak up the incredible panoramic views.
The gorgeous greenery that fills Hotel Casa Lola Deluxe Gallery Cartagena also really adds to the feeling of tranquillity in this space.
⇒ Read more reviews on TripAdvisor ⇒ Book Now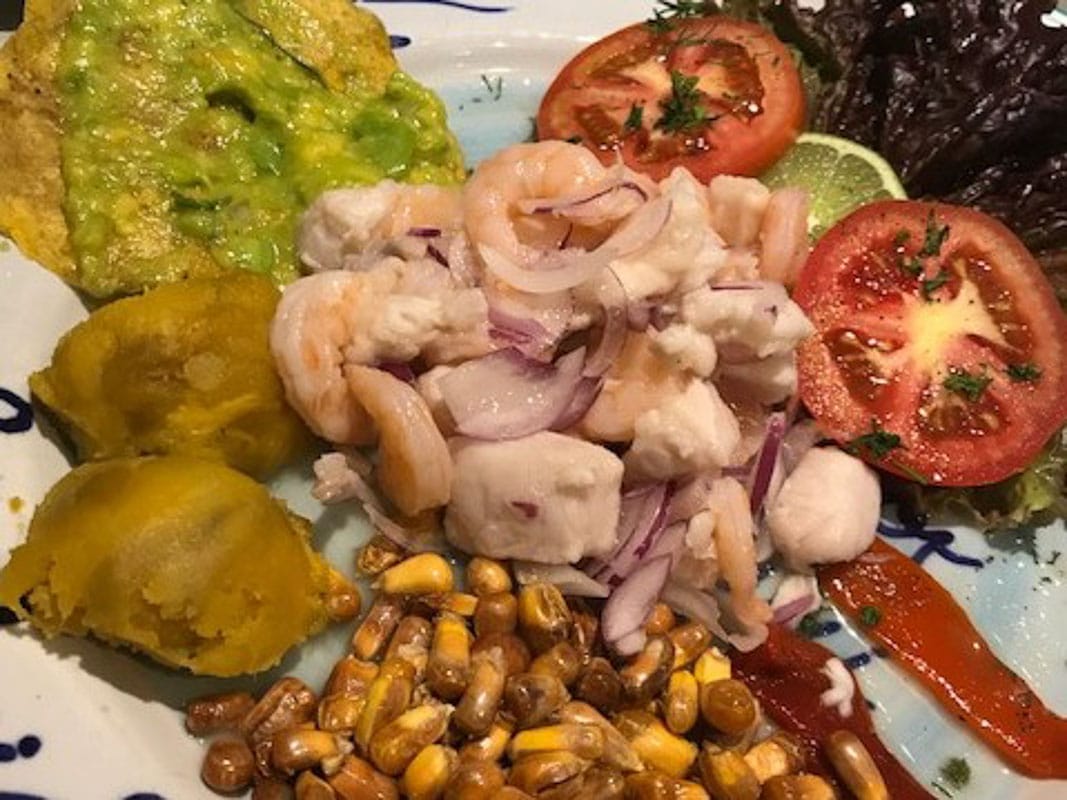 7. Hotel Boutique Casa Del Arzobispado
In the heart of Cartagena, this is the perfect spot for that holiday R&R. Whether you choose to splash in the gorgeous pool or soak in the hot tub, you're in for a treat.
Grab one of the free hotel bicycles at Hotel Boutique Casa Del Arzobispado Cartagena and head out for a day of sightseeing and exploring all that Cartagena has to offer. You can get handy information about the area from the information desk as well as finding out about shuttle services to get to popular attractions.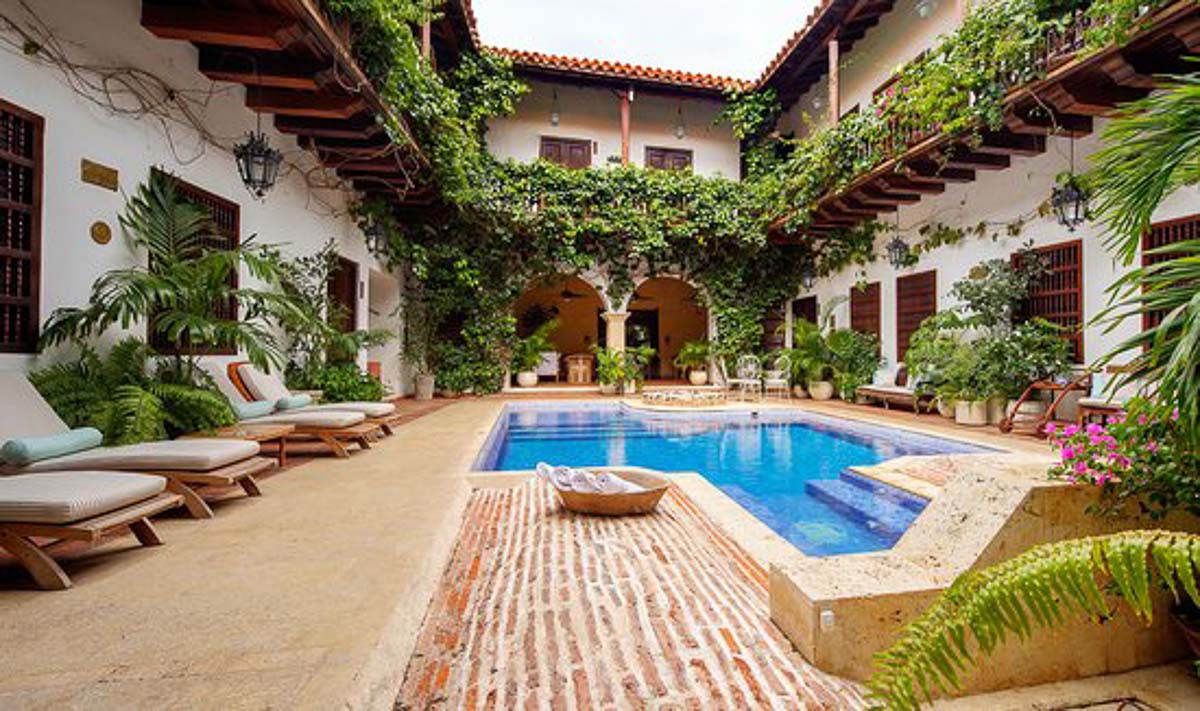 Hotel Boutique Casa Del Arzobispado has beautifully decorated rooms with timeless furniture. You can enjoy a delicious meal at the hotel restaurant and kick back with your favourite drink in the pub.
Unwind and destress at this 5-star hotel with a massage in your room or on the terrace. You can even head to the beach for a massage with a view, as their services extend all the way to the sand.
⇒ Read more reviews on TripAdvisor ⇒ Book Now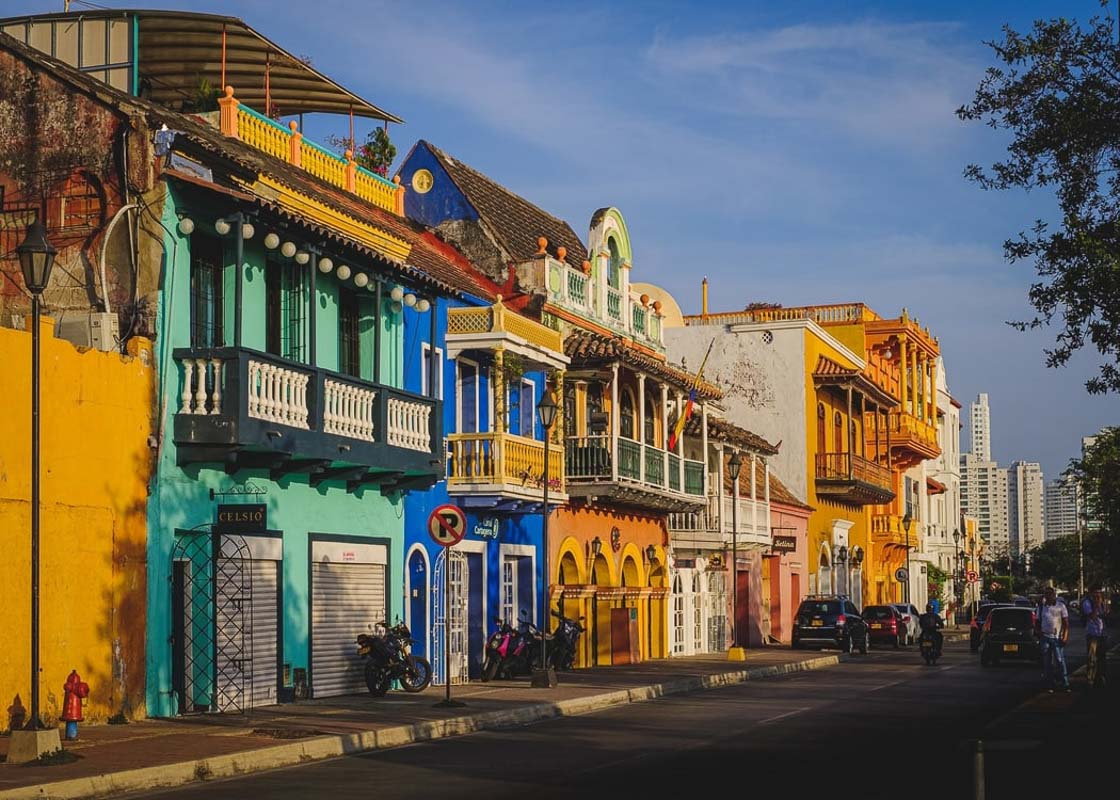 ⇒ Read my post on the ultimate Chile Itinerary 2 Weeks
8. Bastión Luxury Hotel
The gorgeous Bastión Luxury hotel has been remodelled and features a beautiful rooftop terrace with a swimming pool and lounge area to relax and socialise in.
Enjoy a delicious meal at the on-site gourmet restaurant, El Gobernador. And if you feel like you've overindulged in the buffet breakfast, work up a sweat in the well-equipped fitness centre at Bastion Luxury Hotel Cartagena.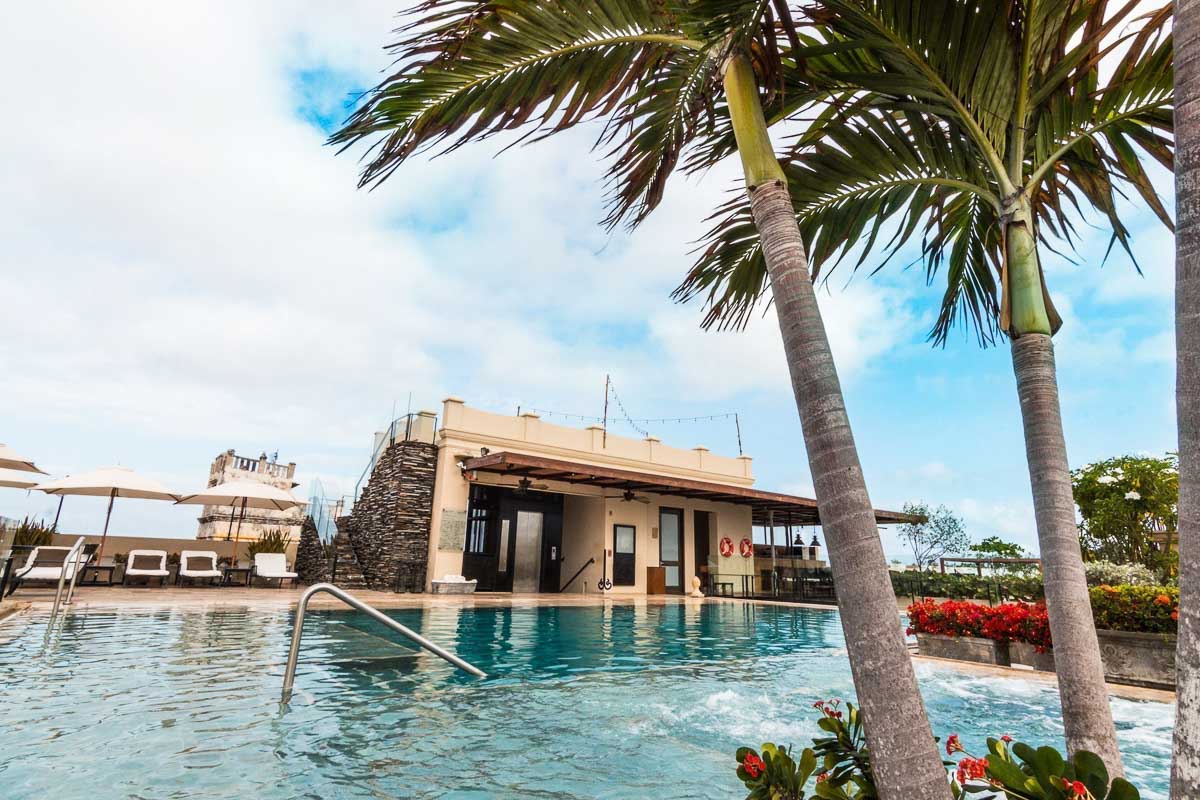 ⇒ Here are some of the best places in the world to watch the sunrise and fall: 10 Places to watch the Sunset in California, 7 Best Places To Watch Sedona Sunsets, 18 Spectacular Spots for the Best Sunsets in Seattle, 5 Stunning Santorini Sunsets, 8 Sunsets in Ibiza, 11 Places to see the Venice Sunset, 6 Spots to Watch Sunrise in Paris, 11 Places to see Sunset Edinburgh style, 15 Places to see Sunsets in London and 9 Spots to watch the Sunrise in London.
During the hot days and warm evenings, you can cool off in the large swimming pool on the rooftop. Here you can spend the afternoon lazing in a pool chair with your favourite book.
And of course, later you can look forward to a perfect night's sleep in your incredibly cosy bed.
⇒ Read more reviews on TripAdvisor ⇒ Book Now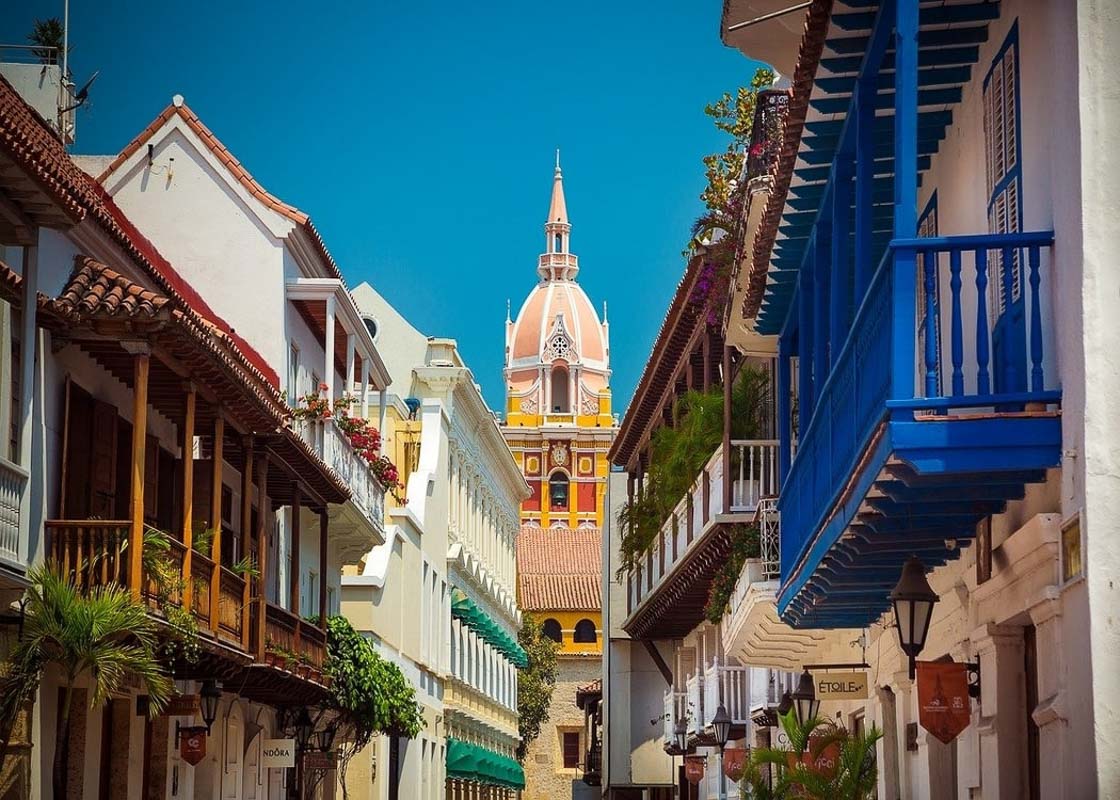 Things to do in Cartagena
Kick off your time in Cartagena just wandering the old town. The most colourful streets are in the neighborhood of San Diego.
There are larger gorgeous buildings, including a stunning salmon pink church, on the edges of the walled old town. Use Calle de los Puntales and the Bohemia Hotel as your starting point. This is the area to wander.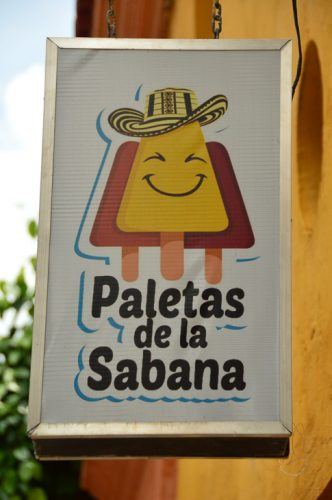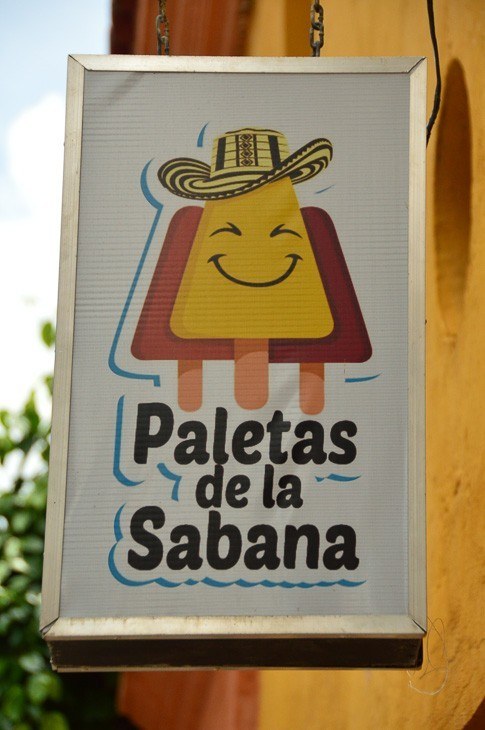 Don't miss Calle de los Sietes Infantes and Calle de Tumba Muertos.
Finish your afternoon off with a popsicle. Popsicles are almost an art form in Colombia – so many lovely flavours and so beautifully merchandised. Head to La Paletteria in the Cartagena old town.
Take a Street Food Tour
My Cartagena street food tour started with patacones. These are essentially fried plantain with cheese.
Next up was my favourite Colombian street food – slices of mango with fresh lime and salt – amazing.
Every Colombian street food tour must include some Arepa. Whilst there is a multitude of variations of Arepas at its core is cornflour mixed with cheese and then fried.
Colombia does amazing things with pigs. The pork on this Cartagena street food tour was the highlight.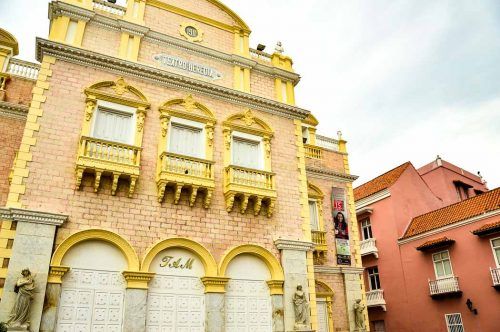 It was served in a very average looking place which I wouldn't really call a restaurant or a café. Once I had one mouthful I no longer cared.
The tour then moved into Getsamani. This neighborhood was traditionally the home of the "workers" of Cartagena. Foreign investment has increased house prices in Getsamani and brought problems.
This area of Cartagena is now home to some of the most compelling street art of this area. I highly recommend taking a tour of Getsamani.
However, it is very difficult to gain an understanding of the current real issues faced in Getsamani Cartagena without a guide to help explain so I would recommend taking a tour.
Go Shopping
Cartagena has some of the best boutique shopping in Colombia. Start with St Dom. The store showcases local designers and there were some stunning options – particularly in resort wear.
St Dom Cartagena was certainly one of the most expensive stores that I visited in Colombia but it had many stunning and memorable pieces. It is also one of the only places that sell the Colombian perfume brand Jean Patou which is lovely.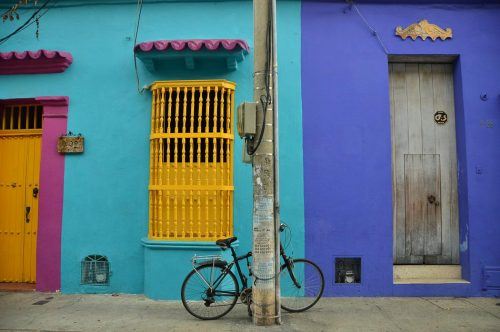 Entreaguas is a Medellin based brand. Their base offer is swimwear but they also have stunning cover-ups as well as a small range of tops and double purpose dresses.
Entreaguas' designs are unusual and stunning. A key feature of the range is the use of a macramé style material which is wonderfully unique. I have worn my Entreaguas purchases again and again.
My final stop was Guana Banana. This Cartagena boutique is much more reasonably priced than St Dom and features some local designers. I particularly liked the lovely woman who ran the shop.
Guana Banana Cartagena has clothing and swimwear – although I ended up buying some very cute shoes that I have worn loads.
Take the Free City Walking Tour
A common theme of this itinerary is the Colombian free tour and Cartagena is no exception. After hearing about modern Cartagena in yesterday's street food tour step back in time and hear about Cartagena's fascinating history with a Cartagena tour through the old town.
I most enjoyed hearing about how the street names came about – and the number of ghosts who frequent this small town!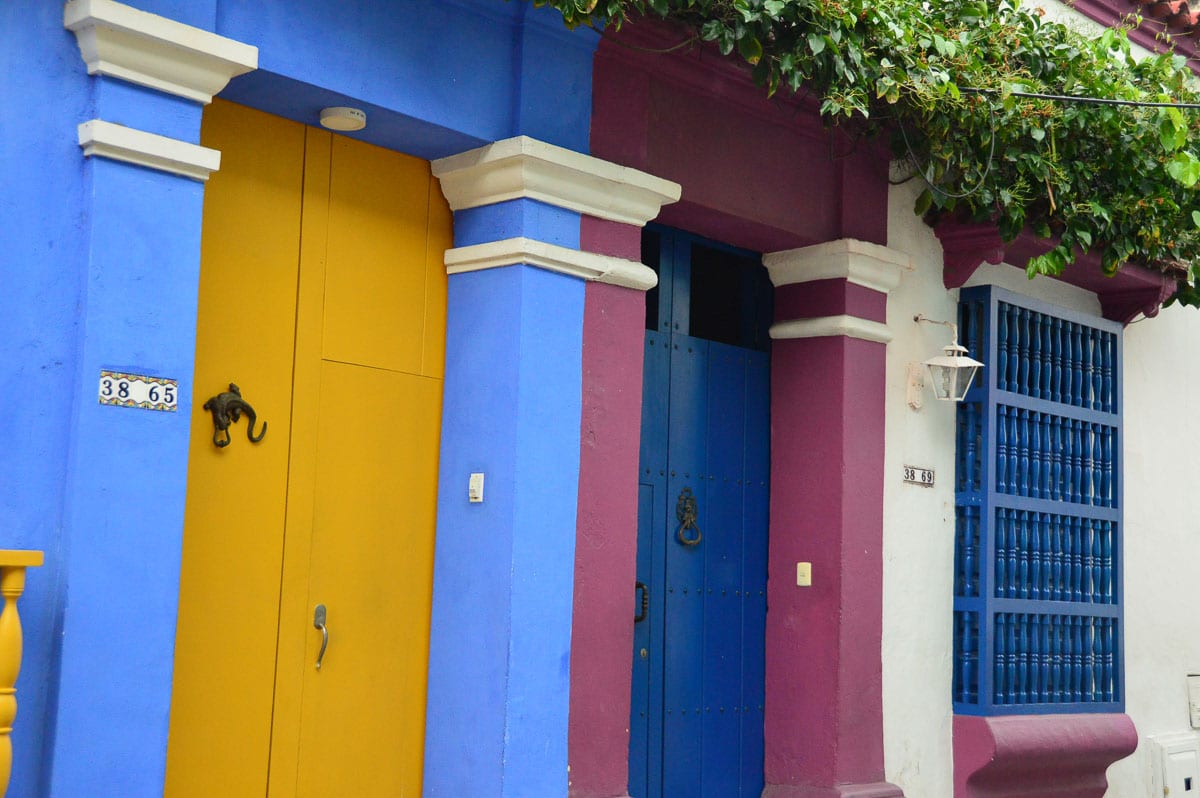 Restaurants in Cartagena
La Cevicheria was made famous by the late tv chef Anthony Bourdain. It is still a tiny restaurant although it also has seating on the street.
It is not possible to make reservations at La Cevicheria Colombia so you will need to wait. There was a lovely albeit expensive bar across the road where I waited and enjoyed a lovely glass of wine.
Once seated there is quite an extensive seafood menu at La Cevicheria. However, there was only one option for me – the ceviche.
La Cevicheria also has a nice little wine list and lots of cooked fish options for those who don't like their seafood raw. The ceviche at this Cartagena restaurant was delicious and I highly recommend it.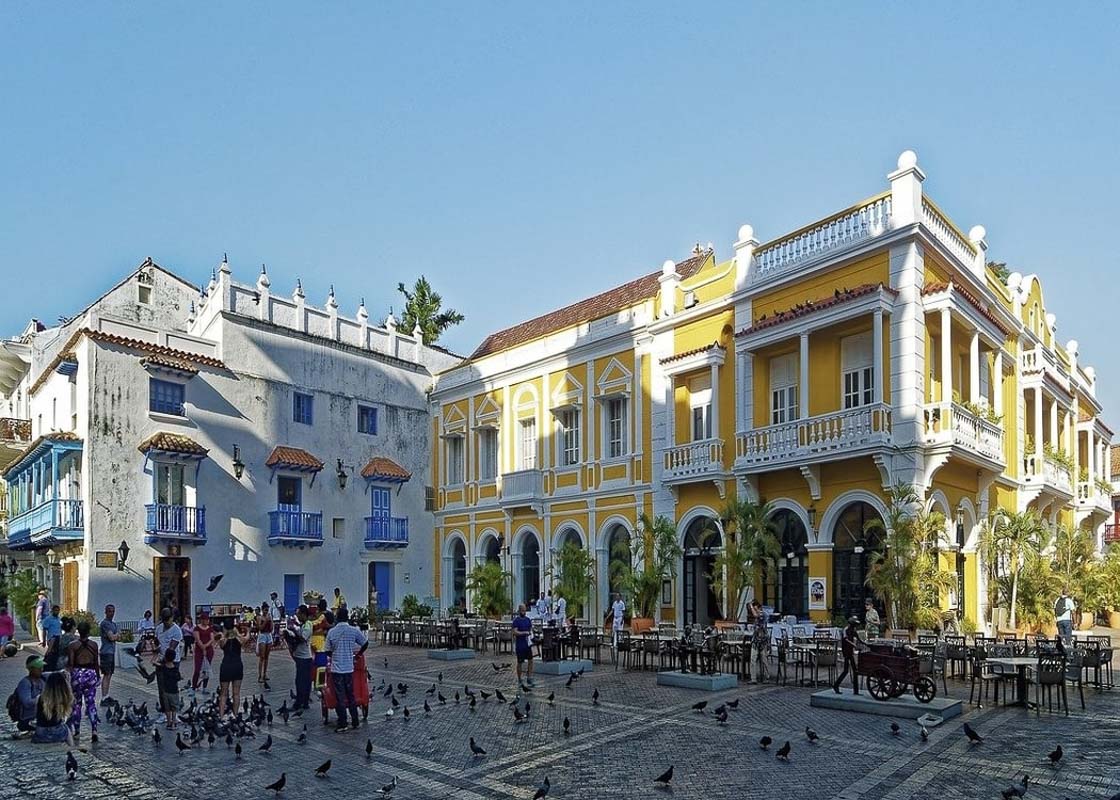 Continue on the seafood path with the lovely Restaurante Juan Del Mar. This Cartagena restaurant features all types of fish – cooked and ceviche and salad and anything you can think of – all extremely delicious.
For a perfect light lunch head to Pezetarian. This cute little restaurant is in the Cartagena old town. Order at the counter and then wait to receive your amazing ceviche or sushi or some of their other delights. Pezetarian Cartagena is amazing value for money and filled with locals more than tourists.
If you're after something sweet head to nearby Velvet for a brownie. Afterwards, visit the Epoca Café to enjoy some of the best coffee in Cartagena.
Final Words on Boutique Hotels in Cartagena
Cartagena, with its mesmerising history and captivating ambience, is not a place one easily forgets. Bubbling with a lively atmosphere that fills the charming nooks and side streets, you are in for a sensory treat in this hot, vibrant and colourful coastal city.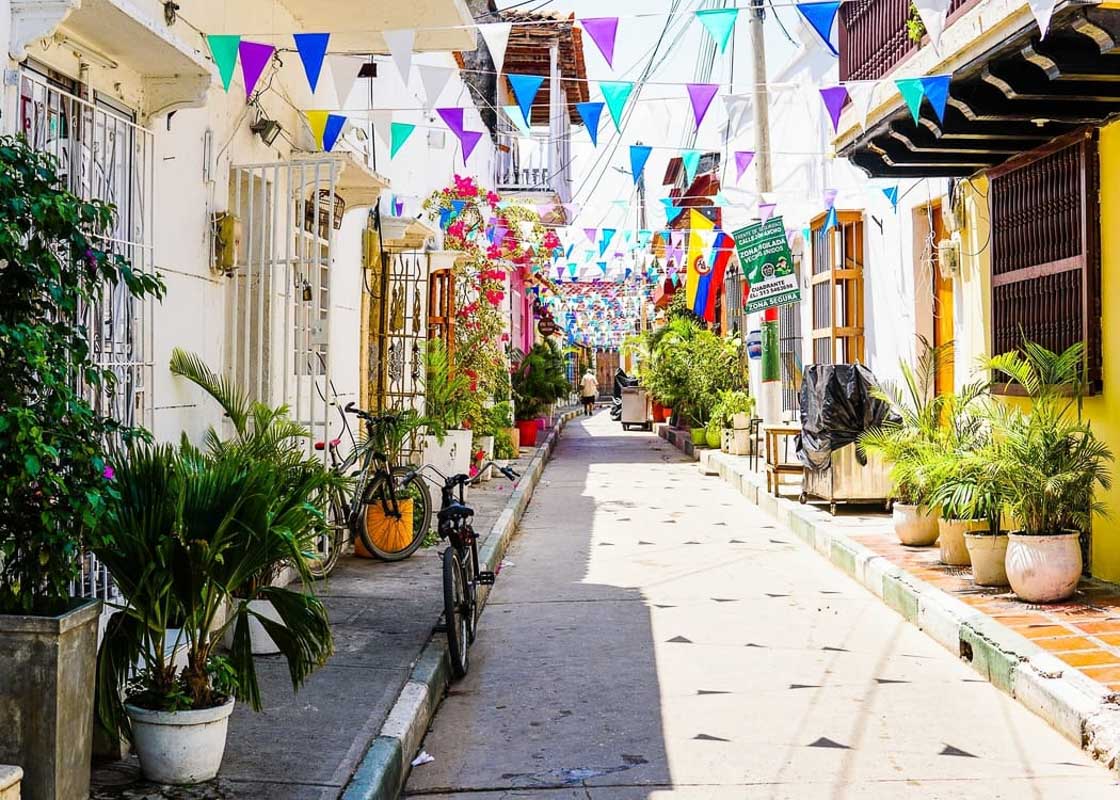 While there are certainly sights to see in the area, the main attraction of Cartagena is the city itself. So when you're not kicking back in your Boutique Hotel, take time to simply stroll through Old Town and soak up this enchanting place bursting with colour and charisma.
If you fall in love with Colombia you may choose to extend your trip to Bogota or other incredible spots around this area, just waiting to be explored.
Get ready for incredible mazes of cobbled alleys, churches and stunning plazas that date back to the 16th century. And of course, when that inevitable moment comes to ward off the Cartagena heat, escape into one of the many vibrant bars and restaurants that fill these remarkable streets.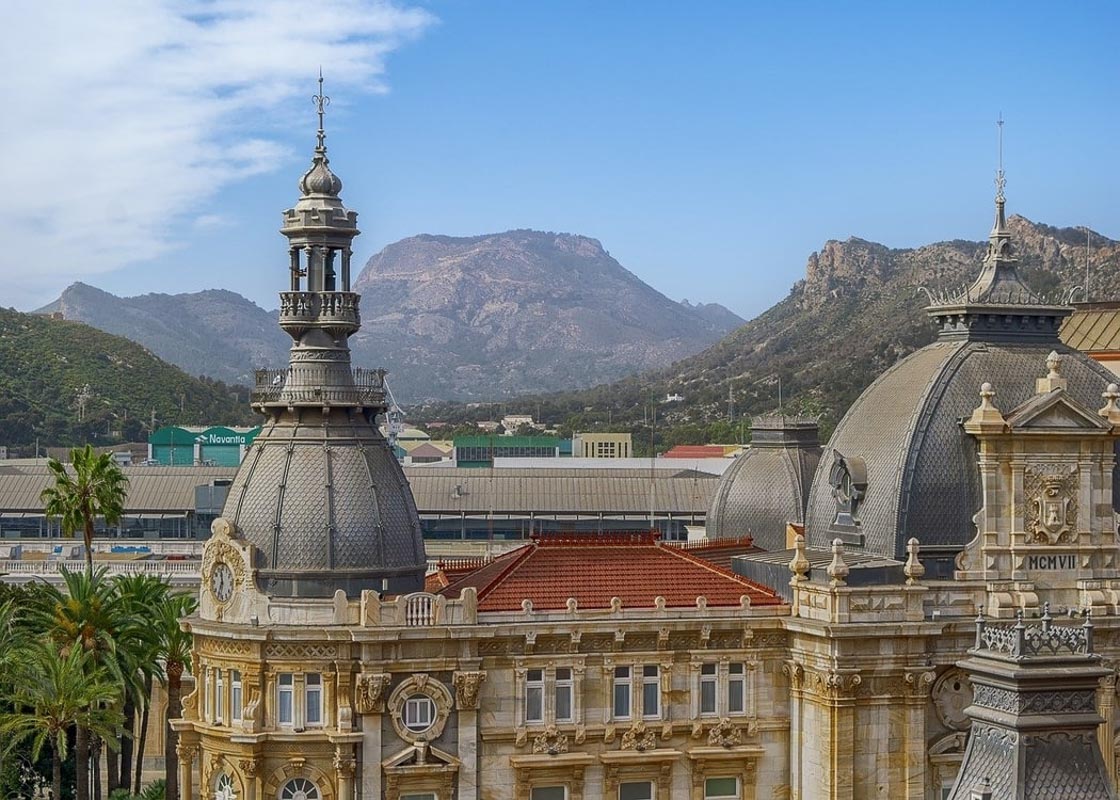 How to get to Cartagena
The majority of international flights land in Bogota. Medellin also has an international airport but flights are far less frequent. Cartagena is often accessed by boat – many cruise ships have this stunning Caribbean town on their itinerary.
⇒ I flew to Colombia with Iberia – read my Iberia Business Class Review. You can also read my Air France a380 Business Class Review and my American Airlines Premium Economy 777 Review – they both fly to Colombia.
Avianca is the local carrier and there are also budget options – although Avianca offers excellent fares. Internal flights to Cartagena are also very reasonably priced.
The flight from Medellin to Cartagena is quite a quick one. It is then easy to get a taxi from the airport to the old town – it takes about 15 minutes.
⇒ Flights Between Medellin and Cartagena
There isn't much need for public transport in Cartagena as it is very much walkable. Of course, you can hire a car but I would avoid this if possible because of the mountains.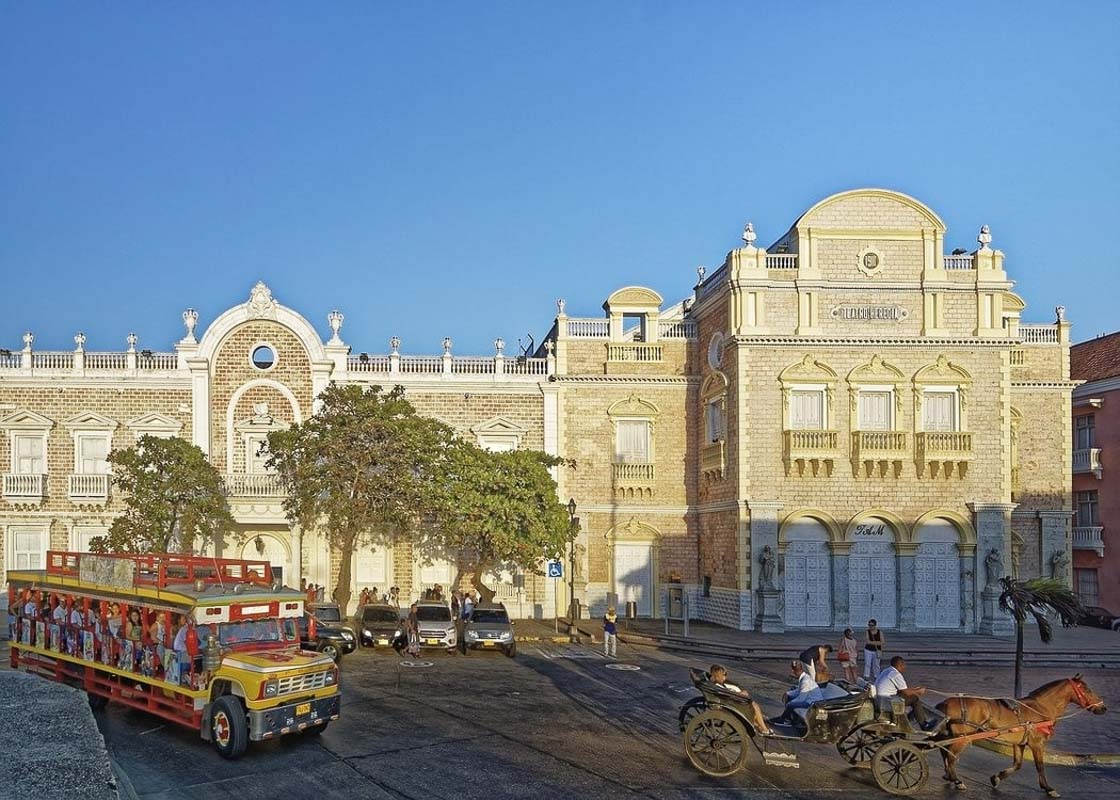 Who Paid for What in this Cartagena Boutique Hotels Post?
This Cartagena boutique hotels post includes affiliate links. That means if you click through and end up making a purchase I will receive a small commission. I wanted to make sure you were aware of this.