Florida is affectionately known as the "Sunshine State", and is one of the most exciting places to visit in America. With stunning beaches, national parks, and grand theme parks, Florida has no shortage of activities and attractions.
It also has an abundance of hidden gems, such as mystical caves, cities loaded with history, and a ton of great natural and manmade attractions. It's no wonder then that Florida is considered one of the most beautiful states in the U.S.
With so many great attractions and activities spread across the state, it could be a real headache trying to narrow down what you should check out.
So I've listed 33 things below that could help you decide what you should do when planning your trip to Florida.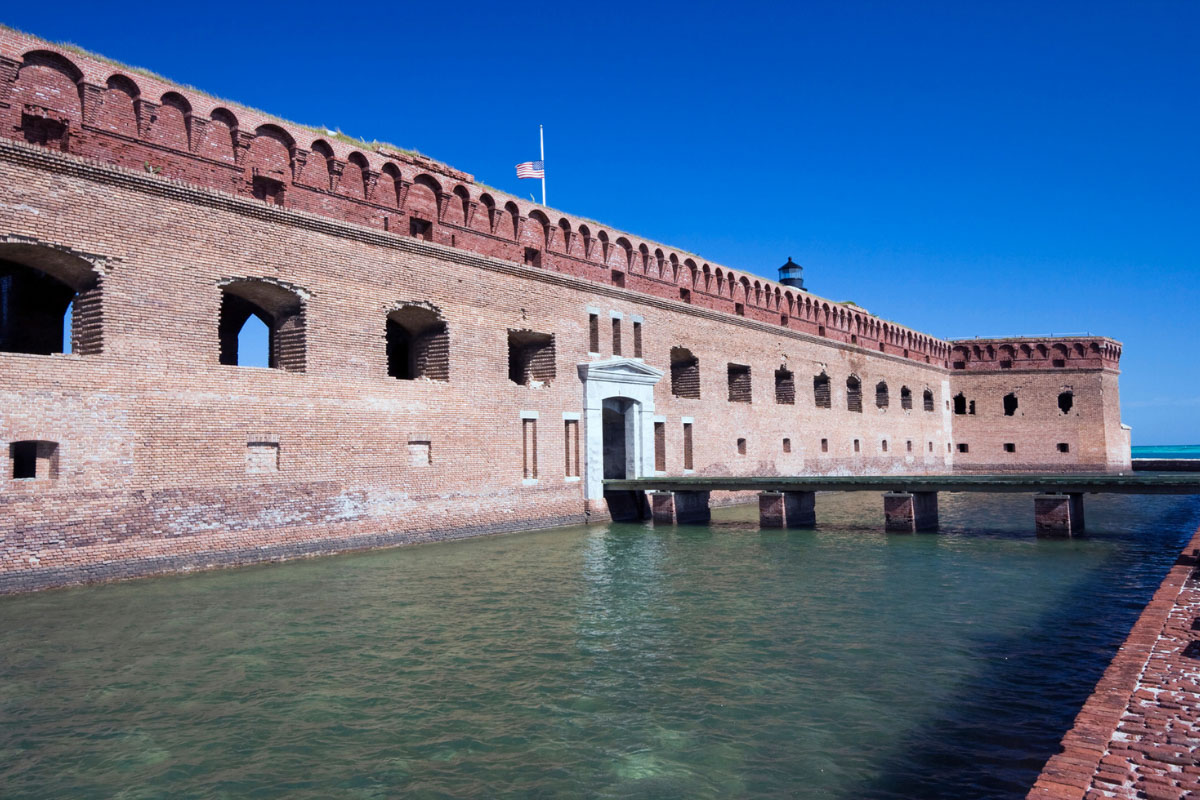 33 Unique Things to do In Florida
Are you ready to explore the most exciting and unique things to do in Florida? Here are 33 things that will make your trip to Florida extremely memorable. They are spread across the state, so be prepared to do a bit of traveling if you wish to do them all.
1. Bioluminescence Kayaking Tours
One of the best things to do in Florida is the bioluminescence kayaking tour which takes you along Florida's well-known Indian River Lagoon. As darkness settles over the lagoon, you'll get to watch as the water lights up with a bright blue-green glow.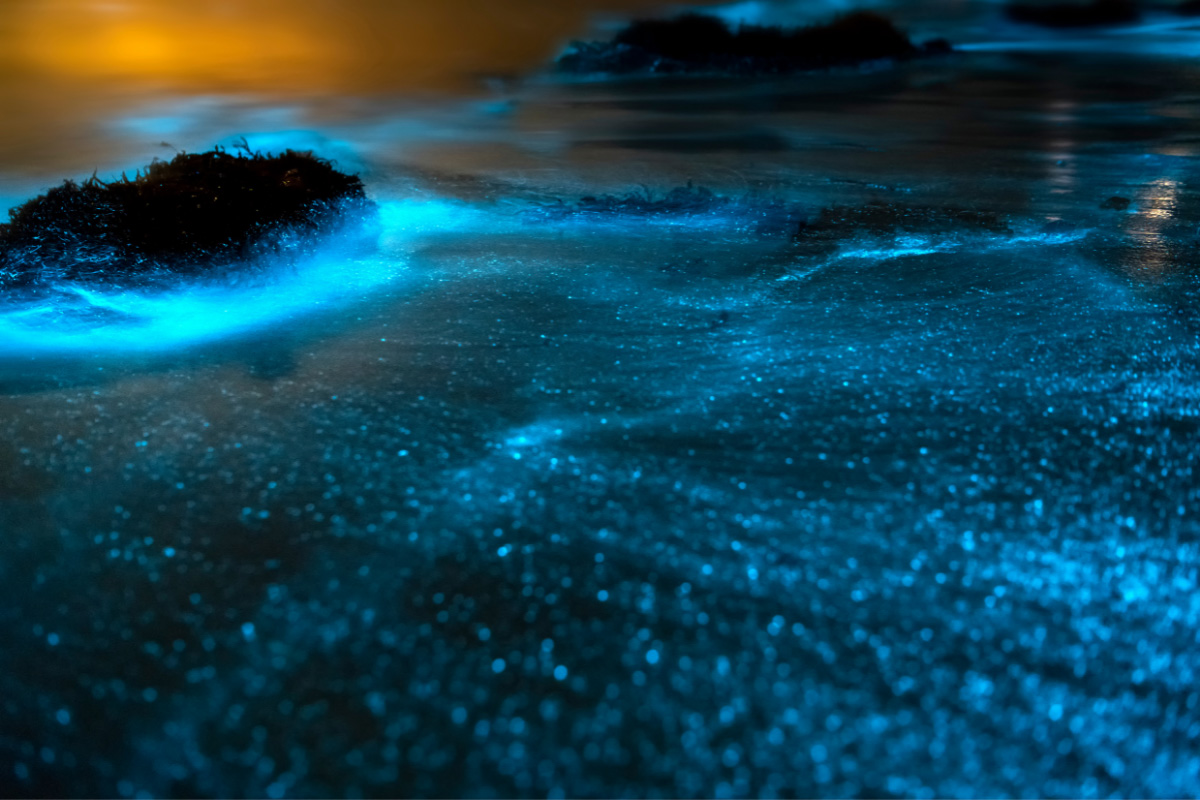 As you paddle through the lagoon you'll discover thousands of glowing plankton and jellyfish illuminating this body of water.
2. Snorkelling in Devil's Den
Devil's Den is one of Florida's best-hidden gems. This prehistoric cave is part of Florida's incredible spring system and is situated just a few minutes from Ginnie Springs, Silver Springs, and Manatee Springs.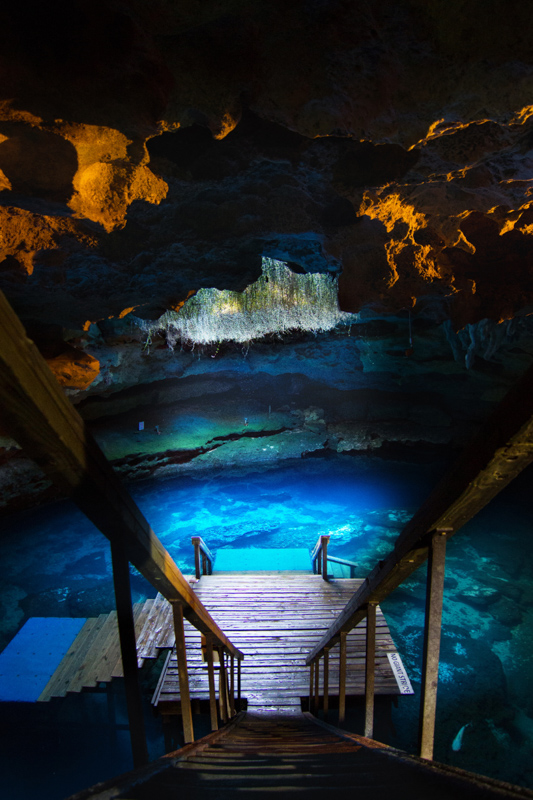 This cave is similar to the cenotes found in Mexico and is 16 metres (54 feet) deep. The underwater springs found in Devil's Den average a temperature of 22℃ (72℉) all year round, making it the perfect place to snorkel and swim.
Above the cave there are huge cabanas, charcoal grills, pavilions, lawn games, and a heated swimming pool. This makes Devil's Den the perfect place to hang out with family and friends.
3. Swim with Manatees
Florida is one of the few places in the world where you can swim with a unique mammal species known as a Manatee. Florida is home to the largest concentration of endangered manatees.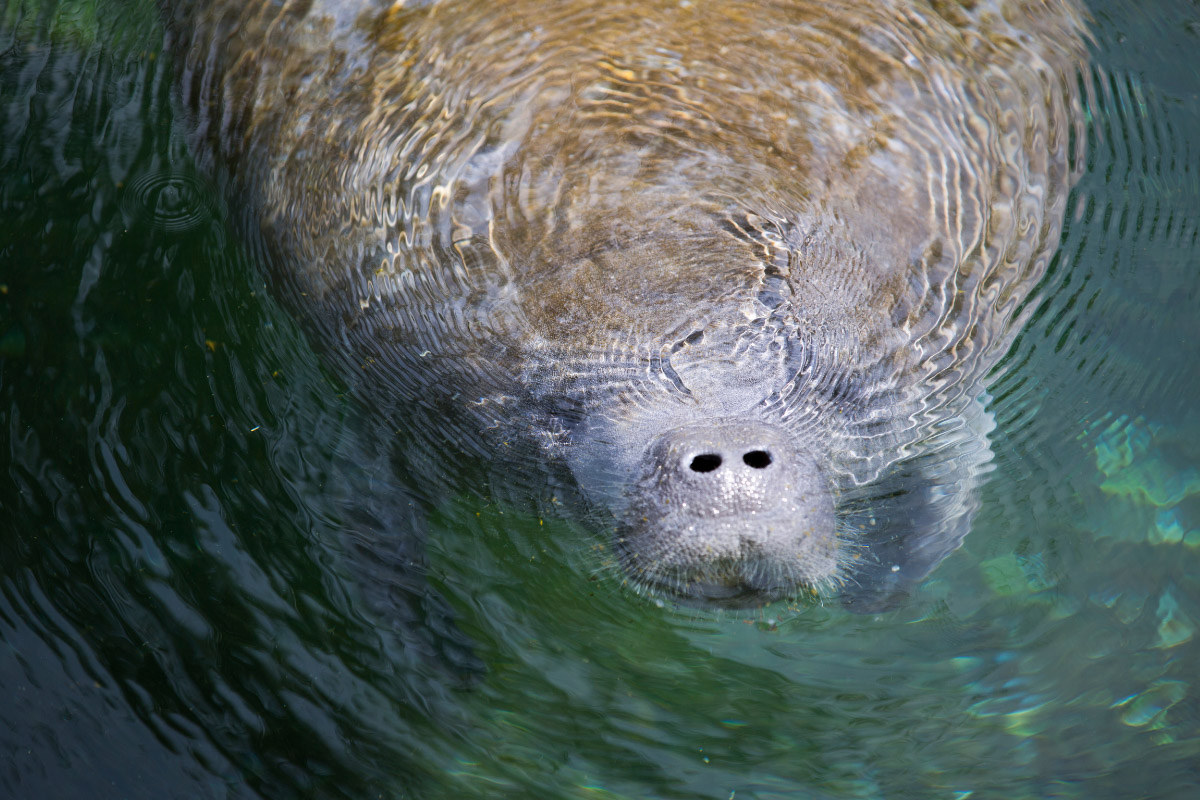 There are two places in Florida where you can swim with these gentle sea cows, Crystal River and Blue Springs State Park. You will get to spend time with these amazing mammals and explore the area's natural springs.
Tip: You can opt for a snorkelling tour in the Crystal River with a guide where you can learn more about manatees and their environment.
4. Take a Tour of the Kennedy Space Centre Visitor Complex
The Kennedy Space Centre is one of ten NASA Field Centres in the United States. It is located on Merritt Island.
If you've ever wanted to get in touch with your inner astronaut and get an up-close and personal view of humans in space, then don't miss out on the opportunity to take a tour of The Kennedy Space Centre Visitor Complex.
The visitor complex features a ton of exciting exhibits, displays, and historic aircraft such as the Space Shuttle Atlantis. The complex also boasts a rocket garden, memorabilia, and two impressive IMAX theatres.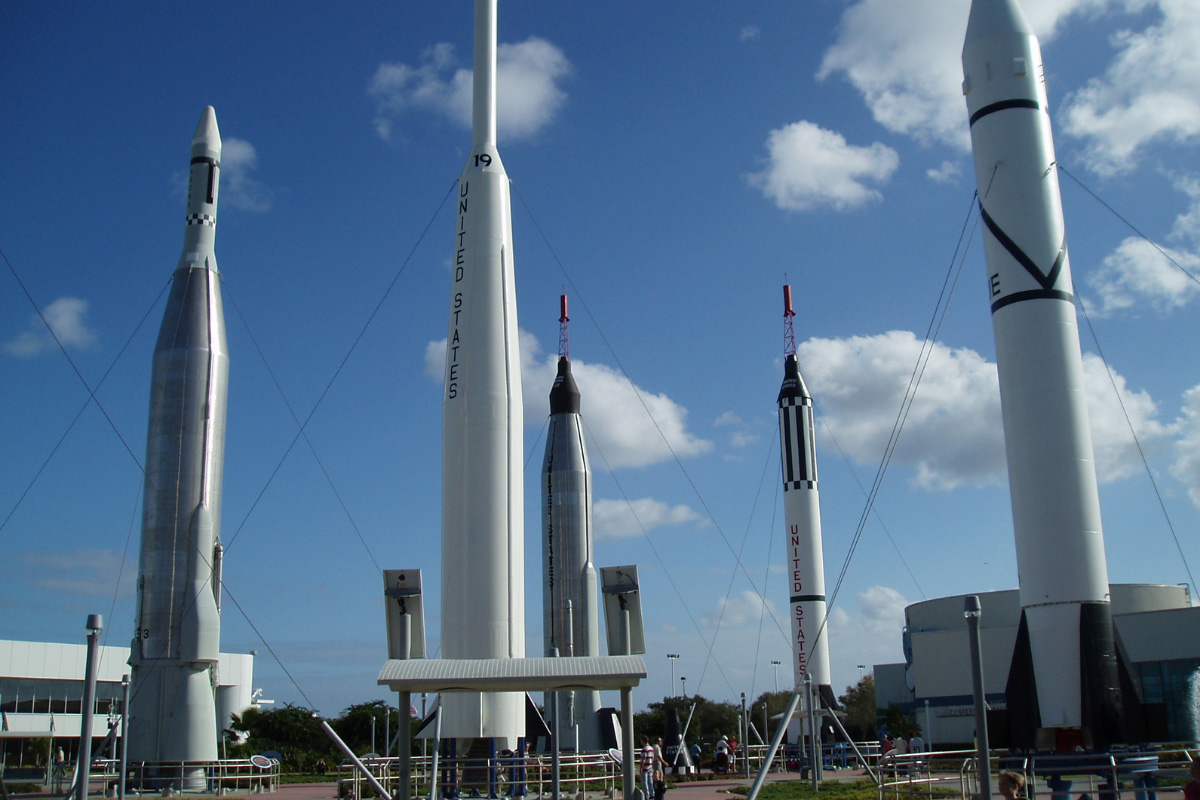 You can also learn more about NASA's space shuttle programme and upcoming space exploration activities. The Kennedy Space Centre is truly one of the most unique places to visit in Florida and is both fun as much as it is educational.
5. Watch a Rocket Launch at The Kennedy Space Centre Visitor Complex
If you're planning on travelling to Orlando, Daytona Beach or Cocoa Beach, it's worth taking a look at Space X's launch schedule to see if you can fit a live rocket launch into your schedule. It is one of the most exciting things you can do whilst in Florida.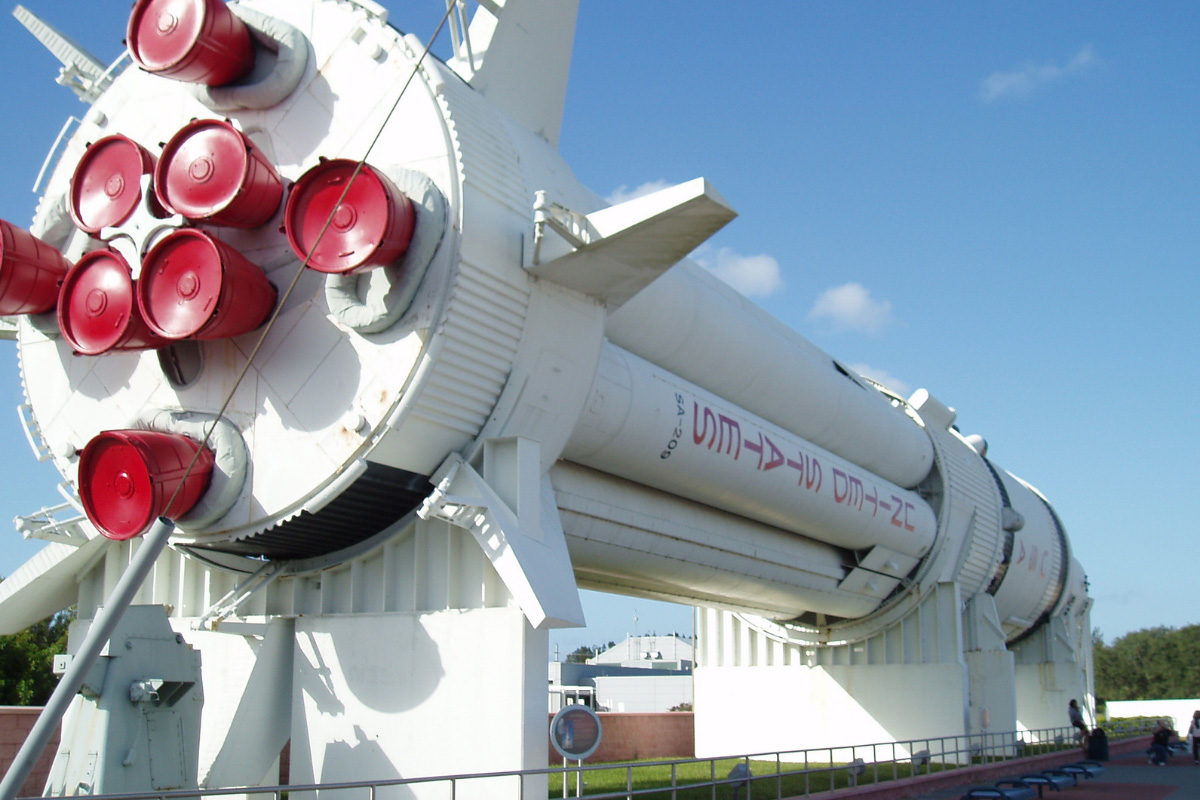 Kennedy's Visitor Complex provides one of the closest public viewing of rocket launches with live commentary from space experts. The launch pads are only a few kilometres/miles from the viewing areas.
Prepare to be blown away as you feel the rumbling of a spacecraft as it ascends into space. If you get the chance, be sure not to miss out on a night launch, as it is truly spectacular.
6. See a NASCAR Race at the Daytona International Speedway
Daytona Beach is known for two things: its stunning beach and being the home of NASCAR. The Daytona International Speedway opened in 1959 and is one of the most iconic tracks in the world.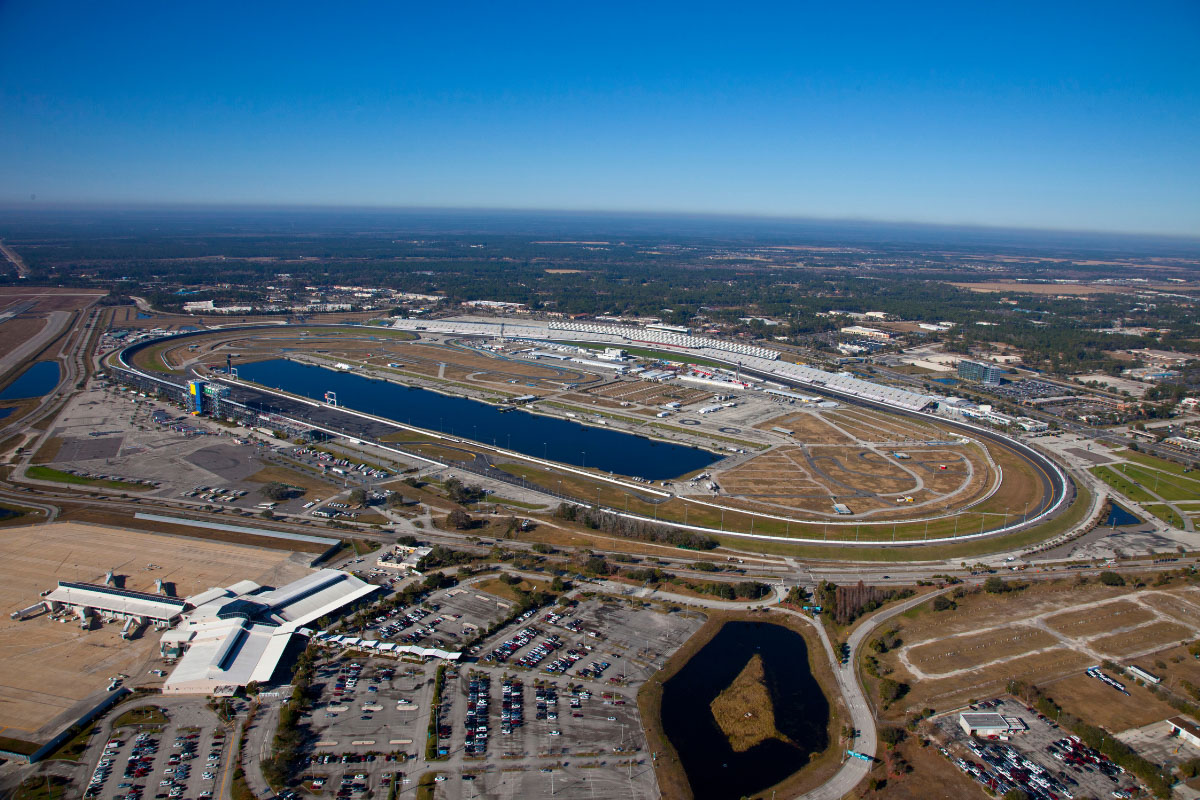 It's the home ground of one of the most prestigious sporting events in motorsport history, the Daytona 500. If you're in Daytona Beach don't miss out on the opportunity to mix with petrol heads and watch one of the Daytona 500 races.
When you're not watching this thrilling race, you can also participate in one of the speedway tours and enter the exciting world of NASCAR racing.
7. Spend the Day at Legoland
If you're a lego lover, then there's no better place to indulge in your love for lego than at the Legoland Florida Resort. Legoland is a thrilling amusement park with hundreds of activities and attractions.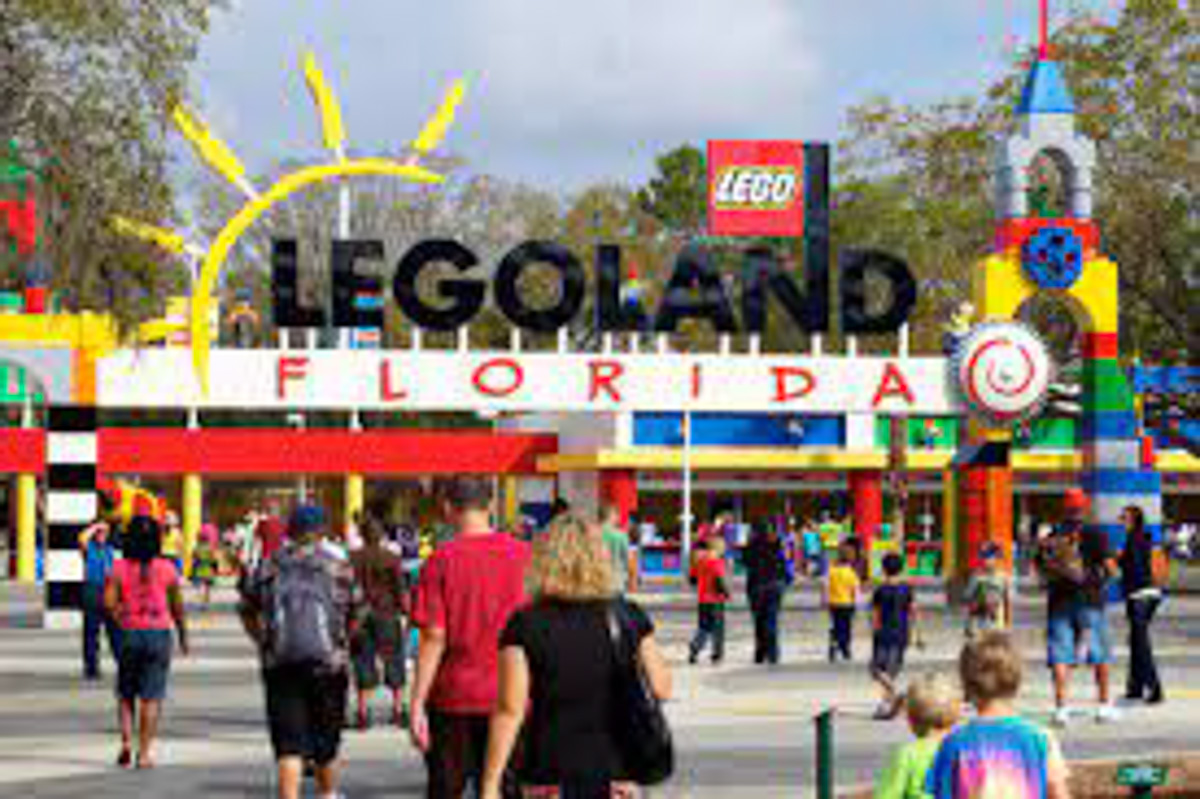 There's even a water park where all the rides and activities look like lego pieces. Whether you're a little or big kid, Legoland is the perfect place to spend a day or two and have some fun.
The best part is that there's an awesome lego themed hotel in the resort that you can stay at to make sure you're not too far from all the exciting action.
8. Take Pictures at the Wynwood Walls
The Wynwood Walls are an exciting outdoor attraction featuring colourful street murals by artists from around the globe in the bustling city of Miami.
The walls were created in 2009 by a Miami local and are now considered as an Urban Graffiti Art Museum. Wynwood Walls is the right place to go if you're looking for a place to take some cool pictures to post on Instagram.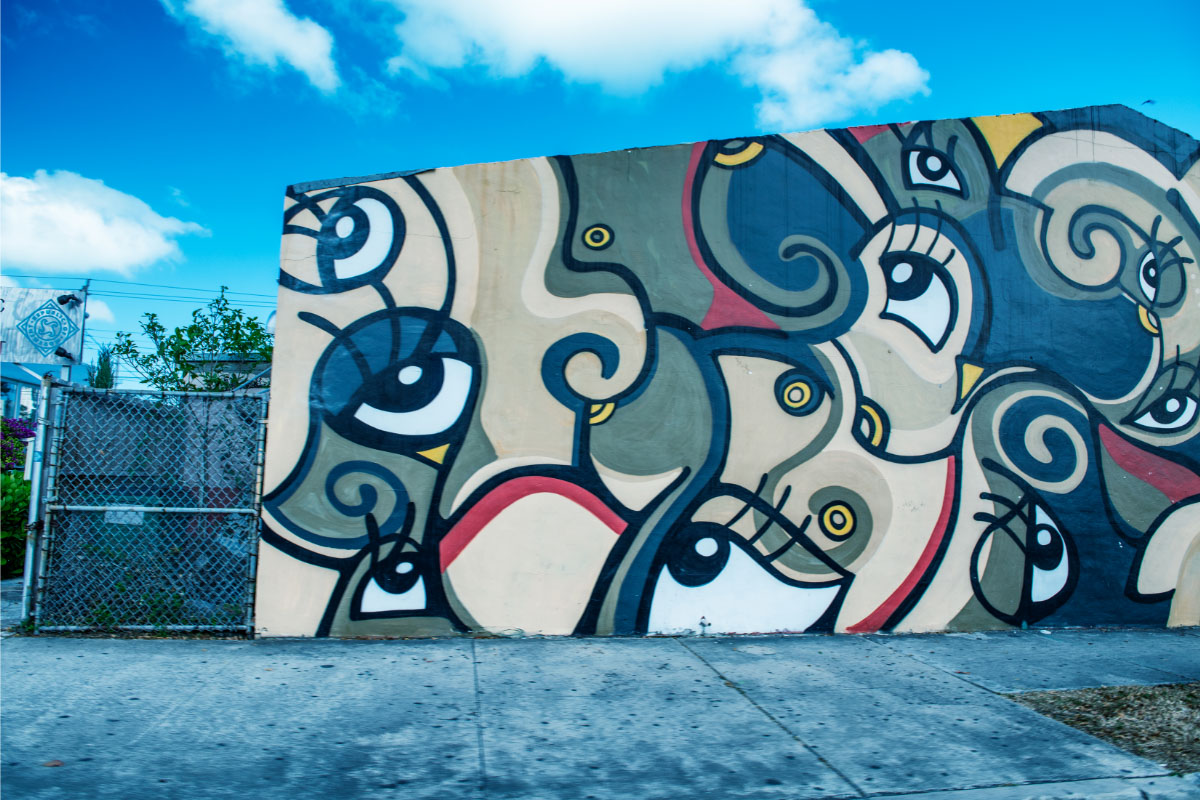 You can explore this area by yourself or opt for a private guided tour or golf cart tours led by one of the local artists.
9. Visit The Bok Tower Gardens
Florida is home to a number of beautiful gardens and sanctuaries, and the Bok Tower Gardens is no exception.
Bok Towers is located north of Lake Wales and sits between Orlando and Tampa. This stunning garden and bird sanctuary covers 250 acres of land and is home to a vast number of plants, flowers and trees.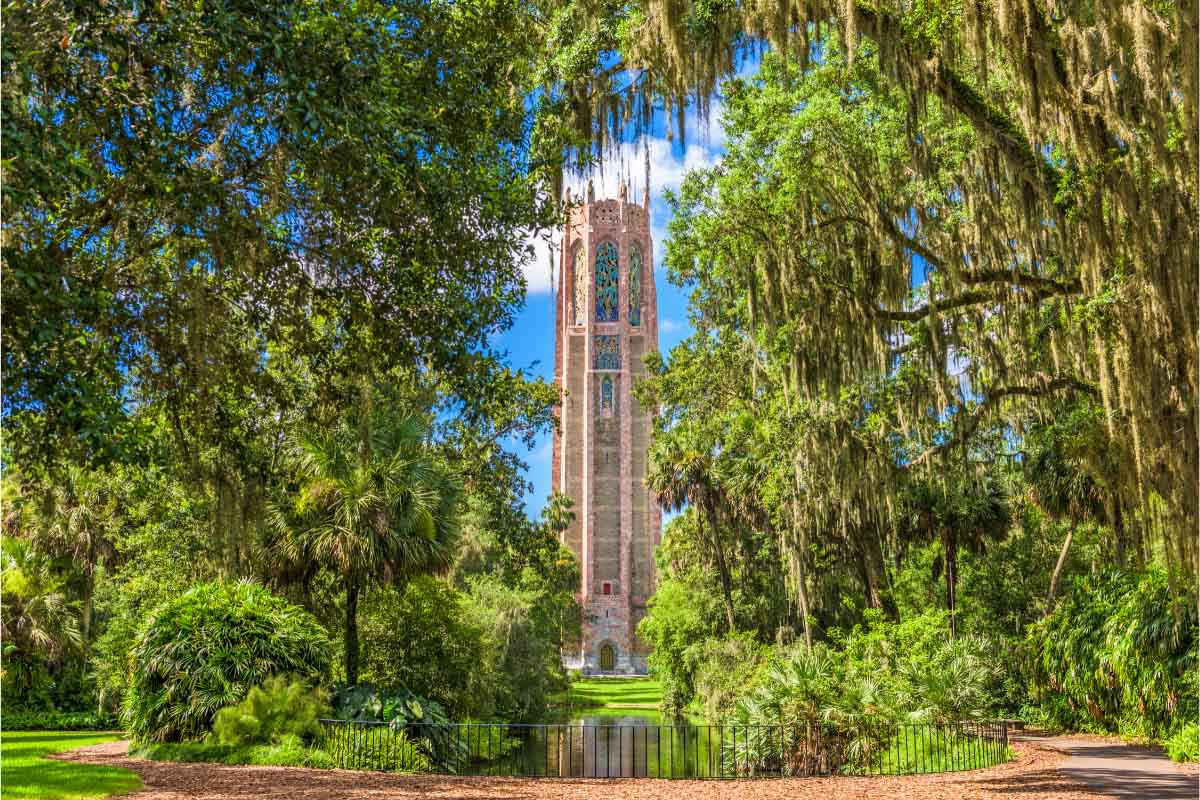 It is also home to 126 species of birds and endangered species of Gopher tortoise, as well as many other types of animals. The garden features hiking trails, a children's garden, a 20 room Mediterranean-style mansion and a 62 metre (205-foot) art deco building.
The Bok Tower Gardens is a must-see attraction when visiting Florida and is a great place to relax or spend the day with family and friends.
10. Visit the Dome Houses
The Dome Houses located near Cape Romano is one of the most unique attractions in Florida. These houses are a set of six dome-shaped, concrete houses surrounded by water.
These Igloo-like houses sit above the water on stilts and look as if they are slowly slipping away into the ocean. They were built in the 1980s by a retired oil producer and inventor whose aim was to make them a self-sufficient, eco-friendly housing complex.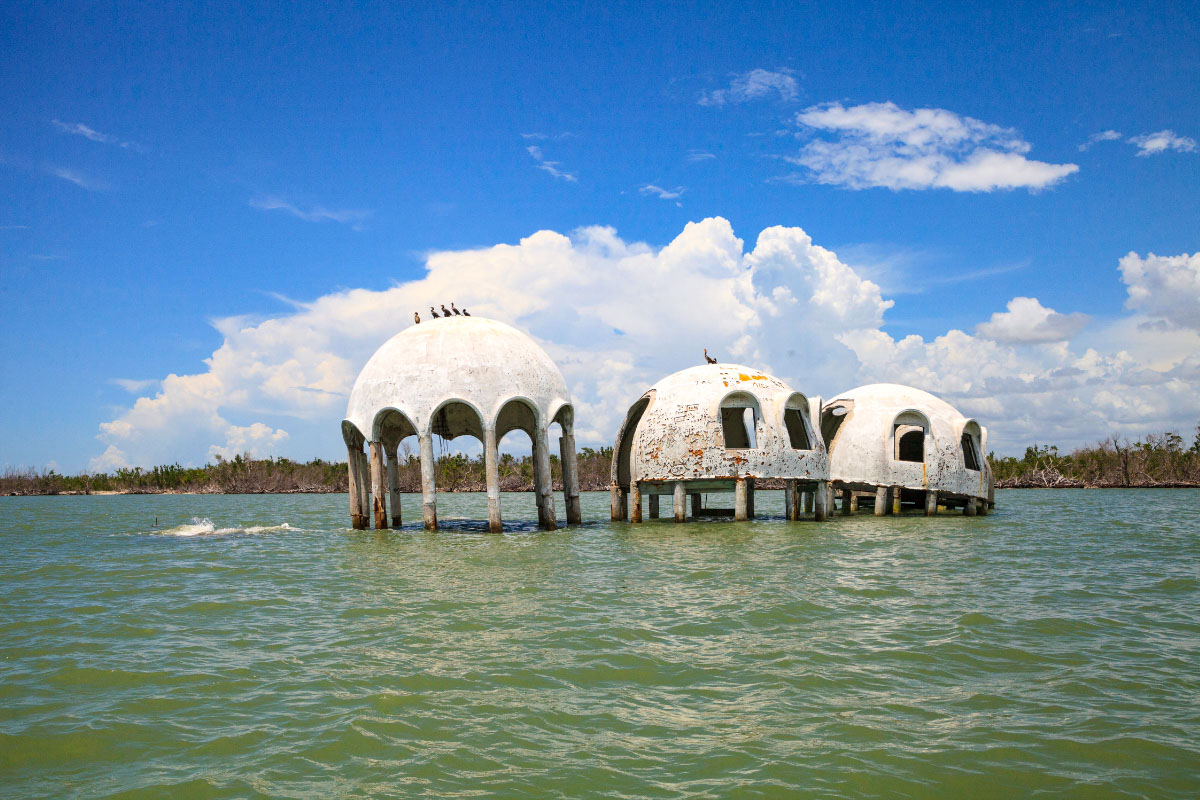 In the early 90's he abandoned these houses, and today they sit uninhabited. They can only be accessed from Marco Island, and make for an interesting day trip.
11. Spend the Day at Butterfly World
Located in Coconut Creek, Butterfly World is one of the most unique attractions to visit in Florida. It opened in 1988 and is the largest butterfly park in the world.
This facility is home to more than 20 000 butterflies from almost every corner of the world. Recently it has expanded to feature more than just butterflies and now has a botanical garden, butterfly farm and research facility.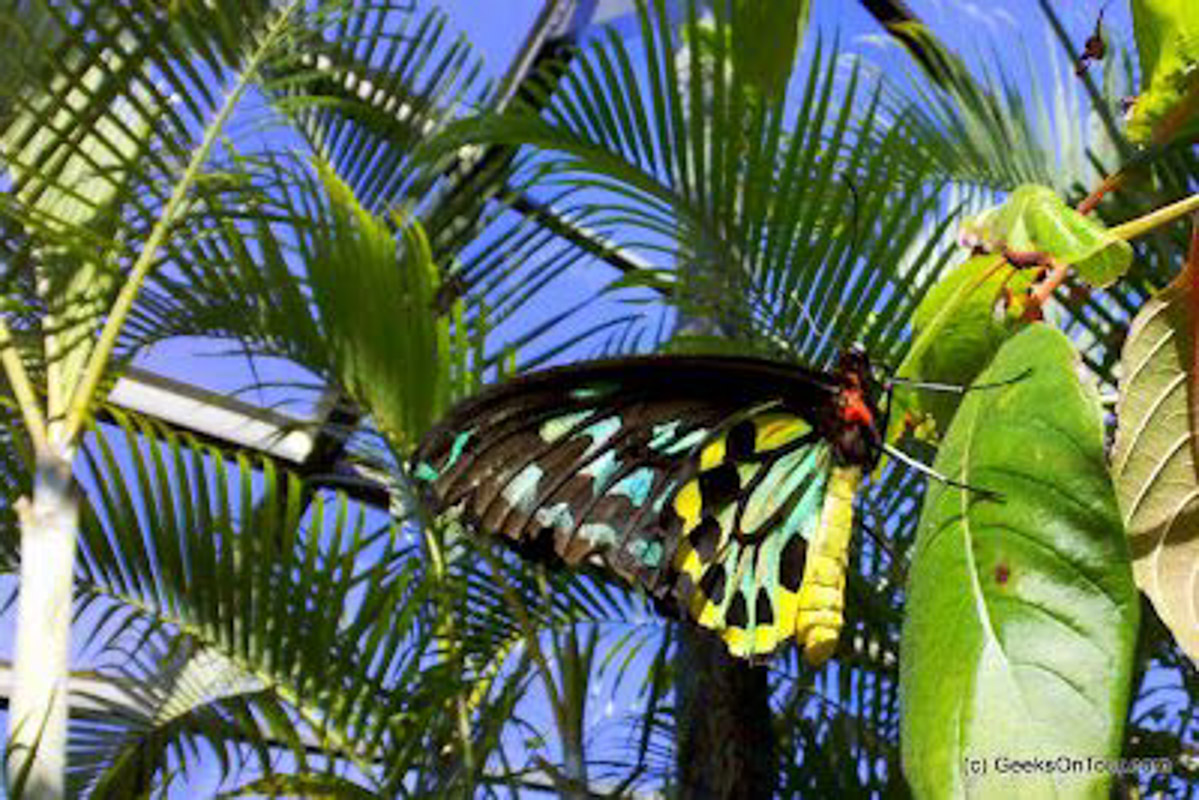 It also has aviaries for tropical birds. This is a great place to learn about the different species of butterflies and gain some more insight into the conservation of butterflies.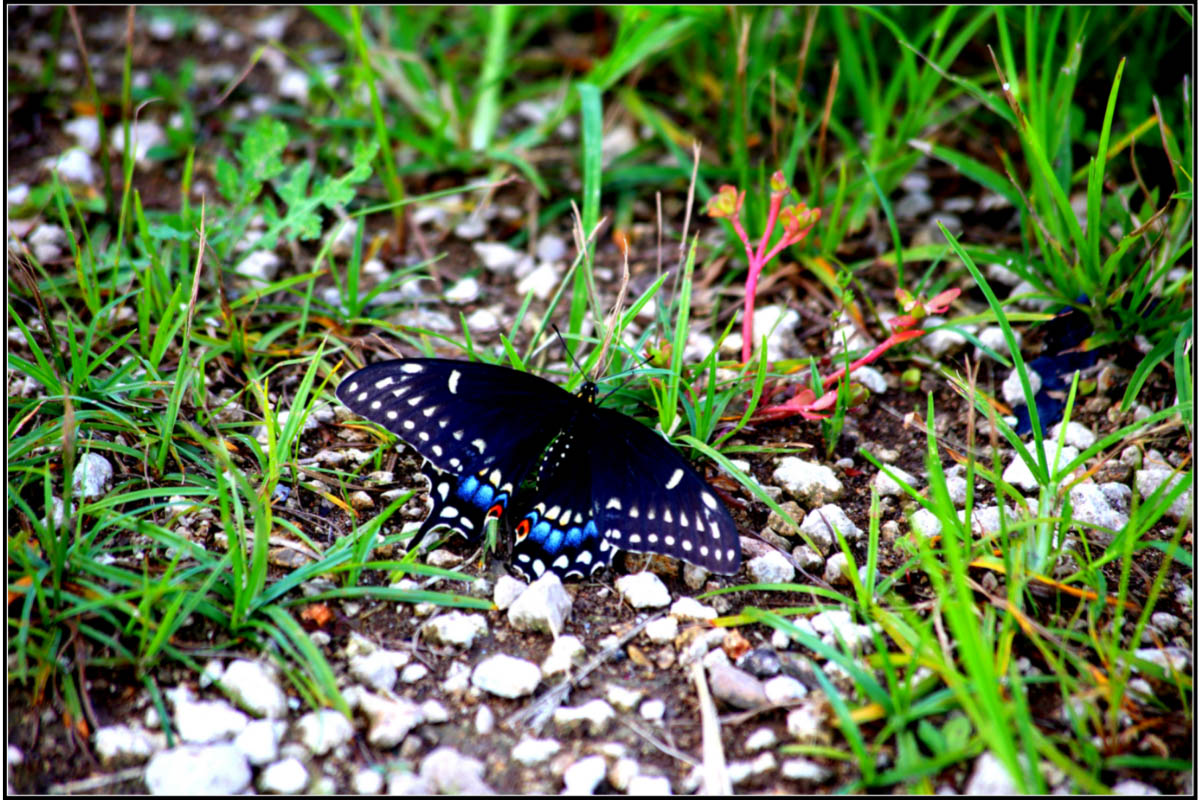 12. Explore the Florida Volkswagen Graveyard
The Florida Volkswagen Graveyard sits just off Route 301, which runs from Sarasota to Jacksonville. While this may not be an expected stop on most people's Florida bucket list, it is an exciting attraction to visit.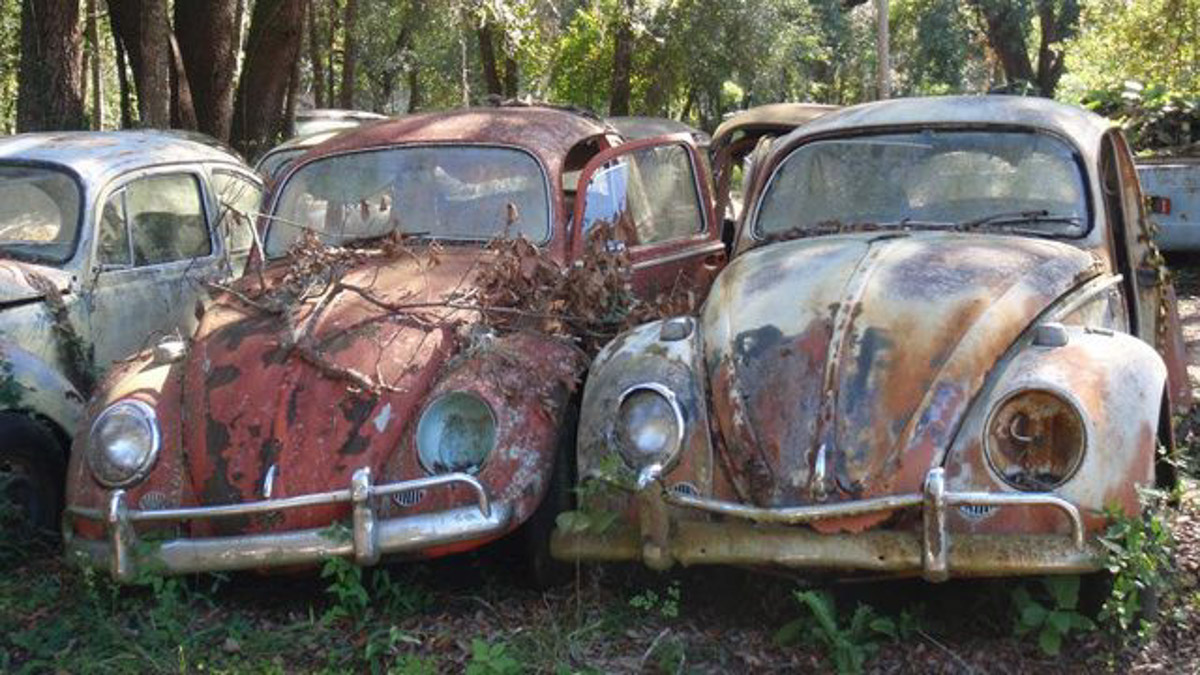 It is often referred to as the "Disney World for Volkswagen enthusiasts". This junkyard features over 300 000 Volkswagens that range from VW bugs, buses, Ghia's and even cars from World War II.
The Volkswagen Graveyard is truly unique and is a great place to take some cool photos to remember your trip to Florida.
13. Visit St. Augustine
The historic old town of St. Augustine is another major attraction in Florida, and is a 45-minute drive from Jacksonville. This charming place is the first European settlement and the oldest city in Florida.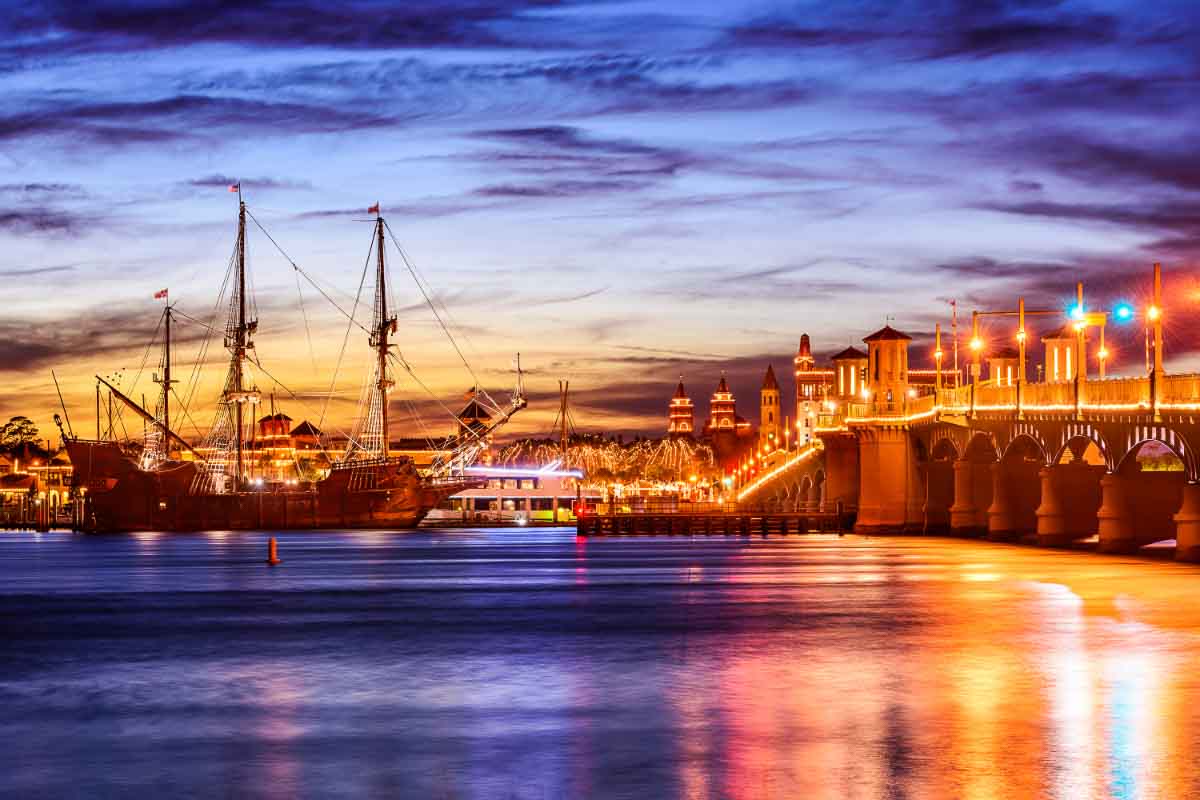 If you're looking for a unique experience, you can take the Ghostly Experience tour to learn about the history of the town and the spooky legends of the settlement.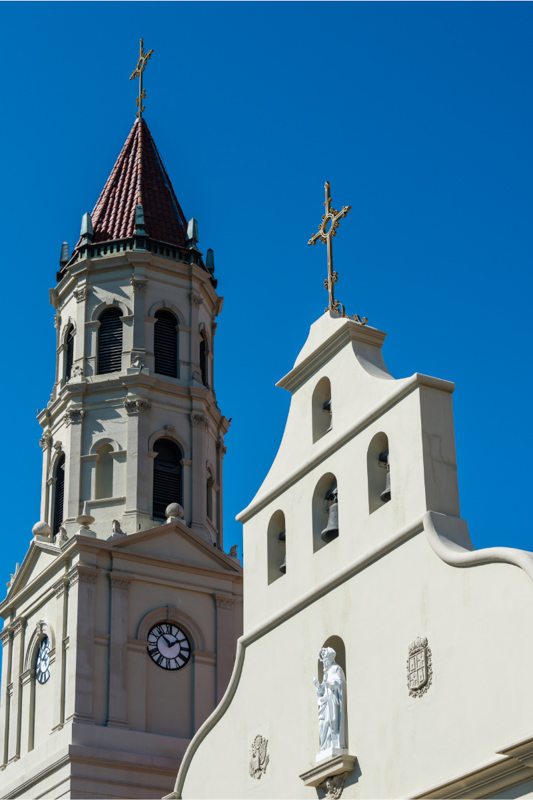 The tour will take you through St. Augustine's cobblestone streets where you'll stroll past storefronts, churches and cemeteries. And St Augustine is home to a couple of castles in Florida.
14. Take a Tour of the St. Augustine Distillery
The St. Augustine Distillery is one of the oldest distilleries in America. It is known for its range of finely distilled spirits made from locally sourced ingredients.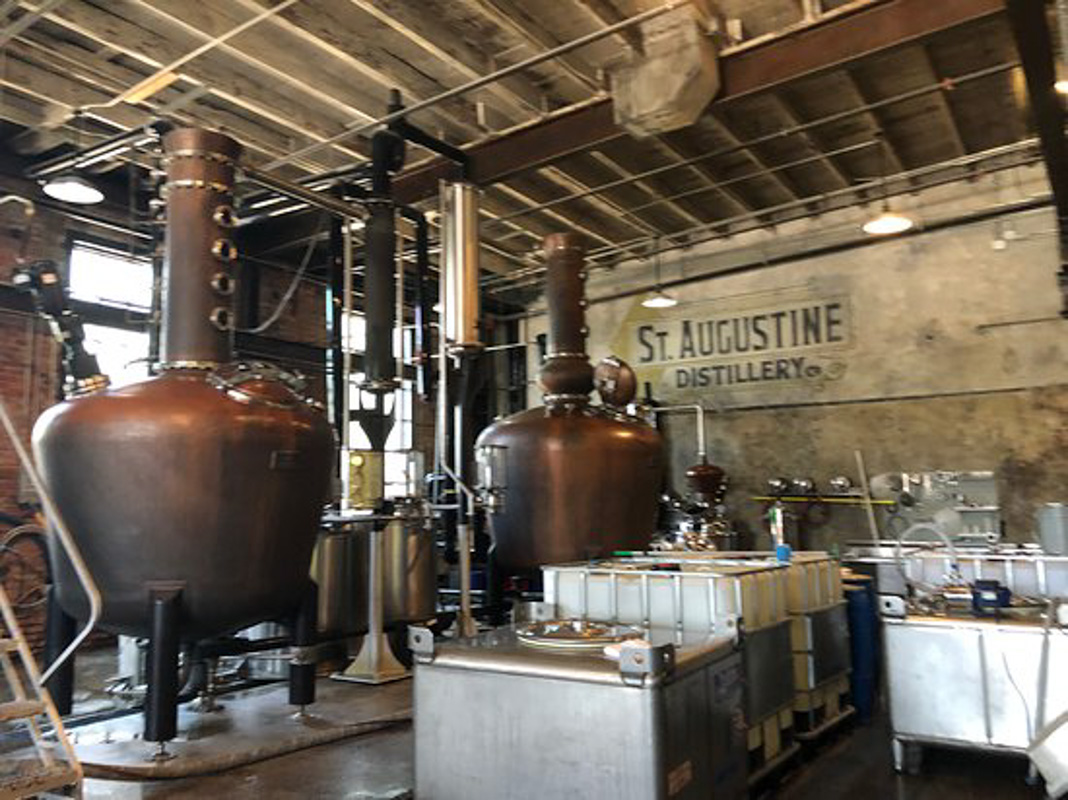 You can take a free tour of the distillery and get a glimpse of its production processes. You'll get to see how they make pot-distilled rum, cane vodka, and gin including a special barrel-finished gin.
After taking the tour you can head upstairs to the Ice Plant Bar where you can enjoy an expertly crafted cocktail.
15. Dine Aboard the Murder Mystery Dinner Train
For a truly unique experience hop aboard the Murder Mystery Dinner Train and discover the beauty of Southwest Florida as you travel along the historic Seminole Gulf Railway.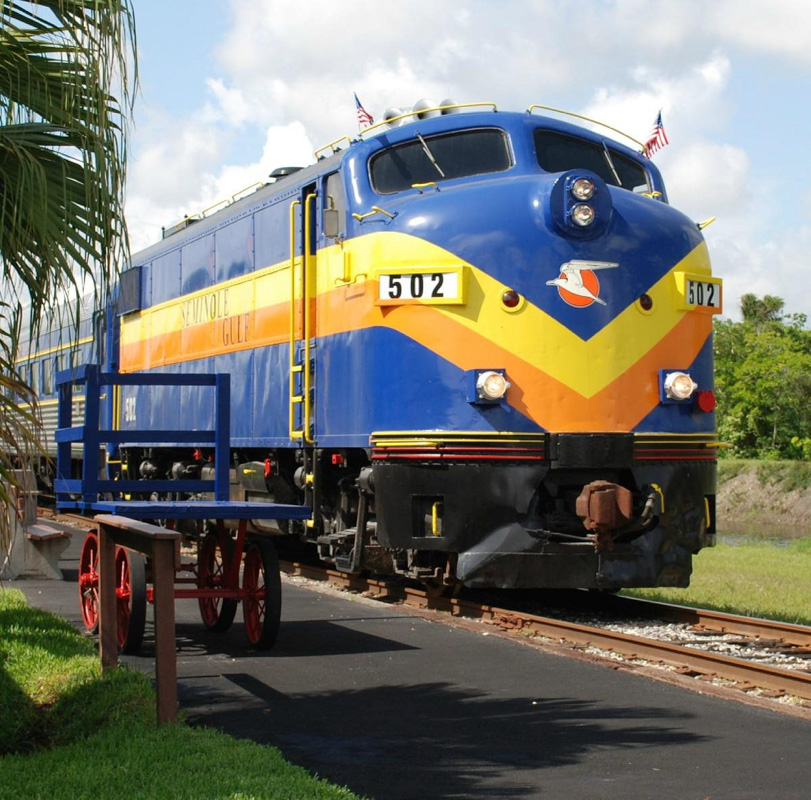 This intriguing dinner and theatre experience departs from the Colonial Station in Fort Myers on a 64 km (40-mile) journey. Along the way, a live murder mystery show plays out onboard, while guests are served a delicious five-course meal.
The journey lasts for about three hours, and a new murder mystery show plays throughout the year.
16. Visit the Castillo De San Marco
The Castillo de San Marcos (St. Mark's Castle) is the oldest masonry fort in the United States located on the western shore of Matanzas Bay in St. Augustine. Castillo de San Marcos was built in 1672 by the Spanish in order to protect their land claims in the New World. Today, the Castle is the oldest structure in St. Augustine and one of its main attractions.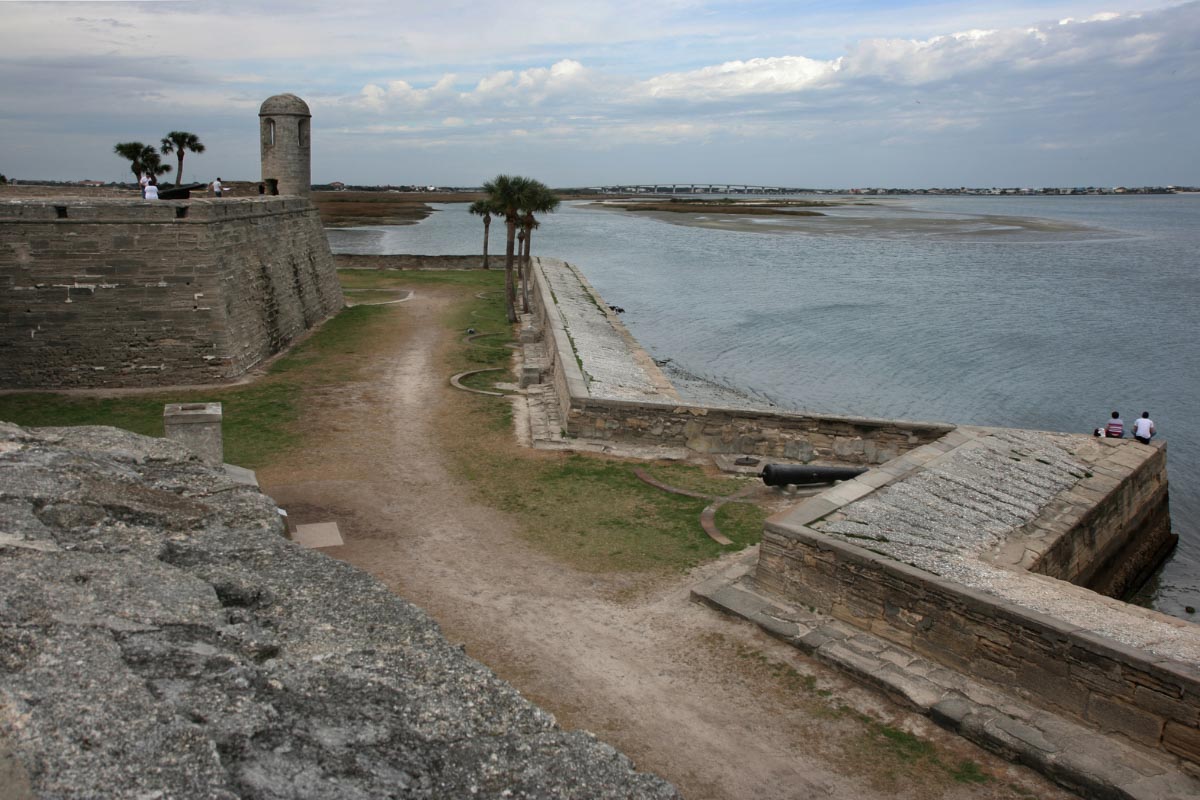 There's plenty to do in the castle's complex, and regular tours are held, free of charge with the purchase of an admission ticket into the castle.
Once there, you can check out the rooms that once held soldiers and prisoners, its beautiful interior courtyards and gun decks that look out over the city. There are also cannon firings and weaponry demonstrations that take place over the weekends.
17. Check out The Art Scene at Coconut Grove
If you're a fun-loving person and looking for the funky side of Miami, be sure to make your way over to the Coconut Grove neighborhood, located along the shoreline of Biscayne Bay.
Coconut Grove is Miami's oldest neighborhood and was founded in 1925. It's an eclectic mix of restaurants, businesses, shops and hotels and has a laid-back bohemian vibe about it.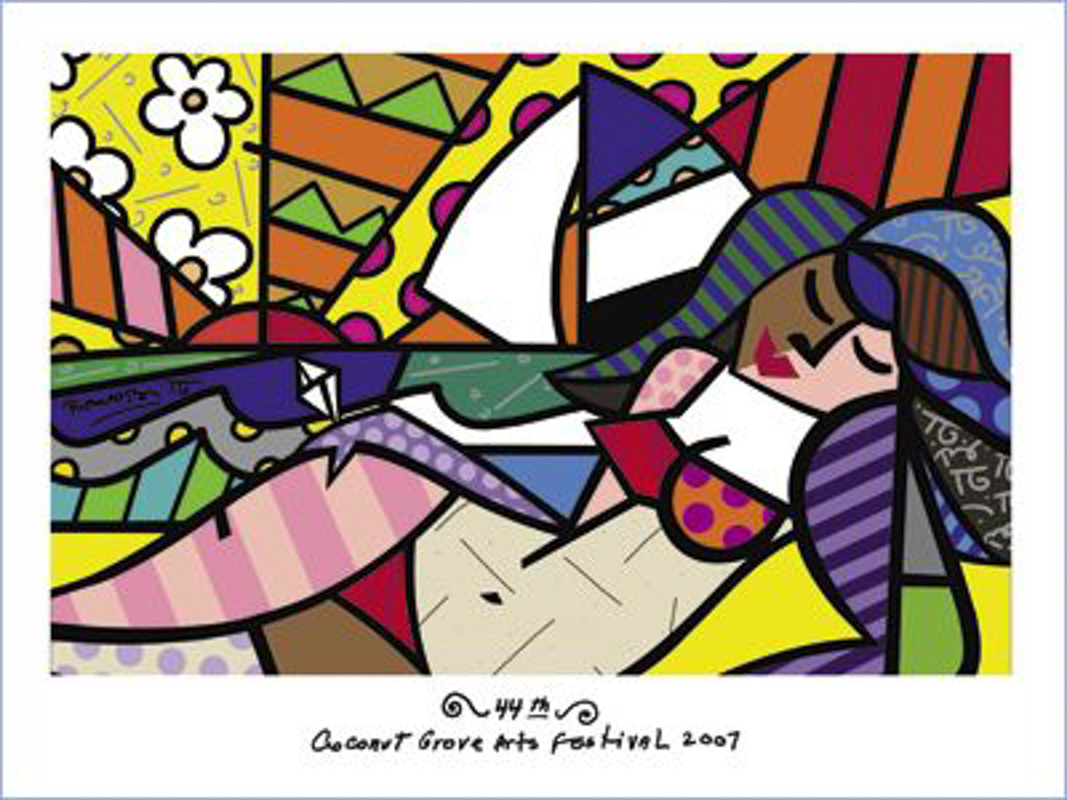 This area is also best known for its bustling art scene. From sidewalk art festival shows to more formal gallery shows, Coconut Grove is an art lovers paradise. Even if you're not an art lover, it's still worth the effort to visit this colourful neighbourhood.
18. The Dali Museum
The Dali Museum is an art museum in St. Petersburg, Florida dedicated to the work of Spanish surrealist artist Salvador Dali. The museum is weird and wonderful, and as unique as Dali himself.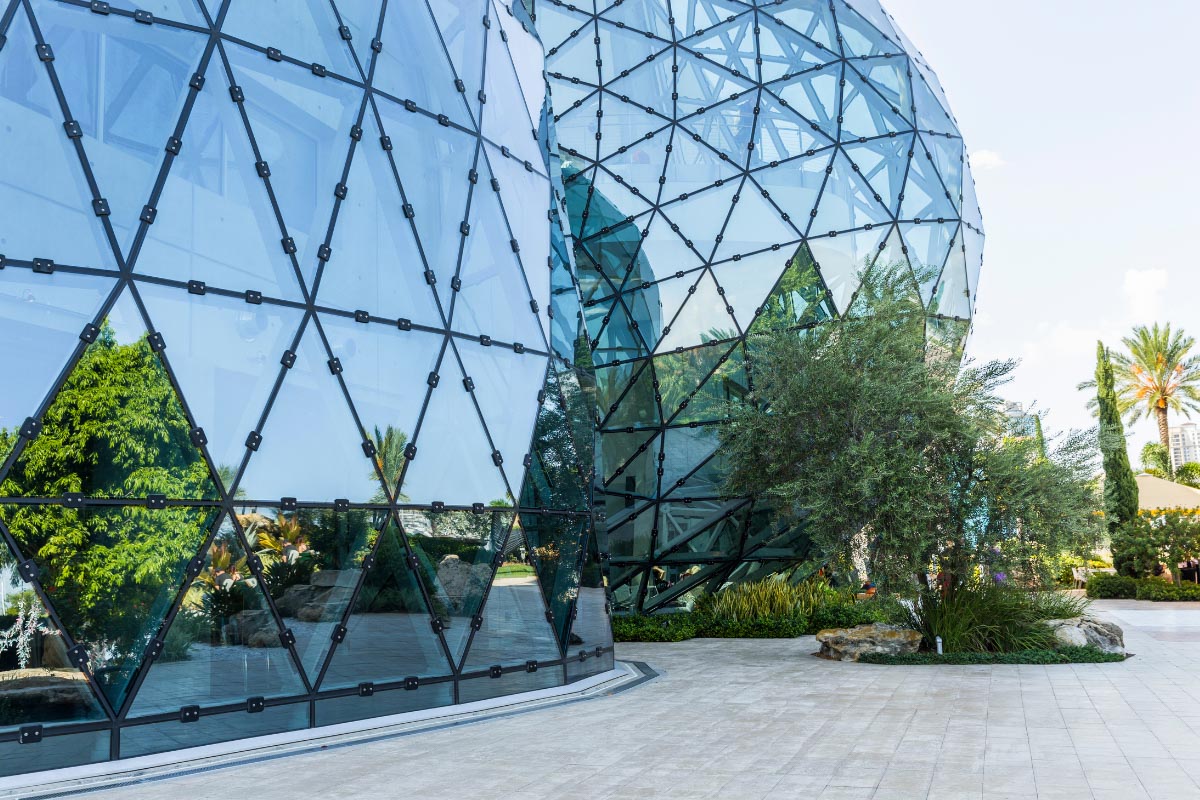 The museum houses the largest collection of Dali's work outside of Europe. It is set on the picturesque waterfront of St. Petersburg, and the building is a true work of art itself with futuristic architectural elements.
If you're an art lover, or interested in architecture, then the Dali Museum is a great place to visit. Be sure to check out the tranquil garden, quaint cafe and gift shop while you're there as well.
19. Relax in The Venetian Pool
The Venetian Pool is an aquatic facility unlike any other in the United States. The Pool is located in the Coral Gables and was completed in 1924.
This unique attraction was carved from a coral rock quarry and is filled with 820 000 gallons of water from a nearby natural spring through the pools' artisan-crafted walls. During the spring and summer months the pool is drained and refilled daily.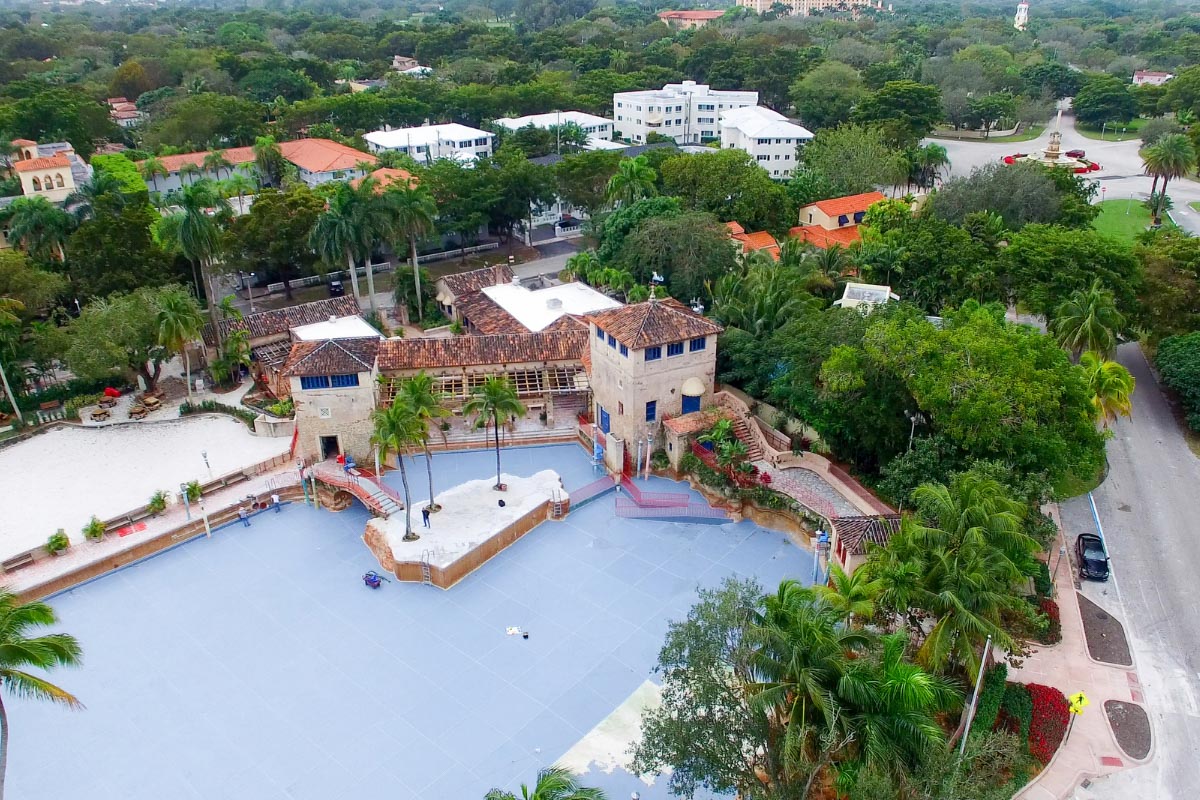 Along with the pool, there are two wonderful waterfalls, two large historic towers, plenty of palm trees, bridges, hidden caves, a children's pool and cafes.
The Venetian Pool also has incredible views of the surrounding area and is a great place to cool off and escape from the smoldering Florida heat.
20. Visit Weeki Wachee Springs State Park
Known as the "City of Live Mermaids", Weeki Wachee Springs State Park is an enchanting 12 000 acre reserve located on the Weeki Wachee River. It's known for its legend of mermaids and there's a live mermaid show that takes place every day.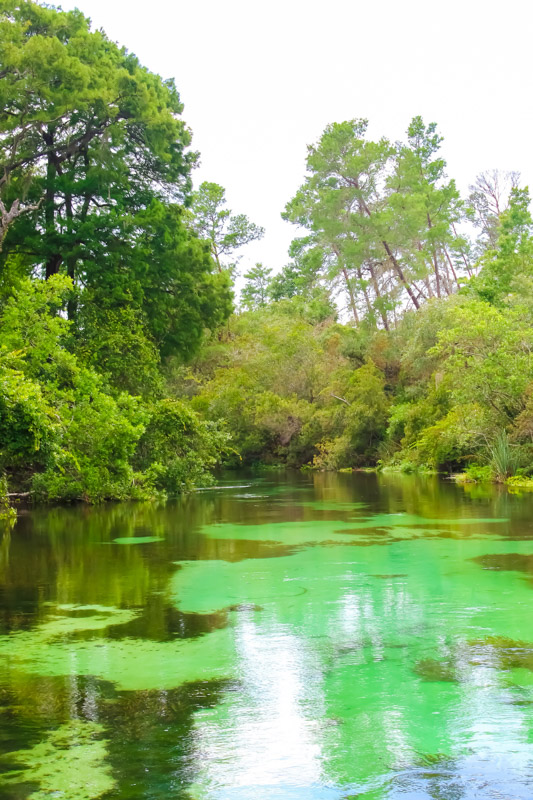 If you're not keen on looking for these mythical creatures of the sea, there's no need to worry, as Weeki Wachee has a ton of other great activities. The park features cool clear waters, water slides and even diving platforms.
You can also swim in the pristine waters of the nearby Buccaneer Bay, or paddle down the waterways of the Weeki Wachee River. Take a boat cruise, learn about the Florida wildlife or just relax and enjoy a picnic with an amazing view.
21. Snorkel or Dive At Ginnie Springs
Ginnie Springs is another one of Florida's greatest attractions located near the Santa Fe River. It's known for its crystal clear and cold waters, making it a great place to chill out during a hot summer's day.
It has seven springs that are a cool 22℃ (72℉) all year round. It's one of the best places to snorkel or dive in as you can see right down to the bottom of the spring. Apart from snorkelling and diving there are a ton of other great things to do here.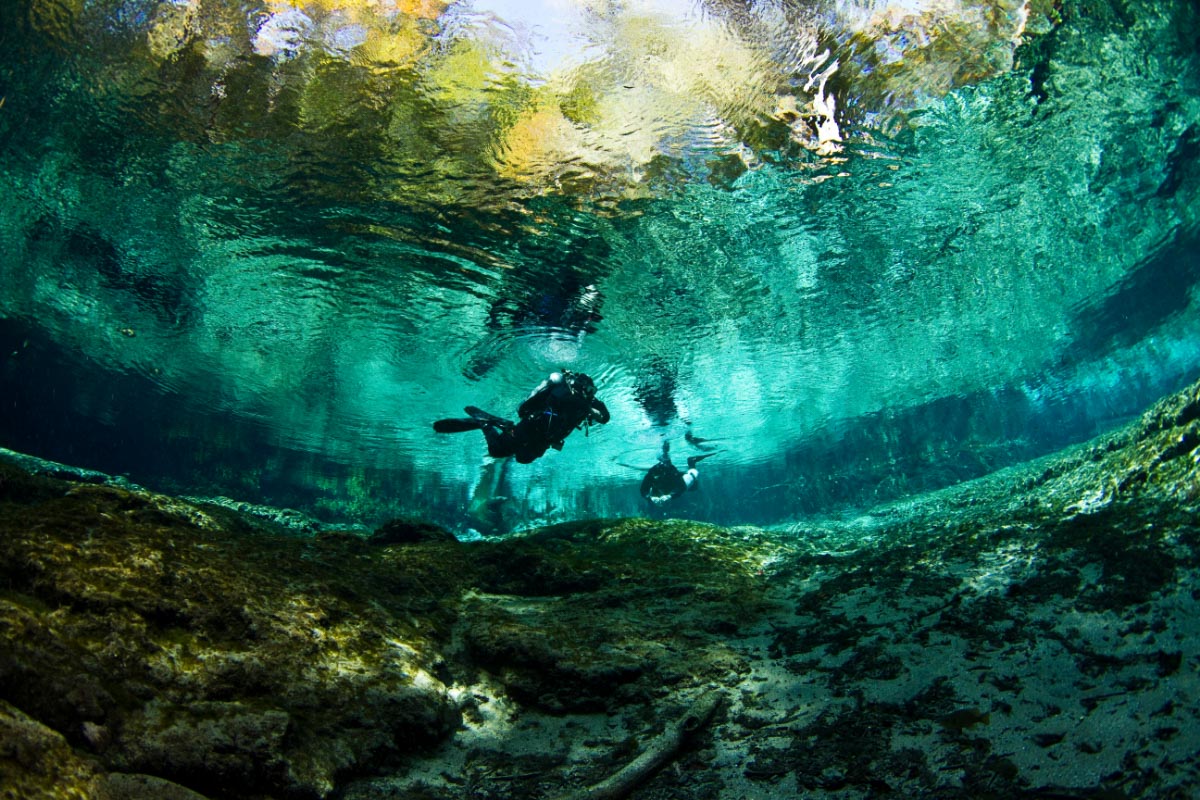 After a refreshing dive, you can float around in an inflatable tube, kayak or paddleboard around. Alternatively, you can just take a leisurely swim around the springs.
You could also opt to stay at Ginnie Springs as it has camping grounds that cover over 200 acres in the woods, and by the water's edge of the springs.
22. Travel Through the Everglades In an Airboat
If you're looking for an adventure to get your adrenaline pumping, then riding around the Florida Everglades in an airboat might just be the thing for you.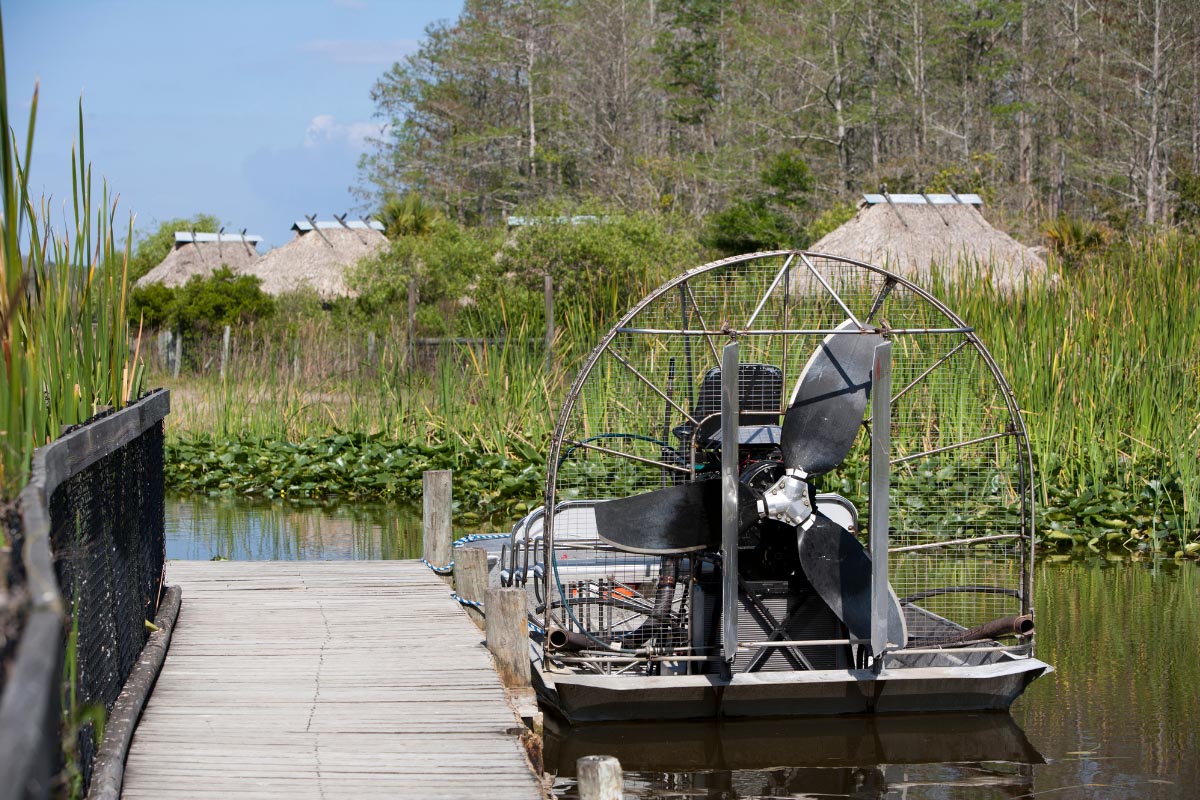 The Everglades is made up of coastal mangroves, marshes, and pine flatwoods. It's also home to a vast array of wildlife which includes turtles, birds, alligators, the Florida panther and the West Indian Manatee.
An airboat tour through this incredible area is a great way to discover and learn more about the wildlife in this area.
23. Visit the Ringling Museum
One of the coolest places to visit in Florida is the Ringling Museum. The museum is located in the city of Sarasota and was established in 1927 to celebrate the legacy of John and Mable Ringling.
The Ringling is a 66-acre multicomplex facility made up of the John and Mable Ringling Museum, and the Circus Museum, which is an interactive American circus museum like no other.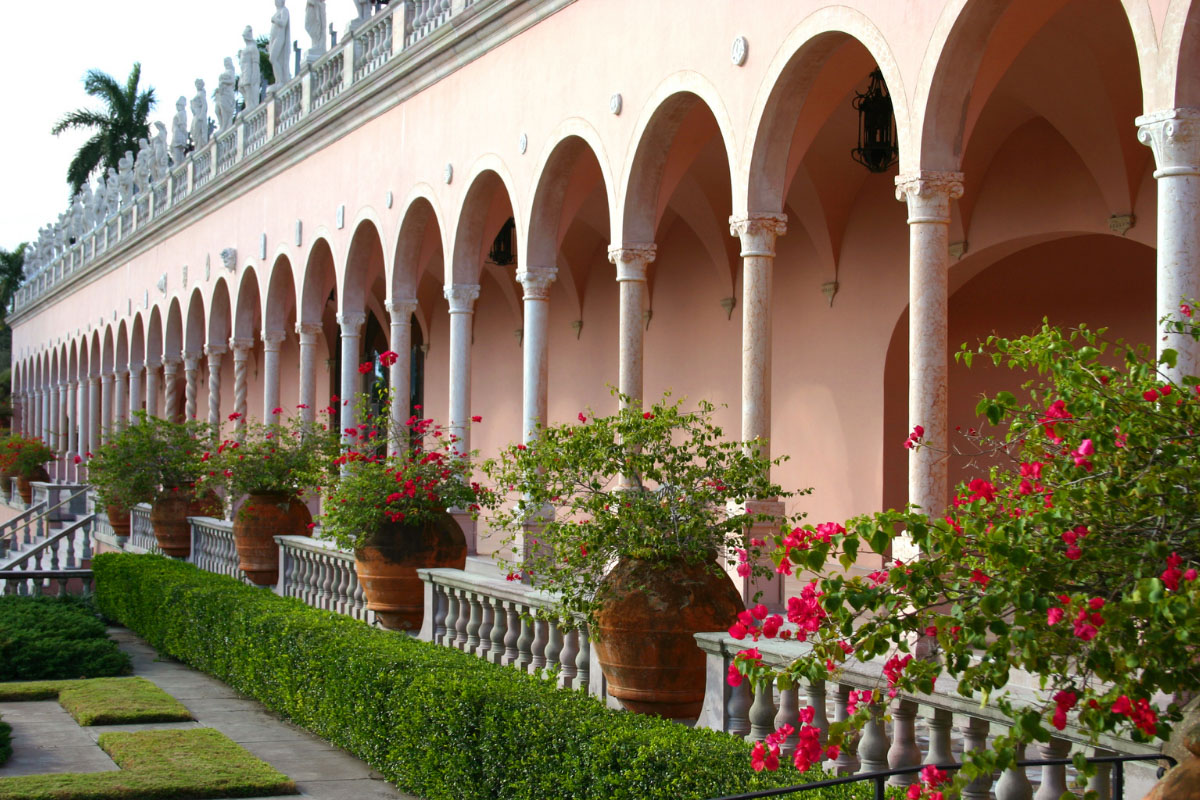 It has 21 galleries containing European paintings as well as Cypriot antiquities, and Asian and American contemporary art. The museum's collection currently has more than 10 000 objects including a world-renowned collection of Dutch artist Peter Paul Rubens' paintings.
The museum is also home to the gorgeous Bayfront Gardens and the impressive Ca'd'Zan Mansion. This museum is truly spectacular, so give yourself enough time to explore it.
24. Visit the St. Petersburg Sunken Gardens
The St. Petersburg Gardens is truly a one-of-a-kind attraction and a must-visit while you're in Florida. As its name suggests, it's unique because it was originally formed by draining a sinkhole.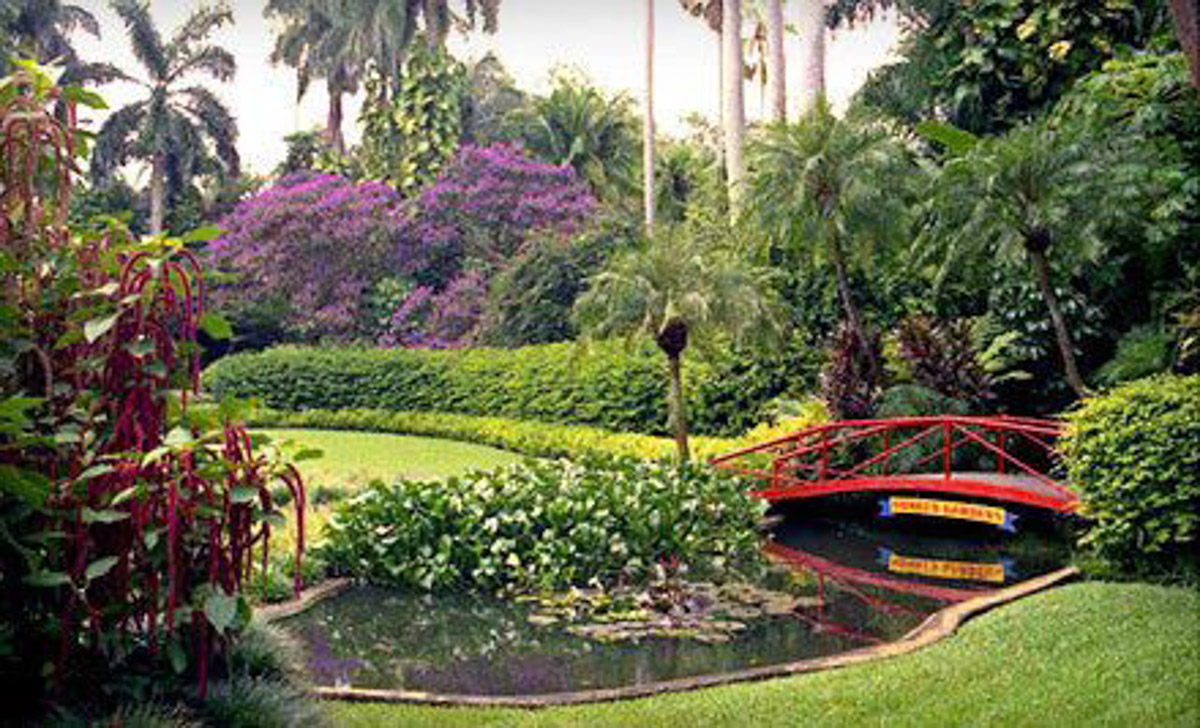 It is considered to be the city's oldest living museum and is a botanical paradise in the middle of the city. It is home to some of the oldest tropical plants in Florida and has over 50 000 plants and flowers.
The St. Petersburg Gardens are made up of lush demonstration gardens, cascading waterfalls, and even have a flock of flamingos. The gardens have tours, special events, and even horticultural programs.
25. Spend the Day at Universal Studios
No visit to Florida would be complete without visiting one of its exciting theme parks. No matter what your age is, you're never too old to enjoy a day out at a theme park.
Universal Studios is made up of three unique parks, Universal Studios Park, The Island of Adventure, and the Volcano Bay Water Park. The park features thrilling rides based on various movies produced by Universal.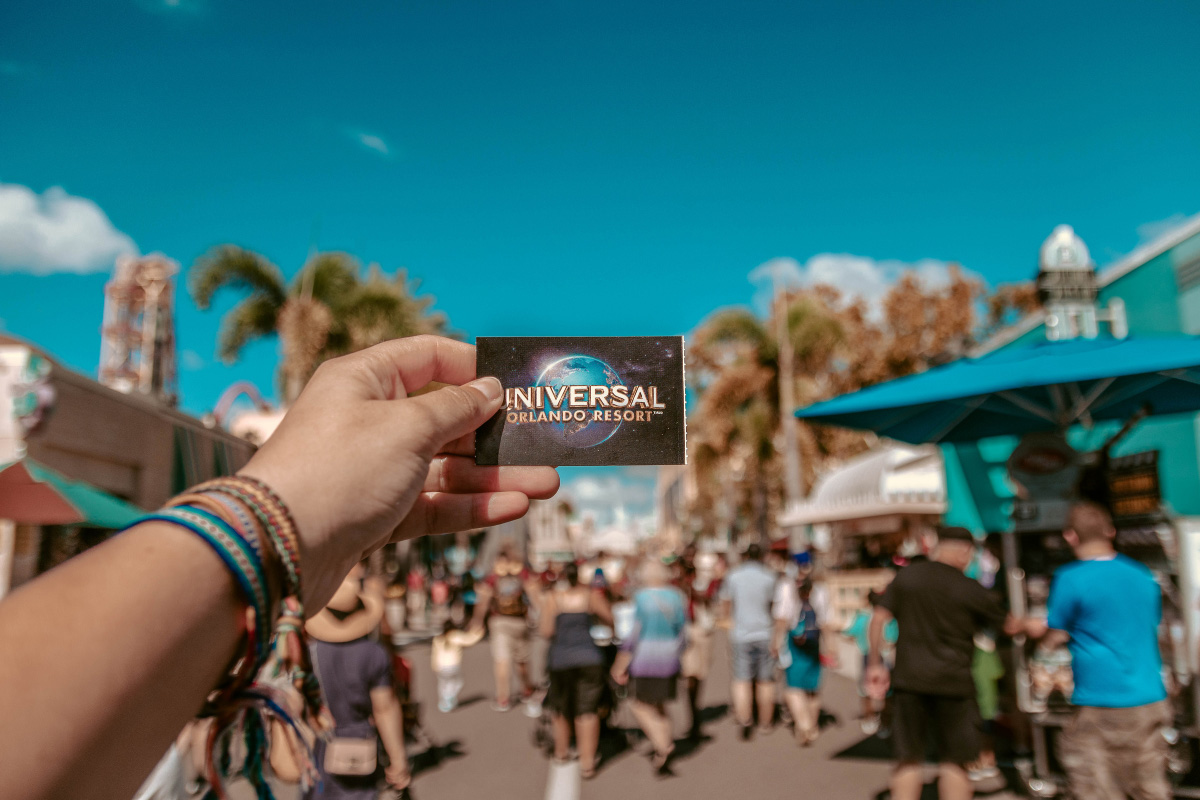 The most popular of these include the Jurassic World VelociCoaster, The Wizarding World of Harry Potter, which features its own Hogwarts Express train, and the various Marvel-themed rides.
Inside the park, you'll also find the lovely Universal CityWalk which is the premier destination for shopping, dining and entertainment in Orlando.
26. Discover the Dry Tortugas National Park
A visit to the Dry Tortugas National Park is an activity that will certainly not disappoint you while you're in Florida.
The Dry Tortugas is spread across seven islands located along the Gulf of Mexico. They are located just east of the island of Key West and are considered to be one of the world's most unique eco-attractions.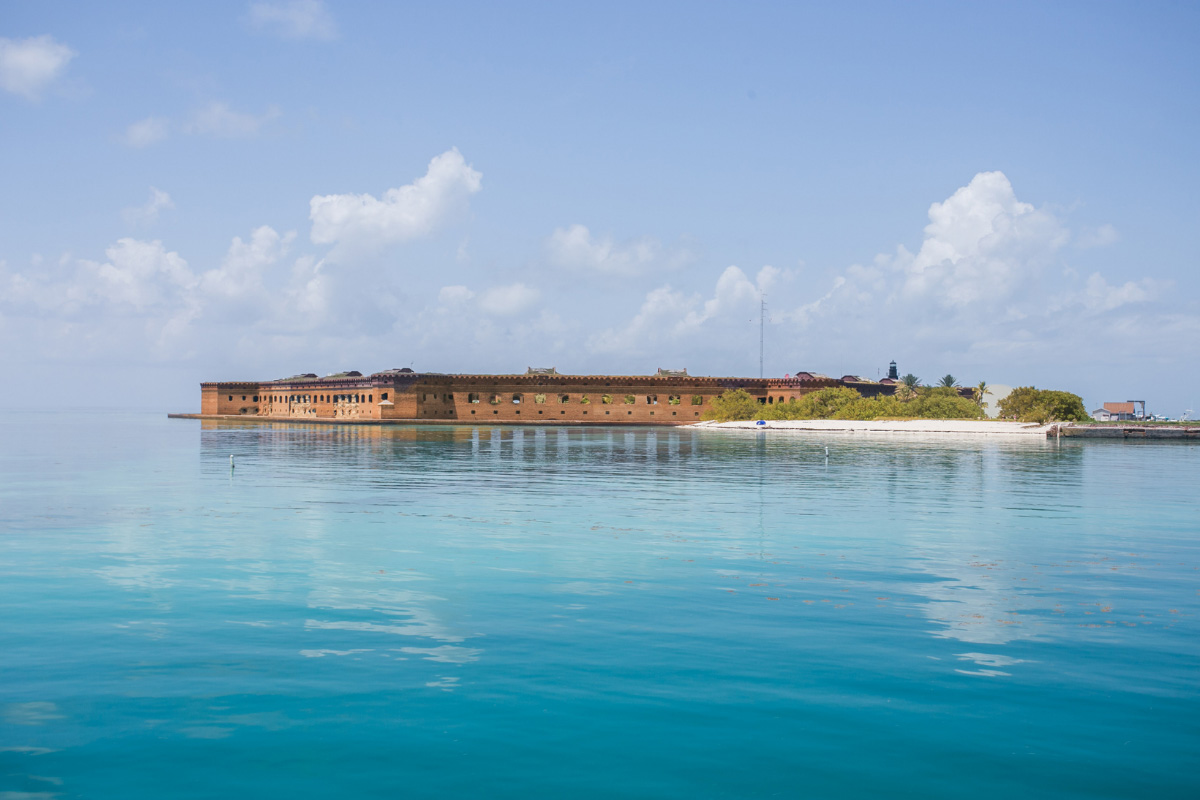 The crown jewel of the park is the imposing Fort Jefferson, a military fortress that was used to protect Florida in the Civil War. You can admire this megastructure and learn about its history.
If history isn't your thing, you can enjoy hours of snorkeling, exploring, or lazing around one of the beaches in the park.
27. Walk Through Duval Street in Key West
Duval Street is a downtown commercial zoned street in Key West that stretches just over 2km (1.25 miles). It runs down from the north to the south side of the island from the Gulf of Mexico to the Atlantic Ocean.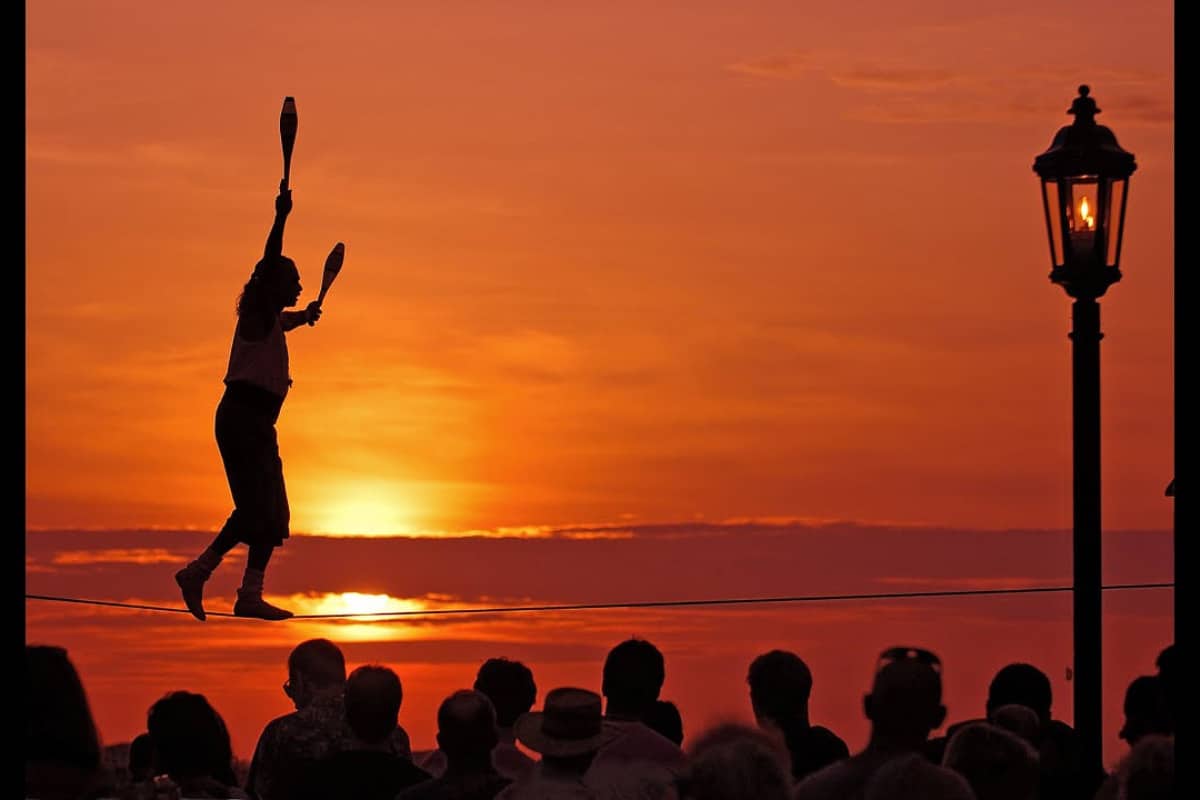 It is well known for its colourful hole-in-the-wall bars, haunted houses, shops, restaurants, and galleries. You can go bar hopping here, or enjoy the famous Key Lime Pie, a local specialty.
28. Explore the Vizcaya Museum and Gardens
The immaculate Vizcaya Museum and Gardens, previously known as Villa Vizcaya is the former estate of businessman James Deering. It is located in the Coconut Grove neighborhood in Miami and was built in 1916.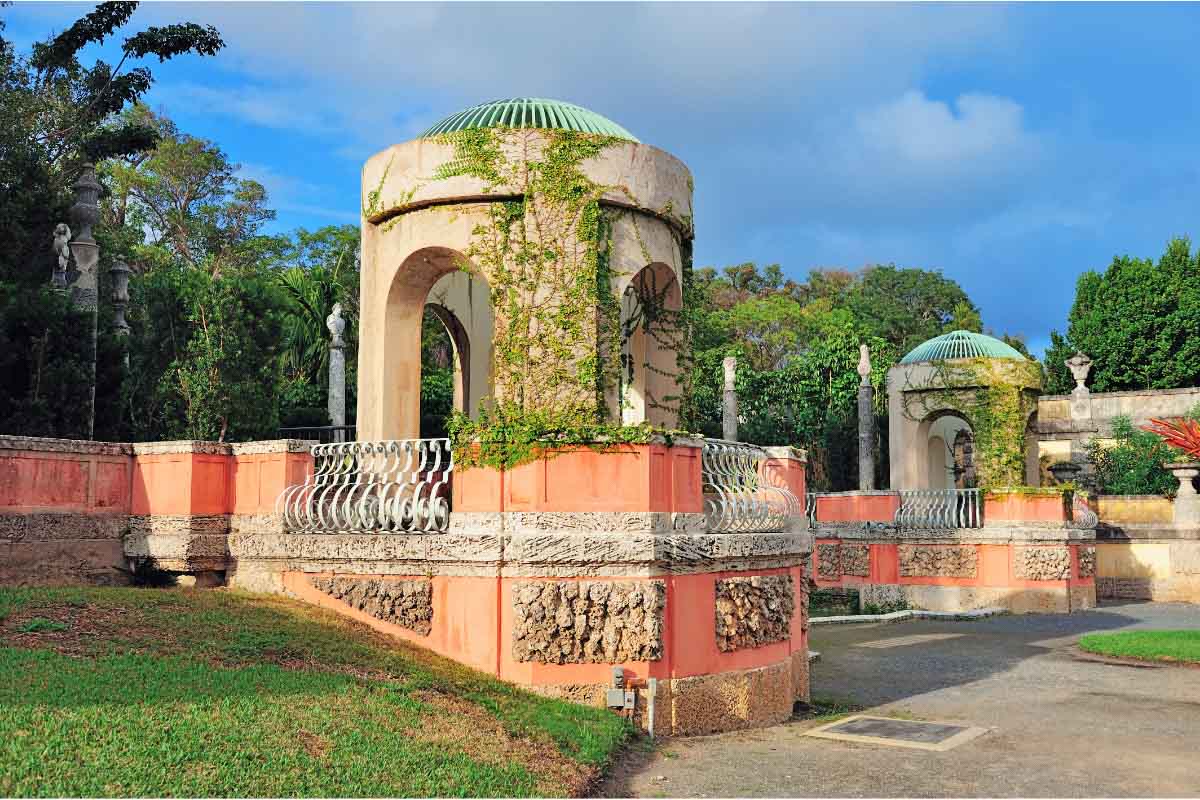 This Gilded Age estate is located along the Biscayne Bay and is surrounded by 10 acres of perfectly manufactured gardens, mangroves, and rocklands. You can take a tour of this magnificent National Historic Landmark and explore its fountain garden and stunning architecture.
29. Spend the Day on Anna Maria Island
Anna Maria Island is a barrier island located on Florida's Gulf Coast, near Bradenton City. It's a popular holiday destination known for its pristine white-sand beaches such as Manatee Beach Park.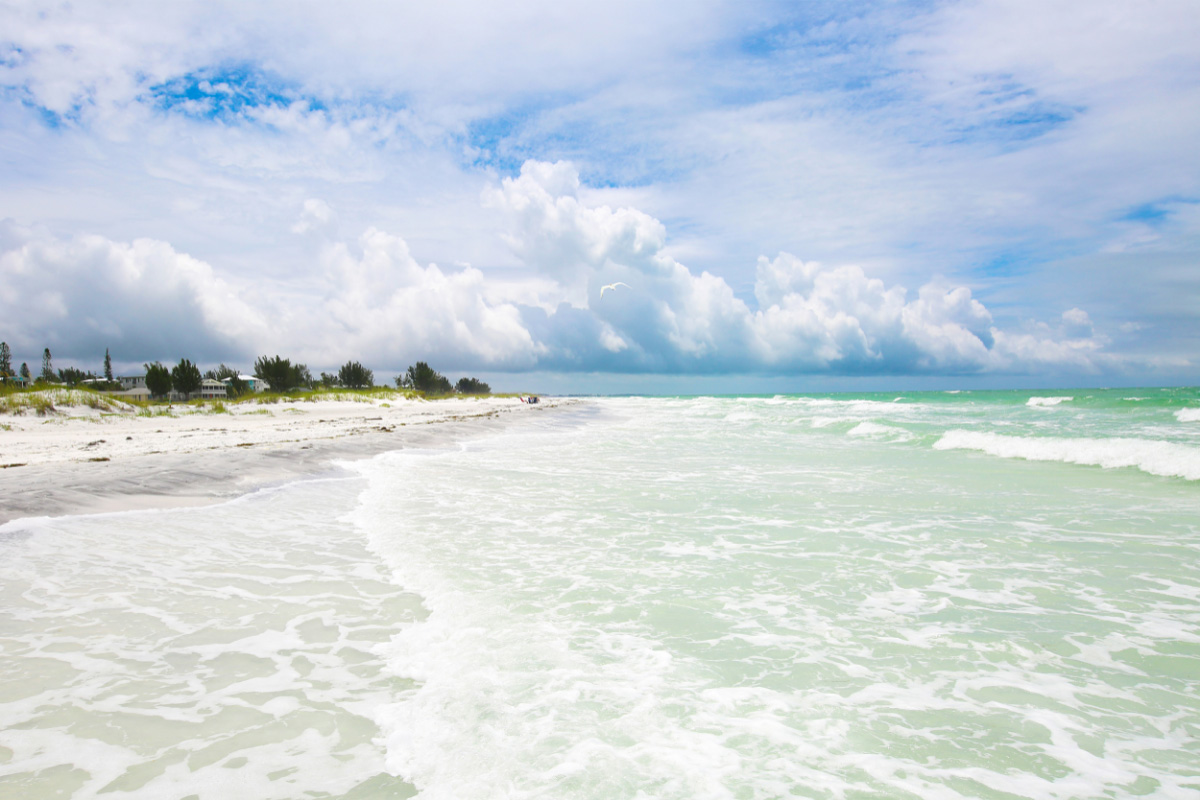 It's Pine Avenue is lined with shops, galleries, markets, and cute eateries and is a great place to spend the day relaxing and taking it easy.
30. Discover the Everglades National Park
The Everglades National Park is an impressive 1.5 million acre reserve located on the southern tip of Florida.
It is made up of wetland, coastal mangroves, marshes and flat woods. It's also home to a variety of animal species. You can discover this unique park by driving through it or by taking a boat out to enjoy its natural beauty.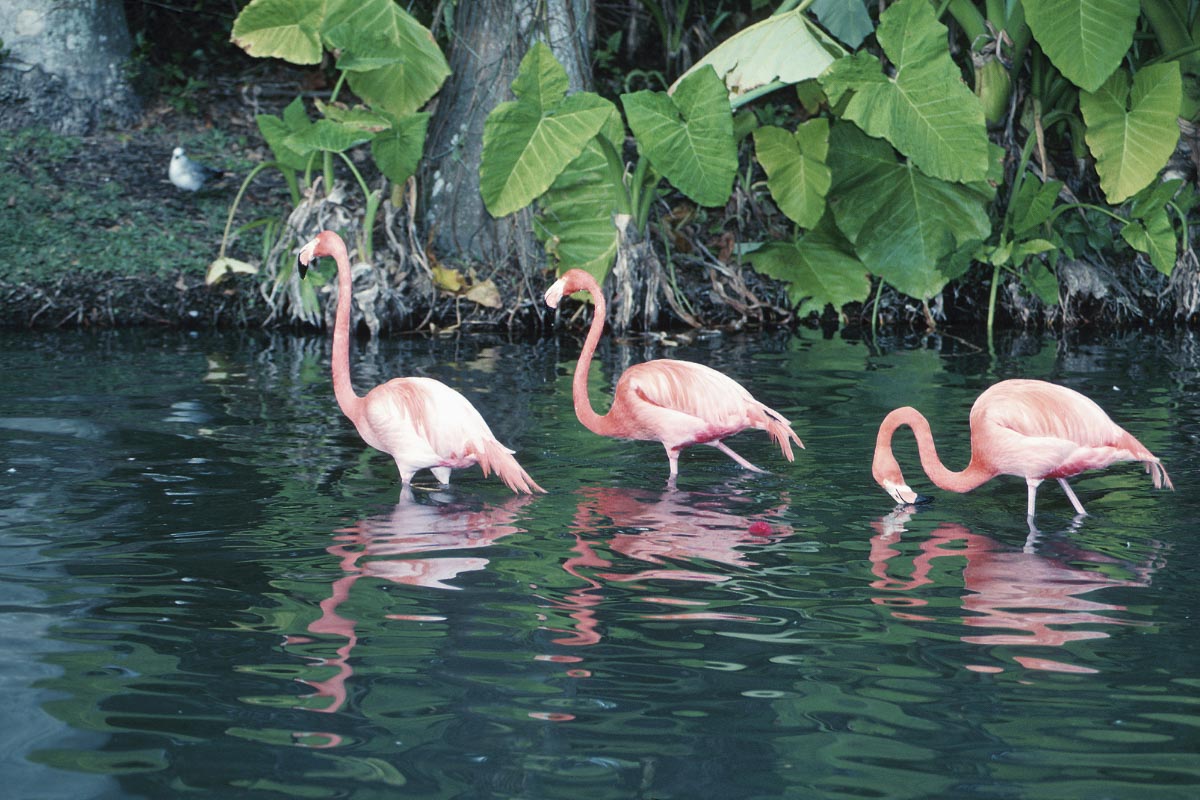 There's also a ton of hiking trails spread across the park to help you discover why it's one of the most beautiful places in Florida.
31. Enjoy a Day Out at Clearwater Beach
Clearwater Beach is known for having a laid-back atmosphere, with calm dazzling turquoise blue water and stretches of soft white sand which draws tourists in all year round.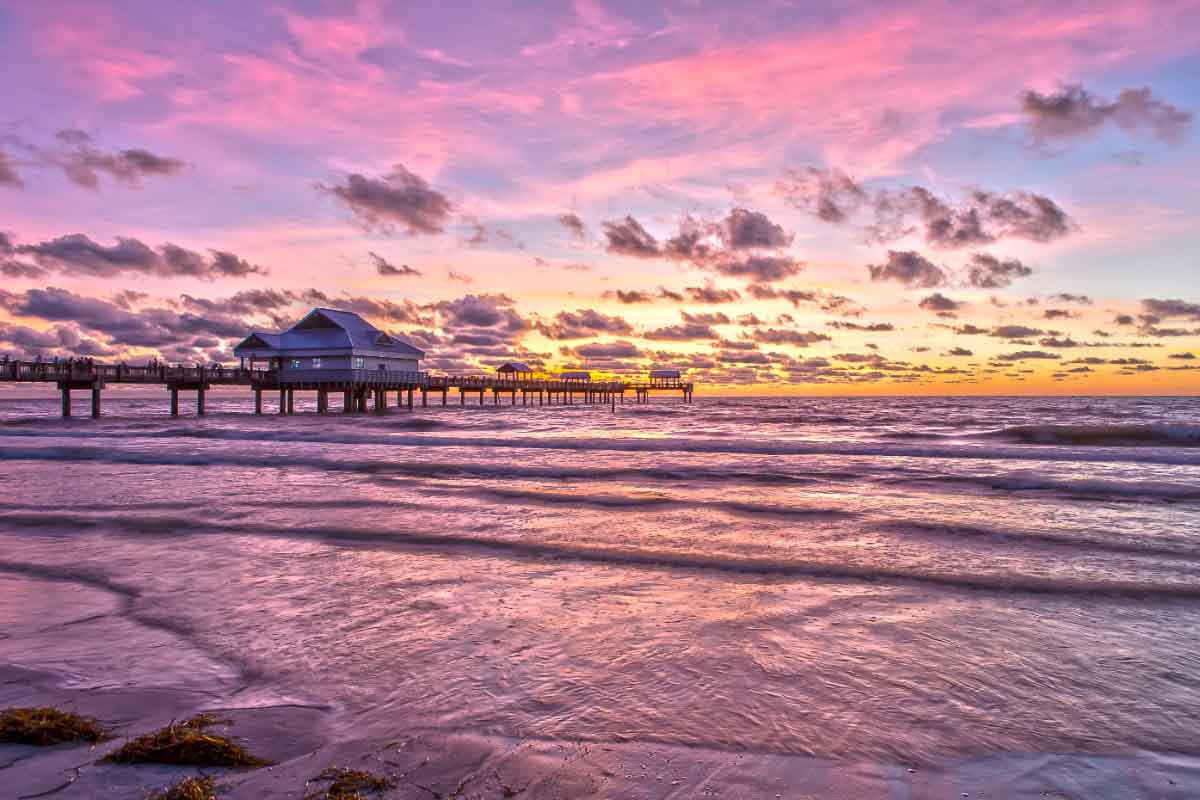 Some of the most popular activities to do in Clearwater include jet-skiing, parasailing, and stand-up paddleboarding. There's also a nearby promenade known as Pier 60 that's lined with restaurants, cafes, and craft vendors.
Clearwater also has an impressive Aquarium where you can learn more about the marine life that's found in the area.
32. Visit The Ponce Inlet Lighthouse
Located just a few miles south of Daytona Beach, at the southern tip of Florida sits the Stagg Ponce Inlet Lighthouse. At a staggering 53 metres (175 feet) tall, it is the tallest lighthouse in Florida and one of the tallest lighthouses in the United States.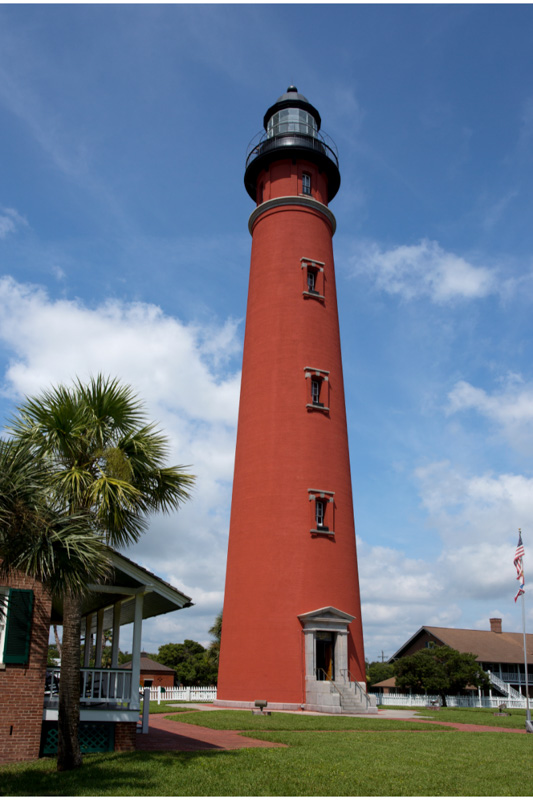 The lighthouse was constructed in 1887 and has 203 steps. While that may seem like quite a number of steps to climb to get to the top, it's well worth the effort to do so.
Once you reach the top you'll be blessed with spectacular views across the Ponce de Leon Inlet and its surrounding areas. It is truly one of the hidden gems of Florida, and should be visited if you get the chance.
33. Visit the Florida Caverns State Park
The Florida Caverns State Park is without a doubt one of the most unique attractions in Florida. It is the only state park in Florida that has air-filled caves accessible to the public.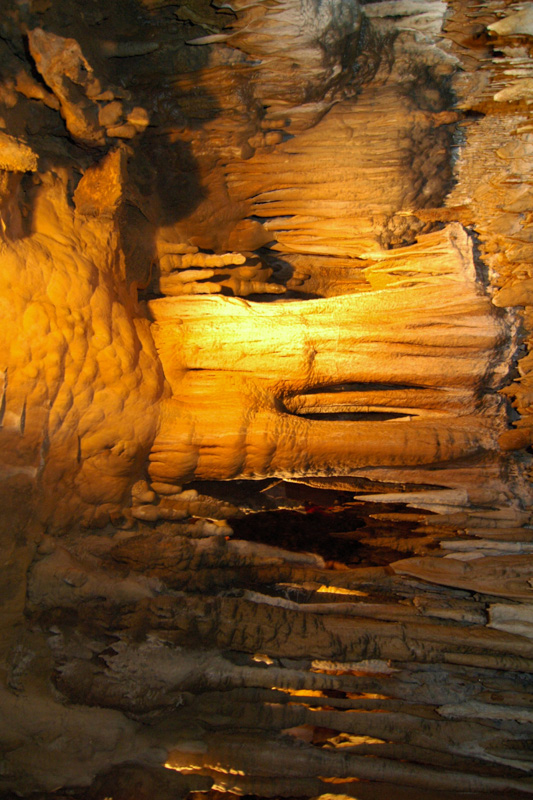 As you enter the limestone cave you'll be greeted with cool air, and the sound of dripping water. As you look up you'll be transported into another world as you take in the breathtaking sites of mystifying stalactites, stalagmites, flowstones and draperies hanging from the ceiling.
It is believed that the cave's geological history started about 38 million years ago when much of the United States was submerged underwater. Take a tour of this unique attraction and discover its hidden secrets.
Frequently Asked Questions
What is the number one attraction in Florida?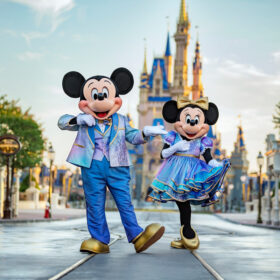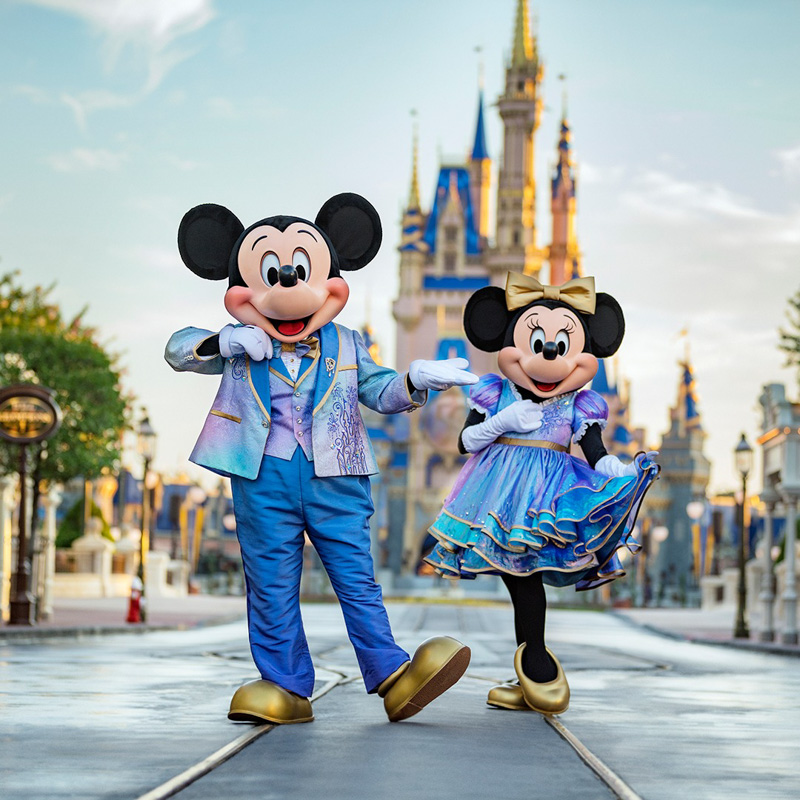 The number one attraction for tourists in Florida is Walt Disney World.
What is the number two attraction in Florida?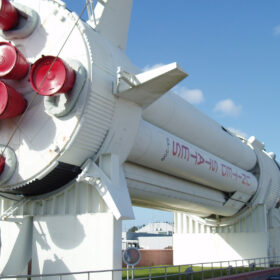 The Kennedy Space Centre is the number two attraction in Florida.
What is the number three attraction in Florida?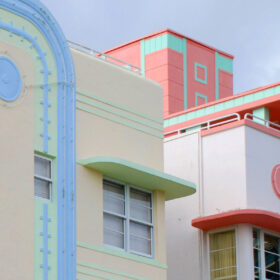 South Beach in Miami is the number three attraction in Florida.
What is Florida's Most Visited Beach?
South Beach in Miami is the most visited beach in Florida.
What part of Florida has the most attractions?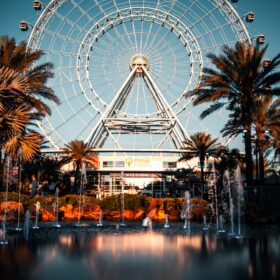 Orlando has the most attractions in Florida. These include Walt Disney World, Universal Studios and SeaWorld.
Final Thoughts on Unique Things to Do in Florida
The Sunshine State of Florida is really something special. It's full of adventure and unique places that range from impressive theme parks to sunken gardens and amazing natural springs.
Along with that, it's also home to exciting activities like NASCAR races at the Daytona International Speedway and live rocket launches at the Kennedy Space Centre. And who could forget all its quirky attractions and natural beauty.
No matter what you're into, there's an activity and attraction waiting for you in the sunny state of Florida. Tip: Check out this post on 33 Historical Places in Florida for further reading.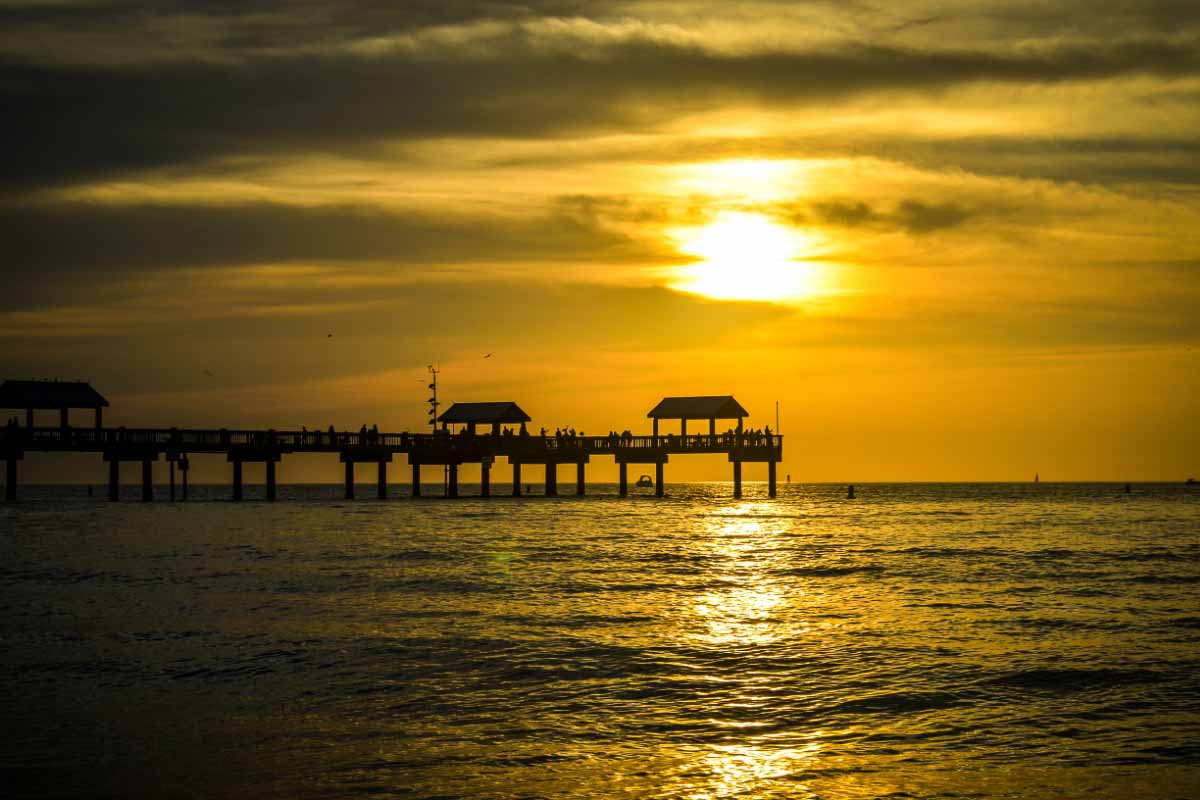 I covered all of the costs associated with writing this article. However, this unique things to do in Florida post includes affiliate links. That means if you click through and end up making a purchase I will receive a small commission. I wanted to make sure you were aware of this.