I love the New Forest. It is less than two hours from London and is like entering another world. My favourite part about it is the wild ponies. Literally, ponies roam free throughout the area – including crossing the roads, holding up traffic etc. Like cows in India but strangely enough, it happens in England! The New Forest is about walks, cycling paths and great food. So it is, of course, there are quite a few pubs with rooms in the New Forest.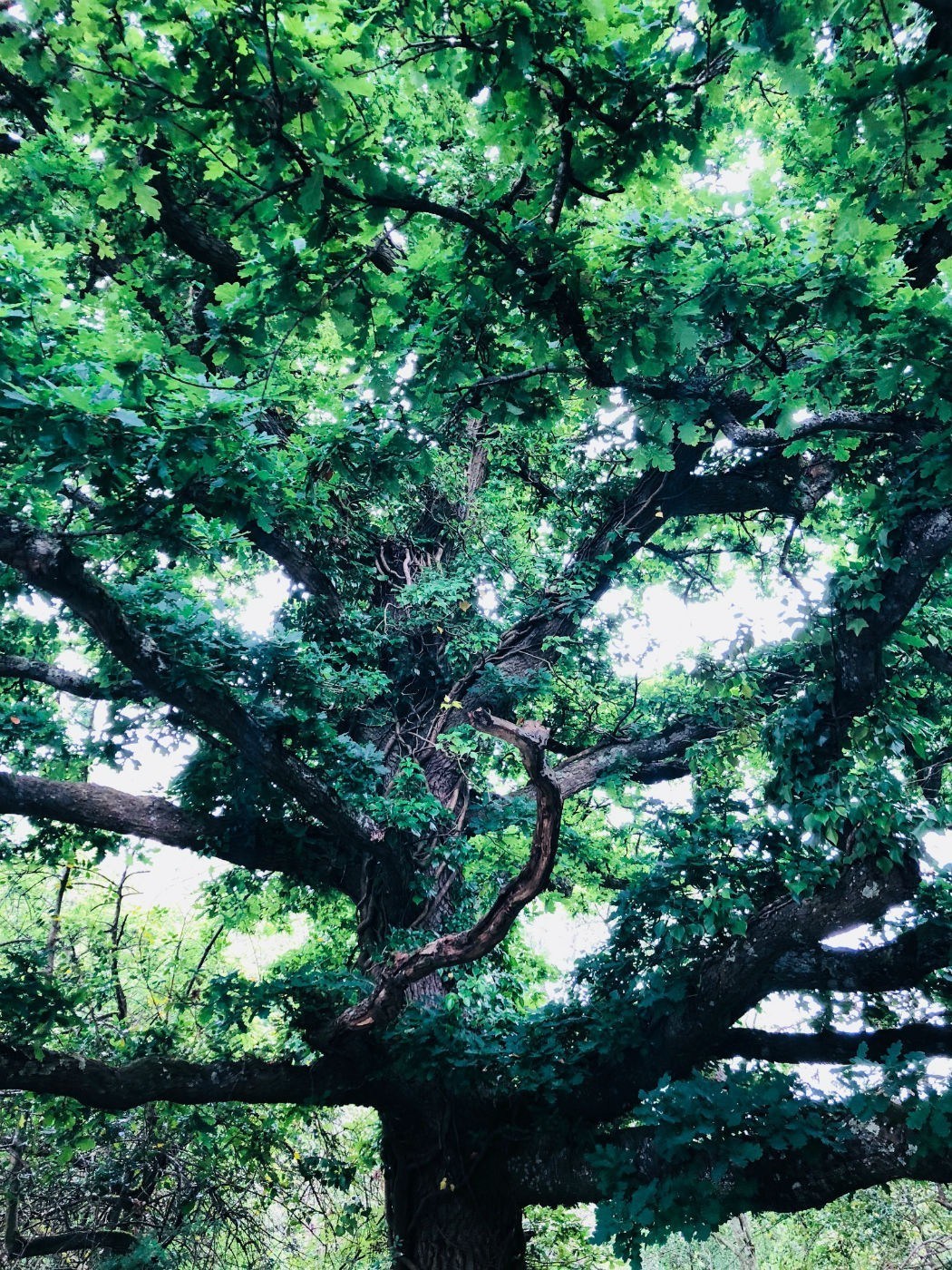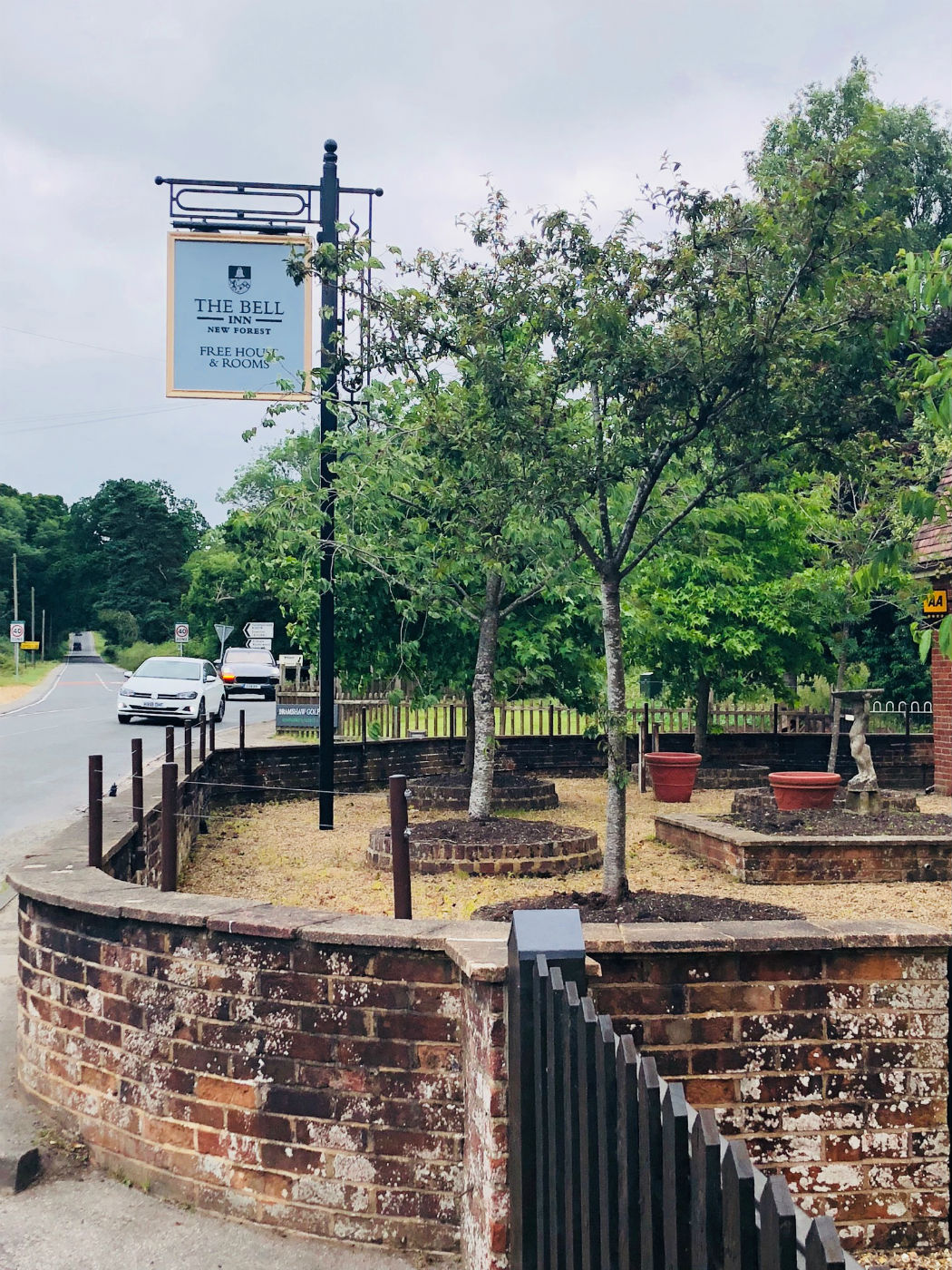 I enjoyed a lovely stay at the
Bell Inn New Forest
. Uniquely, this pub accommodation New Forest is family-owned. It has been owned by the same family for over 200 years. The Grade II listed building features flagstone floors and open fireplaces.
The Bell Inn New Forest: Getting There and Getting Around
The Bell Inn is located very close to the motorway (although you wouldn't know it!) and traffic dependent you could get there from West London in under 2 hours. The nearest train station is
Ashurst.
A minicab to the Inn will cost you 12 pounds.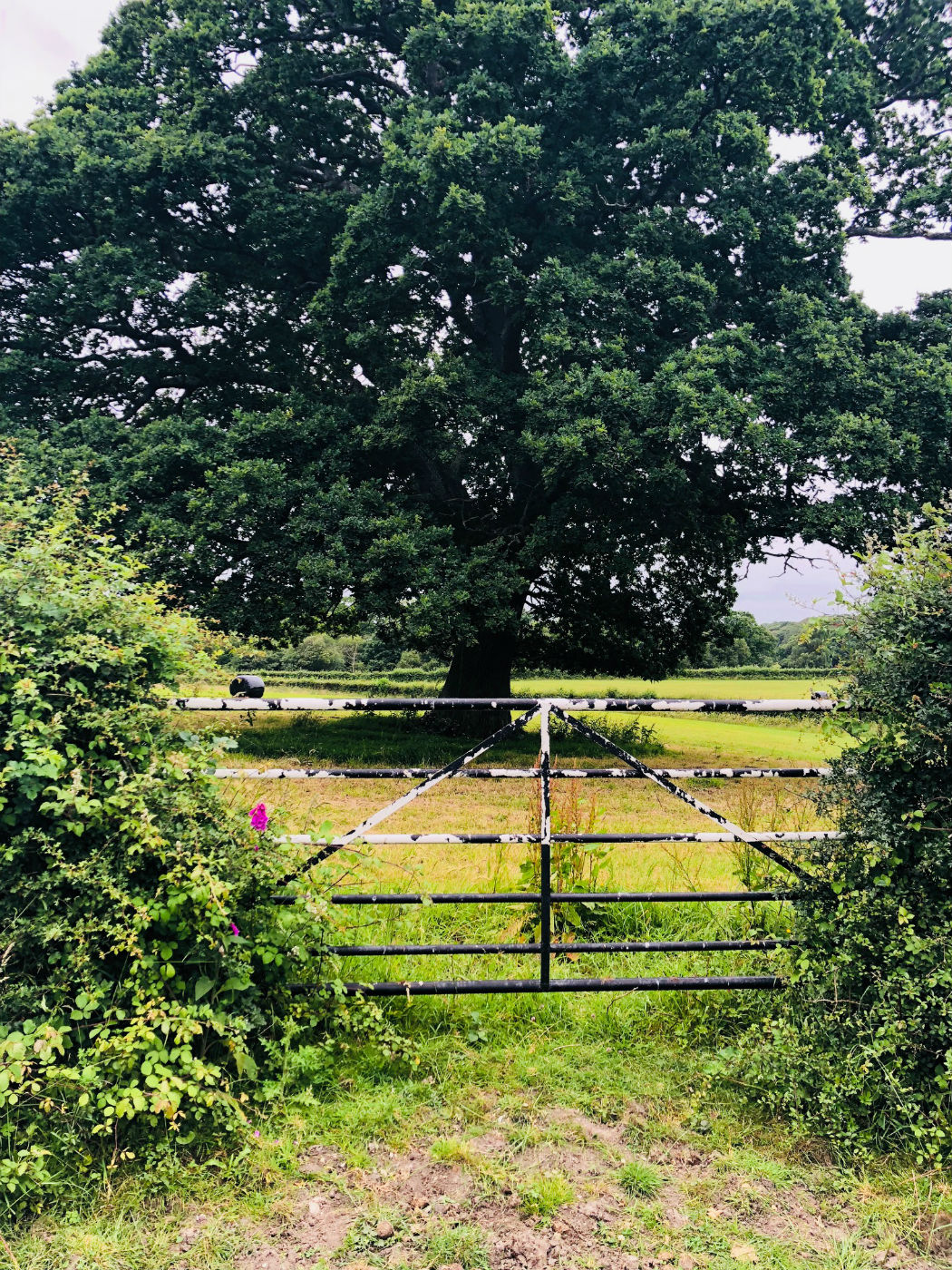 ⇒ Click here for some great deals on Car Hire
Top Tip:
Ashurst is quite a small station so have the Bell Inn book a taxi to pick you up – and for the return journey. Once you're in the New Forest it is not necessary to have a car to get around and see what is on offer. There are many walking and cycling paths (more to come) and this is the most pleasurable way to explore the area.
Pubs with Rooms New Forest – The Bell Inn: The rooms
There are 28 bedrooms which range from classic-sized (some of which are dog-friendly) to the large Master Suite. I stayed in a classic room which was a good size. The ensuite bathroom had a powerful shower and the right number of towels – always important!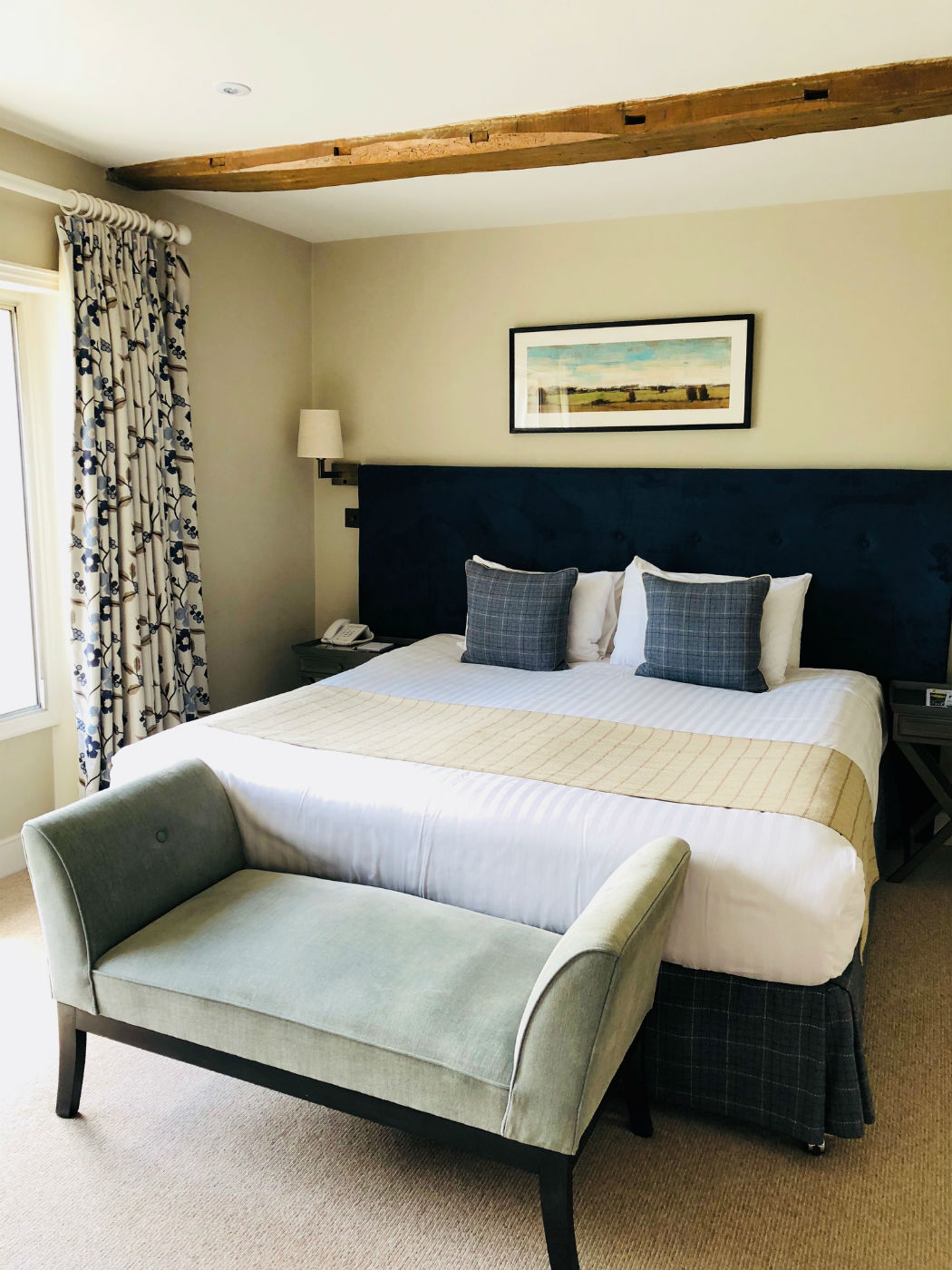 The rooms are decorated in a simple yet stylish manner – very Farrow and Ball! The sheets are Egyptian cotton and the duvet nice and soft. There is a big flat screen tv, hairdryer, wifi etc.
⇒ Read more reviews of the Bell Inn ⇒ Book Now
New Forest Pubs The Bell Inn: The Food
The Bell Inn's head chef Mark Young is all about local sourcing. So alas, some of the cute sheep pigs and cows you see whilst exploring the New Forest may well end up on your plate! Mark focuses on what is in season. When I visited it was a good time for pork. I enjoyed a succulent pork belly with ham hock hash.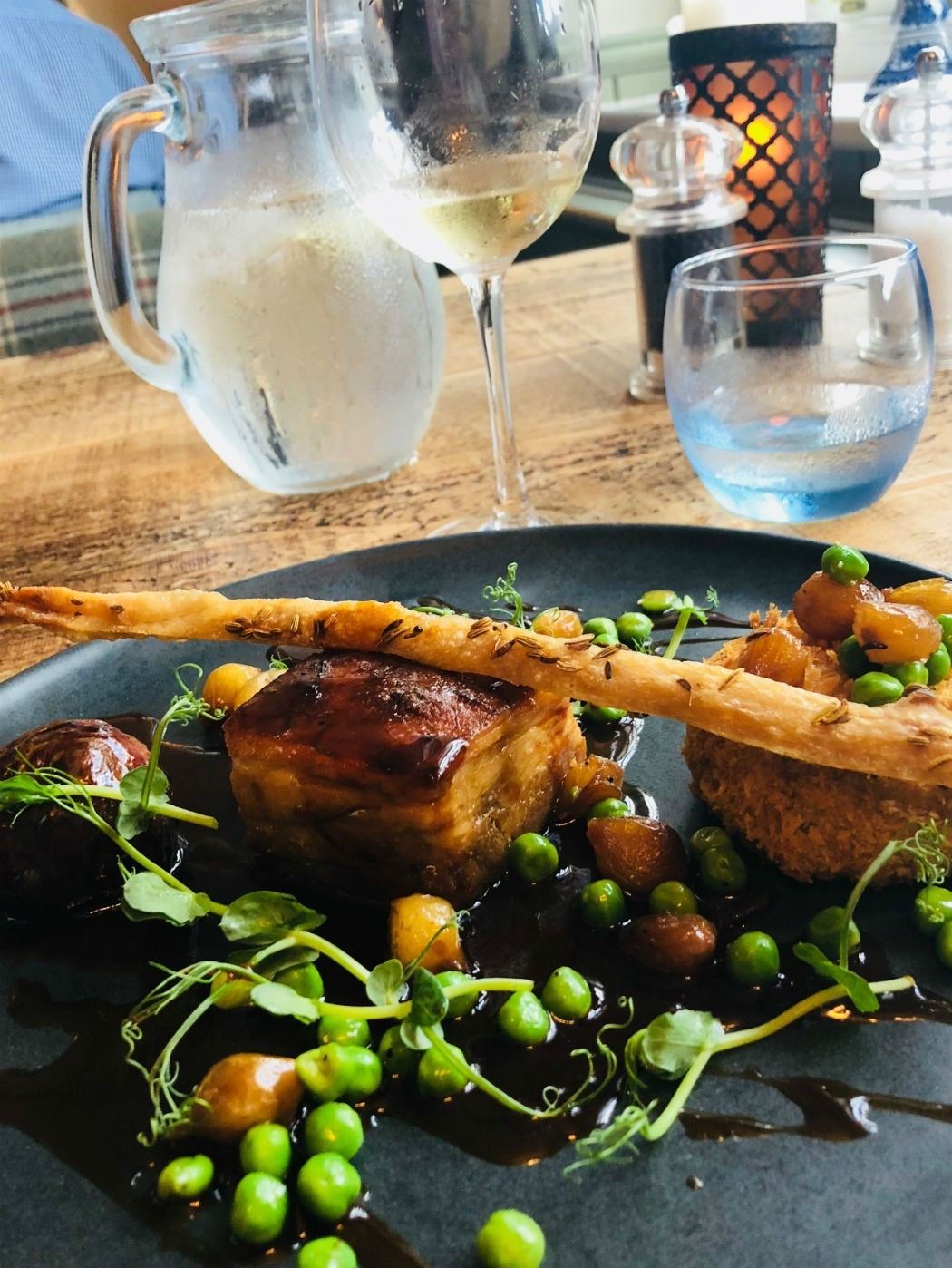 ⇒ Heading to London? Check out my posts on 13 Unusual Experiences in London, the best London Food Tours, some great places to eat in Earlsfield, near Clapham Junction and near Victoria Station, a mad hatter afternoon tea party and day trips to Brighton and the Cotswolds.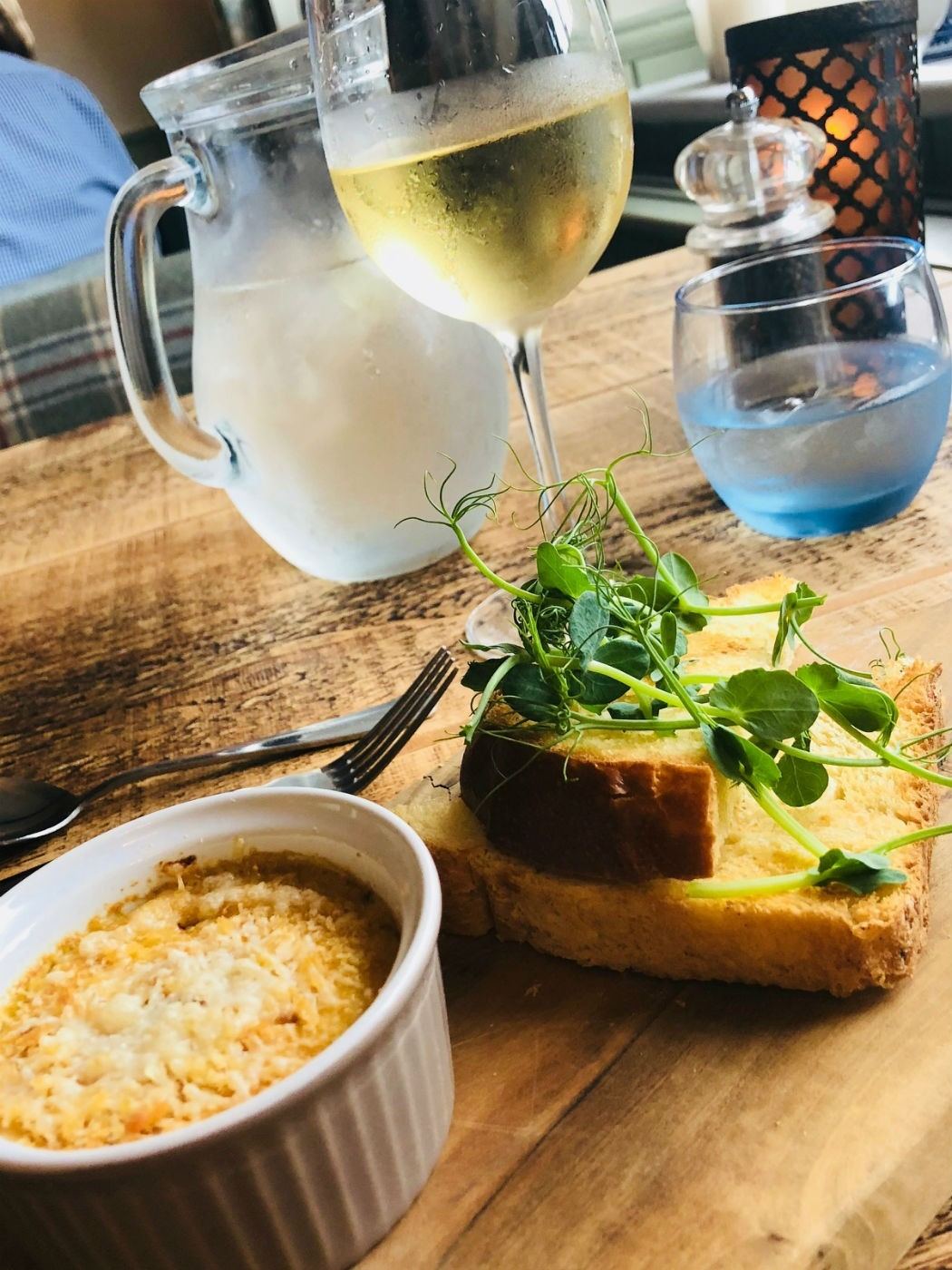 The menu is a classic English pub with a heavy focus on the local and a few twists. One of Mark's signature dishes is the delicious crab Brulee starter. The menu also offers potted crab as a starter for those who have a bigger appetite.
⇒ Heading to Scotland? Check out my itineraries for 10 nights in the Scottish Highlands, 7 nights covering Glasgow, Edinburgh and the Isle of Skye, things to do in Dumfries and Galloway and Ayrshire, my guide to climbing Ben Nevis and 9 great Scotland Spa Breaks.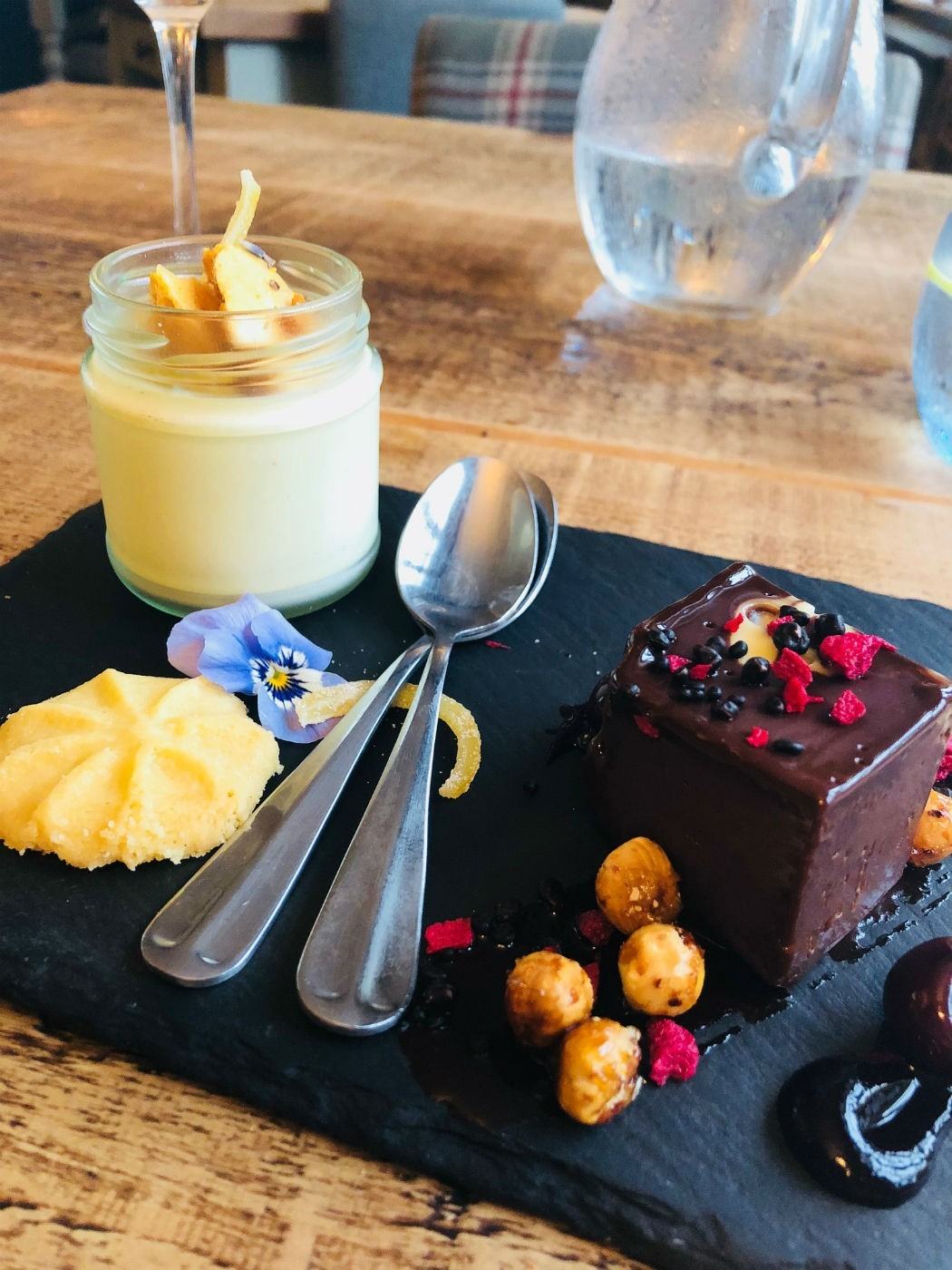 ⇒ Heading North? Check out my post on 2 fantastic Yorkshire Luxury Hotels.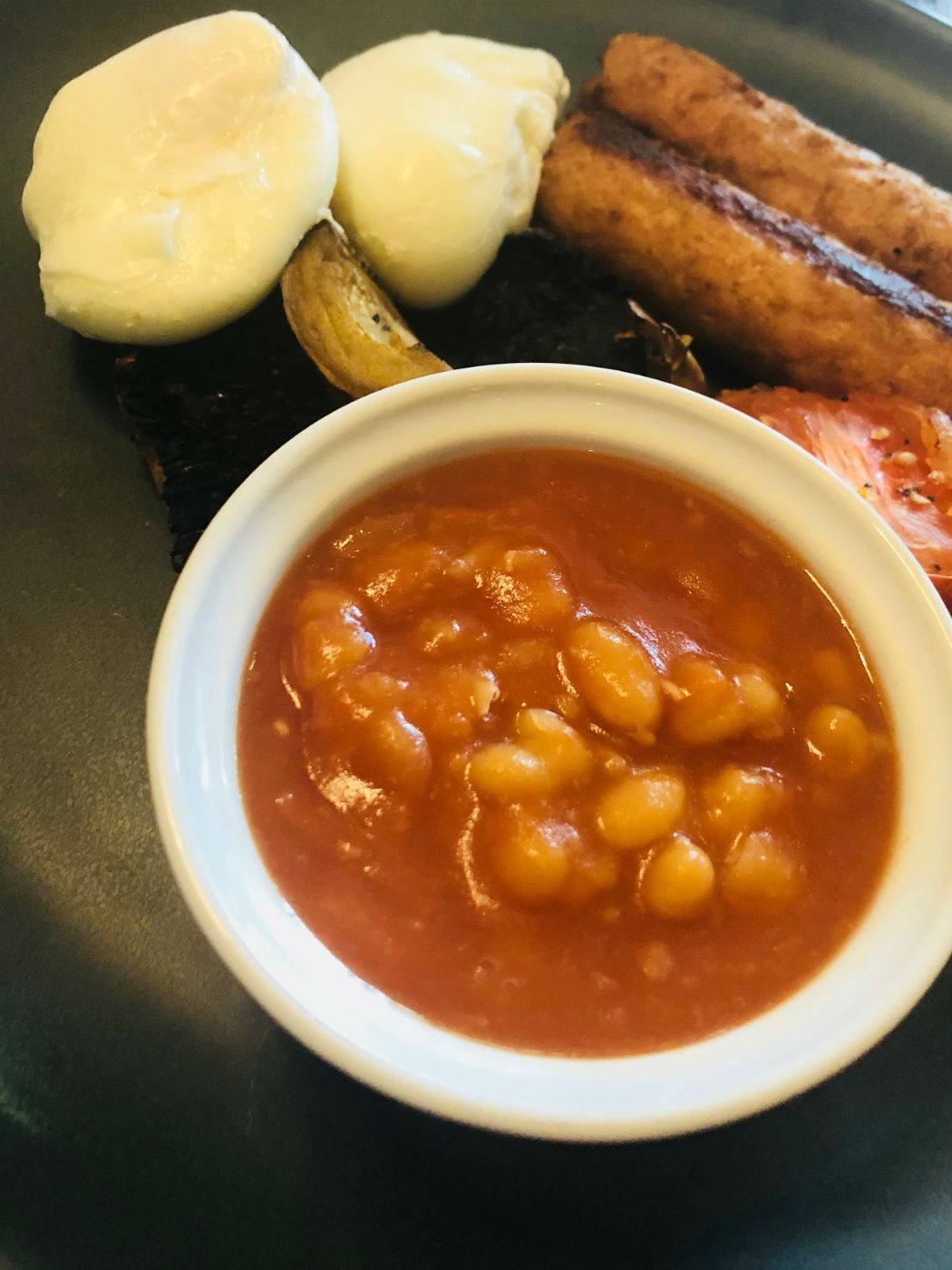 For dessert, I chose to have 2 mini versions of the desserts listed – the chocolate torte and lavender panna cotta. I do wish more places did this! As they offer up to 3 minis of any desserts you like I felt like I hadn't really had a full dessert but got to try 2 different sweet treats – perfect! Breakfast brings, of course, the full English – vegetarian and not vegetarian. There are also English classics like kippers on offer as well as scrambled eggs and salmon. A small buffet offers some delicious granola and Greek yoghurt – the granola is made in house – and fresh pastries.
⇒ Looking to explore the South and South West of England? Check out my posts on Sussex, wonderful Winchester, Brighton, Exeter and its coffee culture, Exmouth, and spa hotels in the South West of England.
The Bell Inn Bramshaw: Things to Do
The New Forest has a lot on offer! Let's start with what is unique to The Bell Inn –
Bramshaw golf course.
The Inn actually owns 2 18 hole golf courses which are literally next door. The Manor Course offers a more traditional high-end golf experience. For the more adventurous try the well-named Forest Course, built by a local resident.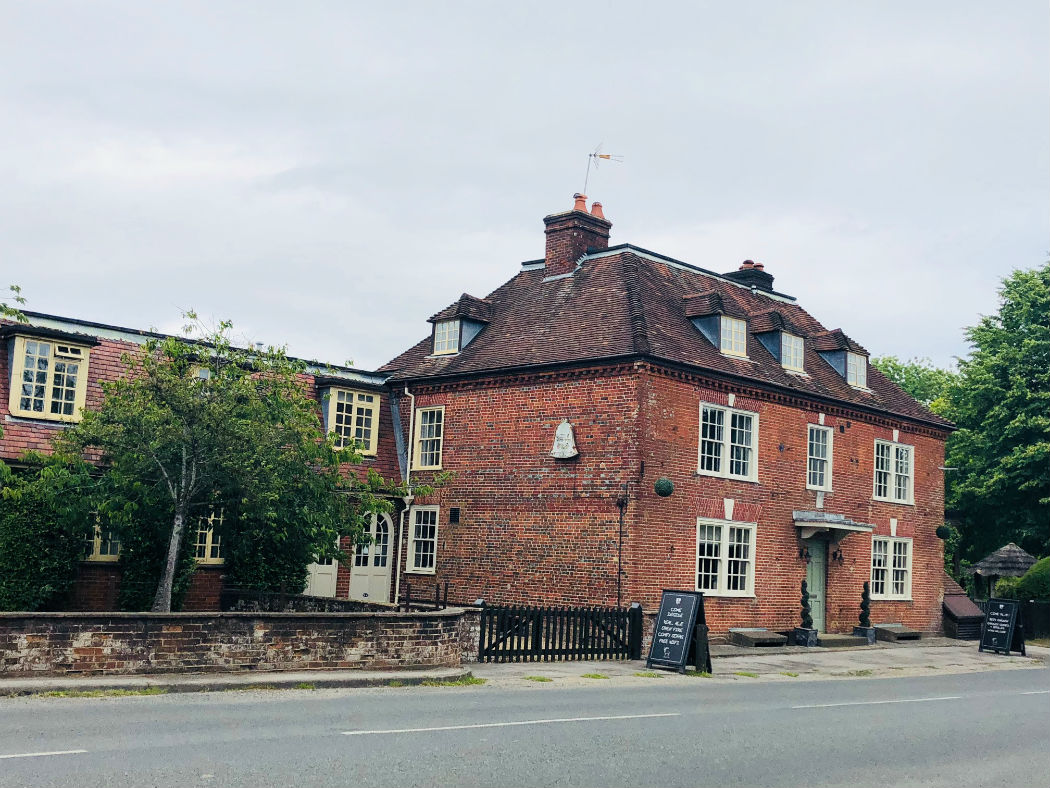 The Bell Inn has its own brochure to help you explore the walking and cycling paths in the area. It also provides you with a breakdown of the New Forest
safari
and its Big 5 – Ponies, Donkeys, Sheep, Pigs and Cows! The tracks range from heading to Minstead Village to the Bolderwood Arboretum to Deadman's Hill. Bikes can be hired for 12 pounds per day and picnics can be organized from 9 pounds per person.
⇒ Interested in heading to Wales? Check out my posts on fun things to do in Cardiff and instagrammable things to do in The Valleys South Wales.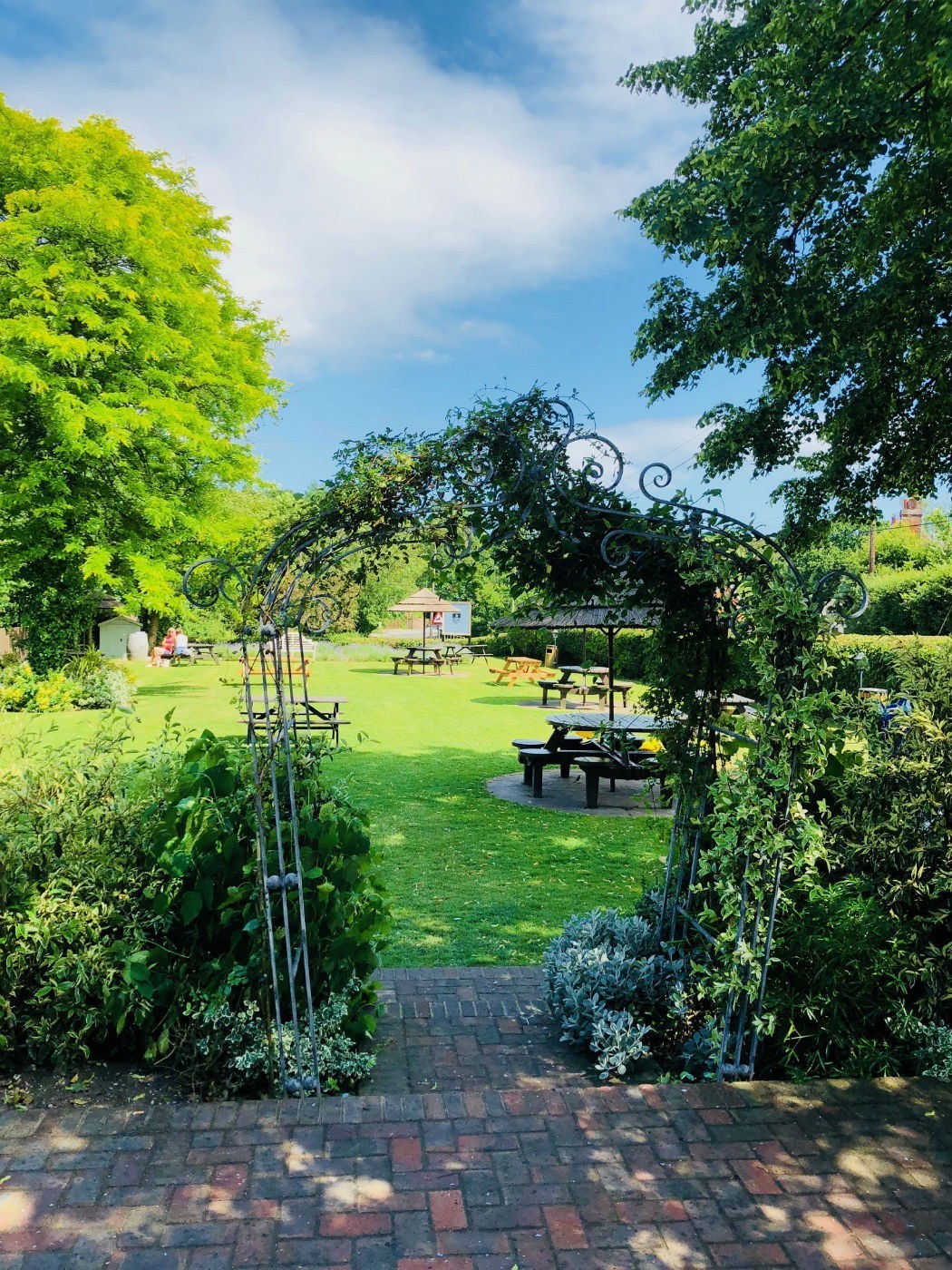 If you are feeling less active there is a New Forest Open Top bus which runs from July through September.
⇒ Top Tip: For something different head to the Beaulieu Motor Museum. This stunning building is home to more than 250 well-known cars and a Sky Train!
The Bell Inn New Forest: The Service
As you would expect from a family-run Inn, the Bell Inn is a very friendly and relaxed place. All of the staff are smiling and helpful. There is a nice relaxed air to the Inn. It does feel more like being in someone's home – but not too much!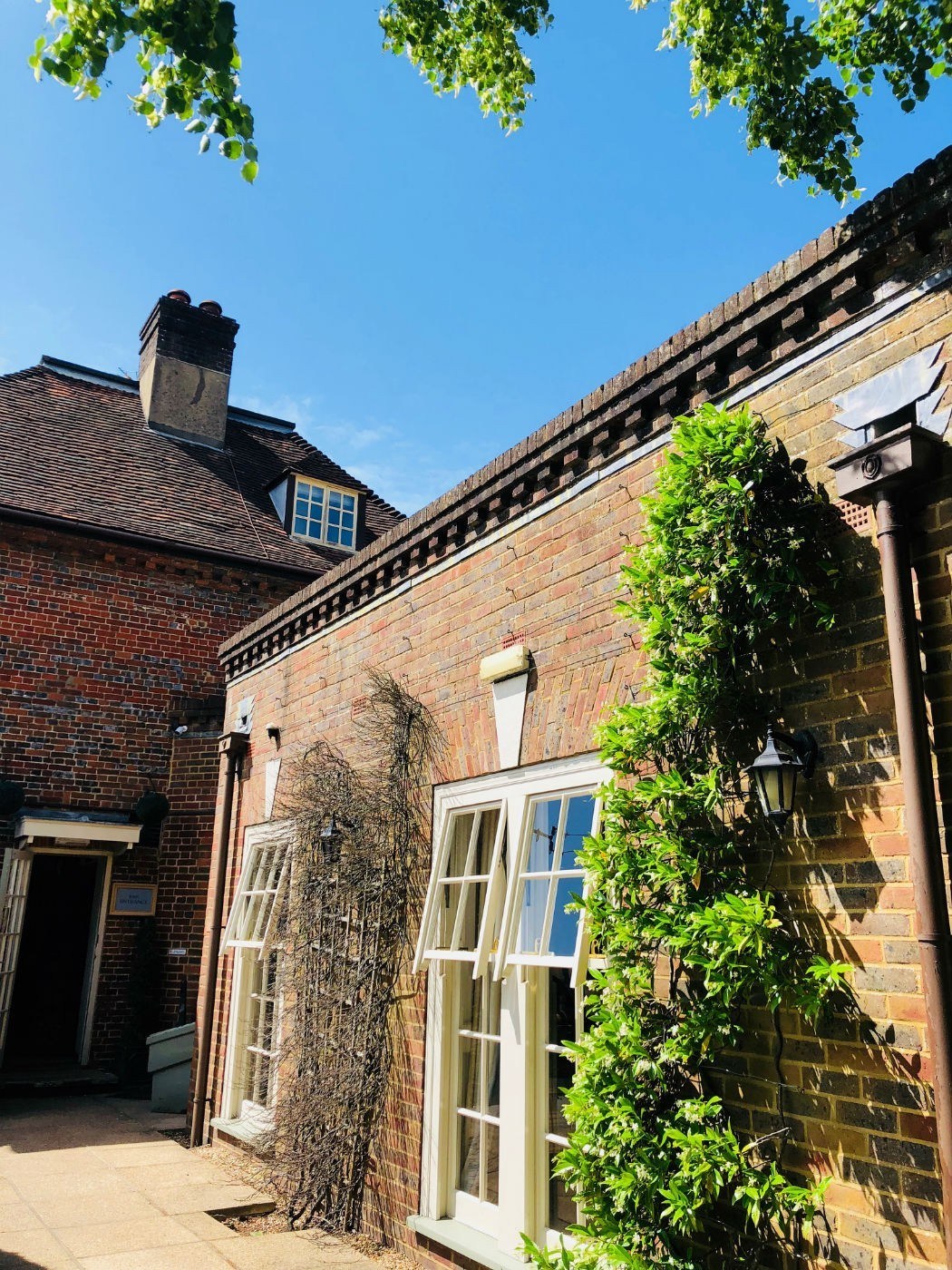 The Bell Inn New Forest: The Verdict
The Bell Inn is the perfect New Forest pub weekend away or longer. It has everything you want from a pub with rooms – particularly on the food front – with all the friendliness of a New Forest B&B. This is a great value luxury in an area where prices can skyrocket.
⇒ The Solent Spa Hampshire is also another lovely place to stay in the area.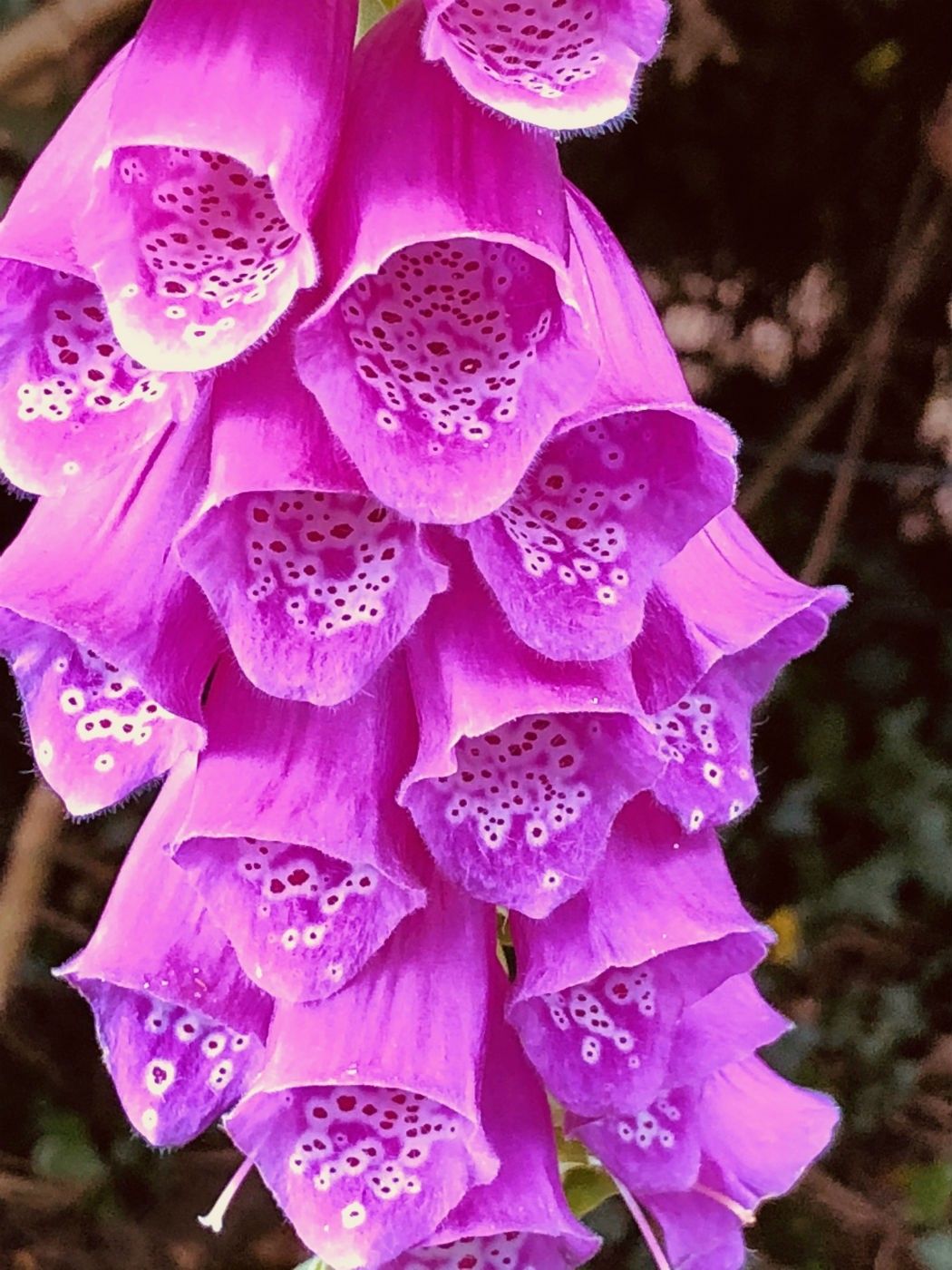 ⇔ Interested in visiting the super cute Cotswolds? It is possible in a day trip from London or go and stay at a lovely boutique hotel in the Cotswolds.
Who Paid for What in this Post
The Bell Inn was kind enough to host my stay and meals at their lovely pub – but as always my opinions are my own. I covered my costs to get to the New Forest. This post does contain affiliate links. This means if you click through on some of the links and make a purchase I will receive a small commission. I just wanted to make sure that you knew this.
READ NEXT: INSTAGRAMMABLE THINGS TO DO IN WINCHESTER ENGLAND
Like this Post? Why not Pin It?