Borough Market is one of my favourite places in London. I first started going there when I moved to London 14 years ago. Which is not very long ago considering this market has been operating for 1003 years! It is the oldest fruit and vegetable market in London. There is so much on offer that sometimes it can be challenging when it comes to Borough Market what to eat. Which makes it a perfect place for London Food Tours!
It is one of my most regular haunts – Monmouth coffee, burrata cheese flown in from Italy that morning, the amazing smell and colours of the vegetables – it is a bit of a happy place for me and no terrorist activity will ever change that. It has become far more popular in recent years and quite a few London Food Tours now cover the area – a great solution to the Borough Market what to eat there is a million options problem!
When I was invited to go on a Food Tour of Borough Market by London Tailored Tours it was an immediate yes! There is so much to explore and learn at Borough Market and it is always changing.
London Tailored Tours are led by the lovely Charley who is filled with enthusiasm and passion for Borough Market and the Borough area in general. She is also a passionate foodies which shines through – it is a pleasure going for a stroll with someone who is talking about their favourite thing!
If you're visiting London – or live here – check out this great post on the Best London Weekend Breaks 
London Food Tours – Borough Market
So our London food tours kicked off with the Borough Market what to eat classic – a Bacon Butty! For my non UK readers a bacon butty is a British institution and consists of bacon in fluffy white bread and butter or a fluffy white roll. Tradition would then dictate you add your sauce of choice – red for me – before enjoying the perfect breakfast. Once you taste one you will realise why this is where all the market traders come for their breakfast at 5am!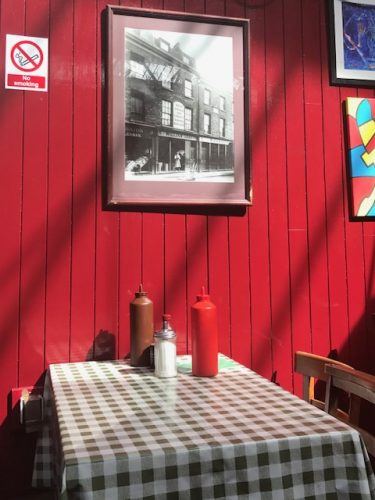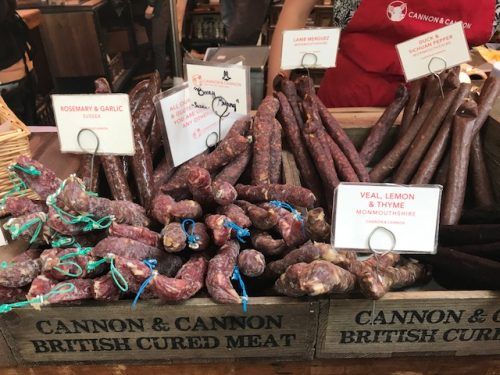 After the bacon butty Charley took us to meet several different types of market traders where we had private tastings. We kicked off with the rather different British cured meats stall! From seaweed and cider salami from Cornwall to pork, garlic and peppercorn and finishing with the unique blood, wine and chocolate this was a taste sensation!
Next up for Borough Market what to eat was cheese. We headed to a Swiss cheese stall – not as in the type with lots of holes in it but other types of Swiss cheeses. Most intriguing was the blue brain cheese and I took a few home with me including the amazing truffle cheese. There is an opportunity to purchase at every stall so make sure you bring a backpack or carry bag as it is very hard not to shop!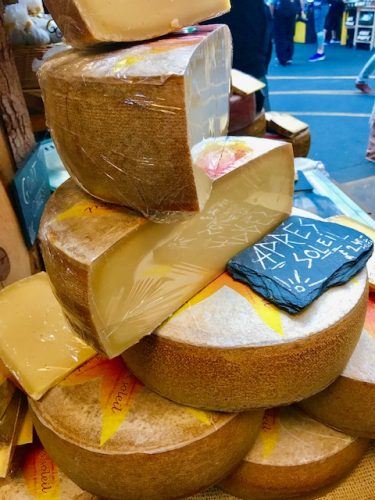 Charley is also a fantastic source of information on all types of tales of Borough Market – including showing you the door that was used as Bridget Jone's home in all of the movies.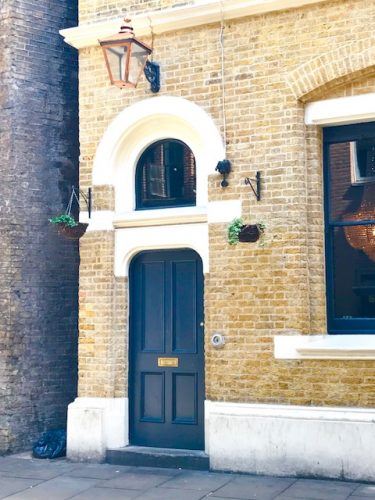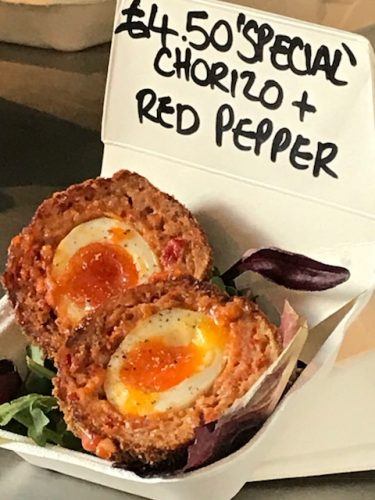 Then it was time to sample another classic London Borough Market what to eat – a scotch egg! This was from a stall that only does scotch eggs – yes it has fryers sitting right there and you can have your scotch egg gooey and warm! This is item is a British tradition – egg and sausage meat done in breadcrumbs – the perfect breakfast before you start a big day!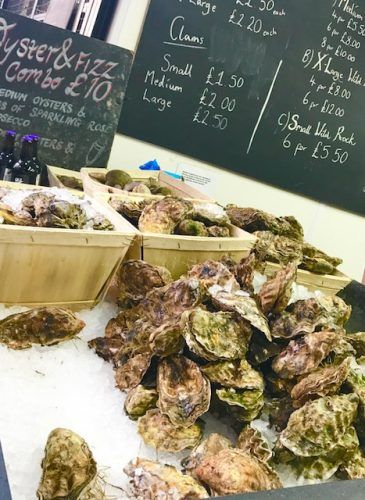 Then on to oysters and a stall that has been in the one family for seven generations! Again they just do oysters and there is quite the queue! Luckily when you are on the tour lines don't exist as all had been pre-organised by Charley!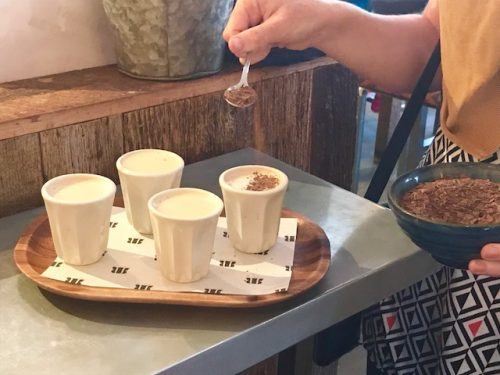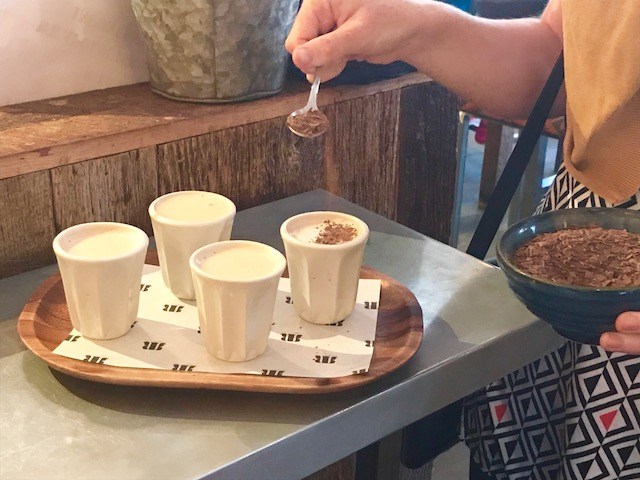 Next up on our Food Tours London was chocolate! The market's best hot chocolate as well as amazing brownies. This is one I will be returning to as it serves a chocolate afternoon tea and has a lovely terrace.
Traveling Solo in London? Have a read of this terrific Solo Travel in London Guide.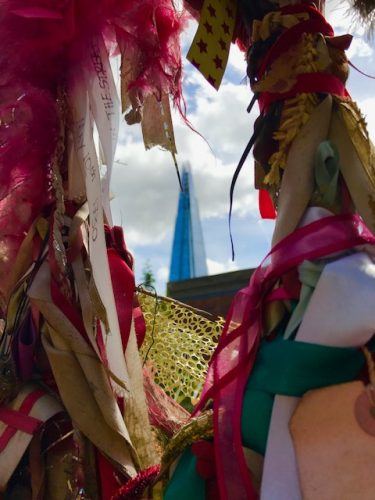 Food Tours London – After Borough
After this, we needed a bit of a digestive stroll! Charley guided us through the streets of Borough with fantastic stories about eccentric London that went beyond London Food Tours. This included a visit to the moving Crossbones. Crossbones is a memorial to the approximately 15000 borough residents who were buried in what appeared to be an outcasts graveyard on that spot – eg for those who could not afford or had no one to organise a funeral.
This graveyard was discovered when the Jubilee Line was dug up in the 1990s and since that time local residents have set up the memorial. There are vigils once a month to remember the dead and local schools run projects around it. A uniquely London story that I had never heard despite living here for 14 years.
This graveyard was discovered when the Jubilee Line was dug up in the 1990s and since that time local residents have set up the memorial. There are vigils once a month to remember the dead and local schools run projects around it. A uniquely London story that I had never heard despite living here for 14 years.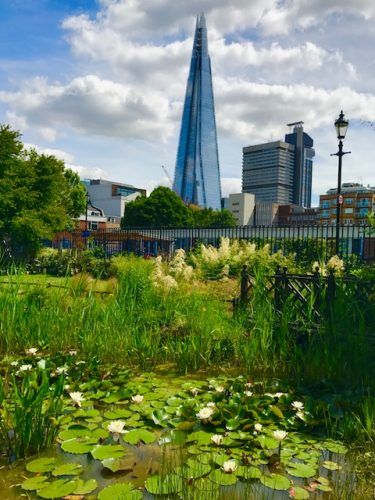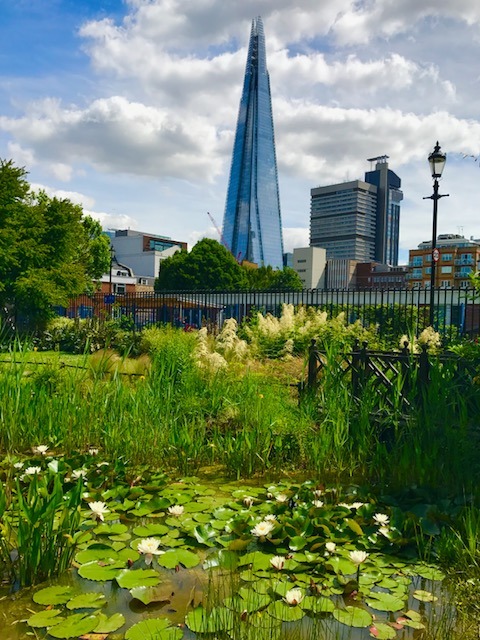 Next up in our London Food Tours was a visit to a secret garden with stunning views of the Shard – although I must point out we lucked out on a lovely London blue sky day so Charley won't be able to guarantee these colours when you take the tour!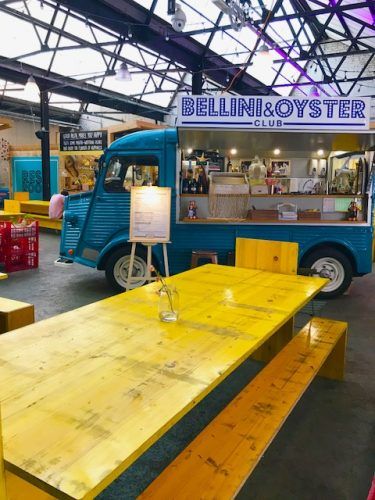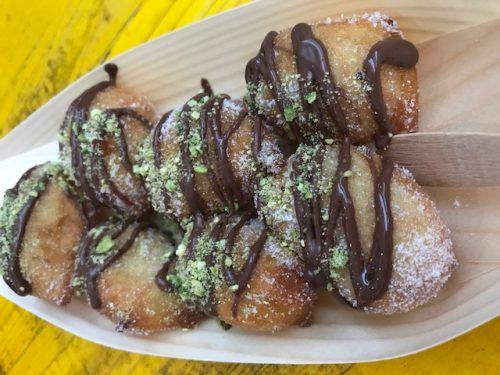 Next up was a local wine shop that used to be an old cork factory for a tasting. We then finished the tour at a fantastic local pop up/street food venue near elephant and castle tube where we enjoyed some delicious sicilian sweet puffs with chocolate sauce and pistachio!
The 3-hour tour flies by and is fantastic value. All the food is, of course, fantastic but it is all the great stories behind it and behind the Borough area that makes this such a memorable tour – no wonder it is so incredibly popular on Trip Advisor! This is a great tour to do if you're a Londoner or a first-time visitor to the capital! London Food Tours are now the thing to do! And this tour does a great job in solving the Borough Market what to eat challenge!
Charley also offers a food tour of Brick Lane as well as private tailored tours of any areas of the capital that take your interest!
The Borough Market Food Tour runs every Monday and Friday at 230pm and Saturdays at 930am.
Click here to visit the London Tailored Tours website.
Would you like to see some really extraordinary photos of Borough Market? Click here
If you are looking for some other great places to eat in London why not take the view of a European? Here is a great post on Where to Eat in London from the great blog Travel Eat Enjoy Repeat. 
London Restaurant Festival
If you're a foodie try to time your visit to London for October so that you can visit the fantastic London Food Festival. Every year this fantastic festival offers great deals at some of the top restaurants in London – at every price point and cuisine type.
This year I had a fantastic meal at one of London's top Asian Restaurants, Hakkasan. Hakkasan has a couple of branches in the capital and I visited the one on Hanway Lane which is very near Tottenham Court Road Tube station.
This is one restaurant where you will definitely need to book to get in – and they normally do a couple of turns so most likely you will need to take a 630, 830 or 10pm slot. For the London Restaurant Festival Hakkasan allow access to their Taste of Hakkasan menu outside of the standard early and late options.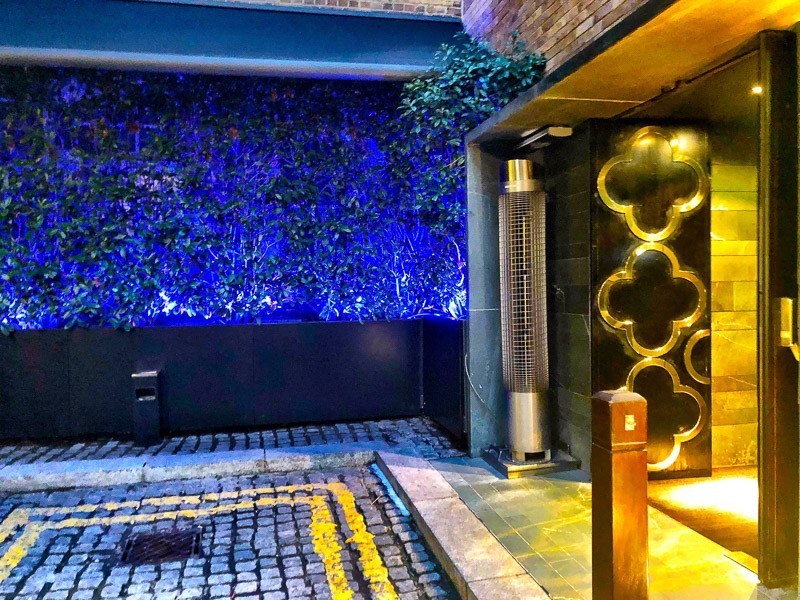 For just 38 pounds there are 5 courses on offer plus one of Hakkasan's delectable cocktails. I enjoyed the Hakka – vodka, sake, lychee, lime, coconut and passionfruit – fantastic!
If you can try to arrive a little early and have a seat at the stunning bar. Hakkasan is drop-dead stunning in terms of design. The bar has a terrific atmosphere.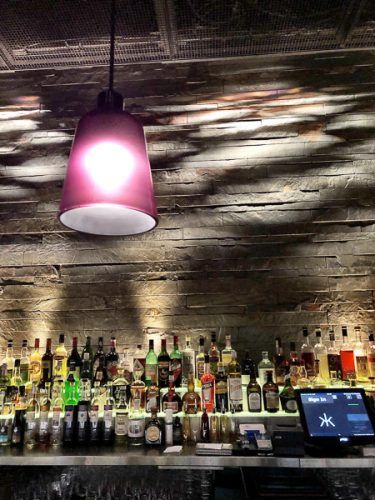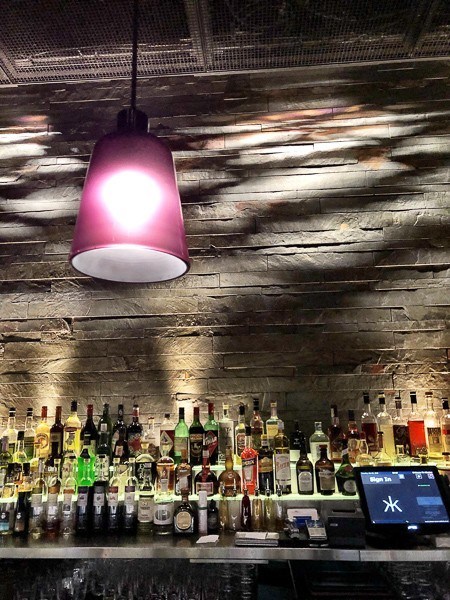 The first course is Dim Sum – your choice if standard or vegetarian. The dim sum at Hakkasan is rather beautiful – dollops of scallops and pork in colourful wrappers – so so good!
Next up we shared the Stir-fry black pepper rib-eye beef with Merlot and the Three style mushroom stir fry. The rib eye was oh so tender and with a hint of greens. Exotic mushrooms created a delicious stiry fry as well as some fun ingredients like gai lan, lily bulb and macadamia nut.
This was complemented by Chinese vegetables and Vegetable fried rice.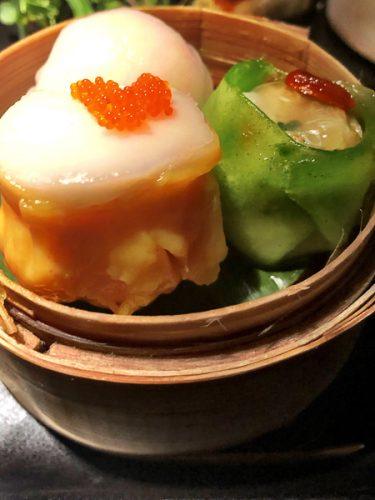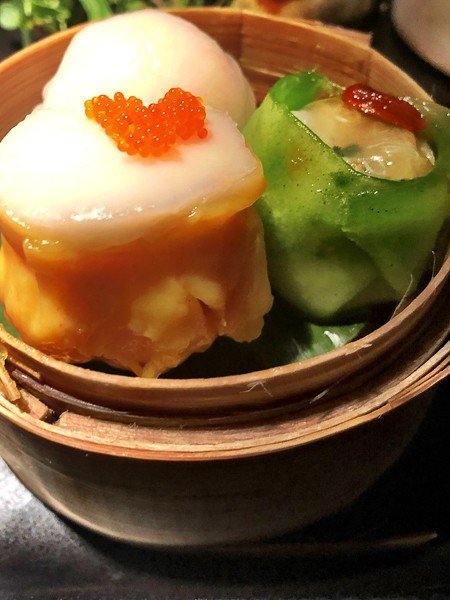 And finally dessert! This and the start dim sum were my personal favourites. The Chocolate Bomb is a sensation! It is made up of a hazelnut praline style ice cream covered in rice crispies and milk chocolate sauce. So many fantastic textures and tastes going on together.
An outstanding multi-course meal!
Boutique Hotels in Londons.
Booking.com is my favourite website for booking hotels. There is a great range with fab prices. Once you have made 5 bookings over 2 years you will gain genius status which opens up more deals. And perhaps best of all you can cancel most bookings up to 24 hours out which is super handy. Here are my picks for boutique hotels in London:
–Artist Residence is located in Pimlico which is fabulously central. IT is in a gorgeous 5 store regency building and has a cute bar. Prices start at £150 a night. Click here for latest prices and deals
-The Portobello Hotel is located in one of London's best known and cutest neighborhoods Notting Hill. This is also the hotel where Kate Moss and Johnny Depp filled up the bath with champagne! The hotel is located on a quite street but is a great location. Don't miss Portobello Road not just for the traditional Saturday market but for loads of great restaurants and bars like The Distillery – and one of my favourite London experiences The Electric Cinema. Prices start at £150 a night. Click here for deals and availability.
-The Great Northern Hotel is ridiculously close to Kings Cross and St Pancras stations which is incredibly convenient. This area has also nearly finished its amazing rejuvenation project and there are loads of fabulous restaurants and bars and interesting things to do on your doorstep. The hotel dates back to 1854 but has had a major refurb so it feels fresh and modern. Prices start at £229 a night. Click here for deals and availability.
-the Hoxton hotel is in the heart of east London in Shoreditch and a perfect base for exploration. The rooms aren't huge but the location makes up for it – as does the great value for London with rooms starting at £99 a night. Click here for deals and availability.
Useful Links:
Heading to London? Check out some of my other posts here:
The Secret Food Markets of London
London's best new restaurants 2017
London Afternoon Tea Mad Hatter style 
Breaking Bad Night ABQ Cocktail Bar Review
London Victoria Nova Restaurants
London Graffiti and Street Food Tour
If you're looking for some activities outside of London check out these posts:
Ockenden Manor Spa Sussex Review
Products from Amazon.co.uk
‹
›
Getting to London and Getting Around:
For cheap flights to Click here for prices and deals. Or check out my favorite Middle Eastern airlines – particularly if you're flying Business Class – I am a big fan of  Click here for prices and details on Qatar Airways and Click here for prices and details on Etihad Airways business class to London.
When in London the tube and buses are absolutely the best way to get around town quickly and cheaply. The best way to pay for this is to get a London Oyster visitor card – which you can order before you leave home. However, once you leave london trains are a great option – Train prices and availabilities – or the roads are less scary outside london so hiring a car can work well – for great deals on car hire click here. 
You can also find a Great Deal on Travel Money here and Click here for travel insurance.
Tours Around London:
Central London and the key tourist sights are so much closer than you might think! Grab your visitor oyster card and it is quite easy to get around. In addition to doing that I personally love taking a couple of tours when I visit cities – especially to find interesting food places or more recent history or hidden gems. Two tour companies I like alot for general interesting tours in London are Local Guddy and Get Your Guide. I also highly recommend London Tailored Tours and the fab Charlie – especially for her brilliant Borough Market Tour.
If you are traveling solo and interesting in travelling beyond London check out Just You Holidays the United Kingdom,  Exodus Holidays the United Kingdom, Explore Holidays United Kingdom and /or G Adventures the United Kingdom
My Pinterest board for London has not just my posts but mostly other posts on London that I like.
Like this Post? Why Not Pin It?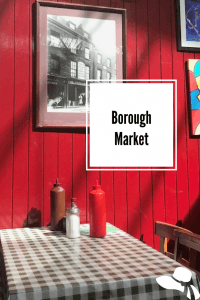 Thanks to London Tailored Tours for sponsoring me on their Borough Food Market Tour
If you click through on the links in this post and end up making a purchase on that site I will get a small commission. Just wanted to let you know!
---
Also published on Medium.
Summary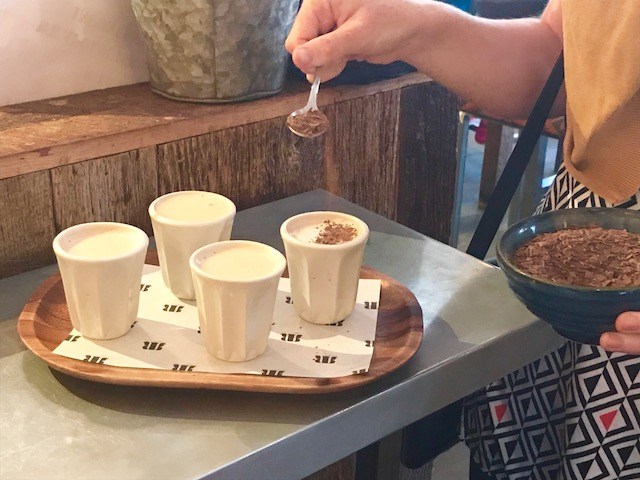 Article Name
London Food Tours: The best Borough Market Tour
Description
Looking for interesting and different London Food Tours? Here is a brilliant tour of Borough Market with a great guide on Borough Market what to eat plus lots of tasting opportunities
Author
Publisher Name
Publisher Logo