Everest Base Camp Himalaya Trekking: The Food
Let's start with the good news – the Everest Base Camp Trek food was a lot better than I expected! Even once we were quite high – albeit by then your appetite is pretty shot due to altitude. Even the biggest hungriest guys in our group barely ate at this point.
There is of course quite a bit of variation in quality as you stay in different tea houses throughout the Everest Base Camp Trek. Breakfast tends to be included in the teahouse cost and then you stop at a "restaurant" – normally another tea house – for lunch and then usually have dinner at your tea house.
Everest Base Camp Himalaya Trekking Food: Breakfast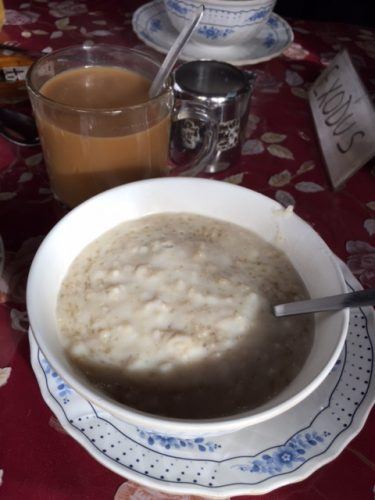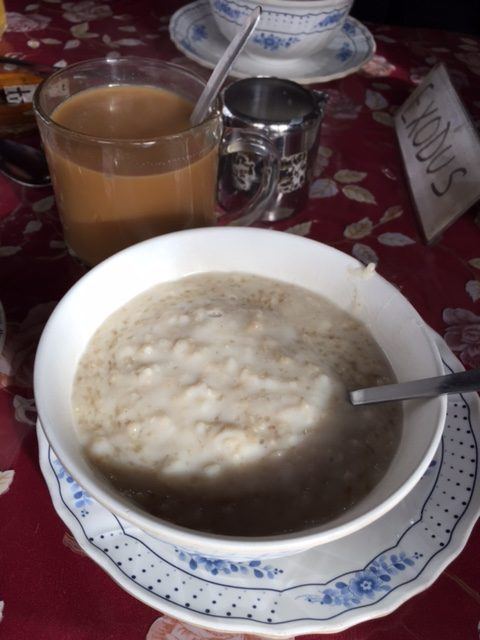 Breakfast is ordered the night before and tends to start with a choice of porridge or muesli and warm milk. The porridge is generally tastier – and easier to make tastier as all tea houses on the Everest Base Camp Trek have sugar and honey. The quality was mixed but the majority were pretty good. You then get toast -generally a very manufactured type of white bread but there is normally a good selection of spreads.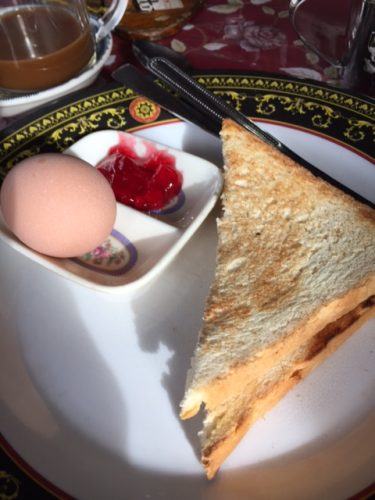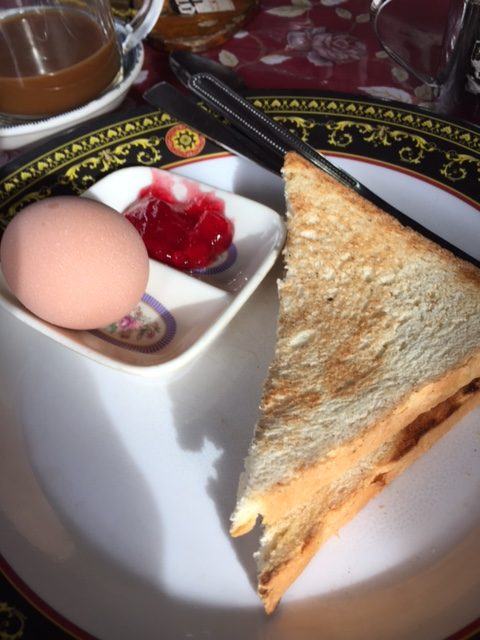 Eggs are next up – in a few places this is in pancake form which was pretty good – American style. You can get fried but my favourite was to get boiled. I foud the oil often didn't agree with me and a boiled egg was a safe friend and source of protein!
Everest Base Camp Himalaya Trekking Food: Warm Drinks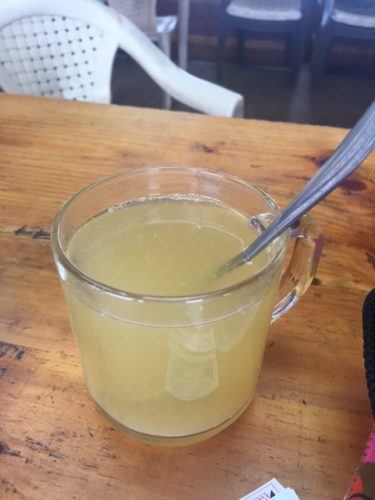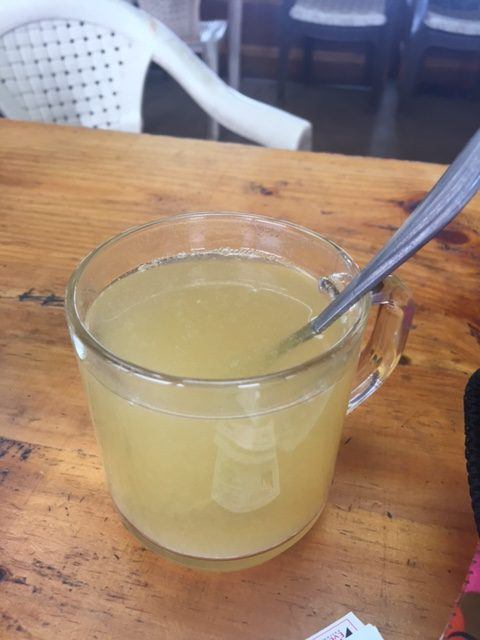 And then there are the warm beverages. Honey, ginger and lemon will become a very good friend of yours. It is very comforting and also great for the dry throat you get as you head further and further up the Everest Base Camp Trek. There is of course tea. And then the coffee was very mixed. A couple of places had freshly ground coffee which was excellent – Tengboche was a highlight. In Namche there are several takeaway coffee places! In general if you order coffee with milk you get their bodgy coffee and a whitener. The better option is to take a small can of your own (I took Lavazza instant), order boiling water and ask for hot milk. You can get hot milk all the way up. This was definitely the best coffee option.
Everest Base Camp Himalaya Trekking Food: Lunch and Dinner
Lunch and dinner menus are remarkedly similar – and similar all the way up and down the Everest Base Camp Trek! I went vegetarian the whole way and would recommend it. A few people in our group had yak steaks – varying reviews but no real stomach issues which become the important thing. Here are the key groups of food:
1. Pizzas – again of very varying quality. I had one which was quite good but the majority that I saw looked like bad frozen pizzas from the 1980s and I heard tasted similar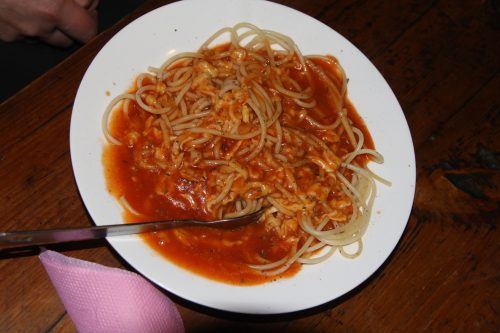 2. Pasta – I didn't order any of this as I was concerned about the spiciness of the tomato sauce and they filled them with cheese. They did tend to look ok.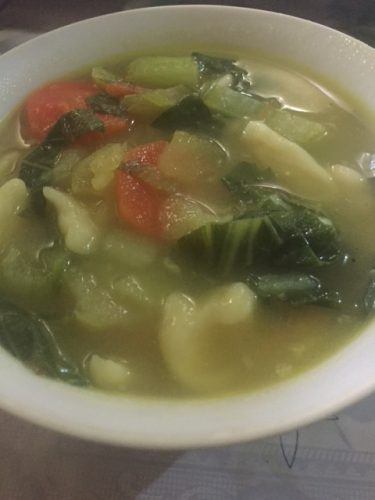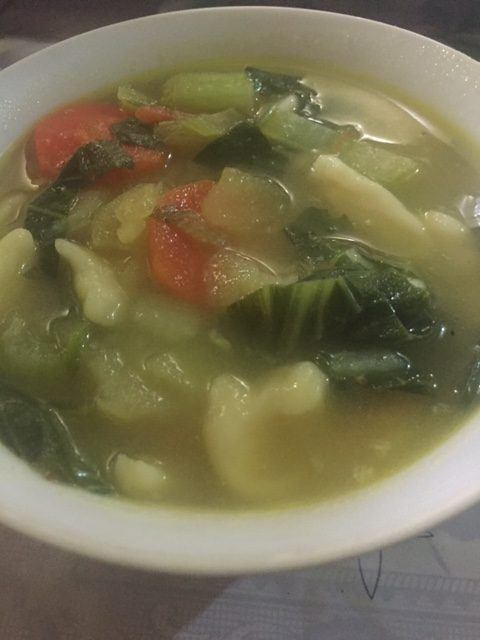 3. Sherpa Stew – this was my favourite. Vegetarian. Everyone's was a bit different so you got some variety which was nice. I found no matter what I could usually eat at least some of it. It is essentially stock/broth and vegetables. And when they say vegetables don't expect them to be anything green – it's all about carrots and potatoes. Potatoes are everywhere.
4. Tibetan bread/chapati – often on offer and good with a Sherpa stew. I didn't have a bad one of these and they always looked good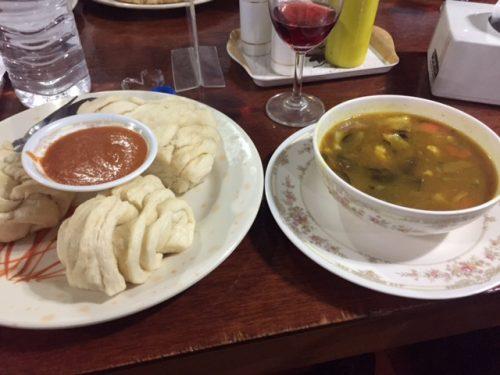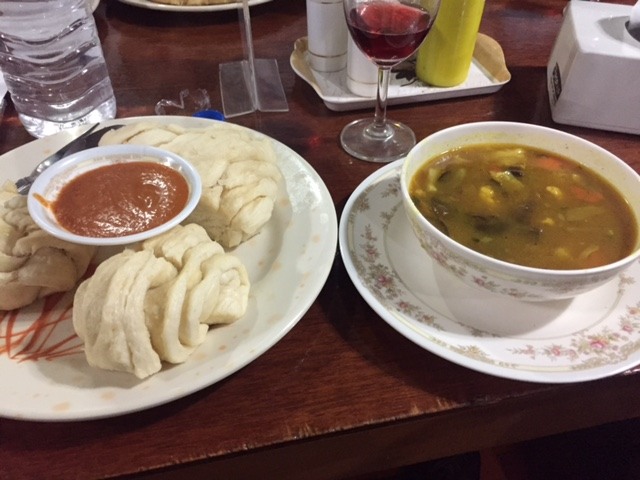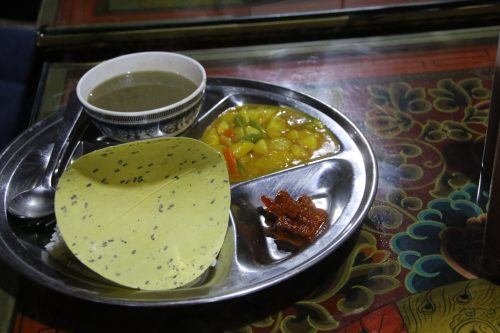 5. Dal bhat – the classic dish. Again like the Sherpa stew everyone does something different so it is good for variety. Vegetarian again. I tended to have this for lunch. I liked that it was lighter on my stomach vs having anything with potatoes or pasta in it.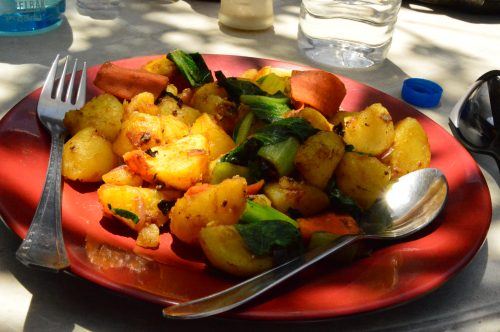 6. Potatoes – are everywhere!!! You can just get a plate of them with cheese on top. Or some ketchup on the side. Or some vegetables on top. Or fries are everywhere and they are not bad – more like your mum made vs mcdonalds. I did find I wasn't that keen on the oil they were pan fried in and I did find they were too heavy for lunch but each to their own.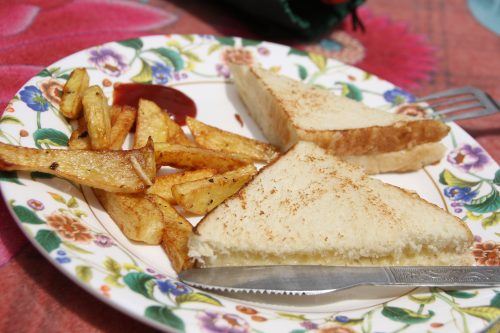 7. Toasted Cheese Sandwiches. You wouldn't believe how good these can taste – especially as you get higher up and can't take much and need comfort food. Varying quality but generally a safe bet
8. Egg and Chips – a very popular dinner choice in our group. Fairly self-explanatory
Everest Base Camp Himalaya Trekking Food: Dessert
There was a lot of apple pie. To be honest I had read quite a bit about these lovely bakeries and the fantastic apple pie. Well, I have to say I didn't see any of that. There were no cute bakeries and everything like that I tried was pretty blah. The first apple pie we tried was like an apple sandwich. Then there was some ok pastry but way too much filling. Our guide warned us not to eat baked goods over 4000m as they had often been made quite some time ago but the cold dry weather allowed them to look fresher than they were.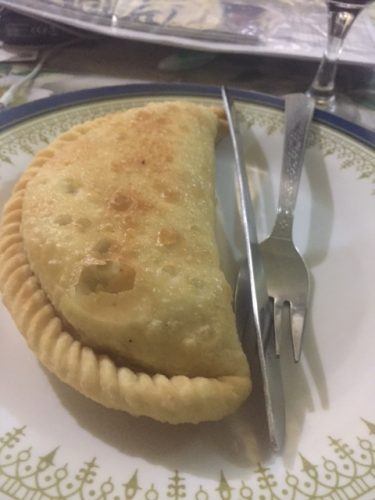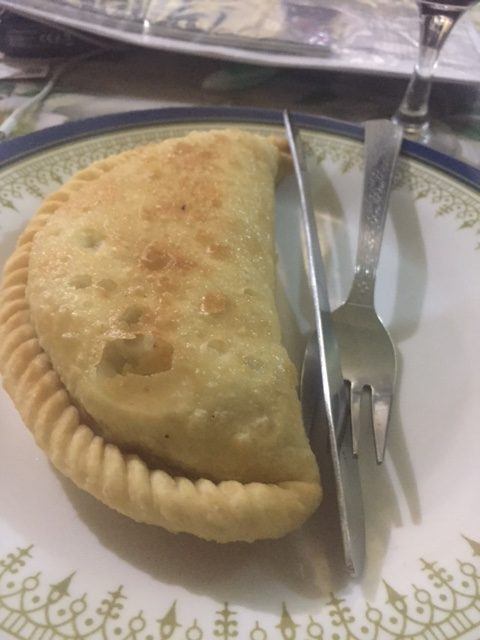 Everest Base Camp Himalaya Trekking Food: Snacks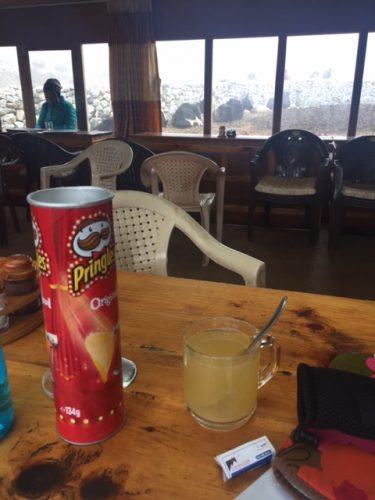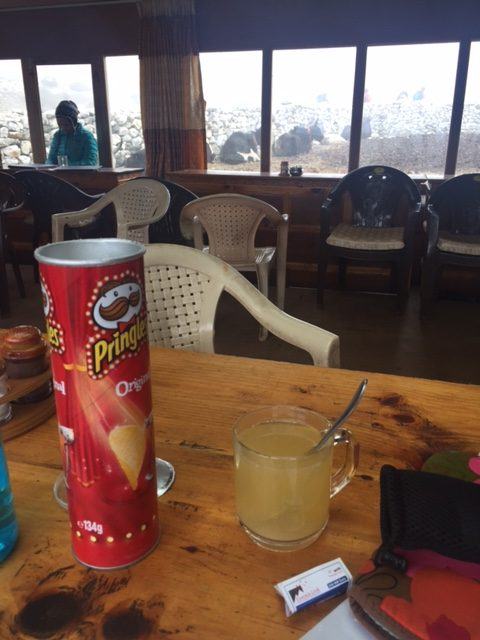 You can buy chocolates, pringles (they are everywhere vs other types of crisps) pretty much the whole way – with the price going up as you do. There are also issues with the use by dates on some of them. I bought mostly my own from the uk – loads of Twirls and wine gums. A lot of my chocolate melted and then reformed but to be honest it tasted fine! And then I bought another stash in Namche so I had stuff with me every day. I found each day I needed a roll of wine gums/fruit pastilles (I normally gave away half) and one chocolate bar. This didn't change much at high altitude as my appetite was broken – by base camp I couldn't even eat chocolate. I probably ended up with more than I needed.
Everest Base Camp Himalaya Trekking Food: Drinks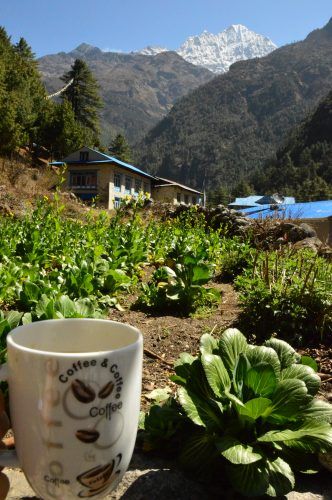 You can also normally get soft drinks the whole way up. A sprite can be a sensation when you can't eat much and are constantly thirsty. You can, of course, get water easily but you have to steripen/tablet it to make it safe. I just bought water the whole way. Your guide will normally give you a sense of how much water you need to carry for each leg – there were very few times you needed to carry more than 2 litres with you as you would be able to fill up again.
I had a water bladder which I found best to use as it was easiest when trekking and thus helped keep me hydrated. I also had my metal bottle which I put in the side pocked upside down to avoid full freezing. This bottle was most helpful at night when I got it filled with boiling water and wrapped my towel around it and used it as a hot water bottle! I would then use the water from it to clean my teeth in the morning.
The 2 best tea houses for food and coffee were the one in Namche and the one in Tengboche. Funnily enough, they are owned by a husband and wife – he runs Namche and she runs Tengboche! Apparently spending the season apart every year is the key to their happy marriage!
By the end, you will never want to see any of the Everest Base Camp Trek food ever again but I imagine this would be the same with any type of cuisine that was all you could eat for 12 days!
Everest Base Camp Trek Useful Links:
Accommodation:
Looking for hotels in Kathmandu? Click here for the best options
Looking for a hotel in Lukla? Click here for the best options
Flights:
Looking for flights to Kathmandu? Click here for some great deals
Looking for flights to Lukla? Click here for some great deals
Or try my favourite Middle Eastern Airlines – particularly if you like flying Business Class!
Gear:
Kathmandu has everything you could possibly need for trekking 
Other Posts you Might Enjoy Reading:
Click here for my Post on the Everest Base Camp Trek Day by Day
Click here for the Complete Real Run down on the Everest Base Camp Trek – food, facilities and tea houses
My complete guide to preparation and packing for the Everest Base Camp Trek
A Luxurious Long Weekend in Kathmandu for post Trek!
My Review of Dwarika's Kathmandu
My Review of Dwarika's Dhulikhel
Tours
Looking for tours in Nepal? Click here for some great options
Travelling Solo To Nepal? Check out some of these organised group options:
Need Travel Insurance? Click here for a great deal
Pinterest
Click here to follow my Pinterest Board on Everest Base Camp Trek
Click here to follow my Pinterest Board on Nepal
Click here to follow my Pinterest Board on Kathmandu
This post contains affiliate links
Summary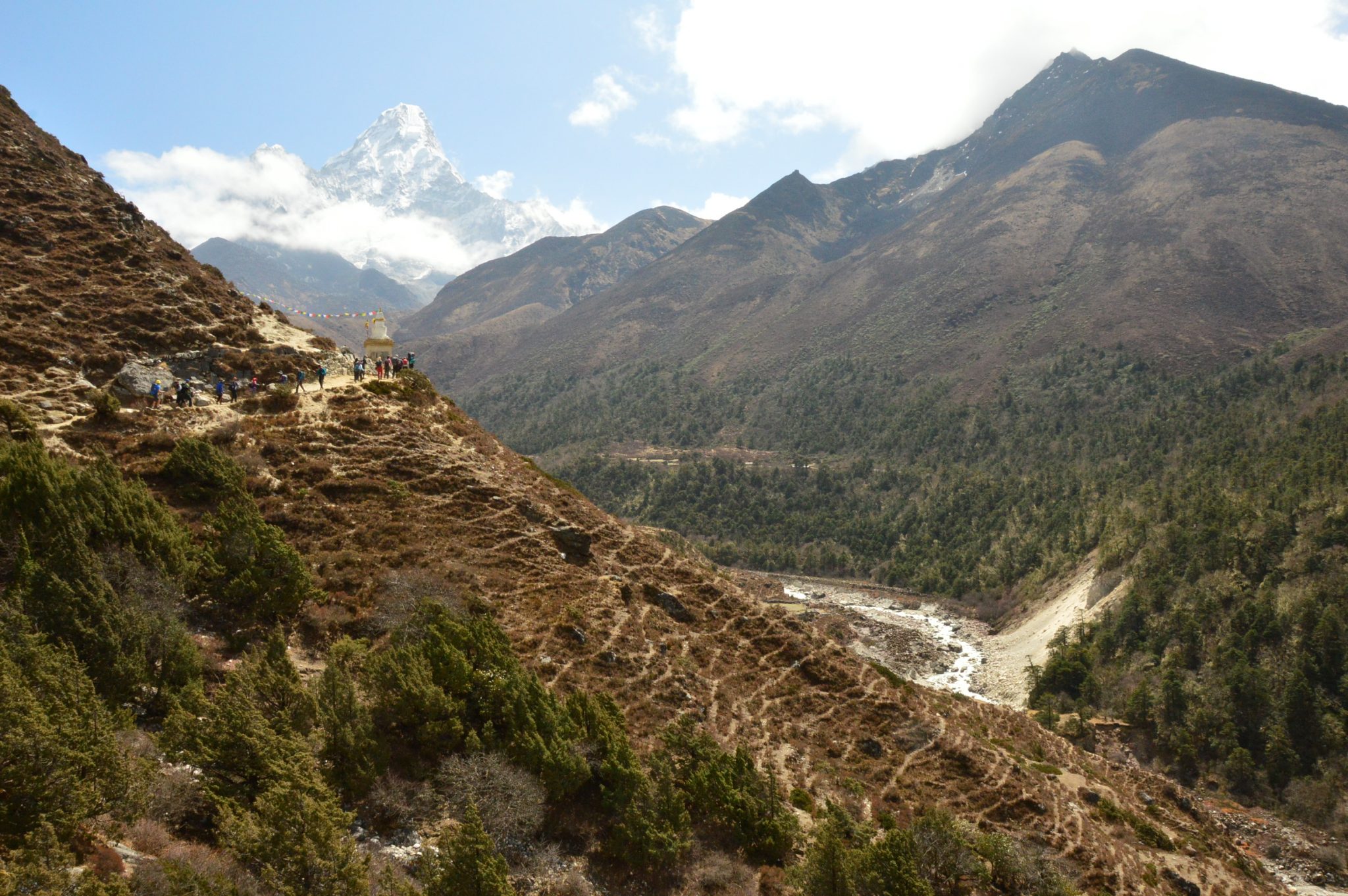 Article Name
Everest Base Camp Trek Food: The Real Run Down
Description
Thinking about doing the Everest Base Camp Trek? Here's the real story on what the Everest Base Camp Trek food is like to help you plan your trip
Author
Amanda OBrien
Publisher Name
The Boutique Adventurer
Publisher Logo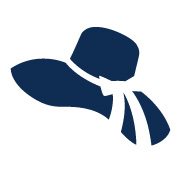 ---
Also published on Medium.