Everest Base Camp Himalaya Trekking: Facilities Available
So I read a lot of mixed things about Everest Base Camp facilities before leaving for the trek. It did sound like there were options for showers, charging etc but it was hard to get a handle on how much to expect. So here is my blow by blow description! I trekked April 2017.
One of the first things that happens when you get to a new tea house on an organised tour is that you will be sat down, order and served a warm beverage and then briefed. Part of this briefing is almost always what facilities are available and the costs and procedures to access them.
Everest Base Camp Himalaya Trekking:  Charging Phones, camera batteries etc
The first consideration when it comes to Everest Base Camp facilities is keeping all your devices going! Every place I stayed was able to charge items every night. There were a couple of quick eg one minute blackouts but that was about it. The cost of charging increases as you head further up. It started at about 200 NPR and got up to 450 NPR at Gorak Shep.
There was a mixed approach to what your charging actually got you. In some places this got you one power point and one device charged. In other places charging was more for power packs vs say phones and camera batteries. Then in other places they were very relaxed and you grabbed what power points you could.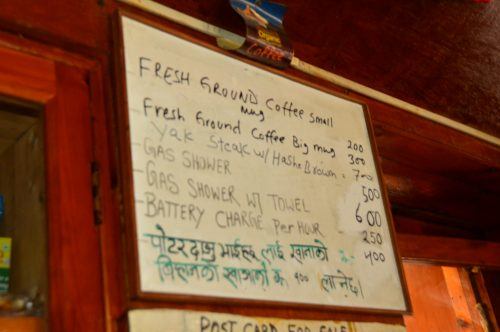 Having said that I never once had the problem of not being able to access a power point when it came to Everest Base Camp facilities and I travelled at peak time – late April. I also took an extension cord with me that also had USB points (2 plug capacity). I did only use this once and it was quite heavy so probably not needed.
My key piece of advice would be to take a fully charged power pack (I took the Anker) with you in addition to all your other items. You can charge multiple devices of this at once. Also as you get higher up the mountain your devices – particularly your phone – may lose charge during the night due to the cold. My next piece of advice is put your phone and power pack in your sleeping bag with you – I "slept" with these every night.
Everest Base Camp Himalaya Trekking: Showers
Ah where to begin! One of the most important Everest Base Camp facilities for me was the shower options. So virtually every place I stayed at under 4500m had a hot shower option. A couple low down had showers in the room but they only had cold water so make sure you check that! I think only one place had 2 showers – most were just the one.
The key was to have your shower as soon as possible after arriving. The hot water supply ran low and there were often queues – and queues that meant you might miss out. It also meant you used the shower at its cleanest point – relative yes but still important compared to using them at the end and there being a lot of stray hair ugh!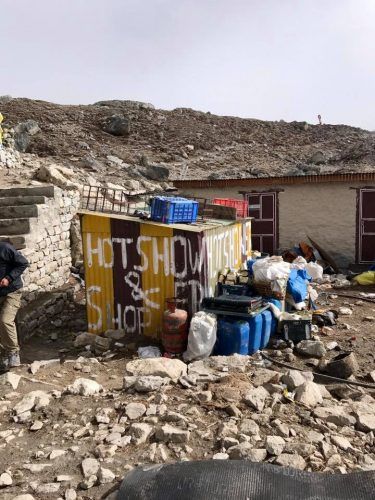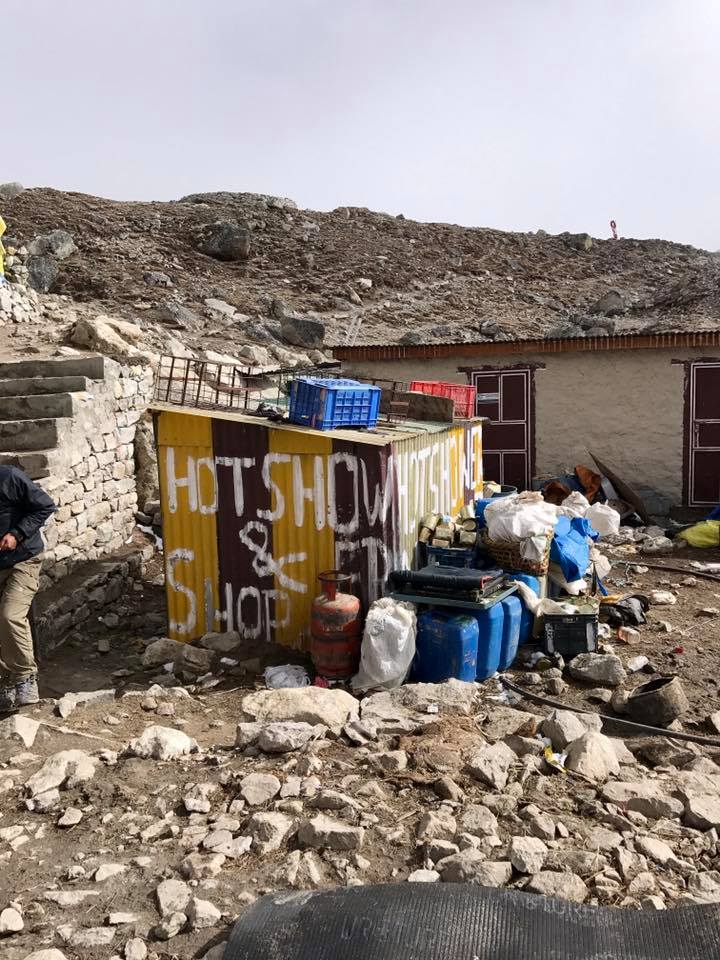 One of the single most important things you can pack is flip flops. These are critical in the shower. Firstly you don't want to touch anything. Secondly it is generally very cold so you don't want your feet directly on the "floor".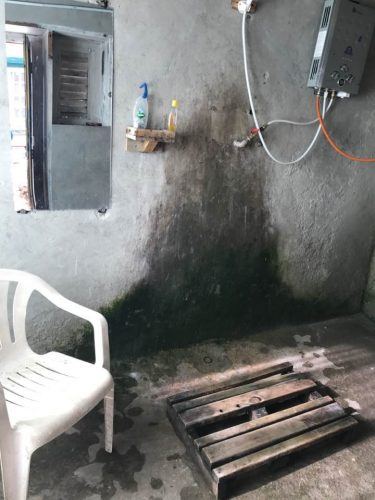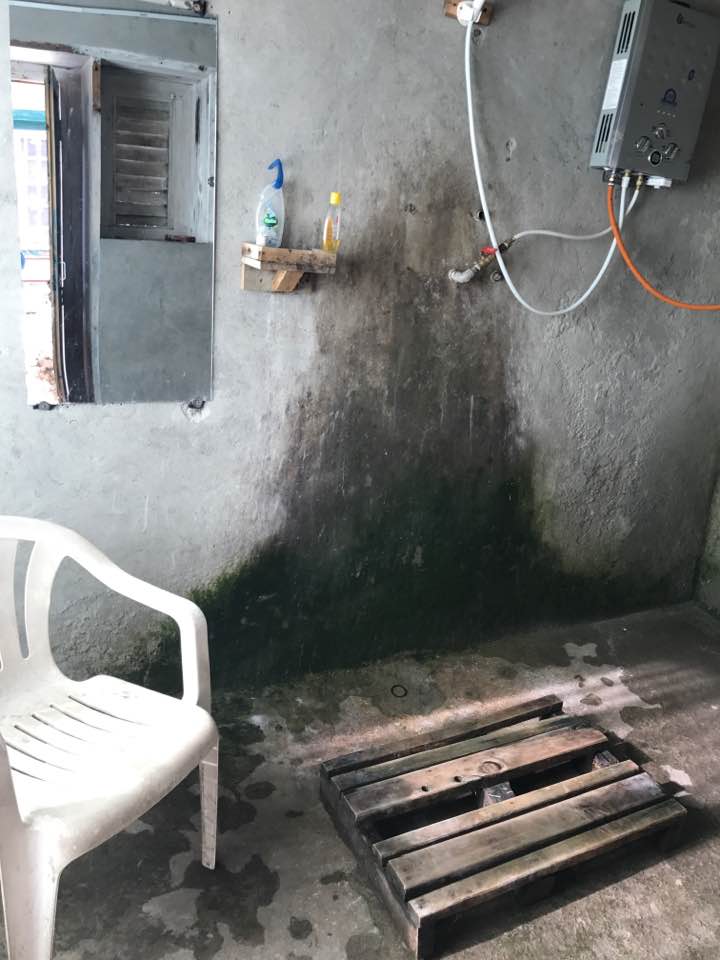 The showers are VERY basic! Literally a shack usually with a shower head. The water did get quite warm though to be fair. There is only enough water pressure about the first 1-3 nights to wash your hair. Also to be frank it is too cold in the shower to want to wash it any higher up. Make sure you take shower gel etc as there is none of it there. And an absorbent towel. Again good to be first as you can then take your towel into the communal area and put it on a chair near the fire to get it warm.
We were very excited to discover a hair dryer in Namche! And it was pretty effective! You actually could take a hair dryer with you. Quite a few rooms had power points or you could use it in the communal area. But again you would only want to wash your hair in the first couple or last couple of days so it probably isn't worth the weight.
Showers were always charged for – anywhere between 450 and 600. It is generally not advised to use the showers over 4000m. There are several reasons for this. One is that the water is poorer quality and you risk swallowing it. Secondly is it is hard to get dry without getting a chill. Third reason is the quality of the tea houses drops rapidly at this level as does the quality of the shower and quite frankly wipes in your room looks like a much cleaner option! Also by this point you are always cold so you don't feel quite as dirty.
Everest Base Camp Himalaya Trekking: Wi fi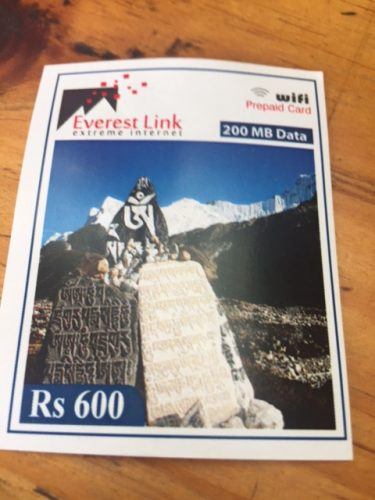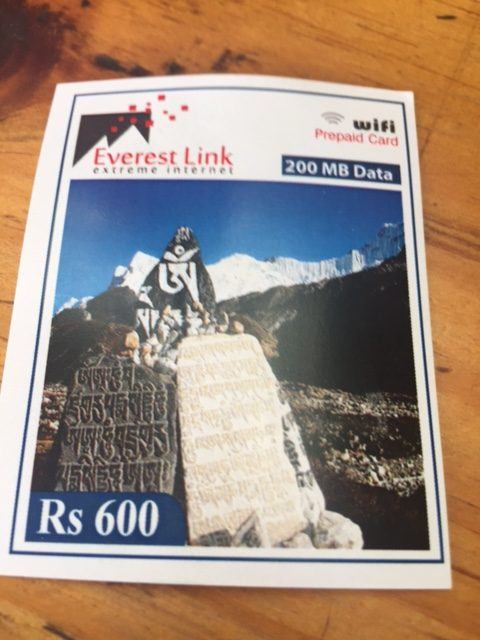 A key question when it comes to Everest Base Camp facilities is what about the wifi? So we had wifi all the way up to Everest base camp. HOWEVER it was to varying degrees. The first 2 nights were actually the worst quality wifi – kept dropping in and out and you could barely open anything. Things got a lot better from night 3 once the wonderful Everest Link kicked in. Everest Link is the network that goes all the way up to base camp. You can buy a card which gets you about one hour's use.
The wifi is very powerful. However it does get full. Again you are best to get on it as soon as you arrive at the tea house and check email. Once lots of people have arrived and it is early evening it of course gets a lot slower. And then I found it was very strong in the mornings. You usually bought 200MBs – sometimes I seemed to run through these very quickly, sometimes I would have extra bandwidth in the morning. It was a bit pot luck.
Ask the tea house owner to rub off the cover to reveal the code- they are odd cards and I nearly destroyed a couple and couldn't see the codes when I tried!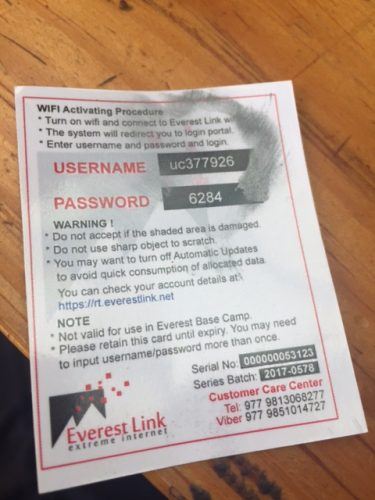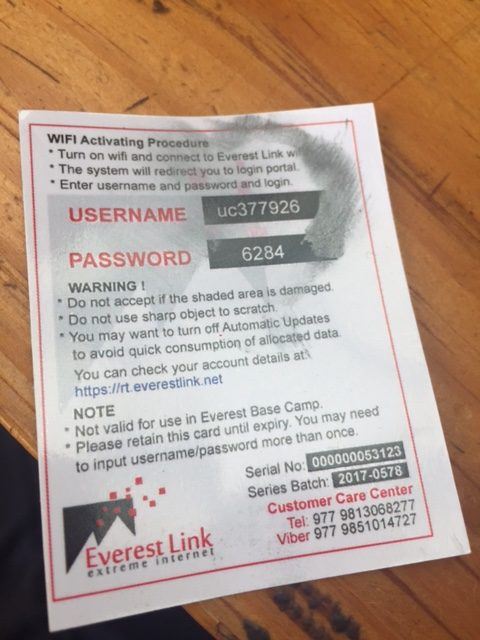 Wifi starts at about 450 NPR and goes up to about 600 for the essentially about one hour Everest link cards.
Everest Base Camp Himalaya Trekking: Wine
A final critical element of Everest Base Camp facilities is of course the ability to get wine! Believe it or not you can buy wine the first 4 nights! And it was ok! They moved to red only for nights 3 and 4 and hey it was cold but it was ok. After that it is not recommended due to altitude and dehydration – and you stop feeling like it. You can buy beer pretty much the whole way up but the same thing applies.
Everest Base Camp Facilities Useful Links:
Accommodation:
Looking for hotels in Kathmandu? Click here for the best options
Looking for a hotel in Lukla? Click here for the best options
Flights:
Looking for flights to Kathmandu? Click here for some great deals
Looking for flights to Lukla? Click here for some great deals
Or try my favourite Middle Eastern Airlines – particularly if you like flying Business Class!
Gear:
Kathmandu has everything you could possibly need for trekking 
Other Posts you Might Enjoy Reading:
Click here for my Post on the Everest Base Camp Trek Day by Day
Click here for the Complete Real Run down on the Everest Base Camp Trek – food, facilities and tea houses
My complete guide to preparation and packing for the Everest Base Camp Trek
A Luxurious Long Weekend in Kathmandu for post Trek!
My Review of Dwarika's Kathmandu
My Review of Dwarika's Dhulikhel
Tours
Looking for tours in Nepal? Click here for some great options
Travelling Solo To Nepal? Check out some of these organised group options:
Need Travel Insurance? Click here for a great deal
Pinterest
Click here to follow my Pinterest Board on Everest Base Camp Trek
Click here to follow my Pinterest Board on Nepal
Click here to follow my Pinterest Board on Kathmandu
This post contains affiliate links
Summary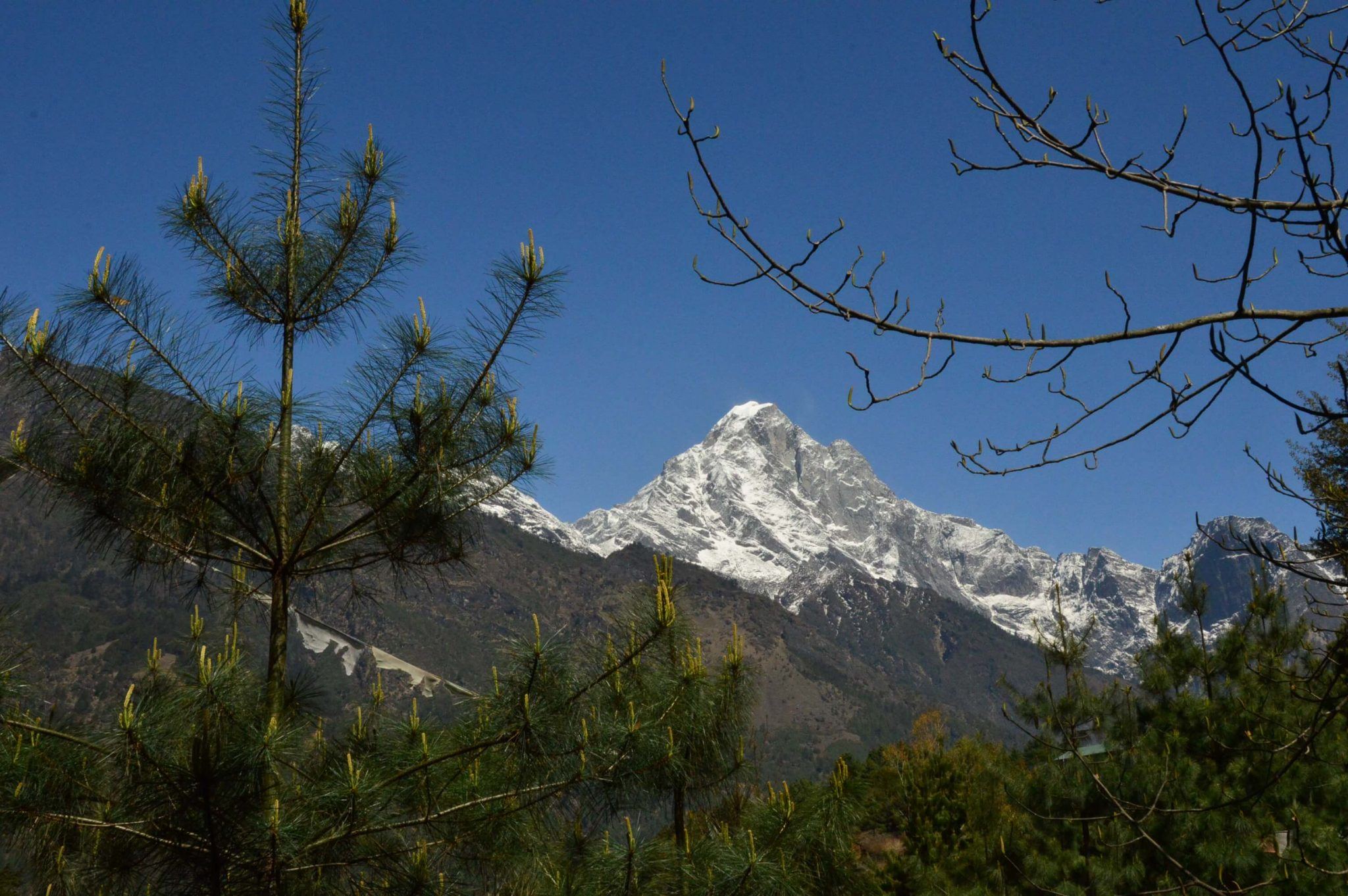 Article Name
Everest Base Camp Facilities: The real run down on what is available
Description
Heading to Everest Base Camp? here's the real run down on what types of facilities are available for charging, wifi and showers
Author
Amanda OBrien
Publisher Name
The Boutique Adventurer
Publisher Logo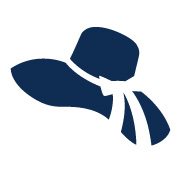 ---
Also published on Medium.