So gosh Daylesford gets cold in the winter! I hadn't been for years and had very fond memories. The opportunity came up for a visit in July. Friends told me how cold it would be but I thought hey I lived in London for 13 years I know cold. But gosh 7 degrees in Hepburn Springs Spa feels like the equivalent of 0 degrees in London!
Despite years of being told there is no such thing as bad weather just bad clothing I had not brought the right clothing. And it was school holidays. I do wonder what the deal is with school holidays is in Australia. It appears that it is always school holidays somewhere as the states all have different dates. Anytime I go away it is school holidays. Ok I have fully moved into first world problems here so shall now focus on the positive and the best things to do in the Hepburn Springs Spa area!
Hepburn Springs Spa Weekend Accommodation
I had a bit of an ill fated attempt to stay at a friend of a friend's place in Daylesford but it turned out there were some major heating issues – combined with my lack of brownies training and very limited experience in making fires – that meant I needed to find an alternative asap. I remembered I had googled Frangos Frangos before deciding on the friend's place as I had been to the restaurant years ago.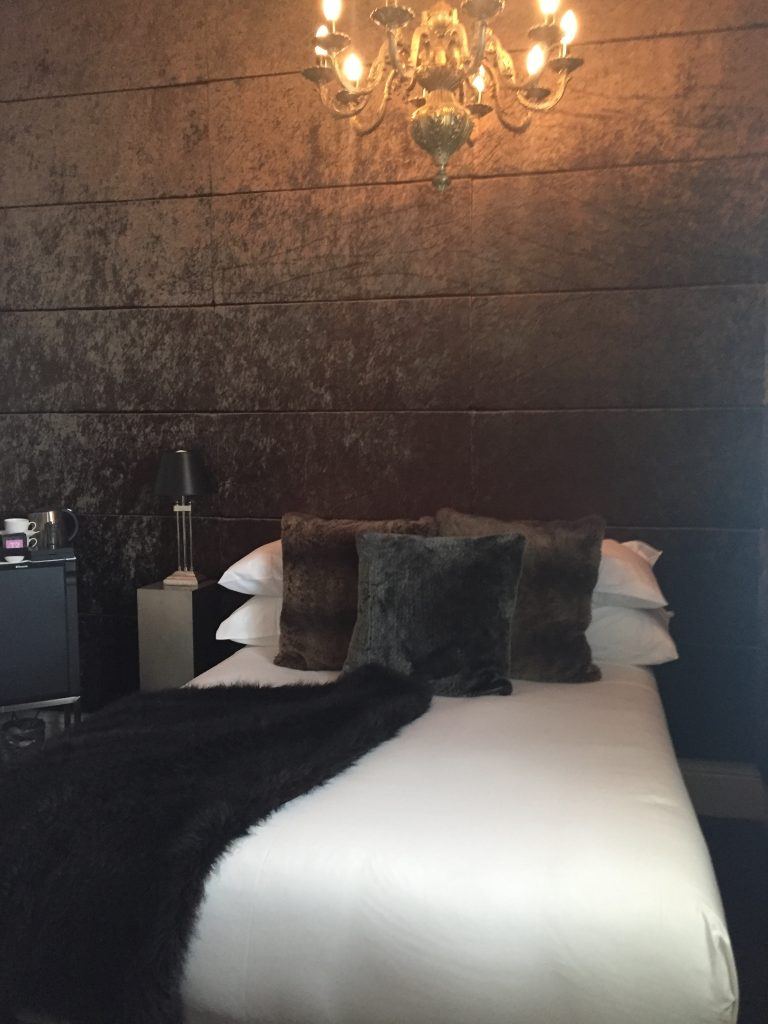 Luckily they had a room and what a warm and cosy room it is! Sure it is not the biggest room but it did have a huge bathroom. The room also has a lot of furry soft furnishings – they are even on the walls! I couldn't think of anything better in cold weather. Best of all they have a fantastic café downstairs – Café Koukla –  which is where breakfast is served. It is also one of the only places to have wifi so it has also been a lovely place to sit and blog.
I had two brilliant breakfasts here – the first morning was a very tasty omelette with giant hunks of bocconcini. The second morning was poached eggs, bacon and avocado on sourdough. Excellent bacon and the eggs tasted very fresh. As well as fresh oj and a fantastic coffee.
They are known for their woodfire pizzas. It was far too cold to consider leaving the nice warm café in the evenings so night one I had a delicious pumpkin, feta, spinach and pine nut pizza delivered to my room. It took all of about 5 minutes to arrive and you could taste it was fresh from the oven. As this worked so well I did the same thing the second night and enjoyed an amazing meat falling off the bone lamb shoulder with a gravy/sauce that was heaven.
Hepburn Springs Spa Weekend – Breakfast at Gourmet Larder
Although 2 of my 3 Daylesford brekkies were at Koukla I hit Gourmet Larder my first morning in town after my very cold night! It was number one on yelp and with good reason. Great atmosphere and I enjoyed the veggie beans on toast with poached eggs. Great coffee too!
Hepburn Springs Spa Weekend – Go Walking
I love an exploratory walk but sometimes I really don't pay the attention that I should when heading out. I did three "walks" over one afternoon. First up was Mount Franklin. I have drunk their water for so long it seemed rude not to visit when I was nearby. It is very well signed on the road towards Castlemaine. Follow the turn-off and drive a ways up and you'll get to a camping ground where you can park your car. It was very empty when I arrived – again reference the weather.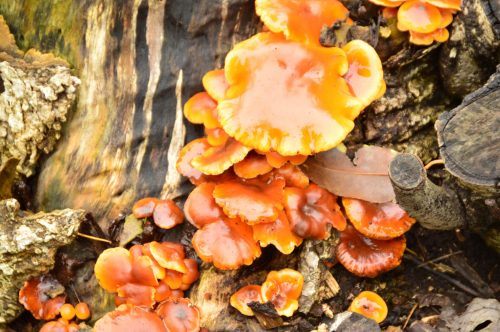 There are beautiful fir trees all over the place begging for xmas decorations. Again the walk is signed and the guide is given of 0.5km and 20 minutes. It is quite steep particularly initially. But it is very beautiful. The mountain is actually an old volcano. I was a bit unsure as to whether or not I had reached the top. I actually had to google it whilst I was there! The "top" is actually a flat area covered in stones. It is not much of a view once you arrive – very much covered by trees. But it is a nice stroll up and it is always good to climb a well-known brand!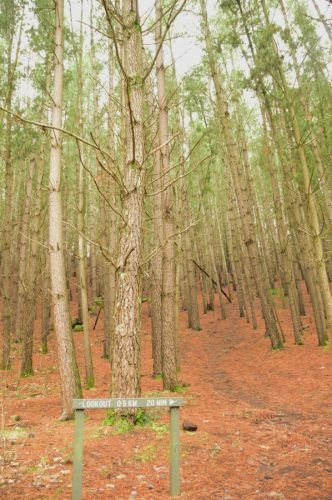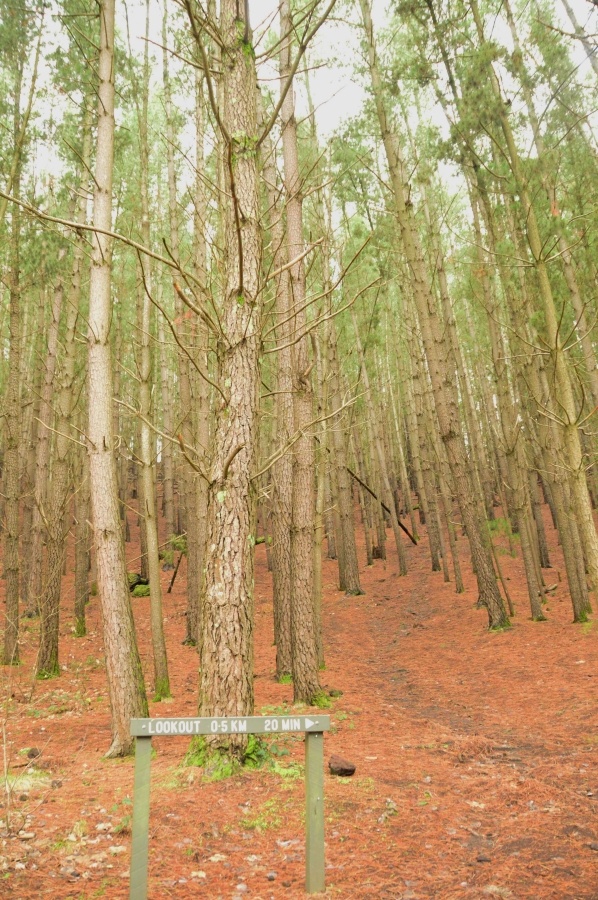 Next up was heading back into Daylesford and hitting Wombat Hill and the Pioneer Memorial Tower. I love a view! I really should have paid more attention as I walked up Wombat Road. In my defence, there was a very clear sign that I was heading up Wombat Hill and botanical gardens (see attached). It did end up a rather windy exploratory path to find the Tower. Which was of course located next to a car park! I should have come in from Wombat Hill House. Well at least I covered some extra ground and it was up hill so all good for the glutes! It is quite pretty and there is a decent view from the top of the tower.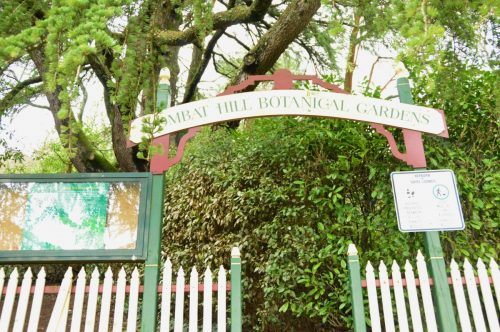 I then decided to do a "proper" walk eg one that had a brochure from the tourist info office. This was walk #7 – Lake Daylesford to Tiperrary Springs. I'm going to admit up front I didn't actually get to Tiperrary Springs. Not through lack of trying and not because I gave up – I actually think I walked further than the walk suggested.
Anyway, it is a nice kickoff from Lake Daylesford – park near the Boathouse Café. It is then a very pleasant stroll along the lake passing mineral spring pumps which are currently out of action due to ecoli (which didn't make me feel great about my visit to the springs the next day but all was fine).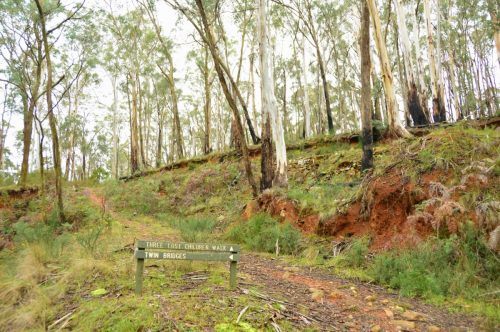 Luckily it was cold enough that I wasn't reliant on their water and they are kind of photogenic.
It was quite easy (eg no one could get lost) to get to the highway and cross over to the Twin Bridges picnic area. I then thought I was on the right track until I hit a t junction. From here I went up, down and around and finally decided to give in as it was starting to get dark and I couldn't figure out any other options to get to the Tiperrary Springs. And I was really starting to feel like a wine.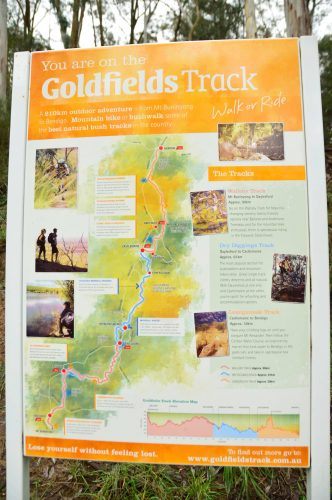 I headed back on the other side of the lake as guided by my tourist office brochure. I checked my phone once back at the car and between the 3 walks and a few other small meanders I had managed to clock up 12km for the day and get a few nice pics. I, therefore, decided to focus on the journey rather than the destination of the springs I never actually reached…..
Hepburn Springs Spa Weekend – Have a chocolate indulgence
I drove past the sign to the Chocolate Mill about 3 times before I headed in. It wasn't my fault – no one could reasonably be expected to pass by a sign that elicits memories of the classic Gene Wilder Charlie and the Chocolate Factory chocolate river more than 3 times without turning right.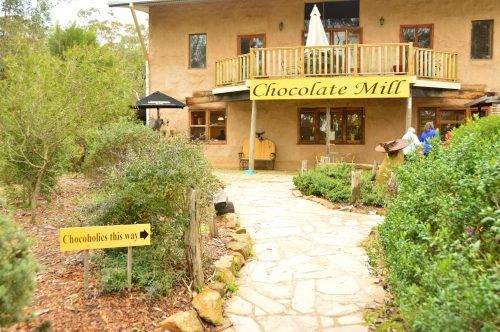 The Mill is about a 5 minute drive out of Daylesford heading towards Castlemaine. It is quite a big place. There is a lot going on outside which was not being used due to the cold weather – many tables and kid-friendly playgrounds etc.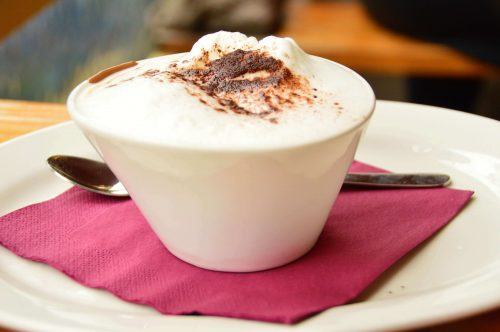 Inside is a store, tables, a café of sorts and the manufacturing facility which you can clearly see through the glass. Something about people in white coats dipping items into big vats of warm chocolate tends to make me hungry. There was a lot of product on display for purchase – bars, slabs, different formats – although you were advised not to touch any of them as the chocolate would apparently melt quite quickly in your warm hands.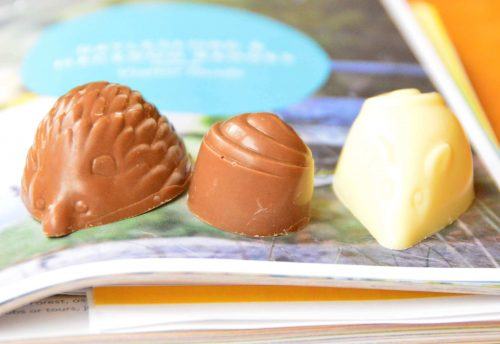 I hit the chocolate counter to make a few new friends – shortlived but tasty friendships. I then ordered the hot chocolate – milk flavour. They are quite rightly best known for their hot chocolate. It was a sensation. I enjoyed being advised that I would need to use my spoon a lot to scoop up the chocolate from the bottom. I then learnt that getting a good portion of this chocolate on my spoon and then adding a dash of warm milk was the best way to enjoy the hot chocolate. This made for a high sugar, low volume, very tasty lunch!
Hepburn Springs Spa Weekend – the Spa!
I don't think you can come to Daylesford and not have some kind of spa treatment. There are many on offer but I decided to go with the classic – Hepburn Bathhouse & Spa. This is actually the first spa I ever went to circa 20 years ago and I was entranced. Where had spas been all my life? Since that critical visit I have visited many spas of different forms and shapes in many places. I was quite excited at heading back to the place where it all started…..
I booked a good couple of weeks ahead. The Day Retreat package was a great deal at $AUD235 and included access to the pools, a treatment and lunch.
For my full post on Hepburn Bathhouse and Spa click here
Hepburn Springs Spa Weekend – Visit the Convent Gallery
The Convent Gallery is a mix of Gallery, shop and café. It is located up the hill in the main part of Daylesford and it is very well signed. The building and the grounds are beautiful. Once inside the first thing you will see is the café. This is a stunning space. I came for lunch and enjoyed roasted mushrooms and saganaki cheese. My eyes were then, unfortunately, larger than my stomach so I ordered the scones I had seen brought out to others. They were sensational! Warm, fluffy, tall! I made it through one and a bit and then felt rather full for about 24 hours.
Next up was a wander through the lovely gallery and a quick visit to the shop.
Hepburn Springs Spa Weekend – Get in the car
The area around Daylesford is stunning. Sweeping views, gorgeous landscapes – it is a lovely place to get in the car and just drive in whichever direction you feel like going. I popped into Castlemaine. I was surprised to find it is quite a large town – and the place to go if you feel like DIY, a bakery or Asian food. I think these three types of retailers make up about 60% of the main town real estate!
Castlemaine is a charming town with lots of lovely old for Australia architecture. I also drove up the hill to the Old Castlemaine Jail. I had read they did not do tours so I just stopped and took a few photos. However, on my return to Melbourne, I was informed that they do actually do tours you just need to give them a call.
After Castlemaine, I headed to Hepburn and past one of my favourite places in the area and perhaps the one best suited to Instagram Lavendula. This is a stunning lavender farm with a café and activities. Unfortunately, in winter it is only open on weekends and I was there during the week. This is definitely a place you want to visit if it is open.
A Hepburn Springs Spa Weekend is definitely one of the best weekends away that Melbourne has on offer. It is not a long drive (90 minutes depending on traffic) but you will feel much further away. It is a fantastic spot to visit all year round and perfect for both a romantic weekend or a girls weekend.
Hepburn Springs Spa Weekend – Useful Links:
Flights:
Try my favourite Middle Eastern airlines to get to Melbourne – especially if you're looking at business Class:
And then hire a car to drive to Hepburn Springs from Melbourne
Accommodation:
Great Places to stay in Melbourne
Other Daylesford Accommodation Options
You might also like to read:
For another great Melbourne weekend away click here for my post on the Mornington Peninsula
Explore Melbourne's most interesting neighborhoods
Best Melbourne Mexican Restaurants My Top 3
How about taking on the Epic drive between Melbourne and Perth? Read all about how to head into Australia's heart land
2 Best Weekend Getaways Sydney
Watsons Bay Things to do: The Top 6
Barangaroo Restaurants: Where to Eat in Sydney's hottest new Neighbourhood
Blue Mountains Day Trip: The 4 Best Things to do
Tours:
Heading to Australia solo? Group tours can be a great option:
Click here for a Great Deal on Travel Money
Click here for Travel Insurance
Like this post? Why not Pin It?
My Pinterest Board on Melbourne
My Pinterest Board on Australia

You can support The Boutique Adventurer by clicking through on the links that appear on my blog posts around flights, accommodation, tours, travel insurance etc. I get a small commission if you end up buying on these sites. If that's ok with you thanks as it all helps
---
Also published on Medium.
Summary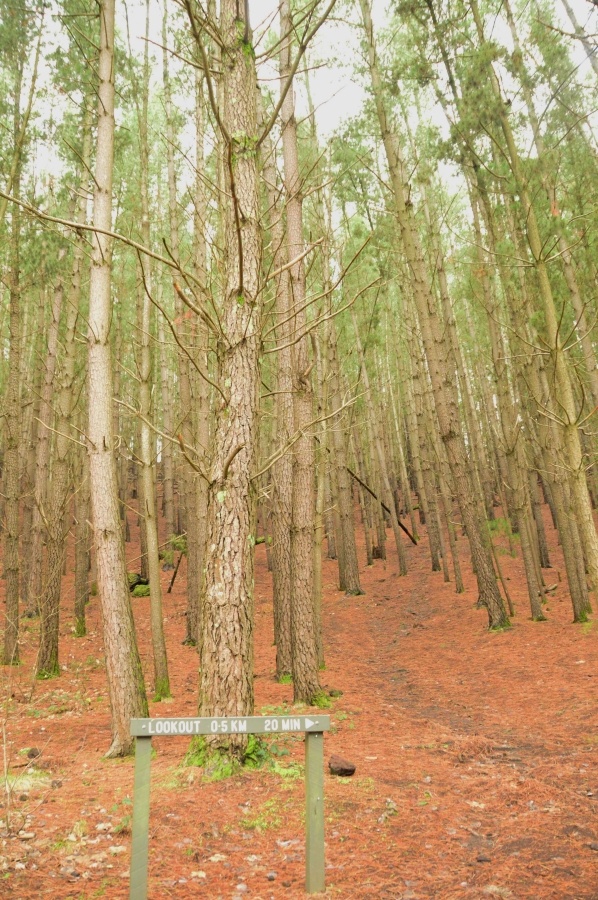 Article Name
Hepburn Springs Spa Weekend Guide
Description
Looking for a weekend away from Melbourne? Try Hepburn Springs Spa - here is your complete guide to a weekend in Daylesford including Hepburn Spa
Author
Publisher Name
Publisher Logo