Like most Londoners I love Brighton. Just over an hour away by train, it is London's cool little sister. Everything is quite close together so it is easy to explore without a car. There are loads of fantastic food and drinking options and some great things to see. A Brighton Day Trip is perfect from London – and here are the Best Brighton Activities 
Brighton Activities – Brighton Pavilion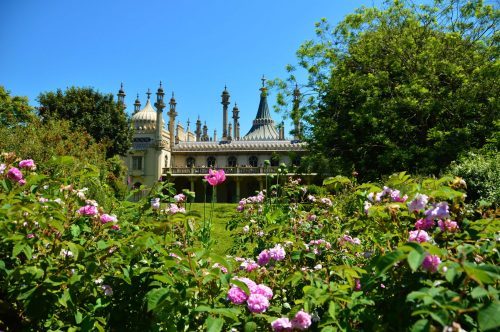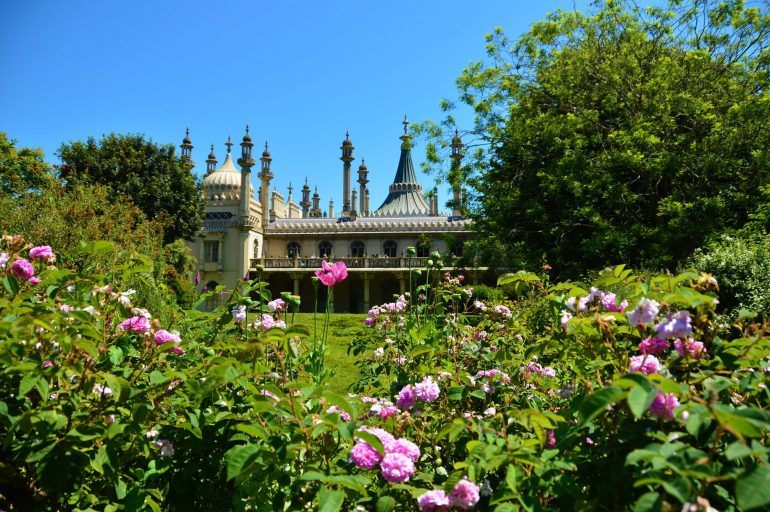 The Pavilion is quite a shock when you first see it. It really does look like it has been air lifted out of Istanbul and sent to Brighton! This seaside palace was created by John Nash and is now one of the most famous buildings in the UK.
Brighton Activities Key Tips:
-the building is stunning front and back so make sure you check out both sides
-there is a lovely garden in front of the main entrance. The garden in the foreground and the pavilion in the background makes for a lovely photo
-there are displays of furniture and art inside. If you are into that kind of thing then head on in. Otherwise, the best bit of the Pavilion is the exterior and you can use the money you've saved for fish and chips!
2. Brighton Activities – Visit the Pier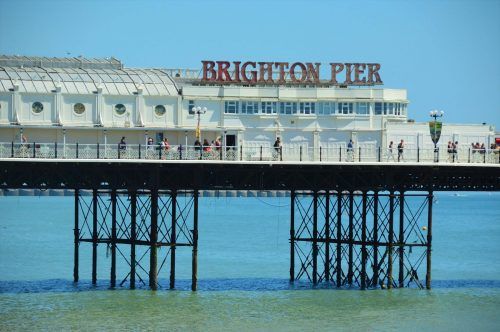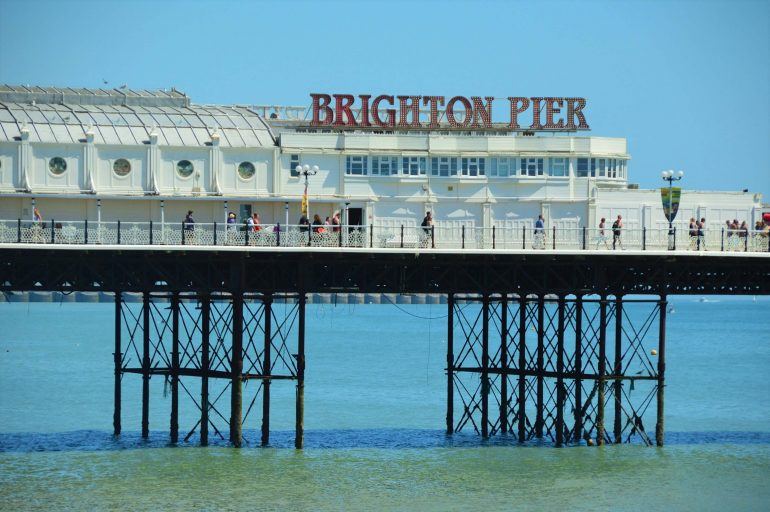 No Brighton Day Trip would be complete without heading to Brighton Pier. This is perhaps the most famous pier in the UK. Brighton Beach is actually full of pebbles rather than sand although you can hire deck chairs.
The Pier is LOUD! If you are visiting on a weekend it will be crammed with people. There are many games to play and rides to go on if you are so inclined. Otherwise walk down and walk back and get yourself to the Lanes!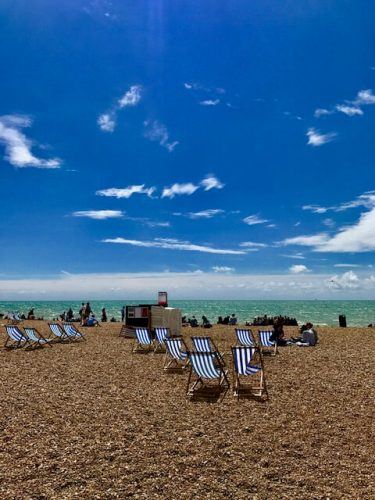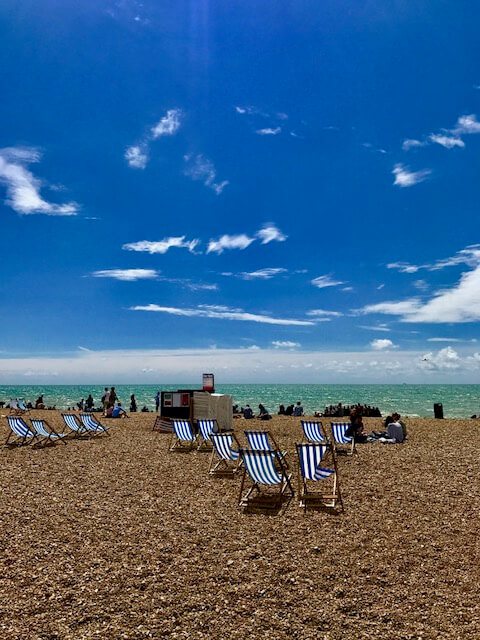 Brighton Activities Key Tips:
-unless you are after fairy floss don't eat on the Pier – there is much better food in the Lanes
-the best photos of the pier are from Brighton Beach
-if you are around at sunset the burnt out old pier makes a great photo
3. Brighton Activities – Eat Fish and  Chips
Brighton is renowned for fish and chips and there are MANY choices. It is quite difficult to get bad fish and chips in Brighton due to the level of competition but of course, there are varying levels of quality.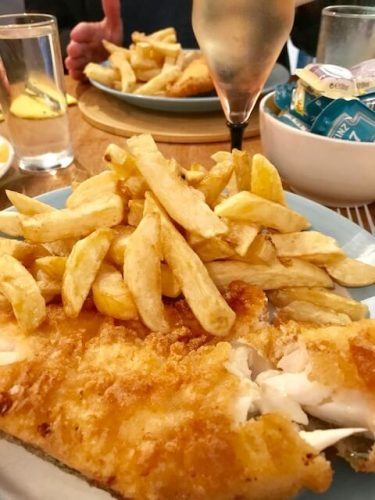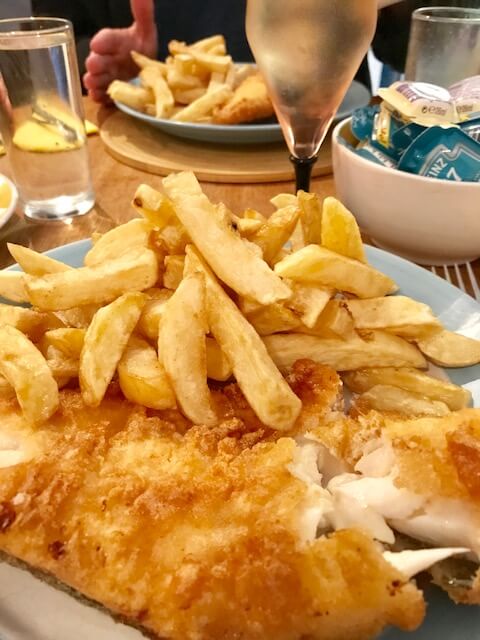 Brighton Activities Key Tips:
-The iconic fish and chip shop is the Regency on the foreshore
-Fish and chips always taste better eaten at the beach even if it is full of pebbles!
-if you are feeling like a bit of exercise hire a bike and ride west to Rottingdean – literally just follow the foreshore. Once you get there head to Smugglers which is just off the foreshore for the ultimate British chippie experience! This is an old-fashioned style fish and chips shop and absolutely delicious! Just don't order the wine – it's all about the fish and chips.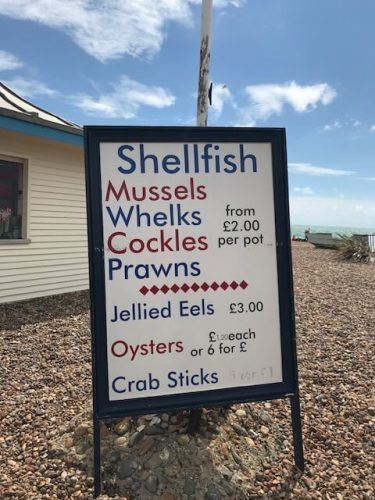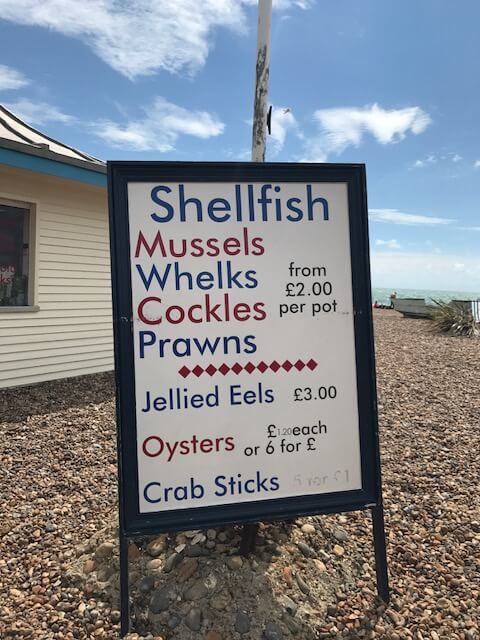 4. Brighton Activities – Wander the Lanes
This for me is the highlight of a Brighton Day Trip. The Lanes and North Lane are a series of small mostly pedestrianized streets not far from the Brighton foreshore. They are populated with numerous restaurants, shops, cafes, bars and some street art. There are some great vintage shops like Finders Keepers and if you are after a sex toy there are quite a few options available!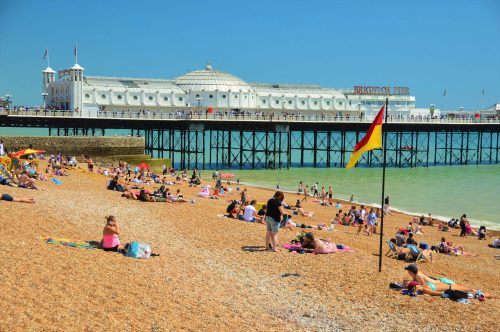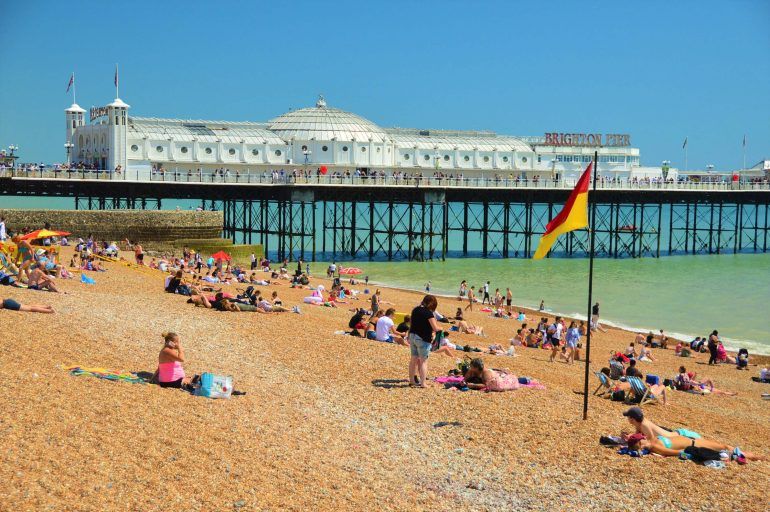 Brighton Activities Key Tips:
-the hot new restaurant in the Lanes is Pascere – check it out
-if you are visiting on the weekend enjoy a Sunday Roast at either Earth and Stars or Lion and Lobster
–the Office pub/bar has 40 different Gins to try
5. Brighton Activities – Grab a Coffee and a Cake
The Lanes are full of amazing looking coffee and cake shops. I think it is virtually impossible to leave the area without having enjoyed at least one decadent cake! Brighton also has a strong "Craft" coffee scene eg there are baristas galore.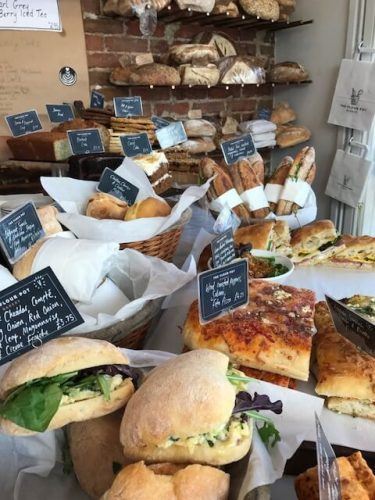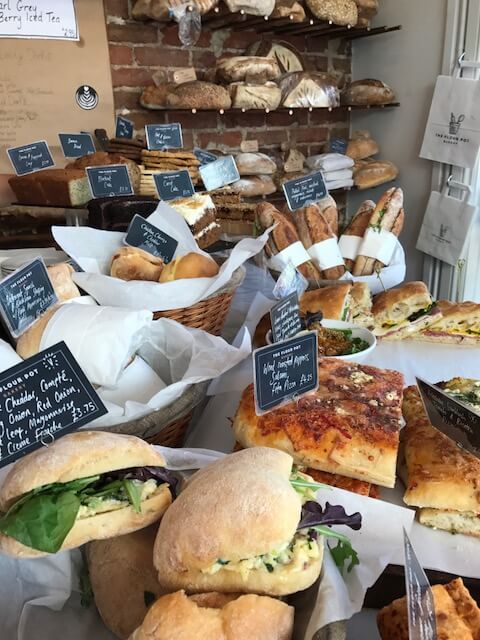 Brighton Activities Key Tips:
-The Flour Pot is a great spot for coffee and cake and a light breakfast or lunch
–Pelicano has amazing cakes!
–Grow 40 has an outstanding breakfast menu and serves a great coffee 
6. Brighton Activities – Street Art
Brighton is full of fantastic street art. There are quite a few tours on offer.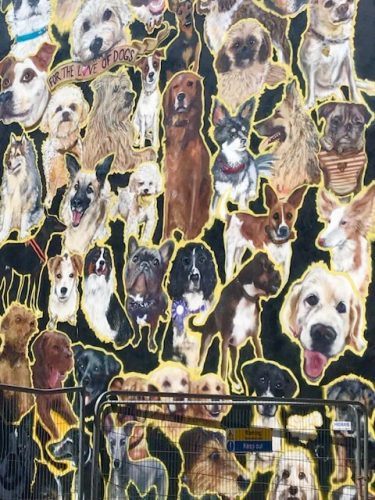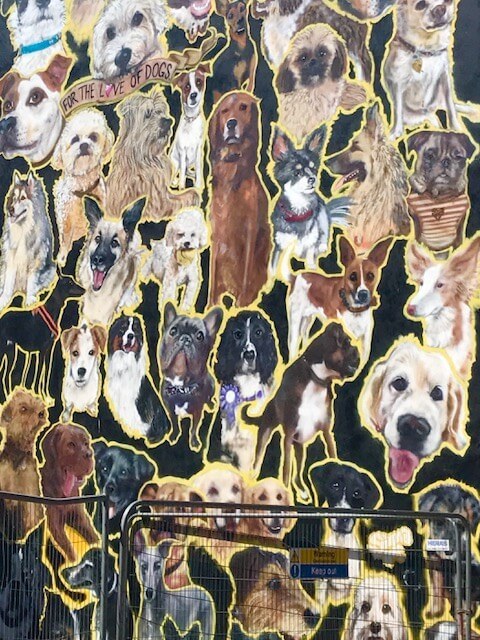 Brighton Activities Key Tip:
The Brighton tourism board has put together a great list of the best 10 street art examples. Why not do your own tour and discover more of a Brighton on the way?
https://www.visitbrighton.com/inspire-me/top-ideas/top-10-brighton
Brighton Activities Day Trip Logistics:
The easiest way to get to Brighton from London is by train. Trains run out of Kings Cross, Victoria and Clapham Junction. It will take about 90 minutes from Kings Cross and about 65 minutes from Clapham Junction. Trains run quite frequently eg 2-3 an hour. Once you get to Brighton station it is an easy short walk to the Lanes and the Pier.
Brighton Activities Useful Links:
Brighton has a great tourism website that is well worth checking out before you go click here 
Heading to London? Check out some of my other posts here:
The Secret Food Markets of London
London's best new restaurants 2017
London Afternoon Tea Mad Hatter style 
Accommodation:
Rather stay the night? Click here for some great Brighton accommodation options
Or heading back to London? Click here for some London accommodation options
Flights:
Looking for flights to London? Click here for some great deals.
Or check out my favourite Middle Eastern airlines – particularly if you're flying Business Class
Tours:
Looking to do a tour while you're in Brighton? Click here for some ideas
Travelling solo and interested in joining a group tour?
Just You Holidays United Kingdom
Exodus Holidays United Kingdom
Explore Holidays United Kingdom
Need travel insurance? Click here
Follow my Pinterest board on Brighton here
Follow my Pinterest board on London here
This post contains affiliate links
Summary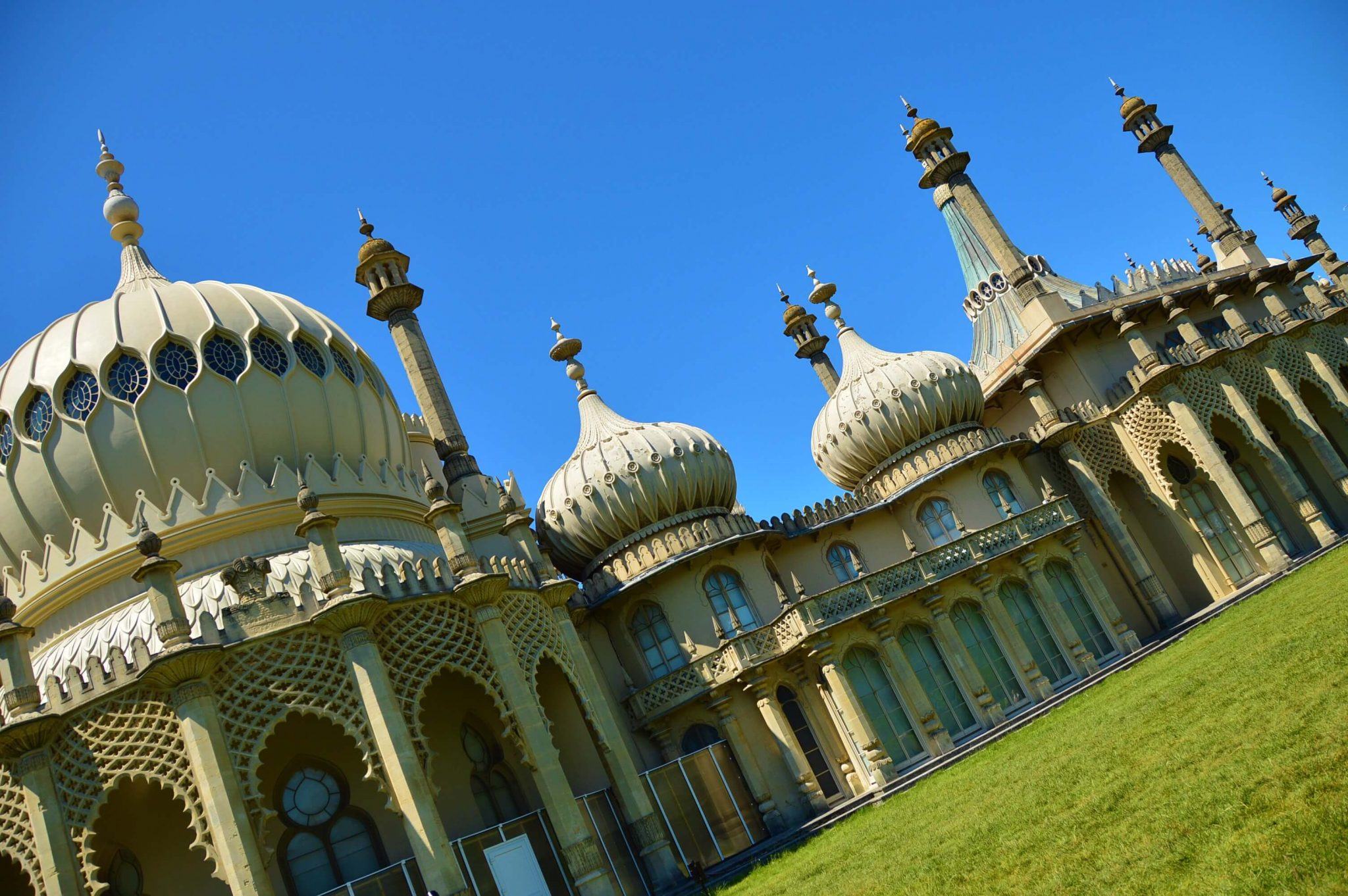 Article Name
6 Must Do Activities on a Brighton Day Trip
Description
Planning a Brighton day trip from London? Here are the things that you absolutely can't miss in England's favourite sea side town
Author
Amanda OBrien
Publisher Name
The Boutique Adventurer
Publisher Logo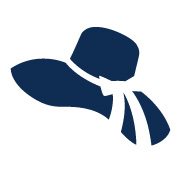 ---
Also published on Medium.