Borough Market is one of my favourite places in London. I first started going there when I moved to London 14 years ago. Which is not very long ago considering this market has been operating for 1003 years! It is the oldest fruit and vegetable market in London. It is one of my most regular haunts – Monmouth coffee, burata cheese flown in from Italy that morning, the amazing smell and colours of the vegetables – it is a bit of a happy place for me and no terrorist activity will ever change that.
When I was invited to go on a Food Tour of Borough Market by London Tailored Tours it was an immediate yes! There is so much to explore and learn at Borough Market and it is always changing. London Tailored Tours are led by the lovely Charley who is filled with enthusiasm and passion for Borough Market and the Borough area in general. She is also a passionate foodies which shines through – it is a pleasure going for a stroll with someone who is talking about their favourite thing!
So the tour kicked off with Borough Market's favourite Bacon Butty! For my non UK readers a bacon butty is a british institution and consists of bacon in fluffy white bread and butter or a fluffy white roll. Tradition would then dictate you add your sauce of choice – red for me – before enjoying the perfect breakfast. Once you taste one you will realise why this is where all the market traders come for their breakfast at 5am!
After the bacon butty Charley took us to meet several different types of market traders where we had private tastings. We kicked off with the rather different british cured meats stall! From seaweed and cider salami from cornwall to pork, garlic and peppercorn and finishing with the very unique blood, wine and chocolate this was a taste sensation!
Next up was the cheese. We headed to a swiss cheese stall – not as in the type with lots of holes in it but other types of swiss cheeses. Most intriguing was the blue brain cheese and I took a few home with me including the amazing truffle cheese. There is an opportunity to purchase at every stall so make sure you bring a backpack or carry bag as it is very hard not to shop!
Charley is also a fantastic source of information on all types of tales of Borough Market – including showing you the door that was used as Bridget Jone's home in all of the movies.
Then it was time to sample London's best scotch egg! This was from a stall that only does scotch eggs – yes it has fryers sitting right there and you can have your scotch egg gooey and warm! This is item is a british tradition – egg and sausage meat done in breadcrumbs – the perfect breakfast before you start a big day!
Then on to oysters and a stall that has been in the one family for seven generations! Again they just do oysters and there is quite the queue! Luckily when you are on the tour lines don't exist as all has been pre organised by Charley!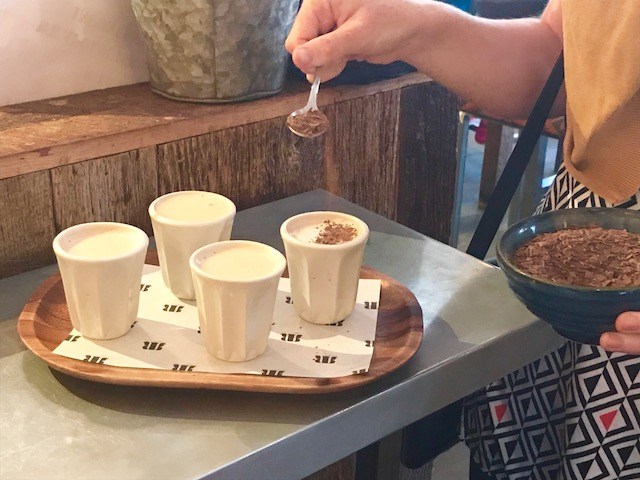 Next up was chocolate! The market's best hot chocolate as well as amazing brownies. This is one I will be returning to as it serves a chocolate afternoon tea and has a lovely terrace.
After this we needed a bit of a digestive stroll! Charley guided us through the streets of borough with fantastic stories about eccentric london. This included a visit to the moving Crossbones. Crossbones is a memorial to the approximately 15000 borough residents who were buried in what appeared to be an outcasts graveyard on that spot – eg for those who could not afford or had no one to organise a funeral. This graveyard was discovered when the Jubilee Line was dug up in the 1990s and since that time local residents have set up the memorial. There are vigils once a month to remember the dead and local schools run projects around it. A uniquely London story that I had never heard despite living here for 14 years.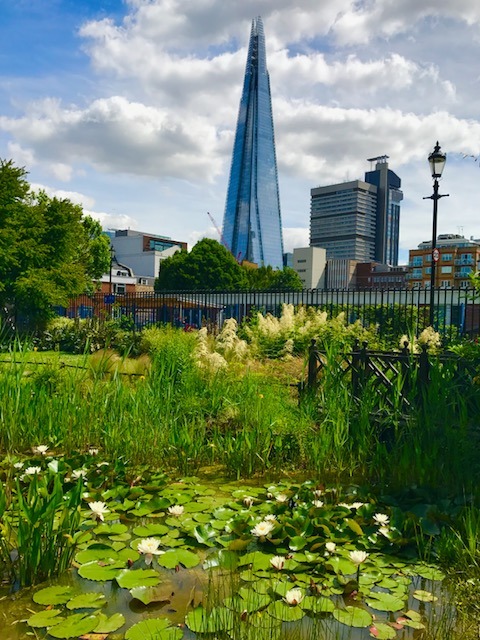 Next up was a visit to a secret garden with stunning views of the Shard – although I must point out we lucked out on a lovely London blue sky day so Charley won't be able to guarantee these colours when you take the tour!
Next up was a local wine shop that used to be an old cork factory for a tasting. We then finished the tour at a fantastic local pop up/street food venue near elephant and castle tube where we enjoyed some delicious sicilian sweet puffs with chocolate sauce and pistachio!
The 3 hour tour flies by and is fantastic value. All the food is of course fantastic but it is all the great stories behind it and behind the Borough area that makes this such a memorable tour – no wonder it is so incredibly popular on Trip Advisor! This is a great tour to do if you're a londoner or a first time visitor to the capital!
Charley also offers a food tour of Brick Lane as well as private tailored tours of any areas of the capital that take your interest!
The Borough Market Food Tour runs every Monday and Friday at 230pm and Saturdays at 930am.
Click here to visit the London Tailored Tours website.
Would you like to see some really extraodinary photos of Borough Market? Click here
Click here to see my other posts on interesting thing to do in London
Click here to see some other stunning photos of key London buildings
And click here to see my pinterest board on London.
Thanks to London Tailored Tours for sponsoring me on their Borough Food Market Tour
---
Also published on Medium.